If you're planning a trip to Animal Kingdom, you should absolutely know the ins and outs of Animal Kingdom FastPasses! Animal Kingdom has amazing attractions and the FastPass+ system will let you save some wait time so that you can have more time for Disney fun. Plus, Animal Kingdom FastPasses get you out of the heat much quicker, which is a huge win since this park can get so hot!
Animal Kingdom's FastPasses can seem really overwhelming at first glance. There are some passes that get booked up right away, and there are different tiers of passes you can book. This post will help you discern which options are the best to save time and hit the biggest and best attractions! If you're new to Disney, FastPass+, or haven't been in a while, I also recommend checking out our post on FastPass secrets to help you take advantage of the system.
Get a FREE printable 30/60/90 day Disney countdown by joining our private Disney Facebook Group and share your photos and ask for tips and tricks!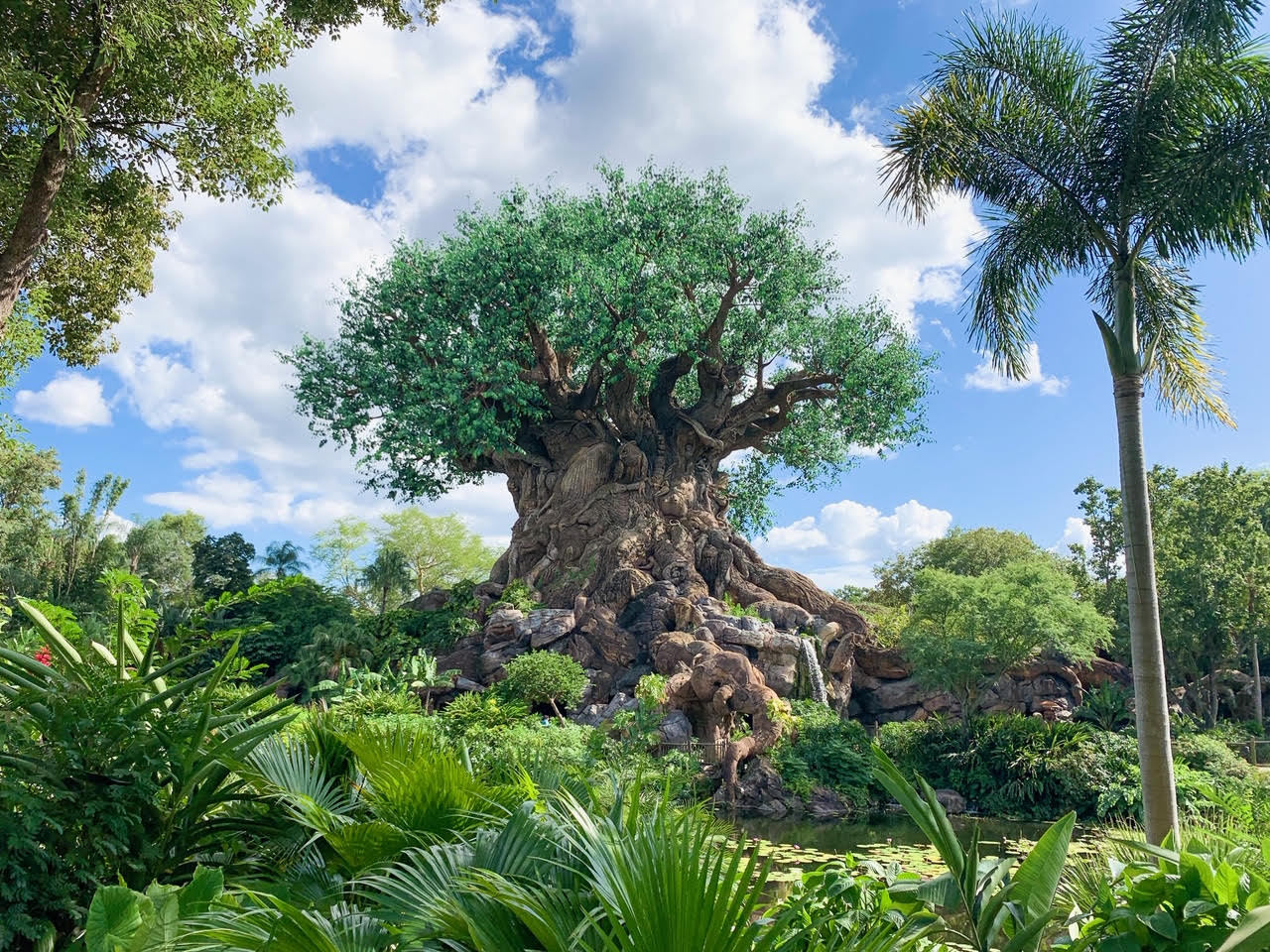 12 Best (and Worst!) Animal Kingdom FastPass Options
What is FastPass at Animal Kingdom?
Animal Kingdom FastPasses are on a tiered system, which means that you can only get one FastPass for rides in Tier 1 when you are booking your FastPasses. Disney does this to limit the FastPasses available for their biggest and most popular rides to help keep all the lines moving as quick as they can.
So, at Animal Kingdom, there are are Tier 1 and Tier 2 attractions. When booking your FastPasses, you can select one Tier 1 attraction and two Tier 2 attractions in advance. This tiered system is why it's so important to plan ahead for Animal Kingdom- you need to know which Tier 1 attractions you want because they get booked up immediately!
In case you didn't know, you get your first three Fastpasses at Disney entirely for free! If you want to read more, we have an entire post on Disney Fastpass Cost which includes the breakdown of the free options as well as the potential upgrades. YES, you can pay more and get more Fastpasses than come free.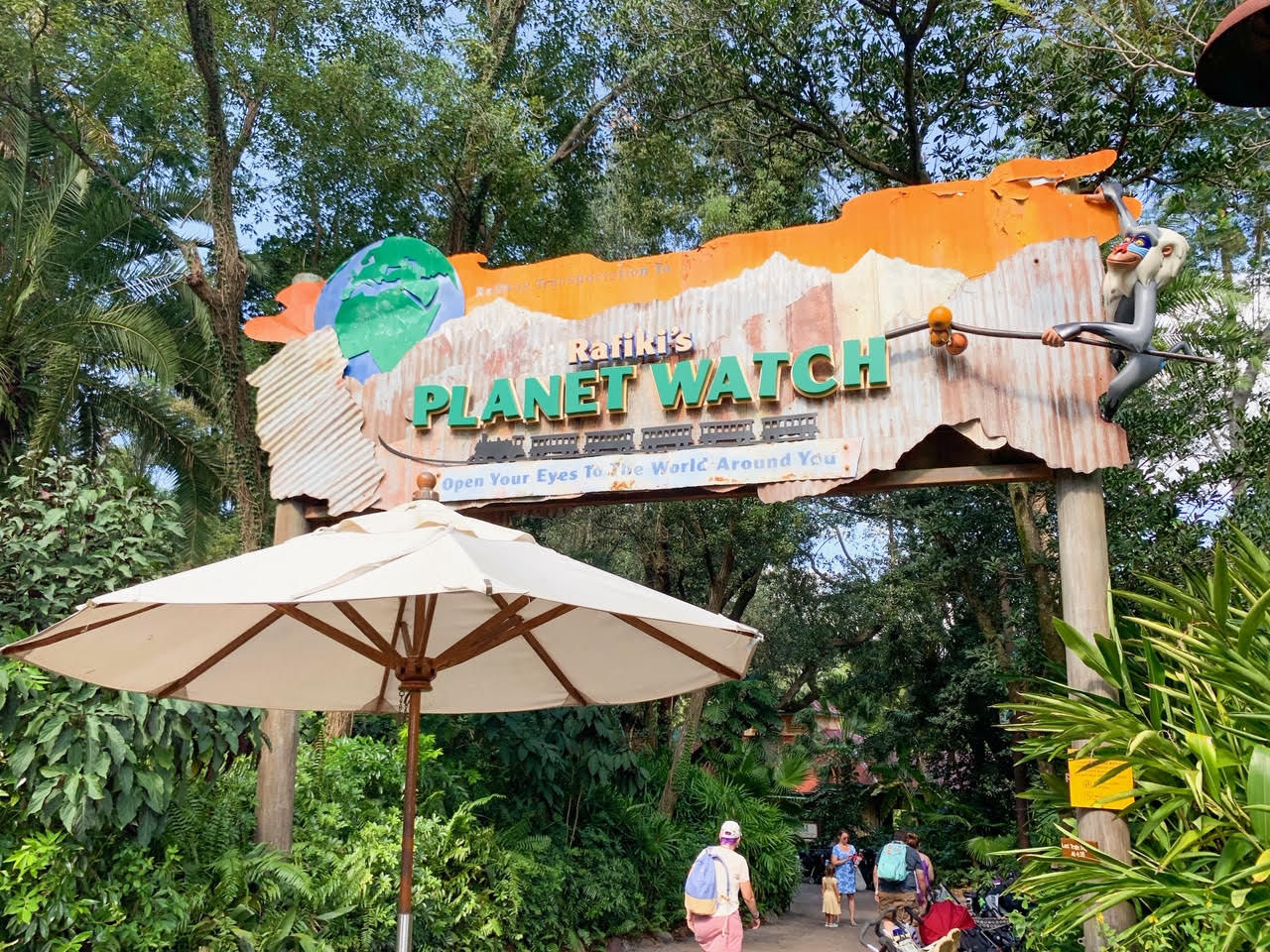 How Do You Get FastPasses at Animal Kingdom?
Booking Animal Kingdom FastPasses is done the same way you'd book for the other three parks! The best way to do this is to download the MyDisney Experience app- you can book the FastPasses right there on your phone. If you don't have a smart phone, you can also book FastPasses online in your MyDisney Experience section of the WDW website.
I cannot say this enough: BOOK AHEAD! If you're staying on property (at a Disney resort) you can book FastPasses 60 days in advance of your checkin at 7 AM Eastern. This is an amazing benefit only for guests staying on property, and the best part? At that 60-day mark you can book the FastPasses for your whole trip, not just the first day! This is a huge advantage over other guests. Not staying on property? Don't worry, you can still book ahead! For those not on property, set your alarms for 7 AM Eastern on the 30 day mark before your trip.
FastPass+ Tap and Grab Technique
If you aren't satisfied with your FastPass schedule, don't worry! The FastPass+ system does make you have a minimum one-hour buffer between passes, and sometimes you can't get the passes as close together as you'd like. However, even if you have a day planned out that you're perfectly happy with, I highly recommend using the FastPass+ Tap and Grab technique.
Note: this technique does require the MyDisney Experience app! How this works is that you can continuously modify your FastPasses while in the park in order to maximize your time and ride the most rides. By using the app once you're already scanned in and in line for your FastPass attraction, you can see what other FastPasses are available. Because you've already scanned your FastPass for the attraction, you don't have to worry about the "overlap" window you encounter when you first book your FastPasses.
For example: You're headed to Animal Kingdom for the day and you have pre-booked your 3 FastPasses for 10 AM, 11:15 AM, and 12:45 PM. Once you get in line for your 10 o'clock at Expedition Everest and have tapped your MagicBand, use the app to modify your 11:15 AM FastPass.
You see a 10:35 AM for Kali River Rapids instead of the original 11:15 am and you snag that new time! And then once you scan your MagicBand for Kali River Rapids, check to see if there's an earlier FastPass than your 12:45 PM for Flight of Passage. If there is, modify again! Say you snag an 11:45 AM for it- now you're done riding your first three Fastpasses before you were even supposed to be in line for your third!
Remember that once you use up all three FastPasses on your park day, you can actually grab more! So, using the Tap and Grab technique, you can ride three attractions much faster AND add new FastPasses to your schedule much sooner, giving you better chances to find ones you want. For more about FastPasses overall and how to make the most of the FastPass+ system, check out our post on Disney FastPass Secrets.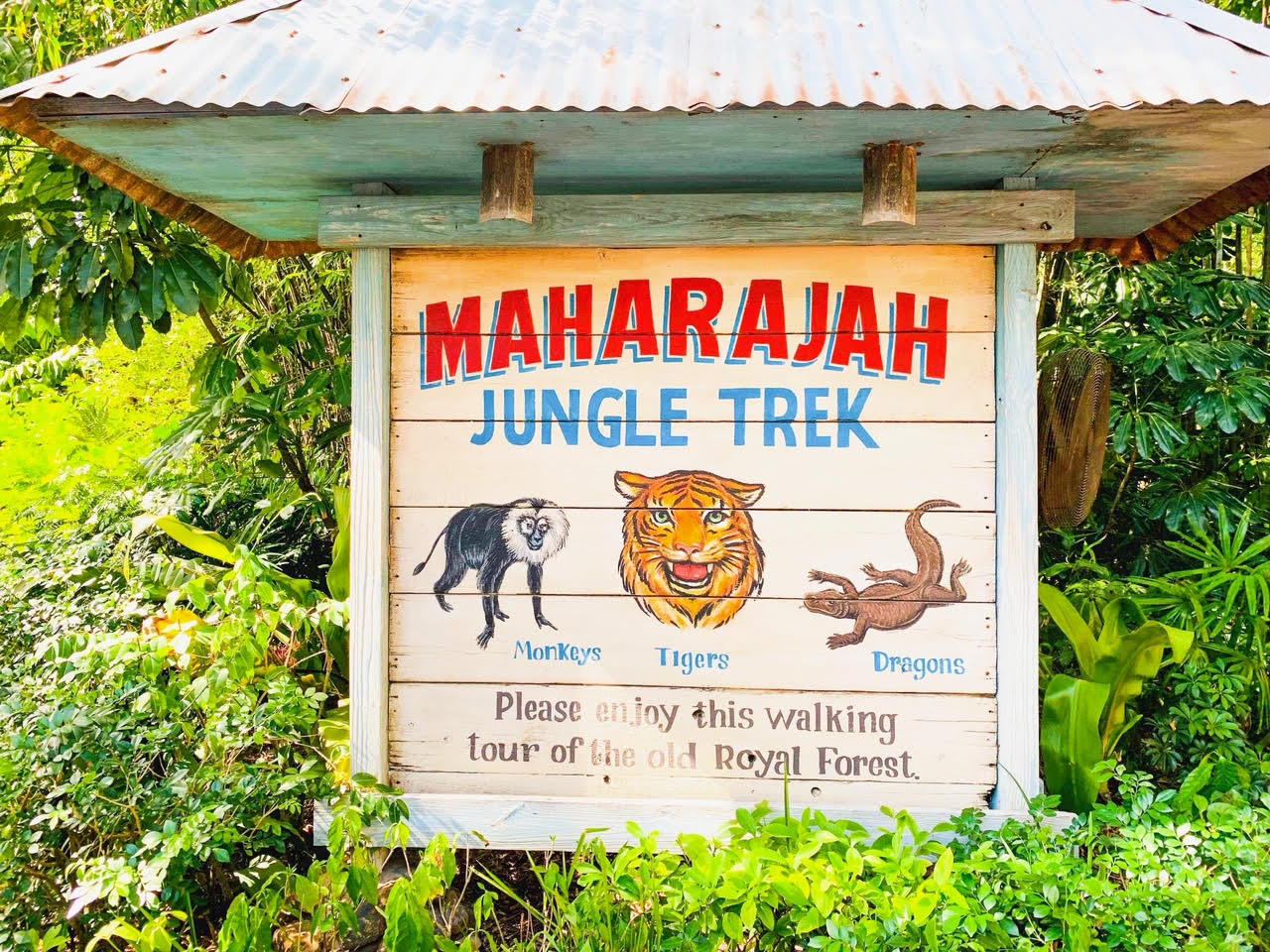 Animal Kingdom FastPass Attractions
Avatar's Flight of Passage
Dinosaur
Expedition Everest: Legend of the Forbidden Mountain
Festival of the Lion King
Finding Nemo: The Musical
It's Tough to Be a Bug!
Kali River Rapids
Kilimanjaro Safaris
Meet Favorite Disney Pals at Adventures Outpost
Na'vi River Journey
Primeval Whirl
Rivers of Light
Tier 1 Fastpass Choices
Top Choice: Flight of Passage
Flight of Passage is one of the most popular attractions in all of Walt Disney World! This is an absolute must-ride for Animal Kingdom and the lines are always extremely long for it. Located in the recently-opened Pandora – The World of Avatar, this attraction is the newest in the park. This technologically-advanced ride takes riders directly into the world of Avatar. While riding on the back of a banshee, riders can look in any direction and absorb the magic of the Pandora landscape. It does have a simulator/screen element, so it may be hard for those with motion sickness, but I will say, I have a hard time with these types of rides and this one was definitely worth going on for me.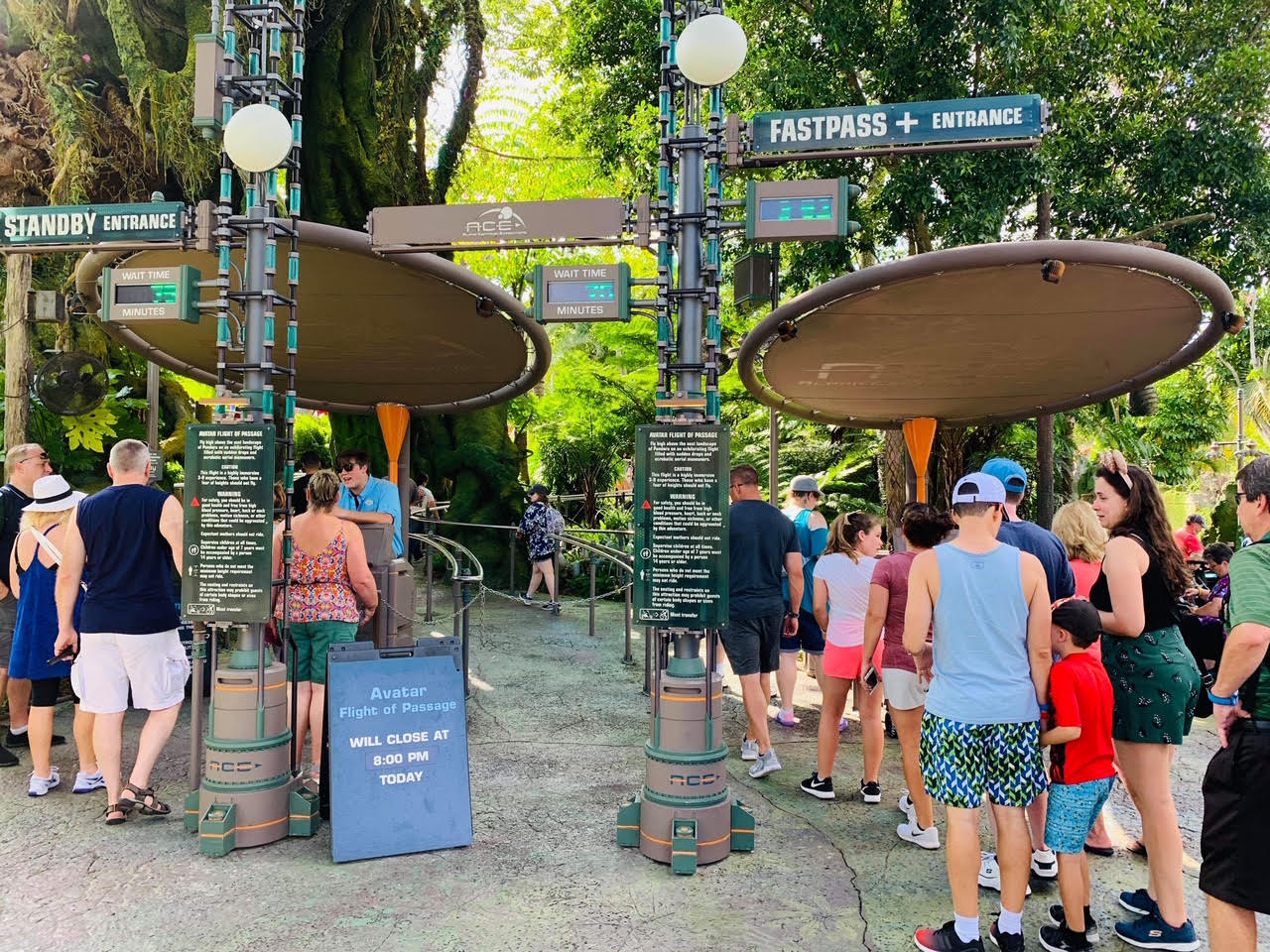 Secondary Choice: Na'vi River Journey
This is a good secondary choice IF you can't get FastPasses for Flight of Passage, or if you or anyone in your party cannot ride that type of attraction. Na'vi River Journey is an indoor boat ride that showcases the beauty of Pandora, as well as the stunning advancements in Audio Animatronics that Disney has made. It is a very slow and short moving boat ride, but the visuals and detail are breathtaking. I don't recommend using your Fastpass on Na'vi River Journey if you can avoid it, but if the lines are short or you snag a day-of Fastpass, it is worth seeing.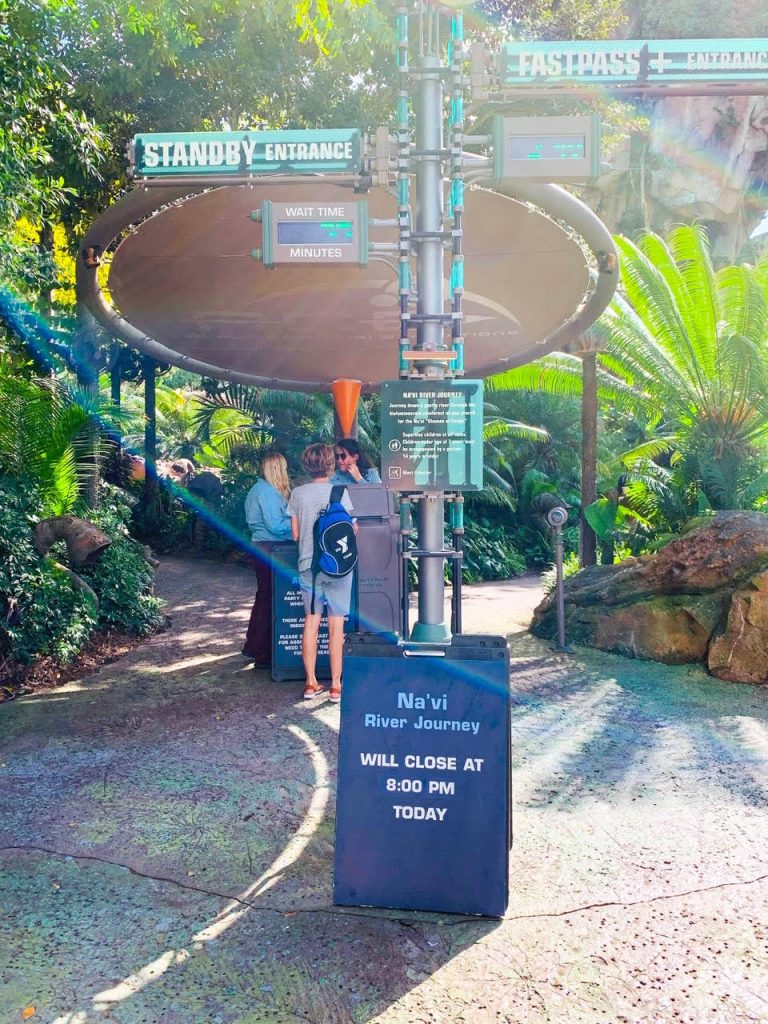 Tier 2 Fastpass Choices
Kilimanjaro Safaris
Kilimanjaro Safaris is honestly my favorite attraction in Animal Kingdom. This attraction has you board basically a large Jeep and a tour guide drives you around all the parts of Animal Kingdom's Harambe Wildlife preserve, where 34 unique animal species live. This is a longer attraction (roughly 20 minutes), so it really feels worth the FastPass. Plus, you get to see a ton of animals! From the Safari you can get great views of elephants, giraffes, lions, and SO. MUCH. MORE. Note that with Kilimanjaro Safaris, the animals are doing different things at different times of day, so early morning times and sunset times are good chances to spot some animal activity. Just remember, they are real animals! The attraction may stop for a "giraffe jam," when giraffes stop in the road!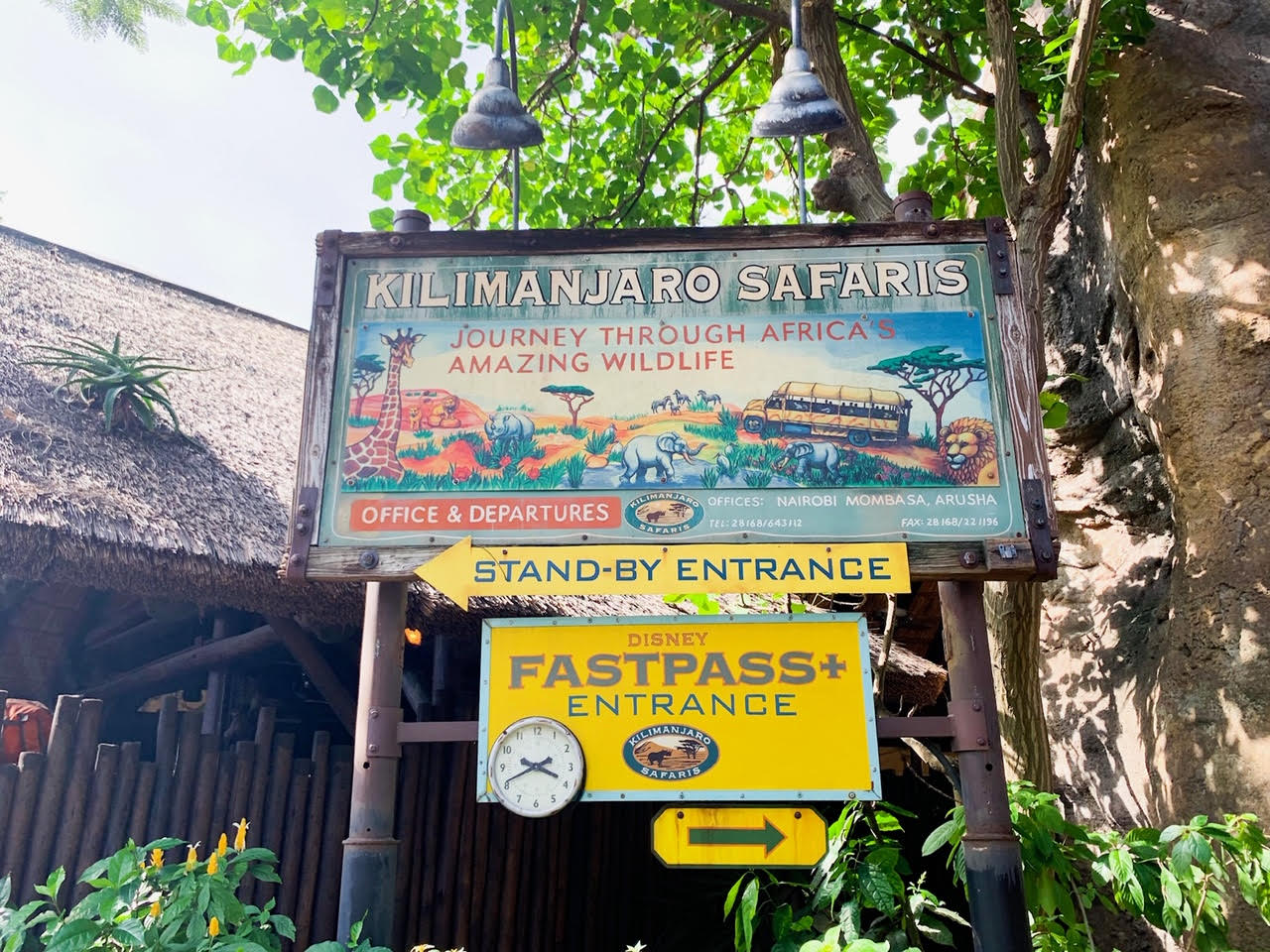 Expedition Everest: Legend of the Forbidden Mountain
Expedition Everest is a great attraction for adventure lovers and thrill seekers, as this is a large roller coaster! You may even spot the mystical Yeti while running through these twists and turns! It was actually the most expensive roller coaster in the world to build, and the level of detail here really shows. Expedition Everest can be a kind of intense ride so beware if you are sensitive on larger rides. If you can't or don't want to grab a FastPass for Expedition Everest, this attraction also has the coveted single-rider line, which separates you from your party, BUT is way faster than the regular standby line.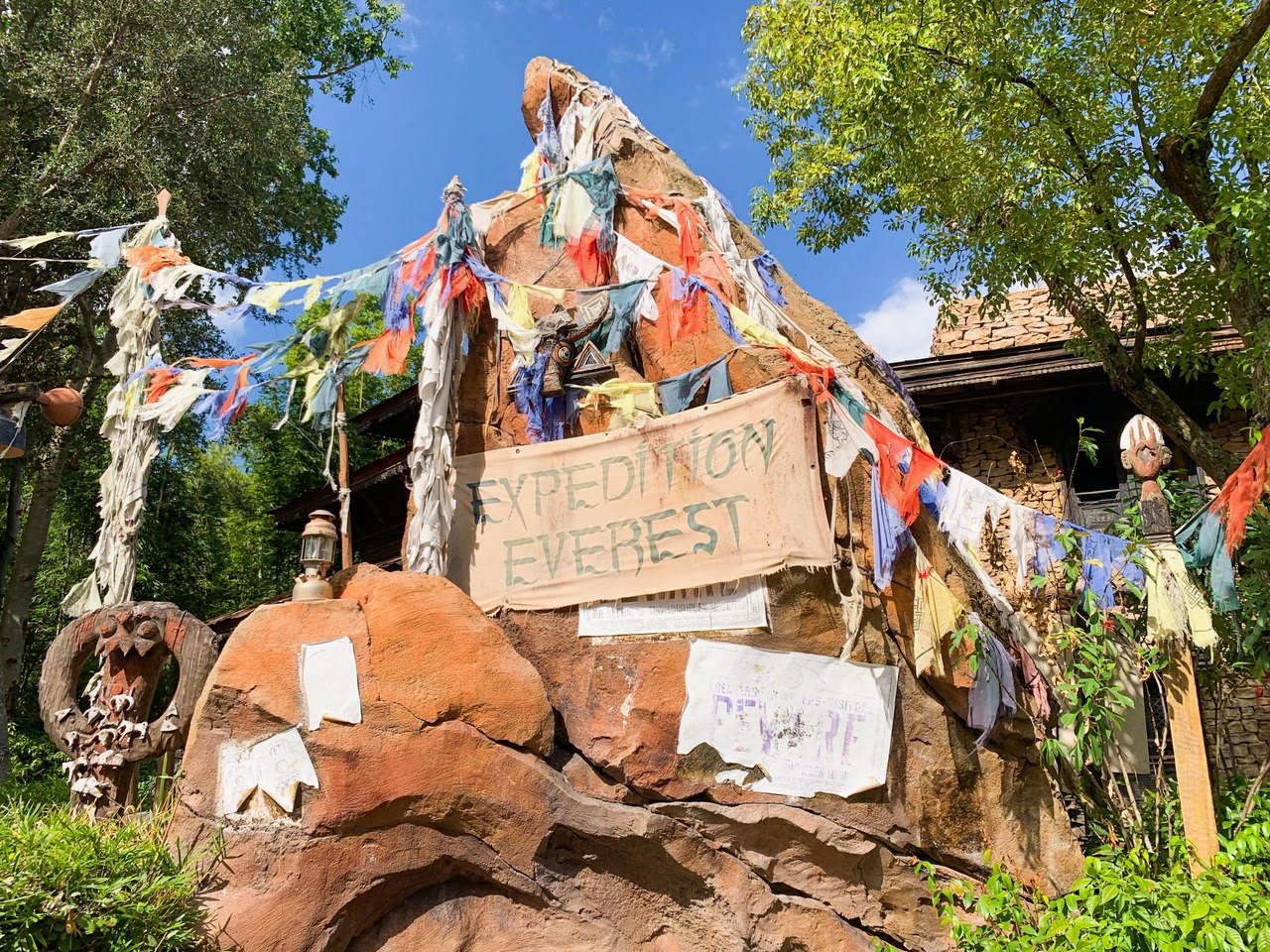 Kali River Rapids
Who wants to get wet? Like I mentioned earlier, Animal Kingdom is a rather hot and humid park, so Kali River Rapids is there to help. You may or may not get totally soaked riding it! And by that I mean that you will DEFINITELY get soaked. Unlike water rides like Splash Mountain, there's nowhere to sit on Kali River Rapids to protect you from the water, so just be ready to get wet! This is a super fun ride for the whole family, but there is a drop on it, so be sure that your party will be okay with that before nabbing this FastPass.
Dinosaur
This is an indoor attraction (Hello, AC!) and it is so fun! The first time I rode it, I had no idea what it was and I was definitely surprised! Dinosaur is a total adventure of an indoor ride (kind of akin to the Indiana Jones ride at Disneyland) and is really well done! It's a great option for your second tier FastPass choice. There are life-size Dino animatronics and you are basically 4-wheel driving thousands of years ago! The ride feels like you are off-roading in a jeep and is quite fun and energetic. If your kids don't like darker rides with giant dinos, steer clear, otherwise, it is fantastic fun!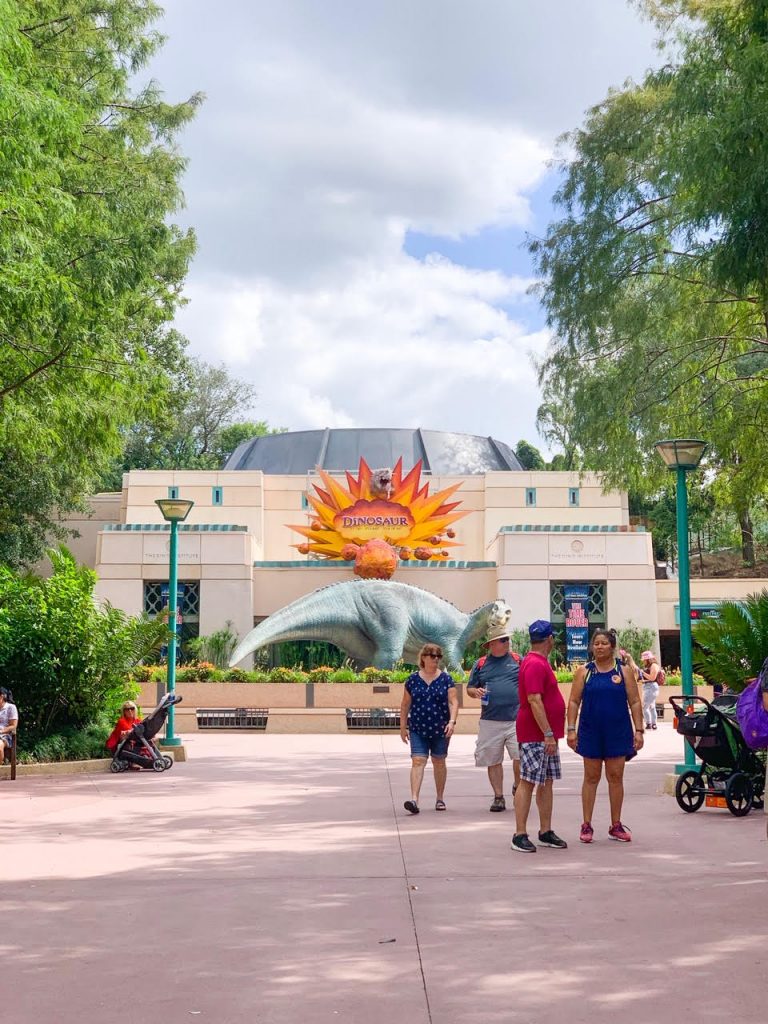 Recommendations for Best Tier 2 FastPass Options
This will depend on what your group wants to do, of course, but for your Tier 2 Animal Kingdom FastPass options, this is what I recommend:
1. Expedition Everest: Legend of the Forbidden Mountain
2. Kilimanjaro Safaris
OR
1. Dinosaur
2. Kilimanjaro Safaris
What to Skip
Rivers of Light
Rivers of Light is Animal Kingdom's nighttime show, set on the water with lights and boats. Animal Kingdom has no fireworks shows so as not to disturb all the animal residents, so Rivers of Light is their take on a nighttime spectacular. The show is moving and enchanting, so I highly recommend sticking around for it. However, all the FastPass does for this is get you reserved seating. However, the amphitheater is large and has tons of seating, so you can easily grab a seat for the show without waiting in line or using up one of your FastPasses. In general, it is best to avoid using FastPasses for the shows at any park.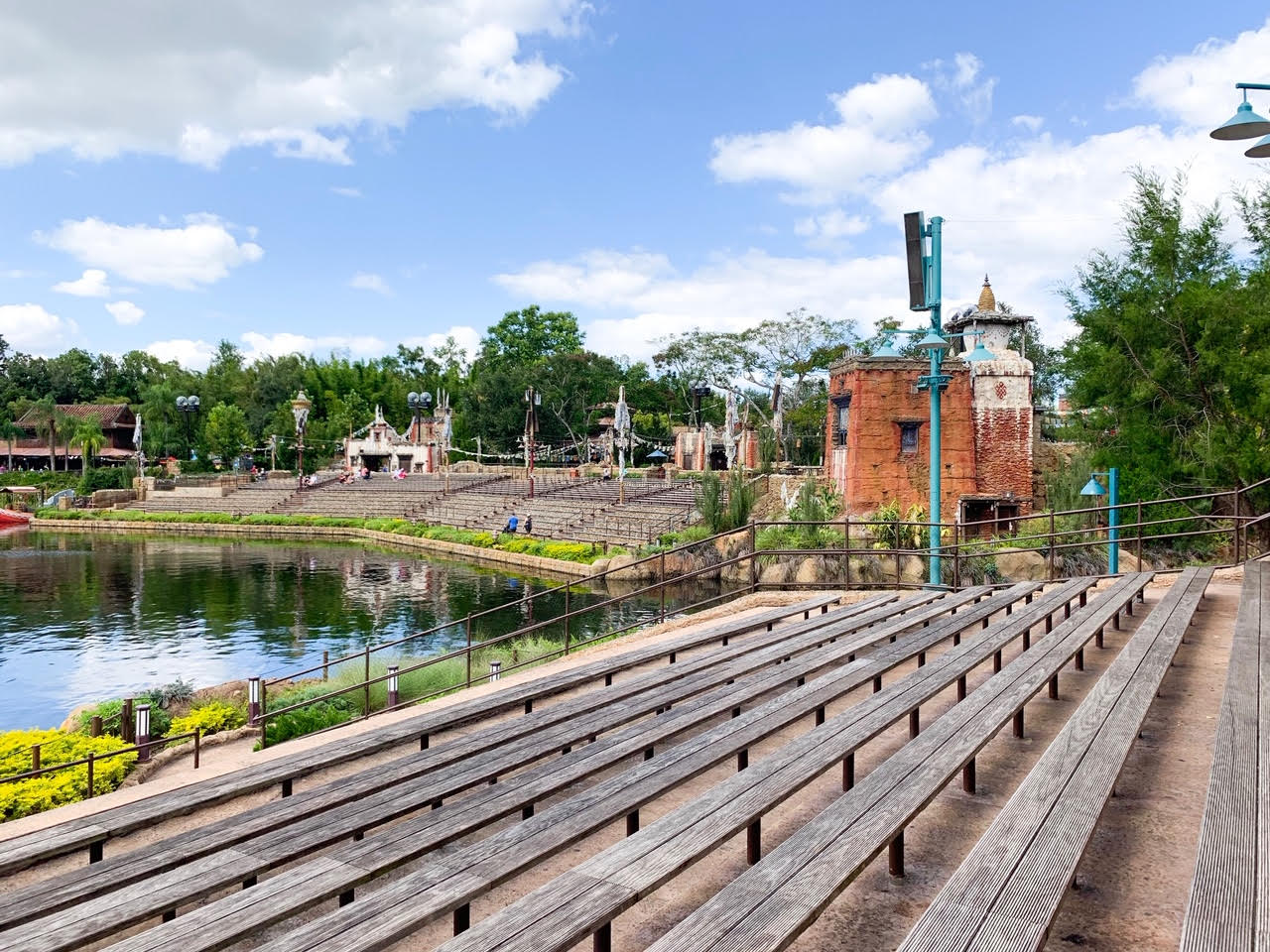 It's Tough to Be a Bug!
It's Tough to Be a Bug! is the Bug's Life attraction underneath the Tree of Life. It's a cute 4D-style movie experience, but the wait times for this are almost never over 10-15 minutes. This is something you can easily do without a FastPass, so it's best to save your FastPasses for something else. This is a fun show themed on Pixar's A Bug's Life that also has that ability to educate audiences on the insect world while keeping them excited and entertained! Just beware of "bugs" inside the theater!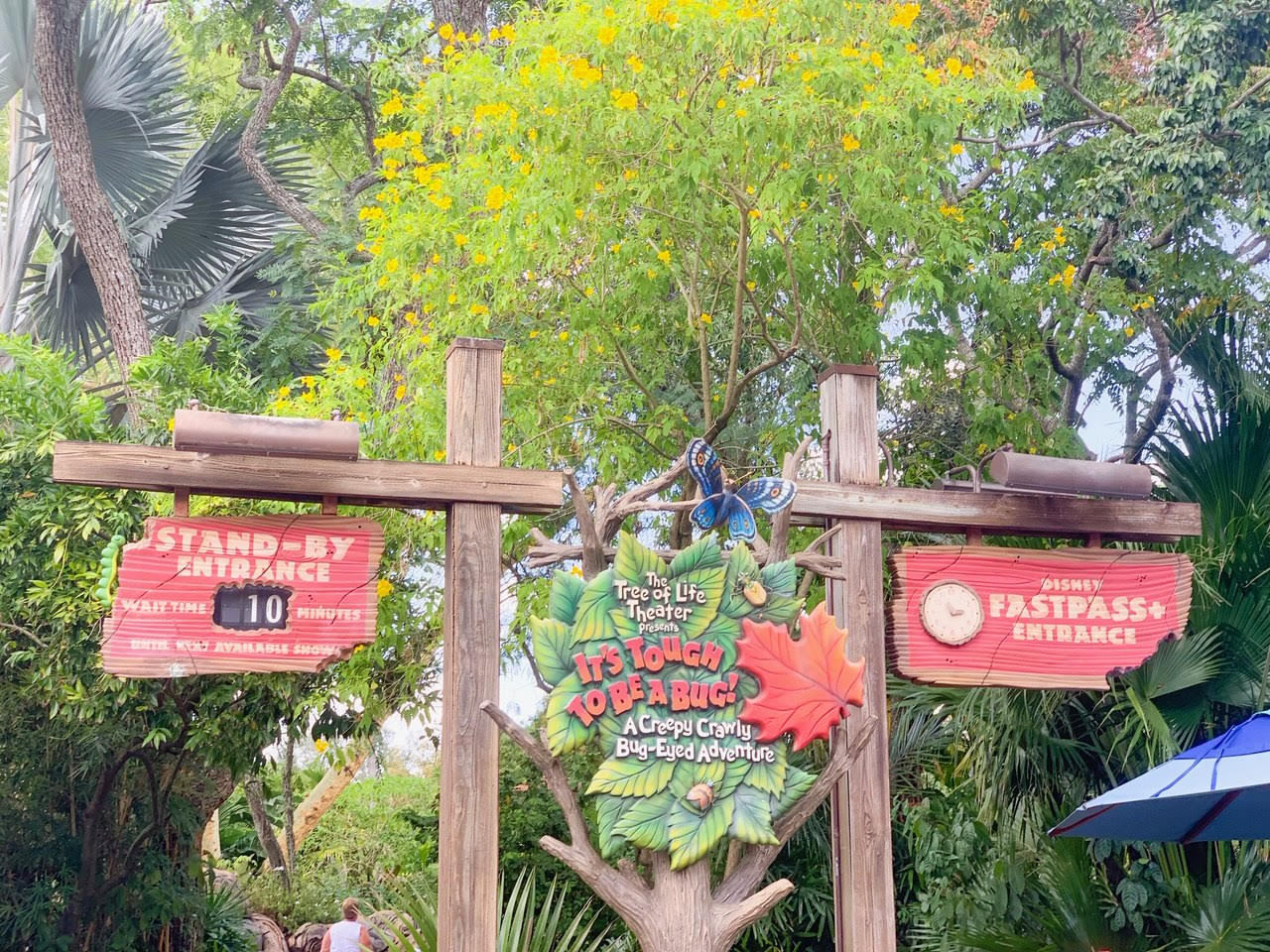 Finding Nemo: The Musical
Again, I highly recommend avoiding using FastPasses on shows as the standby wait time is never substantial. Finding Nemo: The Musical is a really cute show for your littles, or that person who just loves Finding Nemo (I see you!) but save the FastPass for something with a longer wait. In Finding Nemo – The Musical, see all of your favorite characters from Finding Nemo and Finding Dory, including Nemo, Dory, Marlin, and even Squirt and Crush, come to life on stage! Watch Marlin head off to find Nemo just a few feet in front of your eyes. But don't think that this is just a complete reenactment of the Finding Nemo movie. Disney's award-winning songwriting team composed fourteen new songs, just for this Animal Kingdom show!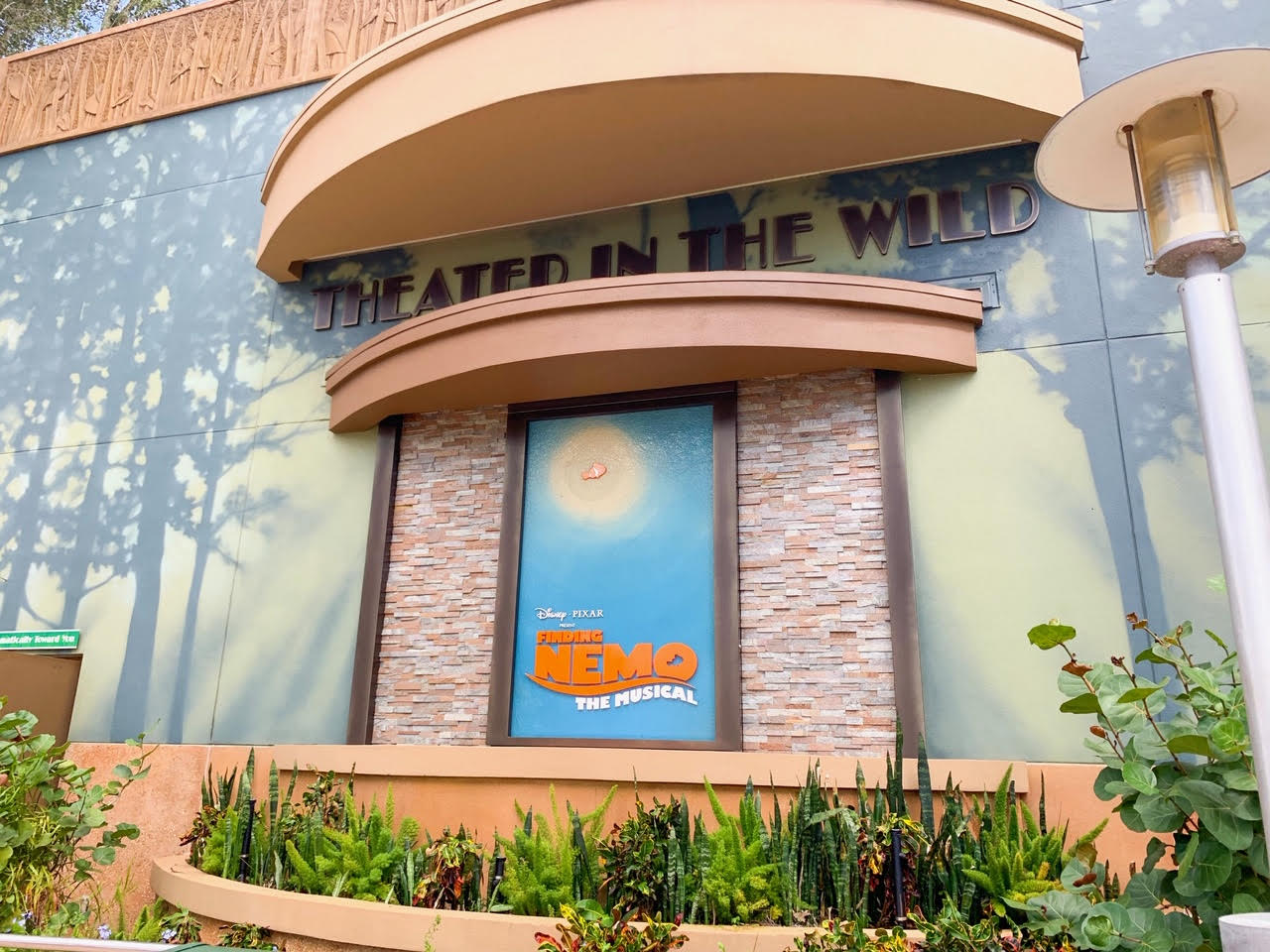 Festival of the Lion King
Festival of the Lion King is a really fun show to do with your kids as it's bright and colorful and loud and it gets them right in the action. Honestly, the Festival of the Lion King is a Broadway-caliber show. That's how good it is. This 30-minute show tells the story of Simba's coronation as king. As can be expected, this celebration is filled with amazing acrobats, talented dancers, and even huge puppets! And you can be sure that Disney won't leave out your favorite Lion King songs, including "Hakuna Matata," "The Circle of Life," and "Can You Feel the Love Tonight?" Plus, indoor AC and seating is always a win. Just save yourself the FastPass and wait standby for this show. Or, you can opt to book the Festival of the Lion King Dining Package, which includes dinner and reserved seats for the show.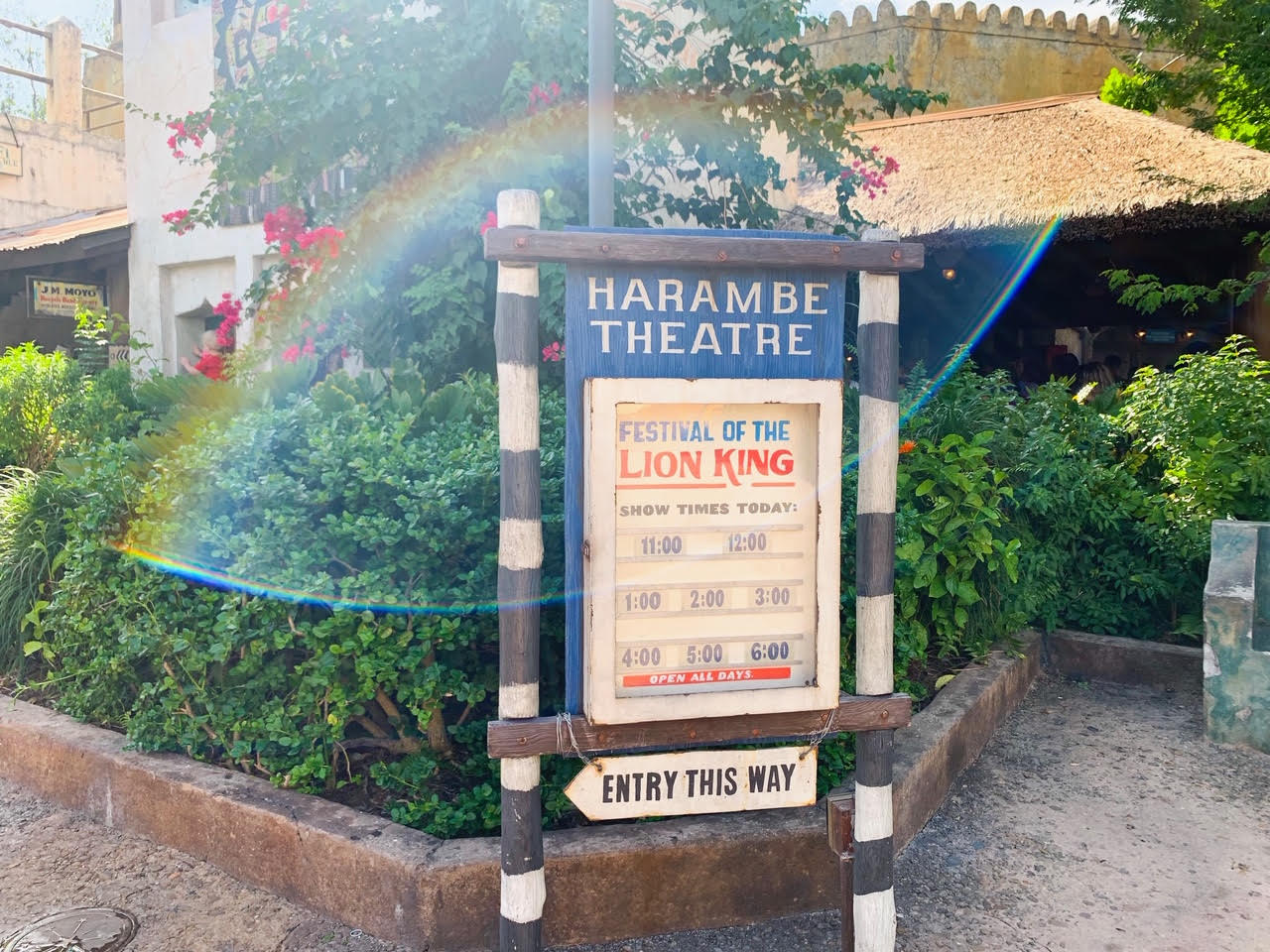 Primeval Whirl
So, generally I recommend skipping Primeval Whirl (it's basically a re-skin of the standard county/state fair ride Crazy Mouse). However, it can be a really fun little attraction for kids! So, if you have littles who want to go on a small ride, Primeval Whirl may be a good choice. This is especially a good one to grab if you've already done your three main FastPasses for the day and are grabbing a second round.
Animal Kingdom FastPass Recommendations
For your day at Animal Kingdom, our ideal FastPass schedule is:
Avatar's Flight of Passage – 9 AM
Expedition Everest/Dinosaur – 10 AM
Kilimanjaro Safaris – 12:30 PM
After you've used your first three FastPasses, here are some good choices to book more:
Kali River Rapids
Primeval Whirl
Dinosaur
One of the shows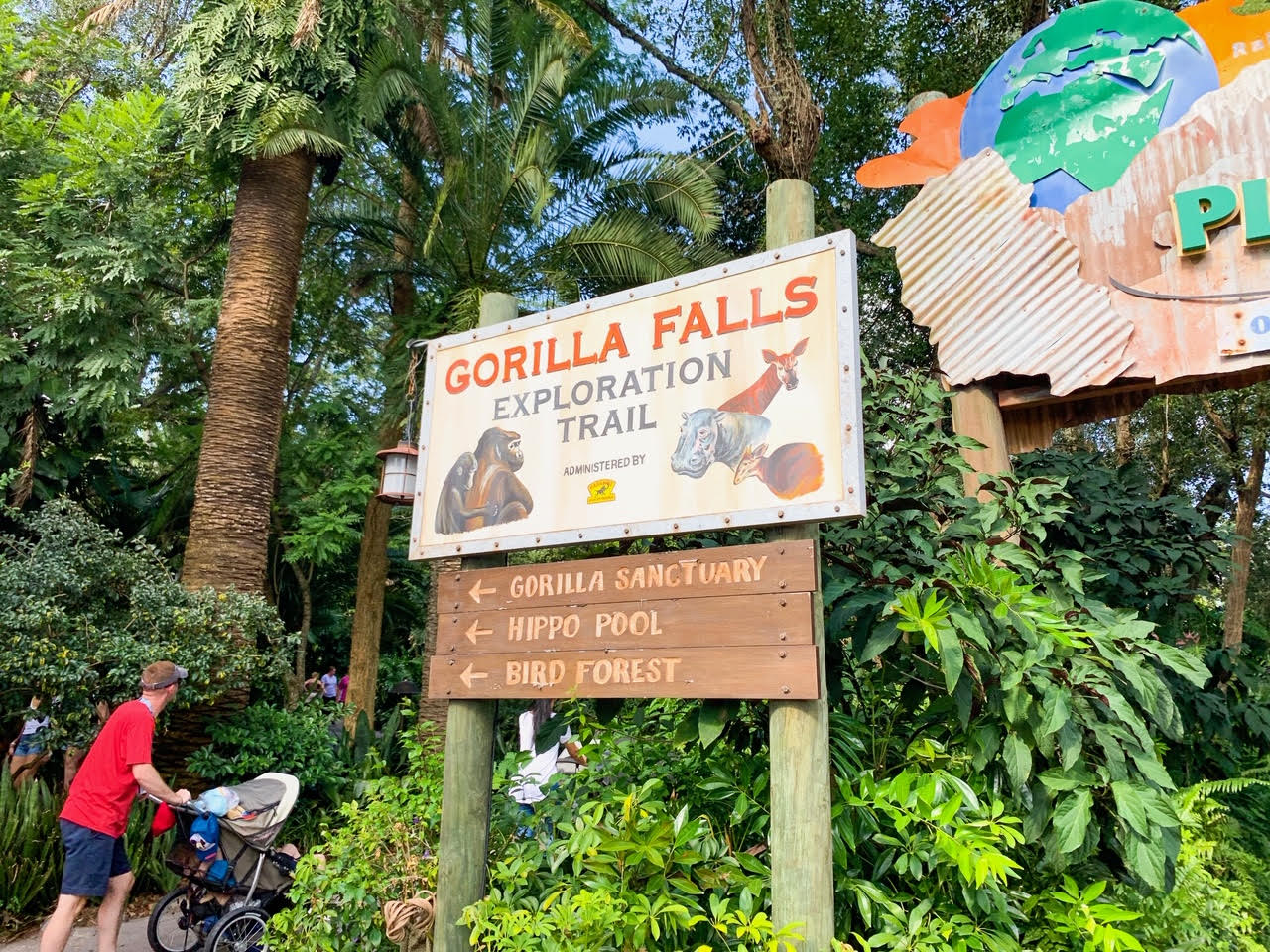 Okay! You are READY for.the Animal Kingdom FastPass system! I hope this has helped you plan your trip so that you can try all of the amazing attractions at Animal Kingdom with as little waiting and stress (!) as possible. Animal Kingdom is a truly exciting park so I hope you'll make the most of your time there and HAVE FUN!