Are you wondering what Disney Genie is all about? Confused by the changes and the different terms of Disney Genie, Disney Genie Plus and Lightning Lanes? Wondering about the cost of Disney Genie?
If you loved Fastpass+ you are going to have to take a moment and mourn that things are now different.
You're not alone, so don't worry; we're going to break it down for you. When the time comes and Disney Genie goes live, you'll be prepared and know how to get the very best out of Disney Genie, Genie Plus and the Lightning Lanes to suit you and your vacation!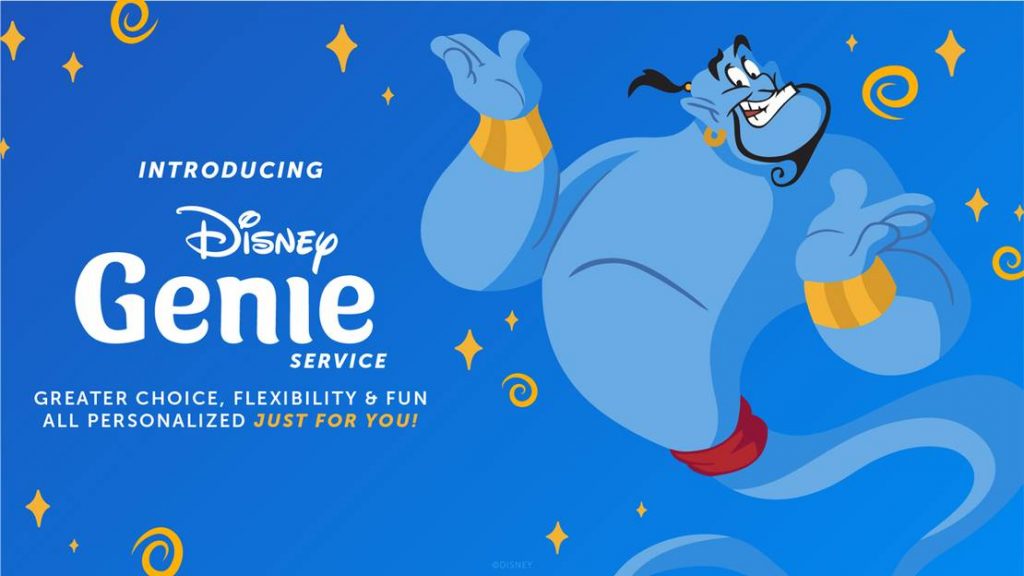 Disney Genie: Tips For Genie Plus, Lightning Lane And More!
What is Disney Genie?
Disney Genie is very different to Genie Plus (read on for that). Essentially, the Disney Genie app is a complimentary digital service that will sit within the My Disney Experience app (read our post on My Disney Experience here).
With Disney Genie app, you can input the things you're interested in – rides, character meets, attractions – and it will propose an itinerary for you. The Disney Genie app will update your itinerary during the day based on current and anticipated wait times…. so it might tell you 'ride Test Track now' because the wait time is low, so you can optimize your day by waiting in a shorter line.
In the future, it's pretty likely that you'll be able to do mobile food ordering and dining reservations using the Disney Genie app.
While Disney Genie and the Disney Genie app are going to make your life on the day a little easier, we certainly don't recommend that you visit the parks without a plan!
What is Disney Genie+?
There's been lots of speculation about when Disney would start paid-for Fastpasses, but that is what the Genie Plus is, essentially. Disney Genie Plus allows guests to skip the line for some attractions – for a fee.
You'll be able to book timeslots for the attractions you want to skip the line for – you can't just rock up to any attraction at any time.
In addition, there will be 'audio experiences' when you pay for Disney Genie Plus; we expect this will be thoughts from Imagineers relevant to the area of the park you're in at that time.
One other cool thing with Genie Plus at Disney World is the augmented filters – it'll be like getting Magic Shots from the PhotoPass photographers when you take photos with your phone on the day(s) that you buy Genie Plus!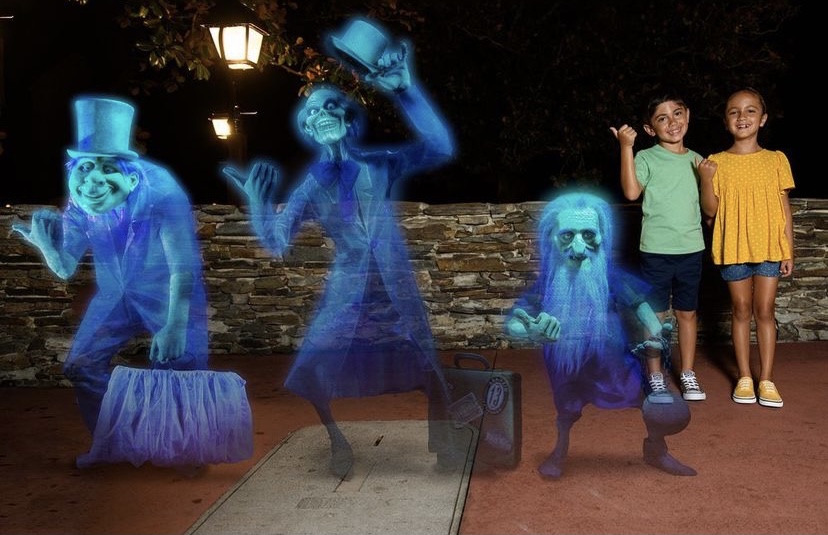 What Are Lightning Lanes?
The Lightning Lanes are the new names for FastPass Lanes.   They're the shorter lines for some attractions.   Unlike FastPass, there is a fee to get access to the Lightning Lanes. 
What is Lightning Lane A La Carte Entry?
For some of the most in-demand attractions in each park, there will be Lightning Lanes that having Genie Plus doesn't get you into. To use the Lightning Lanes for these attractions, you'll need to pay a per person, per ride fee.
The fee will vary based on the ride, the day and the time of year.
Guests can purchase a maximum of 2 A la carte selections per day but these can, if you have a Park Hopper ticket, be in different parks.
You don't have to buy the Genie Plus to take advantage of the Lightning Lane A La Carte selections.
We're pretty sure that attractions that currently only have a Virtual queuing system will be the Lightning Lane selections. That way, people who can't get Boarding Passes for Rise of the Resistance, for example, could now pay for it.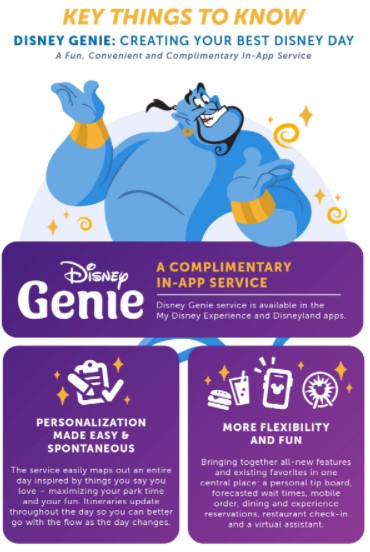 How Much Does Disney Genie Cost?
Most people are asking, what is the cost of Disney Genie?
Genie – the planning app itself – is free.
Disney Genie Plus will cost $15 per person, per day.
Disney haven't released the Lightning Lane A La Carte fees yet, but it's rumored that the fee will vary between $4 (per person, per ride) and $24 (eyewatering, right?!).
Is FastPass Still Free?
FastPass is being retired and Genie Plus, and the Lightning Lanes, are the FastPass replacements.
Much as we loved using them, we're sad to say that the Fastpass system as we've known it is a thing of the past.
How Does DAS Work With Disney Genie?
There are going to be two options for guests who want to use Disney's Disney Access Service (DAS) with Genie. One of these is to pre-book a video call with a Cast Member up to 30 days before you arrive. During your video call, it's rumoured that you will be able to nominate 2 selections per day to use with your DAS pass. It's suggested that you will have to book these at least 2 days prior to your planned visit because you won't be able to on the day.
We're fairly sure that there will need to be an option for people with DAS pass to register on the day of their park visit, but at the moment, that's unclear.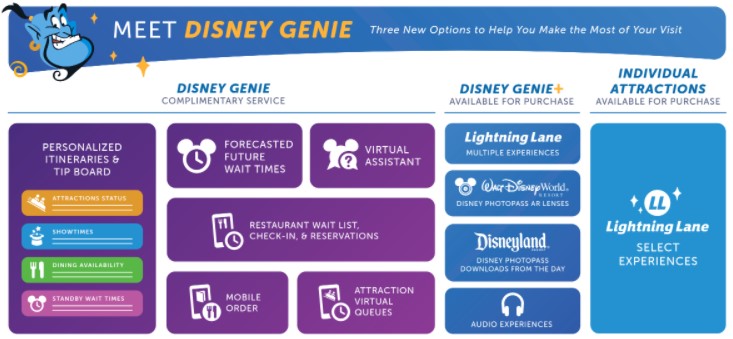 When Can You Book Disney Genie+?
You can book Genie Plus tickets ahead of time for vacation packages to Disney World but that will mean you have to pay for Genie Plus for every day of your visit. If you don't want to pay for the Disney Genie Pass for each day of your visit, please make sure to book on the day of your visit.
All guests (whether staying at a Disney World Resort or not) can book Genie Plus from 12am on the day of their visit.
Disney Genie+ will let you book up to one pass at a time and all guests who are paying for Genie Plus will be able to book their first attraction at 7am, regardless of whether they're in the park or not.
Please note: even if you get your Genie Plus tickets in advance, you can't make selections until 7am on the day of your visit.
Guests staying at a Disney World resort will be able to make a Lightning Lane selection at 7am. Guests who are staying off site can make selections from park opening, but they don't need to be in the park in order to do so.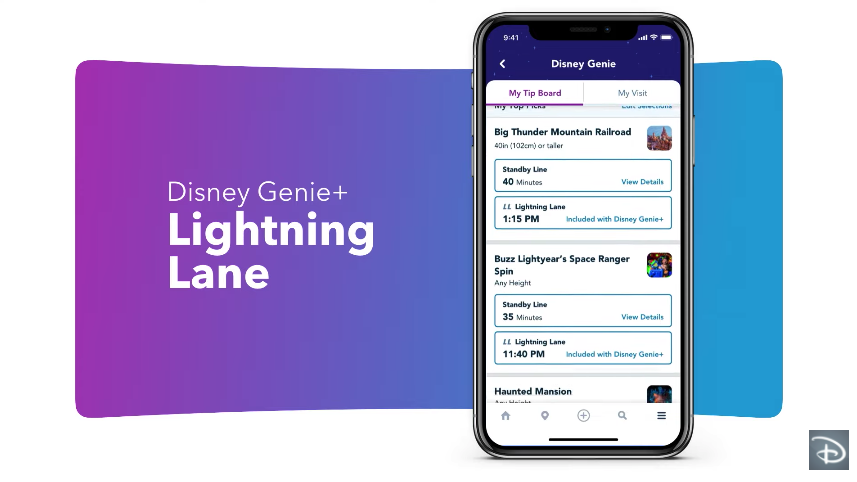 What About Annual Passholders?
At present, we know that Annual Passholders will be able to purchase Disney Genie Plus on the day of visit and that they will also be able to make Lightning Selections.
There are no discounts for Annual Passholders identified at the time of writing for Genie Plus or Lightning A La Carte. Although it's expected that there will be some benefits eventually, when Disney Genie is launched in fall, the Genie Pass is going to have no additional benefit or discount for those people with Annual Passes.
Disney Genie Forecasts Future Wait Times
As mentioned briefly, one of the great benefits with the Disney Genie app is the forecasting of wait times. Maybe the Disney Genie app will be able to even out crowds by sending people to different parts of the park and even be updated to take into account the weather.
We're pretty sure that this will be popular (depending on the accuracy of wait time forecasts) to help guests get the very best from their park day.
Disney Genie Gives Personalized Itinerary Suggestions
There has been some 'paid for' itinerary planning services (not run by Disney) for a while, but Disney Genie will bring this to all guests at no cost. So perhaps those people who weren't aware of the other services or those who don't know the full extent of each park offers will really benefit and Genie will help them include some attractions that they didn't even know about!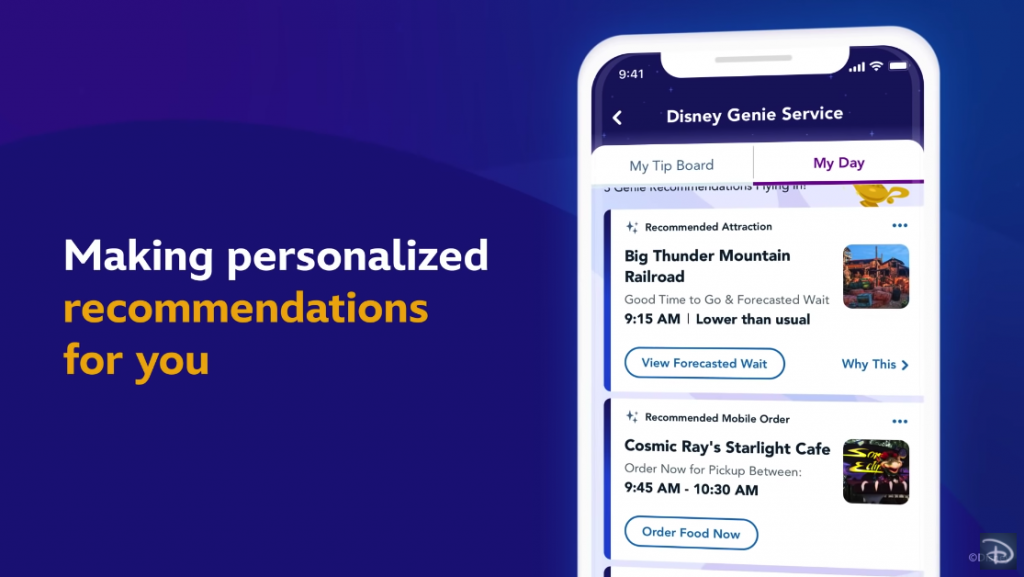 Disney Genie at Disney World Vs Disneyland
The Disney Genie Pass isn't the same at Disney World as at Disneyland, so please make sure you research and plan for your vacation based on the right information!
At Disney World, Genie Plus will cost you $15 per person, per day (for over 40 attractions) whereas at Disneyland it will cost you $20 per person, per day (for over 15 attractions).
With Genie Plus at Disney World, you will have some augmented filters with PhotoPass (but you still need to pay for PhotoPass). At Disneyland, Genie Plus gets you unlimited PhotoPass downloads.
You can book attractions at Disney World using Genie Plus from 7am. Disney World Resort Guests can book Lightning Lane selections from 7am. At Disneyland, guests can make these bookings once they enter the park.
Disney Genie Plus will have the audio experiences at both Disney World and Disneyland.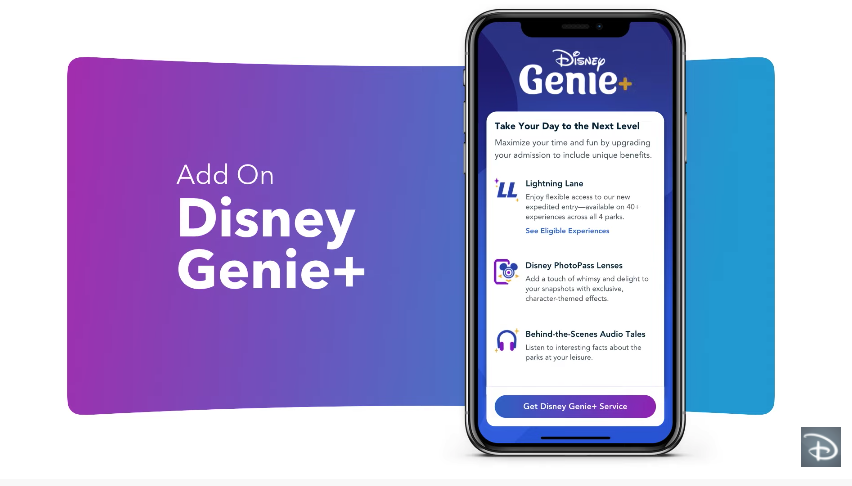 Suspected Breakdown For Top Tier Rides
Disney have provided two examples of what will be pay per ride options – Seven Dwarfs Mine Train at Magic Kingdom and Radiator Springs in Disneyland.
We're expecting that there will be Lightning Lane selection choices in each park and, right now, rumours are that these will be:
Seven Dwarfs Mine Train and Space Mountain at Magic Kingdom;
Remy's Ratatouille Adventure and Test Track at Epcot;
Rise of the Resistance and Slinky Dog Dash in Hollywood Studios;
Flights of Passage and Kilimanjaro Safaris in Animal Kingdom
As we said, right now this is speculation, but we're also pretty sure that the above will change (maybe the list will increase) as new and highly anticipated attractions (like Tron) open.
Factoring in the combination of Genie, Genie Plus and Lightning Lanes, this is how we think the future of rides in Disney World will look:
Some rides will have standby lines only.
Most rides will have standby and Lightning Lanes.
Some rides will have standby lines and A La Carte Lightning Lanes
A small number of rides (we think) will have Virtual lines and A La Carte Lightning Lanes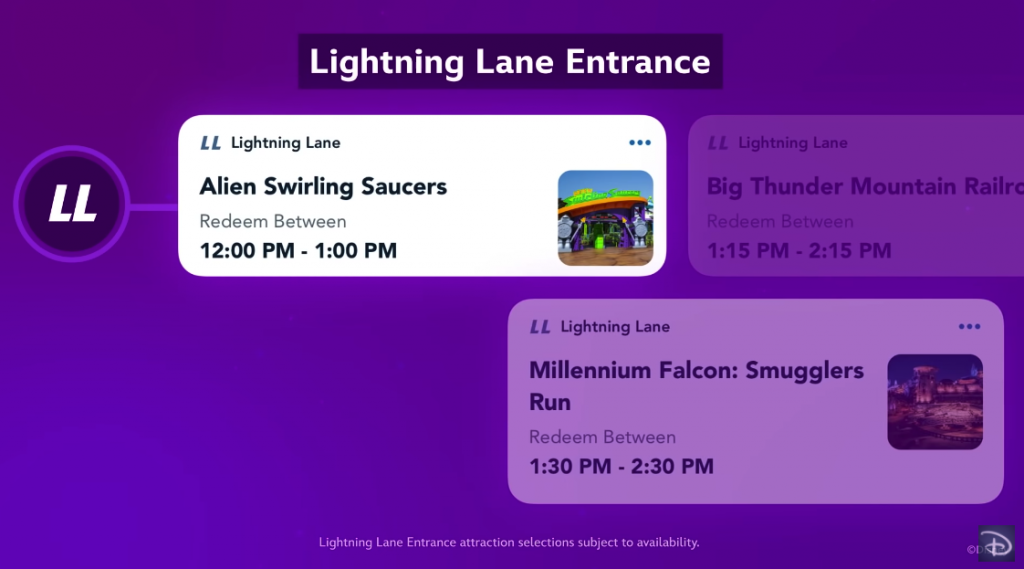 The Final Verdict On Disney Genie+ And Lightning Lanes
Well, we're sure that Disney will do a great job helping guests plan their vacations through the Disney Genie app and this is sure to please some people. At Disney Trippers, we're huge fans of planning, so we will report back as soon as we have top tips on how you can get the best out of Genie.
As for Disney Genie Plus, although it's not even started yet, we are definitely not fans! Getting rid of the free FastPass system is, as we see it, an unpopular move. Getting guests to pay for its replacement is not something we're happy about. We're clear that Genie Plus, and Lightning Lanes, are here to stay, but we'll be here for you, helping you plan so you still have the best vacation.
What do you think? Are you excited about the new Genie Pass? Please share your thoughts. If you've got a question that we've not answered in this post, please ask it below! Thank you for reading!