Have you got unanswered questions about the Quick Service Dining Plan? Are you unsure if the Quick Service Dining Plan is for you? Well, look no further because we've got you covered and will tell you everything you need to know, so you can make that all important decision.
Disney have just launched a new Dining Plan, bringing the total to 4 choices for you. The Disney Quick Service Dining Plan is the most affordable option and, we think, brings you a great deal of choice and versatility. We are in the camp that feels you can add some really delicious experiences to your trip and DEFINITELY save money, if the plan is used properly, and if it suits your party. Read on to get the low-down as well as the pros, cons and our top tips!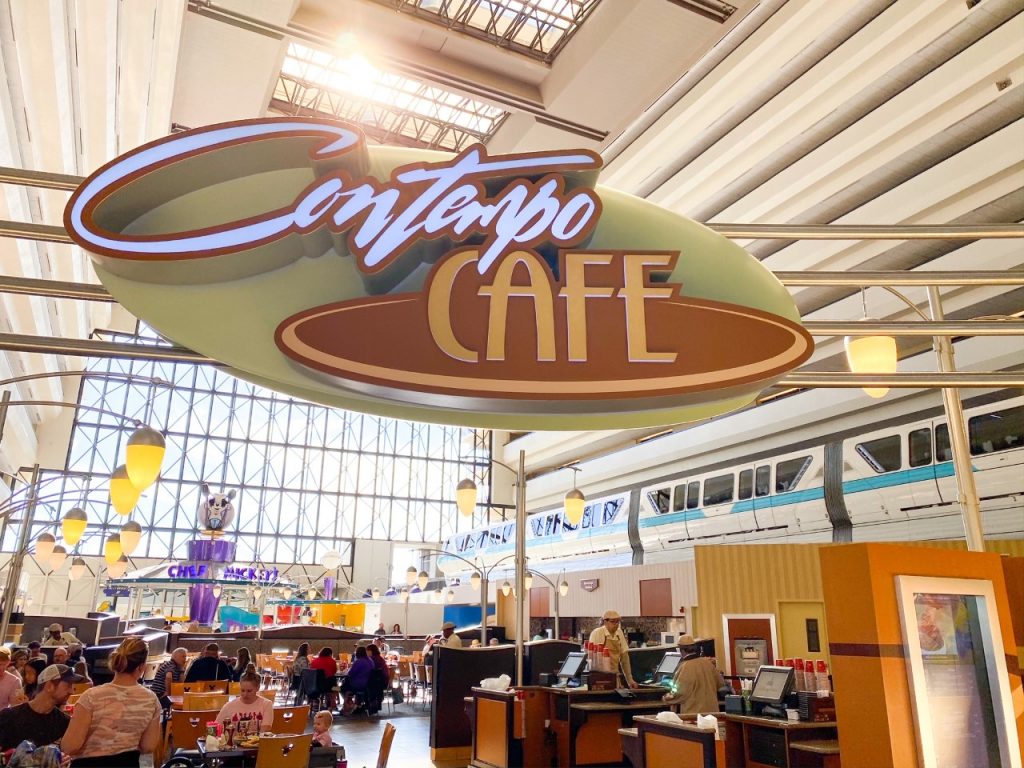 How To Use The Quick Service Dining Plan (Pros And Cons!)
What Is The Quick Service Dining plan?
The Disney Quick Service Dining Plan is a pre-payment method for dining during your stay at Disney. You can only get the Disney quick service plan if you're staying onsite, at a Disney resort, and you must purchase it for the duration of your stay for everyone in the room. It is the most affordable of the four
Disney Dining plan
options. Unlike the
Deluxe Disney Dining Plan
, you do have limited options, but it is WAY more affordable!
Disney's Quick Service restaurants are the ones where you place your order at a counter and then carry it to your table (with 2 exceptions – Be Our Guest breakfast and lunch and Pizzafari Family Style dining). You won't get waited on in a Quick Service restaurant, so if you want a refill on your drink, you go and get it yourself.
Many of the restaurants that are on the Disney Quick Service plan are now operating a 'mobile ordering' system, so you can save even more time by ordering via My Disney Experience before you get to the location itself and not having to wait in line to order, and then collect your food!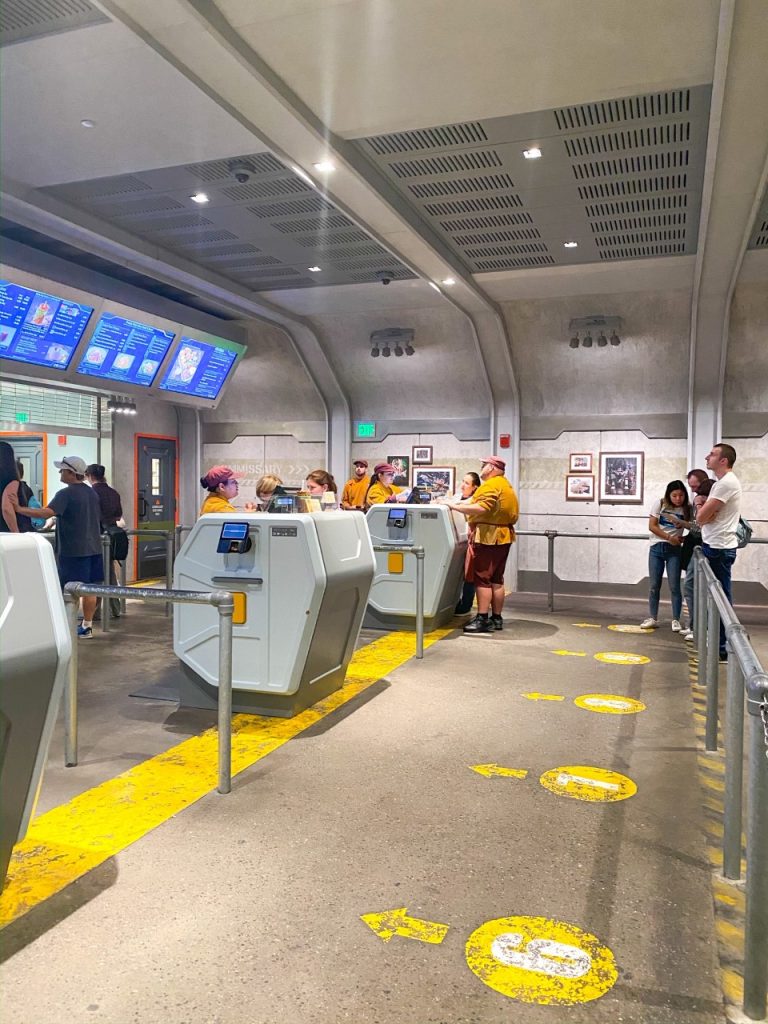 What Is Included On The Quick Service Dining Plan?
You will get, for each night of your stay, 2 Quick Service dining credits and 2 snack credits per person (read more about kids' credits further down). So, if you check in on Monday and check out on Friday, you will receive 4 nights' worth of credits (8 Quick Service dining credits and 2 snack credits per person).
Each person will also get a refillable Disney mug which you can use in ANY Disney Resort for the duration of your stay. These can be fountain drinks; milk; coffee; hot chocolate – if it's served in the resort's self service drink area (after the tills), you can put it in your refillable mug!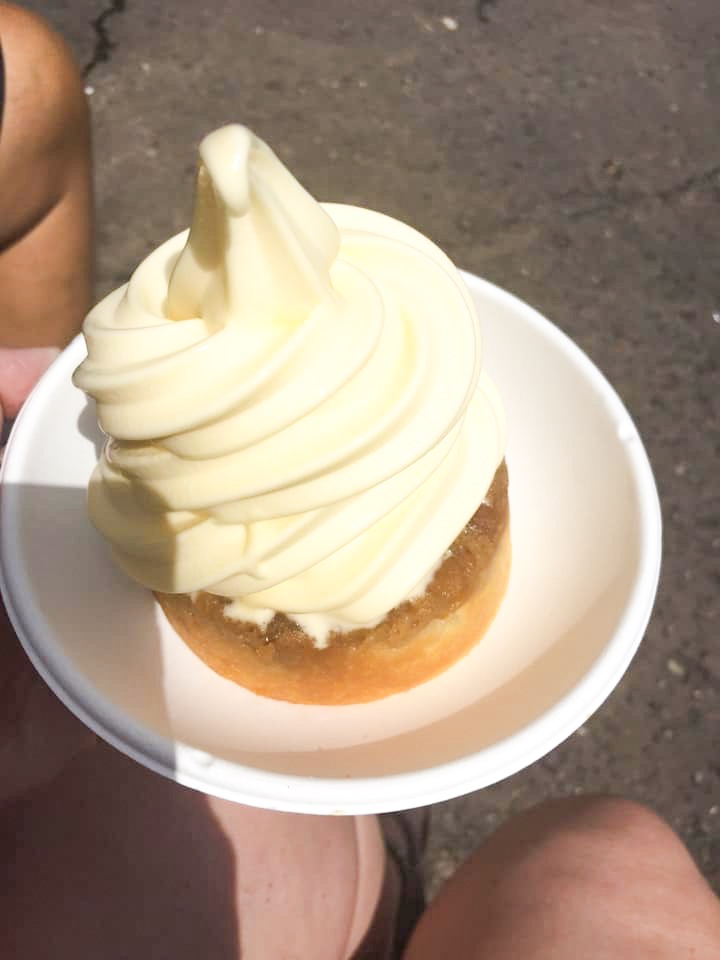 What's in a Quick Service credit?
A Quick Service credit on the Disney quick service plan includes an entrée, or a complete combo meal, and a drink from a Quick Service restaurant. You can use these meal credits for Breakfast, lunch or dinner. The entrée may be something like a burger with fries; a sandwich with salad or a curry with rice, for example.
It's definitely a good idea to do some research before you go (walking in to the closest Quick Service restaurant because we're hungry has been a mistake in the past!) as there are some spectacular choices on offer and many different types of cuisine. You can find all of the menus for restaurants on the Disney website, but there are so many to choose from, you might need to narrow it down if you're starting with no preferences. We've done a lot of work, here, for you, too:
When selecting the drinks, there are two options. Each diner can choose from the fountain drinks (and milk) as well as from any speciality drinks that are offered at that restaurant (e.g. shakes, smoothies etc). Not every restaurant has the same options with regards to speciality drinks, to it pays to check the menus in advance.
Diners over 21 could choose, instead, to have a single-serving of beer, wine or a cocktail/mixed drink. Again, not every restaurant serves cocktails, so check in advance if there's something you particularly like or want to try. Don't forget your ID if you're ordering alcohol!
There are some crafty uses of credits on the Quick Service Dining plan where you can feed your family for 2 adult credits, stretching your credits further, if you need it, and also reducing food waste. Most, if not all, of the resort Quick Service locations do a 'family' deal of large pizza; salad and breadsticks for 2 adult credits – they say this feeds a family of 6.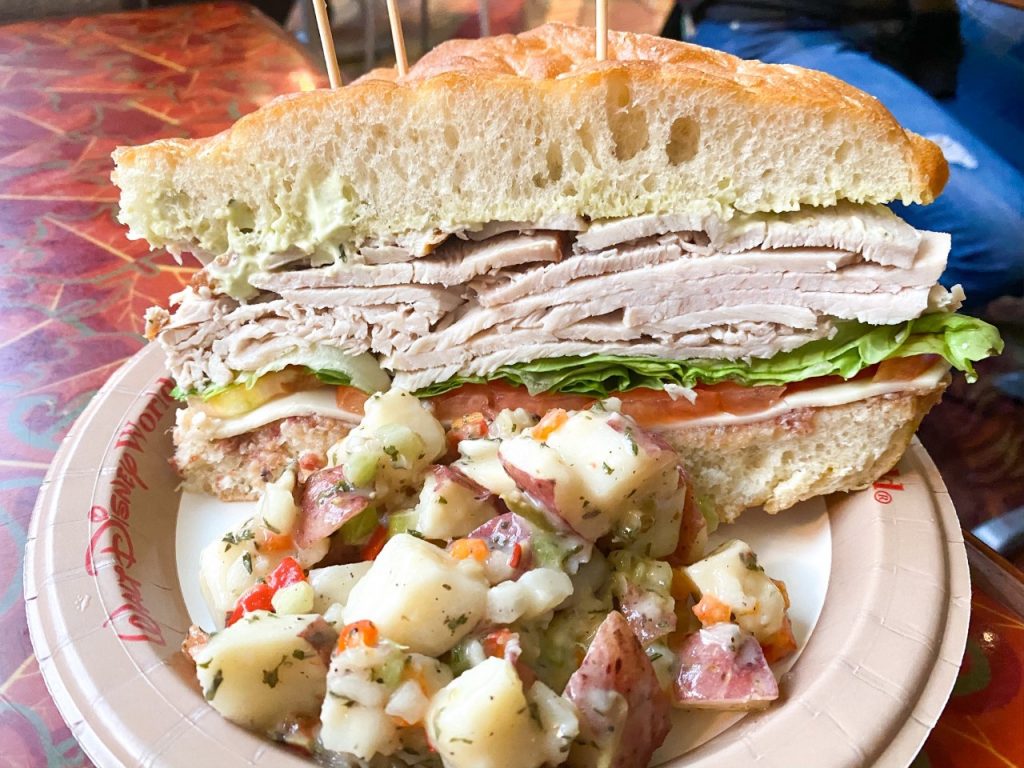 How to use the credits
When you place your order, tell the Cast Member that you're on the dining plan. They'll scan your magic band and give you a receipt. In many locations, you may need to show this receipt to collect your food.
You don't have to spread the credits evenly over your days and, if you've timed your travel to make the best of arrival and departure days, you'll have an 'extra day' to eat, but we think you'll probably have enough food if you use the plan wisely.
If you're eating in your resort and you have your refillable mug with you, then you can grab a bottled drink for later/next day in the park or you could take an alcoholic drink back to your room. Sometimes, if you ask them nicely, they'll let you substitute your drink (which you don't need if you have your mug) for a dessert. Not everywhere does, but a smile and a polite question may go a long way!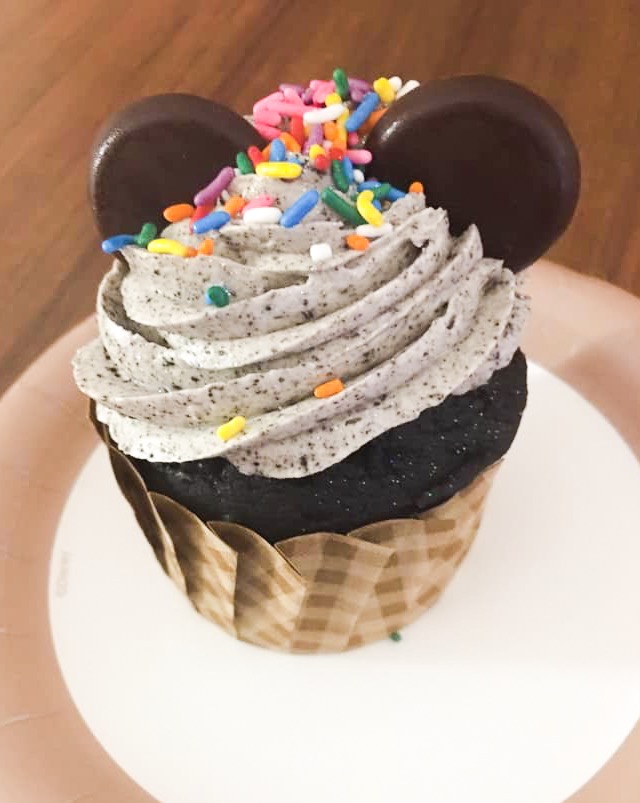 What Are Snacks On The Quick Service Plan?
Snacks are, typically, things that cost up to/around $5 on the menu.
Bottled water/drinks; ice creams etc count as snacks, but in general, we feel there are FAR better uses of your snack credit. Generally, to get good 'value for money' for your credit, you should be aiming for snacks that are over $5.
Anything that you can use a snack credit for has a purple DDP logo beside it on the menu. Read on for 'best snacks' and best use of snack credits.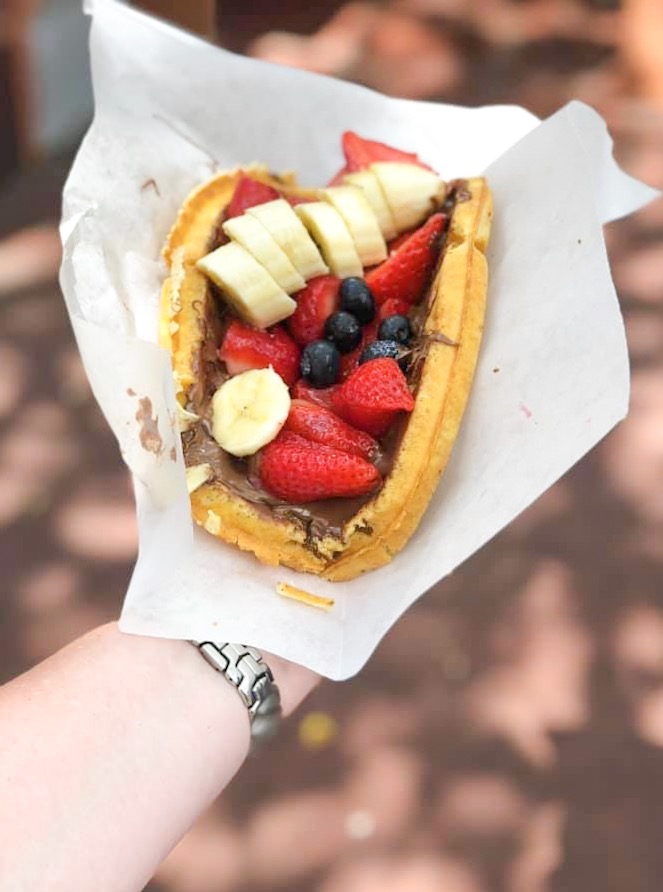 2020 Disney Dining Plan Quick Service Credit Values
The 2020 prices for the Disney Dining Plan Quick Service is $55 for guests over the age of 10 and $26 for guests aged 3-9. Kids under 3 don't pay for tickets, so you can't buy a dining plan for them. Read more about
Disney with toddlers/under 3's
.
This is a 'per night' price and, remember, you'll need to pay for it for each night of your stay and for everyone in your room (over the age of 3).
To get the best value for your money on the adult quick service plan, you need to be spending at least $19 on a meal and $5 on a snack. Created by others,
this spreadsheet
gives you an idea of the average and maximum credit cost in all of the Quick Service restaurants. Read on to find our Dining plan calculator and how to use it.
Remember, unlike the other Dining plans, you won't need to add gratuities with the Quick Service Dining plan. You may be interested in our full article on
Tipping at Disney
.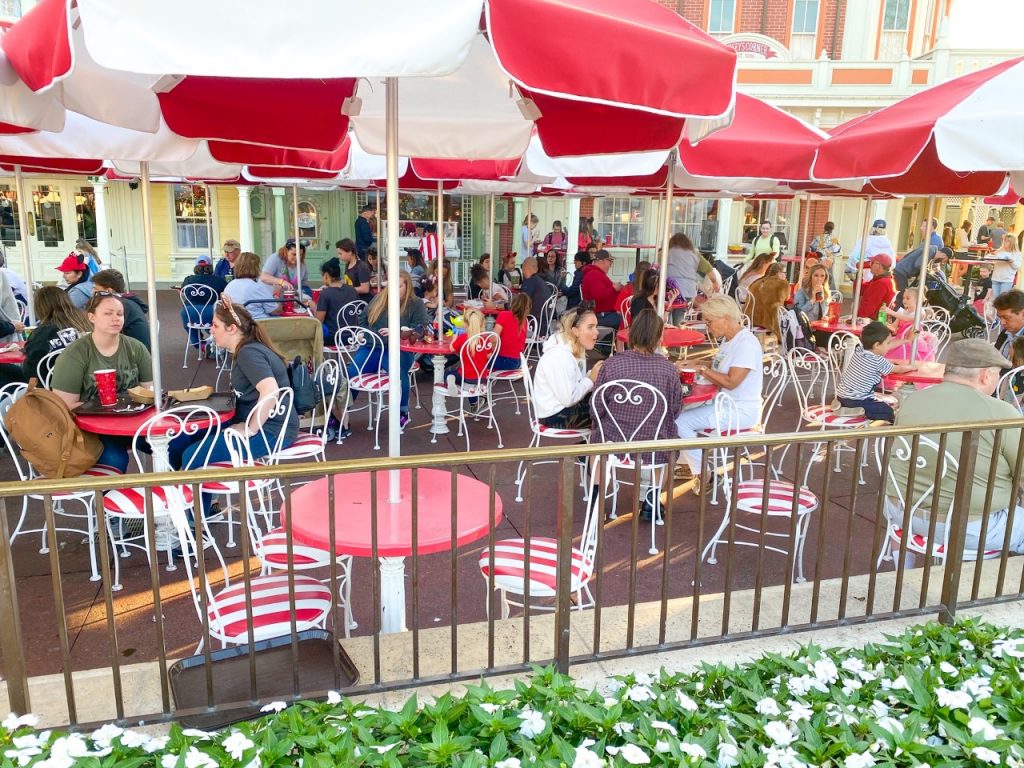 How Do I Tell If The Quick Service Dining Plan Is Right For Me?
Certainly, if you're going for a long time OR traveling with several guests (over the age of 9), you'll probably be wondering whether the Disney quick service dining plan is for you – after all, it's a lot of money to add to your park tickets and accommodation, so you want to know it's going to benefit you, right? You totally can, by using our free and simple calculator, below!
Download the Disney Dining Plan Calculator by clicking on the link below and you will see more detailed instructions as well as a completed example for a 3-day plan. In order for the calculator to work correctly for you, you must fill out, in the grey boxes, exact prices for where you want to eat, as they reflect on the Disney website!
Choose what you would normally order; don't over or underestimate or the results won't come out accurately for you. Fill out each and every box in order to get an accurate depiction. You can even use the sample for inspiration!
Filling out our Quick Service Dining plan calculator fully and to the best of your ability is the only way to get a good look and see if the plan will be worth it for you! Yes, it takes a little time, but think of all the money you will save if it doesn't work out for you or all the money you WILL save if it ends up working out in your favor!
Quick Service Disney Dining Plan
Please note: When using this calculator, you will read each column from top to bottom. So the first column on the left will be "Day 1" and then you will go DOWN that column [not over left/right] but top/bottom and here you will fill out by breakfast/lunch/dinner/snack! I hope this is easy to understand!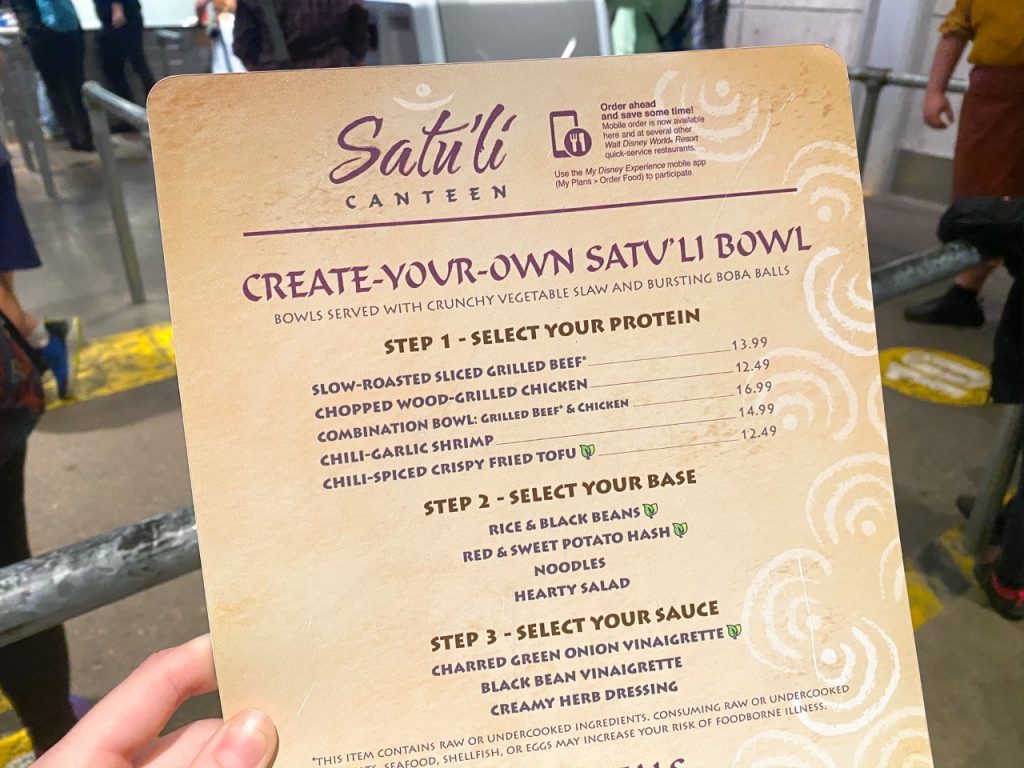 What Are The Best Snack Credits On The Quick Service Plan?
There are too many snacks to list all the possibilities. However, others have created this spreadsheet of snacks, which is a great source of information on snack credits.
There are SO many great snacks, even some that are becoming iconic and we've showcased some of the very best in
20 Best Disney Snacks
As mentioned above, to get the best value from your snack credits, you should be looking to use them on items that cost over $5. It's advisable not to use them on bottles of water or Mickey bar ice creams, when you could use them for French Onion soup (lunchtime at Be Our Guest) or an ice cream sundae at the Plaza Ice cream parlor, for example.
Your snacks are going to go way further and satisfy your tums and your tastebuds more, this way. Don't forget, you can ask for a cup of water at any quick service dining location in Disney parks (my kids don't like the taste of 'Disney water', but I keep a couple of sachets of Crystal light or similar in my bag and they're happy!). And remember to take your refillable resort mug if you're dining (or snacking) at other resorts!
If you're a coffee lover, any of the Starbucks' drinks count as a single snack credit (one of their venti frappucinos will satisfy me and my children, so for us, this is a good use of a snack credit and still leaves us for plenty to use on amazing Disney snacks!).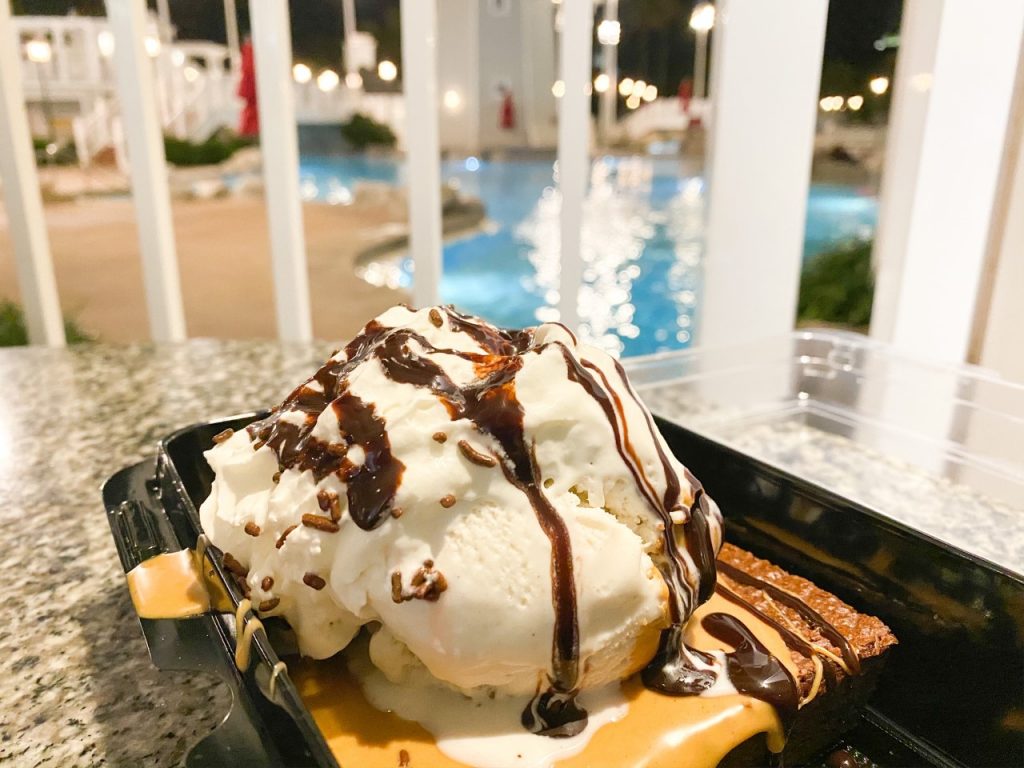 Children And The Quick Service Dining Plan
Kids (aged 3-9) need to order from the kids' menu (adults also can, if they want). Where there isn't a kids' menu (Casey's Corner, for example), the cast member should let your kid order a 'standard' meal.
If your child is a big eater, you could enquire how much it would cost to 'upgrade' their plan to the adult price. This generally works out most affordable when the 'free dining' offer has been taken advantage of, but it is an option you could consider. Read more about how to get
Free Disney Dining.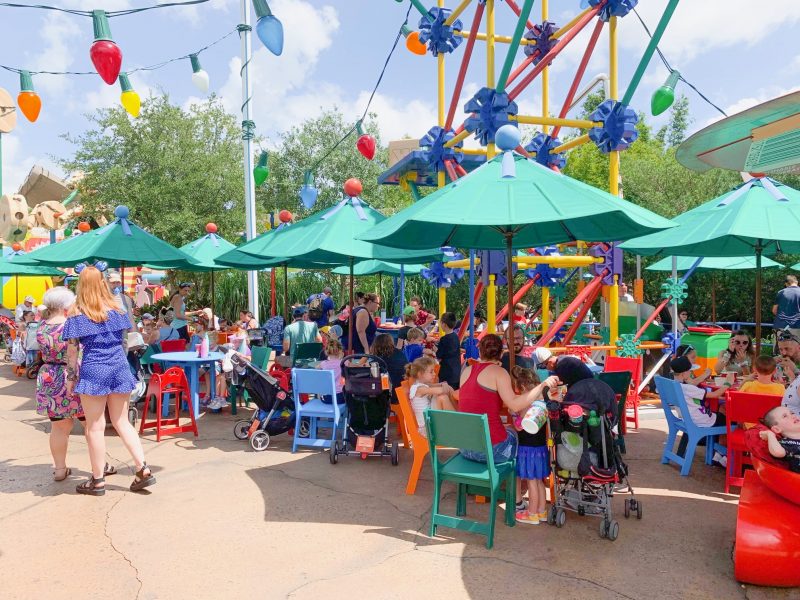 How To Keep Track Of Quick Service Credits
Every time you purchase a meal or a snack; you'll get a till receipt, which will tell you how many quick service dining plan credits you have left. You can also check, at any time, in My Disney Experience. Failing that, Guest Services or the concierge in your resort will be able to tell you.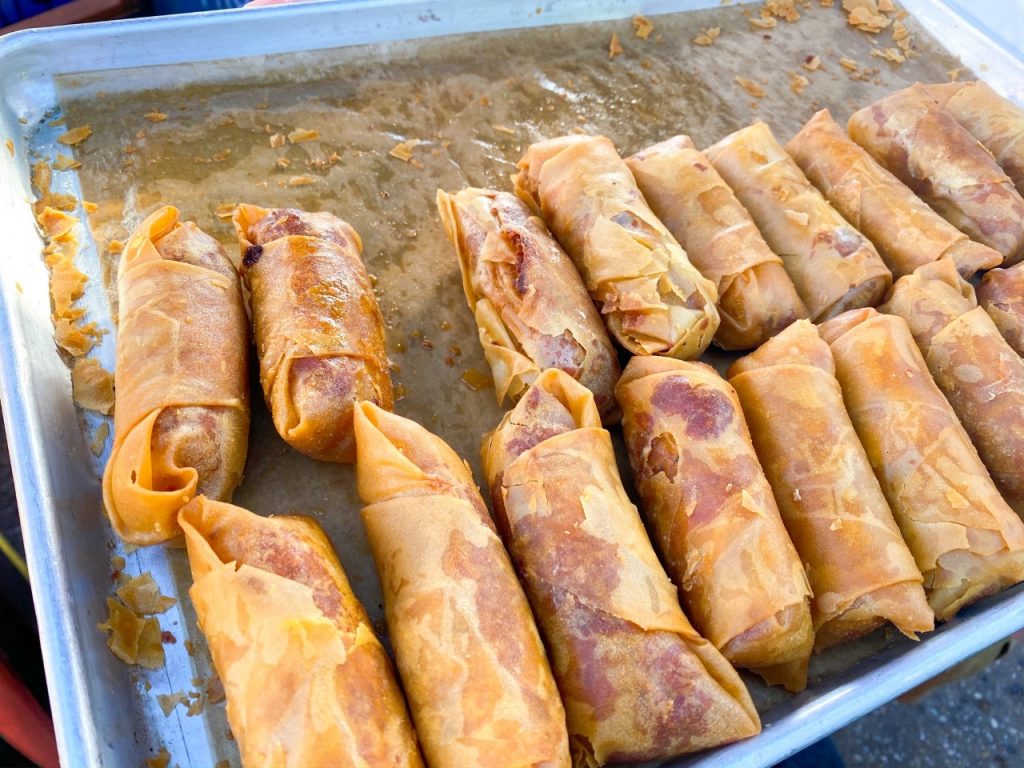 Pros of the Quick Service Dining plan
We feel there are plenty of pros of Disney quick service dining which will help your vacation be even more magical:
Paying ahead for your food, drinks and snacks will certainly help you budget for your vacation – you'll be able to work out how much money you're likely to need on 'other' spends, such as clothing, toys, gifts – but knowing that your food is taken care of can definitely remove some of the stress. I particularly love not having to say 'no' to treat snacks to my kids (who love the ice cream cookie sandwich as a snack credit at the Plaza Ice Cream parlor in Magic Kingdom!)
The plan allows you to have choice and not feel restricted – we know we've tried snacks that we would have felt too indulgent or expensive, otherwise. We also feel there's an opportunity to 'take a risk' on something that you want to try but that may not be an 'absolute winner'; we've felt less like we've wasted money on something that we may just have used a snack credit for!
Disney Quick Service choices are far superior compared to typical 'theme park' fare. There are some creative and unusual options, as well as the favorites you'd expect to see. There's also a great range of plant based options and extensive allergy-friendly choices, too.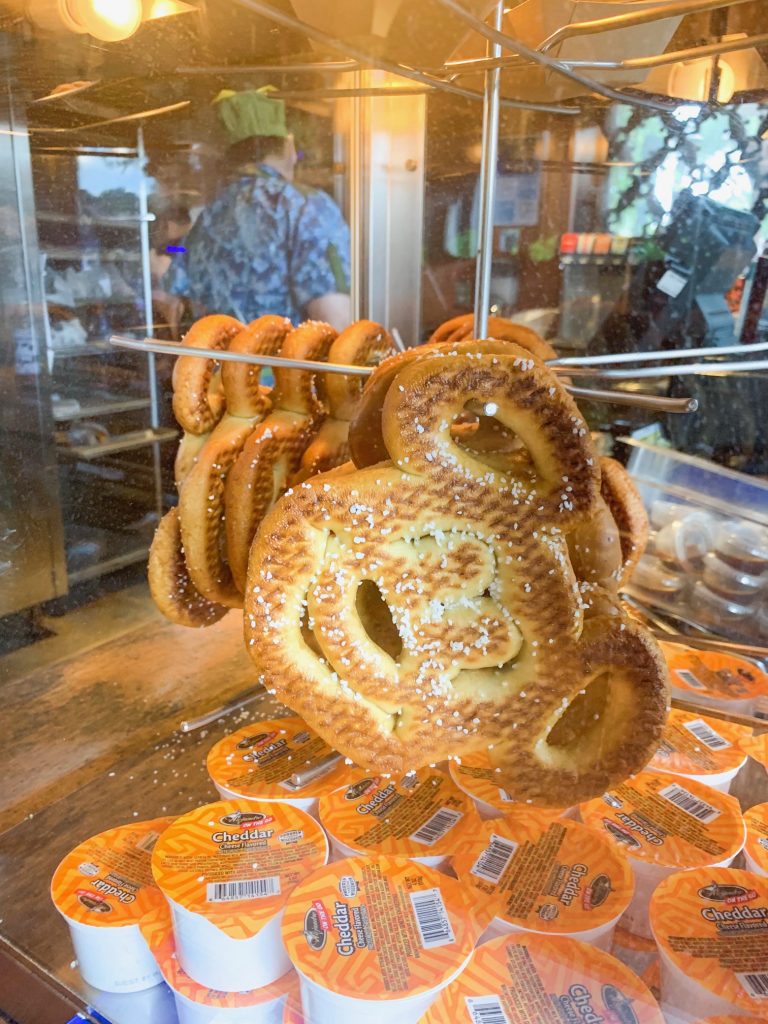 Dining on the Disney quick service plan is – as you'd expect – quicker, so you have more time to enjoy the parks and resorts! This pace seems to suit many ages of kids, too. We've found that table service, whilst a great experience, takes so long – whether it's the experience itself (especially if you've paid for a character meal, you'd want to meet all the characters) or the travelling to the different resorts (getting the bus to Animal Kingdom Lodge for a meal certainly increases the duration 'away' from the park or pool).
There's less food than the other plans – we love to eat, but we hate to feel full. Especially on hot days, feeling full can really sap our energy (and reduce our appetites) – the quick service dining plan is plenty of food, but not SO much that you're going to feel like you can't be busy and enjoy your vacation, if that's what you like to do!
You don't have to book Advance Dining Reservations ahead, so you have the freedom to eat what and when you want!
The plan certainly is hassle-free and we love the 'feel' like the one you'd get on an all-inclusive vacation.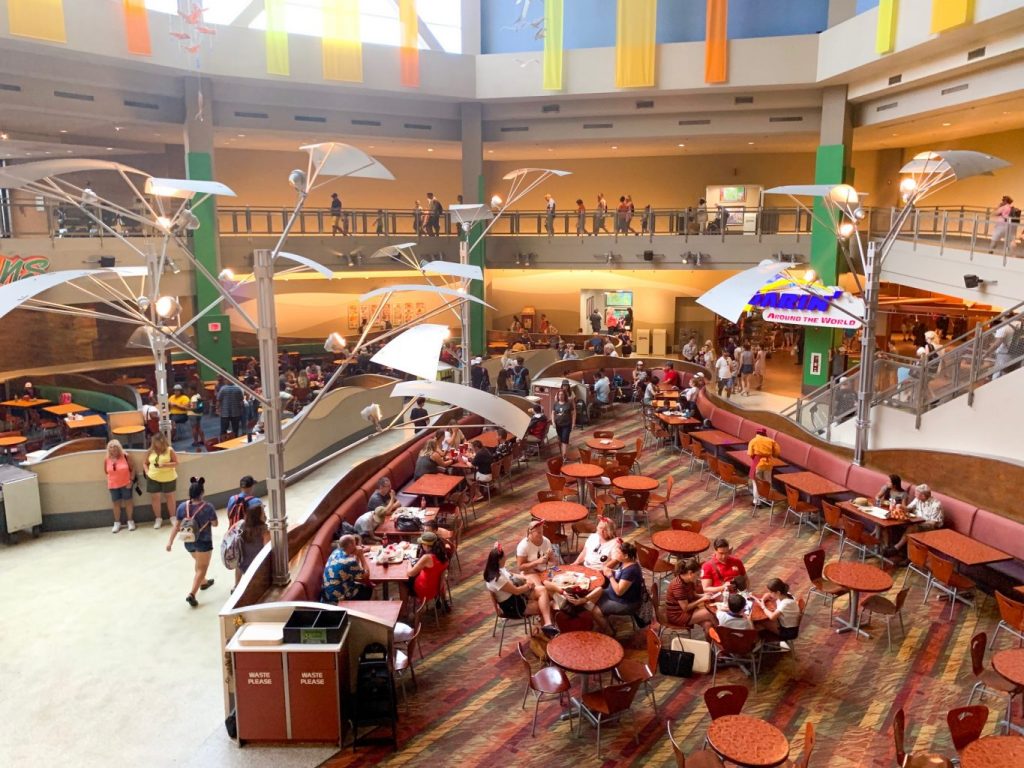 Cons of the Quick Service Dining plan
It's good to carefully consider if the Quick Service Dining plan is going to work for you; it's a lot of money to waste if it's not.
You or your family may be small eaters and you may feel there's simply too much food to eat; you may know that, particularly in the heat, you can share a Quick Service meal and be perfectly satisfied.
This may lead you to wasting credits, which is a waste of money.
You may waste credits, wasting money [link our DDP calculator]
You could end up paying more than it would have cost you without the plan
To really make sure that the Quick Service Dining plan is the right choice for you, don't forget to download and use our Disney Dining Plan Calculator.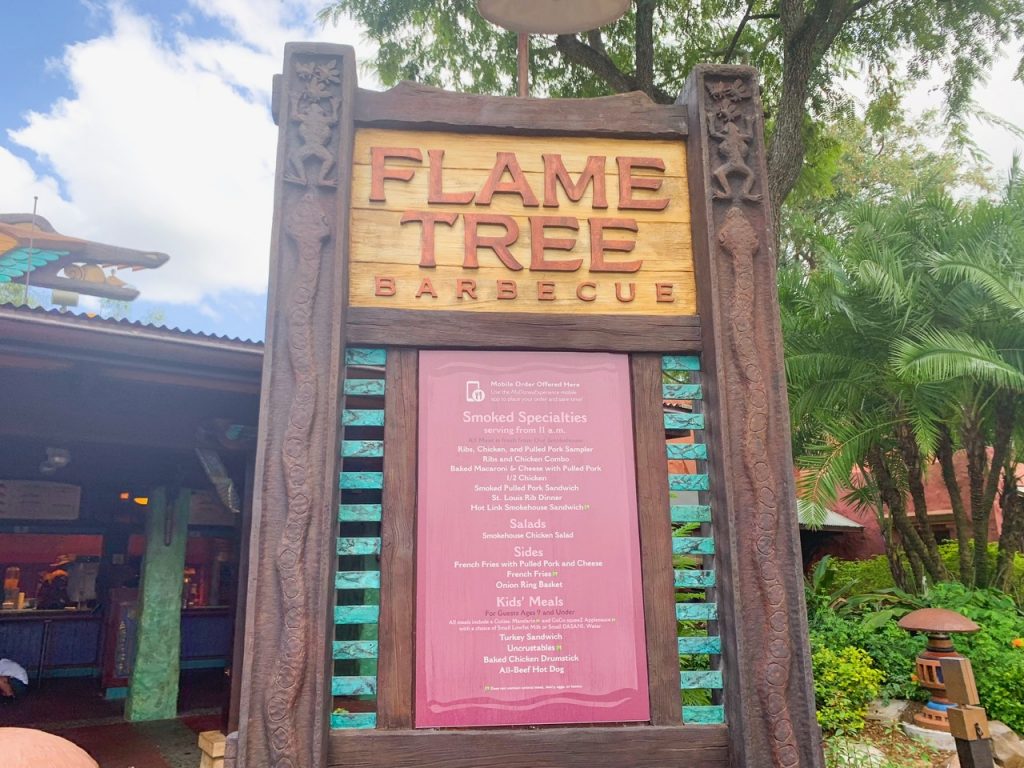 What to do if you have leftover credits
You can swap an Adult's Quick Service credit for 3 snack credits. This definitely isn't the same value for money as using your credit for a meal, but you may be OK with that, rather than wasting credits. This could be your snack for the journey home!
Many people, with leftover credits, take bags of candy back for gifts for their co-workers; kids' friends etc! Kids' Quick Service credits can be swapped for 1 snack credit, so clearly it's a better choice to use it for the meal credit.
Some people decide to sprinkle some pixie dust over others and offer to pay for another guest's meal with their additional credits – this is, again, at the Cast Member's discretion, but we know many people who've done it and made another party's day!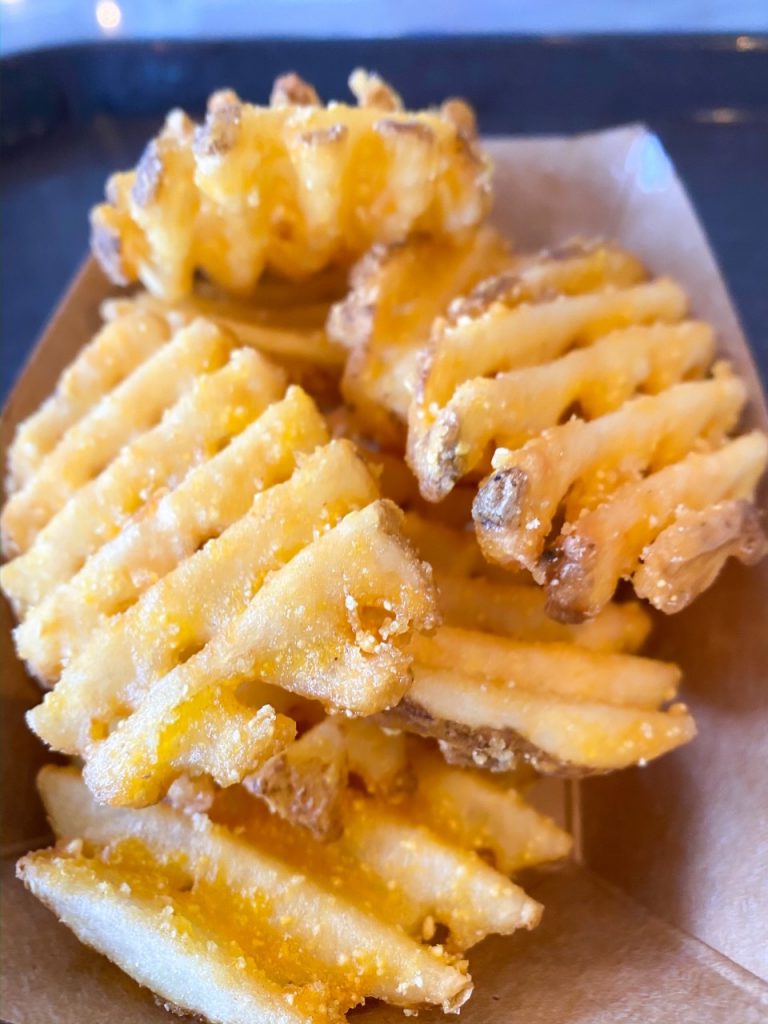 We hope you've enjoyed reading about the Quick Service Dining plan and that it's helped you make your decision. Do you think the Quick Service Dining plan is going to be for you? Let us know in the comments! As always, if you have any questions, we are more than happy to answer them for you! Thank you for reading!