Have you ever wondered which is the best Disney resort for kids? Do you have a tried and tested favorite that you felt was the best Disney resort for toddlers, but would like to expand your family's experiences now your children are older?
Or are you planning your first trip to a Disney resort with your kids? Whether you're planning your first trip or you're returning for another magical experience, we've got all the information you'll need to help you choose YOUR best Disney resort for kids!
We know from experience that what appeals to toddlers and young children is NOT the same as what appeals to older kids and teens. And while Disney is certainly a place to keep the magic of childhood alive and make shared family memories, knowing what the resorts can offer kids of different ages will definitely help you narrow down, or even pick, your best Disney resort for kids (which, in our mind, is the same as picking the best Disney resort for families – happy kids = happy families!).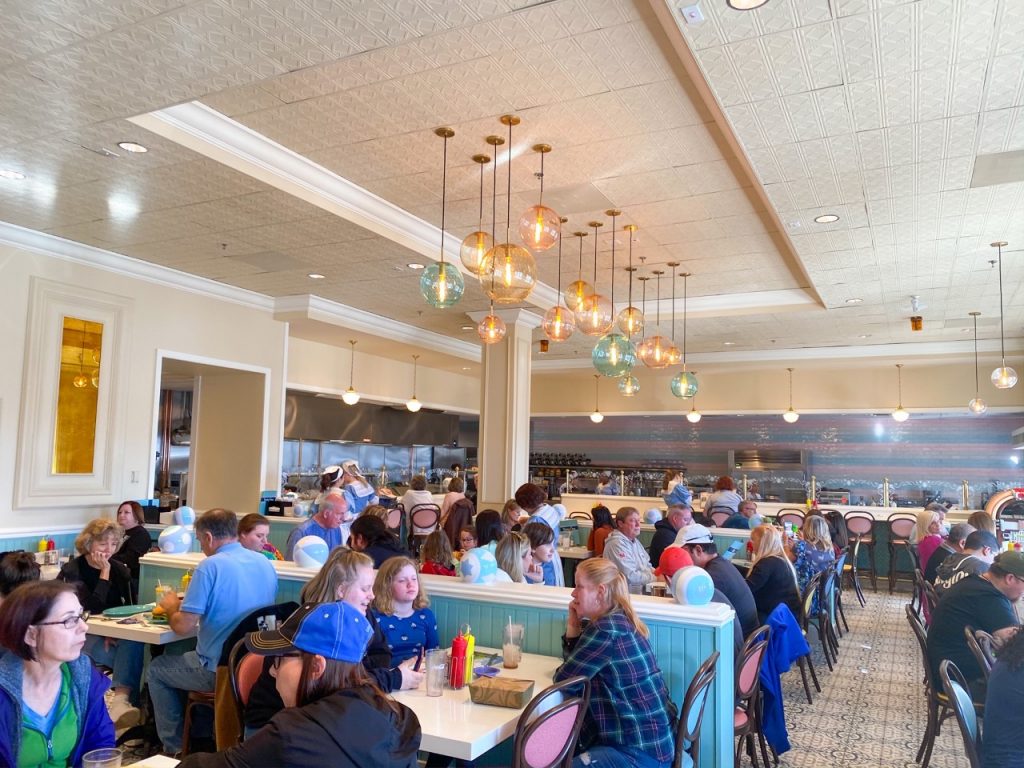 16 Best (and Worst!) Disney Resorts for Kids
Disney has three categories for its resorts: Deluxe, Moderate and Value. These refer to price ranges, so you can easily find a resort range to meet your budget. We've grouped our top picks in the same categories, to help you find the best Disney resort for kids for YOUR vacation.
ALL Disney World resorts offer Movies Under the Stars at no extra cost to guests. Movies range from Disney Classics like Peter Pan to the more recent Disney movies like Moana. Different movies will be offered throughout the month and different movies at different resorts. You can travel to any Disney resort and join in the fun, there!
Some resorts add a little extra magic to their Movies Under the Stars, so read on to find out more!
Best Deluxe Disney resorts for kids
Deluxe Disney resort theming is out of this world and some of them are particularly appealing to the younger audience and would DEFINITELY receive the kids' vote in the 'best Disney resort for kids' Award! Along with their awesome amenities, the proximity and transportation to the parks may just be the thing that gets these resorts the adults' vote in the 'best Disney resort for families' Award.
Not having to fold strollers to get on a bus; not having long walks once you've reached the resort; being able to walk to the Parks, or use transportation other than buses after a LONG day in the park or when making your way back to the resort for a middle of the day rest; we've thought about all of this when compiling the list – these are some of the things that our list of best Disney resorts for kids have in common! You can also read more about Disney Deluxe Resorts for greater detail.
Disney's Beach Club Resort
The pool
The theme of the Beach Club resort is based on a New England style resort, with plenty of fun, beach themes to appeal to kids of all ages.
If you're a regular reader of Disney Trippers, you'll know we LOVE Beach Club. We also happen to think it is THE best Disney resort for kids. The main winner is the awesome, 3 acre water park: Stormalong Bay. There is a shallow sand area, which is zero entry and IDEAL for young children and non-swimmers to play, without parents needing to worry that a wave will knock them over!
There's also a lazy river (which my kids have ALWAYS loved); an open swim area; a whirlpool area; two waterfalls and 2 slides. Then, there's a junior slide for kids aged 2-9 and there's a long slide for ages 6-106! Both slides are around a shipwreck feature that even the toughest audience would appreciate! Stormalong Bay is only for use by guests of Beach and Yacht Club and, because it's such a popular pool, this is strictly enforced through checking Magic Bands.
Have we sold you (or your kids) on Beach Club as the best Disney resort for kids, yet?! No? Then read on!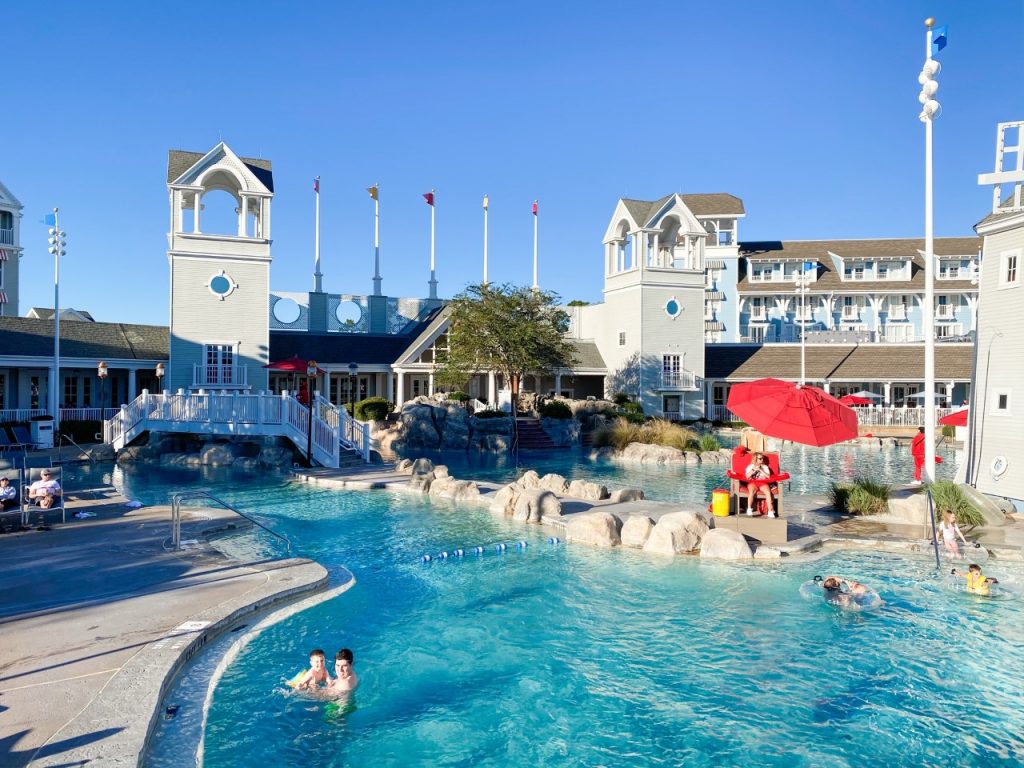 The food
You have, at this best Disney resort for kids, some outstanding choices for food. There's the amazing Cape May Beach Cafe: in the morning, this is a top quality Character interaction buffet (read more about Character Dining) featuring Minnie and friends in their Beachwear. In the evening, it's billed as a seafood buffet, but there's plenty of choice available for kids (and adults) who aren't seafood fans, as well! Food served here is really great quality and, if you're on the Disney Dining Plan, a great use of a Table Service credit.
If you're having a lazy pool day and don't want to wander too far, Hurricane Hanna's Waterside Bar and Grill is situated close to the pool and serves a limited menu until 8pm.
From a food perspective, the stand out choice, making the Beach Club the best Disney resort for kids, has to be Beaches & Cream Soda Shop. Serving quality burgers, salads and sandwiches, Beaches & Cream is particularly well known for it's spectacular ice cream sundaes – in particular No Way Jose and the notorious Kitchen Sink (which serves 4!).
The only downside we can find at the Beach Club is the lack of decent counter service food offering. However, given that you are a short (and we mean SHORT!) walk from both the BoardWalk and Epcot's International Gateway and all the amazing food options that they have to offer, we don't think you'll be short of excellent food options.
Epcot isn't the only park you can walk to; Hollywood Studios is a slightly longer, 15 minute walk, from Beach Club. Younger children may not be happy with even these short walks, so you may be relieved to know that you can take a boat from outside the Beach Club to either park. The Skyliner station is also really close, and a new, fun form of transportation!
We're confident that your children will LOVE being so close to the parks, with all the amenities Beach Club has to offer and will agree that it is definitely the best Disney resort for kids.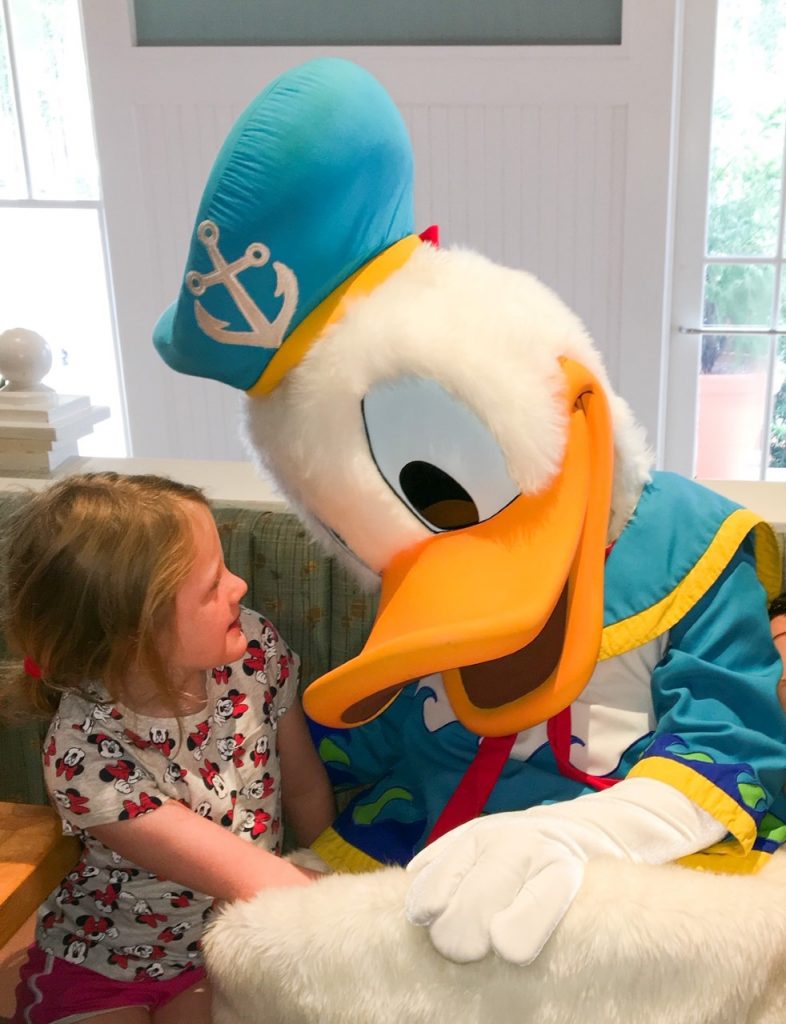 The rooms
The rooms are bright and airy; most rooms have a balcony (or patio on the ground floor), but not all are full size (some are half/Juliet balconies); they have a tub with shower over the top, which may be particularly helpful for younger kids.
Recreation
There's a full calendar, which changes each month, and which clearly states which activities are free (most of them) and which are paid for. Free activities include games; dance parties; campfires; Movies Under the Stars (on the sandy beach, no less!) and quizzes. Paid for activities include the Albatross Treasure Cruise for children age 4-10 and lasts for about 2 hours and an Instructor led painting activity for over 12's.
Childcare Services
Being so close to Epcot, parents may be interested to learn that WDW recommends Kid's Nite Out, who offer in-room babysitting service for kids aged 6 months- 12 years at any resort, for a fairly steep (but fixed) hourly rate.
If your kids are aged between 4 and 12 (and potty trained), you can use the Children's Activity Center at the nearby Walt Disney World Dolphin Hotel, Camp Dolphin.
For a more child-centred adventure, kids aged 4-12 can join Captain Hook's Pirate Crew for an evening (4.30-8.30) of swashbuckling; treasure hunt; sailing on Crescent Lake and a pirate's feast. We kind of wish they did this for adults, too!
We think, with the pool, recreation and childcare options available here, Beach Club makes a great contender for the best Disney resort for toddlers AND the best Disney resort for families, too!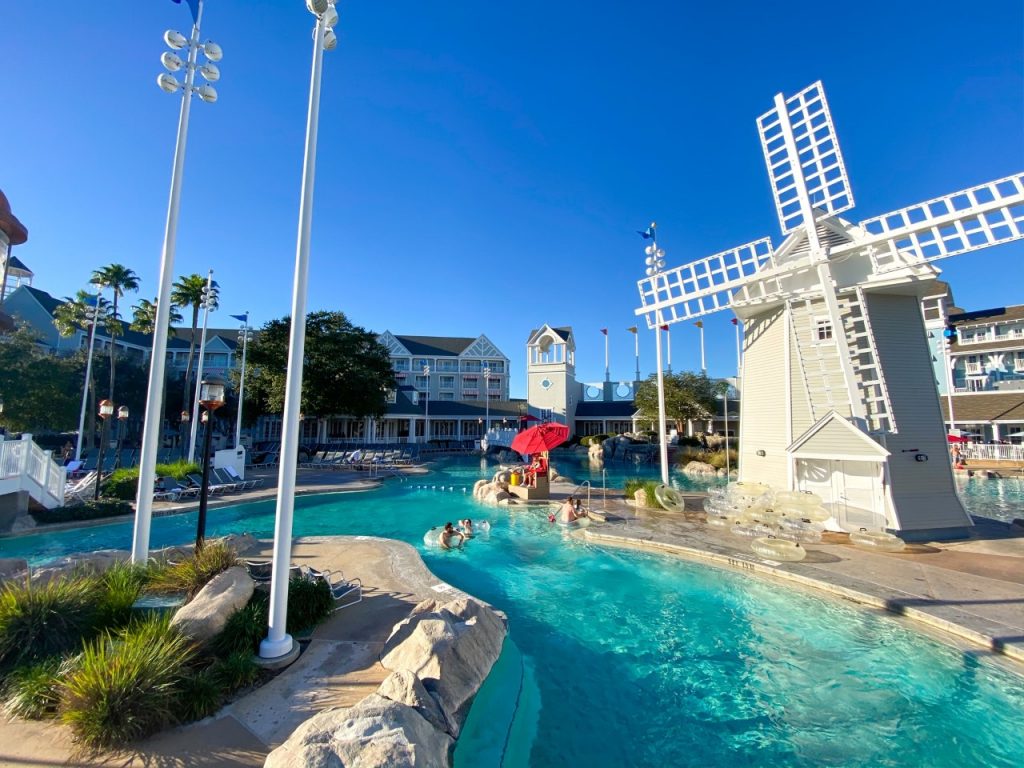 Disney's Contemporary Resort
It's location gets the Contemporary Resort so high up in our list of the best Disney resorts for kids – one stop on the Monorail away from Magic Kingdom and the ONLY hotel that you can walk to Magic Kingdom from. It takes minutes – if the monorail is busy as the park closes, it's easily quicker to walk!
Kids are sure to love the fact that the monorail runs right through the hotel – it's fun to get on and off the monorail from here, but it's also fun just to watch the monorails while you sit and eat or just relax!
The pool
There are two pools at the Contemporary Resort, although the theming, like the hotel itself, is understated. There's a slide in the larger pool and the smaller pool has views of Bay Lake. The pool itself is fine, it's just nothing to write home about.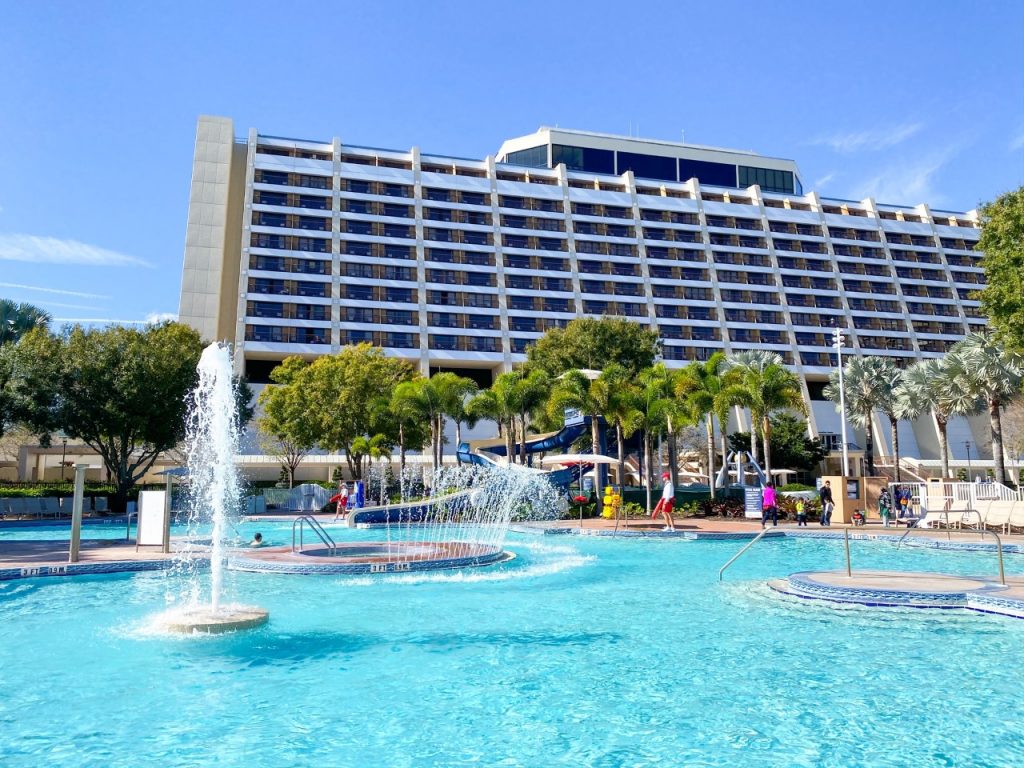 The food
The Contemporary resort offers three table service restaurants and two counter service restaurants. With a coffee bar and several lounges, we're sure you and your kids will never go hungry. Kids love Chef Mickey's – the ONLY restaurant where you usually see the 'Big 5' (Mickey, Minnie, Donald, Pluto and Goofy – poor Daisy!); it's a buffet with a wide variety of adult and kid friendly options and you can book for Breakfast, Brunch and Dinner. We love the brunch idea, because our kids always want the breakfast favorites (hello, Mickey waffles!) and we want to make sure we've all eaten something a little more substantial and/or varied.
Also home to the California Grill, this fine/signature dining choice on the 15th floor of the Contemporary Resort is very popular and not just for adult only groups (if you're on the Dining Plan, it is 2 TS credits per person). I know many people who've taken their kids there and LOVED the experience. Viewing the Magic Kingdom fireworks from the California Grill after/during dining is a highlight – they dim the lights and pipe the music in throughout the show, or you can watch from the outside observation deck. And don't worry if you've finished dining before the fireworks, keep your receipt and take it back to the restaurant check in and you'll be re-admitted for the fireworks. We think this is great, because many families with younger kids want to finish eating earlier.
If you're looking for quality, table service dining without the pricetag of the California Grill or the noise of Chef Mickey's, you can't go far wrong with The Wave.
Finally, the Contempo Cafe, one of the counter service restaurants, deserves a mention. Home of the famous Peanut Butter pie, you can get great snack options and also great quality meals for breakfast, lunch and dinner. The Contempo Cafe deserves its reputation as one of the best resort Quick Service restaurants.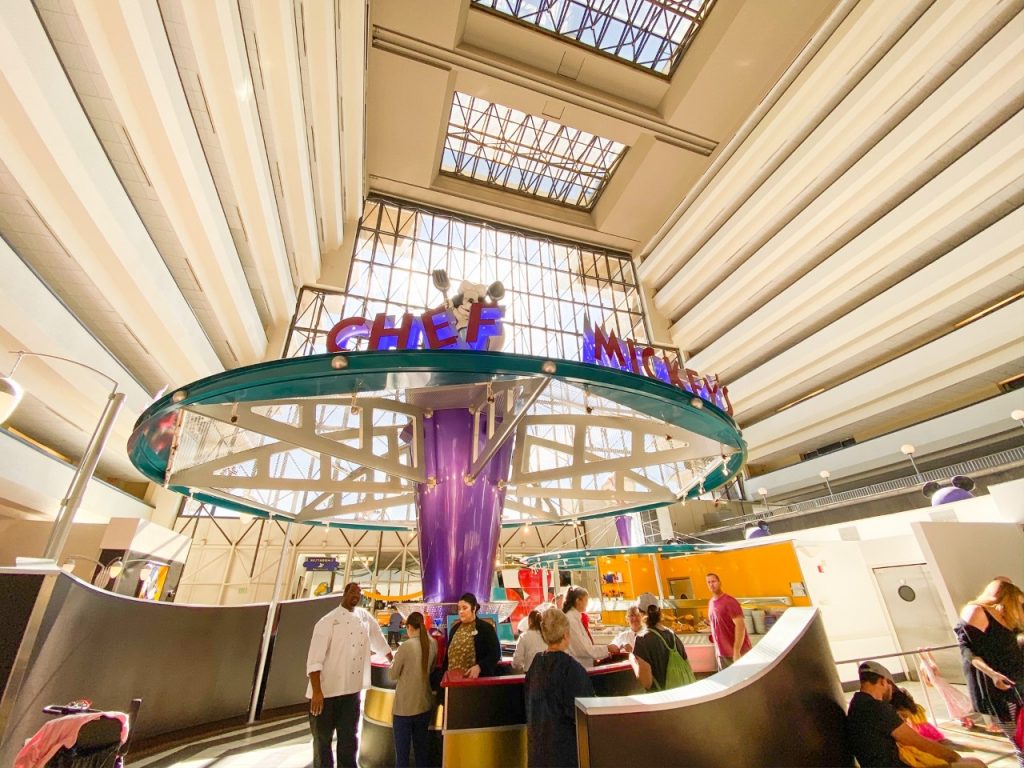 The rooms
The rooms are as you'd expect in a Disney Deluxe resort – clean, comfortable and among the largest rooms on WDW property. They're in 2 locations – the iconic 'tower' or also the Garden wing. Tower rooms are booked up quickly and all have balconies with either a view of Magic Kingdom or a view of Bay Lake. Theme park views come at a higher price.
We love having balconies when travelling with kids, because it means we can enjoy the evening even after they've gone to sleep! Balconies, for us, are definitely a feature when picking the best Disney resort for kids!
The rooms have a tub with shower over and there's a sliding door between the dressing area and the sleeping area.
Recreation
Movies Under the Stars takes place on the lawn under the Skyway Bridge and this is also the location for Campfires (not every evening) where you can purchase a S'mores kit, if you wish. There's a full schedule of pool parties, trivia and games and, like Beach Club, some paid for arts and craft activities for your kids.
The fabulous, family friendly Pirates and Pals Fireworks Dessert Voyage departs from the Contemporary Resort. Not exclusively for guests of the Contemporary, it's a fun and different way to see the Magic Kingdom fireworks, with the opportunity to meet Captain Hook, Mr Smee and a special guest after the voyage!
Childcare Services
You can make use of any of the options listed for Beach Club, but (apart from Kid's Nite Out, which you book for in your room), you need to factor in travelling time from the Contemporary Resort to the Beach Club area – which may be fine if you're planning time at Epcot or Hollywood Studios.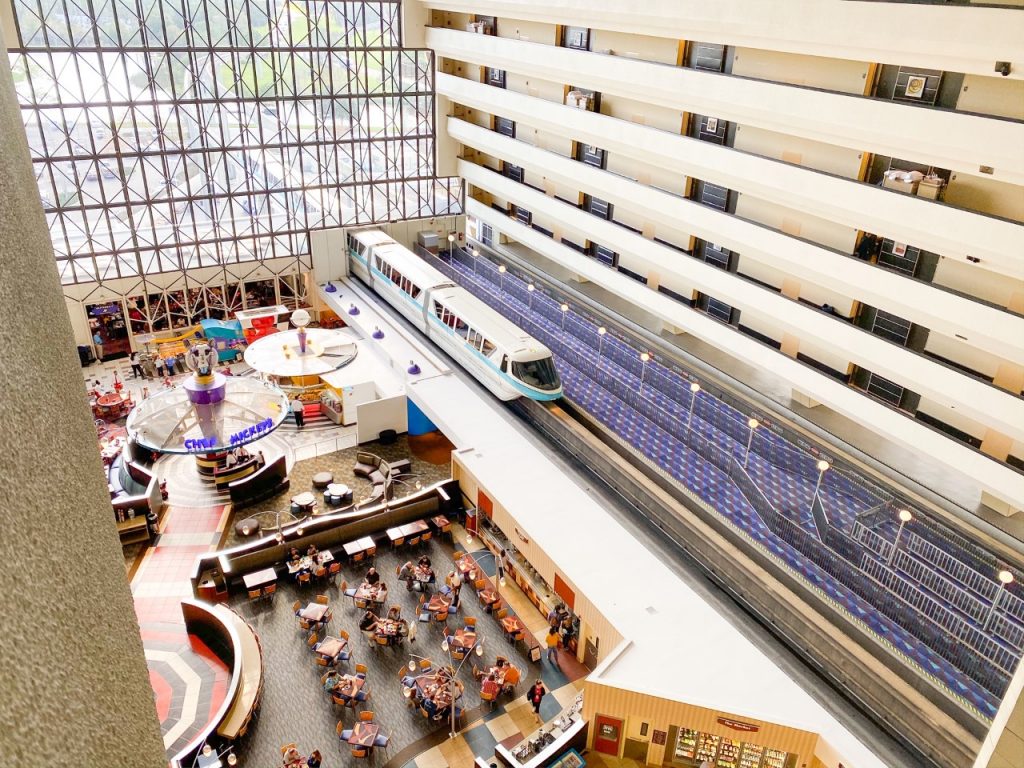 Disney's BoardWalk Inn
The BoardWalk Inn is located on Crescent Lake and is within walking distance to Epcot; the Beach Club; Yacht Club and the Swan and Dolphin resorts. It's close to the Skyliner station, too! Most conveniently, it's situated right on Disney's BoardWalk, with a huge range of dining and entertainment! The BoardWalk Inn definitely deserves its place on our list of best Disney resorts for kids!
The BoardWalk Inn is themed as a replica of an early 20th Century Atlantic seaside boardwalk with brightly painted buildings and neon signs. At night, the illuminations make the resort look equally beautiful and kids of all ages will be drawn to it.
The pool
Home to the Luna Park Carnival pool with one of the best (if not the best) slides at a Disney Resort, your water babies are sure to love the water features on offer at this best Disney resort for kids! For those seeking a quieter pace, there's also 2 leisure pools (and a whirlpool spa!).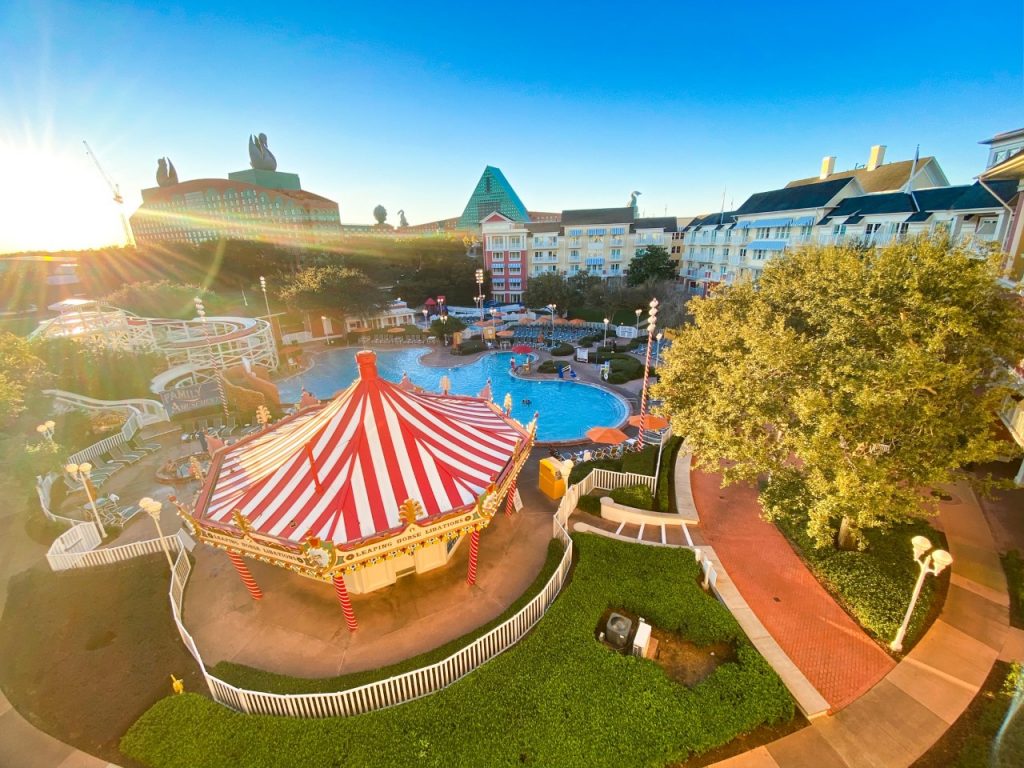 The food
The BoardWalk has a really excellent range of Quick Service options, including BoardWalk Pizza and BoardWalk To Go. Kids are sure to love the selections on offer at the Ample Hills Creamery, too. There are excellent Table Service options, but kids are sure to love the character breakfast at Trattoria al Forno, which gets consistently good reviews for the food and the quality of character interaction!
The rooms
The rooms are consistently themed with the overall hotel with a splash of more modern Disney theming to keep the kids happy! Most rooms have a balcony or patio.
Recreation
Daily poolside activities; Movies Under the Stars; lawn games; campfires and a REALLY great range of (paid for) art and craft activities – the best range of activities we've seen at any resort.
Childcare Services
The BoardWalk is ideally situated to make the same use of the facilities as the Beach Club, giving adults even more time to enjoy this best Disney resort for kids….from an adult perspective (and with what the BoardWalk has to offer, who wouldn't love that?!).
For more information about this fun and fabulous resort, read our full article on the BoardWalk Inn.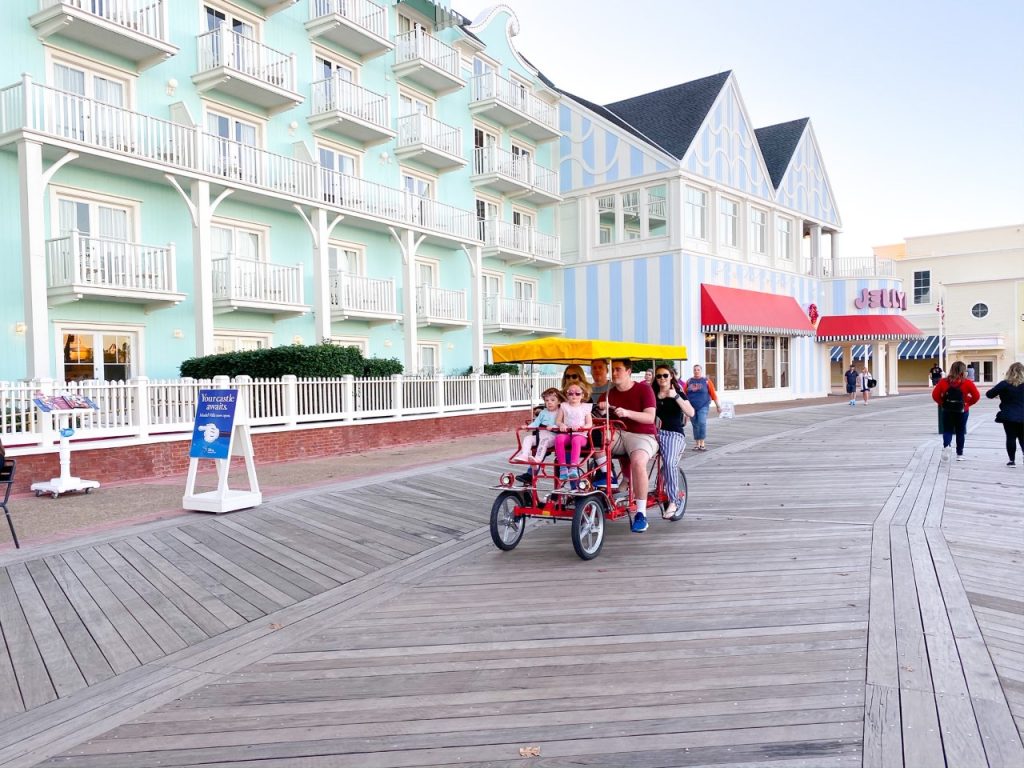 Disney's Polynesian Village Resort
Another hotel on the Magic Kingdom monorail line, the location of the Polynesian is pretty fantastic and the theming is wonderful. 2 stops from the Magic Kingdom and one stop from the TTC, where you can hop onto another monorail to Epcot; that's pretty good, huh? And if you want a change of pace in your transportation, you can also take a boat to Magic Kingdom!
The theming of the Polynesian is wonderful and, if you don't want to go back to the park after a long day and delicious dinner, you can watch the Magic Kingdom fireworks from the beach at the front of the hotel. We think watching our kids play in the sand, from a hammock, sipping a cocktail with the fireworks in the background definitely makes the Polynesian a HOT contender for the best Disney resort for families, let alone the best Disney resort for kids! After the fireworks, you can watch the Electrical Water Pageant, too.
The pool
The Lava pool is great fun and features a volcano, waterfall and a slide. Like Stormalong Bay at Beach Club, this also has a zero entry point, but unlike Stormalong, there's no sand. We still think zero entry is brilliant for the best Disney resort for kids (and particularly best Disney resort for toddlers!).
For parents (or older kids), there's a hot tub near the Lava pool and also a quieter, Oasis pool. You're welcome to bring your own pool toys for use in this pool, as long as you're not disturbing other guests. We notice many of the kids who bring their own toys quickly make buddies to play with, which can be really helpful if they are an only child!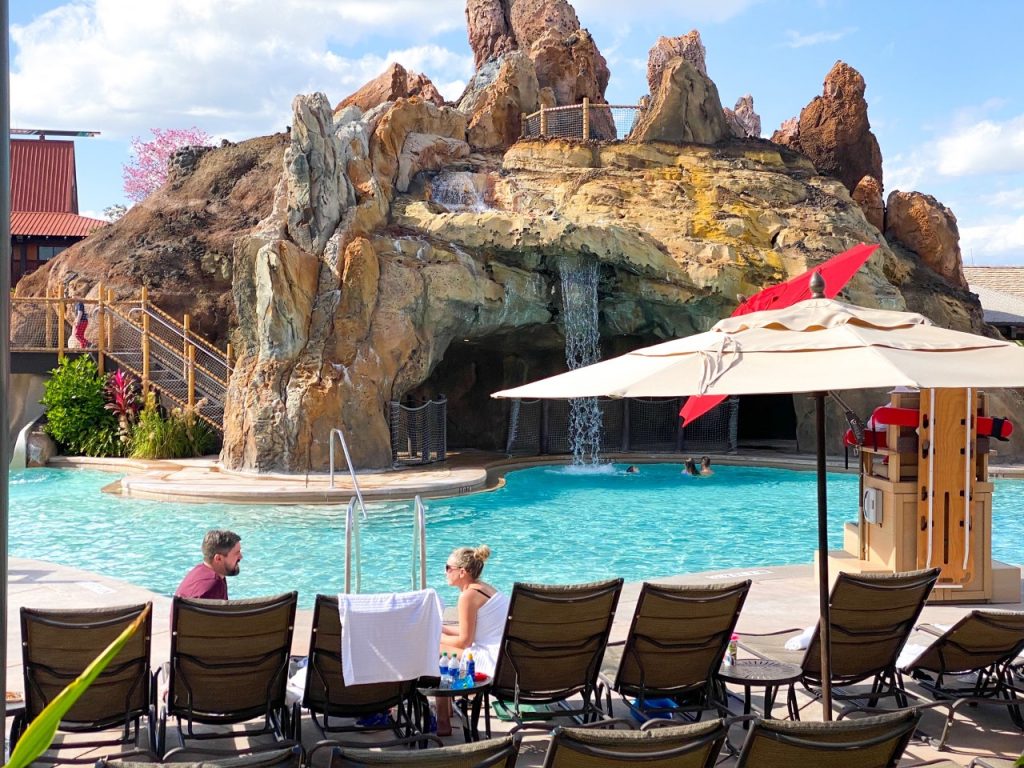 The food
Ohana has to be one of the most popular restaurants in Walt Disney Resort. Breakfast with Lilo and Stitch (and Mickey and Pluto) is superb quality, served family style (all you care to eat, served at your table) so you don't have to keep jumping up to accompany the kids to the buffet (which can be difficult for single parent families with more than one kid!) and you don't need to worry about missing out on character interaction while you're getting food!
In the evening, Ohana has another, fabulous and very popular, all you care to eat offering (read more about Ohana in 33 Best Disney Restaurants).
You've also got great Quick Service options in the Kona Cafe, Capt Cook's and the Tambu Lounge, to name a few!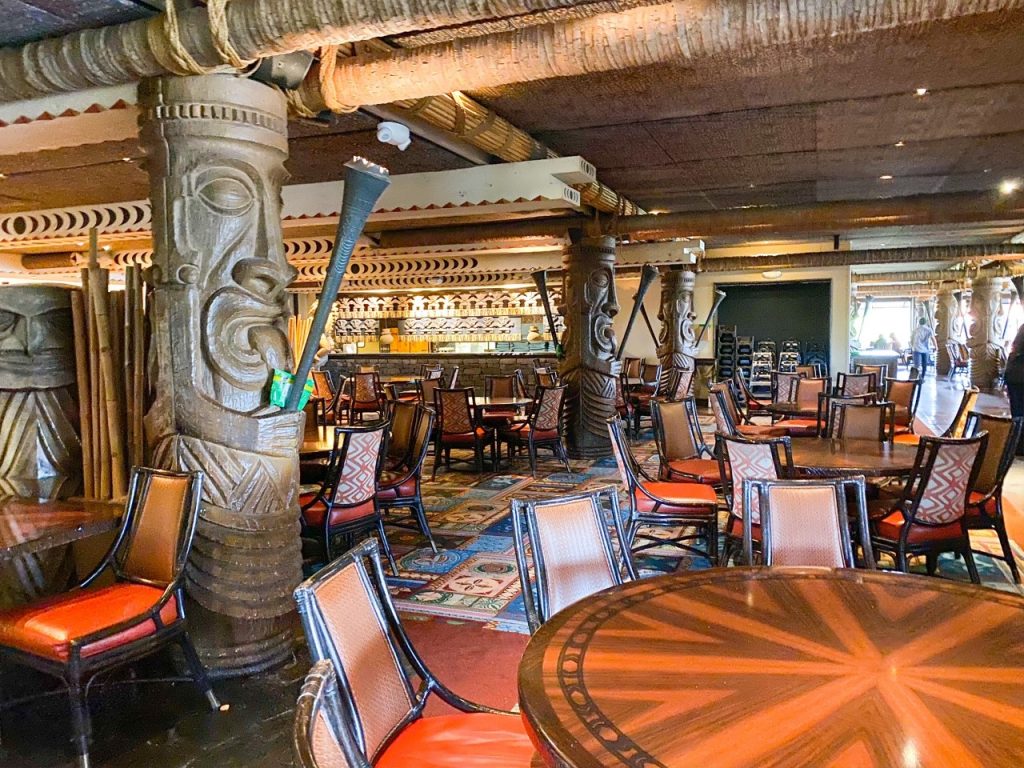 The rooms
The rooms at the Polynesian are some of the largest (and lightest) on WDW property. There are some spectacular accommodation options at the Polynesian in the over-water bungalows, which have 2 bedrooms and a plunge pool on the deck. The bathrooms at the Polynesian feel very spacious (although don't have a separate dressing area), we think this is really helpful with smaller kids, who need support and supervision during bathtime!
Recreation
There's lots of activities at the Polynesian: Lava pool parties; Celebration of Aloha Lawn parties; dance parties; tournaments; quizzes; Movies under the stars by the beach; art and crafts and even Lilo's Playhouse, which is open 3 evenings a week, so even if you're exhausted and the kids aren't, there's TONS of great stuff for them to do and this best Disney resort for kids!
Childcare Services
As with the Contemporary Resort, you can use any of the facilities listed in the Beach Club section, but the location may not be as helpful to you, staying at the Polynesian.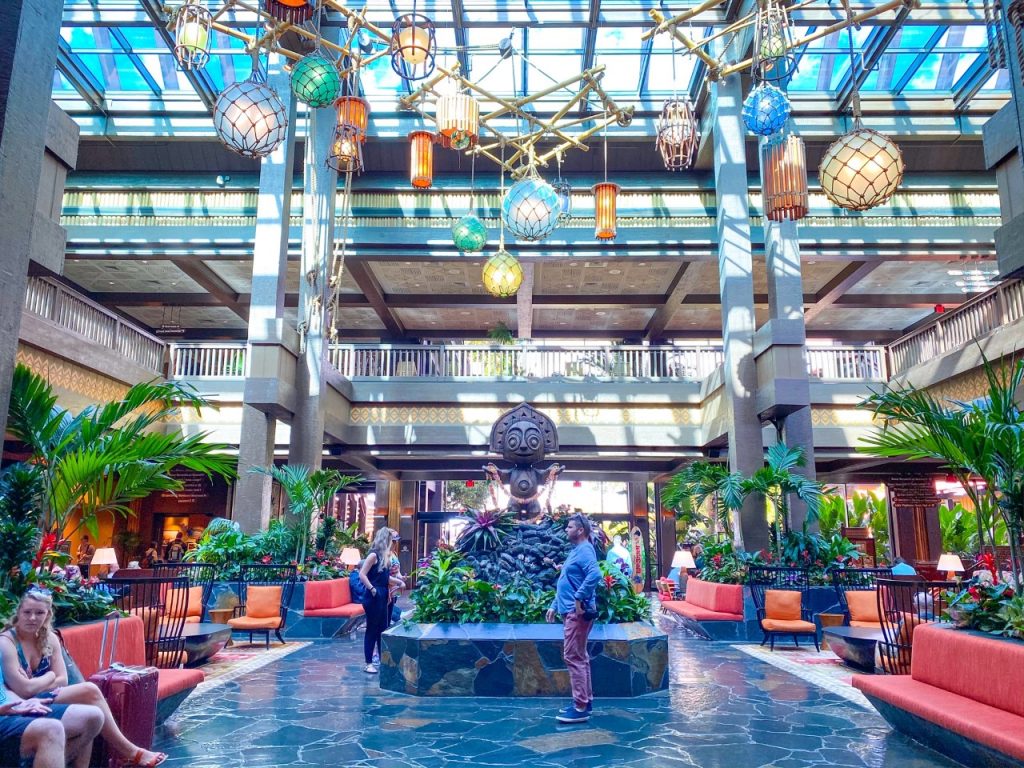 Disney's Yacht Club Resort
For Yacht Club, you can enjoy most of the benefits of our TOP pick, best Disney resort for kids – the Beach Club. Yacht Club is right next door and they share the same pool (so this is a HUGE benefit). The theming of Yacht Club is more adult than the Beach Club, but all Yacht Club rooms have full size balconies, if that's important to you. Some rooms, however, only have a shower rather than a tub, which you may want to avoid with toddlers or younger children.
Yacht Club is also one of WDW's dog friendly resorts, which may be of interest to you if you want to bring your four-legged friend on vacation. We've found, when Beach Club is getting booked up, Yacht Club may be slightly cheaper and more affordable and we'll certainly take that to be able to stay here, we think Yacht Club is a great final pick for our best Disney resort for kids in the Deluxe category!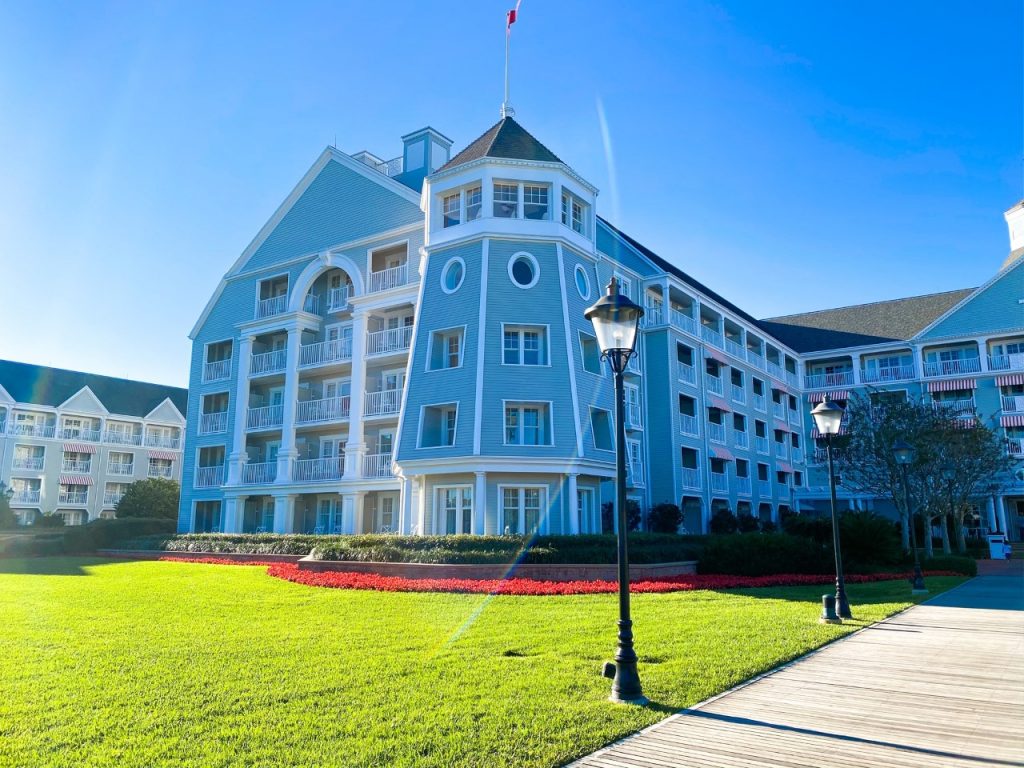 Worst Deluxe Disney resorts for kids
Disney's Grand Floridian Resort & Spa
The Grand Floridian is a perfectly lovely hotel and ideally located just one stop from Magic Kingdom on the monorail. It has some lovely dining areas, including 1900 Park Fare which has fabulous character breakfast and dining (different characters) and which we highly recommend a visit to with your kids.
What makes the Grand Floridian in this place on our list of best Disney resorts for kids is that it's very fancy and, some people say, a bit stuffy, which makes it not one of the best hotels to stay in with kids; there are better (and cheaper – the Grand Floridian standard room remains the most expensive standard rooms on WDW property). The theming is elegant and will not appeal, particularly, to toddlers and younger kids. We know we don't want to be worried about what our kids might accidentally damage and, while we definitely recommend a visit, particularly if you love to see all the resorts have to offer, we don't recommend the Grand Floridian as a best Disney resort for kids.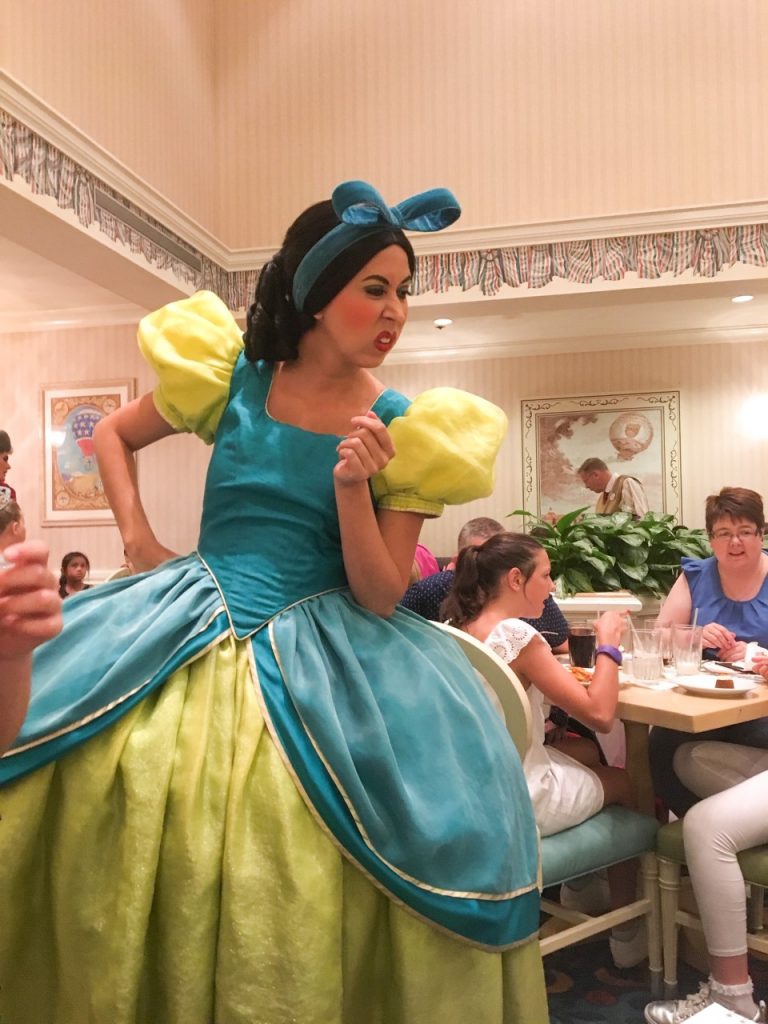 Disney's Animal Kingdom Lodge
Don't get us wrong, we think Animal Kingdom Lodge is a beautiful resort; it's theming is stunning and it's SO much fun to visit here and see the animals (plus there's some highly recommended dining options). BUT, the only Disney transportation available from Animal Kingdom Lodge to the parks is by bus – even to Animal Kingdom Park. It's a longer bus trip to the other parks and, if you're with your kids, we're pretty sure you want to spend plenty of time in the parks!
Plus, with younger (and even not so young) kids who may need an afternoon rest/dip in the pool to revive themselves (we know we certainly benefit from that), the extra time it takes to get back to this resort is going to really eat into your time. It's for this reason that we don't think Animal Kingdom Lodge is the best Disney resort for kids.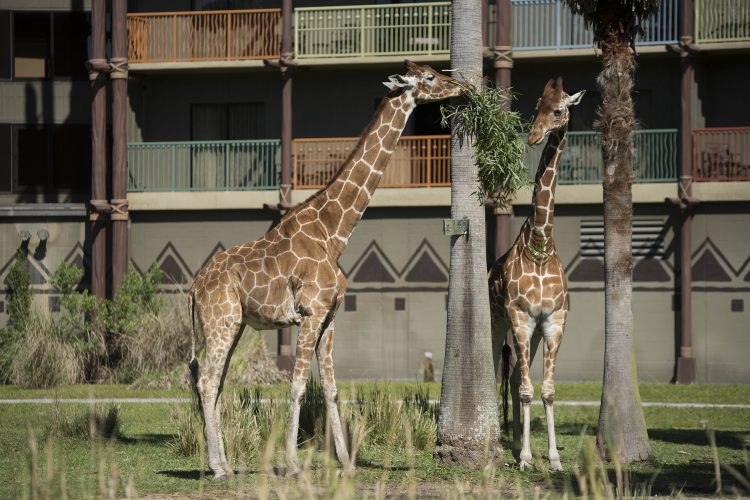 Disney's Riviera Resort
Again, there's nothing wrong with the Riviera Resort; it's new and has some elegant dining options, but we feel that this resort has little to offer kids, in particular. Sure, it's on the skyliner route, so easy to get to Epcot and Hollywood Studios, but we feel our listed best Disney resorts for kids have far more to offer than the Riviera Resort.
It's also a really expensive resort and the rooms are smaller – we know when travelling with our kids, we need as much space as our room can offer! We're sorry, Riviera, but we think you are definitely NOT the best Disney resort for kids!
Something a little different at Deluxe resorts…
If you've enjoyed reading about our choices for best Disney resorts for kids and are able to be flexible, or if want to take your Disney vacation to an entirely new level, you might consider checking out the options to rent DVC points; we've broken it down and answered all of your questions in this article.
Best Moderate Disney resorts for kids
Moderate resorts are a great middle-ground for those who may want somewhere nice to stay but who generally feel that the hotel is for sleeping in and who may not be up for lounging around the resort a lot. Moderate resorts offer more amenities and options than the Value resorts and while they're not as close to the parks as Deluxe resorts, transportation time to the parks is generally less than at Value resorts! Check out our breakdown of Disney's moderate resorts for more details.
Disney's Port Orleans Resort – French Quarter
Disney's Port Orleans Resort is broken into two distinct and different sections: Riverside and French Quarter. Both are amazing options, but our pick of the two for the best Disney resort for kids is French Quarter. Port Orleans French Quarter is actually Disney's smallest moderate resort and has some really fun theming for kids (who doesn't love a bunch of brightly coloured alligator statues playing musical instruments in the courtyard?! Not my kids, that's for sure!). We think Port Orleans French Quarter is the very best Disney resort for kids in the moderate category.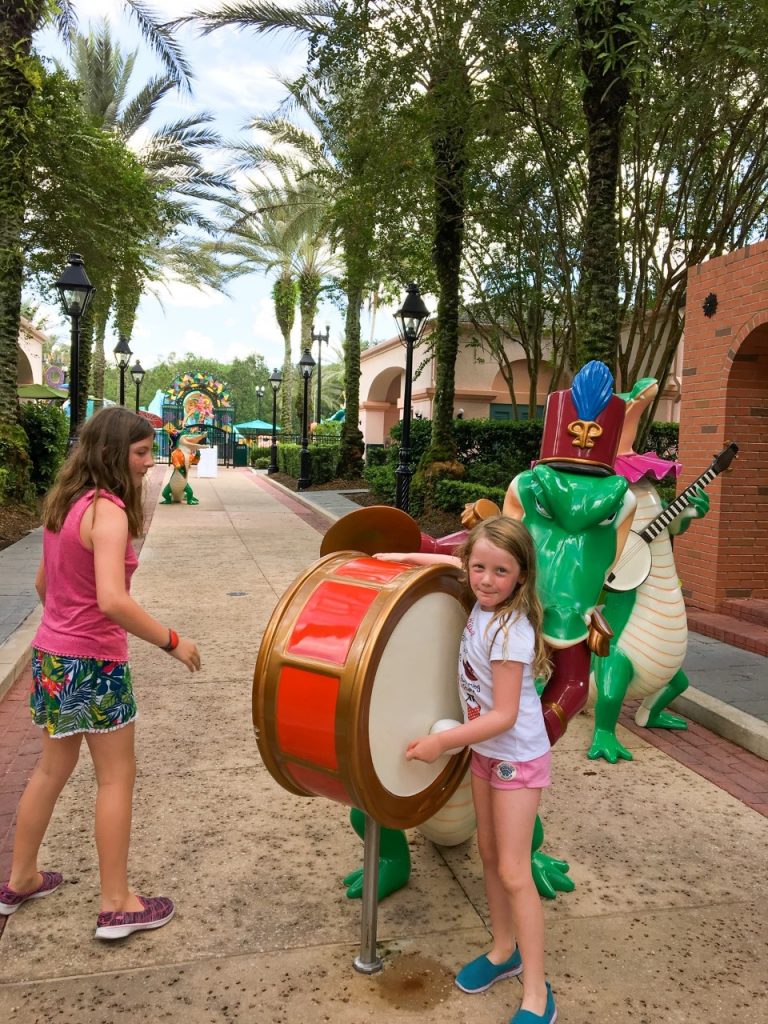 The food
If your kids, like mine, LOVED The Princess and the Frog, they can get genuine beignets from Scat Cat's Club Cafe. Even better, the beignets are Mickey shaped! Port Orleans French Quarter is the only place in Disney World to serve beignets – they may be the thing that gets your vote for this resort being the BEST Disney resort for kids! The Sassagoula Floatworks and Food Factory is a great quality Quick Service restaurant, too – the resort is so small, it'll never take you long to walk there, which will definitely be appealing to kids! Last time I went, my oldest loved the fact that she was able to walk there by herself to get a drink refill.
There's no table service restaurant at French Quarter, but you can use Boatwright's at Riverside, or (our kids loved this) hop on the boat to Disney Springs; a much more peaceful and relaxing journey than the bus, in our opinion.
The pool
Kids of all ages will LOVE the pool; it has a really fun slide and your kids may argue that the pool is the BEST thing about this best Disney resort for kids! While we were there, there were Cast Members hosting a Mardi Gras pool party; games and activities to keep kids entertained and happy, while you, perhaps, catch some rays or have a quiet, ice-cold drink from Mardi Grogs, the pool bar!
Port Orleans resort is one of the few where guests are allowed to 'pool hop' between hotels – so you can walk over to Riverside and use their pools, too!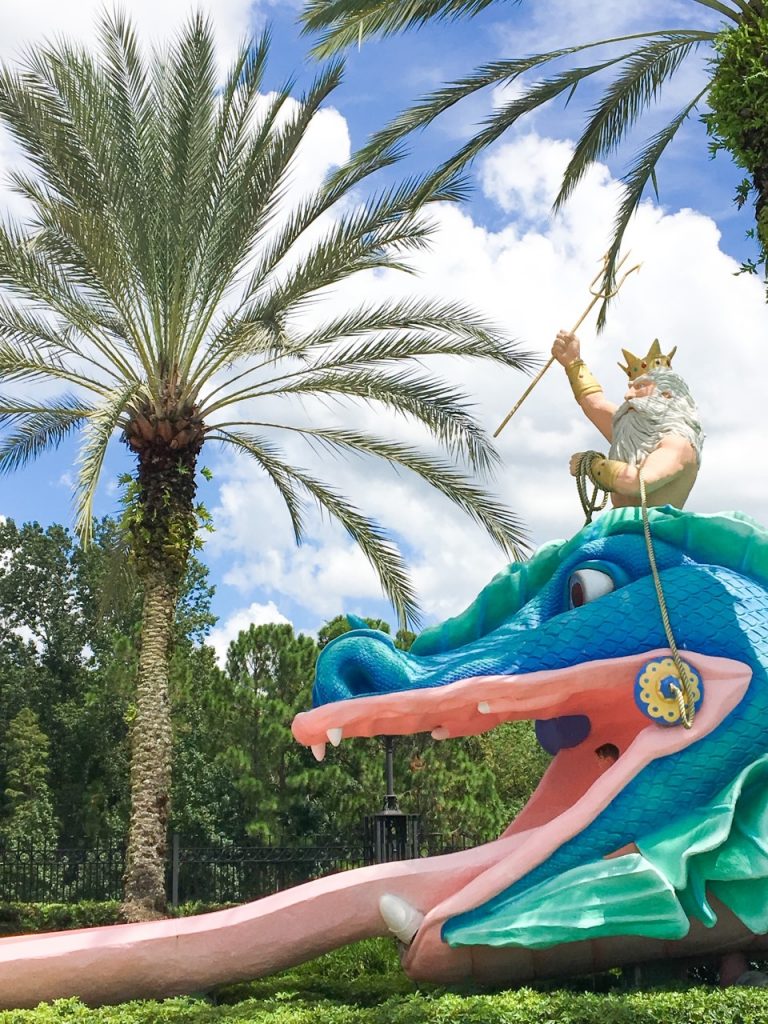 The rooms
Spacious and bright, the rooms are well appointed and subtly themed; the bathrooms in moderates are larger than value resorts and almost all bathrooms will have a tub with shower over. There is a sturdy curtain separating the dressing area from the sleeping area. Moderate resorts don't have balconies in the rooms.
Recreation
Movies Under the Stars take place on the French Quarter green; there's a Cajun Campfire; scavenger hunts; art and craft activities (paid for) and, on Sundays, the Beignet Fun run – a 1.5-mile run that begins at 8:00 a.m. For a small fee, runners will get three beignets at the end of the race. There's also a Mardi Gras bead-medal to commemorate your success! Running on vacation may not be for you, but we know it's a really popular activity for kids and adults alike! You can even buy t-shirts and running tops with 'Will run for beignets' printed on them!
Kids aged 12 and over can do 'Painting on De'Bayou', but this doesn't run daily and has limited spaces, so you'd need to book.
If you want to walk over to Riverside, you can hire Surrey bikes; take a horse cart ride or try dockside fishing.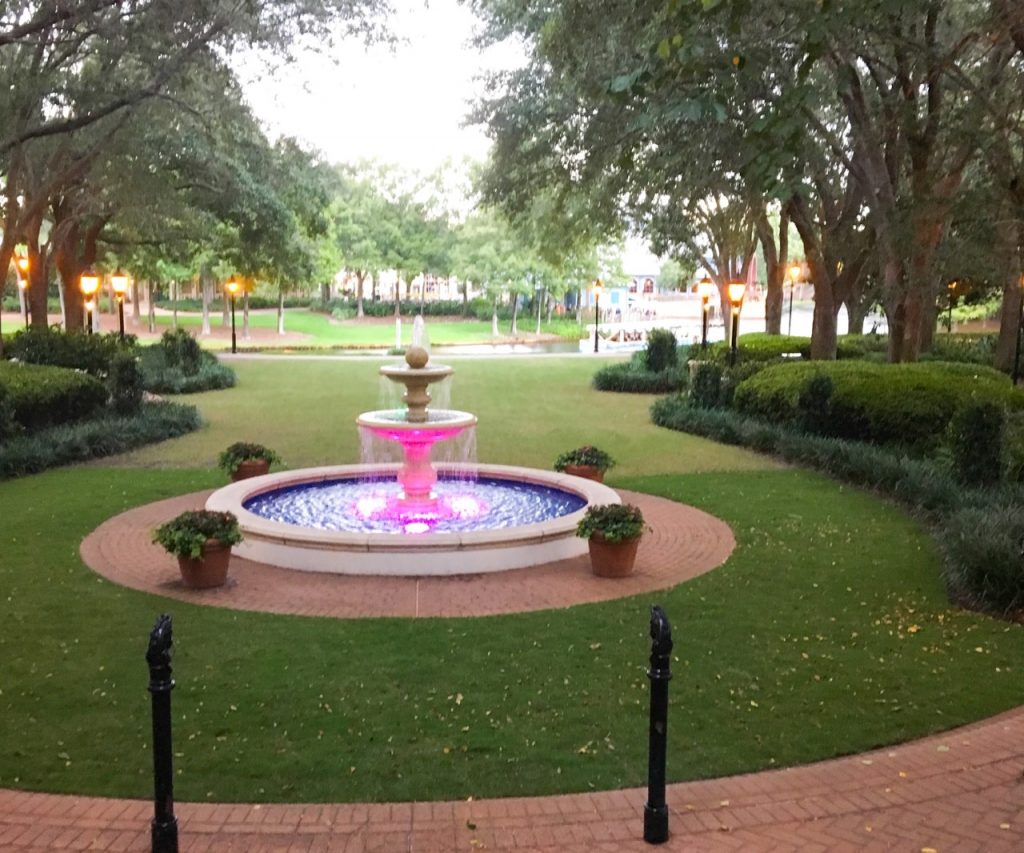 The Cabins at Disney's Fort Wilderness Resort
For those seeking something a little different in their best Disney resort for families, look no further than The Cabins at Disney's Fort Wilderness Resort! These are log cabins, with a special dusting of Disney luxury! You can pre-order a grocery list so that your pantry is full when you arrive, so you don't have to worry about those hangry kids! A hotel that can help us avoid hanger (in us or our kids) is definitely one of the best Disney resorts for kids!
Getting around the Fort Wilderness Resort is also part of the adventure – there's an internal bus service to get around the grounds, but renting bicycles – or an electric golf buggy – are popular choices and ones which your kids will most likely enjoy! This resort is spread out, you can walk it, but expect (smaller) kids to complain, particularly if you've had a long day at the park.
You'll need the bus service to most of the parks, or you can get a boat to Magic Kingdom (and hop on the monorail to Epcot, if you like). Travel time is the one thing you'll need to factor in when staying at this resort, but we think it still deserves its place on the list as a best Disney resort for kids!
This resort also has dog friendly cabins, so you can bring your pooch with you, if you like!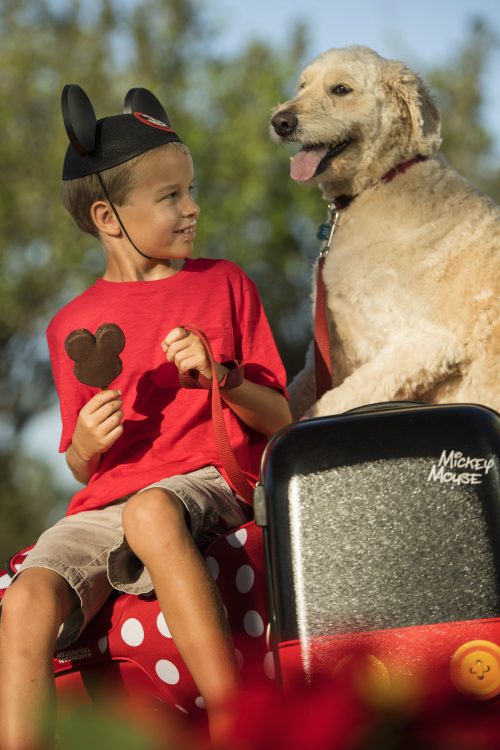 The pool
The Meadow Swimmin' pool is the main pool, with a fun feature slide; kiddie pool and play area and a hot tub nearby. There's a quiet pool, too, where splashing and a lot of noise is discouraged (NOT the one to take my kids, to, then!).
The food
There are several options for dining out at this resort (although you may prefer to 'cook in'). The Trail's End Restaurant is really popular among families and has a great, kid-friendly atmosphere. It's a buffet restaurant and is open for breakfast (brunch at the weekends) and dinner (from 4.30).
The rooms
The cabins are log cabins, nestled in the woods and which sleep up to 6. They have a living space; bedroom; full bathroom; well equipped kitchen and a private patio with a charcoal grill! The cabins are, of course, fully air conditioned, too!
If you want your vacation accommodation to be fairly private, or if your idea of the best Disney resort for kids is where your kids can make as much noise as they want without you worrying about them disturbing others, then this might well be the perfect resort for you as the cabins are NOT on top of each other, as you might find in other locations.
This is Disney accommodation with a twist – your kids can run around in the woods, kicking pine cones, spotting lizards and frogs – just what they need after a hot day at the parks to burn off some steam! We don't know many kids who don't love camping and this gives them a camping feel, while you get a vacation feel!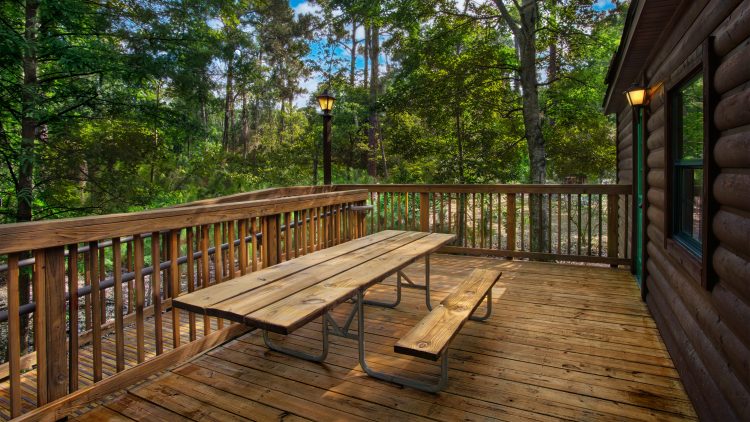 Recreation
There is a HUGE range of poolside and campfire activities that take place at Fort Wilderness and we think it's among the best we've seen! Unlike some of the other resorts, there are only a few paid-for activities on offer and this is something we certainly appreciate when the kids are spending a lot of time asking us to reach into our pockets to pay for more stuff!
If you are looking for some out of the ordinary activities that do cost extra, you're perfectly located at Fort Wilderness for the Tri-Circle-D Ranch for horseback trail riding; pony rides for the smallest in your family or wagon rides for the whole family! Over 6's can also sign up for Archery and learn how to fire a compound bow. If you're on vacation with older kids, then over 16's can enjoy the (more expensive) Wilderness Back Trail Segway Adventure!
Movies under the Stars at Fort Wilderness Resort includes a sing-a-long with Chip-n-Dale, which we think every kid (and most adults) will LOVE. If you wish, you can also purchase a S'mores Kit, make yourself some S'mores over the campfire and then sit back, relax and watch the movie. Knowing this in advance, you may wish to take with you your own S'mores provision and that's absolutely OK, too!
We think the recreation opportunities available at Fort Wilderness are second to none for families who want some adventure and to balance their Disney vacation with some peace and quiet – we hope you'll agree, The Cabins at Fort Wilderness deserves to be a contender as best Disney resort for kids!
Worst Moderate Disney resorts for kids
Disney's Coronado Springs Resort
We think Coronado Springs is a beautiful resort, especially after the recent refurbishment. It has great pools and dining options, but is just more adult friendly. It's also really spread out (depending which room area you stay in) and you could end up walking a LONG way to get to the fun pool; lobby or dining area. Our experience with travelling with kids is that they don't love to walk a long way at the resort, which can make it frustrating for parents (especially if you're a single parent family) who want to pop to the dining area for a drink or a change of scene.
Coronado Springs is also a conference hotel; so there may be times when many of the other guests are adults travelling for business. We think this makes this a less child-friendly/appealing vibe and is another reason Coronado Springs isn't one of our top picks for best Disney resorts for kids.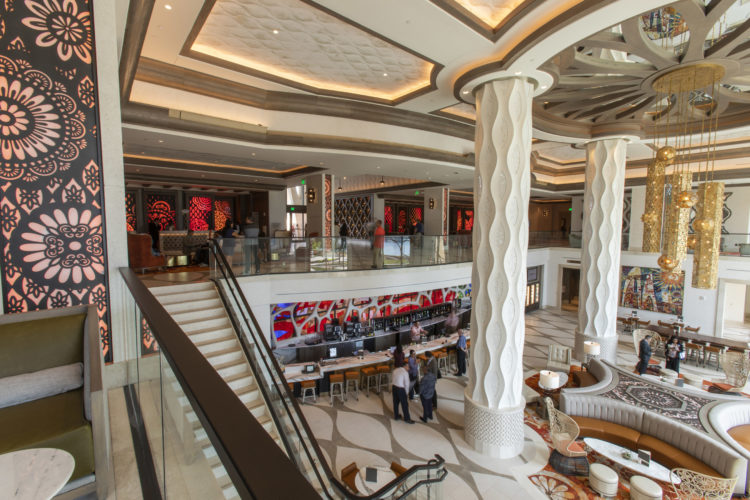 Disney's Caribbean Beach Resort
We've said it before, there's honestly nothing horrible about the Caribbean Beach resort; there are superior, pirate themed rooms (at a premium) which many kids would love and the pool is ABSOLUTELY beautiful. The resort is huge, and really spread out which, for reasons above, our kids wouldn't like (yours may be more accommodating!).
We also think that there are other moderate resorts which have far more kid friendly theming. The Caribbean Beach is a beautiful resort, but we definitely don't feel like we're in the Disney 'bubble', which our kids love and so it's something we look for in our best Disney resort for kids.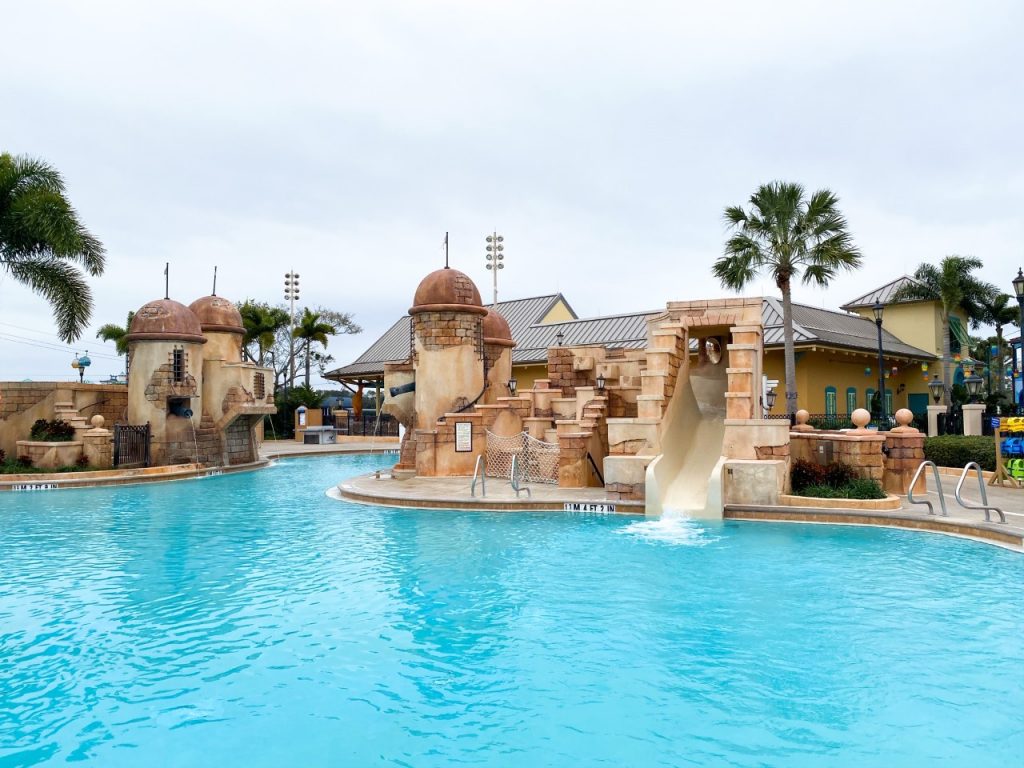 Best Value Disney resorts for kids
Value resorts are a GREAT way of accessing all of the perks of staying at a Disney resort, at the lowest price tag. You can generally find some great deals in this category, even at the busier times of year and be able to use the free (generally Air Conditioned) Disney transportation system to move around Disney World, without having to put your kids in the hot car all the time!
The theming of value resorts is more 'in your face' than the moderate and deluxe choices, but in our experience, this goes down really well with younger children, many of who would argue that the value resorts are clearly the best Disney resorts for kids! You can read our full article on Value Resorts here
Disney's Art of Animation Resort
We think there's something really enchanting about being immersed in the artistry of the Disney and Pixar movies that you get at Art of Animation! The theming at this resort is out of this world and bound to delight your toddlers and younger kids (actually, we think kids of most ages will love this, particularly if they've grown up enjoying Disney and Pixar movies), who may well make the argument that this is THE best Disney resort for kids! At the more reasonable, value price, they may just be right!
Since the opening of the Skyliner, just a short walk away, it's now really easy to get to Hollywood Studios and Epcot from Art of Animation.
Art of Animation is our third pick on this list of best Disney resorts for kids that is also dog friendly!
The pool
The main pool, the Big Blue, is inspired by Finding Nemo and is an oasis of fun; it's also the largest resort pool in WDW, but you should note that it will be closed for refurbishment, beginning in Fall of 2020. There's also the 'Cars' inspired Cozy Cone Pool and the Little Mermaid inspired Flippin' Fins pool. There are no slides at these pools, or in any of the pools in value resorts.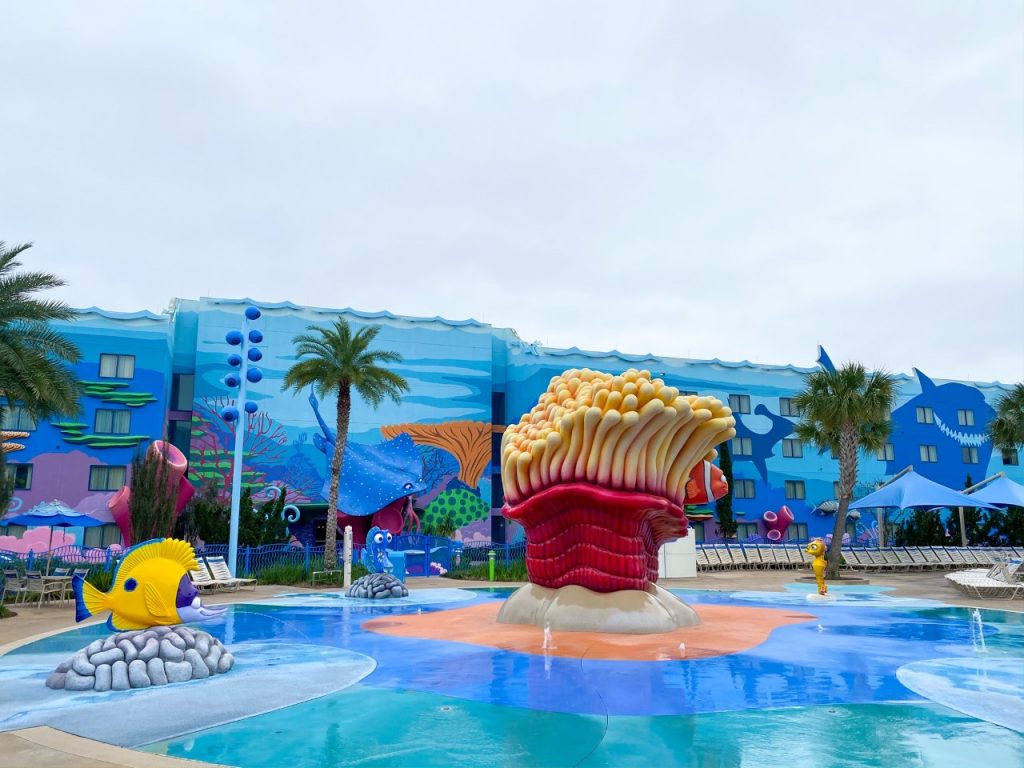 The food
The food court, Landscape of Flavors, offers a really decent range of foods to delight all tastebuds (including a wide variety of plant based offerings) – whether you're looking for a filling meal or a tasty snack (looking at you, S'mores Gourmet Cookie!), you're sure to find what you, and your kids, are looking for. If you want to avoid the queues, you can use mobile ordering at Landscape of Flavors.
You can also have in-room pizza delivery service, if leaving your room is the last thing you and your kids want to do after an exhausting, fun-packed park day!
The rooms
In terms of being kid-friendly, we don't think you can get better theming than at the Art of Animation. Other resorts have great theming around the resort itself, but is sometimes lacking (or maybe a little on the subtle side) in the rooms themselves – not so at Art of Animation!
The family suites at Art of Animation, which make up most of the room types in this resort, are a GREAT choice for larger families who need to sleep up to 6 in a room, or who don't want to all sleep in the same room.
In the middle of each block of buildings is a large, colorful icon representing some favorite characters from Disney films and the outside of some of the buildings have giant, colorful murals.
Recreation
From 1.30-7.30, there's daily pool parties, party games, dance parties and challenges to keep the younger minds (and bodies) occupied and, most importantly, entertained! Movies under the Stars features every night and we also love the idea of Mermaid School (for an extra fee) which runs twice a week and may be the perfect vacation addition for your little mermaids (or mermen).

Disney's Pop Century Resort
Pop Century is adjacent to the Art of Animation, so has the same Skyliner benefits and guests can make use of the food court at Art of Animation, too. Also similar to Art of Animation is the large icons, but at Pop Century, they are themed on icons from the 20th Century (like a giant tub of Play D'oh and a giant jukebox).
If you are having a hard time choosing the Value resort, read our comparison between Art Of Animation Vs Pop Century to help you choose!
The pool
The Hippy Dippy pool is currently closed for refurbishment, but the Bowling and Computer pools (both 'quiet' pools) remain open during this time.
The food
Everything Pop Dining is likely to have everything you want from a Quick Service location; some people prefer the Landscape of Flavors but, if you really feel the need to have something that isn't available at Everything Pop, you can walk across very easily. Everything Pop has feature cupcakes that you can't get anywhere else and that your kids (maybe even you) would LOVE to sample! You can also use mobile ordering here, too.
As with Art of Animation, you can also order in-room Pizza delivery!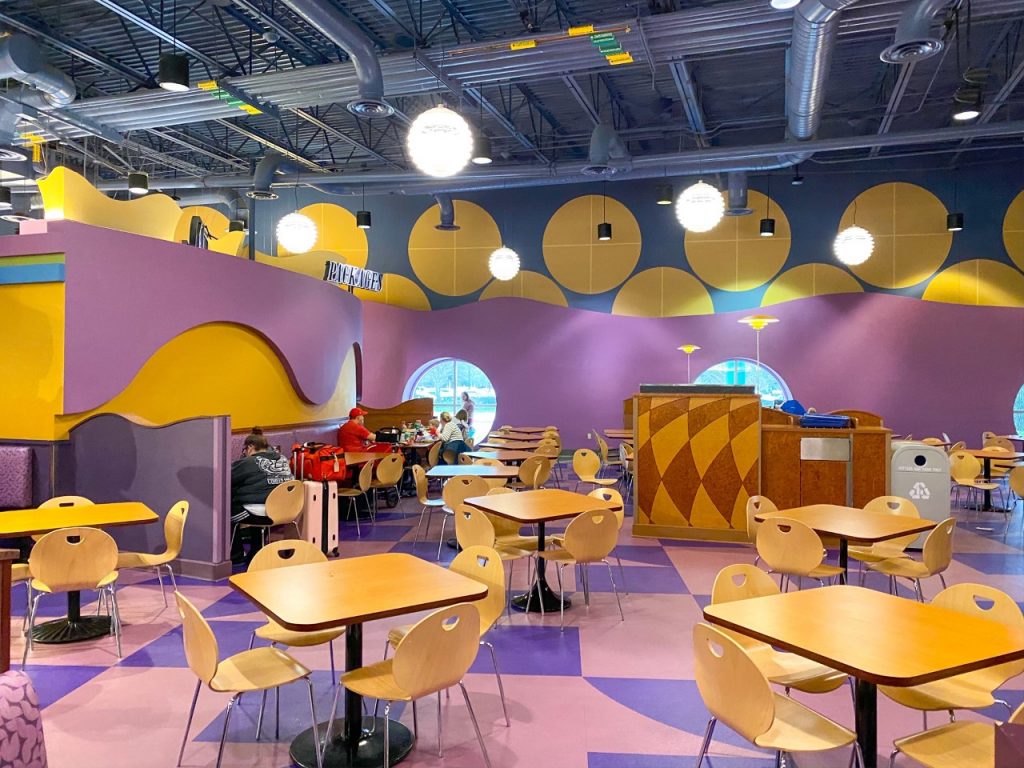 The rooms
The rooms are small, but bright, with Mickey art on the walls. One of the beds folds away and becomes a table, which might be really useful to your family. The bathrooms are very small, with limited counter space.
Recreation
There's a great range of activities for kids to join in with, every day, at Pop Century. Add to that, pool parties, relays and quizzes, too, along with some paid for activities (including hair wraps and temporary tattoos) AND a '70's playground' (open from dawn to dusk), we think your kids will have plenty to keep them occupied and happy!
Movies under the Stars takes place EVERY night; there's also a campfire every night, with marshmallows and S'mores kits available to purchase.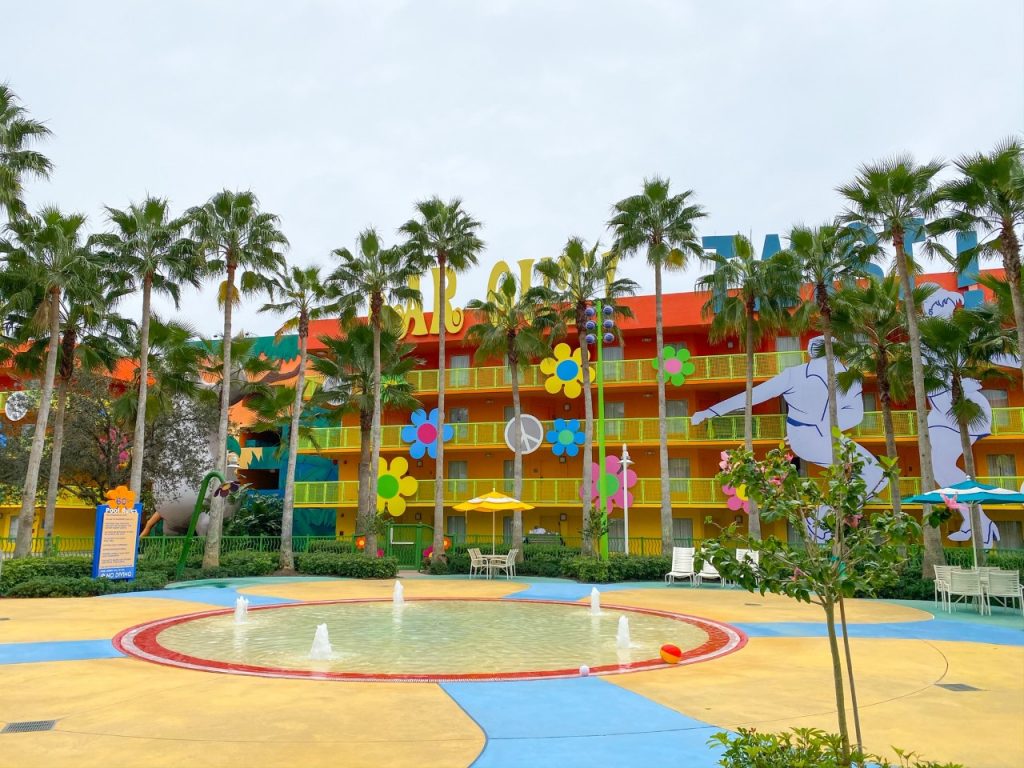 Disney's All-Star Movies
Kids of all ages (even us adult kids) are going to love the theming at this resort and they may say this is what earns it its place as a best Disney resort for kids! Giant popcorn buckets, and characters from Disney and Pixar movies…who doesn't want to see giant dalmatians or a giant Woody and Buzz?
You can only get to the parks using the buses and, at quieter times, you may find you're sharing a bus with the other All-Star resorts, but don't worry – at peak times, each resort will have its own bus!
The All Star resorts are the cheapest of the value resorts and we think that All-Star Movies is the best of the bunch, particularly when thinking about best Disney resorts for kids.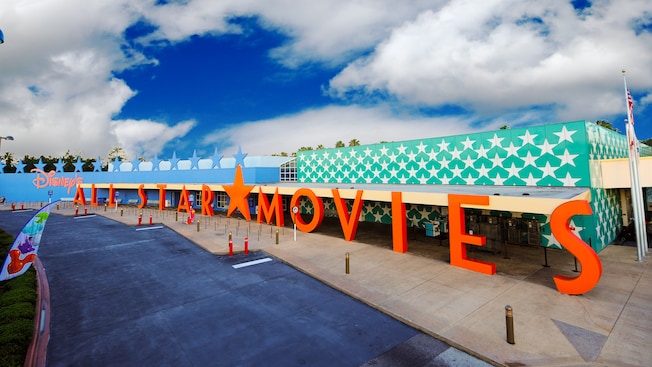 The pool
There are two main pools at this resort; one is star shaped and the other Fantasia inspired and the theming doesn't stop in and around the pool areas! Guests at this resort can also use the pools at All-Star Music and All-Star Sports.
The food
The World Premiere Food Court has 5 Quick Service 'stations' and offers a good range of meals to suit most tastebuds (including the much raved about 'create your own pasta', which was mourned when it was taken away from Port Orleans!).
As with the other Value resorts we've mentioned, you can also use mobile ordering to save time and avoid lines AND you can order in-room pizza delivery.
The rooms
The rooms are, like Pop Century, small but, also like Pop Century, one of the beds folds away to leave a table, which might give you the feeling of more space. If you and your family are going to be using your room as a base, to sleep in, there's absolutely nothing wrong with these rooms. If you know you're going to spend time in your room, you may want to consider another option.
Recreation
There's a really great variety of activities each day, around the pool but also in other locations, including Cannon Ball contest; cookie decorating and scavenger hunt.
As you might expect in a resort themed on movies, there's Movies Under the Stars every night. Some evenings, there's more than one showing so you have a choice of movies to watch! Definitely the best Disney resort for kids who love movies!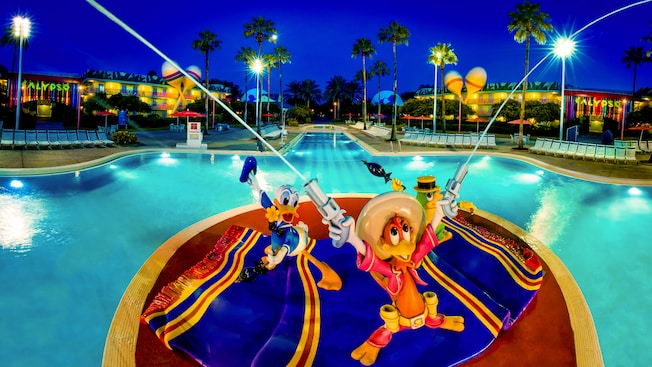 Worst Moderate Disney resorts for kids
Disney's All Star Sports
This may be personal opinion, but unless your kids are particularly interested in sports and sports nostalgia, we just don't find All Star Sports that exciting; certainly not deserving to be a contender as one of the best Disney resorts for kids.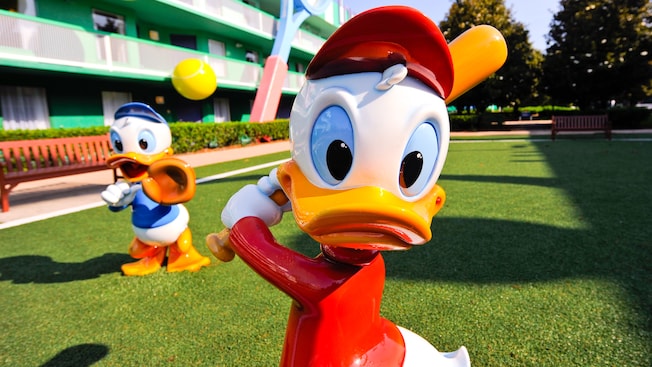 What did you think about our picks for the best Disney resorts for kids? We hope we've inspired you, or answered some of your burning questions. If you've made your mind up and chosen your best Disney resort for kids, read about how to get the rooms you want, here.
If all this reading about the best Disney resorts for families has you wondering when you can next get away for an adults only trip, why not check out our article on the Best Disney Resorts for Adults?
Pin this post: