I have been in this business for a long time and it is rare for me to get SUPER excited about something. And I am SUPER excited about the fact that you can rent DVC points. Why? Because you can stay at EPIC and expensive hotels for a fraction of the cost.
Since learning this, I have rented DVC points at Disney countless times, staying in 1-bedroom suites at a fraction of the cost and popping over to stay at a Deluxe Resort when there was a last minute deal!
And now Disney was trying to charge me friggen $1100 a night when I just paid $275 a night for the same resort? You can see why I have become absolutely obsessed with the idea of renting Disney Vacation Club points.
What Is The Disney Vacation Club?
Disney Vacation Club (DVC) is Disney's timeshare system; it operates on a "points" system, which allows members to use their points, flexibly, at any of the DVC resorts. Owners pay a premium to buy points which allow them to stay in Deluxe accommodations for the duration of the life of their contract.
Every year during their contract, they pay maintenance fees, too; these are 'per point' and billed monthly; so in addition to the upfront cost of the DVC contract, the maintenance fees could add a not insignificant, ongoing cost.
Once purchased, DVC members own the timeshare "points" which is, in effect, a pre-paid, annual vacation plan which enables them to stay at their choice of Disney Vacation resorts. Sometimes, owners are unable to use all of their points, and then they choose to 'offer' their allocation and be able to rent DVC points out to others.
The more points an owner has, the longer they can stay – the number of points needed will vary depending on the size of the chosen accommodation type, as well as the resort itself.
Choosing to rent DVC points could save you a lot of money (we'll show you later how much, but the saving is substantial!) compared to booking your accommodation at the same deluxe Disney resorts, directly. When I say a lot of money, I mean, A LOT OF MONEY!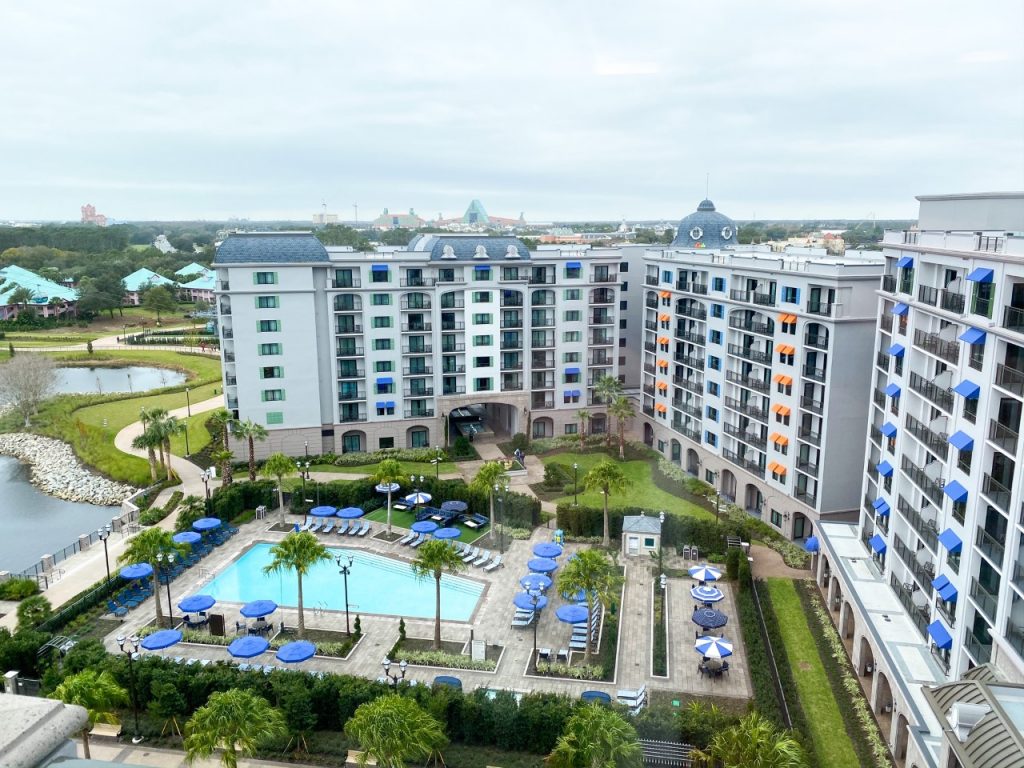 What Are The DVC Resort Locations?
Whilst Saratoga Springs Resort and Old Key West Resort are DVC resort locations and have some great attributes, we're going to look exclusively at the DVC resorts that are right next to the Deluxe Disney Resort hotels; where we think you'll have a better experience and better value if you choose to rent DVC points.
DVC resorts have all been creatively designed to delight all ages and interests and any of them would be a good location to rent DVC points. The resorts are all uniquely themed and are located as follows:
Why Rent DVC Points?
To be honest? To save money and stay at EPIC Deluxe resorts on the cheap. Okay, nothing at Disney is exactly cheap, but it is for darn sure more affordable than the normal rate you would pay for a Deluxe Resort!
The greatest pull has to be the amount of money you can save in renting DVC points. You can generally rent DVC points to stay in a Disney deluxe resort for around the same price that you would pay if booking a Disney moderate resort!
The next, huge attraction of renting Disney Vacation Club rentals are the different types of accommodation on offer:
You could choose to rent DVC points and use them to stay in a studio, which are most like the Disney hotel rooms (but with better kitchen amenities and which come with access to laundry rooms with complimentary use of washers and dryers). This is what I most often book as I don't need much space and don't want to spend a ton. These can also sleep up to 5 people which is incredible!
Then, for a different level of accommodation, there are the villas. These range from one to three-bedroom (and all have well-equipped kitchens as well as dishwashers, washers and dryers) and will take your Disney vacation to a whole new level! Being able to rent DVC points to get accommodation in this level strikes us as being particularly attractive to families.
The perks that come with a DVC rental could make your trip much more enjoyable (not to mention accessing Deluxe resorts at a more affordable price!)
You can also fit up to 5 people in the studio so it is an amazing way to split the cost of your stay with friends or family!
The Pros
For us, the biggest attraction is staying at deluxe resorts that may otherwise be out of our budget! Yes, renting DVC points really can make that sort of difference! I hadn't stayed in a Deluxe Resort for over 20 years before I learned about DVC rental. When I discovered David's DVC Rental through the Disney Facebook groups, I was skeptical as heck but gave it a try and now I am so sold!
You can have flexibility – you don't have to rent DVC points in blocks of a week, for example, like most timeshares and, if you want, you could choose to resort hop and experience the very best Deluxe DVC resorts that Disney has to offer! You could choose to rent DVC points at as many resorts as you like, to create your dream vacation.
If you can be more flexible, depending on your circumstances, you can save even more money by modifying the dates you want to stay – prices can vary significantly.
You can save even more money, when renting DVC points, because you'll have free resort parking while staying at a DVC rental. Yes, that's right! Even though Disney has introduced resort parking fees for their guests, DVC owners (and their guests, who rent DVC points) can still park for free!
That means if you are on the DVC Request website and you see the "total price" before you submit your request, that is the TOTAL price. There are no added fees. No extra taxes. No parking. That price is all you will pay! [This is one of the questions I had to ask the online chat help!]
If you're traveling with children, you should note that all DVC rooms can have a child in a Pack n Play (Travel cot to international readers), who won't count towards your permitted capacity.
Finally, it is absolutely NOT the case that renting DVC points will mean you don't get all of the usual perks of staying at a WDW resort, you will still be able to use Magic Bands; access on-site transportation and make full use of Extra Magic Hours.
You can even add a Disney Dining Plan to your DVC rental, if you like! Even better, you can add the Disney Dining Plan without needing to buy park tickets, giving you the option to save more money and buy from an authorized ticket broker, rather than directly from Disney.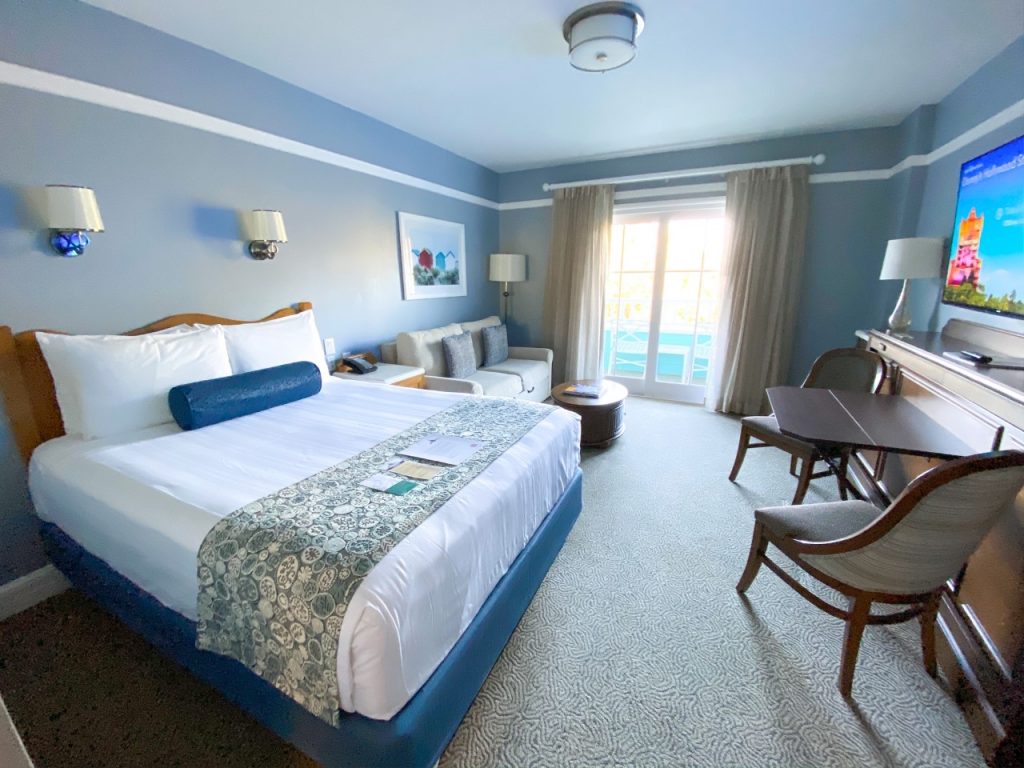 Renting Through David's DVC Rental
One of the potential cons about Disney vacation rentals is that you don't have as much control as with a direct booking – you are paying the owner and they are responsible for making your reservation.
Personally, I would feel very weird to rent directly through owners, who you can find on online forums and through Facebook groups. If you try it and that works for you, then go ahead, but the minimal difference in price is worth it for the peace of mind for me.
How To Rent DVC Points
Bookings only open up for DVC owners 11 months in advance (for their 'home' resort) and 7 months in advance if they want to book somewhere other than this), so this is the earliest you can book. But, you should definitely do your research in advance to identify your preferred location(s) to rent DVC points, so when that 11-month window opens, you're ready to start searching.
It's a great idea to have a second (and even third) choice in mind – and David's Vacation club will take those details at the same time as making your first choice and will only book if your first choice is not available – so it could save you valuable time and help you secure your top preferences! Although there isn't really a bad location to rent DVC points, we think that knowing what you want will help optimize your experience.
How much do you save by renting DVC points?
To see how much you can save by using Disney vacation club points for rent, instead of direct bookings, please see the chart below. However, as an illustration, we stayed for 4 nights at the Beach Club resort for $275 a night – that included ALL taxes and fees. A few weeks later, we got an invitation to receive 30% off bookings with our Annual Passholder discount. Even after the discount was applied, the cost was still $900-$1100 PER NIGHT! Isn't that insane?!! When we had just paid $275 a night through David's DVC rental!
Now, this price is based on what is open at the time and for a studio room, that would have been the price! Studios run around $570+ a night excluding taxes and extra fees, but go up on weekends and during high season.
At the time of writing, we thought we'd get you another example, in case you need another reason to persuade you to rent DVC points. We looked at 6 nights in June, staying in a value studio/room at Animal Kingdom Lodge. From David's vacation club, the cost would be $1,444; booking a similar room direct with Disney, for the same dates, was going to cost $2.827. Almost double the amount than if we'd chosen to rent DVC points!
How Far In Advance Should You Book When Renting DVC Points?
This is the key when renting DVC points; you need to book as far in advance as you can. You can start booking at 11 months out, and we highly recommend you doing so, to rent DVC points at the resort of your dreams.
We've illustrated the financial savings to be made from DVC rentals, and here's the tricky part – it is most definitely NOT like booking a regular hotel room. As soon as you know the dates you want to travel, you should start looking into the DVC rental options open to you and book as soon as you can. We've got first hand experience, even 7 months in advance, of someone's chosen DVC resort not being available and them being unable to rent DVC points at their preferred location.
To avoid disappointment, we reiterate, don't delay, as soon as you see those Disney vacation club points for rent at the resort you want, make the request! We don't want you to miss out once you've made your decision on where you want to rent DVC points!
What about Annual Passholder Renting DVC points?
If you are an annual passholder and live nearby, you have more time and flexibility. Of course, you can submit a request for 6-10 months out, but what if you want to go quickly?
The advantage is that this offers really short notice bookings. It's always worth keeping an eye on this page to see if something good comes up that can fit in with your plans and make that decision to go ahead and rent DVC points (it's what we always do!).
What Are The Best Disney Vacation Club Rentals?
We think that Disney's Beach Club Villas is, by far, the very BEST resort to rent DVC points! You can walk to Epcot and Hollywood Studios and now the Skyliner connects Beach Club to Hollywood Studios and other resorts, as well! It is well accepted that Beach Club has the very best pool on Disney property. I am obsessed with the Beach Club and it is SUCH good value for the points! Highly recommend this one!
BoardWalk Villa resort is also a GREAT choice of location to rent DVC points! You aren't getting the epic pool but you can still walk between parks and are right on hand to make the very best use of the entertainment and dining options that the BoardWalk has to offer!
Animal Kingdom Lodge, as shown in the price comparison illustration above, is a surprisingly good location to rent DVC points – although there's a bus journey to any of the parks; having the Savanna onsite with the animals roaming has to be a lure for all animal lovers. And then, there's the awesome dining options available at Animal Kingdom Lodge, too!
We've focused on Deluxe resorts to rent DVC points; it's worth noting that Saratoga Springs and Old Key West are the most affordable locations, but neither are connected to any parks. This is why we 100% recommend Beach Club and BoardWalk Villas for overall value and prime location for you to rent DVC points.
What Are The Worst Use Of DVC Points?
Whilst it's a beautiful resort, and so new, we believe that Disney's Riviera Resort isn't a good choice of location to rent DVC points because it's still so very expensive and, unlike our 'top picks' you can't walk to the parks from the Riviera Resort – for us, being able to walk to the parks is a huge perk!
Again, although these are beautiful resorts and just a monorail stop (or 2) from Magic Kingdom, but the Polynesian Village Resort and Grand Floridian Villas are VERY expensive and may not be the best location to rent DVC points.
Should You Rent Disney Vacation Club Points?