The Disney Skyliner is one of the most exciting additions to Walt Disney World, and staying at one of the Skyliner hotels can be just as exciting! Several Disney hotels are on the operating line for the Skyliner and allow you to take this fun mode of transportation to a few parks and other hotels. The best thing about the Disney Skyliner hotels is that there are options for all budgets and types of vacations!
If you are as obsessed with this great new mode of transportation than a Skyliner hotel is for you! But how do you know which of the Disney Skyliner hotels is right for you and your family? Use this guide to learn all about each hotel, find out which one fits into your budget and style, and keep on reading for the breakdown on each of the Skyliner hotels as well as our favorites and recommendations!
What are the Skyliner Hotels?
There are 7 Disney hotels that give you access to the Skyliner and Skyliner stations, as well as quick transportation to Hollywood Studios, EPCOT, and the Disney BoardWalk. There are three Deluxe, one Moderate, and two Value hotels so there are great options for everyone. The hotels are:
Disney's Beach Club Resort
Disney's Yacht Club Resort
Disney's BoardWalk Inn
Disney's Riviera Resort
Disney's Caribbean Beach Resort
Disney's Pop Century Resort
Disney's Art of Animation Resort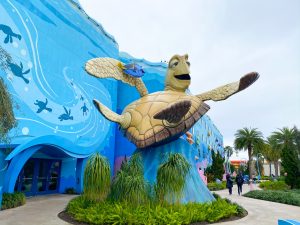 Are the Disney Resorts on the Skyliner Worth It?
In one word, yes! Not only are all these resorts amazing Disney resorts with all the perks, but they offer an extra mode of transportation that can seriously cut down on the time it takes your family to travel to the parks. The other reason that we believe staying at these hotels is completely worth it, is that there is such a great range of Disney Skyliner hotels from Deluxe to Value. Some of these hotels can be very affordable for the budget-conscious Disney vacationer, while some are super posh and even offer Disney Vacation Club options. The perks to the Disney Skyliner hotels are virtually limitless.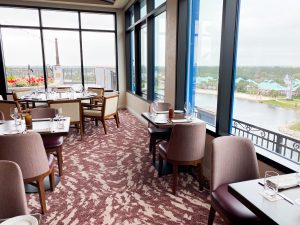 What Perks Do You Get Staying at a Disney Skyliner Resort?
Speaking of those perks… these Disney hotels are full of them! Not only do you get the usual resort perks when you stay at Disney hotel like Extra Magic Hours, and multiple choices of Disney transportation, but since Disney added the Skyliner, these 7 resorts offer easy access to the newest and quickest mode of Disney transport.
The Disney Skyliner can also be an easier mode of transportation for those traveling with strollers or wheelchairs in comparison to the buses and boats. On the Skyliner strollers don't have to be folded up upon boarding, and it's very easy for wheelchairs to transfer. The gondolas can also hold more people, so your party may not get split up like you might have to on a bus or boat. Likewise, the wait for the Skyliner is typically less than the wait for the buses and the traveling time could be cut in half for most trips. Since the gondolas are constantly in motion, the loading time is a lot less than both the Disney buses and boats.
Along with cutting down wait and travel times, staying on the Skyliner route gives you access to multiple dining and shopping options. It's a quick way and easy way to resort hop, and an easy way to find a new favorite restaurant! The Skyliner even offers its own Joffrey's Coffee and Tea Co. location at the Caribbean Beach station!
Plus as we mentioned earlier, the 7 Disney Skyliner hotels range from Deluxe to Value so there are multiple pricing options when it comes to rooms. You can choose ultra-fancy Disney Vacation Club Villas or fun, affordable rooms the kiddos will love. These resorts have something for everyone.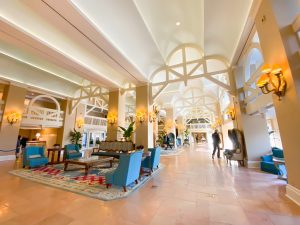 Deluxe Disney Skyliner Hotels
Like other Deluxe Disney hotels, these resorts offer the convenience of being close to the parks and offering more comfort and escape from the craziness that can be the parks. These resorts can give families more room in the Disney Deluxe Villas, and can offer more of the amenities a large family may need like a full kitchen and a washer and dryer.
In addition the Skyliner, these hotels offer multiple other modes of transportation the parks like buses, boats, and even a few in walking distance to the parks. These resorts also offer a wider range of dining options, most have signature dining and table service dining as well as the quick service dining options found at other resort levels. Check out our review of the best Disney Deluxe resorts and find the best one for your family.
Disney's Beach Club Resort
Disney's Beach Club Resort is a New England themed hotel focused on fun and has a quaint, charming feel to it. This hotel offers quick access to the Skyliner via the International Gateway at EPCOT, as well as it offers multiple dining and recreation options. Beach Club is a sister hotel with Disney's Yacht Club Resort, so while staying at one you can take advantage of the dining and recreation for both!
Beach Club, and Yacht Club, may best be known for their shared water park Stormalong Bay. It's a three-acre water park offering pools, lagoons, a lazy river, and even a life-sized shipwreck! It's the perfect escape for the whole family since they have a mini waterslide for the little ones as well as one of the highest waterslides on Disney World property for those who are a little more adventurous.
Besides offering access to EPCOT and having an awesome water park, this Disney Skyliner hotel is also known for Cape May Café and Beaches & Cream Soda Shop. Breakfast at Cape May Cafe is a fun character meal buffet that features Minnie Mouse and friends while dinner is a seafood buffet with some New England favorites. Beaches & Cream is an extremely popular 50's-style ice cream shop that offers diner food and some of the best ice cream on property. Both of these are can't miss restaurants on your next visit.
Check Rates on hotels.com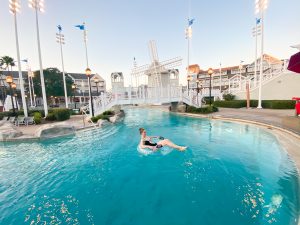 Disney's Yacht Club Resort
The sister hotel to Beach Club is a little more posh and elegant, and is completely nautical themed. It shares amenities with Beach Club, and is also in walking distance to both EPCOT and the Skyliner via the International Gateway. And just like Beach Club, you can also walk, take a boat, or the Skyliner to Hollywood Studios.
While we've already mentioned the amazing Stormalong Bay, Yacht Club also offers quiet pools as well as multiple kinds of boats for rent for your enjoyment in Crescent Lake.
But what really sets Yacht Club apart from Beach Club are the dining options. Ale & Compass and Yachtsman's Steakhouse are more refined options for dining that definitely fit in with the posh feel of the hotel. Ale & Compass offers comfort food and New England classics while you relax in a lighthouse style venue. Yachtsman's Steakhouse is a Signature dining restaurant that is the ultimate New England steakhouse and offers some of the best steaks on property. Both are can't miss for charming and elegant options on your next trip.
Check Rates on hotels.com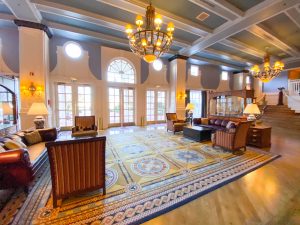 Disney's BoardWalk Inn
Disney's BoardWalk Inn is a little bit of a further walk to the Skyliner station at the International Gateway, but the few minutes more it takes you is worth the amenities at the resort! This Disney Skyliner hotel offers the feel of Atlantic City and Coney Island, and not only do you have access to Beach Club and Yacht Club, but the resort offers the amazing Disney BoardWalk complete with nightlife and unique dining options.
Staying at the BoardWalk Inn makes it convenient to enjoy multiple parks and great entertainment options like Jelly Rolls the dueling piano bar and the Atlantic Dance Hall. Great dining options are all around the BoardWalk as well, offering everything from ice cream at Ample Hills Creamery to a fancy dinner at Flying fish to even a magician themed drink or two at AbracadaBar. The BoardWalk is a don't miss on your next trip, and staying at this Disney Skyliner hotel allows you to enjoy so much without having to travel far!
Check Rates on hotels.com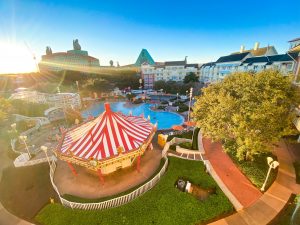 Disney's Riviera Resort
Disney's Riviera Resort is the newest addition to the Deluxe hotels and is inspired by the European Riviera. It has an elegant minimalistic design as well as one of the most beautiful hidden murals in all of Disney. This hotel offers great access to the Skyliner as well as bus transportation to the other parks and Disney Springs.
Not only is the newest hotel amazingly beautiful and a great choice when it comes to the Disney Skyliner hotels, but it offers some unique and amazing dining options. Topolino's Terrace offers a prix fixe character breakfast with Mickey and friends dressed in their artist attire, while dinner is an indulgent option with food inspired by both French and Italian cuisines and offers an amazing view. You'll also love Le Petit Café for a quick bite inspired by a Parisian café. Here you can grab coffee and pastries in the morning and indulge in exciting cocktails at night.
While the Riviera Resort is the newest of the Deluxe hotels, it is also one of the most expensive. This resort is definitely for those who want to indulge a little more on their trip but still want the ease and accessibility of taking the Skyliner to parks and other hotels.
Check Rates on hotels.com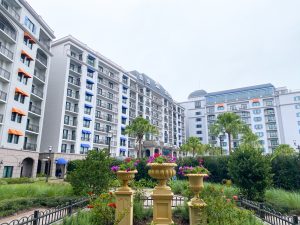 Moderate Disney Skyliner Hotels
Disney Moderate resorts aren't as expensive or as fancy as the Deluxe resorts but do offer some similar amenities and transportation options. While they aren't as elegant and don't offer the options for DVC Villas, they aren't as basic as the Value resorts. Most of these resorts do offer multiple dining options outside of quick service as well as may offer more than bus transportation to the parks. Check out our list of the best moderate resorts and find our if one of these is right your family's next trip.
Disney's Caribbean Beach Resort
There is only one Moderate resort that is a Disney Skyliner hotel and that is Caribbean Beach Resort. This hotel is inspired by islands in the Caribbean, and the sections of the hotel are even named after them: Barbados, Jamaica, Martinique, Trinidad, and Aruba. These 5 sections are very spread out though because this is a large resort. Caribbean Beach is unique because it has fun dining options, a Spanish-style pool with a waterslide, and even pirate themed rooms.
Old Port Royale has recently been updated and reimagined and offers multiple dining options, including Sebastian's Bistro as a table service restaurant. Sebastian's Bistro is an open, well-lit restaurant with lots of great surf-and-turf and Caribbean inspired dishes that the whole family will enjoy. You can also grab a drink at Banana Cabana, or a quick bite to eat at the diverse and unique Centertown Market.
Caribbean Beach Resort has two Skyliner stops since the main hub station for the Skyliner is located here, as well as the station does have that Joffrey's we mentioned earlier. And since this resort is so large and sprawling, if you want to be able to use the Skyliner as your mode of transportation there are two sections you should consider staying in to be close enough to one of the stations. In order to be close to the Caribbean Beach hub, you should stay in sections 41-42. And if you would like to be close to the Riviera Resort station, sections 55-56 are much closer.
Check Rates on hotels.com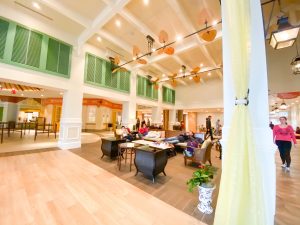 Value Disney Skyliner Hotels
Value resorts at Disney World are the least expensive options, but that doesn't mean they are any less themed or fun. In fact, the Value hotels are some of the most themed and are definitely some of the most fun for children and families.
These resorts overall don't offer as many of the amenities as the Moderate or Deluxe hotels, and none of them offer any table service dining options. And before the Skyliner was built, they only offered bus transportation to the parks and Disney Springs. Take a look at our take on the best Value resorts to see which may be the right fit for your next Disney vacation.
Disney's Pop Century Resort
Pop Century Resort may be one of the best-themed resorts on property and is inspired by pop culture from the 1950's through the 1990's. Each section of the hotel is designated to one of the decades, and this is a pretty large hotel. It's connected to Art of Animation Resort by Hourglass Lake and the Skyliner station is there as well.
Pop Century has a really fun atmosphere and is great for those who enjoy classic Disney, a bit of nostalgia, and want to stay somewhere without a lot of bells and whistles. There aren't any suites here, and the rooms are very basic but are still nice and comfortable. There are three fun themed pools including the Hippy Dippy Pool, a bowling pin pool, and a computer pool. Everything Pop has a cute gift shop and a quick-service dining hall has a lot of great choices for the whole family and you can even get pizza until midnight here!
This is a great resort for families and groups and those on a budget. With the addition of the Skyliner, guests at Pop Century won't have to wait as long as they used to for the buses and have a faster, better option to resort hop and go to two of the parks.
Check Rates on hotels.com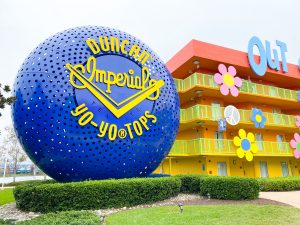 Disney's Art of Animation Resort
Art of Animation is the sister resort to Pop Century and you can enjoy amenities at both if you are staying at one of them, as well now the Skyliner lets Art of Animation guests travel quickly to parks and other resorts. This resort was originally supposed to be the later decades section of Pop Century but instead was redesigned to become a tribute to animation and animators of both classic Disney films and Pixar films. This is the most expensive Value resort because it offers family suites that sleep up to six and even offer kitchenettes.
The rooms and buildings are inspired by Cars, Finding Nemo, The Little Mermaid, and The Lion King as well as there is theming about animation all over the hotel lobby. The Big Blue Pool makes this resort pretty special, as the pool is the largest resort pool in Disney World and inspired by Finding Nemo. It's truly a beautiful pool with some pretty epic theming. The resort also offers a quick service dining hall similar to the one at Pop Century, and this one is called Landscape of Flavors. There are 5 food shops that offer everything from American classics to international options, so Landscape of Flavors has something for everyone in your group to enjoy.
Check Rates on www.hotels.com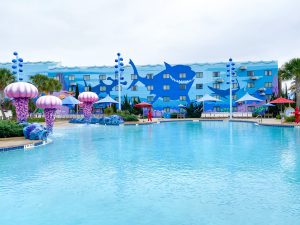 Our Skyliner Hotel Pick
When it comes to choosing one of the Disney Skyliner hotels, we 100% choose Disney's Beach Club Resort. It's got a great atmosphere with an amazing water park, and some of the coolest food options on property. Plus you are able to take advantage of all the amenities at its sister resort Yacht Club. With the addition of the Skyliner, Beach Club offers multiple transportation options to not just parks but also other resorts.
If Deluxe resorts aren't your thing or aren't in the budget for your next trip, our Value pick is Disney's Art of Animation Resort.
Art of Animation is a great choice out of the Disney Skyliner hotels because you can accommodate a larger family on a budget and the theming is fun and will definitely be enjoyed by the whole family. Having the Skyliner transportation at your fingertips also makes this hotel more convenient for traveling to the parks instead of only having the buses to rely on.
If you are having a hard time choosing the Value resort, read our comparison between Art Of Animation Vs Pop Century to help you choose!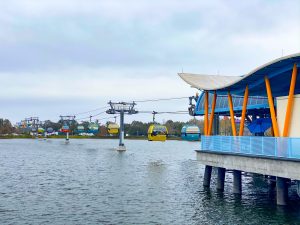 We hope that you've learned a lot about the different Disney Skyliner hotels that you can stay at, especially if you're just as excited about the Skyliner as we are! With 7 resorts to choose from, there are options for everyone and for every budget. Weigh what matters most to you and your family, and enjoy staying at a resort that offers access to the newest and coolest mode of Disney transportation!
Pin this post: