Disney World has it all–food, rides, and events. When planning your next Disney vacation, consider a Disney Moderate resort for your place to stay. Disney resorts are a great way to experience the parks on a whole new level. If you want to eat, breathe, and live Disney while you are there, you will definitely want to check out all the things Disney Moderate resorts have to offer.
From world-class restaurants right inside the resort to transportation from the resort to the parks, you are going to love these places. Disney cannot do much wrong, and the Moderate resorts are proof of this! Whichever resort you choose to stay in, whether you come by yourself or with family and children, you will find a lot to cherish.
When figuring out which Disney Moderate resort you would like to choose, some things to keep in mind is how far each one is from the parks. You will also want to think about themes and what kind of experience you would like. In our opinion, the more Disney the better. So we have rated the Disney Moderate resorts that are pure Disney higher than the ones that are not.
If you would like to get away from Disney and have a different experience at the end of the day, you might prefer the Disney Moderate resorts that we have listed as the worst over the ones we have listed as the best. Whatever our preferences, we have listed and will tell you about each one in this article. Keep reading to find out which is the best for you and your family.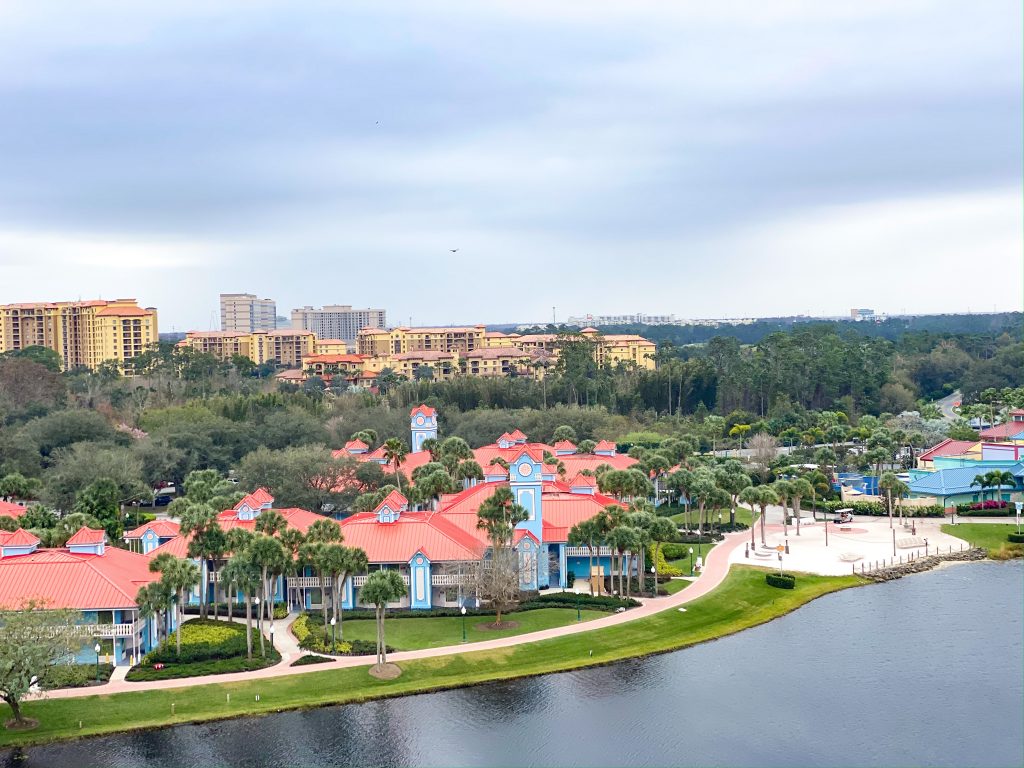 5 Best (and Worst!) Disney Moderate Resorts
What is a Disney Moderate Resort?
You may not already know that Disney has Deluxe resorts, Moderate resorts, and Value resorts. Deluxe resorts pack a punch but are also the most expensive lodging options around.
If you have money to throw in every direction, you can absolutely pay for the luxury in the Deluxe resorts. On the flip side, Disney Value resorts are the least expensive option. They are also the option with the least amenities and services.
If you are coming to experience the parks and you don't need anything fancy to come back to at the end of the day, you may want to consider a Value Resort instead. However, if you want more than a bare-bones experience, but at a much lesser premium than Deluxe requires, check out Disney Moderate resorts! 
Naturally, Disney Moderate resorts are the resorts that are not as expensive as the Deluxe resorts but offer more amenities and options than the Value resorts. They still allow you to experience all things Disney but manage to do so without requiring you to empty out your wallet.
Additionally, Disney Moderate resorts are also some of the largest resorts Disney has to offer. Even though they are not Deluxe resorts and do not come with all the shiny things Deluxe resorts have to offer, they still have plenty of Disney charm.
Value resorts can be a bit flashy and in your face with the Disney decor. Moderate resorts still let you know you are in Disney World, but do so in a subtle, comfortable way. Comfort is really the true hallmark of a Disney Moderate resort.
What is Transportation Like From Disney Moderate Resorts?
If flying to Disney, consider booking the Mears Connect service which is a paid service that will take you from the Orlando International Airport (MCO) straight to your Disney Resort.
Rest assured, if you are driving instead of flying, most of the resorts have great parking options available. However you get to Disney World, they try to make transportation to your lodging as easy as possible. We admire the effort Disney makes to help people have a good time. It is the little things like this that make it the happiest place on earth. Make sure to check out All The Moderate Resort Maps so you get a lay of the land!
Transportation to the parks is also fantastic when you are staying at a Disney Moderate resort. It is also one of the reasons to stay at a Moderate resort over a Value resort. While all Disney resorts offer buses to take you to the parks, Value resorts tend to have far fewer bus stops than Moderate resorts. This means that if you stay at a moderate resort you will not have to look as hard or wait as long to find a bus.
Some of the moderate resorts even have boat transportation available! We love the idea of taking a boat to the parks. Buses are great, do not get us wrong. It is absolutely lovely of Disney to provide buses to and from the resorts. But there is also just something magical about leaving your resort on and arriving at the park on a boat.
One of the Moderate resorts even offers Skyliner transportation – but more on that later!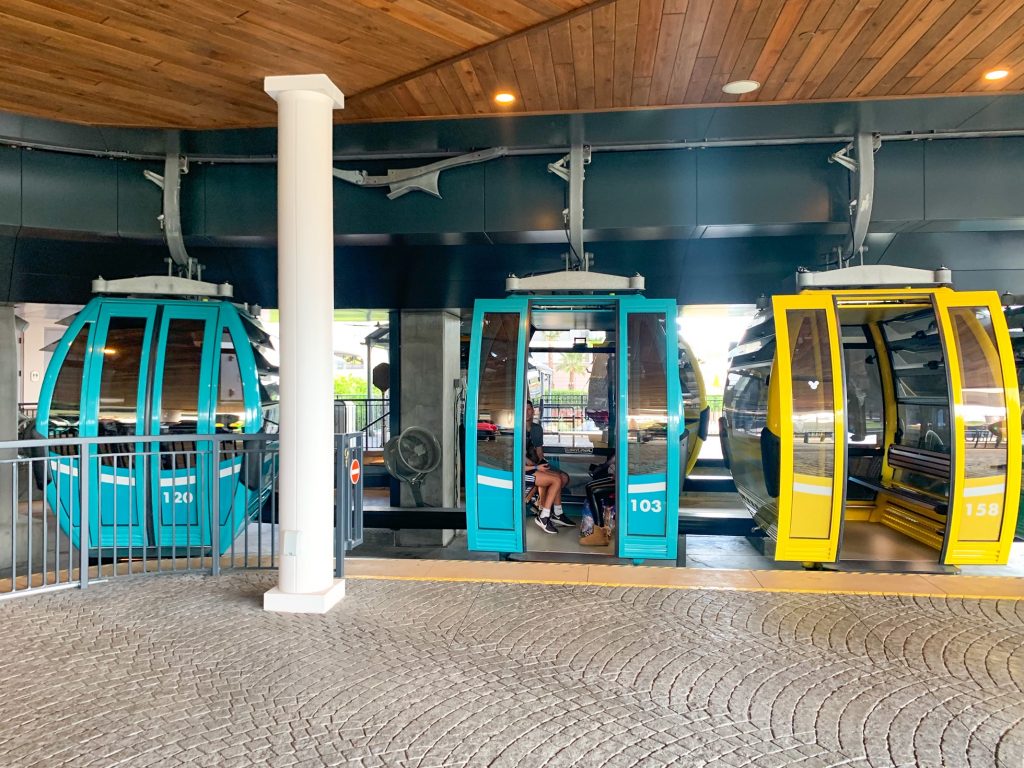 What Perks Do You Get Staying at a Disney Moderate Resort?
As we mentioned above, transportation is a big deal. If you do not want to plan your life around bus stops, do yourself a favor and stay at a Disney Moderate resort.
However, transportation is not all that Moderate resorts have to offer. You will love the atmosphere, accommodations, and all the amenities they have to offer. While each resort has its own theme, each carries its own bit of Disney throughout the grounds, rooms, and lobbies.
There are many rooms suited to couples and individuals, and Moderate resorts are also amazing for families. You can sleep up to 5 people in many of the rooms!
Another perk we love in the Disney Moderate resorts (and if you know us, you might see this one coming) is the many pools and hot tubs available. Seriously, can you name anything more relaxing after a long day at the parks than a soak in a hot tub?
The only thing we can think of that might be equally amazing is sitting down at a fabulous restaurant and eating a delicious meal. Moderate resorts are great at this too!
While Value resorts only have quick dining options, Moderate resorts have sit-down restaurants where you can get off your feet and relax while you eat your food. The only exception to this is Port Orleans French Quarter, but it is so close to Disney Springs and its sister resort that this really is not a problem!
Pros and Cons of Staying in a Disney Moderate Resort
An absolute pro of staying in a Disney Moderate resort is the size of these places. They are far enough away from the parks to leave behind the crowds and noise, but close enough to easily go back and forth.
When you come back to the resort at the end of the day, you will feel as if you have found your own little retreat. As mentioned before, while the Value resorts are Disney to the extreme, the Moderate resorts are Disney with some class. You will find walking trails, hot tubs, fine dining, and water features as you explore the grounds of these resorts.
We really do love Disney Moderate resorts. It is not easy to find great lodging and amenities for prices like these. However, as with everything in life, there are some cons. Ironically, it is some of the pros that actually contribute to the cons.
One of them is how big these resorts are. If you do not get a room close to the lobby, you will have to walk a ways to get anywhere. However, the rooms that are closer to everything also cost more. So, if you are choosing a Moderate resort to save money, just keep in mind that the more money you save the farther you will have to walk.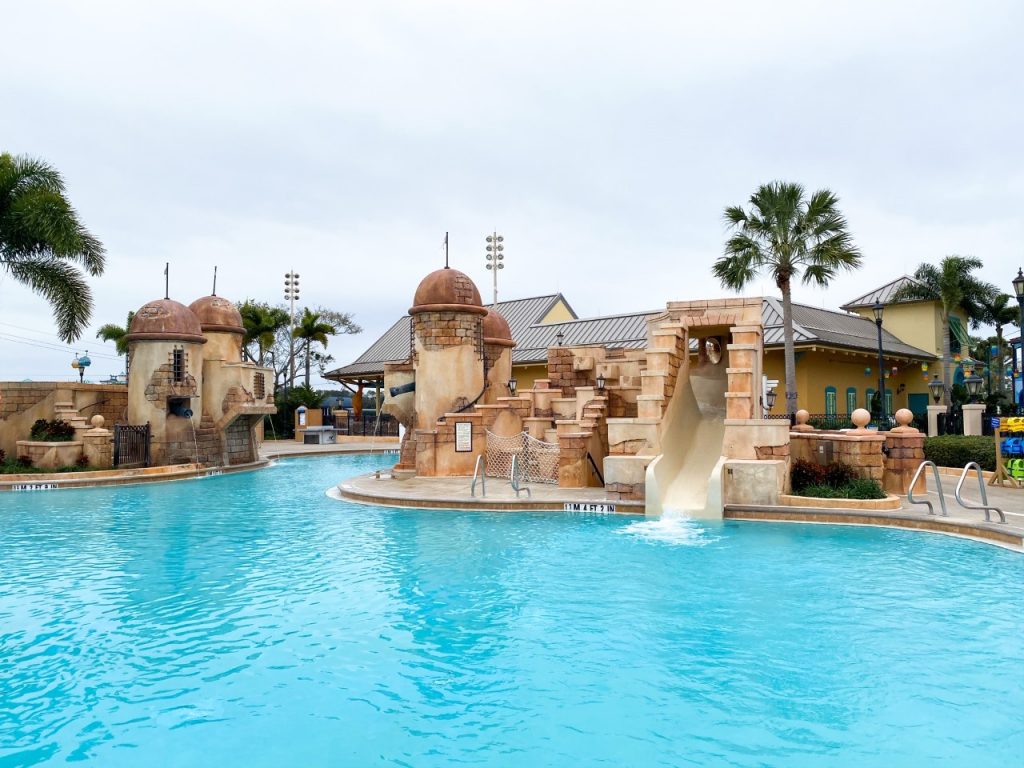 Best Disney Moderate Resorts
Disney's Coronado Springs Resort
Although some rooms at Disney's Coronado Springs Resort costs slightly more than the other Disney Moderate resorts, it still absolutely qualifies as a Moderate resort. You will be amazed by how fancy this place feels. With its views of Lago Dorado – the gorgeous lake the resort wraps around – and the relaxed, elegant feel of this resort, you will love staying here.
Disney's Coronado Springs Resort is a great option for people who want a luxe experience without the luxe price tag that Deluxe resorts require. Here you will find great places to eat like Rix Sports Bar & Grill, Three Bridges Bar & Grill at Villa del Lago, and even Toledo – a Spanish tapas bar.
Check out our Disney Coronado Springs Review for an in-depth look at staying at this Disney Moderate resort.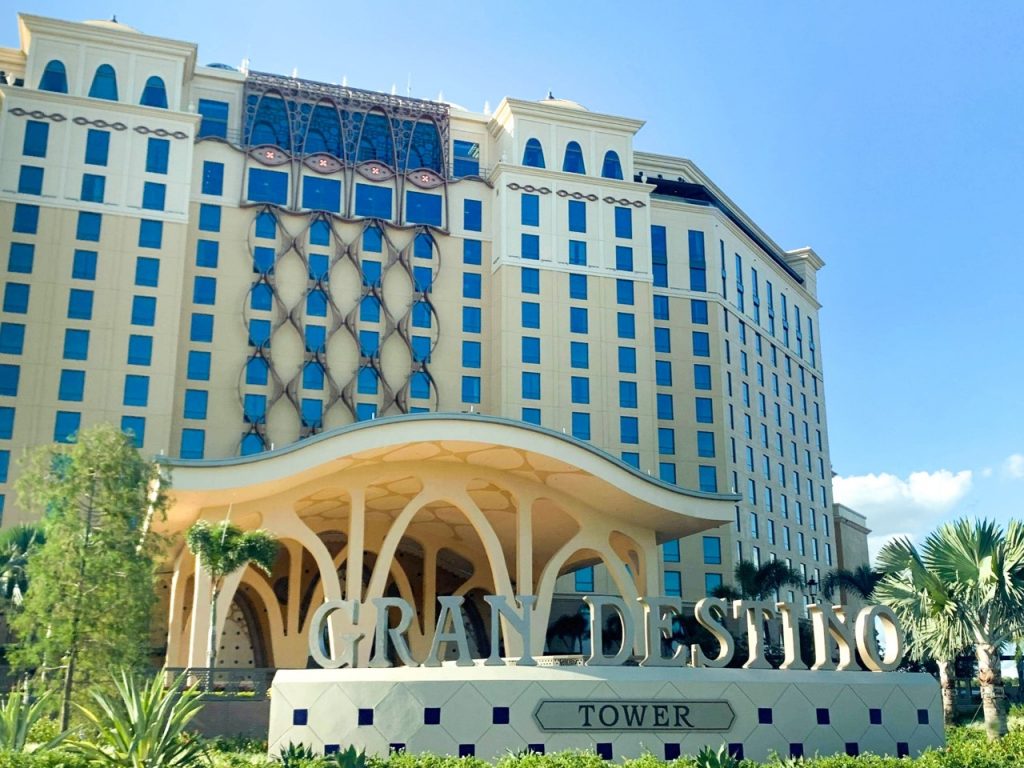 Atmosphere
Disney's Coronado Springs is beloved for its Southwest atmosphere. It is a delightful mix of Spain, Mexico, and Southwest America all wrapped up in a modern resort that will make your heart sing. With a stunning entry into the Gran Destino Tower lobby, you will really feel the grandness of this place as you enter. It is still a Disney resort though, and you will find some cute Disney touches along with nods to both the Southwest and the artist Salvador Dali.
Accommodations
Stay in a Club-access room and you will be able to enjoy the Chronos Club – this gives you additional vacation-planning support, food and beverages throughout the day, and an exclusive place for club members only to relax at the end of the day.
If club-level isn't for you, stay in a regular room. They range from single King beds to double Queens with pullout beds in the couches. You can sleep up to 8 adults in the executive suite, and standard rooms can sleep up to 4 adults.
Coronado Springs is also unique, because you can choose to stay in the Gran Destino Tower or stay in one of the standard or preferred rooms in the exterior three sections of the hotel.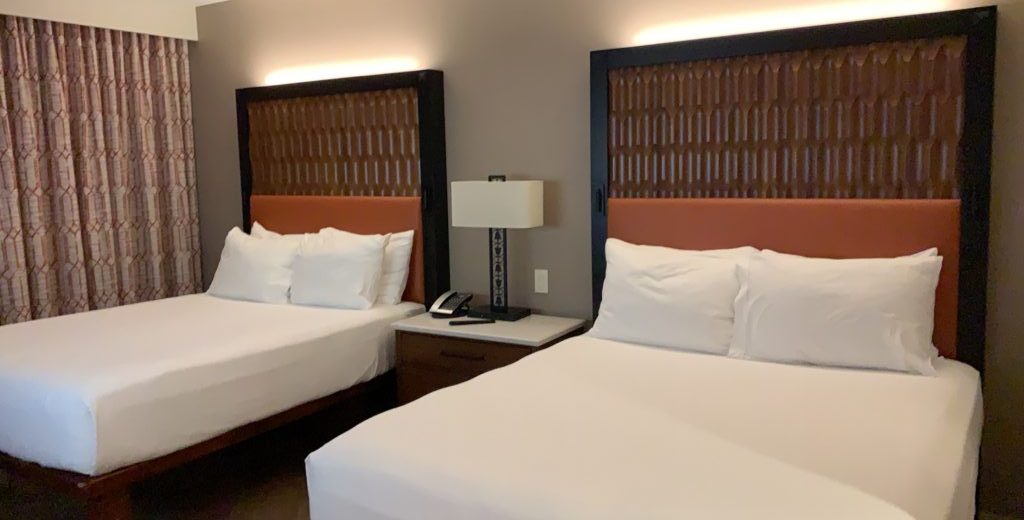 Amenities
Coronado Springs has a full-service spa, and a 24-hour fitness as well. You definitely don't want to miss out on spending time at the Dig Site Pool – where you'll find a 50-foot replica of a Mayan pyramid, a huge 22-person hot tub, and the amazing Jaguar Slide!
Disney's Port Orleans Resort – French Quarter
Welcome to Disney's take on a classic: the French Quarter of New Orleans! Here you will have a chance to experience the Cajun and Creole aspects of New Orleans. As we mentioned earlier, Disney's Port Orleans French Quarter does not have a sit-down, table restaurant.
It honestly does not need one though, given that you can take the boat on the Sassagoula River from the French Quarter to Disney Springs! Disney Springs has all the food and shopping you could ask for.
Plus, French Quarter has an amazing food hall to eat at: Sassagoula Floatworks and Food Factory. Don't miss the traditional Cajun/Creole classics like gumbo and jambalaya here.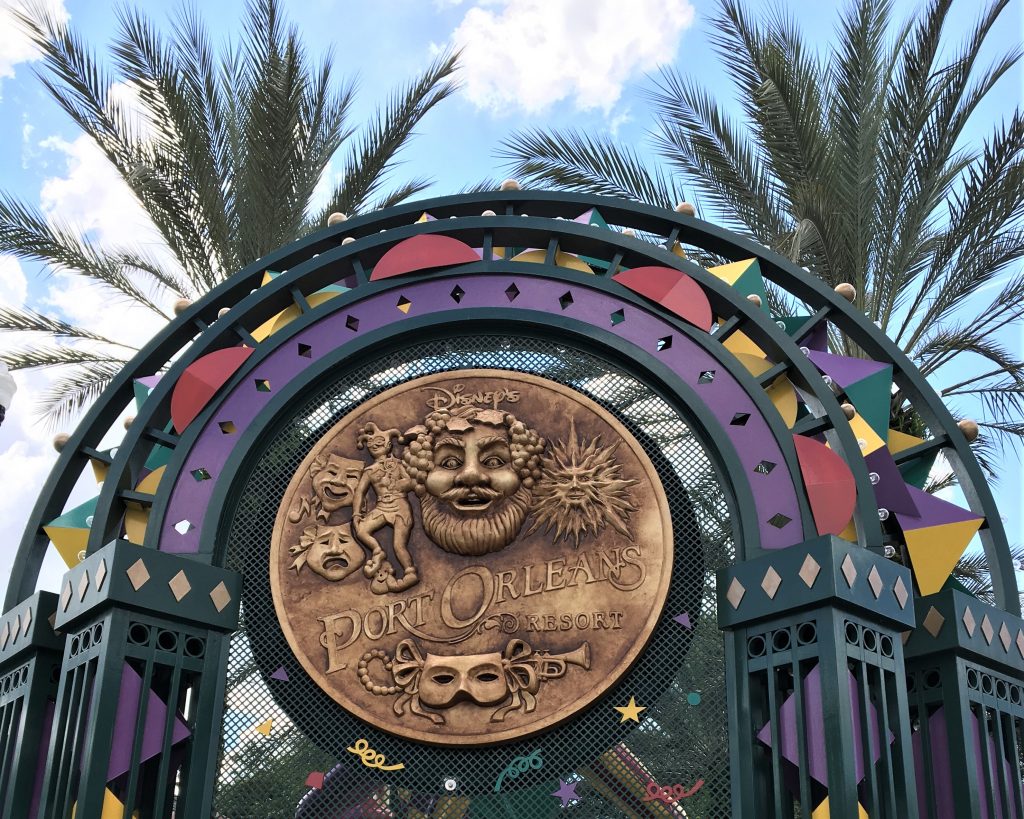 Atmosphere
Disney's Port Orleans Resort French Quarter is a fun resort – it showcases Disney's take on Mardi Gras, jazz, and the French Quarter. You'll want to have a fun night at Scat Cat's Club, and walk the cobblestone streets as if you're really in New Orleans.
Accommodations
Rooms in the French Quarters sleep anywhere from 2 to 4 adults and feature all kinds of views. You can choose from a garden view, a river view, or pool view. Of course, the standard view costs less and is not half bad itself. Whichever room you choose, you are sure to enjoy your stay at Disney's Port Orleans French Quarter.
Amenities
You will have a hard time resisting the sea serpent waterslide at the French Quarter's Mardi Gras pool. If you would rather, you can also spend some time soaking in the hot tub. In addition to the waterworks, the French Quarter also offers horse-drawn carriage rides for an additional fee.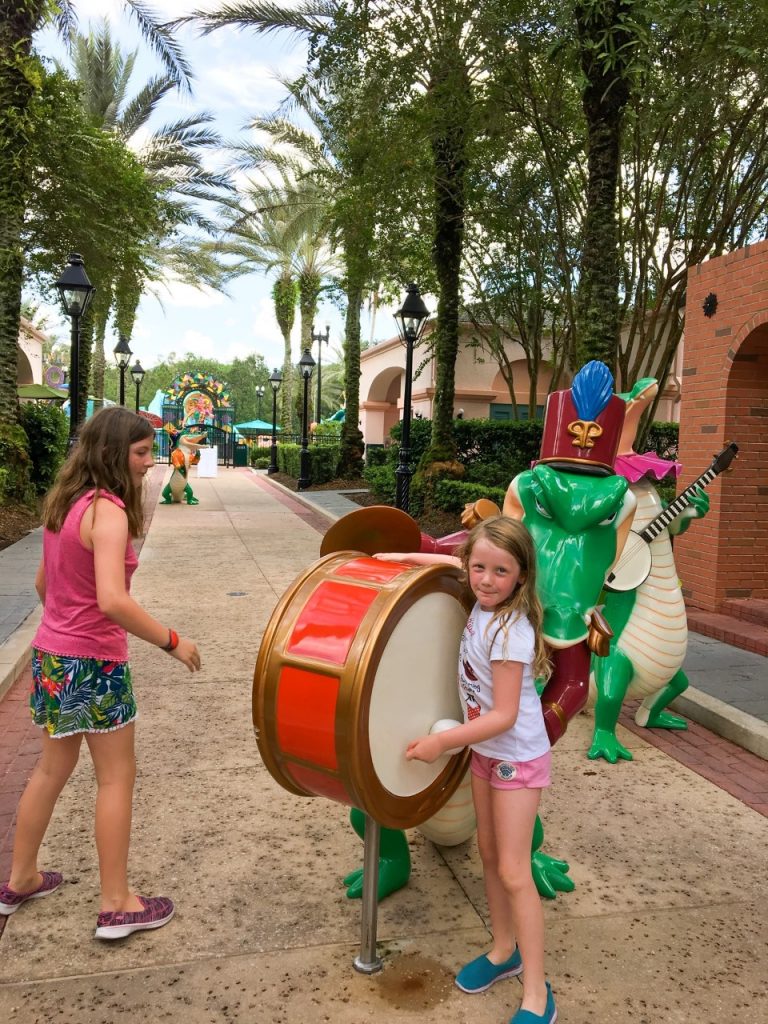 Disney's Port Orleans Resort – Riverside
Walk into the lobby at Disney's Port Orleans Riverside and you just might feel like you have stepped into a palace. You will love all the white columns and fountains. Every day feels like a day of leisure and ease at Port Orleans Riverside.
It is hard not to feel at ease with four different dining options. Stay here and you will have your choice of Boatwright's Dining Hall, the Riverside Mill Food Court, the River Roost bar, and the Muddy Rivers bar by the pool. You can even have pizza delivered to your room! Like the French Quarter, Riverside also allows you to use the ferry to visit Disney Springs.
Atmosphere
Where French Quarter is fun, funky, and full of the Mardi Gras spirit, its sister Riverside is laid back, elegant, and full of Southern Hospitality. From the colors of the chairs to the hardwood floors and bricked walls, everything about Riverside will transport you to old-timey New Orleans. They go the extra mile to make things family-friendly, but also offer a couple of bars for when you just need some adult time.
Accommodations
Port Orleans Riverside offers rooms that sleep from 3 to 5 people. As with the French Quarter, you will have your pick of views, and there are both Standard and Preferred rooms. Preferred rooms tend to have great views and are closer to pools and places to eat. If you are worried about the resort being so big that you have to spend half your time walking to get places, you will definitely want to check out the Preferred Rooms.
One thing that makes the accommodations at Riverside unique is that they offer Royal Guest rooms, i.e., Princess rooms! These rooms are simply magical. They are inspired by Princess and the Frog, and you'll not only find little touches and nods to Tiana, but also some gifts left by the other Princesses!
Amenities
Port Orleans Riverside ticks all the right boxes for amenities. They have a sit-down restaurant, overnight parking, great transportation, and complimentary Wi-Fi internet. You will love the pool and hot tub, the nostalgic environment, and being able to eat pizza in your room as you decompress at the end of your fun-filled day.
Worst Disney Moderate Resorts
Caribbean Beach Resort
Honestly, there is nothing absolutely horrible about the Caribbean Beach Resort, it is just that nothing really stands out either. You will be hard-pressed to be able to tell the difference between this and any other Florida resort. Also, it is the worst for being large spread out and having to walk forever to get to anything you want to do.
We do not hate it, there just is not much to love about the Caribbean Beach Resort in comparison to the other Disney Moderate resorts. There are, at least, a lot of dining options. The Caribbean Beach Resort has a sit-down restaurant in Sebastian's Bistro, quick-service meals in the Centertown Market, and great drinks at Banana Cabana.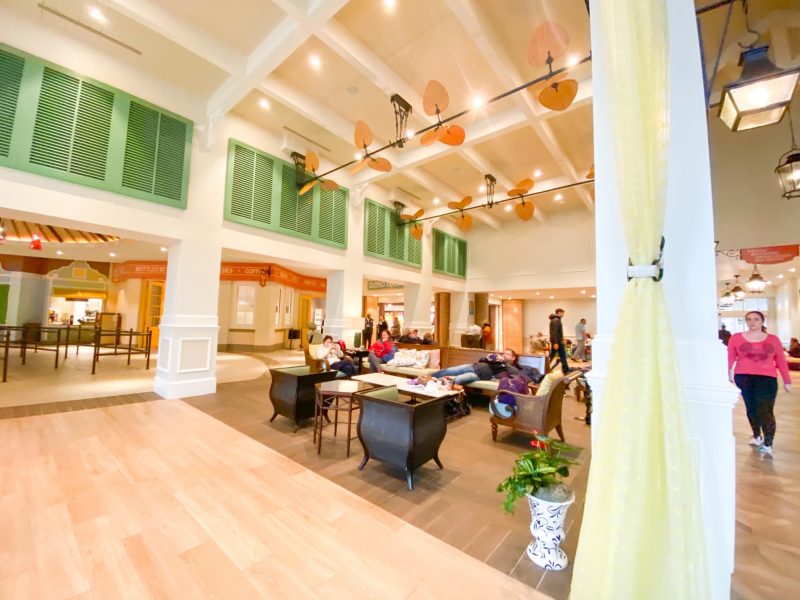 Atmosphere
Stay at the Caribbean Beach Resort and you will feel like you are in any other Florida resort, but in Disney World. Do not get us wrong, you will feel like you are staying at a nice Florida resort. There are palm trees, island influences, and Caribbean inspired decor. Honestly, the Spanish themed pools just might be the prettiest one you will find in a Disney Moderate resort.
Accommodations
Although there are not as many options for views, the Caribbean Beach Resort does have a treat of its own. You can stay in a Pirate themed room! The pirate rooms even come with some of the best views! In general, rooms here sleep between 2 and 5 people, so it is a good option for families.
Amenities
Some, but not all, of the Disney Moderate resorts offer childcare services. Caribbean Beach Resort is one of those. So if getting some adult time during your Disney vacation is important, this resort could be a good option. All the other amenities come standard–Wi-Fi, transportation, laundry services, etc.
The best thing that Caribbean Beach Resort has to offer though is the access to the Skyliner. This gives you the ability to head to three other resorts and two parks along the Skyliner, and you have a much better range of activities and food than just what's at the resort.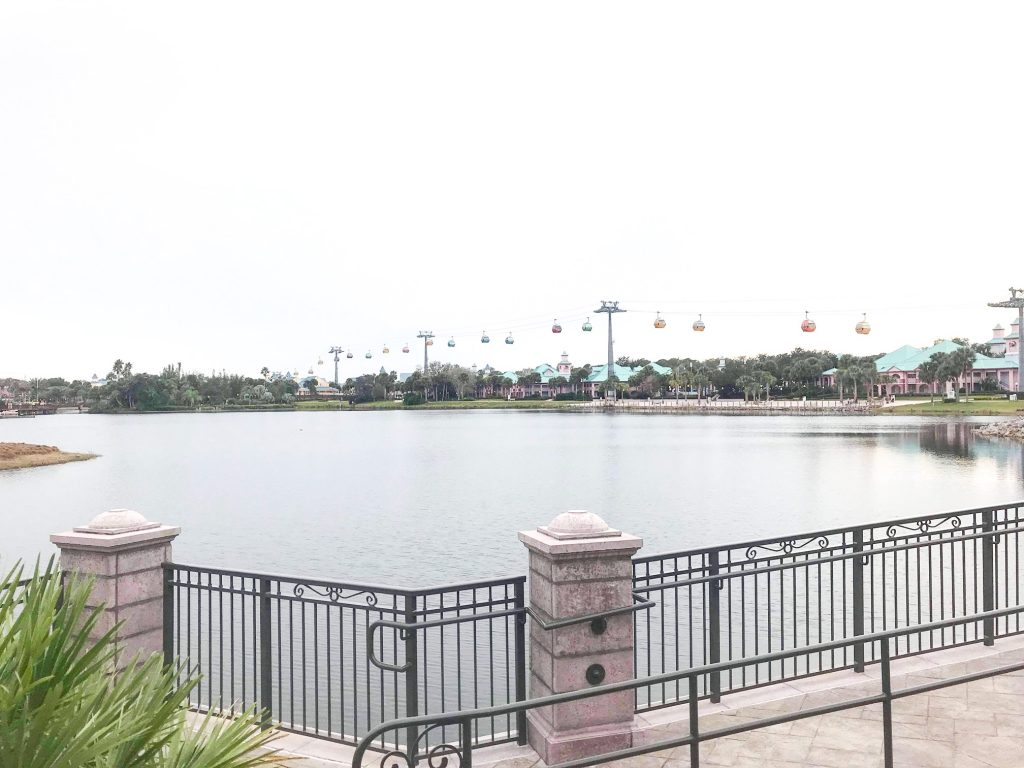 Cabins at Fort Wilderness Lodge
If you are staying at a Disney Moderate resort to save some cash, steer away from the Cabins at Fort Wilderness Lodge. They have more beds and are great for large families or groups, but they also cost much more than all the other Moderate resorts.
Of course, the Cabins at Fort Wilderness Lodge are not all bad. The setting is gorgeous, and there is definitely something attractive about retreating to the wilderness at the end of a long day in the parks. If you like home-cooked meals and the best of southwest cooking, you just might love this place with its Trail's End Restaurant and Chuck Wagon food truck. We also love that you can take a ferry to the Magic Kingdom instead of a bus.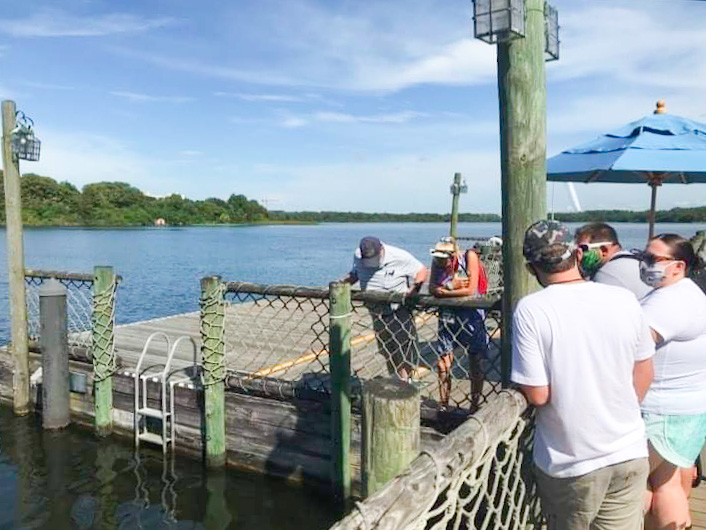 Atmosphere
Say what you will about the price, it is definitely hard to argue with the view and setting here. The Fort Wilderness Resort lies among acres of pine trees, and you just might see some wildlife if you spend any time outside. Everything is wilderness and outdoor themed, and it has its own brand of beauty. If you believe elegance and sophistication are overrated, this just might be the resort for you.
Accommodations
The accommodations available at the Fort Wilderness Resort come in a one-size-fits-all kind of way, which is one of the reasons it just is not our favorite resort. Unless you want to bring a tent or camper and rough it, your only option here is a Wilderness Cabin that sleeps up to 6 adults.
If you are coming by yourself or as a couple, this could be too big, and it would be nicer to have some smaller accommodations. Don't get us wrong – the cabins are cozy and comfortable. But it would just be nice to have other choices for people who want the rustic get-away and do not need or want to pay for a room for 6.
Amenities
Making up for just how huge this resort is, you can rent a golf cart to help you traverse the wilderness. You can also bring your dog with you if you stay at this resort, which is atypical for Disney resorts and definitely a plus to this location. You can also pre-order groceries for your stay so that you can have more of relaxed, home-like feel on your vacation.
Well folks, there you have it. The best and worst Disney Moderate resorts. We hope we have been helpful in helping you figure out which one to make your home away from home. Let us know in the comments which is your favorite and where you choose to stay! And if you need any more tips or tricks, check out all our articles on our Disney Planning Page.
Pin this post: