If you're looking for all the best Disney World grocery delivery services, you've come to the right place! We know that a Disney World vacation can get pretty pricey, and sometimes it's easier to make a few of your own meals to cut back on costs.
Or maybe you have someone in your group with dietary restrictions or who's a picky eater. So what do you do? Order some groceries to get delivered to your Disney resort, of course!
This can greatly cut down on your food costs during your trip, and it allows you to have all of your favorite items – including those you can't find anywhere on Disney property (Cheerios! Pepsi! Greek yogurt!).
And by using this as your guide, you'll be able to figure out which Disney World grocery delivery services are right for you, which ones aren't, and which one charges enough fees to pay for dinner at Cinderella's Royal Table!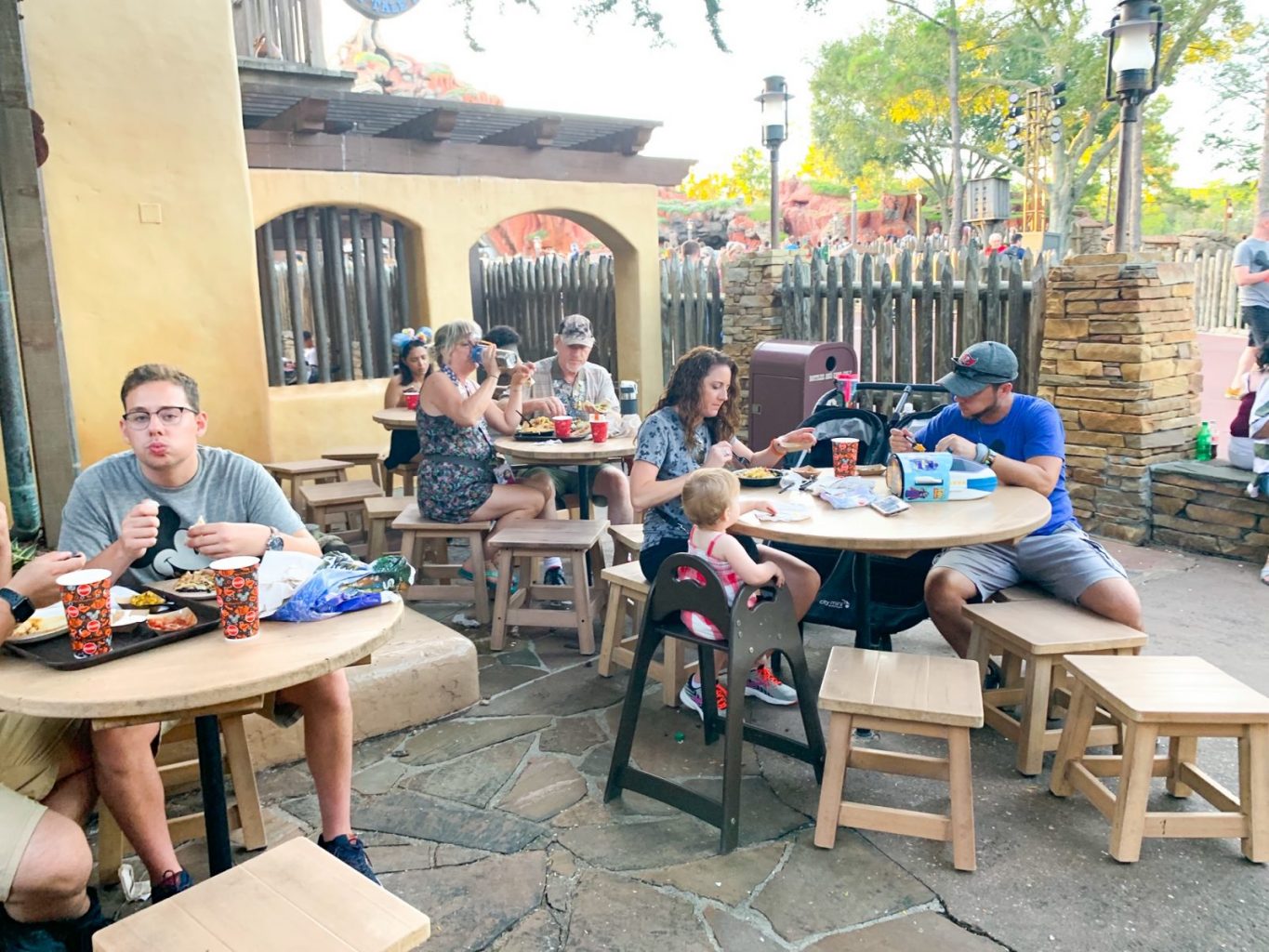 Grocery Delivery to Disney World by Service
Choosing to have your groceries delivered to your Disney World resort could save you a lot of time and effort during your trip and still guarantee you get the food you need. There are lots of choices when it comes to Disney World grocery delivery services, and many of them are local and have been delivering to the Disney World resorts for years.
Unfortunately, the convenience of having groceries delivered could cost quite a bit, and sometimes the selection may be very limited. You'll have to make sure to choose an affordable option when it comes to fees and minimum orders.
We recommend looking at the services listed below and comparing and contrasting the prices to see what works best for you! What works best for one guest, may not work the same for another guest!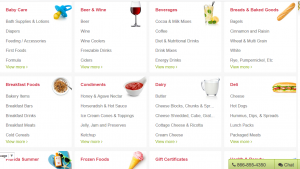 Garden Grocer
Garden Grocer is easily one of the most recognized Disney World grocery delivery services and is typically at the top of everyone's list. They've been delivering to Disney World for over 10 years, and they deliver right to the bell service of your resort.
They only deliver to Disney World resort hotels, including the good neighbor hotels of Four Seasons Orlando at Walt Disney World Resort, Wyndham Bonnet Creek Resort, and Wyndham Grand Orlando Resort.
The Swan and Dolphin do not accept deliveries so Garden Grocer obviously doesn't deliver there (and none of the other services mentioned here will either).
There are some restrictions for the Campsites at Fort Wilderness Resort, the Yacht Club, the Beach Club, and the Boardwalk Resort as well, as Garden Grocer only delivers there between 4 and 9 pm. For the remaining Disney World hotels, you are able to choose your delivery window from three choices: 8 am to 12 pm, 12 to 4 pm, and 4 to 9 pm.
Garden Grocer can be a great choice as one of the Disney World grocery delivery services because they don't require a minimum order purchase, and the delivery fee is only $14 if your order is less than $200.
If your order more than $200, the delivery fee is waived. They prefer that you order at least two days prior to delivery, and they have a $20 up charge for next-day delivery, as well as a $30 up charge for same day delivery when ordered before 10 am. They do offer promotional discounts for advance orders: 15 days – 5%, 30 days – 7%, 60 days – 10% off.
Pros: well known with a good reputation, no minimum order, offer discounts, can order alcohol
Cons: limited selection (they don't "shop stores"), expensive to upgrade, can be inconvenient depending on where you are staying
Shop Garden Grocer Now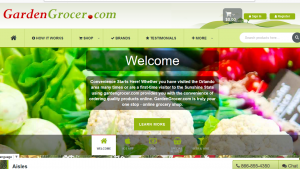 Walmart Grocery Delivery
This can be another one of the great choices when it comes to Disney World grocery delivery services because most people are already familiar with Walmart and you may even use this service at home.
For delivery to Disney World, they shop the five local Walmarts close to Disney, and it's convenient and relatively inexpensive when compared to ome of the others. The delivery fees range from $7.95 to $11.95 depending on the delivery time window, and there is a minimum order of $30.
Walmary Grocery Delivery does offer same-day delivery so this can be good for emergency items or things forgotten at home. They also offer the same in-store pricing for delivery, so there isn't any markup and you'll get the same low prices you're familiar with at Walmart.
Pros: convenient, inexpensive, familiar
Cons: no alcohol, minimum order and varying fees, can take a long time in some instances.
ShopWalmart Grocery Delivery Now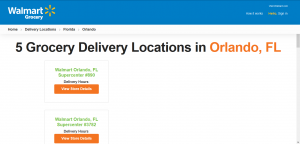 Instacart
Instacart is another one that may be a service you already use, and that could make it a great choice for you when it comes to Disney World grocery delivery services. They utilize personal shoppers that handpick and deliver your groceries, and they are able to shop multiple stores in one order. In the Orlando area they shop at: Target, Publix, Aldi, Total Wine & More, Costco, BJs, and ABC Fine Wine and Spirits – which of course means they can deliver alcohol.
There is a $10 minimum order for Instacart, as well as delivery fees that vary based on the size of the order and the time of delivery. One great thing they do offer are coupons, and you can apply them to certain items in your cart.
Unfortunately, they charge a "Busy Pricing Fee" if you order during what they consider to be busy times. The delivery hours are also based off of the local hours of the store, so for most options the deliveries start as early as 9 am and can go as late as midnight. this is perfect if you are looking to get groceries at Disney later at night!
Pros: can deliver alcohol, can order from multiple stores in one order, offers coupons
Cons: don't know cost until checkout, extra fees and charges depending on time
Shop Instacart Now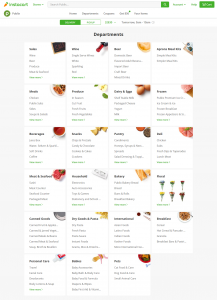 We Go Shop
If you are looking to get groceries delivered to Disney, check out We Go Shop. They are different from most of the others because they visit both Whole Foods and Trader Joe's, which is great for healthier options and those with dietary concerns.
We Go Shop also shops Walmart, Sam's Club, Publix, and Winn-Dixie in the Orlando area. You can choose more than one store in a single order but it will cost you an additional $5 per store. We love that this Disney grocery delivery service goes to some healthier options!
And speaking of fees, We Go Shop charges a lot of them for multiple reasons. The delivery fees are based off of how much spend:
up to $50 – $19 shop and delivery fee
$50-$100 – $24 shop and delivery fee
$100-$200 – $29 shop and delivery fee
$200-$300 – $39 shop and delivery fee
over $300 – 13% of the total cost of your order
They also charge additional fees for same-day service, after hour deliveries, warehouse stores, and stores where shoppers have to bag their own groceries. All orders have a $3 fuel purchase, as well as they add 15% gratuity for all orders left at bell services.
Pros: can get healthy options, can get dietary concern options, can choose an under 30 minute delivery window
Cons: lots of fees, could end up being very expensive, a lot depends on timing and order cost
Shop We Go Shop Now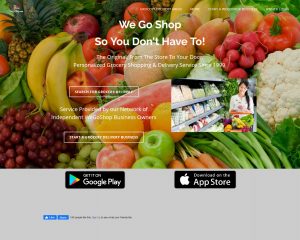 Amazon Prime Now
Even though it's affiliated with Amazon and Amazon Prime, Prime Now uses its own website and mobile app for orders. It's a delivery service exclusive to Amazon Prime members, and it's a convenient and affordable option for Disney World grocery delivery services if you are already a Prime member.
As Prime members ourselves, we totally love this option for getting groceries!
If you are a Prime member, this service will allow you to order not only groceries delivered to Disney, but also other items you may have forgotten at home like sunblock and phone chargers. Prime Now shops local stores and the Amazon site for groceries and household items.
You're able to order from stores like Whole Foods, and your order can be delivered almost any time of day and 7 days a week. There isn't a minimum order, and 2 hour delivery is free for orders over $35 or more. If the order is less than $35, the fee is only $4.99. Regardless of the amount of the order, $9.99 is added for 1 hour delivery.
Pros: can order non-grocery items you may need, fast delivery, convenient, fairly inexpensive
Cons: have to be a Prime member
Shop Amazon Prime Now Now

Orlando Grocery Express
This delivery service not only serves the Disney World Resort hotels, but also other resorts and vacation homes in the Orlando and Kissimmee. Like some of the other Disney World grocery delivery services, you shop their "store" versus shoppers going out and shopping local, specific stores. They do offer discounts sometimes, especially for your first time ordering from them – typically 5% off.
Even though they do deliver 7 days a week, you have to check their available dates calendar to be sure the day you want is still available. They also prefer that you place your order at least 72 hours prior to your delivery date, and it cannot be refunded after that 72 hour window. They, fortunately, don't charge a minimum purchase order, but there is a delivery fee of $14 on all orders under $200 – over $200 is free.
Pros: delivers to non-Disney resorts and vacation homes, not a lot of fees, delivers beer and wine
Cons: limited selection, rigid policies
Shop Orlando Grocery ExpressNow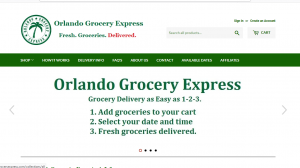 Shipt
Shipt is another of the Disney World grocery delivery services that require a membership, as well as also utilizing personal shoppers. The membership is $99 yearly, but in certain locations you can pay per month.
Even though the membership is pricey, all orders are delivered for free as long as the purchase is over $35. In the Orlando area, you can order from Publix, Target, CVS, Office Max/Office Depot, Winn-Dixie, Lucky's Market, and ABC Fine Wine and Spirits, and the shoppers shop the hours these stores are open so deliveries take place almost all day depending on store hours.
If Shipt is something you already have a membership for and use at home, this could be a great grocery delivery service for you to use in Disney World. It's quick and convenient since they will deliver in as soon as an hour for no extra charge, and there isn't a minimum order.
If you are looking for food delivery to Disney World resorts that also allows liquor, this is the site for you!
Pros: can order alcohol, quick delivery, no minimum order
Cons: pricey membership fee
Shop Shipt Now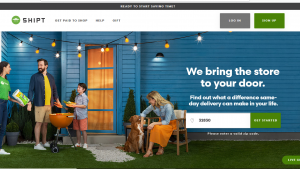 Dizzy Dolphin Delivery
This Disney World grocery delivery service is very unique because it was started by Disney Vacation Club (DVC) members. You do not have to be a DVC member though to use this service.
Unfortunately, this service can be a rather involved one to use because it can take up to three days to receive a quote, and you have to order at least seven days prior to delivery. It may be worth it though, because they not only deliver groceries, but also alcohol, gift baskets, and gluten-free items. They will also shop at multiple stores and warehouse clubs to get the right items.
They do require a minimum order of $50, and the delivery fee is only $14 for all orders under $250. If the order is over $250 then the fee is waived. All orders are dropped off at bell services which guarantee that cold items are kept refrigerated and it's convenient for you.
We suggest planning in advance if you want to use this smaller local brand and support an Orlando business!
Pros: can order alcohol, can order gluten-free items, can order gift baskets
Cons: can take awhile to get a price quote, have to order well in advance
Shop Dizzy Dolphin Delivery Now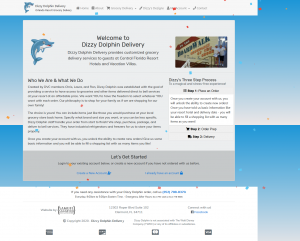 Disney World Groceries You Pick Up Yourself
If you decide not to use one of the Disney World grocery delivery services, you can always go get groceries yourself. Here are the pros and cons to going to get them yourself, and then a few options of ways to get groceries near Disney World.
Pros: shop at a larger range of stores, pick out your own groceries, don't have to wait a certain amount of time for things to show up, better for emergency or non-food items
Cons: have to either have a car or rent one, may have to use a taxi service, can take a lot of time out of your vacation, may be hard to find stores if unfamiliar with the area
We get it, sometimes you just want to pick out your own groceries, and this is a way that you can do it with ease while on your Disney vacation!
Walmart Grocery Pickup
This might be the easiest pickup service if none of the Disney World grocery delivery services are right for you. You pick out all your own groceries online and just drive up to the Walmart where they put them in your car. You never have to step foot in the store, which can save a lot of time during your vacation. This service is free as well, so it can save you a lot of time and money in the long run. They do require a $30 minimum order though.
One downside to this service is that of course you have to have access to a car, and if you arrived in Orlando by plane then you will have to rent one. Also, the only Walmarts in Orlando that offer this service are closer to the airport (MCO), and it's not offered at any of the Walmarts close to Disney World.
Shop Walmart Grocery Pickup Now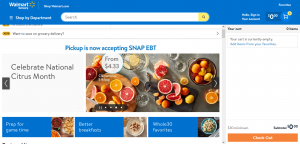 Disney World Speedway Gas Stations
There are two Speedway gas stations on Disney property, one across from Disney Springs and one across from the Boardwalk resort. This could be a good choice for grocery shopping if you are going to be near Disney Springs at some point during your trip, or if you are staying close to Boardwalk. Also, unlike the Disney World grocery delivery services, you don't have to worry about minimum orders or delivery fees.
Unfortunately, these two gas stations aren't going to be conveniently located for everyone. And like most gas stations, the prices will be inflated and the selection will be limited.
This is a good option for something super quick to pick up, but there won't be too many options!
Taxi/Uber/Lyft
Of course if you want to shop for your own groceries and don't have a car – or want to rent one – you can always use a car service. And since the Disney World Minnie Vans won't take you off property, you will need to use either a traditional taxi service, an Uber, or a Lyft. These can be fairly affordable, but prices will vary based off of which service you use, location of the store you go to, and location of the hotel you are picked up from.
Although this can guarantee you get the groceries you want from the store you want, unlike most of the Disney World grocery delivery services, this can end up being pretty costly and take up a lot of your personal time. You'll have to pay for two separate trips, and you'll have to take time waiting for the service as well as shopping around the store.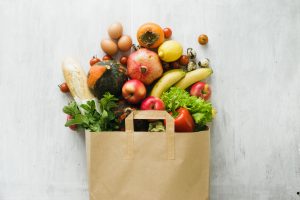 Other Disney World Grocery Hacks
If using one of the Disney World grocery delivery services isn't right for you, and you don't plan on taking an Uber to the closest Publix, we have a few other hacks that will ensure you have all you need for your trip!
Ship Groceries to Your Resort
This may be the easiest way to get the groceries you want for your trip with the least effort and time without using of the food delivery at Disney! Ship your groceries right from home to your resort! You can either shop your favorite store at home or ship from a company, but this allows you to not have to use any of your vacation time to get groceries and your items will be waiting for you when you arrive.
You will of course have to pay for shipping plus Disney World charges a $5 fee for the delivery. Just to be sure they arrive on time, ship your items about a week before your arrival. How you address the groceries for delivery to your resort is as follows:
Name on the hotel reservation
c/o your Disney World hotel's front desk
arrival date: xx/xx/xxxx
street address
Lake Buena Vista, FL 32830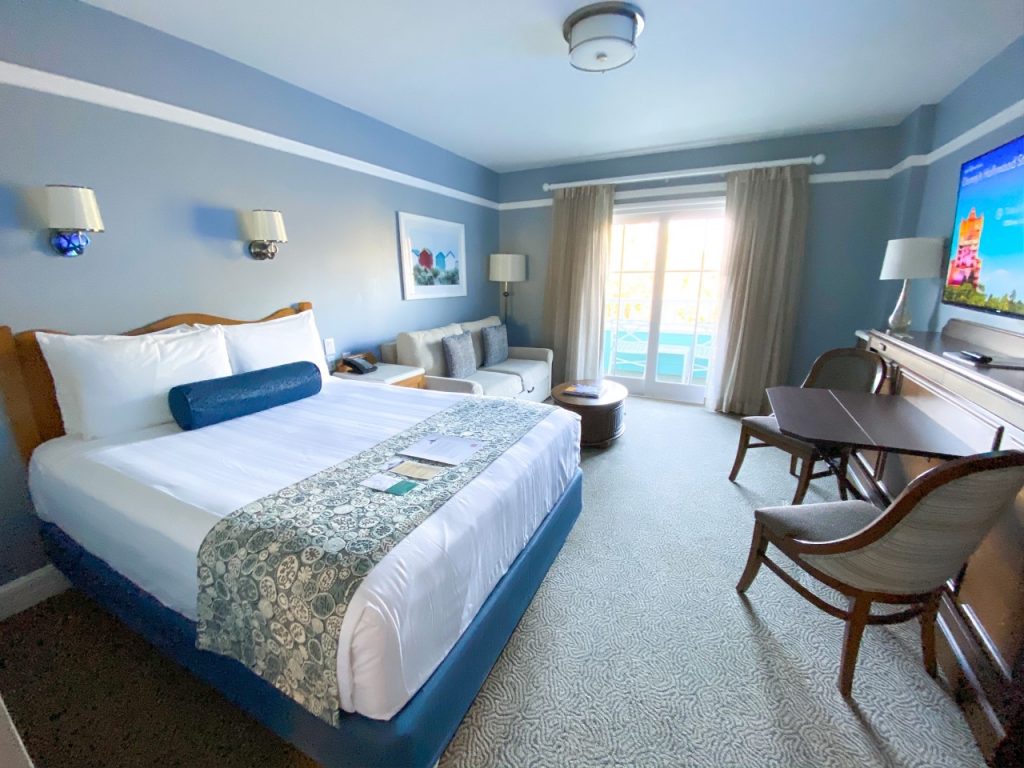 Check Groceries in Your Luggage
This is something we have done before, so we know it can be an easy way to take groceries with you as long as you follow all the rules. Most airlines allow you to check 40-50 pounds of luggage for your trip, and center airlines will allow you to check a bag for free based off of loyalty programs or elite status.
Unfortunately, this can be difficult because you won't be able to really bring anything perishable unless your flight is short, as well as you will have to check the bag if anything liquid is included. You may also have to pay for your checked bag , or extra bags, if you don't have an elite/loyalty program with your airline. If flying internationally, check with your airline and customs before choosing this option.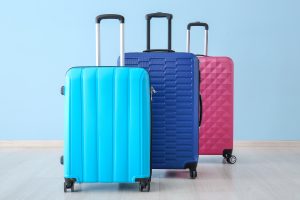 In-Room Grocery Delivery for Disney
This Disney World food delivery service is only for a limited few, as it's only offered for those staying at DVC Villas. The selection is very limited, and you may end up paying a little bit higher prices for convenience. The delivery also has to be arranged at least 3 days prior to arrival via a faxed order form to the resort. There is a $10 fee for this service as well.
Make sure that you plan in advance if you want your groceries delivered in this manner!
If you are staying at one of the DVC Villas, this could be the most convenient way to get groceries since you don't have to take any time out of your trip to do so, and they are brought right to your room so you don't even have to pick them up anywhere.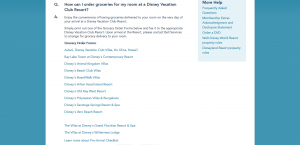 There are so many different ways to get groceries for your Disney World trip, and some can save you a lot of time and money while others can do the opposite. We hope this list of Disney World grocery delivery services and hacks allows you to choose the right service for you, and make it easier for you to get groceries on your next visit to Disney World. Save a little money, a little time, and you won't miss your Pepsi and Cheerios on that next trip!
If you are looking for some other ways to save money on your trip, check out our post on Disney Value Resorts here!
Pin this post: