You already know about all the Disney Resorts and what you can expect when staying at them. You know you will have a comfortable bed, room amenities, easy access to the front desk, etc. But did you know that you can have a whole different experience than what you are used to? You are able to go camping at Disney!
Fort Wilderness Resort & Campground has been open since 1971, making it one of the first resorts at Disney World (right after Contemporary and Polynesian)! If you love nature/woods or you're looking for a new and different experience, Fort Wilderness is a great place to stay.
Fort Wilderness has unique camping categories, delicious restaurants, amazing activities, and more! This resort really has it all, making it a great place to stay or even just visit!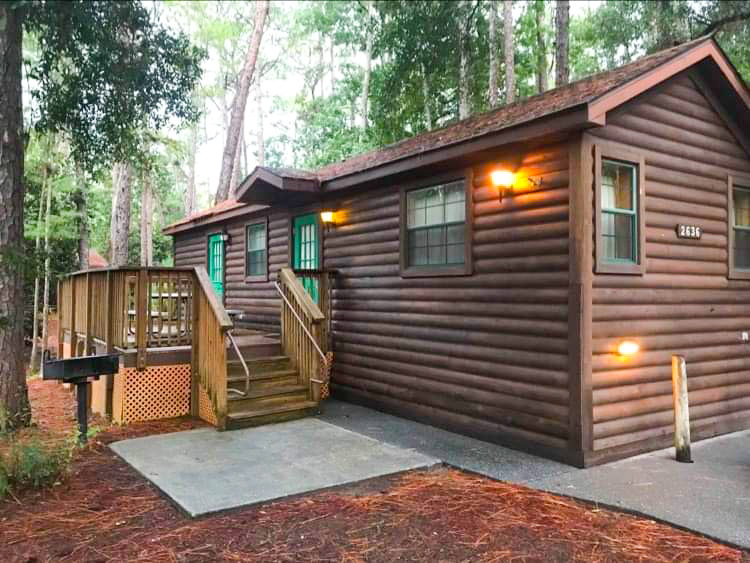 Getting To The Disney Campground
Getting to Fort Wilderness Resort & Campground can be tricky while driving if you don't know what you are doing, but that's why we are here to help! Fort Wilderness is located in the Magic Kingdom Resort Area.
You'll want to head towards the Magic Kingdom parking lot toll where you'd enter to park at the Transportation and Ticket Center. But instead of going through the toll, veer right to take a road that will take you past the toll and towards the Magic Kingdom Resorts. From here, follow the signs towards Fort Wilderness, which will be on your right. Easy peasy!
If you are flying to Orlando, you are able to take any of the paid shuttle services from the airport to Fort Wilderness. Sit back, relax, and enjoy the fact that someone else is doing the driving for you!
Your shuttle or private car will take you to the Reception Outpost where you can check-in, grab your magic bands if they weren't delivered to your house, asks questions, get a map, and more!
Near the Reception Outpost is a bus stop that will take you to your campsite or cabin. Fort Wilderness also has vans that will take you to where you are staying when you first check in!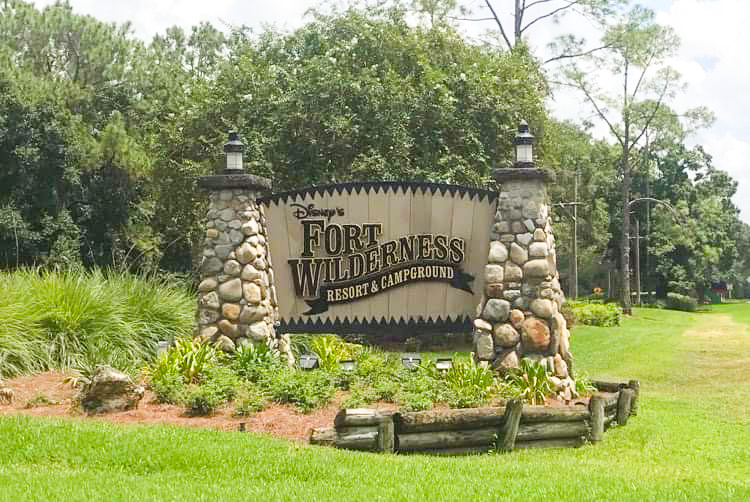 Getting Around While Camping At Disney
Having a car at Fort Wilderness can make it a little easier to get around during your stay. You can drive and park near the buses that take you to the parks. There is limited time parking by the Meadow Trading Post to do some quick shopping. You can also just drive to the parks yourself!
If you don't have the luxury of having a car at Fort Wilderness, no worries! There are plenty of other ways to get around the campground.
Fort Wilderness does have the option for guests to rent golf carts to drive around in. It costs $60 per day to rent the golf cart. You can also bring your own golf cart if you have a way to get it to the resort!
The great thing about the golf carts is you can drive them pretty much anywhere and leave them while you go to the parks. There is golf cart parking at the bus stop that takes you to the parks, the Meadow Trading Post, and The Settlement Outpost (this is where you can catch a boat to the Magic Kingdom!).
Now if you don't have a car with you and don't want to rent a golf cart, there is one other way to get around the campground. Fort Wilderness has its own internal bus loops with 28 loops. The internal bus can take you to different sections such as the campgrounds and the cabins. You can also use it to go to the different outposts, trading post, pools, and bus transportation to the parks.
If you're not sure what bus to take to get to where you need to go, just ask the bus driver! They will help you get to your next destination.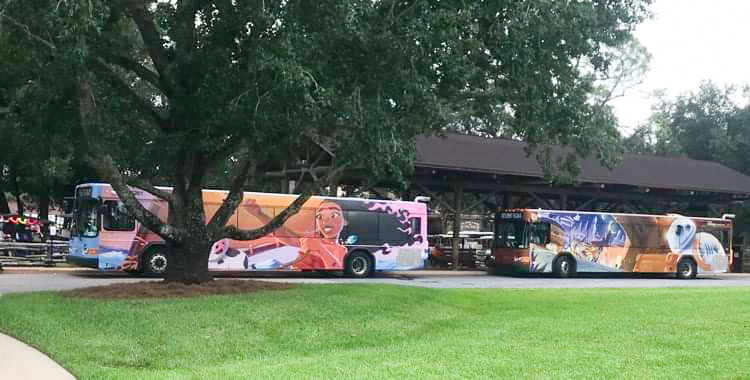 Types Of Camping At Disney World
There are multiple different types of camping you can do at the Fort Wilderness. The campsites are all very similar, but there are different sizes to accommodate for your needs. Across the 750 acres of Fort Wilderness are 799 campsites and 409 cabins.
The different categories are:
Tent or Pop-Up Campsite
Full Hook-Up Campsite
Preferred Campsite
Premium Campsite
Premium Meadow Campsite
Cabins
There is Wi-Fi available all over Fort Wilderness so you don't have to be worried about being disconnected from the world while camping at Disney.
One of the best perks of staying at Fort Wilderness at both the campsites and cabins is that you can park one vehicle for free. Each place has a paved driveway for your car and/or golf cart. Other Disney resorts charge you a nightly parking fee to park your car at the resort.
You will be able to choose if you want to stay in a campsite or cabin when booking your Disney reservation. If you choose to stay at the campground, you will be able to choose what category you want to stay in.
The campsites are great if you want an authentic camping experience with all the amenities. But if you aren't ready to "rough it", the cabins are absolutely beautiful and very accommodating.
If you stay at Fort Wilderness during Halloween or the holidays, you can decorate your campsite or cabin! Guests will bring decorations, string lights, inflatable decorations, and more to decorate their area. It can be a really fun way to make your area unique!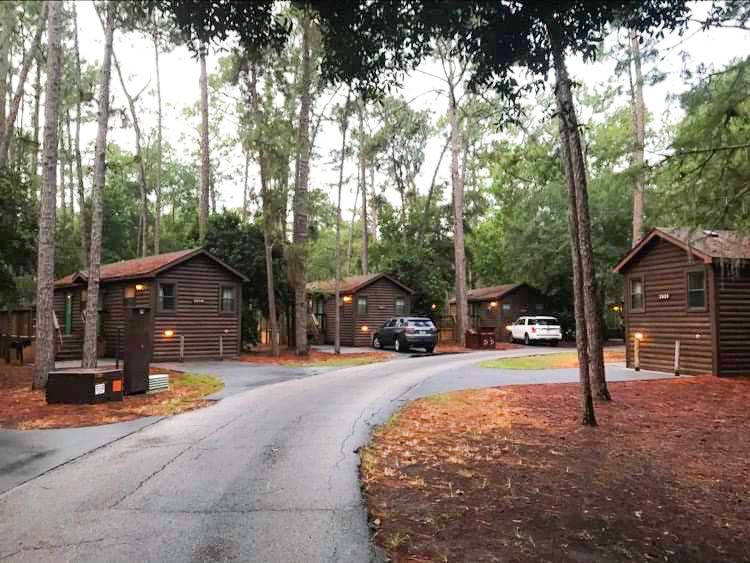 Disney Fort Wilderness Campground Rates
One of the best reasons to go camping at Disney is because of how cheap it can be! The prices do fluctuate depending on the type/category of camping you choose and when you plan to visit Disney.
The different categories of camping range from $60 to $200 per night. However, this price can be more or less depending on what time of the year you go.
The Tent or Pop-Up Campsite is the cheapest option and the Premium Meadow Campsite is the most expensive. The Premium Meadow Campsite gets the same amenities and is the same size as the Premium Campsite, it is just closer to the Meadow Trading Post, Meadow Recreation Area, Bike Barn and campfire area. So essentially you are paying around $10 extra a night to stay closer to the activities!
Why the prices can be worth it even during peak season is because you can accommodate up to 10 guests on each campsite. If you bring 10 people to go camping at Disney, you are paying much less per person. At other resorts, you would need multiple rooms which can get really pricey.
The cabins at Fort Wilderness are more expensive than the campsites, but you get some extra benefits. They costs around $350-$400 per night, but it can be more or less depending on the season you visit. The cabins can accommodate up to 6 guests, which is still a great option for large families.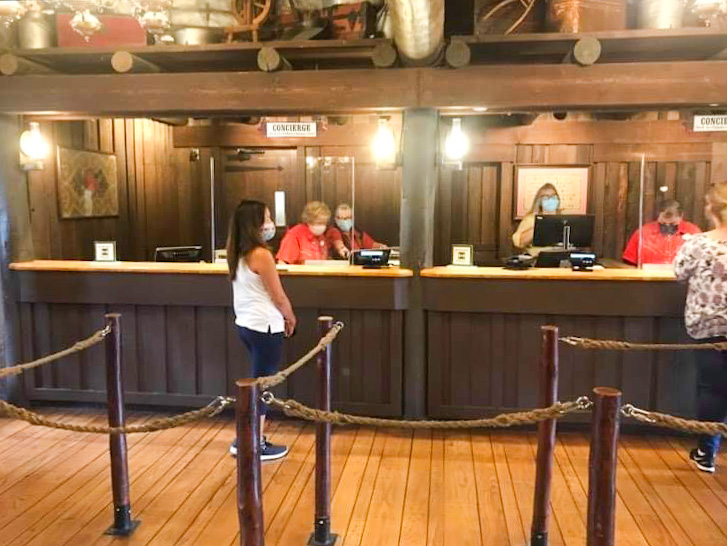 Map Of The Disney Campground
Fort Wilderness Resort and Campground is large, so a map is a great reference to have while camping at Disney. It can get a bit overwhelming, but Cast Members are always willing to help get you where you need to be!
There are multiple bus loops that you can take, so it's important to know which one you need to be on. The bus drivers will usually ask you where you are going to make sure you get on the right bus.
There are maps at every bus stop to look at if you need help finding out where to go. Getting around Fort Wilderness is easy once you get the hang of it!
Check out our Every Official Disney World Map All In One Place article for every Disney map!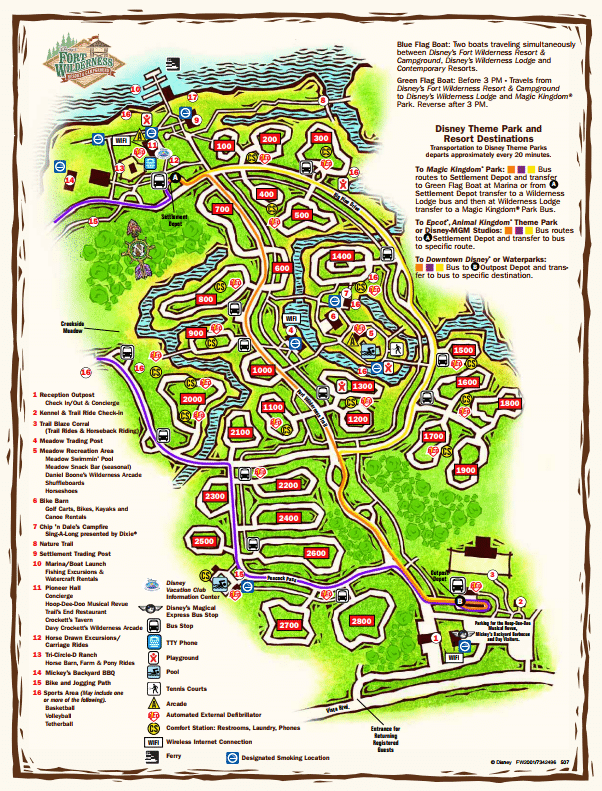 Bringing Pets With You To Camp At Disney
If you have a dog in the family and want to include them on the vacation, you can! Fort Wilderness allows you to bring your furry friends along to join in on the fun. Of course there are certain rules you must follow if you are going to bring your pet with you.
Dogs are allowed at every campsite besides the Tents and Pop-Up Campers. This means you will have to keep your dog in a climate-controlled RV or a cabin. You are allowed to bring up to 2 dogs with you. If you leave the RV or cabin, you must keep your dog on a handheld leash that is no more than 8 feet long.
You may walk your dog on the on-leash trails around the resort! There is also an off-leash Waggin' Trails Dog Park for your pet to enjoy. Just make sure you pick up any of your pet's droppings and properly throw them away.
If you are going to be away for most of the day at the parks, there are options for day and overnight kennel care at the Best Friends Pet Care. It costs $5 per night to bring your pet along to stay at the Fort Wilderness.
Just know that if your dog interferes with other guests' experience or someone files a legitimate complaint to management, you will either have to get you dog to stop the issue, board them in an off-site kennel, or leave the resort.
Bringing your pet along for vacation can be fun and exciting! However, make sure you are aware of all the rules and conditions you must follow before you make your decision.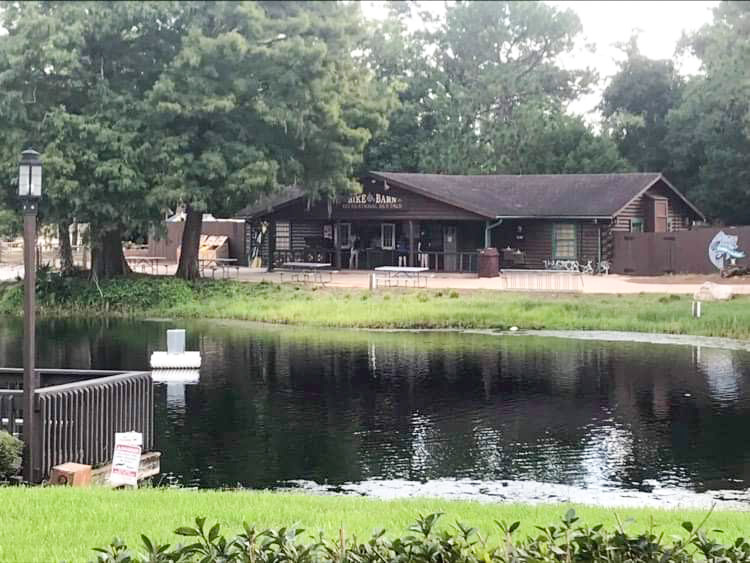 Fort Wilderness Cabins
The cabins at Fort Wilderness are a wonderful place to stay if you don't want to go full out camping at Disney. Cabins accommodate up to 6 guests and have an adorable rustic feel to them. You really feel like you are in the woods away from everything while staying here.
Outside the cabin is your own paved driveway for a car and golf cart, a charcoal grill, a picnic table, and a private patio. There are two doors to the cabin. One that you use to get into the main part of the cabin, and one that leads out from the bedroom on to the patio.
Inside the cabin is a kitchen, dining table, living room with a T.V., bathroom, and bedroom. The kitchen has a full size fridge with ice maker, microwave, two stove top burners, sink, dishwasher, dishes, cookware, toaster, and coffee maker.
Disney offers a grocery delivery service that will deliver groceries right to your cabin! You just order ahead before your vacation, pick out what you need, and voila! Fresh food to eat and cook during your stay!
The living room contains a pull out couch with large drawers under the T.V. to store clothes in. The bedroom has a queen size bed and bunkbed with a closet and T.V. The entire cabin offers plenty of space and room to move around.
The cabins come with all the normal amenities of a Disney resort such as shampoo, body wash, and towels. Housekeeping also comes to clean your cabin and even do your dishes!
There is also AC in the cabin, so no need to worry about it getting too hot! There is a telephone in the cabin if you need to call the front desk for anything.
The cabins at Fort Wilderness are a great place to stay for large families who want a unique experience. It really does feel liked camping without having to sleep in a tent!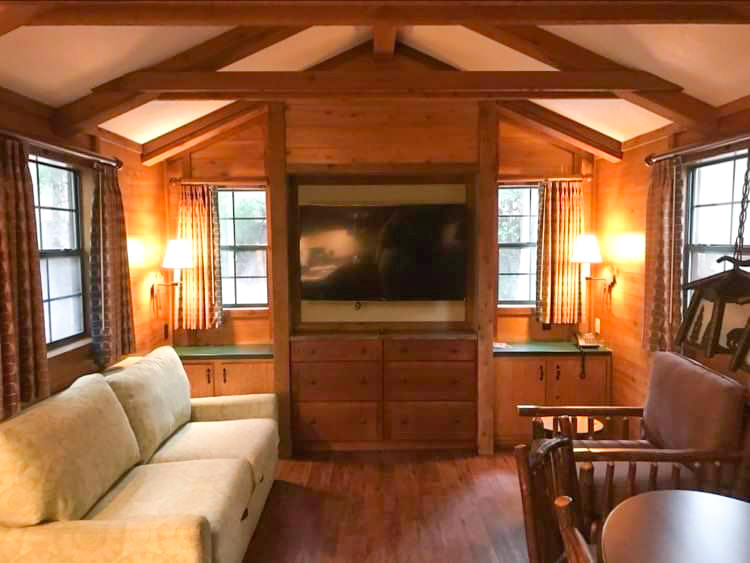 RV Camping At Disney
There are lots of options when it comes to RV camping at Disney. It all depends on your budget, how big you want your campsite to be, and the location you want to be in.
All of these RV campsites have a sewage hook-up, a concrete pad for the RV and tent, a charcoal grill, a paved driveway, a hose for water, a picnic table, and an electricity hook up. They also all accommodate up to 10 guests.
The Full Hook-Up Campsite has a concrete pad that is 10 ft. by 50 ft. for a camper and a tent. The Preferred Campsite has a concrete pad that is 10 ft. by 45 ft. for an RV and small tent. It is preferred because it is close to the marina.
The Premium Campsite has a concrete pad that is 18 ft. by 60 ft. for a larger RV. The Premium Meadow Campsite is the same exact thing as the Premium Campsite. However, like we mentioned before, it is closer to the Meadow Trading Post, Meadow Recreation Area, Bike Barn, and campfire area.
There are Comfort Stations in each campsite loop where there are showers, sinks and restrooms. You will have to bring your own towels when staying at the campsites.
Don't forget that you can always request a certain section when you are booking your reservation. You can't go wrong with any of these campsites. It all depends on what your needs are!
Check out our 12 Best Airbnbs Near Disney World For All Budgets article! One Airbnb offer was for a RV and golf cart that can be delivered to Fort Wilderness! You can also find other RVs and golf carts to rent in Florida on other websites as well!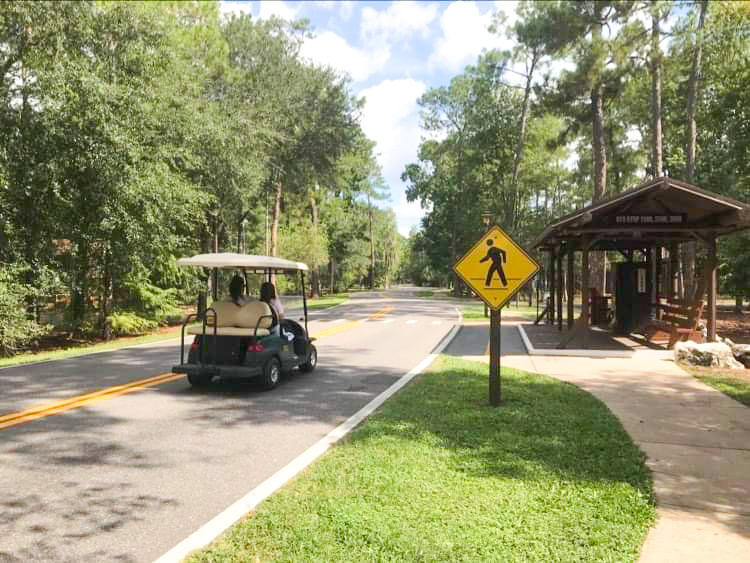 Tent Camping At Disney
If you're ready to fully commit to camping at Disney, book a campsite that accommodates your tent! You will have to bring your own camping gear such as a tent and sleeping bags if you plan to camp at Fort Wilderness.
The pad area is 10ft by 25 ft. This has room for a pop up camper and up to two tents. You could bring two separate tents or one large tent. This area also accommodates up to 10 guests.
Tent camping gets all the same amenities as RV camping! There is a picnic table, grill, electric hook up, water hose, and Wi-Fi. The only thing not at the tent campsites are sewage hook-ups.
There are Comfort Stations located in the tent loops as well for all of your bathroom needs. You again will have to bring your own towels just like the RV campers.
You pretty much need to bring everything you would need while camping. Disney just provides the space for you with some extra amenities. That's what makes it so cheap compared to other Disney resorts!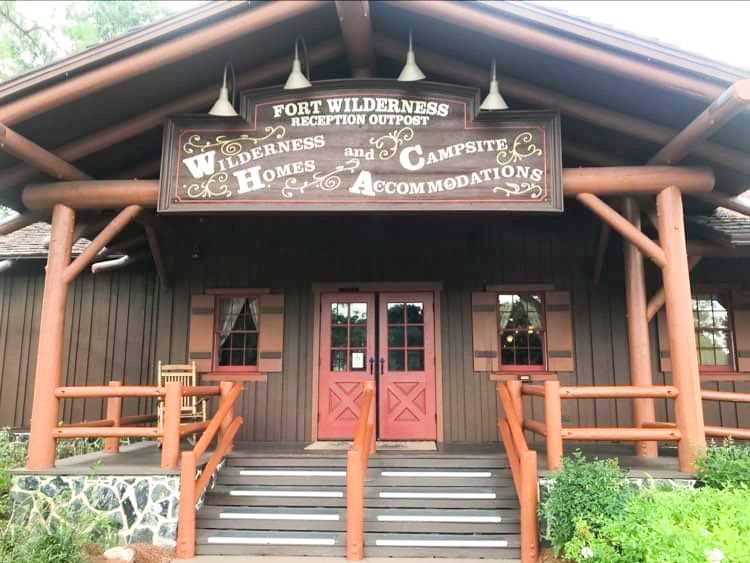 Dining Options At For Wilderness Campground
There are several dining options to enjoy while camping at Disney. There are two table service restaurants located at Fort Wilderness. One of them is Hoop-Dee-Doo Musical Revue and the other is Trails End.
Hoop-Dee-Doo Musical Revue
Hoop-Dee-Doo Revue is a fan favorite because you get dinner and a show! Buckle in for a night full of singing and performances with an adorable western theme. But let's get on to the best part, the food! The meal is family style, and you get cornbread, fried chicken, ribs, beans, and vegetables. To finish off this wonderful meal is some delicious strawberry shortcake! Sangria and beer are also included for any guests 21 and over.
Hoop-Dee-Doo Revue is located in Pioneer Hall over by the Settlement Outpost. There are 3 shows every night. This is an experience you will definitely need a reservation for!
You will have to prepay when booking this experience, and there are different seating categories to choose from. It's worth it to pay a little extra for the better seating! You can also use two Table Service credits from the Disney Dining Plan.
Trails End
If you want all the delicious food but don't need all the fluff of a show, head over to Trails End! Trails End is a buffet restaurant that serves breakfast and dinner daily. They also have a delicious brunch on Saturdays and Sundays.
For breakfast, they serve classics like Mickey Waffles, however, they have a lot of other tasty offerings as well! You can enjoy sausage, bacon, biscuits and gravy, cheese grits, breakfast pizza, and more!
There is so much food offered for dinner at Trails End, you most likely won't be able to try it all! (But you can certainly try!) They essentially have all the same food offered at Hoop-Dee-Doo Revue, plus more! They also have some very yummy desserts to finish off your meal.
Trails End is one of the cheaper buffets on Disney property, making it a great place to eat! It's located right next to Hoop-Dee-Doo Revue, and is very close to the water. This makes it really easy to get to Magic Kingdom by boat right after your meal!
P&Js Southern Takeout
P&Js Southern Takeout is the quick service location of Fort Wilderness. Here, you can find some quick and easy southern comfort food. They serve breakfast, lunch and dinner. It's the perfect place for a quick bite to eat, or you can even just take it back to your campsite to enjoy.
They serve fried chicken, ribs, pizza, burgers, sandwiches, and more! They even have a full slab of ribs and 8-piece fried chicken combo that can feed 4 to 6 people.
During lunch time, I have been able to order food from P&Js and then sit in Trails End to eat my food. P&Js is in the same building as Trails End, so this make it really easy to use their tables.
This is where you can also refill your Disney mugs, so make sure to take advantage of that!
If you order food at P&Js during breakfast or dinner time, you will have to find a place outside to eat, or you'll have to take your food back to your campsite. There is no inside seating at the quick service location since it is meant for takeout.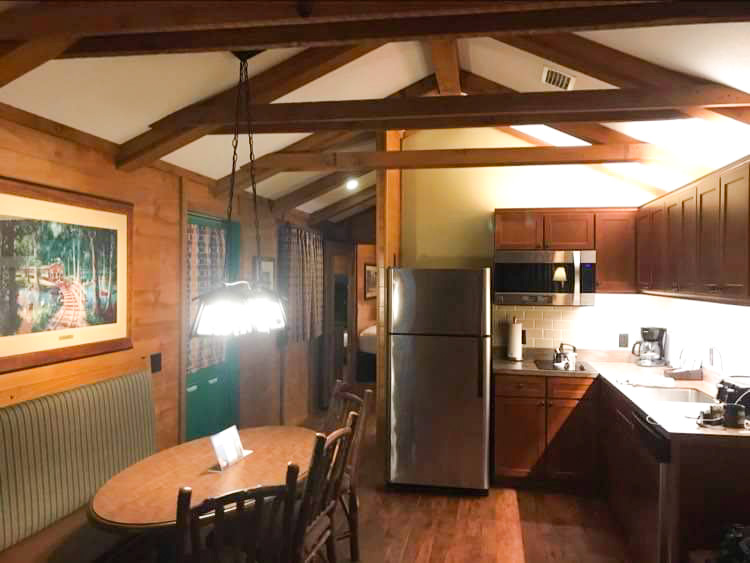 Pools At Disney's Fort Wilderness Campground
There are two pools to enjoy at Fort Wilderness Resort & Campground! The Meadow Pool is the feature pool of this resort. This is a nice and relaxing area to cool off and take a break!
The Meadow Pool has water features, a water play area for kids with two small slides, a hot tub, and a water slide. There is a quick service food location next to this pool for some yummy eats. You can also refill your Disney mugs here!
The Wilderness Pool is the second pool at this resort. This pool is closer to the front of the resort and more secluded. It is a much more quiet location, which is perfect for adults. There aren't any water play areas or water features here. It is just meant to be a nice relaxing area to take a load off.
You can easily take the internal buses to the pools. Don't forget to bring the towels and sunscreen!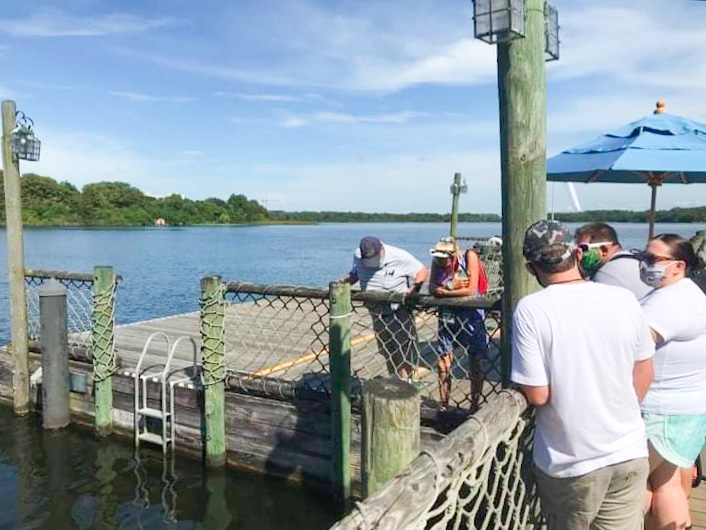 Things To Do Around The Disney Campground
One of the greatest perks of staying at Fort Wilderness Resort & Campground is the endless amounts of activities for you to do! You can spend a whole day just going from activity to activity and never get bored.
A great, free thing to do at Disney for everyone is Chip 'N' Dale's Campfire Sing-A-Long. This is a fun way to meet characters for free outside of the park! You get to sing songs around the campfire with your favorite chipmunks! You can also roast marshmallows to make s'mores. Stay after the fun for a nightly Disney movie!
Tri-Circle-D Ranch is another free place to visit at Fort Wilderness! Here you can visit the stables to see the horses that work all around the Disney resort (including Cinderella's Ponies!). You can also watch as blacksmiths make horseshoes. This is a fun place to visit because there is so much to see!
There are also other horse related activities at Fort Wilderness. You can go horseback riding, have your kids try a pony ride, go on a wagon ride or even a horse-drawn carriage ride! Whichever way you like riding horses, whether it's by being pulled by them or sitting on top of them, Fort Wilderness has it all!
If horses aren't your thing, try out the Wilderness Back Trail Adventure. This is a 2-hour Segway tour among the wooded areas of Fort Wilderness. You'll visit Wilderness Lodge, the stables at Tri-Circle-D Ranch, and Bay Lake. This is a very unique way to tour Fort Wilderness!
There are so many other activities to do such as archery, bike rentals, fishing, boat rentals, canoeing, kayaking, fishing, basketball, and volleyball! Fort Wilderness has activities for everyone's different tastes, so no one will feel left out!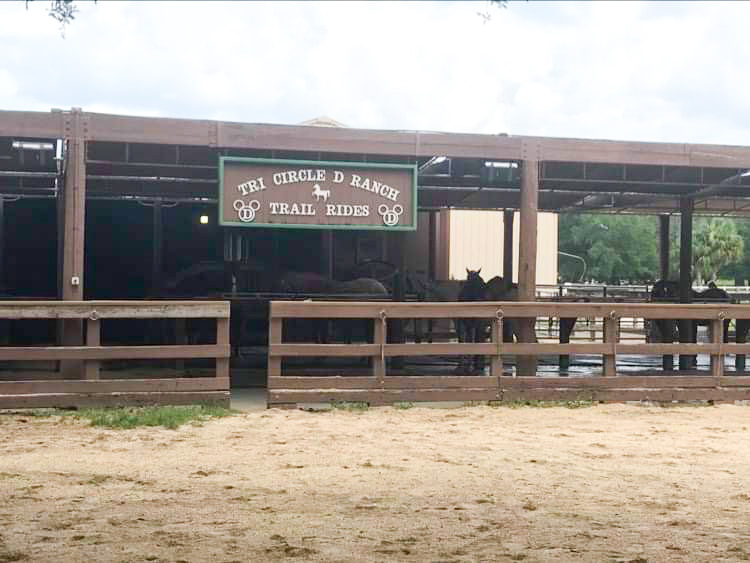 Overall, Fort Wilderness Resort & Campground is a great way to experience camping at Disney! If you wanted to, you could just spend your whole vacation at the resort instead of going to the parks! There is that much to do! How ever you choose to spend your time at Fort Wilderness, you can count on the fact that you will always be entertained. From tent camping to cabins, there is so much variety on how you can spend your vacation!