What could be better than a very Disney Halloween? Halloween at Disney used to be pretty much only Mickey's Not So Scary Halloween Party, but the holiday at the parks has since evolved greatly! If you are planning your Disney vacation with kids during these fall months, there is plenty to see and do with them. But if you are an adult? Oh you are in for a real treat! There is plenty of Halloween fun for adults with kids and childless adults in the Disney parks as well! Here are some things to know before you go to Disney at Halloween-time!
We compiled a list of Every Map At Disney World [resorts, parks, waterparks and more] for your convenience in planning and understanding where things are located around the Disney World Resort. This will make planning and visiting Disney during Halloween a whole lot easier once you understand where things are located.
Get a FREE printable 30/60/90 day Disney countdown by joining our private Disney Facebook Group and share your photos and ask for tips and tricks!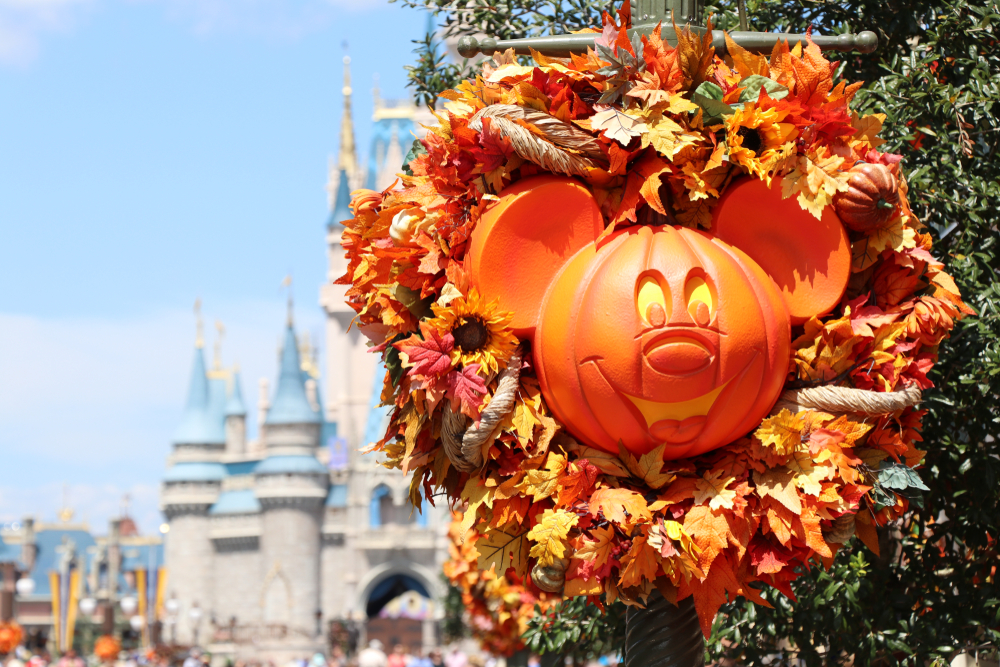 5 Things To Know Before Visiting Disney At Halloween
1. Mickey's Not So Scary Halloween Party Can Be VERY CROWDED Even During The Week
Even though prices are high for Mickey's Not So Scary Halloween Party it can still be VERY crowded. This is why prices seem to go up every year! More and more people keep attending because Halloween at Disney can be quite fun! Even days that you may think are less crowded such as a Tuesday in the middle of September can be QUITE busy and pretty full of people. This is why we recommend taking a look at our Disney Crowd Calendar to see the best days possible for visiting Mickey's Not So Scary Halloween Party.
The closer you get to actual Halloween the more Mickey's Not So Scary Halloween Party will sell out. October 31'st is one of the busiest days at Disney with people being turned away from the parks on a regular basis. If you know which day you want to attend the Disney Halloween party, you should buy tickets as soon as they come open for purchase.
If you want to avoid the crowds, make sure to check the Crowd Calendar to see which days already have the least people and then book accordingly. Sadly, Disney doesn't release the crowd numbers for events like Mickey's Not So Scary Halloween Party so there is no way to REALLY know, you can only do your best to guess!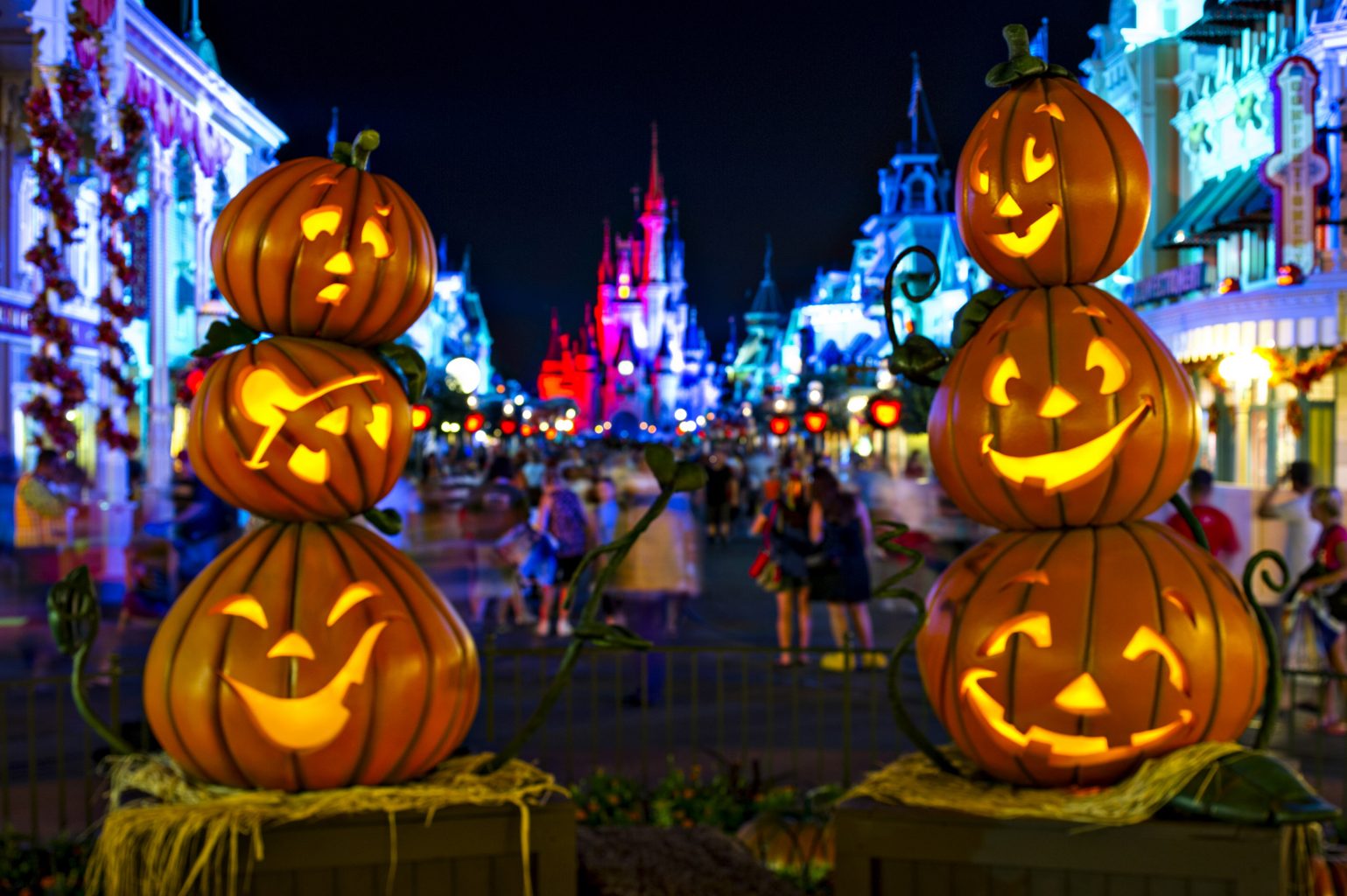 2. The Magic Kingdom And Disney Springs Are Decorated to Impress
I actually think that the Magic Kingdom is dressed the best during Halloween! In Florida, you don't get fall weather so having the leaves and pumpkins all around the Magic Kingdom is such a real treat! The Halloween decor at Disney goes up in August so even if you aren't feeling the Halloween spirit, you will be the moment you set foot in the parks!
If you are looking for the REAL Disney Halloween experience, head to the Magic Kingdom because the three other parks just can't compare! Epcot is too busy with the Food And Wine Festival and the typical "Halloween" decor is slim. But the Magic Kingdom is really where the fall decor shines! It is quite easy to get a good photo of the decor and you can use it for your Facebook or family photos, especially if you LOVE Halloween.
If you live nearby and want to experience a Disney Halloween without paying a single dime or are a resort guest that just wants to see more Halloween Decor, head to Disney Springs. Next to the Magic Kingdom, Disney Springs is easily the best-decorated spot in the Walt Disney World Resort for Halloween time!
There are HUGE Mickey Mouse Pumpkins for photos and other Halloween-themed decors that really put you in the Holiday spirit like no other place! If you can only pick two places to experience Halloween at Disney, make sure they are the Magic Kingdom [in general and not only for Mickey's Not So Scary Halloween Party] and Disney Springs!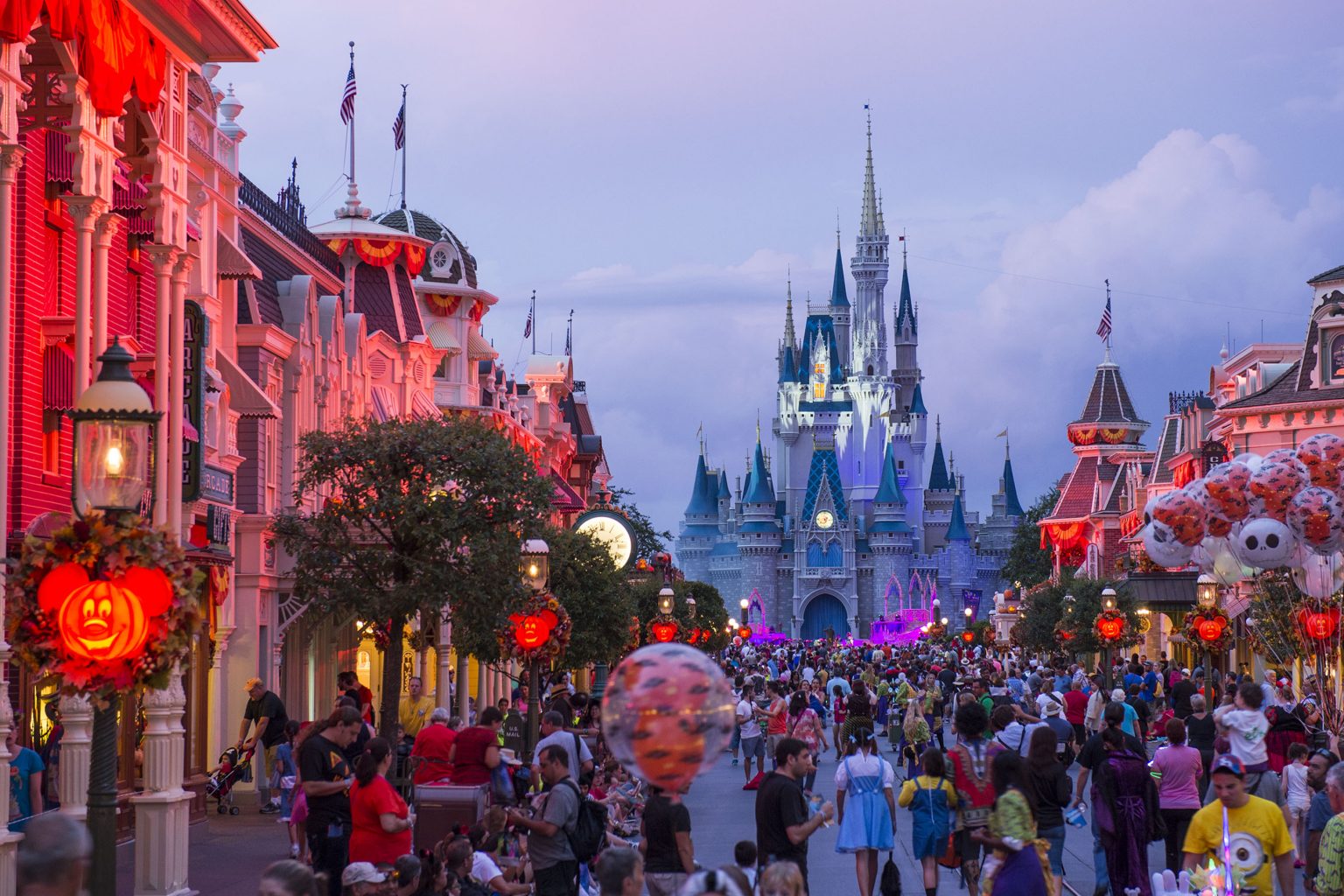 3. Halloween Is The ONLY TIME Adults Can Fully Dress In Character At Disney So Take Advantage
Sure, adults can Disneybound or dress in outfits inspired by a Disney character at any time of the year, but Halloween at Disney is the ONLY TIME adults can dress up in full costume and walk around the Disney parks. This rule was made so that children aren't confused if they see two Snow Whites walking around at any given day. During Halloween at Disney, you can simply tell your child that someone is dressing up like Snow White because…come on…it is Halloween! The kids will get the gist and the adults can show off their best outfits!
That being said, you can ONLY dress in full Halloween garb at Mickey's Not So Scary Halloween Party. Yes, this requires buying a ticket and visiting the parks on one of the Disney Halloween Party days, but for many MANY adults, this is so worth it! I have seen some beyond fantastic costumes from Hocus Pocus to the Incredibles to the Evil Villans that are almost more realistic than the actual character. It is really a wonderful time to visit Disney!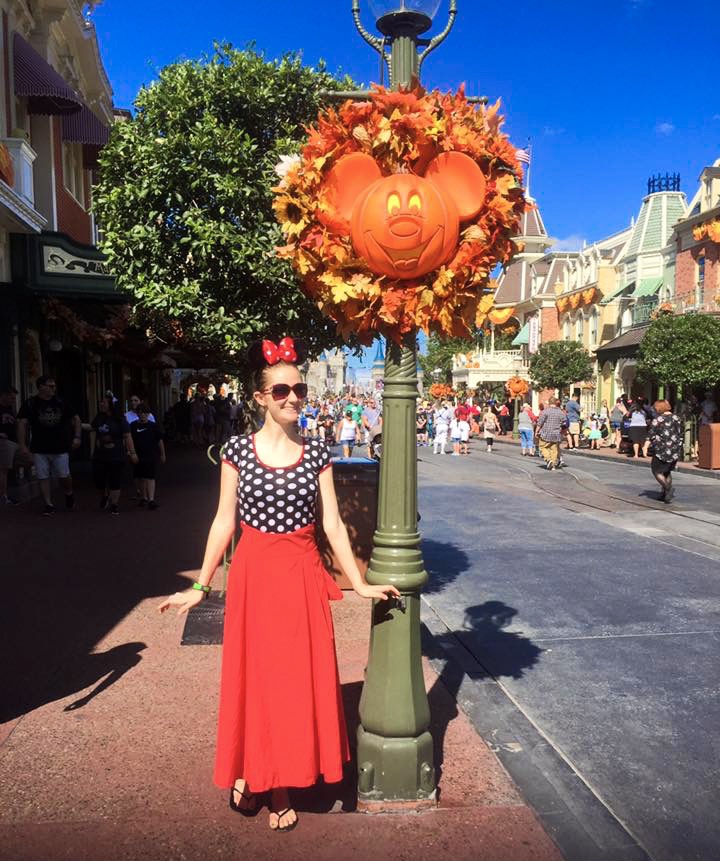 Even though you CAN dress in character, this doesn't mean you can do so without rules when visiting Disney World at Halloween. The rules have gotten a bit more restrictive lately, but they do make sense.
Per the Disney Website, here are some of the costume rules for Halloween At Disney:
General Mickey's Not So Scary Halloween Party Costume Guidelines:
Disney may deny admission to anyone or remove anyone who is wearing attire that is considered inappropriate or could detract from other guests' experiences.
Guests may dress as their favorite characters, but cannot pose for pictures or sign autographs.
Costumes must be family-friendly and not obstructive, offensive, violent or objectionable.
Costumes must not contain weapons that resemble or could be mistaken for real weapons.
Costumes may not contain sharp or pointed objects, or materials that might accidentally strike another guest.
Guests who do not abide by the guidelines may be refused entry or removed unless their costumes can be modified to acceptable standards.
For guests ages 14 and up:
Layered costumes or costume props that surround the entire body are strongly discouraged and subject to additional security screening.
Costumes may not reach or drag the ground.
Capes should not go below the waist.
Themed T-shirts, shirts, sweatshirts and hats are acceptable.
Transparent wings, plastic light sabers, toy swords and tutus are OK. Headwear must not cover the face.
Masks are not allowed.
For guests ages 13 and under:
Costumes and some masks may be worn. Masks cannot cover the entire face, and eyes must be visible.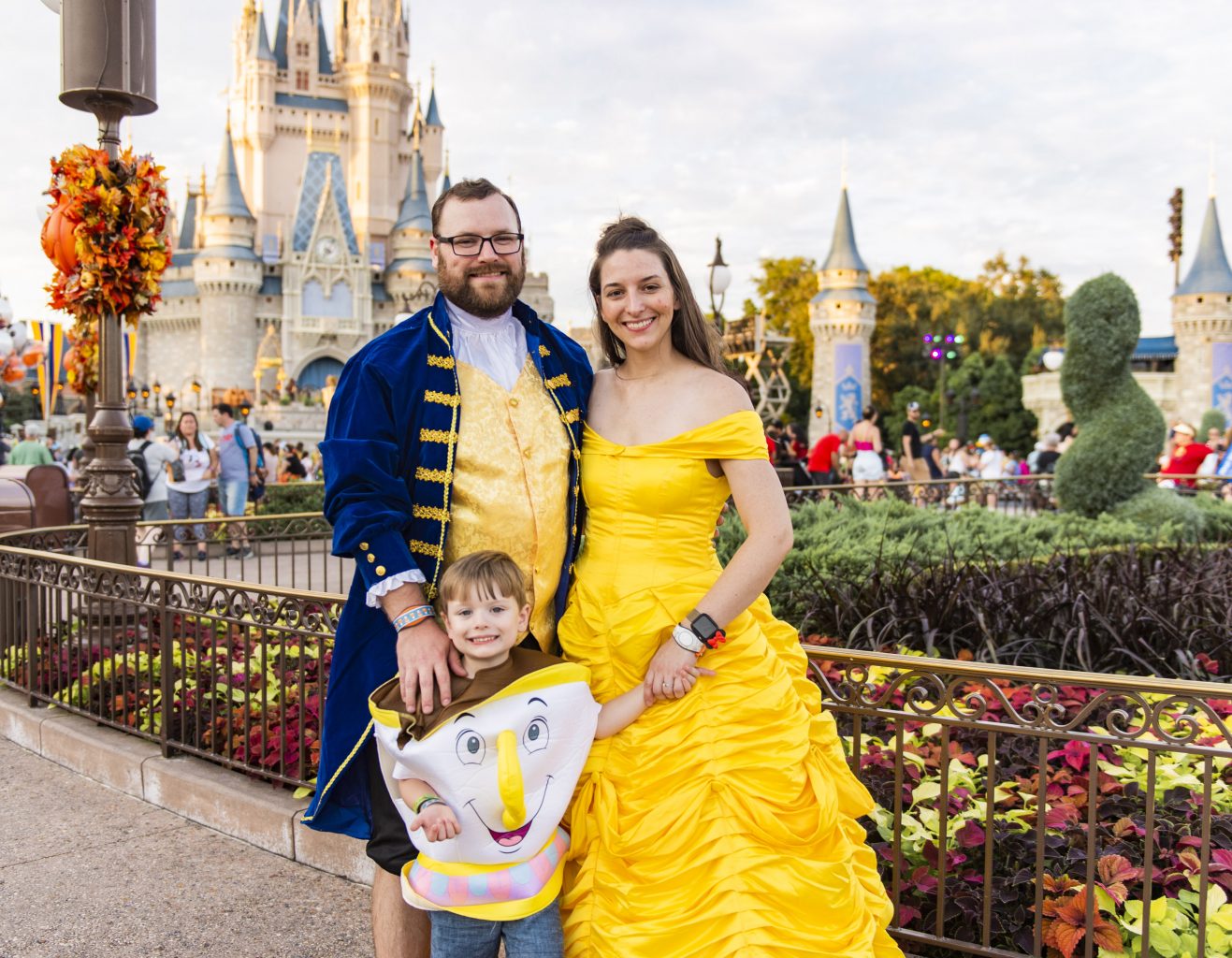 4. Halloween Time At Disney Usually Means A FREE Disney Dining Plan
Wait WHAT?!!! You heard that correctly!! Maybe you have been agonizing and using our Free Disney Dining Plan Calculator to see if the packages are right for you. But many times during Halloween at Disney World, you don't have to! That is right, Disney will throw in the perk of a FREE Disney Dining Plan for select guests during the Halloween and Christmas time of year at Disney! This is insane!
As someone who loves free food, this is 100% a perk you should look into if you are planning to visit Disney World at Halloween. Since you are already paying for your park admission and hotels and will already be paying for food, why not take advantage of this incredible Halloween-time perk?
Enjoy a FREE dining plan when you purchase a non-discounted 5-night/6-day vacation package that includes a room at a select Disney Resort hotel and ticket with a Park Hopper Option.
Book through September 29, 2019 for arrivals most nights:
September 1 through September 18, 2019
November 17 through November 27, 2019
December 8 through December 23, 2019
Select Resorts are Included for the above travel dates ONLY!
You MAY be too late to use the Free Disney Dining Plan THIS YEAR but there is always next year! People wait to be able to book their trips the moment this perk comes out so if this is of interest to you, make sure to wait and see if you can snag it as it is a huge money saver and really great for trying all of the Disney Halloween themed treats scattered throughout the parks!
If you are working with a Disney Travel Agent they will do this for you just simply mention you want them to use the Free Disney Dining Plan if at all possible. If you are doing the trip yourself, just be sure to keep an eye out on this Disney Special Offers page because THIS is where the perk will pop up!
This is a HUGE perk of visiting Disney at Halloween if you can snag it and is very popular and a great way to taste all the wonderful creations that Disney has to offer!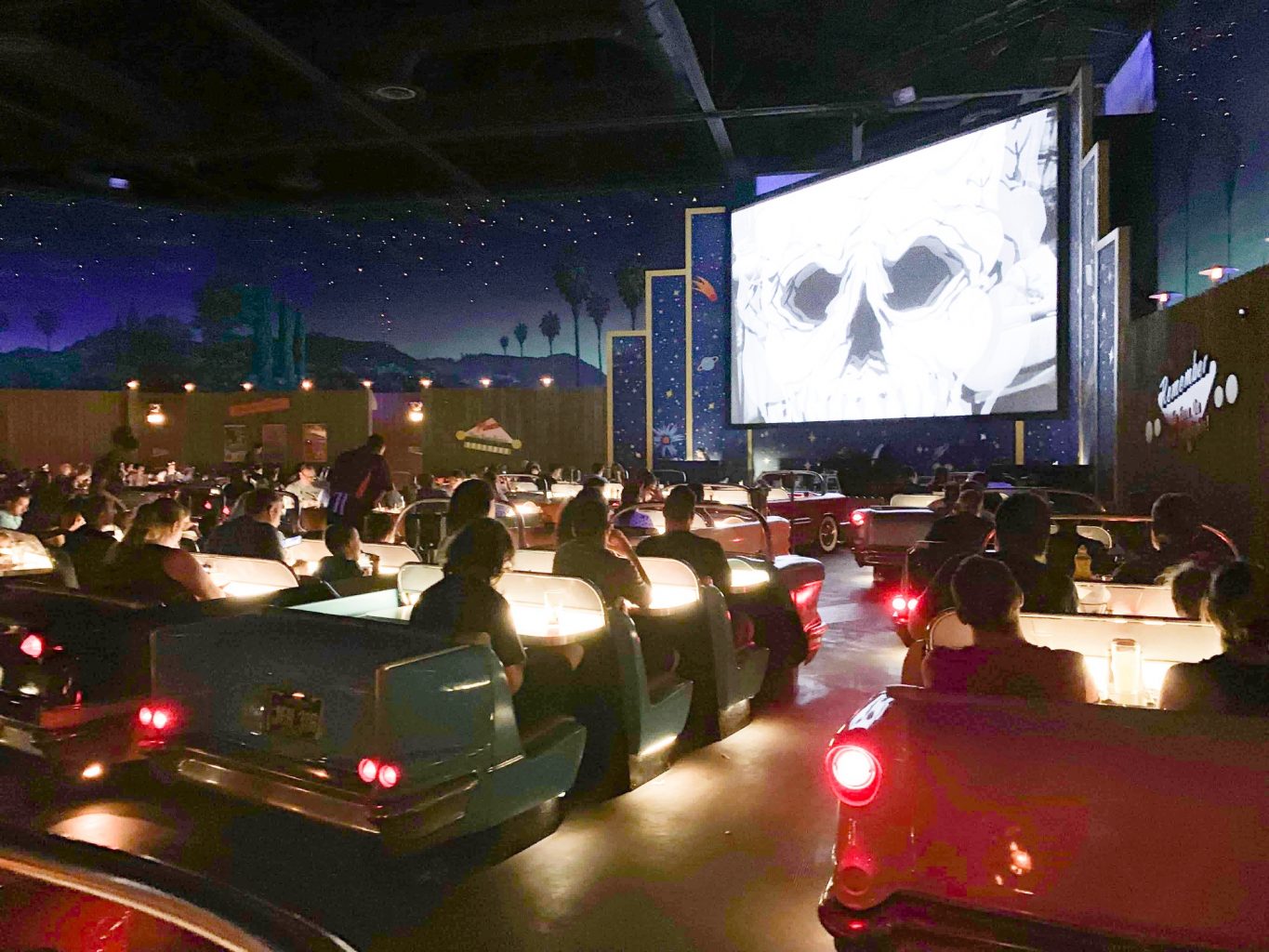 5. Be Prepared For The Weather To Still be HOT But With Less Rain
Remember, Mickey's Not So Scary Halloween Party starts in AUGUST which is also when the Halloween decorations go up at Disney World. This means that it will be HOT HOT HOT because it is Florida! As Halloween at Disney slowly progresses to October 31, the weather may or may not become a little nicer. That is just how Florida is! You have to stay prepared for anything! It is always best to assume that it will be hot but have a little hope that it may be doable. You NEVER want to assume that the weather will "cool down" because this is Florida!
What you WILL usually get is less rain. The summer thunderstorms are out and the clear blue fall skies are in. This means that there will be no clouds to shelter you from the Florida sun! When visiting Disney at Halloween, we highly recommend that you plan accordingly! If you are visiting Mickey's Not So Scary Halloween Party in early September, this probably isn't the best time to dress the kids in heavy costumes with face paint and yourself in full on villain garb with makeup, unless you want to sweat the entire night.
It is important to go into a Disney Halloween trip with an open mind. The weather WILL be nicer than summer, but Florida can change on a dime. It is also important to remember that until the beginning of November, we are technically still in Hurricane season. Although it may not rain every single day like it will in the summer, there may be a hurricane or tropical storm which will throw rain and wind your way.
As with any trip to Disney, a trip to Disney at Halloween is best done when you are prepared and know what to expect. Have an open mind with the weather but understand that it will still be quite hot! If you have a cooler day, you are quite lucky!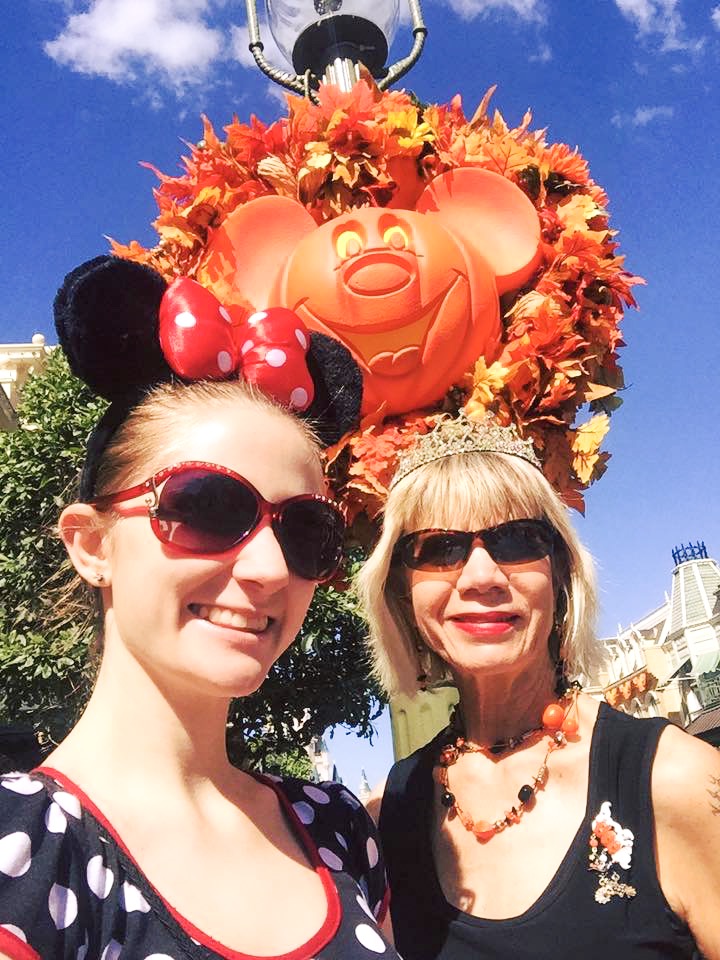 I hope this has been helpful for you when planning your trip to Disney World Halloween trip! Halloween time at Disney is one of the best times of the year and you will really get to feel the "fall" atmosphere and not-so-spooky vibes. Make sure to read up on the rules, buy your tickets in advance, and make sure to HAVE FUN during your trip! We are happy to answer any questions in the comments below!
Pin this post: