Get ready for a very merry Disney Christmas! There is truly NOTHING like Christmas at Disney World! I have been to New York City and various European countries and Christmas Markets and while they are all fantastic, Disney at Christmas holds a special place in my heart. It is just truly magical to see the parks all decked out in Christmas lights. If you are lucky, the weather in Florida will be better during this time of year as well. There will be warmer days but it is less humid, with no hurricanes, and less rain than many other times you can visit!
We compiled a list of Every Map At Disney World [resorts, parks, waterparks and more] for your convenience in planning and understanding where things are located around the Disney World Resort during the Christmas season! This will make your life a whole lot easier when planning things like transport and events.
I visit Disney at Christmas every single year with my mom and sister. It is our annual girls trip and it is a really special time. Even though we only live an hour away from Walt Disney World, our Christmas Disney trip is magical because we go and stay on property. We go for a few days and stay on property and see all that Disney has to offer.
There are so many new things that pop up since the beginning when we started this tradition [and since I went to Disney at Christmas as a young child and throughout my teens into adulthood]. I am writing all of this to say that you are in for a true treat! Here are some tips and things to know before you go so that you can make the most out of your magical trip.
Get a FREE printable 30/60/90 day Disney countdown by joining our private Disney Facebook Group and share your photos and ask for tips and tricks!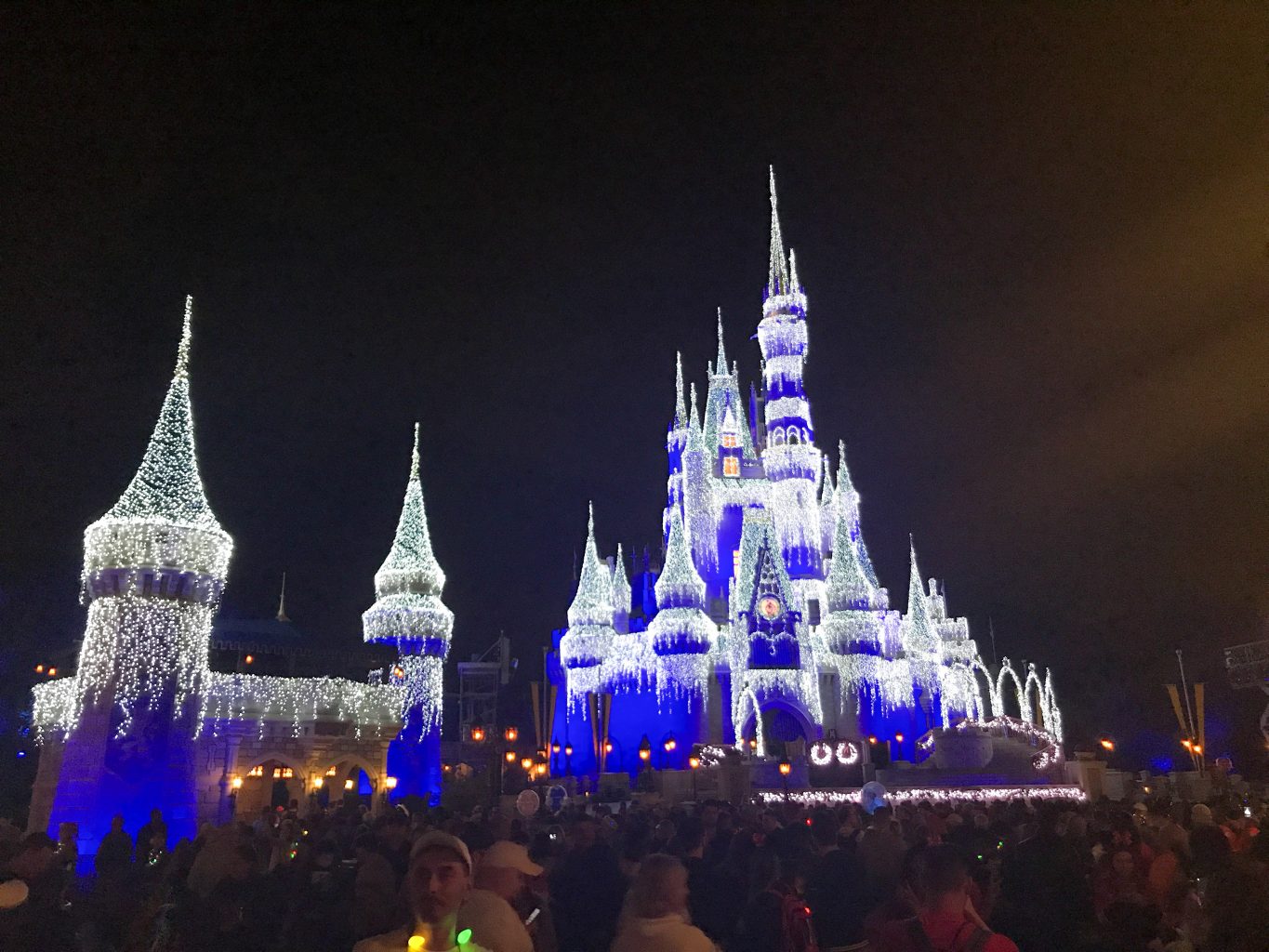 5 Things To Know Before Visiting Disney At Christmas
1. Understand That Each Disney Park Offers Something Unique And Choose Your Priority Events
We all know that the holy grail of planning a trip to Disney is understanding that you can't and won't be able to do everything. This is OKAY!!! When planning your Christmas Disney trip, understand that you won't be able to see and do it all. As a result, it is essential to understand what each park has to offer as far as holiday cheer goes and then planning accordingly based on your priority events.
Maybe you have small children and you want to visit events with characters. Maybe you are an adult who would rather listen to a famous actor and a choir read the story of the Birth Of Jesus. Maybe you are a foodie and want to indulge in delightful Christmas Cookies! If you don't do your research, you won't know what to do or see and may skip something you would have loved! We have given you a breakdown of the events at the parks below so you have a brief overview and can choose your priority events accordingly!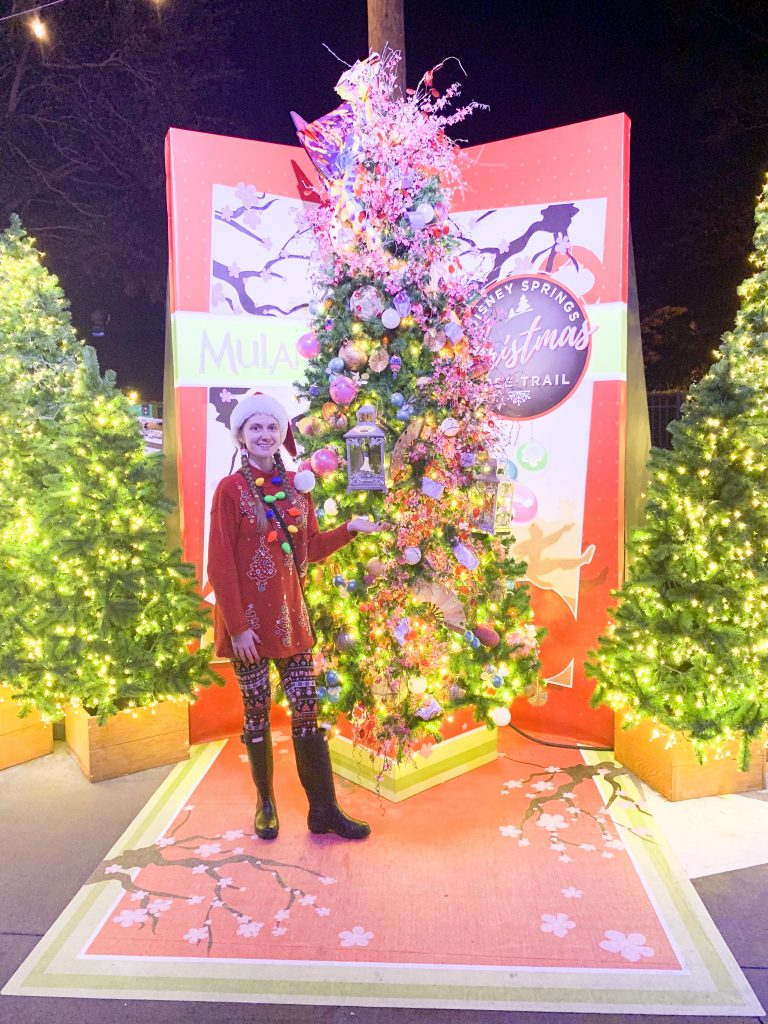 Christmas At Epcot
Epcot International Festival Of The Holidays. I may be a little biased because Epcot is my favorite of all the Disney parks, but the Festival Of The Holidays at Epcot is so much fun! This is a great way to get in the Christmas Spirit at Disney while learning about other cultures and countries through storytelling and food!
Holiday Cookie Stroll. If you love sweets, this is the place for you! Head to 5 kiosks with your cookie passport and try out delicious treats from all around the world. This one is so much fun and a unique way to eat some good food during your Disney Christmas vacation. This is good for all ages and everyone loves cookies!
Candlelight Processional. This Disney Christmas event is a favorite of my mom's as long as I have been alive! As I have gotten older I have grown to appreciate it. This is more of an event for adults than it is for kids, I can attest because I wasn't a huge fan as a child! Essentially, you listen to a professional choir as a famous actor [think Neil Patrick Harris] reads the Christmas Story of Jesus' birth all while Christmas songs are being sung.
Holiday Kitchens. We all know that food is just better during the holidays! Disney understands that and as a result, we have Holiday Kitchens all around Epcot which feature dishes from various countries that are popular during the holiday season. Think of this as the Christmas version of the Food and Wine Festival. If you love good food, this is the Disney Christmas event for you!
Christmas At Magic Kingdom
Mickey's Very Merry Christmas Party. This is the ICONIC Disney Christmas event. It does cost additional money to visit but it is so very popular each and every year. If you want to visit, make sure to book well in advance so your day of choice isn't sold out. You can also enjoy snow, special parades and shows and more. Unlike Epcot, where all holiday events are free [save for buying the food] it does cost an additional price to see the Christmas-themed fireworks and parades at Mickey's Very Merry Christmas Party.
Christmas At Hollywood Studios
Jingle Bell, Jingle BAM Holiday Spectacular. I can attest that Jingle Bell, Jingle BAM is one of the more incredible shows at Disney during Christmas! It is fun for the whole family and my jaw literally dropped the entire time I was watching it. It is played with lasers and projections as well as live entertainment and of course, Christmas music and songs. The crowd was up dancing and it was really a fun time for everyone. There is also a dessert party that you can pay extra for if you want the full experience for this event during your Disney Christmas vacation.
Sunset Seasons Greetings. If you aren't heading to the Magic Kingdom, this is where you can see snow at Walt Disney World during Christmas for free [included in price admission]. This is a fun show that is projected on the Tower Of Terror and there is snow along Sunset Boulevard. It is quite magical and fun although there is less of a "storyline" to the show than with Jingle Bam above.
Christmas At Animal Kingdom
Tree Of Life Awakening. This is the first time ever that Animal Kingdom has had some Christmas cheer as the park doesn't usually have holiday events [as of 2019]. The Tree Of Life will awaken with wintery tales that are themed specifically to the holidays to set it apart from other times of the year. If you are already in Animal Kingdom, why not check it out and see what is new?
Holiday Hoopla Dance Party. Chip N Dale are hosting a Holiday Hoopla Dance Party that all are invited to. It is a simple and fun gathering with music and of course dancing. Nothing major compared to all of the other parks, but still a little Christmas cheer at Animal Kingdom!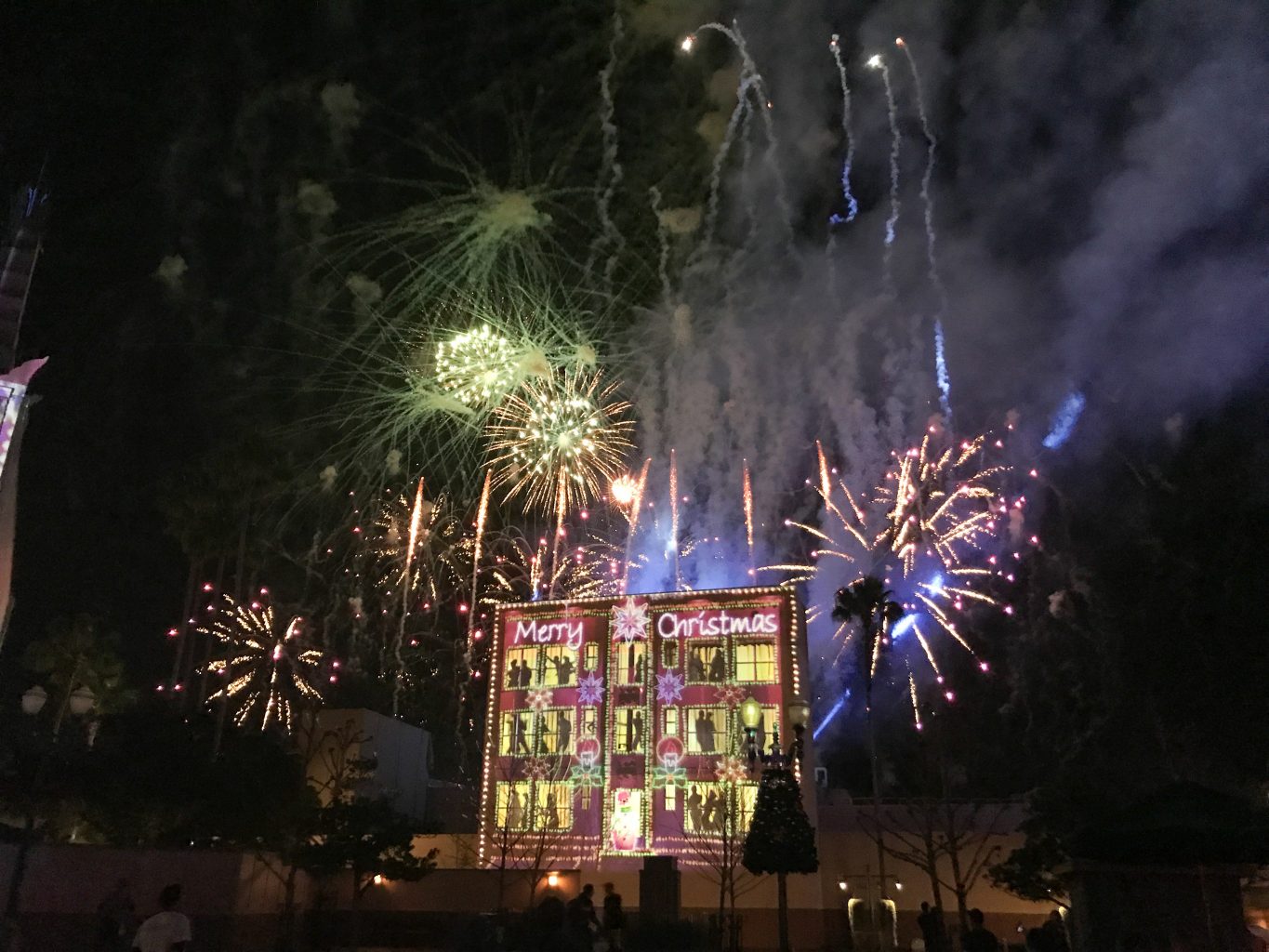 2. "Hotel Hopping" Is A Free And Fun Way To See Disney Christmas Decorations
Ever since I can remember, my family and I have loved "hotel hopping" at Disney, especially during the holiday season. This is a great way to see Disney Christmas lights and all of the Christmas trees. Essentially, Disney hotel hopping is taking the various modes of free resort transportation around to see all of the hotels decorated in their Christmas finest.
The best place to do this is around the Magic Kingdom resorts. You can take the Monorail to see the Polynesian, The Grand Floridian [HIGHLY recommend this as a stop], and the Contemporary and their associated Christmas Trees. You can also take the boat service to see the Wilderness Lodge and how it is decorated for Christmas Time too. This is all 100% free and even those who don't have Disney tickets or a pass can visit and enjoy the fun.
With the introduction of the Skyride as a mode of transportation, Disney guests are even more connected with a free and fun way to see the parks and resorts. The Epcot Resort area including the Boardwalk and the Beachclub are another great part of the resort to enjoy during the season. Christmas at Disney can be free and accessible to everyone. Even if you are a paying guest with park tickets, you should still 100000% devote time to a leisurely visit to some of the prettiest hotels around the property.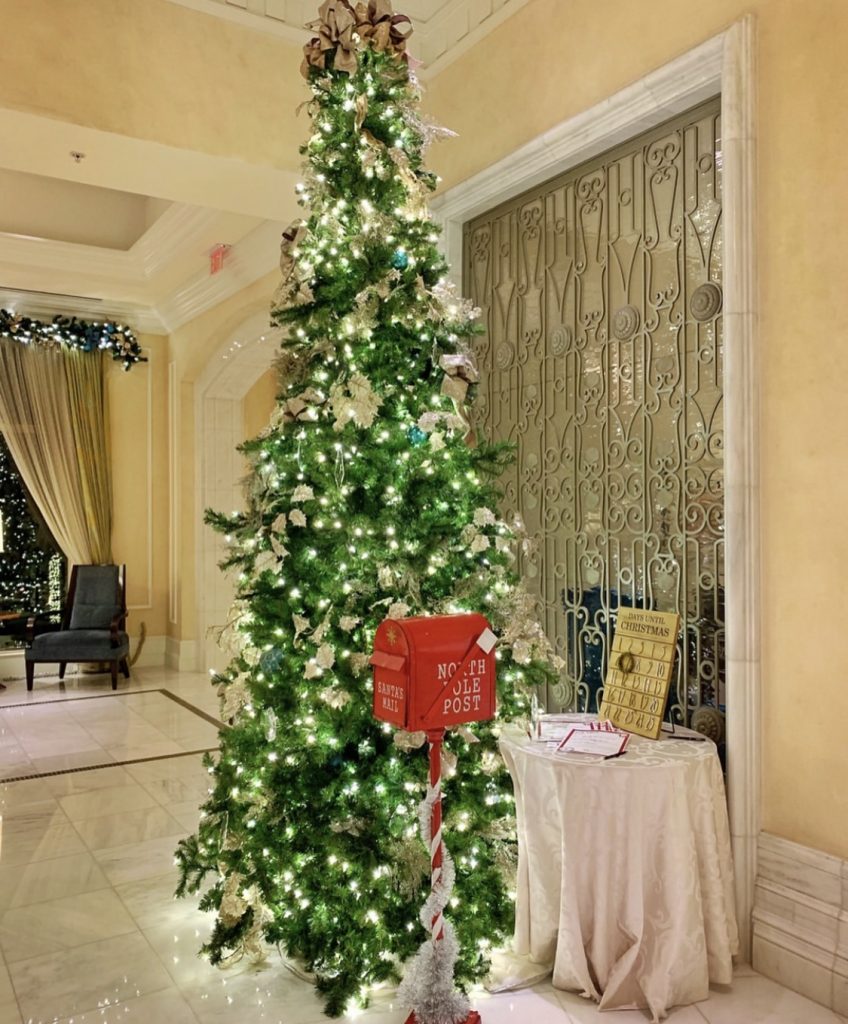 #3. Christmas At Disney May Mean A FREE Disney Dining Plan
Wait WHAT?!!! You heard that correctly!! Maybe you have been agonizing and using our Free Disney Dining Plan Calculator to see if the packages are right for you. But many times during Christmas at Disney World, you don't have to! That is right, Disney will throw in the perk of a FREE Disney Dining Plan for select guests during the Halloween and Christmas time of year! This is insane and highly coveted. If you are too late to grab it for the current year, you can always be on the lookout next year!
As someone who loves free food, this is 100% a perk you should look into if you are planning to visit Disney World at Christmas. Since you are already paying for your park admission and hotels and will already be paying for food, why not take advantage of this incredible Christmastime perk?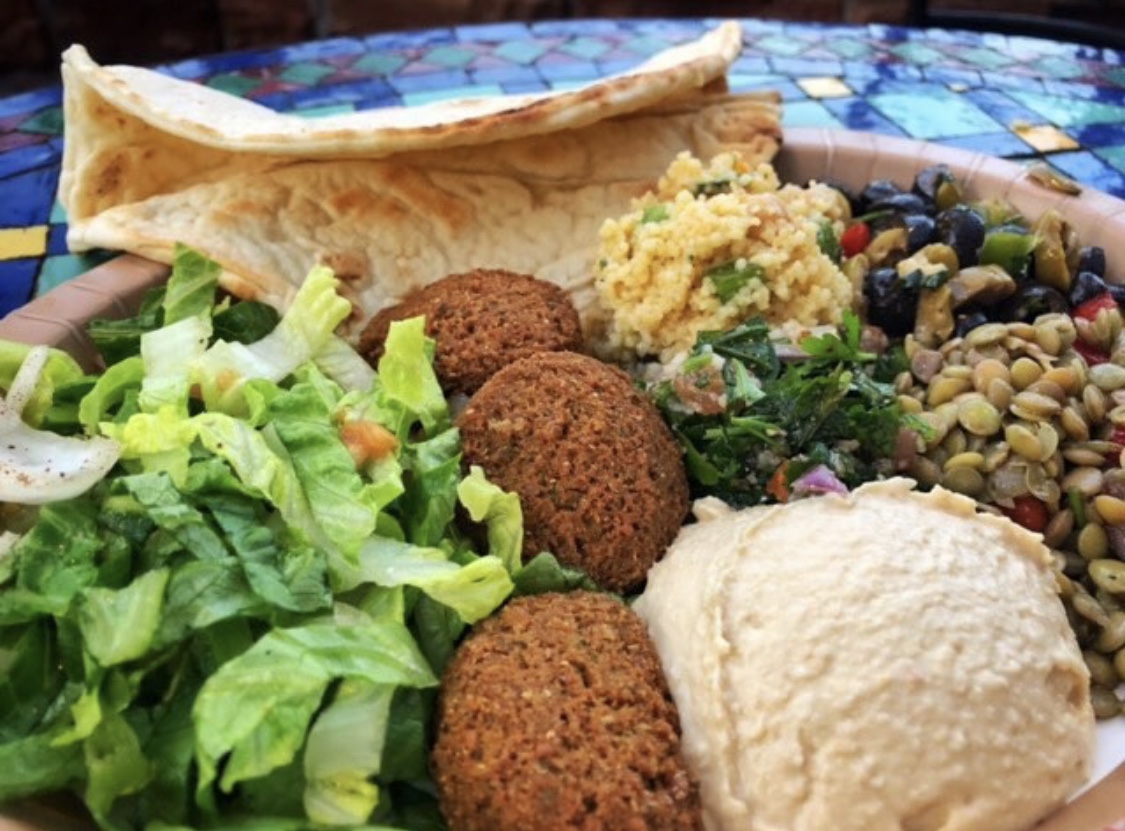 Enjoy a FREE dining plan when you purchase a non-discounted 5-night/6-day vacation package that includes a room at a select Disney Resort hotel and ticket with a Park Hopper Option.
Book through September 29, 2019 for arrivals most nights:
September 1 through September 18, 2019
November 17 through November 27, 2019
December 8 through December 23, 2019
Select Resorts are Included for the above travel dates ONLY!
You MAY be too late to use the Free Disney Dining Plan THIS YEAR but there is always next year! People wait to be able to book their trips the moment this perk comes out so if this is of interest to you, make sure to wait and see if you can snag it as it is a huge money saver and really great for trying all of the Disney Christmas themed treats scattered throughout the parks!
If you are working with a Disney Travel Agent they will do this for you just simply mention you want them to use the Free Disney Dining Plan if at all possible. If you are doing the trip yourself, just be sure to keep an eye out on this Disney Special Offers page because THIS is where the perk will pop up!
This is a HUGE perk of visiting Disney at Christmas if you can snag it and is very popular and a great way to taste all the wonderful creations that Disney has to offer all while saving you a little bit of money on a trip you are already taking.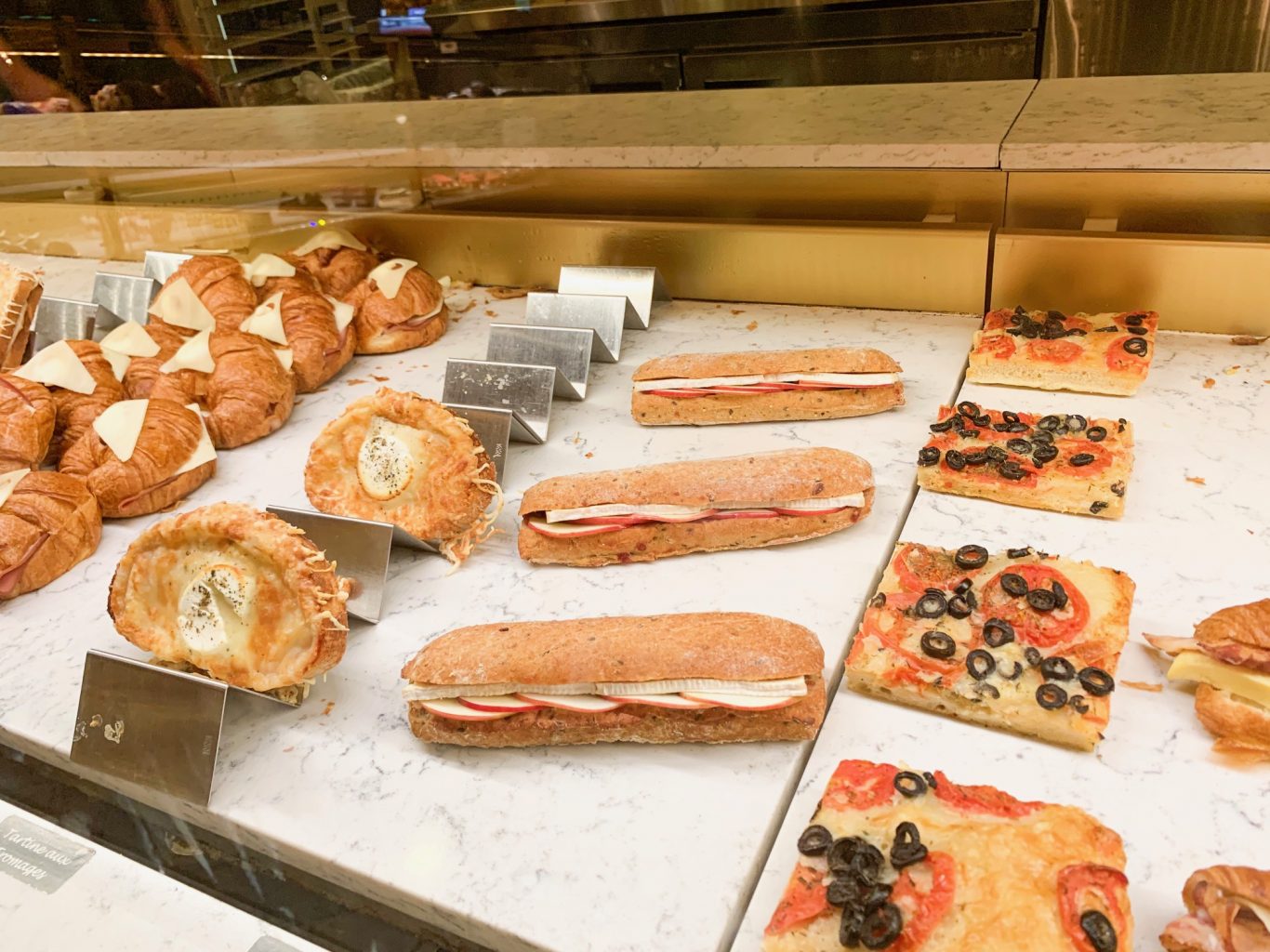 #4. Buy Your Christmas Lights Necklace Online Before You Go To Save Tons Of Money
This is a huge hack for visiting Disney at Christmas! Once you arrive at the parks you will see tons of people walking around in large flashing Christmas light necklaces. They costs a TON of money once you are already at Disney, so the best money-saving hack is to buy them in advance and bring them with you to wear at the parks!
We recommend this Christmas Lights Necklace from Amazon! You can buy it in different packs as well so that you can get a discount if you are buying for a family. The cost is a fraction of the price of the Disney Christmas lights necklace and you can put it on the moment you arrive in the parks!
My family has had ours for YEARS and they are still good and flash just as bright as ever. Wear them without the flashing during the day [duh!] but let them flash during the night when you can see them. Shut them off when you are eating or on rides or in shows to save the battery and for respect. You can also buy similar lights from a drugstore or Walmart in your area and they should be affordable as well.
This is a great money-saving hack for Christmas at Disney so that you can fit in and be in the holiday cheer without dropping $20 per person for a necklace once you arrive at the parks. We get a ton of compliments on them as well so they are well worth the pretty low price online and the space in your luggage [or not! just wear them while you are traveling!]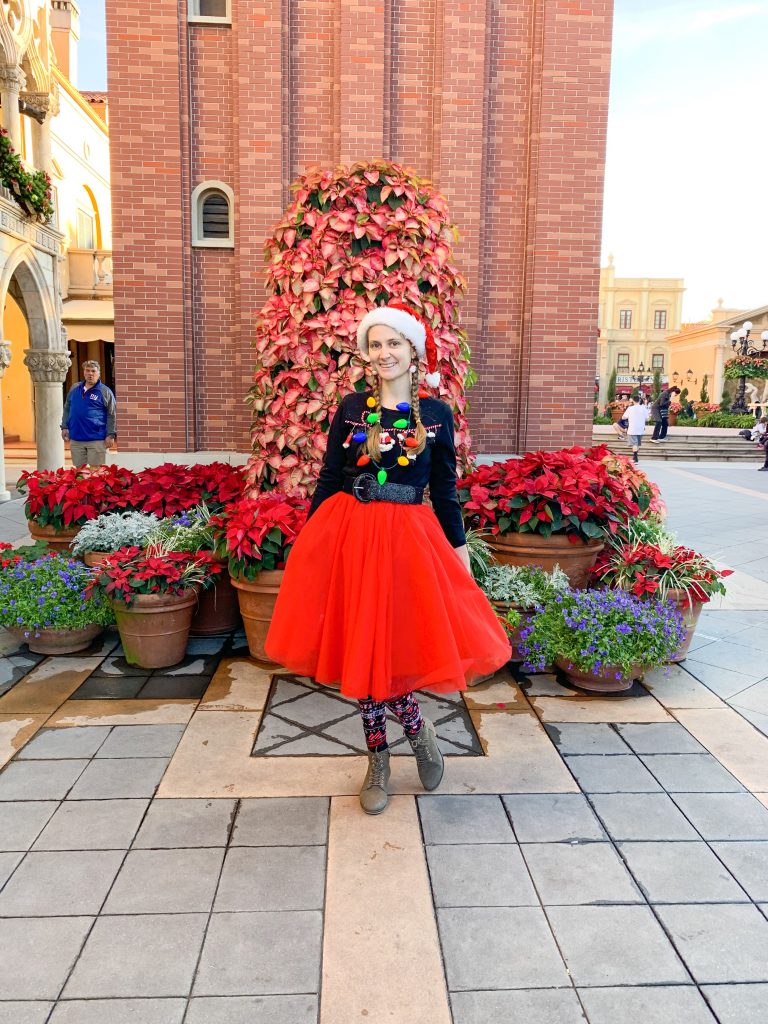 5. Christmas Crowds At Disney Can Be Insane, But Not Every Day Is Horrible
Christmas lights at Disney go up reasonably early so if you want to experience Christmas cheer at Disney, you can go earlier in the year instead of waiting. The week between Christmas and New Years is traditionally INSANE so just know that if you are going! This means making your fast passes and grabbing your Disney dining reservations WELL in advance so that you have something to do and somewhere to eat and you aren't left in a lurch. Seriously, when visiting Disney at Christmas it is essential to make your reservations for food and rides AS EARLY AS POSSIBLE!!
Check out our Disney Crowd Calendar to get a feel of just how busy the days you are considering going are going to be. I always try and plan my Christmas Disney trip the first week of December and it has usually worked out quite well. It isn't the same as visiting in January and there isn't much going on and it is the lowest and least busy ever, but it isn't as crowded as visiting during the last two weeks of the year.
Even if you are going during a slower time of the Christmas season, you should STILL make your dining reservations and fastpasses in advance. We personally make dining reservations up to a week in advance but no more and have generally pretty good luck getting what we want. That being said, we aren't going for lucrative character dining or places such as Be Our Guest which are difficult to find a reservation for during a normal time of the year, let alone at Christmas.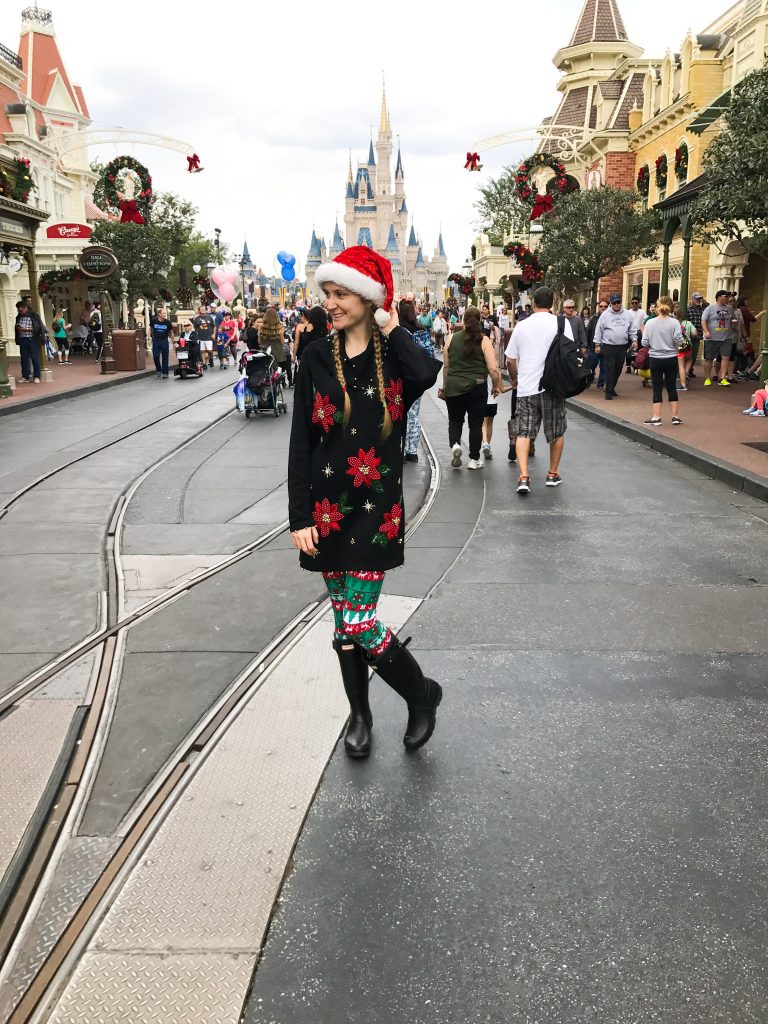 I hope you have an absolutely fabulous Christmas trip to Disney and enjoy the entire thing! I hope you learned a little something from my tips above and save a little money and enjoy some Christmas cheer around the Walt Disney World resort during the holiday season. I am happy to answer any questions that I can in the comments section below!
Pin this post: