Welcome to our guide on every official Disney World map!! They are all right here and all in one place for you to use for your trip! At first, the Disney park maps can seem a little overwhelming, but with a little studying, you are going to be just fine and dandy. 
Walt Disney World is a HUGE property and home to 4 theme parks. If you think that is all, you thought wrong! That is the importance of having Disney maps at your fingertips. In addition to four theme parks, Disney World is home to 2 water parks, over 20 hotels, a detailed transportation system which includes busses, boats, and a gondola system, the massive Disney Springs shopping complex, a huge sports center and more.
These Disney World maps will help you visualize your trip while you are planning. I don't know about you, but I am very visual when planning and want to know where everything is located!
Each map will include a PDF link for you to use and download on your own! The maps are in high quality and are the official Disney World maps so you are sure you are getting the best!
While you can either print or download these maps, you can also find maps on your My Disney Experience mobile app! This is another handy way to see the parks right at your fingertips. We recommend printing out these maps for planning while you are home and then using the interactive maps of Disney World on the app while you are on the ground at Walt Disney World!
Here is a link to the Disney World Map on the Disney website. This is similar to the My Disney Experience app that you see on your phone if you prefer an interactive guide!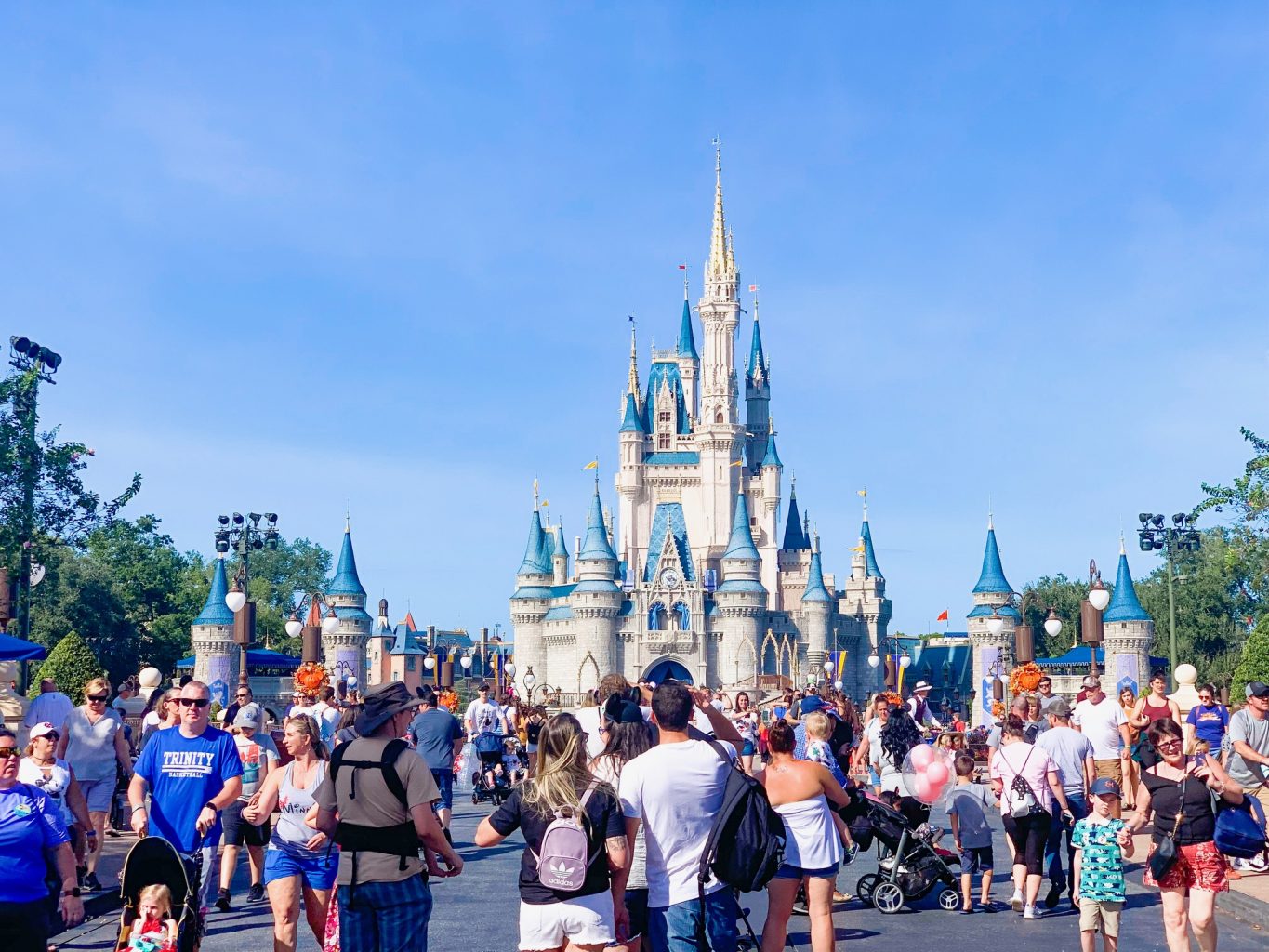 Every Official Disney World Map All In One Place
Walt Disney World Resort Map
Here if the official Walt Disney World Resort Map!! This is a detailed map of Disney including every aspect and area. This includes theme parks, water parks, Disney Springs, hotels, conference centers and more.
If you are looking to see what the entire Disney World complex looks like from a birdseye view, this is the map of Disney that you should download!
*CLICK HERE TO DOWNLOAD THE WALT DISNEY WORLD RESORT MAP PDF*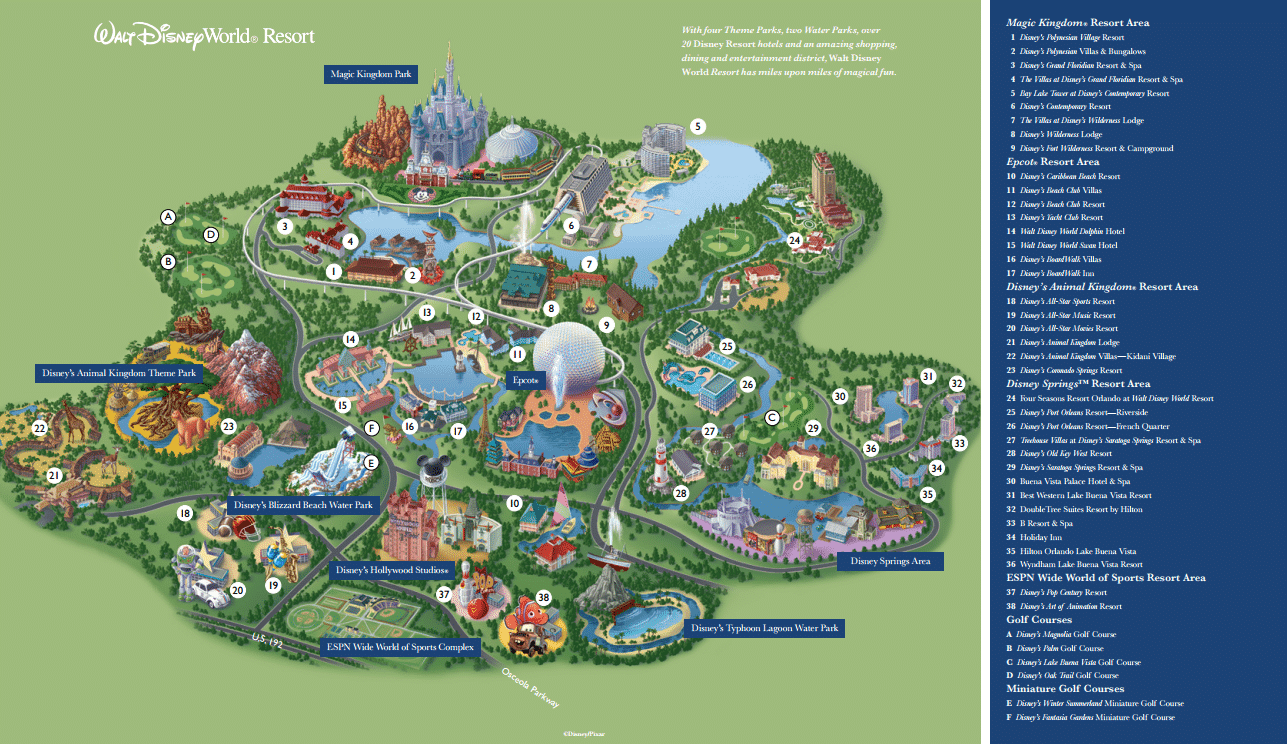 Walt Disney World Transportation Map
Below you will find a very detailed Disney map of the transportation system. This system includes busses, monorails, Skyliner, water transportation, shuttles and more. This is one of the maps of Disney World that many people don't consider when they are planning but it is incredibly important. We have a whole post on exactly How To Use Disney Transportation if you want to read about this in more detail!
This map of Disney transportation shows you exactly where each type of transportation goes and how many places you have to stop at in order to reach your final destination. This is a really fantastic printable Disney map to have with you during your visit as it is highly helpful!
*CLICK HERE TO DOWNLOAD DISNEY TRANSPORTATION MAP*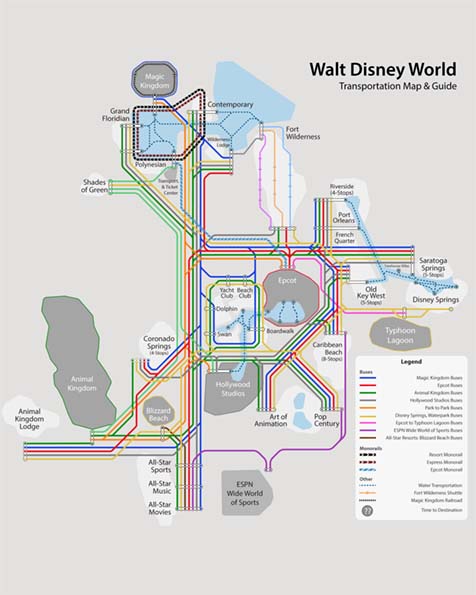 Walt Disney World Theme Park Maps
There are 4 theme parks at Disney World! When you are planning, it appears that each one is bigger than the next. Would you bel
ieve us if we said that Epcot is almost double in size than the Magic Kingdom? That is a LOT of walking and a lot of area to study!! Take a look at the Disney theme park maps below to familiarize yourself with the planning process.
Magic Kingdom Map
When people think "Disney World" they immediately think of The Magic Kingdom! This is one of the most popular maps of Disney World that people are looking for, so if you are searching for it, here it is! This map of Magic Kingdom is the official map straight from the Disney World website so you know you are in good hands. First, check out this Detailed Post About The Magic Kingdom Map!
Magic Kingdom is home to 6 distinct lands or themed areas. They are Main Street U.S.A., Tomorrowland, Fantasyland, Frontierland, Liberty Square, and Adventureland. Download this map of Disney's the Magic Kingdom so you can familiarize yourself with each.
*CLICK HERE TO DOWNLOAD THE MAGIC KINGDOM MAP*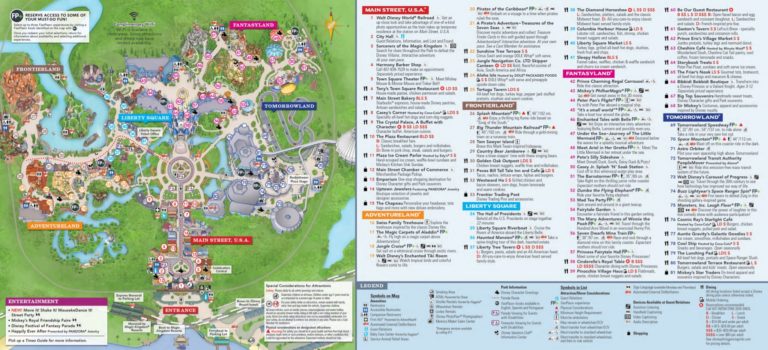 Epcot Map
Epcot is comprised of two lands! One is Future World and one is The World Showcase. When you are looking at a map of Epcot, you will see these two words and these are important to understand! In Epcot, there are only two lands so luckily it doesn't get confusing [as opposed to Magic Kingdom or Animal Kingdom which have way more than two!]
Epcot is my favorite park at Walt Disney World so you are in for a real treat when you visit. Check out this detailed post about the map of Epcot while you prepare! Future World is where the main entrance to Epcot is located. It is set up in a futuristic manner and includes some of the best rides in the park. The World Showcase is home to eleven countries in Epcot and each offers a unique drinking and dining setting.
Epcot is also home to many special events during the year which makes it one of the Disney world maps that change quite often!
*CLICK HERE TO DOWNLOAD THE OFFICIAL EPCOT MAP*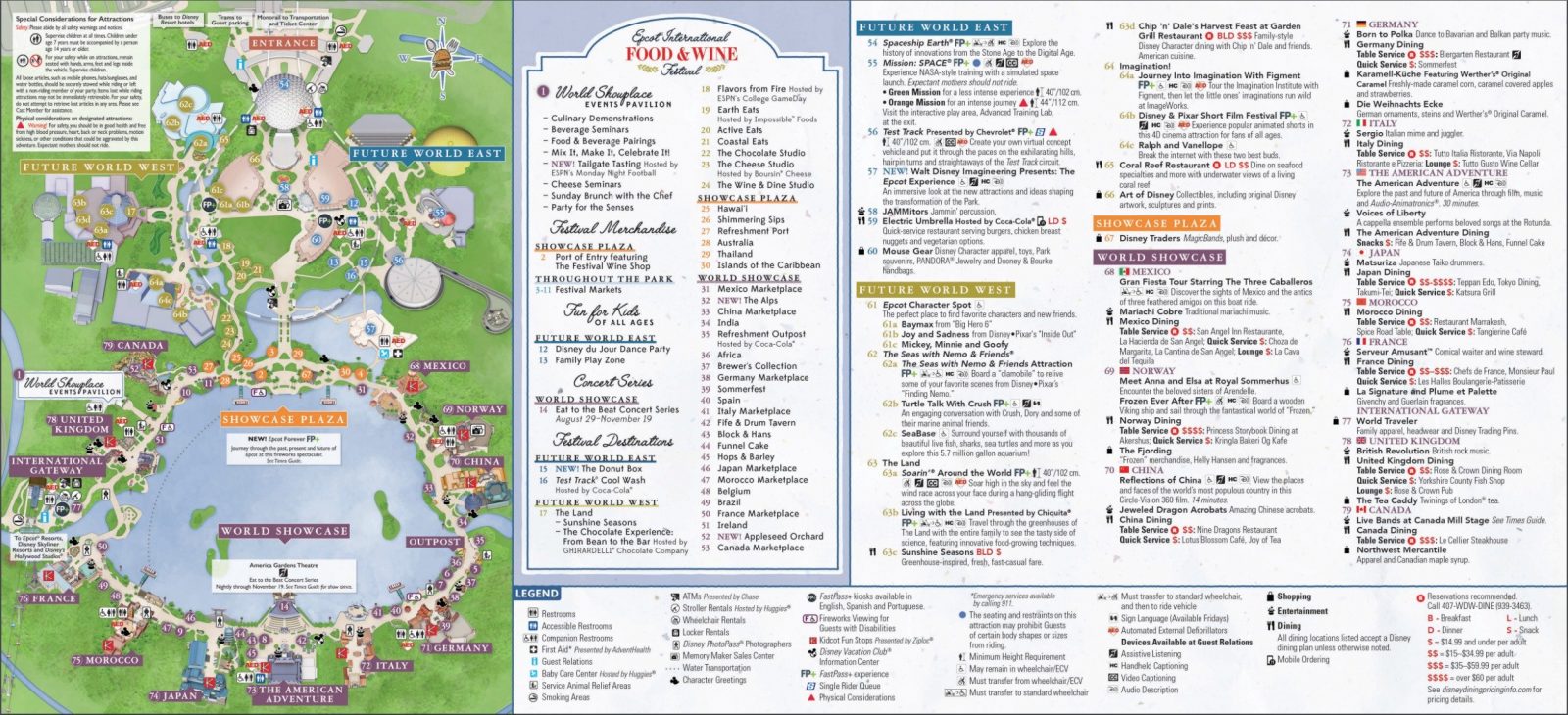 Hollywood Studios Map
This is one of the newer Walt Disney World map additions! Hollywood Studios is home to NINE distinct lands or area, including the brand new Star Wars Land as well as the newer Toy Story Land! This is one of the more important maps of the Disney parks due to all the newer lands. Take a look at it as you plan so that you can know what to expect!
You can check out our Detailed Post About The Map Of Hollywood Studios if you want to find out more information about these maps and locations at this specific park!
*CLICK HERE TO DOWNLOAD HOLLYWOOD STUDIOS MAP*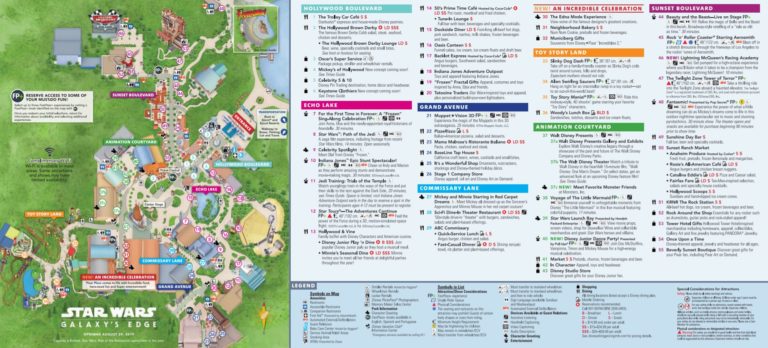 Animal Kingdom Map
Like Magic Kingdom, Animal Kingdom is home to 6 lands! These lands are: Oasis, DinoLand U.S.A., Asia, Africa, Pandora – The World of Avatar, and Discovery Island. By checking out the official Disney world map below, you can see exactly how Animal Kingdom is laid out. Discover our detailed tips for using the Animal Kingdom map.
Luckily, although there are quite a few lands, the park isn't as big as some of the others so there is a bit less walking to be done [as compared to Epcot!] Animal Kingdom is one of the more enjoyable and slower-paced parks at Disney. Be sure to download the official Disney park map for your visit!
**CLICK HERE TO DOWNLOAD THE OFFICIAL ANIMAL KINGDOM MAP**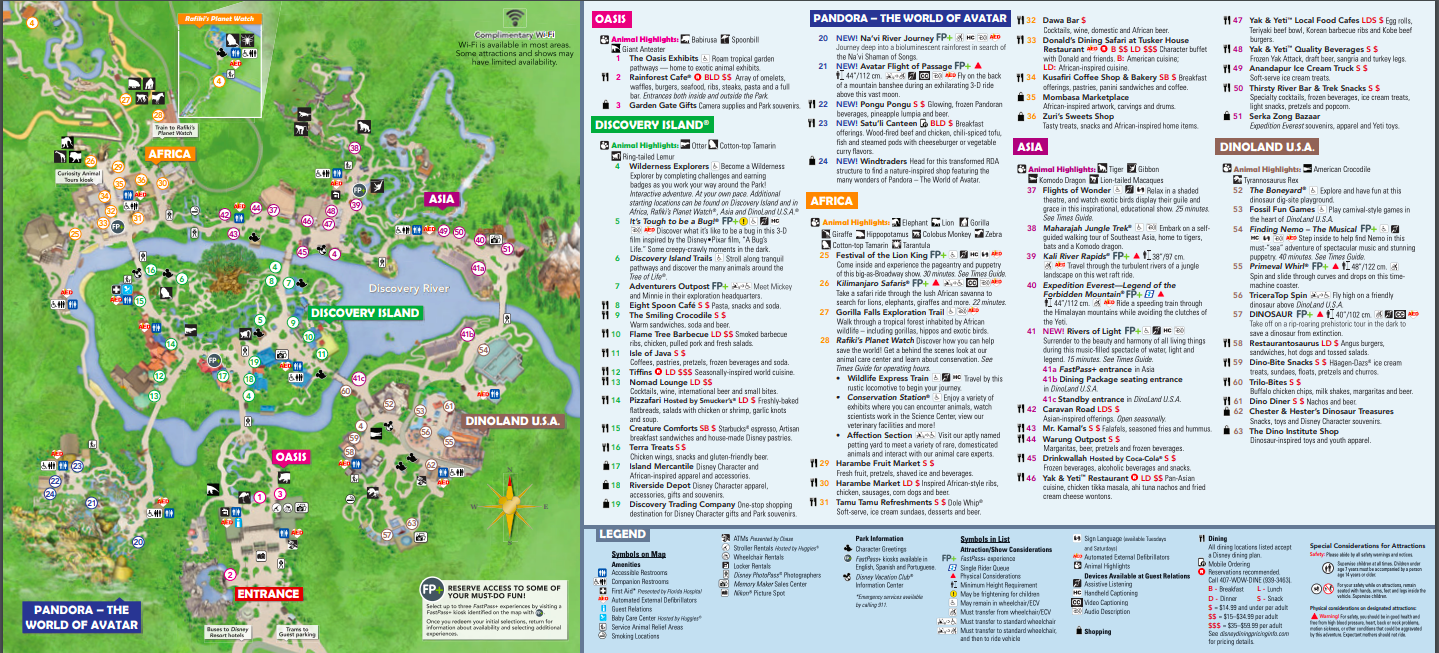 Disney Springs Map
Disney Springs, formerly known as Downtown Disney, takes up a large chunk of the Walt Disney World Resort property. It is free to access and you can visit even if you don't have Disney World park tickets. There is still construction and updates going on at Disney Springs, which makes having a good map of Disney World essential during your planning!
This Disney Springs map breaks down each one of the districts so that they are easy to understand when planning your trip. You can also check out our Detailed Tips About The Disney Springs Map!
*CLICK HERE TO DOWNLOAD THE DISNEY SPRINGS MAP*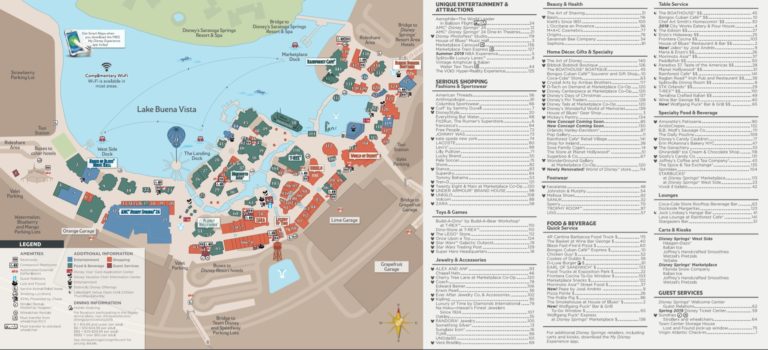 Disney Water Park Maps
There are two Disney Water Parks! You can see them on the full Disney World map shown above so you can see where they are located. Each one is distinct and unique and if you asked if I had a favorite, I really couldn't tell you. I like aspects of each one!
Blizzard Beach Map
Blizzard Beach is such a fun and unique waterpark at Disney. The Blizzard Beach map shows you all the different areas of the park both for kids and for adults. Blizzard Beach is set up to feel like you are hanging out in a tropical paradise the day after a crazy Blizzard. There is something for everyone, from fun lazy rivers and kiddie pools to huge plunge slides for thrill-seekers!
*CLICK HERE FOR THE BLIZZARD BEACH MAP*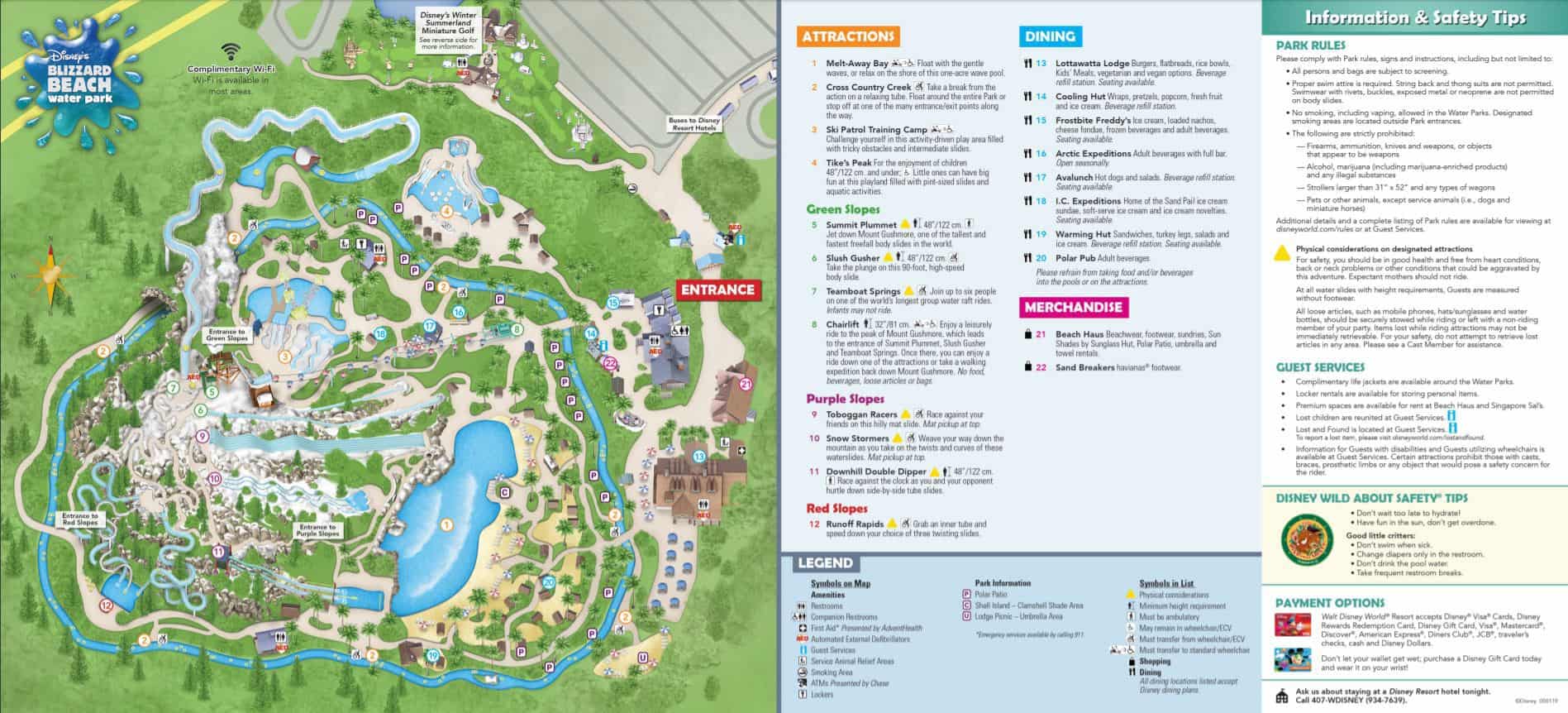 Typhoon Lagoon Map
Typhoon Lagoon is one of the most unique waterparks in the world! First, it has the huge Typhoon Lagoon surf pool which is home to massive 6 foot waves. Second, it is home to a water roller coaster! Make sure to download the Typhoon Lagoon map as this Disney water park is very different from Blizzard Beach. The setup, the vibe of the park, even the food is vastly different. We want you to be prepared!
*CLICK HERE TO DOWNLOAD THE MAP OF TYPHOON LAGOON*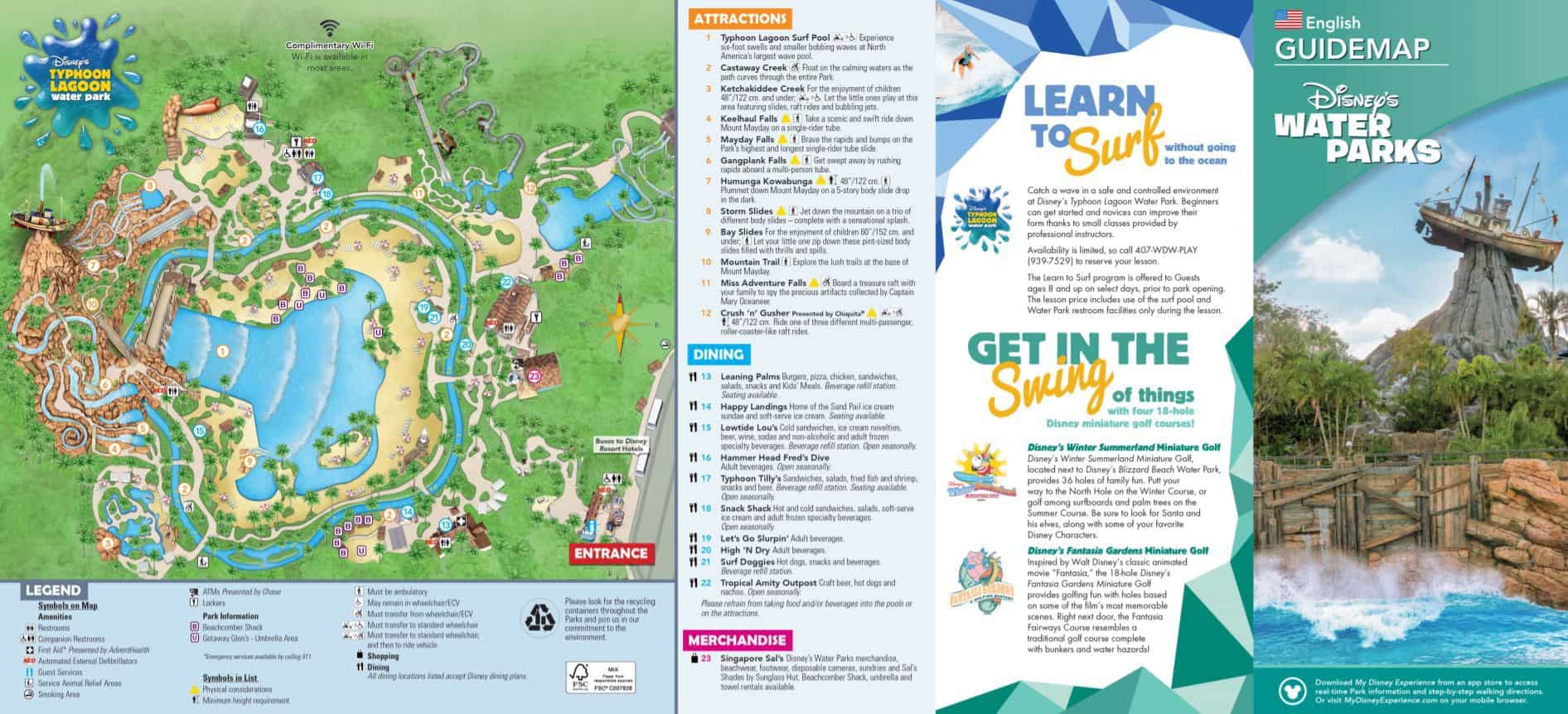 Disney World Resort Hotel Maps
We highly recommend looking over the Disney World Resort Hotel map of the place that you will be staying before you go. Make sure to compare this with the map of Disney transportation, shown above, so that you know exactly where you will be located on the Disney property and how long it will take you to use the free transportation to get between different parts of the resort.
This is a Disney World map that many people don't consider looking at. The map of your hotel at Disney is quite important and you can go in with open-eyes if you simply do a little research before your trip. Don't worry, it doesn't have to be hard. We have all the maps of Disney hotels right here for you so that you don't have to stress and can enjoy your trip!
Maps Of Disney Value Resort Hotels
Disney value resorts are the most affordable resorts on Disney World property. Just because they are more affordable does not mean that you will have a bad experience. On the contrary, you will still get access to special perks such as Extra Magic Hours, the ability to make early dining and Fastpass reservations [check out our Fastpass secrets!] and the ability to use the Disney World transportation for free!
Map Of Disney's All-Star Music Resort
Disney's All-Star Music Resort is exactly as it sounds, music-themed! From rock and country to broadway and jazz, make sure to take a peek at the All-Star Music map below so you know exactly where you will be staying!
*CLICK HERE FOR THE ALL-STAR MUSIC MAP*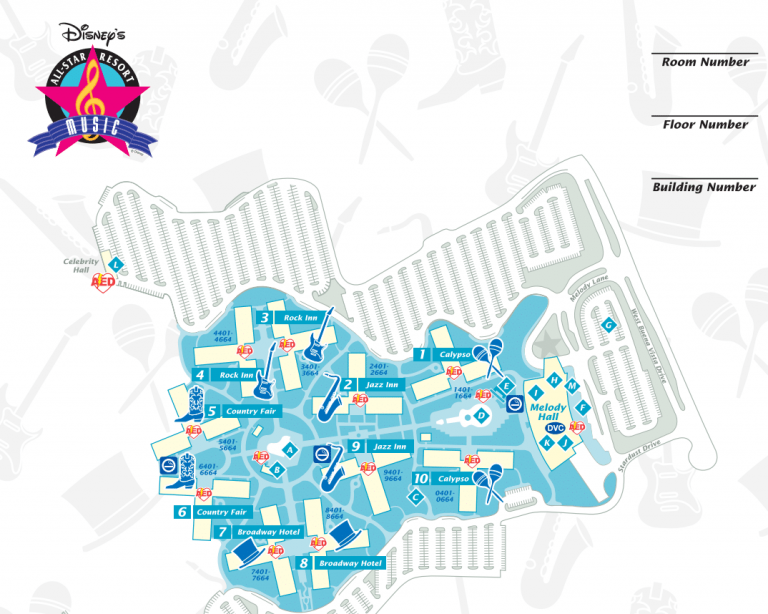 Map Of Disney's All-Star Movies Resort
The All-Star Movies Resort will make you feel like you are stepping into Hollywood but at Disney World! Check out the map to see fun areas such as Fantasia and Toy Story! If there is a special area that you want to stay in, consult this Disney World map, choose your location, and then book accordingly!
*CLICK HERE TO DOWNLOAD ALL-STAR MOVIES MAP*
Map Of Disney's All-Star Sports Hotel
If you asked me my least favorite value hotel at Disney, it would be All-Star Sports. I am not the biggest fan as it doesn't "feel" like Disney World to me. That being said, it is quite popular and people really do love it! There are fun themed areas such as basketball and surfing as well!
*CLICK HERE FOR ALL-STAR SPORTS MAP*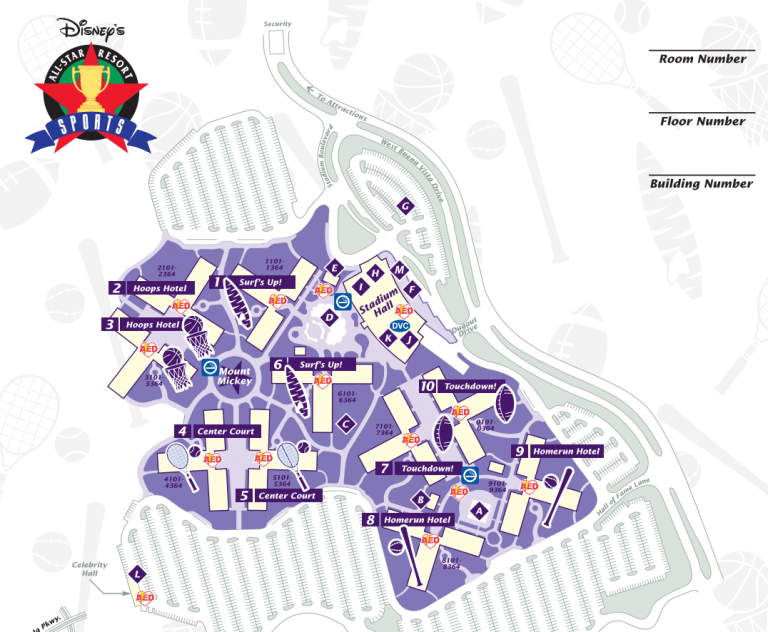 Map Of Disney's Art Of Animation Hotel
Honestly, Disney's Art Of Animation is one of the best Value hotels on property. You really won't be sorry when you stay at this incredibly unique hotel! It "feels" very much like Disney and the lands are themed to Cars, Finding Nemo, The Lion King and The Little Mermaid. Check out this official Disney World map so you can see how the whole thing is laid out.
*CLICK HERE TO DOWNLOAD ART OF ANIMATION MAP*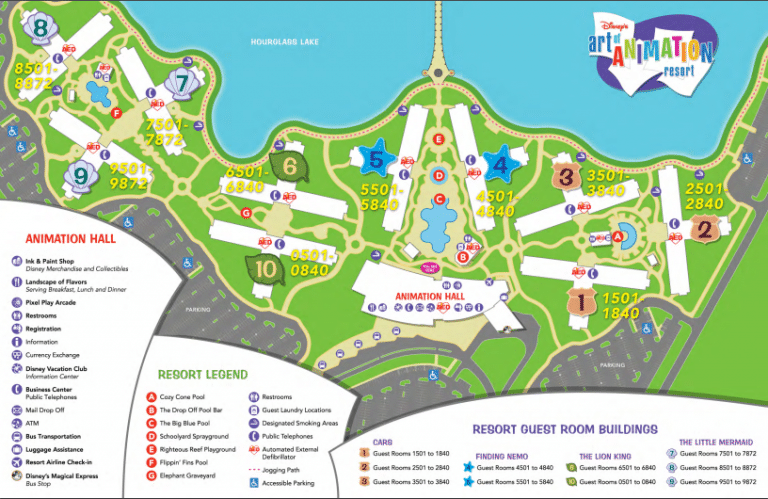 Map Of Disney's Pop Century Resort
Like Art Of Animation, Pop Century is one of the better Disney Value Resort Hotels. It is very retro and fun with themes like 50's, 60's, all the way up to the 90's! We still love Art Of Animation the best out of all the Disney Value Resorts, but this one is a close second. If you are staying here, make sure to check out this Disney map beforehand!
*CLICK HERE FOR PDF MAP OF POP CENTURY HOTEL*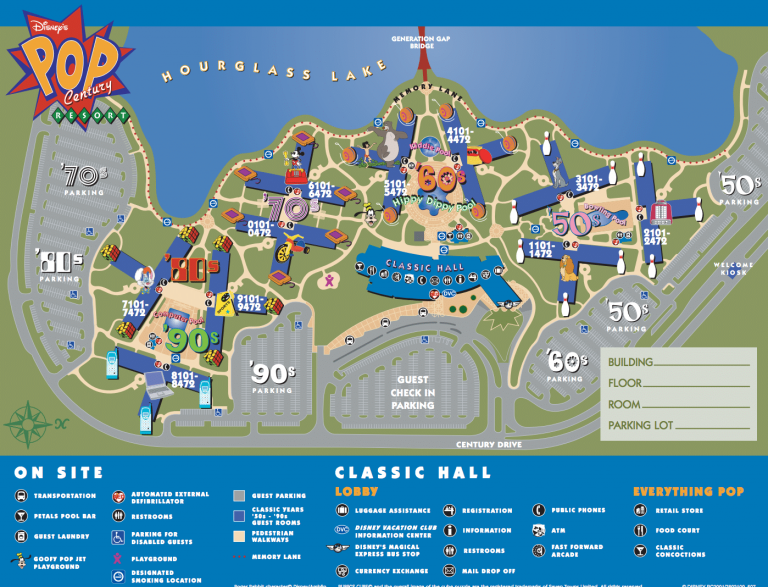 Disney Moderate Resort Hotel Maps
Moderate Resorts at Disney are a little more expensive than the Value ones, which obviously makes sense! These resorts offer a bit more and are a bit more luxe. Weirdly enough, this is the resort category that has the least number of resorts at Disney. Both value and deluxe have more hotels than moderate, while moderate is often the most popular for guests to book. Check out these Disney hotel maps below to prepare for your trip!
Disney's Coronado Springs Resort Map
Disney's Coronado Springs Resort is one of our favorites at Disney World! You can read the full Coronado Springs Review right here in the event you are staying here and want to know what to expect going into your vacation! Coronado Springs is themed like the southwest and is quite unique as far as Disney properties go.
*CLICK HERE FOR CORONADO SPRINGS MAP*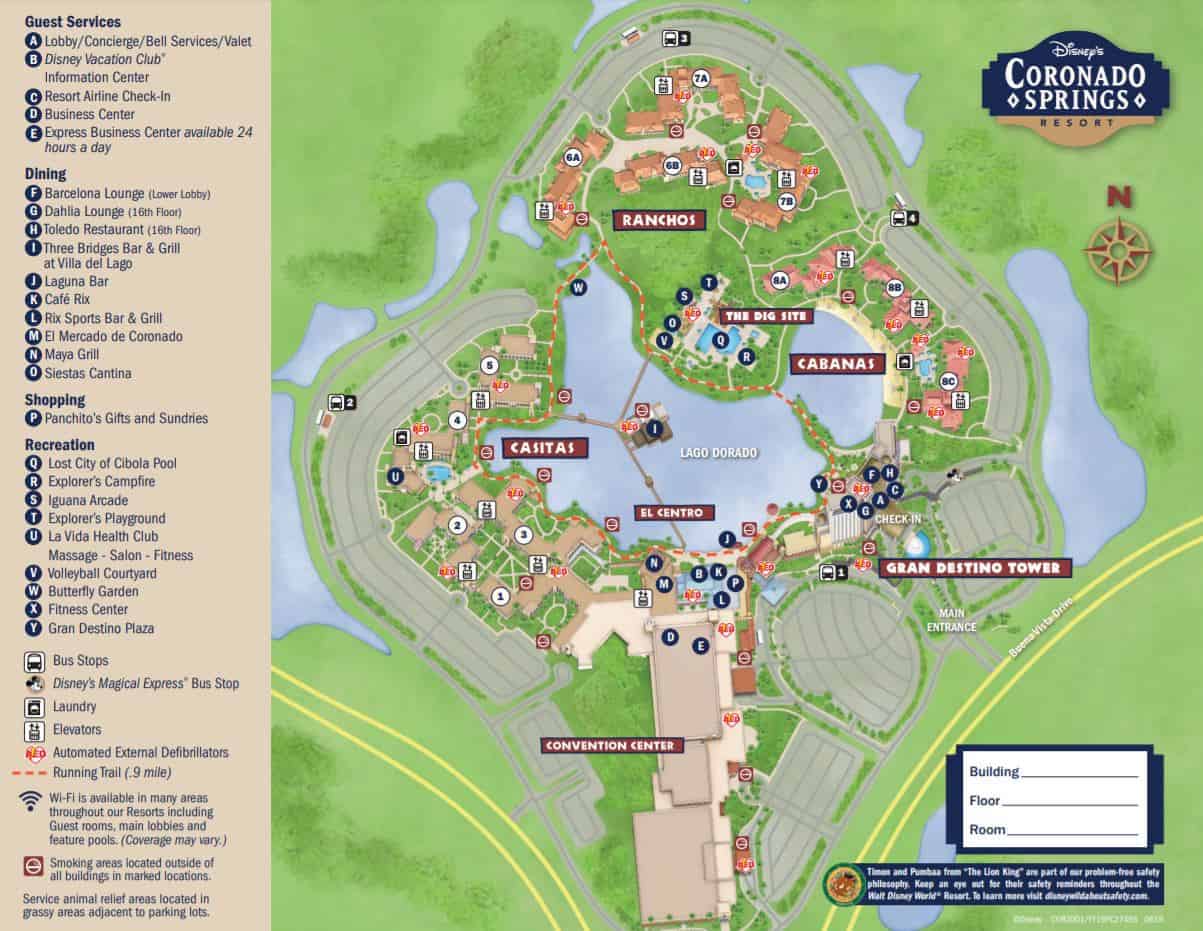 Disney's Caribbean Beach Resort Map
Caribbean Beach is one of the most massive Moderate Disney Resorts! It spans quite a large area and is very large when you compare it to other Disney Resorts in any category. If you are staying here, this is an essential Disney World map to download for your stay. The map of Disney's Caribbean Beach Resort is quite huge and detailed so make sure to print it out during your planning process. If you are staying here, you also have access to the Disney Skyliner which is fun!
*CLICK HERE TO DOWNLOAD CARIBBEAN BEACH MAP*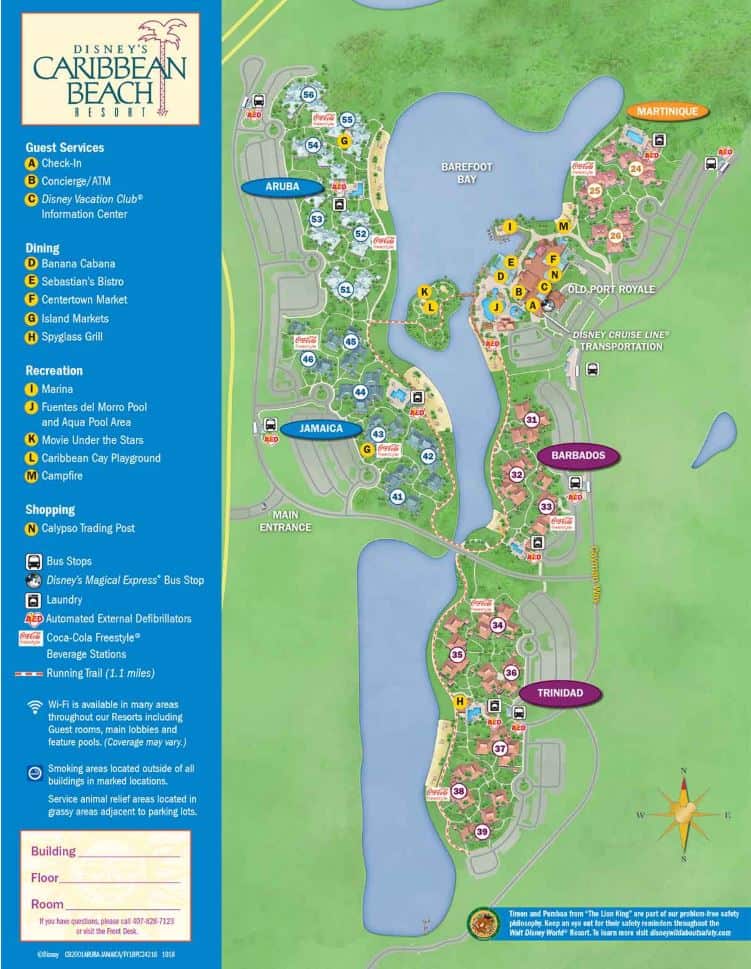 Disney's Port Orleans Resort Map
Discover this map of Disney's Port Orleans resort. It includes both the Port Orleans French Quarter area of the resort and the Port Orleans Riverside area of the resort. Both are unique and offer something different. I have stayed at Port Orleans and it was quite a nice experience and more smaller and more intimate than other Moderate Disney resorts!
*CLICK HERE TO DOWNLOAD PORT ORLEANS RESORT MAP*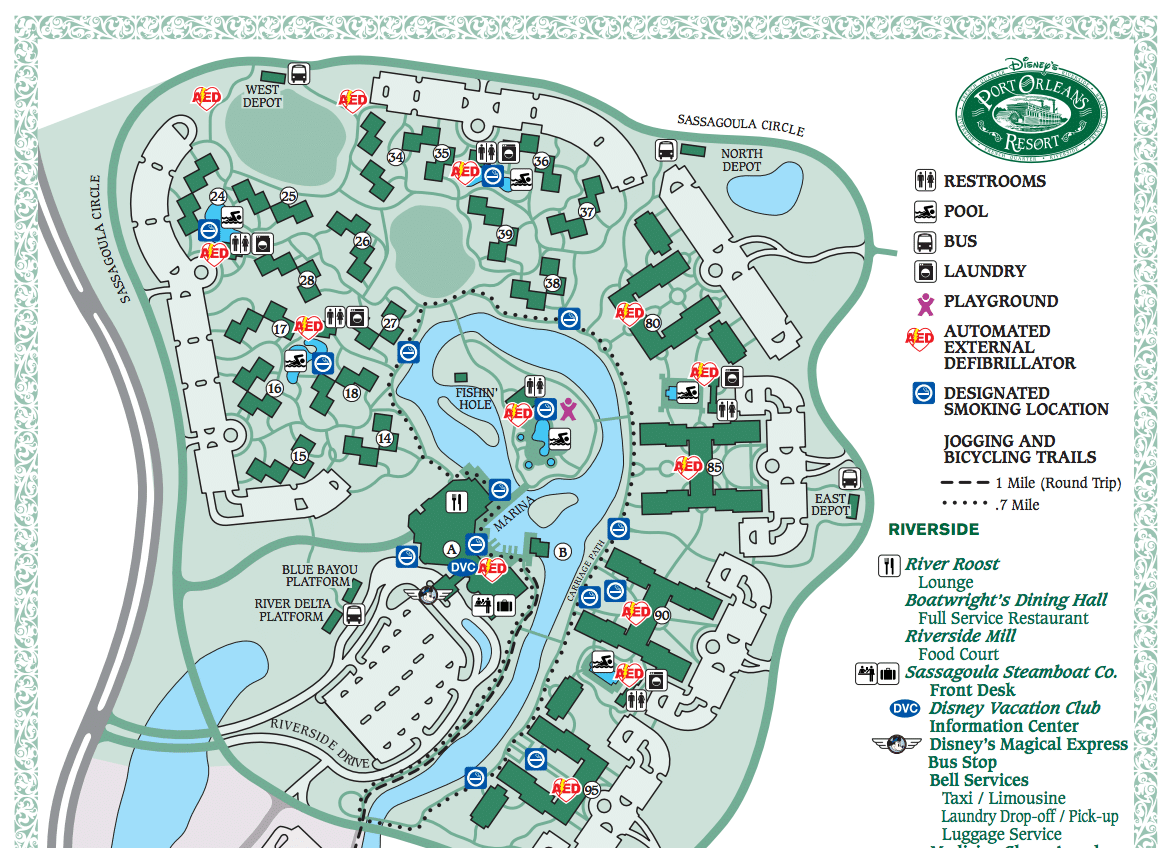 Disney's Fort Wilderness Campground Map
Yes, Disney's Fort Wilderness Campground is actually considered a "moderate" Disney resort! This map of the campground at Disney is quite detailed and shows you all the camping spots as well as the cabins on the property. When I was growing up, my family and I would stay at the Fort Wilderness Campground quite often in our RV! I grew to become quite familiar with this map of Disney World and the experience here is really unique!
*CLICK HERE FOR MAP OF FORT WILDERNESS CAMPGROUND*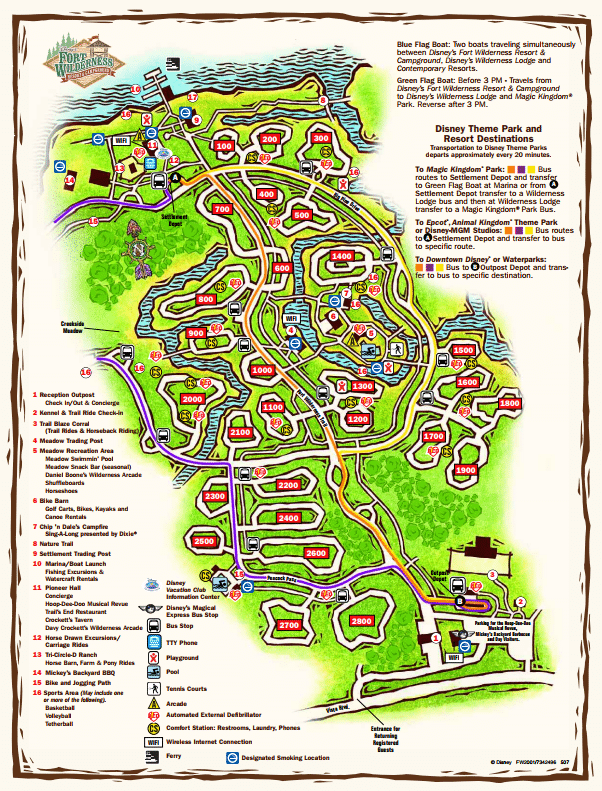 Maps Of Disney World Deluxe Resorts & Villas
Disney Deluxe Resorts are the most expensive and luxe of all the Disney resort categories. These are the best of the best as far as Disney hotels go. You receive fantastic transportation and some are even walking distance to the Disney Parks themselves. Fine dining is on location and the best hotel reviews at Disney World can be found at these Deluxe Resorts! Check out all these maps of Disney Deluxe resorts below so you know what to expect!
Disney's Animal Kingdom Lodge & Kidani Village Maps
Disney's Animal Kingdom Lodge and Kidani Village is one of the best places to stay at Disney World! I have stayed at Animal Kingdom Lodge before in a Savannah View room and it was truly an experience to remember. If you get the chance to stay at Animal Kingdom Lodge, check out the map below so that you understand how this lovely resort is laid out during your stay!
*CLICK HERE FOR MAP OF ANIMAL KINGDOM RESORT*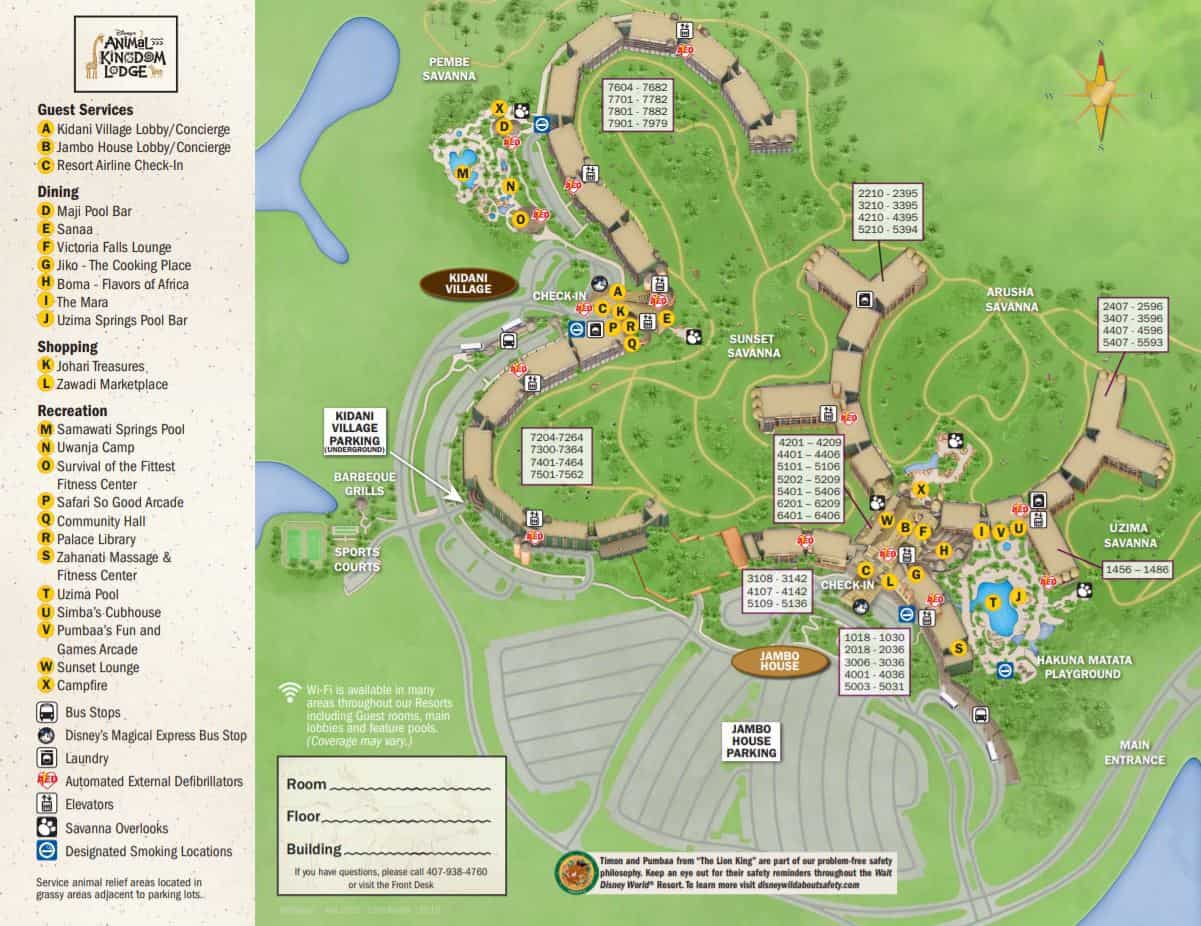 Map Of Disney's Yacht & Beach Club Resort
When I was growing up, my family and I would stay at the Yacht Club and Beach Club resort at Disney all the time. The pool here is fantastic and even as an adult, I totally love it. This property is split into the Yacht Club Resort and the Beach Club Villas as you can see on the map of this Disney property below. The location is fun and the pool is even better.
*CLICK HERE FOR YACHT & BEACH CLUB MAP*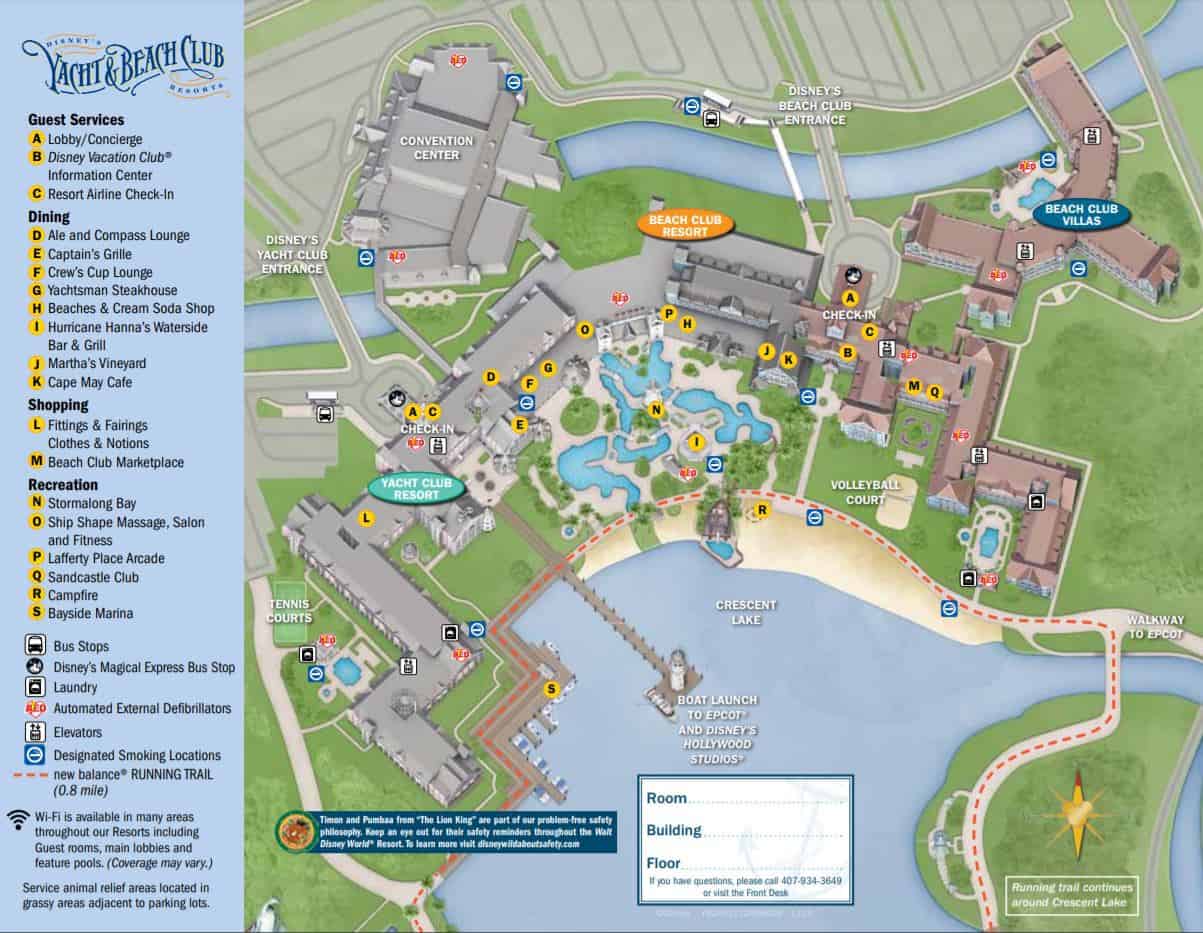 Disney's Boardwalk Inn & Villas Map
When my parents outgrew taking us to the Yacht Club when we were growing up, they started staying at the Boardwalk Resort. This is our family favorite hotel in the Deluxe Category. You really can't beat the location, views, and amenities. We love the Boardwalk if you want some free family fun even if you are staying at any other resort or don't have tickets to any Disney World park. Check out the map of the Boardwalk to see where the villas vs the inn are located!
*CLICK HERE FOR BOARDWALK INN MAP*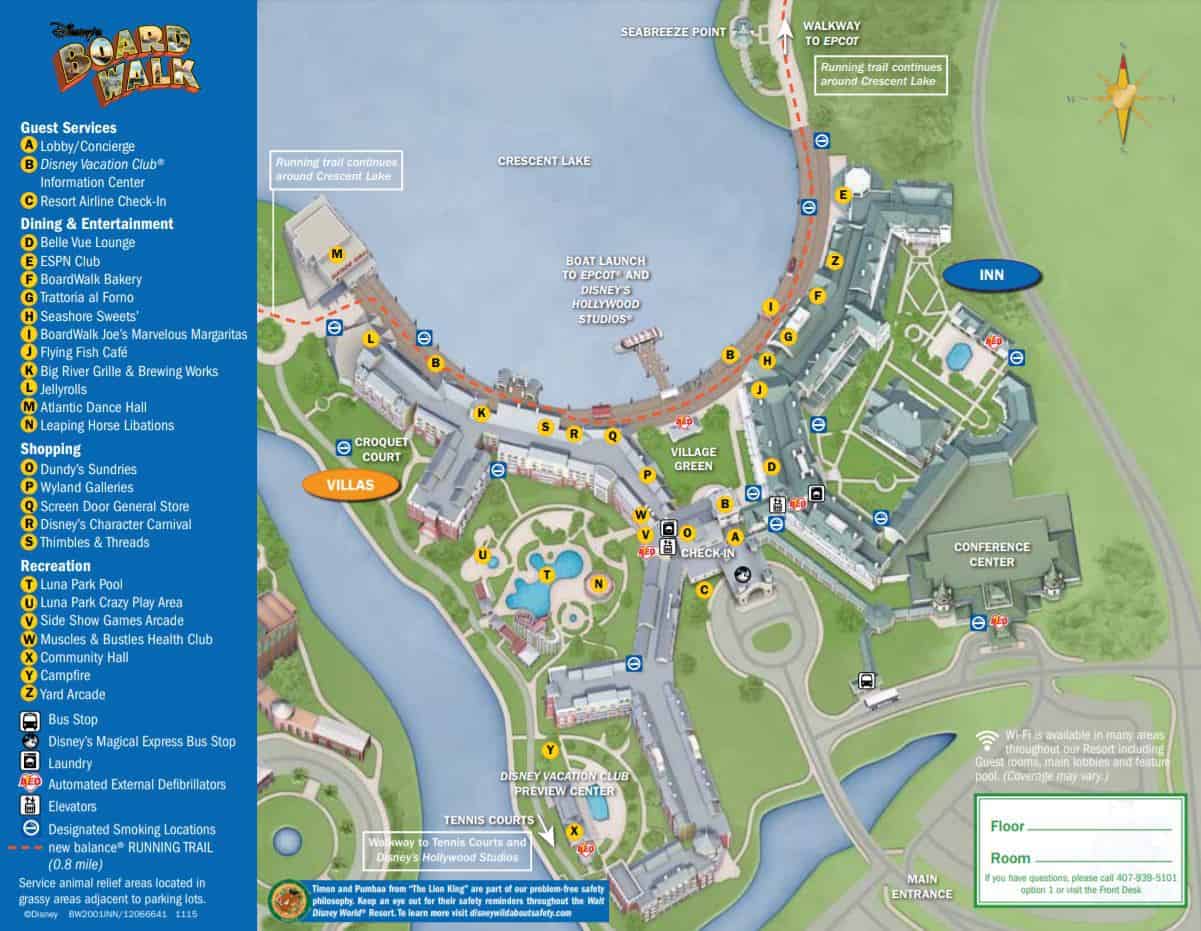 Disney Contemporary Map
The very first hotel I stayed at as a baby was the Contemporary! Now Disney has added on the Bay Lake Tower which is the newest part of this property. As you can see, my parents had excellent taste! I only wish I was old enough to appreciate the fireworks from the hotel room instead of hiding underneath the bed in terror!
*CLICK HERE FOR DISNEY CONTEMPORARY MAP*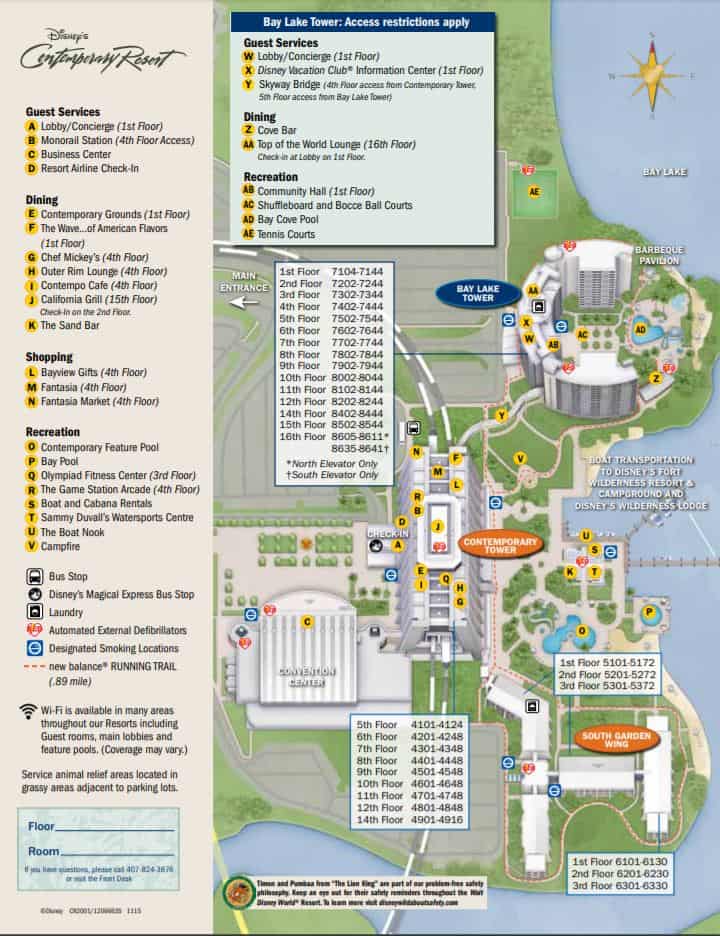 Disney's Grand Floridian Resort Map
Before my parents headed over to the Epcot resorts, we stayed a few times at Grand Floridian. I don't remember this at all, but apparently it was pretty fantastic! Since then, I have gone back to the Grand Floridian for dining, dancing, and resort hopping during the holidays. Download this Disney World resort map to familiarize yourself before your stay.
*CLICK HERE FOR GRAND FLORIDIAN RESORT MAP*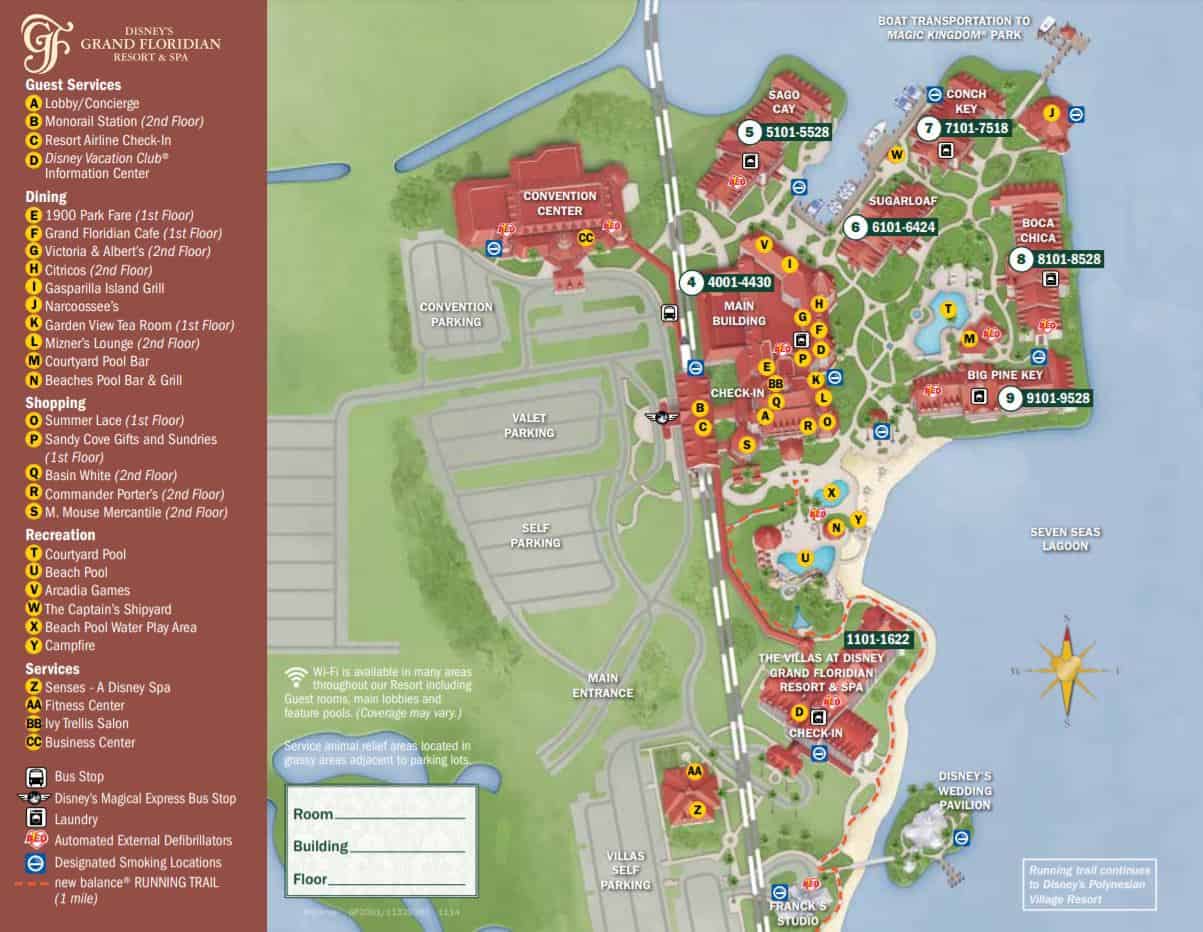 Map Of Disney's Polynesian Resort
Now, this is my dream deluxe Disney resort to stay at! It is one of the most expensive resorts at Disney but I will save and one day I will go! The Polynesian Resort is set in a South Pacific setting with fantastic views of the Magic Kingdom and the lake. If you get a chance to stay here, you are truly lucky as it is my dream resort at Disney to stay at!
*CLICK HERE FOR MAP OF DISNEY'S POLYNESIAN RESORT*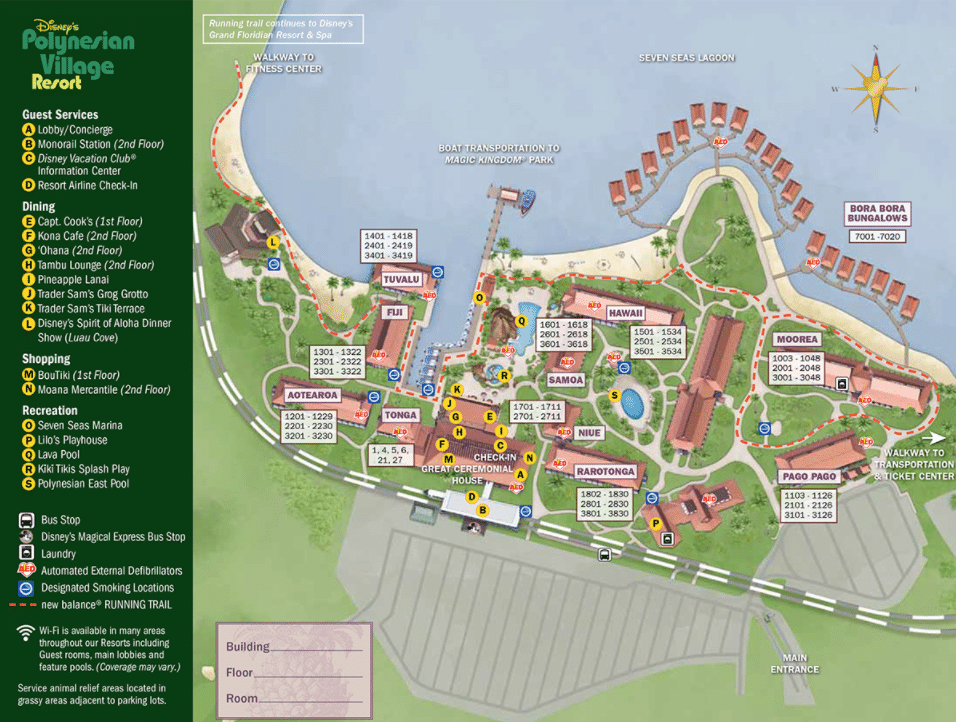 Disney's Old Key West Resort Map
I once stayed here with friends and it was a lovely experience. Old Key West is located around one of the Golf Courses at Disney and it is a large Disney Vacation Club property. This is how I got to stay here in the first place, my friends were DVC members and invited me to come to stay with them! This is one of the more expansive Deluxe resorts so make sure to check out the Disney World map below to prepare for your stay!
*CLICK HERE TO DOWNLOAD MAP OF OLD KEY WEST RESORT*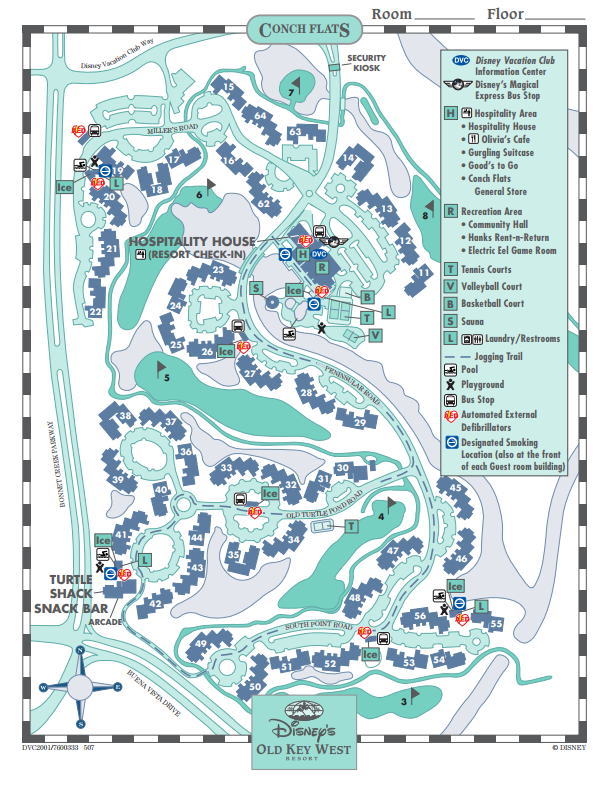 Map Of Saratoga Springs Resort
Saratoga Springs Resort is another expansive Deluxe Disney Resort! It is really spread out so peeking at the map of the hotel before you stay is essential. The different areas of the resort are quite far away from each other so it helps to know what you are getting into before you stay!
*CLICK HERE FOR SARATOGA SPRINGS MAP*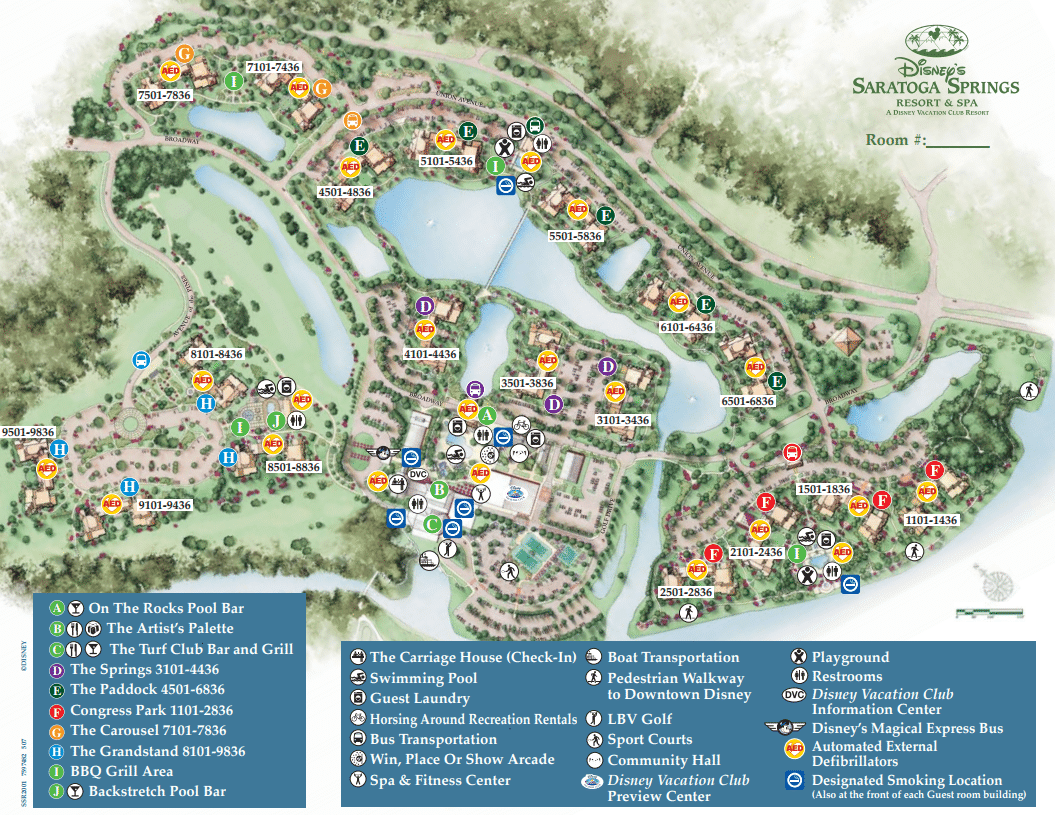 Map Of Disney's Fort Wilderness Lodge
Disney's Fort Wilderness Lodge is an incredible and unique Deluxe Resort. It doesn't feel like any of the other resorts and is tucked away even though it is on Bay Lake! There are unique features and those staying at the resort also have access to the campground if you want to go biking or hiking!
*CLICK HERE FOR FORT WILDERNESS MAP*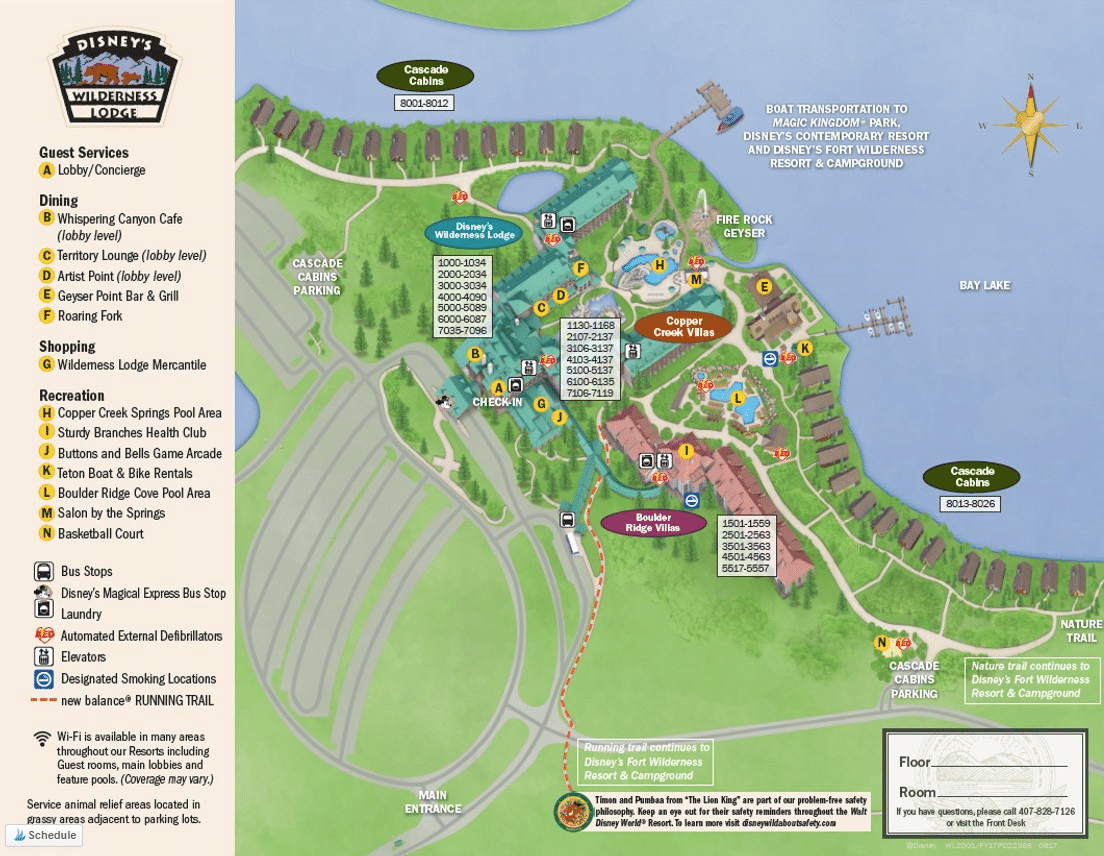 Where To Find Maps At Disney World
Once you arrive at Walt Disney World Resort, you can find Disney maps pretty much everywhere! You can head to an information desk or guest services at the parks, ask at the gift shop or front desk of your hotel, pick some up at Orlando International Airport, visit food shops in the resort and more.
If you are having a hard time finding a map of Disney, simply as a Cast Member and they can help and point you in the right direction. There is no one better to help you than someone who works for the Mouse himself! To avoid this, simply download these maps onto your phone or utilize the My Disney Experience app. This way, everything from wait times to restaurants will be right at your fingertips and you will never lose it the way you may lose a paper map!
Pin this post: