On the hunt for the official Disney Springs map? Well look no further! Formerly known as Downtown Disney, Disney Springs is filled with shops and restaurants that are perfect for a little dose of Disney magic.
A map of Disney Springs (a.k.a. a map of Downtown Disney, if you still prefer the old school name) is essential to get the most out of your experience. (Honestly, Disney maps are necessary for every Disney experience in my opinion.) Without it, there's a good chance that you'll miss entire sections of Disney Springs!
The first time I went to Disney Springs, I completely missed the entire Town Center section! There was so much to see that I didn't even know existed, because I didn't have a Disney Springs map! Hopefully this guide (along with the map) will help you to see everything that you want to see at Disney Springs.
Get a FREE printable 30/60/90 day Disney countdown by joining our private Disney Facebook Group and share your photos and ask for tips and tricks!
The Official Disney Springs Map + Tips For Your Visit
Understanding Disney Springs Districts
While each of the Disney parks has "lands," Disney Springs has "districts." There are four districts at Disney Springs: West Side, Town Center, Marketplace, and The Landing.
The West Side is home to some of the best entertainment at Disney Springs. In addition to a Cirque de Soleil show, there is also the House of Blues for fantastic live music and the NBA Experience for a chance to pretend to be a professional basketball player. Or, if you're just hoping to sit and watch a good 'ole Disney movie, an AMC theater is also situated on the West Side of Disney Springs.
The Town Center is where you'll find all of the non-Disney-related shops if you're just hoping to do some shopping. UNIQLO, Levi's, Sephora, Tommy Bahama, and Free People are all located in the Town Center. Some of the best restaurants at Disney Springs can also be found in this district, like T-REX, D-Luxe Burger, Polite Pig, and Frontera Cocina.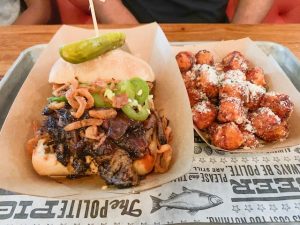 The Marketplace is home to all things Disney. World of Disney, Disney Pin Traders, Disney's Days of Christmas, The Art of Disney, Once Upon a Toy, and more are all located in the Marketplace. And, during the holiday season, the Marketplace is also where you'll find Disney Spring's Christmas Tree Trail and Santa's Chalet.
My favorite part of Disney Springs is The Landing. Waterview Park has some fantastic live music right along the lake. I love to grab a scoop of gelato from Vivoli il Gelato, enjoy the wonderful weather, and just listen to the amazing musicians there.
The Landing also boasts some of the best Disney Springs stores, including the Savannah Bee Company and the Shop for Ireland. There are also quite a few fabulous restaurants, such as Maria & Enzo's Ristorante, Raglan Road Irish Pub and Restaurant, Morimoto Asia, and The Edison, situated in this part of Disney Springs. These are some of the best breakfast and brunch options at Disney Springs!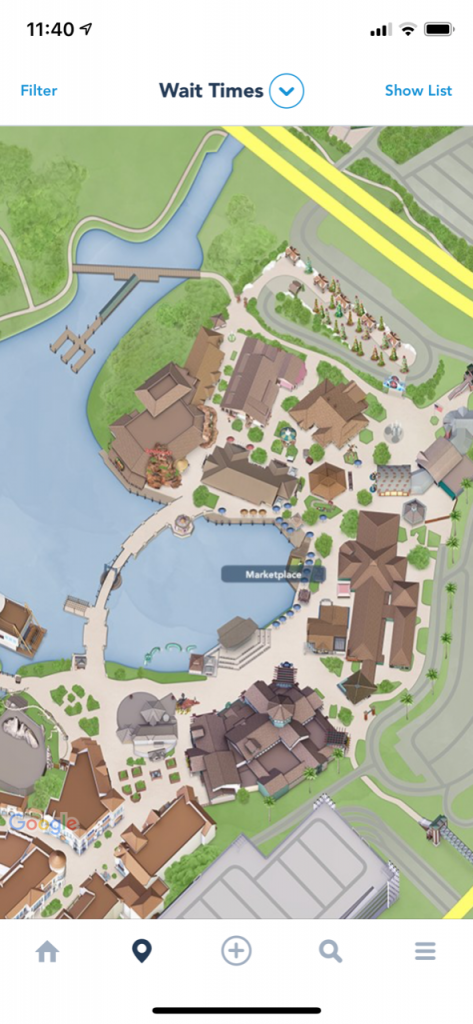 The Official Disney Springs Map
This is the official Disney Springs map (a.k.a. the official Downtown Disney map) from the Walt Disney World website, so you know you are in good hands. It is completely free to download to take with you on your trip! I recommend downloading it and saving it to the photos on your phone, so it'll always be easy to access. If hard copies of maps are easier for you, no problem! Print it out before you head to Disney Springs, and you'll be all set! This way, you can see it next to you and can even write over it and fill things in!
**CLICK HERE TO DOWNLOAD THE OFFICIAL DISNEY SPRINGS MAP**
If you want the most updated map of Disney Springs on the Walt Disney World Resort website, pick "Disney Springs" as the theme park under "Parks & Tickets." Then, on the left-hand side under the main picture, there will be the option to "Download Printable Map." This works if you want to see a specific map for a specific park event. Otherwise, the Disney Springs map linked here will be perfect for your use!
Interactive Map Of Disney Springs On My Disney Experience
My personal Disney map preference is to use the My Disney Experience App. Once you open it, the first thing that will pop up under the Walt Disney World is an interactive map of Walt Disney World. Tap on this map!
Then, use your hands to "zoom out" to see the entire Walt Disney World Resort property. Then scroll around until you find "Disney Springs" and you will have a fantastic Disney Springs map right at your fingertips. This map is even better than the PDF above, because it is interactive and frequently updated!
You can "pinch" the map of Disney Springs to zoom in and see stores or restaurants that you are searching for.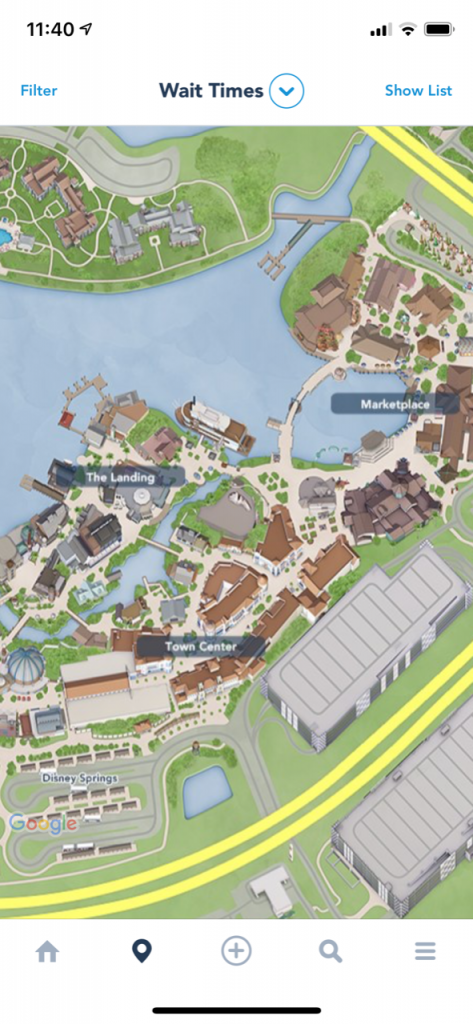 Quick Tips For Visiting Disney Springs
Make Restaurant Reservations
If you're planning on visiting Disney Springs for a meal, you should definitely make reservations in advance. Despite the fact that there are dozens of restaurants, the dining options at Disney Springs are usually packed. So if you have your heart set on a specific restaurant, or even if you just want to lessen your wait time, be sure to make restaurant reservations in advance.
Take Advantage Of All Of The Free Items And Activities
There are so many free items and activities at Disney Springs, and, if you don't know about them, there's a good chance that you'll just pass them by. First, there's free parking, which is just fantastic. For the kids, there's a free splash pad, free LEGO building at the LEGO Store, a free boat ride between Disney Springs and a few of the Disney resorts, free pixie dust from the Bibbidi Bobbidi Boutique, and a free dino dig inside of T-REX. There is also free chocolate from the Ghirardelli Chocolate Shop, which is fantastic for everyone, as well as free entertainment throughout Disney Springs.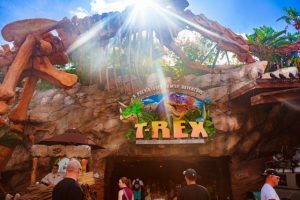 If you're hoping to get a glimpse of the Disney magic outside of the parks, Disney Springs is the place to do it. Be prepared with the official Disney Springs map both printed and on My Disney Experience. Study it and understand what you are getting into! You will have a fantastic time and the environment at Disney Springs really is a joy to walk around and experience. Please let me know if you have any questions regarding this Disney Springs map and I will answer in the comments!