Planning to grab breakfast at Disney Springs during your trip? Let me tell you the ins and outs on where and what are the best places to eat at Disney Springs!
If you've never been to Disney Springs, it is a must see epicenter of dining, shopping and entertainment outside of the parks. With a full calendar of events and experiences, this recently renovated outdoor shopping center is sure to please everyone in the family.
To plan which restaurants to pick for breakfast at Disney Springs, make sure you check out where they're located at on the Disney Springs map!
Fabulous Breakfast & Brunch Options At Disney Springs
Chef Art Smith's Homecomin'
We'll start with a Disney Trippers favorite, one of the best places to eat at Disney Springs, Chef Art Smith's Homecomin'. Featuring an open kitchen floor plan, this locally sourced restaurant by celebrity chef Art Smith brings southern style charm and comfort foods right to your breakfast table. Fun fact,  Chef Art began his journey as an award winning chef interning with the Disney College Program! This is truly one of the best places for breakfast at Disney World!
The Rise & Shine Southern Brunch is available on Saturday and Sunday mornings from 9AM-1PM. The menu includes farm fresh favorites like the Bee Haven Friend Green Tomatoes, mixed with twists on familiar classics like the Hush Puppy Benedict. Mouth watering plates filled with flavor make this Disney Springs breakfast spot a popular choice, sure to please anyone in your family.
Come be surrounded by pastel colors and at home vibes for a scrumptious meal with one of the best views of Disney Springs at this breakfast spot. Those of you on the Disney Dining Plan can utilize your dining credits here as well!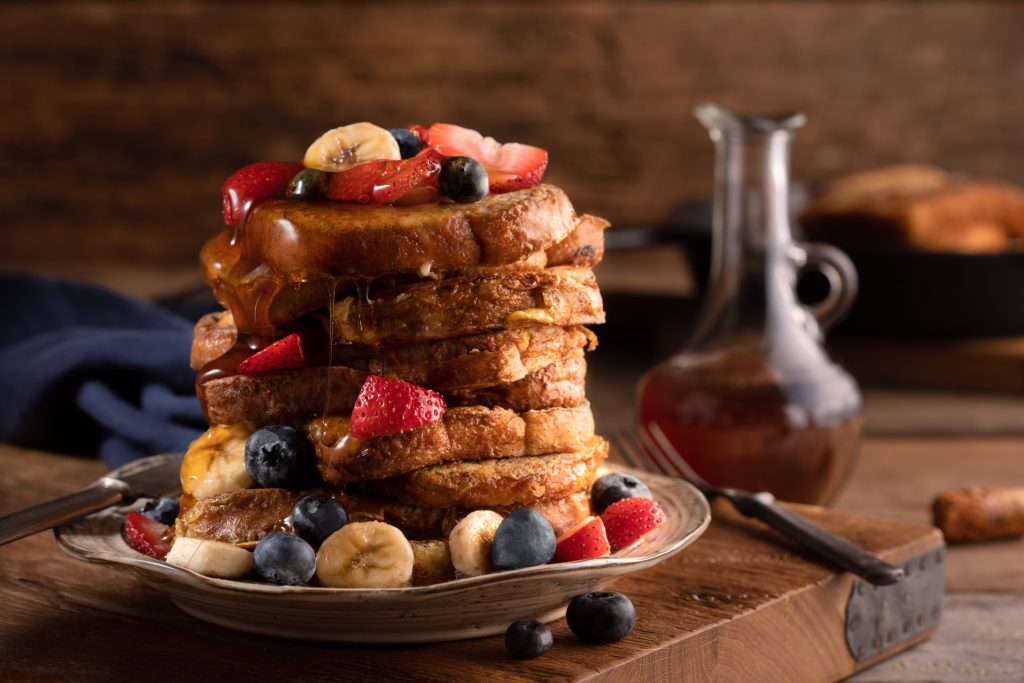 Earl of Sandwich
Located in the Marketplace at Disney Springs, this Earl of Sandwich location is the perfect place to grab breakfast at Disney Springs for on the go. Without taking the time for a sit down meal, you'll be able to hit the shops even faster and still get great eats!
The menu includes made to order omelets, and delicious hot breakfast sandwiches with the quality you'd expect from Earl of Sandwich at a great price. Grab a Bacon, Egg 'n' Cheddar for just $5.59, or a Veggie omelet for just $7.79, served with the Earl of Sandwich signature artisian bread and homestyle potatoes. You can also grab fruit cups, oatmeal and other small a la carte breakfast options here for those not looking for a full meal.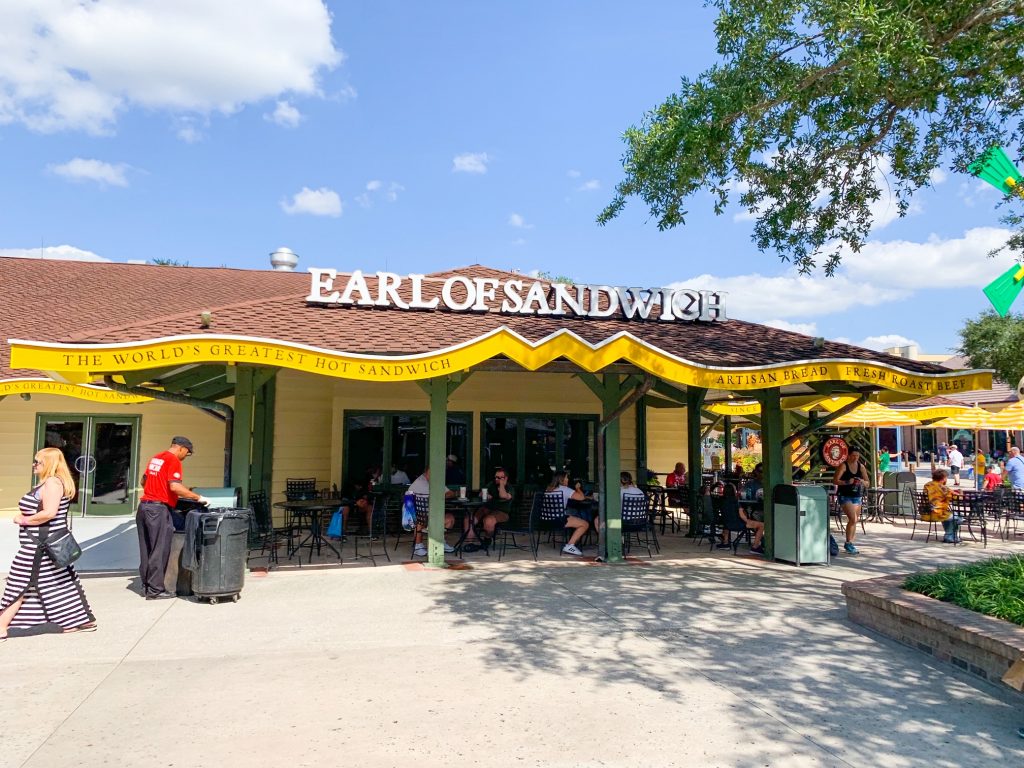 Amorette's Patisserie
Amorette's Patisserie is the best pastry shop at Disney Springs, filled with exquisite must eat goodies! We always recommend stopping in to see the the chefs decorating new treats, consider grabbing one of the incredible options for breakfast at Disney Springs!
Banana and Hazlenut crepes, vegetable croissants, and eclairs are just a few of the sweet treats that can be bought here, along with seasonal offerings. Limited choices on the menu are available for a snack credit if you're taking advantage of the Disney dining plans.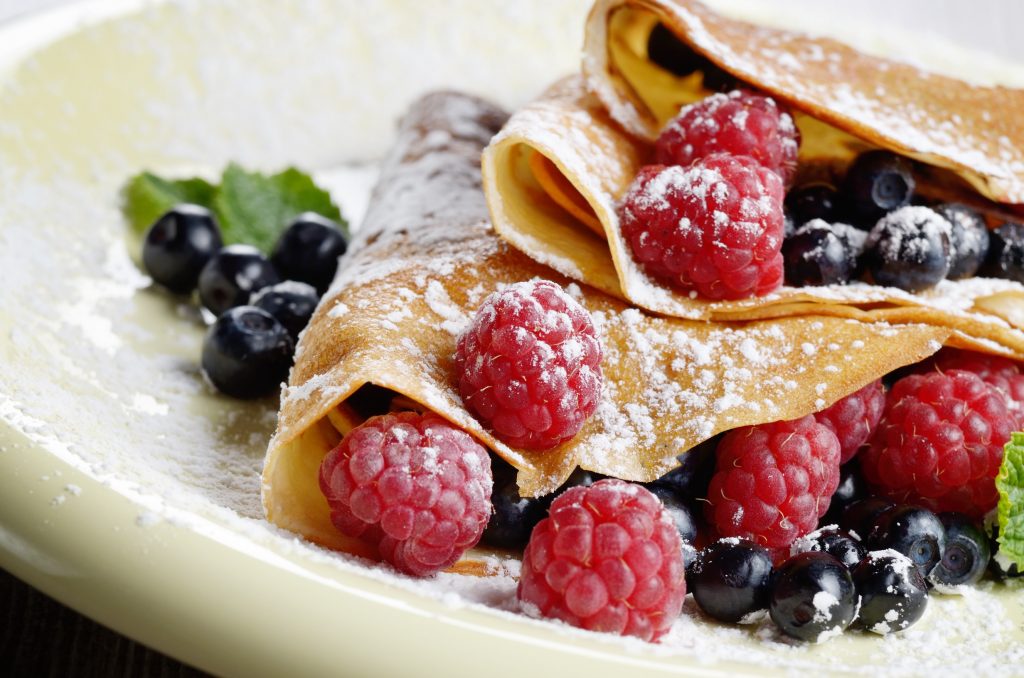 STK Orlando
STK Orlando in Disney Springs known for it's steakhouse cuisine with incredible seafood and American dishes. Located in The Landing at Disney Springs, this two story with an outdoor patio offers three separate dining areas to choose from and great atmosphere.
STK Orlando brunch at Disney Springs is only available on Saturday & Sunday, and is well worth it. While it is not available for those you utilizing the Disney Dining Plans, pricing is still moderate at $35-59.99 a person.
Personally, I'm a sucker for anything with tater tots, so getting started with the shareable Tater Tot Hash Browns at $13 a serving are a must for me.
If you're headed to breakfast at Disney Springs with friends, go all I with the 'All For the Gram' Portion of the STK Orlando menu. With plenty of delicious photoworthy eats sure to fill you and your friends up.
Just check out these dishes – The Seafood Platter for the Table, is priced per person at $38 with a minimum of two guests eating. The Hot Chicken and Waffle is $23 a serving, who doesn't love this classic dish? The Buttermilk Pancake Tower can serve up to 4 guests at $56, and is a tasty pilar of what breakfast should be made of.
Plenty of additional steak and seafood dishes make up this delectable menu for brunch at Disney Springs, but don't forget to grab one of the cocktails to complete the meal! Refreshing and fun, the Frose at $13 is one of our favorites!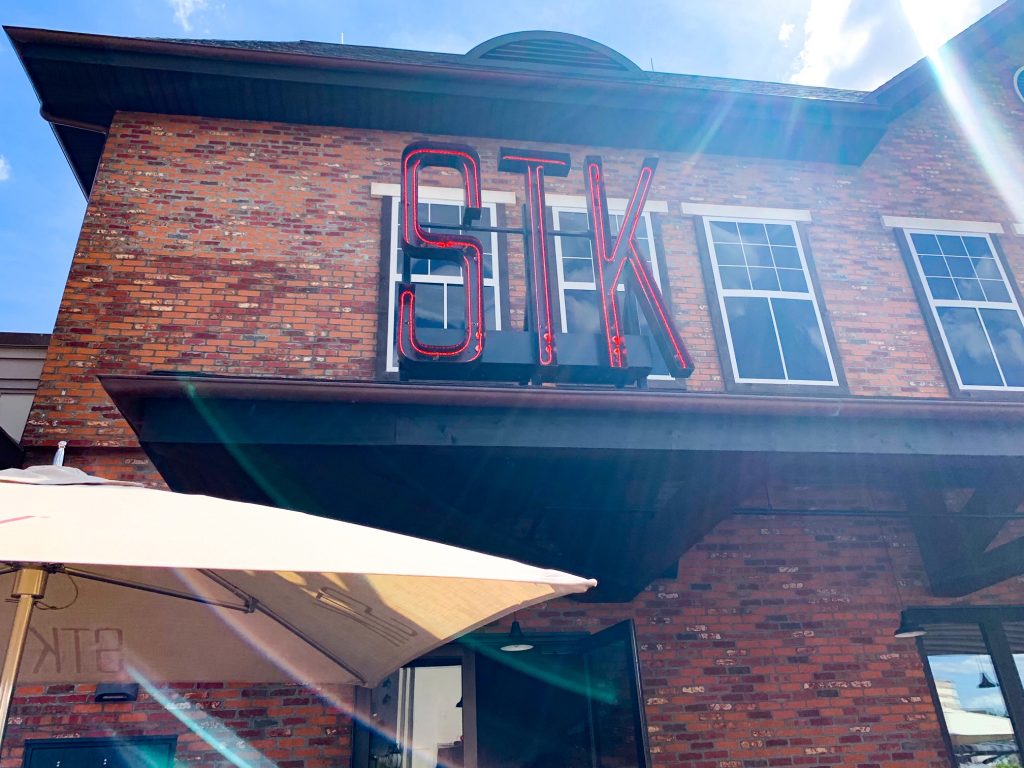 Raglan Road
If you've been following us, you may remember us telling you that Raglan Road is one of the best places to eat at Disney Springs, and their brunch menu does not disappoint! Available on the weekends from 9AM-3PM, this restaurant is located at The Landing, and a must do for brunch at Disney Springs.
The best part?! The Rollicking Raglan Brunch includes the live music this Irish Pub is known for, a true treat while you eat! From traditional Irish breakfast platters like the Three Times a Boxty, to the Bangin' Bangers & Mighty Mash, there are plenty of choices for brunch here. Don't forget to grab a cocktail from their must try Boozy Brunch beverage menu!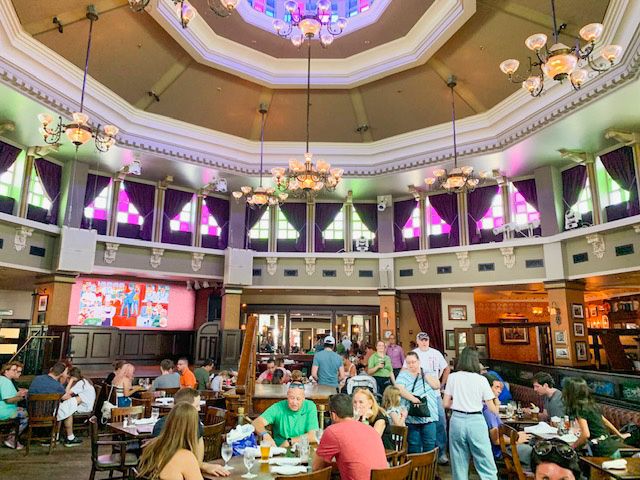 Starbucks
The Marketplace at Disney Springs hosts some of the best places to eat at Disney Springs, all in one location including some of your familiar favorites. For those of you who just can't live without your go to everyday coffee, Starbucks at Disney Springs Marketplace is a great Disney Springs breakfast grab and go option!
Hot breakfast sandwiches, protein boxes and scones are just some of the menu items available for breakfast at Disney Springs Starbucks. Make sure to check out the specialty themed drinks you can't find anywhere else as well!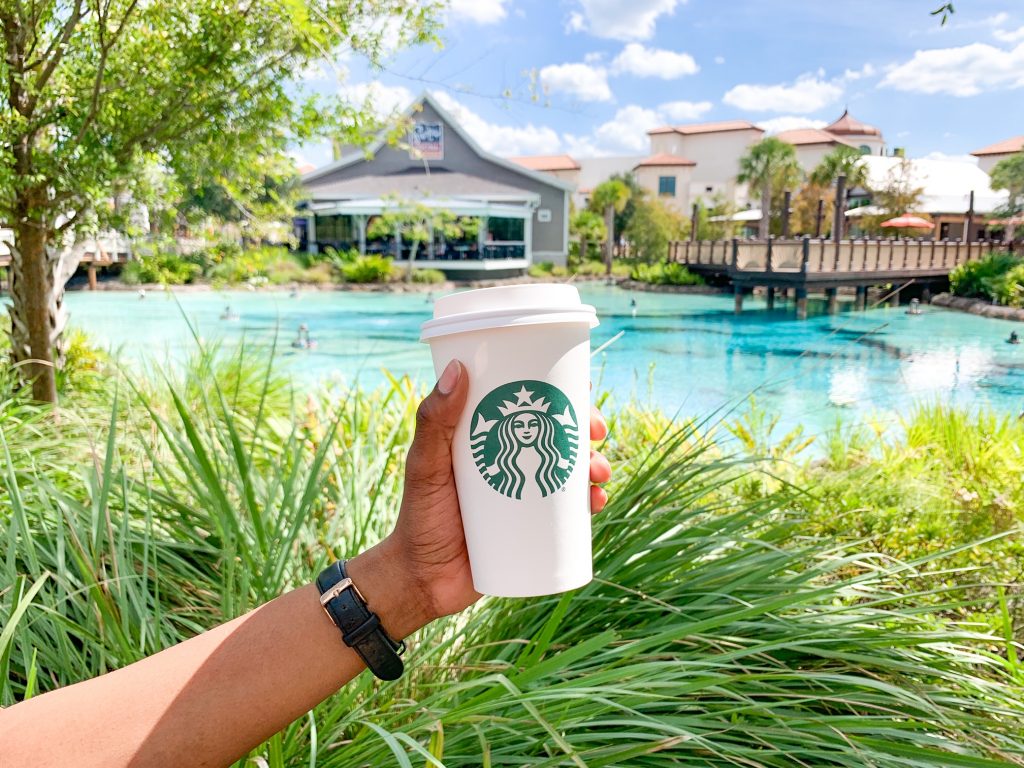 Wolfgang Puck Express
Gourmet quality breakfast favorites make this quick service location one of the best places to eat at Disney Springs. Located in the Marketplace, Wolfgang Puck Express offers incredible dishes the brand is known for, in a casual setting with affordable pricing.
Breakfast is available from 9-11AM with classic combos, a scrumptious breakfast pizza and many Of your basics like waffles, oatmeal and French toast all under $15. With indoor and outdoor seating options, and great value on the portions compared with price this is one to stop at for breakfast at Disney Springs.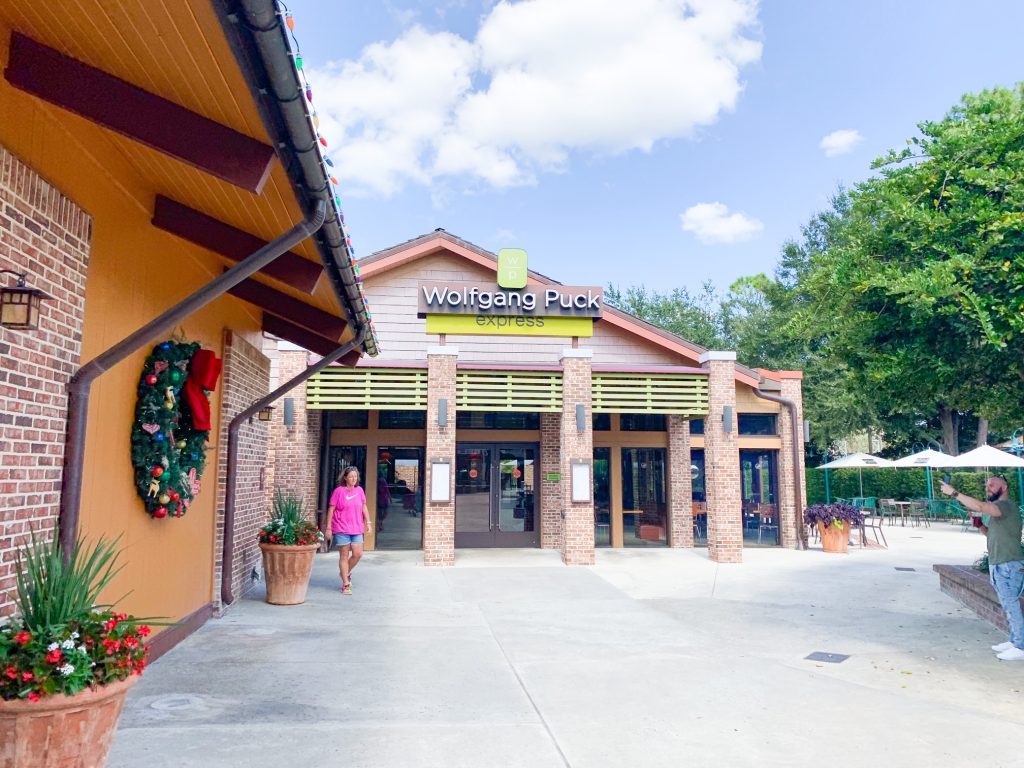 House of Blues
House of Blues Restaurant & Bar hosts a can't miss Bayou Brunch on Saturdays and Sundays from 10AM-1:30PM. Join the Brown Bag Brass Band for live music with that New Orleans feel as you take advantage of the Bottomless Mimosas and Bloody Mary's for guests over 21.
This incredible buffet brunch at Disney Springs is included in the Disney Dining basic table service and deluxe dining plans. Priced at $33 for adults and $15 for children ages 3-9, the buffet includes an omelet station, candied bacon and Andouille sausage and an unforgettable bread pudding with toffee sauce and bourbon hard sauce, delicious!
Sunday mornings brunch goes gospel with the addition of southern comfort foods to the buffet, hosted in the Music Hall for those with the purchase of a special admission ticket, reservations required.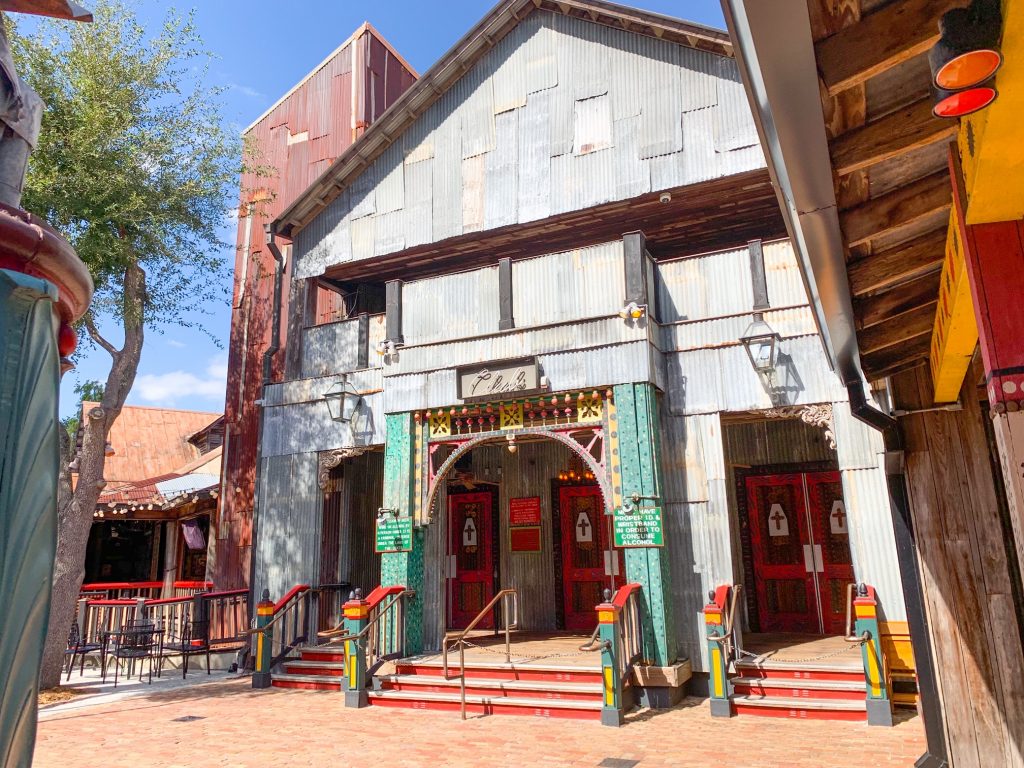 Which sounds like the perfect brunch at Disney Springs to you? Tell me what you like to eat for breakfast at Disney Springs, and what we need to try on our next trip!