If you are looking to rope drop and take your time in the mornings, or if you've overslept past your alarm and are rushing to get to your booked lightening lane, then don't worry! We have you covered with this list of places where you can have the best breakfast at Disney!
Breakfast is often cited as being the most important meals of the day. With a visit to the the parks, breakfast in Disney is even more important than ever to keep you going through the day.
We've put together the best places for breakfast at Disney so that you can spend a little less time with research, and a little more time having fun and enjoying some of the best food around.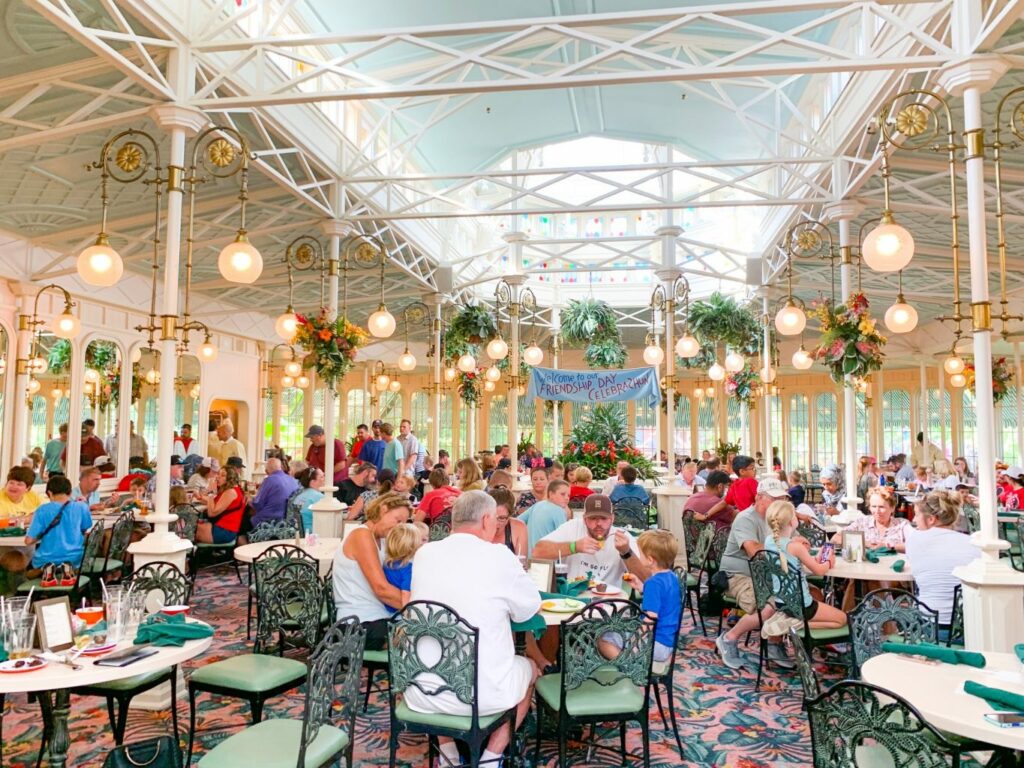 14 Best Places for Breakfast at Disney World
Best Magic Kingdom Breakfast at Disney
Crystal Palace
Crystal Palace in Disney's Magic Kingdom park is a classic, have-to-do-at-least-once breakfast experience for you and your family. Located just past Casey's Corner on the way to Adventureland, this beautiful Victorian-inspired building will have you feeling inspired to go on a new adventure!
The restaurant has gone through some changes since 2019, but it is still a great place to have a hearty breakfast with a little bit of magic.
One of the big changes to this restaurant is that this dining experience was originally a buffet.
There was a set-up on one side of the restaurant where guests could help themselves to a plethora of delightful foods that were both familiar and a little different, including the ever-famous Mickey Waffles!
However, when the restaurant reopened after an extended closure in 2021, it was a table service restaurant with a prefixed menu with a family-style delivery.
Many of the same great foods are on the menu, including customizes egg scrambles and omelets, and fresh-baked pastries, and they have a plant-based menu, but now you don't have to leave your seat to get the food you want!
But the real reason why this restaurant is one of the best places to get breakfast in Magic Kingdom is the character meet-and-greet! At this restaurant, your entire family can meet Winnie the Pooh and his friends! That's right!
You can meet some familiar faces like Tigger, Piglet, Rabbit, and Eeyore, while you enjoy a warm breakfast! With the comeback of meet-and-greets, you'll be able to hug all of your friends too on your next visit!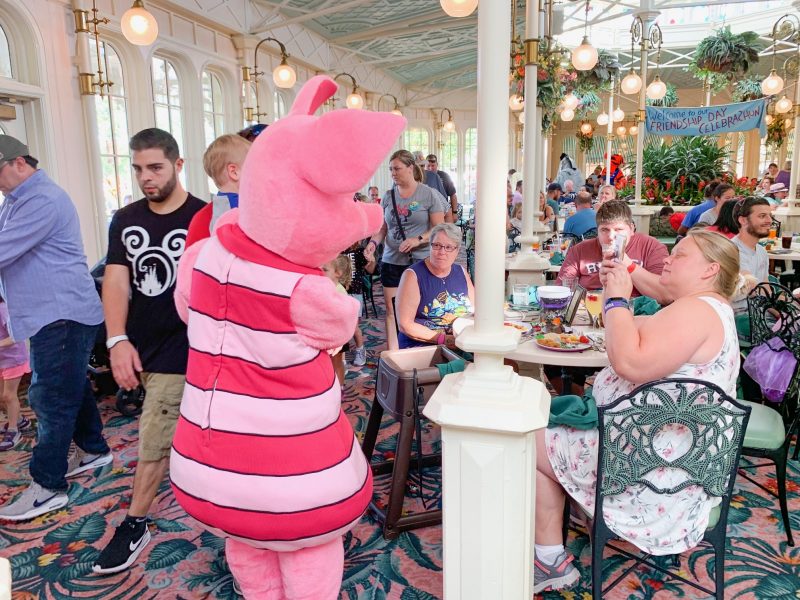 Sleepy Hollow
Sleepy Hollow is a quick-service restaurant located at the edge of Liberty Tree Square that blends in so well with the brick architecture that you may miss it upon first glance.
It is a great quick service that serves coffee, tea, and orange juice as well as breakfast sandwiches.
The fresh fruit waffle sandwich is a must-so at this location. Loaded with fresh berries, this fluffy waffle is drizzled with hazelnut spread and topped with whipped cream. It is so delicious and sweet, and a great way to start your day at the most magical place on earth!
Looking for other great quick service options to eat at in Magic Kingdom? Don't worry, we've got you covered! Check out our review of some of the best places to eat breakfast in Magic Kingdom!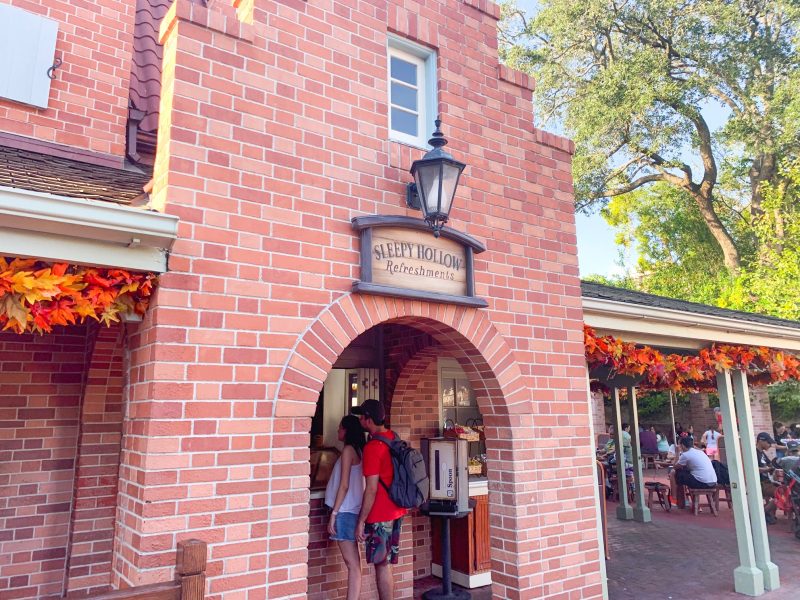 Gaston's Tavern
Tucked away in the back of Fantasyland, Gaston's Tavern is one of the best all-day menus that feature some mainstay breakfast items.
This quick service has both indoor and outdoor seating, completely themed around the animated Beauty and the Beast film. And yes, Gaston used antlers in his decorating.
The best item on the menu hands down is the Warm Cinnamon Roll. This Cinnamon Roll is big, fluffy, and loaded with a beautiful layer of frosting that makes this meal messy but delicious!
Pro Tip: If your Cinnamon Roll looks a little dry (because this does happen), ask a cast member for a side of icing to redress your bun. Plus, the earlier you get there, the fresher it will be.
Gaston's Tavern is on our list of best restaurants for breakfast in Magic Kingdom!
Want to check out some more eateries in Magic Kingdom during your stay? Then look no further than our review of the best (and worst) places to eat in Magic Kingdom!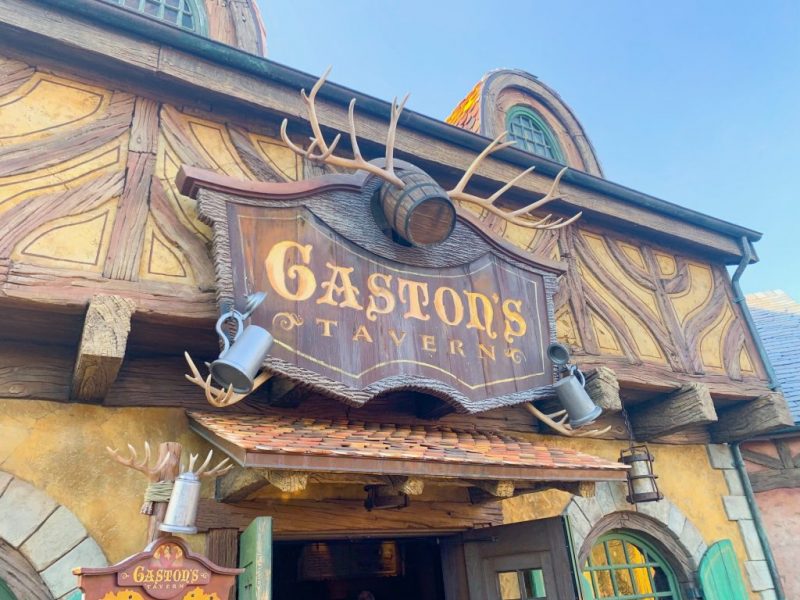 Best EPCOT Breakfast in Disney World
Garden Grill
As one of the few sponsored restaurants still in EPCOT (hosted by Smuckers), Garden Grill has some great offerings and is one of our picks for the best breakfast in EPCOT.
Sometimes this restaurant is forgotten about because EPCOT is the home of all the festivals where food is often the star, but if you are looking for a consistent win, this place is for you. This is also one of the best places to eat Gluten-Free AT Disney World!
Many EPCOT booths and restaurants don't open until the lunch service, but this is consistently one of the best places to get breakfast in EPCOT.
Garden Grill is a family-style dining service that is located in The Land pavilion. This restaurant overlooks parts of the Living with the Land ride, and it slowly rotates in a circle- which we think is really cool!
Many of the dishes that are served here use the vegetation that is grown in-house. That's right! The garden you tour through on the Living with the Lands ends upright on your plate!
There are lots of allergen-friendly options here, and there is a great character meet and greet opportunity! You can meet farmers Mickey, Chip and Dale, and Pluto! This is one of the rare locations where you will get a lot of character interaction and one-on-one time with the characters during your meal.
Want to know even more about this amazing restaurant as well as some bonus tips and tricks? Then check out our ultimate Garden Grill EPCOT review!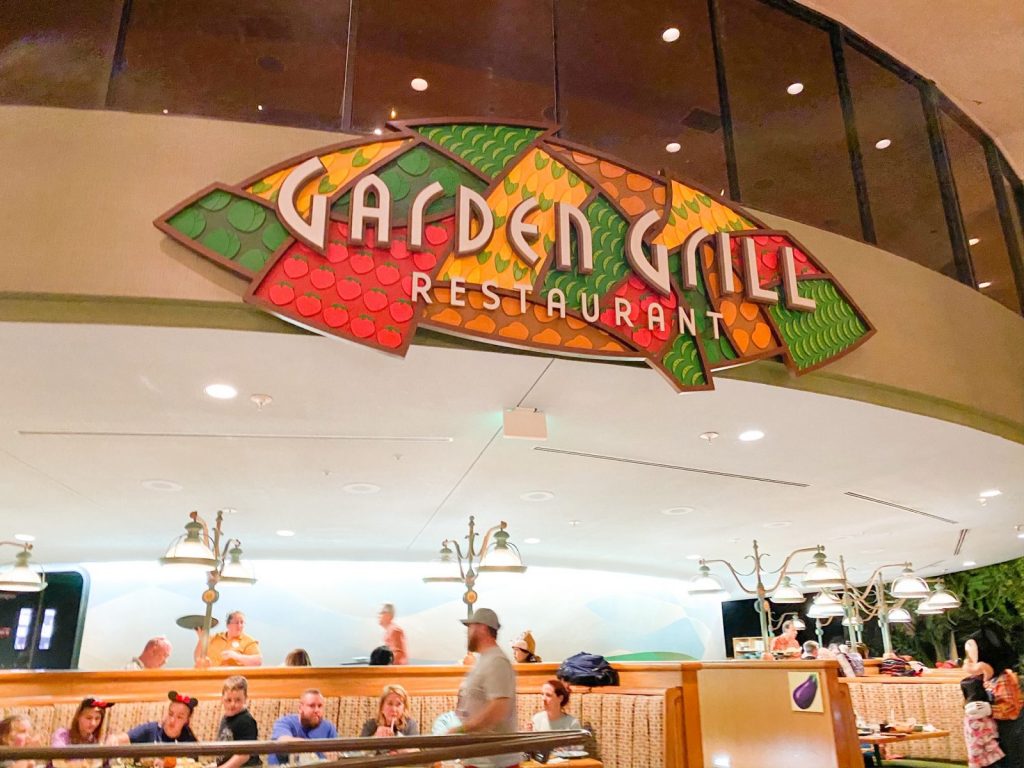 Les Halles Boulangerie-Patisserie
Les Halles Boulangerie-Patisserie is one of the best places for breakfast in Disney World.
Finding great food in this park is easy, but when it comes to the best breakfast place in EPCOT, this one is on our list!
Located in the back of the France Pavilion, this quick-service restaurant is one that you will not want to pass up.
Les Halles offers lots of carbs- lots and lots of carbs! There are rolls and loaves of bread, croissants, and pastries. You can order sandwiches, and a variety of sweet treats including chocolate chip brioche, yogurt mousse with fresh fruit, and beignets!
Regular park goers know that France is a must-top during any trip! You will want to make sure you get there early as the line for Les Halles starts building fast!
Want to eat breakfast around the world but not sure where to start? Then check out our recommendations for the best places to eat breakfast at EPCOT to start your journey!
Best Hollywood Studios Breakfast at Disney
Hollywood and Vine
Hollywood and Vine is the best character meal in Hollywood Studios. As far as the best breakfast at Disney World goes, this one is near the top of our list.
The menu here is fantastic! There is a selection of traditional breakfast meals, but there is now a plant-based menu that is also offered at this location which makes meeting the dietary needs of your party a little easier.
Some of the items on the breakfast menu include building your own burrito, Mickey waffles, and zucchini strata!
Set to the tone of the golden age of Hollywood, the feature of Minnie as the main character doesn't mean she is the only character here! Mickey, Goofy, and Pluto also make appearances at this breakfast.
Several times through your meal, the characters will come out, do a dance number together, and then walk around to each of the individual tables to talk, take pictures, and sign autographs! Needless to say, this is one of the best breakfast in Disney World!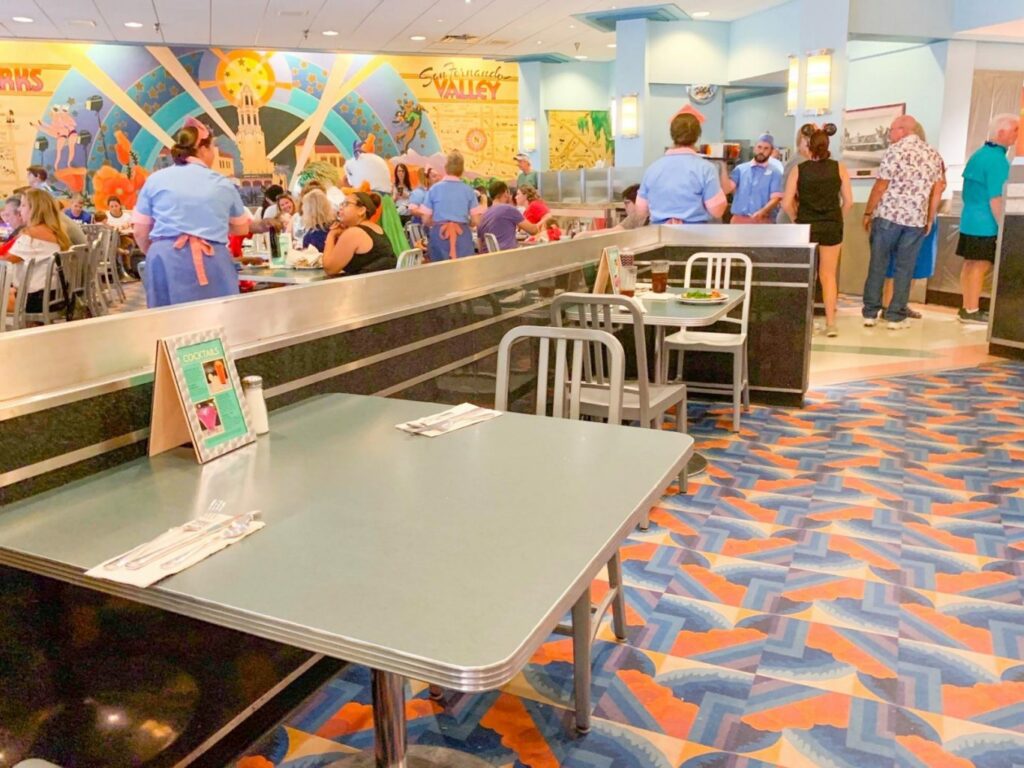 Woody's Lunchbox
Woody's Lunchbox is one of the newer places to eat and have breakfast at Hollywood Studios.
Located in the Toy Story land area, this quick-service restaurant is well known for their loaded potato barrels (aka tater tots), and their tarts.
The tarts are very similar to a pop-tart; a dry pastry outside with a filled center coated with a layer of icing on the top. These are often rotated in and out for flavors to match the season and are really popular amongst guests of this park.
If you are looking for a quick breakfast in Hollywood Studios, then this place has you covered.
Want to know about some of the other breakfasts offerings? Then check out the best places for breakfast in Hollywood Studios.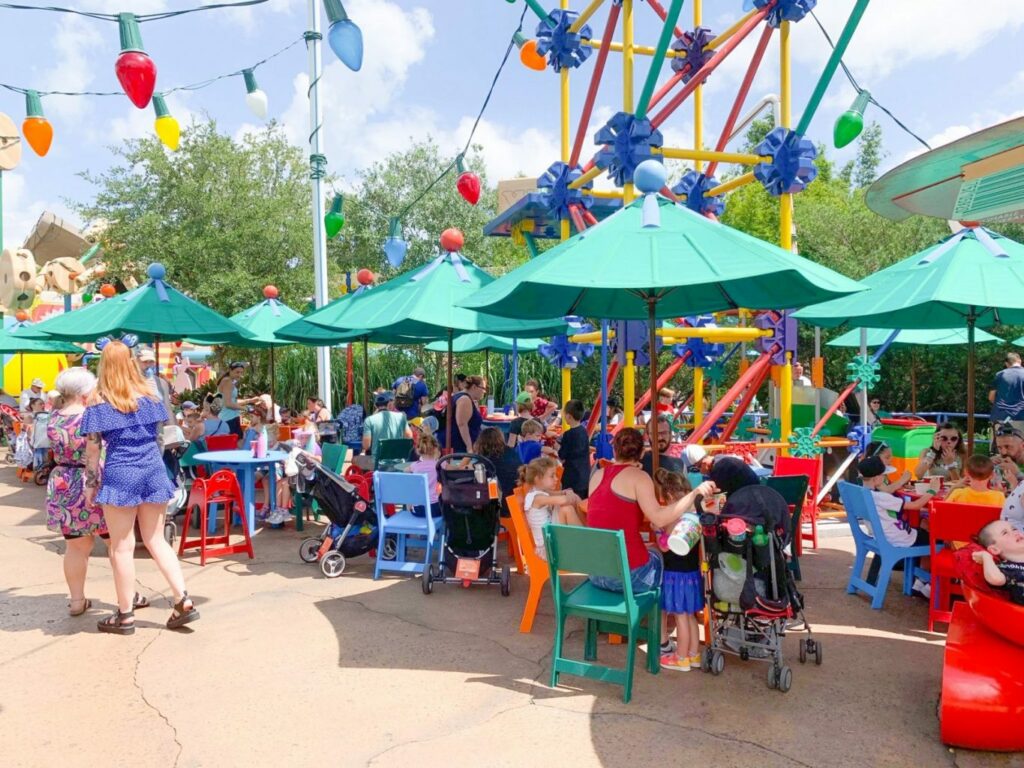 Best Disney Breakfast at Animal Kingdom
Tusker House
Tusker House is one of the best breakfasts in Disney World, and we mean it!
In June 2021, this restaurant transitioned from a buffet-style service to a family-style service. This restaurant offers a variety of classic favorites as well as some unique dishes you won't find anywhere else.
Some of the offerings include biscuits and gravy, Simba and Nala waffles, beef bobotie, and fruit chutney.
A fun part of this restaurant is that it is the character dining experience in Animal Kingdom!
You will have the chance to meet Mickey, Goofy, Donald, and Daisy, all in their safari outfits. They spend time going around to each and every table, sharing experiences with families for photos and autographs.
Your entire party will have a roaring great time at Tusker House.
Looking for other great adventures while in Animal Kingdom? Then check out the best Animal Kingdom Genie plus and lightning lane rides.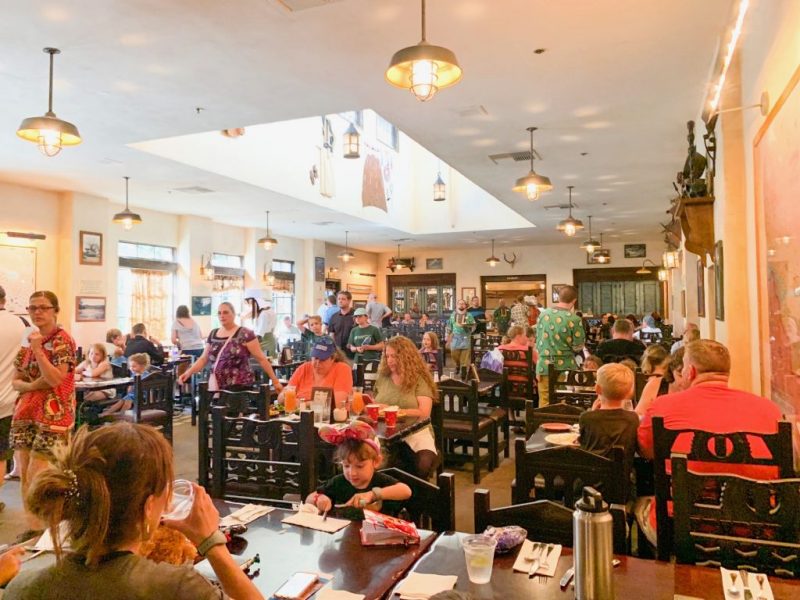 Yak and Yeti Cafe
Although the Yak and Yeti restaurant is popular, it is the Yak and Yeti Cafe next door that has a lot of great options for the best breakfast in Disney.
The menu at this quick-service restaurant includes egg and sausage English muffins, breakfast bowls with eggs, cheese, potatoes, peppers, and onions, yogurt and fruit, and a variety of beverages.
This is one of the more familiar menus in the park that you will come across. The service here is quick and friendly, and with dishes that will remind you of home, it is hard to beat this breakfast at Disney.
Curious about other breakfast options in the park? Then check out our comprehensive list of places for breakfast in Animal Kingdom.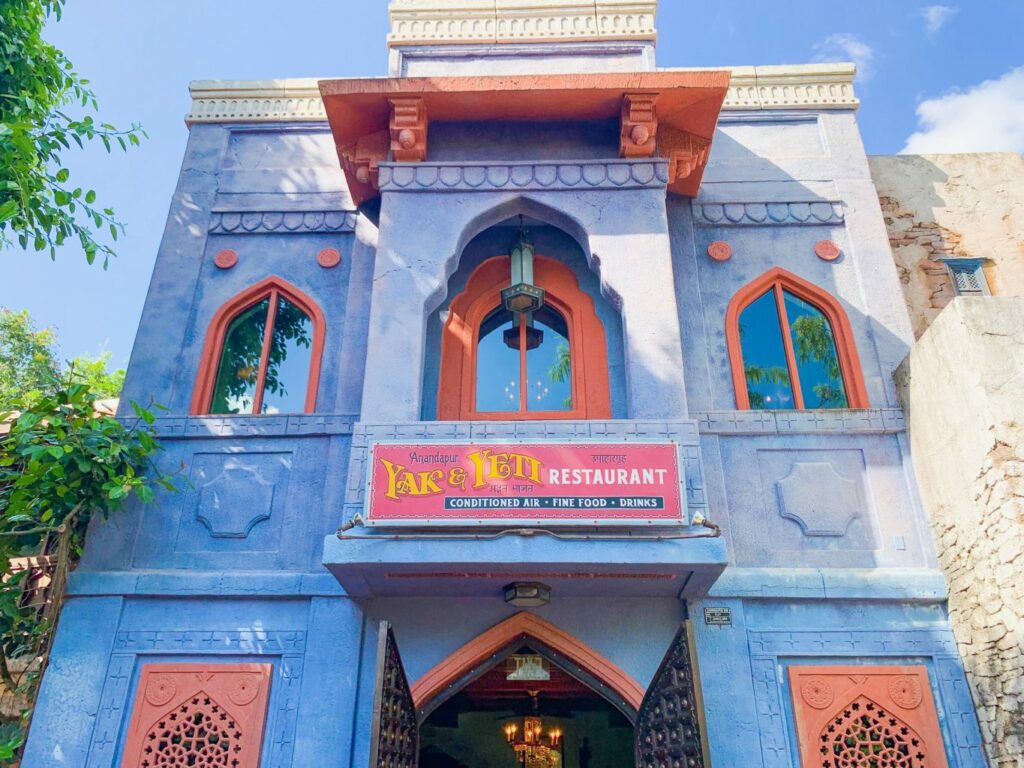 Best Breakfast at Disney Springs
Homecomin'
Homecomin' is one of the best restaurants in Disney Springs, and since they serve brunch, it had to be on our list of best breakfasts in Disney.
Run by Florida native and famous chef Art Smith, this restaurant will have you feeling like you've arrived home in the south.
Some of the popular dishes on this menu include the Grand-daddy Plate which is comprised of 3 eggs in any style, pecan-smoked bacon, cheddar cheese drop biscuit (which is made from scratch daily), and a choice of two sides.
Another dish is the Hallelujah Biscuit, which is made of an open-faced biscuit with Chef Art's famous southern fried chicken, two eggs over easy, pimento cheese, pecan-smoked bacon, all smothered in sawmill gravy, and your choice of a side. Talk about a filling dish!
Most of the items on this brunch menu are not going to be allergy-friendly, and there are not a lot of modifications that they can make to the dishes as they are pre-set by the chef. However, you can call and ask ahead of your visit to see what some of your options are.
If you are waiting for your table and it is going to be a while, then check out some of the fun things you can do in Disney Springs!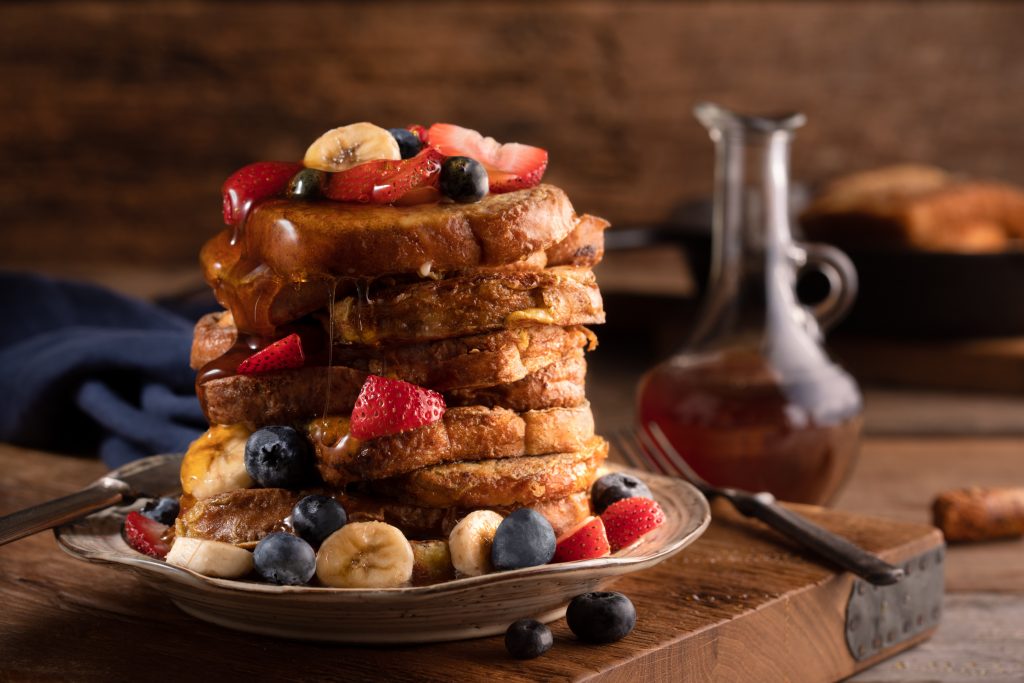 Everglazed
As one of the new eateries in Disney Springs, Everglazed is a don't shop tucked off the main path of stores and is near one of the Orange Garage parking exits.
This place is unique as it offers unique flavors to the traditional donut, and they are also bigger than a regular donut!
Some of the donut flavors include Cinnamon Toast Crunch, Peanut Butter Explosion, Fruity Pebbles, Purple Glazed Ube, and the Brooklyn Blackout.
If donuts are not your thing, then try one of their sandwiches like the Classic Egg and Cheese, or the Breakfast Sammie. And hey, if donuts are your thing and you want a sandwich, they can make your sandwich (or burger) on a donut of your choice!
This shop also has options for lots of beverages including a variety of coffee, cocktails, and specialty beverages that will go great with your morning meal.
Looking for even more fabulous places to have breakfast? Then check out our in-depth list of Disney Spring Breakfast and Brunch options that you can explore on your next trip!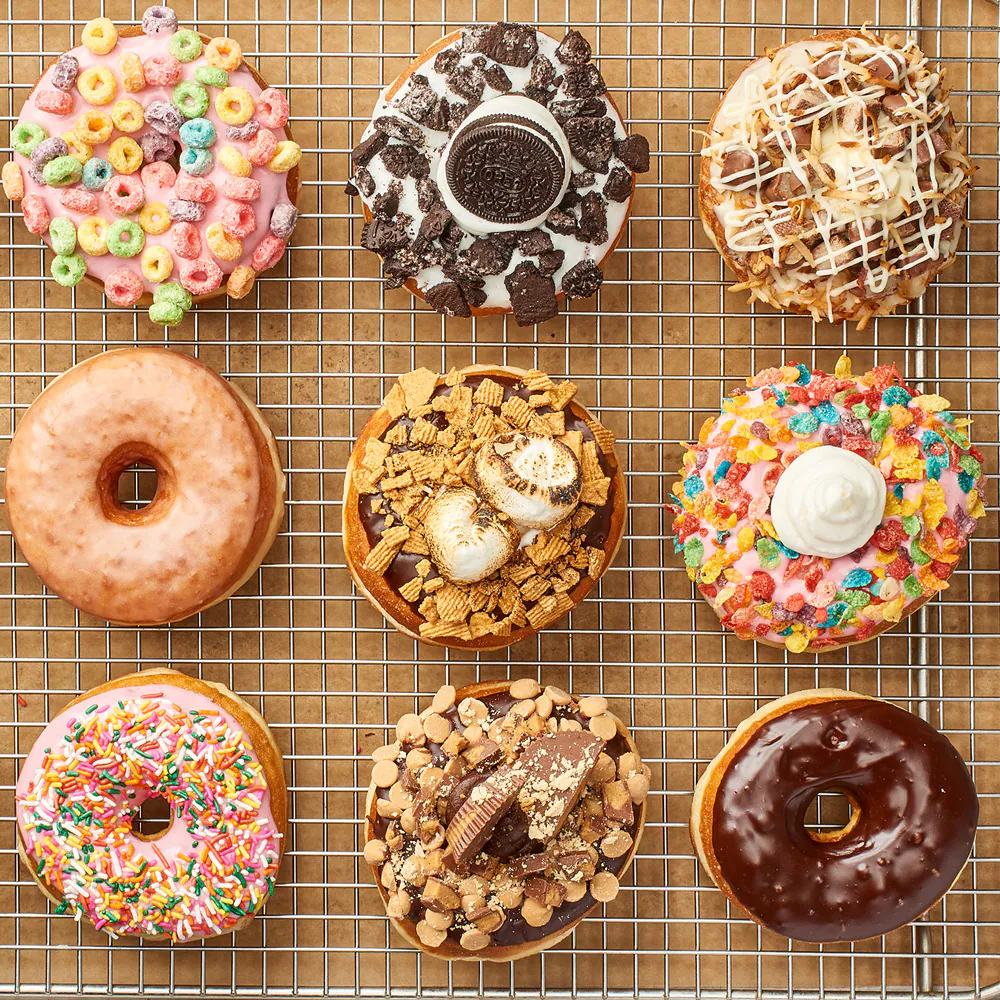 Best Breakfast at Disney Resorts
Ohana
Ohana is a popular restaurant for its highly rate meals, so it makes sense as to why we would include this on our list of best places for breakfast in Disney.
Before the big closure, this restaurant was a character dining meal restaurant where characters like Mickey and Minnie along with some of their friends would stop by your table and interact with your party.
However, when the restaurant reopened in 2021, all signs of character dining were gone and have yet to return as of May 2022.
The food has returned, and it is still highly reviewed by guests!
Many people are a fan of the Hua Paka, which is a delectable breakfast skillet, as well as the Uala Kahiki, which is a loaded breakfast skillet that highlights fried potatoes.
Another big draw here is the POG juice. POG juice, is a combination of pineapple, orange, and guava juice, that makes a beverage not overly sweet and not too tart. It is a fan favorite and a must try at this restaurant.
Curious about other hotels you can use the monorails for? Then check out our list comparing all of the Disney Monorail Hotels so you can figure out where to book your next stay.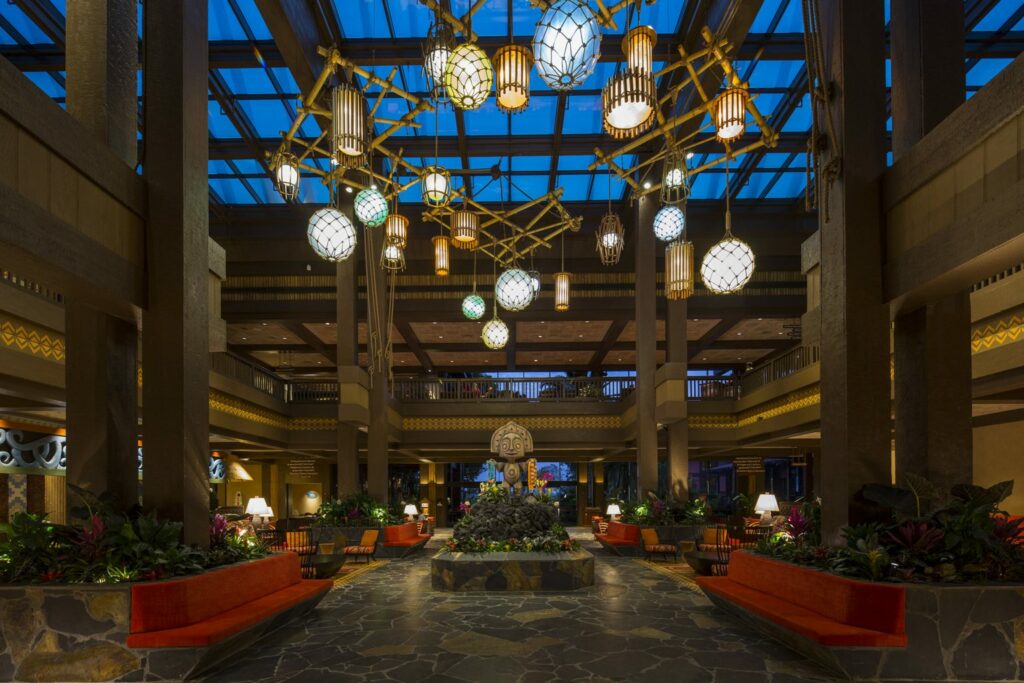 Topolino's Terrace
Located at the top of the Riviera resort, Topolino's Terrace is a character meal that is very different than the others, making it one of the top resturants for the best breakfast in Disney.
High end food like Gryere cheese quiche, sour cream waffles, and smoked salmon are regulars on this menu. There is also a number of French pastries including croissants and chocolate filled pastries. The table service has the food and the variety of coffee are brought to your table directly, that way you don't miss a minute with the characters.
At Topolino's, you get to meet Mickey, Minnie, Donald, and Daisy, each focusing on a different kind of art! The outfits are really unique and cute!
The view from this restaurant is breath taking, and the French Riviera theme brings some of Walt Disney's overseas travels to life.
Between the food and the characters (not to mention the view), this is a restaurant you don't want to miss visiting to eat for breakfast!
Planning your next visit already and looking for great places that have access to the skyliner? Then check out our post comparing all of the Disney Skyliner Hotels so you can decide what place is the right one for you!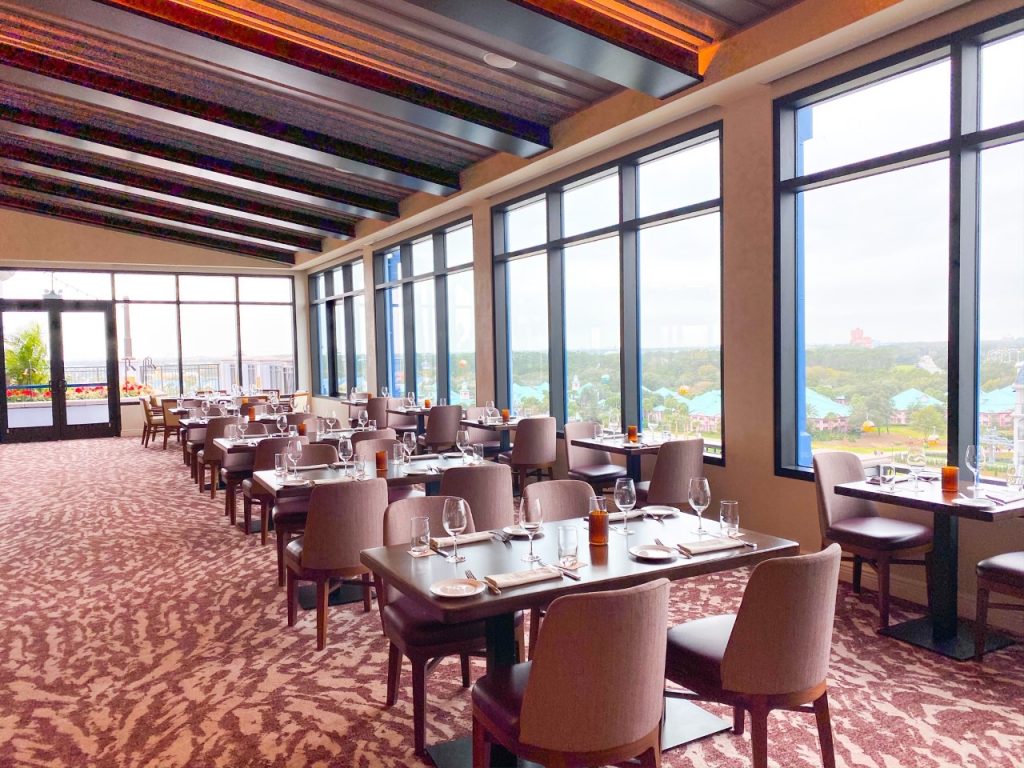 Trattoria al Forno
Trattoria al Forno is an Italian-style restaurant that is located along Disney's Boardwalk hotel.
Sadly, like several restaurants on our best breakfast at Disney list, this location used to be a beautiful character meal but has not been since it has reopened.
Instead, it remains a table service location where you can sit down in the AC and enjoy an elegant meal in a beautiful atmosphere .
The food here it absolutely amazing! There is an Oak-grilled steak with eggs, a harvest fruit plate (so much fruit!), caprese omlet, sunrise breakfast pizza that has several breakfast meats and along with eggs and bell peppers, and there is a mouth-watering Tiramisu-style French toast!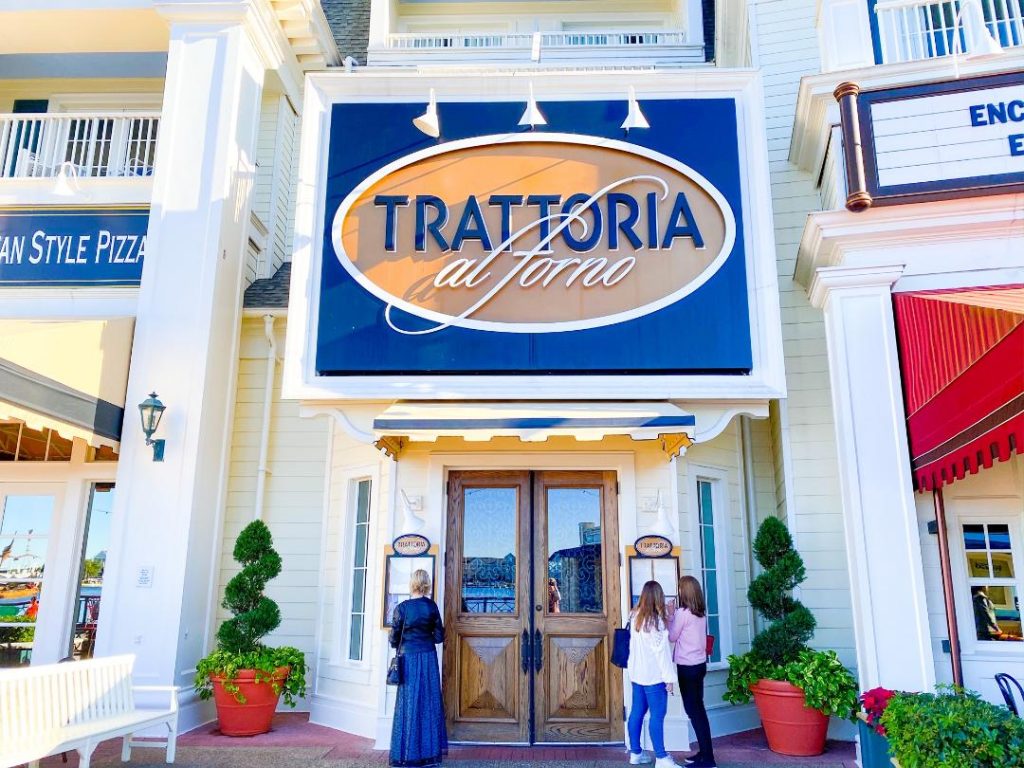 The best breakfast in Disney is anywhere you want it to be, but we hope that this list we have put together will help you narrow down what to pick the next time you are in Disney World.
It doesn't matter if you are looking for something different or you are looking for something a little closer to what you would have at home, Disney has a breakfast meal that is perfect for your party.
Speaking of trips, if you are already planning your next trip and you are not sure what to pack, don't worry! We have you covered! Check out our ultimate Disney packing list to make sure you have everything you need before you get there.