October is the time to celebrate with pumpkin flavored everything, creative costumes, and some good 'ole trick-or-treating! What better place to do all of this than at Disney! Disney in October is a fantastic time to go for all you fall lovers!
There are a good number of things and activities to do and see while visiting in October. With a couple of special events only set in the fall, you will find plenty of ways to keep yourself entertained! Whether you want to trick-or-treat at Mickey's Not So Scary Halloween Party or try food from around the world at Epcot International Food and Wine Festival, there is something to do for everyone.
We want to share with you everything you need to know when it comes to traveling to Disney in October. We will tell you about the weather, crowds, special events, and more! Things are constantly changing at Disney, so it's good to be prepared depending on the month you are planning on going. October is a popular month to visit because of all the beautiful fall decorations and amazing events! So read on to learn how you can combat this fun filled month and get the most out of your vacation!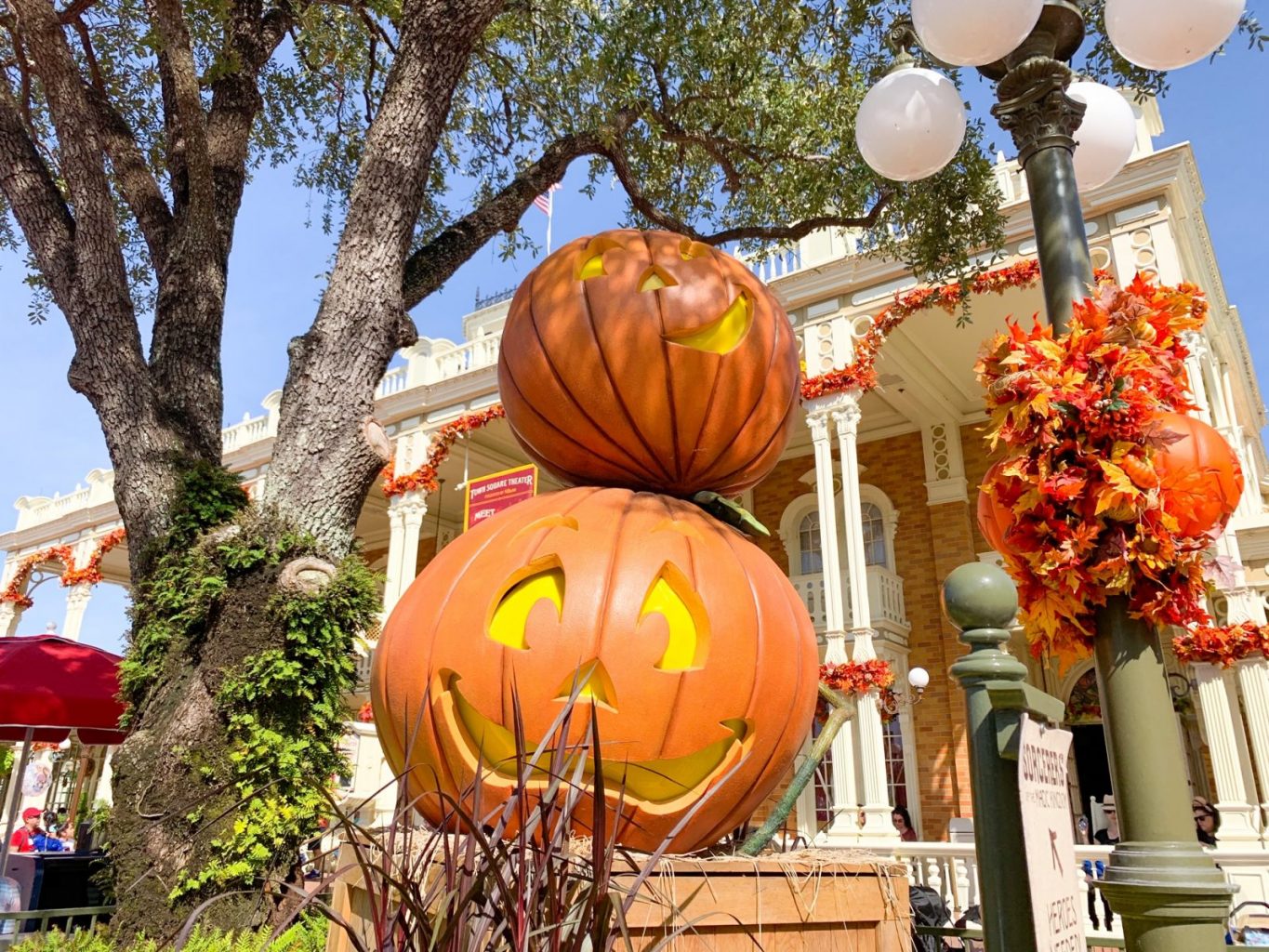 The Ultimate Guide To Visiting Disney In October
Disney World Weather In October
If you are looking for a somewhat cooler time to visit Orlando that isn't in the summer, going in October is a great time to go! It can still get pretty hot during the day, but nowhere near as bad as May through August. As long as you are prepared for hot days and the possibility of cooler nights, you will be all set!
The highs and lows are pretty average when it comes to Disney weather in October. The average high is 85°F and the average low is 68°F. This might still be a little too hot for people who live in the north, considering their high is probably Florida's low. However, it can be a nice escape from those colder temperatures to give you that tropical feel.
The weather for Disney in October is neither bad nor good. It is just average, and depending on where you are visiting from, it can be too hot or the perfect fall temperature! The humidity is also a lot lower than in the summer, making it feel a little less gross during the day.
One of the top reasons you should visit in October is because storm and hurricane season will have just ended! The average amount of rainy days in October at Disney is 5 days out of the month. If you have ever been to Disney in the summer, you know it can rain any day out of the week without any warning! It's nice to go during a time with less rain, therefore less to worry about.
The best thing you could do if you are planning a trip to Disney in October is to pack clothes for warm weather, but also bring a light jacket and some pants. This way you will never be caught in a bad situation.

October Crowds At Disney World
Depending on the time you want to visit Disney in October will change how crowded it is. All of October is at least moderately crowded, but it gets worse the closer the date is to Halloween. If you plan on visiting in October (and you don't care about being there for Halloween), we suggest visiting in the first or second week. Not only will Mickey's Not So Scary Halloween Party tickets be cheaper at the beginning of the month, it will be a little less crowded as well. Visit our crowd calendar for a full view of crowd levels throughout the year.
If you are planning on going to Magic Kingdom during your trip, try going when there is a party in the evening, especially if you have a park hopper ticket! The park before the party starts will be less crowded than if you went on a non-party day. Party goers can't get into the park until 4 p.m., so this gives you some time to get more done while it's not as crowded. Once the party starts, you can use your park hopper to go to another park!
Do you want to go to Mickey's Not So Scary Halloween Party but want to go when it is less crowded? Then we definitely don't suggest going on Halloween. This is the busiest party day. If you want to avoid as much people as possible at a party, buy tickets for a party during the middle of the week at the beginning of October. The weekend parties are much busier, so going in the middle of the week helps a lot!
Another reason Disney in October can be a little more crowded is because of the Epcot Food and Wine Festival. This is a very popular event that brings visitors from all over to attend. The weekends are the busiest for Food and Wine because this is when the locals visit. Going during the week will save you a lot of pain from dealing with crowds.

October 2020 Special Events At Disney
Spooky season begins as soon as October hits, and one of the best ways to get in the spirit and celebrate is a trip to Disney World! Though Halloween at Disney is nowhere near as intense as Christmas at Disney (check out our Disney in December article), there are still a lot of fun activities and special events to celebrate the frightful month of October!
The biggest event in honor of Halloween is Mickey's Not So Scary Halloween Party at the Magic Kingdom! This party is a lot of fun and is definitely popular among guests! Show up in your spookiest costume or wear themed and comfortable family outfits! This is the one event where adults are allowed to dress up in their favorite costumes and express their true Disney self!
This party runs from August 13 to November 1, and it occurs on select dates. The tickets cost between $85 to $150 dollars depending on the date, with children costing $5 less than the date's ticket price. Tickets are already on sale for October 2020! Head over to the Disney website to buy your tickets now!
August and September are the cheapest months to go, but if you are planning a trip for October and really want to save some money, go during the first two weeks! The tickets get increasingly more expensive the closer it gets to Halloween, so keep this in mind. October 31 is the most popular date to book the Halloween party, so if it is important for you to go on Halloween make sure to book these tickets as soon as you decide!
There are so many exciting things for you to see and do at Mickey's Not So Scary Halloween Party! The activities include:
Trick-or-Treating
Special Character Meet and Greets
Boo-to-You Halloween Parade (for those of you who have seen this parade, I bet you can hear the song playing in your head!)
Hocus Pocus Villain Spelltacular Stage Show
Disney's Not So Spooky Spectacular Fireworks
Themed Ride Overlays
The themed ride overlays in the past have included live pirates during the Pirates of the Caribbean ride, Halloween themed music and lighting to drive you mad during Mad Tea Party, new Halloween interactions during Monsters Inc. Laugh Floor, and complete pitch black darkness with themed music on Space Mountain! These ride overlays are super exciting and add to the Halloween thrill!
Over at Hollywood Studios, things aren't quite as thrilling as the Halloween party, but they have special Halloween themed dining for you to enjoy! At Hollywood & Vine, guests will usually meet Disney Junior characters during their meal. However, during Halloween you will meet the fab five in their favorite Halloween costumes! Even though Hollywood Studios doesn't do much in regards to Halloween, this is a great way to add some festive fun to your day at the park!
If you need a break from the frightful activities, consider heading over to Epcot for the Food and Wine Festival! This festival has become a staple fall event! It runs from August to November, so you have plenty of time to attend. The beginning of October is a great time to go if you want to miss the crowds of the upcoming holidays.
Epcot Food and Wine Festival is a chance to try new food and drinks from around the world! There will be food booths in each Epcot country, plus extra booths in between and all around. At the entrance of Epcot, you can pick up a booklet that tells you all of the booths and the snack items at each location. This is a wonderful guide to help you decide your must do booths! There is so much to try you will be full by the time you are done with World Showcase!

October Ride Closures And Refurbishments
NOTE: PLANS ARE ALWAYS CHANGING IN DISNEY SO CURRENT INFORMATION MIGHT BE DIFFERENT FROM THE INFORMATION WE HAVE IN OUR ARTICLE
Ride closures and refurbishments are constantly changing or being added at Disney World, so this is the information we have as of now, but it will most likely change once it gets closer to October. This way you can be a little prepared for what to expect. However, we do recommend checking the Disney website closer to your vacation date to see if anything has changed!
There is not a lot happening in regards to ride closures or refurbishments for Magic Kingdom in October. The Walt Disney World Railroad closed down once Disney started to build their new Tron coaster ride. There is no reopening date set for the railroad, but it will most likely be in 2021.
There isn't anything going on in Animal Kingdom when it comes to closures or refurbishments, but there has been a seasonal change. Primeval Whirl has become a seasonal attraction, and we don't know if this is how the ride will stay or if it will eventually be closed down permanently.
The biggest changes are happening over at Disney's Epcot! Future World is getting a full on rebranding. Pretty much all of Future World has already been closed down including Club Cool, Electric Umbrella, and more. Mouse Gear has been closed and moved to a temporary retail location. Also, Spaceship Earth is set to close on May 26 to be refurbished. There is no opening date set at the moment, but it will most likely open in 2022.
The earliest the Future World make-over could be done is in 2022. There are a lot of unsightly construction walls placed all around the area in the front part of the park. Even though it might not look like much now, the new Future World is supposed to be mind-blowing with some of the best attractions we've ever seen. This wait will definitely be worth it!

October 2020 Discounts And Promotions
There are a few discounts and promotions offered during October at Disney. Planning and booking a Disney trip can get expensive very quickly. Taking advantage of as many discounts and promotions you can will really save you a good chunk of money. This means more money for souvenirs!
In the past, Disney has offered a couple of discounts and promotions for all guests to have access to in October. During this month, they have offered room only discounts for guests to take advantage of. This can depend on the time you are planning on going and the place you are planning on staying at. Being flexible with your dates and hotel location will give you a better chance at scoring these discounts! If you have already booked your stay for October, but find another offer for a lower price, you can always call and ask to change your reservation to save yourself some money!
In the fall, Disney usually offers a Free Disney Dining Plan promotion. This is an add on to your reservation and will give you a dining plan for you and the people in your room. This is a great promotion to take advantage of because it can really cut down the costs of your meals!
There are a couple of discounts that are officially posted on the Disney site for 2020. Disney is offering specially priced tickets for retired and active U.S. Military members. There is a 4, 5, or 6-day ticket option for members to choose from. These tickets are park hoppers, and members can purchase them now through the second week of December, therefore including October. Members can add on Memory Maker at a discounted price of $98 now until December 18. Disney is also offering special hotel room rates from now until December 18 for U.S. Military Members.
If you are an Annual Passholder, you can save some money on your Mickey's Not So Scary Halloween Party tickets! If you purchase your tickets in advance, you will save an extra $5 per ticket. This can really add up if you have a big family, so definitely take advantage of this discount!

Spending Halloween At Disney
When it comes to Halloween at Disney, there is no better way to spend your time than at Mickey's Not So Scary Halloween Party. None of the other parks do very much in regards to Halloween, so Magic Kingdom is where you need to head to get your Halloween fix! We are going to go over a few tips to make the most of your Halloween party, but you can also visit our Ultimate Guide to Mickey's Not So Scary Halloween Party for even more in depth information!
There is so much to do at the party, it can be hard to do everything. However, we can help you maximize the amount you can get done in the short amount of time! We will tell you one way you can plan out your party to try everything, but you can always change it up to do what works best for you and your family!
The Halloween Party technically starts at 7 p.m., but you can get in as early as 4 p.m. Use this time to get on rides so you don't waste your time during the party. If you want to meet some of the special characters, get in the lines early! Lines for unique characters will get long very quickly, so meeting them at the beginning of the party is the way to go. Some characters will even come out way before the party start time, and this is your opportunity to meet some of your favorites!
As soon as the party starts, go around to all the rides with themed overlays! Other people will be distracted with trick-or-treating, so it will be less crowded in these ride lines. Then go around and try party specific foods and treats! These are food items and drinks that are only available for party guests, so they won't be served until the party starts.
Trick-or-treating later in the evening will save you some time in the lines and will save your arms. The bags can get heavy! You can also go through the lines multiple times to stock up!
The end of the night is when you will want to see all of the entertainment! The best way to see all of the shows with the least amount of crowds is to first watch the Not So Spooky Spectacular firework show, then to watch the second Boo To You Parade, and lastly the midnight showing of the Hocus Pocus Villain Spelltacular. The show will end around 12:20 a.m., and it will be time to lug your candy and treats back to your hotel!
This is really the best way to spend Halloween at Disney. There is nothing quite like this event, and it will really get you in the Halloween mood. After the party is over, you will be wondering when you can go again!

What To Wear At Disney In October
Disney is known for having inconsistent weather, so it is good to be prepared for any situation you might encounter! Thankfully, October isn't as rainy as the summer, but it would probably be a smart idea to bring some ponchos or umbrellas just in case. The real worry is clothes! October is the perfect time to dawn your festive and spooky attire, but we also know you want to do this comfortably! Check out our Packing List for even more recommendations!
The best way to stay comfortable while walking around the parks is to have a good pair of shoes. If you don't like tennis shoes, some supportive sandals are a solid choice. This way your feet don't get too hot during the Florida heat! We recommend the Vionic Farra Sandal. These are both comfy and stylish with multiple colors to choose from! For men we recommend Nike Men's Tanjun Sneakers. These sneakers are lightweight and affordable!
Bringing a light jacket is also a smart decision. Even though it can get relatively hot during the day, you never know when Florida will surprise you with a cooler than average night! Having a light jacket on hand will help you avoid any unnecessary purchases while on Disney property.
Now on to the fun clothing items! Disney in October is the perfect time to wear some festive clothing to match the holiday! This Disney Halloween 2020 shirt will be just what your next October vacation needs! Wear one yourself or get them for the whole family! This shirt is especially great to wear during Mickey's Not So Scary Halloween Party if you aren't in the mood to dress up in a costume. Also, take a look at our 20 Unique and Hilarious Disney Family Shirts to find some wonderful matching shirts!
If you want something subtle but still a little spooky, these Haunted Mansion leggings are just for you! The pattern is simple yet obvious, and you could pair them with a basic tee to allow the leggings to really shine!
Did you really go to Disney if you didn't wear Mickey ears while there? Mickey ears have become a huge staple of the parks, and now there are more designs than ever to choose from! We found these cute spider web Mickey ears to adorn during your trip in October. There are also multiple colors available!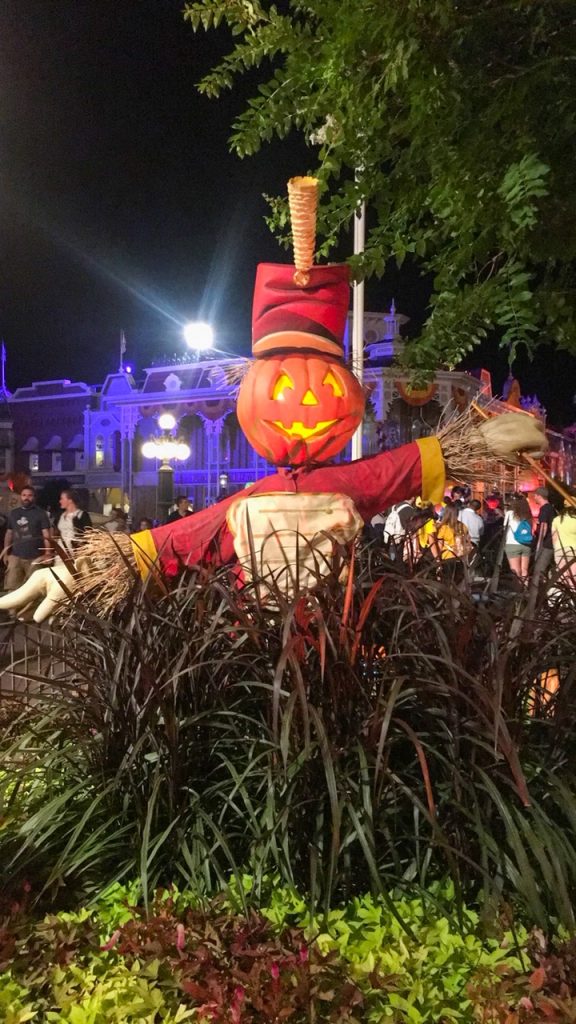 We hope all this information has helped you when it comes to planning a trip to Disney in October! There are so many fun and festive events and activities to experience, you can't go wrong with whatever you decide to do! If you decide to go to Mickey's Not So Scary Halloween Party, be prepared to haul bags full of candy back to your home! You'll be on a sugar high until the end of December! Have a spooktacular time!