If you are looking for the best places to enjoy vegan Disney World options, then look no further! We've compiled a list of some of our favorite places to get vegan food while on vacation. We have included snacks, quick service meals, and table service meals in our list so there are plenty of choices for everyone eating vegan!
Whether you are vegan, vegetarian, or have dietary restrictions like dairy allergies or issues, trying to find vegan food can sometimes be a challenge. We've made this list to make it easier for you to find plant-based, non-dairy, and meat-free options while on vacation. Don't forget to read our post for tips on managing food allergies at Disney if you have more questions!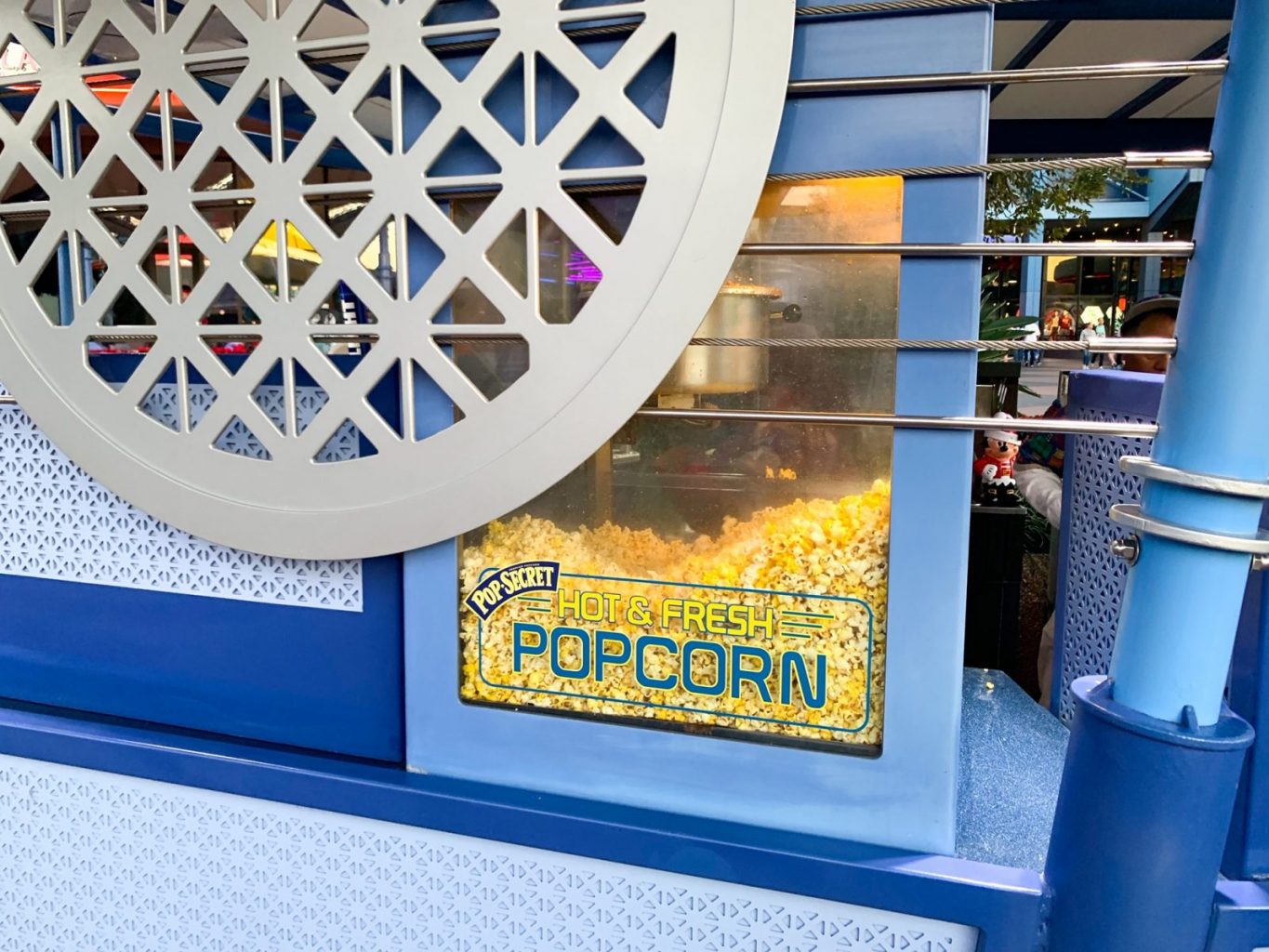 Tips for Eating Vegan at Disney World
When looking for vegan or plant-based options at Disney World, look for the little green leaf symbol on the menu, Disney insures that these dishes are made without animal meat, dairy, eggs, and honey.
The best advice we have for eating at vegan at Disney World is to ask ask ask!
At any Disney restaurant you can ask to speak to the chef or a member of the chef's staff. You can explain your dietary needs and concerns, and the chef can help you figure out what is available on the menu for you to eat.
You can also ask about items that may not be on the menu. There may be several off-menu items available, and they may apply to your dietary needs. It's always worth asking to see what you might want to try, and a lot of the table service restaurants have meatless options like Gardein fishless filets, "chicken," and beefless tips for substitutions.
Although this isn't always the case, table service restaurants tend to be more accommodating for vegan diners. They have more menu options, may have scratch kitchens, and will have some other choices for you besides salads and Impossible burgers.
With that being said, don't count out snack stands, bakeries, and Starbucks locations. You can always ask a Cast Member to find out what's vegan, and thankfully Starbucks has several non-dairy milk options for your coffee fix!
And if you plan on eating at a quick service restaurant, mobile order to make your life easier! It helps with the current global situation and crowd control, lets you order your food in advance, and allows for customization right from the My Disney Experience app!
You may also have more luck eating at international restaurants at Disney World. Asian, African, and Indian restaurants often have naturally vegan options – and most of these have much more flavor than you'll find on some of the other menus.
Many restaurants in Disney World have "accidental" vegan foods, especially bread services! Not to mention classic snacks like Dole Whip, the Mickey Pretzel (without cheese sauce), and the Pop Secret popcorn are vegan as is!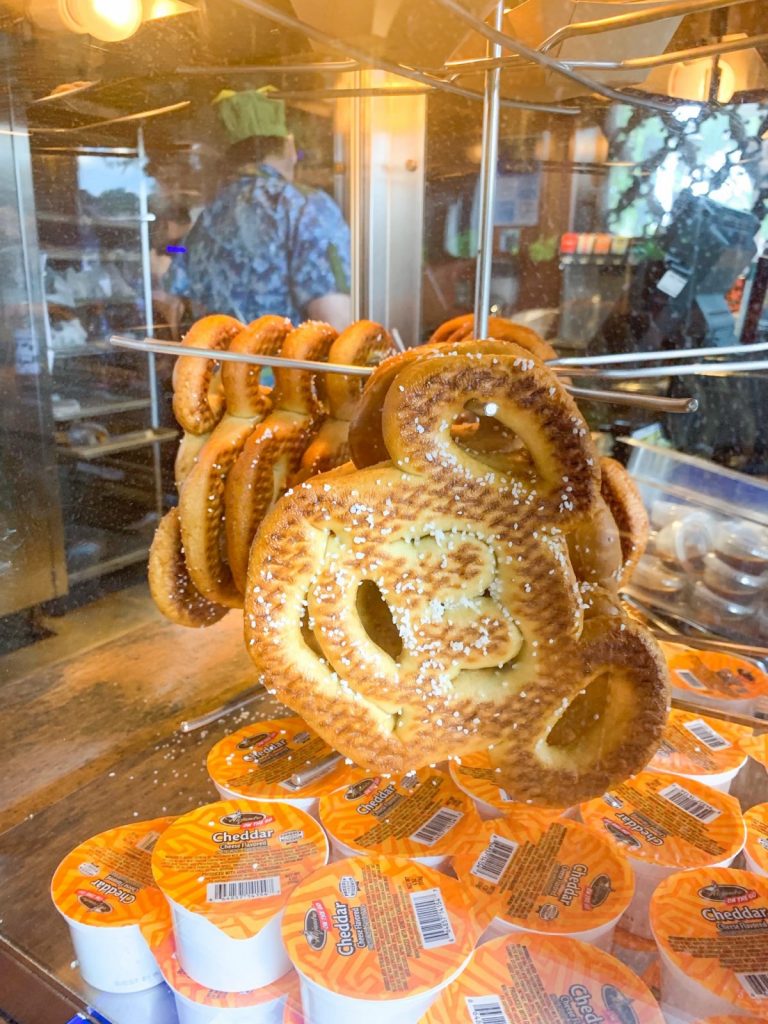 Best Vegan Food at Magic Kingdom
The Magic Kingdom may not have the most restaurants when it comes to the Disney World parks, but there are several good choices for vegans. You can eat vegan at both Table Service restaurants and at some of their most popular Quick Service restaurants!
Pecos Bill Tall Tale Inn and Café
Pecos Bill Tall Tale Inn and Café located in Frontierland has some yummy Southwestern and Mexican food, and offer some good choices for vegans. You can order sides of beans and rice, a delicious Southwest salad, and they even offer a Veggie Rice Bowl and a Southwest Cheeseburger that's a completely plant-based option. Thankfully Pecos Bill has always had a fairly customizable menu, so it's easy to omit things here – especially when mobile ordering.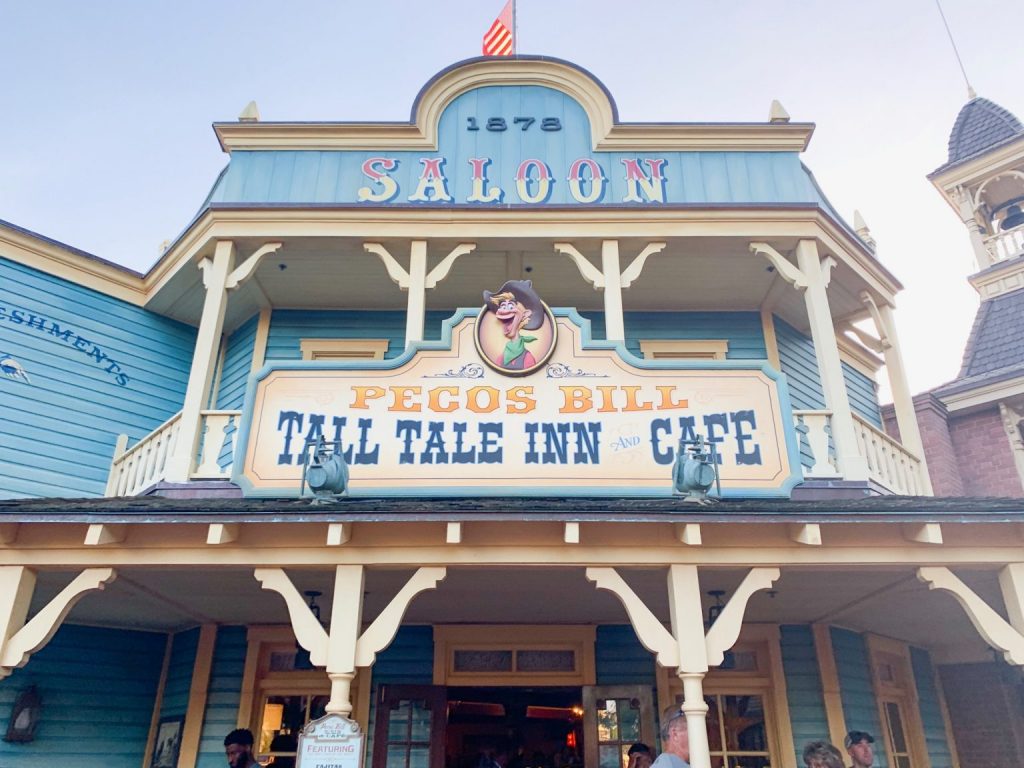 Cosmic Ray's Starlight Cafe
Cosmic Ray's is located at the front of Tomorrowland, and is one of the places where you can get an Impossible burger on Disney property. You can order the burger, topped with tomato and lettuce, and it comes with a side of fries. They also offer a plant-based sloppy Joe and this isn't to be missed! These are both great choices for a quick vegan lunch, and it's always nice to enjoy the air conditioning and a concert by Sunny Eclipse!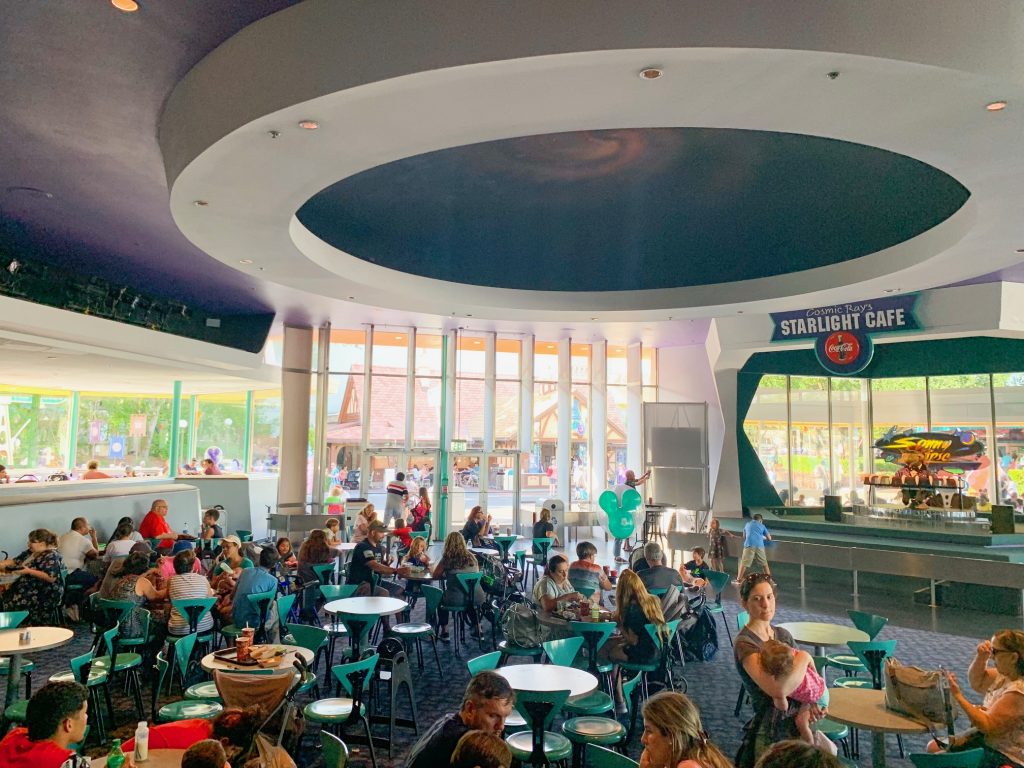 Aloha Isle
Located in a corner of Adventureland, Aloha isle offers one of the BEST vegan Disney World treat options: the infamous Dole Whip. Dole Whip is naturally vegan, and it's the perfect refreshing and fruity dessert on a hot day. It's also a great ice cream replacement for those avoiding dairy! You can get this as a float, by itself, or even mixed with another seasonal Dole Whip flavor – the pineapple and raspberry is great together!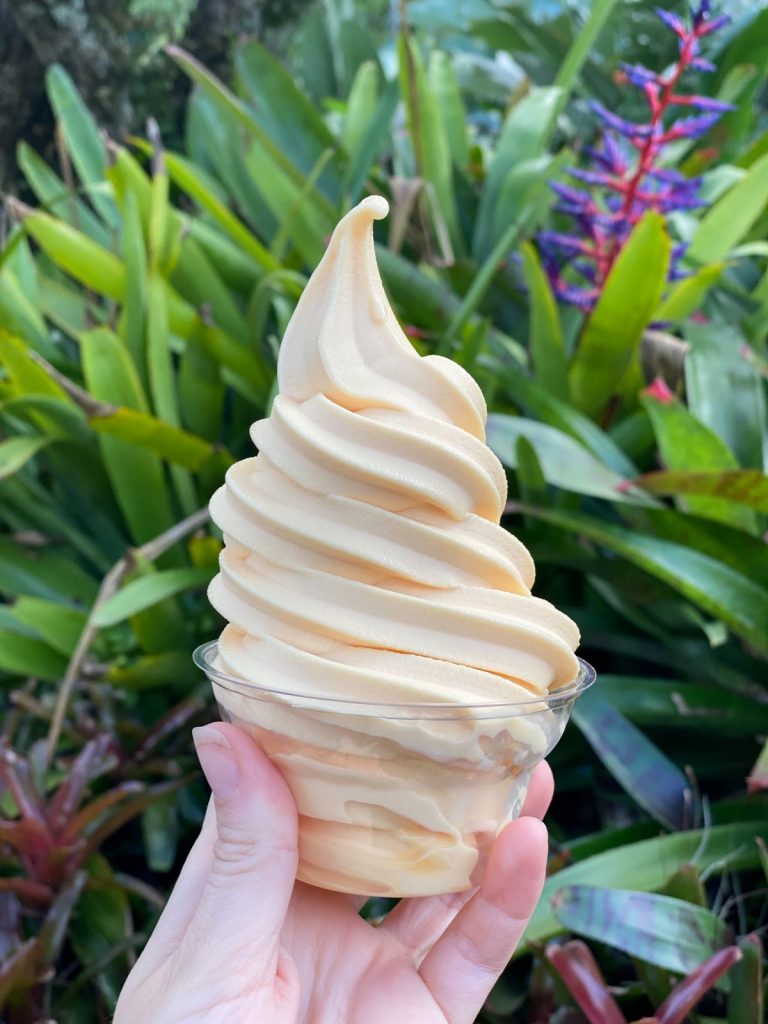 Liberty Tree Tavern
Liberty Tree Tavern is a Table Service restaurant in Liberty Square that offers all-you-can-eat Thanksgiving food every single day, and for those eating vegan, they offer an All-You-Care-to-Enjoy Plant-Based Tavern Keeper's Feast. It comes with a tossed mixed-green salad, and Impossible plant-based meatloaf that is accompanied by mashed potatoes, seasonal vegetables, and mushroom gravy. There's even a plant-based warm apple cake for dessert!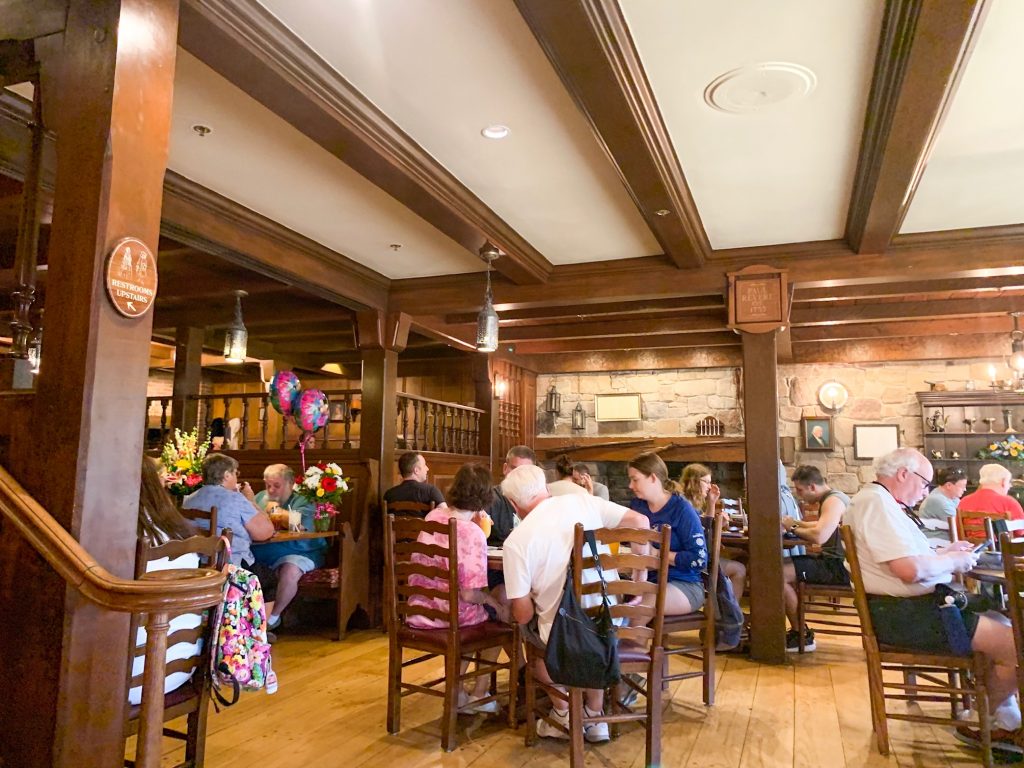 Best Vegan Food at EPCOT
EPCOT has some of the most diverse and enjoyable restaurants at Disney World, and they don't leave out those eating vegan or with dietary concerns at all. They have some of the best choices for those eating vegan at Disney World, and some of our favorite quick service and table service meals in all of Disney World.
Rose & Crown Dining Room
This is a DisneyTrippers favorite! The Rose & Crown offers some of the best vegan choices for a warm, comforting meal. You can get either vegan fish and chips, vegan bangers and mash, or an Impossible Hot Pot – think vegan shepherd's pie. They have a very customizable menu here, the vegan food here is consistently delicious, and the chef is willing to help out with any dietary or allergy concerns. Just a note though – only the Impossible Hot Pot is listed on the menu and you will have to ask your server or the chef what other vegan options you can get that day!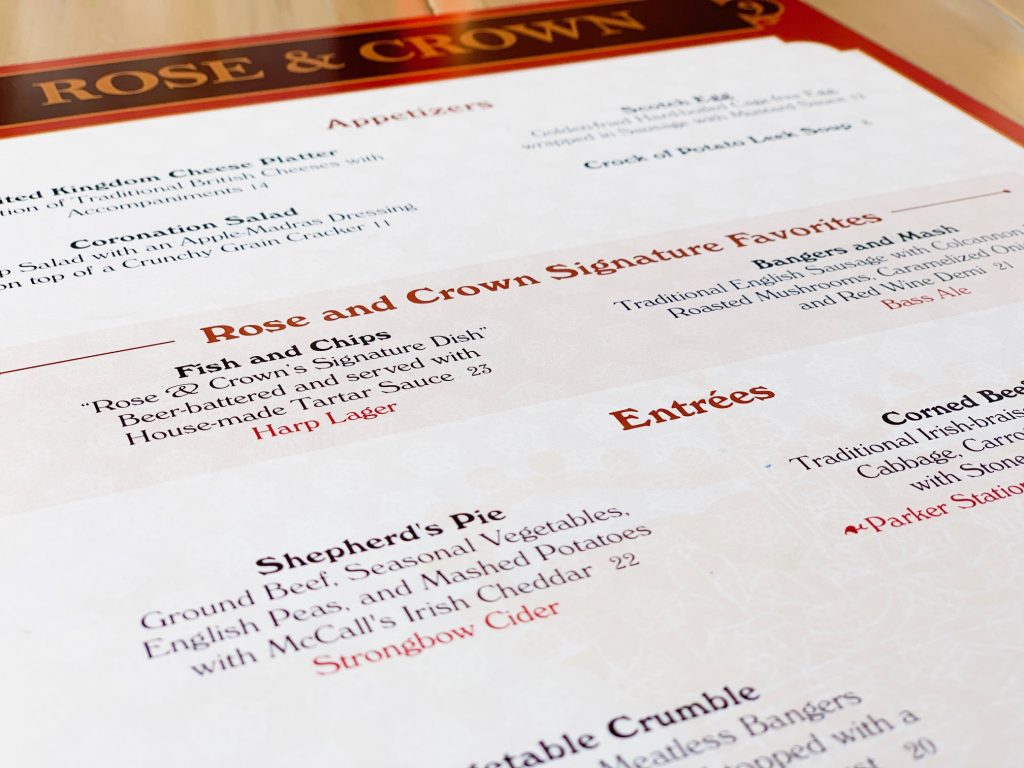 Sunshine Seasons
Sunshine Seasons has a lot of fresh food options, and many of them feature foods grown right in the Land Pavilion. And not only do they sell a Mediterranean-inspired jackfruit and veggie pita sandwich, but they also sell one of the best vegan desserts – the plant-based cookies 'n cream mousse cup. This yummy little dessert is full of chocolate mousse and chocolate sandwich cookie crumbles and makes for a delicious vegan treat! You can also get some great grab 'n go vegan options here as well!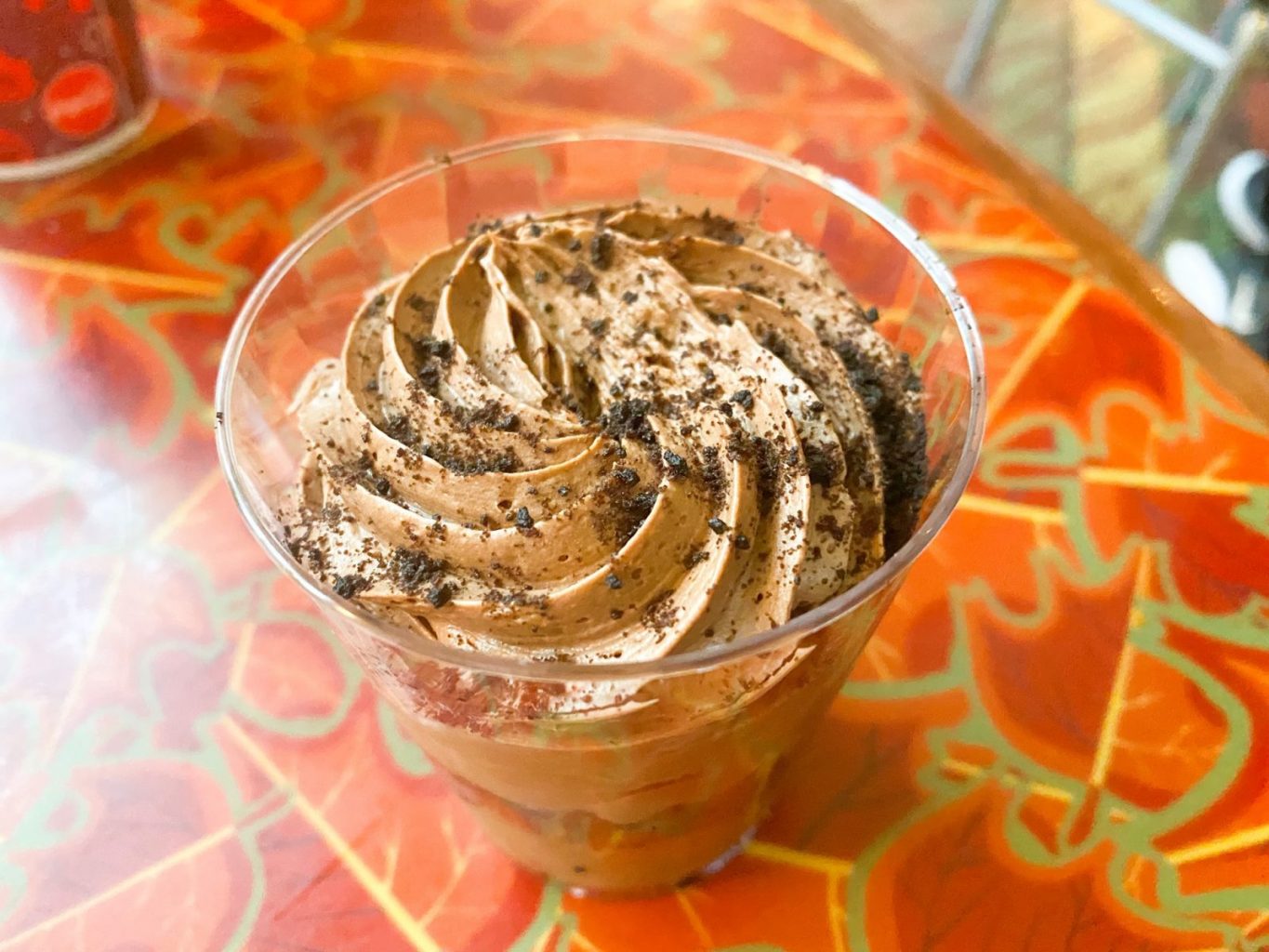 Garden Grill
Eating here in the Land Pavilion is a blast – it's a rotating restaurant, with Chip, Dale, and friends, and you even get views of the Living with the Land ride from some tables! And whether you are vegan or not, there are great all-you-care-to-enjoy choices here to eat. The plant-based Chip 'N' Dale's Harvest Feast for dinner features a garden salad, a veggie loaf with chunky tomato sauce, rice pilaf, french fries, garden vegetables, and a berry shortcake for dessert! We even have a full DisneyTrippers review if you plan on visiting! They also offer a vegan breakfast platter as well.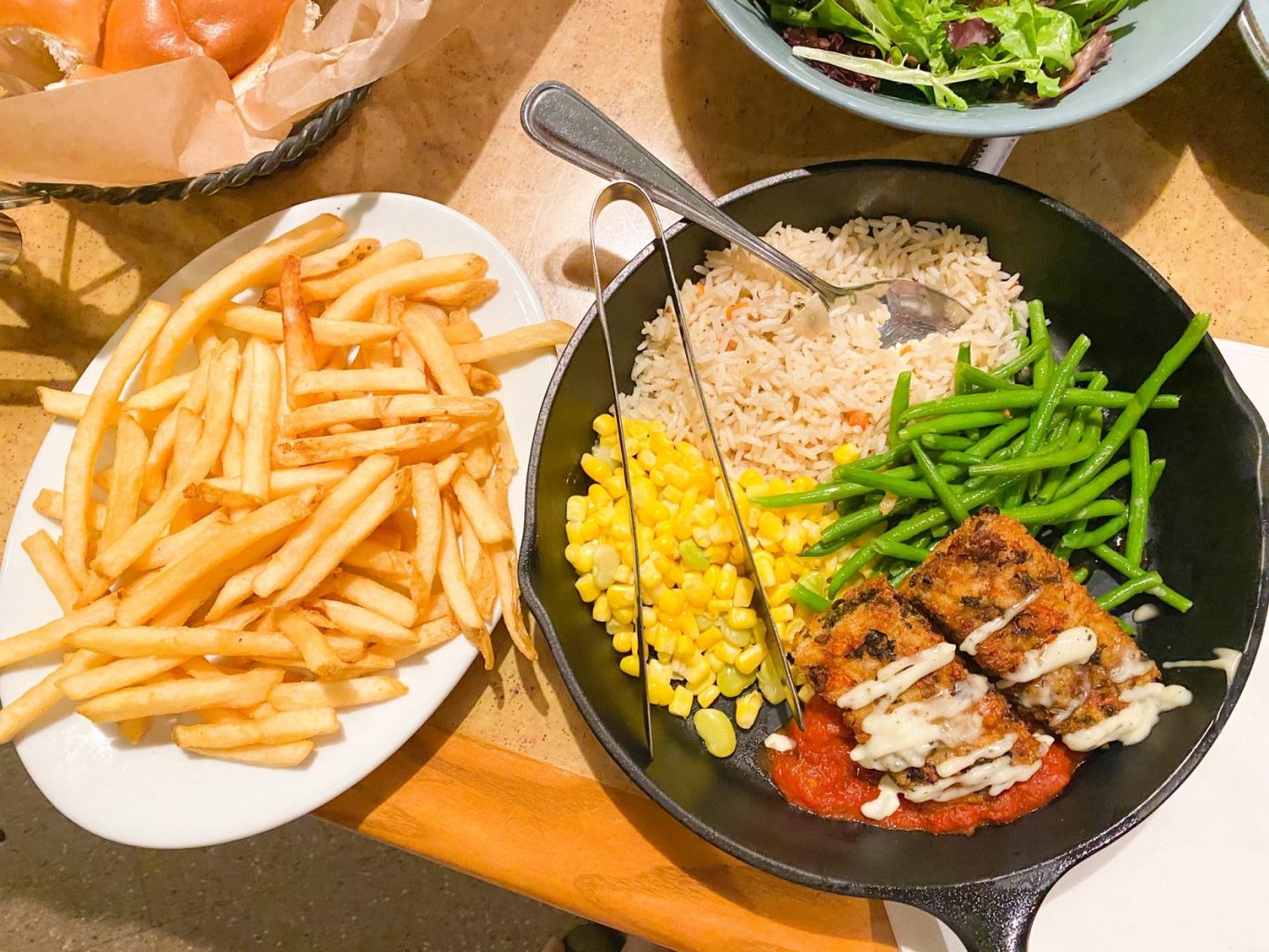 Teppan Edo
Located in the Japan Pavilion, Teppan Edo is a Hibachi-style restaurant where they cook your meal in front of you on a hot grill. They offer a lot of options for both vegans and vegetarians. Diners can choose from lots of fresh vegetables and salad, tofu, grilled vegetables, and of course, delicious edamame. And you are able to customize several of the entrees to be vegan by substituting tofu for the meat – just make sure you ask them to cook it separately on the grill so it doesn't come in contact with the meats other guests may order.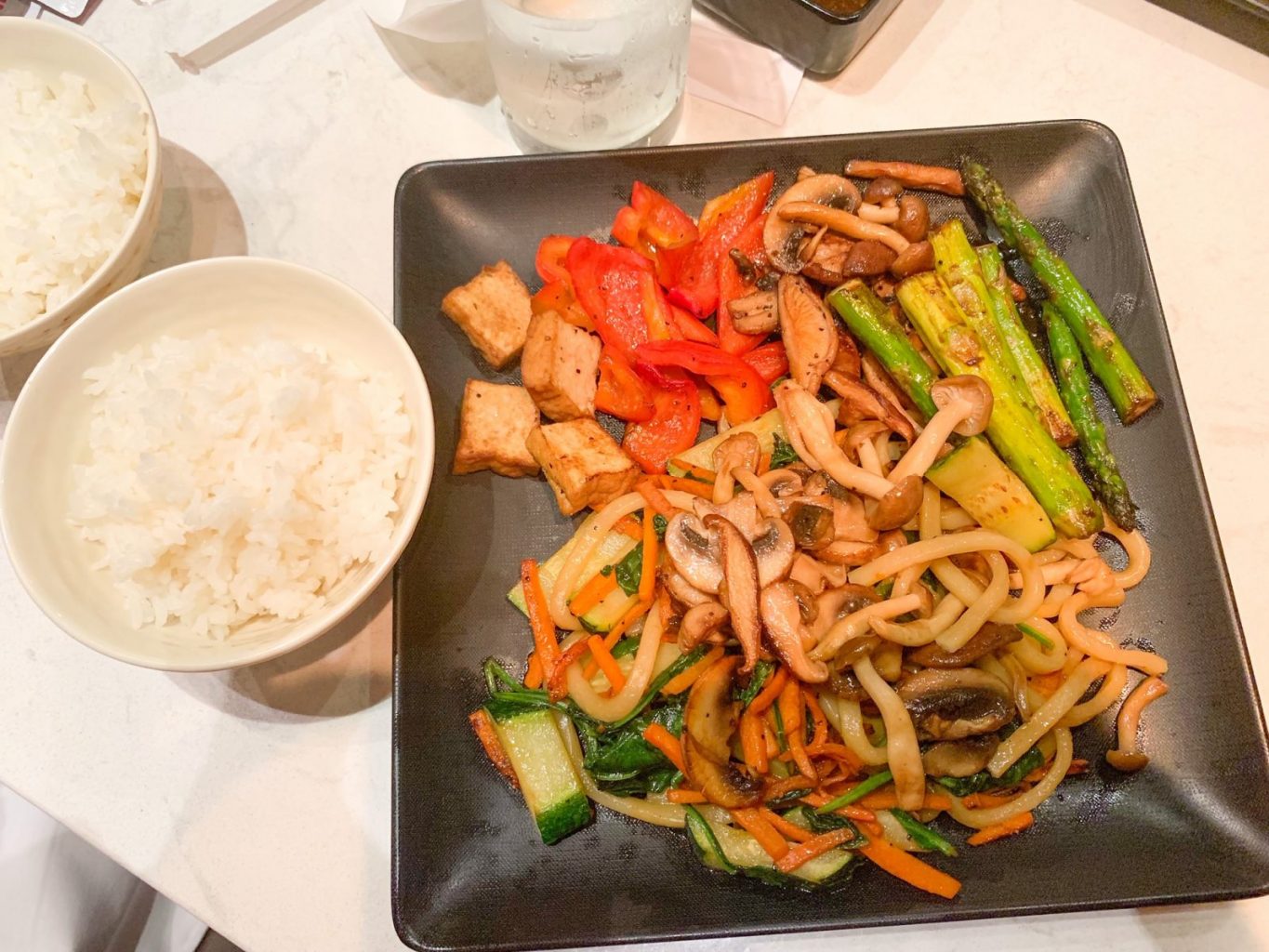 Regal Eagle Smokehouse
Located in the American Pavilion, Regal Eagle Smokehouse thankfully offers a great option for eating vegan in Disney World. The BBQ jackfruit sandwich pleases both vegans and non-vegans, and is a jackfruit patty covered in barbecue sauce, served on garlic bread with tomatoes, lettuce, and plant-based mayonnaise. There's also a power greens salad if you don't want a heavy meal here.
Biergarten
Biergarten, located in the Germany Pavilion, is a German all-you-care-to-enjoy restaurant that also provides fun, German musical entertainment while you dine. Vegans can opt for a plant-based version of their menu, which includes red cabbage, green beans, potato pancakes, several different color vegetable salads, and even fishless fillets and beefless tips. There are many vegan choices on these dinner platters, and thankfully the delicious pretzel rolls are vegan too!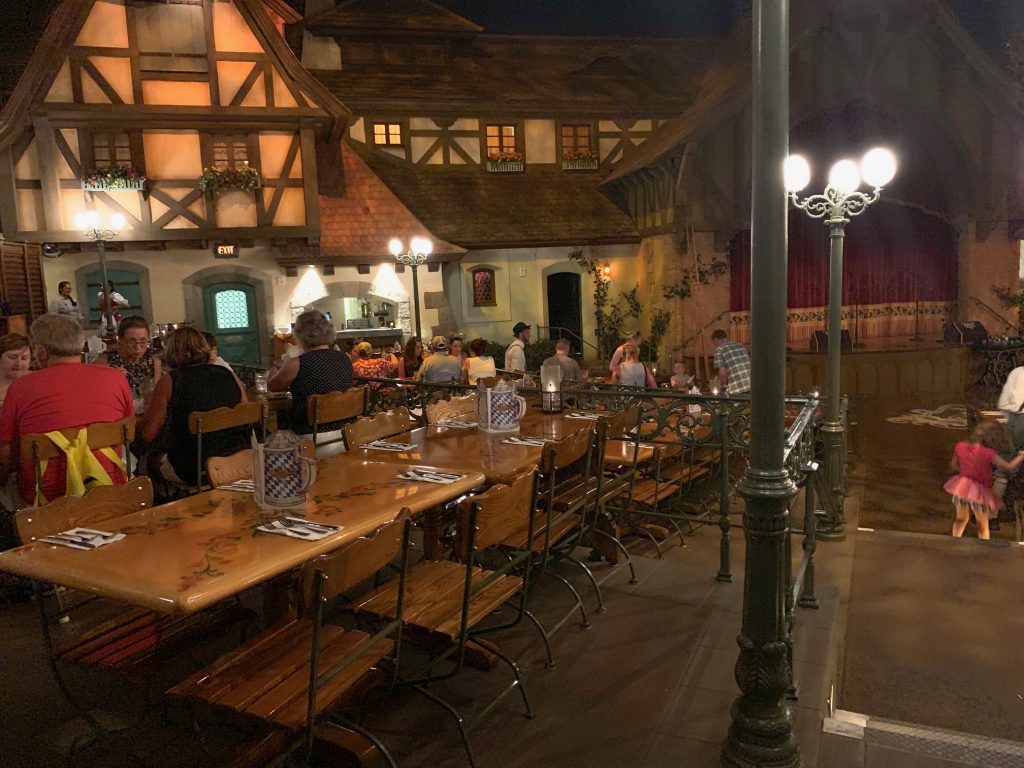 Best Vegan Options at Hollywood Studios
Hollywood Studios is a hidden gem for food in our opinion. They offer some good, consistent food options at both quick service and table service restaurants, and they aren't just traditional theme park meals. And thankfully they don't leave out those looking to enjoy vegan Disney World food options.
Hollywood Brown Derby
If you're looking for a classic, signature restaurant to have dinner at while in Hollywood Studios, the Hollywood Brown Derby may be right for you. It features an old Hollywood feel, and fairly recently updated its menu to include several vegan options. There are vegan rolls with plant-based butter, a butternut soup, and a plant-based chopped steak comprised of Impossible meat and a mushroom gravy. These are great options if you are looking for one of the fancier vegan meals at Disney World.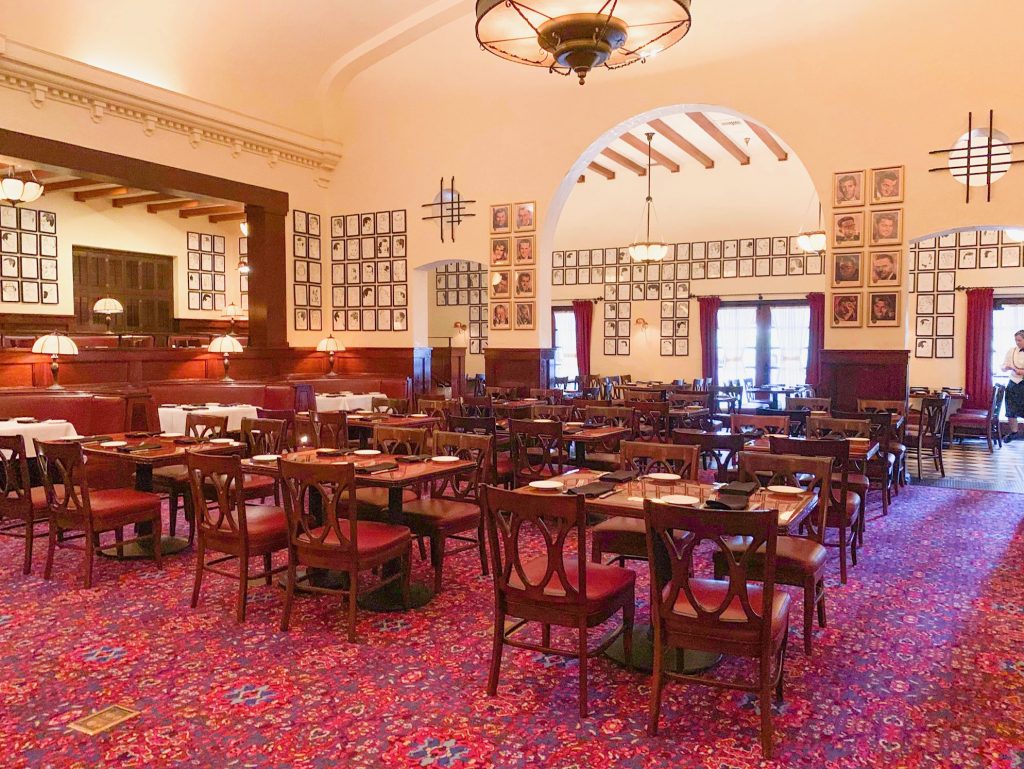 Mama Melrose's Ristorante Italiano
Located back in the courtyard near MuppetVision 3D – what used to be the streets of America – Mama Melrose's has some classic Italian dishes, and some of those are vegan! The rolls and flatbread crust are naturally vegan here, and you can order several flatbreads with plant-based modifications like mushrooms and "mozzarella." There's polenta cake, vegan pasta with marinara, minestrone soup, and even a cappuccino dessert made with cashew cream. This is a great place for a date night, whether both parties are vegan or not.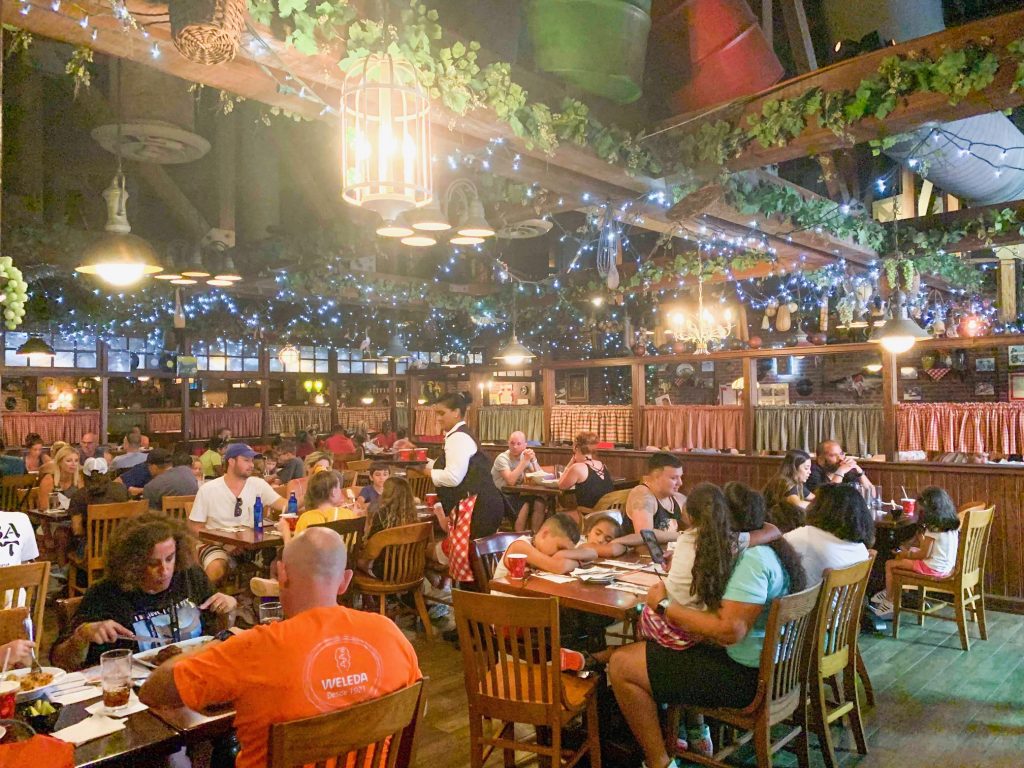 Docking Bay 7 Food and Cargo
Located in Galaxy's Edge, Docking Bay 7 transports you to the planet of Batuu for food as well. Docking Bay 7 features two unique plant-based meals for those looking to eat vegan while visiting Black Spires Outpost. You can order either the Felucian Kefta which is comprised of plant-based meatballs and hummus inside of a pita, or you can get plant-based pasta rings with marinara sauce. Both are yummy vegan Disney World options.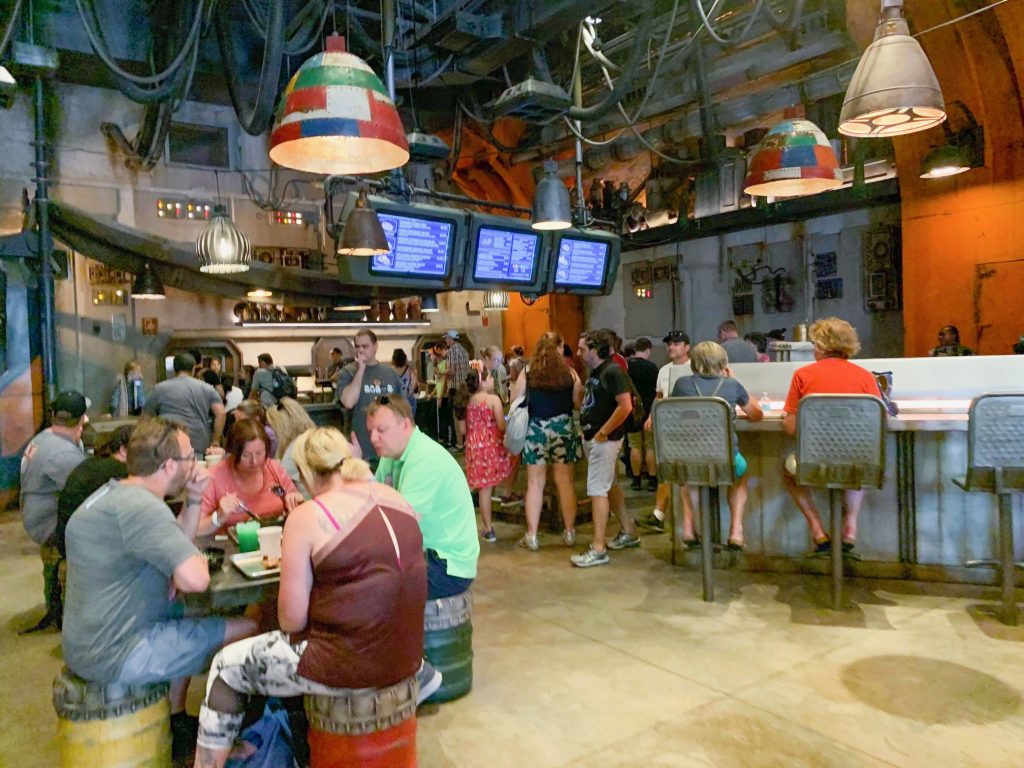 Sci-Fi Dine In Theater
If you're looking for a fun meal with the coolest atmosphere, then eat here! Located to the left of Mickey and Minnie's Runaway Railway and down towards Galaxy's Edge, Sci-Fi allows you to eat in a "car" at a dine-in. And thankfully those eating vegan aren't left out of enjoying this Americana experience. You can order a Flying Saucer Impossible Burger, spicy Szechuan lettuce wraps, and there's even a non-dairy plant-based cookies shake to accompany your meal!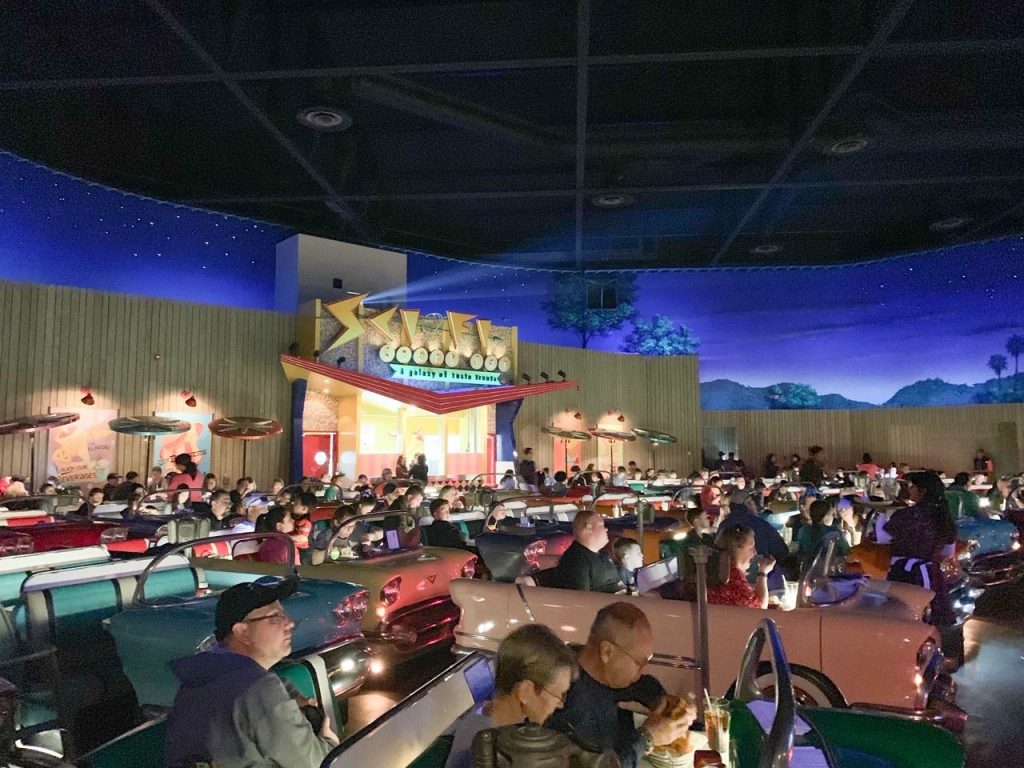 50's Prime Time Café
Harkening back to the era of poodle skirts and tuning in with the family to watch tv, 50's Prime Time has a lot of comfort food options and a fun atmosphere. They recently added a plant-based entrée option called Cousin Harold's Vegetable Garden, as well as they have updated their wedge salad to have plant-based dressing now instead of the dairy-based dressing it used to have. You can get the apple crisp dessert here in a plant-based version, and depending on who you ask, you might even be able to score a plant-based shake!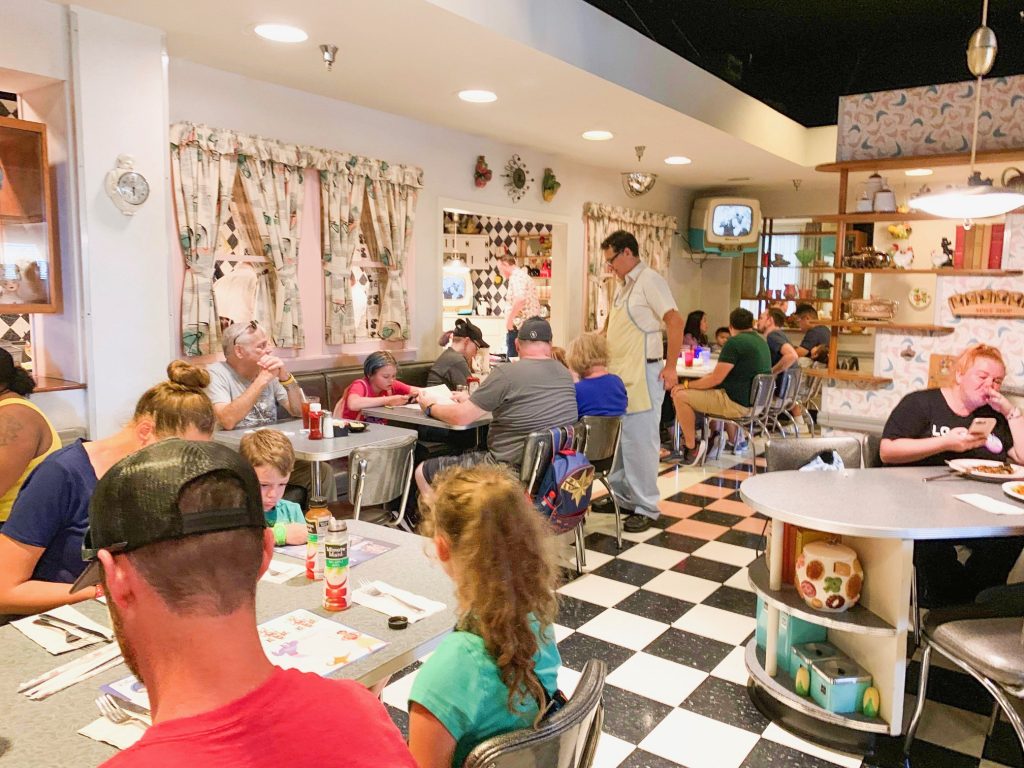 Best Vegan Options at Animal Kingdom
Animal Kingdom has a great array of dining options, and some of them offer some great vegan Disney World options. There are several different exotic cuisines to choose from, so the food is anything but boring and you can choose from quick service, table service, and even signature dining here.
Satu'li Canteen
Located in Pandora, Satu'li Canteen is a delicious place to grab a quick meal. Both vegans and non-vegans will love the fully customizable bowls offered here. Thankfully, that means those eating vegan will be able to customize their meals to their liking and needs. The potato hash and rice/black bean bases are both naturally vegan, the charred green onion vinaigrette is vegan, and of course, the tofu is the perfect topper for these bowls. You can also get the salad here as long as you don't get the dressing that originally comes with it.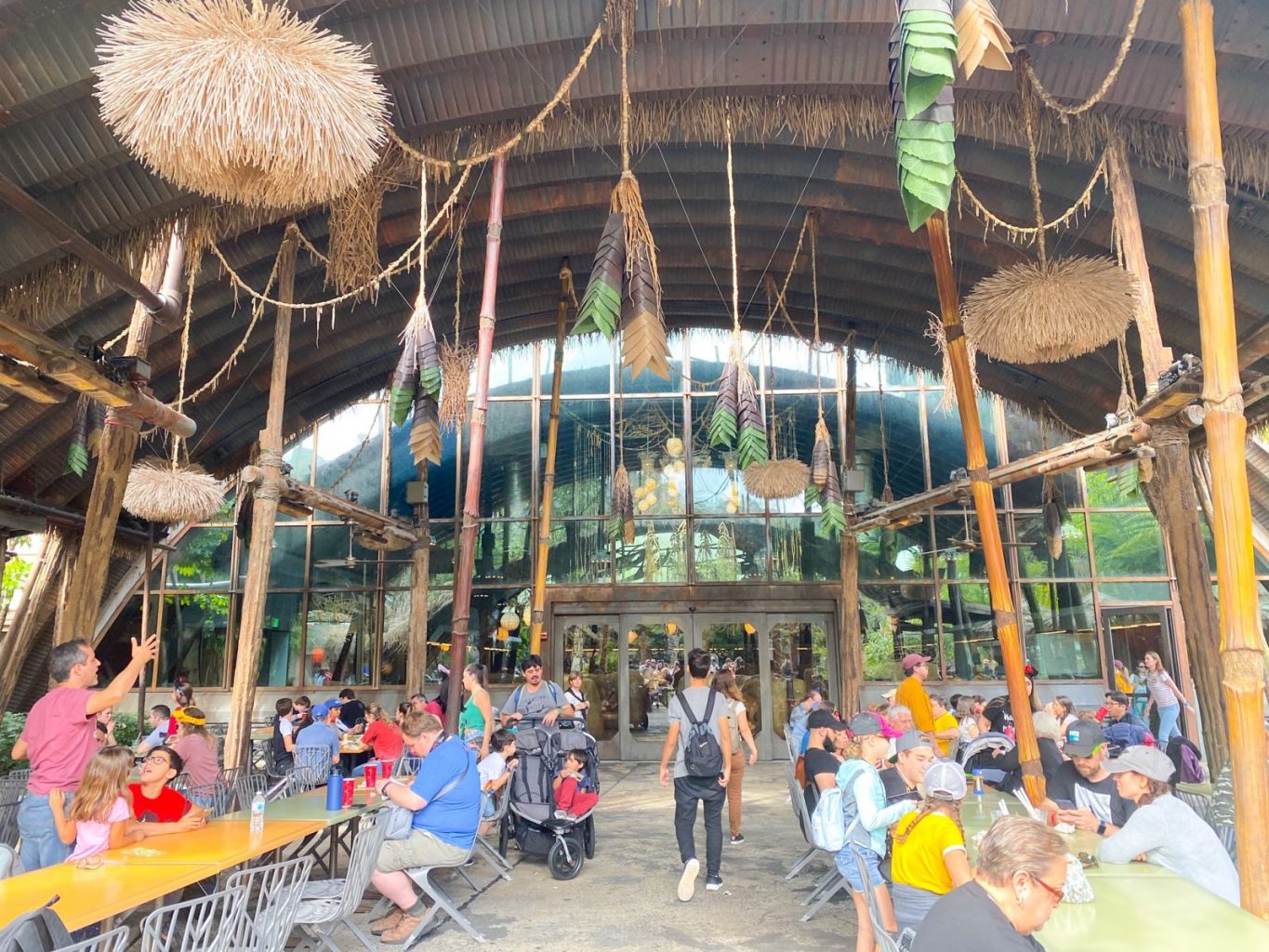 Yak and Yeti
Located in the Asia section of Animal Kingdom, Yak and Yeti is an Asian cuisine restaurant that has a great assortment of dishes for a nice table service meal. You can substitute tofu for many of the meats here, as well as you can order the roasted vegetable bowl which is naturally plant-based. They've also added a beyond burger to their menu, which can be a great choice for someone who wants an Asian take on a good burger!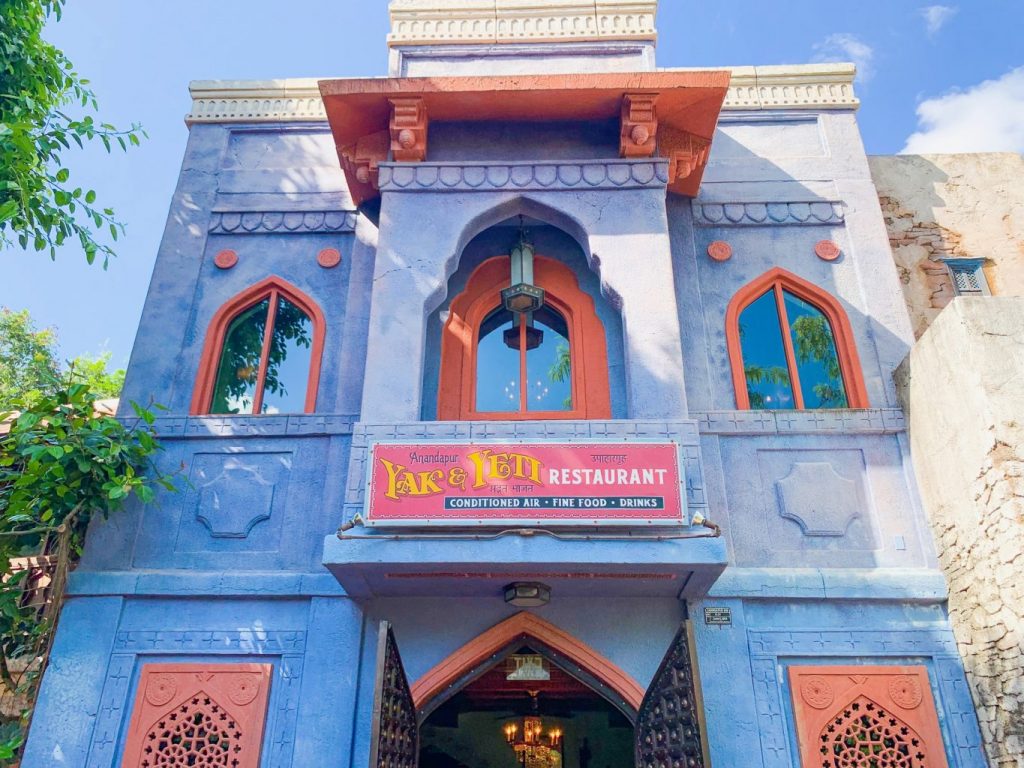 Tiffins/Nomad Lounge
On the way to the world of Pandora, you may walk right past Tiffins and the Nomad Lounge – but don't! They have several creative and delicious vegan plant-based meal options, and even have some on their kids menu! If you're looking for a fancier vegan meal in the parks, eat here and order the North African-spiced tofu, the vegan tacos, and then finish your meal with a plant-based passionfruit tapioca creme!
If you decide to go to the Nomad Lounge, you can order many of the dishes from Tiffins. Instead of sitting inside a busy restaurant, you can sit on a quiet deck and look out over the river that separates Discovery Island from the world of Pandora.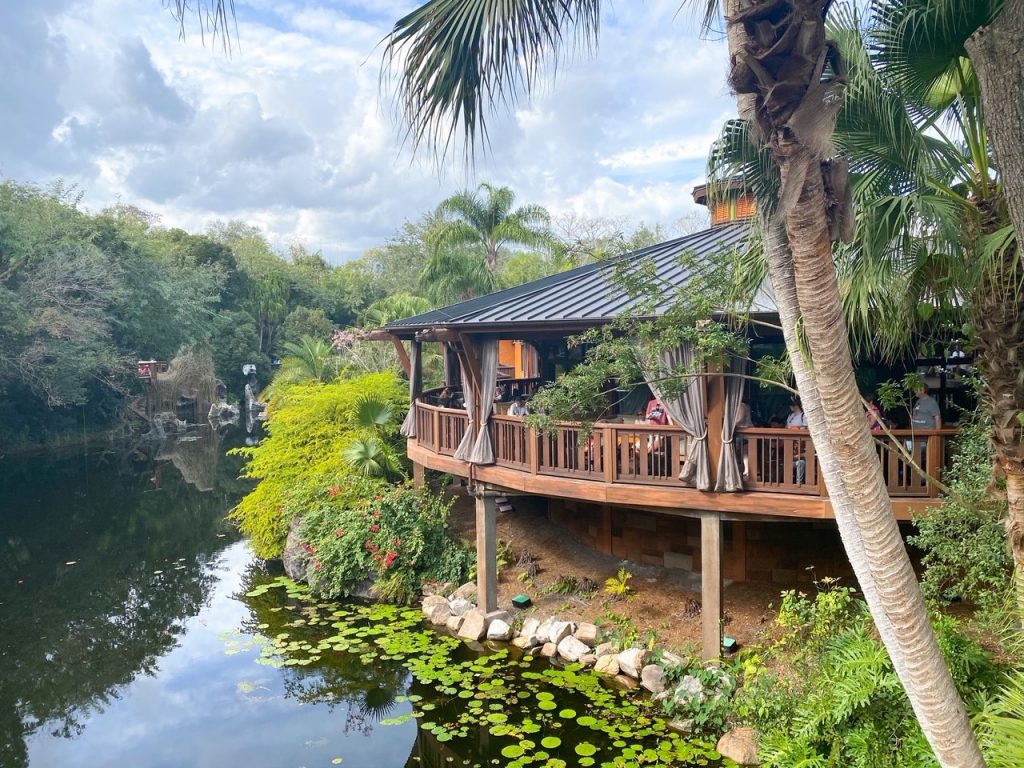 Flame Tree Barbecue
Located in Discovery Island, Flame Tree Barbecue offers some delicious grilled and smoked meals – and they recently included a great plant-based option. For vegans who don't want to be left out of this great barbecue experience, Flame Tree has a plant-based sausage sandwich that is topped with barbecue sauce, slaw, and crispy onions. Order with some French fries or mandarin oranges and you've got a yummy and filling quick meal!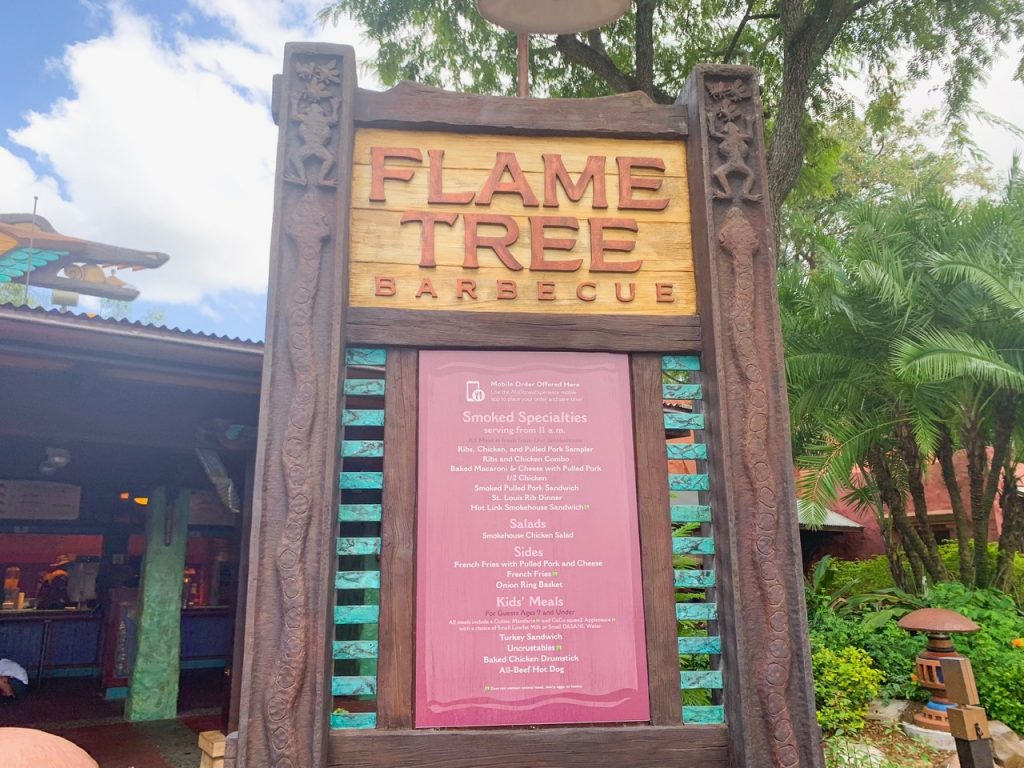 Best Places to Eat Vegan Disney Springs
While visiting Disney Springs for some great shopping, stop in and grab some food at what could arguably be some of the best places to eat in all of Disney World. This open-air mall is home to some epic restaurants, with lots of variety, and thankfully many of them offer fantastic vegan Disney World food options!
Erin McKenna's Bakery NYC
Located in the Landing section of Disney Springs, Erin McKenna's is THE PLACE to go for vegan desserts. They take so much care here to offer delicious desserts and snacks that are vegan, gluten-free, and even kosher. The menu is full of cupcakes, cookies, and special treats every that vegans can enjoy and we definitely recommend stopping here on your trip to Disney Springs!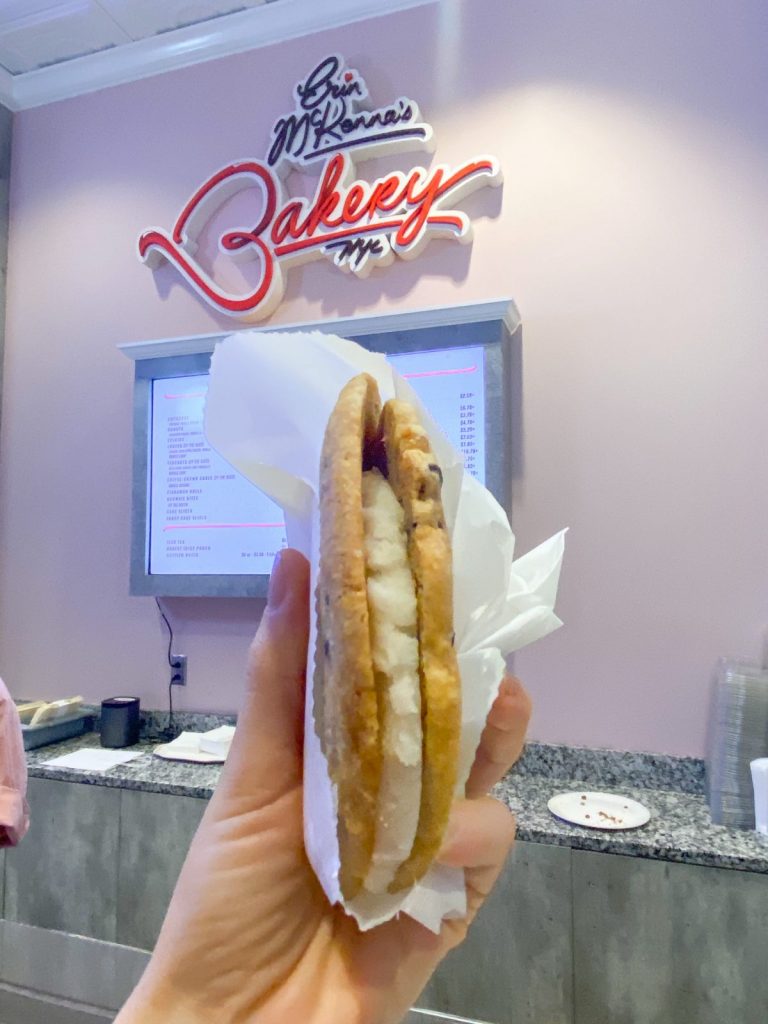 Morimoto Asia
Located in the Landing, Morimoto Asia is a dining experience, and has a great variety of Pan-Asian food. The Iron Chef himself has created a menu full of options for both vegans and non-vegans. Like most other Asian restaurants at Disney, Morimoto Asia has several accidentally vegan options on the menu, as well as fully customizable meals. There are vegetable dumplings, sesame balls, and edamame for starters, and 3 vegetable based entrees that don't even need to be changed for those eating vegan in Disney World.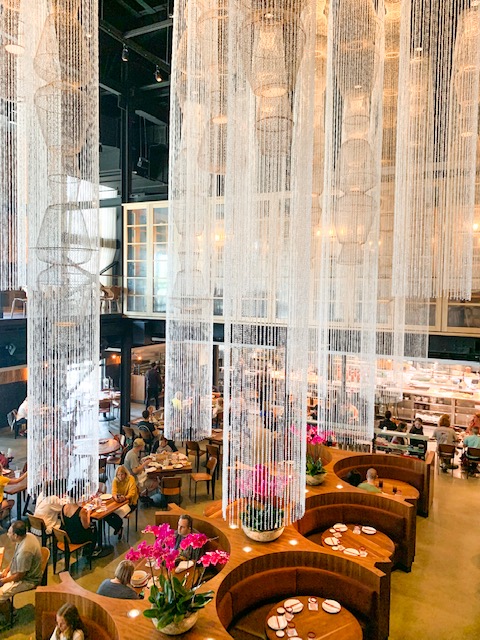 Blaze Fast-Fire'd Pizza
If you plan on eating vegan in Disney World and are visiting Disney Springs, Blaze is a must-do on your list! Located in Town Center at Disney Springs, Blaze features a fully customizable menu since you can build your own pizza here. All four of their pizza bases are naturally vegan, plus both their classic red sauce and spicy red sauce are vegan as well. For toppings they offer Daiya vegan cheese and all the vegetables you can eat! If you want something a little extra and spicy for your pie, Blaze also has a meatless spicy chorizo.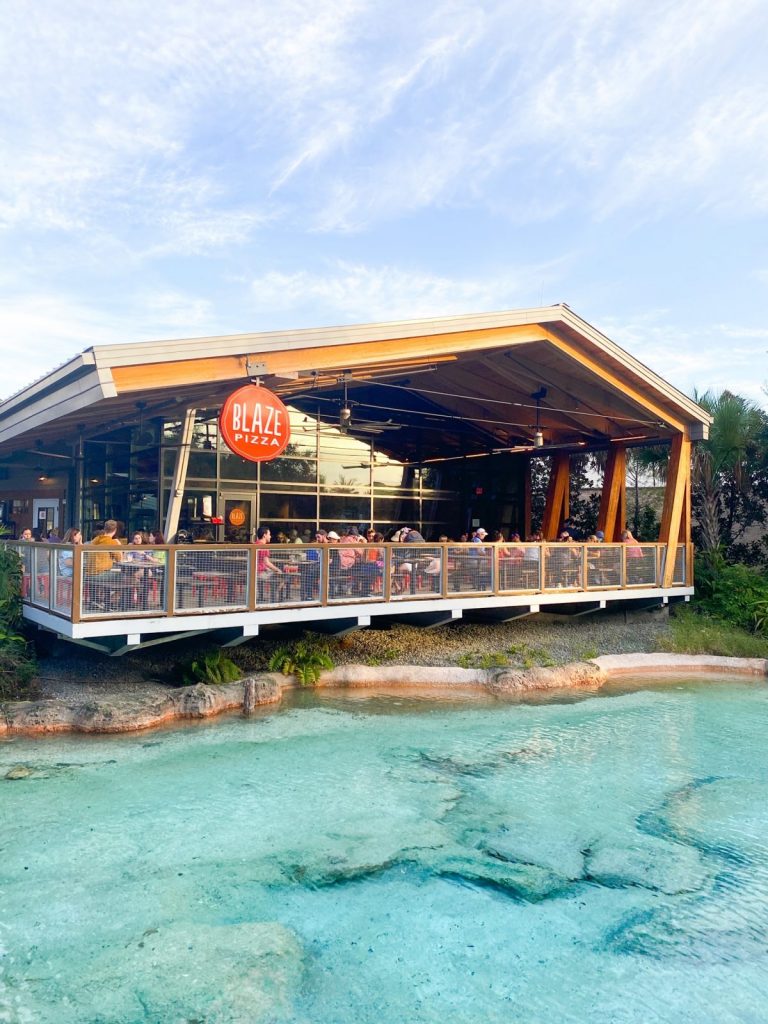 Raglan Road Irish Pub and Restaurant
Located in the Landing section of Disney Springs, Raglan Road has recently become a great place for eating vegan in Disney World. Thanks to the scratch kitchen, Raglan Road can customize a lot of their menu. They also offer a naturally vegan nut burger and vegan onion rings. Their mushroom risotto is customizable to be vegan, and this one is a hit! Just ask your server here to make the perfect meal for you.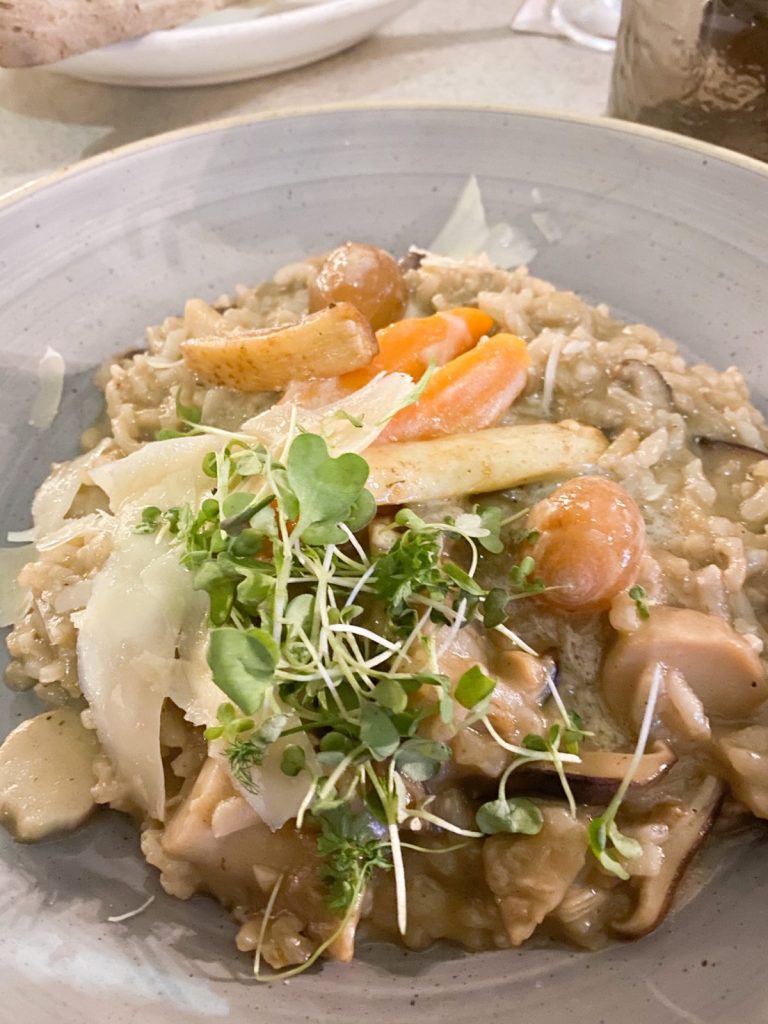 House of Blues Restaurant & Bar
House of Blues is located back on the West Side of Disney Springs, and they recently added an Impossible Burger to it's menu just like many of the restaurants at Disney, as well as they offer a customizable menu as well. You can ask your server to omit dairy on things like the mushroom tacos and some of the salads. The food is good, but there aren't as many options as some of the other table service restaurants unless you ask to customize.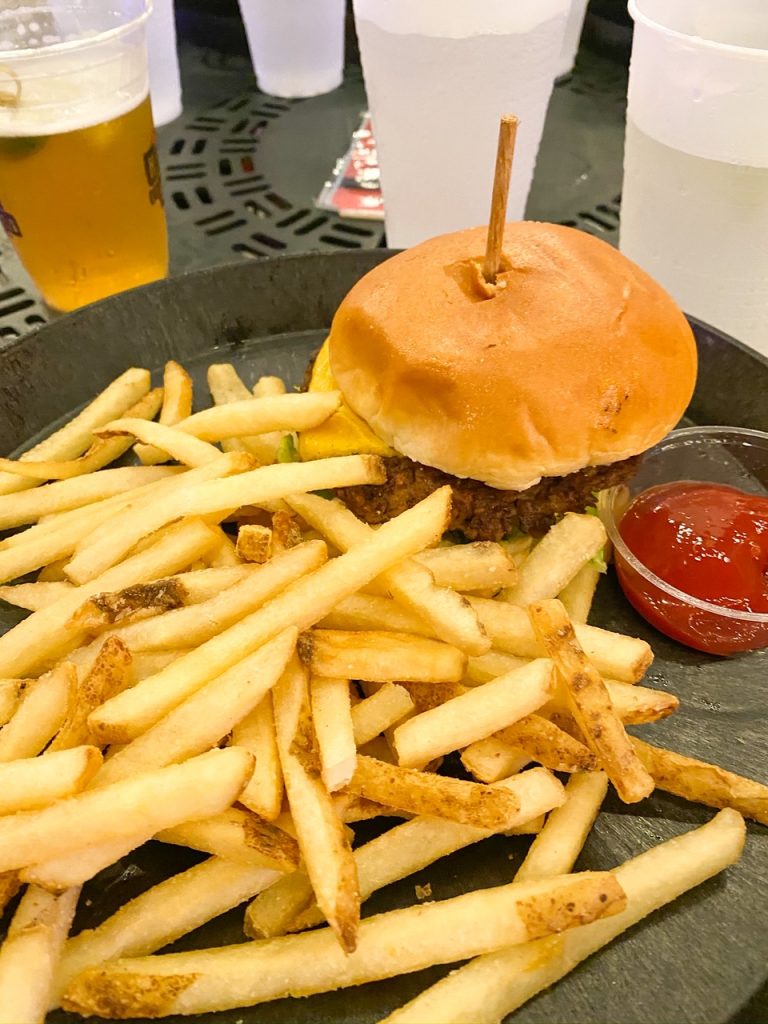 Best Vegan Food at Disney Resorts
Disney resorts have some amazing restaurants and a lot of them are more like hidden gems. Many guests head to the parks and Disney Springs for their meals, but might be passing up some great options at the resort they stay at! Some of our favorite vegan meals at Disney World are located at the resorts.
Topolino's Terrace – Flavors of the Riviera
Located at the top of the Riviera Resort, Topolino's Terrace is a stunning can't miss restaurant at the resorts. Every section of the menu has a plant-based option, as well as there are customizable options. The bread service here is naturally vegan, and you don't want to skip the Olives Marinees or the Tarbais Bean Cassoulet here. The plant-based Fruits of the Forest dessert is one of the prettiest we've ever seen on property too!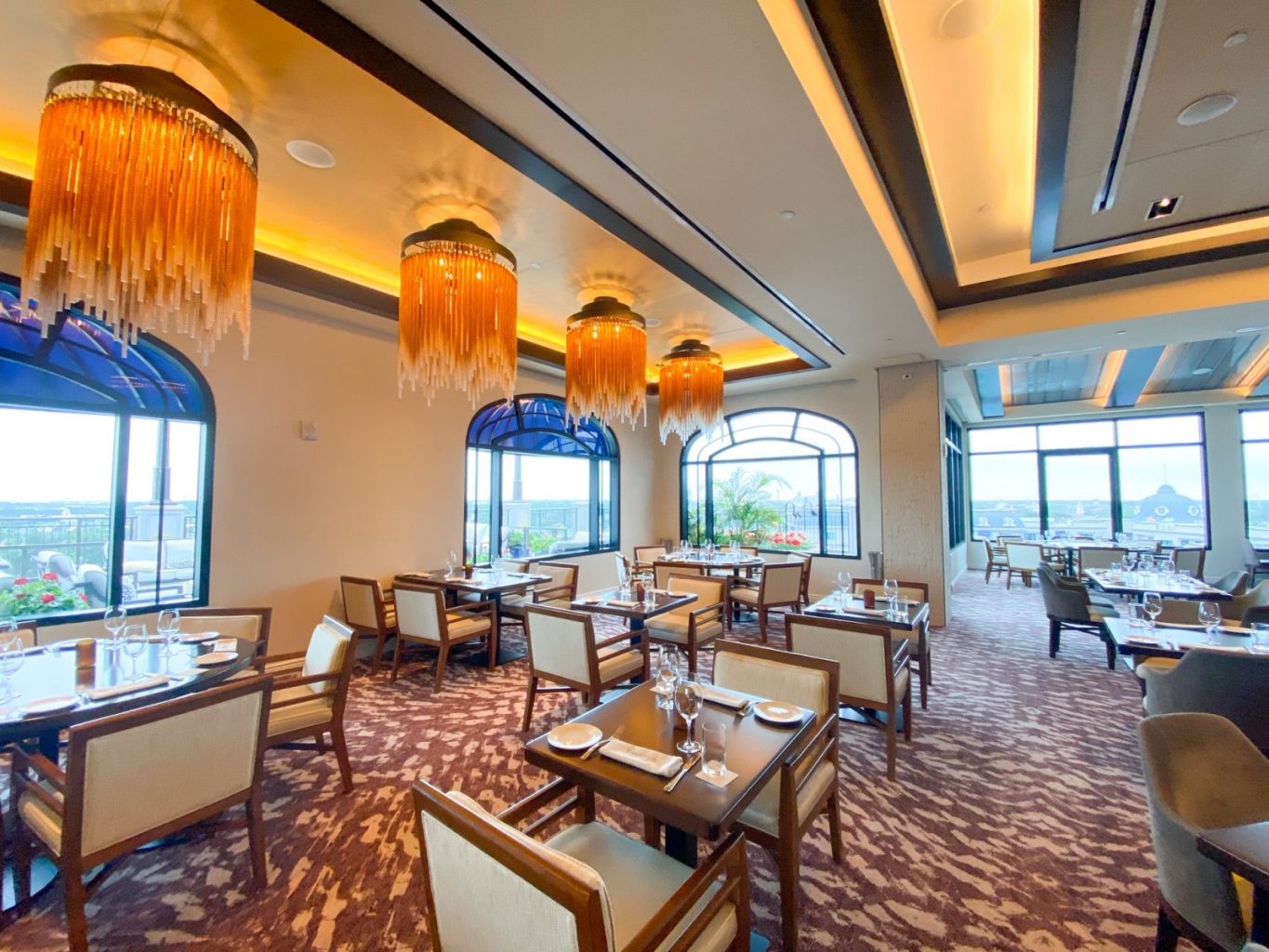 Beaches & Cream Soda Shop
Located at Yacht Club/Beach Club, Beaches & Cream Soda Shop is close to the Boardwalk and within walking distance of EPCOT. And thanks to the recent addition of Disney's Chef TJ, Beaches & Cream is cranking out some awesome vegan food. You can get vegan chili alone or on tots, the plant-based burger here isn't to be missed – the onion jam on top really makes this burger! – and there's so many non-dairy ice cream and dessert options! You can have a great vegan meal here, finish with a delicious plant-based dessert and enjoy a nice walk on the boardwalk afterwards!
Grand Floridian Café
The Grand Floridian Café is, of course, at the Grand Floridian Resort and is a great place to grab a bite to eat outside of the hustle and bustle of Magic Kingdom. They have vegan options for breakfast, lunch, and dinner with choices on each section of the menu. They offer an Impossible burger, avocado toast, and even an apple crisp with coconut-based "ice cream." Just like other table service restaurants, you are also able to customize some of the dishes by removing dairy-based items as well.
Sanaa
Sanaa is located at Animal Kingdom Lodge Villas section in Kidani Village, and features an African and Indian inspired menu. Like many other international restaurants, they offer lots of plant-based options for breakfast, lunch, and dinner. Many of the foods are naturally vegan and don't even need customization in order to enjoy them. You can even request a vegan version of the famous bread service, and get vegan naan and just not eat the cucumber raita dip. This is definitely a must-do for those looking for a flavorful and adventurous vegan meal in Disney World.
Kona Cafe
Located at the Polynesian Resort, Kona Cafe offers several options on both their breakfast and lunch/dinner menus that are plant-based. You can choose from the popular Loco Moco, steel cut oats, or a yummy vegetable bowl for dinner! But what about that famous Tonga Toast? You can let your server know that you are vegan and it's customizable! You don't have to miss out on this Disney classic just because you are trying to enjoy vegan Disney World options.
We hope this list of over 20 places to eat vegan in Disney World helps you out next time you are trying to eat plant-based at Disney. You don't have to just boring salads and bland vegetables during your visit, and there are so many great vegan Disney World food options full of flavor and variety.
Have you found some great vegan meals at Disney? Or are you looking to try some of our favorites next time you go? Let us know in the comments!