In case you aren't familiar, Teppan Edo is the hibachi restaurant in Epcot. It already made our list of the best restaurants at Epcot and really shouldn't be missed! Teppan Edo is located in the Japan Pavilion in the top right corner of the Epcot World Showcase. It is on the second floor of the building that it shares with a department store and the Tokyo Dining restaurant.
Now, I have to be honest, my family and I really didn't like our experience at Tokyo Dining and we haven't eaten dinner in the Japan pavilion for a few years now. In fact, Tokyo Dining lands squarely on my "worst" dining at Epcot list while Teppan Edo lands as one of the best options you need to try!
I have an onion and garlic allergy, and since Teppan Edo is a hibachi grill group-stye dining experience, I wasn't sure how this would work out. I was excited to try the Teppan Edo vegetarian options with my sister and my mom Linda was excited to try the Teppan Edo vegan options. We were the only vegans and vegetarians at the table, so if you are a meat-eater, this review will pertain to you as well as the process is the same!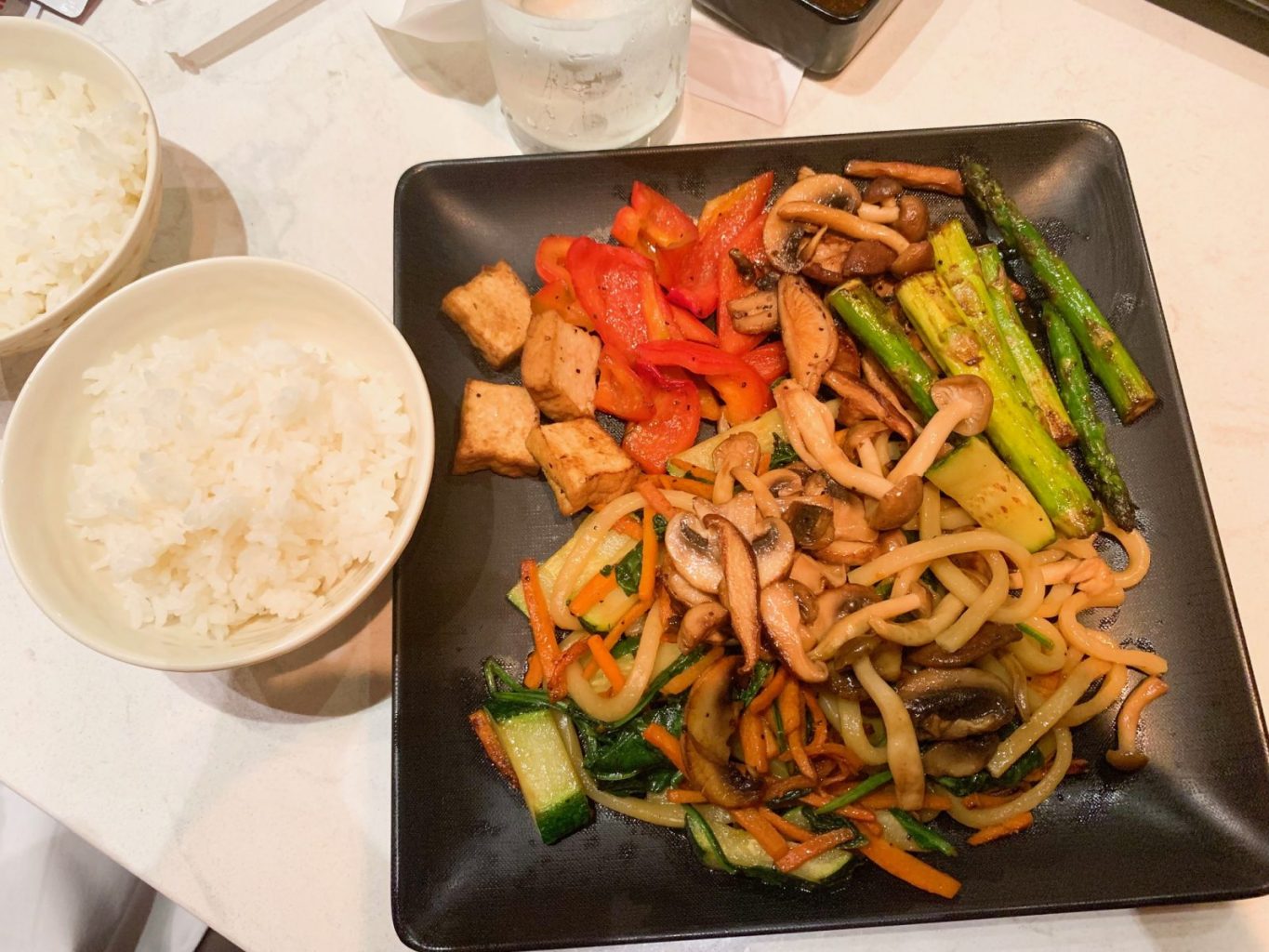 The Ultimate Teppan Edo Epcot Review
Making Reservations For Teppan Edo
Reservations for Teppan Edo Epcot can be difficult to come by, depending on when you are booking. We personally booked the day before in December, which is when there are a lot of crowds at Disney. There were two reservation times, 6:30pm and 8:15pm.
We thought these dining times were quite good for being so last minute, so we snagged the earlier time. Now, while we often do walk-up dining for Rose & Crown at around 4:30pm to 5:30pm, this is not something you should attempt at Teppan Edo.
It is an experience and since you are sitting at a Hibachi grill with multiple people, there are other factors involved that do not make Teppan Edo a walk-up option.
People cancel their reservations all the time, so be sure to keep your eye on the My Disney Experience App to see if the reservation time of your choice comes free. There are often at least a few reservations up to a few days in advance, but if you really want to eat hibachi at Epcot, I highly recommend booking in advance so you get your preferred time!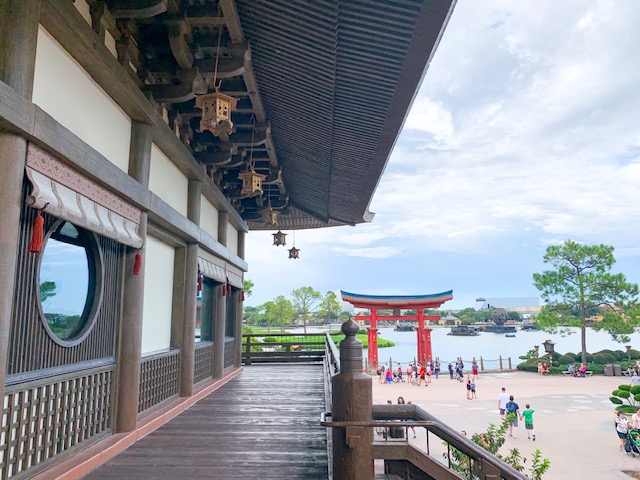 Checking-In
The check-in process at Epcot's Teppan Edo is pretty straightforward. You check-in outside, and then ascend the stairs to the building where the hibachi restaurant is located. Keep in mind that Teppan Edo shares a building with Tokyo Dining.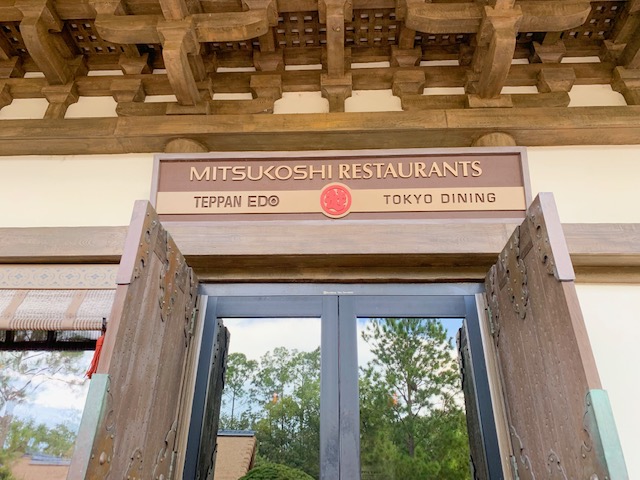 You will be checking in at the hostess desk where Tokyo Dining is. You will then be given a beeper/buzzer and will be asked to wait until your entire table is ready. We ended up waiting about 15 minutes and asked if we could have a glass of water, to which we were accommodated.
Once our buzzer went off, we proceeded to the hostess stand specifically for Teppan Edo and were asked to wait again. We waited about 5 minutes for everyone who would be seated at our table to arrive.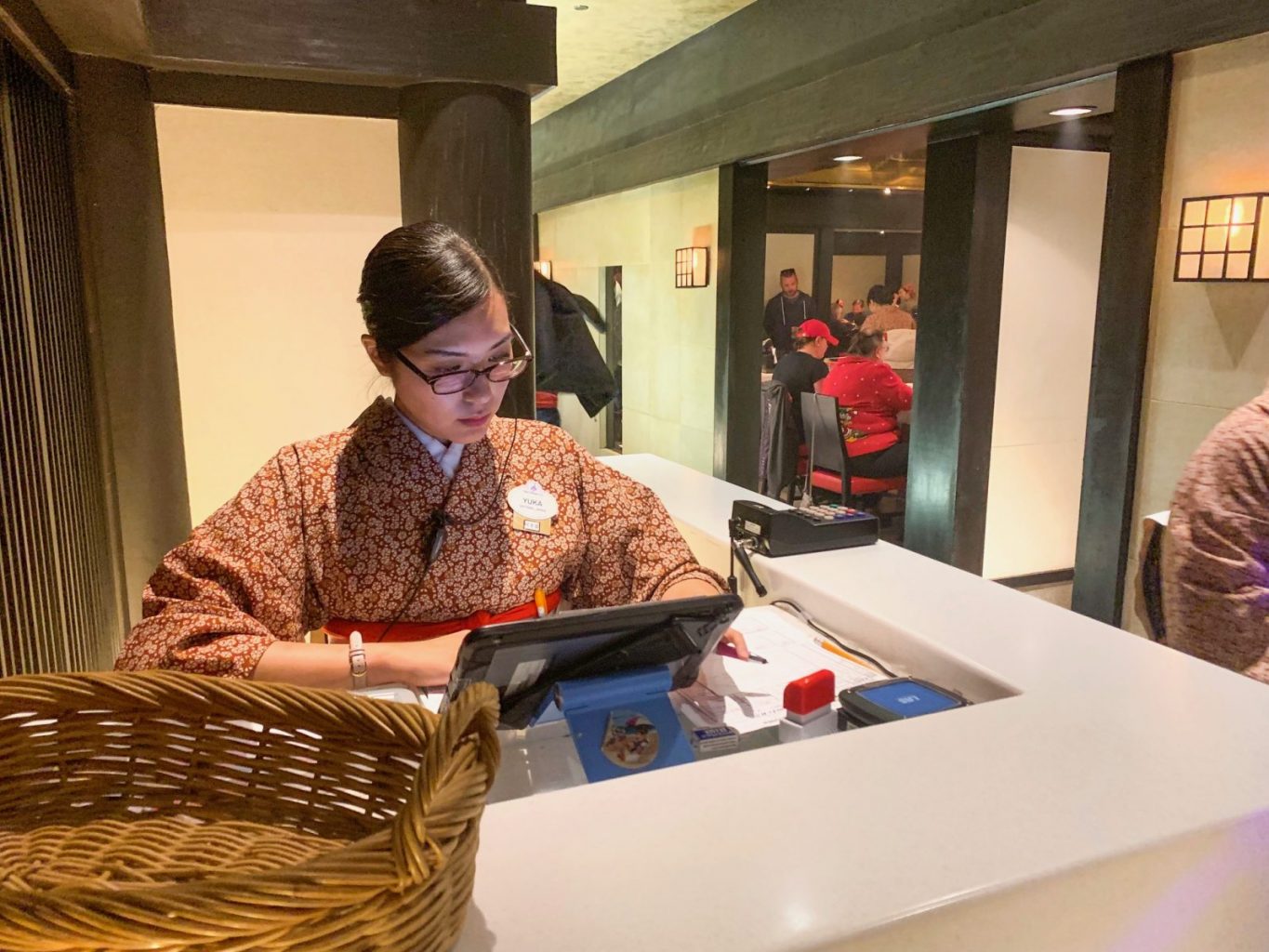 We were then walked back to an area near the bathrooms where we were given a "debriefing" where the hostess told us the tables were over 500 degrees of heat and that we need to be careful, walk a certain way etc.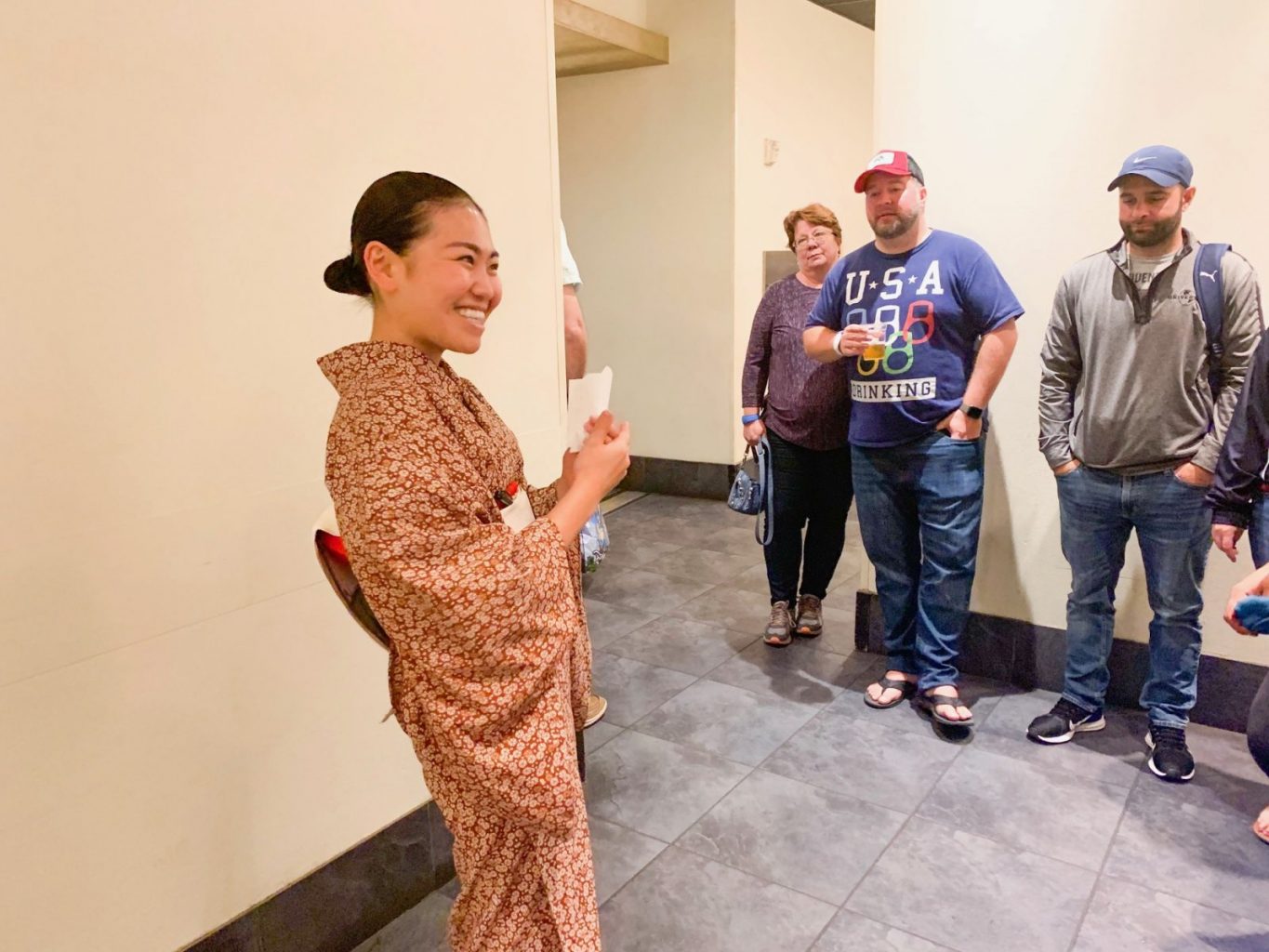 Teppan Edo Atmosphere
One of the reasons I was never interested in eating at Teppan Edo is because I actually hate hibachi-style group dining. It is loud, makes me a bit anxious, and I don't like my food to get cold! I want it all served at the same time on the same plate. When I go out to regular hibachi restaurants, I actually request my plate be prepared in the back!
I'm going to be honest, Teppan Edo is LOUD. The main dining area is VERY VERY loud. If you are someone who doesn't do well with a very loud atmosphere, this may not be the place for you.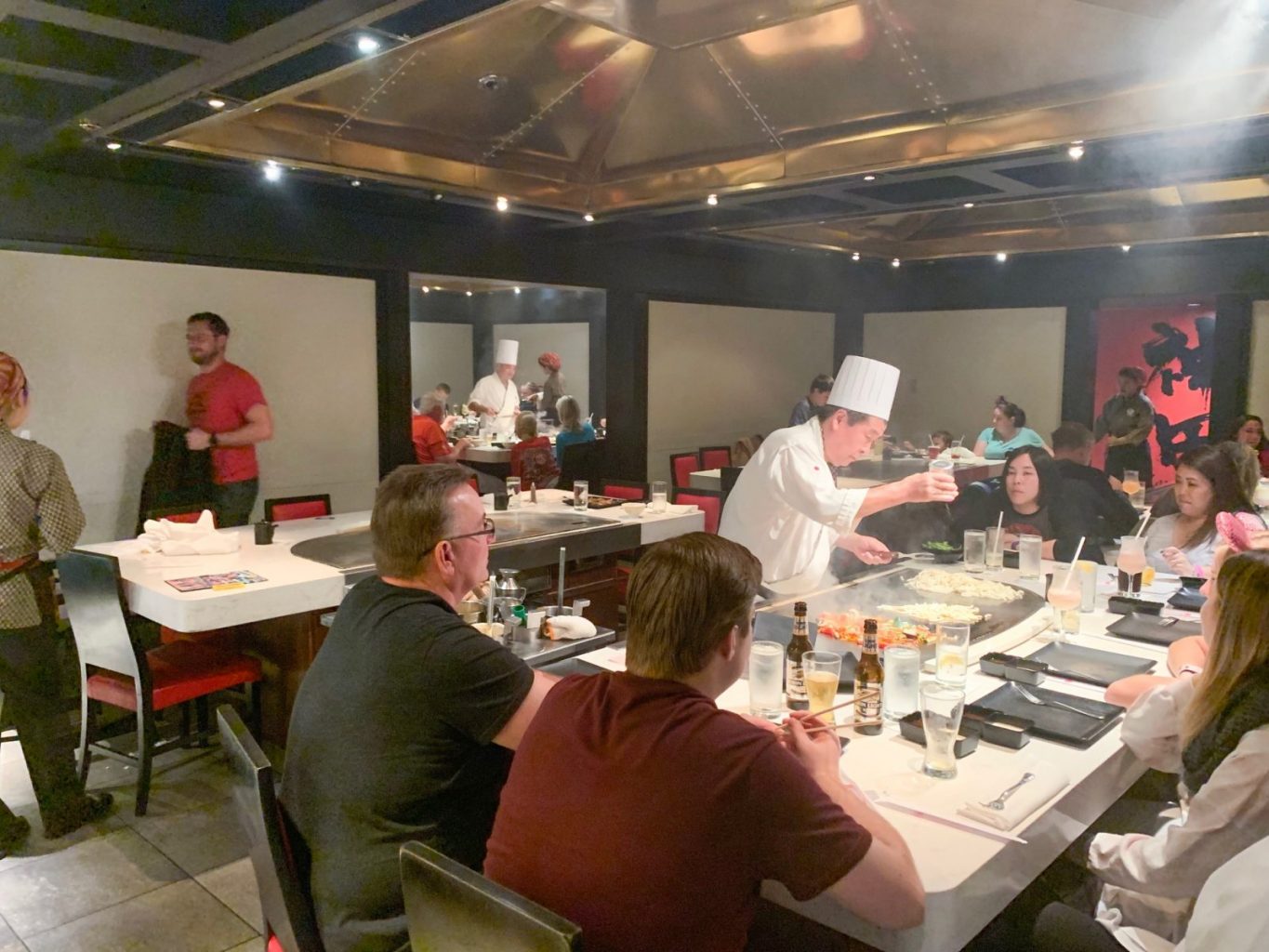 That being said, our hostess brought us past the loud front section into a quieter back section. The front sections have multiple tables in one room. The back rooms only have two tables per room and are much quieter. It is like the universe read my mind!
If you don't enjoy very loud atmospheres, I recommend requesting to sit in this back area, if it is open! It was much more enjoyable and much quieter too. Although it was still louder than normal dining, it was much better than the smokey and clanging front rooms.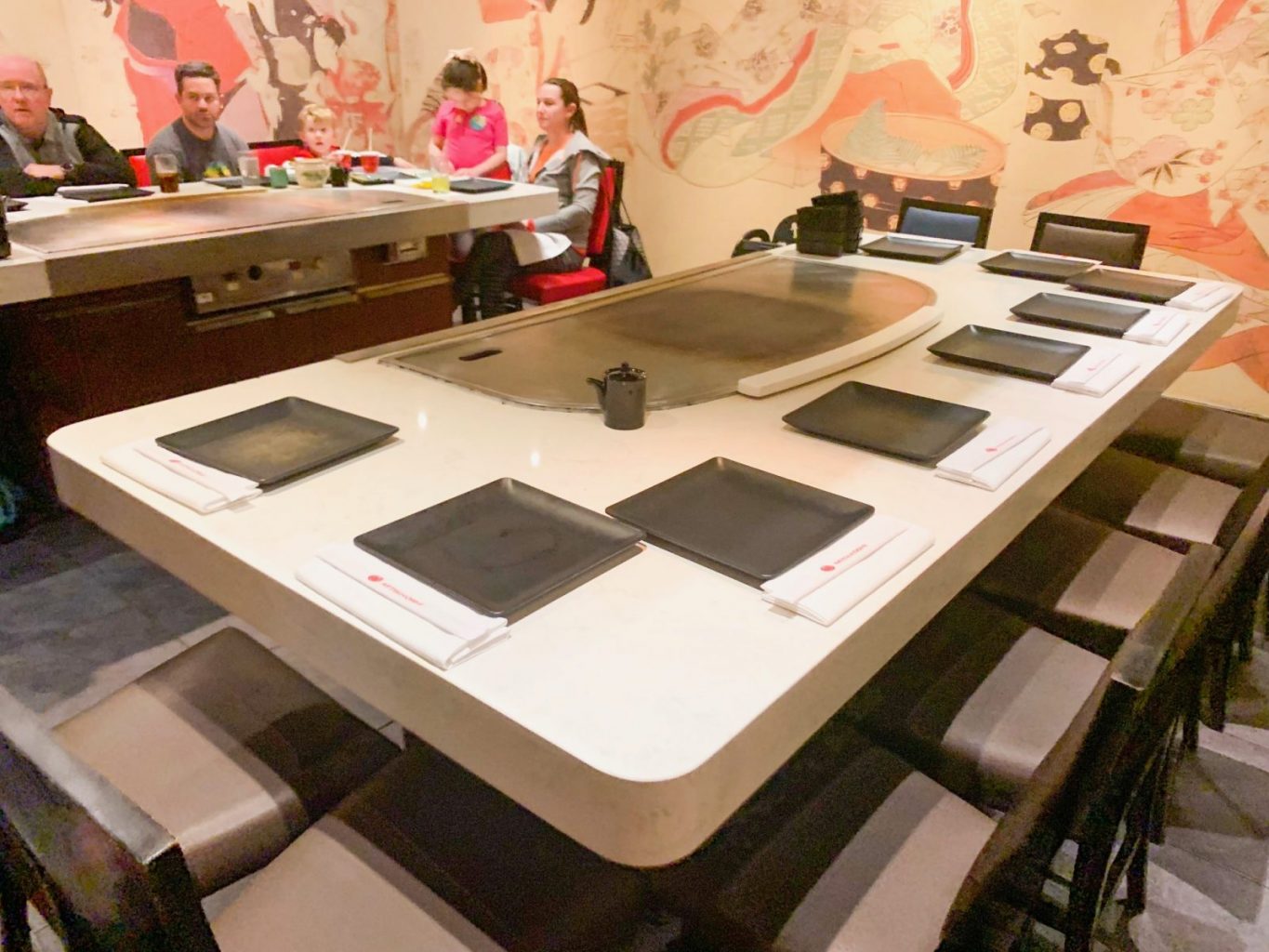 As someone with dietary restrictions, it was already hard enough to communicate with the waitress and I can't imagine how difficult it would have been in the front rooms. Make sure to request but understand they may not be able to accommodate or that you may have to wait longer for a table in the back room [and it may be closed if Teppan Edo Epcot isn't very busy!]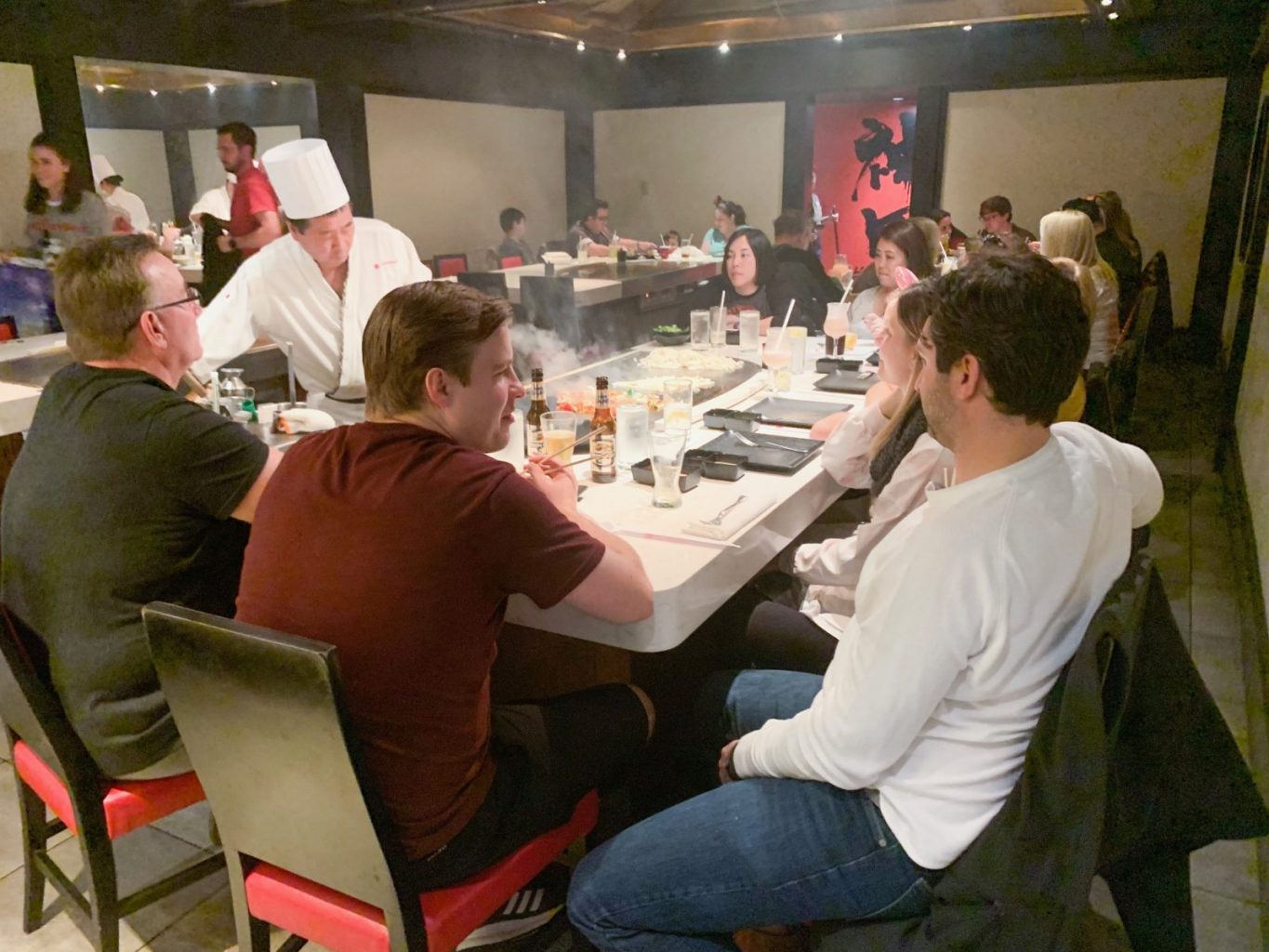 Teppan Edo Menu
The Teppan Edo menu is pretty straightforward and easy to understand. They even offer sushi if you wanted to eat at Tokyo Dining but weren't able to. This gives my sushi eaters the best of both worlds. This is one of the more expensive restaurants, so if you are paying out of pocket, keep this in mind when looking at the Teppan Edo menu!
For vegetarians and vegans, the Teppan Edo menu is vegan as-is. It is "seasonal vegetables, mushrooms, and tofu." The only thing that vegans cannot eat is the version of "yum yum" sauce as it is mayonnaise-based.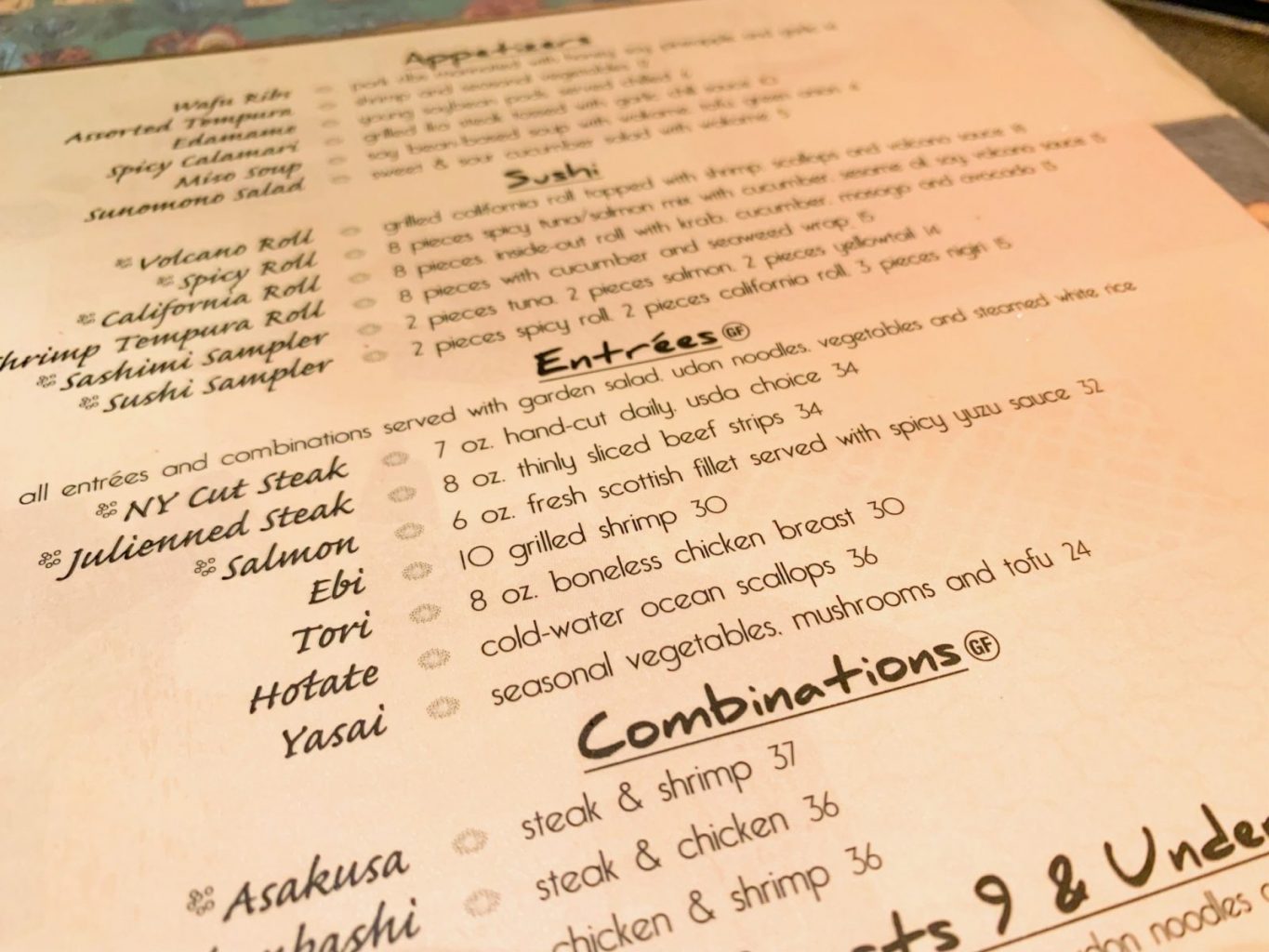 Unless you are on the Disney Dining Plan, I think you should be good to skip the appetizers and desserts and just stick with the main menu options. Everyone at our Hibachi table was satisfied with just the main entree option. The two people sitting next to us were on the Disney Dining Plan and got an appetizer and dessert and were so stuffed they took two bites of it and never finished it.
Each dining option comes with a garden salad, udon noodles, vegetables, and white rice. Once your white rice runs out, you can request more rice for free. If you are feeling hungry, simply request double white rice to make your portions spread even further.
All three of us had the "seasonal vegetables, mushrooms, and tofu" from the Teppan Edo menu. The people sitting at our table to the right had the NY Cut Steak and the Chicken so while we didn't eat any meat-based entrees, we saw them being prepared and I can tell you the portions were great!
You can also choose to do combinations on the Teppan Edo menu and choose half of one entree and half of another. So if you are looking to try the beef and the fish, you can request that.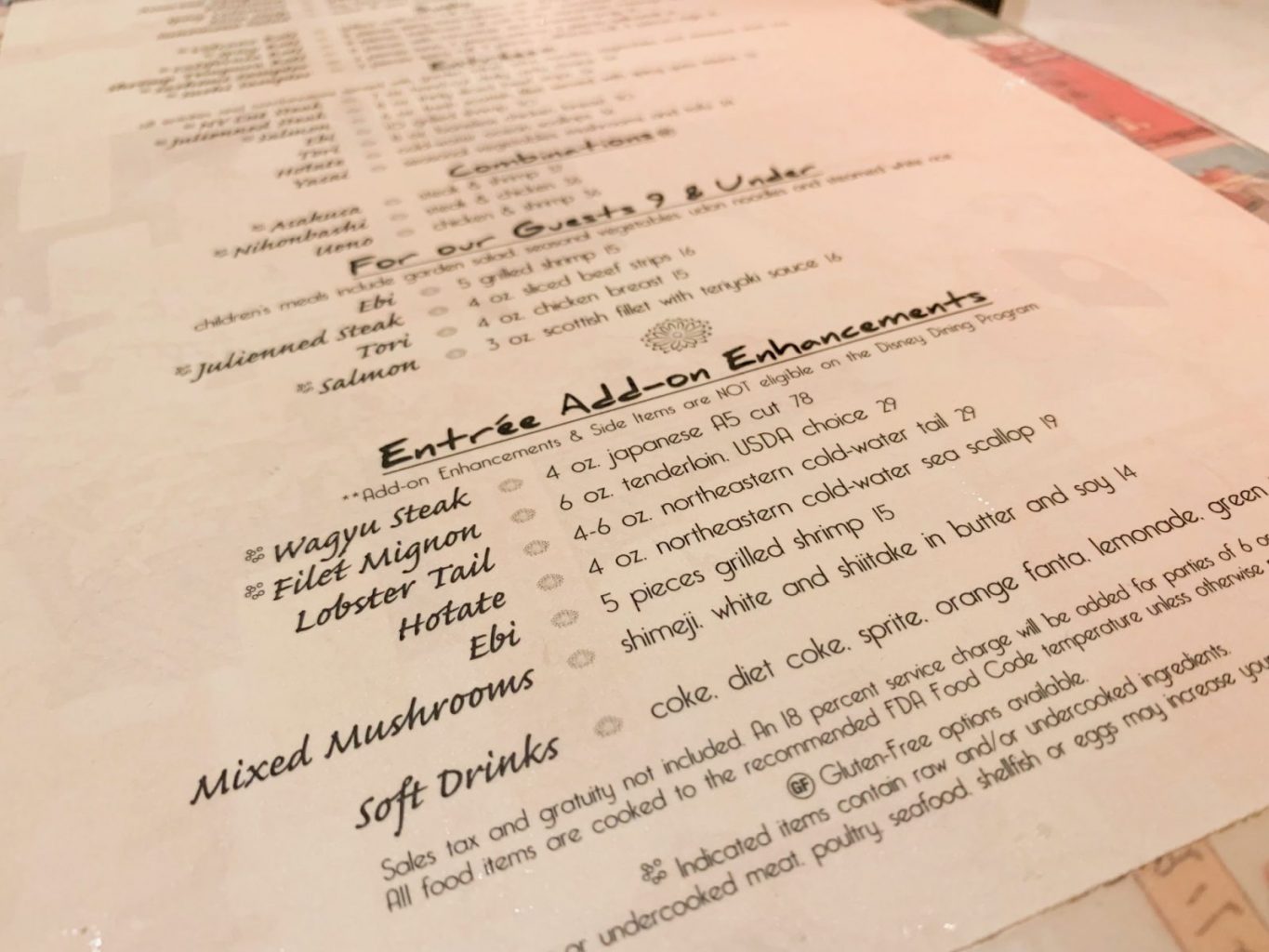 Dining At Teppan Edo With Allergies
As I said before, I was worried about the cross-contamination from the onions on the hibachi grill. When we sat down, an allergy specialist came out from the back and asked each one of us, vegetarian with onion and garlic allergy, vegan, and vegetarian, a few questions.
She asked if the things could touch such as the onions touching other vegetables but just not being consumed. That is a hard no and even the juice from a cooked onion is a no-no for me.
She asked my mom, a vegan if it was okay if the chef used the same utensils to cook meat and her vegetables. Both my mom and sister declined and said this makes them uncomfortable.
Finally, the allergy specialist at Teppan Edo asked my sister if she can do mayo-based foods to which my sister said yes. The allergy specialist also explained which sauces had garlic in them or dairy products so we knew.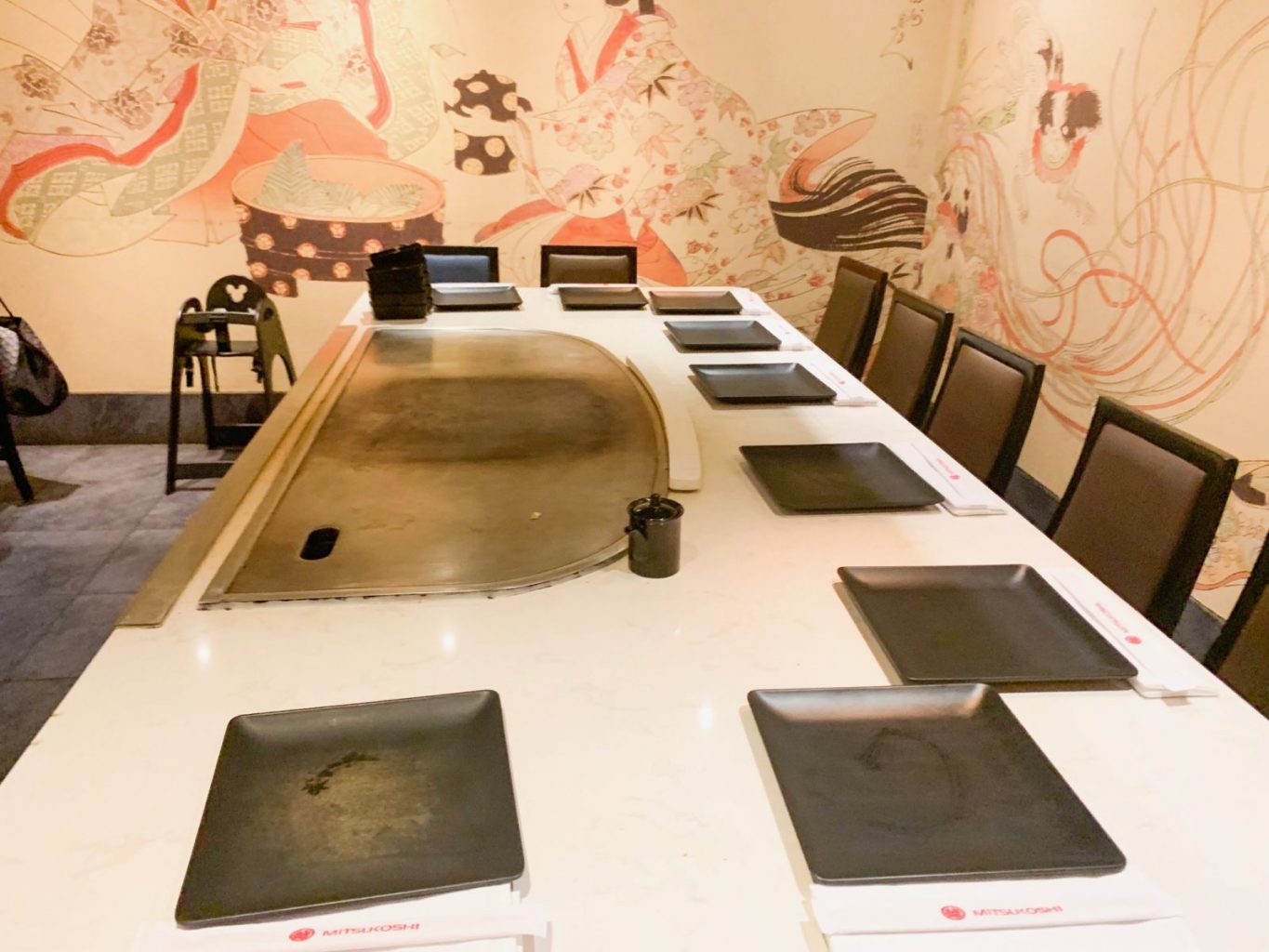 I went to the bathroom, and upon my return, the allergy specialist was back at the table. She profusely apologized to me and said that they would have to make my meal in the back to avoid cross-contamination with the onion and garlic on the hibachi grill and that my meal would have to be brought out all at the same time.
I WAS THRILLED! I think she was expecting a negative response, but I really dislike the way that hibachi isn't served all at one time and parts of my food get cold! I didn't want to cause a scene and ask for my meal to be made in the back strictly for this weird personal preference, but I was thrilled when she told me that is what had to be done to avoid allergy contamination.
I just want to let you know that my meal was brought out all at one time and I did not have any negative reactions which means that Disney 100% cooked my meal properly.
As for my mom and sister, the hibachi chef went ahead and cooked everyone's vegetables and noodles at the same time, served my mom and sister, and then cooked the meat and served everyone else. He was very skilled and cooked our Teppan Edo meal in stages so that there was no cross-contamination with the meat!
It was done in a way where no other diners at our table felt put out and you couldn't really tell that this wasn't the way it was supposed to be done!
If you are looking at the Teppan Edo menu and are wondering how they deal with allergies, the answer is FANTASTICALLY! Please don't worry! If your allergy is with one of the items on the menu, they may be able to cook your meal in the back and you are good to go!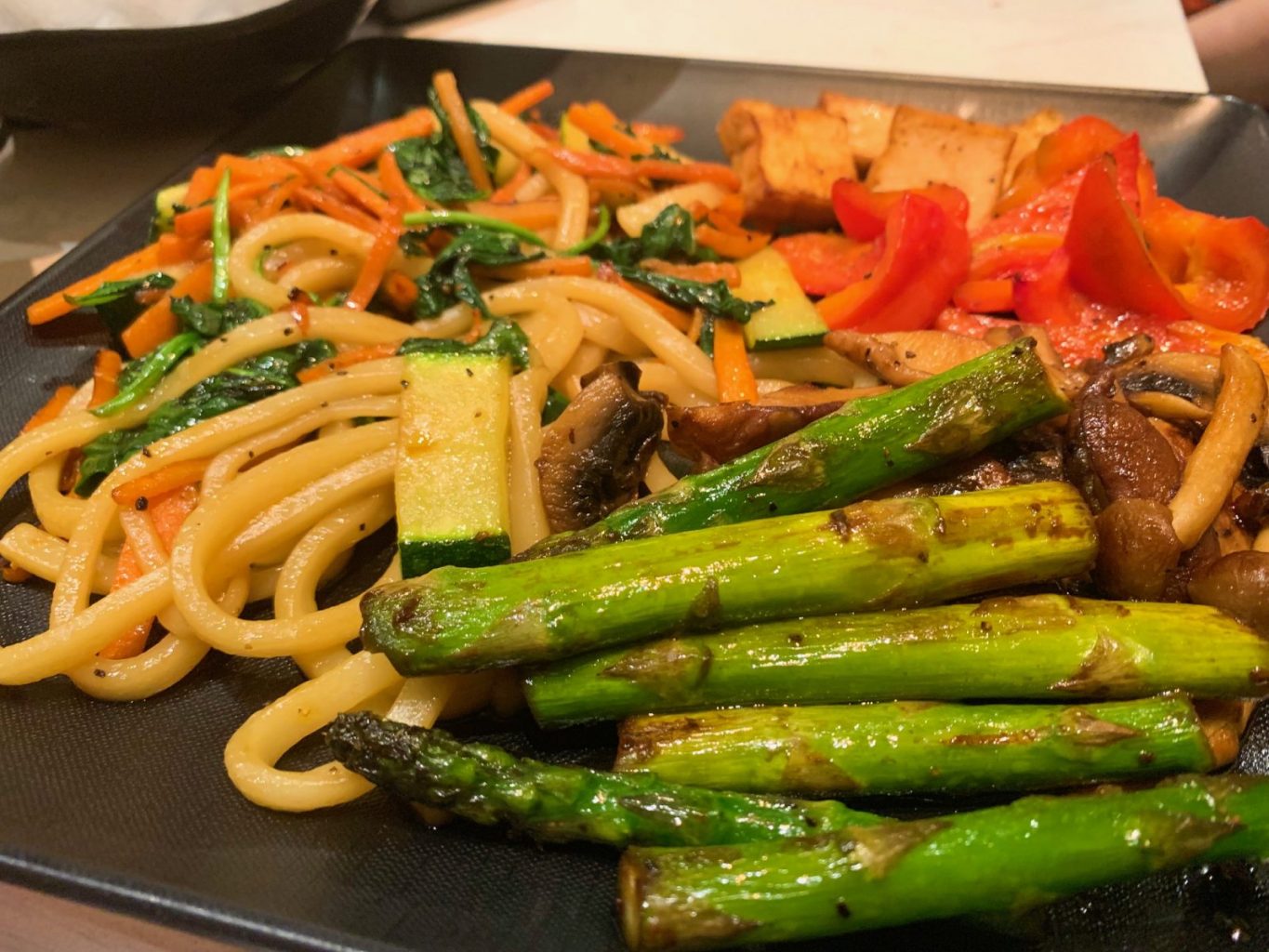 The Teppan Edo Dining Experience
When you first get seated, you are provided with the Teppan Edo menu where you can choose what you want to eat. You are also provided with a moist towelette to wash your hands. Everyone at our table was thankful that they didn't have to move around precariously and get up and go to the bathroom to wash their hands. This was a nice touch.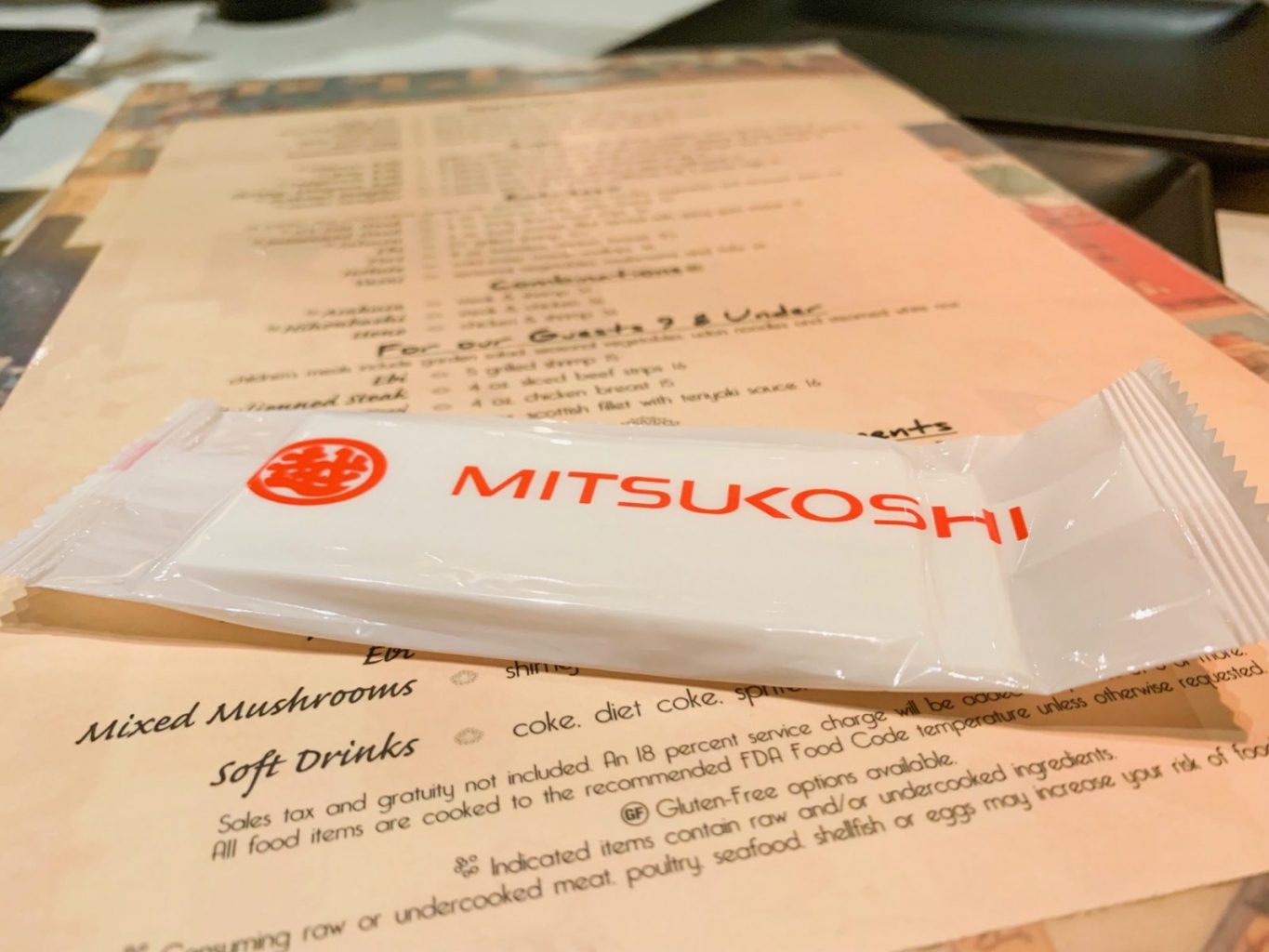 You are also provided with the Teppan Edo cocktail list. My sister got the Tokyo Sunset cocktail which ended up being really good. It was $12 which isn't any more expensive than a cocktail at our local Cheesecake Factory and it was quite large. It was one of those "dangerous" cocktails that taste more like juice than liquor so it goes down quickly!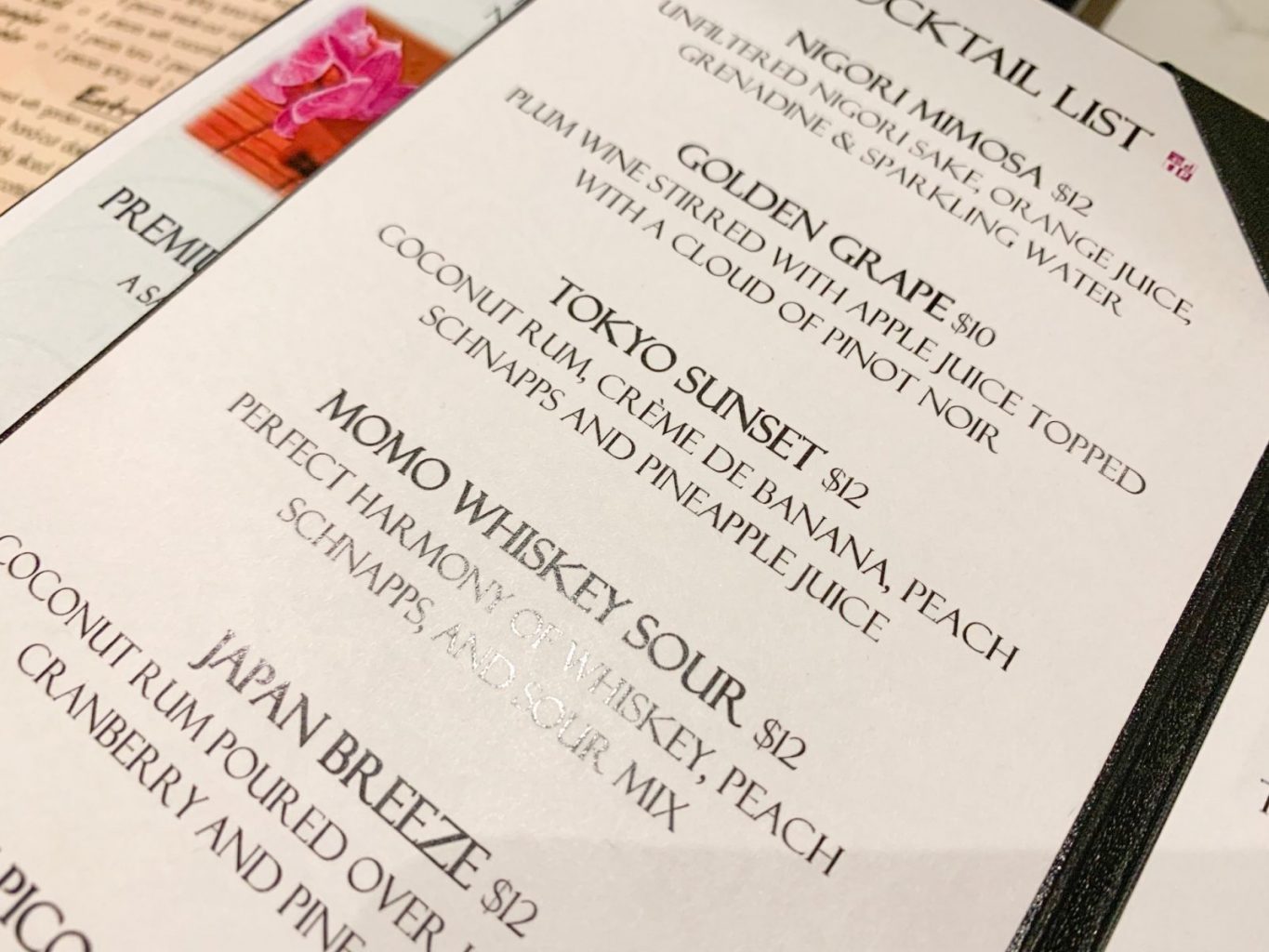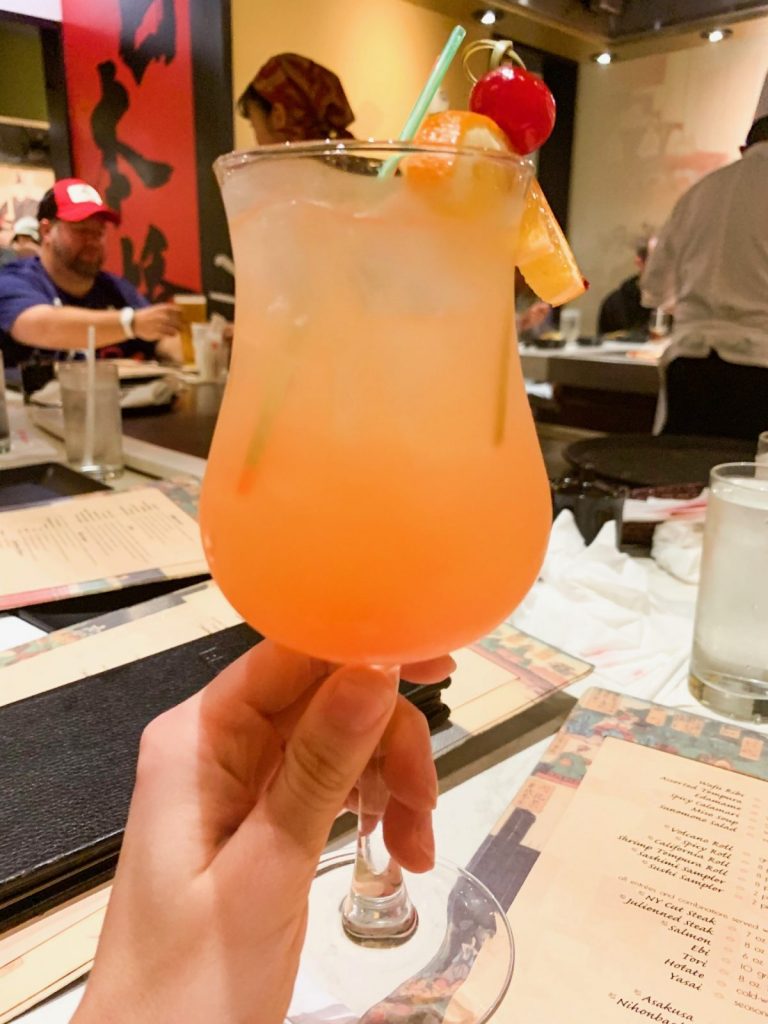 Next, we were served the "garden salad" portion of the entree experience. Honestly? I was disappointed. I've gone for hibachi for years and normally they put on a dressing that is similar to a ginger dressing and there are at least a few other veggies sprinkled in.
This was just lettuce and dressing. My mom and the other diners cited that the dressing was really good. I wasn't able to have it as it contained ginger and the Teppan Edo staff gave me a very potent dressing which was similar to balsamic vinegar, in my opinion!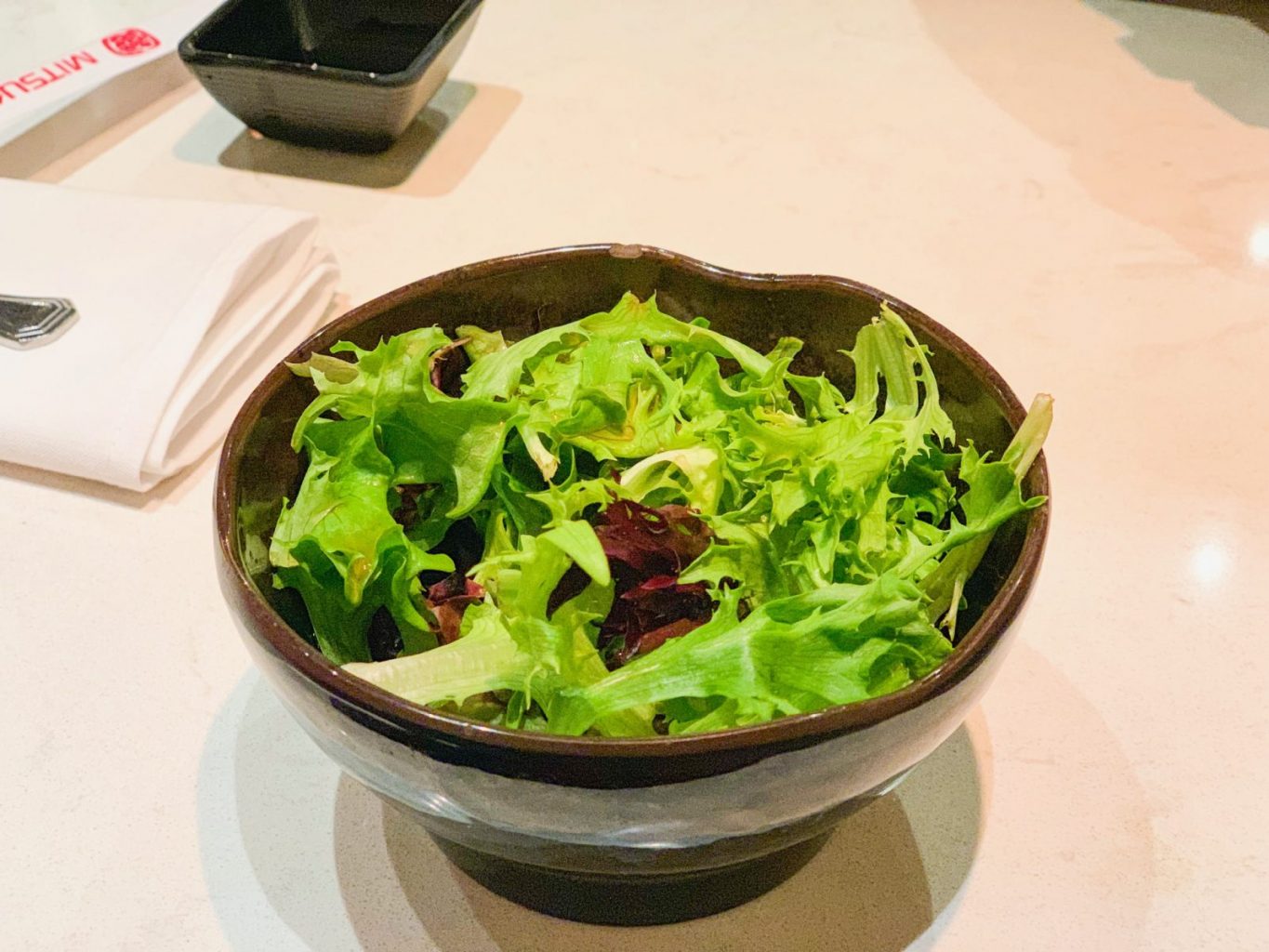 Next, our chef entered, introduced himself, and the experience began. In all, I was VERY glad that my dish was cooked in the back kitchen as I would have been nervous the whole time as the onion was on pretty much every portion of the hibachi grill!
As I stated above, first the check cooked everyone's vegetables all at one time. He also put on a show with his expertise which is one of the best parts about Teppan Edo Epcot!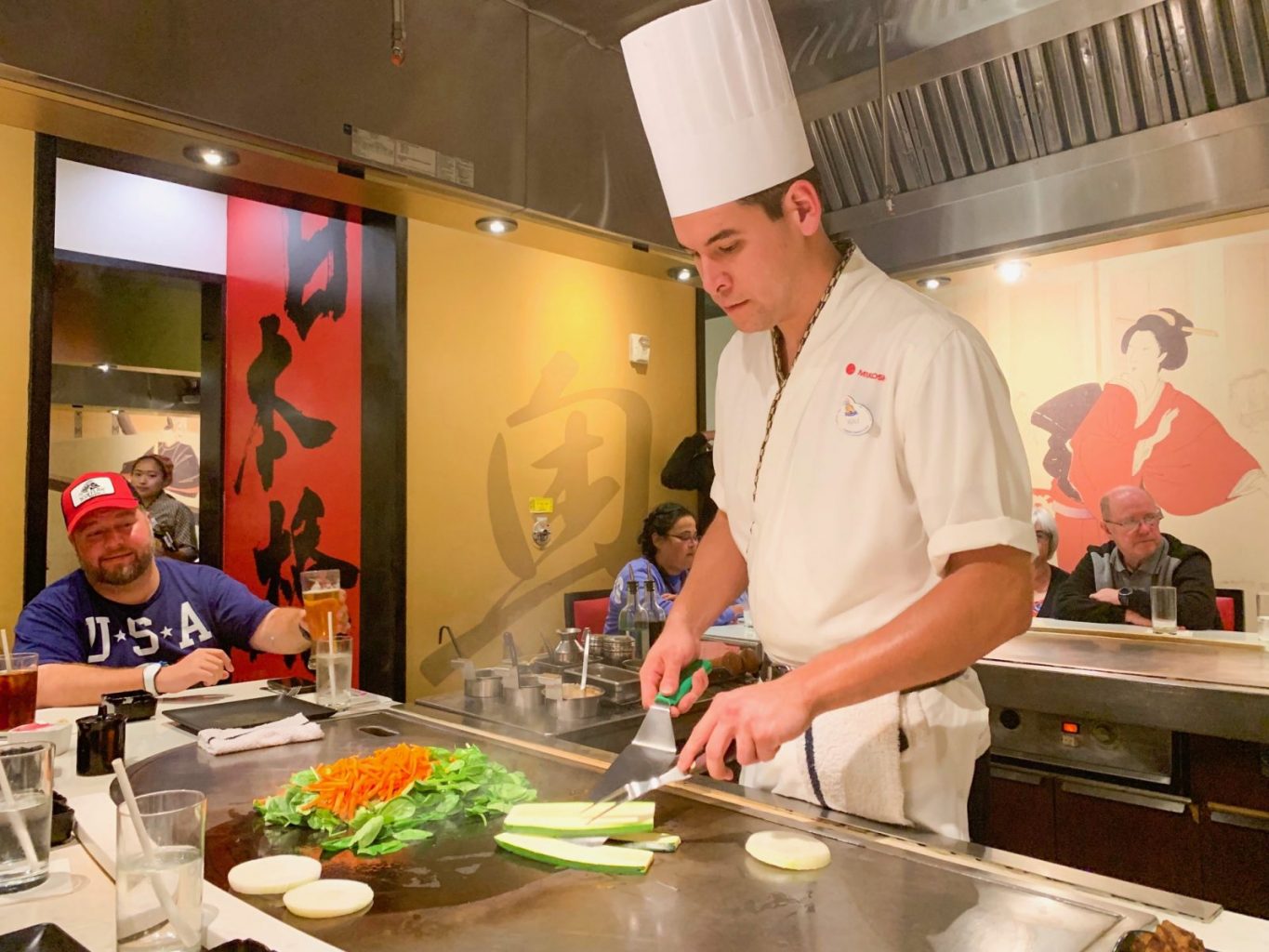 Next, he lumped a HUGE amount of udon noodles on the grill. A few other diners at our table stated that they had never had udon noodles before, and the young man next to me was going to request none with his dish.
I assured him that udon noodles are pretty much the best thing in existence, so he trusted me and got them! After his first bite, he was in love and thanked me for the recommendation as it was unlike anything he has ever eaten!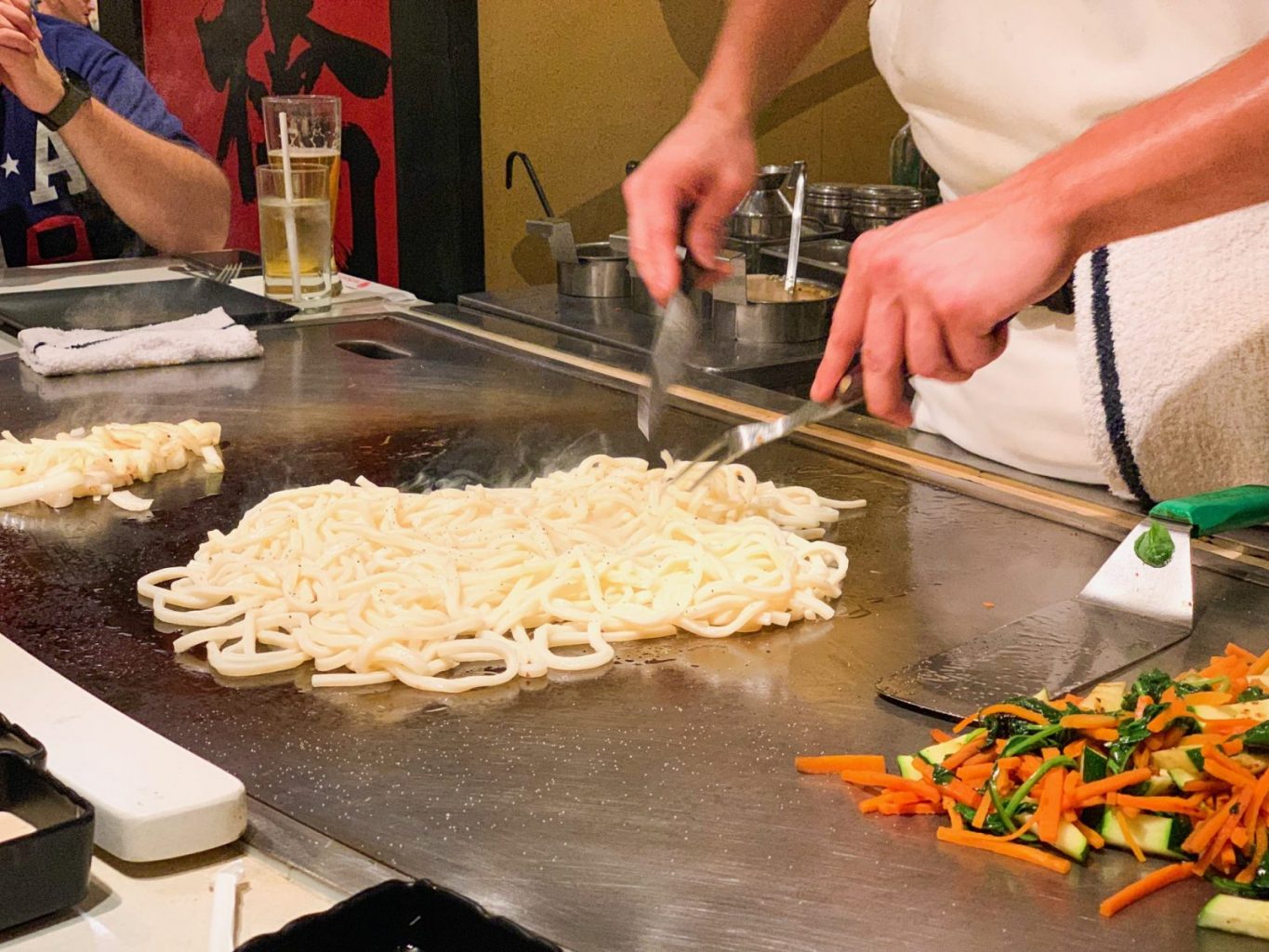 If you are heading to this hibachi restaurant at Epcot, please don't take out the udon noodles [unless you are allergeic] because they are truly fantastic!
Here is the udon noodle portion for the meal. Everyone got this portion evenly, no matter what their entree was. Personally, I think the vegetarian-based entrees should get a little more as the meat portions were much more filling and larger than the tofu.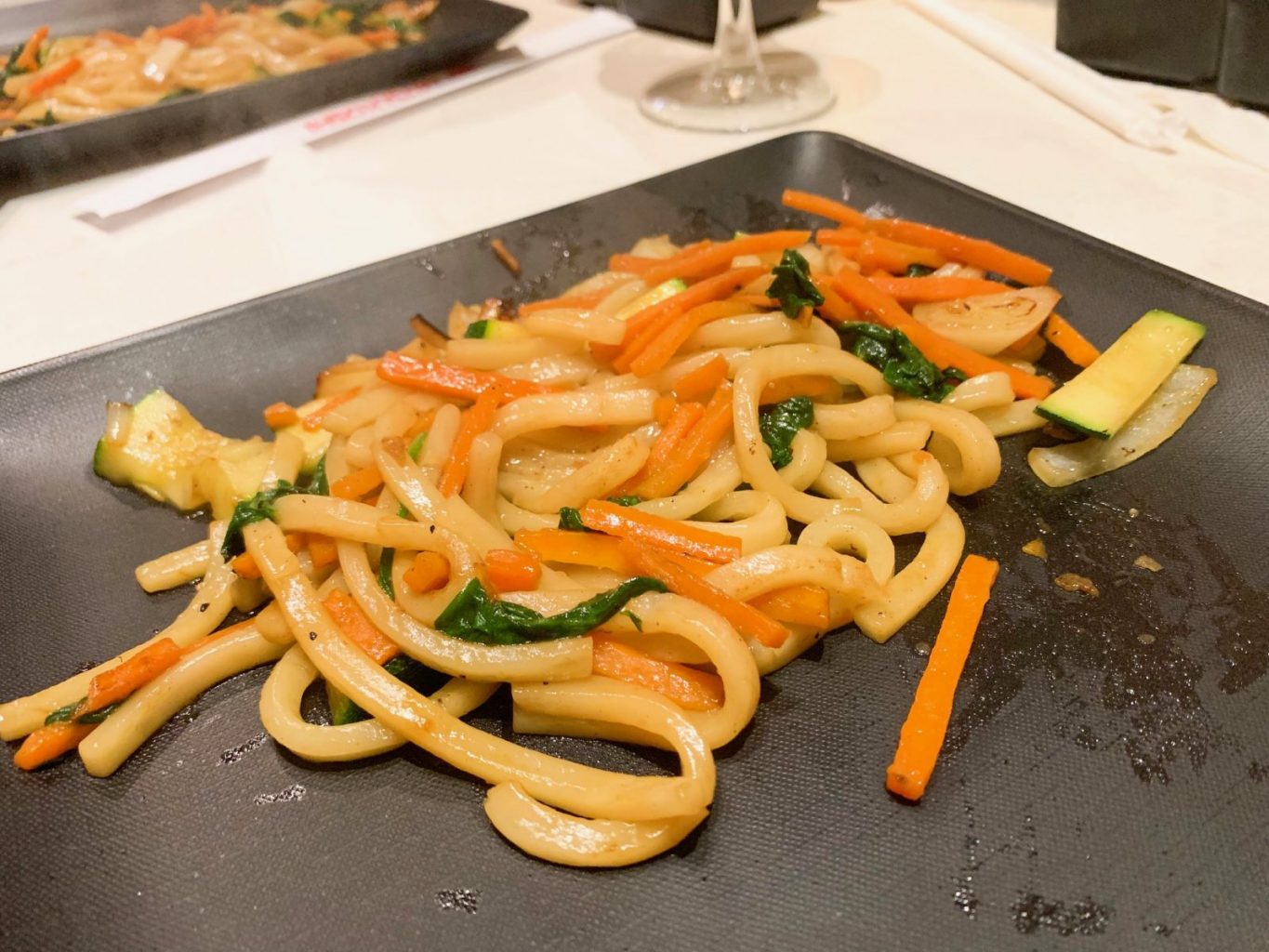 Speaking of tofu, the portion left a lot to be desired. We were given four very small squares of tofu. This picture doesn't do them justice as to just how tiny they really are. The meat portions were much larger and the young man sitting next to me had quite a lot of pieces compared to the tiny pieces of tofu.
As a result, I do wish we either got more tofu or more noodles with the veggie entree.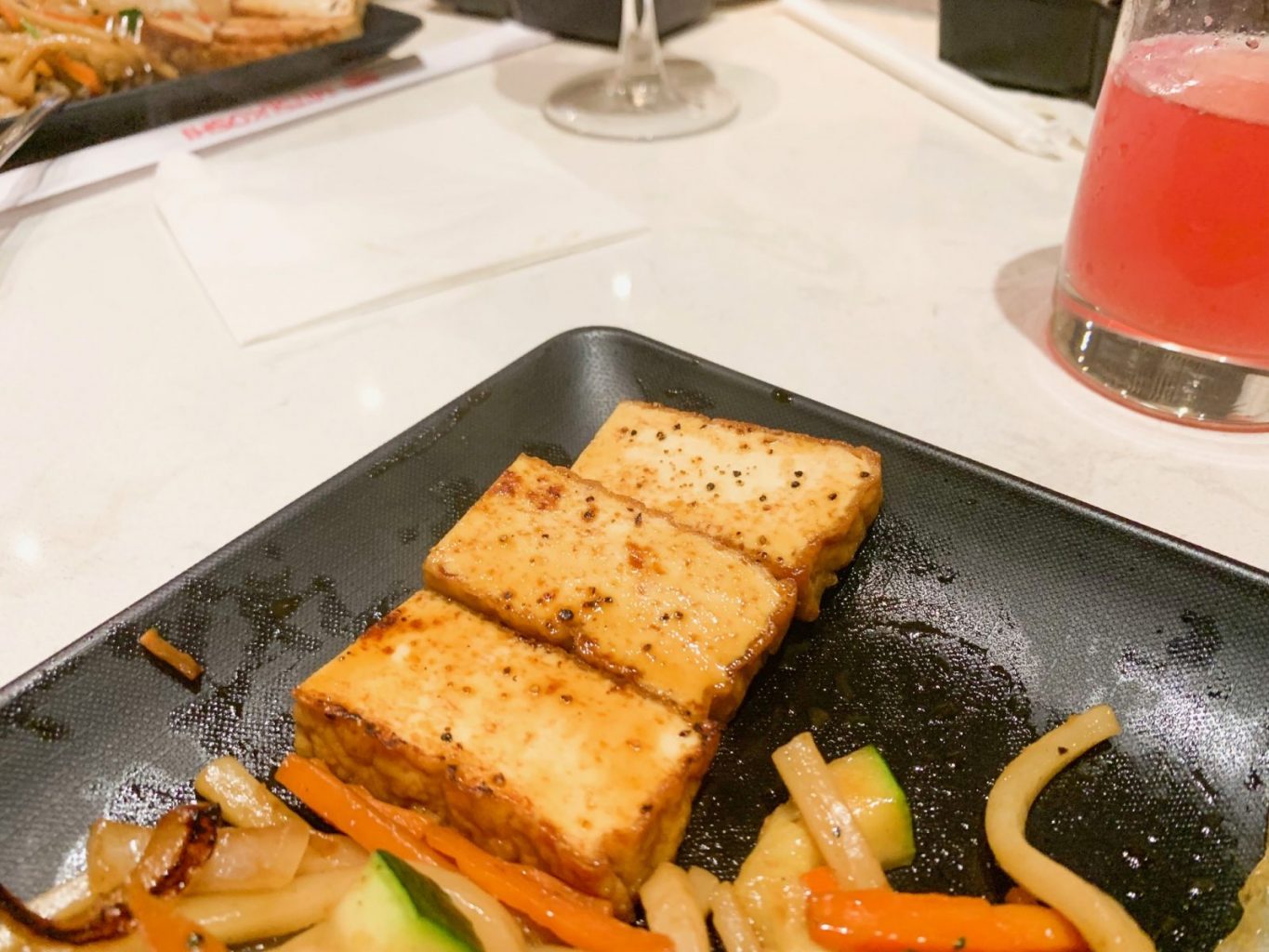 That being said, I was actually quite stuffed after eating the entire thing, so I really can't complain. Optics are everything, and the tofu portion is small and you barely get to eat any, but in the end, it is quite filling.
Here is an overview of my completed plate, including white rice. Once we mixed everything together, the mount on our plates was very large! As we were eating, a waitress came around and asked if anyone wanted a refill of white rice. Everyone declined as they were too full, but this is a nice tip to know in the future if you are wondering if the food on the Teppan Edo menu will be enough to fill you!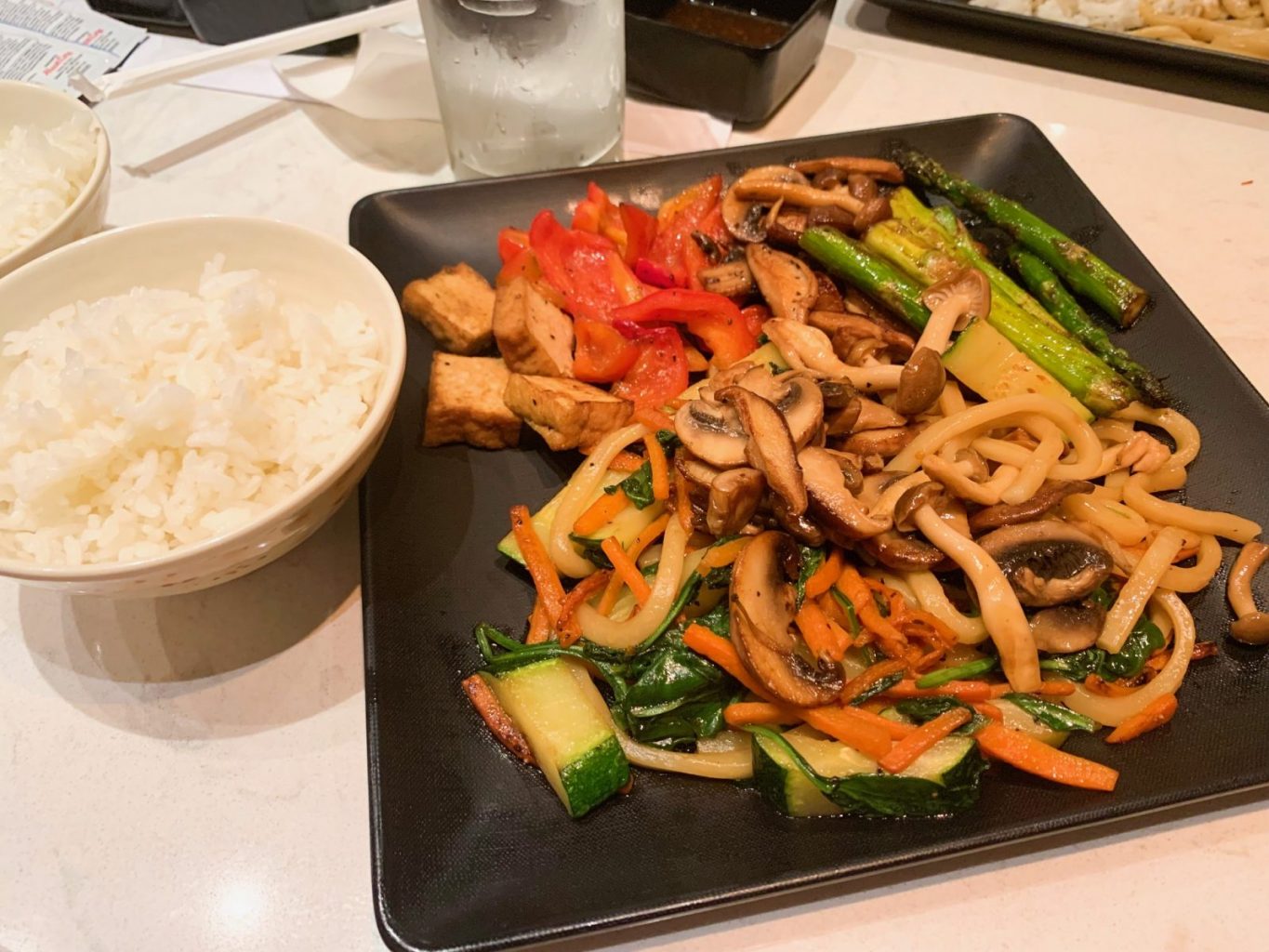 Finally, I ordered an "Entree Add-On Enhancement" of the mixed mushrooms. It was $14 and I really wanted to try it as it sounded so very good! We asked a waitress if we could share it and she said yes, it was big enough to share. She was going to charge us a split-portion fee so BEWARE! Simply order the add-on for one person and share, don't mention it in advance!
This was a HUGE WASTE OF MONEY! The mushrooms were the tiniest scantiest amount I have EVER seen, especially for $14! At this point, I should have just ordered two entrees! They were certainly not enough to share and they were nothing special other than sauteed mushrooms in a white paper!
I was very disappointed, especially after paying $14, and I even considered asking for it to be taken off my bill, but I didn't want to make a scene so I let it go. They weren't even that good and were just "average" and certainly not worth $14!
I highly recommend not adding a menu enhancement, unless you want to pay a lot of money for a very small amount of food! A better suggestion is to add two portions of white rice and smother it in yum yum sauce!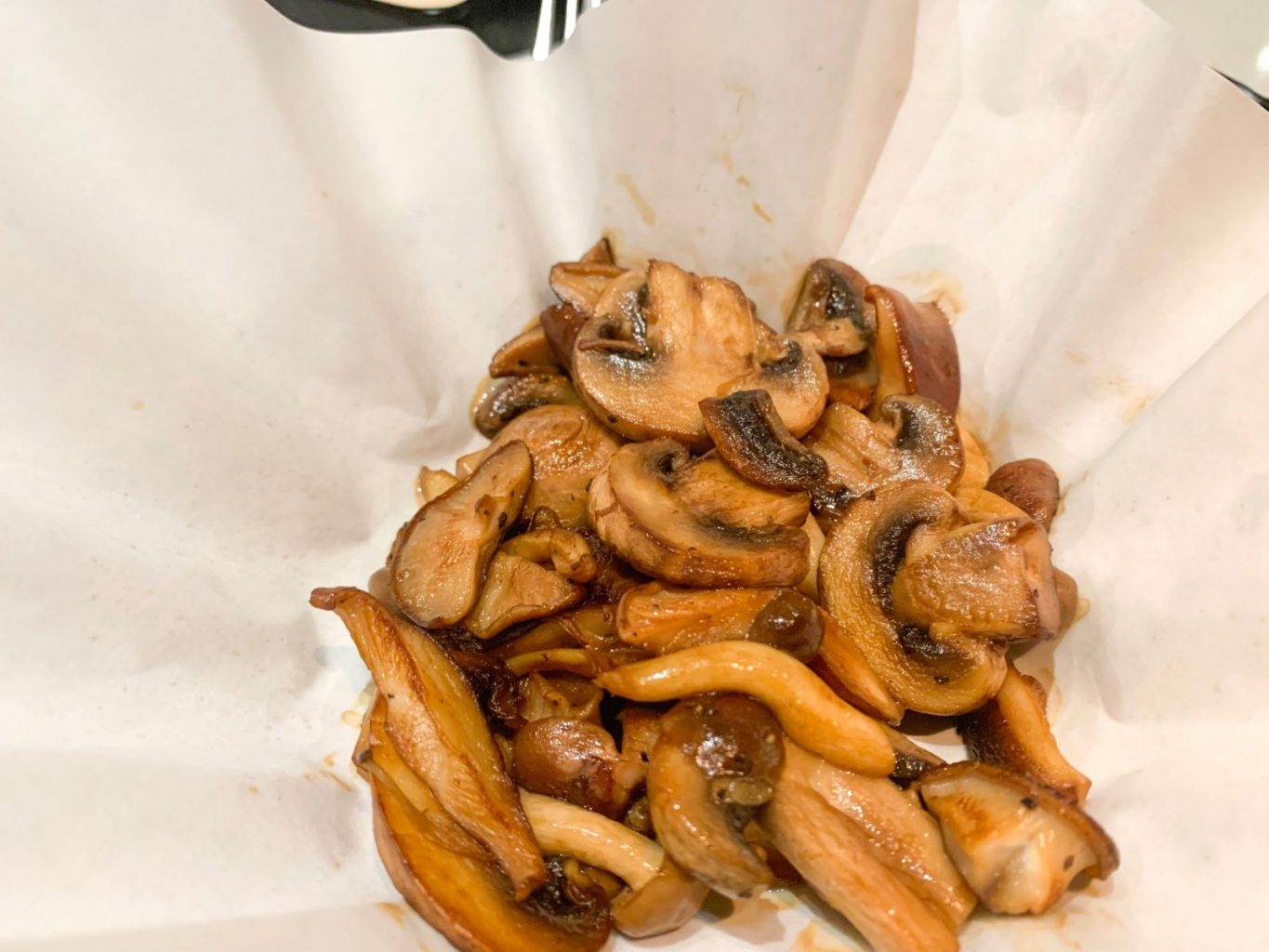 The Verdict!
Honestly, I DREAM about going back to Teppan Edo! While I was writing this review, I was drooling at the food and the memories that I had. I can't wait to go back!
They were truly fantastic about allergies, vegans, and vegetarians. If you want to go to Teppan Edo Epcot as a vegan/vegetarian/allergy-meal, rest assured that you will be well-taken-care-of!
The only things I didn't love about my meal was the boring salad [others liked their dressing more but it was still only lettuce] and the puny amount of mushrooms that I got for $14!
I want to let you know that the Teppan Edo dining experience takes a little over 1 hour. This may feel long to some so do keep this in mind. This is longer than I usually like to spend eating at Epcot, but the food was so good that I will 100% sit through an hour experience any day to eat here!
Otherwise, I highly recommend Teppan Edo for your dining experience at Epcot! If you are on the Disney Dining Plan, it is a great way to use up your credits and you will enjoy it!