Looking for the best Magic Kingdom restaurants? This guide has everything you need to know about dining in Magic Kingdom, including food, atmosphere, price, and location. And not only will you get opinions on the best Magic Kingdom restaurants, but you'll also find out which ones you should try to steer clear of.
The Magic Kingdom restaurants are varied in the best possible way. If you feel like munching on a bacon, egg, and waffle sandwich for breakfast from Sleepy Hollow Refreshments after Rope Drop and enjoying some fine dining with the Beast from Beauty and the Beast for dinner, you can do that at Magic Kingdom!
Or if you want to eat traditional American fare from Liberty Tree Tavern first and dishes from Asia, Africa, and South America from Jungle Navigation Co. LTD Skipper Canteen later, the dining options in Magic Kingdom make it easy for you to do that too! Now, the only question is which of these Magic Kingdom restaurants will you choose to visit?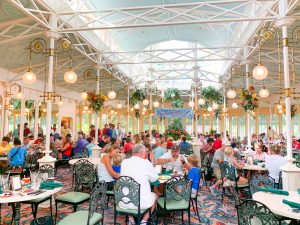 16 Best (And Worst!) Magic Kingdom Restaurants
Best Table Service Magic Kingdom Restaurants
Jungle Navigation Co. LTD Skipper Canteen
Situated in Adventureland, Jungle Navigation Co. LTD Skipper Canteen truly embraces the adventurous spirit. With menus inspired by the cuisines of Asia, Africa, and South America, this restaurant serves up dishes that stand out from the rest of the food in Magic Kingdom.
Skipper's Canteen is easily home to some of the best Magic Kingdom food options because of the quality and variety of choices. It is one of the only restaurants in the park that doesn't serve the traditional "theme park fare" and we love it for that!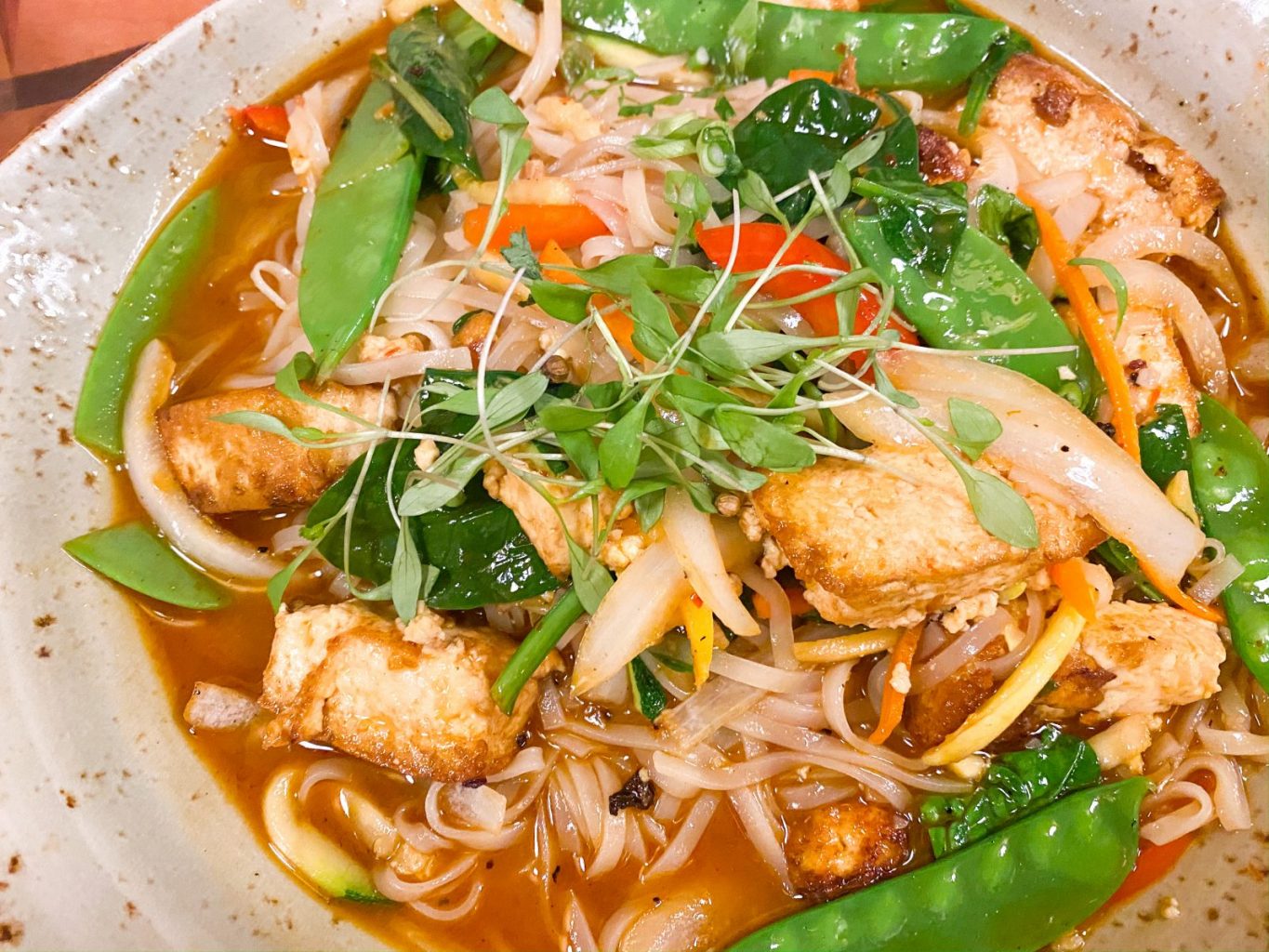 Try "hardy har char" siu pork, falls family falafel, and Orinoco Ida's cachapas (corn pancakes with beer-braised pork).
And we certainly can't forget about the unique desserts like the hibiscus meringue-topped "quicksand," Panna-Connie's Congo lime delight, and the chocolate-filled "kungaloosh!" Between all of these global flavors, you'll feel like you have become an adventurer just through this diverse culinary experience!
If you are looking for vegan or vegetarian options at Magic Kingdom, we LOVE The Thai Perkins Noodles! They are fantastic and the portions are huge for a reasonable price. You will not want to miss this dish and you can add a variety of meat options for an extra cost, depending on your tastes!
Because Jungle Navigation Co. LTD Skipper Canteen provides dishes that you can't get anywhere else in Magic Kingdom, it is impossible to walk-up and get a table. If you're looking to eat at this Magic Kingdom restaurant, be sure to reserve your table far in advance.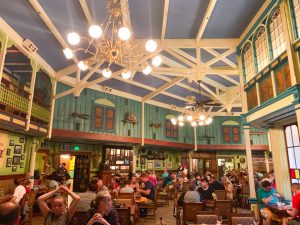 Be Our Guest Restaurant
In order to visit the inside of the Beast's Castle from Beauty and the Beast, you have to dine at the Be Our Guest Restaurant. While the table service dinner is the most popular meal, you can also grab some quick service dishes for breakfast and lunch!
At breakfast, dine like Belle, Gaston, or LeFou with Belle's Préféré, the Feast á la Gaston, or the plant-based Le Fou Festin. For lunch, the French dip sandwich and the coq au vin-style braised chicken are both fantastic.
Dinner at the Be Our Guest Restaurant has a completely different vibe from breakfast and lunch. The entrees get quite a bit fancier, with offerings such as herb-salted pork tenderloin, center-cut filet mignon, and spice-dusted lamb chops.
You can even try Lumiere's famous "gray stuff" (a.k.a. cookies and cream panna cotta) as part of the white chocolate "chip" cup for dessert. If you are looking for some of the best food in Magic Kingdom, you have to try the gray stuff!
Oh, and we can't forget that, around dinner time, you'll be able to catch a glimpse of the Beast and maybe even convince him to sign an autograph!
The Be Our Guest Restaurant is one of the best restaurants in Magic Kingdom (and one of the best restaurants in all of Disney World), so you'll want to make reservations as soon as possible. Reservations can be made 180 days in advance, so, if you must have dinner at this Magic Kingdom restaurant, make a reminder for yourself!
If the restaurant does happen to be booked for dinner, don't fret! You can still stop by for breakfast or lunch and get some delicious quick service food while admiring the inside of the castle. If you are on the Disney Dining Plan, it is a great way to use up your credits!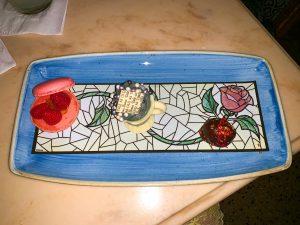 Liberty Tree Tavern
If you're looking for some American-inspired Magic Kingdom food, Liberty Tree Tavern is the place to go. Serving up family-style dishes like the patriot platter, turkey pot pie, and the pilgrim's feast, you're sure to be stuffed to the brim with delicious foods that are reminiscent of Thanksgiving dinner!
Plus, despite the many meat-heavy dishes on the menu, Liberty Tree Tavern also caters quite well to its vegan and vegetarian guests, providing options like portobello pot roast and the plant-based revolutionary meatloaf.
If you have any allergies, simply ask to speak with a chef and they will make you a custom dish! Disney is very good with allergy-friendly dishes and Liberty Tree Tavern gets rave reviews!
Many Disney lovers keep going back to Liberty Tree Tavern, partly for the delicious entrees, but mostly for the dessert – specifically the ooey gooey toffee cake.
While the Boston cream pie and Johnny Appleseed's warm apple cake are both amazing dessert options, the ooey gooey toffee cake tops them both! Between the vanilla toffee cake, the chocolate sauce topping, and the scoop of vanilla ice cream, this dessert can make your mouth water on the spot.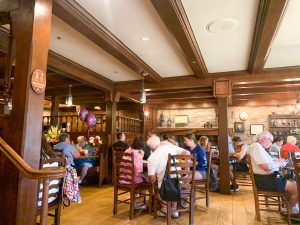 Cinderella's Royal Table
We all recognize Cinderella's Castle. Not only was it the setting of Cinderella and Prince Charming's meet-cute in the movie, but it has also become one of the most recognizable of Disney (alongside the Mickey Mouse ears of course). Disney gives visitors at Magic Kingdom the opportunity to dine in this iconic castle at Cinderella's Royal Table.
Cinderella's Royal Table is, hands down, the best character dining in Magic Kingdom (and perhaps even the best character dining in all of Disney World). You'll be treated like royalty from the moment that you enter, as you'll be addressed as "my lord" and "my lady."
Between the delicious dishes and fantastic service, you'll definitely feel like a prince or princess. And we can't forget the fact that you'll be able to meet Cinderella in her extravagant home!
Open for breakfast, lunch, and dinner, there are so many foods to try at Cinderella's Royal Table. The caramel apple-stuffed French toast for breakfast, the seared pork rib chop for lunch, the tenderloin of beef for dinner, and "the clock strikes twelve" chocolate mousse for dessert have all been well-received by Cinderella's royal guests.
Cinderella's Royal Table is a very in-demand Magic Kingdom dining experience. Be sure to book a table far in advance!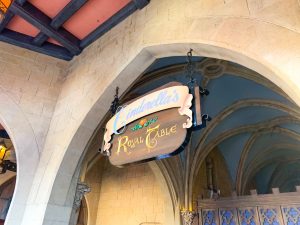 Crystal Palace
If Winnie the Pooh and the rest of the gang from the Hundred Acre Woods are your favorite Disney characters, the Crystal Palace is the Magic Kingdom restaurant for you. This dining option is located in a glass, greenhouse-like building on Main Street, so you definitely won't miss it.
Plus, as one of the only character dining options at Magic Kingdom, the Crystal Palace is always packed with people wanting to hang out with Pooh, Eeyore, Piglet, and Tigger. You can even walk with them in a parade around the restaurant!
As for the food, this buffet-style Magic Kingdom restaurant pretty much serves up the usual Disney foods: Mickey waffles, freshly-made omelets, and roasted carved meats.
A crowd favorite that isn't found at most other Disney dining options is Pooh's puff French toast, complete with a tasty covering of cinnamon and sugar, so be sure to get a few bites of that as well.
If you have any allergies or are vegan or vegetarian and looking for more food, simply ask to speak to the chef. The chef will take you through the buffet and will explain all of the Magic Kingdom food options you can have and will bring you other dishes to fill you up and leave you stuffed!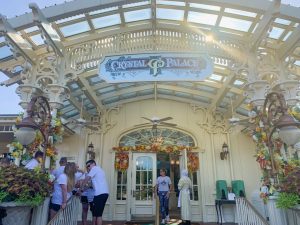 Worst Table Service Magic Kingdom Restaurants
Plaza Restaurant
The Plaza Restaurant at Magic Kingdom is in desperate need of a total makeover. With dated interior decor that just isn't inviting and boring food options that are missing Disney's signature magic, the Plaza Restaurant is never anyone's favorite.
I don't even think that anyone will argue that the Plaza Restaurant offers subpar food at Magic Kingdom. I never see anyone give it rave reviews and it is for a good reason. If you can avoid it, I would try and get a reservation at a different Magic Kingdom restaurant.
On top of that, the Plaza Restaurant is notorious for running late. Guests frequently complain about having to wait for extended periods of time, despite having a reservation.
Instead of spending quite a bit of time and money on a couple of slices of meatloaf or a subpar chicken sandwich, I highly recommend heading to a different place to eat in Magic Kingdom.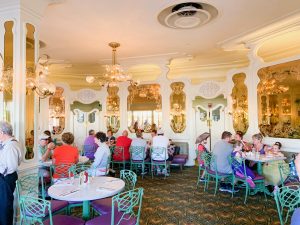 The Diamond Horseshoe
If you're looking for traditional American food in Magic Kingdom, you could go to The Diamond Horseshoe, but you really should go to Liberty Tavern instead. Liberty Tree Tavern is just so good and the food is memorable and the majority of people who go to Magic Kingdom have never even heard of The Diamond Horseshoe.
With The Diamond Horseshoe obtaining an average rating of less than 2.5 stars on Yelp, I'm clearly not the only one who thinks it is below average. I highly recommend skipping it, even if you have to eat at a quick-service restaurant in Magic Kingdom. It isn't worth the money!
The Diamond Horseshoe is very meat-heavy (which isn't great for our vegetarian and vegan friends), and, honestly, even the meat dishes aren't special. Plus, with prices like $18 for a grilled chicken sandwich, The Diamond Horseshoe isn't great for your bank account balance either.
If you are on the Disney Dining Plan, I wouldn't waste your credits here! There are way better places to eat! Trust me on this one!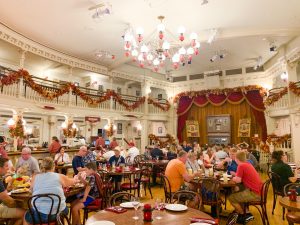 Tony's Town Square
When you compare the Italian food at Tony's Town Square to the Italian food at other Disney Italian restaurants (like Mama Melrose, for example, which is one of the best restaurants in Hollywood Studios), Tony's Town Square just doesn't live up to expectations.
If you have to choose between Tony's Town Square and The Diamond Horseshoe, Tony's is a clear winner, but that is choosing between two subpar options. If you are really craving Italian, then go ahead, but it won't wow you and the prices are quite steep!
It's lacking that Disney magic that makes everything in the happiest place on earth just a little bit more special. Located on Main Street, this Magic Kingdom will empty your wallet and leave your taste buds wanting more.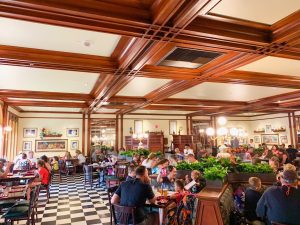 Best Counter Service Magic Kingdom Restaurants
Pecos Bill Tall Tale Inn & Cafe
Because so many of the Magic Kingdom table service restaurants require advanced reservations, most guests inevitably find themselves searching for a counter service restaurant worth their time. Despite the fact that it is a quick service restaurant, Pecos Bill Tall Tale Inn & Cafe serves up some of the best food in Magic Kingdom.
This particular Magic Kingdom quick service restaurant is inspired by the fictional cowboy from the American Southwest known as Pecos Bill, which means the menu is filled with healthy, yet tasty Tex-Mex cuisine.
Pecos Bill works a bit differently from the other Magic Kingdom restaurants. While first you order your dish of choice – for example, the fajita platter or pork carnitas nachos – that's not all the food that you get. Once you get your plates, you can then go to the toppings bar and load up on everything from jalapeños to charred corn to cheese and sour cream. Basically, you'll end up leaving Pecos Bill feeling full and ready to continue your day in the park.
This is a family favorite and easily one of my favorite restaurants at Magic Kingdom that is more affordable! If you are on the Quick Service Dining Plan, this is a great place to spend your credits!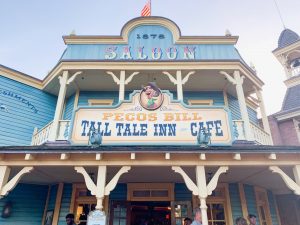 Casey's Corner
Situated right on Main Street, Casey's Corner is the perfect place to pull up a chair, eat a late dinner, and watch the fireworks. Casey's Corner basically just serves up hot dogs and mac and cheese, but they're fantastic! And, even though neither of these options are vegan, Disney has, of course, managed to make tasty plant-based alternatives.
The crowd favorite from Casey's Corner are the loaded corn dog nuggets. I'm always a fan of when two fantastic foods are combined to make one unbelievably weird and tasty dish, and these loaded corn dog nuggets are no exception.
And they're certainly not lacking in flavor, thanks to their cheese sauce, chile-lime seasoning, and sliced jalapeños. So why not also grab some of these corn dog nuggets to munch on as you watch the fireworks?
Keep in mind that Casey's Corner is usually incredibly busy, so if you're craving hot dogs, know that you'll probably have to wait a while to get them.
Instead, I recommend doing Mobile Order! You can go to your My Disney Experience App and place your order in advance. The lines are INSANE as this Magic Kingdom Restaurant is located right on Main Street, so you should do everything in your power to beat the lines!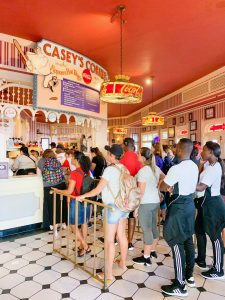 Sleepy Hollow Refreshments
Located in a small brick cottage right beside Cinderella's Castle, Sleepy Hollow Refreshments sadly often goes unnoticed. It's truly a shame because Sleepy Hollow Refreshments has some of the coolest treats in Magic Kingdom.
First, you can get the craziest waffle sandwiches: fresh fruit waffle sandwiches, sweet and spicy chicken waffle sandwiches, and even a breakfast egg and cheese waffle sandwich. This is one of the best snacks at Disney World and you shouldn't miss it!
And if you're looking for a different sandwich variation, try the vanilla ice cream churro sandwich. Yum! Plus, considering the rather reasonable prices, you get a lot of food! You'll be nice and full, and, most importantly, ready to continue enjoying the Disney park.
Once again, this is a great place to use your snack credits if you are on the Disney Dining Plan!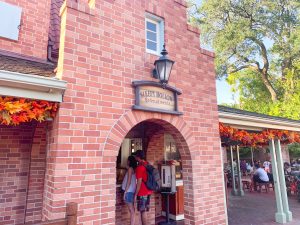 Friar's Nook
If you're a fan of tater tots, the Friar's Nook may be the Magic Kingdom restaurant that you've been searching for. Practically everything on the menu consists of large portions and tater tots (with the exception of the creamy bacon macaroni and cheese – although they provide a tater tot version of that as well).
The loaded buffalo chicken tots and the brat and tots are both crowd favorites. While the original brat and tots are delicious, the vegan version is equally as tasty and filling.
This is a great place to stop for lunch or dinner while in-between rides at Magic Kingdom. The lines are often shorter than places like Casey's Corner and there are more seating options open.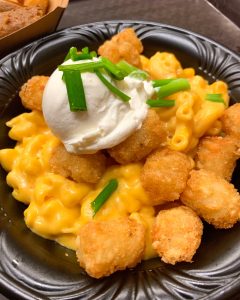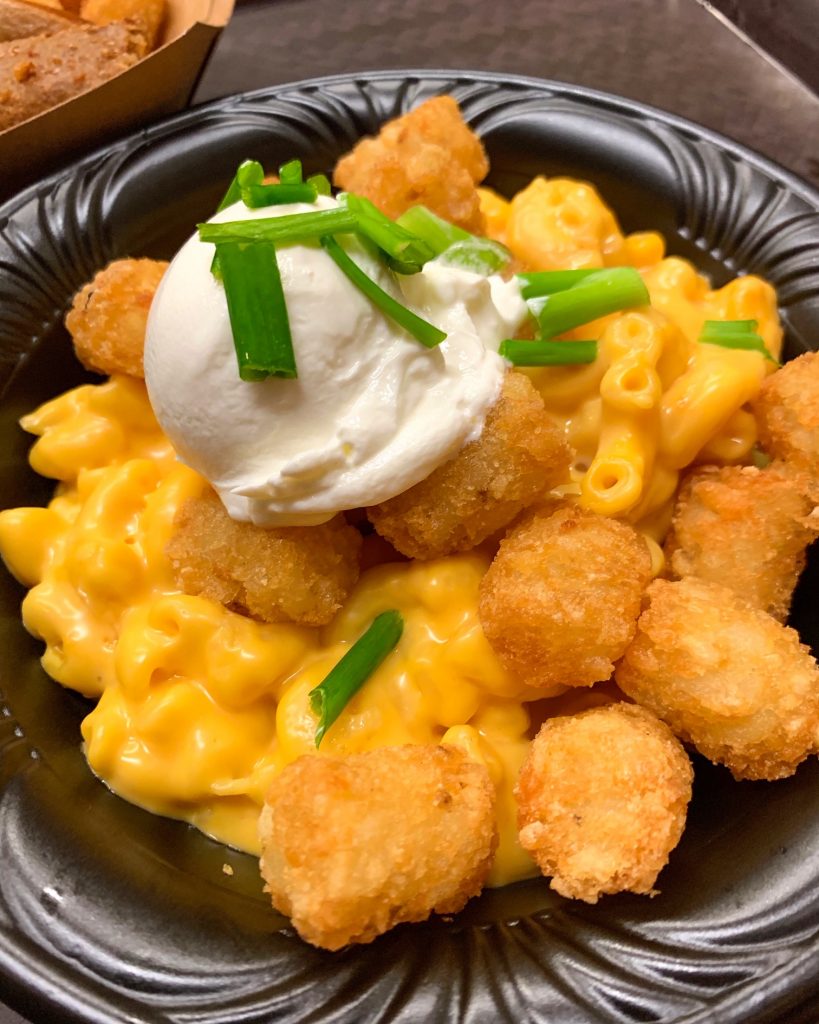 Cosmic Ray's Starlight Cafe
Situated in Tomorrowland, Cosmic Ray's Starlight Café is Magic Kingdom's go-to restaurant for traditional theme park food. Hot dogs? Check. Cheeseburgers? Check. Chili dogs? Check. French fries? Check. And if you're a vegan or vegetarian, you don't have to worry!
Try the plant-based sloppy joe or enjoy a refreshing Greek salad. This centrally-located dining option also has a fantastic toppings bar, complete with sautéed mushrooms, deep fried onions, and a bunch of fresh veggies. Cosmic Ray's is also very accommodating to guests with gluten, egg, dairy, nut, shellfish, and soy allergies.
I am always up for a late-night snack at Cosmic Rays. My favorite is the S'mores dessert and french fries. I know that sounds like a terrible combination, but it is salty and sweet and actually quite affordable! It has been one of my favorite Magic Kingdom restaurants since I was a little girl because it is quick and affordable!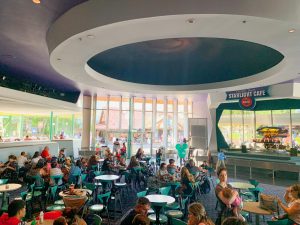 Aloha Isle Refreshments
The Aloha Isle Refreshments is home to the all-important Dole Whip. Started by the DOLE company (most famous for its pineapple production in Hawaii), this creamy pineapple treat has become a crowd favorite, not only at Hawaii's Dole Plantation but also at all of the Disney parks.
Plus, there are so many different ways to eat a Dole Whip: plain, swirled with vanilla, mixed with raspberry, or as part of a Dole pineapple float. Plus, it's a great dessert for everyone in the family! It's perfect for kids looking for sweet treats and adults trying to cool down. And, as a surprise added bonus, it's vegan too!
If you are bringing food into Magic Kingdom but still want a taste of Disney World during your visit, getting Dole Whip is a tasty and affordable option.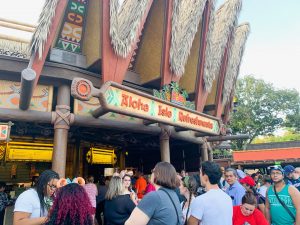 Worst Counter Service Magic Kingdom Restaurants
Pinocchio Village Haus
Pinocchio Village Haus may be one of the worst places to eat in Magic Kingdom. Situated just a few steps away from It's a Small World, the menu at Pinocchio Village Haus is comprised primarily of subpar flatbreads and pasta. To put it bluntly, this Magic Kingdom restaurant is overpriced and underwhelming. And it certainly does not live up to the wonderful movie that the restaurant is named after.
If you were to see a photo of the "pasta" you would know what I mean. It is dry noodles with a tiny helping of red sauce on it. You could make that dish for all of $2 and the noodles wouldn't be stuck together like they are at this sub-par restaurant.
The only bonus to this option is that it has an interior view of It's A Small World ride which is cool but not cool enough to ever set foot in this place!
The Lunching Pad
Located in Tomorrowland, The Lunching Pad should honestly be categorized as a snack stop rather than a quick service restaurant. If you're looking for a hot dog or a Mickey-shaped pretzel, they've got it…but that's about it. There are so many other Magic Kingdom restaurants that are worth your time, so don't waste a second on The Lunching Pad.
The only real upside of The Launching Pad is that it's located near a bunch of different rides, including Buzz Lightyear's Space Ranger Spin and Space Mountain. So if you want to grab something quick to eat while waiting in line for your next ride or while your DAS Pass is counting down, The Launching Pad will suffice.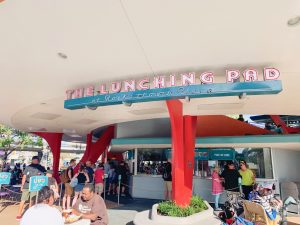 I hope you enjoyed reading about some of the best Magic Kingdom restaurants (and learning about the ones you should avoid too). What do you think? Do you agree or disagree? Let me know in the comments what you think are the best places to eat in Magic Kingdom! As always, if you have any questions, I am happy to answer them for you! Thank you for reading!
Pin this post: