One of the best ways to have a meal at Disney is to enjoy a character dining at Disney. Why just have Disney dining when you could have Disney dining with characters? Who doesn't love to see their favorite Disney characters pop out of the screen and come to life? And pairing that with a delicious meal is a fantastic added bonus!
Each Disney character dining option has something a little bit different to offer. You can choose from traditional Disney character dining to some more adventurous options, and even fun seasonal meals with costumed characters. Keep reading to see which character dining experiences are right for your family!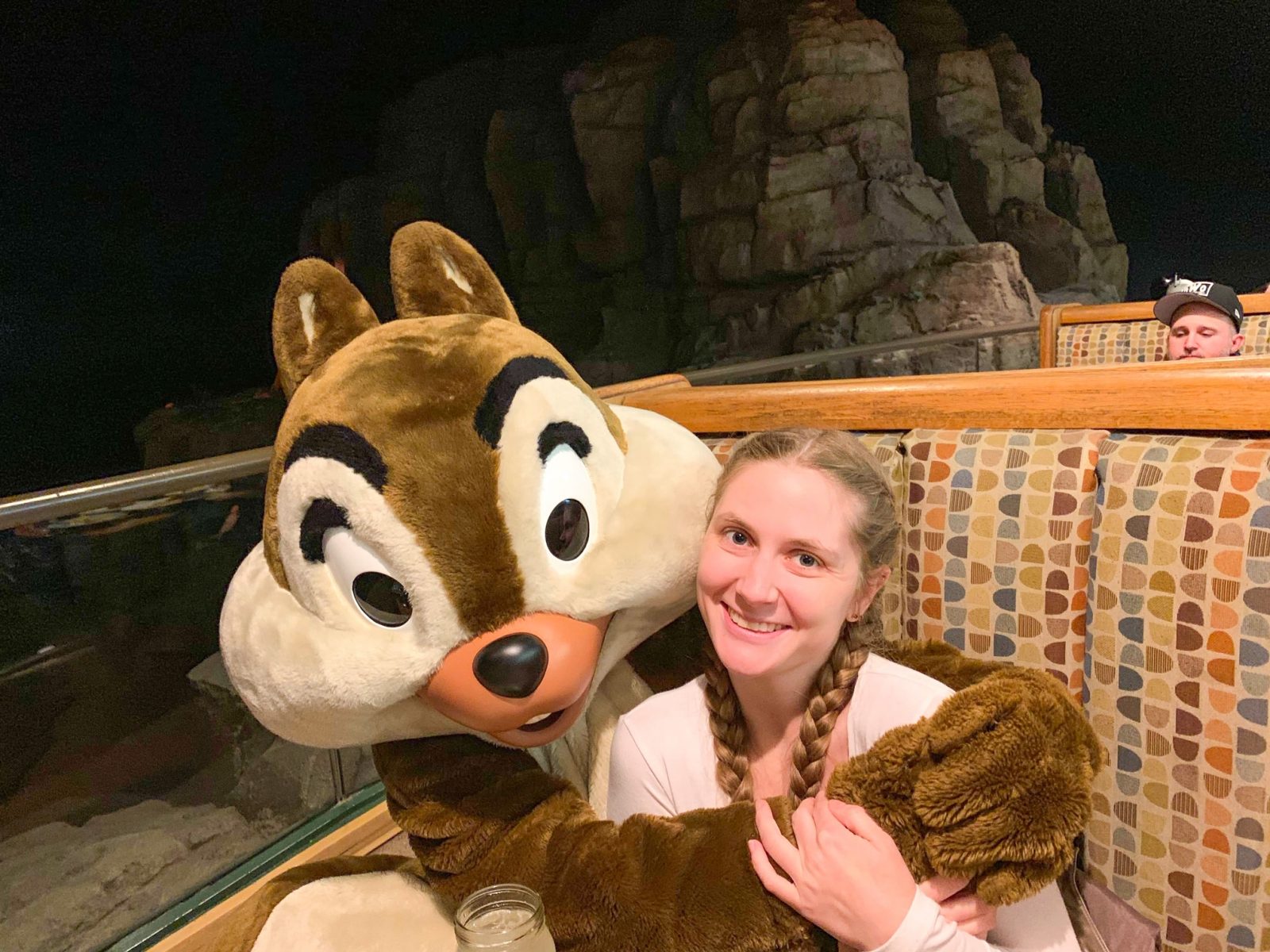 11 Best [and Worst!] Restaurants for Character Dining at Disney World
What Is Character Dining at Disney?
In case you're not familiar with character dining at Disney, let us give you a quick introduction. Essentially, at these Disney character dining restaurants, you'll be able to enjoy a meal as a handful of Disney characters make their way around the restaurant. These characters will stop at your table and interact with you. They'll take pictures usually spend a good amount of time with your group.
Character dining at Disney is a great way to skip some of the long lines to see the characters in the parks. Plus, because some of the Disney character dining options are located in the Disney resorts rather than the Disney parks, you can visit your favorite characters without having to pay for a park ticket.
There are a few cons to Disney character dining as well. First, it is quite expensive, with many Disney World character dining options reaching or exceeding $40 per person. Second, if you choose to dine at the park, it'll end up taking a large chunk of time out of your day. Lastly, while the quality of food is good, it isn't spectacular, as it is at many of the best Disney restaurants.
What is the Cheapest Character Meal at Disney World?
The cheapest character dining at Disney right now is going to be for breakfast. Just like at most of the all-you-care-to-eat restaurants at Disney World, breakfast is the cheaper meal option, as well as the way to get the most for your money. Starting the day with character dining is a great way to start your day with magic and fill up on some good food!
You can fill up on breakfast, get lots of energy for walking around the parks, and you'll be able to burn it off instead of ending the day with a heavy meal or being too tired to enjoy it.
Right now, Chef Mickey's, Hollywood & Vine, Tusker House, Topolino's Terrace, and Cinderella's Royal Table have breakfast priced at $42 for adults and $27 for children 3-9.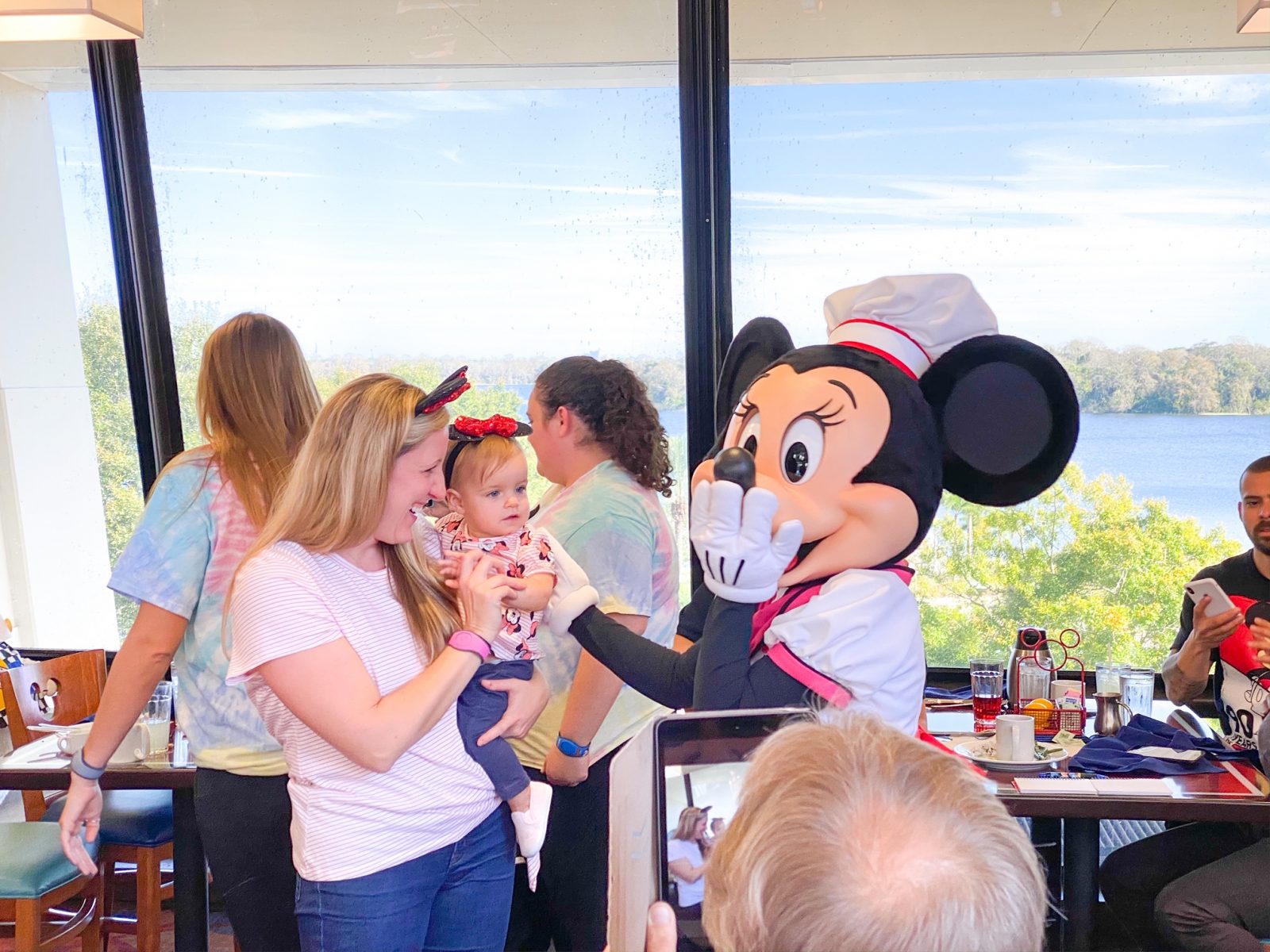 Best Character Dining at Disney World 
Cinderella's Royal Table at Magic Kingdom
Cinderella' Royal Table is arguably the best character dining at Magic Kingdom and Disney World. You'll get to explore Cinderella's Castle, be greeted as "my lord" and "my lady," and spend quality time with your favorite princesses, including Cinderella. (After all, you'll be dining in her home!)
Open for breakfast, lunch, and dinner, this Disney character dining option sprinkles a little bit of royal magic into each of their dishes. Try royal avocado toast for breakfast, the castle salad for lunch, the fancy chickpea panisse for dinner, or the chocolate-filled "the clock strikes twelve" for dessert.
The food here isn't the best you will find at the character dining restaurants, but what you're paying for here is the experience. Dining inside the castle is something you'll want to do at least once in you life!
Because so many people want to dine at the best character dining at Disney World, it is vital to make a reservation FAR in advance if you would like to dine here. This is probably the hardest reservation to get so plan ahead!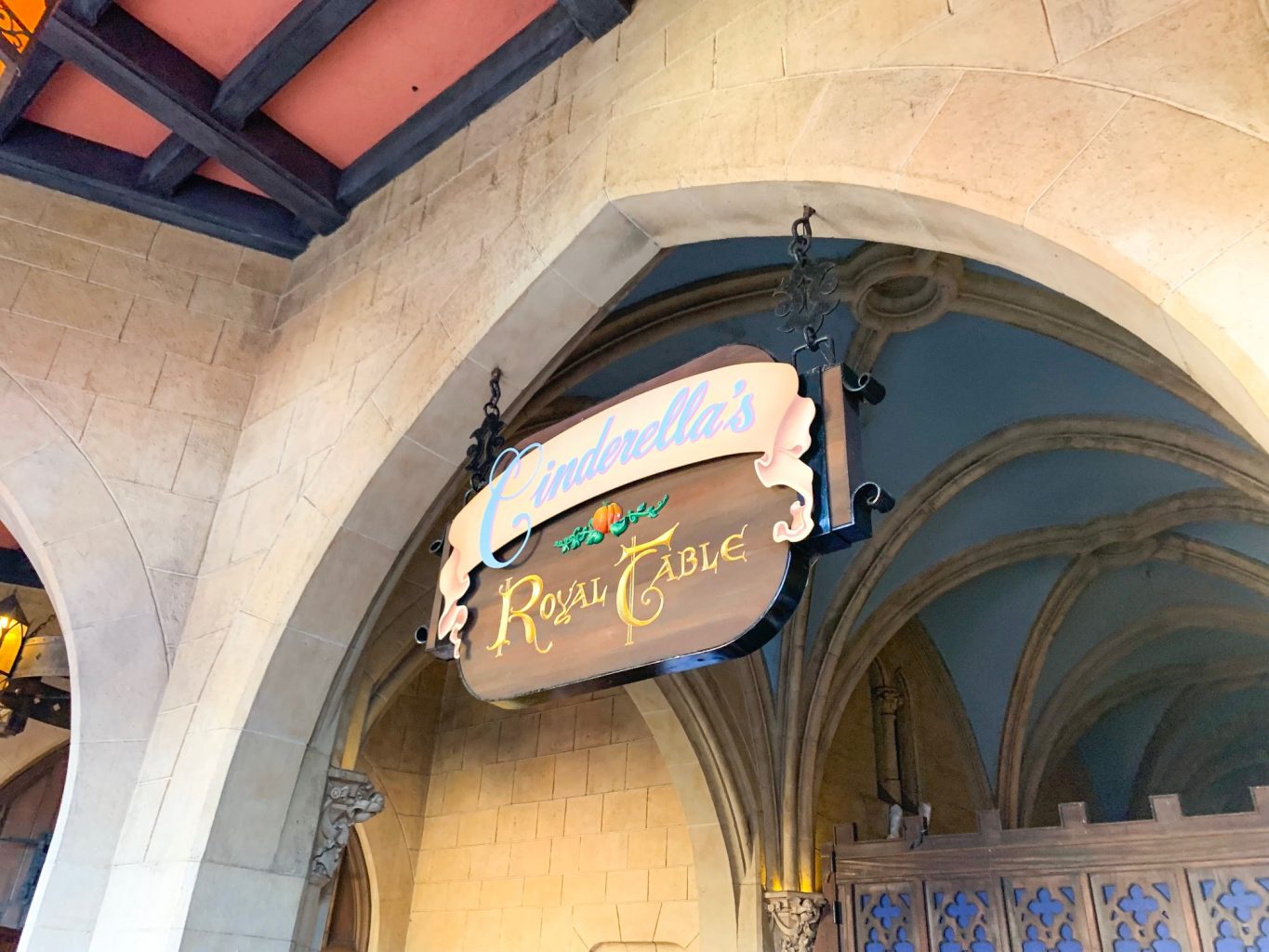 Akershus Royal Banquet Hall at Epcot
If you or your little ones are fans of all of the Disney princesses, Akershus Royal Banquet Hall should definitely be the Disney character dining option that you choose to visit. As one of the best restaurants in Epcot, there is truly so much to enjoy. Meet all of your favorite original princesses, including Cinderella, Snow White, Belle, Princess Aurora, and Ariel. On occasion, a few of the other Disney princesses, like Jasmine, Mulan, and Rapunzel, will make appearances as well!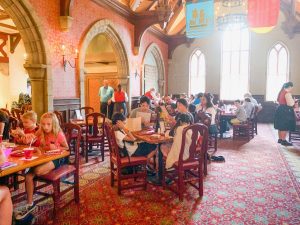 Because Akershus Royal Banquet Hall is located in the Norway Pavilion of Epcot, it serves up some unique Norwegian food. Peppered mackerel, Norwegian meatballs, and Scandinavian potato dumplings can all be found in the buffet selection – so be prepared for a bit of culinary exploration! At the Disney character dinner, there are also quite a few Norwegian alcoholic beverages, such as The Oslo, Prince of Norway, and Viking Coffee.
Just a note though: this is temporarily closed, and we are waiting for it to reopen and to be able to see our favorite princesses again!
Donald's Dining Safari at Tusker House in Animal Kingdom
Donald's Dining Safari at Tusker House is one of the best Animal Kingdom restaurants and the only Disney character dining experience at Animal Kingdom. As a matter of fact, it is also viewed by many as one of the best Disney World character dining options! Mickey and his safari-ready gang visit the Tusker House for all three meals of the day.
Each meal offers a combination of traditional American foods as well as more exotic African foods. So, while you can find options for picky eaters, like roasted pork or strawberry cake, you'll also be able to find something for the adventurous eaters, such as basmati rice and curry chicken or tabouli.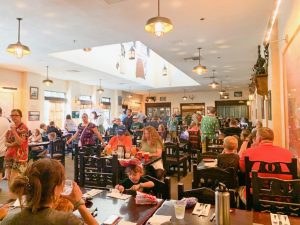 Chip 'n Dale's Harvest Feast at Garden Grill at Epcot
If you're looking for character dining at Epcot, Chip 'n Dale's Harvest Feast at Garden Grill is the place to go. If you've had any experience with character dining at Disney in the past, you'll know that the vast majority of Disney character dining locations are absolutely PACKED. Chip 'n Dale's Harvest Feast at Garden Grill is one of the only exceptions. Check out our FULL REVIEW here!
Serving up food for both lunch and dinner, you'll be able to enjoy the Chip 'n' Dale Harvest Feast – and it's all-you-care-to-eat. And as you're eating, the restaurant slowly spins, allowing you to get views of every corner of the restaurant, including of the "Living with the Land" ride. Oh, and we can't forget the wonderful visits from Chip, Dale, Mickey, and Pluto! This is also one of the best places to eat Gluten-Free AT Disney World!
Chip 'n Dale's Harvest Feast at Garden Grill also happens to be the best Disney World character dining for those with restrictions – the have amazing options for vegetarians and vegans.  Because all of the food is served family-style, you don't have to get up and walk around, as you would have to do at many of the buffet-style Disney character dining locations. We LOVE Garden Grill for character dining at Disney and you really shouldn't miss it!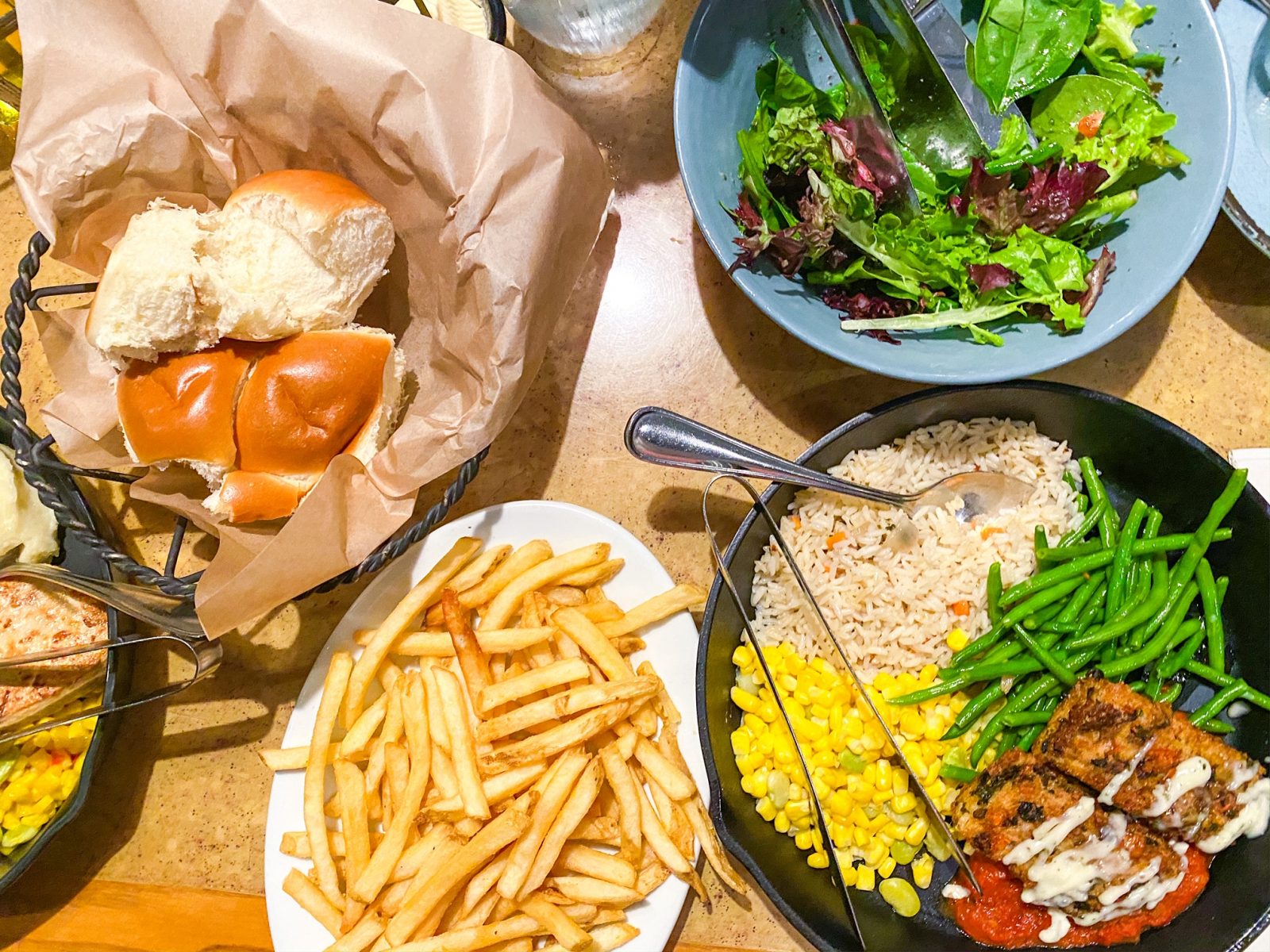 Topolino's Terrace – Breakfast a la Art with Mickey & Friends
If you're looking for the best breakfast character dining at Disney World, look no further than Topolino's Terrace at the Riviera Resort! This is an amazingly beautiful rooftop restaurant, and while you're enjoying the gorgeous view, you can also have some of the best breakfast in Disney!
Mickey, Minnie, Donald, and Daisy will visit during breakfast, and they are wearing the cutest artist outfits! Not only are the characters absolutely adorable, but the prix fixe menu here offers unique, delicious, and elegant options you won't find at any of the other character dining at Disney.
You can dine on quiche, smoked salmon, sour cream waffles, and every single meal starts with European pastries and bread! Don't miss out on what could be the best character breakfast at Disney, and we know you'll enjoy the great food, gorgeous resort, and amazing views – and don't forget the fun characters!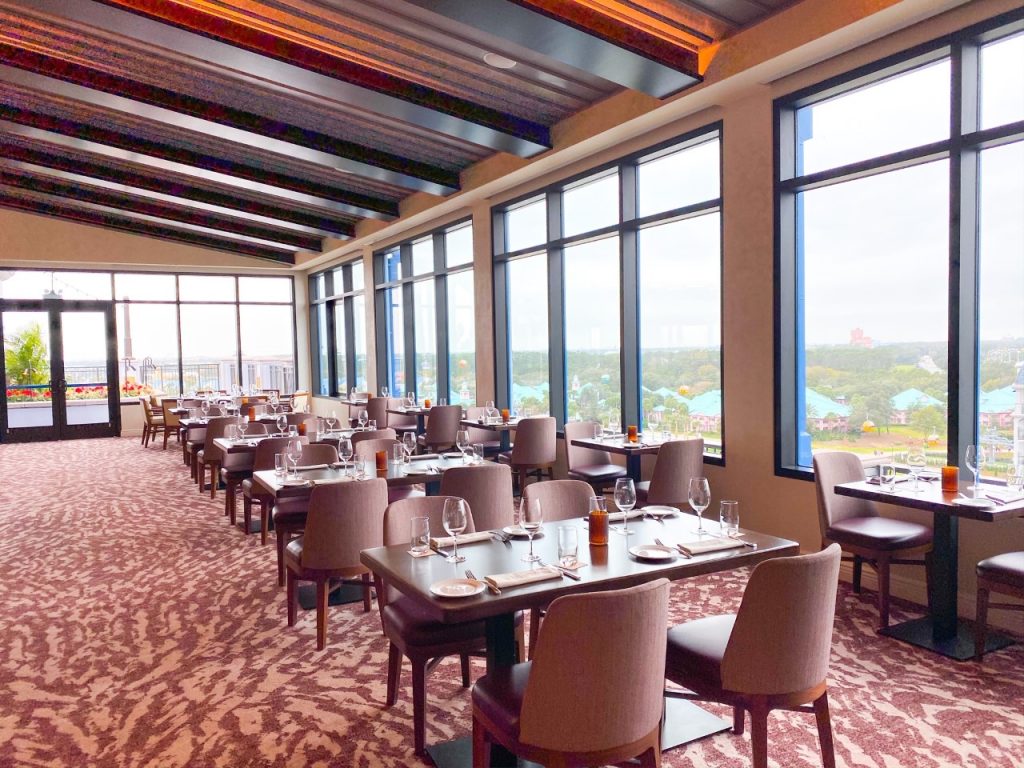 Storybook Dining at Artist Point with Snow White at Disney's Wilderness Lodge Resort
One of the most difficult things to do at Disney is meet your favorite Disney villains. While occasionally you may run into Captain Hook from Peter Pan or Jafar from Aladdin, you won't really run into any other Disney villains – and even those two are a rare sight! But Storybook Dining gives you the opportunity to see another famous Disney villain.
While Snow White, Grumpy, and Dopey all commonly make appearances at this Disney World character dining experience, the Evil Queen is the true star of the show. Practically all of the reviews of the restaurant RAVE about the Evil Queen's personality and performance! Will you dare to take a picture with her?
Unlike many of the other character meals at Disney World, Storybook Dining also has absolutely fantastic food. As the newest Disney character dining experience, it's clear that Disney really pulled out all of the stops for the opening of this restaurant. Dine on the royal prime rib roast, the magic mirror slow braised pork shank, or the sorceress spell of land and sea. And for dessert, the magic theme doesn't stop. Test your luck with the "poison" apple, take a bite into the trio of miner's treasures, and delight in the fairy tale gooseberry pie.
This is also one of the most expensive restaurants for character dining at Disney though, so keep that in mind when booking here. The food is also quite adventurous, so make sure everyone in your party can find something on the menu before you book here and pay the higher prices.
1900 Park Fare at Disney's Grand Floridian Resort & Spa 
Depending on when you visit 1900 Park Fare, you'll be able to interact with different characters. In the mornings for the Supercalifragilistic Breakfast, meet Mary Poppins, the Mad Hatter, Alice, Winnie the Pooh, and Tigger. Savor made-to-order omelets, enjoy a few cheese blintz, or go for some smoked salmon lox. If you're looking for something a bit more kid-friendly, Disney's got that covered too. Potato puffs, cheesy scrambled eggs, and the ever-classic Mickey waffles are all available for the little ones.
At the end of the day, meet Cinderella, Prince Charming, Lady Tremaine (the evil stepmother), Anastasia, and Drizella (the evil stepsisters) for Cinderella's Happily Ever After Dinner. There are so many different dishes that are worth a try from honey sriracha salmon to butternut squash ravioli to herb-crusted prime rib. Luckily for you, this Disney character dinner is a buffet, so you can take a bite of all of them!
Guests absolutely love the atmosphere and characters here, but unfortunately this is one of the character dining experiences that's currently closed. Hopefully it's opening soon!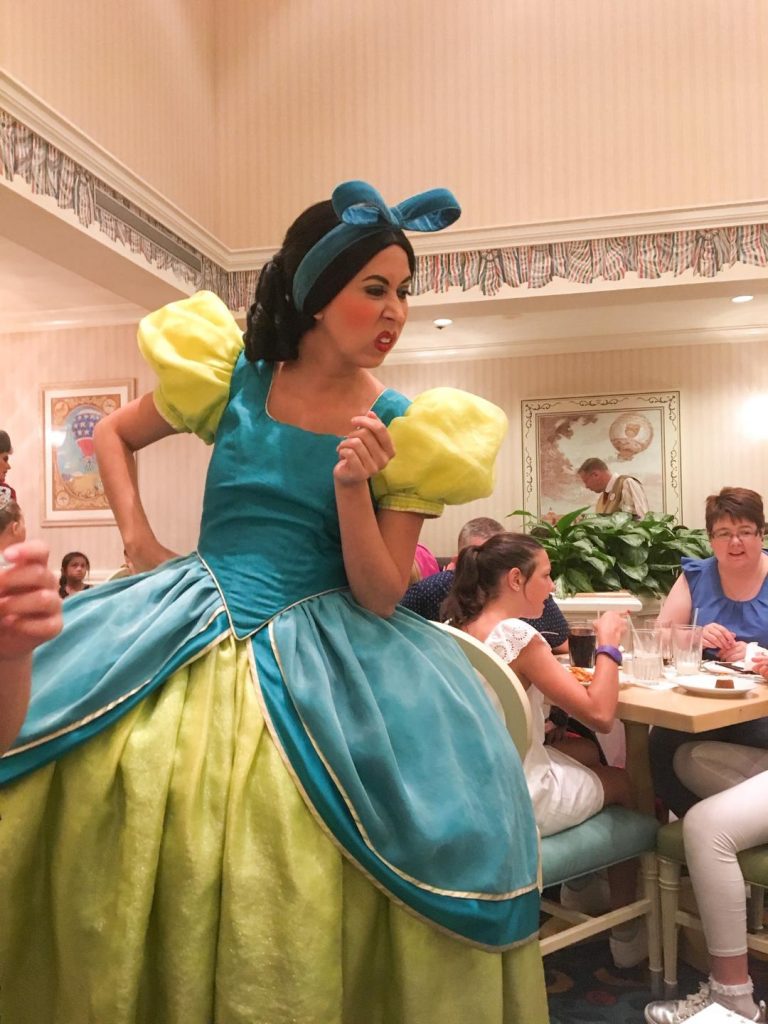 Bon Voyage Adventure Breakfast at Trattoria al Forno at Disney's Boardwalk
Trattoria al Forno is the only character meal where you can meet both Princesses and their Princes. You will find Ariel and Eric here, as well as Rapunzel and Flynn Rider.
Trattoria al Forno may have one of the best character breakfasts at Disney, especially if you're looking for unique characters. And the food is fantastic! King Triton's Shipwreck al Forno, the Tangled Eggs, and the Tower of Pancakes have all proven to be crowd favorites. If you're over 21 years old, you can pair these delicious breakfast dishes with a mimosa, peach bellini, or caprese bloody Mary.
If you happen to be staying at a Disney Skyliner Resort (such as Disney's Riviera Resort, Disney's Caribbean Beach Resort, Disney's Pop Century Resort, and Disney's Art of Animation Resort), you'll have easy access to this amazing Disney character breakfast.
Note: character dining is currently unavailable here and we are hoping it comes back soon!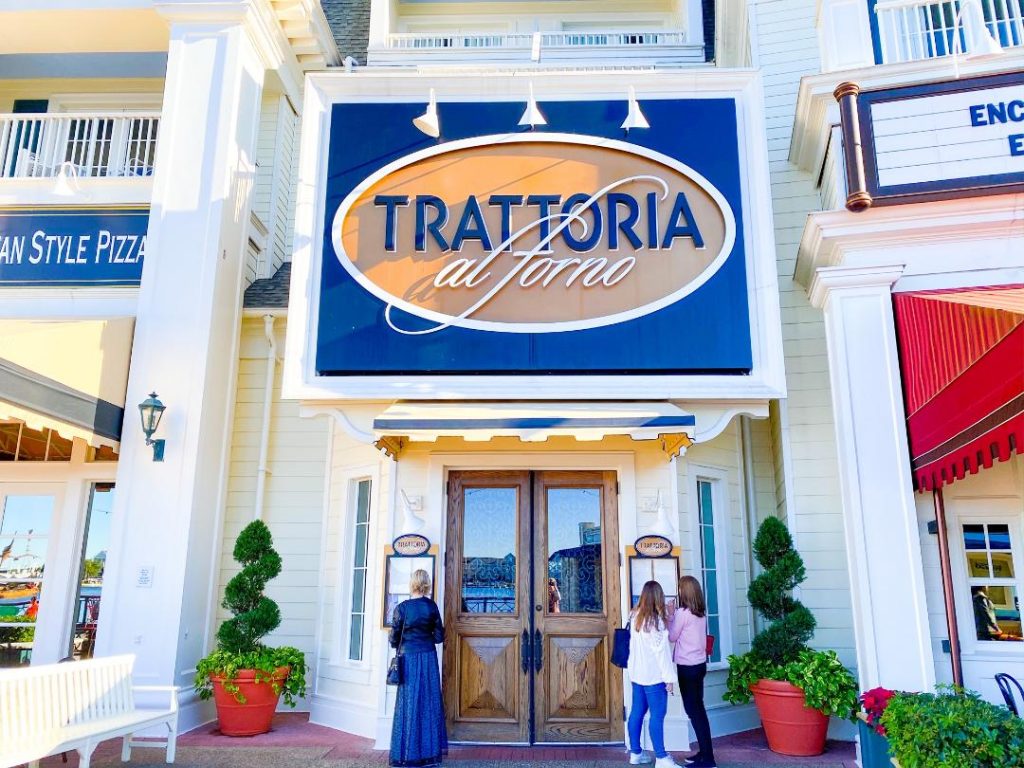 Worst Restaurants for Character Dining at Disney
The Crystal Palace at Magic Kingdom
The Crystal Palace at Magic Kingdom is FAR from downright horrible. But there are two simple reasons that The Crystal Palace didn't make it into the "best" section of the list: the characters and the crowds.
Winnie the Pooh and his friends are the characters at The Crystal Palace, and, while they are some of my personal favorite Disney characters, they are not everyone's favorite. The over-the-top crowds and the loud noise are a couple of other downsides of The Crystal Palace.
The food here is also very basic. It's good, but not as delicious as some of the restaurants listed in our "best" section. Eating here can also take up a big chunk of your day while visiting Magic Kingdom, and it may not be worth it for the price and food.
Just a note: while this restaurant is open, the character dining has been temporarily suspended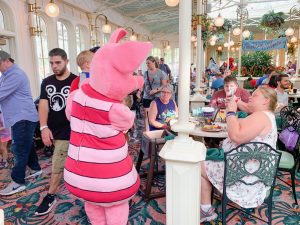 Hollywood & Vine 
Hollywood & Vine inside of Hollywood Studios offers character dining at Disney for all three meals. There isn't anything wrong with the food or characters at Hollywood & Vine, it just isn't as good as some of the other restaurants for character dining at Disney. The food isn't as exciting, and this may be a place that's better for families with small children.
Breakfast here is great for your littles, since Disney Junior characters come out to interact and take photos. The food is fairly basic, with shared pastries and then plated meals like omelets, pancakes, French toast, and even Mickey waffles
Now, for older kids and adults, lunch and dinner are much more fun! Lunch and dinner are themed as Minnie's Seasonal Dining. You can expect Minnie and her crew to change their outfits and the menu to change a little as well depending on what season and event is going on. There's always Halloween and Holiday celebrations here, and these can be so fun to attend!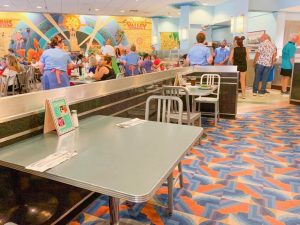 Chef Mickey's in The Contemporary
Chef Mickey's is a classic character dining option at Disney. This may upset a lot of people by us putting this on the worst list – but let us say up front there's NOTHING wrong with Chef Mickey's. But the food at both breakfast and dinner isn't anything special and the atmosphere honestly isn't that great either. This is a very busy character dining experience, and it can be very loud and crowded because of its popularity.
The characters are the real highlight here. Mickey and his friends are absolutely adorable and the interactions with them are the reason to come here. But you can meet Mickey and his friends at Tusker House and Topolino's for better atmosphere, food, and a less crowded and crazy environment.
If you're convinced that Chef Mickey's is the Disney character dining option for you and your family, be sure to make reservations far in advance! As a bonus tip, in order to get the maximum amount of fun, ask to be seated in the main dining room. If you end up in one of the other dining rooms, you'll end up missing out on a lot of the action and character interaction.
The dining experience has also changed here because it's no longer a buffet and is served family style at your table. This definitely changes the value of the meal here, and it may not be worth it in comparison to some of the other options.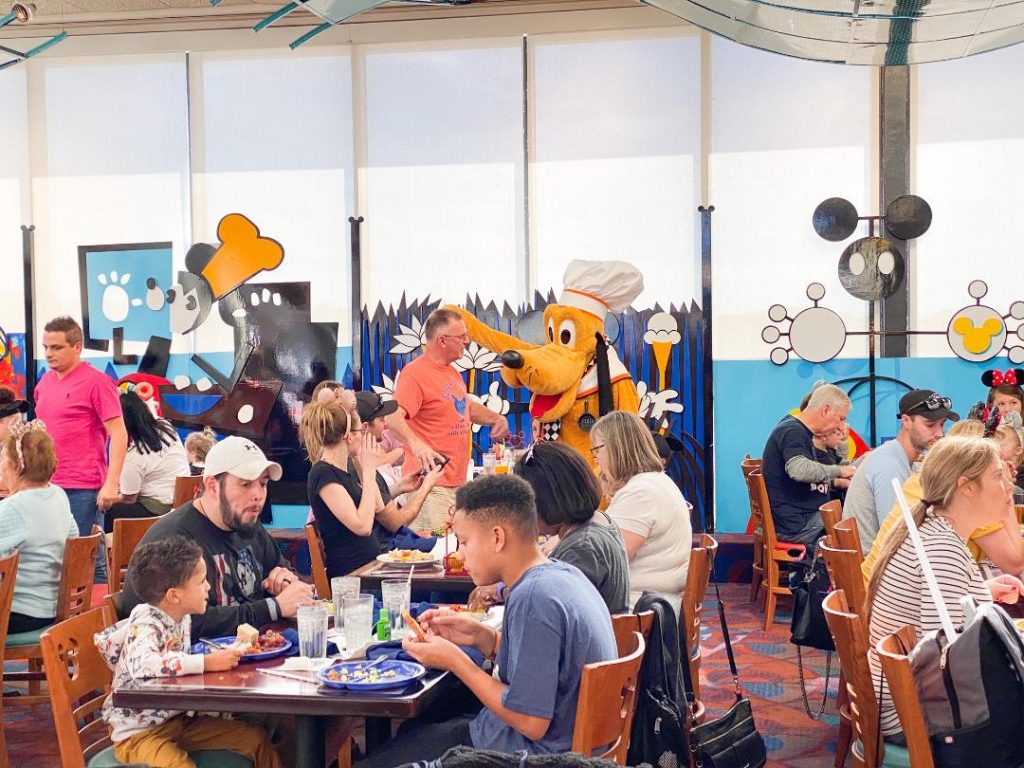 I hope you enjoyed reading about some of the best Disney character dining locations (and finding out about the ones you should avoid too). What do you think of these opinions? Do you agree or disagree? Let me know in the comments what you think the best character dining at Disney World are! As always, if you have any questions, I am more than happy to answer them for you! Thank you for reading! 
Pin this post: