So you've planned a trip to the most magical place on earth and you're looking for the best Disney restaurants to dine at during your trip. Well, look no further! This list highlights the best restaurants at each of the Disney parks, as well as Disney Springs and the Disney Resorts. Plus, in case you're worried about the worst Disney restaurants, we've got a list of those too, so you can avoid them at all costs. Make sure to check out Every Official Disney World Map so you know where things are located around the resort!
As the happiest place on earth, these Disney restaurants are sure to provide some extraordinary experiences. Dine in Cinderella's Castle, ride in the land-sea vessel known as the amphicar, or experience fun-filled authentic Irish entertainment. And that doesn't even touch on the amazing bites of food that you can enjoy, such as the Australian Kobe-style beef from Victoria and Albert's, the whole fried sustainable fish from Tiffins, and the divine French pastries from Les Halles Boulangerie-Patisserie. There are so many fantastic Disney restaurants at Disney world – which ones will you choose to visit?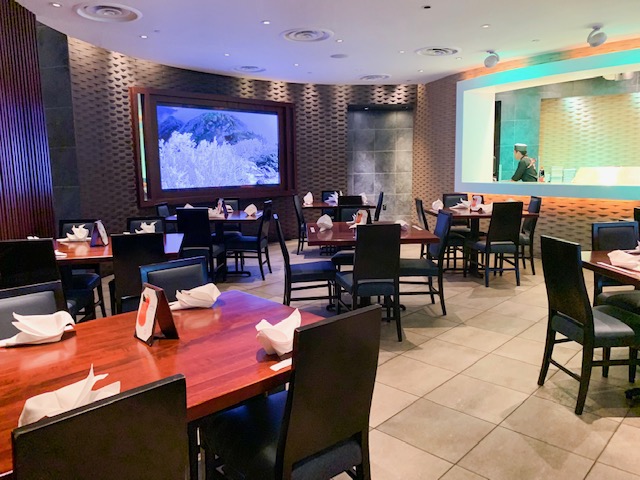 33 Best (and Worst!) Disney World Restaurants in 2019
Best Magic Kingdom Restaurants
Crystal Palace
Situated just off Main Street, the striking glass Victorian-style building is known as the Crystal Palace. This Disney restaurant is a fantastic place to meet some of your favorite Disney friends, including Winnie the Pooh, Tigger, Eeyore, and Piglet! You can even march in a parade with all of these fun characters!
This buffet-style dining option is open for all three meals of the day, so you can enjoy everything from freshly-made omelets to roasted carved meats. There are also quite a few Disney character-inspired food items, including the iconic Mickey waffles and the Pooh's puff French toast. As with most, if not all, Disney buffets, there is a kids section of the buffet to ensure that your little ones have a few different foods that they enjoy.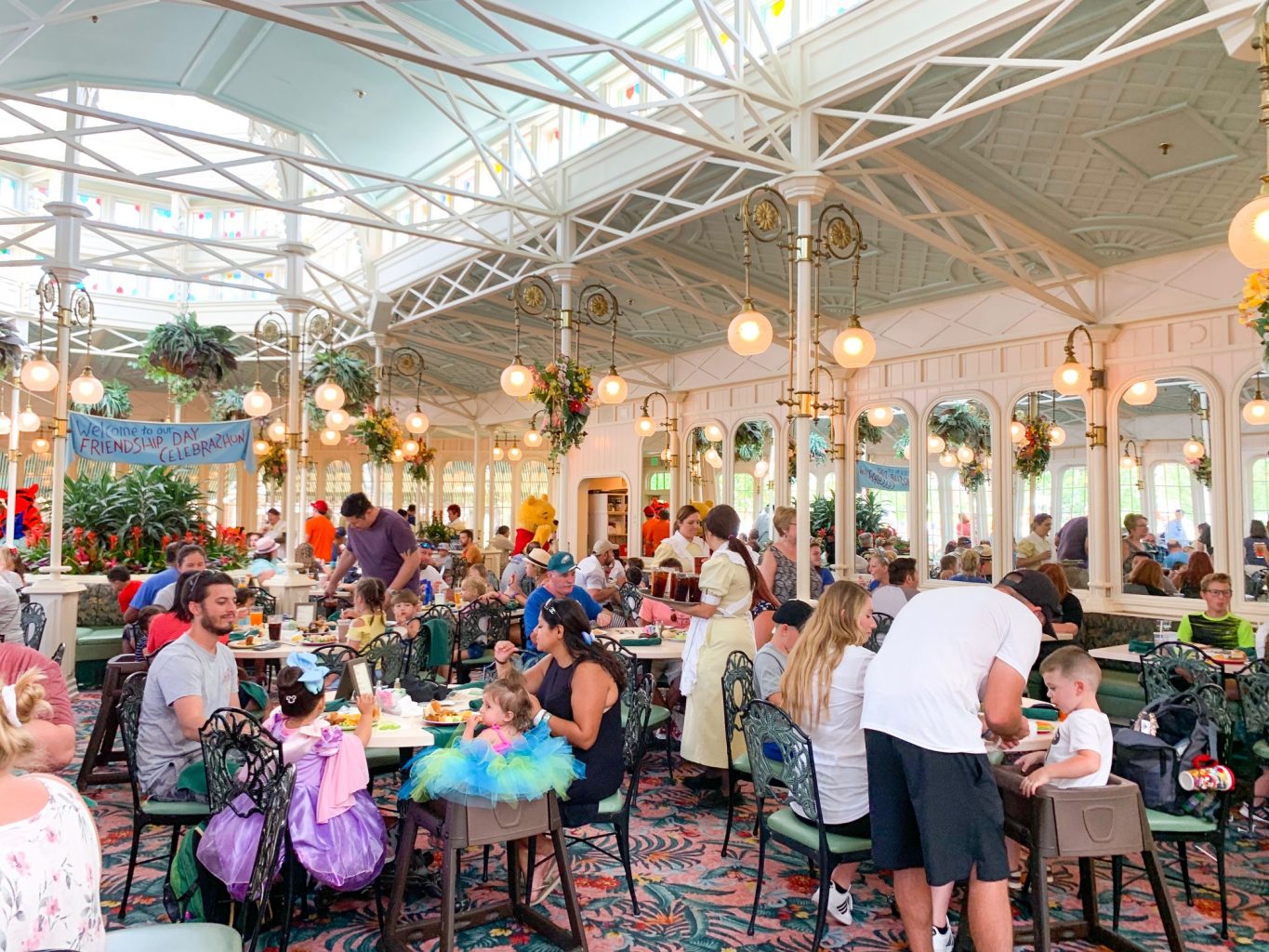 Cinderella's Royal Table
When you dine at Cinderella's Royal Table, you are there for the experience. You'll get to explore Cinderella's Castle, be greeted as "my lord" and "my lady," and get some quality time with your favorite princesses, including Cinderella herself.
Located in the center of Magic Kingdom, this Disney restaurant is open for breakfast, lunch, and dinner. For breakfast, enjoy royal avocado toast, caramel apple-stuffed french toast, or a traditional breakfast of scrambled eggs, sausage, bacon, and potatoes. Both lunch and dinner include seared pork rib chop, chickpea panisse, and tenderloin of beef. And don't forget dessert! The Clock Strikes Twelve chocolate mousse is easily the most popular option.
As can be expected, the opportunity to dine in Cinderella's Castle is in demand, so making a reservation far in advance would be a wise choice.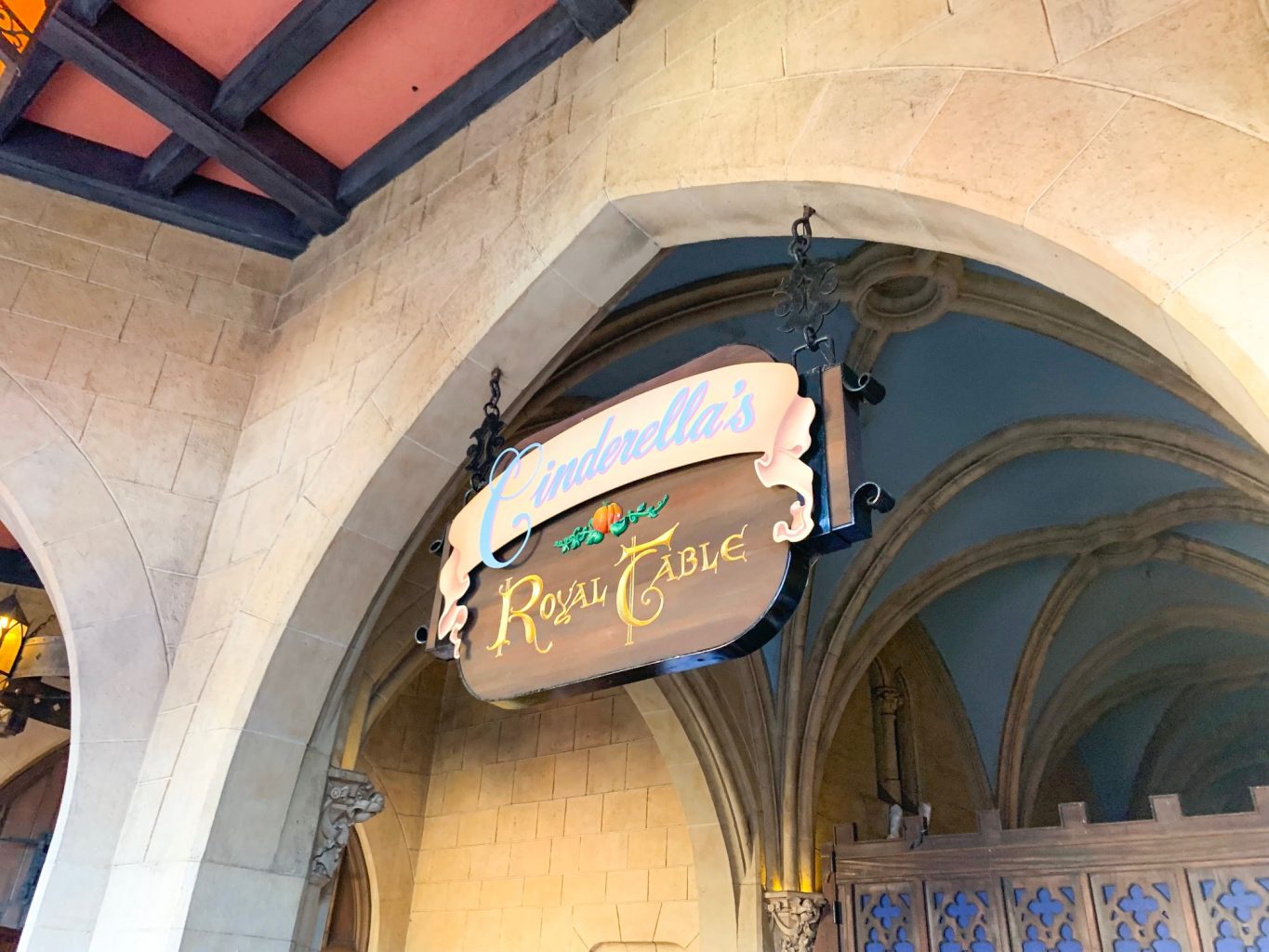 Be Our Guest Restaurant
When dining at the Be Our Guest Restaurant, you'll get exclusive access to the secret interior of the Beast's castle. Dine in one of three elegantly designed ballrooms: The Grand Ballroom, the West Wing, or the Castle Gallery. The Grand Ballroom looks just like the ballroom in the animated movie, The West Wing is the dark and spooky quarters of the Beast, and the Castle Gallery tells the love story of Belle and the Beast.
Both breakfast and lunch are quick service meals, while dinner is a sit-down dining experience. For breakfast, enjoy the croque madame, the feast á la Gaston, or the tasty croissant doughnut. It is important to note that breakfast probably provides the worst value of all three meals, as the prices are very expensive and the portions are rather small.
For lunch, the prices become more reasonable and the portions become larger. Dishes such as the French onion soup, the croque monsieur, and the braised chicken (coq au vin style) are all fantastic.
Because dinner is a sit-down dining experience, the entrees get a bit more fancy. The center-cut fillet mignon, spice-dusted lamb chops, and pan-seared sea scallops have all proven to be crowd favorites. As for dessert, I recommend trying Lumiere's iconic "grey stuff" on The Grey Stuff Brownie for dinner. (It is also available on The Master's Cupcake at lunch.)
In case you're a little too nervous to try the grey stuff without knowing what it is, it's a lovely cookies and creme panna cotta mousse. Plus, at dinner, you'll be able to catch a glimpse of the Beast and maybe even get him to sign an autograph!
As one of the most popular Disney restaurants at Disney World, you'll really have to be on the top of your reservation game if you want to snag a meal at the Be Our Guest Restaurant. Reservations can be made 180 days in advance, so, if your heart is set on having dinner in the Beast's castle, be sure to set a reminder for yourself. But if you happen to miss out on a reservation, you can still stop by for quick service breakfast or lunch!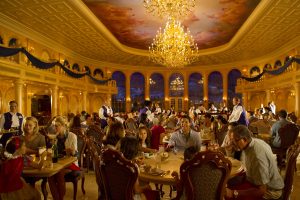 Peco Bill Tall Tale Inn and Cafe
Pico Bill's is one of the best quick service restaurants in Disney World. This Mexican-inspired cuisine from Frontierland is both relatively healthy and supremely tasty. The fajita platter, Southwest salad with pork carnitas, and the chicken nachos are just a few the amazing plates from Peco Bill's.
And you can add a few things to your meals from the extensive selection of toppings from the topping bar, including guacamole, charred corn, and jalapenos. If you're looking for something sweet for dessert, the mini churros with chocolate sauce are always a good idea.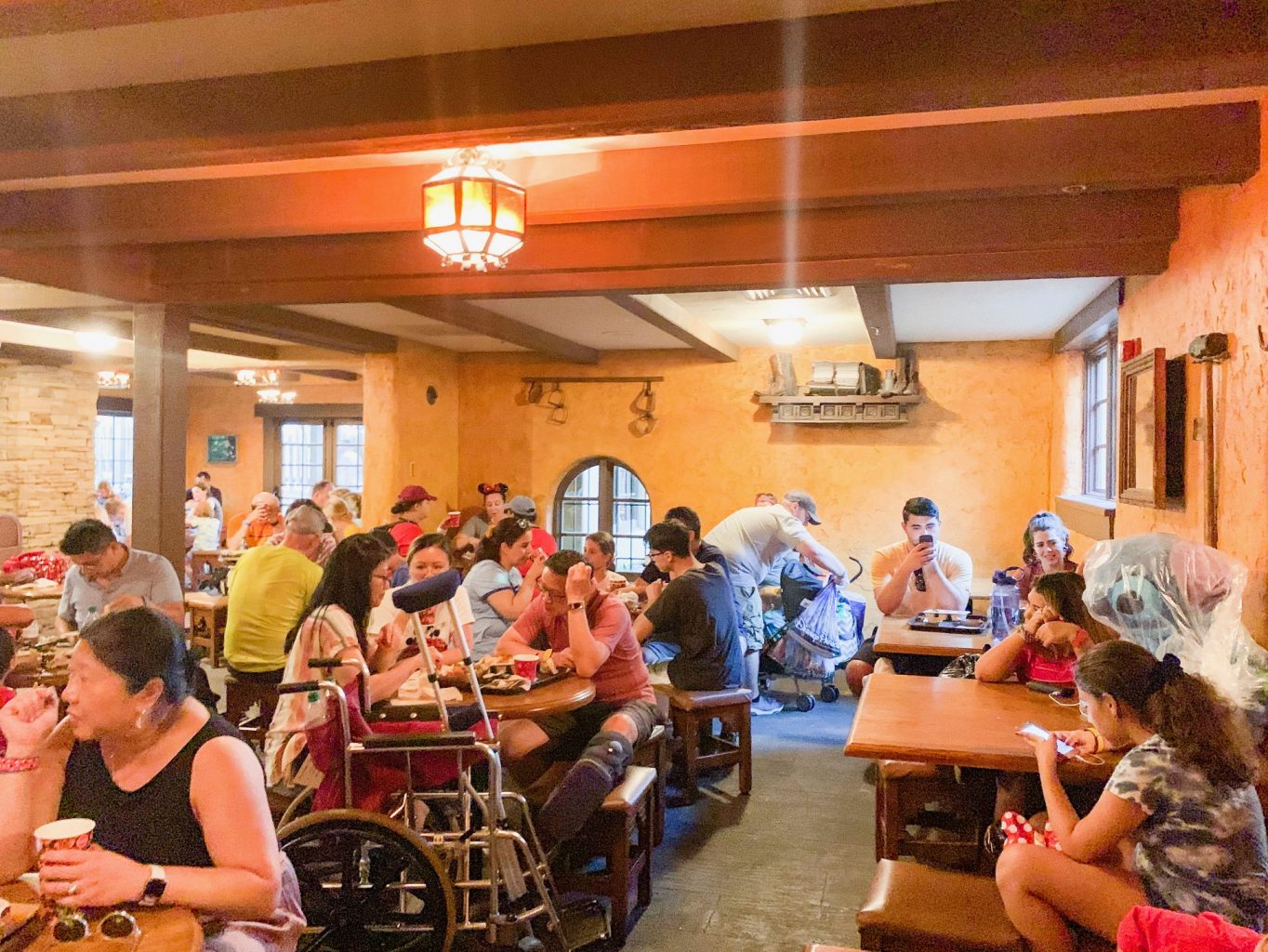 Worst Magic Kingdom Restaurants
Pinocchio Village Haus
Pinocchio Village Haus might have the worst Disney World food ever. Located near It's a Small World, this Disney restaurant is overpriced and underwhelming. The vast majority of the menu consists of different types of flatbreads, and all of those are subpar. Basically, head someone else for your Magic Kingdom meal.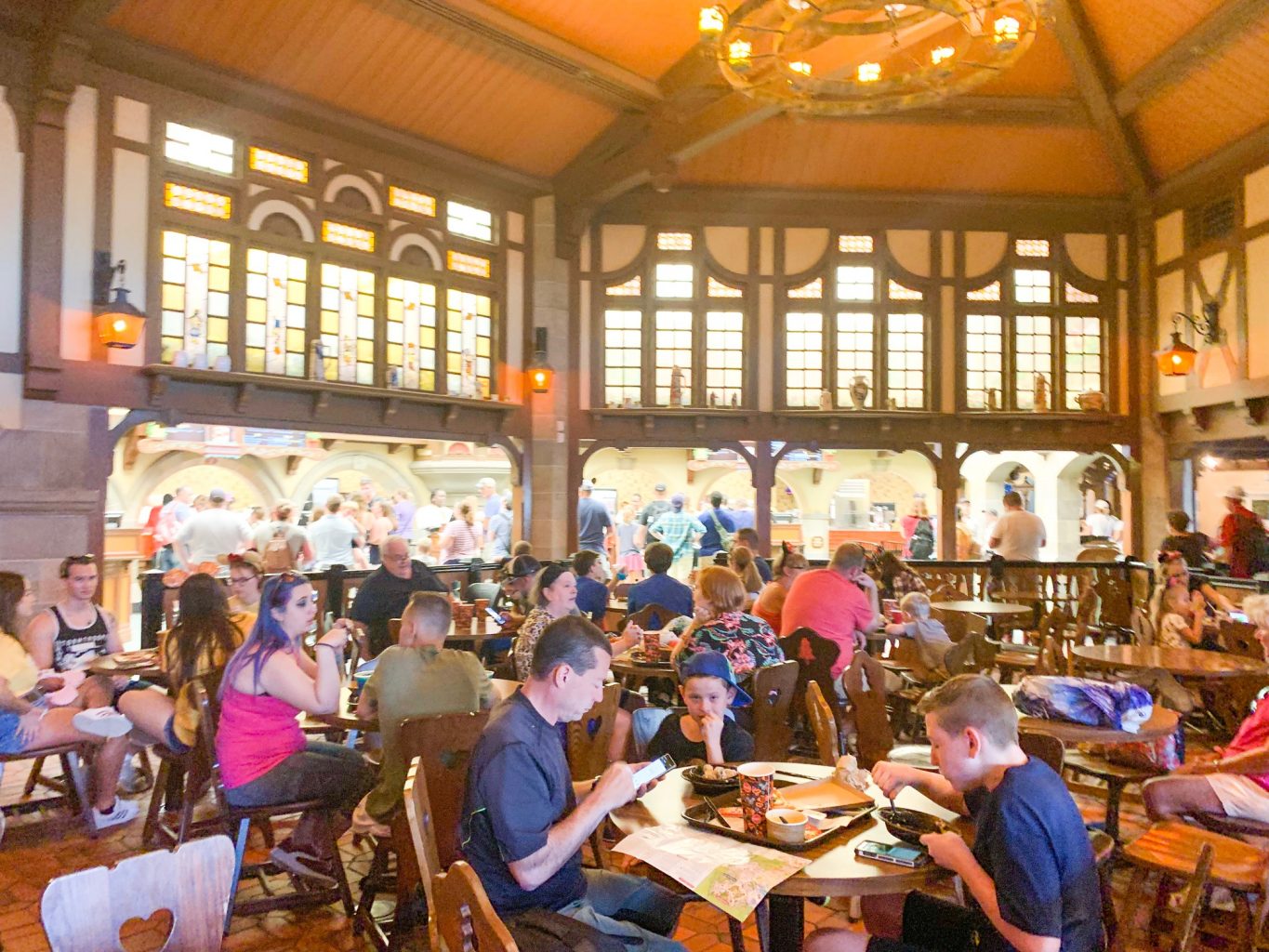 Best Epcot Restaurants
Rose & Crown
Most of the amazing Disney World restaurants are booked days, if not months, in advance. For Rose & Crown, this is not the case, which means you can enjoy one of the best Epcot restaurants without having to plan ahead of your visit to Epcot. Odds are, if you decide to pop by around five or six p.m., you'll only have a short wait.
The British fare served at Rose & Crown is absolutely fantastic. In addition to a wide array of drinks from a full-service pub, you can also enjoy shepherd's pie, Welsh pub burgers, and classic fish and chips. But the true highlight of the Rose & Crown menu is the secret vegan menu! Get menu favorites, such as bangers and mash and fish and chips, which have been transformed to be vegan-friendly.
There's still one more perk of Rose & Crown that must be mentioned: location. Nestled right on the World Showcase Lagoon, you can get prime seating for the night show, IllumiNations: Reflections of Earth, if you time it right.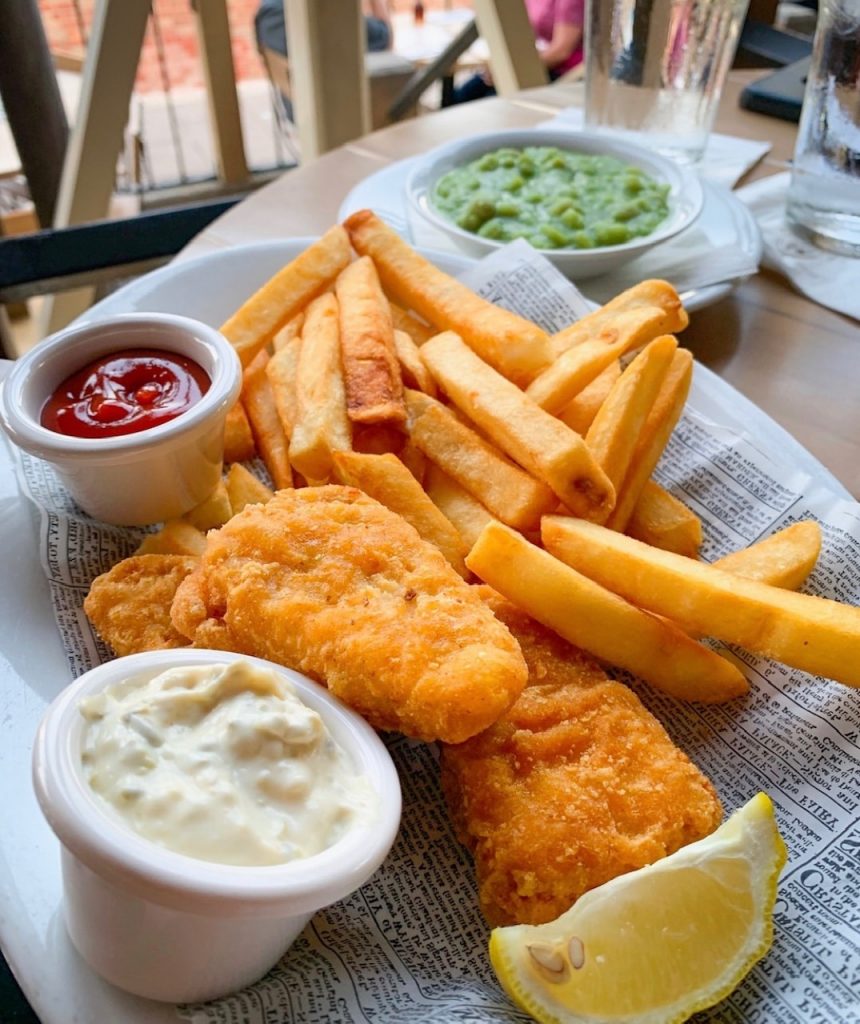 Biergarten Restaurant
If you're hoping to get dinner and a show during your time at Epcot, the Biergarten Restaurant is a great pick. This all-you-can-eat buffet located in the German Pavilion serves up all of the German favorites, including schnitzel, sausage, spaetzle, and sauerkraut. And adult guests will even be given beer to drink during the show! The show itself showcases traditional German styles of dance. So you can polka on the dance floor or simply watch from your seat.
One important thing to note is that you will NOT be sitting alone. The Biergarten Restaurant has several long tables, so you'll be sitting with people besides the ones in your party. Basically, if you are hoping to have a romantic dinner for two, this isn't the restaurant to pick.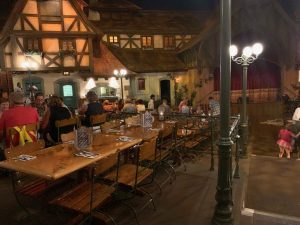 La Hacienda de San Angel
La Hacienda de San Angel definitely tops of the list of the best Epcot Mexican restaurants. In addition to the free chips and salsa starter, the food portions are HUGE. It doesn't matter if you get the chile relleno con camarón or the pollo al pastor, your tummy is sure to be nice and full by the end of your dining experience, especially if you decide to order the volcan de chocolate for dessert.
If you are on the Disney Dining Plan, it is a great way to use up your credits!
La Hacienda de San Angel also has some of the best views of all of the Disney World dining options. Situated right next to the World Showcase Lagoon, this Disney restaurant offers amazing views of the lake and the other Epcot international pavilions. Plus, if you time it right, La Hacienda de San Angel is a fabulous place to watch Epcot's evening show, IllumiNations: Reflections of Earth. Regardless of when you choose to eat, you definitely should ask for a table next to the window to get the best view possible!
As can be expected, a restaurant with this many perks requires reservations pretty far in advance. You typically can't just walk up and grab a table, so be sure to book a table early!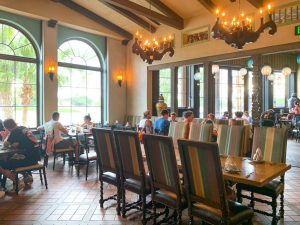 Les Halles Boulangerie-Patisserie
Les Halles Boulangerie-Patisserie is truly a hidden gem of Disney dining. Even though it is one of the best Epcot quick service restaurants, you'll have to hunt to find it. You'll actually have to go THROUGH the Souvenirs de France store to find it! If you have trouble finding it, you're not alone! As a matter of fact, the easiest way to get to Les Halles Boulangerie-Patisserie is to ask a cast member.
Once you finally reach this delicious Disney restaurant, it'll feel like you've been transported to France. The desserts served up here taste exactly like the ones crafted at the small authentic bakeries of France. So grab an éclair, napoleon, macaron, or a crème brûlée – or one of each! (Yes, they're that good!) If you're looking for something savory to go along with your something sweet, there are sandwiches and little pizzas that you can grab as well.
Even though Les Halles Boulangerie-Patisserie is hidden, there is always a line! If I'm being honest, it serves up some of the best food in Disney world, so it's not that big of a surprise. Just be sure to carve a decent amount of time to grab some of these sweet (and savory) treats during your time at Epcot.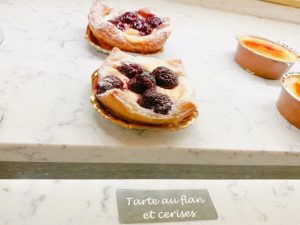 Worst Epcot Restaurants
Lotus Blossom Café
With the amazing sit-down Nine Dragons restaurant just around the corner, the Lotus Blossom Café just doesn't live up to expectations. This quick service restaurant is actually surprisingly pricey, especially considering the fact that Nine Dragons offers essentially the same dishes for about the same price. If I'm being honest, the only thing that the Lotus Blossom Café has to offer is the Plum Wine. It's a unique alcoholic beverage that you can't get anywhere else in the park, but that's about it.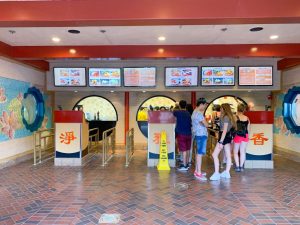 Tutto Italia Ristorante
Overpriced. That's the one word that comes to mind for Tutto Italia Ristorante. At $28 for a ridiculously small pasta dish, this Disney restaurant will leave both your wallet and your stomach rather empty. Rose & Crown, La Hacienda de San Angel, Biergarten Restaurant, and Les Halles Boulangerie-Patisserie are all significantly better options. Even if you're set on Italian food, Via Napoli Ristorante e Pizzeria, which is just a few steps away, is a much better option.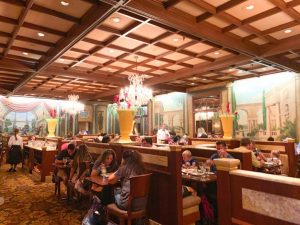 Best Hollywood Studios Restaurants
The Hollywood Brown Derby
Inspired by the iconic derby hat-shaped Brown Derby restaurant in Los Angeles, The Hollywood Brown Derby restaurant at Hollywood Studios proudly boasts the same décor and even some of the same dishes as the original restaurant. Caricatures of celebrities, such as Charlie Chaplin and John Wayne, decorate the walls. The famous Cobb salad – created by the owner of the original Brown Derby restaurant, Bob Cobb – is still served up every single day at the Hollywood Brown Derby, alongside the classic grapefruit cake.
If this Disney restaurant is catching your eye, be sure to make reservations in advance, because it gets booked up quickly!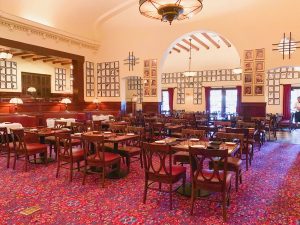 Sci-Fi Dine-In Theater Restaurant
One of the best restaurants at Disney World in terms of atmosphere is the Sci-Fi Dine-In Theater Restaurant. Inspired by the drive-in movies of the 1940s and 50s, guests at this Disney restaurant sit in vintage car replicas while watching popular, old movie clips. It is important to note that not everyone gets seated in car! So if that is a "must" for your Sci-Fi Dine-In Theater Restaurant experience (which it should be), be sure to ask for a car before you are seated.
The atmosphere isn't all that the Sci-Fi Dine-In Theater Restaurant has to offer. Savor the arrive-in BBQ burger or the sci-fi barbecue platter. For plant-based guests, the Szechuan lettuce wraps and the vegetarian falafel burger are both awesome options. The most eye-catching part of the food and drinks at the Sci-Fi Dine-In Theater Restaurant are the glow-in-the-dark ice cubes in the cosmic alcoholic concoctions.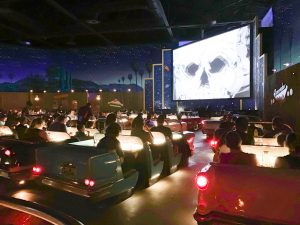 Mama Melrose's Ristorante Italiano
While there are many places to eat at Hollywood studios, Mama Melrose's Ristorante Italiano has proven to be a crowd favorite. Everyone loves Italian food, and the food this Disney restaurant is no exception to that rule.
Inspired by the true story of a Sicilian girl who moved to Hollywood to become a star and then instead followed her true dream of becoming a cook, bits of Mama Melrose's Italian origins are sprinkled throughout this Disney World restaurant. From the baked arancini appetizer to the saltimbocca entrée to the flavorful tiramisu, traditional Italian flavors have been infused into every course. And don't forget to order a lovely glass of wine to pair with your amazing meal!
Mama Melrose's Ristorante Italiano also offers the Fantasmic Dining Package, which includes one entrée, one dessert, and one non-alcoholic beverage, as well as one voucher for guaranteed, reserved seating at Fantasmic! There are three Disney dining options at Hollywood Studios that offer this promotion; however, Mama Melrose's deal allows you to get the best deal.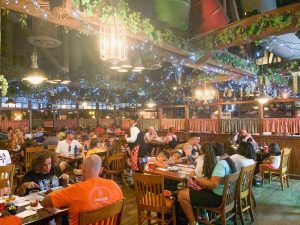 Docking Bay 7 Food and Cargo
Star Wars fans from around the world have been raving about the food served up at Docking Bay 7 Food and Cargo. Located within Star Wars: Galaxy's Edge, this Hollywood Studios quick service restaurant provides some of the most delicious, out-of-this-world dining at Disney World. Try a bite of the mustafarian lava roll, sink your teeth into the smoked kaduu ribs, or simply enjoy the felucian garden spread. Don't forget to finish off your meal with a space-inspired dessert, such as an oi-oi puff or a batuu-bon.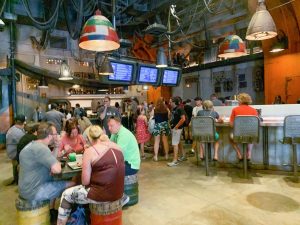 Worst Hollywood Studios Restaurants
Dockside Diner
Located on the beautiful Echo Lake, the subpar theme park food at Dockside Diner does not live up to its stunning location. Between the otherworldly dishes served at Docking Bay 7 Food and Cargo and the authentic Italian food prepared at Mama Melrose's Ristorante Italiano, the $13 chili cheese dogs and $11 nachos from Dockside Diner simply don't live up to the standard provided by the other amazing Hollywood Studios restaurants.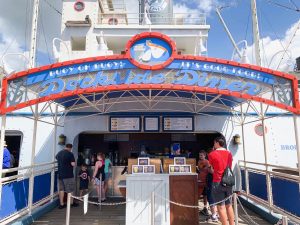 The Trolley Car Café
I'm sure you've heard of the coffee giant that's found its way onto every corner of the United States: Starbucks. The Trolley Car Café is basically Starbucks. So why would you bother getting a $6 cup of coffee during your day at Hollywood Studios when you could get it pretty much anywhere else in the world? It doesn't live up to the magical, unique dining experiences that the vast majority of the other Disney World dining options offer, so you're better off skipping The Trolley Car Café.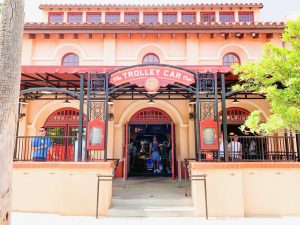 Best Animal Kingdom Restaurants
Tiffins
This WDW dining option is massively popular among Disney fans. Located on Discovery Island just across the bridge from Pandora – The World of Avatar, Tiffins doles out a world of flavors and décor. Within the three galleries of Tiffens, the animals and natural landscapes of Africa and Asia are highlighted through different pieces of artwork.
Regardless of the gallery you are seated in, you'll be taken on a culinary journey. While you could stick with the familiar through each course by ordering corn chowder, shrimp and grits, and the Lion King brownie, you could also be quite a bit more adventurous and order dishes from all over the globe. The Tiffins signature bread service is the most popular appetizer, but the charred octopus and spiced chickpea falafel are close followers. The entrée section has a wild array of options from tamarind-braised short ribs to North African-spiced tofu to a whole fried sustainable fish – eyes, teeth, and all. As for the desserts, you can try Filipino Halo Halo, tropical passion fruit tapioca crème, or South American chocolate ganache.
Tiffins provides a couple of special dining packages, including the Festival of the Lion King Signature Dining Package (Tier I and II) and the Rivers of Light Dining Package. The Festival of the Lion King Signature Dining Package includes one appetizer, one entrée, one dessert, and one glass of sparkling wine (for guests 21 and older), as well as VIP seating for the Festival of the Lion King show. Tier I also includes a special guided safari tour of the savanna. As for the Rivers of Light Dining Package, it includes one appetizer, one entrée, and one dessert, as well as premium seating for the Rivers of Light show.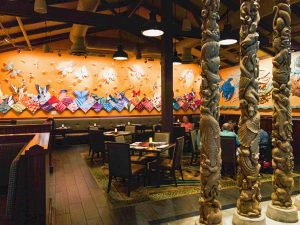 Satu'li Canteen
Situated in Pandora – The World of Avatar, Satu'li Canteen is another amazing Disney restaurant. With an average of 4.5 stars from 1,000 reviews on TripAdvisor and Yelp, Satu'li Canteen may be one of the most well-reviewed Disney restaurants ever.
This quick service restaurant serves up a variety of veggie-filled bowls, including the slow-roasted sliced grilled beef bowl, the chopped wood-grilled chicken bowl, and the chili-garlic shrimp bowl. As for plant-based guests, Satu'il Canteen offers the fantastic chili-crisped crispy fried tofu bowl. And let's not forget about the brightly colored blueberry cream cheese mousse dessert.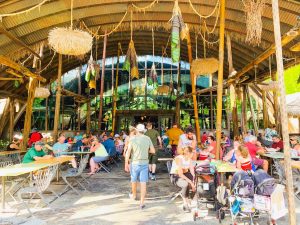 Yak and Yeti
If you're a fan of Pan-Asian food, you'll love the food options at Yak and Yeti. With both a dine-in restaurant and a quick service selection (both located not far from Kali River Rapids), you can choose between sitting down and taking your time or getting back to Animal Kingdom's amazing rides and shows as quickly as possible. The chicken tikka masala, ahi tuna nachos, and Korean beef are all crowd-favorite dishes. Plus, their desserts like sweet fried wontons and mango pie with a shortbread cookie crust are simply irresistible.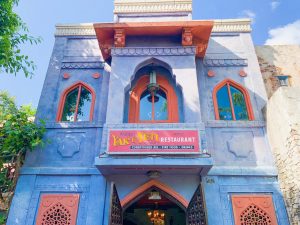 Tusker House Restaurant
Open for all three meals of the day, the Tusker House Restaurant is the only character dining restaurant in all of Animal Kingdom. As a matter of fact, many Disney lovers view it as the best character dining restaurant in all of Disney World! Meet Mickey, Minnie, Goofy, and the rest of the clan, all decked out in their safari gear. Each meal offers a combination of traditional American foods as well as more exotic African foods, so you can play it safe with roasted pork or go for something a little more adventurous, like basmati rice and curry chicken or black-eyed pea salad.
Just like Tiffins, the Tusker House Restaurant also offers the Rivers of Light Dining Package.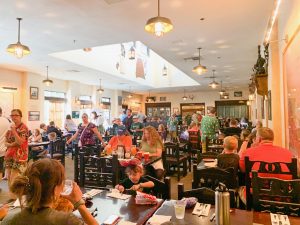 Worst Animal Kingdom Restaurants
Restaurantosaurus
I'll be blunt. Don't even let your kids know that Restaurantosaurus exists. With hot dogs and chicken nuggets, your little ones will be begging you to go, but there are better kid-friendly dining options within Animal Kingdom! Yak and Yeti offers teriyaki chicken breast that your children are bound to love, and Tiffins kids' menu is filled with options perfect for them. The bottom line: don't waste your money at Restaurantosaurus.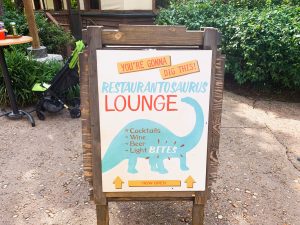 Rainforest Café
There are so many Rainforest Cafés around the world, so why waste your time at Animal Kingdom by going to it? If you really want to try their food, you can try it somewhere else outside of Disney World. Plus, at an average of $25 to $30 per entrée, it's certainly not worth the price. There are MUCH better options at Animal Kingdom, like the ones listed above.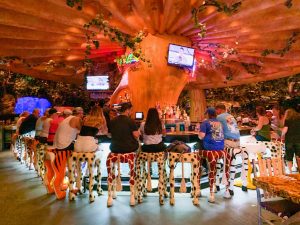 Best Disney Springs Restaurants
The Boathouse
Located at The Landing and not far from the recognizable Paddlefish boat lies The Boathouse. This unique waterfront dining experience has so much to offer. With a focus on fresh Floridian seafood, dishes like oysters on the half shell, grilled fresh fish tacos, and lobster with orecchiette pasta are all divine. The desserts, such as key lime pie in a mason jar, s'mores baked Alaska, and macadamia turtle pie, are all on par with the amazing fresh seafood. And with three separate bars, including the Captain's Raw Bar, the Admiral's Club Bar, and the Dock Bar, there's no shortage of alcoholic drinks to satisfy your adult palette.
Besides the food, the main highlight of The Boathouse is the amphicar experience. These land-sea vessels that resemble vintage convertibles start on land and drive straight into the water! There is also The Venezia boat option available. On this 40-foot Italian water taxi, you'll glide around Lake Buena Vista and get a lovely tour.
Because there are so many exciting experiences to have at The Boathouse, it is highly recommended that you make reservations in advance.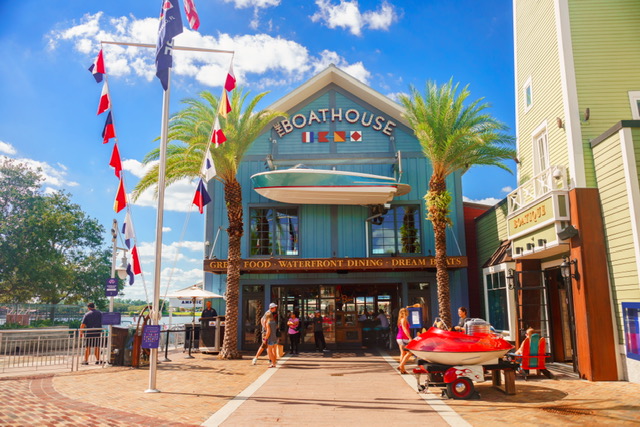 Raglan Road Irish Pub
Filled with live entertainment, award-winning dancers, an overflowing supply of drinks, and amazing food, Raglan Road Irish Pub is THE place to be in Disney Springs. Each night, performers from Ireland light up Ragland Road with exciting music and Raglan dance, creating an irresistibly fun atmosphere. When you add all of that exciting entertainment to wonderful food and drinks, it's no wonder that Raglan Road is one of the best Disney Springs restaurants.
As for the food, there are so many Irish and British classics. From fish and chips to cider salmon to braised be beef, everyone will find a dish that's up their alley. Because it's a pub, you certainly can't forget to get a drink. With the extensive spread of beers, wines, and specialty drinks, you may find yourself ordering more than you originally anticipated!
One downside of Raglan Road is that, even if you make a reservation, you may find yourself waiting for quite a while. That's just how popular this Disney restaurant is!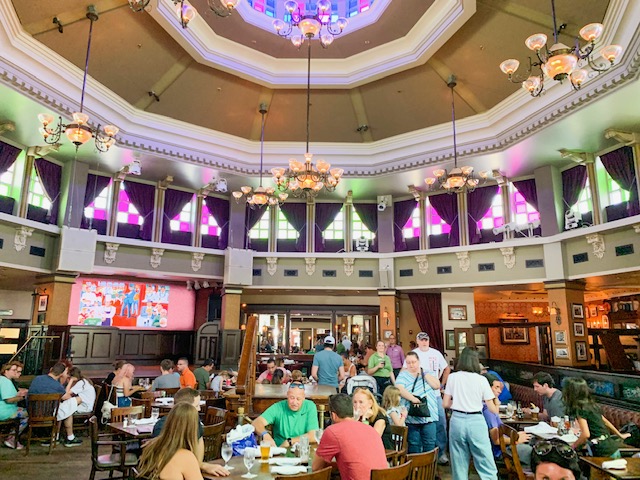 The Edison
Looking for fantastic American cuisine? The Edison is the Disney restaurant for you! Situated on the opposite side of the landing from The Boathouse, The Edison whips out gigantic food portions and tasty drinks. Sandwiches are this restaurant's specialty, so consider ordering The Edison burger, the pulled pork sandwich, or even the plant-based beyond burger. Pair them with one of Edison's cocktails, such as the Tesla, green electron, or electro shocker.
Do note that guests must be at least 21 years of age to enter The Edison after 10:00 p.m.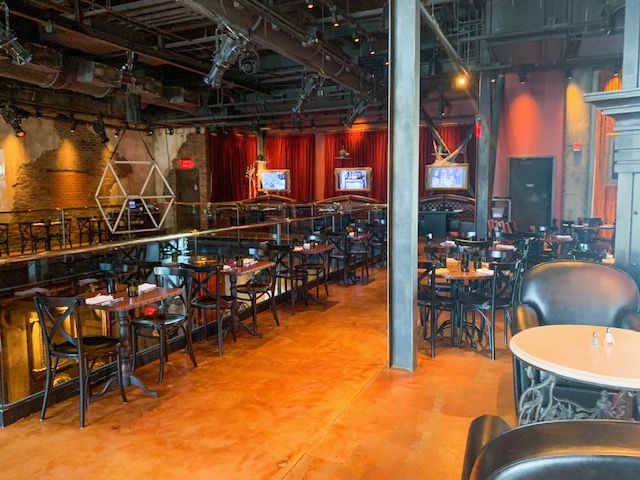 T-Rex Café
While the Rainforest Café is subpar, the T-Rex Café is fantastic! Don't get these two Disney restaurants confused! Get face-to-face with life-size dinosaurs during your prehistoric-inspired meal. Dig into the mes-o-bones (slow-roasted St. Louis-style spareribs), enjoy the Paleozoic chicken sandwich, or much on the boneyard buffet (rotisserie chicken and St. Louis-style spareribs).
Seeing the dinosaur replicas isn't the only interaction you can have with these majestic creatures. Head over to the Paleo Zone where you can test out your archaeology skills and dig for hidden dinosaur fossils. Oh, and keep your eyes peeled for a meteor shower every twenty minutes! Plus, if you'd like to take a dinosaur souvenir home with you to remember your unique dining experience, the Dino-Store is there for your convenience. Purchase educational toys, put on dinosaur-inspired clothes, or build your very own plush dino! It'll surely be a dining experience that you'll never forget.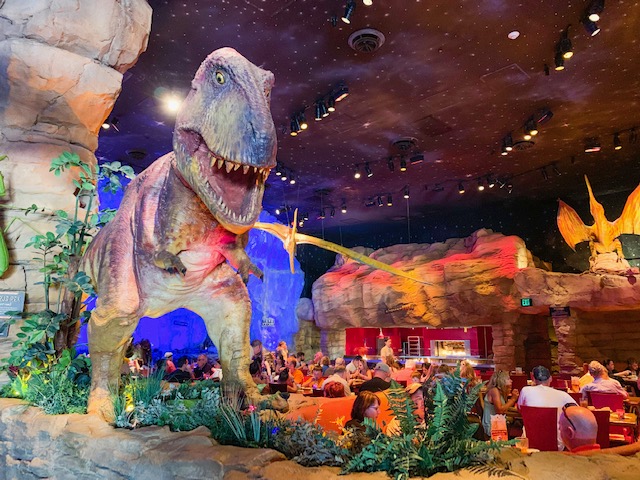 Worst Disney Springs Restaurants
Planet Hollywood
Planet Hollywood is a very "meh" Disney World restaurant. And with nearly a thousand reviews on Yelp and a three-star average, it seems like I'm not the only one with that opinion. The price of the food versus the quality of the food simply does not add up. Disney continually tries to make Planet Hollywood "cool" but since the 90's it hasn't improved and no one gives it any love. No one in any Disney groups on Facebook care about it at all and it is never anyones first [or fiftith] recommendation! Consider picking another Disney restaurant during your visit to Disney Springs.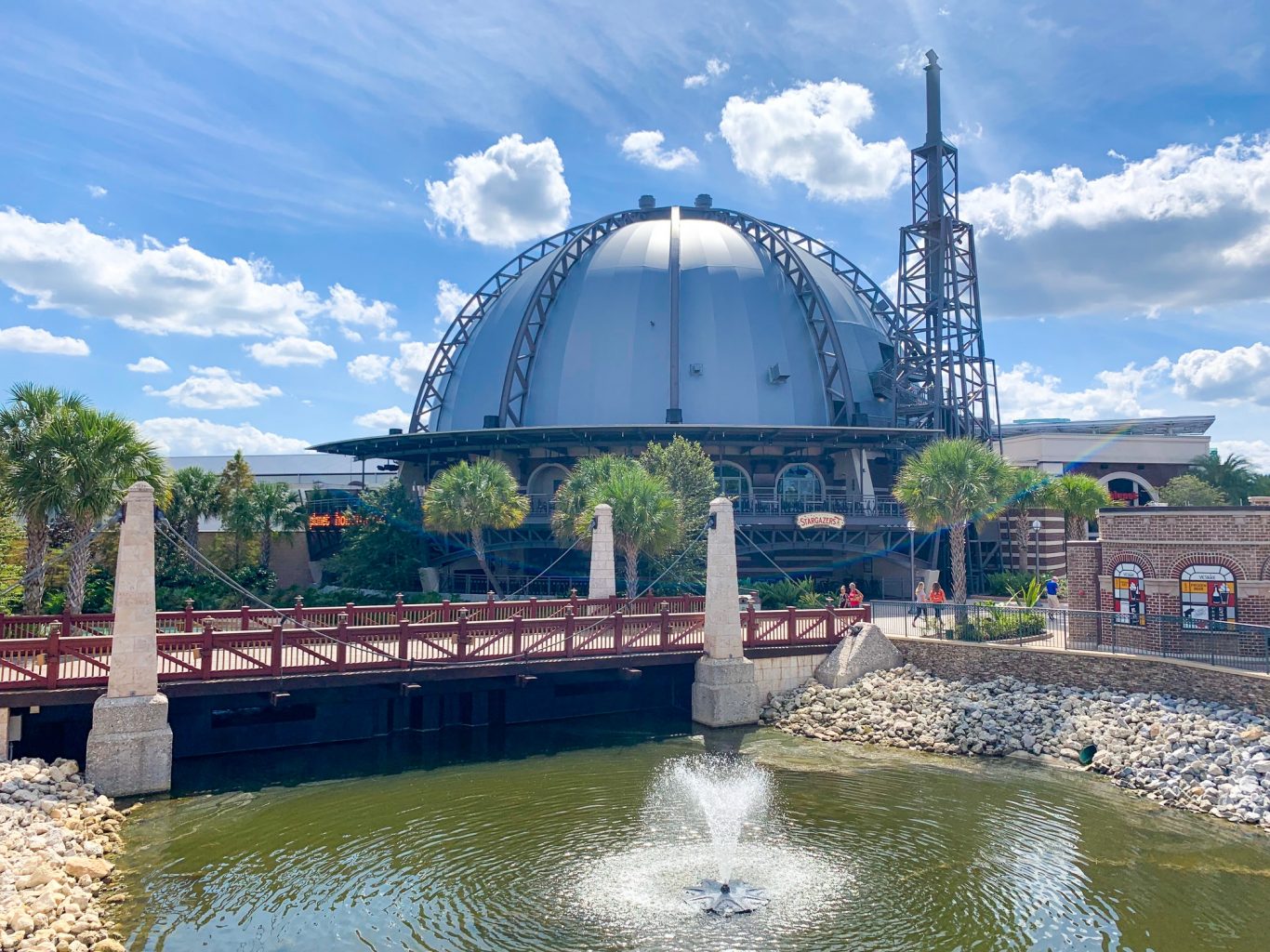 Rainforest Café
Like I mentioned before, it's not like this is the only Rainforest Café in the world. You can go to a Rainforest Café anywhere in the world, so why do it at Disney Springs, where there are so many good dining options! The food is really "only okay" and it isn't really the best of the best. As you can see, there are two Rainforest Cafes at Disney World and many more around the world. This isn't the Disney restaurant you want to frequent unless you have to and have no other option. The waits are also very long and the food is only okay.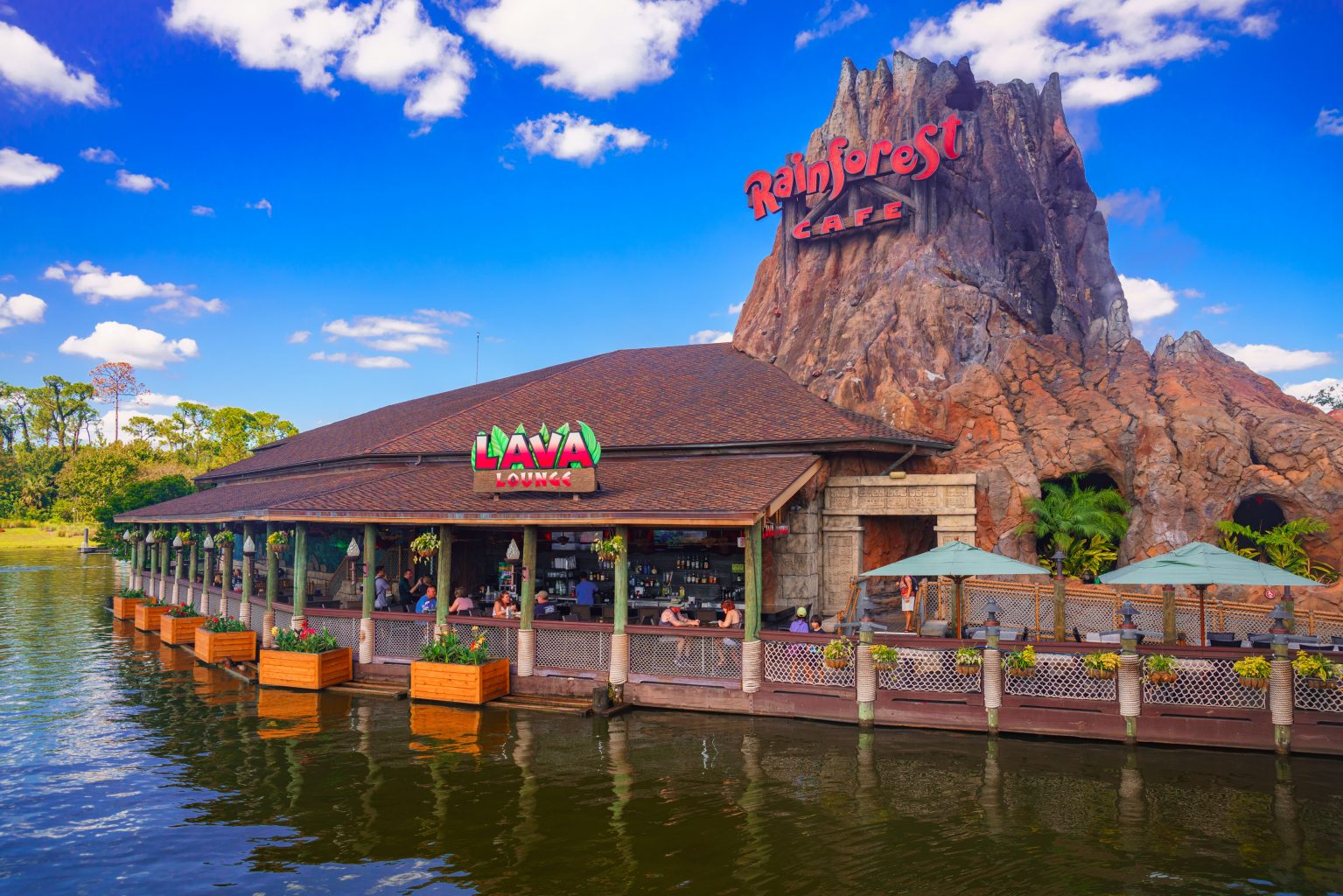 Best Disney Resort Restaurants
Victoria and Albert's
Victoria and Albert's is easily one of the best restaurants at Disney World. Located in Disney's Grand Floridian Resort & Spa, this fine dining restaurant features modern American cuisine created with products imported from all around the globe. Dishes such as wild turbot with toasted capers and preserved lemon and Australian Kobe-style beef are guaranteed to make your mouth salivate in anticipation before you even take a bite.
The exquisite food and atmosphere at Victoria and Albert's has not gone unnoticed. This Disney restaurant has been the recipient of AAA's prestigious Five Diamond Award, Forbes Travel Guide Five-Star rating, as well as countless glowing reviews.
Between the imported food, fantastic service, and rave reviews, it shouldn't be a surprise to find out that Victoria And Albert's is extremely expensive. With a set menu price of $235 per person (plus another $150 for the optional wine pairing), Victoria and Albert's is a once in a lifetime Disney World dining experience.
California Grill
The California Grill is considered to be one of the best places to eat at Disney World. The restaurant is open for both brunch and dinner, and both meals have its perks. Brunch is, well, brunch, complete with superb dining options like peach pancakes, chicken chilaquiles, eggs benedict, and plant-based green shakshuka. The chefs behind the dinner rush also serve up delicious plates, including black mission fig and prosciutto pizza, grilled Colorado bison loin, and fonduta tortelloni with black truffle. And the desserts, such as the strawberry crème brûlée and the lavender donuts, are absolutely divine.
While the food at the California Grill is fantastic, the real highlight of this Disney restaurant is its location. Located on the 15th floor of Disney's Contemporary Resort, the floor-to-ceiling glass windows provide breathtaking panoramic views of Magic Kingdom – and that means, of the Happy Ever After Fireworks show as well.
As can be expected, reservations at the California Grill are notoriously difficult to get, especially around the time of the 8 p.m. fireworks. Reservations can be made 180 days in advance, so, if the California Grill is on your must-do Disney dining list, be sure to set a reminder for yourself!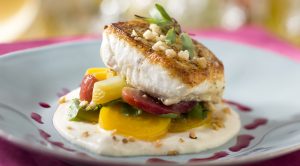 Boma – Flavors of Africa
If you want to be transported across borders through a culinary adventure, simply head over to Boma – Flavors of Africa in Disney's Animal Kingdom Lodge. Under thatched roofs and on colorful tiled tables, the fully-stocked breakfast and dinner buffets showcase dishes from over 50 African countries. (There are also quite a few American classics if you're not feeling too adventurous.)
First, let's talk breakfast. Alongside Simba-imprinted waffles, scrambled eggs, and an assortment of pastries, there is an assortment of African dishes. Try the minced meat and egg-based dish called bobotie from South Africa. Take a bite of African-spiced corn beef hash. Or perhaps just snack on some fried plantains.
As for dinner, the variety of African dishes that are available becomes even more varied. Slurp on some spicy Nigerian peanut soup. Tackle whole Durban-style roasted chicken. Or fill your belly with some warm Ghanaian oxtail stew. You'll be able to experience the flavors of Africa without ever leaving the Walt Disney World Resort.
The one downside of Boma is that, because the restaurant is so popular and the venue is rather small, the tables are tightly squished together.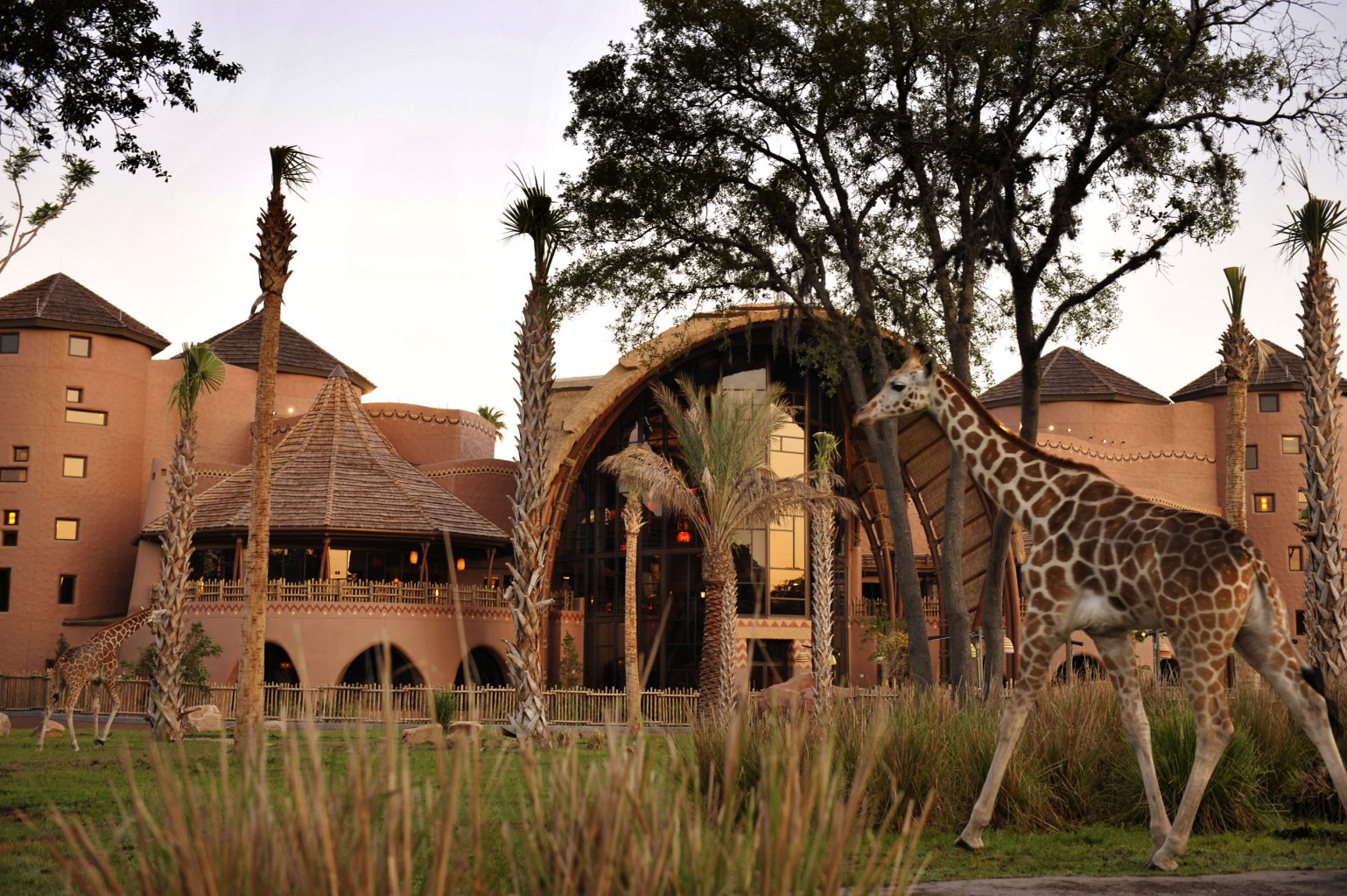 Ohana
"Ohana means family, and family means no one gets left behind." Every true Disney fan knows this Lilo & Stitch quote by heart. Experience the ambience and flavors of Lilo & Stitch's home of Hawaii at Ohana, located in Disney's Polynesian Village Resort.
At breakfast, dine on scrambled eggs and island-style potatoes while enjoying Hawaiian hospitality. Plus, because the breakfast buffet is a character experience, don't be surprised if Lilo, Stitch, and a few of their friends decide to visit and say hello!
At dinner, while these lovely Disney characters won't be around, the food becomes even more inspired by the melting pot of cuisines in Hawaii. Enjoy pork dumplings tossed in ginger sauce, sweet-n-sour chicken, and teriyaki lo mein noodles. Honestly, there is so much fantastic food available, so be sure to come hungry! Plus, just because the characters are gone, that doesn't mean that the entertainment has to be! Listen to some island music and even try your hand at the traditional Hawaiian dance of hula.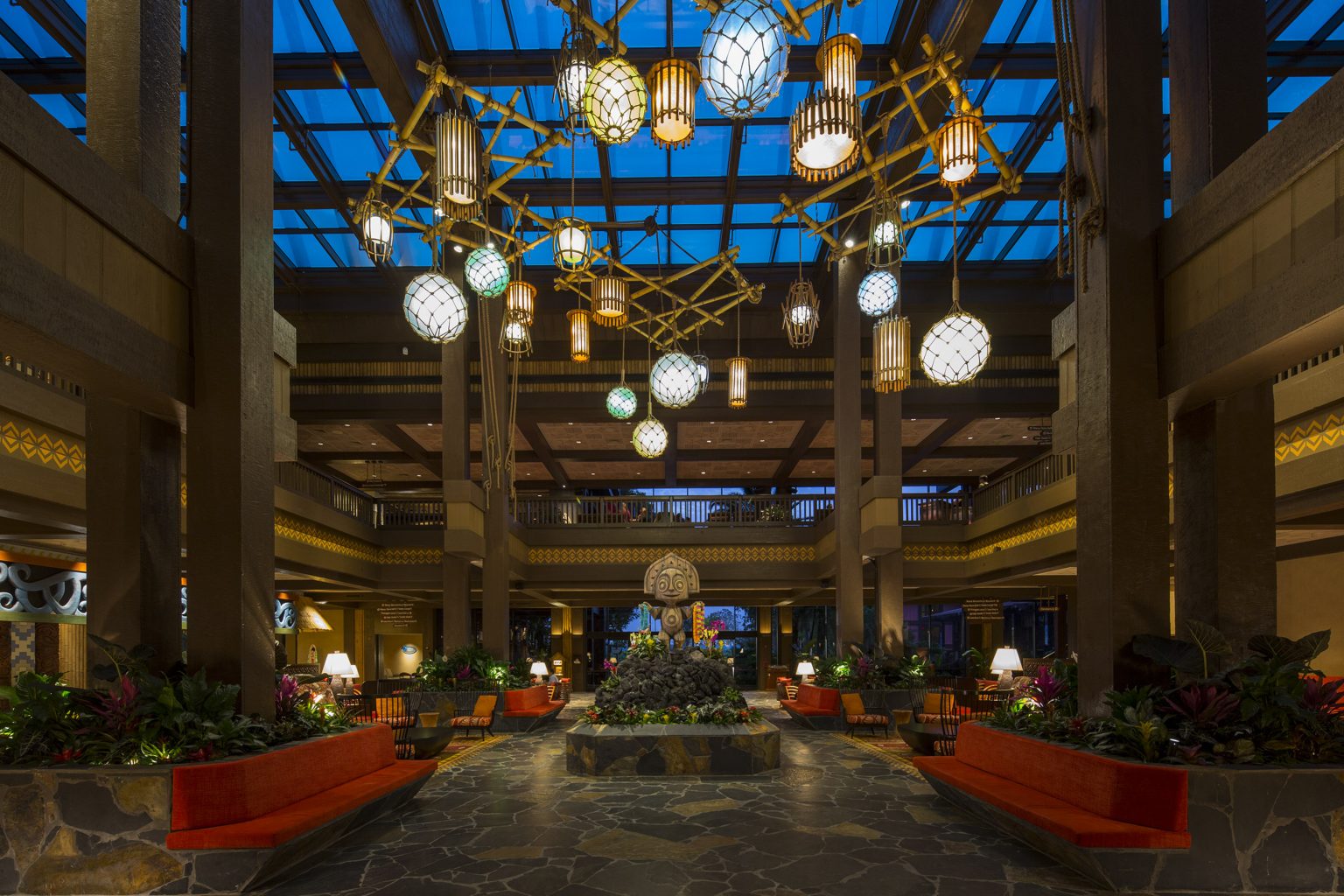 I hope you enjoyed reading about some of the best Disney restaurants (and learning about the ones you should avoid too). What do you think? Do you agree or disagree? Let me know in the comments what you think the best Disney World restaurants are! As always, if you have any questions, I am more than happy to answer them for you! Thank you for reading!
Pin this post: