Sometimes all you really want is some pizza at Disney, but finding it isn't always the easiest thing to do. There are so many different restaurants, quick service and food truck options, that knowing which ones serve pizza can be a bit of a challenge. Fear not, we've put together this list so that not only can you find pizza at Disney World, but you can also find the best pizza!
There are a number of options available in each park, but some parks have more selection than others. Hollywood Studios and Animal Kingdom don't have a great variety but they do still have a pizza option, so don't worry if the pizza craving strikes when you're in those parks. We've also explained which ones are sit down restaurants and which are quick service options so you can make the best choice based on what you're looking for.
Get a FREE printable 30/60/90 day Disney countdown by joining our private Disney Facebook Group and share your photos and ask for tips and tricks!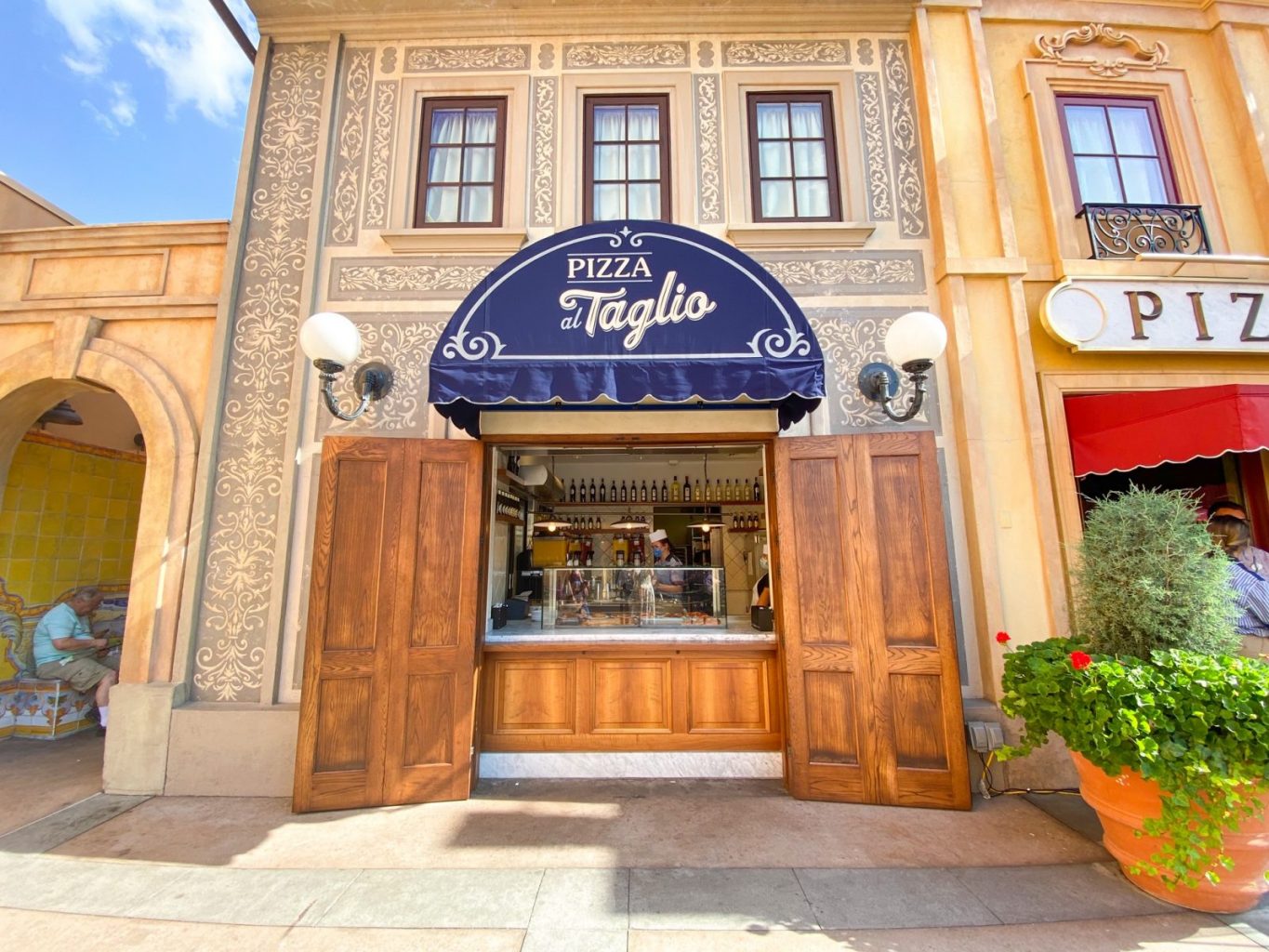 Best Pizza at Magic Kingdom
Tony's Town Square Restaurant
Tony's is a casual dining spot located on Main Street U.S.A, making it a handy option for when you're in Magic Kingdom. It's based around the story of Lady and the Tramp, as Tony's was where the two shared their first kiss over a plate of spaghetti. While Tony's do sell this famous spaghetti and meatballs as a dinner option, what's really great on the menu is Tony's Pizza Pie.
The pizza here is a flatbread style pizza so it's thin and crispy but absolutely loaded with toppings. There are a number of options to choose from so you'll be sure to find something that everyone will like. The portions are quite large too so you could easily share a pizza between two if you were feeling the romance of the place. The range of the menu, however, means that not everyone has to have pizza if they aren't feeling it, and its convenient location near the entrance to Magic Kingdom makes this a great place to get pizza at Disney.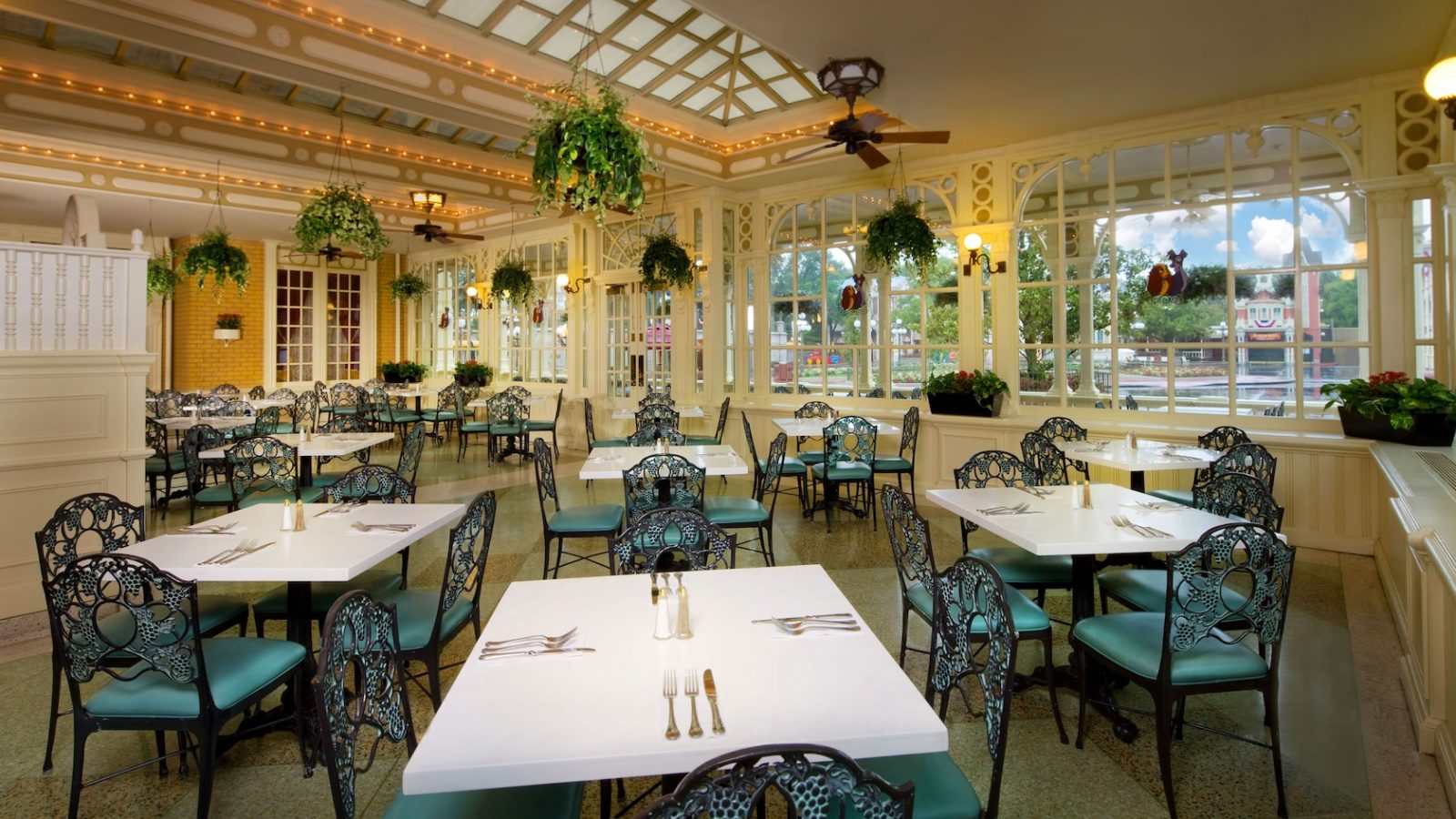 Best Pizza at Epcot
Via Napoli Ristorante e Pizzaria
As you'd likely expect, the Italian pavilion in Epcot is a great place to get pizza at Disney. Via Napoli's pizza offering is one of the best in the whole park and certainly the most authentically Italian. It is one of the pricier options for pizza at Disney but we think it's worth it. There is a huge range of pizza styles and toppings to choose from and all of them are delicious. The more pricier options are also giant! So you can feed a whole family (and some!) on just one pizza so it can work out cheaper than buying a slice of pizza each from some other places.
The pizzas are classic Neapolitan pizzas which means they are an a thin base with heaps of toppings and all cooked in a wood burner which gives them a crisp, smoky taste that you just can't beat. Via Napoli also offers authentic Italian flavour combinations that many people outside of Italy will never have tasted, such as prosciutto and melon. Eating here is a great way to get a true taste of Italy without ever leaving Disney!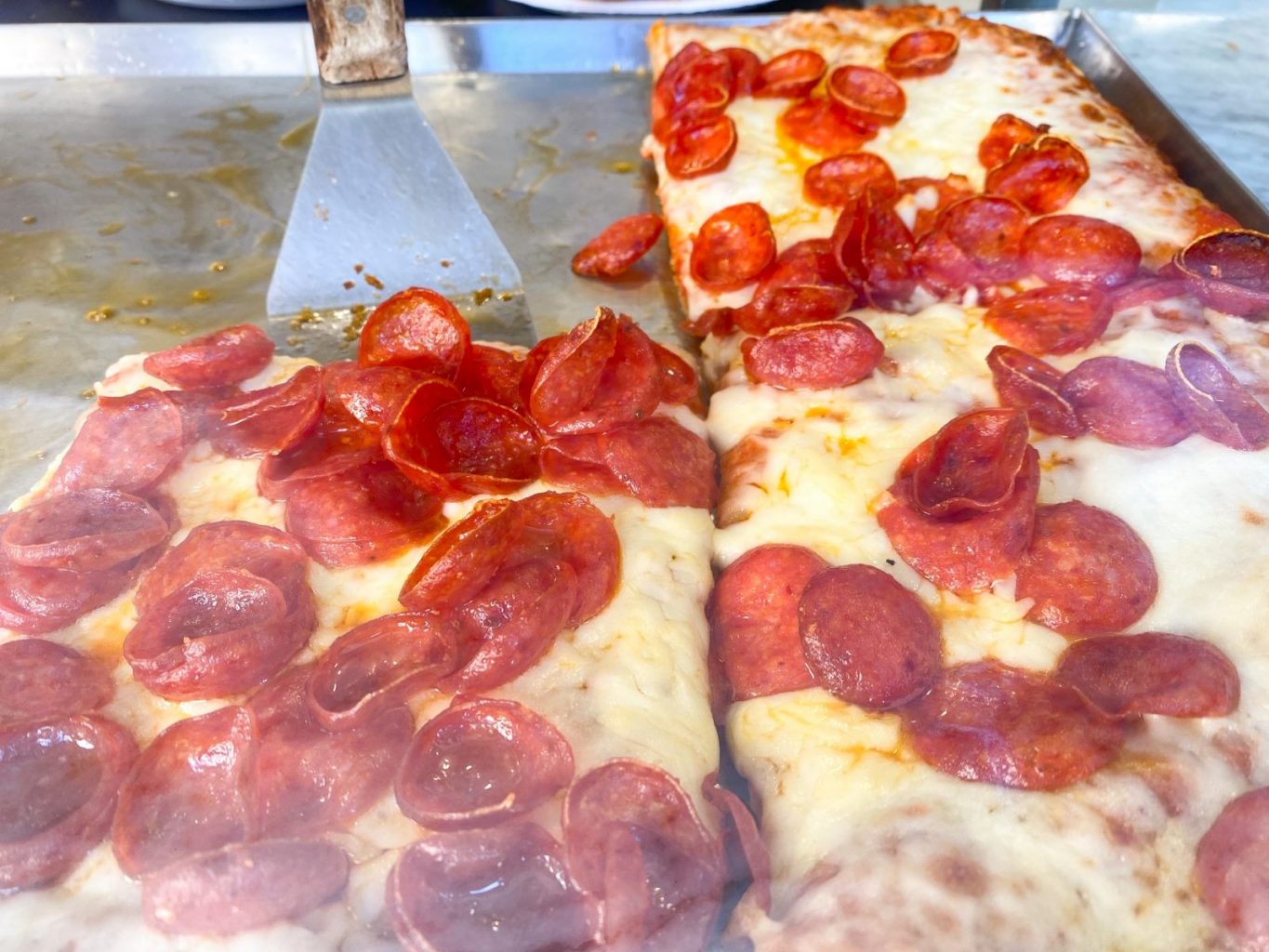 Les Halles Boulangerie-Patisserie
This French patisserie may seem a little out of place on this list of pizza places in Disney World, but we think their pissaladiere offering is worthy of a place. A pissaladiere is a pizza-style doughy slice that you can eat hot or cold, covered in gruyere cheese, tomatoes and olives. The quick service, counter style means that you can grab a slice quickly and easily – and also grab some delicious sweets while you're there!
It may not technically be a pizza as it doesn't have a sauce on it, but we think it's absolutely delicious, especially when it's come hot out the oven. And pissaladiere sounds close enough to pizza! So if you're looking for something new or a little less traditional then head to France for a great pizza in Disney.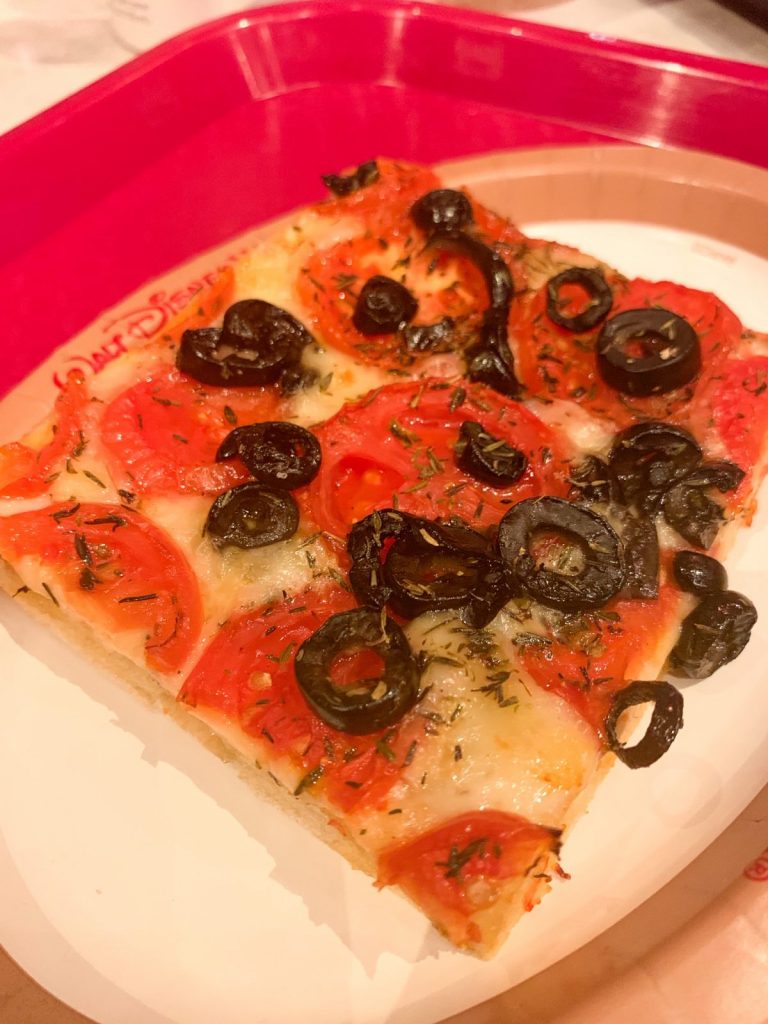 Best Pizza at Hollywood Studios
Mama Melrose's Ristorante Italiano
This colourful Italian American eatery is an excellent choice for a sit-down meal in Hollywood Studios. The décor is bold and bright and so are the flavours. There's a range of food options available so you can find something for everyone. And the family-friendly, casual atmosphere makes for a lovely meal whatever you choose to eat.
The pizza option at Mama Melrose's is included in the appetisers rather than the mains, so if you are looking for a full pizza meal then this isn't the best option. But if you're just looking for some cracking pizza at Disney then Mama Melrose has that. These flatbreads are also available on allergy friendly bread so this is a great option if you're looking for gluten free pizza at Disney World.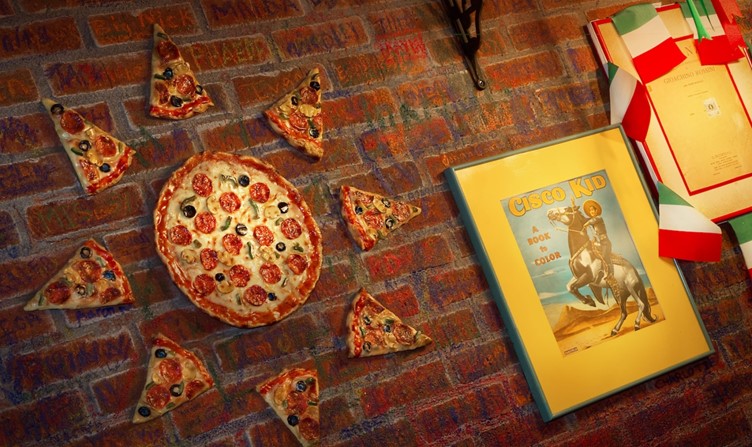 Best Pizza at Animal Kingdom
Pizzafari
If you prefer your pizza to be deep dish then Pizzafari in Animal Kingdom is a great option for you. They offer both deep dish and flatbread style pizzas. It's a quick service option where you can grab a quick slice with plenty of toppings, quickly and relatively cheaply for pizza at Disney. They also offer gluten-free and plant-based pizzas so everyone should be able to find something here.
They do offer family style inside dining in the evenings so if you were looking for a pizza feast to sit down and enjoy then Pizzafari is an excellent choice for that too. Whether you're going in for a quick meal or for a family sit down, the bright, colourful atmosphere makes for a lovely time.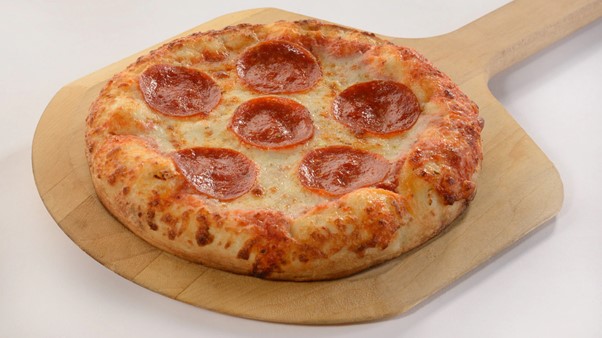 Best Pizza at Disney Springs
Blaze Fast-Fire'd Pizza
When people think of getting pizza at Disney Springs, Blaze is usually top of that list. Blaze is one of the only places to get pizza at Disney that allows you to customise your own pie. You can choose from the vast array of over 40 toppings and sauces to make the perfect pizza just for you. Then they'll cook it in their authentic fired pizza oven for the perfect crisp base.
If you're not sure what to get or the options are too many, they do offer a range of pizzas that you can simply select and enjoy. You can grab it to go or take a seat and take your time enjoying these modern pizzas.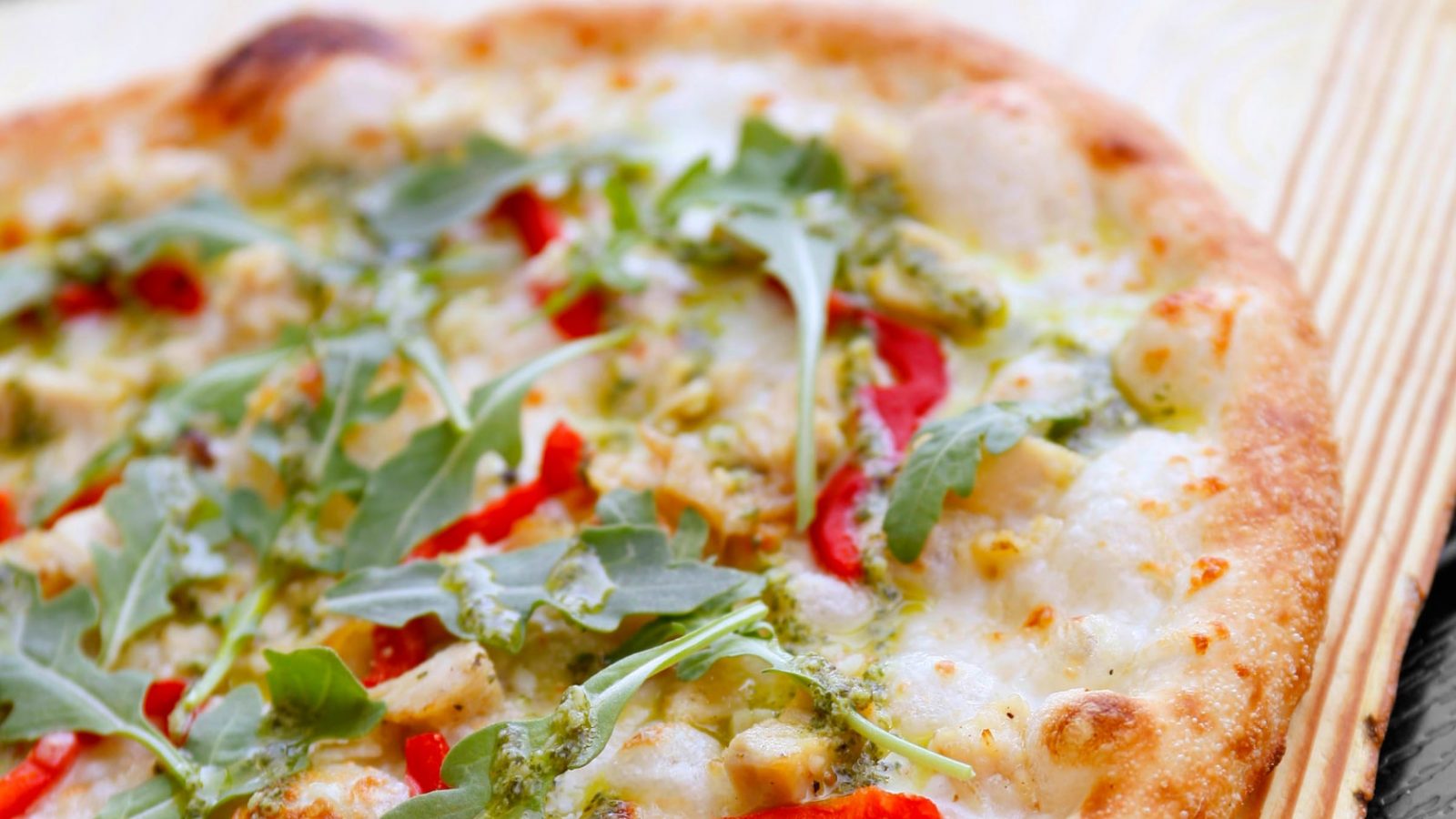 Pizza Ponte
Pizza Ponte is actually inside Maria and Enzo's but it is it's own restaurant. To get in, you need to follow the signs for Pizzeria just past the Maria and Enzo's entrance. It's easy to think these two restaurants are the same but Maria and Enzo's doesn't actually currently have pizza on the menu.
But if you are looking for pizza at Disney Springs then Pizza Ponte is a great choice. They sell authentic Sicilian pizza by the slice, for around $7 a slice. This may seem a little steep even for Disney but the slices they offer are huge! And loaded with great flavours. Pizza Ponte is a quick and easy, and delicious, place to get pizza at Disney.
Best Pizza at Disney Resorts
California Grill
Located on the 15th floor of Disney's Contemporary Resort, California Grill offers great pizza that certainly comes with the best view. From the restaurant, you have magnificent views over Magic Kingdom and the Seven Seas Lagoon. California Grill also offers a great view of the fireworks while you dine so you can enjoy some extra beauty with your pizza.
It is a very popular restaurant and advanced bookings are highly recommended, especially for when the fireworks are. There is also a dress code which must be adhered to. But all of this is well worth it for the quality of the food, including the pizza!
In-Room Service
If you are staying in some of the Disney Resorts, you do have the option to have pizza delivered straight to your room. It's a great way to get some good food without even having to leave your room. Especially if you've just arrived, or even if you are just feeling peckish after a busy day in the parks.
The resorts which offer room service pizza at Disney are:
All-Star Movies Resort
All-Star Music Resort
All-Star Sports Resort
Art of Animation Resort
Caribbean Beach Resort
Old Key West Resort
Pop Century Resort
Port Orleans Resort
Saratoga Springs Resort & Spa
There's a menu card in each room and you just need to call down and they'll bring you wonderful pizza up to your room. It's super convenient and pretty tasty too!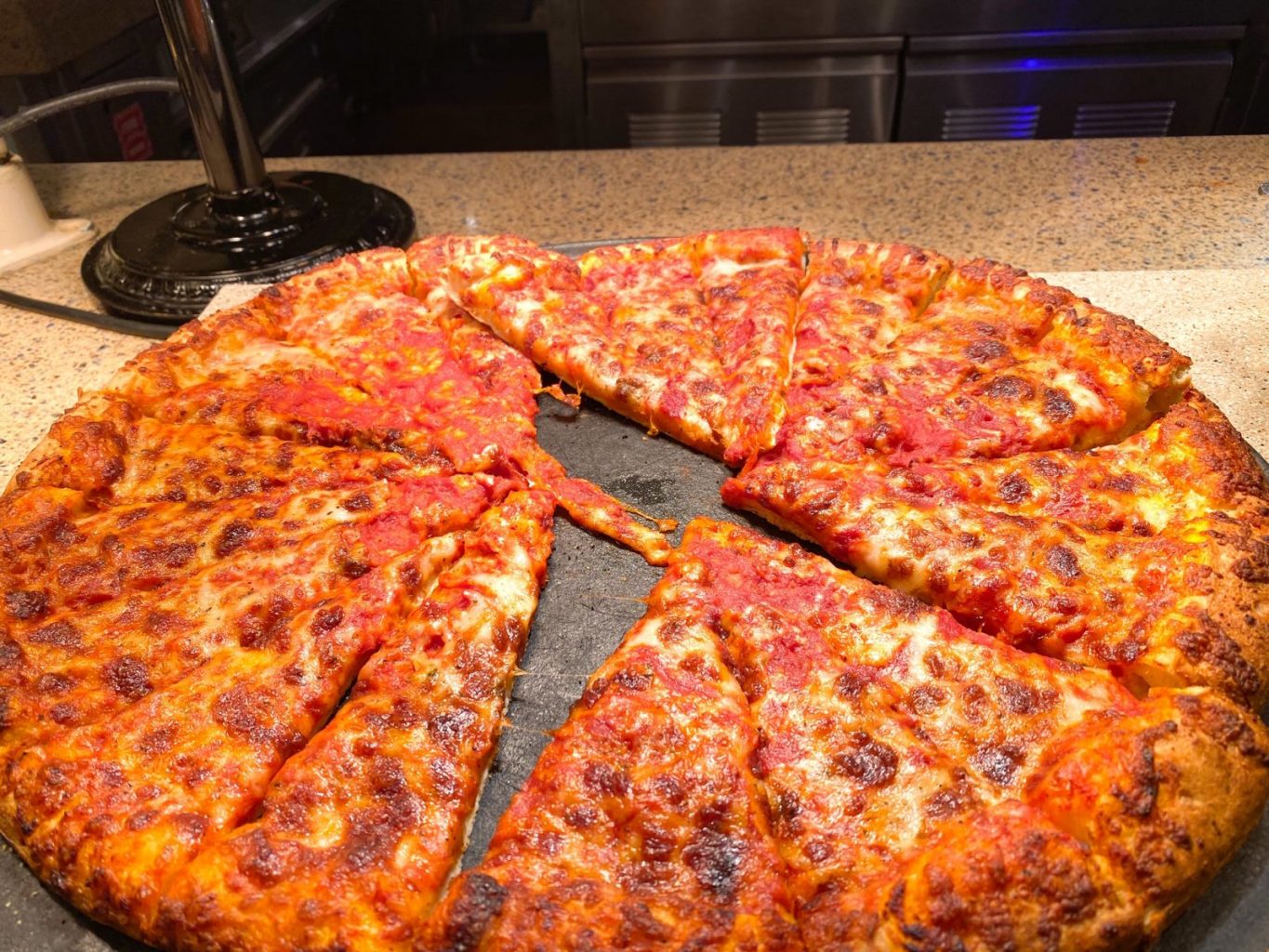 Sometimes all you want is some pizza at Disney, and this list isn't the only places where you'll be able to find pizza. If you're simply desperate for a slice there are other options available but these are the pizza places that we think are the best. If you think there are other pies that deserve to be on this list, let us know!