If you're looking for a fun Disney resort bar crawl to do on your next Disney World trip, we have the ultimate list for you! We've found the best bars and lounges for you to enjoy on an adult trip around the Disney resorts. This is a great way to resort hop, try something at each stop, and then use some of the coolest modes of Disney transportation to get there.
And the best part? You don't need a park ticket! This a great way to spend an off day from the parks and see more of Disney than just the 4 parks.
Just a note, due to current conditions, some of these resorts or lounges may be temporarily closed. They will be part of the phased reopening of Disney World, and just check the Disney World website before heading to these resorts and lounges.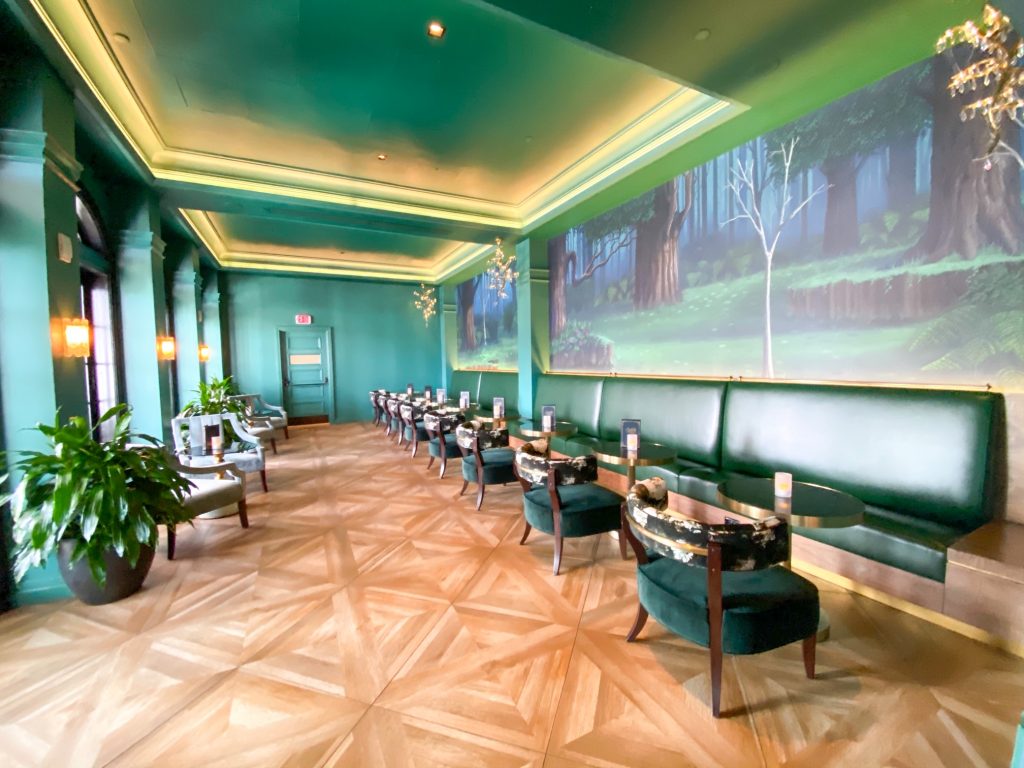 How to Get Free Parking for Your Bar Crawl
Since you aren't staying at all of these resorts, and aren't parking at a theme park, you don't want to get stuck paying for parking at a Disney resort. Parking does cost at each resort, and right now, you cannot park at one unless you have a restaurant reservation or you are staying there. But we know two ways to keep you from paying for parking while on your bar crawl – plus it keeps you from driving!
Make a dining reservation
One of the easiest ways to not have to pay for parking at a Disney resort is to eat dinner there. A great bar crawl starts with great food anyways, so why not grab a bite to eat before you head out?
When you make a dining reservation for a table service restaurant, you are then able to visit that resort and park there. Also, Disney validates your parking since you are only there for a few hours and you have a dining reservation – you'll just have to show your receipt. For more in-depth information on how this works, check out our parking at Disney tips.
Park at Disney Springs
Since parking at Disney Springs is always free, it can be a great idea to start your Disney resort bar crawl here! You can grab a bite to eat at any of the wonderful Disney Springs restaurants, and then head over to the bus loop. Just hop on the bus that will take you the resort you want to start your crawl at. The Disney bus system is free and easy to use, and is a great way to make use of Disney transportation on your bar crawl.
Plus, Disney Springs tends to stay open much later than the parks and sometimes the lounges, so this can be a great place to come back to. You can walk around, get a snack, and do some shopping to round out your night!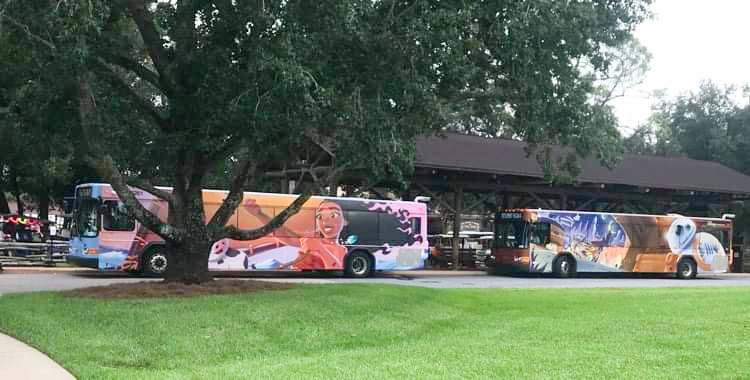 Do You Need Disney Park Tickets?
Nope! Since you aren't going into any of the parks and you're only visiting the Disney resorts for this bar crawl you do not need park tickets. This is a great way to do a no-park day, and possibly save a little bit of money on park tickets.
Even though you won't need money for park tickets, make sure you have enough for the drinks and food you plan on getting throughout the night. Disney drinks and bar snacks come with Disney prices!
Are There Non-Alcoholic Drinks on the Disney Resort Bar Crawl?
There sure are! Every bar and lounge offers some kind of non-alcoholic drink, and some of them even have menus dedicated to it. Most of the drink options are fun takes on lemonades and non-alcoholic mojitos. Also, some of the bars will make drinks upon request as well, especially since they are talented bartenders with a lot of ingredients at hand.
This being said, you can absolutely make this a family friendly bar crawl where no one has anything but snack and non-alcoholic drinks! You don't have to drink alcohol to have fun visiting the resorts, and we also suggest doing a food or snack crawl as well.
Monorail Bar Crawl – The Most Famous!
The Monorail Bar Crawl is the most famous of the Disney resort bar crawls and one that we suggest you do at least once! The Monorail will take you to the Contemporary, the Polynesian, and the Grand Floridian – the Magic Kingdom resorts. These Deluxe resorts have great food and drink options, and the resorts themselves are all stunning in their own way. We suggest starting at the Contemporary.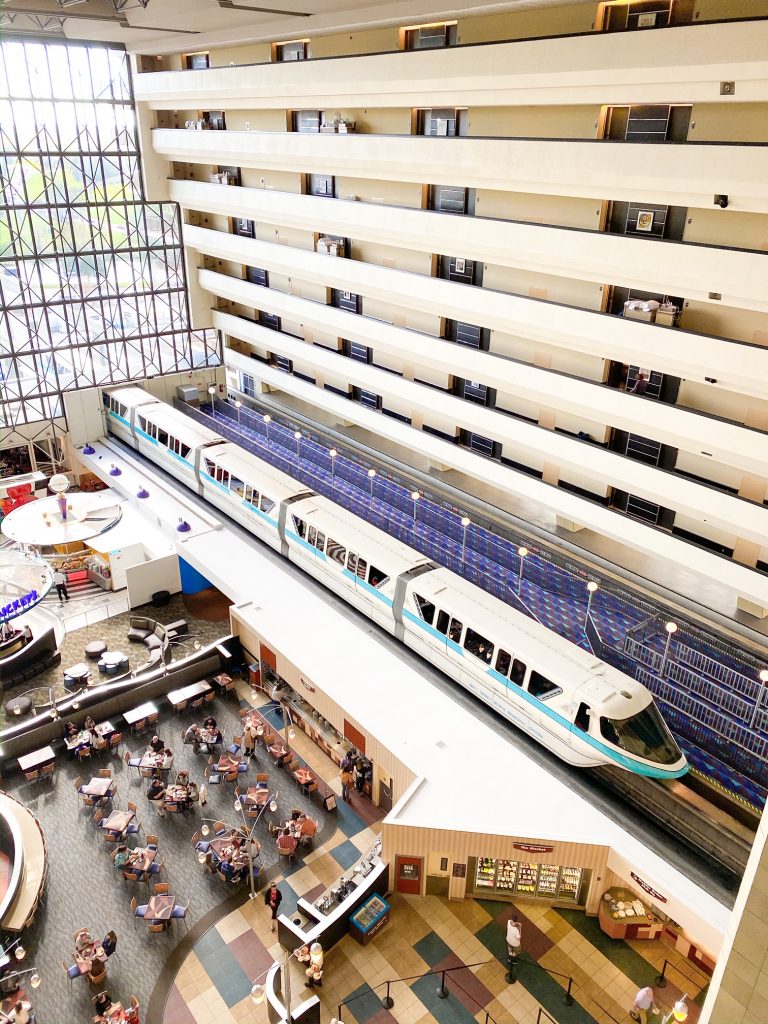 Stop 1: Disney's Contemporary Resort – The Wave Lounge
The Wave Lounge could be one of the coolest bars at Disney. It offers seasonal drinks for different holidays and seasonal flavors, as well as there is a blue room you HAVE to sit in! They have an extensive menu here, as well as some light bites, and we suggest you try the Blue "Glow-Tini" or whatever seasonal drink is available during your trip!
Stop 2: Disney's Polynesian Village Resort – Tambu Lounge
The next stop on your Monorail Disney resort bar crawl will be much more tropical! Tambu Lounge at the Polynesian offers tropical drinks and light bites, and you can't beat the relaxing feel of this lounge. The standouts here are the Backscratcher – and you even get a wooden one to take with you! – and the Lapu Lapu, which comes in a real pineapple.
Stop 3: Disney's Grand Floridian Resort & Spa – Enchanted Rose
Inspired by Beauty and the Beast, the Enchanted Rose is a stunning lounge that can't be missed on your next Disney resort bar crawl. This lounge offers many unique drinks, but the must-haves here are "A Tale of Cocktails." These two drinks each come with a story and explanation behind the name, and you won't regret getting either Envie or Amour.
Stop 4: Disney's Wilderness Lodge – Territory Lounge
While not accessible via the Monorail, we couldn't leave off the Wilderness Lodge! It's still a Magic Kingdom resort, and is just a short boat ride from any of the other Magic Kingdom resorts or the park. This lounge has a cozy, cabin feel and the menu is full of classic cocktails – here you'll get some great mojitos, margaritas, and old fashioneds.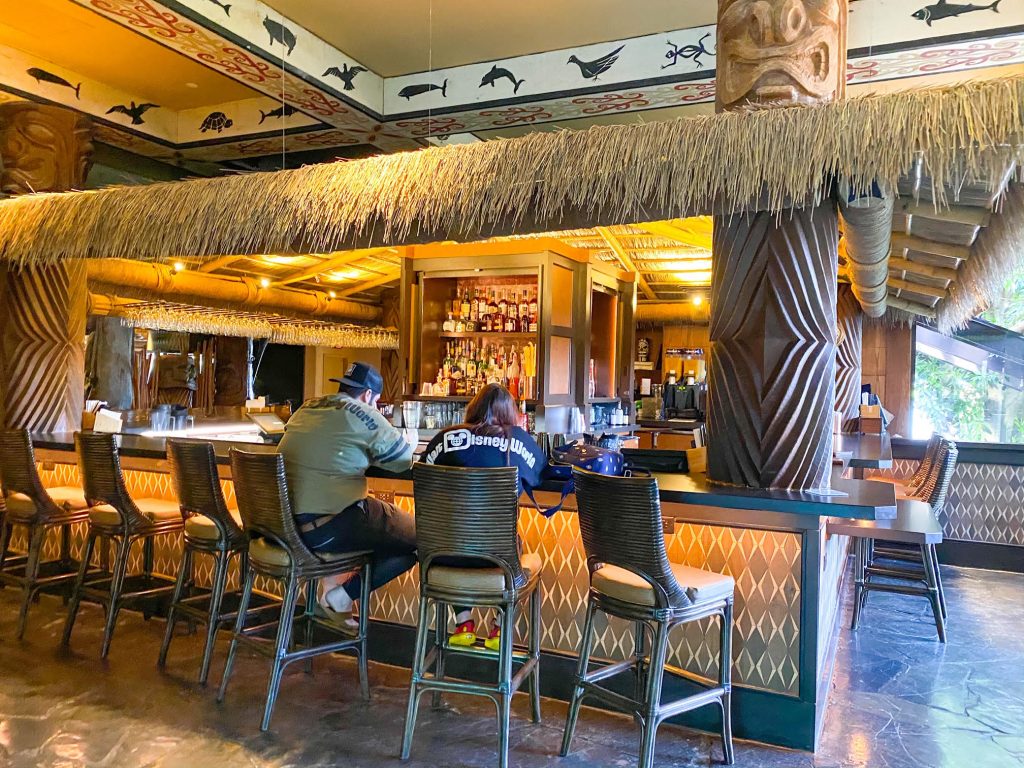 Where to Eat on the Monorail Disney Resort Bar Crawl
If you are looking for somewhere great to eat before you start the Monorail Disney resort bar crawl, the resorts along this crawl offer some of the best options!
If you start at the Contemporary, then we suggest you go ahead and grab dinner at The Wave…of American Flavors. It's the restaurant side of the great lounge there, and the food is consistently good. Plus, sometimes this restaurant feels like a hidden gem and you won't have to fight for a table or reservation!
Another great food option along the Monorail bar crawl would be the Grand Floridian Café. The buttermilk fried chicken here is the standout, and a great way to start a fun night.
Disney Skyliner Bar Crawl – The Newest
The Skyliner is the newest form of Disney transportation and has a lot of options for drinks and food. If you are planning on bar hopping via the Skyliner, you have two options for starting points: either Yacht and Beach Club or Pop Century and Art of Animation. If you're going to start with a dinner reservation first, then we suggest starting at Yacht and Beach since there aren't any table service restaurants at the Value resorts.
Also, if you're looking to have a little more fun on this crawl, check out our Skyliner restaurant crawl and you'll be able to eat the best snacks and desserts along the Skyliner!
For stops 1-3, you will be walking back and forth – or taking the Friendship boats – and then you will hop on the Skyliner at the EPCOT International Gateway. Also, you can just choose one of these to visit and then head to the Skyliner, we just wanted to give you all the options!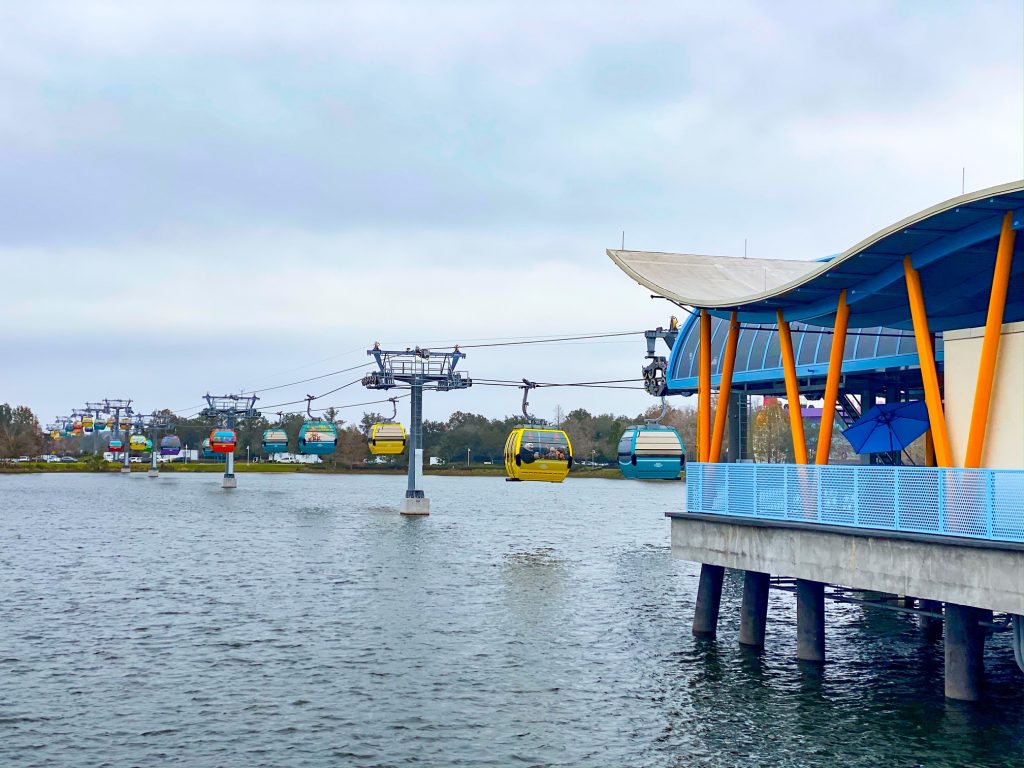 Stop 1: Disney's Yacht Club Resort – Ale & Compass Lounge
For your first stop along the Skyliner version of the Disney resort bar crawl, we suggest the Ale & Compass Lounge. This is an elegant but cozy lounge with lots of great, classic cocktails. You should try the Maple Old Fashioned, the Captains Mai Tai, or even the Spicy Pomegranate Margarita!
Stop 2: Disney's Beach Club Resort – Martha's Vineyard
Take a quick walk over to Yacht Club's pastel-painted sister resort, Beach Club, and try a drink at Martha's Vineyard. Here you can grab fun seasonal drinks, classic cocktails, and even a seasonal Sam Adams beer if that's what you like.
Stop 3: Disney's Boardwalk Inn – AbracadaBar
If you're headed to Disney's Boardwalk, stopping at AbracadaBar is a MUST. This is a fun, quirky bar inspired by the glory days of magicians. The drinks here are just as magical, and we suggest you try the Conjurita, which changes color while shaken, or the Seashore Sweet, which is topped with magical "disappearing" cotton candy!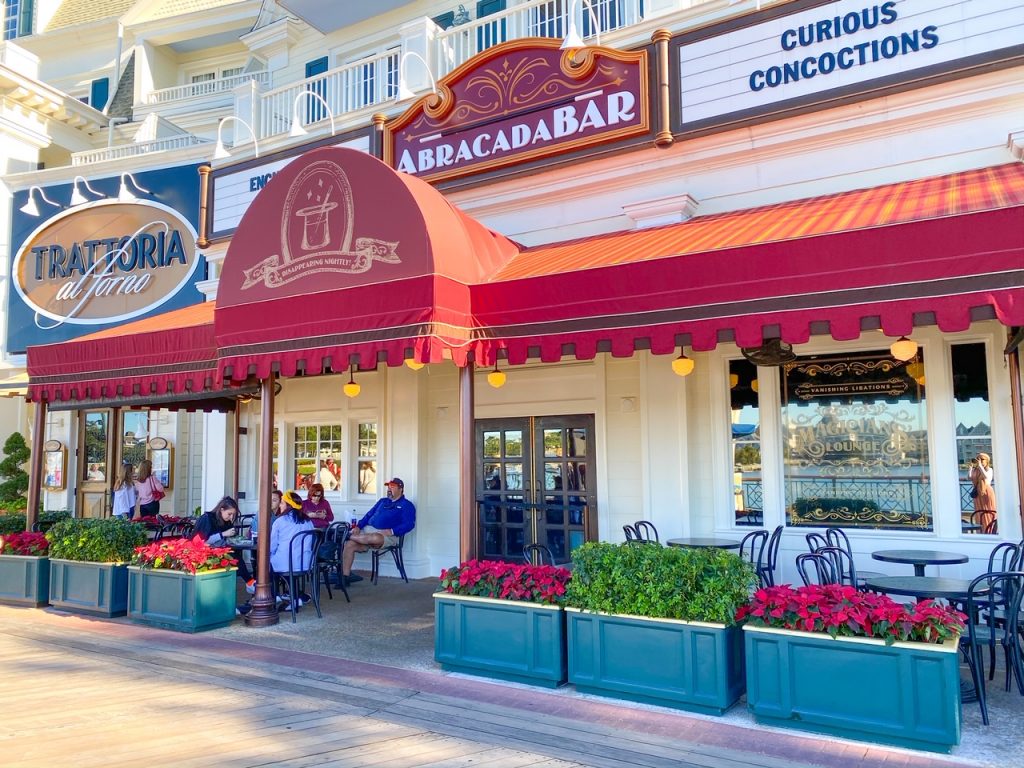 Stop 4: Disney's Riviera Resort – Topolino's Terrace
Even though the Riviera has its own bar, which is a perfectly nice bar, if you're going to stop here on your Skyliner Disney resort bar crawl, you must stop at Topolino's. This restaurant has amazing rooftop views and fancy drinks too! They have seasonal offerings, as well as exclusive drinks like the French Rose and Pomegranate Paradiso.
Stop 5: Disney's Caribbean Beach Resort – Banana Cabana
This fun bar has a tropical feel, and even has seats that swing! Banana Cabana is a great place to stop and relax, especially when the weather is nice. While here, try the signature Banana Cabana, or the Caribbean Smuggler. There's even a Caribbean rum flight to try, which could be a fun way to try something different.
Stop 6: Disney's Pop Century Resort – Petals Pool Bar
Petals Pool Bar at Pop Century may be one of the cutest pool bars at Disney World, and the drinks here are always fun. They tend to offer seasonal drinks along with their exclusive drinks. Here you can't go wrong with the Piña CoLAVA or the Poolside Iced Tea.
Stop 7: Disney's Art of Animation Resort – The Drop Off Pool Bar
For your final stop on the Skyliner Disney resort bar crawl, head to Art of Animation and their Nemo-inspired pool bar. While here, you won't regret getting the Big Blue Ocean – how could you not get that? They also have pre-blended frozen Jack and Coke which are also pretty tasty!
Where to Eat on the Skyliner Disney Resort Bar Crawl
If you go with our suggestion of starting at Yacht and Beach Club, then you should definitely try to eat at either Ale & Compass or Beaches & Cream. At Ale & Compass offers classic, comfort food in a beautiful New England-inspired restaurant. Beaches & Cream Soda Shop is a guest favorite, and you can fill up here on classics like burgers, grilled cheese sandwiches, and lots and lots of fries!
And if you want somewhere to eat along your trip, definitely grab a bite to eat at Topolino's Terrace. If you're getting a drink there then you should take advantage of the awesome food here. Try the pasta dishes, a filet, or even snag a few of the unique starters like the olives and escargot!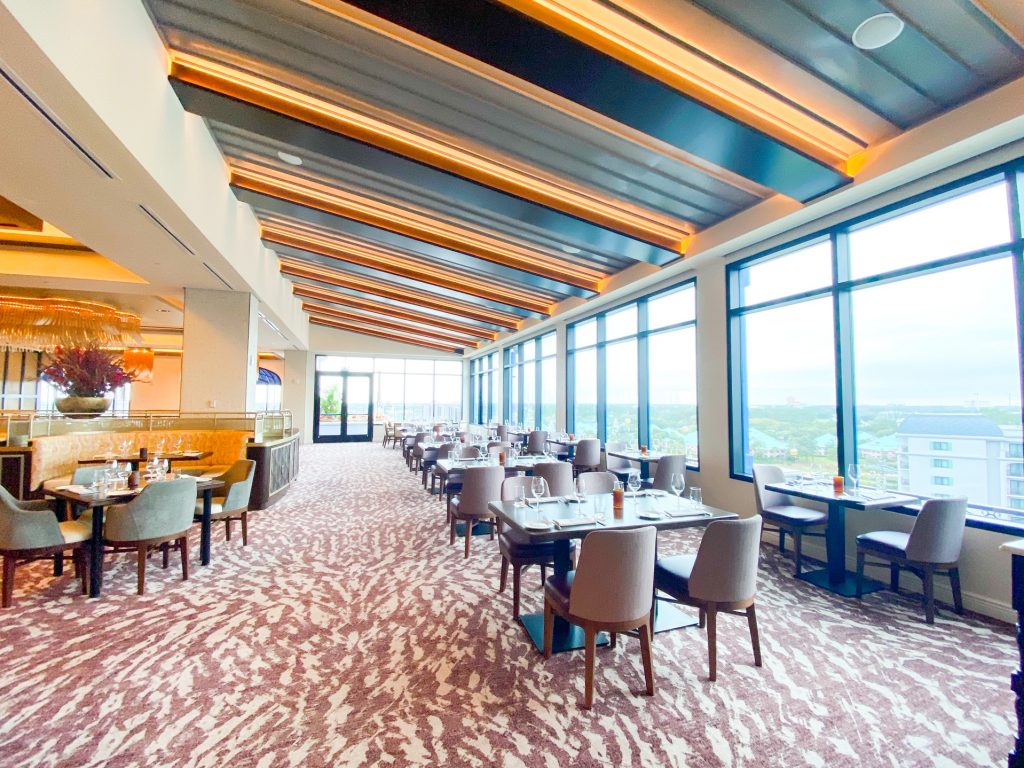 Underrated Resorts Bar Crawl – The Hidden Gems
If you're looking for some bars and lounges that are a little more off the beaten path, or ones that may not be as busy, this list is for you! These underrated resorts and bars are still standouts on our Disney resort bar crawls, and are definitely worth the trek over to them.
Disney's Old Key West Resort – Gurgling Suitcase
If you're staying at Old Key West, or just looking to visit the original Disney Vacation Club resort, we suggest stopping in Gurgling Suitcase for a drink or two. This cute little bar feels like you've escaped to the Keys, and the drinks do too! We suggest trying the tropical Turtle Krawl or the Key West Freeze, which is the ultimate blended tropical drink.
Disney's Port Orleans Riverside – Muddy Rivers
This poolside bar is funky and fun, and is definitely a hidden gem on Disney property. They have three exclusive signature blended drinks on this menu: Nola Cola, Front Porch Freeze, and Gata-Melon Juice. And if you're really looking to get the ultimate Muddy Rivers experience, try the All That Jazz – it has the three exclusive drinks layered in a hurricane glass!
Disney's Coronado Springs Resort – Siestas Cantina
While Coronado Springs has several great places to grab a drink and a bite to eat, we feel like Siestas Cantina gets forgotten in all of that and it shouldn't! This pool bar overlooks one of the coolest pools on Disney property, as well as it has some great bites for a pool bar. And while you're hanging out here, grab one of their twists on daiquiris or frozen coladas, or even the Coronadorita!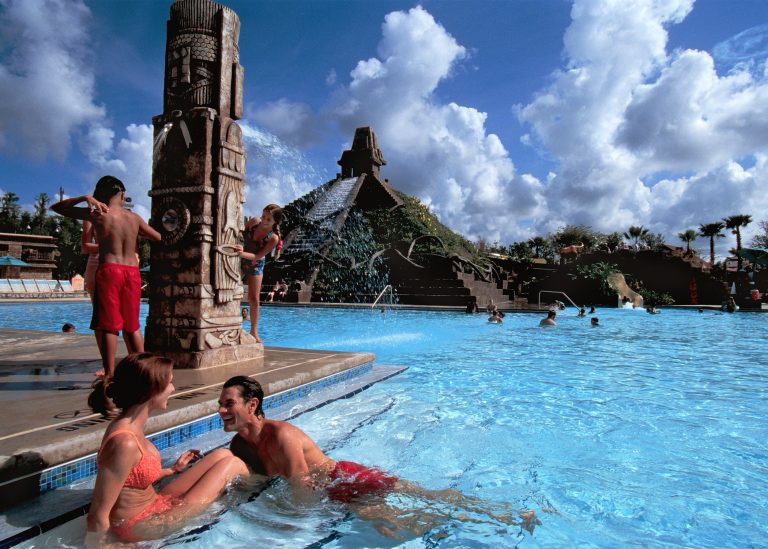 Disney's Animal Kingdom Lodge – Victoria Falls Lounge
Located in the Jambo House section of Animal Kingdom Lodge, Victoria Falls Lounge overlooks Boma restaurant and even has it's own little waterfall. We feel like this is an easy lounge to not even know exists, but it's totally worth the visit! Here they have the Mt. Kilimarita, which is an African take on a margarita. Or, you can try an extensive list of South African beers and wines, all of which are exclusive to Animal Kingdom Lodge.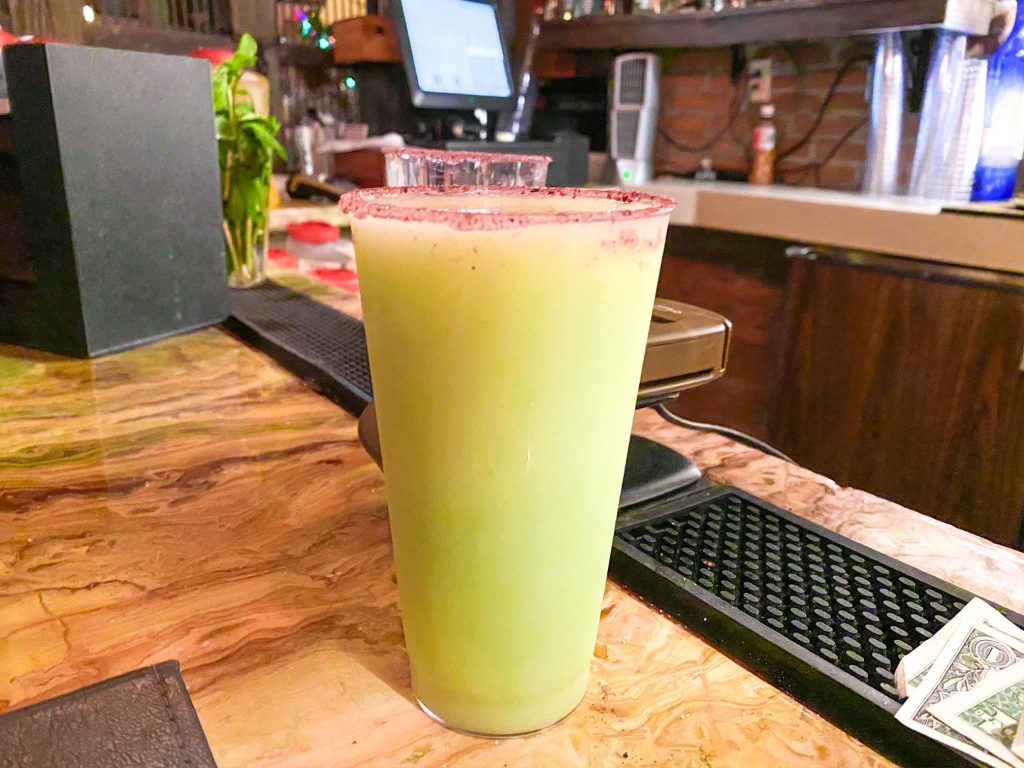 We hope that our ultimate Disney resort bar crawl list has given you some fun ideas for your next visit! Try the Monorail bar crawl, the Skyliner crawl, or check out some of those hidden gems next time you're looking for a great drink and a place to relax.
Did you favorite bar or lounge make the list? And have you done a bar – or even a restaurant – crawl before? Let us know in the comments!