If you're looking for the places to eat along Disney's Skyliner, don't miss this list of the best and worst Disney Skyliner restaurants! The Skyliner is a gondola system that offers a fun, quick way to get around Disney World, and to travel between some resorts and EPCOT and Hollywood Studios. We've eaten at just about every restaurant along the multiple Skyliner stops, and we want to help you choose the best restaurant for you and your family.
We don't want you to waste time or money on a restaurant that isn't worth it, and we want you to have a great dining experience when you are visiting Disney World. Our choices for best Disney Skyliner restaurants will steer you in the right direction for places that will make just about everyone in your group happy!
All of these restaurants are located at a resort accessible by the Skyliner, or the two parks the Skyliner stops at, EPCOT and Hollywood Studios. Also, due to current world events, not all of these restaurants are currently open. Some are temporarily closed, but hopefully will be opening soon.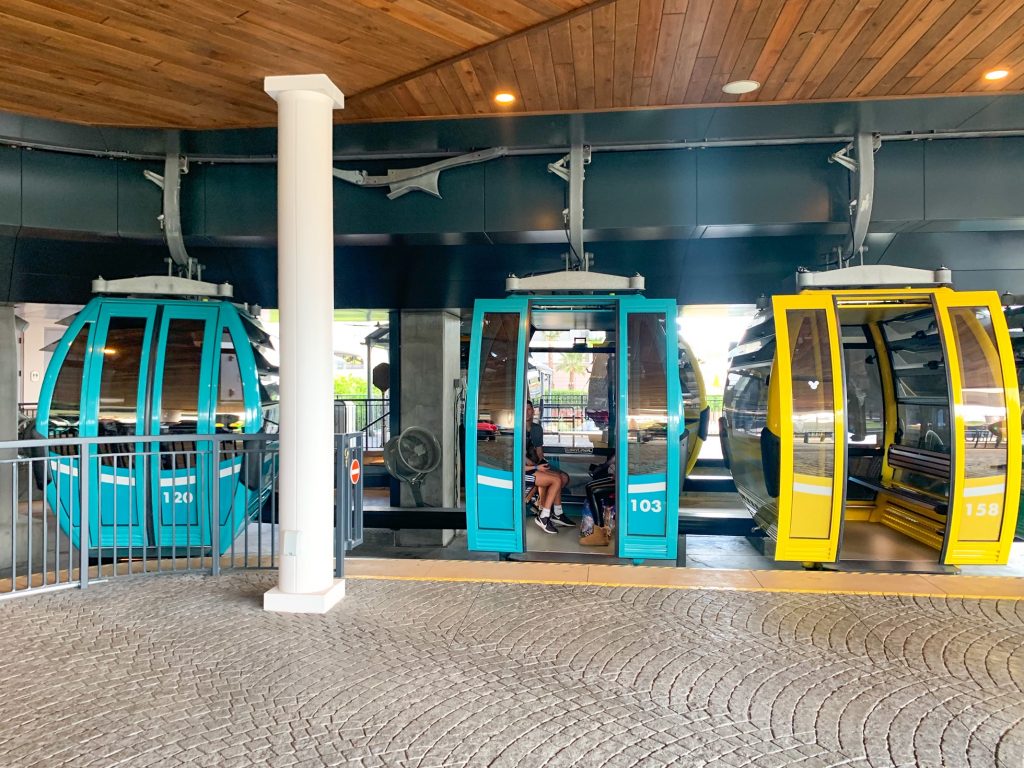 Best Disney Skyliner Restaurants
Now for the good stuff! These restaurants are located at resorts along the Skyliner or at EPCOT and Hollywood Studios. These are restaurants we have consistently had good food and good service at, and we've never had a bad experience when we've visited. Of course that may not be true for everyone, but we love the time we've spent at these restaurants!
Garden Grill
Garden Grill is located at EPCOT, and this is always one of our best restaurants. This is an all-you-care-to-eat meal and you can't wrong with a meal here any time of day. The food here is consistently delicious, and they are great at accommodating those who eat vegetarian or vegan.
This rotating restaurant is so so fun, and you can't beat looking over into the Living with the Land ride as you eat. Mickey and his friends come around several times while you eat, and the character interactions here are always great. This is a can't miss for us when it comes to Disney Skyliner restaurants.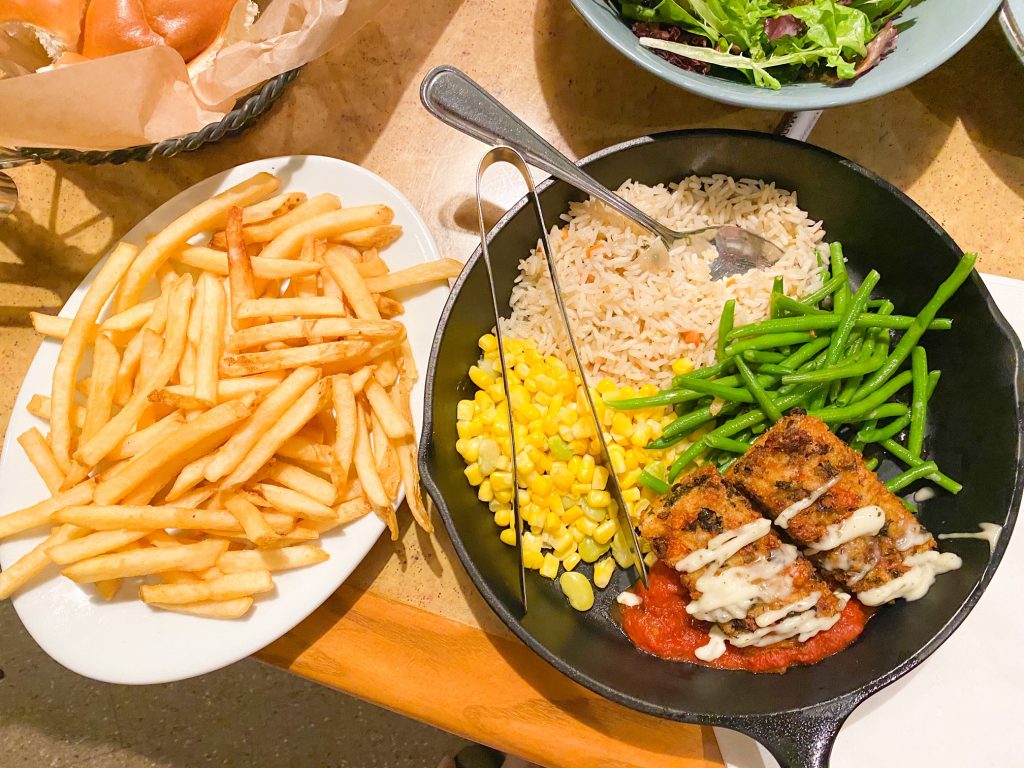 Cape May Café
Located at Beach Club Resort, Cape May Café is a great place to eat for seafood lovers. This all-you-care-to-eat dinner buffet of seafood favorites never disappoints, and neither does this character breakfast. The food and service is consistently great, and we've never had a bad meal here.
They have great seafood options, and plenty of other choices for those who don't love seafood either. They are quick to accommodate vegans and vegetarians as well here.
This hidden gem doesn't get too busy, and if you can snag a reservation for here we highly recommend that you do! You won't regret stopping here and having a delicious meal, and that's why it's on our list of best Disney Skyliner restaurants.
Topolino's Terrace
Topolino's Terrace is a rooftop restaurant located at the Riviera Resort. Breakfast here may be the best character breakfast on property, and dinner changes to a can't-miss signature dining experience.
The food here is top notch, very creative, and the Mediterranean-inspired dishes do not disappoint. And not only is the food amazing, but you can't beat the atmosphere. The restaurant itself is stunning, and the rooftop views of the resort and the land surrounding it is unbelievable.
You won't regret booking a meal here, and we promise your entire family will enjoy!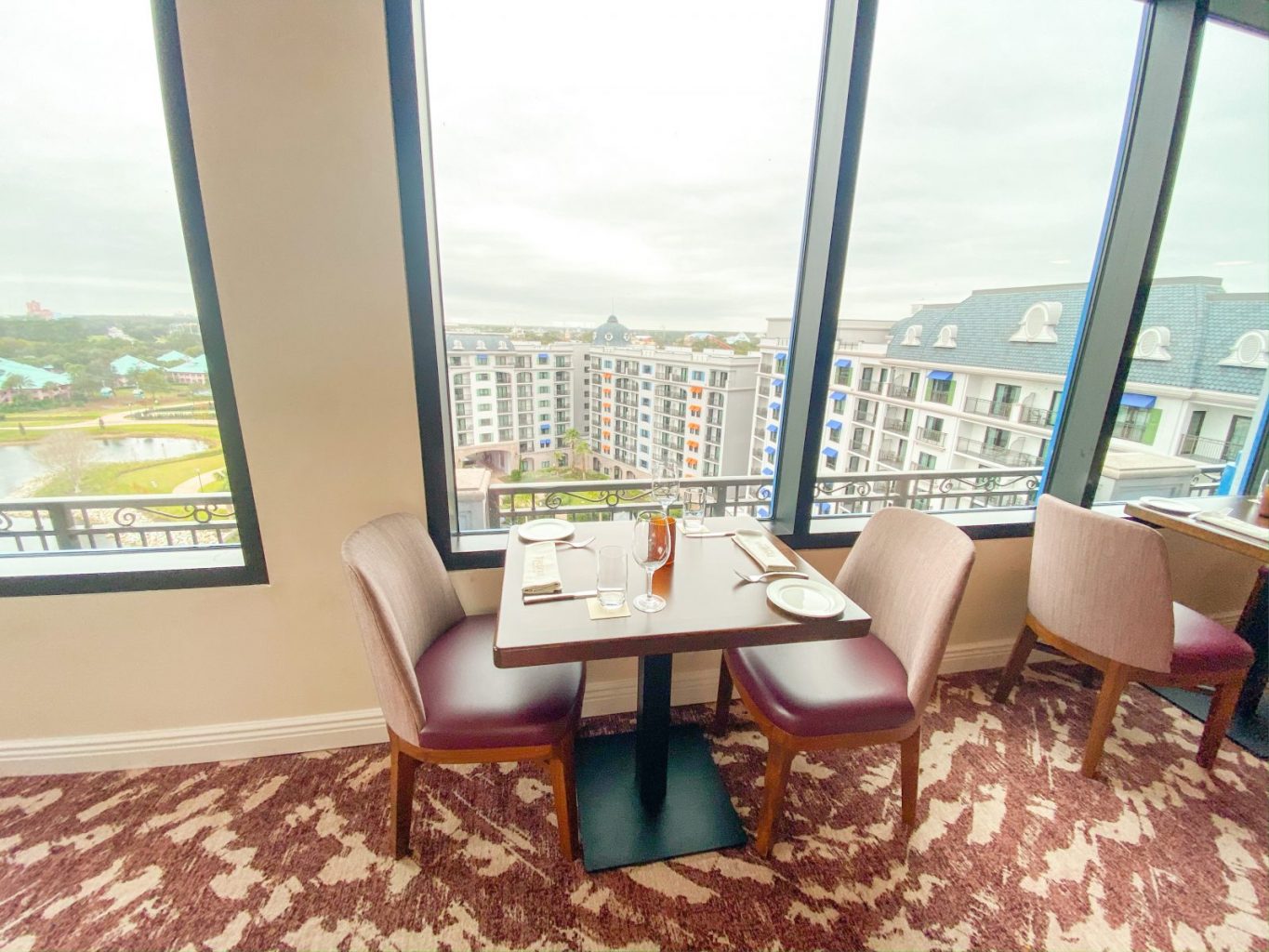 Centertown Market
The fast-casual restaurant at Caribbean Beach Resort, Centertown Market offers a great variety of food for breakfast, lunch, and dinner. You can find some great Caribbean-inspired meals here, as well as some Disney favorites like Mickey waffles.
Another great thing about Centertown Market is that they offer plant-based options at all three mealtimes as well. You can easily find some great vegan and vegetarian food here – and we have some of other favorite vegan meals here.
This is the only cafeteria-style restaurant on our list of Disney Skyliner restaurants, and we think that says a lot about how good the food is here. And with the addition of the mobile ordering system, it's even easier to get delicious – and sometimes adventurous – food here.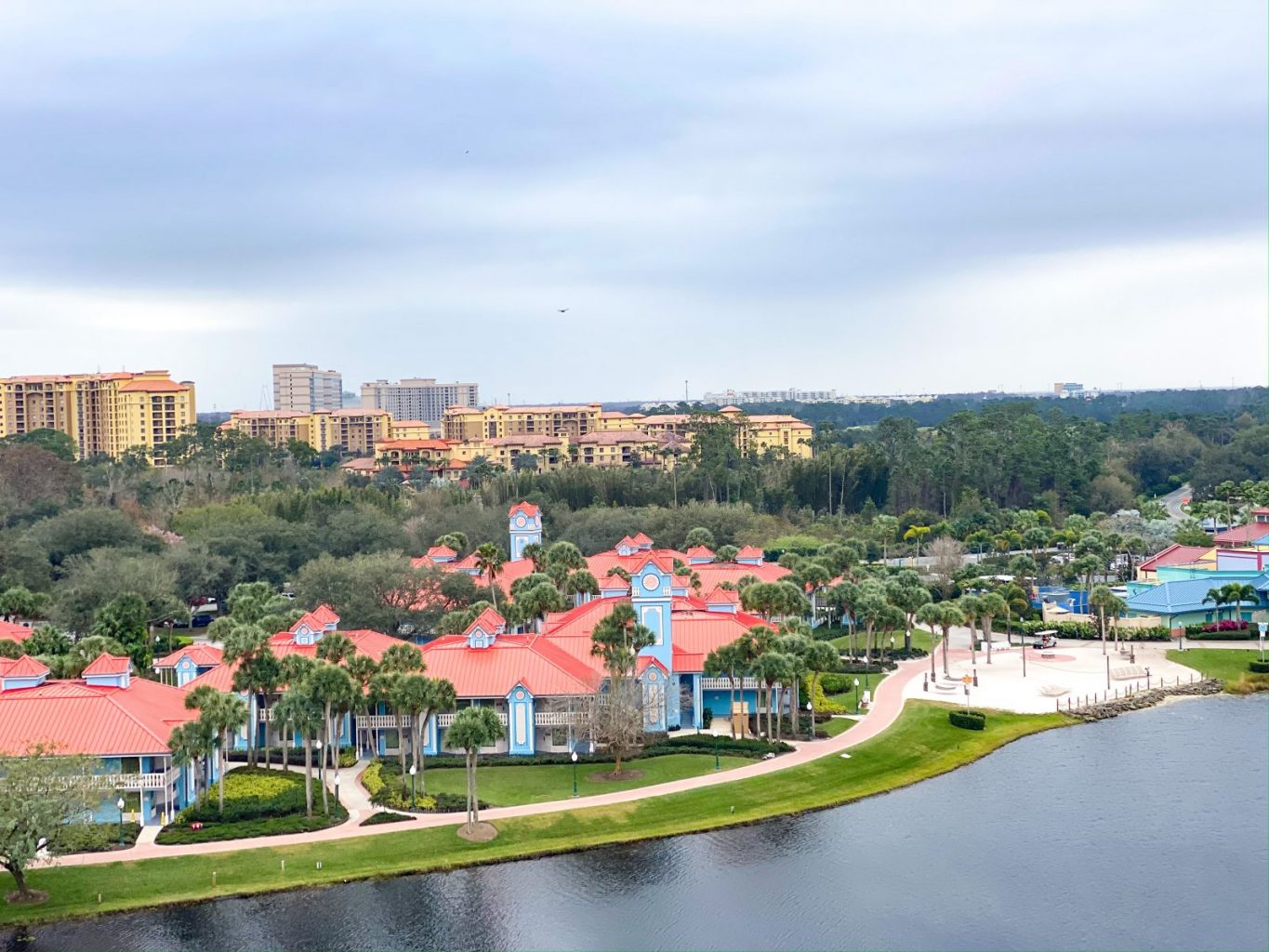 Beaches & Cream Soda Shop
Located at Disney's Beach Club Resort, Beaches & Cream is an iconic restaurant. This is a favorite of many Disney fans, and it's almost impossible to snag a reservation here.
The food here is consistently good, and you can choose from a variety of comfort diner foods. But the real star here is the ice cream. You can get any kind of sundae you want, and the Kitchen Sink challenge is something you might try if you're going with a large group!
The atmosphere and theming here is absolutely adorable, and you won't regret stopping here for a bite to eat or a bowl of ice cream. This is the best diner on Disney property, and definitely had to make our list of best Disney Skyliner restaurants.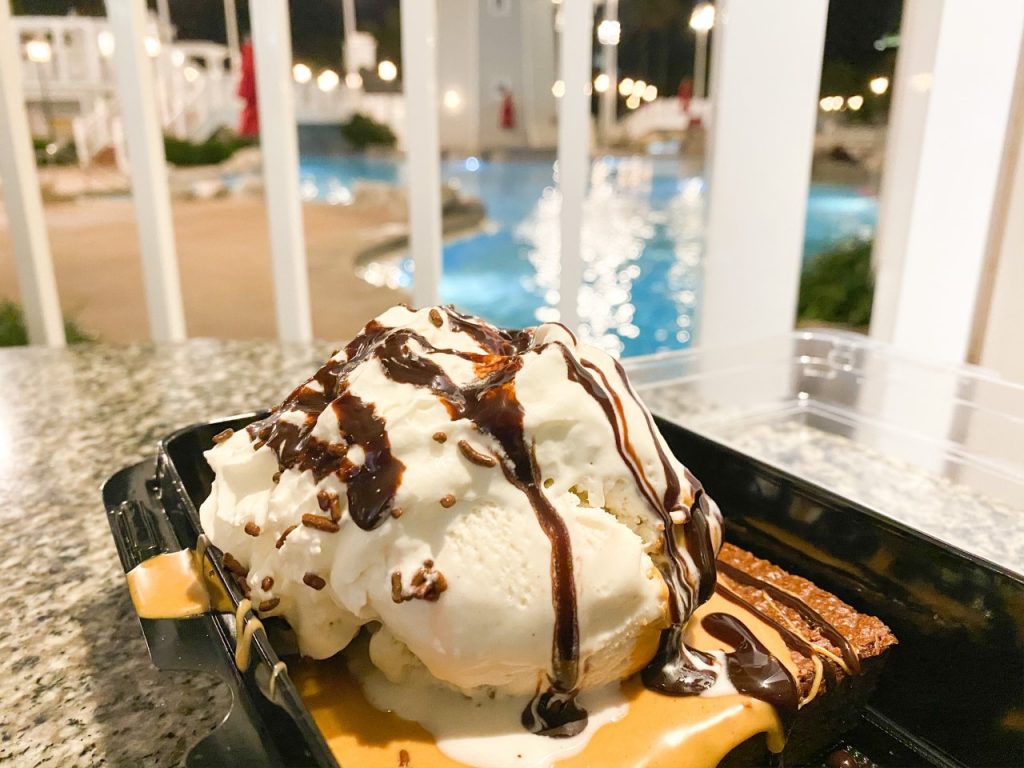 Rose & Crown Pub
Located in the UK Pavilion at EPCOT, the Rose & Crown Pub and Dining Room is a DisneyTrippers favorite!
The English pub atmosphere here can't be beat, as well as they have some of the best outdoor seating at EPCOT. They have a great selection of beer and British pub food, and the food here has never disappointed us.
Along with classics like fish & chips, bangers & mash, and shepherd's pie, Rose & Crown offers some great choices for those eating vegetarian and vegan as well. The food here is consistently delicious, and you won't regret stopping here for a pint or a bite to eat!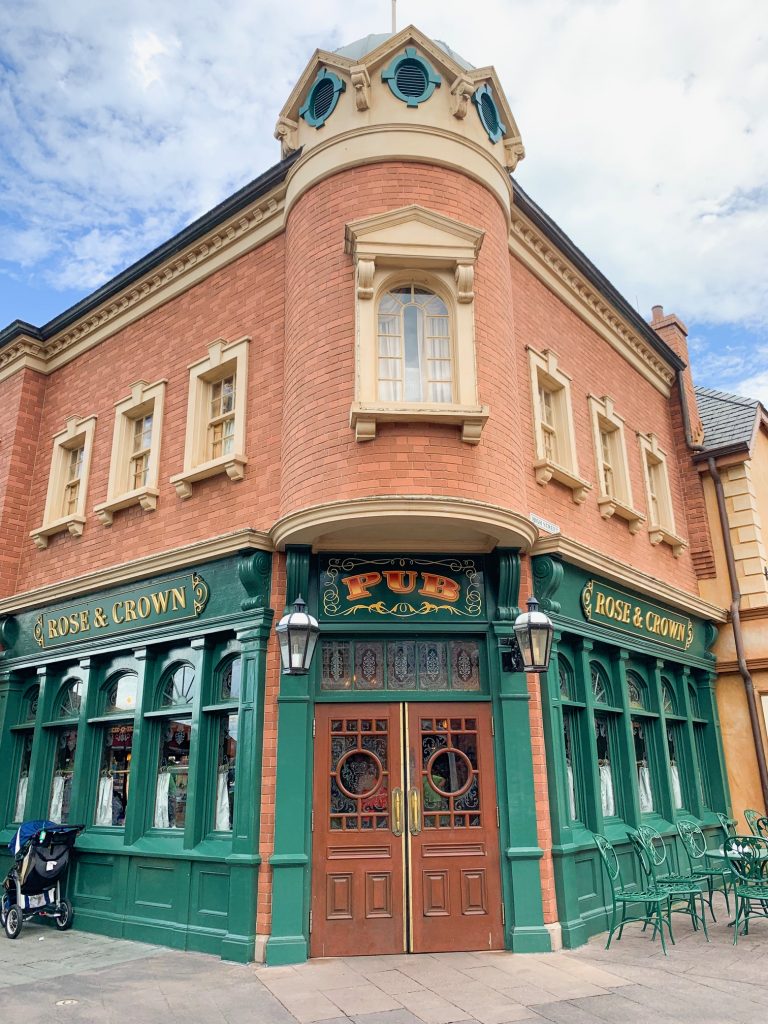 Il Mulino
This hidden gem is located at the Walt Disney World Swan resort, and was such a surprise to us!
The food was great quality, and we can't say enough how great and surprising the meal was here. It could be some of the best Italian food on property, and we are pretty sure most Disney World lovers haven't even heard of it.
Service here was amazing as well, and it isn't too busy that you can't get a last minute reservation here or even a walk-up. If you're looking for a quality, delicious sit-down dinner – especially for a special occasion – in a gorgeous restaurant, don't count out this hidden gem tucked away over at the Swan.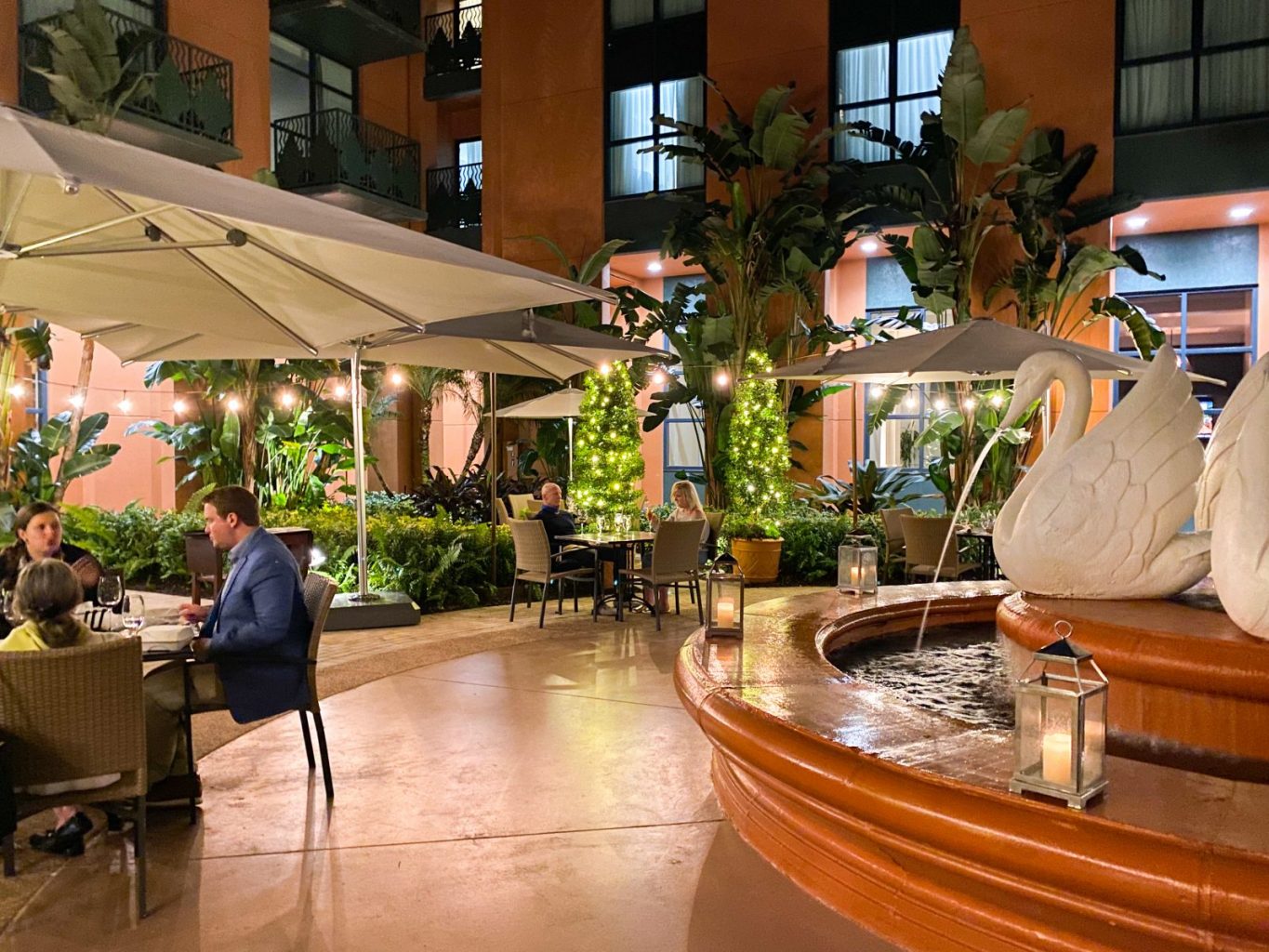 Via Napoli
If you're looking for more amazing Italian options on Disney property, Via Napoli in the Italy Pavilion at EPCOT shouldn't be skipped.
The food here is consistently good, and you can typically snag a reservation or even a walk-up here. There is a great selection of food on the menu, but the pizza here is the real star. It's amazing! Thin crust, cooked in wood-fired ovens, and made to order every single time. They import ingredients from Italy to make this as authentic as possible, and it's absolutely delicious. If you're going with a group, order the Mezzo Metro pizza – which is rolled out on a tray!
The atmosphere here is great, and you won't want to miss the 3 wood-burning ovens with faces and named after active volcanoes in Italy. Via Napoli easily makes our list of best Disney Skyliner restaurants.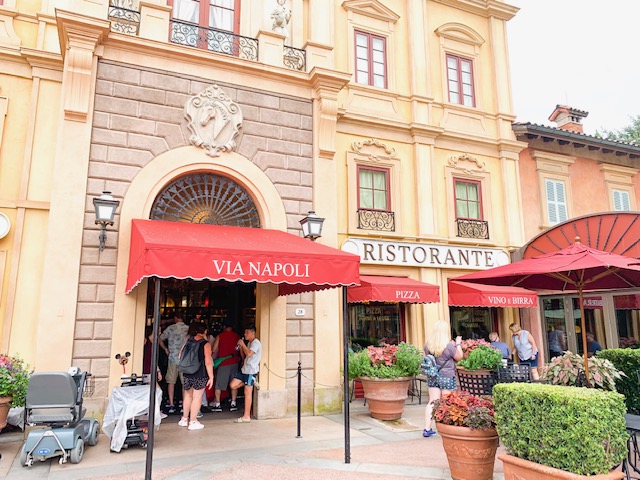 Primo Piatto
Located at the beautiful Riviera Resort, Primo Piatto is a quick service location that cannot be missed!
There is a great selection of food here, and many believe this to be one of the best quick service restaurants on Disney property. Mobile ordering here makes it easier to get great food quickly too.
Not only do they have some good plant-based options, but Primo Piatto offers some guest favorites that you must try on your next trip. The Blueberry Lemon Pancakes and the Croque Madame are standouts on the breakfast menu and are worth the trip over to the Riviera no matter where you are staying.
Sci-Fi Dine-In Theater
Located at Hollywood Studios, the Sci-Fi Dine-In Theater offers some of the best theming at any Disney restaurant on property. You sit in a old-fashioned car to eat your meal, watch some movie clips, and enjoy a drive-in experience in the middle of a Disney park!
Not only is the atmosphere so fun here, but your carhop is going to bring you some pretty delicious food too. The burgers and fries here aren't boring, and the desserts are so so good! They even offer vegan milkshakes now for those who are vegan or can't consume dairy.
You can't beat the atmosphere here, and it's a great place to relax, enjoy some comforting diner-style food, and enjoy a little bit of nostalgia.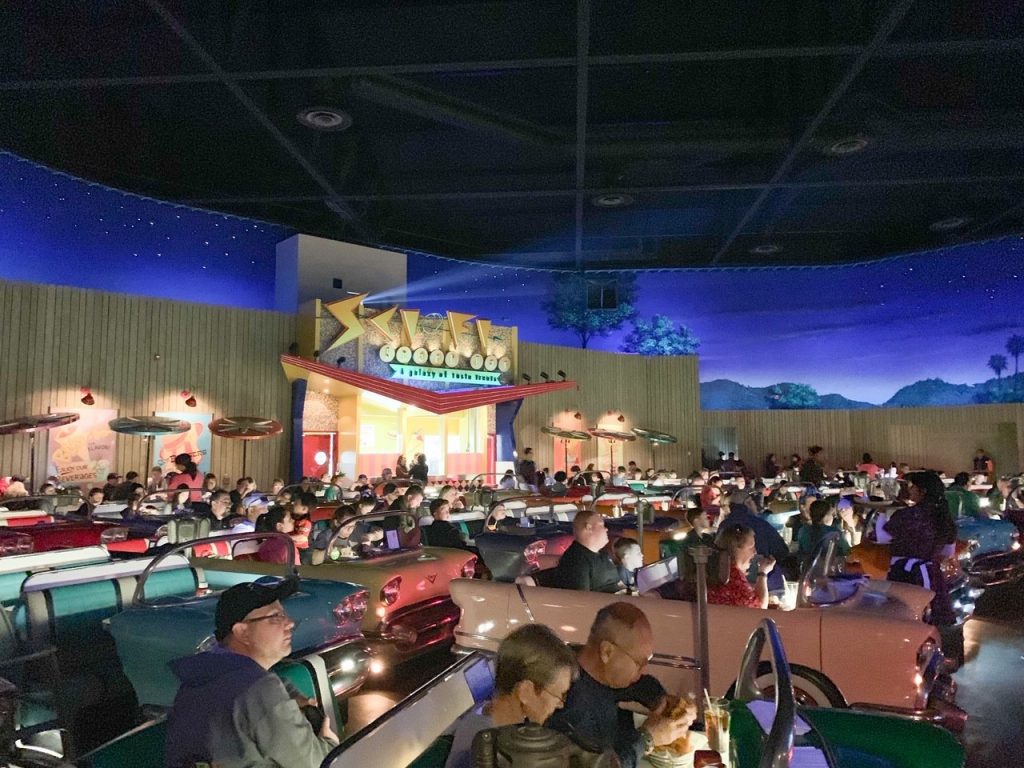 Chefs de France
Found in the France Pavilion of EPCOT, Chefs de France is a wonderful table service restaurant. The food here is delicious, and has been great every single time we have visited.
This is the cutest restaurant too, and eating here transports you to a charming French cafe. If you're lucky enough to sit near a window then you can watch Disney guests while you eat, and even catch a nighttime show!
The food offered here are traditional French favorites, and you can't wrong with the French onion soup, steak, or the fanciest mac and cheese you'll ever have. There's even a prix fixe menu that we think is a great choice for those looking to have a special, relaxing sit-down meal.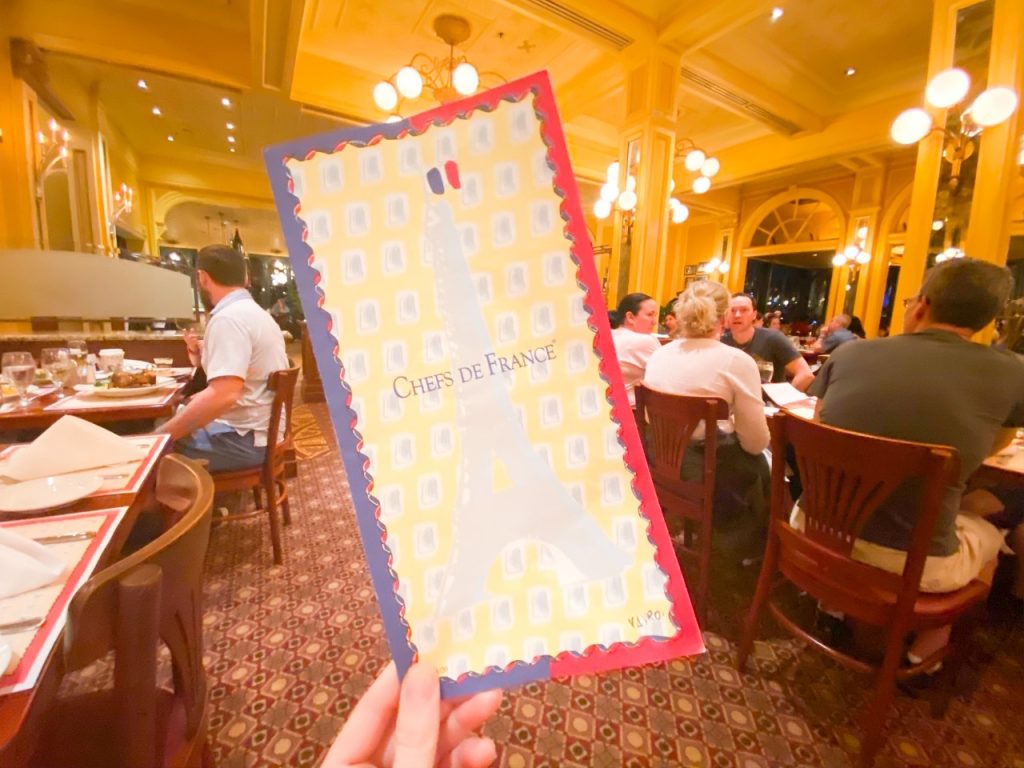 Skyliner Dining Crawl Ideas
If you're looking to really take advantage of all the great places to eat along the Skyliner, we suggest you do a Skyliner crawl! You can eat or drink at so many different places, and you can do the crawls many different ways. This is very similar to our Monorail Crawl.
Progressive Dinner
Having a progressive dinner along the Skyliner could be a fun way to enjoy multiple restaurants, and to do something special on your next trip. You start at one restaurant and have an appetizer, then an entrée at another, and then finish with a dessert at your last restaurant.
You could start with an appetizer at Hollywood Studios, head to dinner at Topolino's Terrace at the Riviera Resort, and finish with dessert at Beaches & Cream when you get off at the EPCOT station.
Disney Skyliner Bar Crawl
If you have a fun over-21 group with you who want to take advantage of the great bars at Disney World, the Skyliner bar crawl would be a great way to spend the day. You can stop at every resort along the Skyliner, and you can have some adult Disney fun without having to go into a single park.
We suggest starting at the pool bars at Pop Century and Art of Animation Resorts, and ending with drinks at Abracadabar at Disney's Boardwalk when you get off at the EPCOT station.
Skyliner Snack Crawl
If you're not a drinker, or you want a more family-friendly crawl experience, we suggest doing a snack crawl! Again, you could do this all day and not even have to enter a park. It's a great way to see the resorts and have a no-park day during your trip.
You could start at Everything POP at Pop Century and grab those delicious waffle fries they have, then hop on the Skyliner and head over to Caribbean Beach Resort for a Key Lime tart. After that, head to Primo Piatto at the Riviera for a bowl of tomato soup. Then hop back on the Skyliner and make your way to the Boardwalk or Yacht and Beach Club to finish out the night with a meal or even more snacks!
Skyliner Dessert Crawl
This might be our favorite suggestion when it comes to the Skyliner food crawls. Grab something sweet to eat at the resorts along the Skyliner, but don't forget to drink some water or coffee along the way!
Start at Pop Century and get the infamous tie-dye cheesecake, then head to La Petit Cafe at Riviera Resort for a cold brew and snag a tiramisu or seasonal pastry. Then, head over to the Boardwalk Bakery to finish out the night!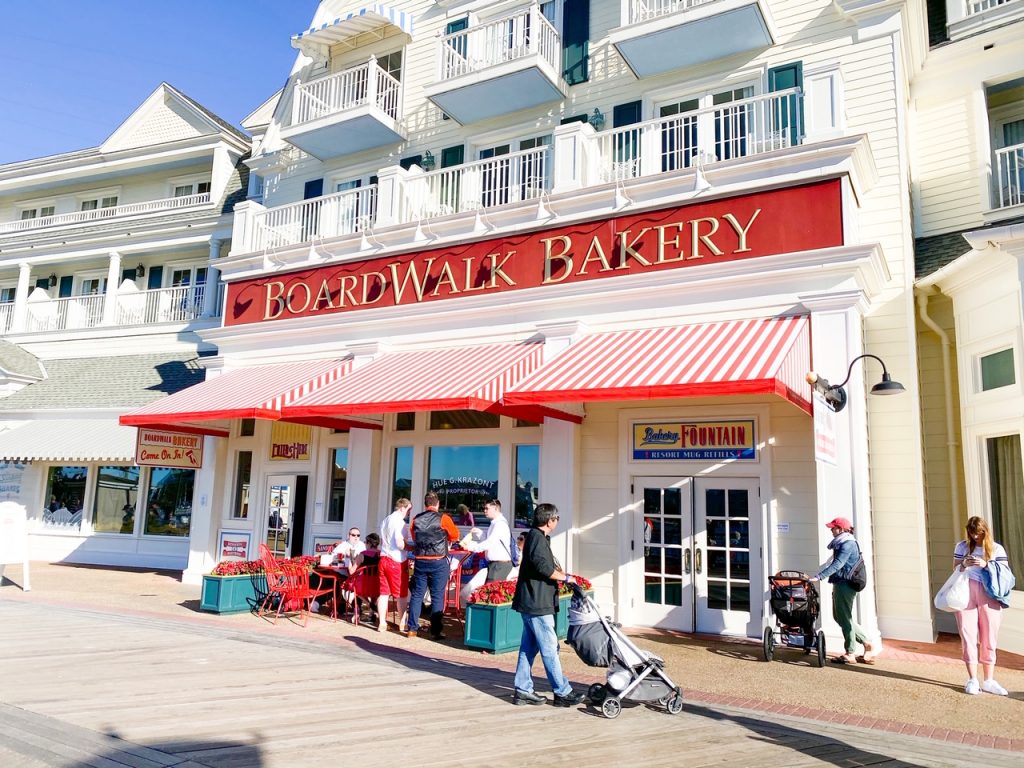 Worst Disney Skyliner Restaurants
All of these restaurants are accessible via the Skyliner, and are either at resorts or in EPCOT or Hollywood Studios. We chose these 4 restaurants as our worst for multiple reasons, and they are the worst in our opinion and due to experiences, we have had eating there.
Yachtsman Steakhouse
The Yachtsman Steakhouse is located at Disney's Yacht Club Resort. While we love the resort, we don't love this restaurant. Service has consistently been slow and eating here takes forever. We at DisneyTrippers have never had a good experience here, unfortunately, and for the price you are paying, the food is just average.
Another reason we don't love this resort is because it requires a dress code. Tank tops, flip-flops, most jeans, and casual wear isn't permitted. Men are required to wear slacks or khakis with collared shirts, and women must wear dresses, skirts, or dressy Capris/shorts. Not only is this such an outdated idea, but you can also eat at fancier restaurants within the Disney parks wearing whatever you wore to the parks. This is inconvenient and unnecessary – especially at a mediocre restaurant.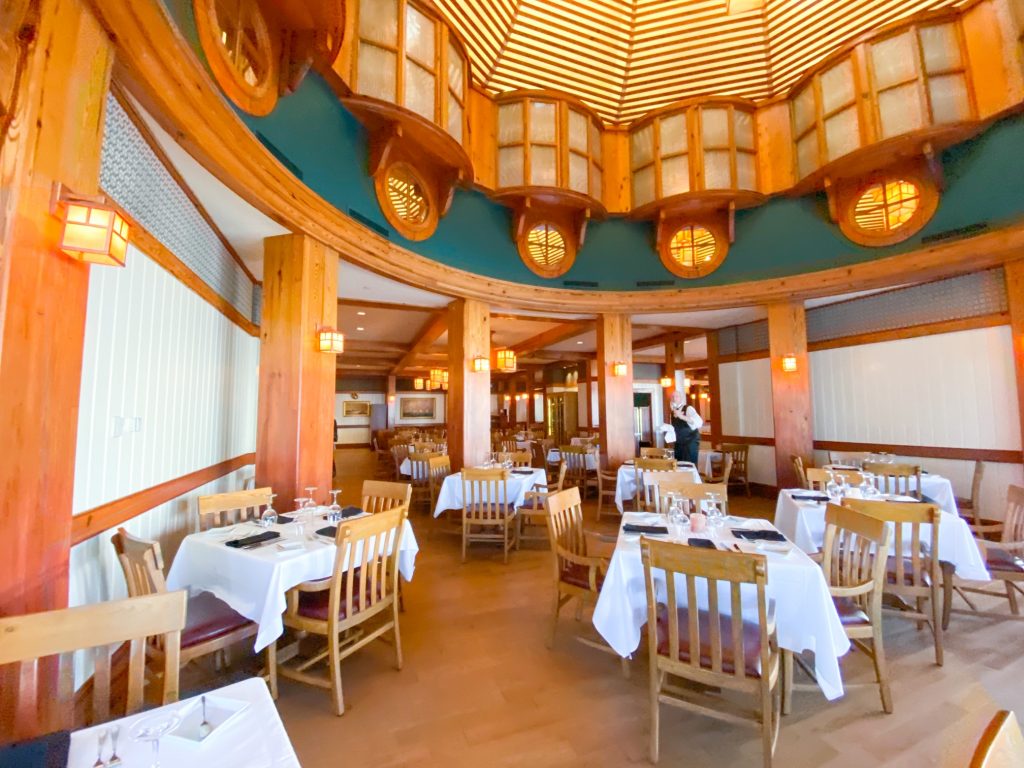 Pizza Window at Disney's Boardwalk
There are a lot of choices when it comes to pizza at Disney World, and the Pizza Window at Disney's Boardwalk isn't the place you want to get it. Located at the Boardwalk Resort, the Pizza Window offers outrageously priced pizza that isn't that great – and it's always way too busy.
A large pizza will run you anywhere from $20-$25, but the size is more like a small or a medium. A large certainly cannot feed a family, and the pizza is mediocre at best. There's far better pizza to be found on property, and that's why this spot landed on our list of worst Disney Skyliner restaurants.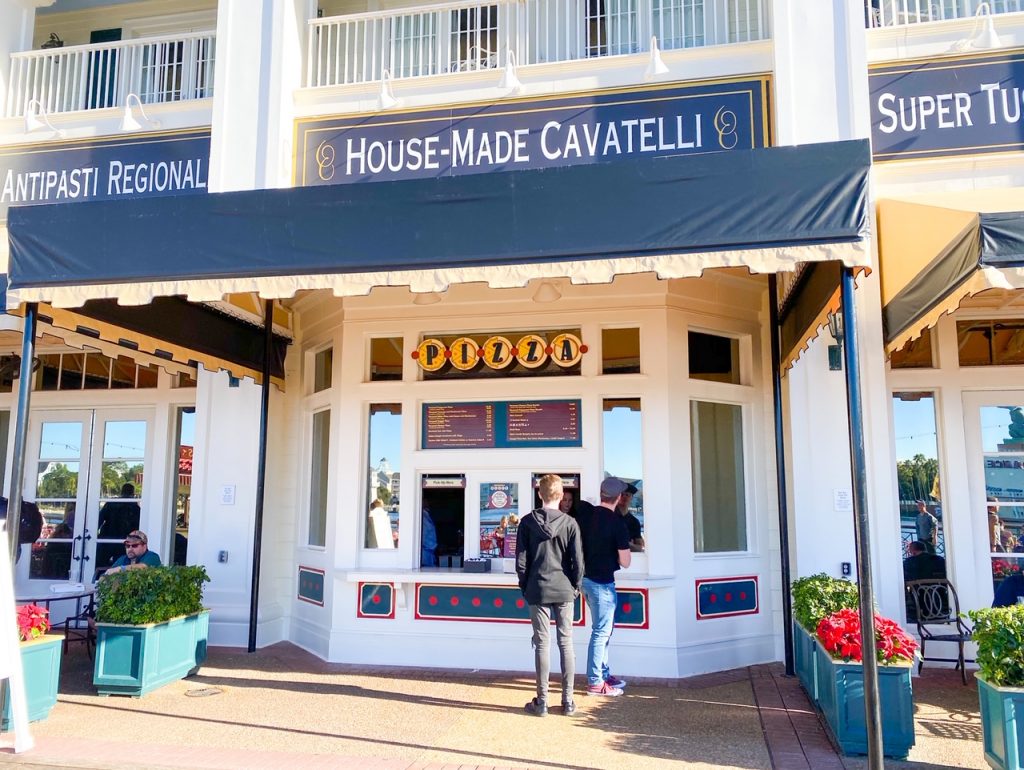 50's Prime Time Cafe
A lot of readers may find this choice controversial, but 50's Prime Time Cafe at Hollywood Studios is on our list of the worst Disney Skyliner restaurants.
The food here is average at best, and every time we have visited we've felt like it is hit or miss. Some dishes are great, others not so much. There are better choices at Hollywood Studios – with just as fun theming – that we think are worth your time and money over this restaurant.
Another reason we don't love this restaurant is that, honestly, sometimes you don't want to "play" with the wait staff. Some guests may not find the ribbing very fun. And others may want more of the fun than they receive – we've gone once and didn't experience any of the fun, playful family picking that 50's Prime Time is famous for. While the atmosphere and theming are fun, this isn't a must do.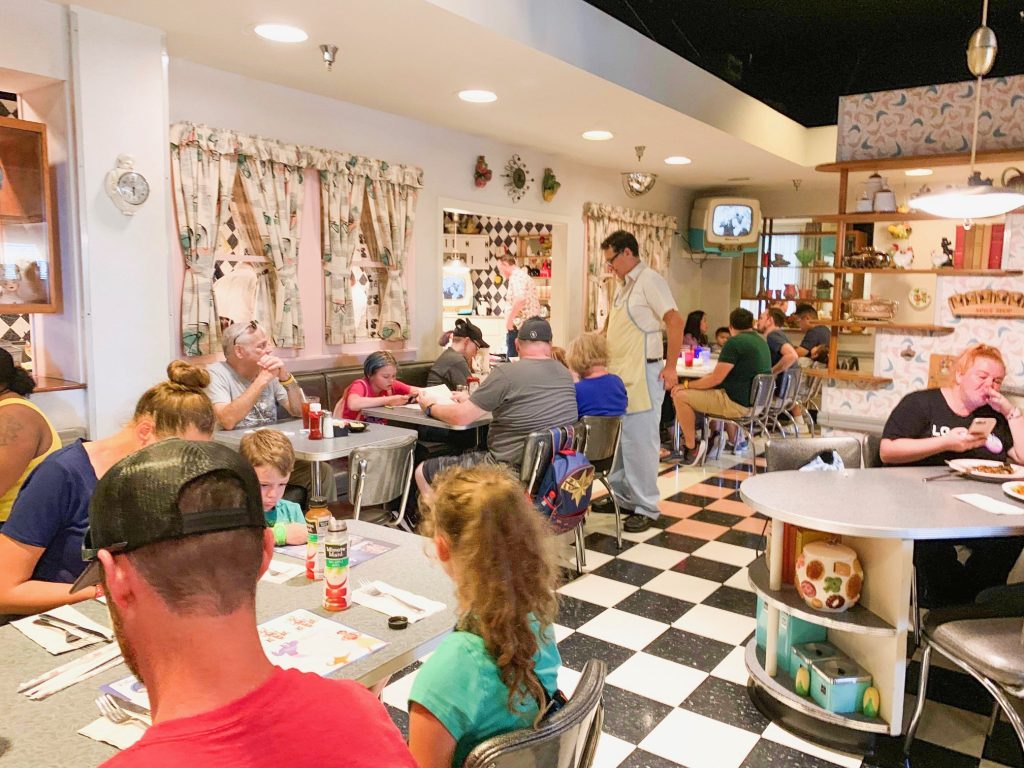 Hollywood & Vine
The last on our list of worst Disney Skyliner restaurants is Hollywood & Vine at Hollywood Studios. This is a character meal restaurant that used to offer a buffet meal, but now offers an all-you-care-to-eat meal option. Due to this change, the number of options has gone down, and does make the meal a little too costly for the quality and quantity of food you receive.
This is a very popular restaurant as well, but doesn't seem to live up to the hype. The meal isn't worth the money anymore, and the food wasn't that great to begin with. The characters are the best part here, but since character meals have drastically changed in the last year, it really may not even be worth your money or time now.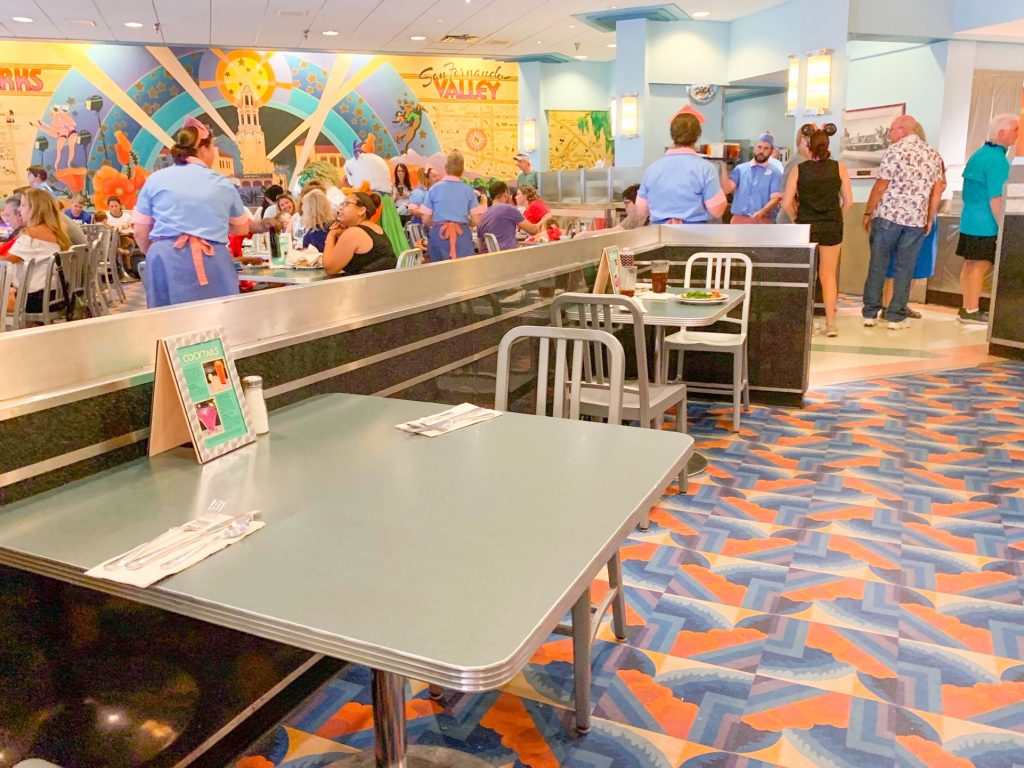 We hope that our list of the best and worst Disney Skyliner restaurants will help you and your family decide where to eat on your next trip to Disney. Hop on the Skyliner and visit one of best picks for a great meal, and enjoy the food and atmosphere.
And don't forget to try a Skyliner Crawl if you're looking for something fun and adventurous! Have you done a crawl before? Or do you have a favorite restaurant that's on our list? Let us know in the comments!