All right grown-ups, this one's for you! Whether your a "childless millennial" or you left the kids at home this time, Disney World is still for you! Disney has so much to offer people of all ages, and honestly, Disney for adults is my favorite way to do it!
If you're planning a solo trip or a girls' weekend or maybe a birthday or anniversary, I have some great ideas for you! The classics, the food and drinks, and things off the beaten path are all fair game for adult Disney vacations. Knowing where to look and what to do can help you make the most of your child-free vacation!
Get a FREE printable 30/60/90 day Disney countdown by joining our private Disney Facebook Group and share your photos and ask for tips and tricks!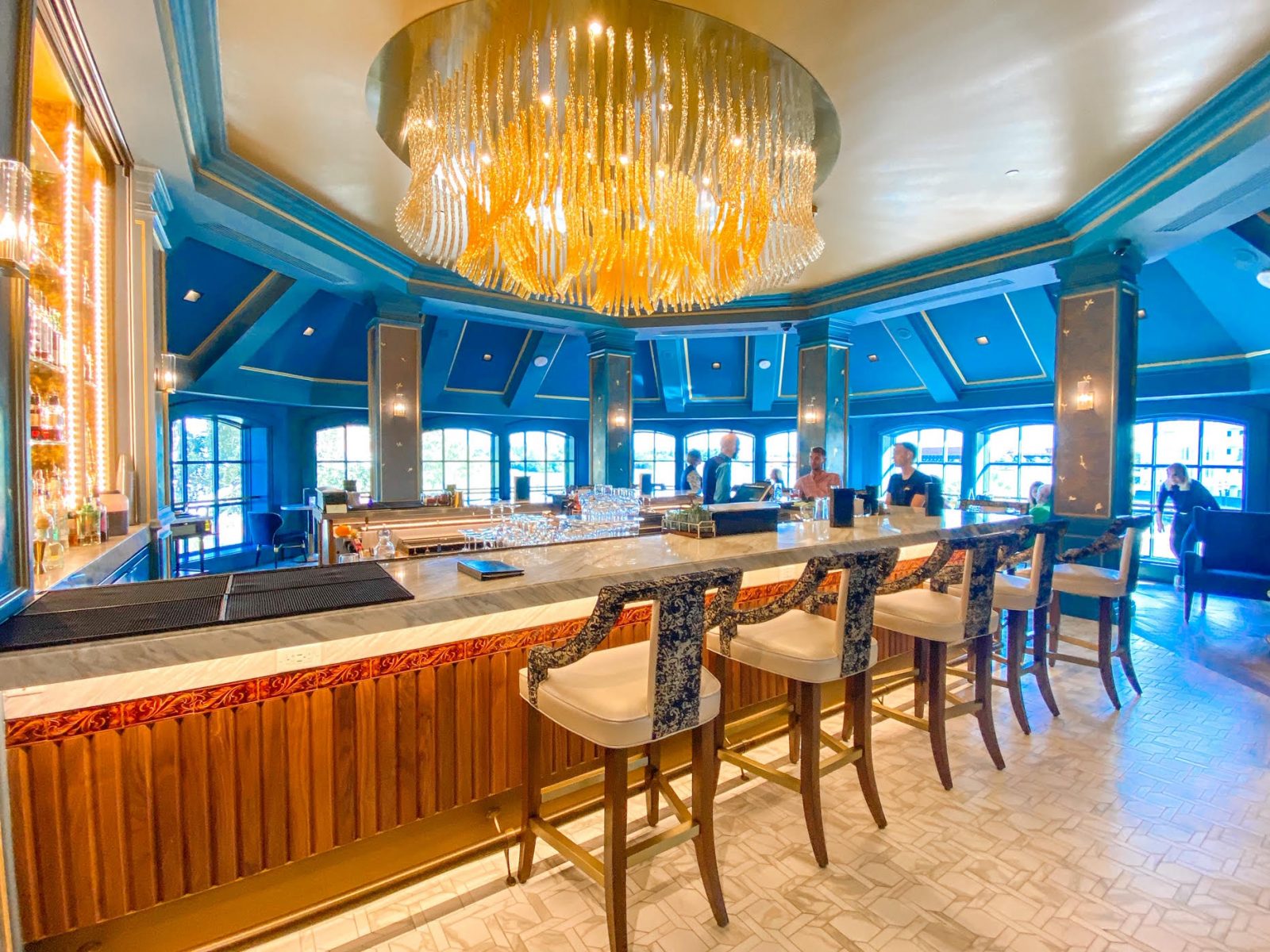 The Ultimate Grown-Ups Guide to Disney for Adults
Best Time of Year to Visit Disney World as an Adult
Disney World is busy all the time. We can't deny it. However, that doesn't mean it's always the same! And, if you're planning an adults-only trip, then considering when you go can be even more important! The basic thing to consider is that peak season is whenever kids are out of school: spring break, summer vacation, and winter break. Not only are the crowds more packed in general at these times, but they're packed with more KIDS.
That's not to say kids and crowds are bad (otherwise Disney might be a strange vacation choice!), but going to Disney when fewer families are also going means you'll have more time to cross everything off your list- WITHOUT tripping over as many strollers! Remember, Disney World is fun anytime you go, but it's good to consider the crowd levels. For more on this and when to plan your trip, check out our Disney crowd calendar!
Best Disney Resorts for Adults
Walt Disney World has 25 resorts, as well as a host of affiliated "Good Neighbor" resorts. Disney's resorts include theme park view suites in Bay Lake Tower right next to Magic Kingdom and campsites at Wilderness Lodge and EVERYTHING in between. Every Disney resort is very detailed in its theming, so be sure to take that into consideration when planning your trip! Good Neighbor Hotels are a great option for those wanting to save money OR not be immersed in Disney 100% of the time if that's what you're into.
Disney organizes their resorts into three categories: Deluxe, Moderate, and Value. These refer to price points so that you can easily find a resort within your budget without having to filter through all 25 of them!
Read Next: 12 Best And Worst Disney Resorts For Adults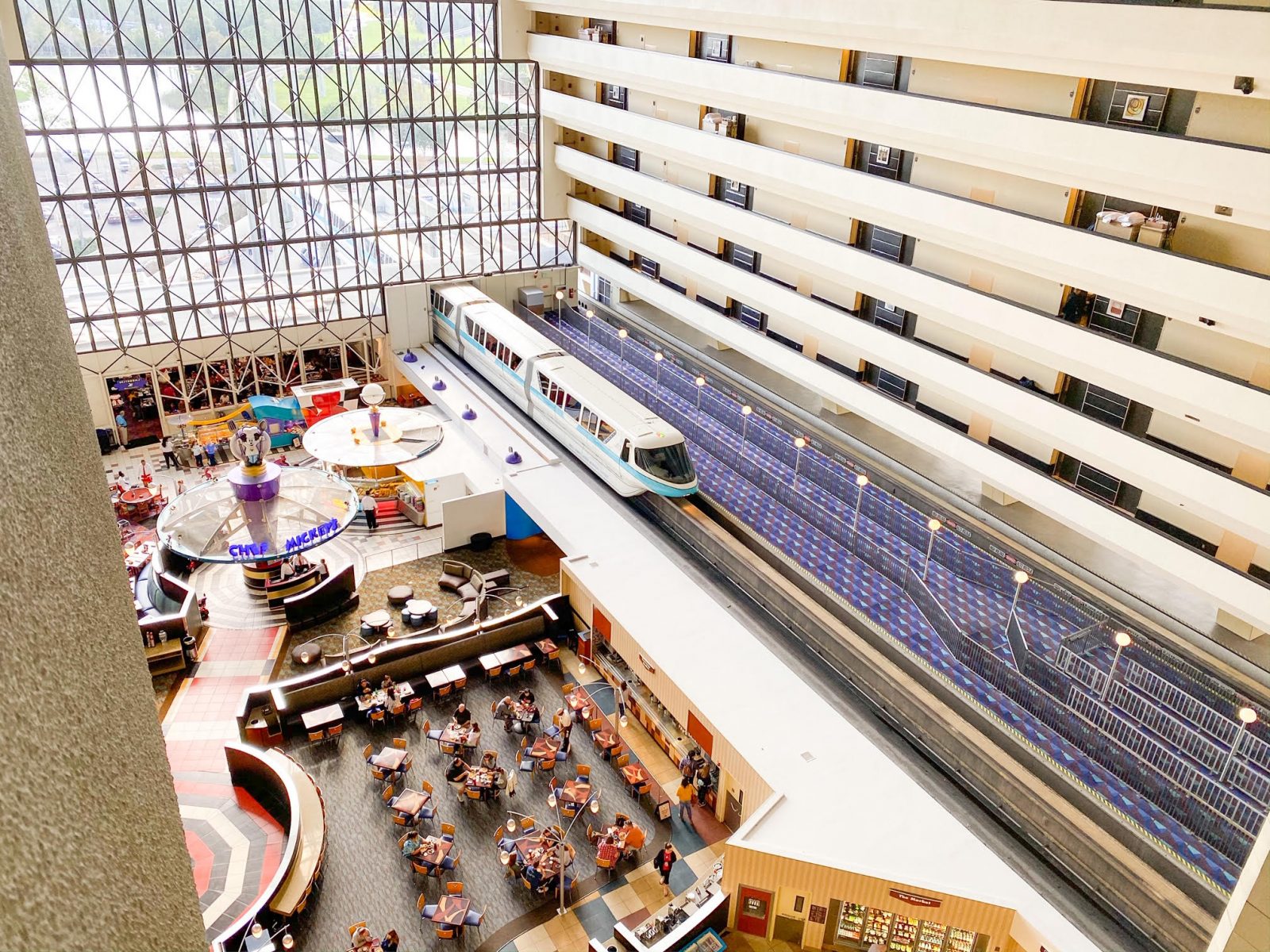 Best Disney Deluxe Resorts for Adults
Deluxe resorts are Disney's highest tier resorts and our top recommendation for adult Disney vacations. Families with kids generally flock to the lower resort tiers so that makes the deluxe resorts quieter and less crowded. Plus, deluxe resorts feature some of Disney's best dining experiences and amazing amenities to let you relax and enjoy every minute of your vacation. Check out this post for more details on Disney's deluxe resorts.
Polynesian Village Resort
Disney's Polynesian Village Resort is one of my absolute favorite places on Disney property. This resort is just across the Seven Seas Lagoon from Magic Kingdom but feels worlds apart. The Polynesian theming is extremely thorough with stunning grounds, themed architecture, lovely music, and amazing food. This is one of the best resorts for relaxation, with a gorgeous pool and Dole Whip stand, and great rooms for catching up on your sleep!
My top recommendation for Disney's Polynesian Village Resort is the food! Ohana is an extremely popular restaurant for character dining, and there's also the Spirit of Aloha dinner show. Those are more kid-friendly options but have great food as well! Plus, my favorite is the Kona Cafe, which has the famous Tonga Toast for breakfast AND Kona coffee for all my coffee snobs out there.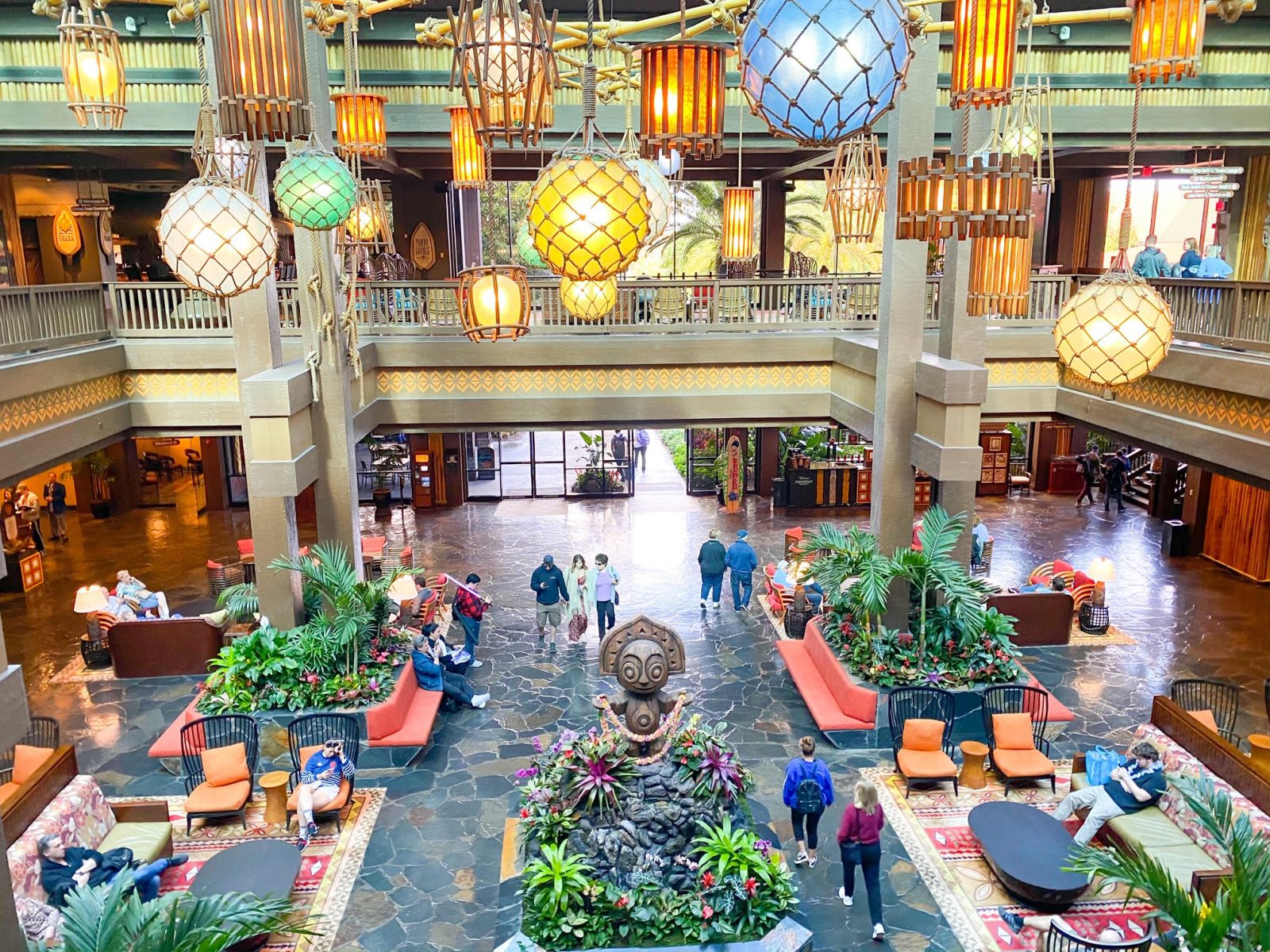 Grand Floridian Resort
Disney's Grand Floridian Resort is a Victorian-themed resort full of airy fairytale vibes and old-world elegance. Their sweeping grounds are lush with expansive lawns and countless rose bushes that make for a perfectly relaxing backdrop for your vacation. The Grand Floridian is also right next to Magic Kingdom, which makes it a great place to watch fireworks and the nightly water pageant in Seven Seas Lagoon.
The Grand Floridian is also home to the BEST (totally non-negotiable) restaurant at Disney: Victoria & Albert's. This is the most upscale dining option Disney offers: it's been a AAA Five Diamond restaurant for 20 years! With dining location options that include the Queen Victoria Room and Chef's Table, this is THE place for foodies with high taste.
Rest assured, if you're not one for the high-society food of Victoria & Albert's, Disney's Grand Floridian Resort still has amazing options for you. Narcoosee's sits right on the lagoon, giving stunning water views with your meal and maybe even some fireworks (!), with a great New England style menu of lobster and steaks. Citricos is inside the main building of the resort and features a Mediterranean-inspired menu and a great wine list. And finally, the Grand Floridian Cafe is a great spot for breakfast and brunch!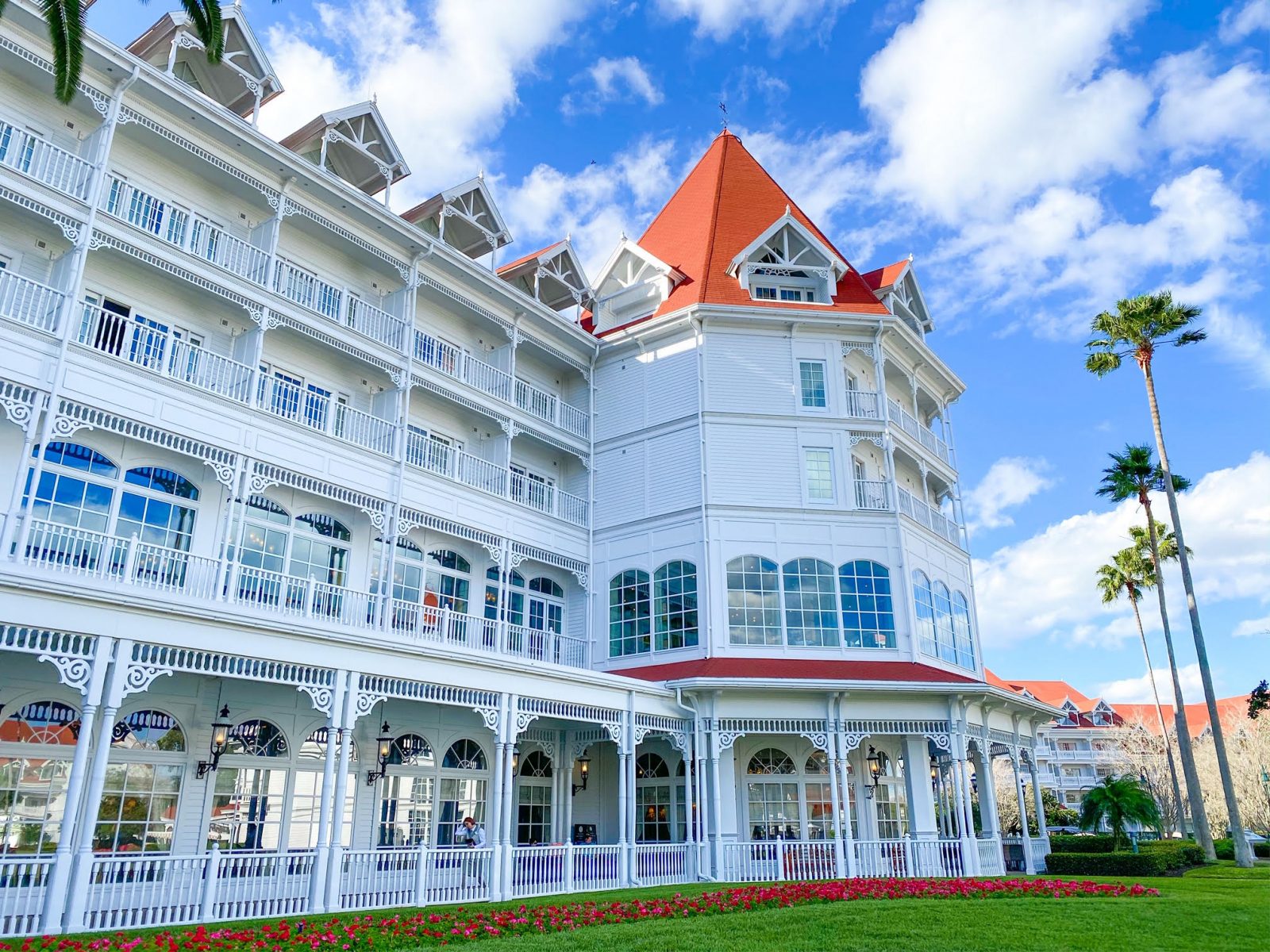 Yacht Club/Beach Club
Disney's Yacht Club and Disney's Beach Club sit right next to each other and are commonly grouped together because of their theming and proximity. Both resorts access Stormalong Bay, a three-acre waterpark that is part of Disney's Blizzard Beach! They also have a great location next to Epcot for those of you itching to eat and drink your way around the world.
Disney's Yacht Club is the fancier of the two resorts, taking on a New England style yacht club theme filled with nautical details and menus. Disney's Beach Club is the more laidback resort, with a bit of a lighter and brighter vibe. A fan favorite of these resorts is the Beaches & Cream Soda Shop, which is a cute ice cream shop home to the famed Mickey's Kitchen Sink ice cream dessert that's served in a literal sink. Adult Disney fans with a sweet tooth have found their calling now!
Disney's Yacht Club Resort: Check Rates On Hotels.com
Disney's Beach Club Resort: Check Rates On Hotels.com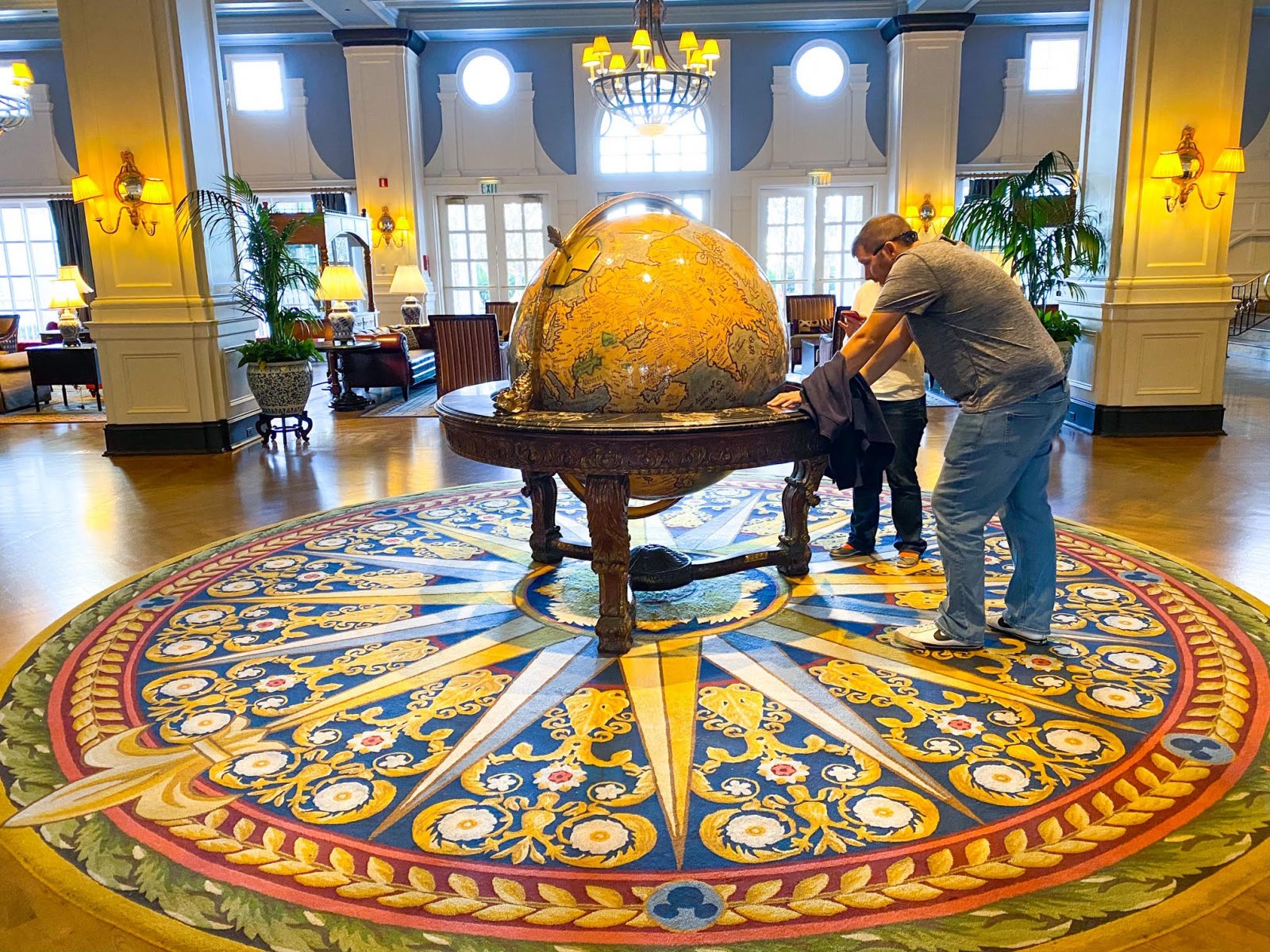 Riviera Resort
Disney's Riviera Resort is Disney's newest, having opened in December of 2019. This resort is on the new Skyliner transportation system that connects to Epcot and Hollywood Studios. The Riviera Resort is themed to be a European style resort filled with charm and high-class dining of a Mediterranean influence.
Adult Disney fans are raving about the Riviera Resort for its stunning Disney-themed mosaic art pieces in the main lobby and it's relaxing and comfortable suites. There is tons of Disney-themed art around the resort and much of it is actually for sale, so my adult Disney art collectors should definitely check this place out.
Riviera Resort also features a rooftop dining experience and lounge perfect for foodies and those who want to check out the views of the theme parks and their nighttime fireworks shows. Topolino's Terrace has a French and Italian inspired menu with great wine pairings AND an amazing cheese board option.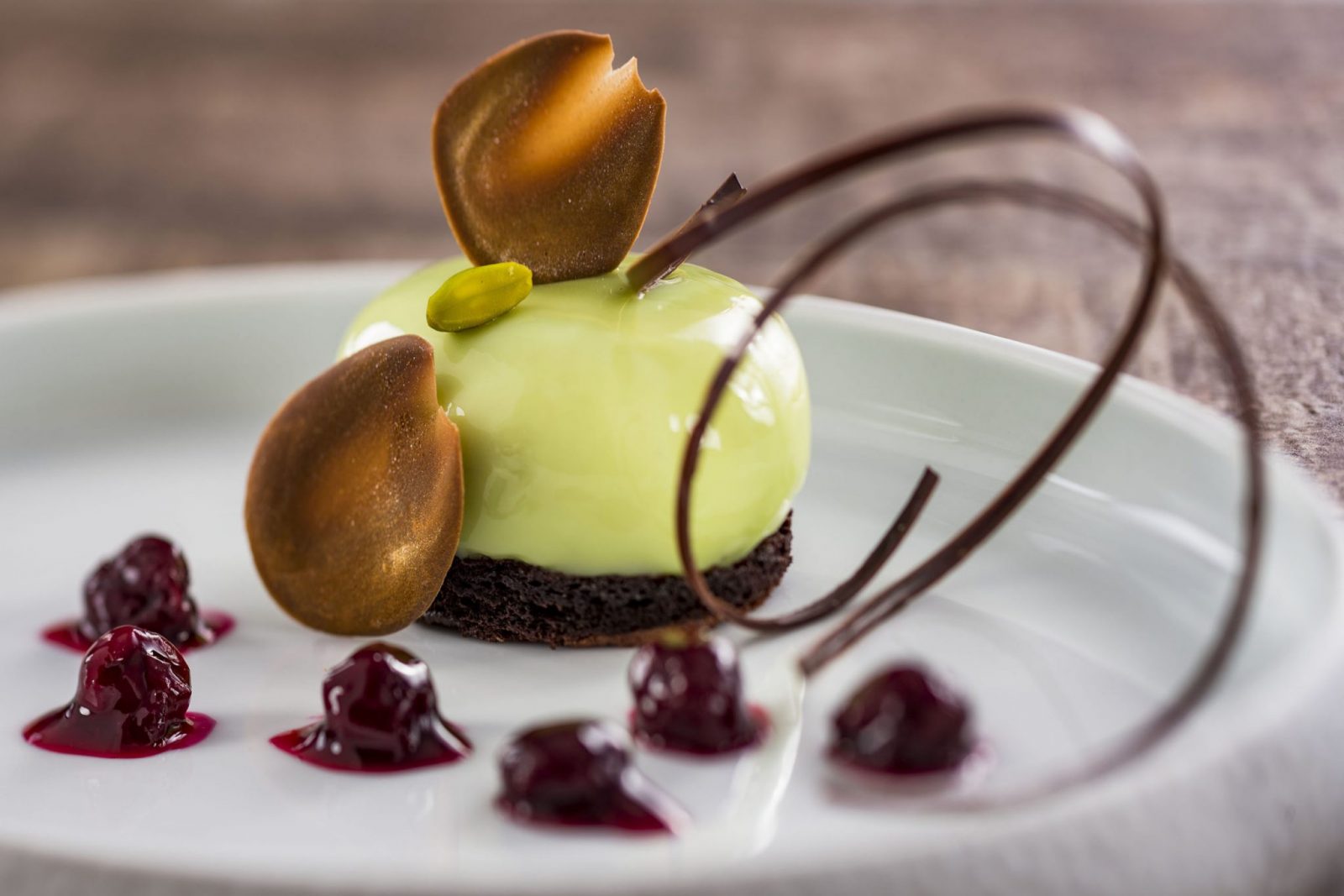 Animal Kingdom Lodge
Where are my animal lovers at? Disney's Animal Kingdom Lodge is absolutely the place for you if you want to see giraffes walk up to the window or balcony of your room! This resort has it's own savanna with gorgeous animals wandering around as they please (but be careful- giraffes may steal towels left hanging on your balcony railings!) Animal Kingdom Lodge is (obviously) very close the Animal Kingdom theme park, but this does make it more removed from much of the other properties at Disney, so this is a great quiet resort option.
Those of you who also like to be a little more adventurous with your food options may want to check out Animal Kingdom Lodge for its restaurant: Sanaa, which is an Indian/African fusion restaurant. They're sweeping windows look right out into the savanna and their menu is filled with amazing spices and flavors. Don't miss the naan bread appetizer- it features three types of naan AND a ton of amazing sauces to go with them.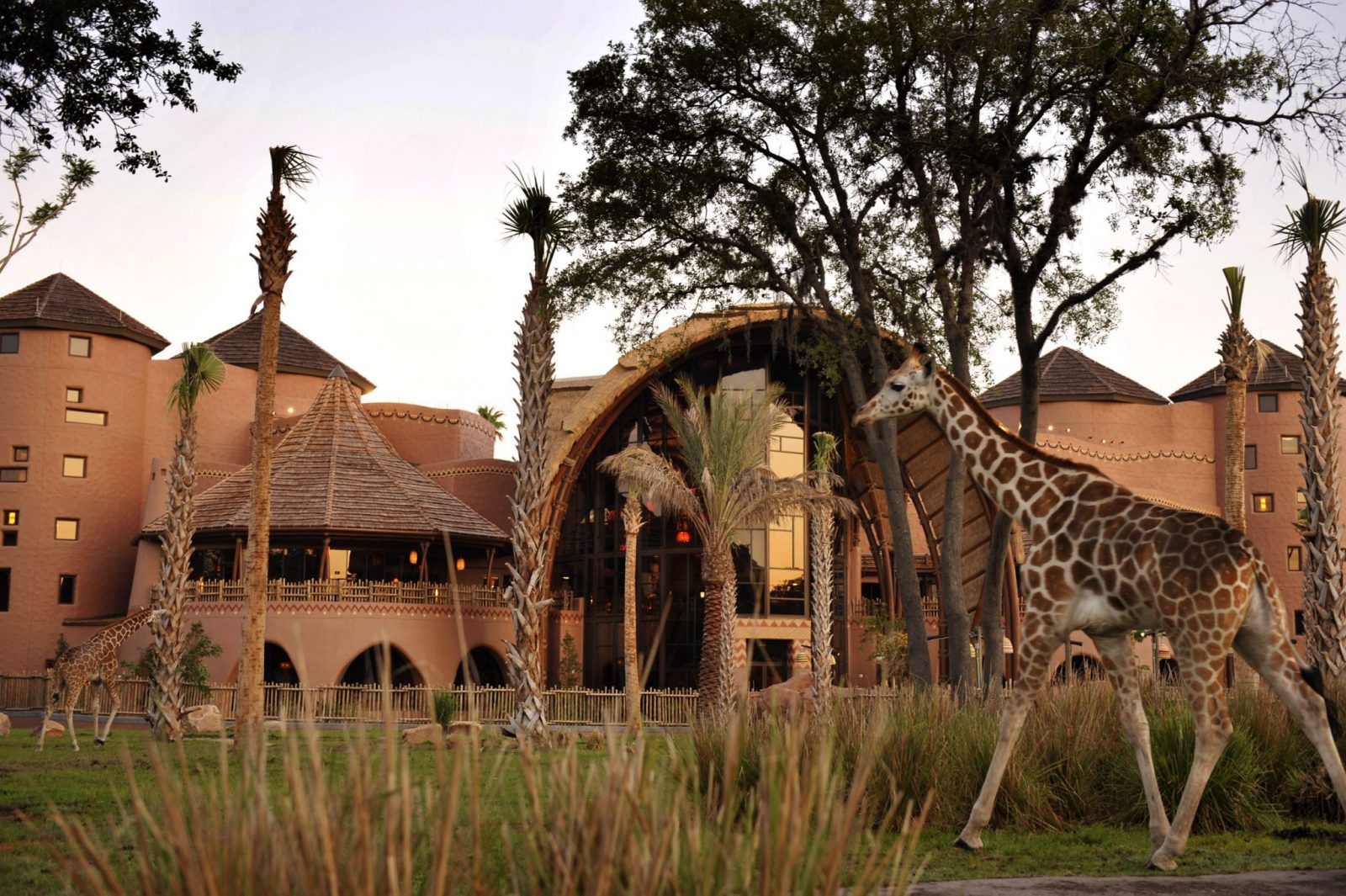 Best Disney Moderate Resorts for Adults
Moderate resorts are a great middle-ground for those who may want somewhere nice to stay but are in the camp of "I'll be in the hotel to sleep" and may not be up for lounging around the resort all day. Moderate resorts are also great for people like me, who want to use all the saved money on more food! Check out our breakdown of Disney's moderate resorts for more details.
Disney's Port Orleans Resort – French Quarter
Disney's Port Orleans Resort is broken into two distinct sections: Riverside and French Quarter. Both are amazing options, but for adults, I'd recommend French Quarter. Port Orleans French Quarter is a great quiet and intimate resort- it's actually Disney's smallest moderate resort! Themed around New Orleans and it's French Quarter, this resort has great charm.
Don't forget to grab your Mickey beignets! These are a fabulous New Orleans style treat that Disneyland's New Orleans Square has had for years but at Disney World you can only find them at Port Orleans and they are so worth the trip!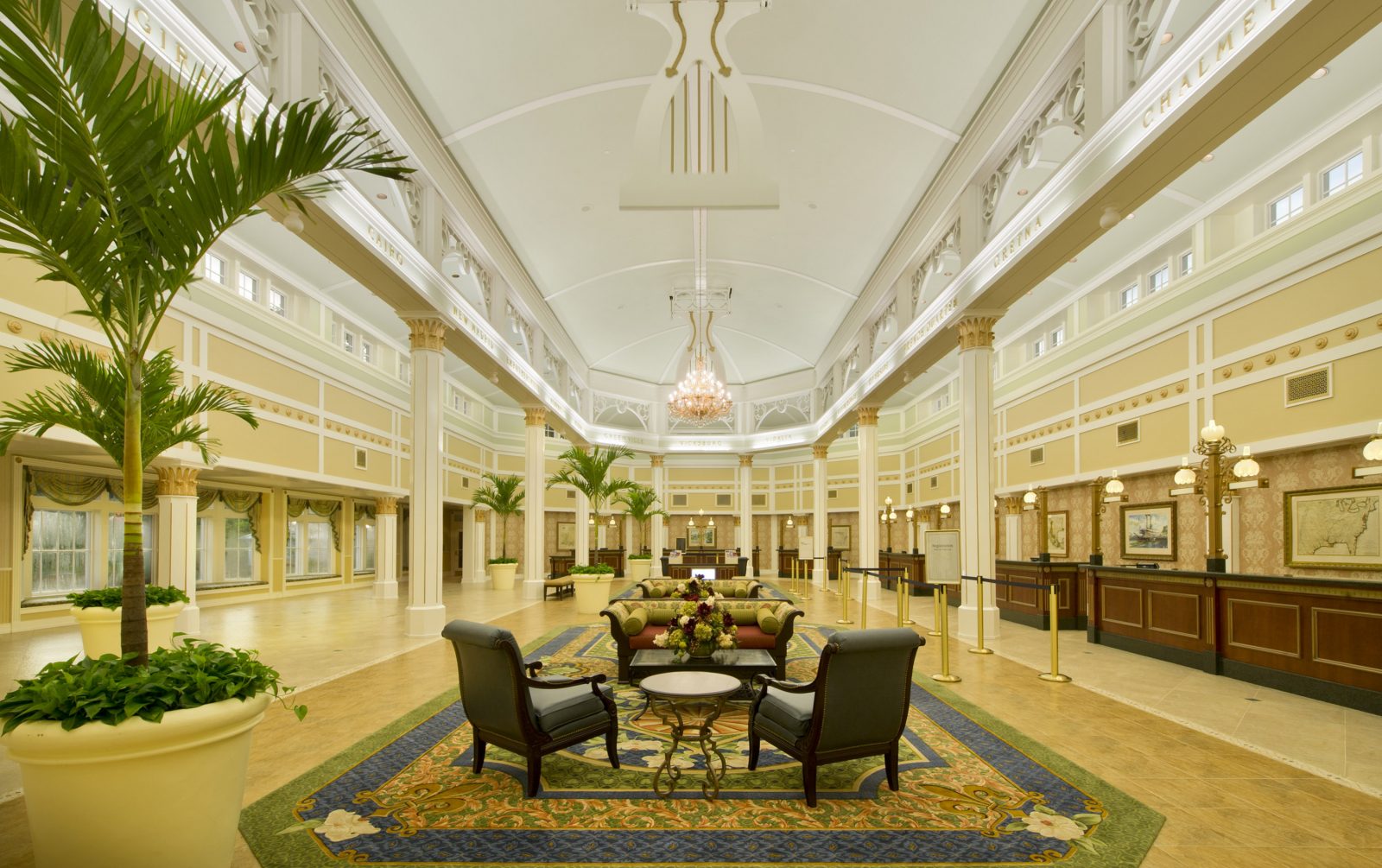 Coronado Springs
Coronado Springs is newly renovated and gorgeous! This resort is themed after Mexico and Central/South America, with some Spanish touches, so there's great cuisine and drinks to be had here. This resort is pretty spread out, with several different buildings for rooms plus the new Gran Destino Tower, which has dining, the main lobby, and rooms! You can request a room in Gran Destino Tower, but all of the rooms in the resort are newly renovated, so you'll be somewhere new and pretty no matter where you end up here. For a detailed review of Coronado Springs, check out our post here!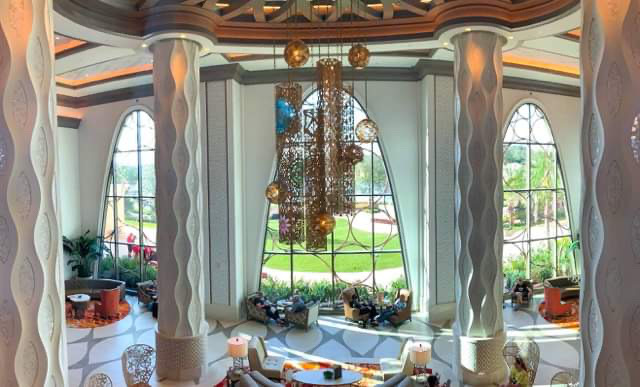 Best Disney Value Resorts for Adults
Value resorts are a great way to have access to all of the perks of staying on property at the lowest price tag. The prices still range depending on the season you go, but you can generally find some great deals in this category and then use the free Disney transportation system to move around Disney World without ever having to drive!
Art of Animation
There are several value resorts, but for Disney for adults, I'd recommend Art of Animation. This resort is a little bit nicer and a little quieter than its counterparts, with a super cute theme and fun themed rooms. Art of Animation has The Lion King, Little Mermaid, and Cars themed areas that are very thorough and detailed!
While the themes are very cute, Art of Animation is definitely more of a place for sleeping than it is for hanging out at the resort. The resort does have amenities and plenty to do, but it's largely geared towards kids, so it would be best to sleep here and spend your time around the rest of Disney World.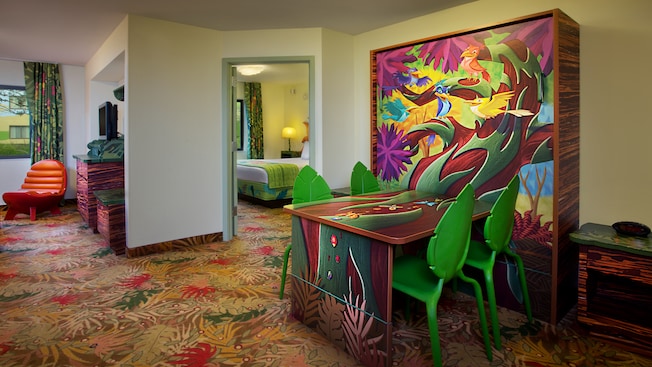 Disney Resorts to Avoid for Adults
Disney's All Star Resorts and Pop Century are ones I'd tell Disney adults to avoid. They're nice hotels with renovated rooms and a low price tag, but that all brings in more kids and more noise, which totally take away from a relaxing adults-only Disney trip. These are both value resorts, so you may sense a theme. For Disney for adults, I'd recommend moderate or deluxe resorts and skipping on the value tier as a whole. These resorts are very kid-friendly with themes that are a little more childlike than those of the Polynesian Village Resort and Port Orleans.
Best Disney Parks for Adults
Disney World has four theme parks and I highly recommend visiting them all! However, if you're doing Disney for adults then there's definitely some priorities to be made. Remember, these are just my recommendations and you should do what is best and most fun for YOU!
Epcot
Epcot is home to the World Showcase- 11 different "lands" each dedicated to a corner of the world. These are amazingly beautiful spots filled with cast members (employees) straight from the countries they represent. Disney actually conducts their interviews and hires these cast members IN their home countries so you'll have an authentic experience and a great opportunity to talk to people from all over the world.
Epcot is the best adult Disney park for a few reasons. The first is that it has very few rides compared to the other parks, making it not ideal for small kiddos. However, the current Epcot renovations (set to complete in 2021) will be changing that somewhat, bringing in new attractions themed around Guardians of the Galaxy, Ratatouille, Mary Poppins, and more. Of course, the rides currently in Epcot are also great ones for adults to ride! Be sure not skip them!
The second reason Epcot is a great adult park is it's food and drinks! Adult Disney fans love eating or drinking their way around the world, trying small plates and drinks from each country. Epcot does allow you to drink alcohol and carry it around the park with you, so this is kind of like an "international" food and drink crawl.
On that vein, my other favorite "adult" thing about Epcot is the FESTIVALS! Epcot is home to the famous Festival of the Arts, Flower and Garden Festival, Food and Wine Festival, and Festival of the Holidays. These are month(s)-long festivals throughout all of Epcot that feature amazing demonstrations, live shows, and unique food and drink options. Be sure to bring your appetite and some good walking shoes!
For more on what to do in Epcot, be sure to read our post on what to do in each country!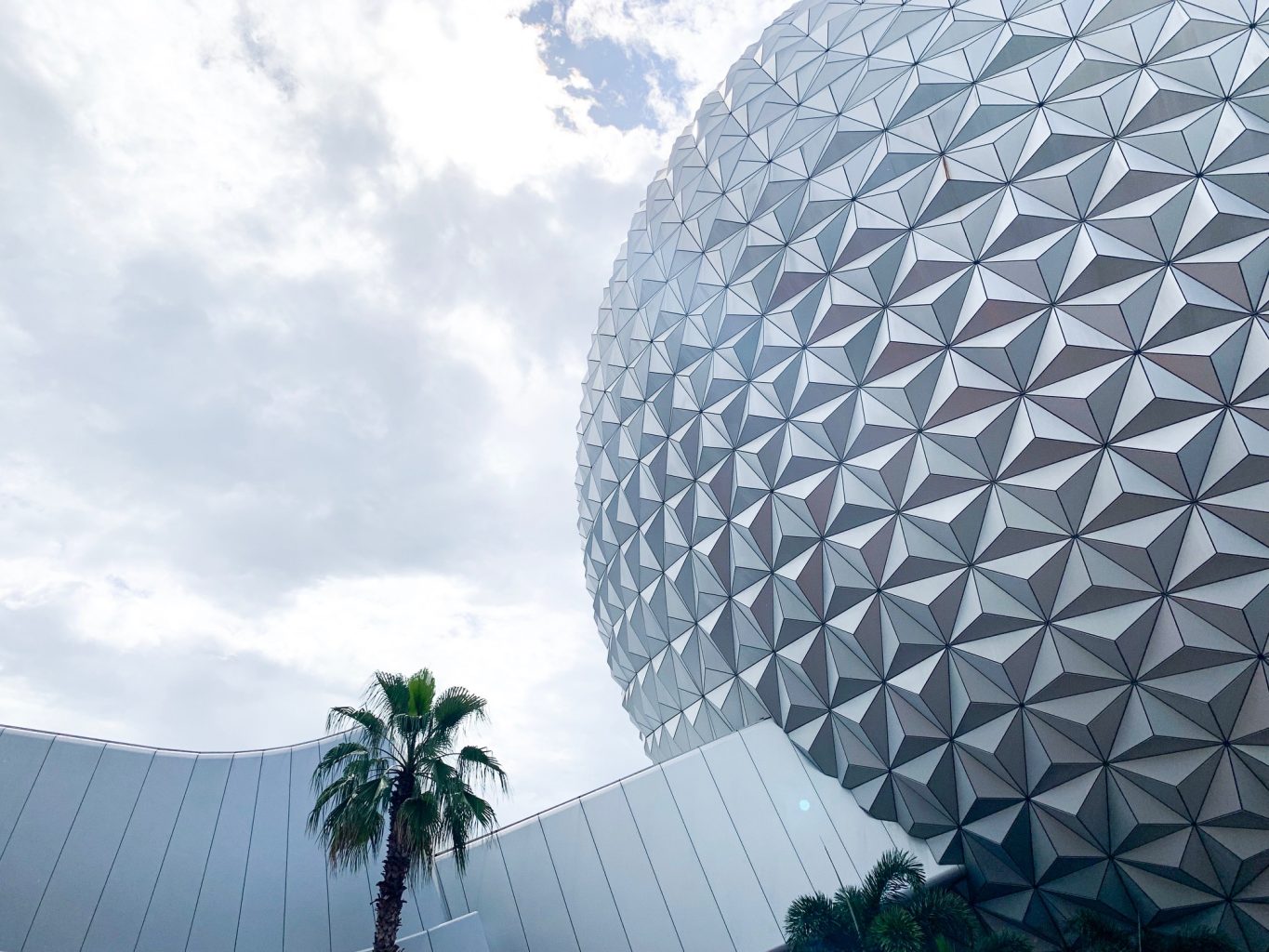 Animal Kingdom
Animal Kingdom is home to the iconic Tree of Life, a massive safari, the new Pandora- The World of Avatar, and some of the best and most adventurous food in Disney World. This is a great park for adults who love animals, rides, AND food! Also, because of its theming and rides, there are not as many young children in this park as some of the others. Here's a map of the park and some of our favorite tips for Animal Kingdom!
Animal Kingdom has four distinct lands: Pandora, Africa, Asia, and DinoLand U.S.A. DinoLand is the most kid-friendly of them all, with a small carnival-style courtyard full of games and some smaller rides. It also has the Dinosaur ride, which is a fun indoor-adventure ride I highly recommend!
Asia is home to the biggest ride in the park, and one of the most expensive in the world: Expedition Everest. This is a roller coaster perfect for the adventurous type. Africa also has amazing food options to check out and a gorgeous amphitheater on the water where you can catch the park's nighttime show, Rivers of Light.
Africa is home to the safari, which you can view by riding Kilimanjaro Safaris. This is my favorite thing in the park because you get that great animal experience like at the Animal Kingdom Lodge, except you're now on the ground (in a vehicle) with the animals and they are totally on their own schedule. The ride does sometimes slow or shut down when animals block the path, but to me that makes it even more authentic!
Finally, Pandora, the newest land! This is themed after the movie Avatar, but there are no blue people wandering this land. Instead, it's a stunning tribute to nature with bioluminescence, giant rock structures, and lush greenery. There are two rides in this land, and because it's so new, they have long lines! Also be sure not to skip out on the food here, Pandora has some of the best food in the park!

Hollywood Studios
Hollywood Studios has been a sleeper park for awhile, but with the opening of Toy Story Land and Star Wars: Galaxy's Edge it's becoming the Disney hot spot! It may be crowded, and attractions like Toy Story and the Disney Junior Dance Party and the Frozen Sing Along do bring in lots of young families, BUT the park is still a great choice for Disney for adults.
Hollywood Studios is definitely the place for Star Wars fans, but even if you're not into Star Wars there's plenty to check out! I personally love Toy Story Land, and while I'd say you can skip riding Alien Swirling Saucers, I totally recommend riding Slinky Dog Dash. For more, here's our review of the best rides in Hollywood Studios. Hollywood Studios is also a drink-friendly park, which means there's an added layer of fun to be had!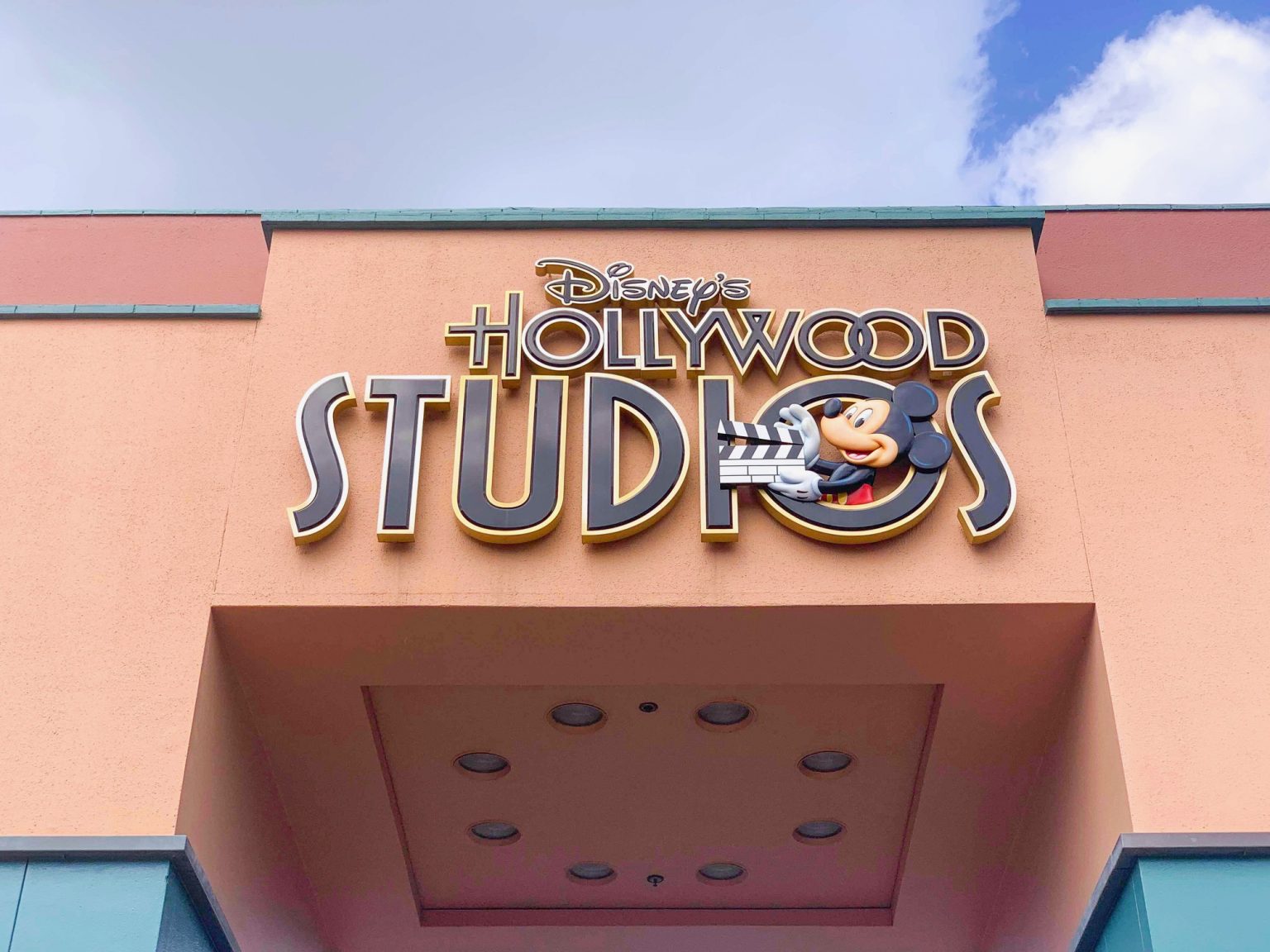 Magic Kingdom
Magic Kingdom is the classic and iconic Disney World theme park, home to Cinderella's Castle and all of the classic Disney attractions. I would never recommend skipping this park, but it's definitely my lowest Disney for adults recommendation. This park is the Number 1 spot for families and young children and is almost always the most crowded because of it. Magic Kingdom does have the largest number of rides and attractions, but many of them are smaller and geared towards kids (like It's A Small World and Peter Pan's Flight).
There is no alcohol in Magic Kingdom outside of two restaurants: Be Our Guest and Cinderella's Royal Table, and they don't offer any liquor, so it's best to get your drink on elsewhere. The food is also a little less exciting at Magic Kingdom, as it does work to be kid-friendly. However, the food is still good! Lots of tasty options (especially my favorite: the lobster roll at Columbia Harbour House), but pretty much exclusively American-style eats.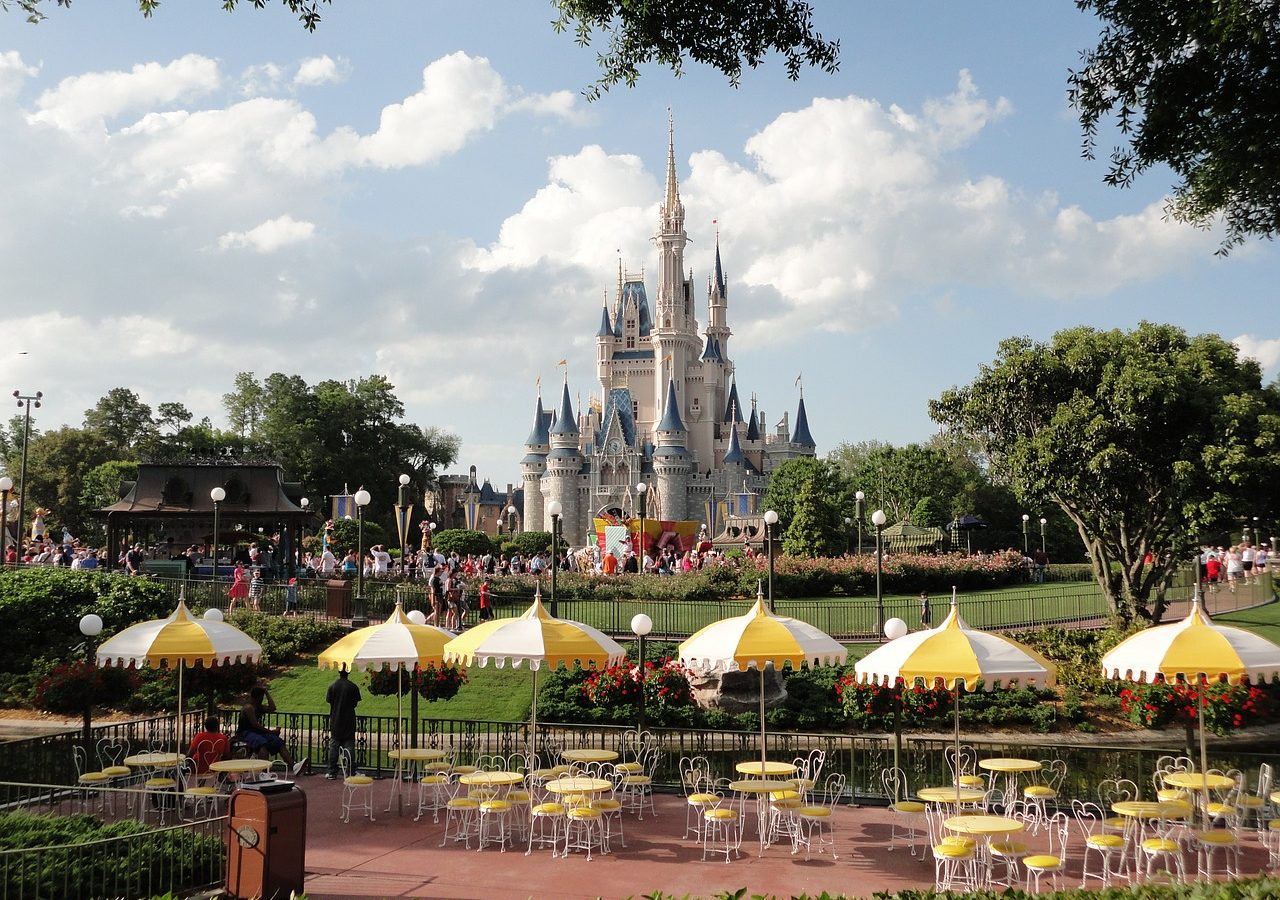 Best Disney Restaurants for Adults
All right, now that food's on my mind, let's talk restaurants! Disney World has over a hundred options for dining so it can get overwhelming really quickly. However, there is something for everyone! So, be sure to know what kinds of foods you like, don't like, and want to try. These are some of my favorite recommendations for Disney for adults, but I highly recommend looking beyond this to find things that fit your style best!
Victoria & Albert's
I touched on this earlier: Victoria & Albert's is the high-end dining option at Disney's Grand Floridian Resort. This is the highest quality food you'll find at Disney, with expert chefs, menus, and wine pairings to make for not just a meal but an entire dining experience. This is a formal restaurant, so this a dress code to adhere to, so if you do want to dine at Victoria & Albert's, be sure to pack accordingly. Also, if you want to dine here, make your reservations in advance. They book up quickly and rarely have cancellations, so you'll need to plan ahead.
Tiffins
Tiffins is inside Animal Kingdom, meaning you'll need park admission to get in. However, Tiffins is not your standard theme park food! Disney classifies this restaurant as fine dining, and I have to agree with them! This is a fan favorite restaurant with amazing flavors and exciting dishes. I highly recommend trying the bread service for your appetizer- it's so tasty! Tiffins' menu features flavors such as butter chicken, surf and turf, and crispy African-Spiced tofu. Come on an empty stomach for this one!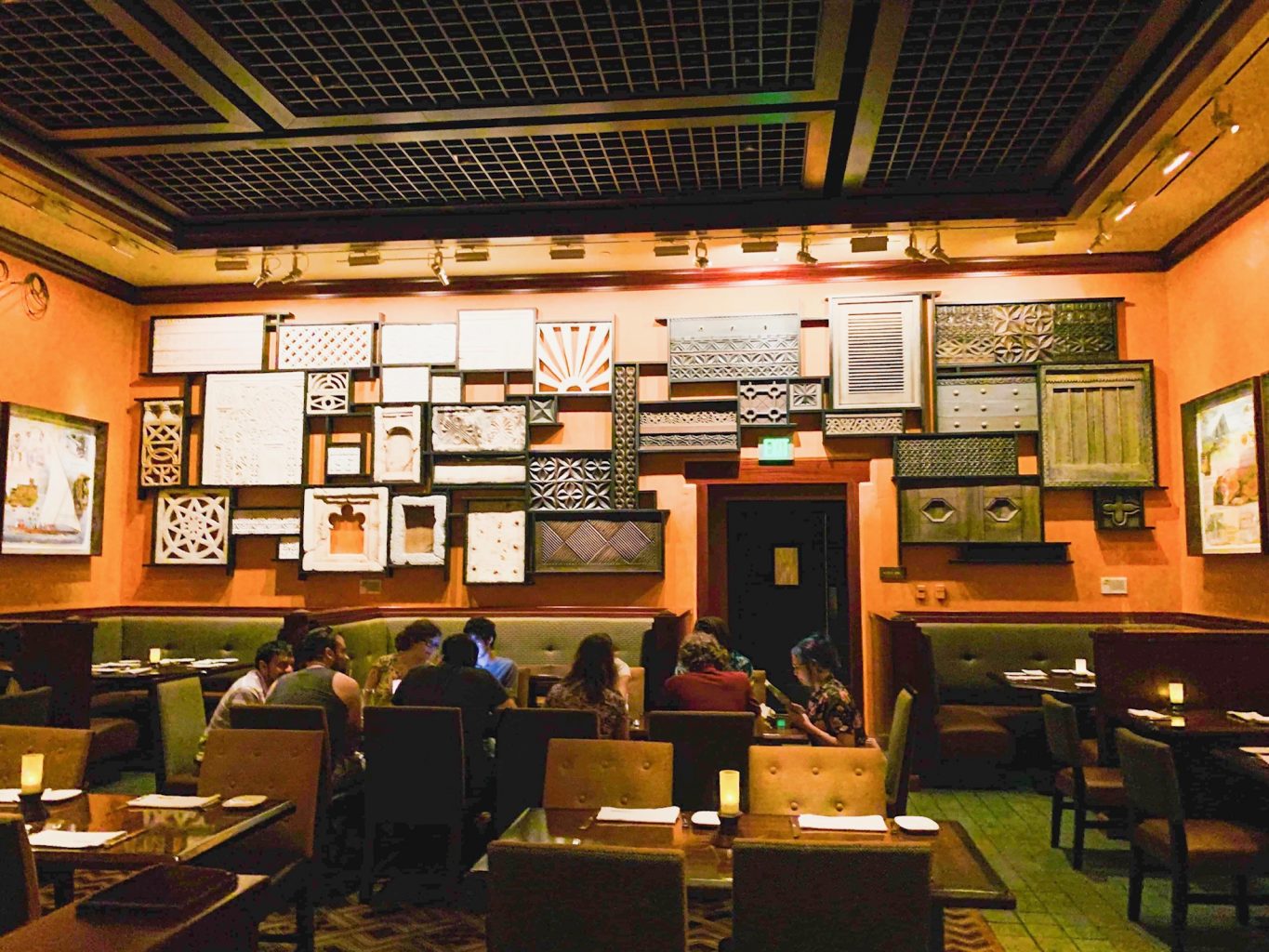 Jungle Navigation Co. Ltd. Skipper Canteen
Despite its long name, this restaurant, tucked inside Adventureland of Magic Kingdom, is a delight! It's the most adventurous menu in the park, which is a perfect fit for Adventureland. This menu features items inspired by South America, Asia, and Africa and totally cheesy names! This restaurant is a great balance of adventure, flavor, and that classic Disney whimsy we know and love.
Rose & Crown Dining Room
Rose & Crown Dining Room is right up against the water at Epcot in the United Kingdom pavilion, and while the UK may not be known for great culinary accomplishment, this restaurant is a must! It's got lovely water views and fireworks views at nighttime and is far to one end of the showcase, meaning you can either do a near-complete loop and reward yourself with a meal OR you can beeline right for it by starting in Canada! And don't forget the food! My favorite is the fish and chips (of course) but I also love how many vegan and vegetarian-friendly options there are here.
Teppan Edo
Teppan Edo is the Japanese teppanyaki restaurant at the Japan pavilion of Epcot, and it's my FAVORITE Disney park restaurant. This classic teppanyaki restaurant means your food is cooked to order right in front of you and the chefs make the food prep a performance that is always fun! Plus, the food is amazing. I may be a sucker for Japanese food all of the time, but the chefs at Teppan Edo are amazing and I've never tried anything I didn't love here.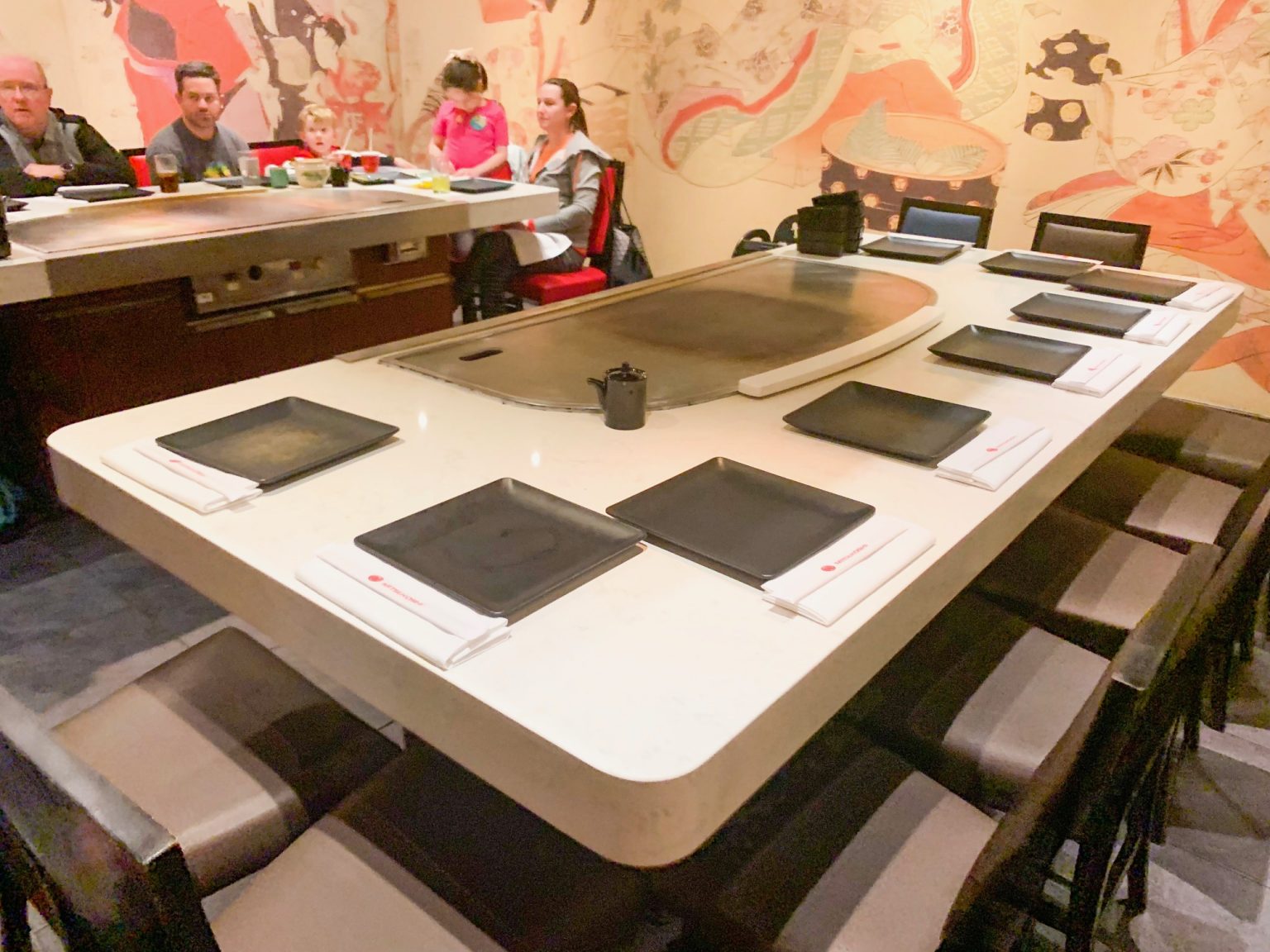 The Hollywood Brown Derby
The Hollywood Brown Derby is a higher end restaurant inside Hollywood Studios made as a replica to the Brown Derby in California! The theming is so great, with old Hollywood elegance and memorabilia everywhere. The decor is beautiful and the famed Cobb salad is every bit as good as I hoped it would be. I also highly recommend saving room for dessert here! The dessert menu is decadent but also light and a great way to end the meal without feeling too full.
Yak & Yeti
Yak & Yeti is in the Asia section of Animal Kingdom and is a fan favorite restaurant! It seems inconspicuous, tucked back from the path a little bit, with a modest entryway in keeping with the theming of the area, but the service is excellent and you can usually nab a walk-in table if you're willing to wait a bit. The menu has great sushi options but also amazing entrees like teriyaki chicken and a seared miso salmon that is to die for!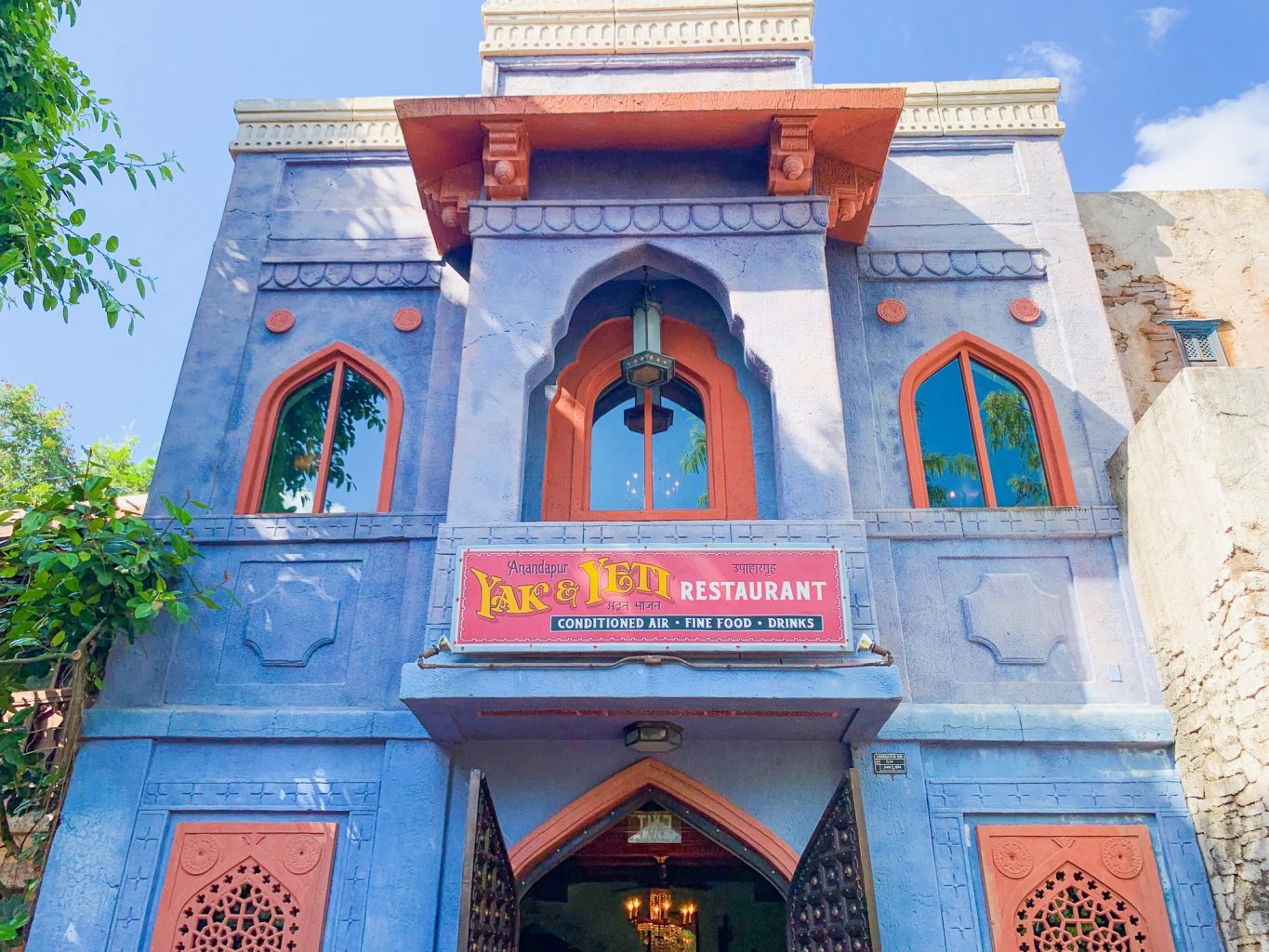 California Grill
This is the most amazing restaurant! Fun fact: I almost held my wedding reception in it because it is STUNNING. This restaurant is at the top of Disney's Contemporary Resort and features massive windows that show off views of all of Magic Kingdom. They have an amazing Sunday brunch if you can score a reservation, but if you're going for dinner, be sure not to miss the fireworks! Not only can you see them from your table, but you can walk outside to the viewing platform during your meal to enjoy the view. This menu is west-coast themed, with some great sushi options as well seafood and more light and tasty fare.
Best Bars and Nightlife at Disney for Adults
The Atlantic Dance Hall
If you haven't been to the Boardwalk at Disney World, I highly recommend checking it out. This area has such a cute theme and some great places to visit. A fan favorite is the Atlantic Dance Hall, where you can dance the night away! This is a great venue for dancing and plays an awesome variety of music. It is 21+, so this totally gets you a Disney nightclub experience. Because the Boardwalk is less crowded than Disney Springs, the Atlantic Dance Hall can sometimes be a little quiet which is a bummer. However, it's generally lively and fun so if you catch a bad night, don't be discouraged! Definitely try again.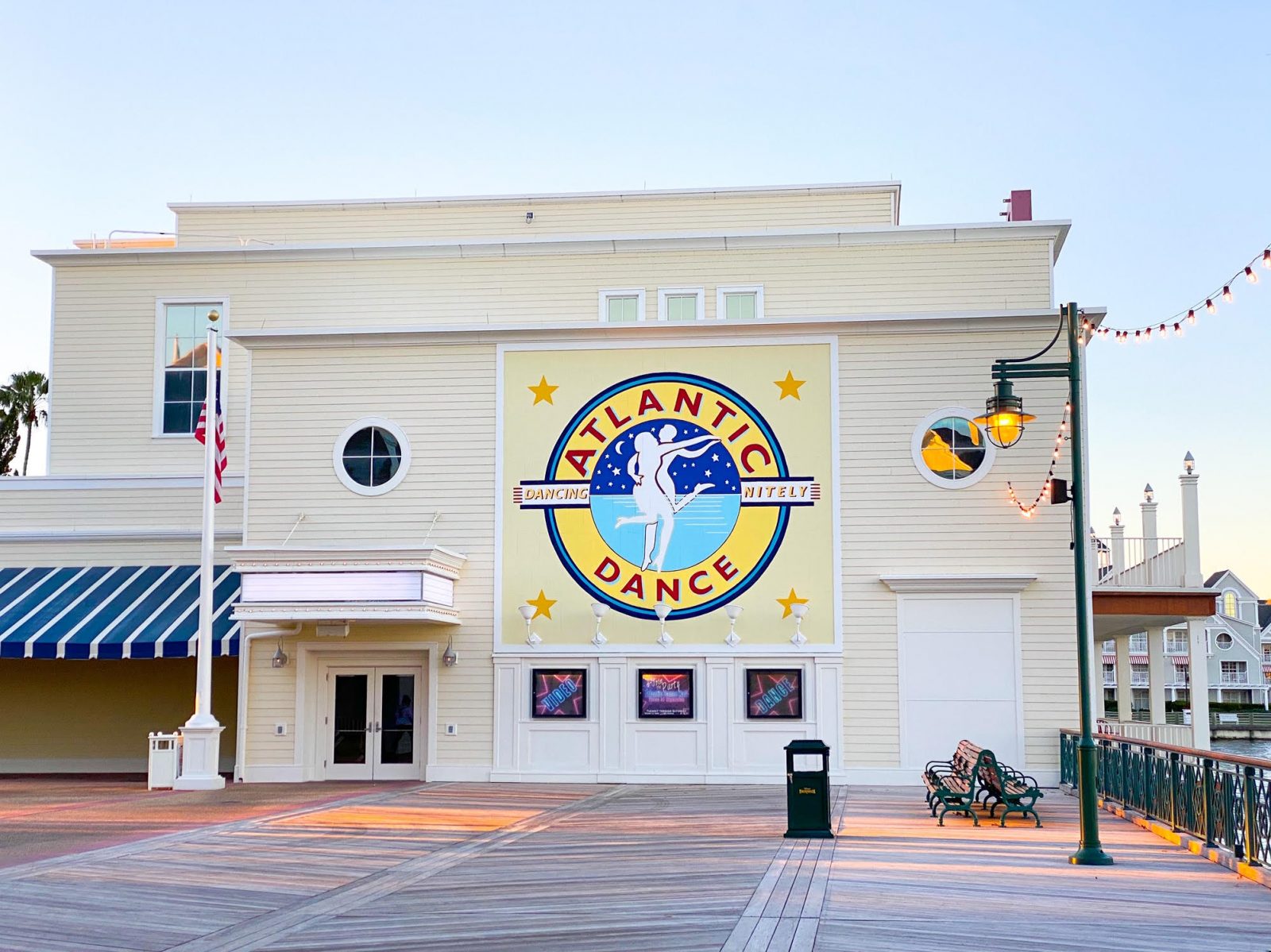 La Cava del Tequila
This gem is inside Epcot's Mexico Pavilion! Not to be confused with Choza de Margarita, the margarita stand outside Mexico's Mayan-temple themed building, La Cava del Tequila is INSIDE the building, near the restaurant and ride! If you love margaritas then I highly recommend wandering in here because these drinks are several large steps above the ones you'll find outside.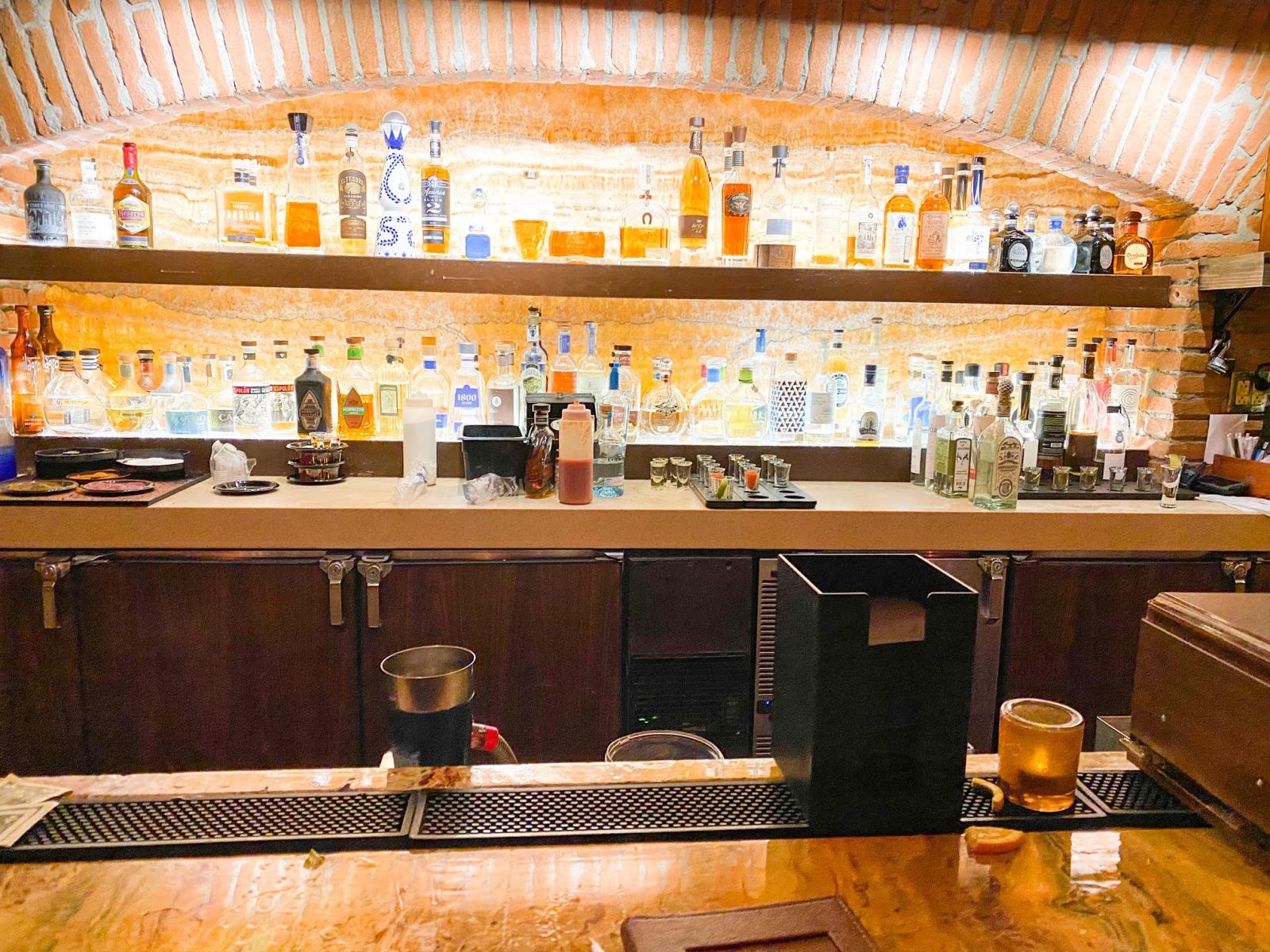 Cirque du Soleil
The world-famous Cirque du Soleil acrobatics show has its own dedicated building in Disney Springs! It, unfortunately, has been closed for a while, BUT it's reopening April 17th, 2020 with a brand new show! Cirque du Soleil is exciting and thrilling to watch, and I'm personally super excited for the new show, Drawn to Life, which is a show dedicated to the magic of animation. If you're looking for something different for your adult Disney vacation, I would look into this! I will be going as soon as it opens for sure.
The Edison
The Edison is a newer addition to Disney Springs, and has a really cool steampunk vibe going on. They are hugely popular for their burger, so burger fans take note! After 10 PM, the Edison is 21+ to enter with a $10 entry fee and dress code Thursdays through Sundays. Before 10 PM the Edison is a family-friendly spot, but it takes a total 180 after 10. The Edison has awesome live music at night and a great bar. I highly recommend trying something new here, because you can't go wrong with anything.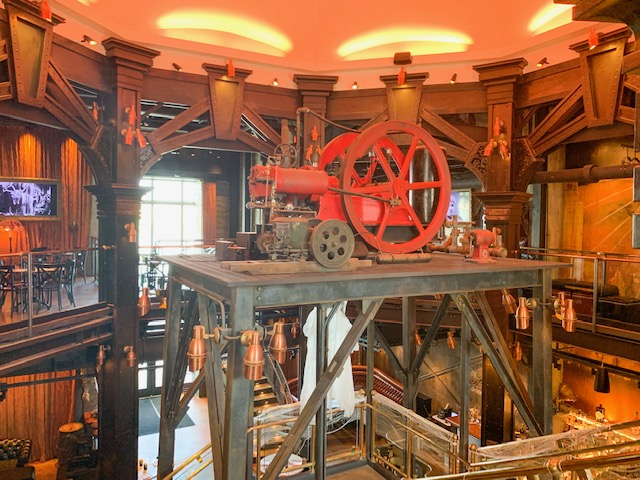 House of Blues
While the House of Blues at Disney Springs has a renowned Sunday Brunch, their nightlife is the top priority. Musicians from EVERYWHERE and every genre come to the House of Blues and this is a great and fun venue to catch a concert! There is a bar here and they offer some tasty food options, so I highly recommend filling up before the show! If you're planning a Disney for adults weekend, definitely check out the scheduled line-up at House of Blues to see if there's a show you want to see!
Jellyrolls
Despite its adorable name, Jellyrolls is another 21+ bar at Disney World! This is one of my favorite spots at the Boardwalk because it is so fun and always a lively venue! Jellyrolls is a dueling piano bar, and if you've ever been to one of these then you know how great they are! For a fun tip, the pianists can play ANYTHING, and they take requests! I highly recommend requesting something fun and obscure to see if they'll know it!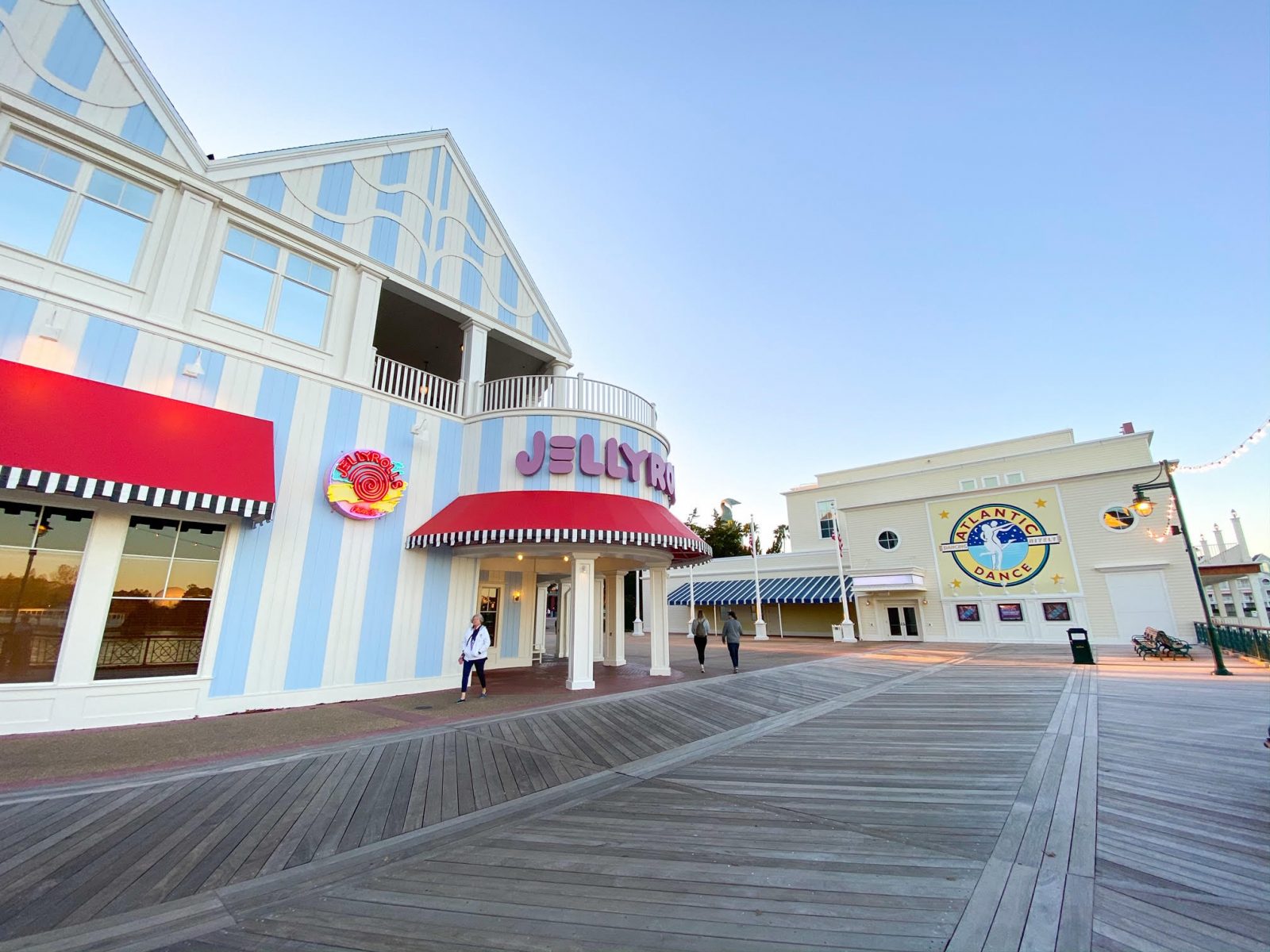 Raglan Road
On the hunt for a classic Irish pub? Raglan Road at Disney Springs is definitely the place to go! Their live entertainment happens every single day and is amazing! They have live music AND an amazing Irish dance show that I recommend watching. Raglan Road does have a great food menu but this is definitely the place for beer enthusiasts. There are amazing flights if you want to try some of everything, and there are multiple bars within Raglan Road to make sure you have plenty of options to pick from.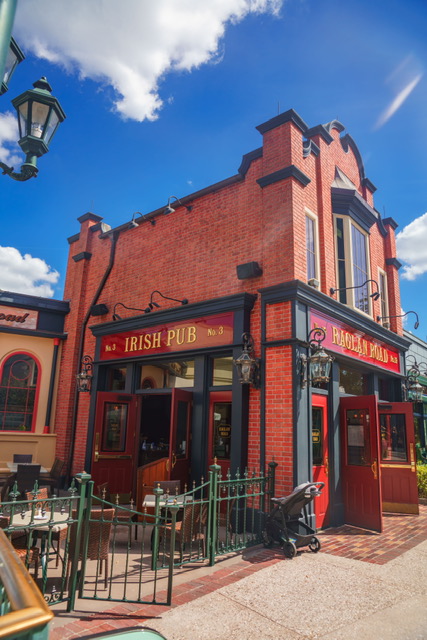 Tutto Gusto Wine Cellar
Where are my winos? I haven't forgotten about you, friends! Tutto Gusto Wine Cellar at Epcot is your can't miss spot at Disney World. This adult Disney offering does have some great small plates like cheese (!) and desserts, but their 200+ bottle wine list is the reason to make your way to Tutto Gusto. This cellar is designed to look like an actual wine cellar, which makes it the perfect atmosphere to remove yourself from the hustle and bustle of Epcot and treat yourself to some delicious wine and cheese pairings.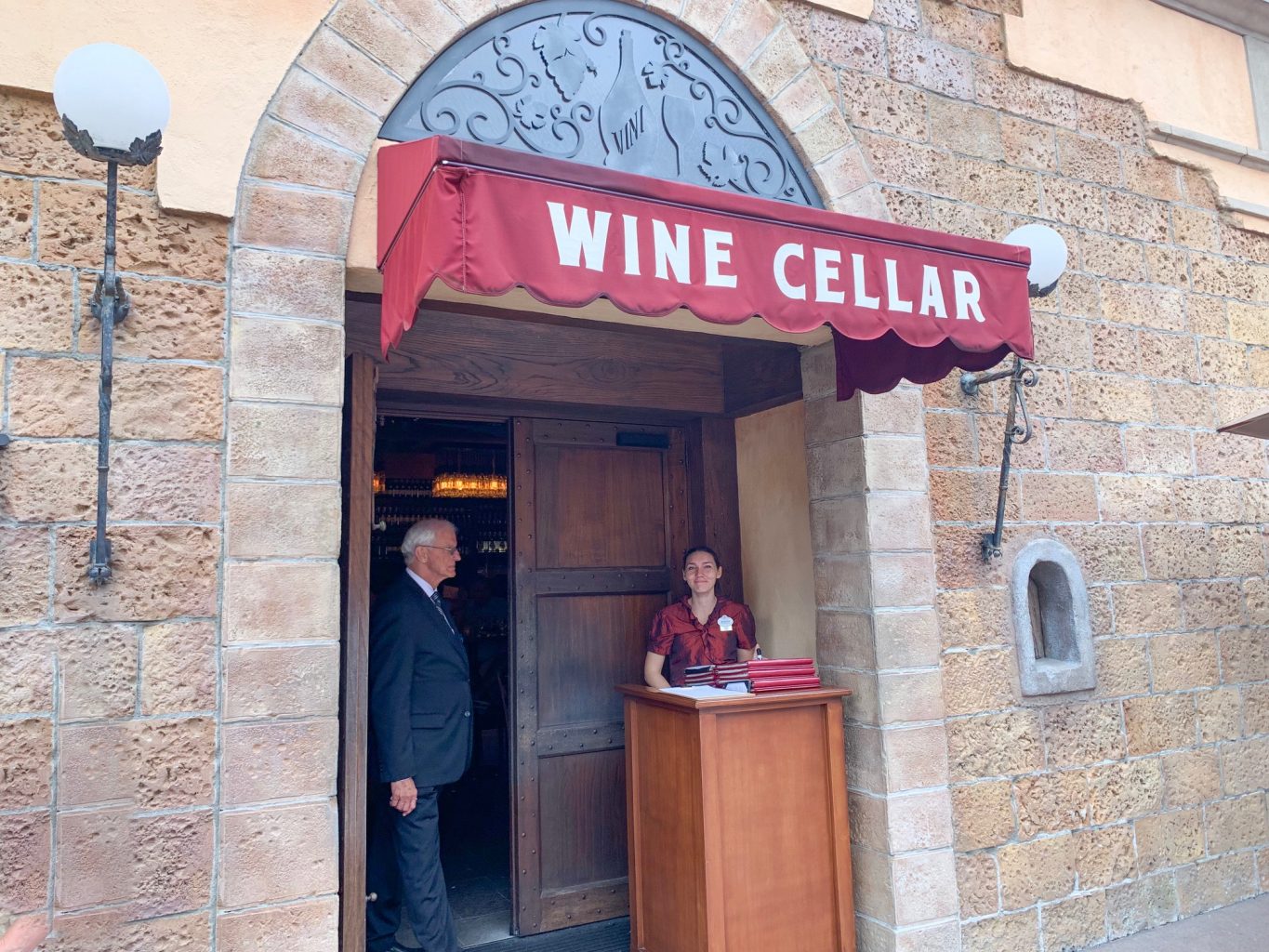 Best Rides at Disney for Adults
1. Rise of the Resistance. Location: Hollywood Studios | Height Requirement: 40 inches
Rise of the Resistance is the newest attraction in all of Disney World! It is the newest Star Wars-themed attraction and has opened to AMAZING reviews. This ride is highly immersive and detailed, with graphics and experiences like you've never seen before. Whether or not you're a Star Wars fan, this is absolutely the ride to beat!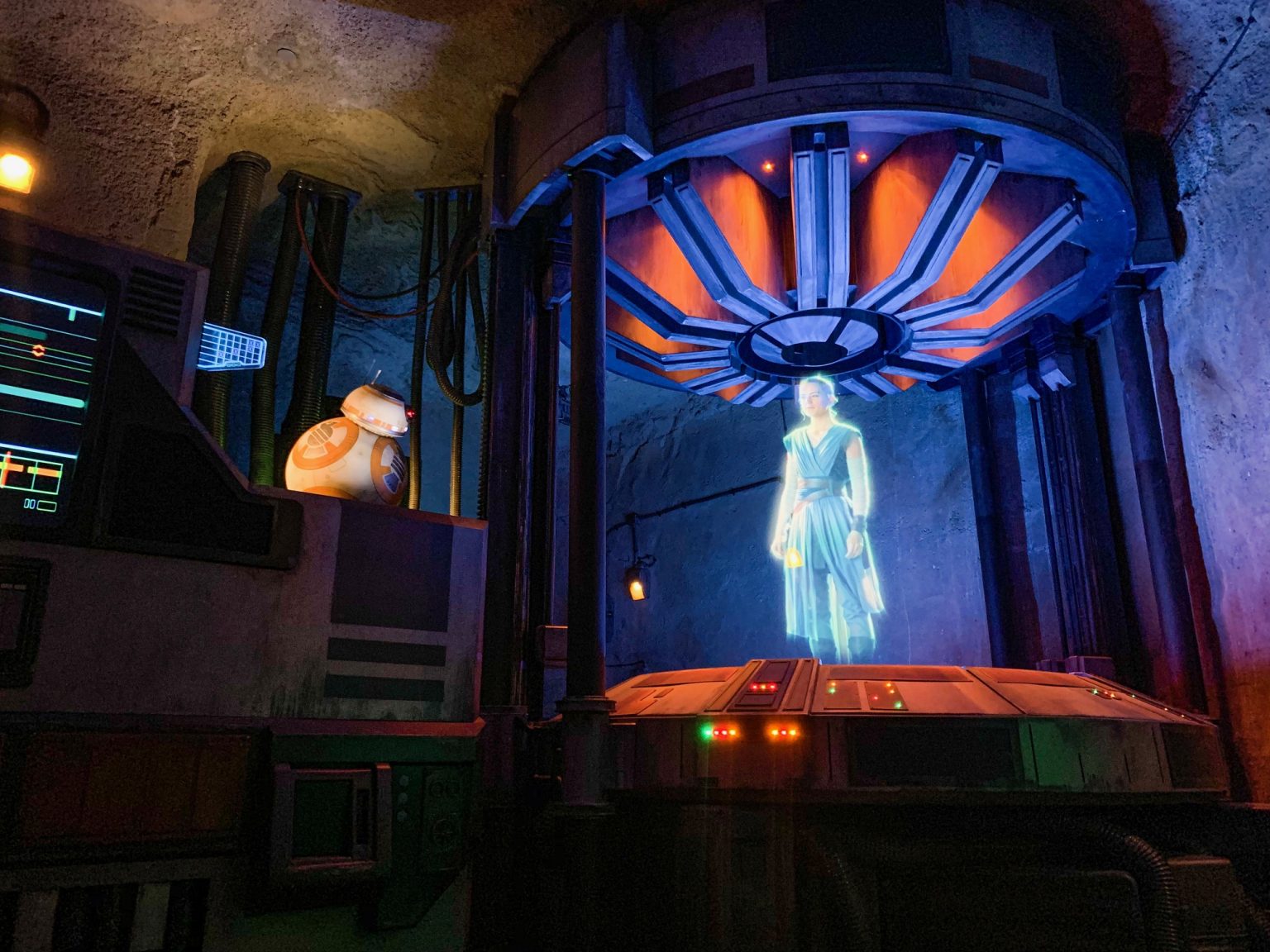 2. Avatar Flight of Passage. Location: Animal Kingdom | Height Requirement: 44 inches
Flight of Passage is the Number 1 ride in one of Disney World's newest lands, Pandora: The World of Avatar. This attraction is also a highly immersive simulation ride in which you get to experience riding a banshee-like the characters in Avatar! Regularly hailed as one of the best rides in Disney World, this is definitely one to try.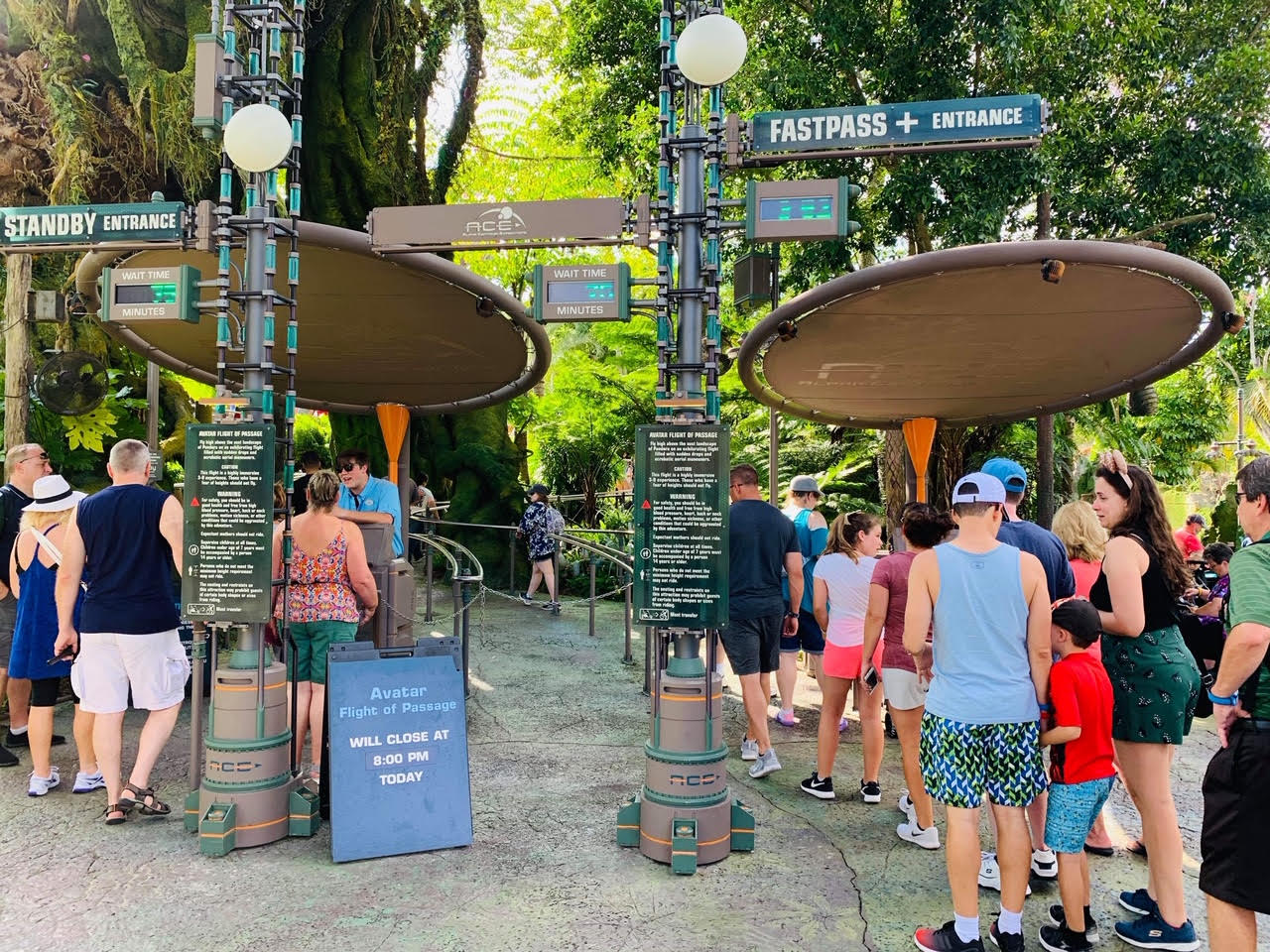 3. Rockin' Roller Coaster. Location: Hollywood Studios | Height Requirement: 48 inches
Rockin' Roller Coaster is one of the older rides on this list, featuring the band Aerosmith as they race around LA in a convertible! It is a completely indoor launch coaster that reaches speeds of 60MPH almost immediately! There is some argument among Disney goers whether the ride is dated or not, but either way, it is definitely a FUN ride. It is a bit more intense for those of you planning to avoid the thrill rides, as it does have a corkscrew or two in the track!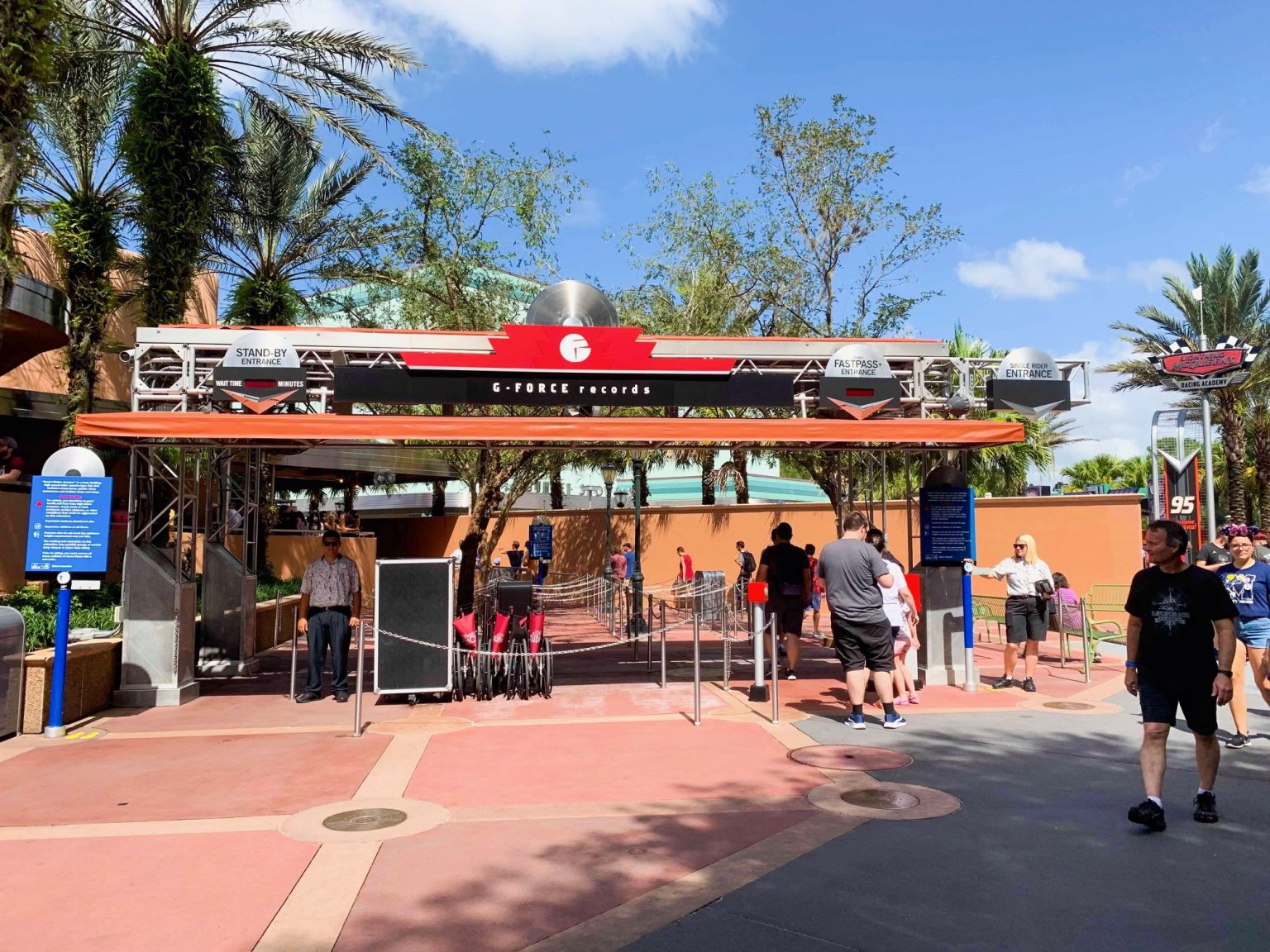 4. Expedition Everest. Location: Animal Kingdom | Height Requirement: 44 inches
Expedition Everest has been open since 2006, but it is still one of the most popular rides in Animal Kingdom. This is another thrilling roller coaster, with some intense drops and surprises throughout the track. Beware of the yeti- many climbers claim he's real and has a mean streak!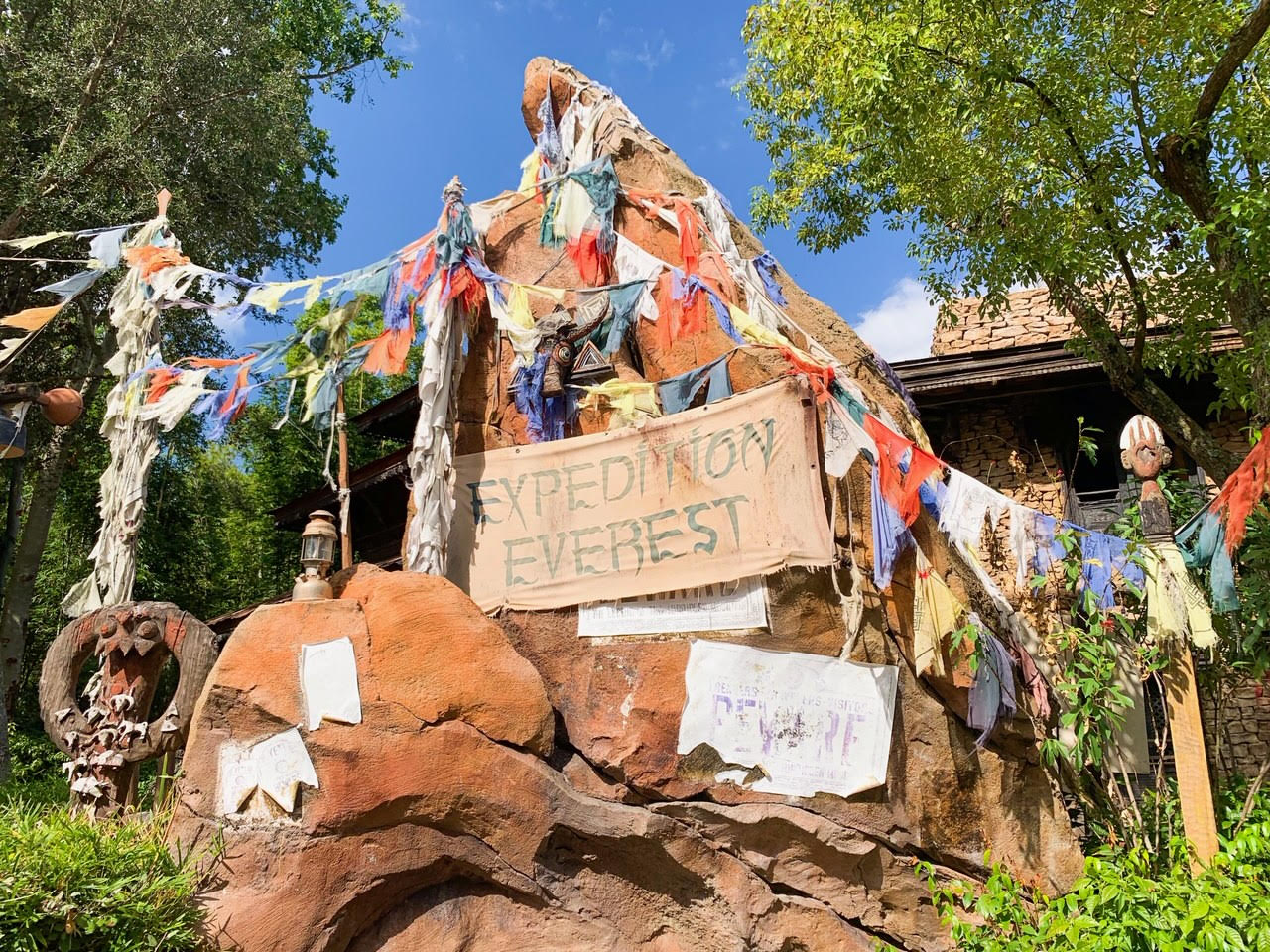 5. Test Track. Location: Epcot | Height Requirement: 40 inches
One of my personal favorites, Test Track is one of the few rides found at Epcot. Test Track is a simulation car design and test ride, so it has a bit more fun than a standard ride because you actually get to design your car before you ride! This part is really fun for people of all ages and totally plays to those with a competitive side, as you can design your simulation car to outcompete others! This ride reaches top speeds of 66 MPH and is both indoor and outdoor.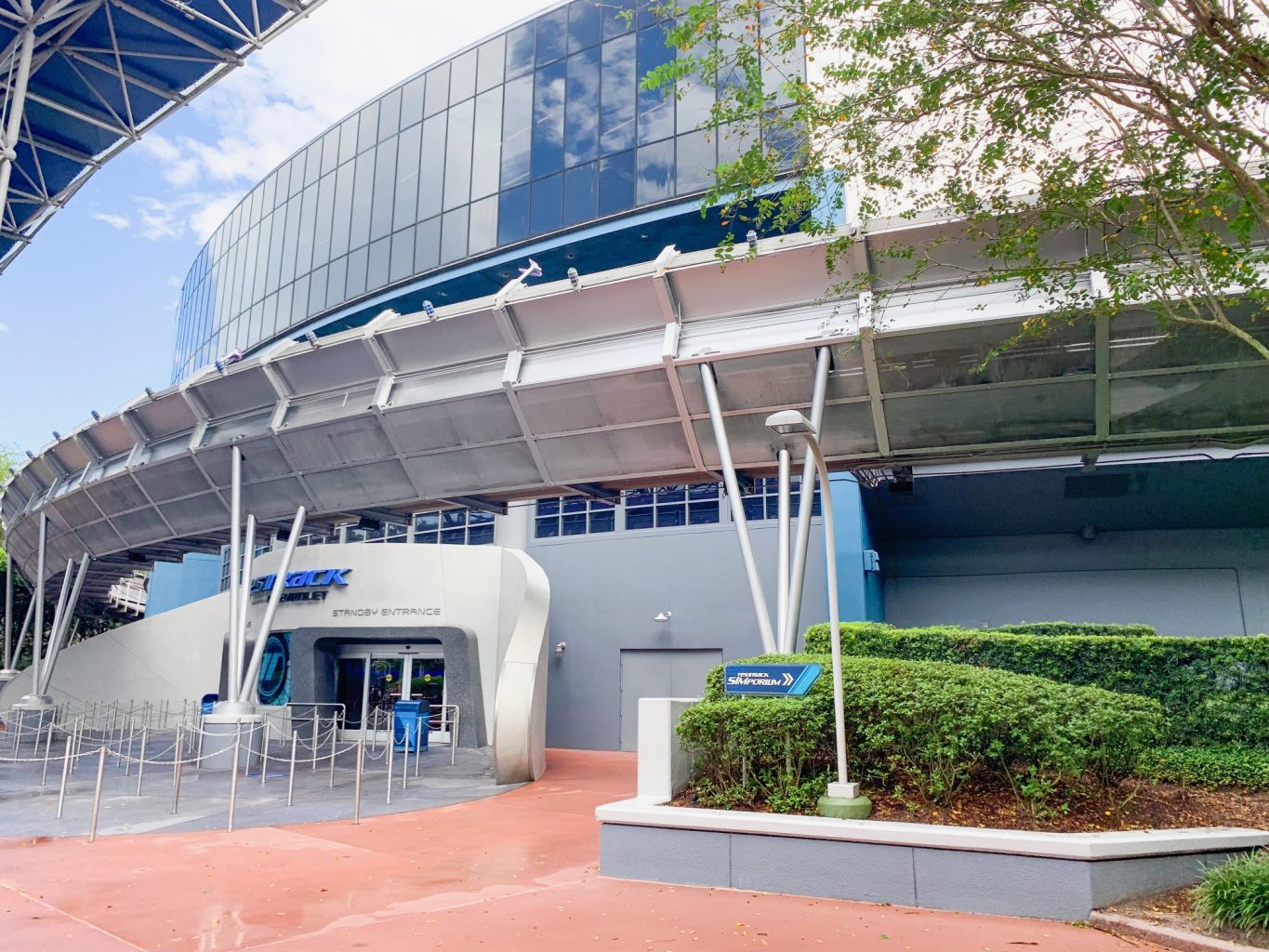 6. Space Mountain. Location: Magic Kingdom | Height Requirement: 44 inches
The classic! Magic Kingdom's Space Mountain is slightly different than Disneyland's, but the track is more or less the same. This indoor, almost completely dark roller coaster is a staple of any Disney trip and for good reason! No corkscrews, upside downs, or large drops so it's a great ride for those opposed to big thrill rides, but it still picks up speed whipping around corners and is SO FUN. Also, if you're interested in special-ticketed events such as Mickey's Not So Scary Halloween Party, Space Mountain often gets a holiday overlay during the party that makes it a bit more exciting!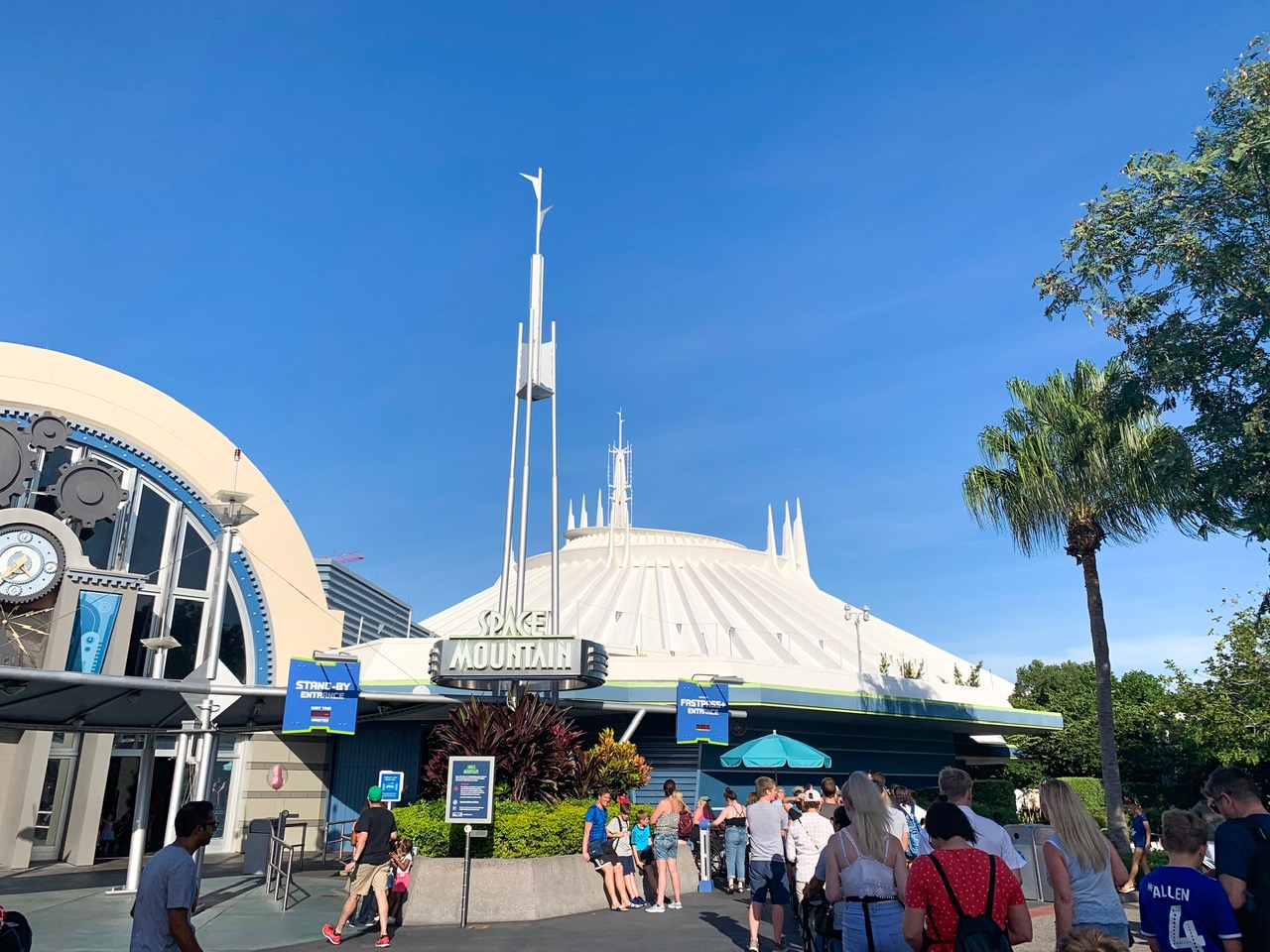 7. Tower of Terror. Location: Hollywood Studios | Height Requirement: 40 inches
Tower of Terror, the attraction themed to Twilight Zone inside the iconic Hollywood Tower Hotel, is a popular drop ride that takes you through scenes of the hotel with Twilight Zone playing heavily on what you see and hear. This ride is designed to be the elevator inside the hotel, but be careful! Those old elevators are not always trustworthy.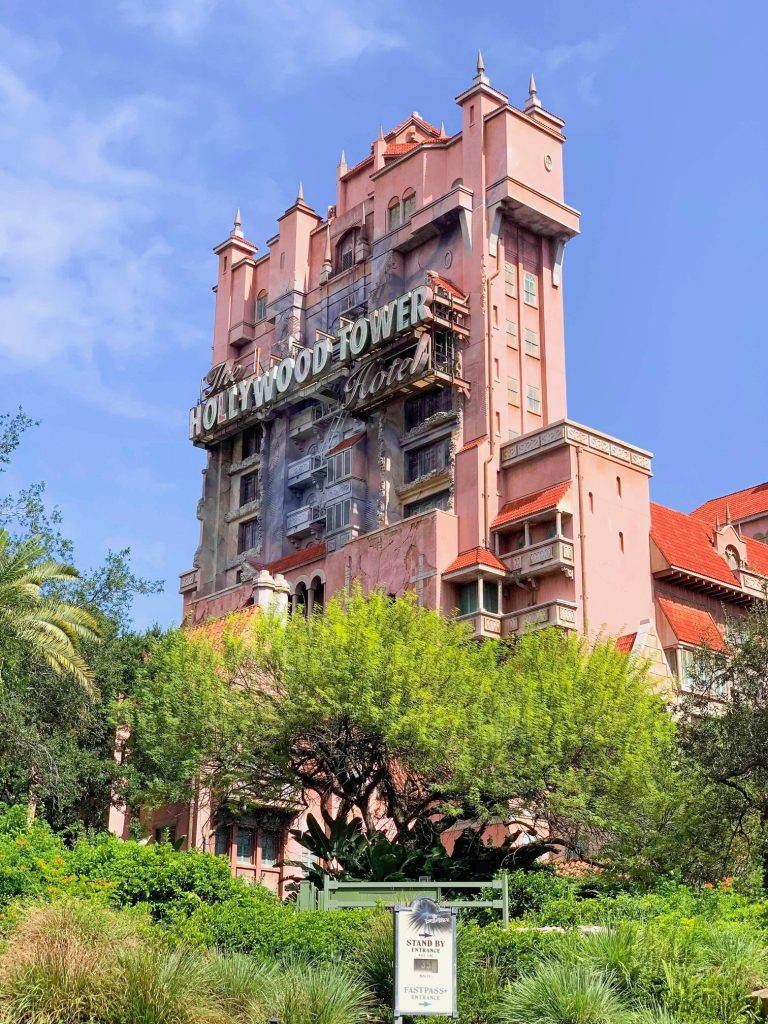 8. Splash Mountain. Location: Magic Kingdom | Height Requirement: 40 inches
Another classic Magic Kingdom attraction, Splash Mountain follows the antics of Brer Rabbit and Brer Fox as they play cat and mouse throughout the Briar Patch! Parts of this ride definitely appeal more to small kiddos, with AudioAnimatronics telling the story of the animals and the iconic song Zip A Dee Doo Da playing at the end, but rest assured, it's still a great pick for my adult Disney fans! This is a water ride, so it's a great refresher on a hot Disney day, and that drop is no joke!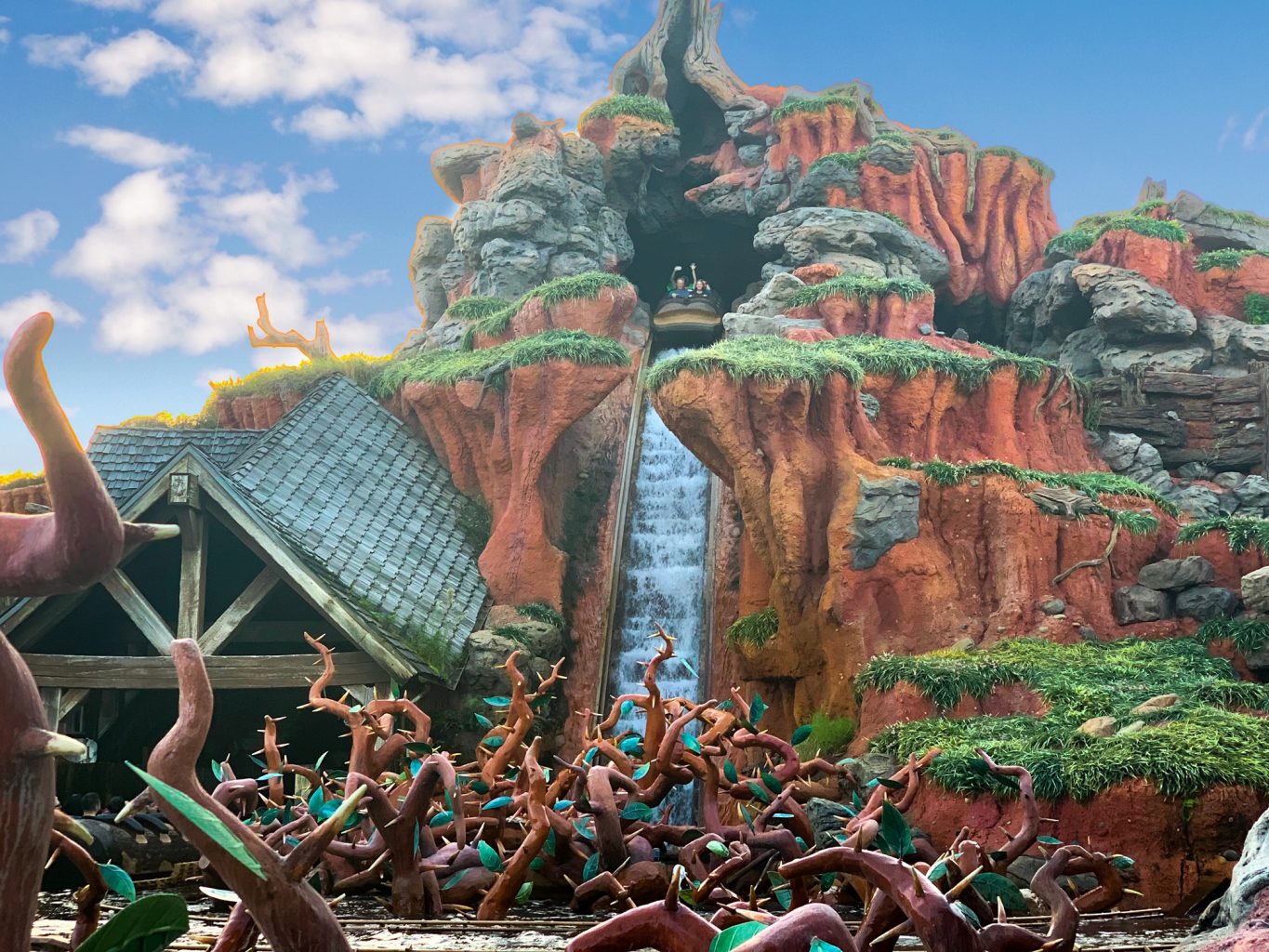 9. Soarin' Around the World. Location: Epcot | Height Requirement: 40 inches
Soarin' is another simulation ride, "hosted" by the lovable Patrick Warburton (also known as Kronk!) and is themed as a flight to show off some of the greatest spots around the world. On Soarin' you'll get to see sights such as the Eiffel Tower, the Pyramid of Giza, and the Great Wall of China; as well as natural wonders such as polar bears, humpback whales, and elephants! It's definitely not a thrill ride, but it is a fun one and is a great way to cool off in the midst of a hot day.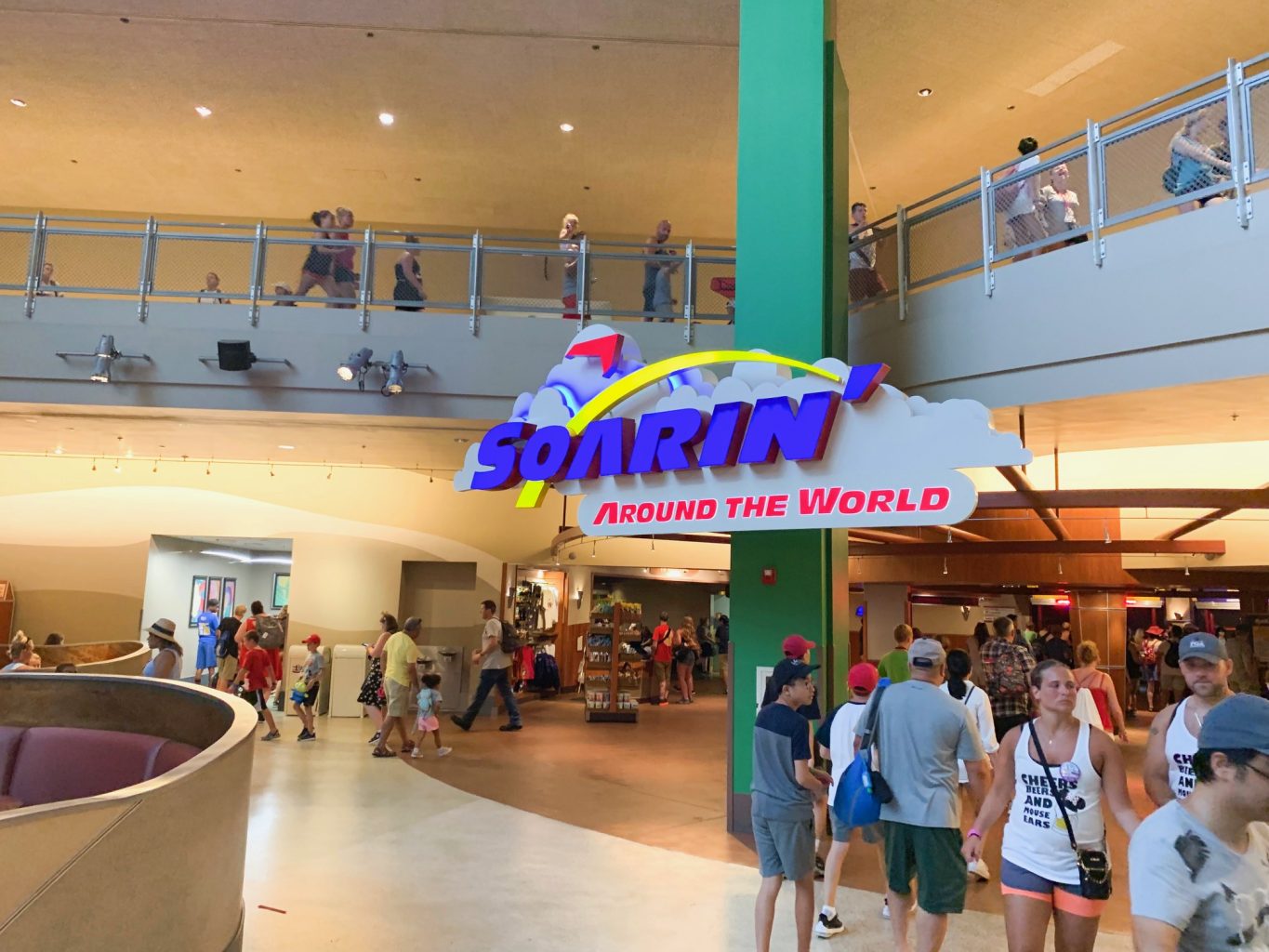 10. Toy Story Mania. Location: Hollywood Studios | Height Requirement: None
Toy Story Mania in Hollywood Studios is identical to Midway Mania at Disneyland's California Adventure park. This ride is interactive, meaning your ride car carries you through the building to different digital carnival-style games, where you compete with your seatmate to win high scores! This ride is really fun but is EXHAUSTING for your arms!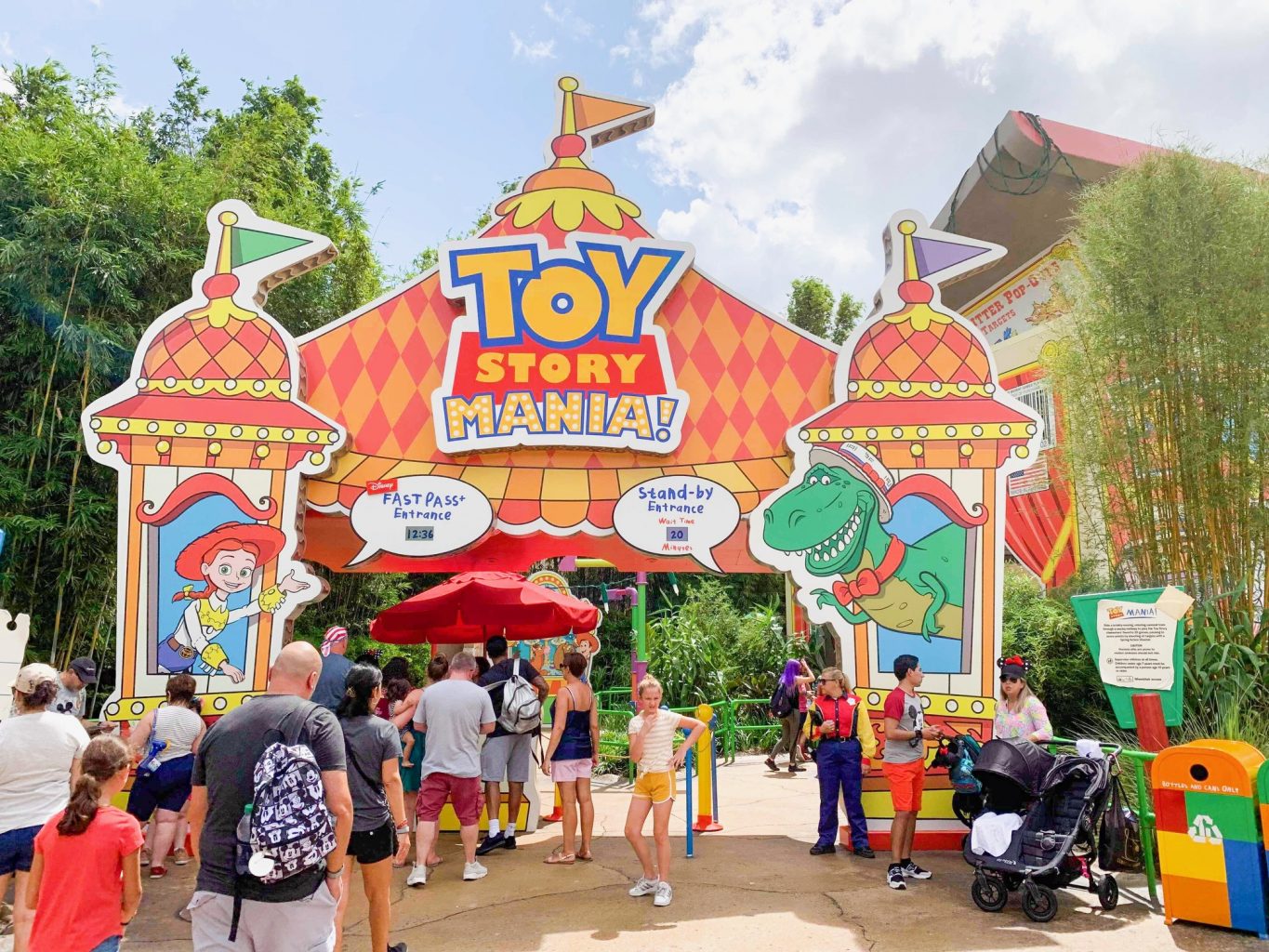 Best Drinks at Disney World for Adults
All right, I know many of my adult Disney fans have been waiting for this! We've covered our food bases, but what about the drinks? Well, there are PLENTY to choose from, but here are some of my favorites.
Spiked Dole Whip – Tamu Tamu Refreshments, Animal Kingdom
This one is a classic! Those of you who love the refreshing Dole Whip snack have to try it spiked! It's still refreshing and full of that great pineapple flavor, but that sweetness is cut a bit by the liquor! This is a great summer beverage.
Avocado Margarita – La Cava Del Tequila & La Hacienda de San Angel, Mexico Pavilion at Epcot's World Showcase
Okay, bear with me. This one sounds strange, but the avocado margarita at Epcot Mexico is actually AMAZING. Avocado has such a mild flavor, but the texture adds a bit of creaminess to this drink and then there's a splash of melon liqueur for flavor! This is a really delicious and exciting twist on a classic margarita that I highly recommend wandering inside the Mexico Pavilion for.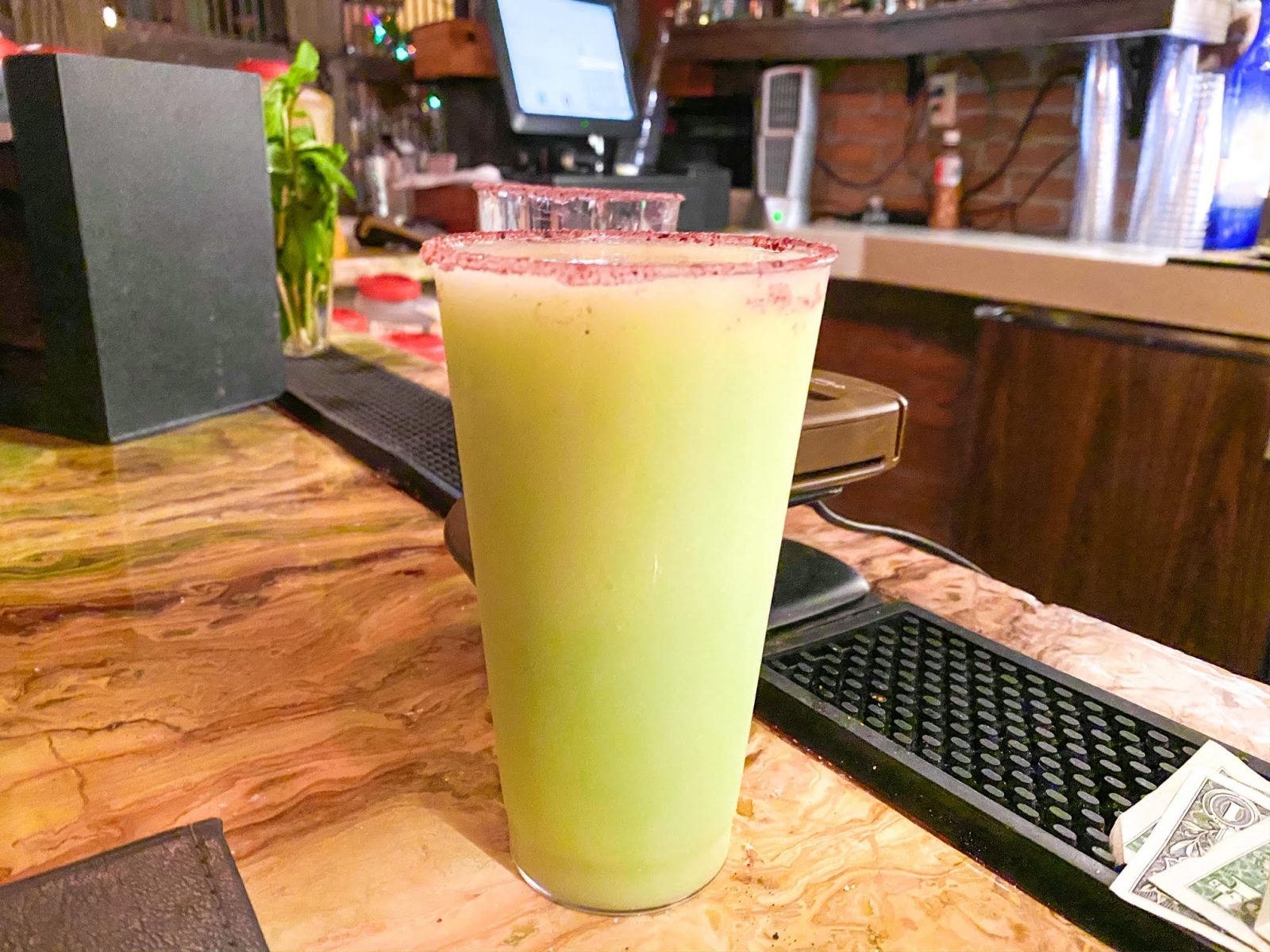 Violet Sake – The Garden House, Japan Pavilion at Epcot's World Showcase
Those of you who love sugar, you have to check out Epcot Japan's Garden House. There are a few drinks at this stand and almost never any line, but they're all delicious. People rave about the violet sake, though it's a bit sweet for my tastes!
Margaritas – Choza de Margarita, Mexico Pavilion at Epcot's World Showcase
You can never go wrong with a classic! The Mexico pavilion, of course, has a full stand dedicated to margaritas and they are a great way to start your stroll around the world. This stand has both classic and frozen margaritas, in flavors such as lime, mango, and even something spicy! You can even get multiple flavors in one cup!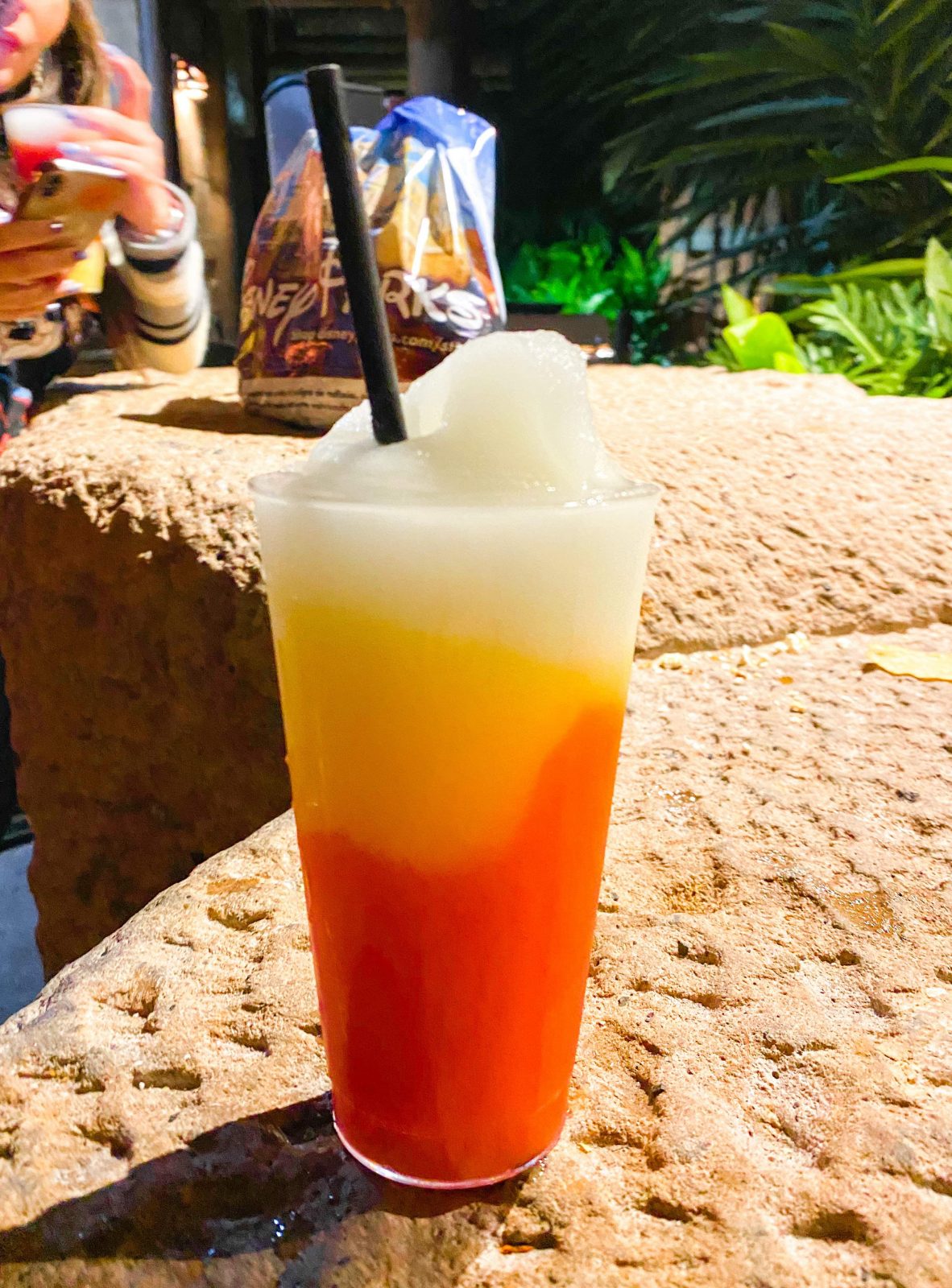 Snakebite Beer – Rose & Crown Pub, UK Pavilion at Epcot's World Showcase
The Rose & Crown in the UK Pavilion is of course home to Epcot's best beer options! However, what's exciting here isn't just the beer but the mixed beer drinks such as the Snakebite. The Snakebite is half beer and half cider, which may sound weird, but is actually really good.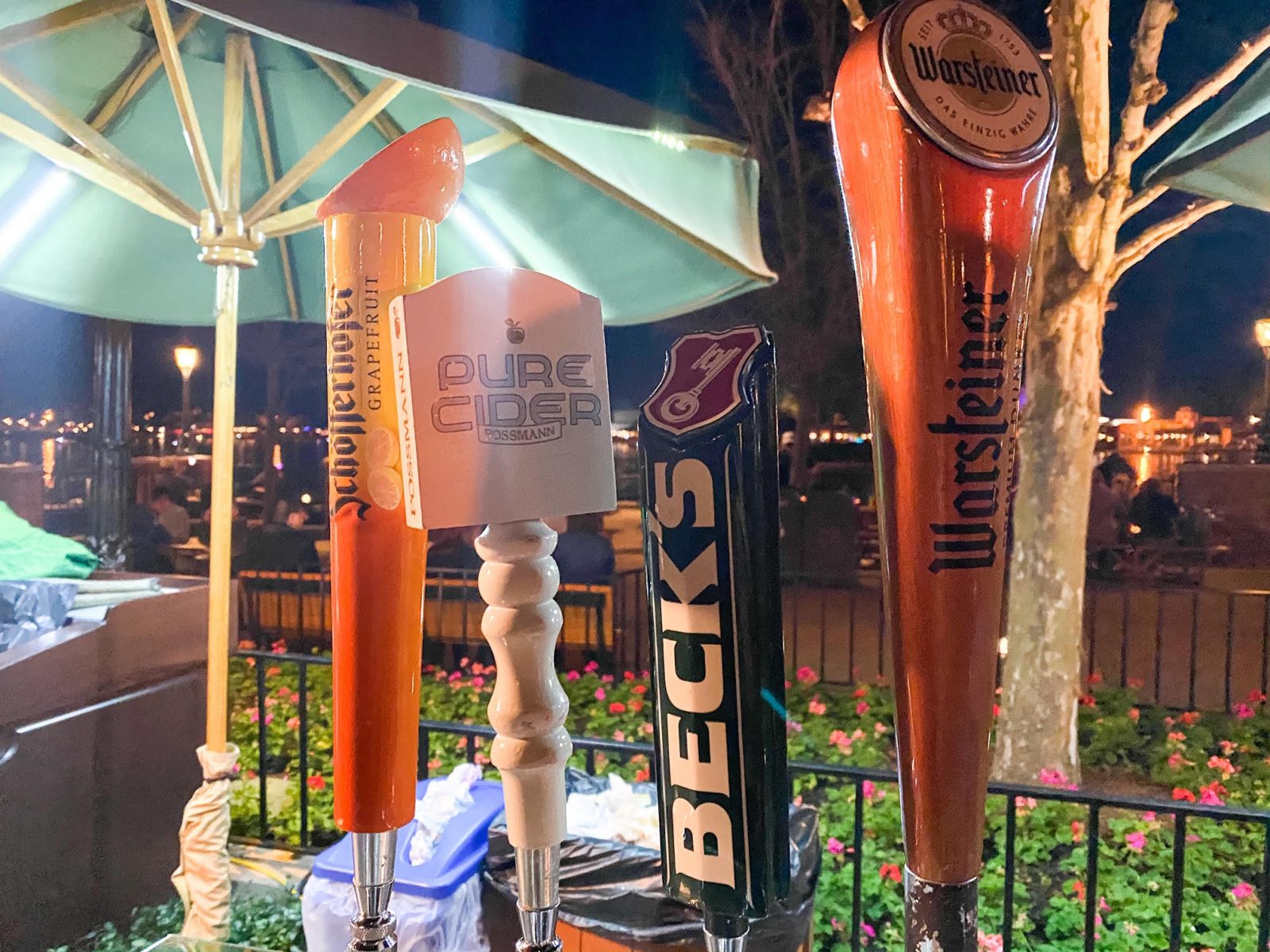 Nautilus – Trader Sam's Grog Grotto, Disney's Polynesian Village Resort
Trader Sam's is a really fun and exciting bar at the Polynesian Village Resort! The Nautilus is a must-have drink based on the glass it's served in, honestly, but the drink itself is amazing too! It's actually made to serve two people, so you can either share it or REALLY enjoy your time. Plus, ordering the nautilus is an absolute must because of the special reactions that happen when you do! No spoilers, but definitely enjoy this hefty tropical drink!
Rum Blossom – Pongu Pongu, Animal Kingdom
The Rum Blossom is another great drink inside of Pandora: The World of Avatar at Animal Kingdom. This is one of my personal favorites! It's a layered slushy drink topped with bursting boba and great tropical flavors! It is a sweeter drink, but I actually find that it's not TOO sweet and is so refreshing for a day in Animal Kingdom, which can get super hot.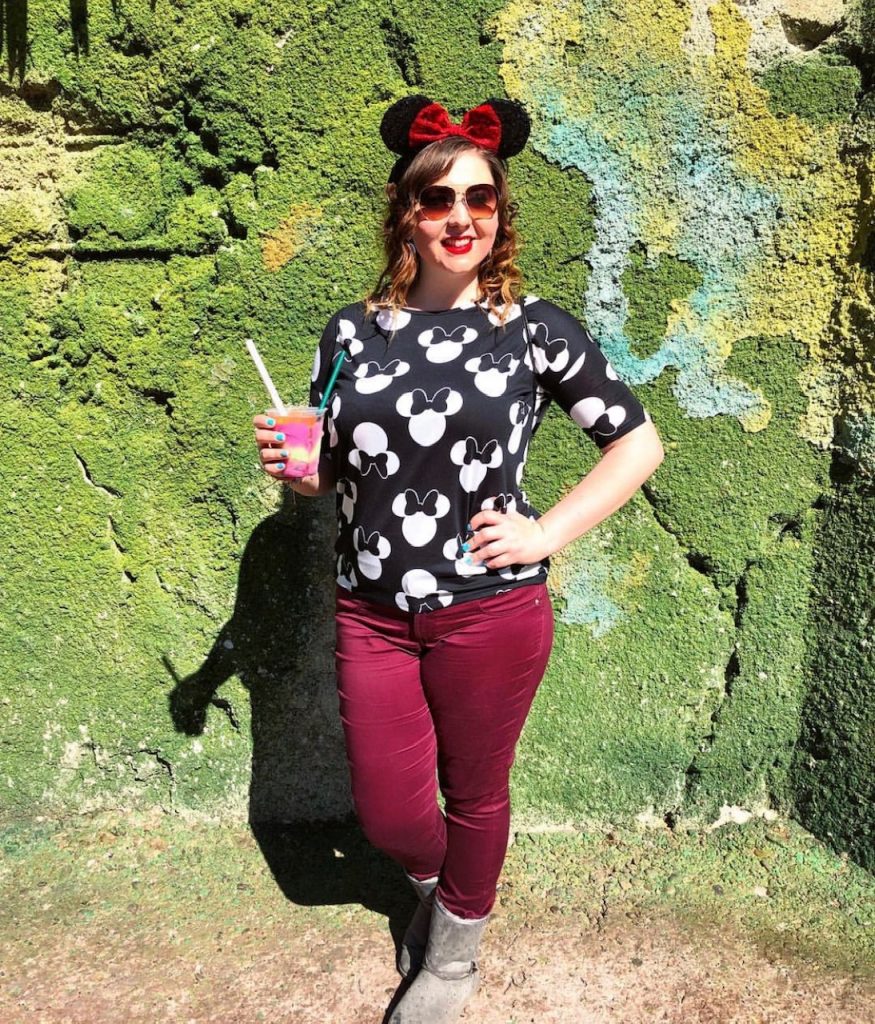 Epcot Wine Walk
Everyone loves a good wine stroll and Epcot has you covered! Obviously you can drink your way around the world any way you want, but if you're wanting to drink wine the whole way, the Wine Walk may be perfect for you. This stroll will cost you about $30 (prices may change!) and it gets you two refillable wine glasses and six 2oz. pours of wine, two from Germany, Italy, and France. It's designed to be a two-person activity but you can really do this any way you want!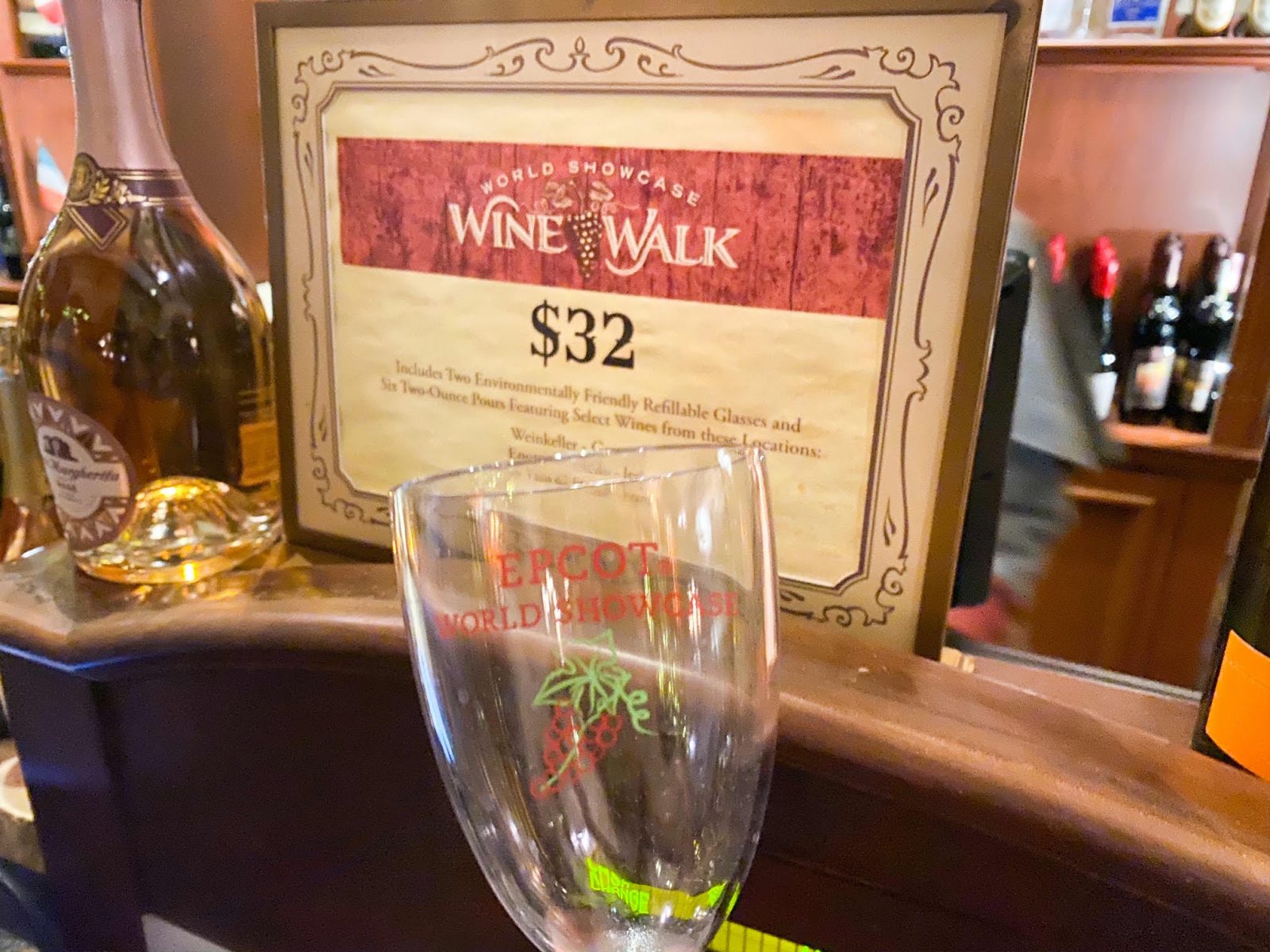 Best Spas at Disney for Adults
Disney for adults is more than just eating and drinking! If you want to really relax by booking a spa treatment, they've got you covered! Note that some spas are more gyms that may have saunas and plunge pools, but some are full-service spas with treatment options like massages, body wraps, and more! Plus, if you book a spa treatment, you get to access the full spa facility for as long as you want, so plan for that!
The full-service spas are Mandara (Dolphin Hotel), Senses (Grand Floridian), Senses (Saratoga Springs), Ship Shape (Yacht Club), and Zahanati (Animal Kingdom Lodge). For reservations, call 407-939-7727 or 407-WDW-SPAS.
La Vida Health Club (Massage/Salon/Fitness) – Disney's Coronado Springs Resort
Mandara Spa – Walt Disney World Dolphin Hotel
Muscles & Bustles Health Club – Disney's BoardWalk Villas
Old Key West Exercise Room – Disney's Old Key West Resort
Olympiad Fitness Center – Disney's Contemporary Resort
Senses – A Disney Spa at Disney's Grand Floridian Resort
Senses – A Disney Spa at Disney's Saratoga Springs Resort
Ship Shape Massage Salon Fitness – Disney's Yacht Club Resort
Sturdy Branches Health Club – Boulder Ridge Villas at Disney's Wilderness Lodge
Survival of the Fittest Fitness Center – Disney's Animal Kingdom Villas – Kidani Village
Zahanati Massage & Fitness Center – Disney's Animal Kingdom Lodge
Best Non-Park Activities for Adults at Disney
Believe it or not, there is so much to do at Disney World beyond the parks and you don't even have to stay at your resort! I highly recommend spending some quality time at Disney Springs. The renovation is beautiful and it makes for a great stroll!
My top recommendations for an adult Disney vacation outside of the theme parks are:
Monorail Loop Bar Crawl
Golfing
Boat Rentals
Monorail Loop Bar Crawl
The Monorail Loop includes Disney's Contemporary Resort, the Polynesian Village Resort, and the Grand Floridian Resort. The monorail connects them to each other and Magic Kingdom! This is a popular way to do a Disney bar crawl because each resort has gorgeous and detailed bars and lounges with great menu items that are very unique! This is a great way to try out Trader Sam's at Polynesian, and hopping on and off the monorail to get to each resort is so easy!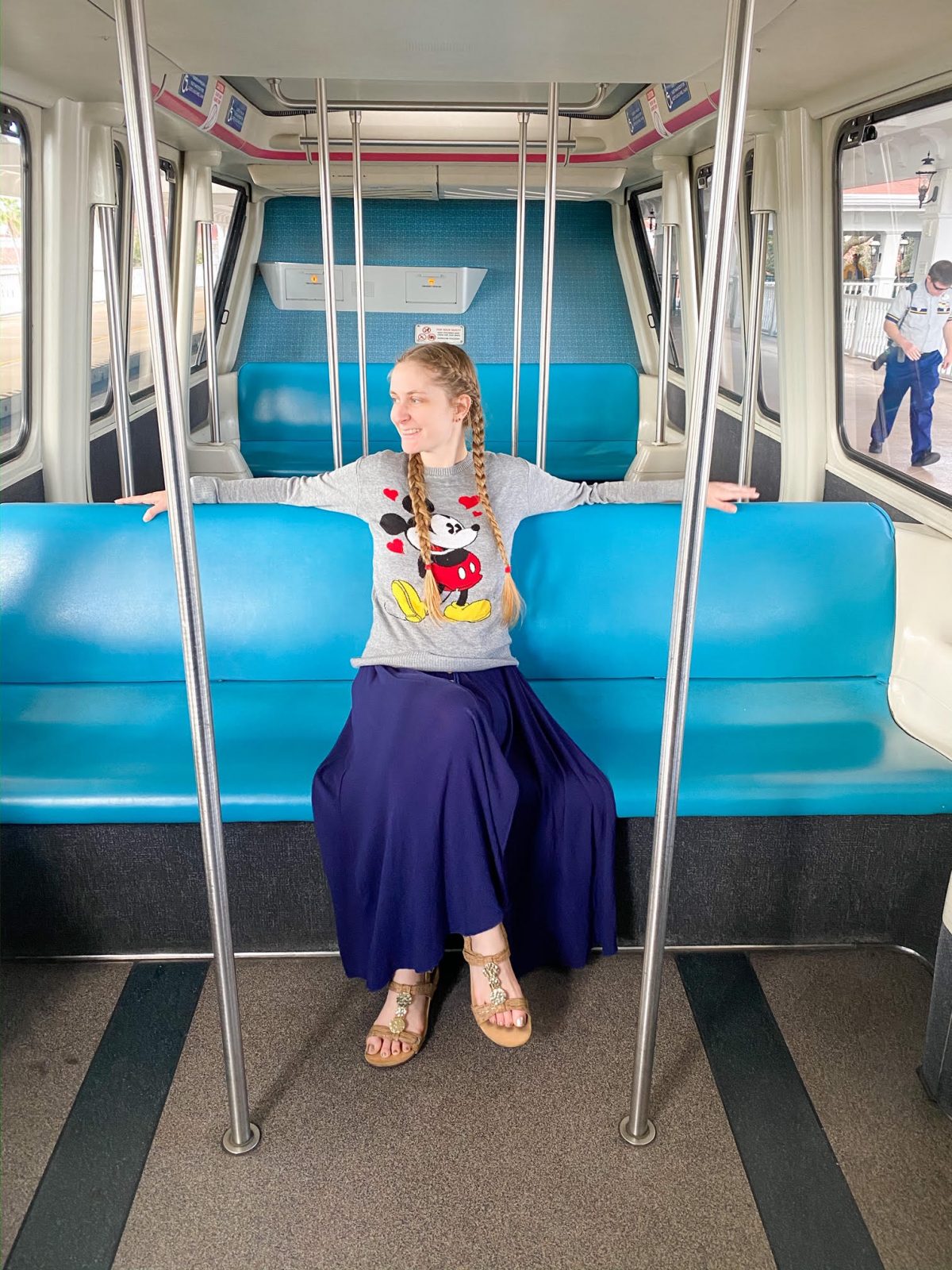 Golfing
Disney has four full size, 18-hole golf courses on property: Disney's Palm Golf Course, Magnolia Golf Course, Lake Buena Vista Golf Course and Oak Trail Golf Course. They are stunning! You do need to call ahead to book a tee time, but they usually have a good variety of options. The courses do have club rentals so you don't need to worry about lugging yours along for the trip (unless you want to!). Bonus is that the courses are very serene and don't have crowds or kiddos the way the rest of Disney does.
Boat Rentals
If you love being on the water, I highly recommend checking out the boat rentals at Disney. You can rent a powerboat to take out on the lagoon for some time on the water or some fishing for the ultimate adult Disney vacation! If you don't want to pilot the boat, you can also go on a "Specialty Cruise" to watch fireworks, have food and drinks, or be chauffeured around Disney's gorgeous waterways. Here's the full list of marina locations:
Bay Lake Tower at Disney's Contemporary Resort
Disney's Beach Club Resort
Disney's Beach Club Villas
Disney's Contemporary Resort
The Cabins at Disney's Fort Wilderness Resort
The Campsites at Disney's Fort Wilderness Resort
Disney's Grand Floridian Resort & Spa
Disney's Polynesian Village Resort
Disney's Polynesian Villas & Bungalows
Disney's Wilderness Lodge
Disney's Yacht Club Resort
The Villas at Disney's Grand Floridian Resort & Spa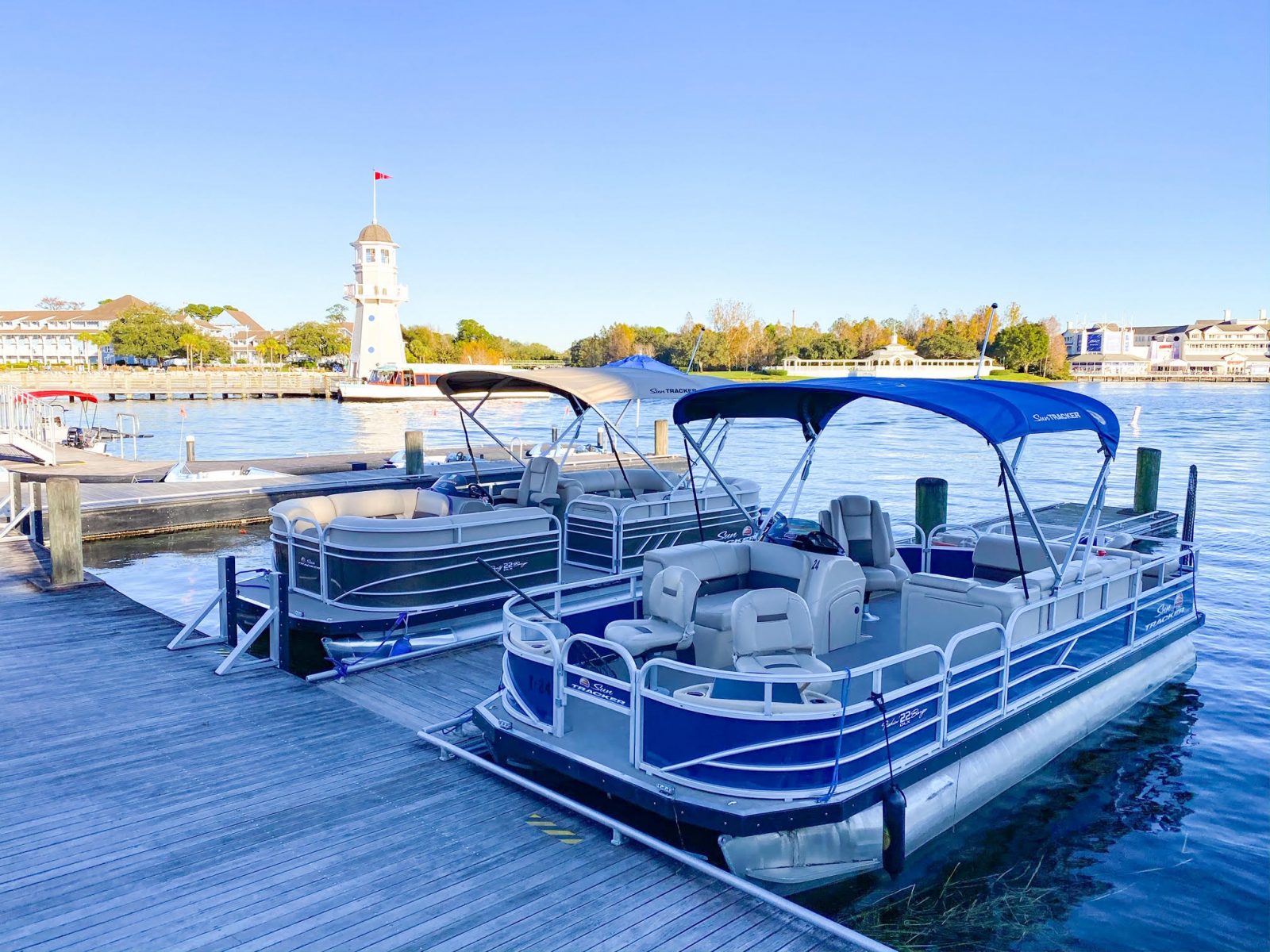 Special Tours at Disney for Adults
Disney offers a lot of great tours throughout the theme parks and they are the perfect experience for adult Disney fans! There are so many different tours so you can easily find one that fits your interests. You do have to call to book these tours in advance, so be sure to plan for this if it's something you're interested in!
The current tours available at Disney World are:
Backstage Magic
Behind the Seeds
Disney's Family Magic Tour
Disney's Keys to the Kingdom Tour
Disney's The Magic Behind Our Steam Trains Tour
Private VIP Tours
Taste of Magic Kingdom Park VIP Tour
The UnDISCOVERed Future World
Ultimate Day of Thrills VIP Tour
Ultimate Disney Classics VIP Tour
Ultimate Nights of Adventure VIP Tour
Up Close with Rhinos
Walt Disney: Marceline to Magic Kingdom Tour
World Showcase: DestiNations Discovered
Wild Africa Trek
My favorite tours are Keys to the Kingdom, Behind the Seeds, and the Wild Africa Trek! But be sure to review them all so you can determine what will be best for you. Plus, these tours are great fora Disney for adults trip because there are rarely young kids taking part in them!
Keys to the Kingdom
Keys to the Kingdom is a five-hour walking tour to show you all the magic of Disney World's Magic Kingdom. It's very informative but also interesting and exciting and those of you who love Disney are sure to love learning all this behind-the-scenes magic of the iconic theme park. My favorite part? The Utilidoors! On this tour, you'll get to actually use the secret underground passages used by cast members!
Wild Africa Trek
This tour is a three-hour walking and ride-along tour at Animal Kingdom's safari! If you love riding Kilimanjaro Safaris in Animal Kingdom but just want MORE, then this tour is perfect for you. You'll get to drive the savanna in a much smaller vehicle, allowing you to get even closer to the animals! This tour also includes food, so be sure to plan accordingly to enjoy those tasty bites!
Behind the Seeds
Behind the Seeds is a bit less invested than Keys to the Kingdom, but this one-hour walking tour is still awesome! This tour is at Epcot in the Land Pavilion. Have you ever been on the attraction Living with the Land? That's the idea of Behind the Seeds! Behind the Seeds walks you through Epcot's greenhouses and fishery to get to see all the magic and sustainable efforts put into producing food and conducting research at Epcot. Plus you might even get to taste some of the fresh vegetables grown there!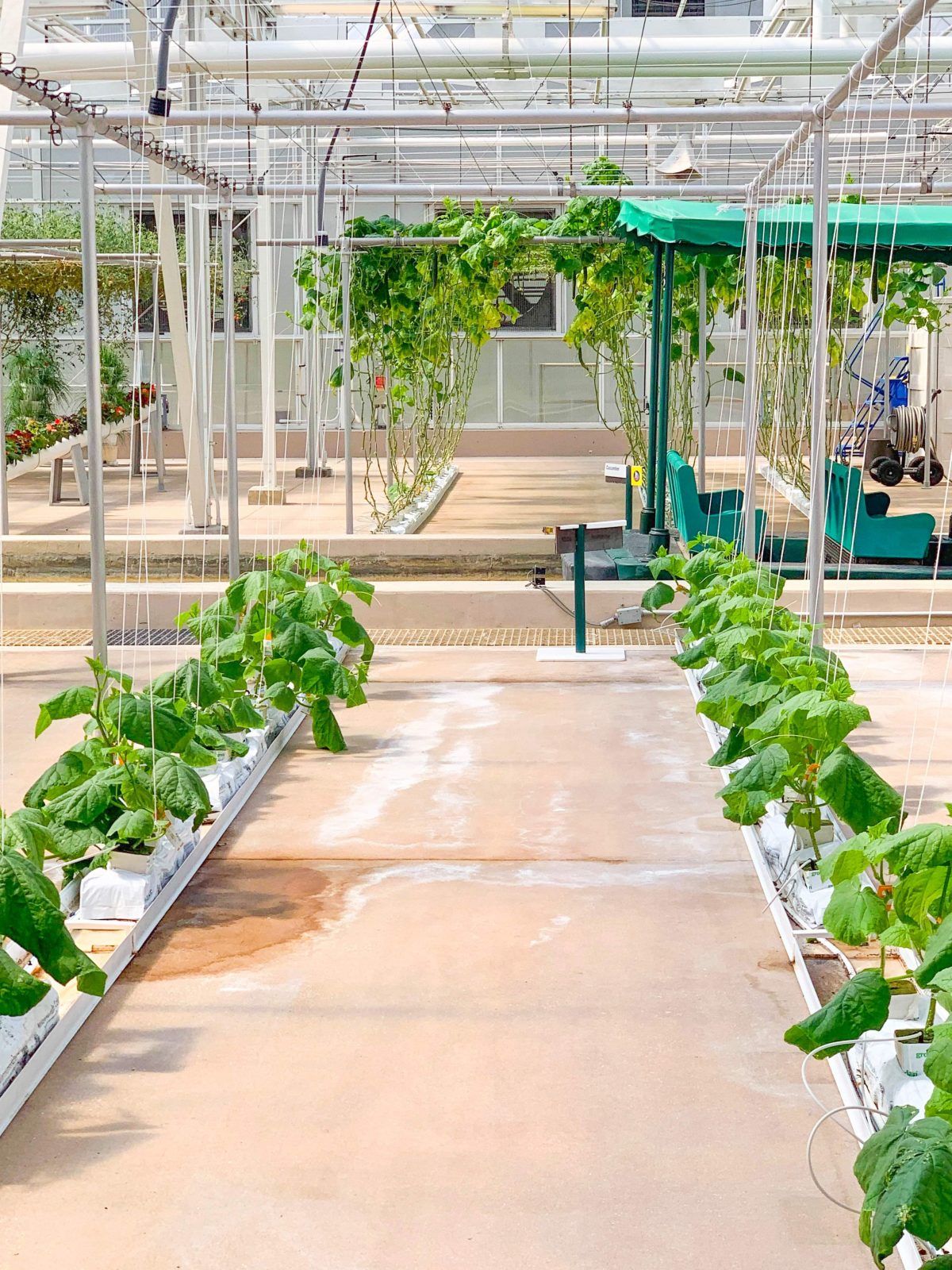 All right my adult Disney fans, consider yourselves officially READY to take on Disney for adults! I hope you're excited because there's so much to do, both family-friendly and not quite, that'll make your adult Disney vacation your favorite one yet! Remember, it's YOUR vacation- make it what you want!
Pin this post: