Are you searching for the best Disney Springs Bars for your trip? Look no further! If you are unfamiliar with Disney Springs, it is an outdoor shopping, dining and entertainment center near Orlando, Florida. When visiting Disney World, it is imperative you spend some time checking out Disney Springs nightlife. With over a dozen Disney Springs bars, you may be thinking, where do I even start?
We have broken down the top best (and worst) Disney Springs bars to make your trip simple! After a long day in the Disney parks, you may be longing for some adult-friendly spots for dining, drinks, and emtertainment. Luckily, Disney Springs nightlife offers many different themed bars which cater to anyone's mood! Not to mention, they are all located on Disney Springs property, making them a short walk from one another.
If you are staying on Disney Property at a hotel/resort such as All Star Movies, Pop Century, etc, you can even use the Disney Bus Transportation to take you to and from Disney Springs until 2:00 a.m! If you have the time on your trip, it is definitely worthwhile to stop by and check out the Disney Springs bars mentioned below!
We know everyone has different likes and dislikes (especially when it comes to drinks), so we made a detailed list of our favorite bars in Disney Springs. From themes to drinks, these are all different, yet we are sure you will love them just as much as we do! Now, let's dive into the magical world of Disney Springs nightlife!
Don't forget to Download The Official Disney Springs Map to make your experience more enjoyable and easier to understand. Let us help you navigate throughout your Disney Springs nightlife adventure!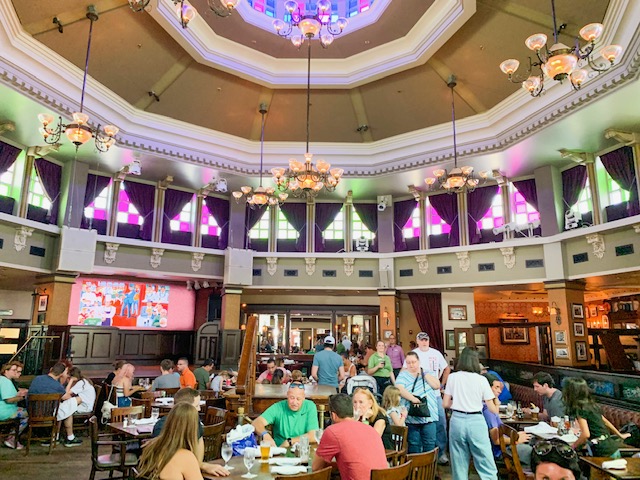 10 Best (And Worst) Disney Springs Bars
The Boathouse
Did someone say THREE bars in ONE location?
The Boathouse, as you may infer from the title, is a waterfront restaurant at Disney Springs which offers seafood cuisine, and is one of the top places to visit when adventuring into Disney Springs nightlife. The Boathouse is notorious for not only its great food, but its great drink menu!
At The Boathouse, you can get anything from Coconut Mojito to an Old Fashioned, at three different bars inside the Boathouse, called: The Captain's Raw Bar, The Admiral's Club Bar, and The Dockside Bar. In addition, you can watch the sunset over the lake and enjoy retro dream boats, a romantic water taxi, and vintage amphicars while you read over the bar menus or plan your next stop exploring Disney Springs nightlife.
This bar gives you a relaxing lake-themed night out, perfect for anyone who enjoys good views and good drinks. The Boathouse is definitely a must-stop in terms of Disney Springs nightlife. It is an experience within itself and a great way to kick off your night in Disney Springs!
This is one of the Disney Springs bars that anyone can enjoy. With the waterfront theme, it gives way to the beauty of Florida. It truly is such a dreamy spot to visit amongst all of the Disney Springs bars. That's why we put it at the very top of our list!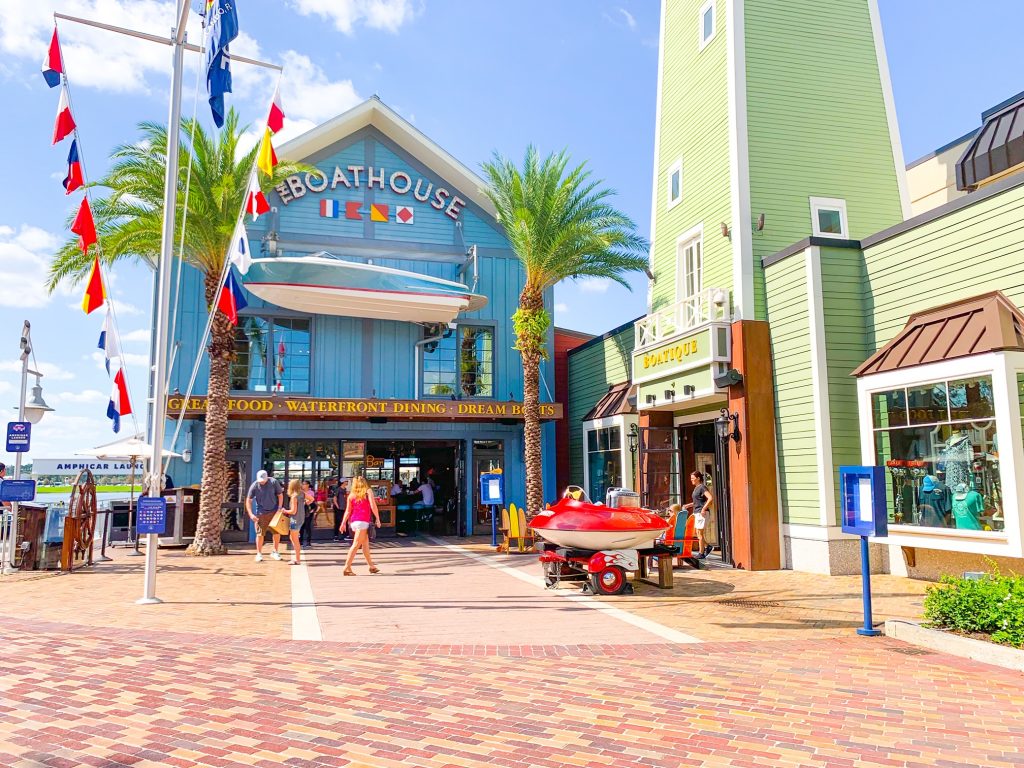 The Edison
Perfect if you want LOTS of unique entertainment!
The Edison is a gothic-style restaurant and bar at Disney Springs and is a high-ranker in terms of Disney Springs bars. At The Edison, you can enjoy American cuisine, cocktails and unforgettable live entertainment. After 10:00 p.m., The Edison comes to life for Disney Springs guests 21+, offering entertainment such as stilt-walkers, DJs, and live bands.
Appearance wise, there is so much to take in. From an outstanding staircase to vintage clocks, textured walls, tall ceilings and long curtains, it truly captures the essence of its industrial-gothic theme. Hues of browns and blacks are brought to life by tones of red and gold, creating a perfectly balanced ambiance. It's like stepping into a whole new world!
They even offer themed nights, such as Masquerade, Havana Nights, and 1920s! The bar menus at The Edison offer the following categories of drinks: vintage cocktails, mocktails, old fashioned's, signature cocktails, sodas, and another large selection for those who enjoy beers and ciders.
The Edison doesn't stop there, though! They also have an extensive wine menu and spirits like vodka, whiskey, scotch, gin, tequila, cognac, and MANY, many more, making it a crowd-pleaser for literally anyone in your group!
PS: You may want to check The Edison's website for upcoming events as some of them are private and require you to purchase tickets!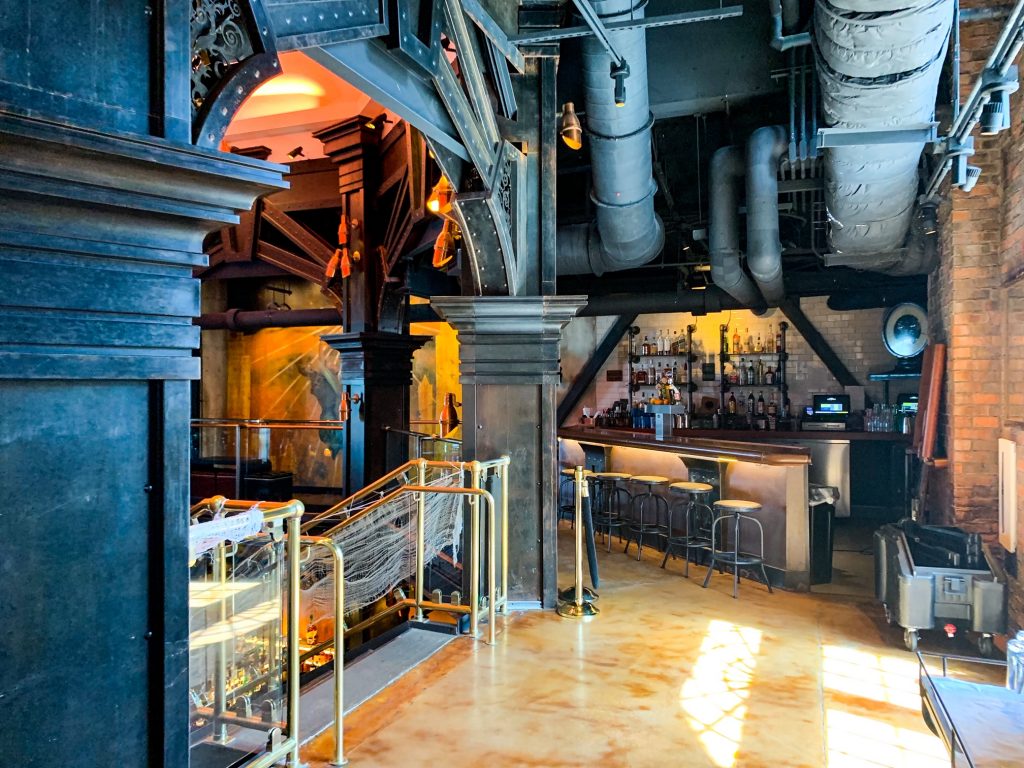 The Forbidden Lounge – Morimoto Asia
PS: There is a secret entrance!
Morimoto Asia is an upscale dining restaurant at Disney Springs which serves Pan-asian cuisine, sushi, steaks, etc. Open until 2am, The Forbidden Lounge on the second floor of the popular dining spot offers late night dining and drinks for those who dare to enter into the magical world of Disney Springs nightlife.
Find the hidden entrance along the side of the building to enjoy wines, draft beers, and specialty cocktails such as "Smoked Manhattan," Forbidden Lounge Highball," "Bee's Knees," and "Kinjyo Cocktail." In addition to these options from the bar, they also have a sushi bar on the second floor!
The Forbidden Lounge is a favorite when visiting Disney Springs bars because it not only immerses you in an exciting culture with delicious food and drinks, but it has a mysterious element to it, and who doesn't love a good mystery? Not to mention, the lighting fixtures here are truly breathtaking! It's hard to pick a favorite aspect of this Disney Springs bar because there is so much to love!
Here is your friendly reminder, don't forget to try out the secret entrance!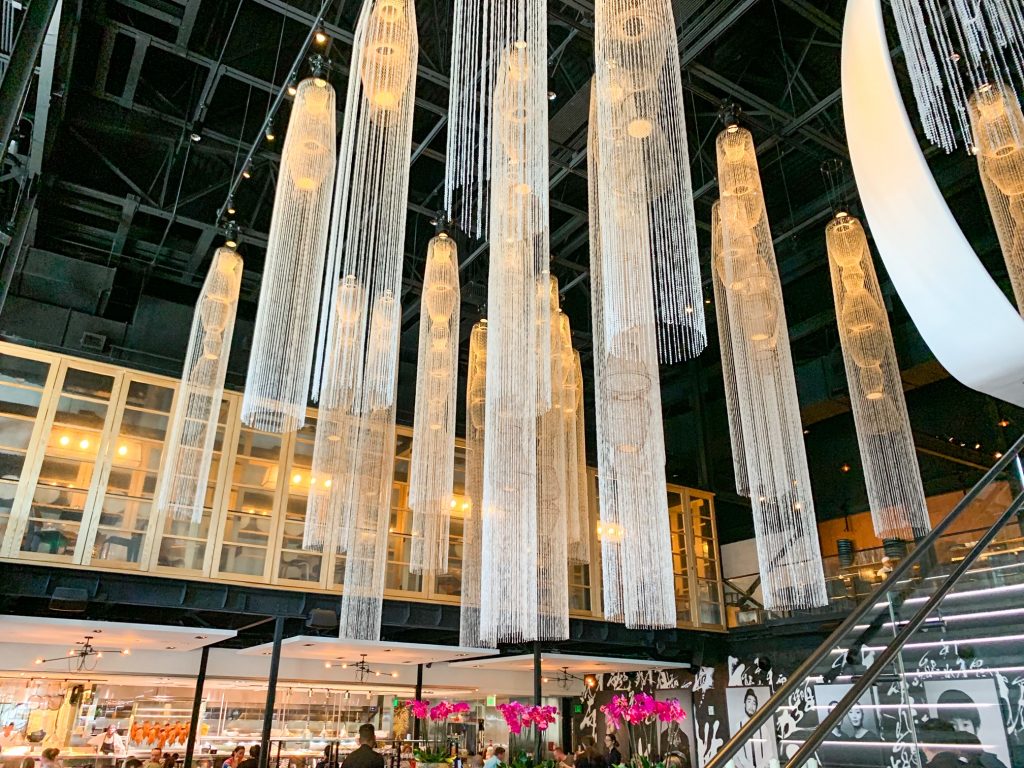 Enzo's Hideaway
Step into Enzo's Hideaway and go back in time 100 years. Head down the runner tunnel under Maria & Enzo's restaurant to find Enzo's Hideaway, which includes a Tunnel Bar and outdoor patio. With a Prohibition-era speakeasy theme, Enzo's Hideaway is a must-visit on your Disney Springs bar tour.
Along with trying some of their Roman cuisine, the Tunnel Bar offers espresso drinks, speciality beverages and mocktails, family-style beverages (they come in pitchers!), "Giggle Water", white and red wines, and MORE! The Tunnel Bar is known for its swing music and humorous graffiti!
If you're looking for a place with an alluring ambiance and a drink for everyone in your party, this is the place for you! The architecture (inside and out) truly brings you back in time! It ranks high on our list!
Enzo's hideaway is a staple in the topic of Disney Springs bars for the unique theme and fun beverages on their menu. It exudes such a classical look, as if you're eating at an upscale restaurant. Bright lighting and open space makes you feel welcomed as you enjoy your night out, (or in, since it is a hideaway!)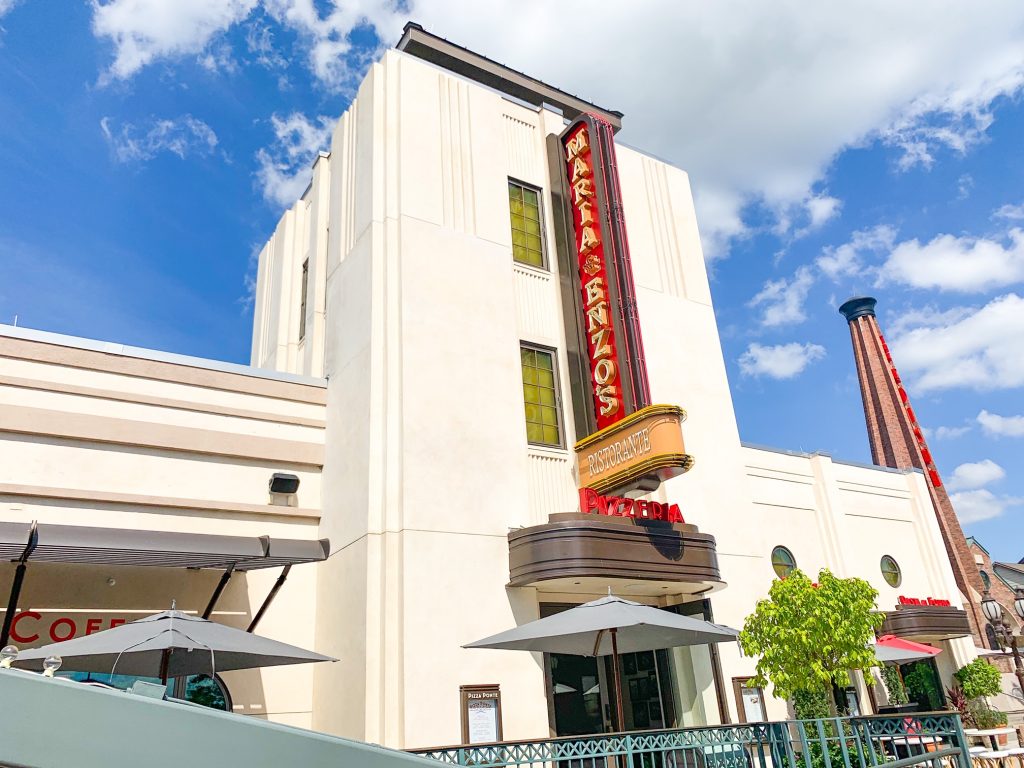 Paradiso 37
Welcome to Paradise!
This "hot spot" is another show-stopper in terms of Disney Springs nightlife. Paradiso 37 emphasizes its love for cultural diversity by offering daily celebrations in different themes such as those of North, Central, and South America.
Sunday Funday Brunch includes 2 for 1 mimosas and a Bloody Mary bar. Caribbean Mondays, Taco Tuesdays, Wine Down Wednesdays, Throwback Thursdays, Latin Fridays, and Salsa Saturdays offer various themed drink specials correlating to the culture of the place they are derived from.
Paradiso 37 also offers Social Hour every day, where they promote $5 margaritas, beer, and sangria from 3:00-5:00 p.m. If you're looking to be especially extroverted, additionally, from 5:00-8:00 p.m., they offer the same drinks for $7. This is a perfect afternoon spot!
The best part, however, is the palm tree accents they use to really bring in the theme of Paradise! Inside and out, you can find the subtle placing of the tree symbolizing paradise. They also offer outdoor seating, which gives way to a beautiful view of the lake and a perfect spot to watch the sunset.
Paradiso 37 is a place where everyone is welcome to kick back and enjoy your own paradise, whatever it may be to you!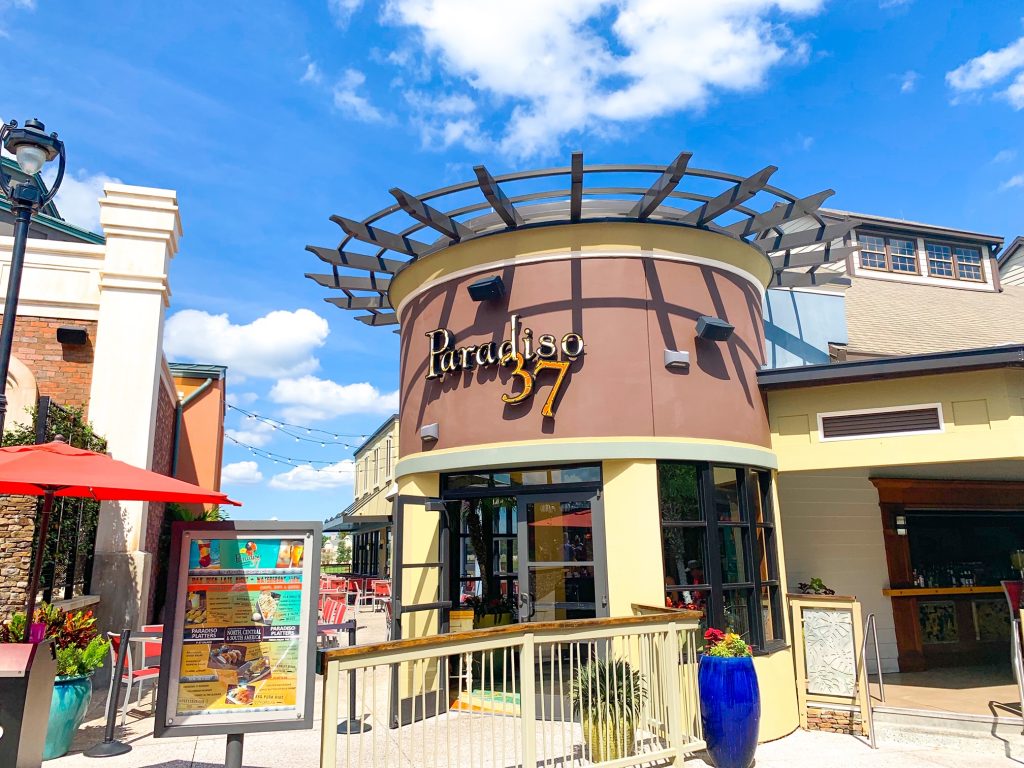 Raglan Road Irish Pub
For avid travelers who have visited Ireland, this is your spot if you're looking for the same feel as a real Irish Pub.
Frolic inside this Irish Pub for a truly unforgettable experience in Disney Springs nightlife. Featuring live music, modern cuisine and silky pints, this spot, which was actually built in Ireland and shipped to Orlando, has all y0u need for an unforgettable night out. If you are hungover the next day, Raglan Road is also a great place to grab Brunch At Disney Springs!
Named after one of the best-known streets in Ireland, Raglan Road captures the essence of Ireland and is yet another Disney spring bar with an extensive drink menu. With dozens of selections on their beer, whiskey, and wine menu, there's a drink for everyone to love here, Irish or not!
The inside of this Irish-themed pub is spectacular to say the least. From stained-glass appearing windows nearing the ceiling, marvelous light fixtures, and the amazing Irish dancers, you won't know what to feast your eyes on! This is just another part of Disney Springs magic – bringing different themes to life right before our eyes!
If in your travels at Disney Springs, you find yourself in the heart of Ireland, just stop, enjoy the music, and carry on.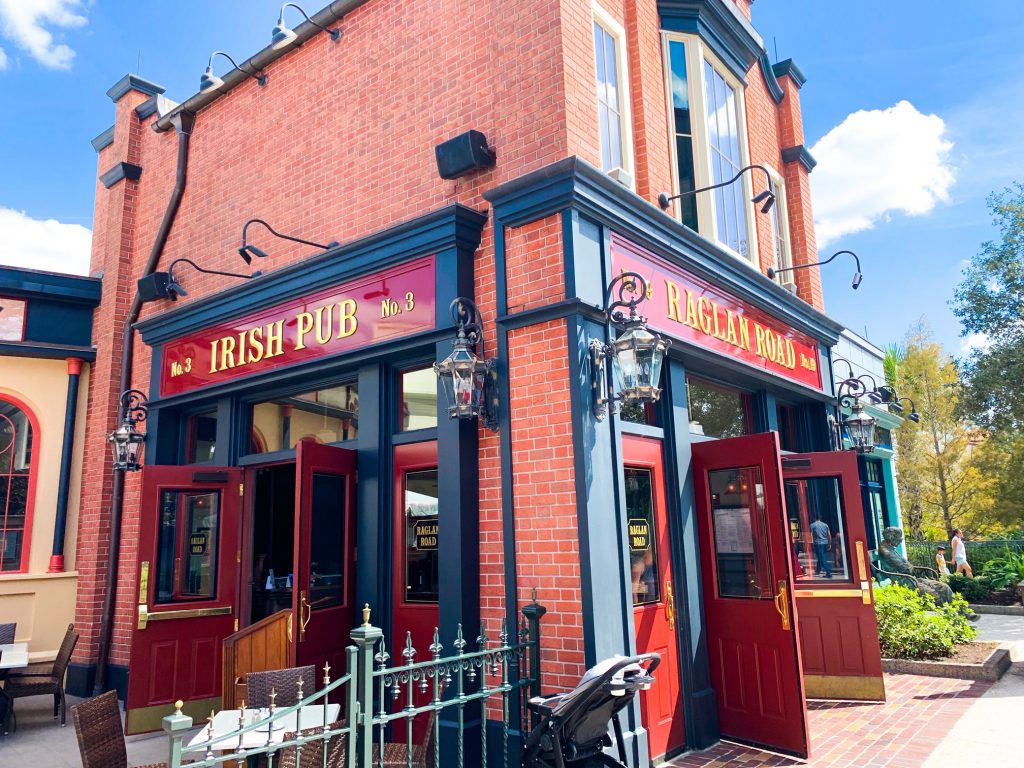 STK Orlando
Need I say, EXQUISITE!
STK Orlando makes the Disney Springs bars list due to its brilliant way to combine a modern steakhouse and chic lounge into one of the finest dining places in Disney Springs nightlife. The two story restaurant offers a DJ in the main dining room along with an indoor fire pit lounge and breathtaking rooftop terrace.
Their lounge is nothing short of spectacular, offering a social hour weekdays from 3:30-6:00 p.m. where you can get half off drinks. They offer the same deal Thursday-Saturday from 10:00p.m. to close. Their lounge menu also offers appetizer-style snacks to go with their themed cocktails like "Rendezvous" and Cucumber Stiletto," amongst a list of many others within the daring theme.
The inside of STK Orlando is an experience within itself. To say it's breathtaking is truly an understatement. Do yourself a favor and check out STK Orlando, one of the best Disney Springs bars, when you find yourself in the area!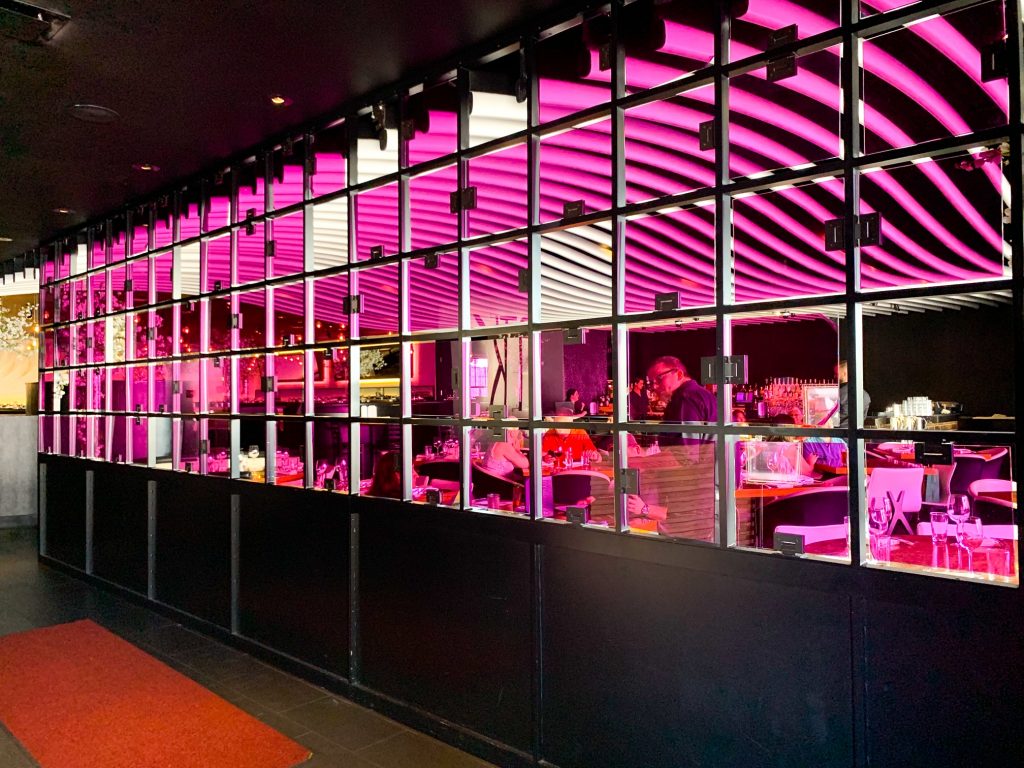 Jock Lindsey's Hangar Bar
Disney Springs Indiana Jones' themed bar!
First and foremost, does the name sound familiar? Jock Lindsey is a pilot and friend of Indiana Jones. The travels of Jones and Lindsey are portrayed in the 1940s aviation decor covering the walls of the bar.
In terms of the drink menu, you can expect their signature docility cocktails such as "Safari Sangrias" and "Wrong Islands!" Not to mention beer, hard cider, wines, and flights, of course! Jock Lindsey's Hangar Bar just opened in 2015 and is a popular attraction amongst Indiana Jones fans (and everyone else!)
The aviation theme is portrayed inside and out of the bar, from the brilliant architecture to the memorabilia placed seemingly perfect amongst the bar. Step inside and immerse yourself into vintage tools, gadgets, maps, flags, and a truly unforgettable experience at yet another one of our favorite Disney Springs bars. It should definitely be a connecting flight amongst your Disney Springs nightlife travels!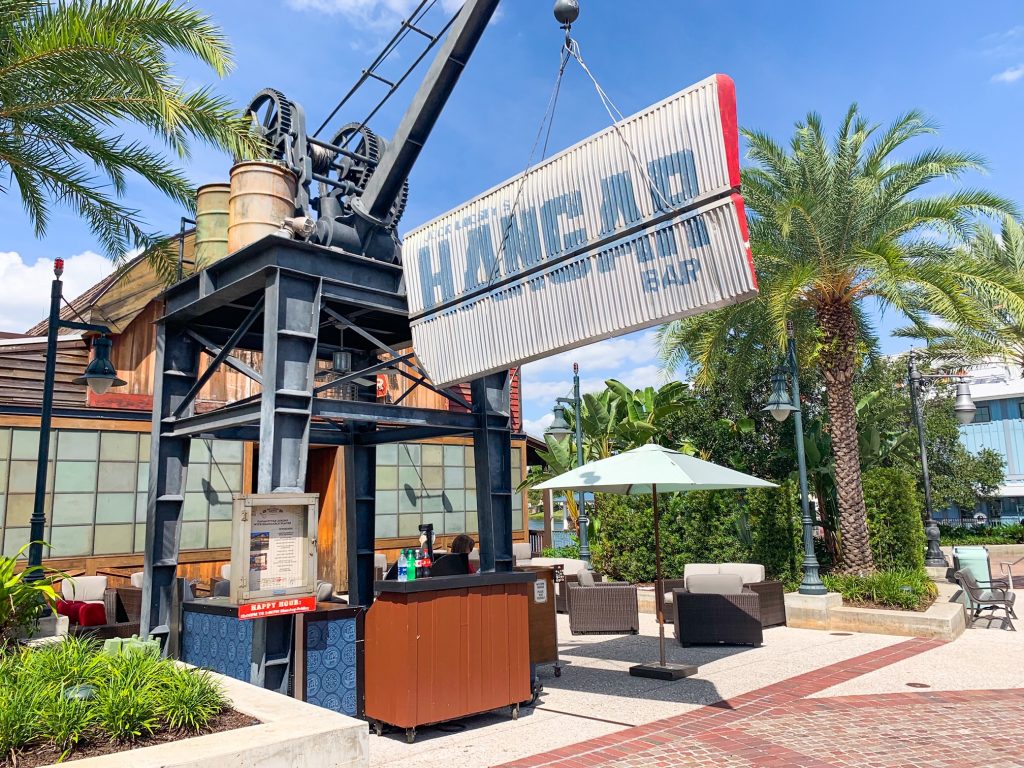 WORST Disney Springs Bar: Rainforest Cafe
In terms of the Worst Disney Springs bars, well, we only had one to name.
The tricky thing about The Rainforest Cafe being in Disney World is it's also everywhere else. With locations in 11 U.S. States, you have most likely heard of and/or visited another Rainforest Cafe location. This being said, don't waste time on your magical Disney vacation at a location you can visit at so many other times in your life!
The Rainforest Cafe offers chain-restaurant food and drinks, such as what they would offer at any other location. Consider it more of a safety net in case nothing else works out.
Spend a night sipping on a coconut mojito and watching the sunset at The Boathouse or dancing to swing music between drinks at Enzo's Hideaway! There are so many unique experiences at Disney World, so don't make it a point to add this to the itinerary.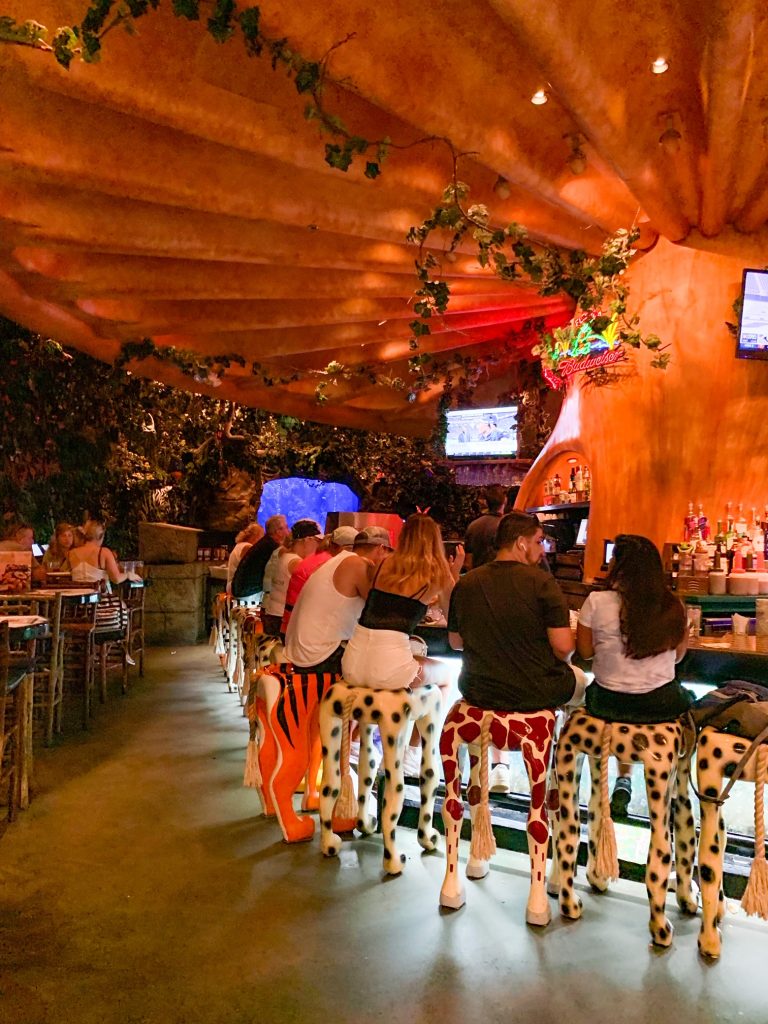 For more fun in Disney Springs, check out Disney Springs Restaurants and Disney for Adults!!
Pin this post: