If you're looking for the best places to grab a quick lunch at Disney Springs, we have the list for you! We have eaten just about everywhere at Disney Springs, and we know that a sit-down table service meal isn't always in the plans while visiting Disney, whether it's for time or budget.
Thankfully, Disney Springs has lots of grab and go or fast casual lunch options that still offer high quality restaurant food without the price and time constraints. There's a little bit of everything on our list, from burgers to Mexican to Japanese food, and even some great choices for picky eaters! After grabbing a bite to eat, make sure you make time for the other fun things to do at Disney Springs.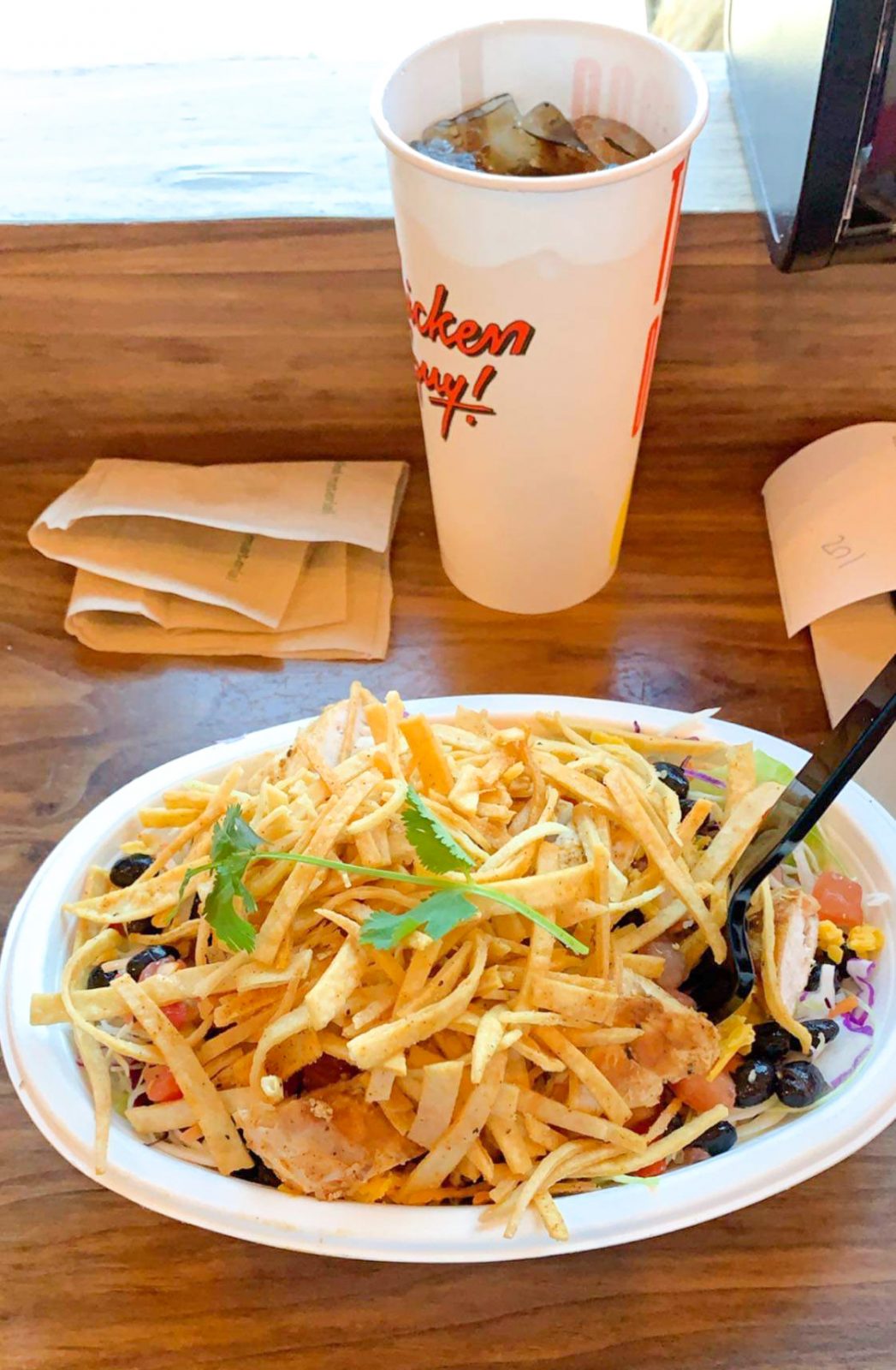 Some of the best food on Disney World property can be found at Disney Springs, and you can get anything from grab and go to fancy sit-down dinners. We are going to tell you the best places to grab a quick lunch while at Disney Springs, but if you are looking for a list of the other great spots, we have tried just about everything! You can check out our best Disney Springs restaurants, and even our favorite Disney Springs bars.
Also, Disney Springs is HUGE! It's divided into 4 different and distinct neighborhoods: Town Center, West Side, the Marketplace, and the Landing. We will be listing what section of Disney Springs these restaurants are located in, and you can reference our Disney Springs map to better find your way around and plan your lunch!
Morimoto Asia Street Food
Located in The Landing, Morimoto Asia Street Food is the quick service section of the Morimoto Asia restaurant – a restaurant that is a collaboration with Iron Chef Masaharu Morimoto. Both offer Pan-Asian food, and the food offered here is inspired by street food one might find while visiting Asia. There seems to be a rotating menu, so it's definitely worth checking on when you visit.
Currently they are offering small street food bites and ramen bowls. The food here is high quality and delicious, and you can't go wrong when everything is under $15! The Morimoto baby ribs are very popular here, as are the egg rolls. We also recommend grabbing a ramen bowl and sitting down on the patio to take a lunch break, and hopefully enjoy some shade and a good breeze!
Pizza Ponte
Connected to Maria & Enzo's Ristorante over in The Landing, Pizza Ponte offers a totally different pizza than anywhere else on property. Pizza here is sold by the slice, and the slices are BIG. This Sicilian-style pizza has toppings that go all the way to the edge of the crust, and it feels more like you're eating pizza made of fluffy focaccia bread than a thin crusted pizza.
There's lots of toppings to choose from here, from traditional pepperoni to parma ham and even artichokes or mushrooms. If you're not in the mood for a slice, you can also grab a good sandwich or salad here, like a great classic Caesar salad or the Pomodoro sandwich with mozzarella, tomato, and arugula topped with olive oil and balsamic vinegar. And after your meal, you have to get dessert here! The cannoli and tiramisu are delicious, and the perfect sweet bite to end a good meal.
Polite Pig
Over in Town Center, you'll find Polite Pig – and some of the best barbecue on Disney property. Here, they put a funky modern twist on traditional barbecue, and all of it is delicious. The food here is high quality, and the menu is fairly extensive. There are great appetizers, sandwiches, salads, and even platters with the smoked meats. We recommend getting the Butcher Board to split with someone else – that way you can try a little bit of everything they have to offer.
You can choose from pork, chicken, sausage, brisket, turkey breast, and ribs from the smoker, and you can't wrong with any of these choices. You also can't go wrong with the fun and adventurous sides here. No other barbecue place has tomato and watermelon salad, brussel sprouts, bbq cauliflower, and sweet potato tots, and these are all worth giving a try when you visit! You won't be disappointed by the assortment and quality of the food here.
The Polite Pig also has a pretty extensive alcohol menu, offering cocktails, beer flights, whiskey flights, and even over 90 types of bourbon.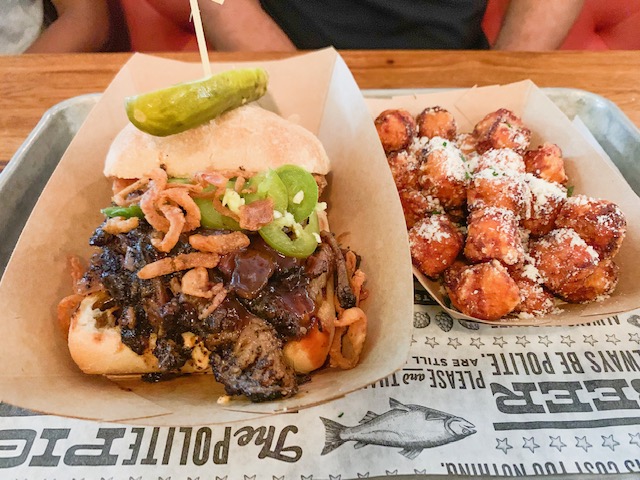 Chicken Guy!
Owned by Food Network star Guy Fieri, Chicken Guy is a quick service restaurant located in the Town Center section. The chicken tenders here aren't your average kids chicken tenders, and they are hand-breaded, all-natural, and absolutely delicious. When stopping here for lunch, you can't miss out on trying a few of the 22 sauces offered – or even all of them!
If you're not in the mood for just chicken tenders and fries, try the salads, sandwiches, or the mac and cheese here. We definitely recommend the Sauce Boss sandwich and BBQ chopped chicken salads – both are standouts. The milkshakes are a great way to finish off your meal, and while you could get a plain vanilla, chocolate, or strawberry, we recommend the Triple Double Mint or Apple Cinnamon Cereal, the two signature milkshakes offered. And even though the line gets long here sometimes, the food is absolutely worth the wait.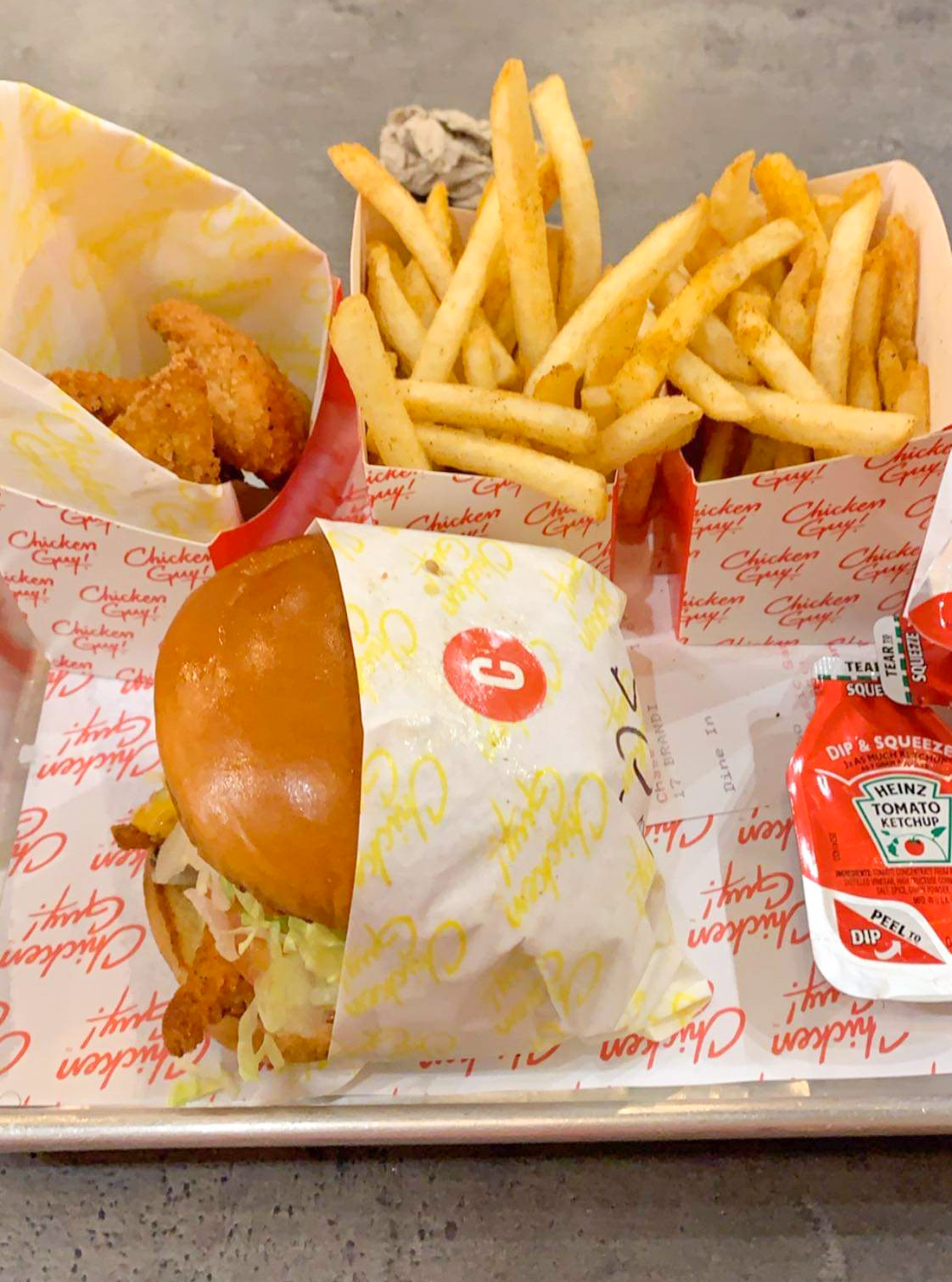 D-Luxe Burger
If you're looking for a great burger, D-Luxe Burger is the place to visit for lunch at Disney Springs. Located over in the Town Center section of Disney Springs, they offer the traditional burger experience with flavors that are anything but boring. They typically have a seasonal, as well as classic cheeseburgers, barbecue burgers, chicken sandwiches, and even a plant-based burger. The fresh-cut fries here are delicious and you must add them to your meal, especially with the fun dipping sauces!
This is another great place to grab a shake, because the shakes here are made with gelato and are not just boring fast food shakes. You can get chocolate, vanilla, strawberry, cookies and cream, and even a smores shake here – not to mention seasonal ones pop up from time to time as well. For adults visiting D-Luxe for lunch, you can get a spiked gelato shake too! They have both bananas foster and smoked bourbon gelato shakes for those looking to relax and take an adult break on their trip.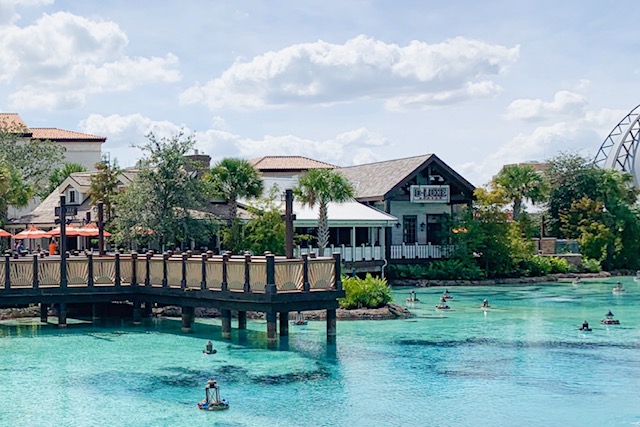 YeSake Kiosk
Located over in the West Side section, the YeSake kiosk offers Japanese street food, slushies, and some fun drinks. This is great place for those looking for delicious Asian cuisine on the go. The Japanese fried chicken, buns, and build you own poke bowls are standouts here. The food is fresh, quick, and super affordable, making YeSake a great choice for a quick lunch at Disney Springs.
We definitely recommend the chicken teriyaki bun and the pizza bun, and think even pickier eaters will enjoy these! The customizable poke bowl has so many protein and topping choices, and is a refreshing, delicious lunch on a hot day. And if you're looking for a drink to cool you down here, we suggest getting one of the popping boba drinks, like the yuzu lemonade or the slushies. The slushies come either non-alcoholic or alcoholic, and they also have a few sake options here too!
Blaze Fast-Fire'd Pizza
Over in Town Center, you'll find Blaze. You may have one of these in your hometown, but that doesn't mean count it out when you're on vacation in Disney. Blaze offers great lunch choices for pizza lovers, and it's a delicious, quick lunch. You can choose one of their signature pies, but we recommend building your own pizza.
There's tons of topping and crust styles to choose from, and this is also a great place for people with dietary concerns and restrictions. Blaze has cauliflower and keto crust that are both gluten free, and they also have vegan cheese and vegan spicy chorizo. Blaze is just one of the places on our best places to eat vegan at Disney World.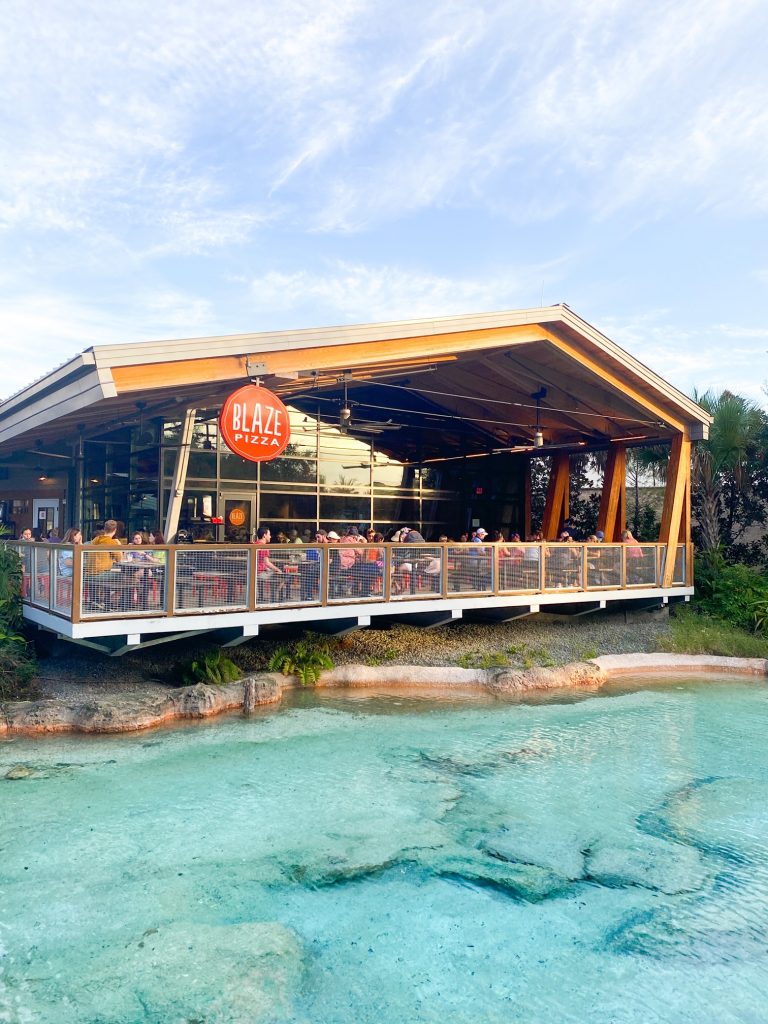 Earl of Sandwich
This iconic restaurant is a must-do for lunch at Disney Springs. Earl of Sandwich is located in the Marketplace section, and the menu here is HUGE. You can choose from hot sandwiches, salads, wraps, soups, sides, and desserts. The food here is delicious, and a great choice when you're trying to please a lot of different palettes at once, especially picky eaters. We definitely recommend the Earl's Club, the Holiday Turkey, and the soups.
Earl of Sandwich is also one of the few places to grab breakfast at Disney Springs, and we think you cannot miss this restaurant if you are a lover of sandwiches and want food that is consistently good.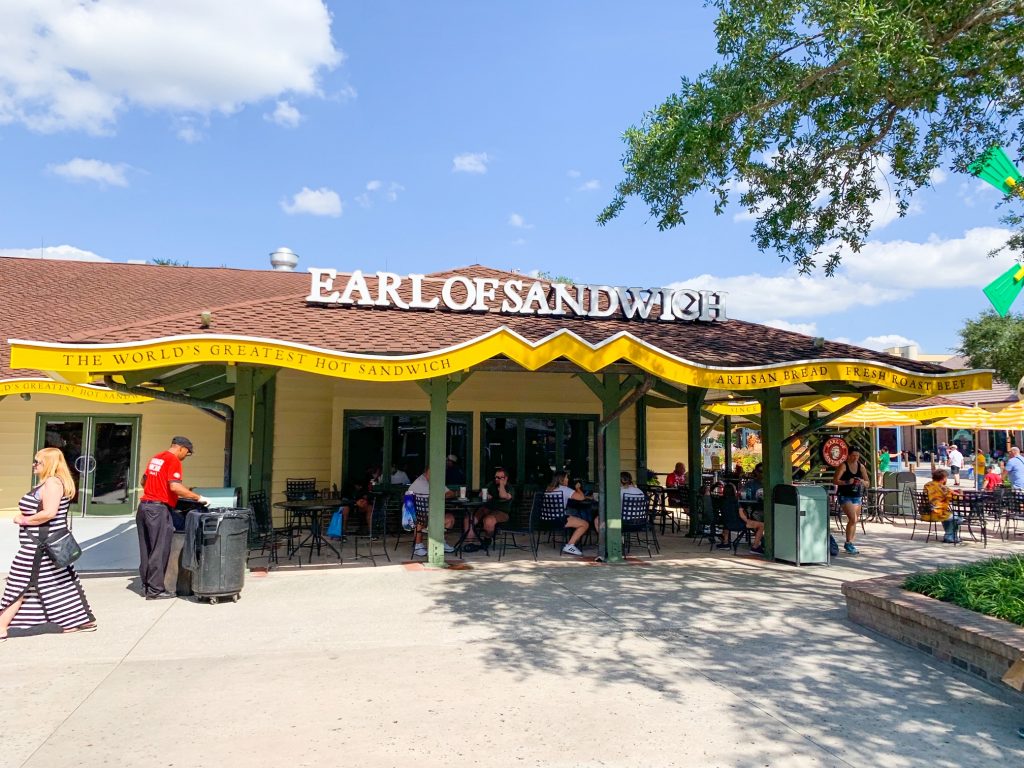 Cookes of Dublin
Located in The Landing, right beside Ragland Road, Cookes of Dublin is a quick service restaurant that offers fresh but fast Irish-inspired meals. Here you can get delicious fish and chips, burgers, chicken sandwiches, meat pies, and even the Cookes Classic Battered Burger – a burger that has a hand-battered sirloin patty that is fried! This fun burger is definitely something to try, and the fish and chips are amazing and not overly greasy. If you're looking for a good, hearty meal but you don't want to sit down for a meal, stop by Cookes of Dublin.
Disney Food Trucks
Disney offers some rotating food trucks over in the West Side and the Marketplace, and these are great choices for lunch at Disney Springs. There are three food trucks that are almost always available: Hot Diggity Dogs, Mac & Cheese, and 4 Rivers Cantina Barbacoa Food Truck.
Hot Diggity Dogs is located over in the West Side, and offers some of the craziest hot dogs. The BLT dog, the Chicago dog, and the Santa Fe dog are extremely popular here. They even have a secret TikTok hot dog that has now made it's way onto the permanent menu – the King Dog. Inspired by Elvis, this hot dog has spicy peanut butter, brown sugar bacon, banana honey mustard, and chipotle-berry preserves on top, plus the hot dog and all its toppings are served in a bun that is first battered and fried like French toast and then coated in crushed cereal. Hot Diggity Dogs is a can't miss for adventurous eaters and lovers of hot dogs.
Mac & Cheese is located in the West Side as well, right beside Hot Diggity Dogs. This food truck may be better for your pickier eaters, since it honestly just offers, you guessed it, mac and cheese. But the mac and cheese here is super creamy and has some fun toppings! You can get barbecue beef, lobster and shrimp, and even chicken parmesan mac and cheese. The "traditional" one here has six cheeses and is topped with crunchy cheese puff crumbles. If you love mac and cheese, or have someone in your group who does, this is the perfect choice for lunch at Disney Springs.
The 4 Rivers Cantina Barbacoa Food Truck is owned and operated by the 4 Rivers Smokehouse, which is an extremely popular Florida-based restaurant. The food truck at Disney Springs usually isn't parked with the other two at the West Side, and can typically be found near World of Disney over on the Marketplace side. The food here is amazing, and will definitely help you get that Mexican food fix while grabbing lunch at Disney Springs. We suggest the Taco Cone, the Burrito Bowl, or the new Birria Tacos or Quesadilla!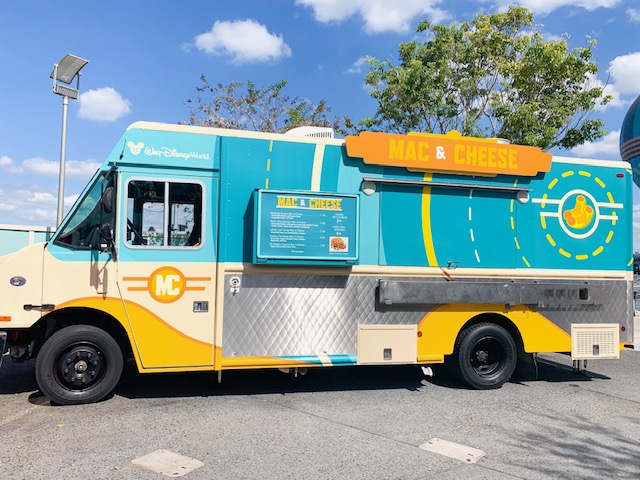 We hope that you have been able to find the perfect lunch spot for you and your family on our list of the best places for lunch at Disney Springs. Make sure you plan ahead and take a look at those menus, especially if you want to take advantage of fun, seasonal offerings. We know that you're going to have a delicious lunch no matter where you choose!
Have you visited these restaurants before, or looking to eat at one the next time you visit Disney Springs? Or do you already have a favorite lunch spot at Disney Springs? Let us know in the comments!