Disney bedding sets are a wonderful way to add a little Disney magic into your daily life. There are so many great designs available for all bed types so you'll likely be able to find one for any favorite film, character or even attraction.
Disney is something that reaches across all ages, and Disney bedding sets are no different. Many places sell Disney bedding sets for both adults and children and even if they are marketed towards one or the other, there's no reason not to get it anyway!
Lots of retailers stock Disney bedding sets. We've had a look at Amazon, Etsy, and ShopDisney, but there are plenty of other places to shop for Disney bedding sets, including your local supermarkets! Take a look at our list below and find some inspiration for how to Disneyfy your, or your children's, bedroom!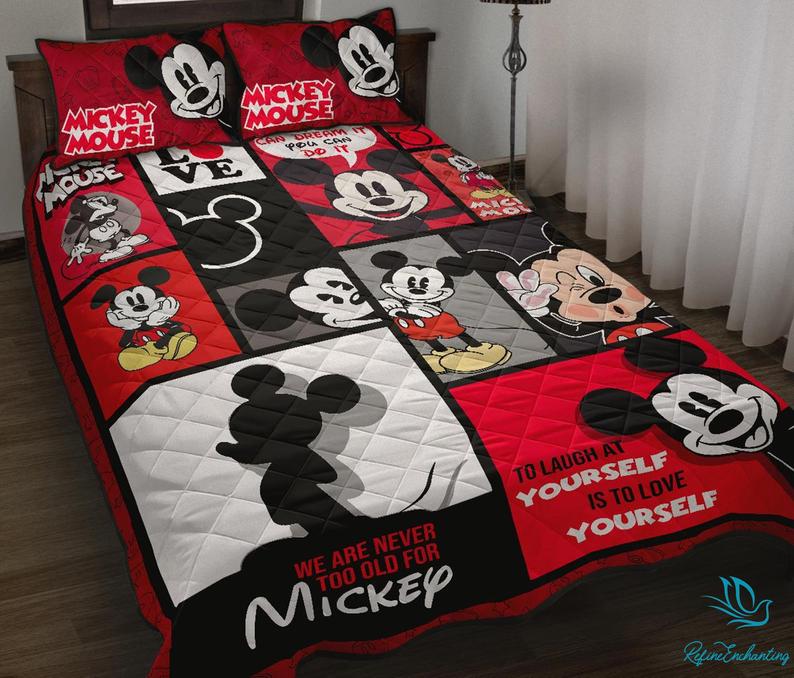 Best Disney Bedding Sets For Adults
If you're not quite sure you want too much Disney (if that's even a thing!) in your bedroom, one of these Haunted Mansion-inspired Disney bedding sets on Amazon is an excellent choice for you. This bedding set comes with 7 pieces, including a reversible comforter which means you can have two Disney designs for the price of one.
On one side, there is a stylized, damask-style spooky face. And on the other there are small illustrated scenes from the Haunted Mansion, that will give you a real reminder of the ride. It's a subtle color scheme, using monochromes, so it's not too stimulating when you're trying to sleep. A wonderful way to celebrate a beloved ride (Haunted Mansion is one of our all-time favorite rides at Magic Kingdom!) without being too over the top!
This Arabian-inspired Disney bedding set adds a lovely pop of color to any bedroom and brings a little bit of Aladdin magic into your dreams. The comforter features Genie's lamp in a beautiful mandala-style design on a richly colored background. The sham of the same deep purple color features Princess Jasmine flying through the air on a magic carpet.
In addition to the comforter and sham, there is also a flat sheet with a beautifully calming design in white and blue, showing the Genie, and Jasmine as well as the magic lamp. This bedding set is one of the best values as well as it comes with seven pieces, all beautifully designed and comfortable as well.
Lady and the Tramp is an often forgotten Disney couple however this gorgeous bedding set will change all of that. Lady and Tramp have one of the most iconic Disney romances to date so it makes sense to make a romantic Disney bedding set featuring the two dogs. This couple's bedding features a romantic quote as well as the two characters and some beautiful roses.
The quilt cover is also diamond-stitched which gives it a luxurious texture and feel to it and can transform your bedroom into a romantic getaway. It also comes in a whole range of sizes from baby twin all the way up to king size. You can also order the pillowcases separately if you're wanting something a little less bold or have more than two pillows.
If Star Wars is more your style than Disney Princess or animated classics, then look no further than this ShopDisney reversible Millennium Falcon comforter set. Featuring the fantastic art of the Millennium Falcon as well as AT-AT, an X-wing, and Darth Vader's TIE Fighter, all your Star Wars vehicular dreams can come true.
The quilted stitching allows it to hold its shape after washing and makes it more breathable for warmer nights. The monochromatic colors also means it works in pretty much any color bedroom so you don't need a whole redecoration to add a little Star Wars magic into your bedroom.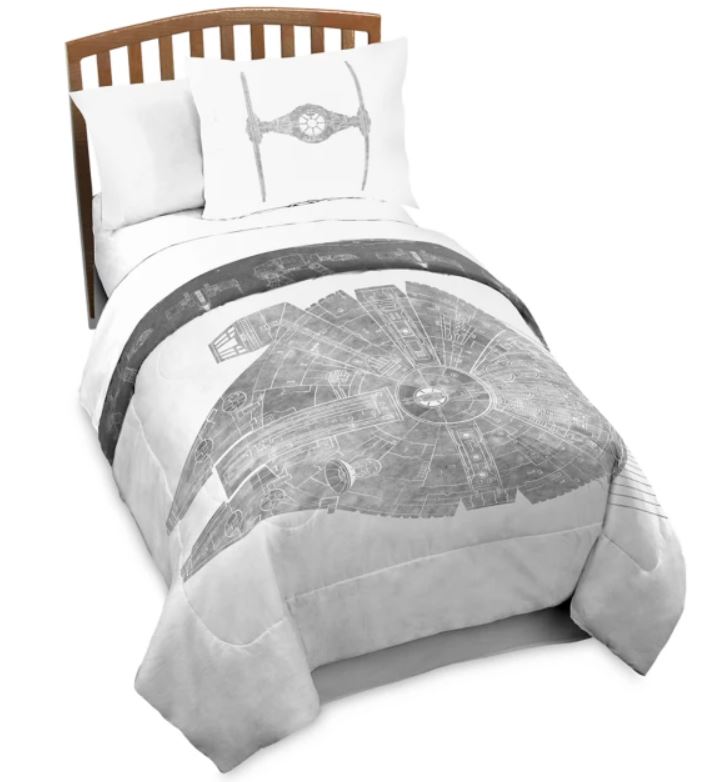 If you're looking for something a little more relaxing, this Disney Princess bedding set may be right up your street. Starring Princess Ariel and Flounder on a stunning pastel backdrop, this comforter and pillowcase set brings a mellow, under the sea vibe into the bedroom. Plus if you wanted a change, or possibly had a non-Disney-loving guest stay over, this duvet cover is reversible and has a plain pastel lilac side.
It's made with brushed microfiber which makes it soft to the touch and allows for a super comfortable night's sleep. The two pillowcases both feature different designs as well so it adds an extra layer of Disney into the bedding set.
When you think of Disney, most people will picture the iconic Disney castle. Some people will call to mind their favorite Disney characters. This bedding set combines those two things perfectly! A large Disney castle spreads out across this duvet cover but it is made up of the silhouettes of lots of Disney characters.
You will have a great time trying to spot all your favorite characters on this stunning duvet cover and pillow set available on Amazon, for twin, queen, and king beds.
This couples Lilo and Stitch bedding set is a great way to show your love for Disney and for each other. Featuring Stitch and Angel in a loving embrace, this brightly coloured bedding set would make an excellent addition to any bedroom. It has lots of additional intricate details that add a little more depth and texture to the cover as well.
It's available on Etsy in twin, queen, and king sizes and is made using 3D digital printing, meaning the colors remain bright even after lots of washes. It also features some cute couples quotes to help express your love.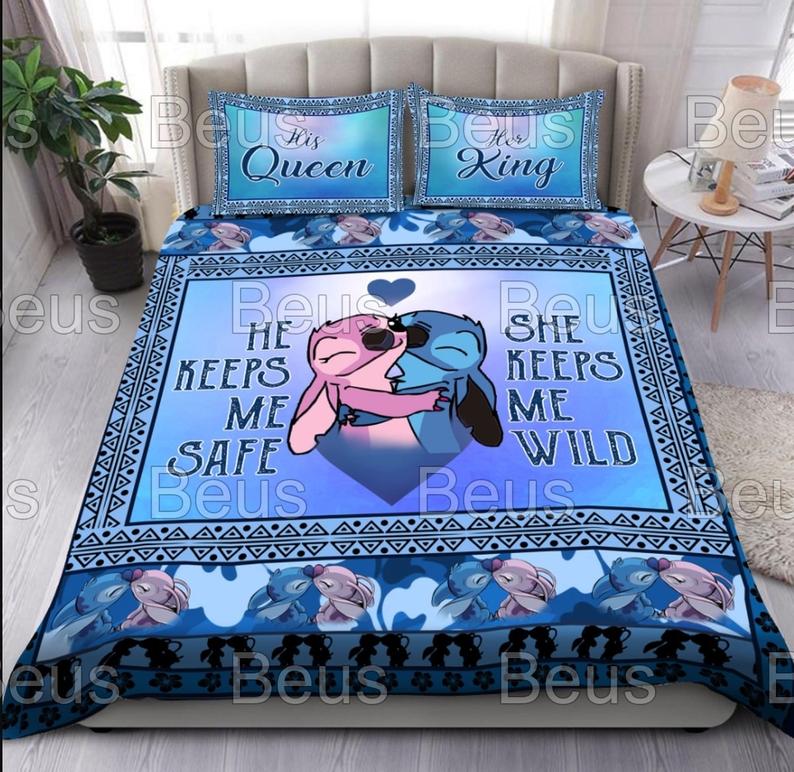 Not all Disney is about the princesses and princes, the heroes and the sidekicks. Disney has also given us some incredible villains which deserve celebrating in their own rights. So if you want to show a bit of villain love with your bedding set, this three-piece duvet cover set on Etsy is an excellent choice.
Featuring some of Disney's best villains in a tapestry style cover, this quilted bedding set is available in twin, queen, or king size. The diamond stitch creates a nice texture that gives it a luxurious feel and makes it breathable for year-round use.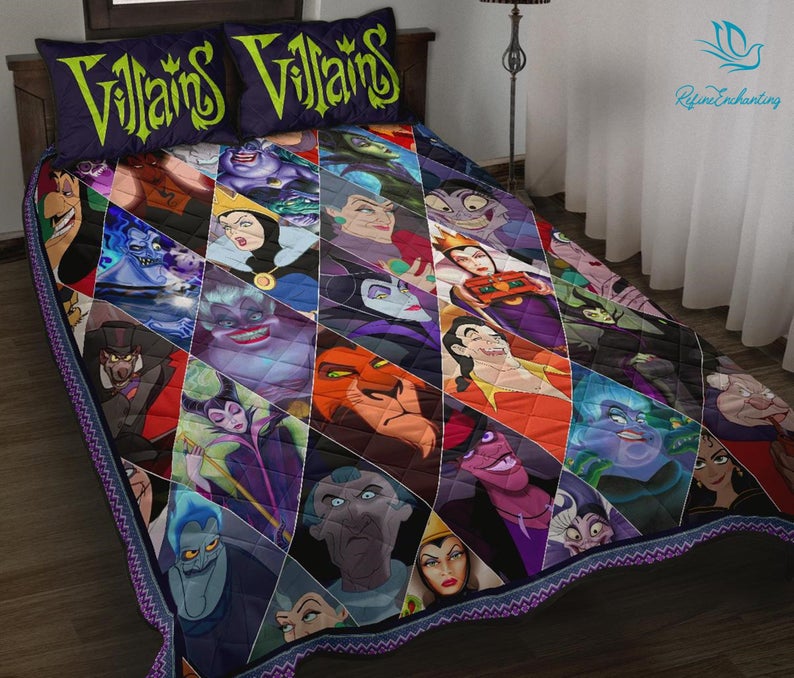 This is one of the more simple designs, and also one of the cheapest Disney bedding sets, on this list. This Minnie Mouse bedding set is an excellent choice if you want to add a little bit of Disney magic without going too overboard. The cover set features pink dots with the occasional Minnie Mouse head.
It's a subtle Disney touch that can add in a little lightheartedness to any bedroom without being too much or too bright. Additionally, it comes with a flat sheet too, making it a four-piece set rather than the traditional three-piece one.
Best Disney Bedding Sets For Kids
There is nothing more quintessentially Disney than the Original Buddies. Starring Mickey, Minnie, Donald, Goofy and Pluto, they were the original gang of Disney animated characters and they've aged beautifully. This brightly colored bedding set shows that.
The comforter cover has the Buddies on the front and the fitted sheet and flat sheet show their famous costume items. Your children will sleep well with this good company!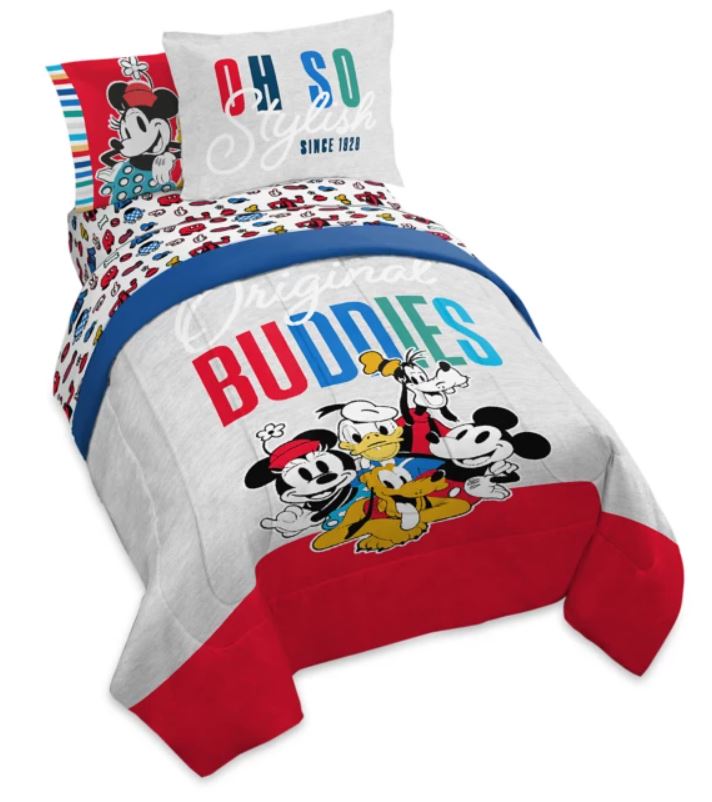 If you're looking for a bedding set perfect for any Tangled fan, then look no further. Displaying favorite scenes from the animated movie, this bedding set is bright and colourful and full of story. With wonderful detailing on Rapunzel and Flynn Rider, anyone will enjoy this wonderful picture-framed bedding.
It's available in a whole range of sizes from baby twin all the way to king size so it can be used for a range of children (and children at heart) and bed sizes. The comforter has diamond quilting stitches which makes it stay plump for longer so it's a bedding set that can grow as they grow!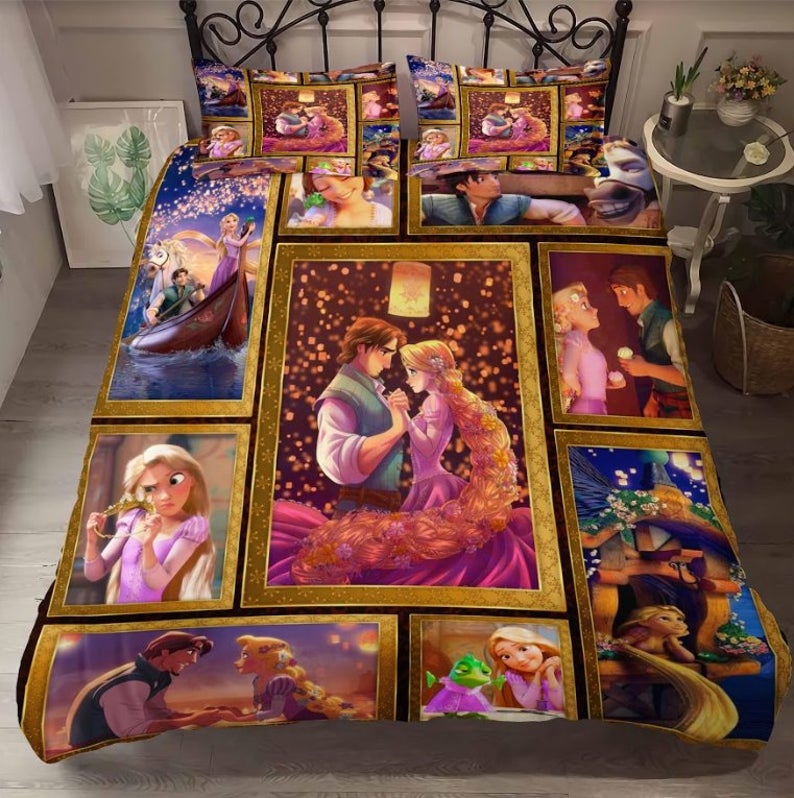 With the popularity of Frozen and Frozen 2, of course, a Frozen bedding set would feature on this list. This set is elegantly designed with pale colors and Anna and Elsa silhouetted in white, which would make any childhood bedroom seem elegant and sophisticated. The two sisters also make it a good option for siblings to have in their bedrooms.
The beautiful background details and Olaf makes it an even more interesting design and the reversible nature means you can change it around if necessary. The fabric is also OEKO-TEX certified meaning it's been tested for over 300 harmful chemicals so you can rest assured it's safe for your little ones.
Click here to shop
Mixing bright colors, Mickey Mouse, and classic comic book strip design, this bedding set will be a hit in any bedroom. Starring Mickey Mouse himself in a variety of poses as well as a few quotes, this classically colored and designed bedspread is as stunning as it is comfortable.
The diamond stitching only adds to the classic feel and look of this wonderful Mickey Mouse bedding set. Available in twin, queen and king sizes this bedroom set will look great no matter how old you are.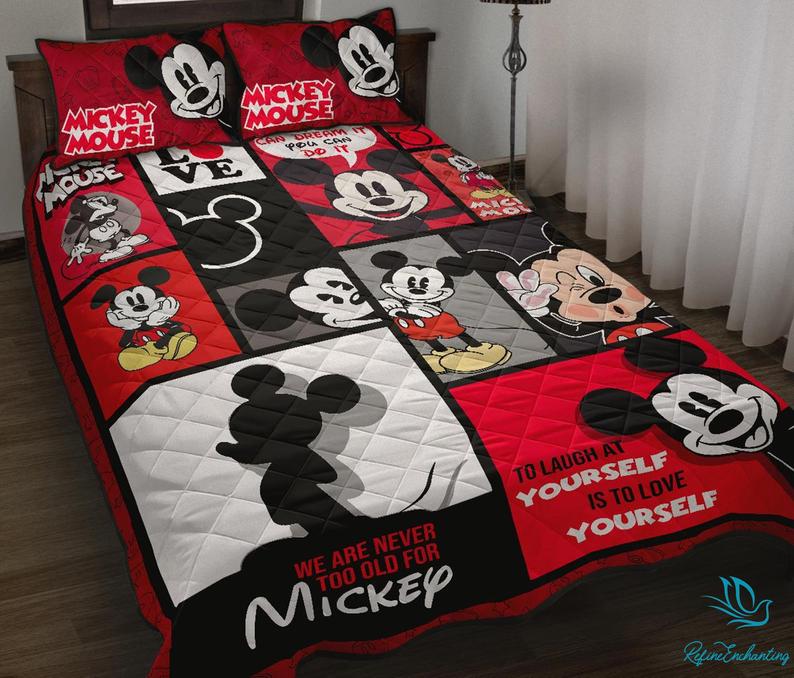 You've heard of race car beds but now we have race car bedding sets! And not just any race car – but the famous Lightning McQueen (kachow!). This is a great option of bedding set for any Disney fans, especially Cars, without it being too overstimulating or too childish or girly.
Featuring the iconic number 95 as well as a rooftop view of Lightning with his Rust-Eze logo it provides a simple yet classic design that will match well with the most bedroom decor. It's available from ShopDisney in twin and full size.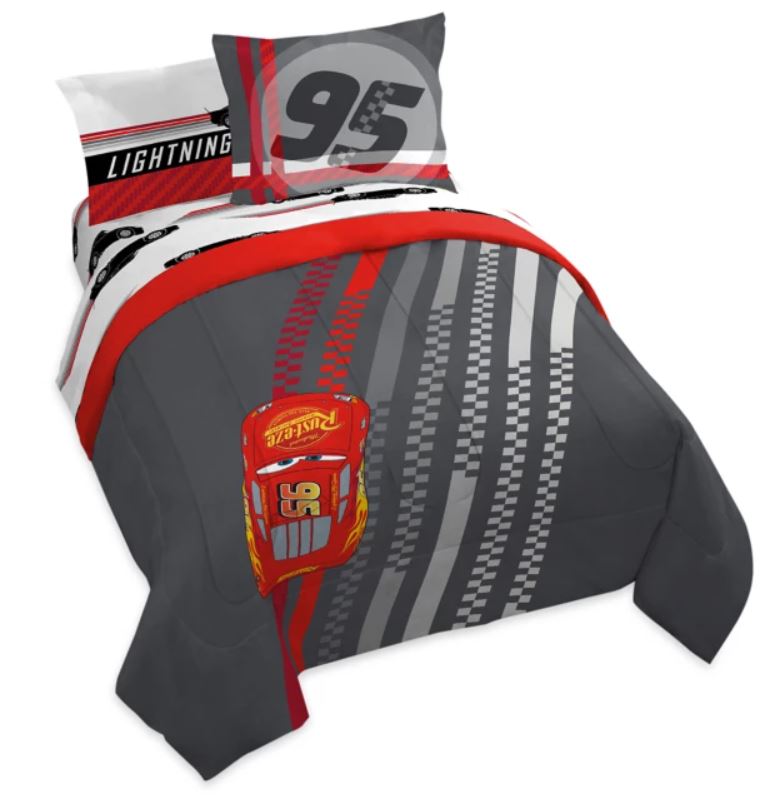 One of the most classic Disney bedding sets on this list, this Mickey Mouse cover is a stunning addition to any bedroom. It has a reversible cover with the options flipping between a large Mickey and Mickey ears outline, or lots of little Mickeys and silhouettes. It also comes with a flat sheet with a different design so really there are three designs in one with this Disney bedding set.
It's a truly classic design that'll make any Disney fan feel as though they're always in the happiest place on earth!
A comfy night's sleep can often be combined with a Disney night's sleep with these Disney bedding sets. We've tried to include a good range of characters and colour schemes to give you plenty of inspiration for the Disney bedroom of your dreams!