Between the parks, the resorts, and the water parks, there seems to be an endless amount of fun things to do at Disney Springs! Not only does Disney have all of these things such as rides and characters, but they also have their own shopping district!
Disney Springs is a free place for all guests to enjoy shopping, dining, and much more. With all there is to do, it can feel a little overwhelming! We have made a list of 15 fun things to do at Disney Springs during your vacation.
Disney Springs has a plethora of things guests can do. Some of these things are free while others are not, but they are all fun! There are some truly unique things to do as well. Like did you know there was a bowling alley?! How bout an air balloon? Discover these things and much more during your next trip to Disney Springs!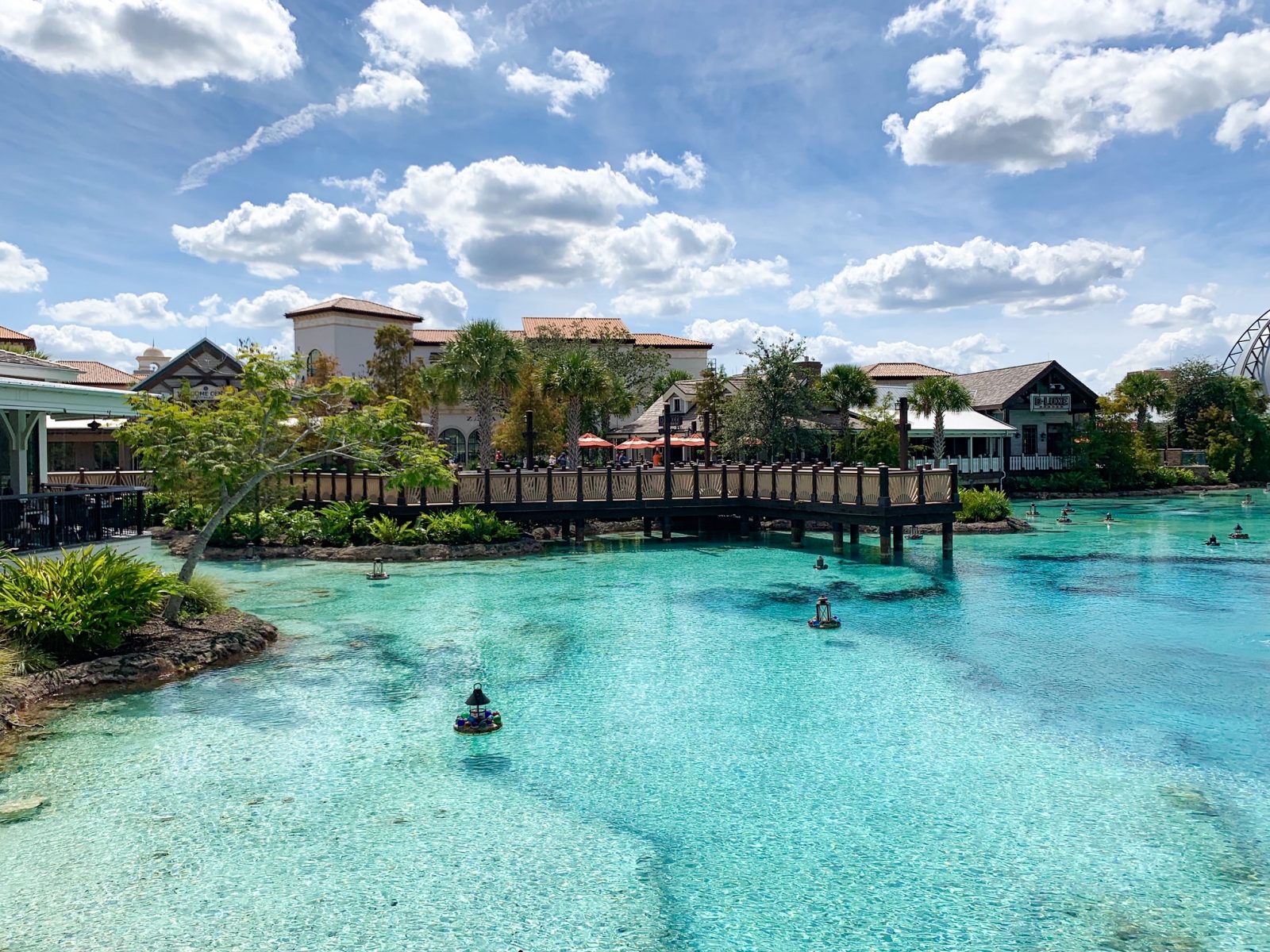 Get Cookies at Gideon's Bakehouse
One of Disney Springs most popular stores, Gideon's Bakehouse, opened in January of this year. Their chocolate chip cookies were originally sold at Polite Pig in Disney Springs, but they decided to open a bakery due to popular demand. It has surely been popular since opening!
Gideon's Bakehouse offers large, delicious cookies in a variety of flavors. To get your hands on one of these yummy treats, you will need to join the virtual queue. If you want to guarantee a spot in the virtual queue, we recommend getting to Disney Springs early. The queue fills up quickly!
We have a little pro tip for you if you aren't able to secure a spot in the virtual queue at Disney Springs. Gideon's Bakehouse has a second location in Orlando that is a 30 minute drive from Disney Springs. If you have a car and trying a Gideon's Bakehouse cookie is a top priority, you can always visit this second location!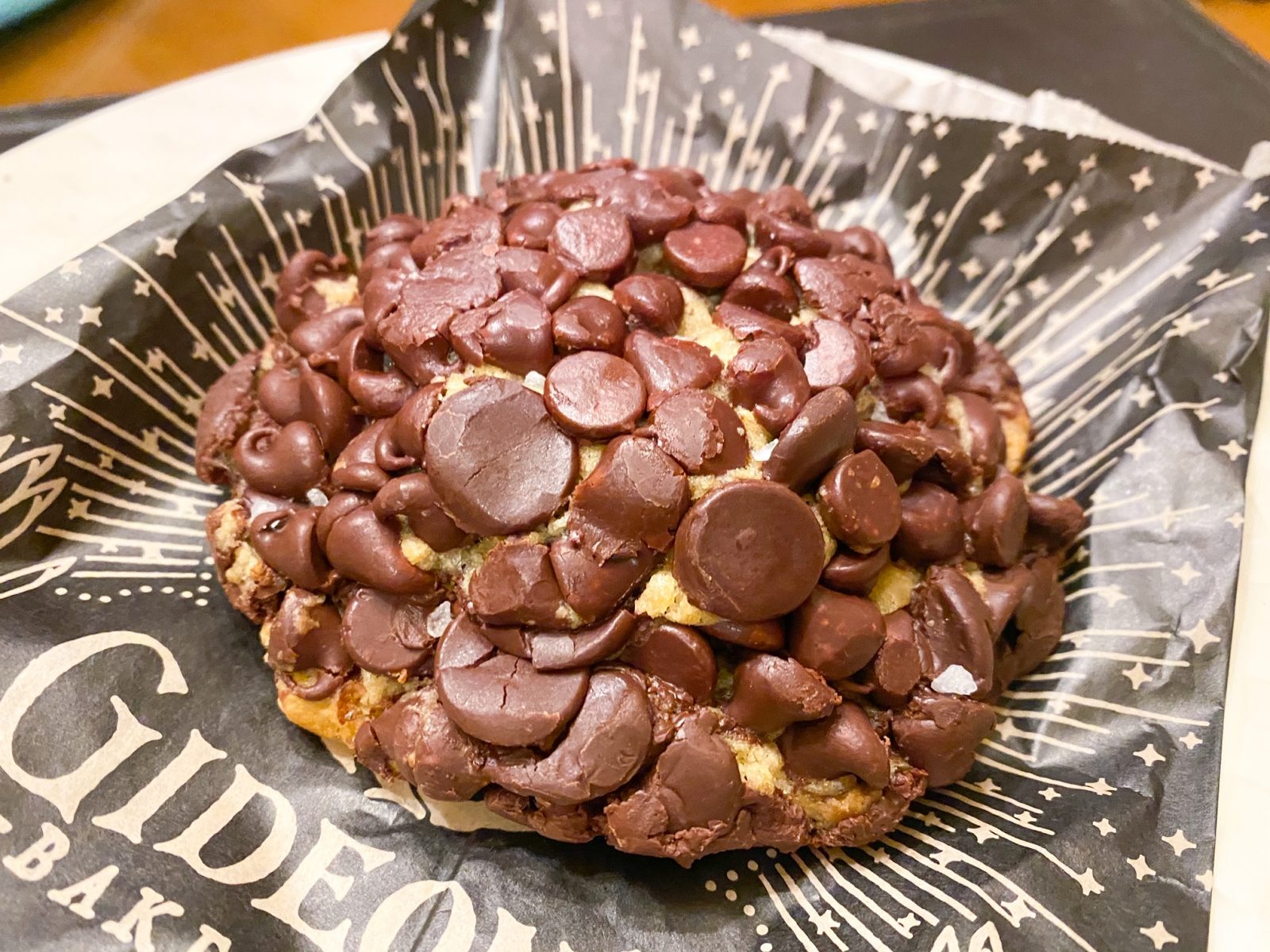 Ride the Aerophile Balloon
Want a better view of Disney Springs and the surrounding area? Try experiencing the view from the air! The Aerophile Balloon in Disney Springs flies you 400 feet into the sky in a tethered helium balloon. The balloon is so large it can accommodate up to 29 guests plus the pilot.
This 8 minute ride gives you stunning views of the Disney resort area. There is no height requirement, so anyone can enjoy this experience! Tickets are $25 for adults and $20 for kids (ages 3 to 9). This is one of those things to do in Disney Springs you can't miss!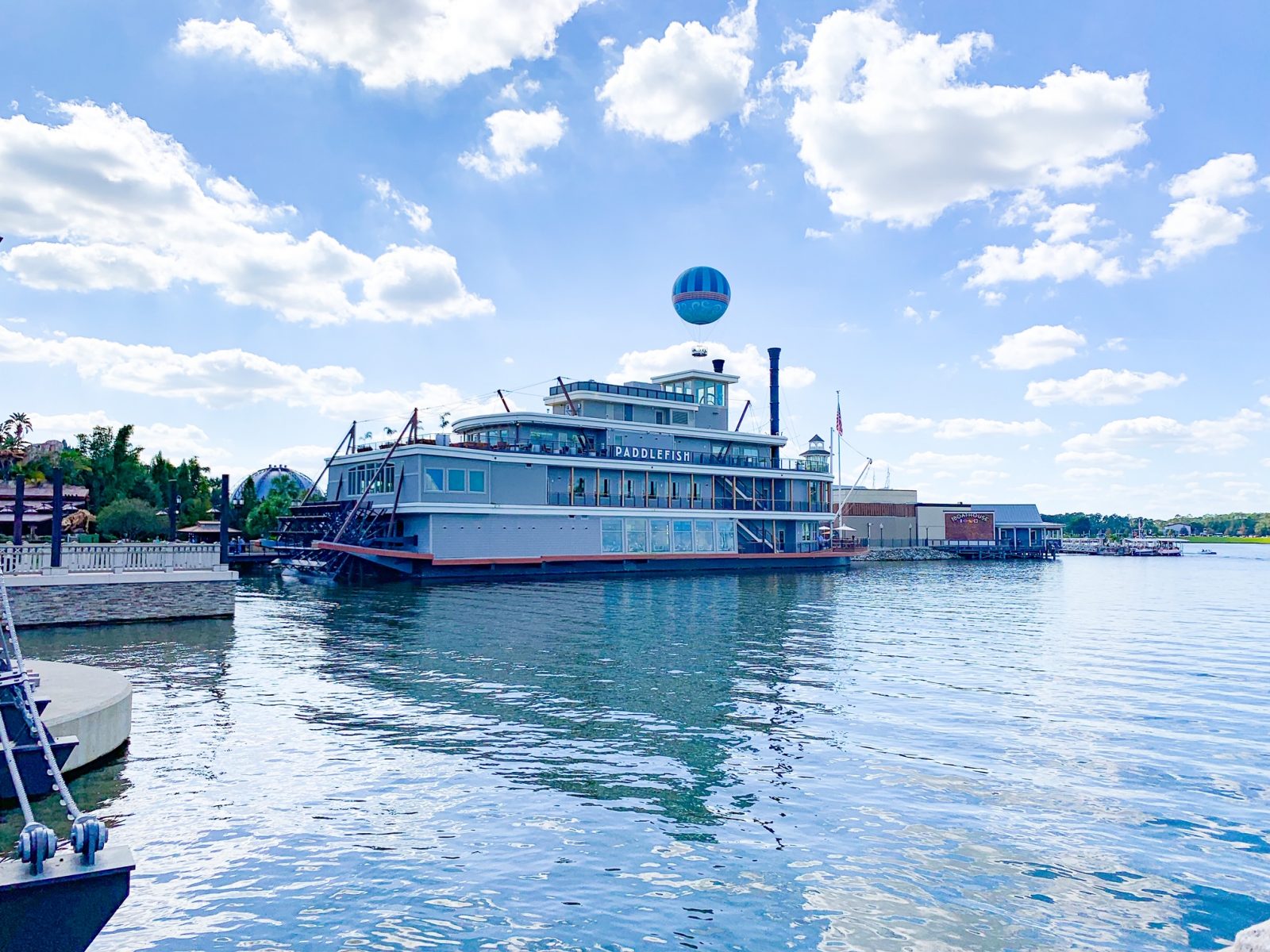 See a Show at the House of Blues
Enjoy the nightlife of Disney Springs and go to House of Blues to see a show! Bands and musicians visit the House of Blues to entertain their fans. You can find the calendar for the House of Blues shows on their website. This is where you'll also be able to buy tickets.
If you want to get into the show a little bit early before others, there are a couple of ways you can do so! With the Pass the Line program, spend $25 per person at the restaurant on dinner or drinks, and then let your server know you'd like to pass the line. You can also spend at least $25 per person at the House of Blues gear shop to have your ticket validated to pass the line. You must do these things on the same day as the show for the pass the line to apply.
Just want to listen to live music but don't want to pay to see a show? House of Blues is currently hosting free live music in the Courtyard on select nights. Relax and enjoy some music on a nice evening!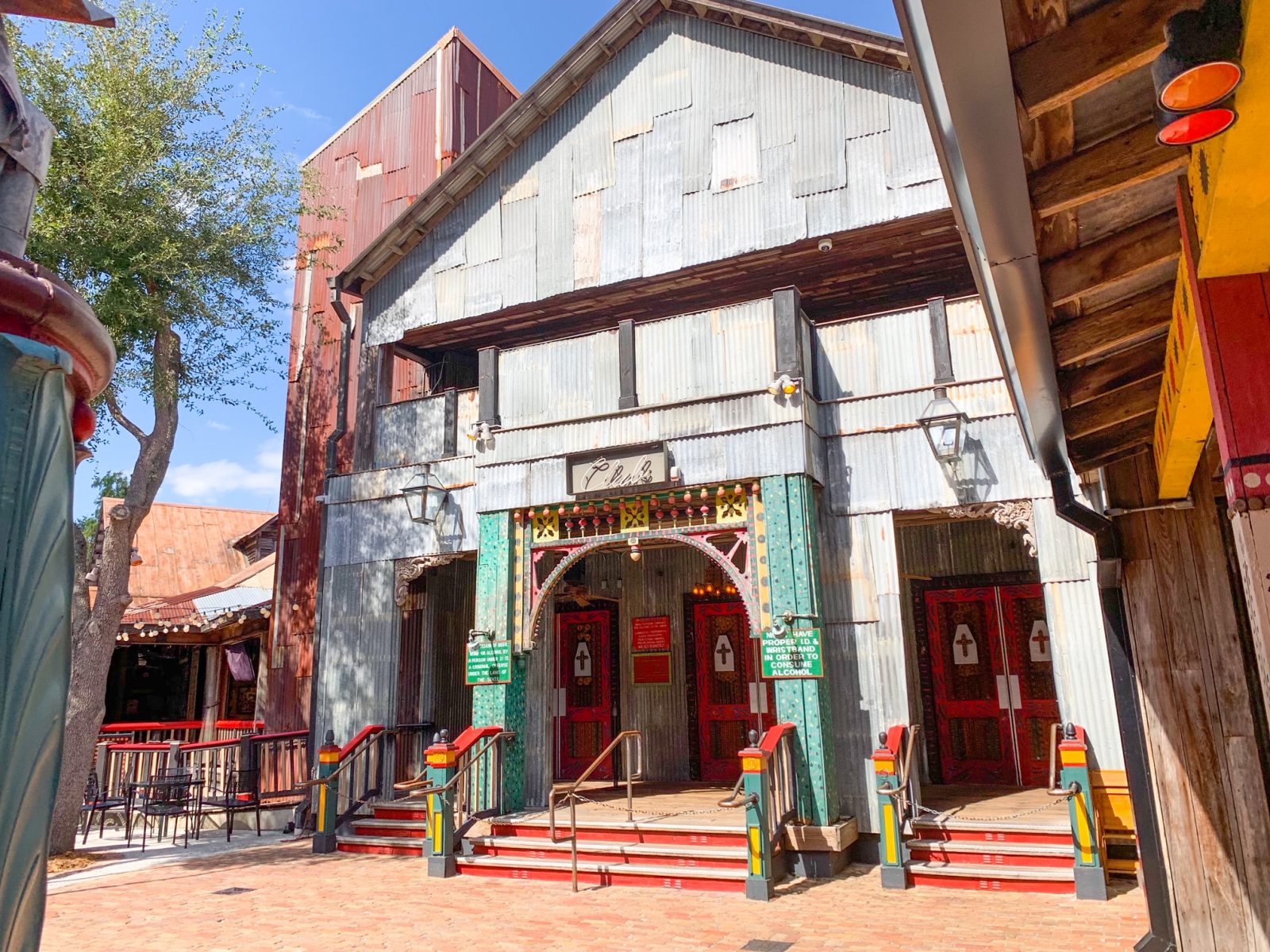 Visit the World of Disney
Looking for Disney merchandise, but don't know where to start your shopping? One of the best things to do in Disney Springs is to visit the World of Disney, the largest collection of Disney merch in the area! The rooms are separated into sections such as apparel, house/kitchenware, toys, and more to make shopping easier. You can honestly spend hours in here with all there is to look at!
This is a great location to find merchandise from the parks that you forgot to get or just didn't want to carry. They will usually have what you're looking for because their selection is so large! It's definitely easy to get lost in all the wonders and magic this store has to offer!
Ride in a Vintage Amphicar
If you're looking for an extremely unique experience, try taking a ride in a vintage amphicar! This car can both drive on land and float on water! Located right next to the Boathouse restaurant, a driver will take you from dry land into Lake Buena Vista in this fascinating tour. Float around the lake and enjoy the sights!
Tours cost $125 per car and can accommodate from 3 to 4 people. The tour lasts for 20 minutes as you sail around the lake. You can schedule tickets in advance or you can make a walk-up reservation at the Boathouse Boatique. Don't miss out on this one of a kind experience!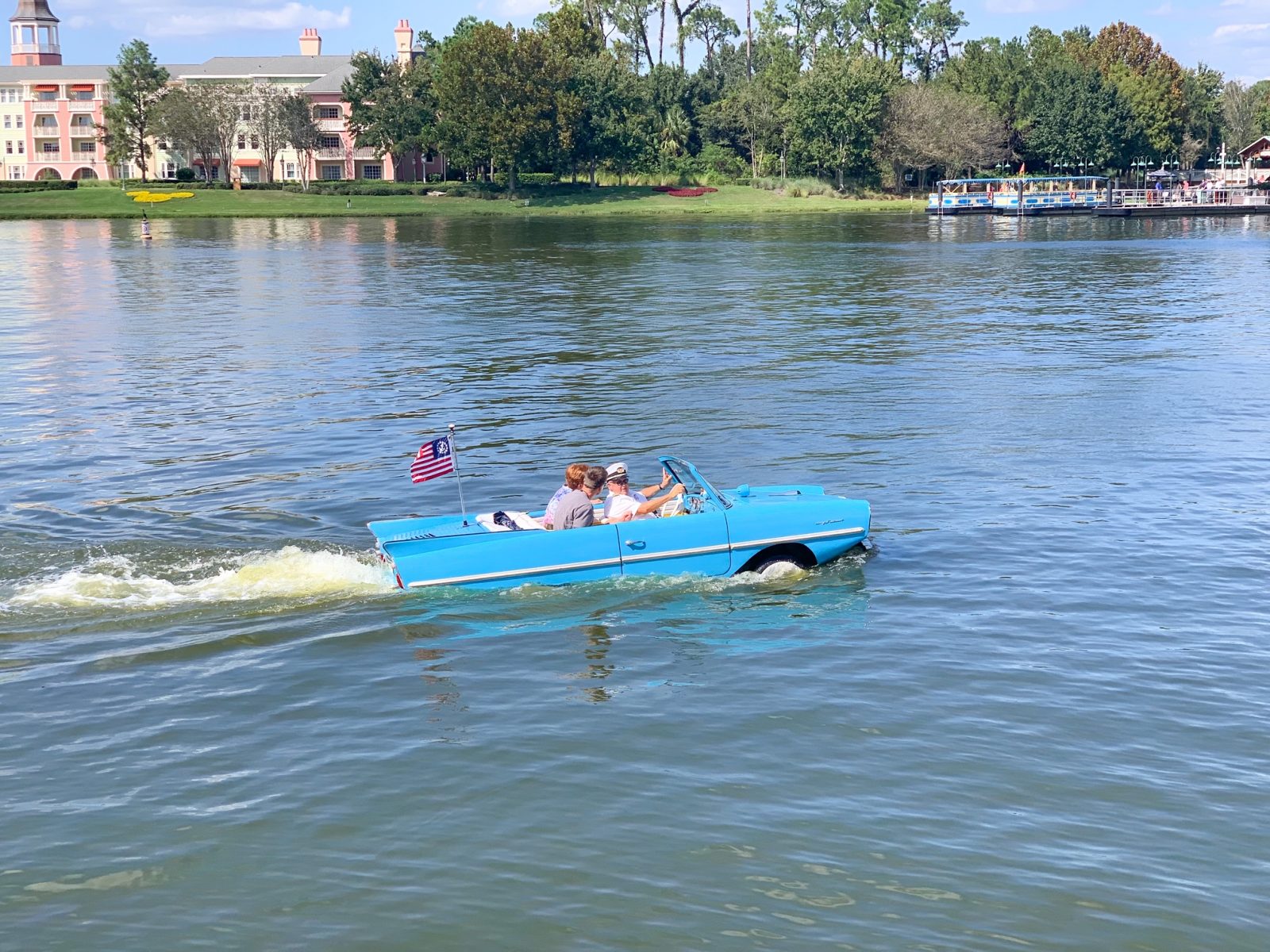 Go Bowling at Splitsville
Take a break from the other things to do in Disney Springs such as shopping and dining to go bowling at Splitsville Luxury Lanes! This isn't your average bowling alley. Splitsville is a 2-story bowling alley with 30 lanes.
Not only can you bowl, but you can order some delicious food and drinks. They have a full service bar and restaurant with delicious eats such as sushi, pizza, sandwiches, and more! This is definitely a great place to blow off some steam and relax for a while!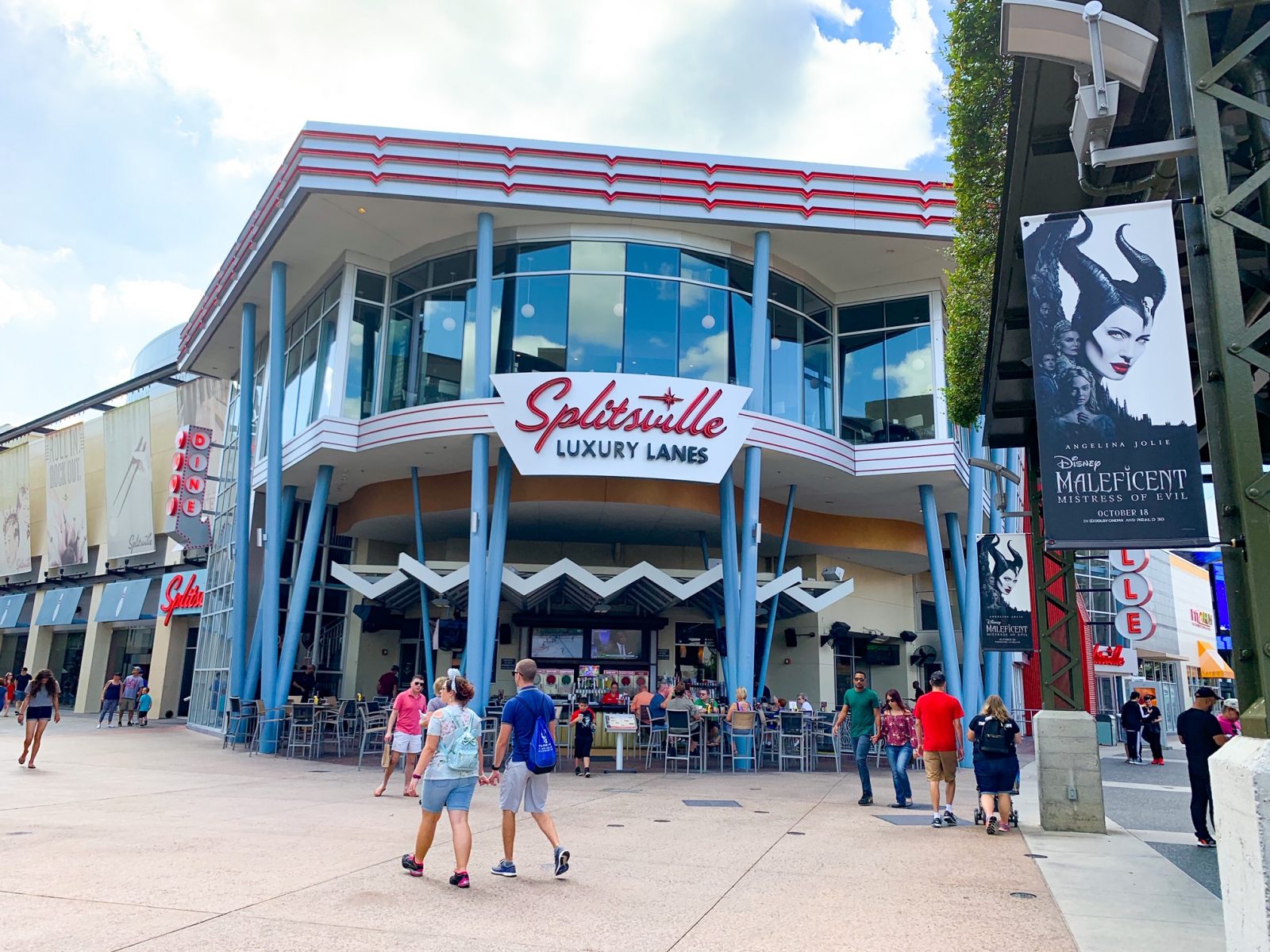 Check Out the New M&M Store
One of Disney Springs' newest stores just opened at the end of January. At the M&M store, curb your sugar craving with everything they have to offer! They have a variety of items such as souvenirs, apparel, home goods, and of course, candy! In fact there is an entire wall of just M&Ms!
At the M&M wall, you can choose from different flavors and colors. They also have almond, peanut, and mini M&Ms. You can fill up bags by the pound or put them in fun containers.
Want a truly unique experience? Customize your very own M&Ms! You can add pictures, icons, or even write your name on them. They even have Disney icons you can choose from for your own Disney themed candy. What's not to love about that?!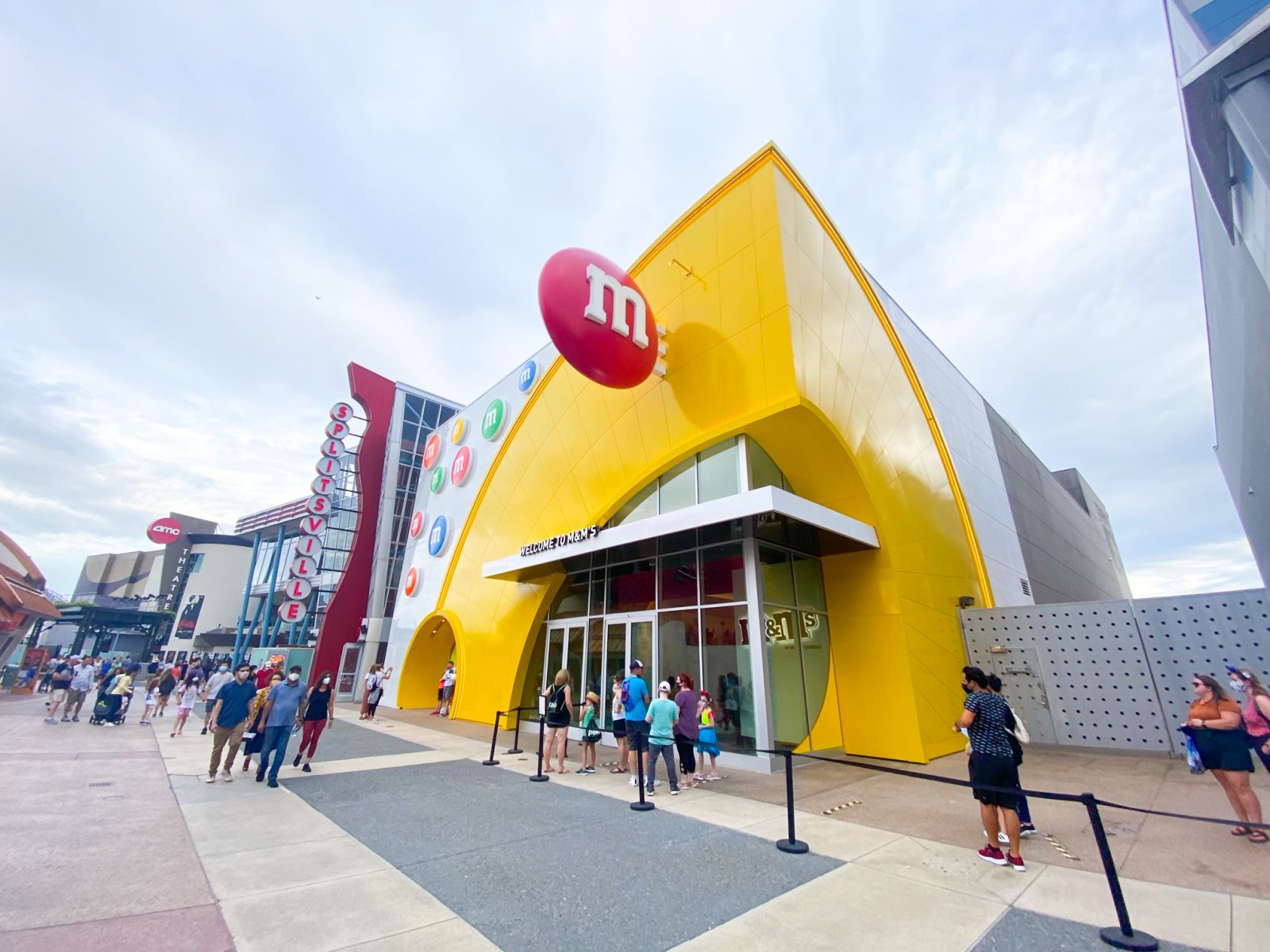 Create a Tasty Treat at Goofy's Candy Co.
For even more candy options, head over to one of our other best things to do in Disney Springs – Goofy's Candy Co.! Here you can find a wide variety of chocolates and candies. There are pre-packaged treats, a bakery case, slushies, and fillable candy bags for you to choose from.
My absolute favorite thing to do here is create my own treat! You can create your own caramel apple, Mickey rice crispy bar, gingerbread Mickey cookie, or marshmallow. Cast members will give you a small form to fill out. On this form you can choose what treat you'd like and what you'd like on it. You'll choose one dipping flavor of milk chocolate, dark chocolate or white chocolate. Then you can choose one topping for free and add additional toppings for $1 each. Lastly, you can add a white, milk, or dark chocolate drizzle. Fun and yummy!
Experience Christmas All Year Round at the Days of Christmas Shop
I don't know about you, but Christmas time is my absolute favorite time of the year! There are a couple of places in Disney that you can experience Christmas all year round, and one of those places is the Days of Christmas store at Disney Springs.
This festive store is decked out in holiday cheer and Christmas decorations. Only Christmas music will be playing in this shop! You can find all sorts of things like ornaments, souvenirs, and decorations. If you want to personalize your ornament, you can have an artist write your name, phrase, or an important date on it. This is a fun way to add a personalized and magical touch to your Christmas tree!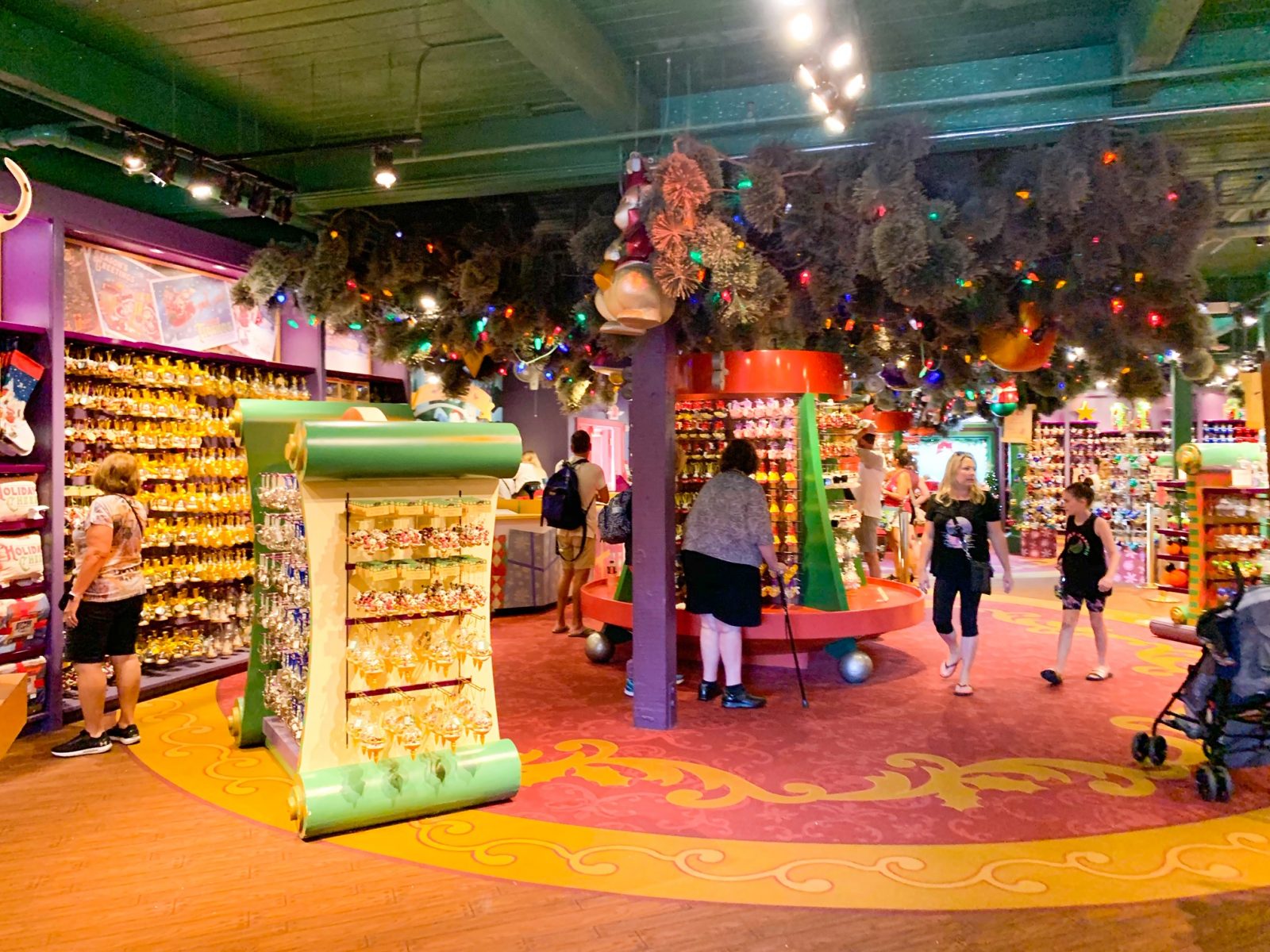 Enjoy Live Entertainment All Around Disney Springs
There are so many different places all around Disney Springs to enjoy live music and entertainment! The best part is this is one of the few things to do at Disney Springs that is free!
The AdventHealth Waterside Stage is the biggest outdoor stage area at Disney Springs where you can watch dance troupes and listen to musicians. It's located right outside World of Disney, and it has bench seating. Exposition Park is where all of the food trucks are located. There are hot dogs, mac & cheese, and cookie dough food trucks in this park, but there is also sometimes live music!
Riverboat Square is located in front of Paddlefish and Terralina Crafted Italian. Here you can find more live music and an enchanting magician! Another great place to find live music and entertainment is Sunshine Highline, located right next to Starbucks. In between the Boathouse and the Hangar bar is Waterview Park. There is nightly music and a late night DJ dance party on the weekend!
As you can see, there are tons of places to experience live entertainment around Disney Springs! If you're walking around the Springs at night, you're sure to stumble upon one of them!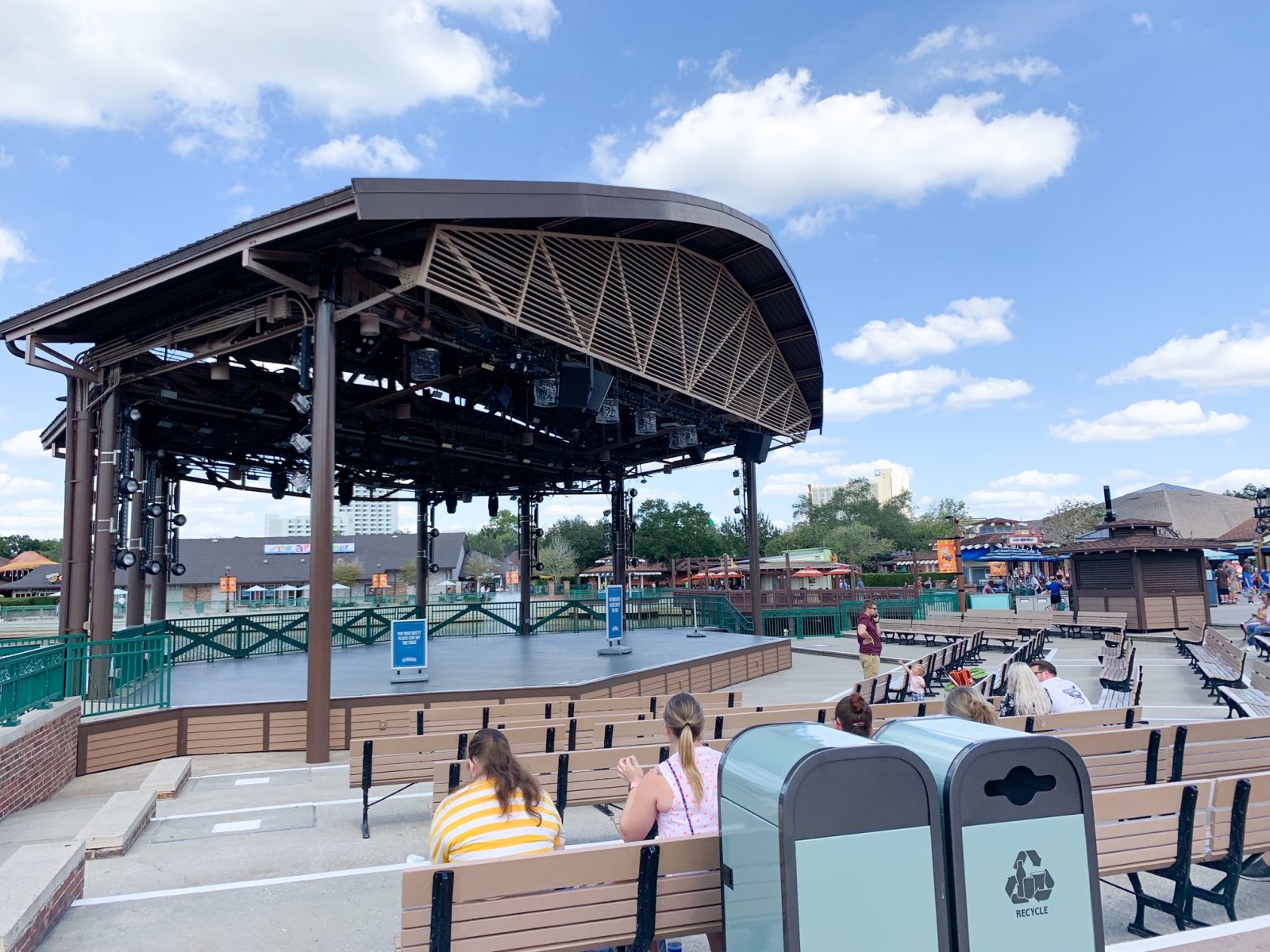 Go Bar Hopping
A great nighttime activity (or daytime activity, we don't judge!) at Disney Springs is to go bar hopping at all of the wonderful bars! There are honestly so many to choose from, you'd be drunk halfway through the list if you tried to do all of them! Check out our picks for the 10 Best (And Worst) Disney Springs Bars.
With a variety of bars comes a variety of drinks. There are so many cool bars at Disney Springs to check out. Visit a speakeasy themed bar at Enzo's Hideaway. Enjoy beer and Irish dancers at Raglan Road Irish Pub. Try out three different bars at the Boathouse. Explore night entertainment at The Edison. Bar hop to all of these fun bars for a great experience at each!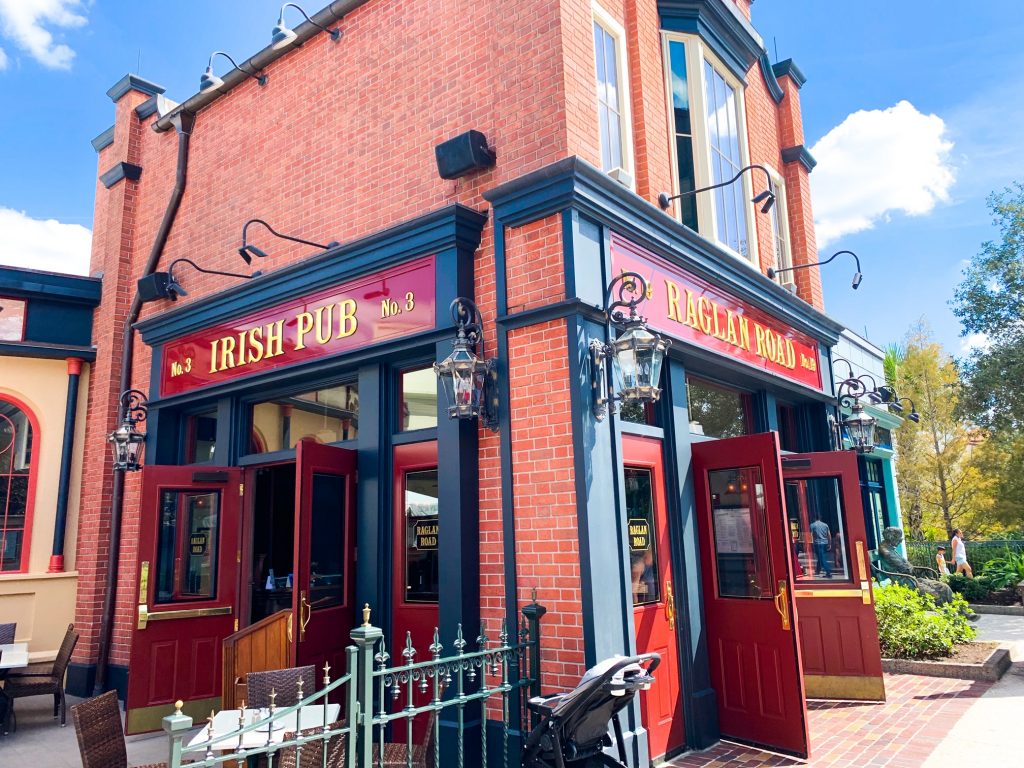 Try All of the Yummy Desserts Disney Springs Has to Offer
Not only does Disney Springs have great food and shops, but it also has some of the most delicious desserts! Got a craving for something sweet? Different shops and restaurants probably have the types of treats you're looking for!
For baked goods, try Sprinkles cupcakes, Everglazed Donuts, Amorette's Patisserie, Gideon's Bakehouse, or Erin Mckenna's Bakery NYC (this bakery serves vegan, gluten-free, and allergen-free options!).
For ice cream/gelato, try Ghirardelli, Aristocrepes, and Vivoli IL Gelato. Aristocrepes serves bubble waffles with ice cream, but they also serve crepes! Want something indulgent? Try out the Ganachery. This place sells an assortment of small chocolate truffles.
There are so many other great places and options at Disney Springs, but the list goes on and on! Just look around from wherever you stand, and you're sure to find a tasty treat nearby!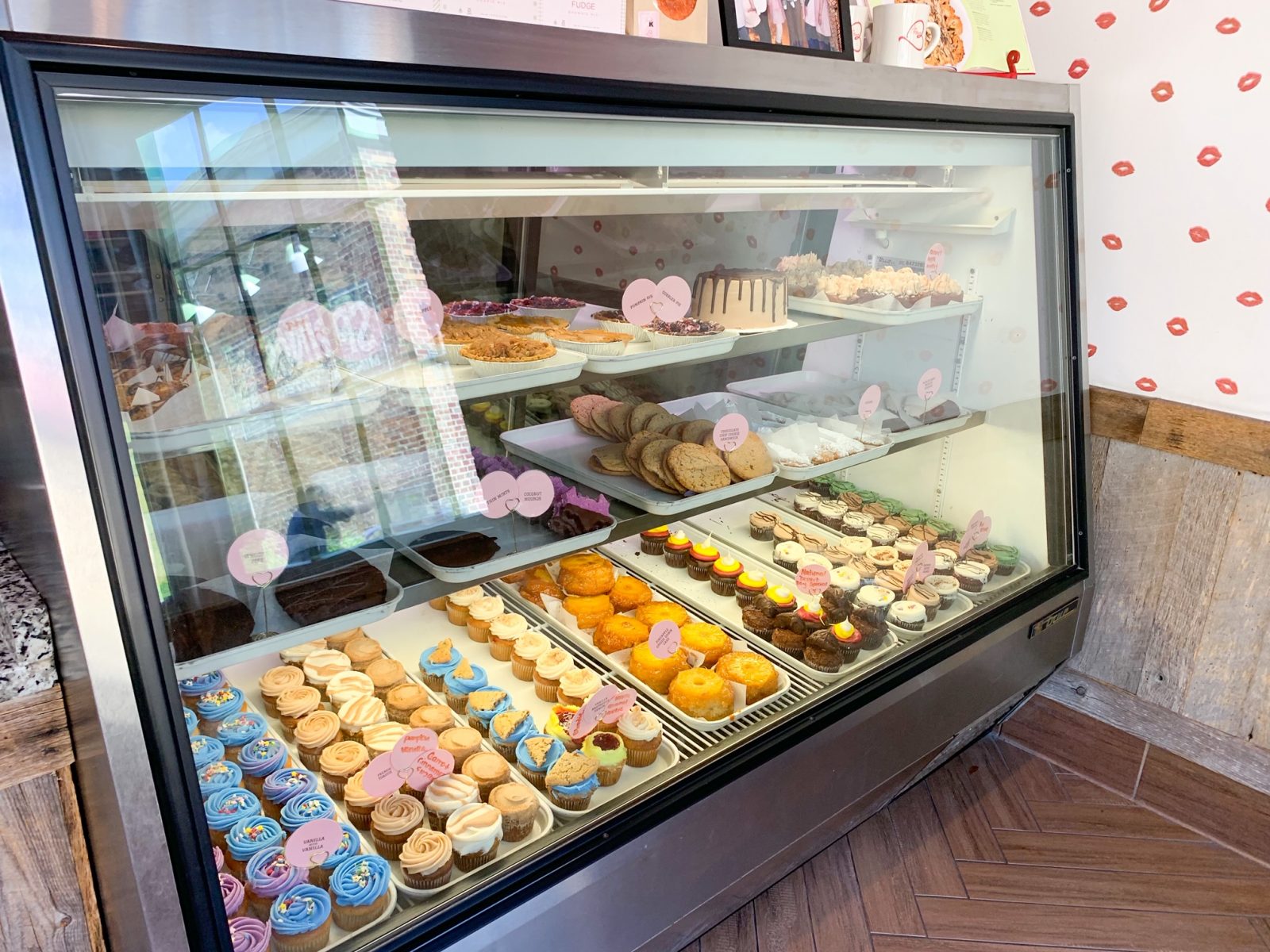 Find Exclusive Pins at Disney's Pin Traders
Those of you who have pin traded before know how serious it can get! Check out our 8 Insanely Useful Disney Pin Trading Tips if you don't really know what it is! Pin trading can be fun and exciting, but sometimes you want to buy special pins to keep rather than give away.
At Disney's Pin Traders, you can find a wide array of different Disney pins! They have pins for the parks, the resorts, rides, waterparks, characters, and more! They even have limited edition exclusive pins stored in glass cases for safe keeping. Just ask a cast member for help if you want one of these exclusive pins!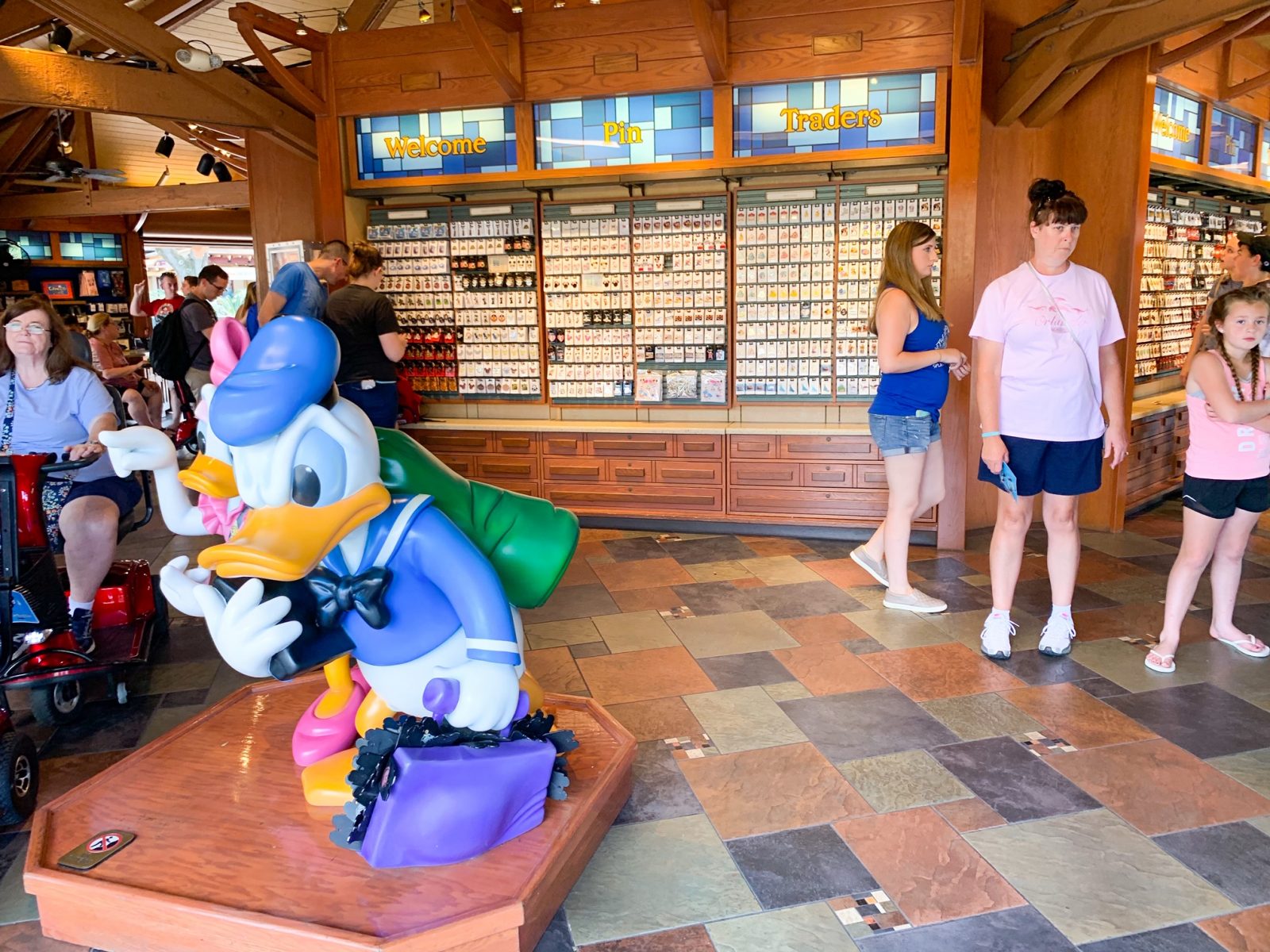 Buy Galaxy's Edge Merchandise
You might think that you can only get Galaxy's Edge merch at Galaxy's Edge in Hollywood Studios. Well think again! Not many people know, but you can get Galaxy Edge Star Wars merchandise at the Star Wars Trading Post in Disney Springs.
They have selected items from Galaxy's Edge including outfits, jedi robes, kyber crystals, and even lightsabers! Instead of having to carry around a pre-made lightsaber from Dok-Ondar's Den of Antiquities in Galaxy's Edge, just buy one from the Trading Post at Disney Springs!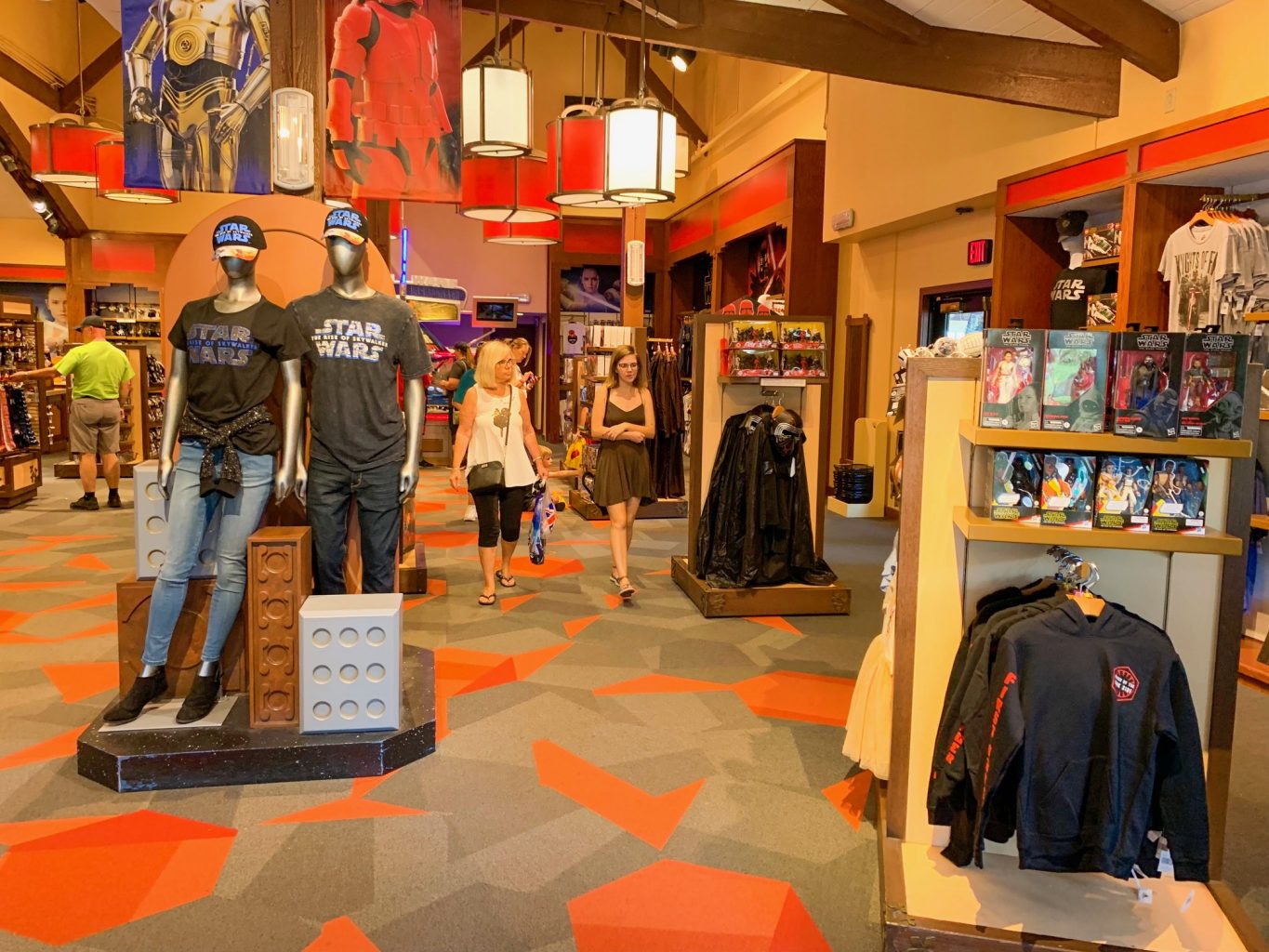 Taste Different Sodas at the Coca-Cola Store Rooftop Beverage Bar
Those of you who remember Club Cool in Epcot might miss trying all of those fun soda flavors. Well until Club Cool reopens, head over to the Coca-Cola Store Rooftop Beverage Bar to sample different sodas!
While the soda tasting was free in Epcot, the soda flights at the Rooftop Beverage bar unfortunately are not. But that doesn't mean it's not still a fun thing to do in Disney Springs!
They have different flight options that will let you sample a bunch of different flavors from around the world. You can also get floats, cocktails, mocktails, ICEEs, and snacks! This is definitely a place worth checking out.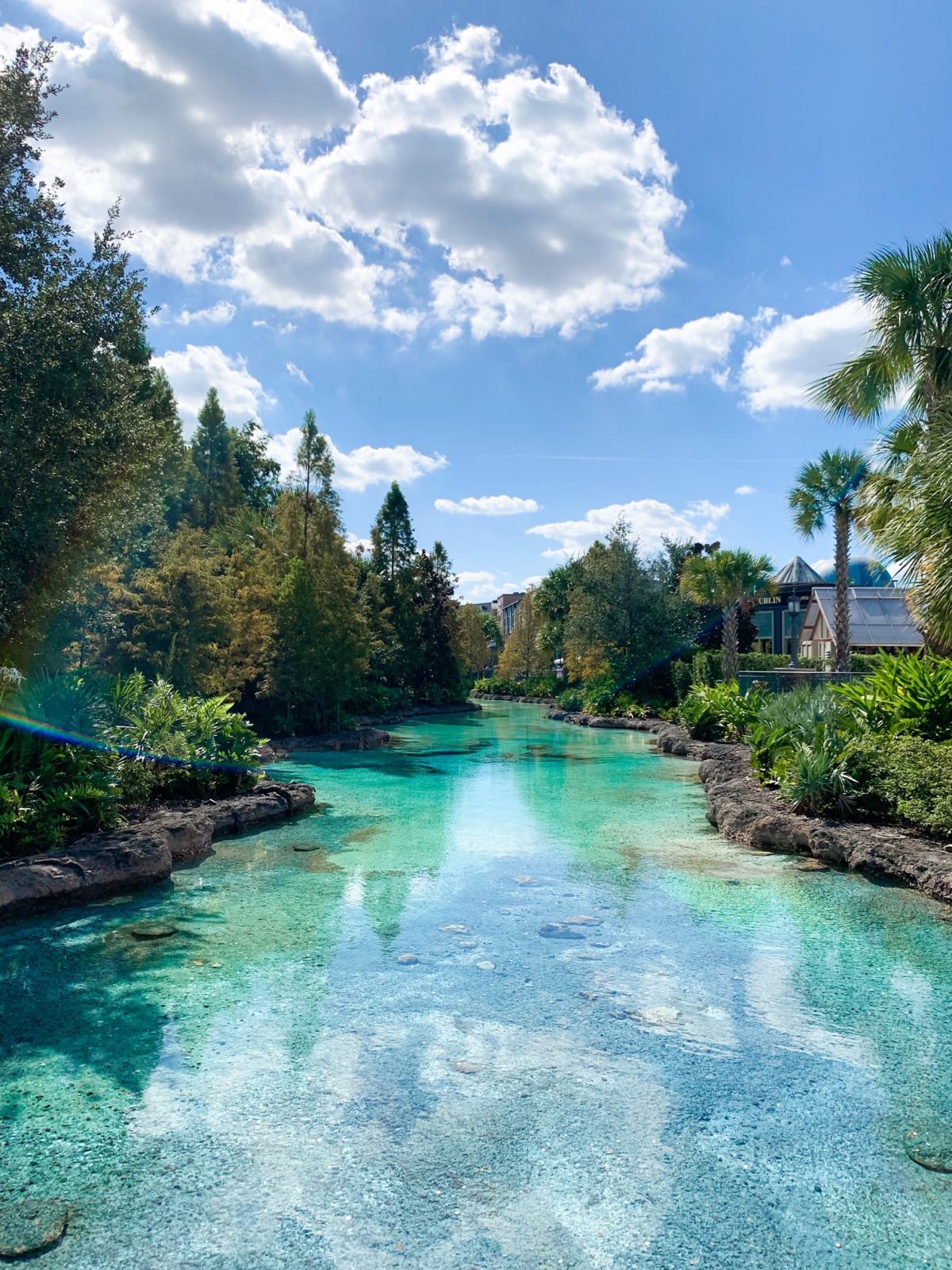 Disney Springs doesn't have to be just all shopping and dining, even though that is fun! There are so many other great things to do in Disney Springs, your possibilities are endless! Do you have a favorite thing to do when you visit Disney Springs? Let us know your must dos!