Disney pin trading is one my favorite things to do when I go to Disney! You can trade pins with cast members in the parks, in the resorts, and even in Disney Springs, so this a great activity no matter what your plans are. There are special limited edition pins; pin sets; and pins of pretty much every character, ride, theme park, and resort you can imagine!
Disney pins are a great way to commemorate a vacation or special event, or to collect and show off your love of your favorite Disney things! I have pins for different holidays, every Disney place I've been, fun sets like video games and love letters, and all of my favorite characters. If you love to collect things or to show off your Disney style, pins are a great way to go!
Get a FREE printable 30/60/90 day Disney countdown by joining our private Disney Facebook Group and share your photos and ask for tips and tricks!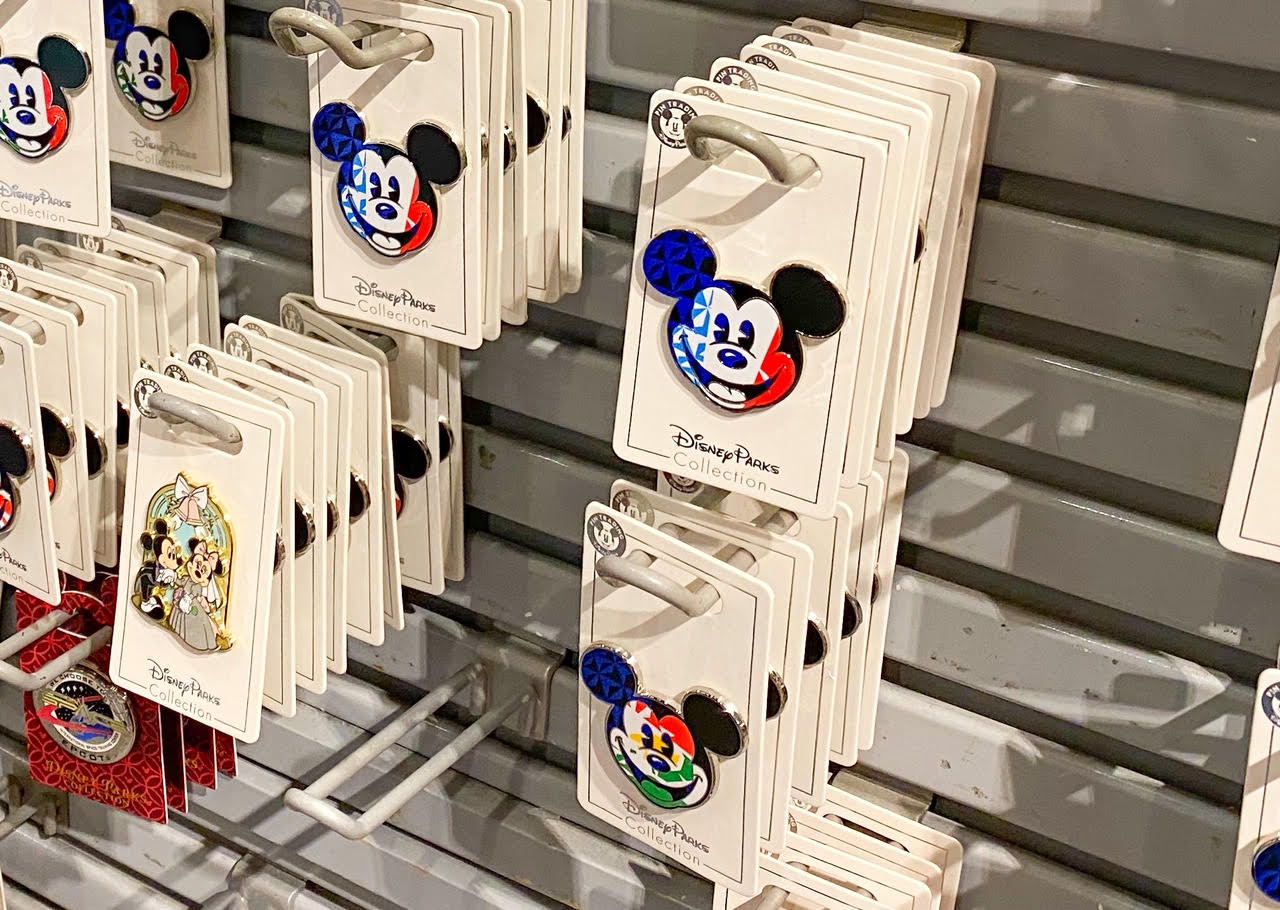 8 Insanely Useful Disney Pin Trading Pins
What is Disney Pin Trading?
You may have noticed guests wearing lanyards covered in enamel pins, or cast members carrying pins or showing full cork boards with pins whenever you're at Disney! This is because guests can trade pins with cast members! If a cast member is wearing pins or has a pin book or cork board, any guest can walk up and ask to trade with them.
You can trade up to two pins with a cast member, but you have to have a Disney pin to trade them for it! Sometimes cast members will put pins on backwards, meaning you can't see what the pin is, and you can trade for this "mystery pin" for a surprise! Cast members can also make you work for the pins by asking you Disney trivia questions, which is super fun!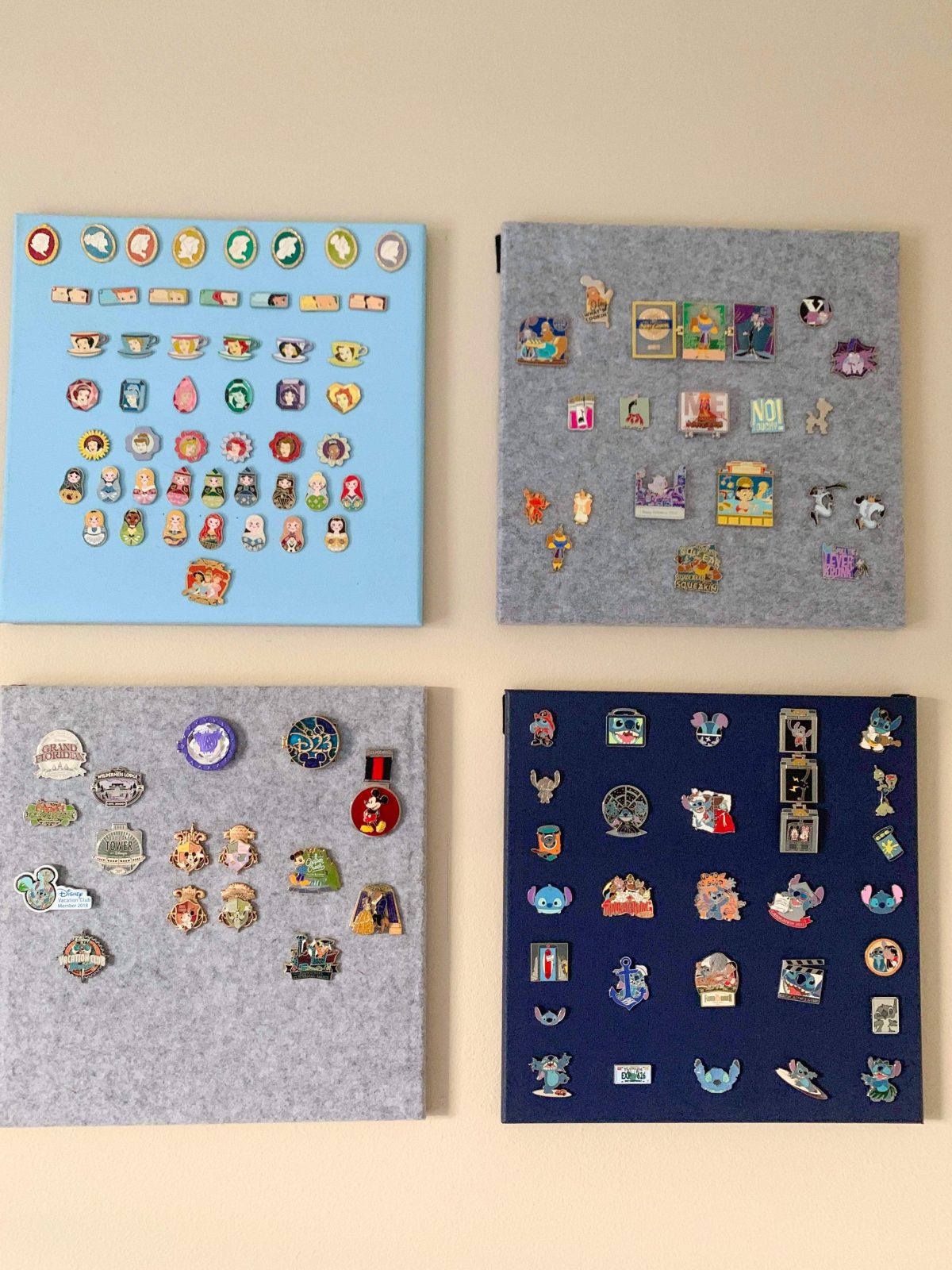 Why Trade Pins at Disney World?
Disney World is a super fun place for pin trading! The practice began because of the popularity of trading pins at the Olympics and it has grown like mad! Disney even hosts special Pin Trading Nights for traders a few times a year! Guests at Disney World love pin trading and you can often spot traders carrying books of pins or wearing lanyards or vests adorned in their favorite pins.
One of my favorite things about Disney pin trading is that every park has their own pins: Walt Disney World, Disneyland, Disneyland Paris, Hong Kong Disneyland, Shanghai Disneyland, and Tokyo Disney. What this means is that you can collect pins from all over the world! And Disney World is especially great for finding international pins because of how many people travel from other countries to Florida. I love finding a Paris or Shanghai pin when trading with cast members!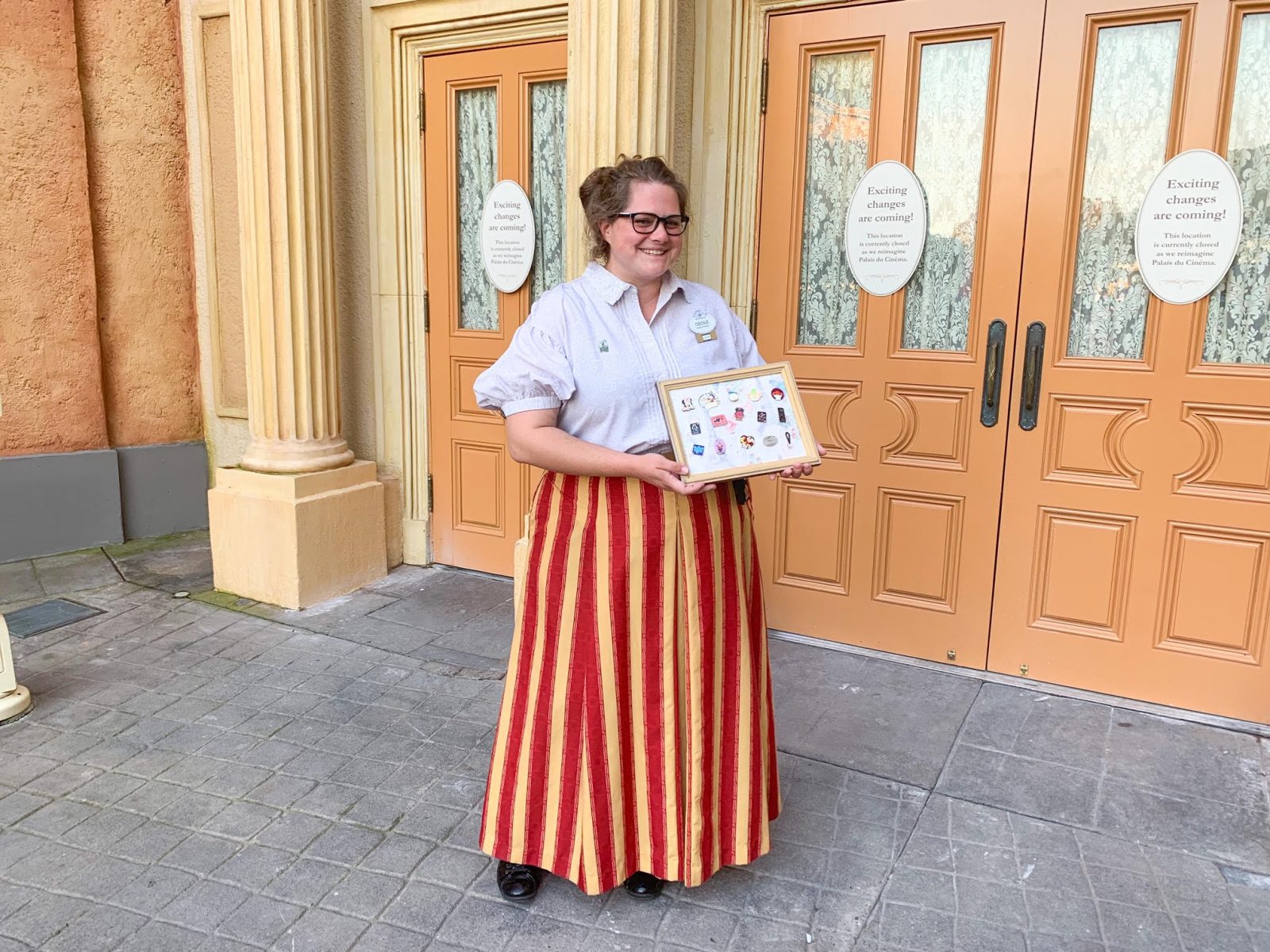 Where to Buy Disney Pins
You can buy LOADS of pins directly from Disney and, depending on what you're looking for, this may be the best way to get them. The best pins to buy directly from Disney are what Disney calls "Limited Release" pins. These pins are exactly like they sound!
Disney makes a set number of these pins (anywhere from 300 to 3,000 depending on the pin!) and once they're gone they're gone for good. You can find loads of these pins online for resale, but because they're considered rare, they're often sold at a much higher price than Disney sold them for.
If you're looking for "trader" pins, meaning ones you want to use to trade for other pins (as opposed to ones you want to keep for your collection), I highly recommend going through sites like eBay or Amazon. Often, big time pin traders or cast members will sell their excess Disney trading pins in large lots for a great deal. Before a Disney trip, I'll usually buy a lot of 50 or so pins this way so that I can have a fresh stash of pins to take to Disney with me.
Ordering pins through resale can be super fun because you basically get a mystery grab bag of however many pins you want! I love dumping them all out when they come and seeing what I've got. However, the biggest downside to getting pins through this avenue is that this is how most people get fake pins.
Fake pins are made to look identical to official Disney trading pins, but are typically of lesser value and many people can spot a fake from an authentic pin. Be sure to read the reviews for a seller before purchasing, as this can often help you identify people selling fake pins for a profit.
While fake pins can be really disappointing, the plus side is that the fakes are usually so good you can't tell if they aren't real AND most cast members will let you trade with them anyway. Fake pins are generally more of an issue when you trade with guests, which is a very different ball game! Guests don't have to trade, which means they'll often only trade with you if you have something they really want.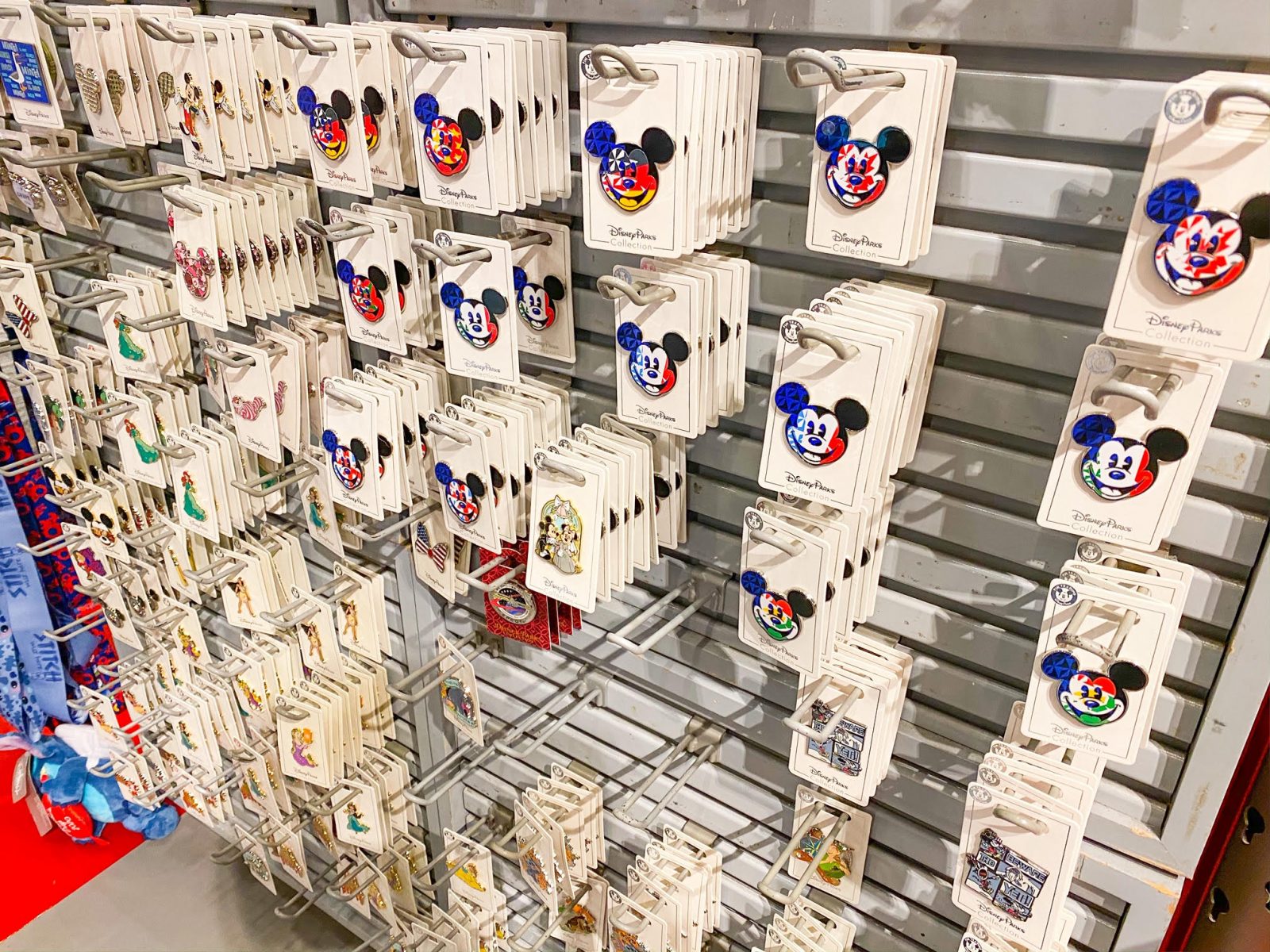 Common Types of Disney Pins
So, I mentioned Limited Release pins above, but there's more! Open edition pins are typically the individual pins you see for sale at Disney, often of characters or resorts or theme parks. These are great to commemorate a trip or event (like birthdays and weddings), and the character pins here are a great way to represent your love of a character. Disney has also started to make pins of less popular characters, so you may be able to find someone more obscure through the open edition pins.
Hidden Mickey pins (formerly Cast Lanyard Series), are specific sets of pins that are released to cast members for trading purposes. This means that the only way to get one of these pins is to find a cast member who has one and trade them for it. This makes these pins harder to find, but more exciting when you do! These pins are also released as sets, meaning there's usually 6-18 pins within the set to collect.
It's really fun to hunt them down and SO satisfying to complete one of these sets! These pins can be identified by the tiny Mickey head symbol on the front of the pin. Plus, these sets often have a "chaser" which is typically an unpainted version of one of the pins in the set.
Limited Release pins are so fun because they cover a huge variety. Disney makes Limited Release pins to commemorate anniversaries of rides, resorts, and movies which are usually really pretty and more detailed or unique than open edition pins. There are also Limited Release series of pins, where Disney releases one limited release pin of a series once a month or once every few months.
These series can be hard to complete depending on the popularity of the pin, but they're often more detailed than other series of pins (for example, 2019's pin of the month series, Kingdom Consoles, has a wired controlled that is magnetically in place and game cartridges that move in and out of the console of the pin).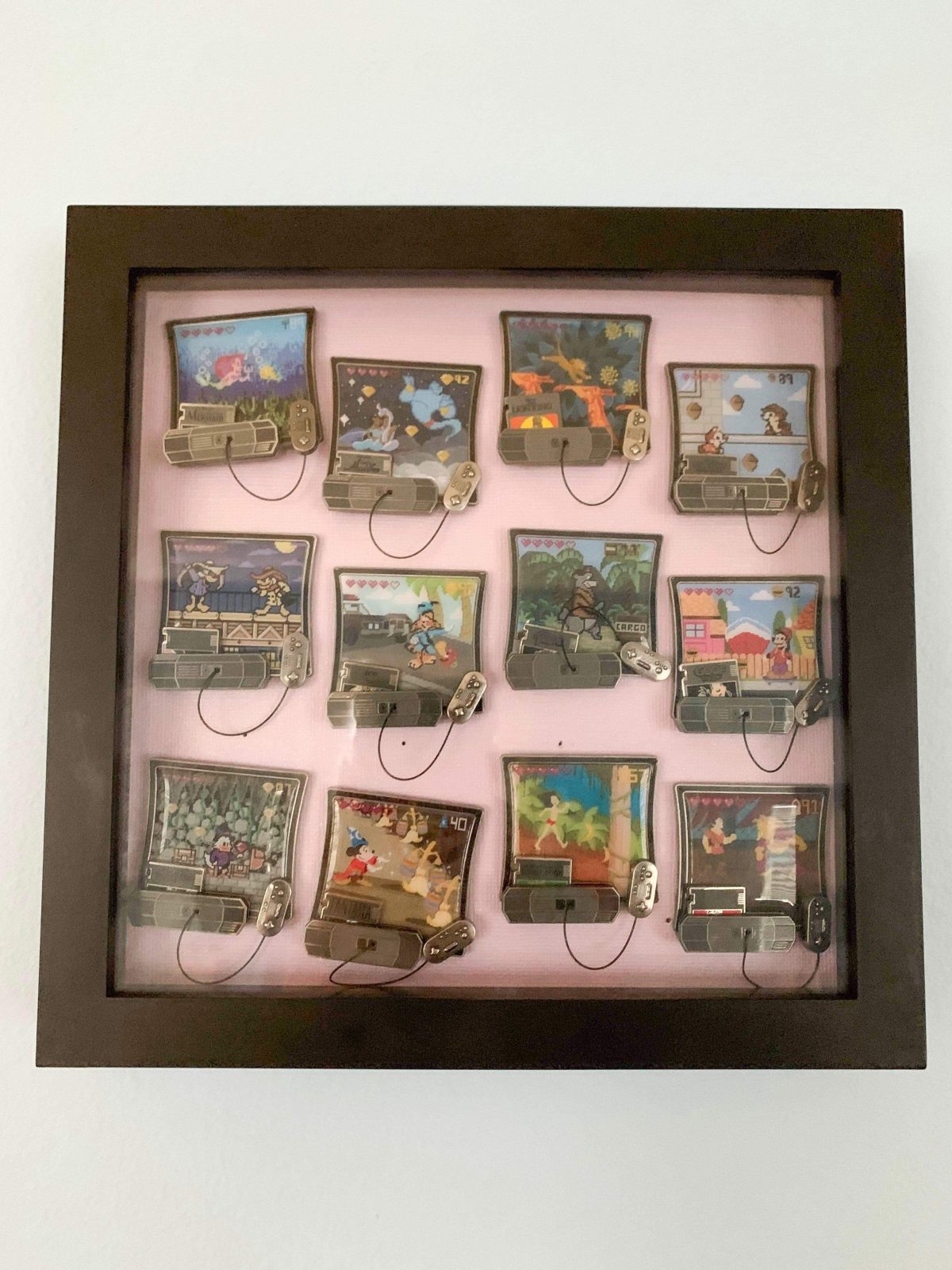 8 Disney Pin Trading Tips
1. Plan Ahead
Planning for pin trading can mean lots of different things! If you're a beginner pin trader or want to start, I recommend bringing pins with you! Buying pins in the park that you intend to trade with is pricey because you can only buy pins individually, or in packs of two or five.
This gets super expensive AND doesn't give you a lot to trade with unless you're willing to spend a lot. I am always happy to pay Disney's prices for pins that I really want, but if I'm just going to trade it for something else I don't want to spend upwards of $8 for a single trader.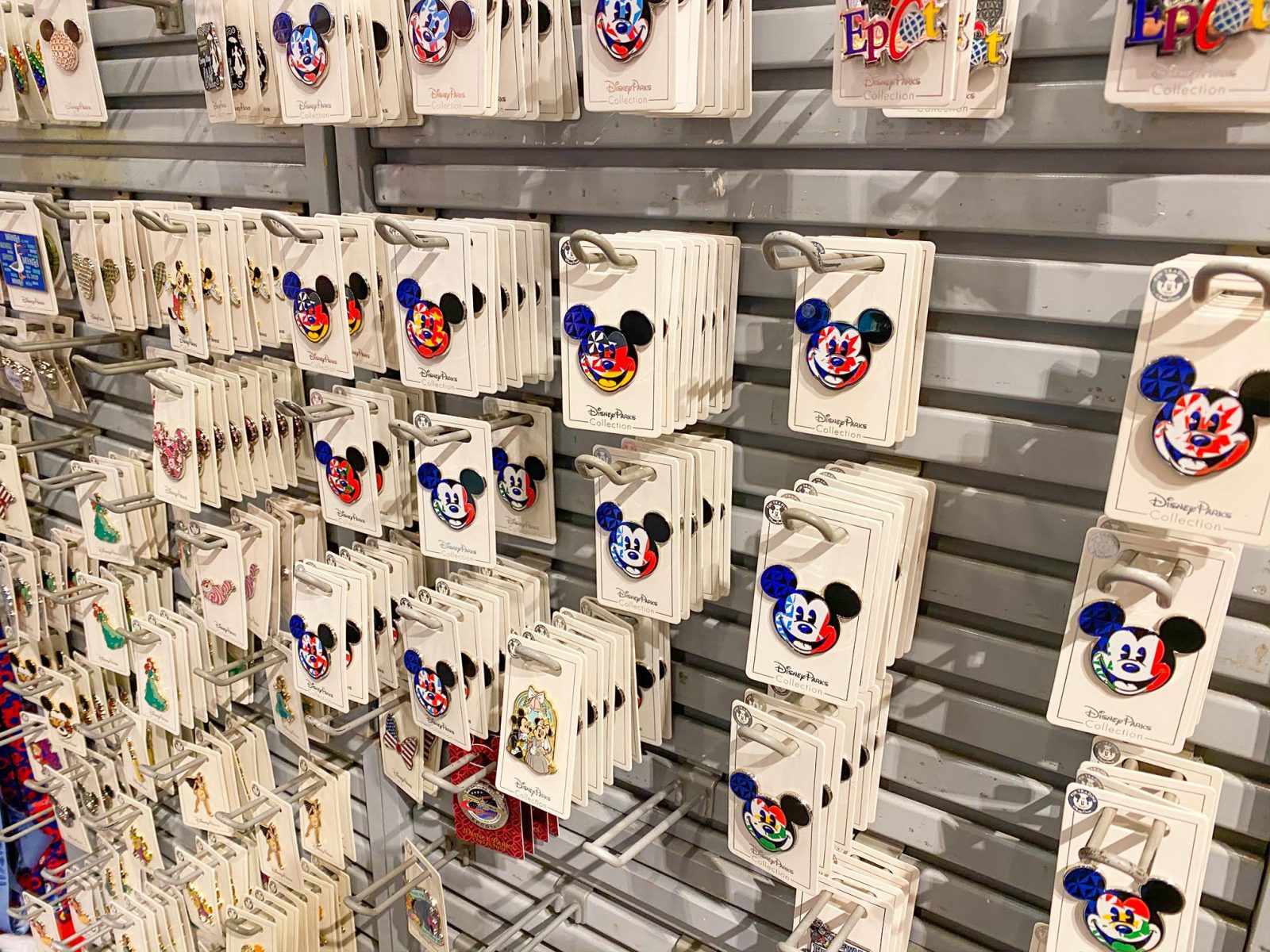 2. Keep Your Eyes Peeled
It can take some time to train your eyes to spot pins, but you've gotta keep your eyes peeled! Not all cast members wear pins and it's not always easy to spot them if they are wearing them on their hips rather than around their necks. Plus, sometimes they will be standing with pin boards that you can trade with.
However, these pin boards aren't always cork boards! Sometimes stuffed animals wear pin lanyards, or traffic cones, or garbage cans, or shields, etc! If you're only looking for a cork board you may miss some great trading opportunities!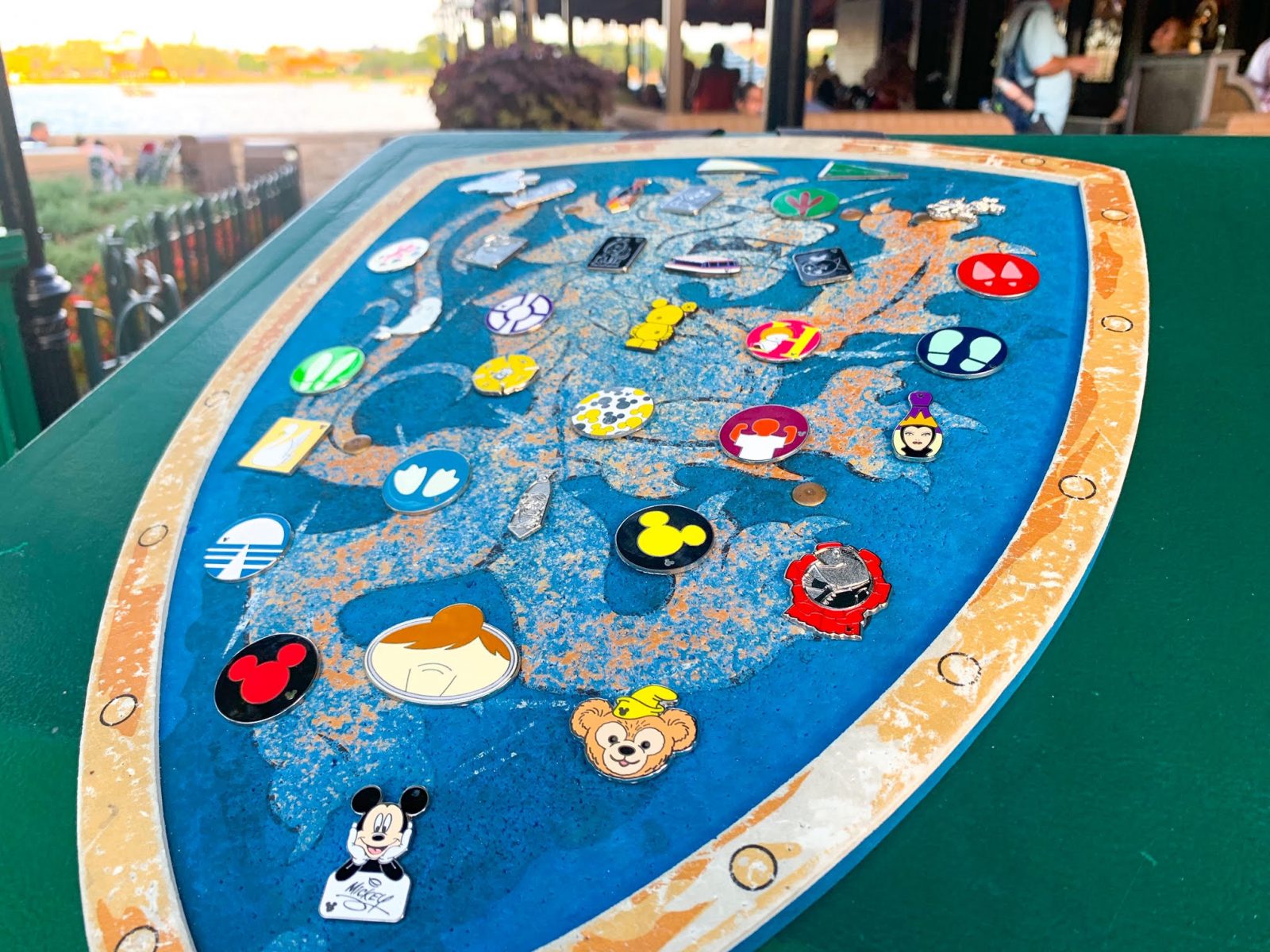 3. Know Where to Look
Okay, so you're keeping a close watch on cast members and the things they're holding or standing near. But WHERE do you need to go to find pins? EVERYWHERE! Cast members wearing pins or holding pin boards are all over the parks AND resorts, and even in Disney Springs (though not in non-Disney stores and restaurants).
The resorts are often great for trading pins because guests trade with these cast members less frequently than in the parks. Also, wherever you see a Disney Vacation Club (DVC) stand or desk, those cast members almost always have pins.
There are also pin books all over the place that you can look through and trade from, and they often have great pins because they're not as visible as cast member lanyards. If you go to the front desk of a Disney resort, ask to see the pin book and they'll bring it out for you! Same thing at guest services and a lot of different stores, like the Trading Post in Magic Kingdom. Not everywhere has a pin book, but it's always great to ask just in case!
There are also stores dedicated to pin trading in the parks and in Disney Springs. These are where you'll find Limited Release pins for sale as well as displays of the current Hidden Mickey pin sets and cast members with a lot of helpful tips. Ask them questions! They can be immensely helpful.
Often the pin stores have pin boards, and the one in Disney Springs has a massive pin WALL that they only open at certain times of day. At Epcot, Mouse Gears has a similar set up. They don't reveal a schedule for when these pin boards are open for trading, but they are so fun to catch!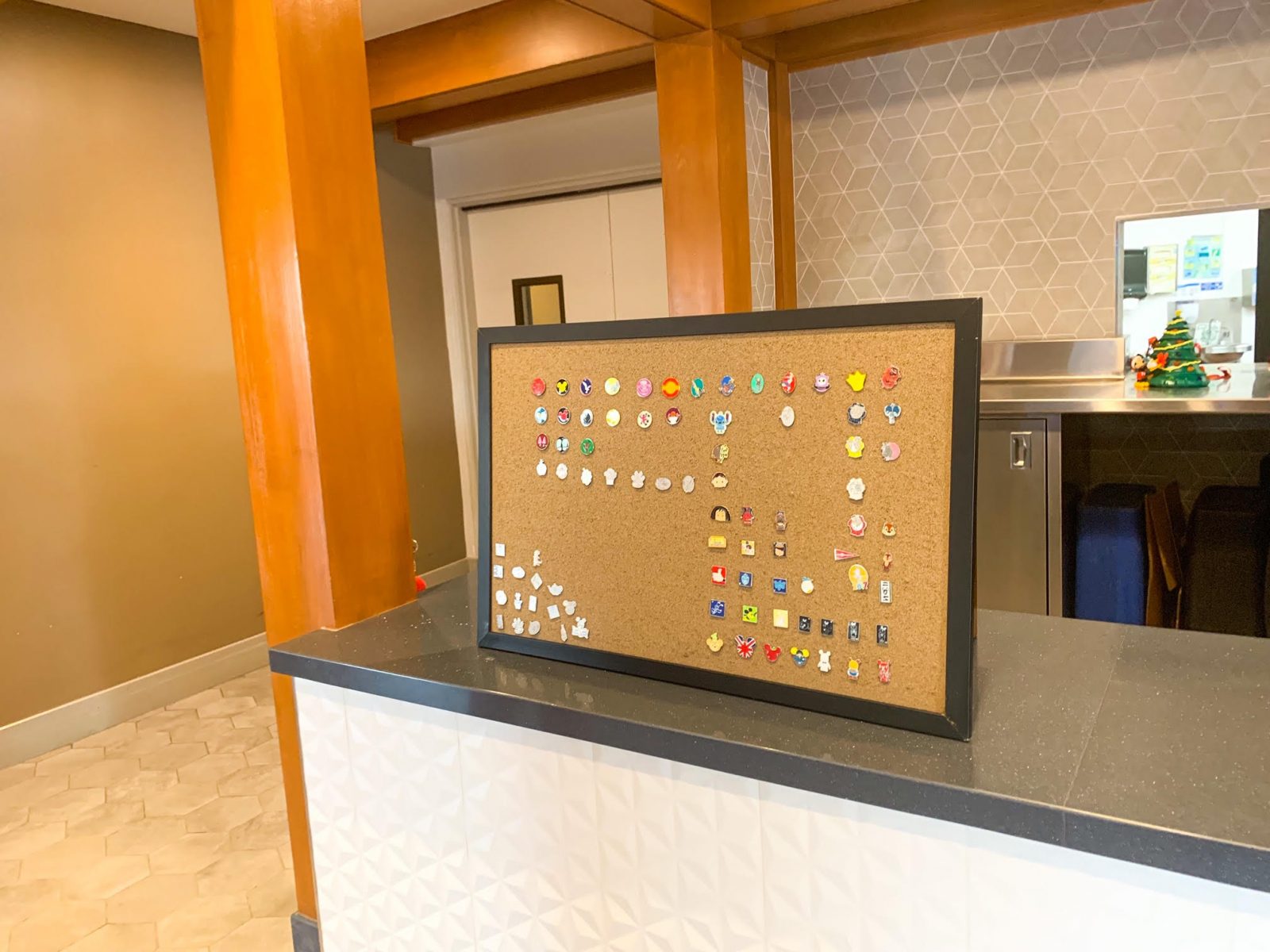 4. Know What You're Looking For
Planning ahead for pin trading also means knowing what pins you may want! This isn't necessary but it is definitely helpful. Disney puts out an infographic every month of the pins that will be released and what days they'll be released on for both Disneyland and Disney World, so I highly recommend taking a peek to find any must-haves before you go.
In addition to these pins, you can also see the different Hidden Mickey pin sets that are currently in the parks. I find that this is helpful because it's easier to find something if you know what you're looking for! Plus, it means you can scan pins much faster if a cast member is walking past you and you don't want to interrupt them. A lot of the time I'll scan a cast member's pins quickly that way I only need to stop them if I KNOW they have something I want!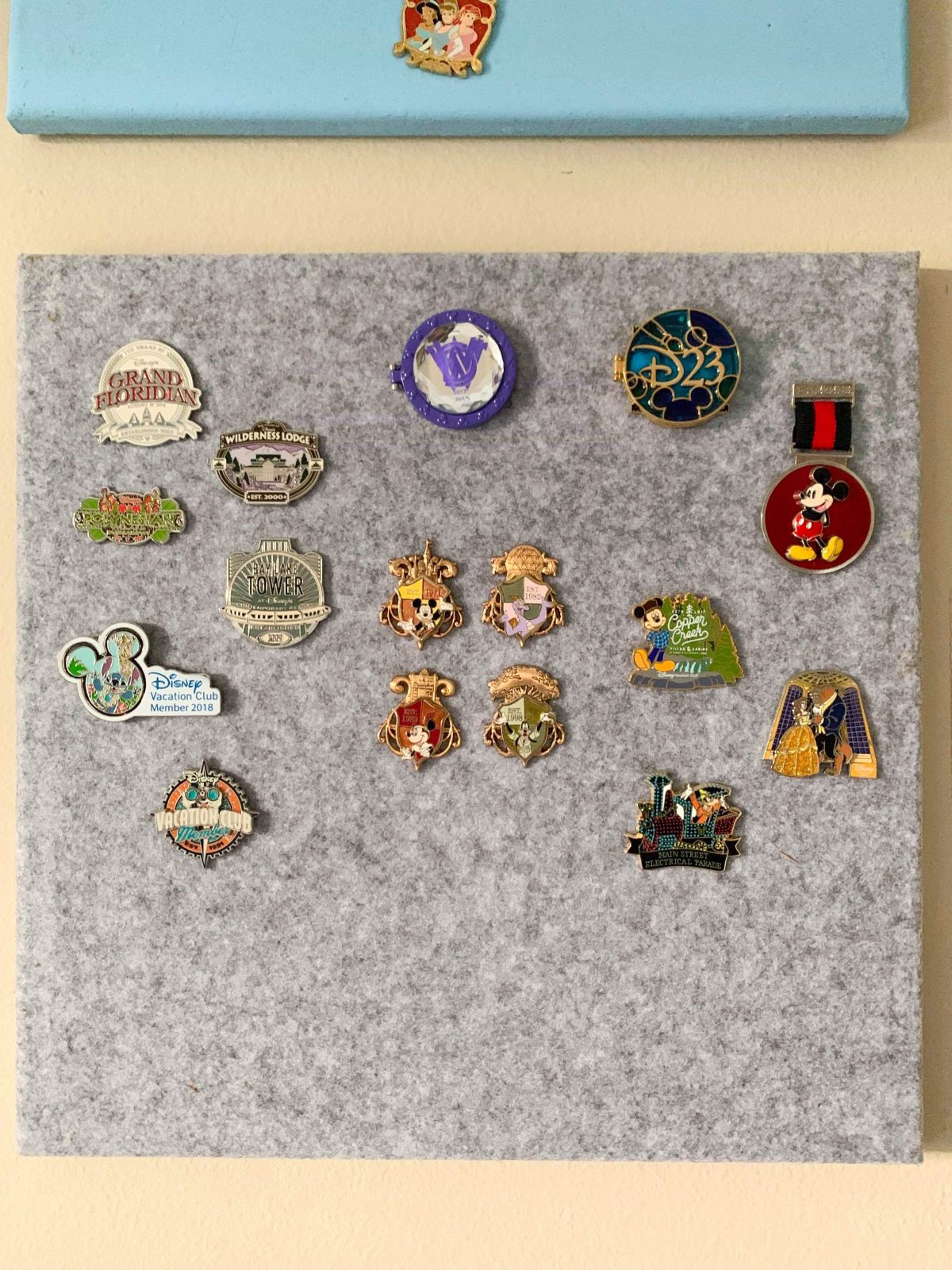 5. Learn the Differences
Being familiar with the different types of pins and just the different pins that are made can help you go from a novice to a pro pin trader. Cast members can end up with rare or special pins on their lanyards, which is great for traders who come in and trade for them, but you don't want to be in a situation where you traded something special away for something you'll see on every cast member you come across.
You can also train your eye to spot the differences between real Disney pins and fakes. Because fake pins are made to look identical to real pins, they have a way of making it onto cast member lanyards, so if you care about getting the real deal, look closely to see what the pin is.
Look for the Mickey head on the front of hidden Mickey pins, the Mickey pattern on the back (of newer pins), differences in coloration or texture, and even the weight! I can have a hard time telling a fake from a real Disney pin, but I've noticed that fake pins are MUCH more lightweight than Disney pins because of the cheaper materials used to make them.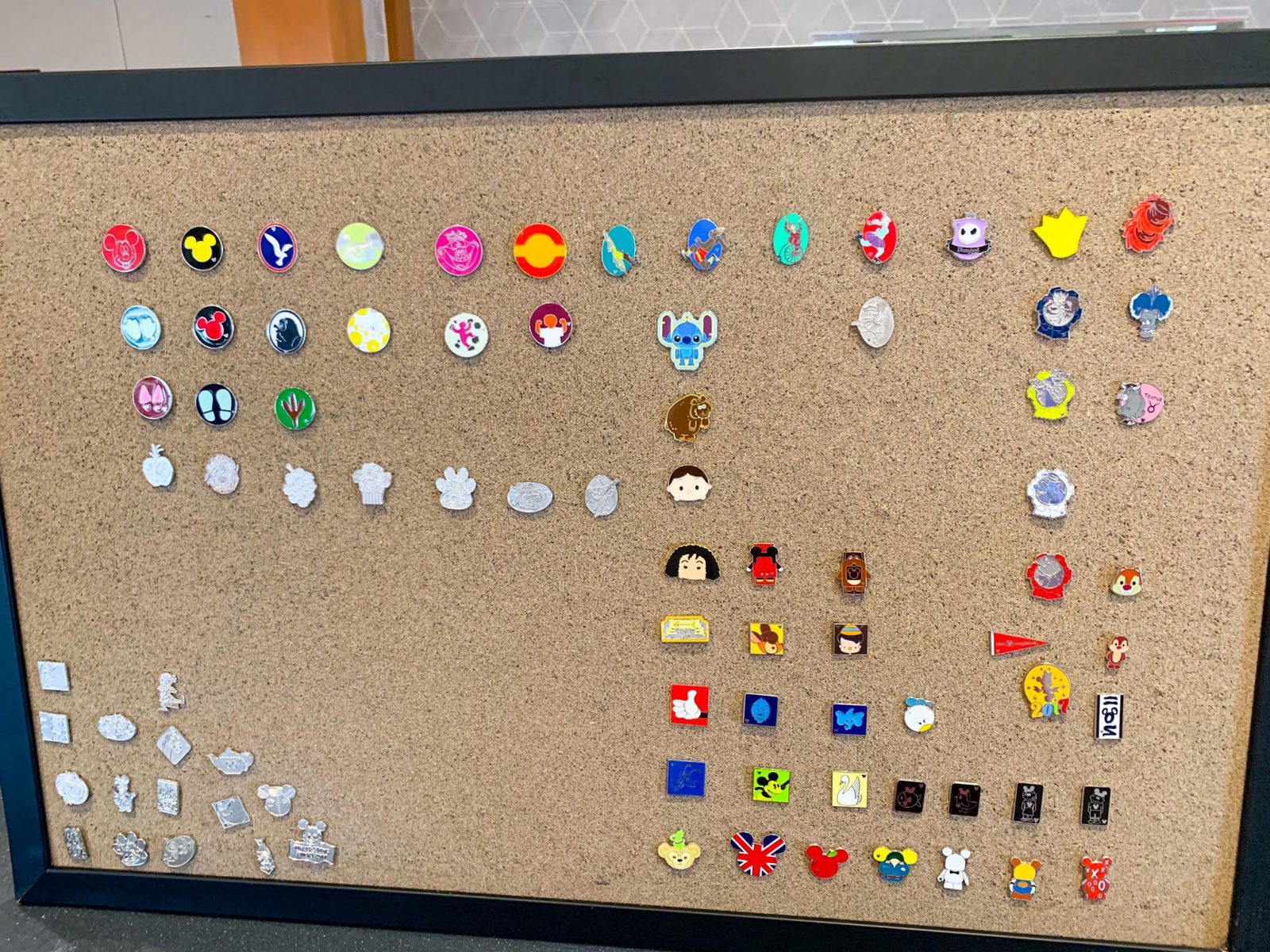 6. Watch Your Backs
The backings that come with Disney pins are cute rubber Mickey heads, and for the most part they're pretty sturdy. However, the more the pins are traded the looser those backs become and may fall off, causing pins to fall off with it! I can't tell you how many times I've seen lost pins or pin backs on the ground at Disney because they've fallen off a lanyard. I've even had some pins that I've fought with because they wouldn't stay in their backings!
If you have some loose backs just fighting to jump to freedom any second, definitely look into buying some locking pin backs. These are more of a hassle and not great for pins you intend to trade with cast members throughout the day, but if you have some keepers you just don't want to risk losing, locking backs are the way to go. These come with a tiny Allen wrench so that you can tighten the back into place!
7. Know the Schedule
Whenever you have a trip planned, be sure to take a look at the pin releases for that month! Disney puts out their release calendar just ahead of each month, and it shows photos of each pin that will come out and the day it releases on. Be sure you're looking at the calendar for the correct park- I have been so disappointed on a number of occasions when I got excited about a pin coming out only to discover it was ONLY in California!
Even if you're not hunting down a limited release pin of the month set, it's good to know what will be releasing during your trip. These calendars also show pins coming out for special events like movie anniversaries, holidays, and occasions like Nurses' Day and Boss' Day. These pins are often really popular among Disney guests, regardless of whether they're into pin trading, so it's good to know if there's one you'll want so you can get it ASAP!
8. Display with Pride!
Now this is the fun part! I LOVE coming up with different ways to display my favorite pins. Some sets I worked really hard to complete so I want to cherish them, and sometimes I just love representing my favorite characters, and there are so many different ways to do it!
You can wear your pins on a themed lanyard, on your jacket, on a hat, in a pin book, on a pin board, etc! I even have several shadow boxes dedicated to some of my hardest completed sets. You can get custom pin boards like this or have fun with scrapbook paper and paint to make your own!
Pin displays have infinite possibilities and whether you want to wear your favorites, decorate your home with them, or put them in a book you can bring to Disney with you, they will look FABULOUS! The sky is truly the limit here, and it's so fun to see all the different ways people come up with to display their Disney pins, so don't let the fun stop when you're not trading!
That's it! You are ready to dive into the world of Disney pin trading! It can be totally addicting and a great way to add some extra fun to your trip without breaking the bank whether you're looking for something extra to keep the kiddos focused or just love a good treasure hunt. Have fun!
Pin this post: