Are you looking for the best Disney rides for kids? If so, you've come to the right place!
With the hundreds of rides and attractions at Disney World, it is normal to spend your time trying to figure out what ride will be best for your entire group. Between adults, teens, and kids of different ages, it's always tricky trying to make an itinerary!
For kids about grade school-age kids, or kids around 10 and under, here are our top choices to make your trip planning easier and still just as fun!
As with anything, please discuss the ride with your child beforehand because not every elementary-age child will like every ride! Some may hate drops or dark things and some may be all about the rides that are more thrilling!
This post is here to show you the perfect rides for kids that are looking to expand their horizons from "little kid" rides and grow into more "big kid" themed attractions!
Best Kids Rides At Magic Kingdom
Splash Mountain
Disclaimer: Splash Mountain is down for refurbishment and will reopen as "Tiana's Bayou Adventure" in late 2024.
Height Requirement: 40 inches
Classified as a thrill ride, this Disney attraction is perfect for big kids as it is a generally relaxing ride with a large drop at the end. Additionally, with the big splash at the end, kids are usually begging to go on this ride.
Splash Mountain is located in Frontierland.  If you are looking to get soaked, sit in the front. If not, aim to sit in one of the back rows! This is great for kids who are interested in trying something new, but not too crazy! Tons of smaller children do this ride every day and love it. It can become a family favorite very fast!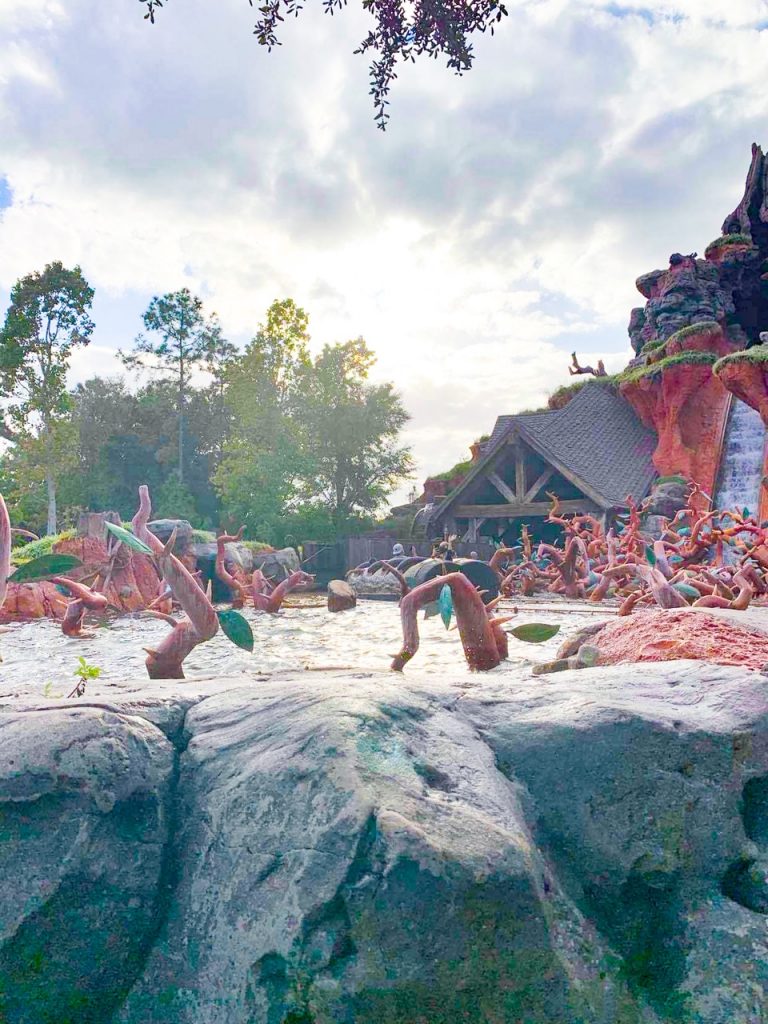 Haunted Mansion
Height Requirement: 35 inches
Though the name may throw you off, Haunted Mansion is actually one of the best Disney rides for kids. Though the decor is a little spooky, the ride is very laid back and the ghosts inside the mansion are friendly!
There is no gore here, just some mildly-scary scenes. The ride is slow-moving, so not as fast as your typical roller coaster. You can visit the Haunted Mansion in Liberty Square.
This is the perfect ride for kids who are looking to have a relaxing, yet entertaining experience with rides! Just be sure the idea of ghosts doesn't scare them, as this attraction is full of them!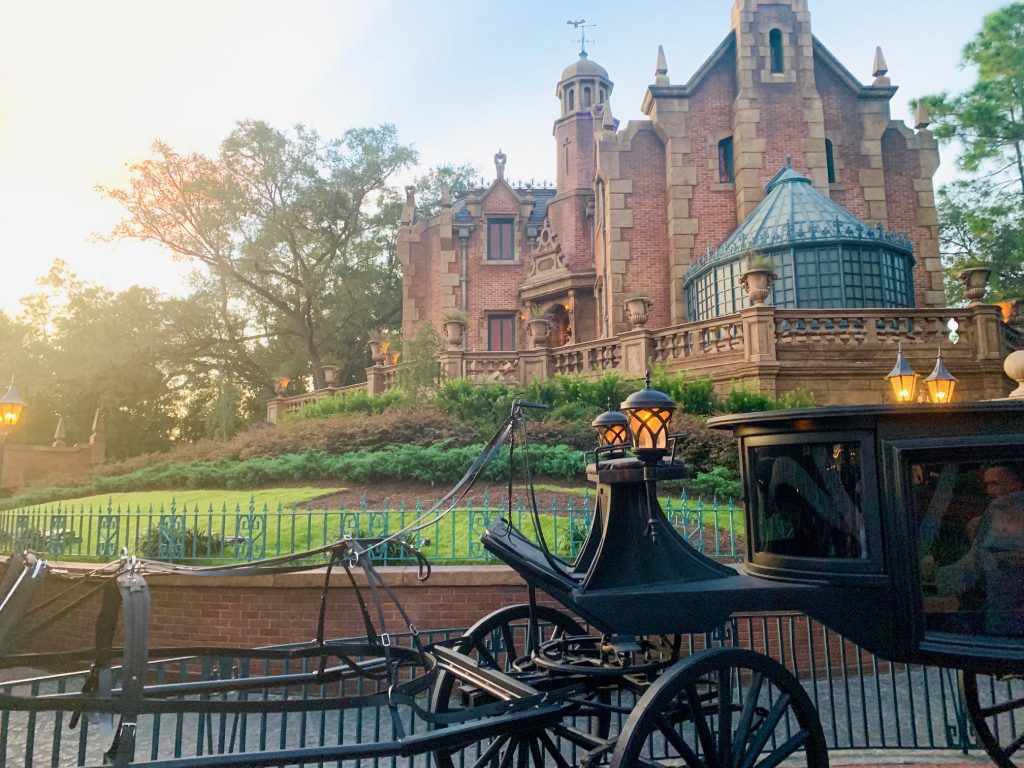 Big Thunder Mountain Railroad
Height Requirement: 40 inches
Big Thunder Mountain Railroad is one of the best Disney rides for school aged children and definitely a good starter for if you're unsure of roller coasters are for your kids or not. This attraction is one of the most popular at Disney and for good reason.
Though some parts of this ride contain bumps and require traveling through the dark, it was truly designed for kids and adults. Located in Frontierland, Big Thunder Mountain Railroad takes place in an abandoned mine shaft.
It is definitely kid friendly and a fan favorite of many adults as well! This is the perfect ride for any big kids who want the thrill of saying they got to go on a coaster! It is a little fast moving at times, but doesn't have huge drops which can be scary to some!

Pirates of the Caribbean
Height Requirement: None
Back when pirates ruled the seas, they did a lot of singing. You can see that first-hand here at this Disney ride for kids. Kids will love the decor and attire of the pirates, and be sure to keep an eye out for Captain Jack Sparrow!
This attraction, in Adventureland, is perfect for kids due to the fact that it is slow-moving and glides through water. It also features very catchy music and a distinct smell that any Disney fan can distinguish as the Pirates ride!
Kids will love this ride, especially if they are familiar with Captain Jack Sparrow! For those who love to pay attention to detail, a fun game may be trying to see who can spot him first of all the pirates!!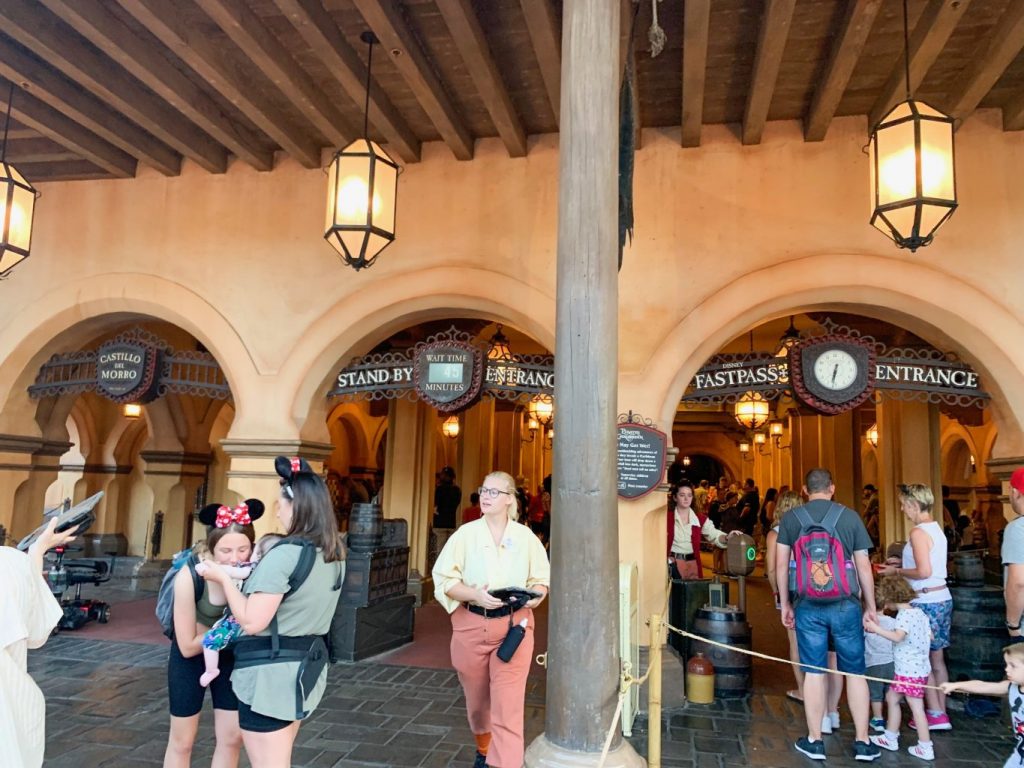 Space Mountain
Height Requirement: 44 inches
Blast into outer space as you take your kids to Space Mountain, one of the best rides at Disney for all ages. Though a bit more on the faster and more thrilling side, this is still a great experience for school-age kids.
Located in Tomorrowland, it's hard to miss Space Mountain during your visit. Kids will enjoy the catchy soundtrack that plays while they soar through a seas of stars, comets, and meteors. We suggest taking them on one of the easier-going rides before this one, as it is a little intense!
Space mountain is an awesome ride for the thrill-seeking kids out there!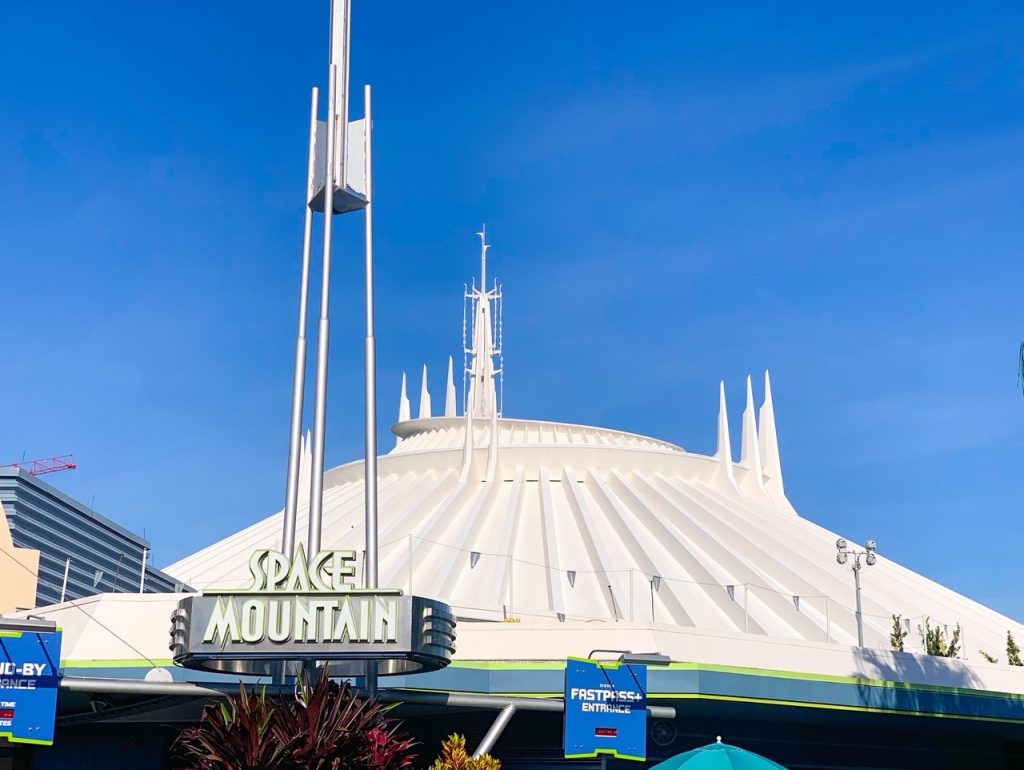 The Magic Carpets of Aladdin
Height Requirement: None
The Magic Carpets of Aladdin are yet another fan-favorite of rides at Disney due to its flexibility. This ride allows you to soar through Agrabah on a magic carpet ride. You can also adjust your height on the ride, which makes it great for any kids who aren't thrilled with heights!
In Adventureland, this slow-spinning ride offers middle-Eastern music and a neat view of the Magic Kingdom! This is a special treat for any kids who like the movie Aladdin as well!
This ride is intended for a younger crowd, as it is a little more laid back! For those who want the experience but not the thrill, this is the ride!

Best Kids Rides At Epcot
Soarin' around the World
Height Requirement: 40 inches
This ride is one of the best for kids at Disney because it is an amazing experience that they will love! Riders will be swept into the air and shown many different landscapes that are all equally as breathtaking and neat.
Located in Future World, this is definitely a great option for kids who aren't prone to motion sickness or don't have a fear of heights. This is one of the best family rides as well, as it is an incredible sight to see!
This ride fills up quickly due to popularity so make sure you plan ahead if your child is intrigued by it!!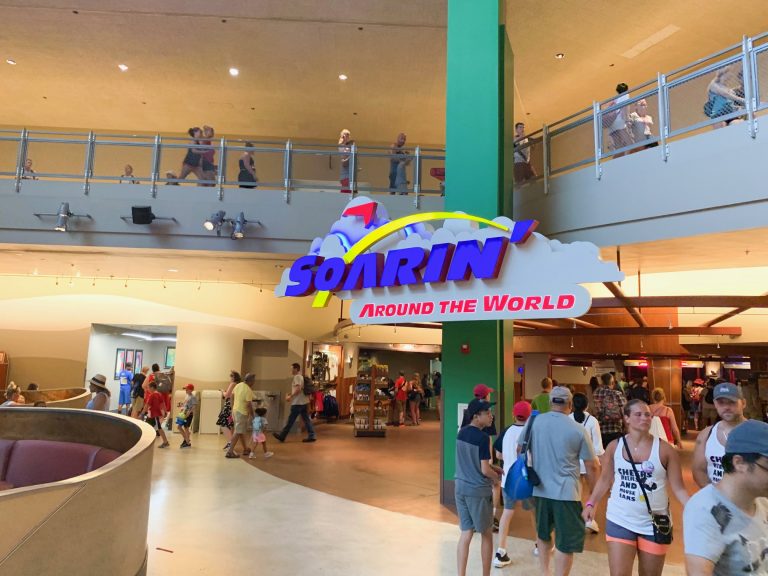 Test Track
Height Requirement: 40 inches
For the creative kids out there, Test Track is one of the best rides you can visit at Disney. Stop at the Chevrolet Design Center to build your own virtual car concept. Then, you can take it for a spin on the test track!
Stop by Future World to experience this thrilling ride that is perfect for families. Reaching speeds up to 65 mph, you will race through terrain and see how your car does. You can even take a photo with your car once you finish!
Since most kids do love cars, this is one of the best rides for kids at Disney, especially those who have taken an interest in them!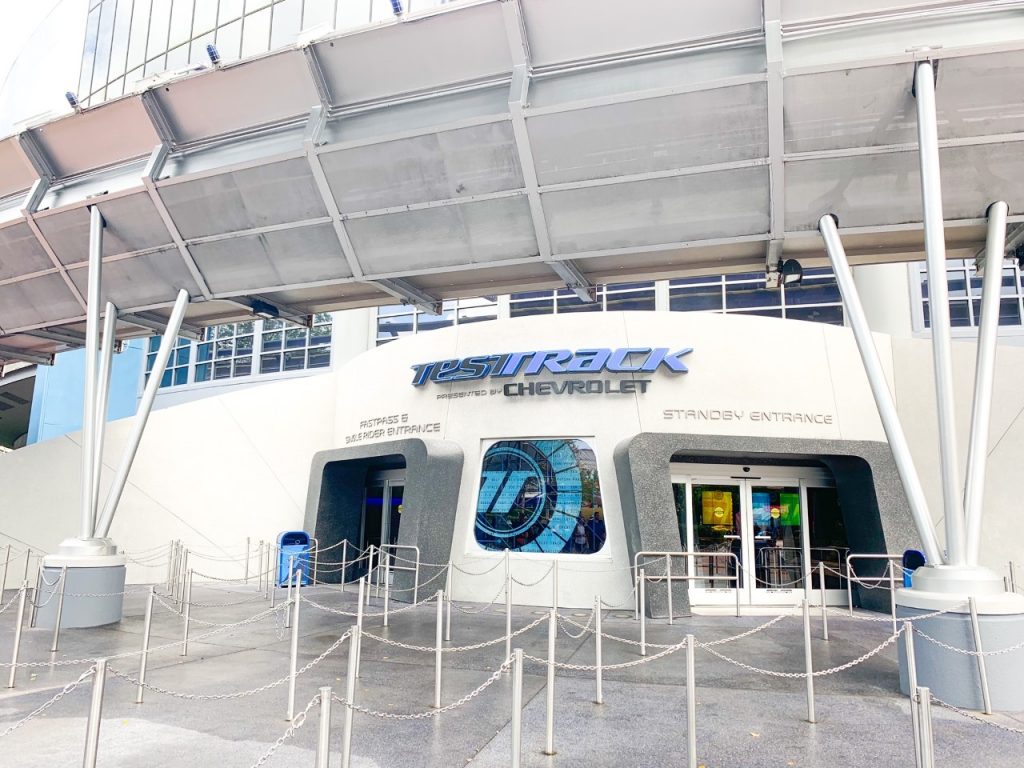 Ratatouille
Height Requirement: None
Ratatouille is a fun Disney ride for kids in EPCOT's France Pavillion. Based on the popular animated film of the same name, this 4D adventure has guests joining Remy on an adventure in Gusteau's restaurant.
Ratatouille functions on a trackless system, like Mickey and Minnie's Runaway Railway- another family-friendly Disney ride for kids, that takes you through familiar scenes from the Ratatoullie film, and a few new scenes as well. 
Viewing the screens does require the use of 3D glasses, so if you or your party are sensitive to simulations or 3D films, you may want to pass on this ride.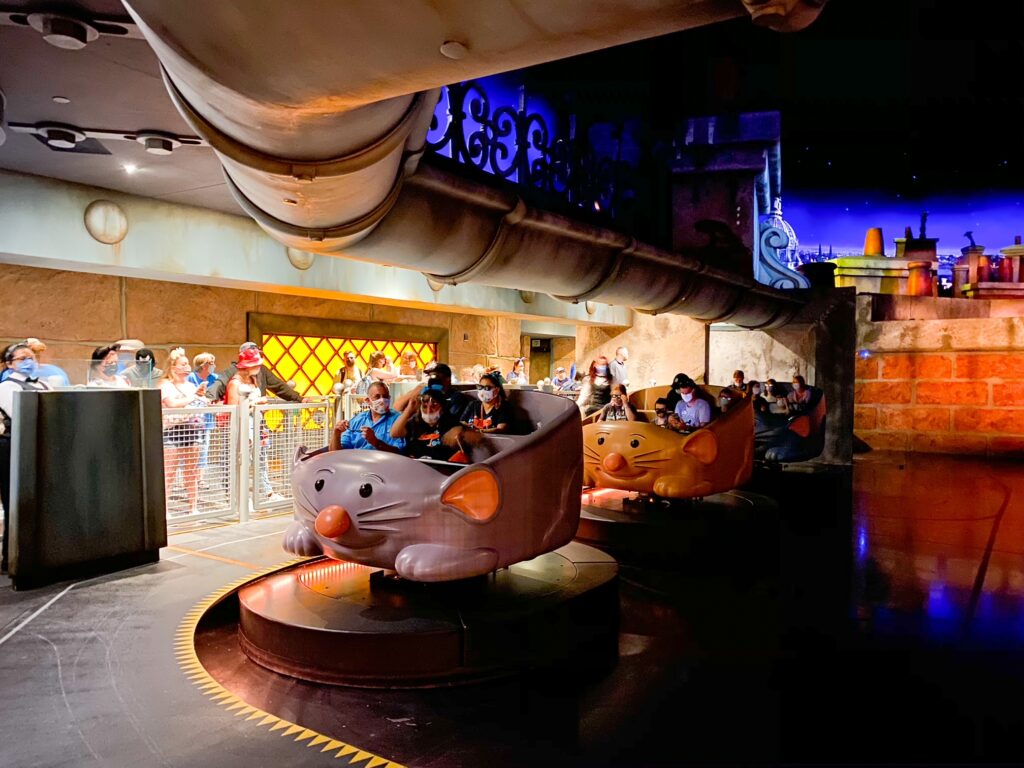 Guardians of the Galaxy: Cosmic Rewind
Height Requirement: 42 inches
Guardians of the Galaxy: Cosmic Rewind is one of the best rides in EPCOT, and one of the most entertaining Disney rides for kids!
This ride is an indoor galactic rollercoaster that has the Omni-mover feature, so think Haunted Mansion meets Space Mountain.
If you are motion-sensitive or are prone to motion sickness, you may want to consider skipping this ride.
While the coaster does not go upside down, it does twist and turn in a way that may have riders feeling the movement of the ride.
When we were told this was better than Flights of Passage and Rise of the Resistance, we were doubtful.
However, this ride is worth has quickly climbed the ranks as one of our all-time favorite rides at Disney World.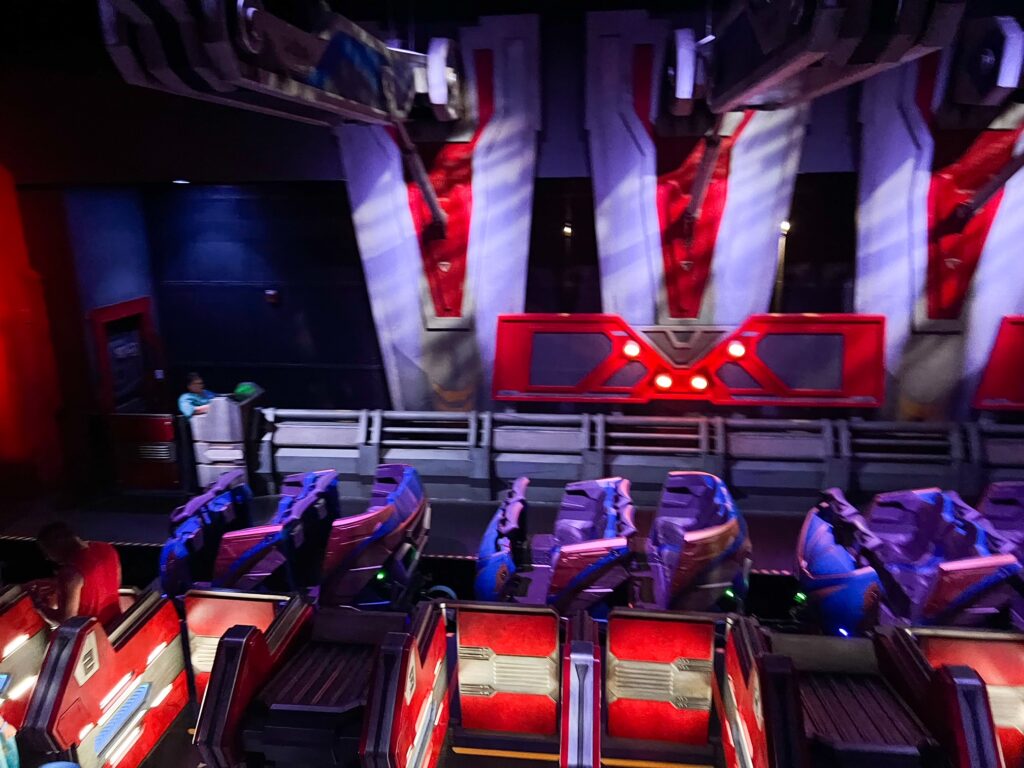 Best Kids Rides At Animal Kingdom
Avatar Flight of Passage
Height Requirement: 44 inches
One of the most popular rides at Disney is also the perfect experience for kids, especially Avatar fans. Flight of Passage allows you to ride a winged mountain banshee and take a flight over Pandora.
Located in Pandora, of course, this ride is an experience within itself! Whether you are an Avatar fan or not, this is a must-experience ride for all visitors of Disney!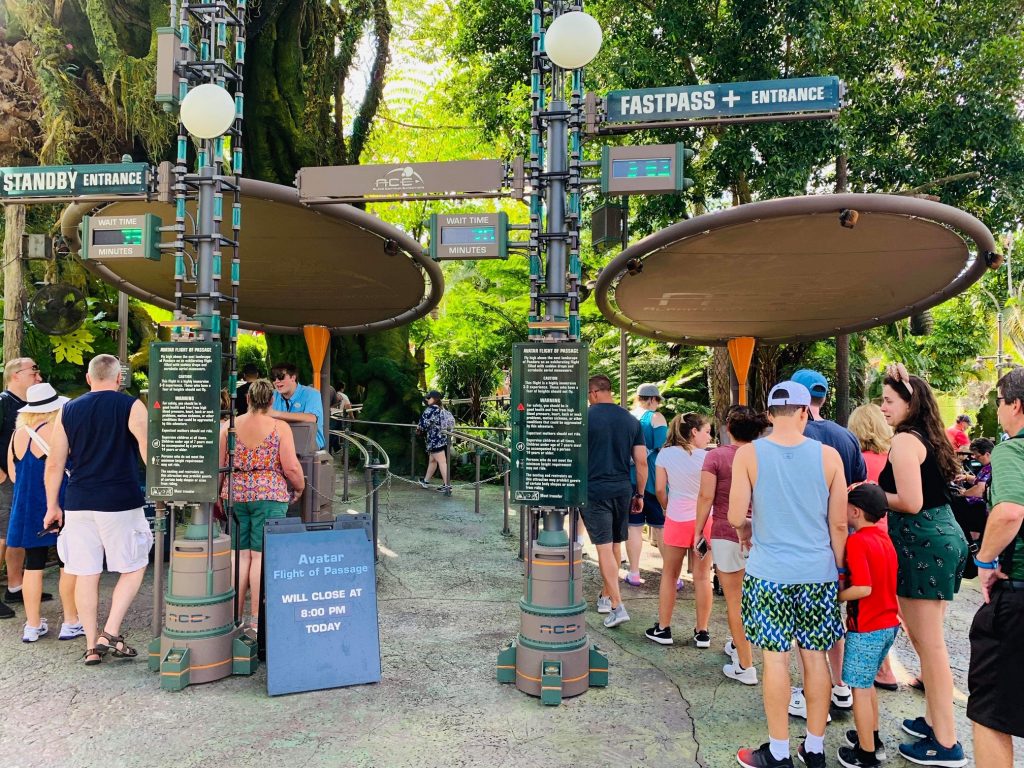 Kilimanjaro Safaris
Height Requirement: 38 inches
Kilimanjaro Safaris is one of the most exhilarating experiences at Walt Disney World due to the animals, of course! This safari ride is for everyone as it is relatively slow-moving and shows so many different animals you would see in the African savanna.
Find the Kilimanjaro Safaris in Africa! This ride is great as it changes every time. See popular animals and some you may never even heard of as your friendly safari guide points out animals and answers your questions. This is a great, informative ride for all kids!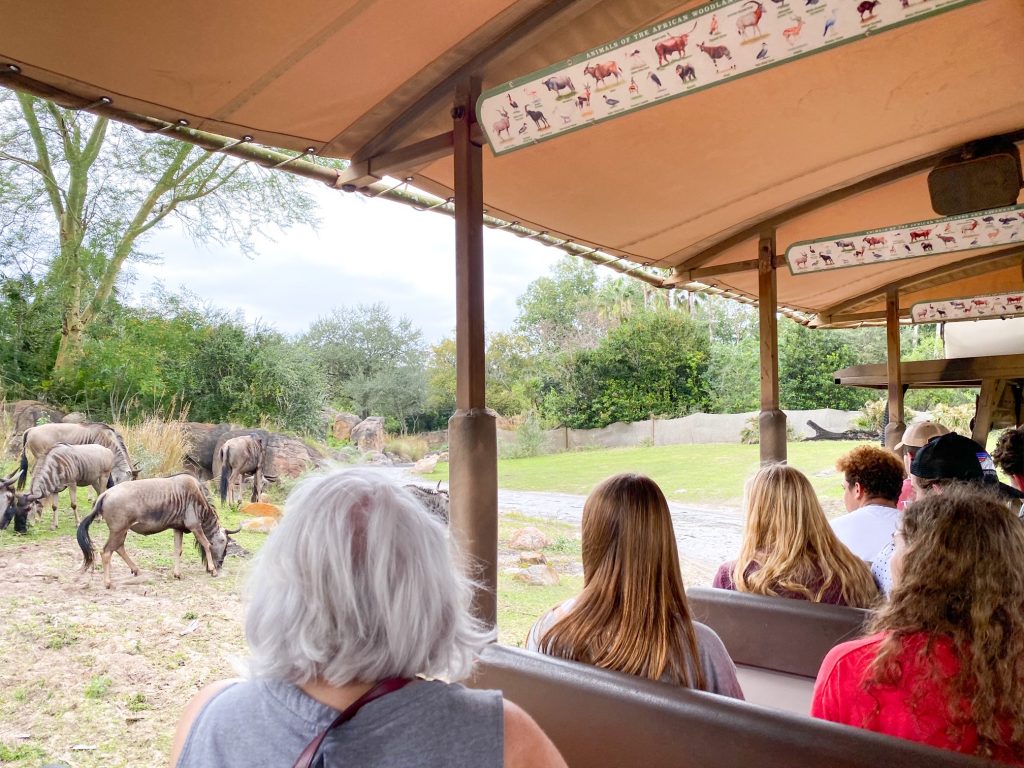 Na'vi River Journey
Height Requirement: None
Journey through Pandora's glowing forest as you board a boat and immerse yourself into the popular world. This mystical river ride shows caves, plants, and creatures all from the comfort of your boat. This is another slow-moving ride perfect for kids.
Located in Pandora, this is definitely one of the most gorgeous sites in all of Walt Disney World. Kids and adults will enjoy this adventure through bioluminescent wonder.
This attraction is great for kids as it will literally leave them speechless! With so much to see, this is a great ride for adults to relax and kids to be amazed!!

Best Kids Rides At Hollywood Studios
Toy Story Mania
Height Requirement: None
Toy Story Mania is the perfect interactive ride at Disney for kids who like to experience new things. Featuring favorite characters from Toy Story, this attraction involves spinning carts and allows kids to aim at 3D moving targets to compete for the best score!
Its location in Toy Story Land makes it hard to miss, so be sure to stop by on your next trip! This ride contains 5 mini-games which are great for all kids, especially those a littler older!
Toy Story Mania mimics video games, so this is a great ride for kids who enjoy them!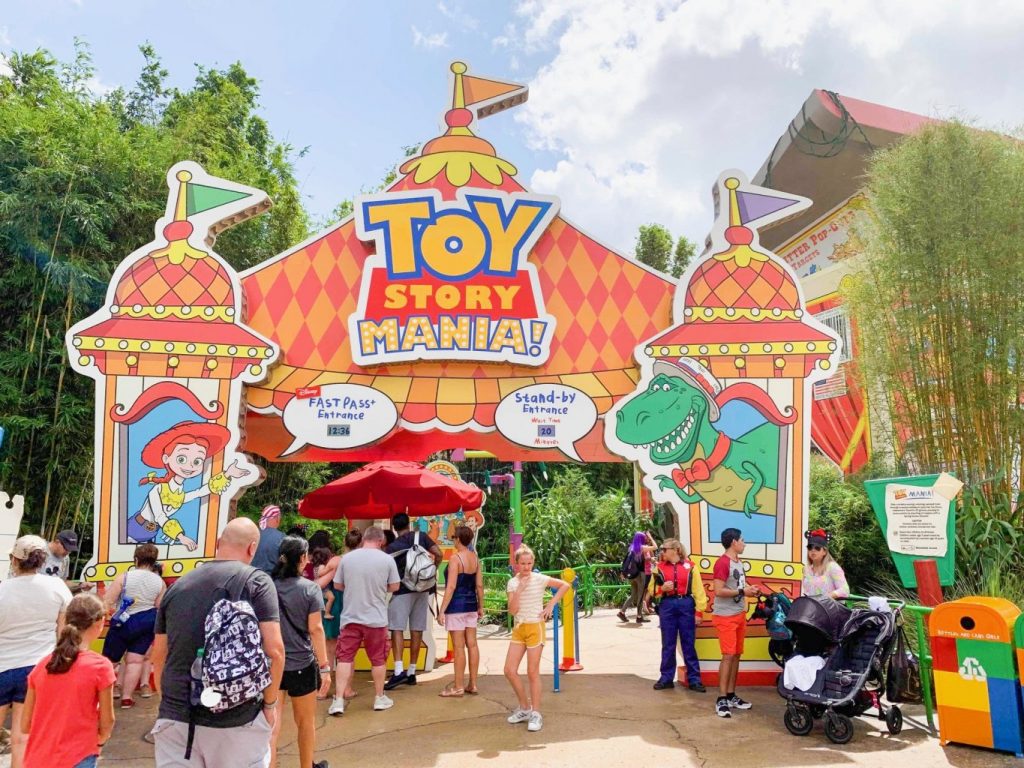 Rise Of The Resistance
Height Requirement: 40 inches
Rise of the Resistance is a great attraction for those who love Star Wars and even those who aren't familiar with it! This attraction takes you on a mission with twists, turns, and a fighting chance to escape! This is one of the newest and most notable attractions at Walt Disney World!
Located in Star Wars: Galaxy's Edge, this popular attraction is sure to fill up quickly! Make sure you plan in advance if you want to visit here!
This ride is great for kids who seek adventure and thrill!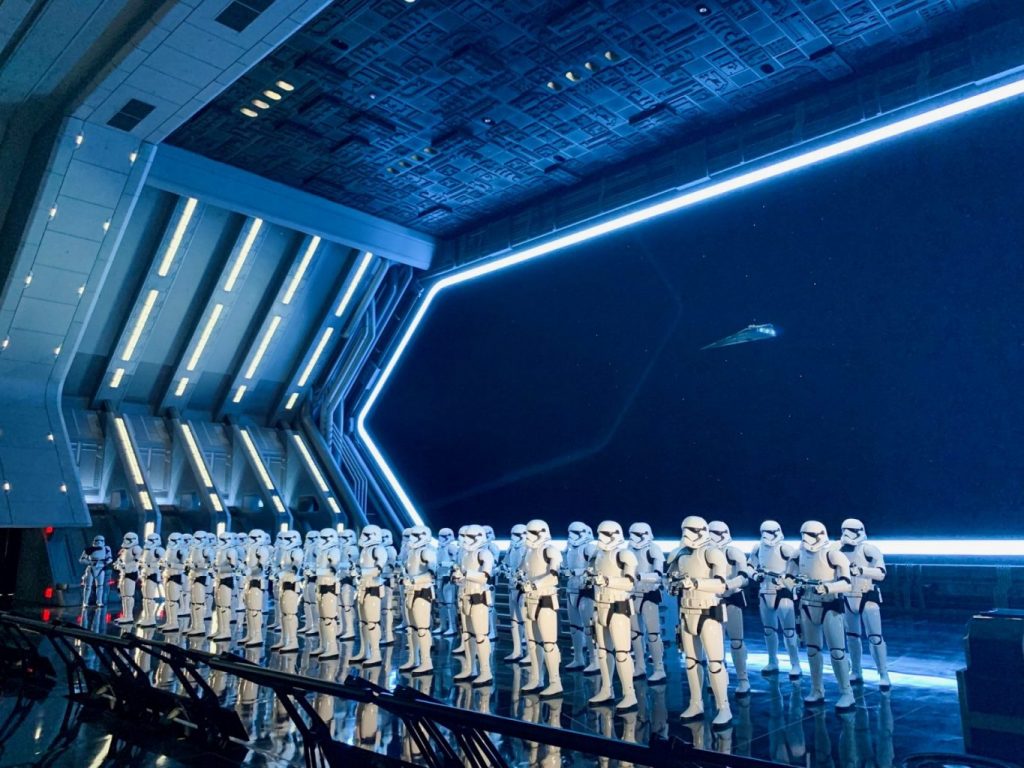 Slinky Dog Dash
Height Requirement: 38 inches
Slinky Dog Dash is one of the more family-friendly roller coasters Disney offers making it one of the best Disney rides for kids! Toy Story is one of the most popular Disney movies, so it's no wonder kids flock to this ride!!
You can find this awesome ride in none other than Toy Story Land. This attraction takes you around curves as well as up and down on Andy's Mega Coaster Kit! This is an awesome ride for kids and adults to enjoy!
Similar to Big Thunder Mountain Railroad, this is a great first roller coaster if you are unsure if your kids will like them or not! It is not super fast or scary, just has sharp turns and some height to it!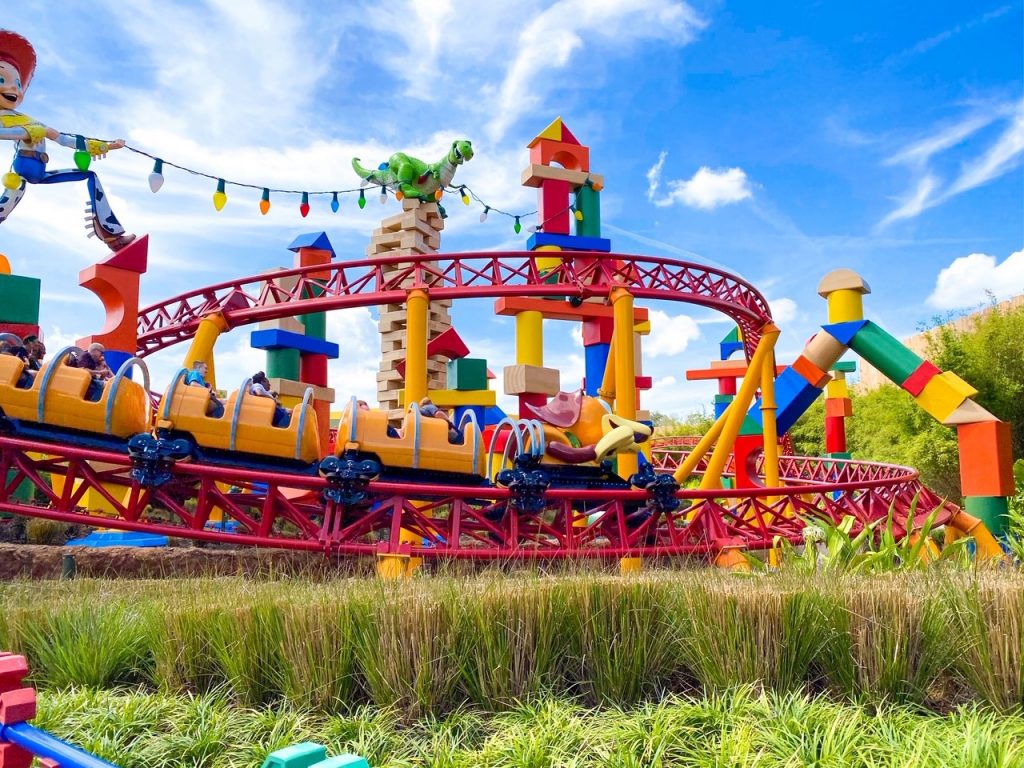 Alien Swirling Saucers
Height Requirement: 32 inches
Swirl through the sky on this one-of-a-kind attraction for kids of all ages! With futuristic music and bright lights, this ride is one of the best rides for kids at Disney due to it being laid-back.
This is another attraction located in Toy Story Land. It is very similar to the Mad Tea Party spinning tea cups ride in Magic Kingdom, so if you're a fan of that, you'll like this one as well!
For our best and worst Disney World rides RANKED and broken down by age group, click HERE!