If you are looking for some of the best Disney snacks to try on your next trip, you have come to the right place! From sweet and delightful to savory and delicious, there are really so many fantastic snacks at Disney World. Some snacks are on the smaller side and not worth the money, while some snacks are huge and worth every penny. Of course, we won't be recommending any snacks at Disney that isn't tried, true, and delightful.
Whether you are an annual passholder or coming for a magical visit, you can't go wrong with any of these Disney World Snacks. We compiled a list of Every Map At Disney World [resorts, parks, waterparks and more] for your convenience in planning and understanding where things are located around the Disney World Resort.
Bookmark this post if you are on the Disney Dining Plan and are looking to use your snack credits to their fullest potential. This is especially important if you are on the Quick Service Dining Plan and are looking to maximize your snack credits. You can see which Disney snacks you want to try and then implement the price on our Free Disney Dining Calculator to see if it is going to be worth adding to your plan!
Get a FREE printable 30/60/90 day Disney countdown by joining our private Disney Facebook Group and share your photos and ask for tips and tricks!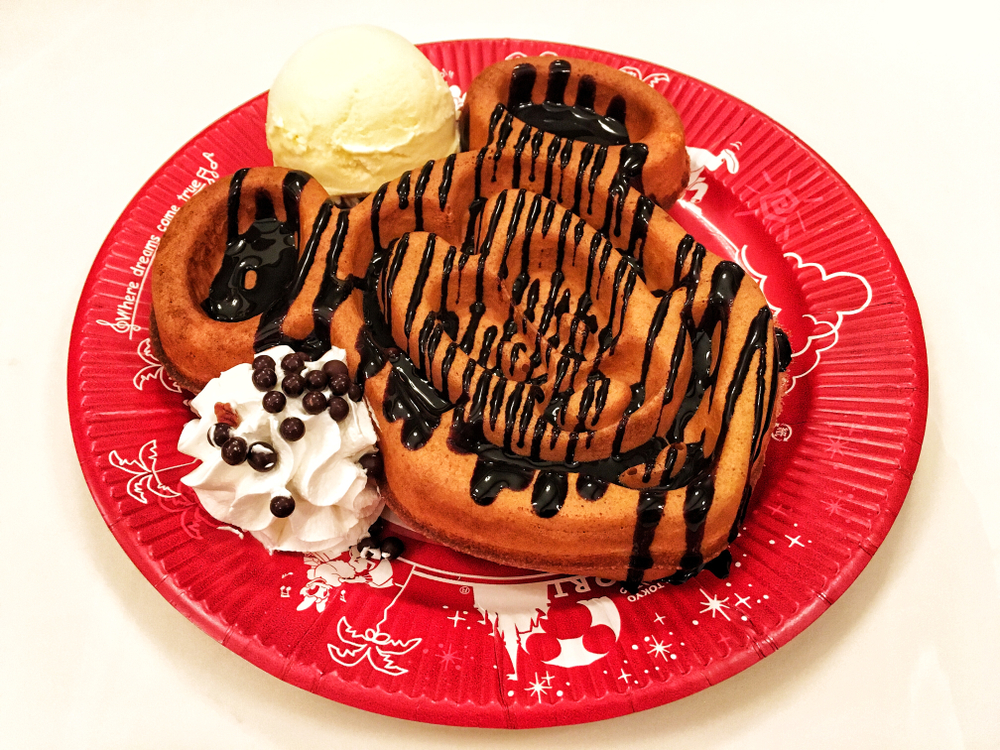 20 Best Disney Snacks To Eat In The Parks
Redds Revenge At Sunshine Tree Terrace – Magic Kingdom
If you are looking for a Disney Snack to beat the Florida heat, head to Sunshine Tree Terrace and get Redds Revenge. It rings in at $6.99 at the time of publishing and is quite huge! This frozen concoction is a blend of creamy Strawberry Dole Whip combined with Strawberry Fanta! Think of this as the Disney version of a Rootbeer float. If you aren't a fan of carbonation, this isn't the treat for you. That being said, this snack at Walt Disney World is a real crowd pleaser and is sure to delight.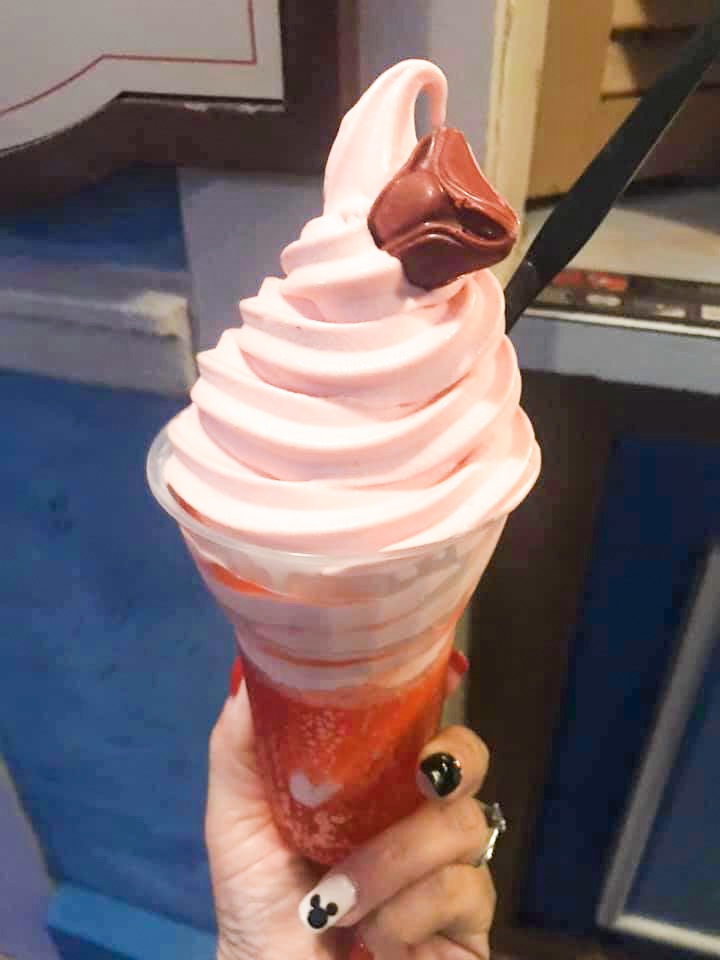 Cookie and Cream Funnel Cake At Oasis Canteen-Hollywood studios
If you want to maximize your Quick Service dining credit at Hollywood Studios, head to Oasis Canteen and grab a massive Cookies And Cream Funnel Cake. Like, can you even imagine that this is a thing? Think of this Disney snack as the combination of your favorite fair food and your favorite ice cream! This is one of the best snacks at Disney World because it is large enough to easily feed two and maybe even 3 adults who aren't completely hungry.
With a generous helping of vanilla ice cream and two Oreos, this snack rings in at the top end of $8 so splitting it is a good idea or putting it on your Disney Dining Plan snack credit is another really great choice too! It is topped with Oreo powder which adds to the sweetness of the already fantastic funnel cake. You won't want to miss this if you have a sweet tooth.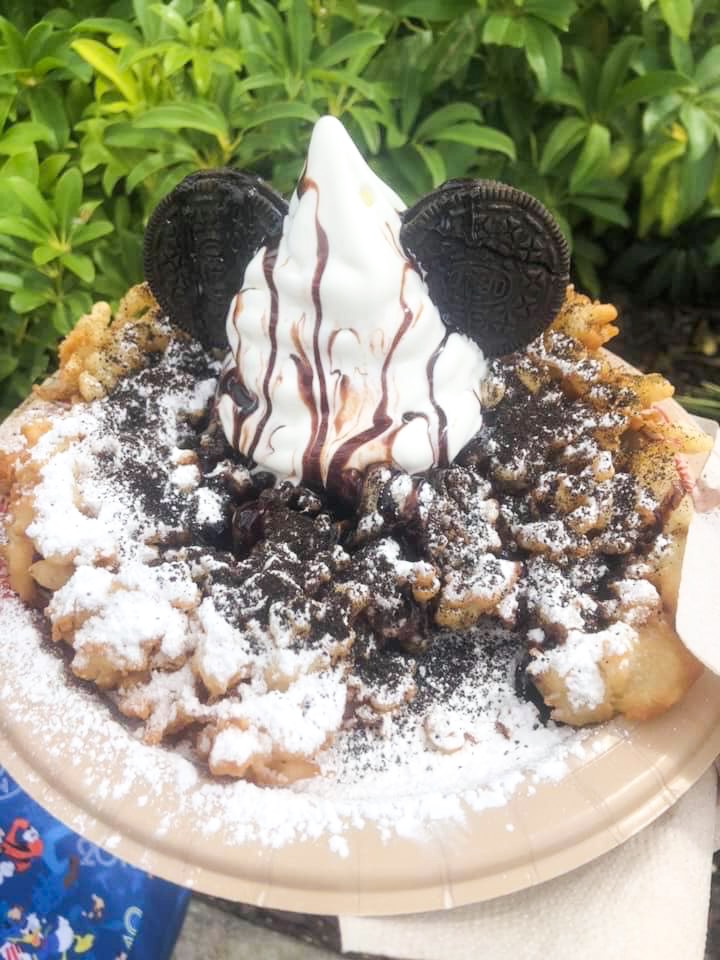 The Spaniard for Two At Toledo – Disney's Coronado Springs Resort
If you are looking for a savory snack at Disney World, look no further than Disney's Coronado Springs Resort. Head to grab tapas from Toledo and try The Spaniard For Two. This is one of the more expensive Disney snacks on this list but it is worth it because it is quite filling and a great way to end the day with a glass of wine.
The Spaniard For Two comes with Chefs' signature selection of artisanal charcuterie and cheeses. If you want a savory snack at Disney that is on the more "adult" level, this is the snack for you to try!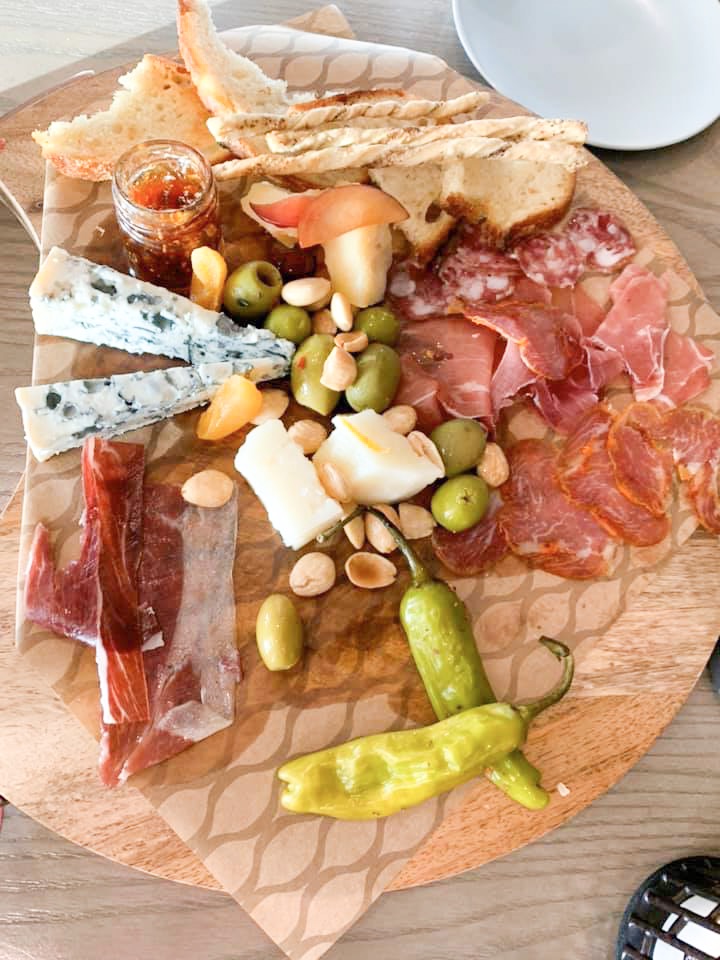 Cheshire Cat Tails At Chesire Cat Cafe – Magic Kingdom
If you haven't been to the Chesire Cat Cafe in the Magic Kingdom, you are in for a real treat. It is such a cute place and the Chesire Cat Tails are even better. Think of them as a chocolate-filled croissant just in a different shape. The pastry is soft and flaky just like a croissant and it is filled with a chocolate chip and cream filling which puts it on an entirely different level as far as snacks at Disney go. The colorful icing on top adds even more sweetness making it one of the best Disney snacks that you should 100% try on your next visit to Magic Kingdom.
If you are on the Disney Dining Plan, it is a great way to use up your snack credits and is a crowd favorite!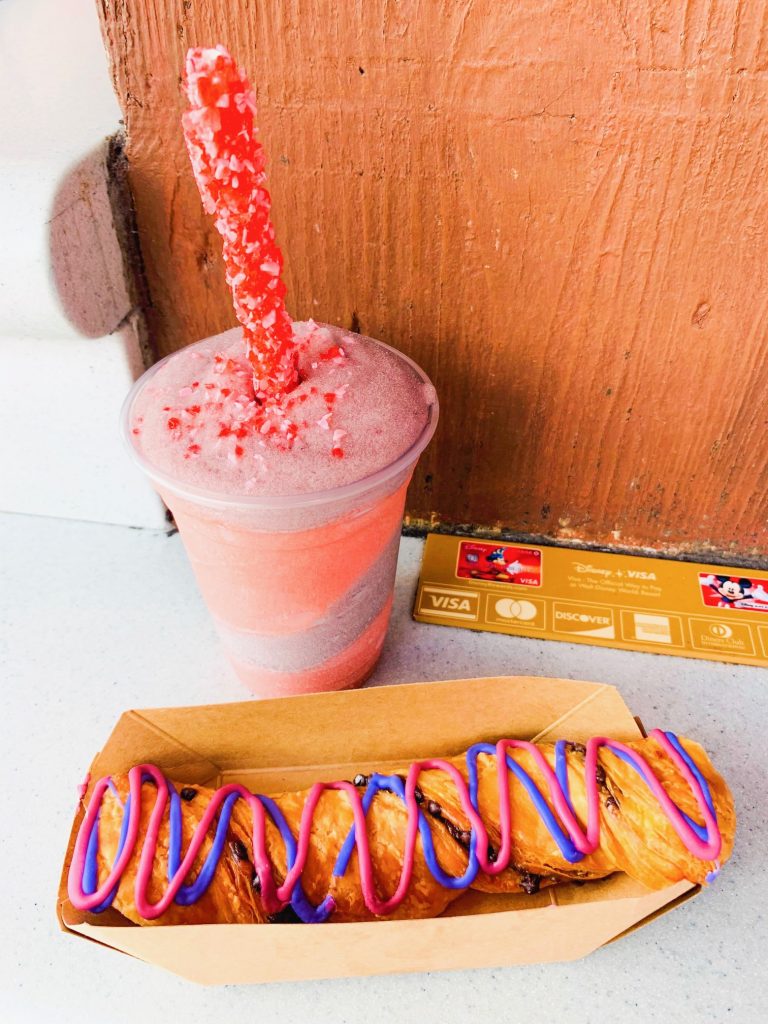 Spicy Tuna Sushi At Kabuki Cafe – Japan Pavilion Epcot
If you are a sushi lover, you can get your fix with the Spicy Tuna Sushi at the Kabuki Cafe. This cafe is secluded in the Japan Pavilion in the Epcot World Showcase. It is one of the healthier Disney snacks on this list as it is fresh and filled with quality ingredients. It is a simple and straightforward sushi roll and isn't on the spicey side but has a slight kick. A good refreshing snack at Disney to have when you need something on a warmer day.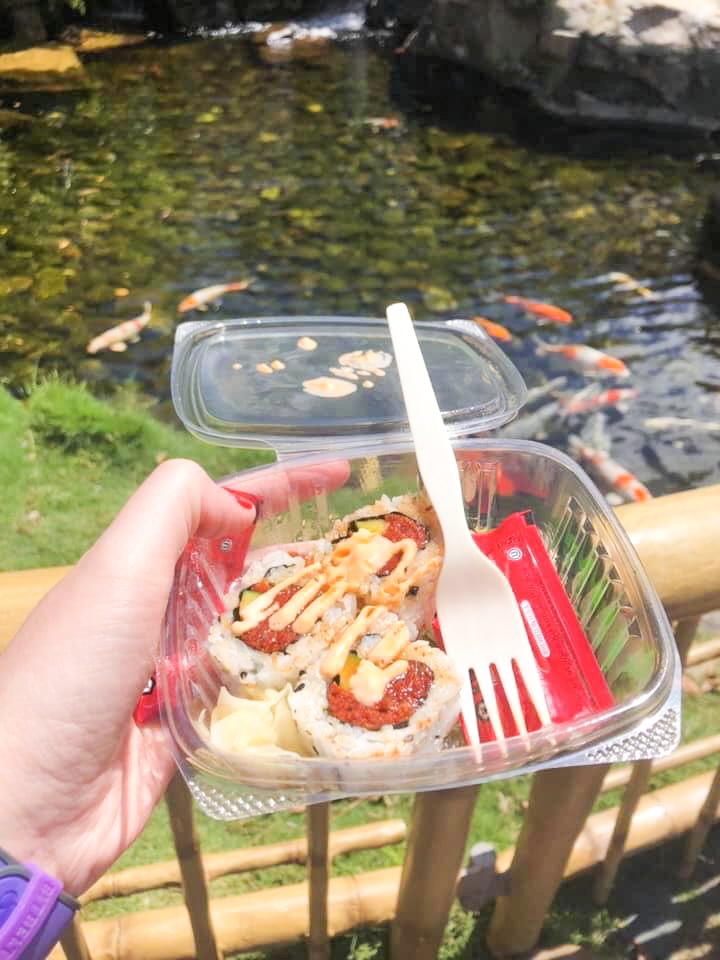 Arendelle Aqua Cone At Storybook Treats – Magic Kingdom
The Arendelle Aqua Cone at Storybook Treats in the Magic Kingdom is one of the prettiest Disney snacks. If you are looking for a pretty treat for photography or Instagram that is also delicious, look no further than this Frozen-inspired cone. It comes complete with Elsa Blue cotton candy flavor ice cream, cotton candy sugar sprinkles, and a Mickey Mouse sugar cube. Basically this Disney snack is a refreshing sugar rush just waiting to happen.
While the Mickey Mouse sugar cubes look cute for photos, they are sugar cubes so you will basically be eating a solid cube of pure sugar. Proceed with caution and make sure to eat something heavier quickly so your blood sugar doesn't drop! While this is one of the prettiest snacks at Disney World, it is also one of the highest in sugar!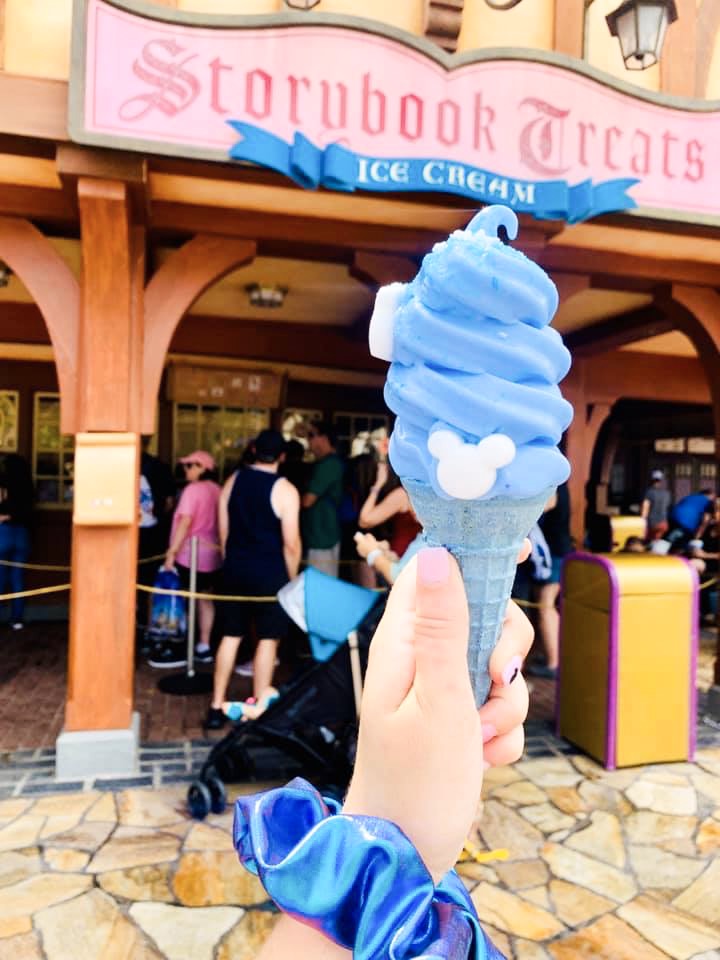 Chocolate Cake At Satu'li Canteen – Animal Kingdom
Walk on the wild side in Pandora when you try food from another planet! The Chocolate Cake at Satu'li Canteen in Animal Kingdom is "out of this world." No really, it is a delightful ball of chocolate cake it is quite cute and on the fancier side as far as Disney snacks go but this is entirely the point! It is a chocolate cake with crunchy cookies, banana cream, and goji berries. It is dark chocolate so it is full of antioxidants making it sweet yet healthier. You will not regret it and the banana cream really adds a complex flavor. It is also one of the best restaurants at Disney so you will certainly want to visit!
Scrooge McDuck's Billionaire Bacon Caramel Sundae From Trilobites – Animal Kingdom
Animal Kingdom strikes again as far as epic snacks at Disney World go. Scrooge McDuck's Billionaire Bacon Caramel Sundae is an explosion of intense and unexpected flavors. First, caramel is a flavor that is a bit hard to come by at Disney and you don't see it as often as other flavors. If you are at Animal Kingdom, this is your chance to take advantage.
This may seem like it isn't a vegetarian-friendly Disney snack due to the presence of bacon BUT you can request the bacon to be taken out to make it meat-free! Vanilla ice cream is mixed with bacon strips and caramel which proves for a complex and delightful flavor. The sundae is topped with a white chocolate medallion covered in edible gold foil as well as golden pearls. If you have ever wanted to eat a coin, this is your chance!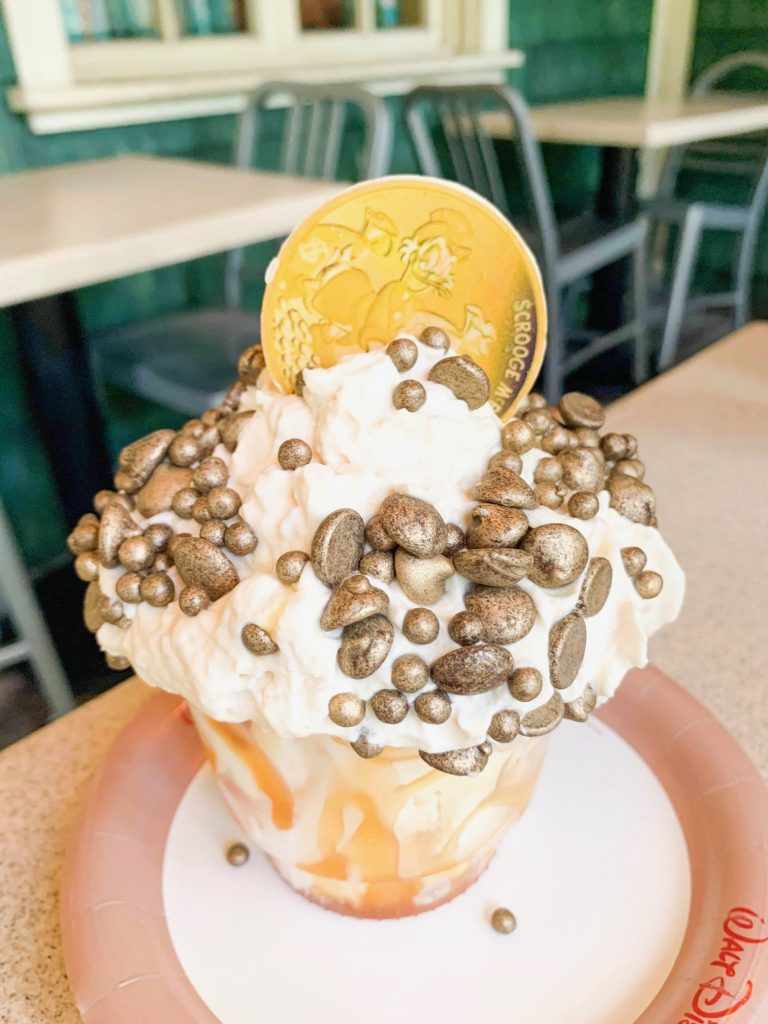 Egg Rolls From Lotus Blossom Cafe – China Pavilion Epcot
Something savory is always great to break up the sweeter snacks at Disney. This is where the Lotus Blossom Cafe comes in. While it isn't our favorite Quick Service Restaurant At Epcot, it does make for a great stop for a snack. The egg rolls are grab and go and you can easily eat them while you are walking around and they don't create a mess. If you don't want to walk around, Lotus Blossom Cafe has both covered and outdoor seating so you can rest your feet!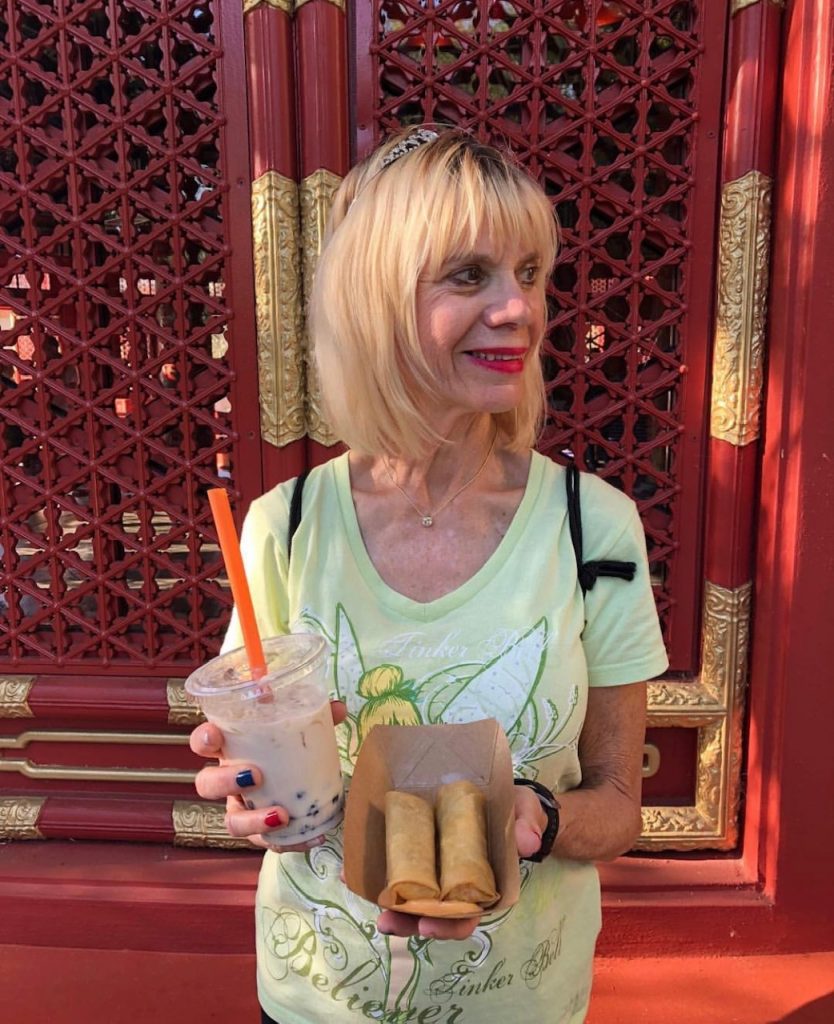 Large Mickey Donut From Main Street Bakery – Magic Kingdom
Who doesn't love a giant Mickey Mouse donut? If you are heading to Magic Kingdom at rope drop and want a quick breakfast, head to Main Street Bakery and look for the giant Mickey donut. Main Street Bakery is actually a Starbucks and while it isn't our favorite place in Magic Kingdom for Quick Service, it does make a great stop for a snack and a drink, especially in the morning. You can't beat the size of these huge donuts and they are sure to delight!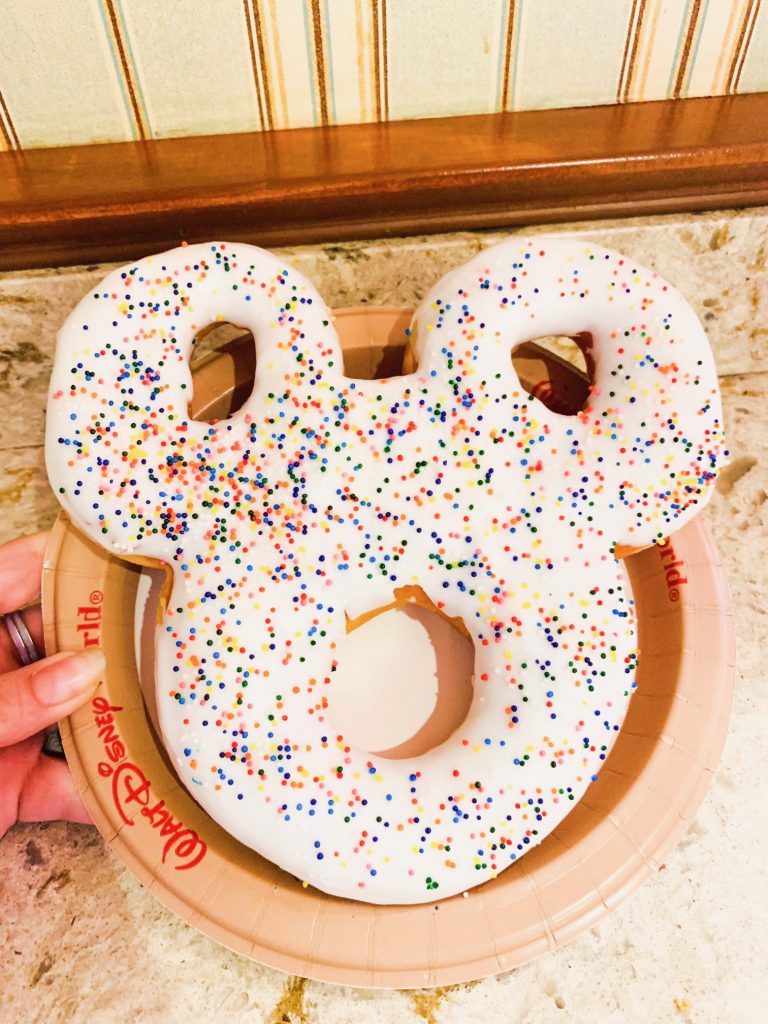 Cookies and Cream Mickey Cupcake – Disney Resorts
The best part about the Cookies and Cream Mickey Cupcake is that it isn't just at one place. It can be found at multiple spots around Walt Disney World AND Disneyland California! If you want to try this amazingly delicious Disney snack, look for it at Candy Palace, Trolley Treats, and Pooh Corner at Disneyland Resort; and at Big Top Treats, Confectionery, and Goofy's Kitchen at Walt Disney World!
If you want to "try the grey stuff" this is a good place to do it that isn't Be Our Guest in Magic Kingdom as the Cookies And Cream topping is surely grey! The cookies and cream buttercream frosting is thick and creamy and tops a chocolate cake. It is accessorized by Oreo cookie Mickey Ears which are the perfect thing to dip in the icing! Next time you go to Disney, keep your eyes out for this delightful Disney snack.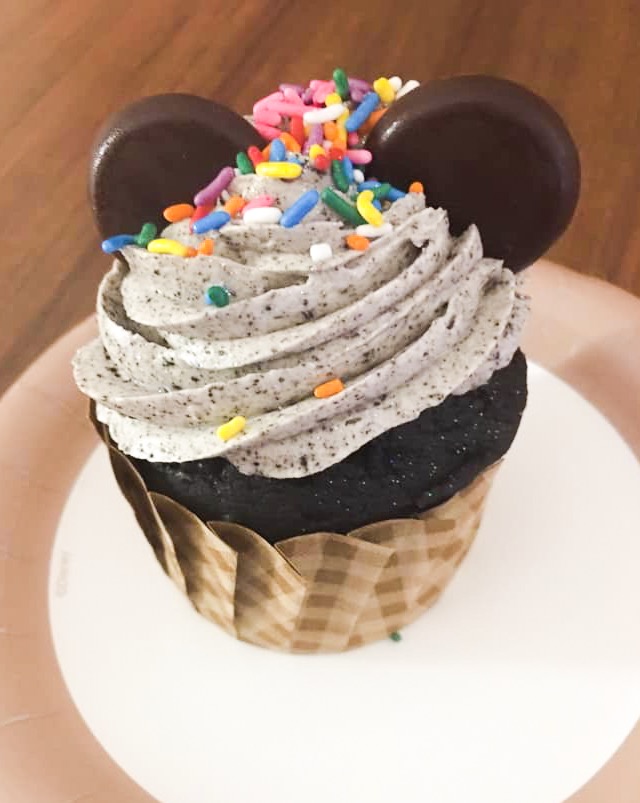 Mini Mango Pie At Yak And Yeti Local Foods Cafe – Animal Kingdom
Are you a little tired of seeing chocolate everywhere? No worries! Head to Yak and Yet Local Foods Cafe in Animal Kingdom to try the Mini Mango Pie. It is one of the more refreshing yet filling snacks at Disney World and you can use your snack credits to snag it and try it for yourself. The crust is the star of this Disney snack and the butter in the ingredients holds the graham crackers together in such a delightful way! The filling is the perfect combination of sweet and tart and is a refreshing snack at Disney to try on a hot day.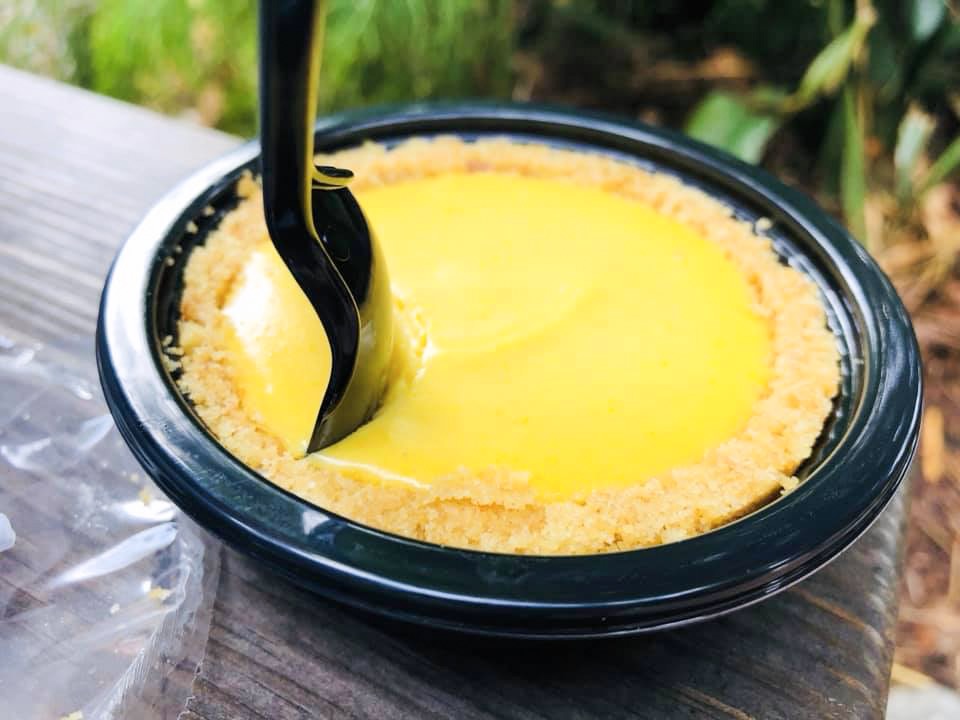 Mickey Soft Pretzel – Disney Resort
The Mickey Mouse pretzel is the ICONIC Disney World snack!! You can find it all over the parks in snack carts around the resort. Just ask a Cast Member at the park that you are in and they will point you in the right direction. Micky pretzels are quite large and very flavorful. You can buy them plain or you can buy cheese to dip them in. You can also buy them stuffed with jalapenos or cream cheese. Cream cheese stuffed Mickey Pretzels are found in America at Epcot and are one of my personal favorites. You can find them at other parks too so just be sure to ask if you have your heart set on trying this filled snack at Disney!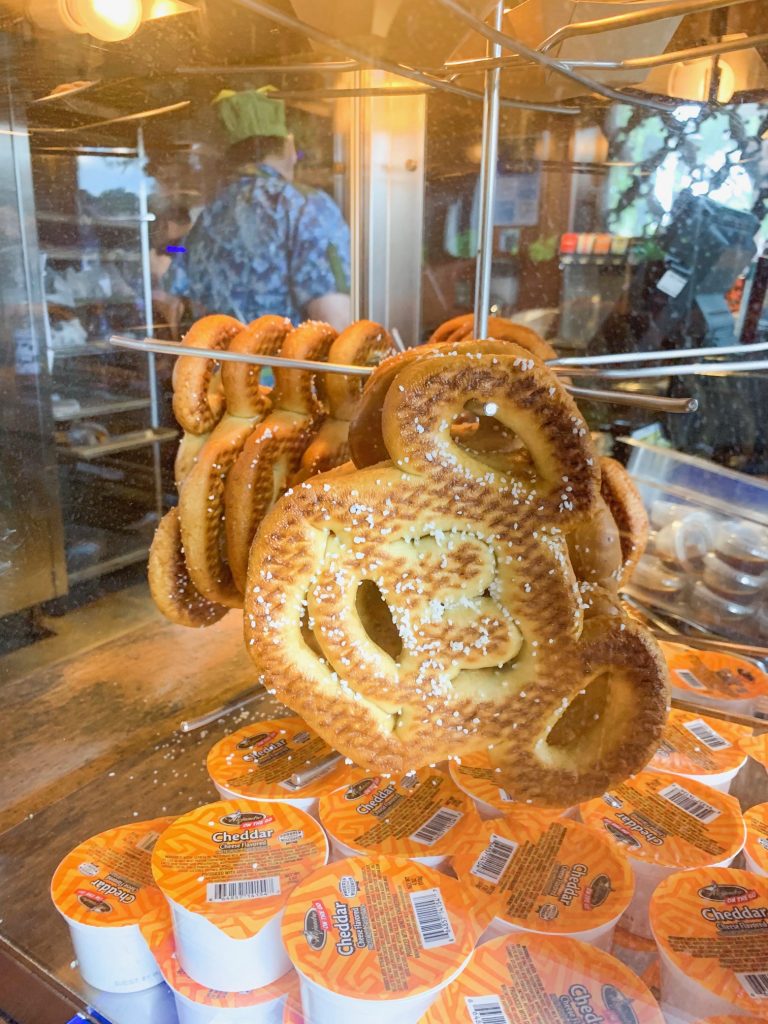 Dole Whip Pineapple Upside-Down Cake – Magic Kingdom
Dole Whip Pineapple Upside-Down Cake is a unique take on the Dole Whip craze that is all over Disney World! You can find this Disney snack at Aloha Isle in the Magic Kingdom. It is in the back left of the park and is the popular spot for Dole Whip. It is creamy and delightful and you won't be disappointed. If you are looking for something heavier to snack on at Disney, the Dole Whip Pineapple Upside-Down Cake is perfect! If not, just go for a cup of Dole Whip which will hit the spot on any day!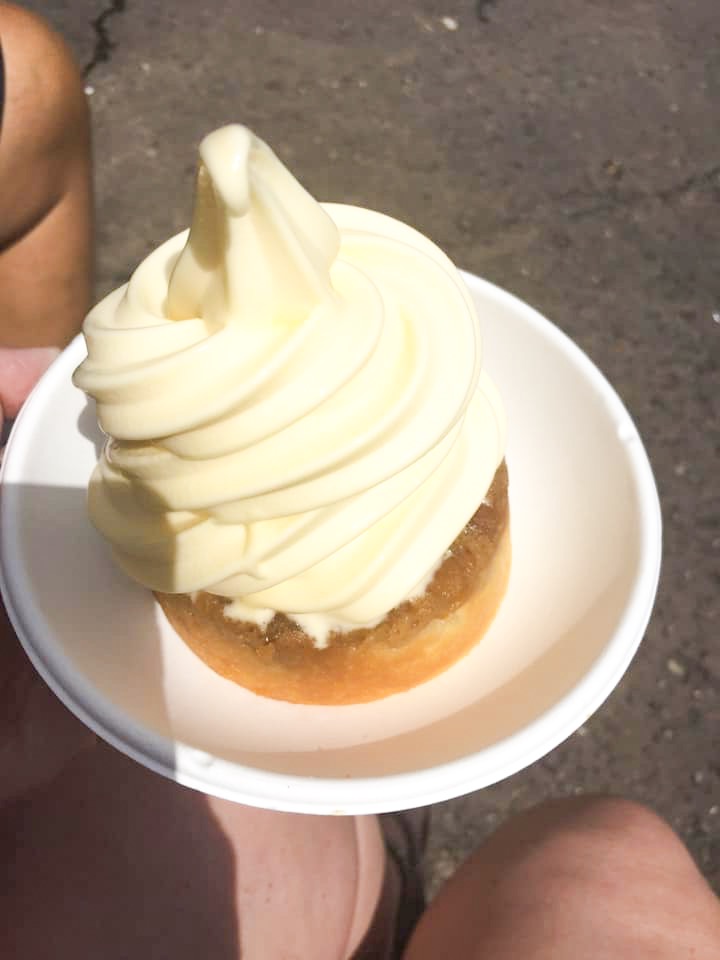 School Bread At Kringla Bakeri – Norway Pavilion Epcot
School Bread is a donut-like pastry filled with vanilla custard. It is similar to a Boston cream donut and so yummy and filling. You can find it at Kringla Bakeri in the Norway Pavilion at Epcot. It is right next to the giant Stave Church replica so you can find it pretty easily. It rings in at under $4 so it is a good Disney snack to buy with your own money as it is more affordable but larger in size. Save your Disney dining snack credit for something else on this list!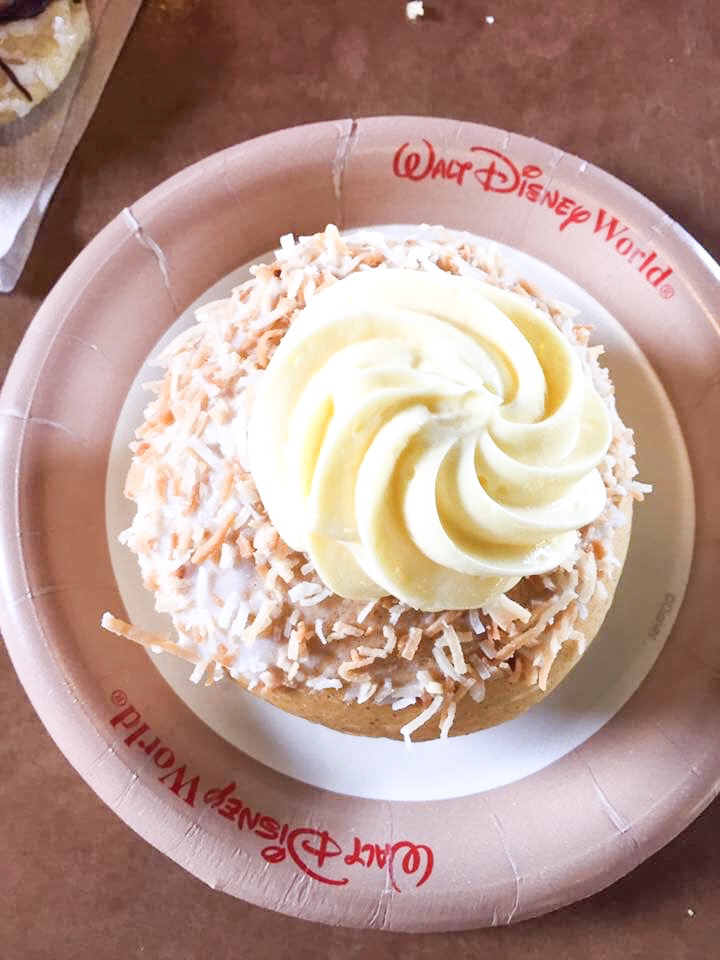 Chocolate Fruit Waffle From Sleepy Hollow – Magic Kingdom
This is the ultimate snack at Disney and you can find it Sleepy Hollow in the Magic Kingdom. This quick-service restaurant at Magic Kingdom is often overlooked but you can find delightful creations such as the Chocolate Fruit Waffle. If you are looking for a snack at Disney that offers some slight health benefits, this is it. It is also filling and won't let your blood sugar crash so quickly due to the dough in the waffle and the fruit that it is topped with. It is truly a fantastic and delightful change from other snacks you may see on this list!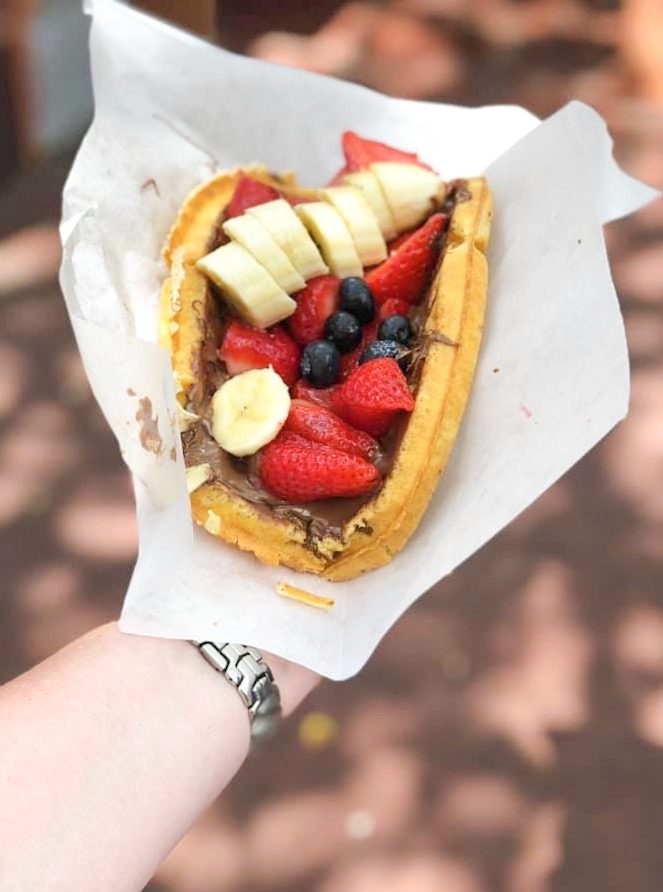 Lost Princess Cone At Storybook Treats – Magic Kingdom
If you are searching for a refreshing Disney World snack, consider Lost Princess Cone. You can find this ice cream creation at Storybook Treats in Fantasyland at the Magic Kingdom. This cute Disney snack pays homage to Rapenzuel and the movie Tangled. It is oh so cute and sweet! You will be eating lemon soft serve which is a nice change from pineapple Dole Whip and it will be served in a purple cone. It also comes with an edible flower so if you haven't ever tried an edible flower this is a fun chance to eat something new!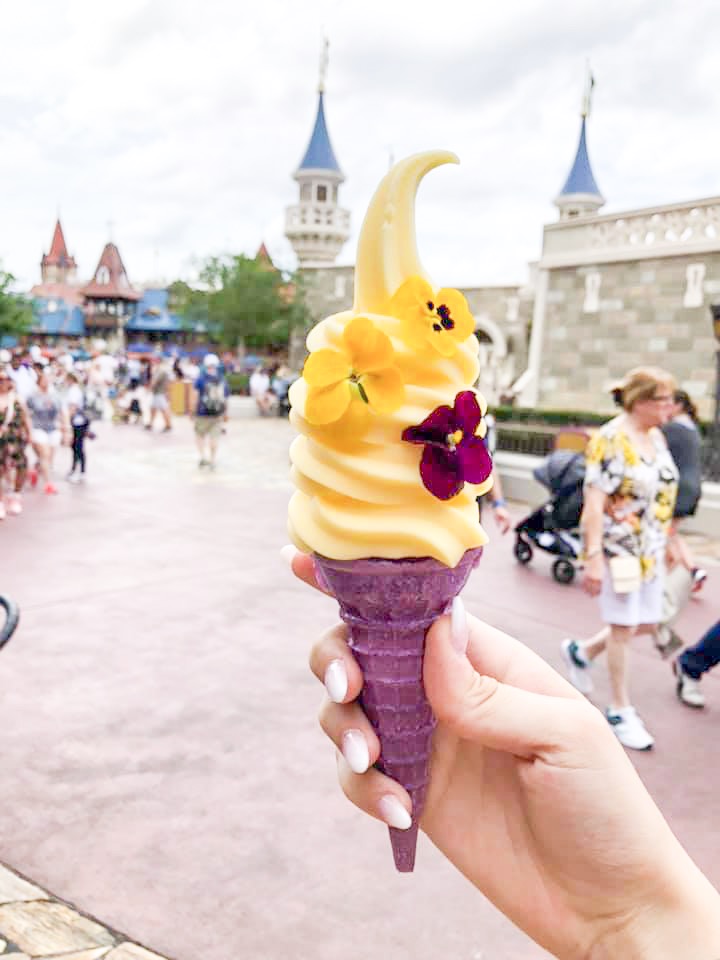 Giant Donut From Jofferys – Disney Resort
This Giant Donut is THE ULTIMATE sweet snack at Disney! One time my sister and I got three and devoured them all in one sitting. The are THAT good. You can find the Giant Donut at pretty much all Jofferys locations all around the Disney Resort. You can find them both inside and outside of the Disney Parks at Disney Springs. They are great for a quick pick-me-up and you can grab a delightful cup of coffee or another snack to go along with it. If you haven't tried the Giant Joffery's Donuts, make these your number one snack to try at Disney!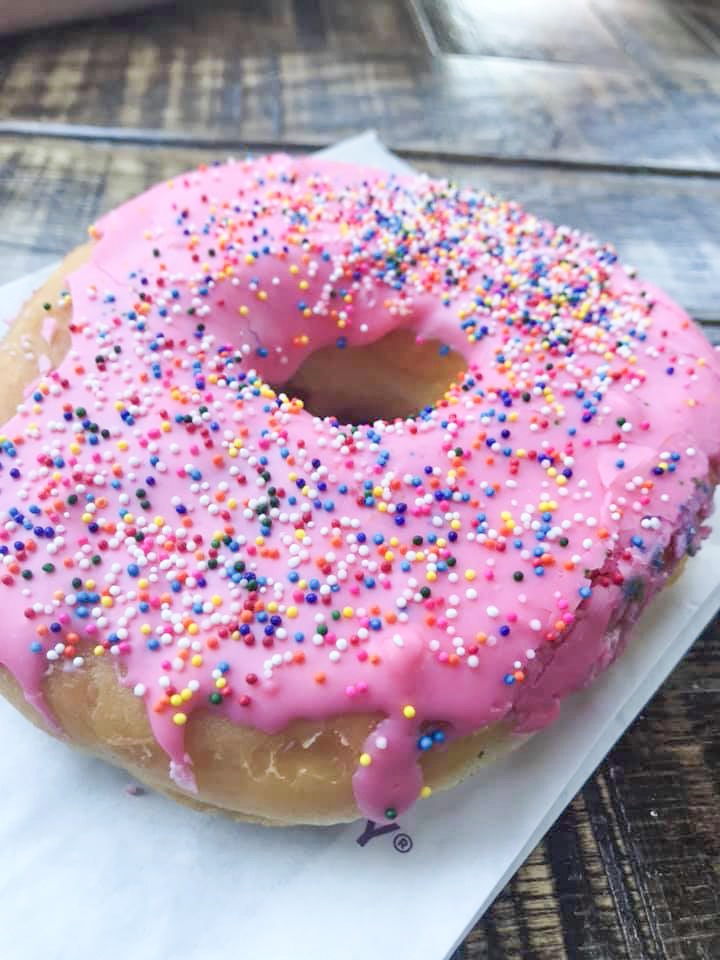 Colossal Cinnamon Roll At Starbucks – Disney Resort
The Colossal Cinnamon Roll is the perfect thing to eat for breakfast when touring Disney! You can find it in the Starbucks locations in Disney Parks. Each Starbucks location has a different name so make sure to ask a Cast Member as sometimes they are hard to find as they are camouflaged to look just like the rest of their surroundings. The Colossal Cinnamon Roll is served only in the morning so make sure to pick up this filling Disney snack as part of your breakfast routine if you head into the parks in the early morning.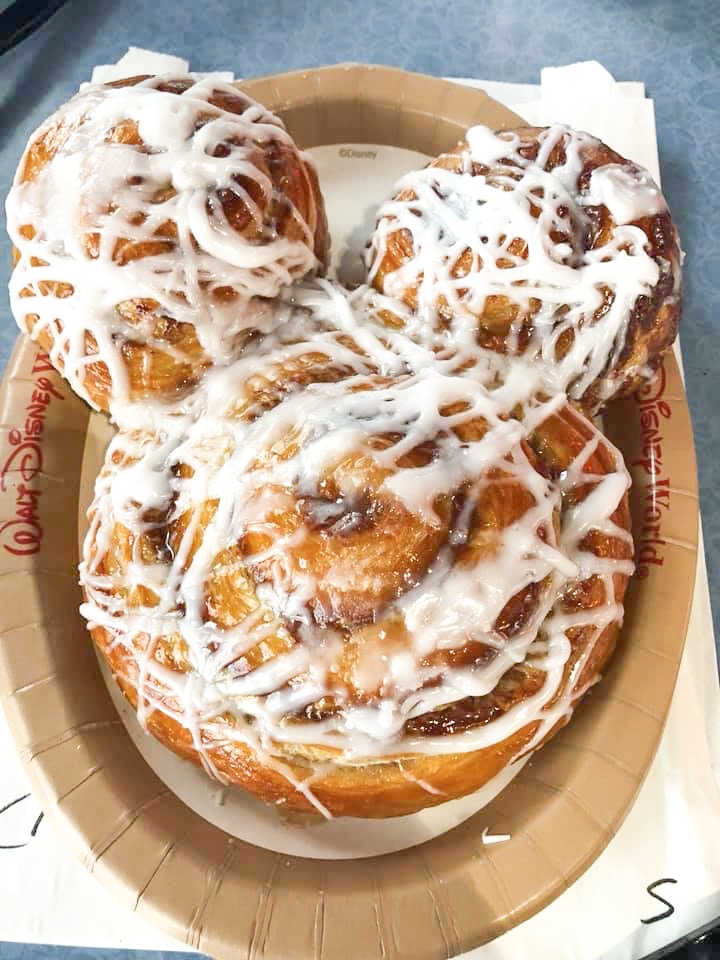 The Most Beautiful Cake At Harambe Market – Animal Kingdom
This is one of the prettiest and most Instagrammable snacks on this list! The Most Beautiful Cake can be found at Harambe Market in Animal Kingdom. It is a delightful treat and looks as good as it tastes! Unlike other sweeter Disney snacks, there isn't as much food coloring or dyes used which makes this a healthier option. It is a delightful coconut cake filled with tangy pineapple and topped with coconut mousse. You also receive coconut crisps which you can dip in the frosting if you so choose! Make sure to take the perfect Instagram photo with this snack against one of the Harambe Market walls!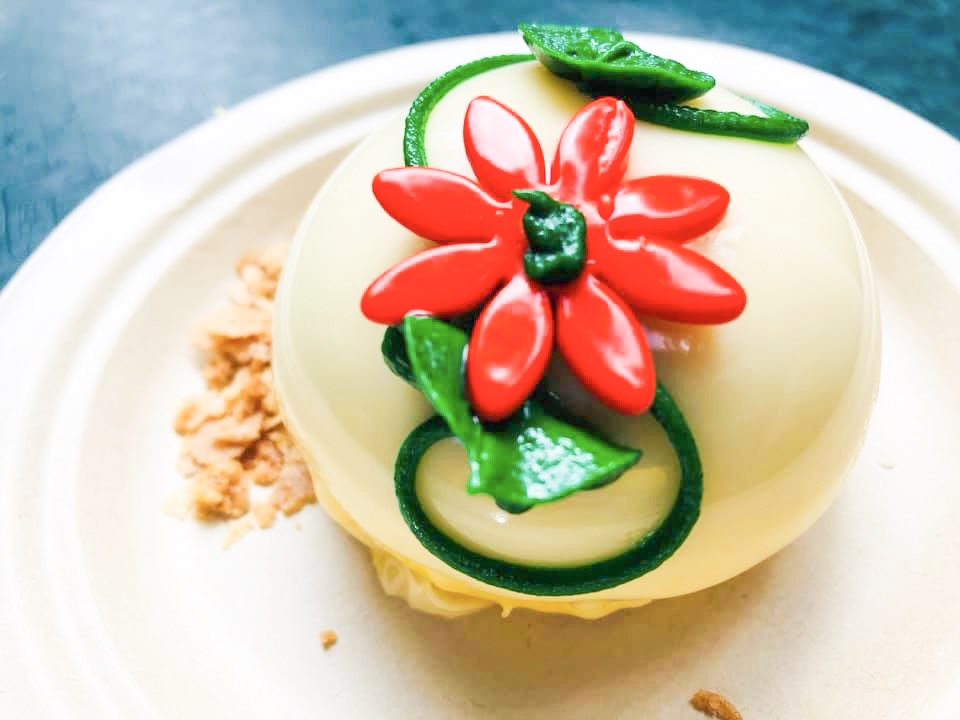 I hope you got some yummy inspiration for your next trip to Disney from this article! Let me know in the comments if you try any of these delightful Disney snacks. Don't be shy to comment with your favorite snack at Disney World and beyond as well and let me know what I should try next time!
Pin this post: