Early mornings in the Magic Kingdom can be amazing, and Magic Kingdom breakfast can be too! There are so many options to grab on your way to that first ride of the day, as well as several good choices for a table service breakfast. You can start you day with a frappucino, a pastry, or even with a signature dining experience complete with princesses!
But how to choose the best breakfast at Magic Kingdom for your family? How do you know whether to choose a grab-and-go breakfast, or shell out a little extra money and time for the ultimate breakfast experience? You come along with us of course! We've tried all the breakfasts, and we've compiled a list of the 8 best places to grab breakfast in the Magic Kingdom – and we even included a bonus!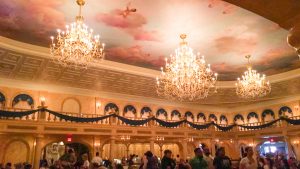 Best Quick Service Breakfast at Magic Kingdom
If your trips to Disney World involve staying on the go and you love to cram in as many things as possible into your day at the Magic Kingdom, then these breakfast choices are for you! Most of these are handheld and can be eaten on the way to that first FastPass. They're great choices to start a busy day in an iconic park!
Sleepy Hollow
Sleepy Hollow is located at the entrance to Liberty Square directly to the left of Cinderella's Castle. This is one of the best places to grab a quick breakfast at Magic Kingdom not only because of how good everything tastes, but also because of the options. This is truly one of the best places for breakfast at Disney World!
You can start your day with a giant Mickey waffle (even one with whipped cream and strawberries!), an egg and cheese waffle sandwich, and their iconic fresh fruit waffle sandwich with hazelnut spread.
There's an assortment of juices, teas, and coffee here too, including some Joffrey's flavored iced coffees. One of the best parts about eating at Sleepy Hollow is that if you decide to sit and eat, they have a cute little area that faces the castle. This is a great place to watch the fireworks later in the day too! To find out even more about the snacks at Sleepy Hollow as well as the other best snacks at Disney, check out our article here.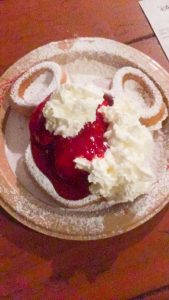 Main Street Bakery
Main Street Bakery is located right on Main Street USA as you may have guessed, and this is the Magic Kingdom's Starbucks location. No day at the Magic Kingdom is complete without some Starbucks, and this is a great place to grab a quick Magic Kingdom breakfast.
Not only do they serve all the Starbucks goodness we all know and love, but they often have seasonal cinnamon rolls, muffins, and a mix of Disney and Starbucks pastries.
This is a good option if you are on the Disney dining plan too, since you can get the biggest, fanciest, most expensive drink you can think of it and it's just a snack credit! You can use your Starbucks app here as well to pay, but you can't redeem your stars at this location, unfortunately.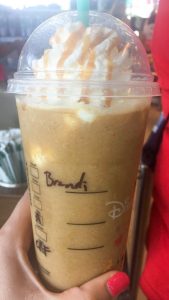 Gaston's Tavern
Gaston's Tavern is located in the back of Fantasyland, near Be Our Guest restaurant and right behind the Gaston statue. This is another great choice for a grab-and-go Magic Kingdom breakfast. It's a cute little "manly" tavern that resembles the one Gaston and LeFou sing at in the movie, and yes, it's decorated with antlers.
They offer some solid options like a ham and cheese sandwich, a chocolate croissant, and the giant cinnamon roll they are known for. You can use your snack credits here as well if you are on the dining plan. Grab a breakfast here and then head to Seven Dwarfs Mine Train!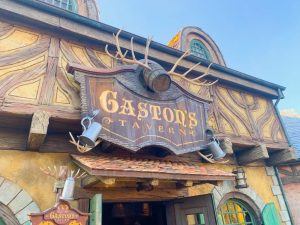 Cheshire Café
While technically Cheshire Café isn't a restaurant, it does offer one great thing: the Cheshire Cat Tail. This little booth is located to at the entrance of Fantasyland right in front of the Mad Tea Party ride, and is the only place to get this iconic little snack.
It's a chocolate croissant decorated with pink and purple stripes of icing to look like the Cheshire Cat himself. They also offer many juices, teas, and coffee here, so grab a cat tail to share and take a ride on the teacups!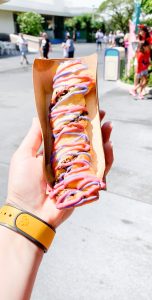 Table Service Magic Kingdom Breakfast Options
If you are looking for a more relaxed start to your day, a table service Magic Kingdom breakfast may be a better fit for your family. You can take your time, enjoy some better food options, and maybe even start your day with a few characters! Having a calm sit down breakfast could be the right start to a busy day at the Magic Kingdom.
Cinderella's Royal Table
Cinderella's Royal Table is one of the most popular restaurants not just in Magic Kingdom, but in Disney World. It's located inside of Cinderella's Castle, so who wouldn't want to eat in there? Here you will dine in luxury on American style fare like steak and eggs, French toast, and even a traditional breakfast platter.
The table receives a complimentary dish of pastries as well. The food here isn't what everyone looks forward to though, it's the princesses! While dining, Snow White, Ariel, Aurora, and – of course! – Cinderella stop by your table. Meeting them and having breakfast in the castle may be the ultimate start to your Magic Kingdom day.
This is a pricier option for Magic Kingdom breakfast since it's considered a signature restaurant as well as having the character dining, but the experience may be worth it! Little ones are encouraged to dress in their royal best, as well as there are PhotoPass photographers stationed here to get pictures of your family with Cinderella.
Due to the popularity of this restaurant, you MUST book a reservation, and definitely shoot for booking 180 days out – this place fills up fast. And to find out a little bit more about this character meal and others, check out our list of character breakfast options here.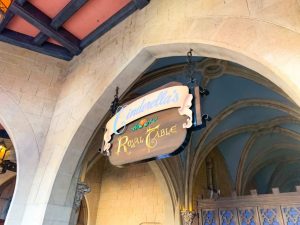 The Crystal Palace
Crystal Palace is a character dining experience on Main Street USA, located to the left of Casey's Corner. Here you'll meet Winne the Pooh and all his friends from the Hundred Acre Wood. This is a buffet style meal that offers breakfast classics like omelets, pastries, fruit, and pancakes and waffles.
This is a great choice for breakfast at Magic Kingdom because the meet-and-greets here are fantastic, and the buffet does offer a little something for everyone – especially picky eaters and little ones! This could also be a great choice for a character meal for your family because it tends to be less expensive than many other character meals, and you won't have to spend as much to have a great experience!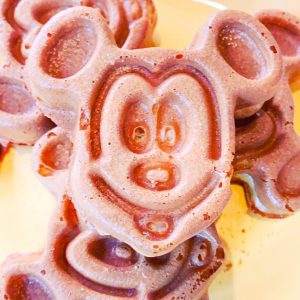 Be Our Guest
Be Our Guest is located in the back of Fantasyland inside the Beast's castle. The theming inside this restaurant is EPIC, and you can even eat in the secretive West Wing if you choose to! It's absolutely beautiful here and really captures the Beast's castle we know from the movies.
Normally this is a table service credit meal, but during breakfast and lunch this swaps over to a quick service meal. You can order ahead or order once you arrive, and then your food is brought to you, as well as a plate of French pastries for the table. Drinks are self-serve here, as well as once your food arrives there isn't any more service. The croque madame sandwich here is the star of breakfast!
If you've wanted to eat here, breakfast can be a great choice because it is less expensive than the other two meals they offer, as well as it only takes up a quick service credit if you're on the dining plan. The experience here can't be missed and it's another great option for your Magic Kingdom breakfast.
Note, this is a HARD reservation to get! Either try to book 180 days out from your trip or keep checking to see if a reservation has opened up.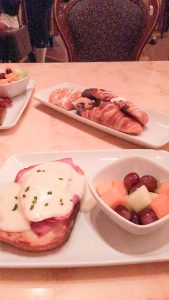 The Plaza Restaurant
The Plaza Restaurant is located on Main Street USA right next to the Plaza Ice Cream Parlor. This is probably the most relaxed and casual you're going to get for a sit-down Magic Kingdom breakfast. You won't find any characters or crowds here, and you most likely won't have to get a reservation to snag a table here.
The food here is pretty standard when it comes to options like biscuits and gravy and an all-American breakfast platter, but they do offer a fancy lobster-fried green tomato eggs benedict! This is a great choice for a chill table service meal before you start a busy day at Magic Kingdom!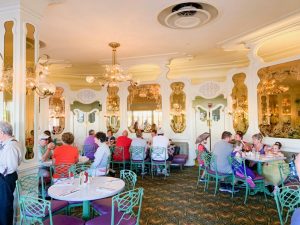 BONUS!
When talking about Magic Kingdom breakfast, we couldn't leave out the ultimate morning adventure: Early Morning Magic in Fantasyland. This is a hard ticket event that costs $89 for adults and $79  for children in addition to your park admission.
This special event takes place on select mornings, and grants access for a limited number of people to visit Fantasyland before the park opens. Seven attractions are open, as well as  they offer an all-you-care-to-eat breakfast at Cosmic Ray's Starlight Café. The breakfast consists of classics like eggs, bacon, fruit, pastries, and bacon; and it's available from 8am until 10am.
This can be a great option for those looking to splurge a little and avoid the crowds. If you can't get FastPasses for the rides in Fantasyland on your Magic Kingdom day and you know your family can get their money's worth from breakfast, this could be the ultimate Magic Kingdom breakfast experience for you and your family. To find out all the details, check out our article on early morning magic.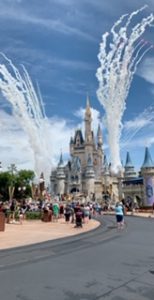 Since there are so many great ways to start your day at the Magic Kingdom, we know a great meal can't be missed. You can choose a quick breakfast on the go or something more filling, and we hope this article helped you decide which of those is the right fit for you and your family. You have so many great options, so go out there and get an amazing meal before you start your day. You know what they say: Magic Kingdom breakfast is the most important meal of the day!