We are going to tell you exactly how to get a high score on the Buzz Lightyear Ride at Disney World! Buzz Lightyear's Space Ranger Spin is an interactive dark ride located in Tomorrowland at Disney's Magic Kingdom Resort.
It is also one of our best rides at Magic Kingdom and also makes our list of the best rides in Walt Disney World. It is an interactive 'shooting" ride and oh so fun for the whole family. Of course, you can simply ride the Buzz Lightyear ride without "trying" hard to score high, but after years of doing that, it is fun to have little scoring tricks in the back of your mind!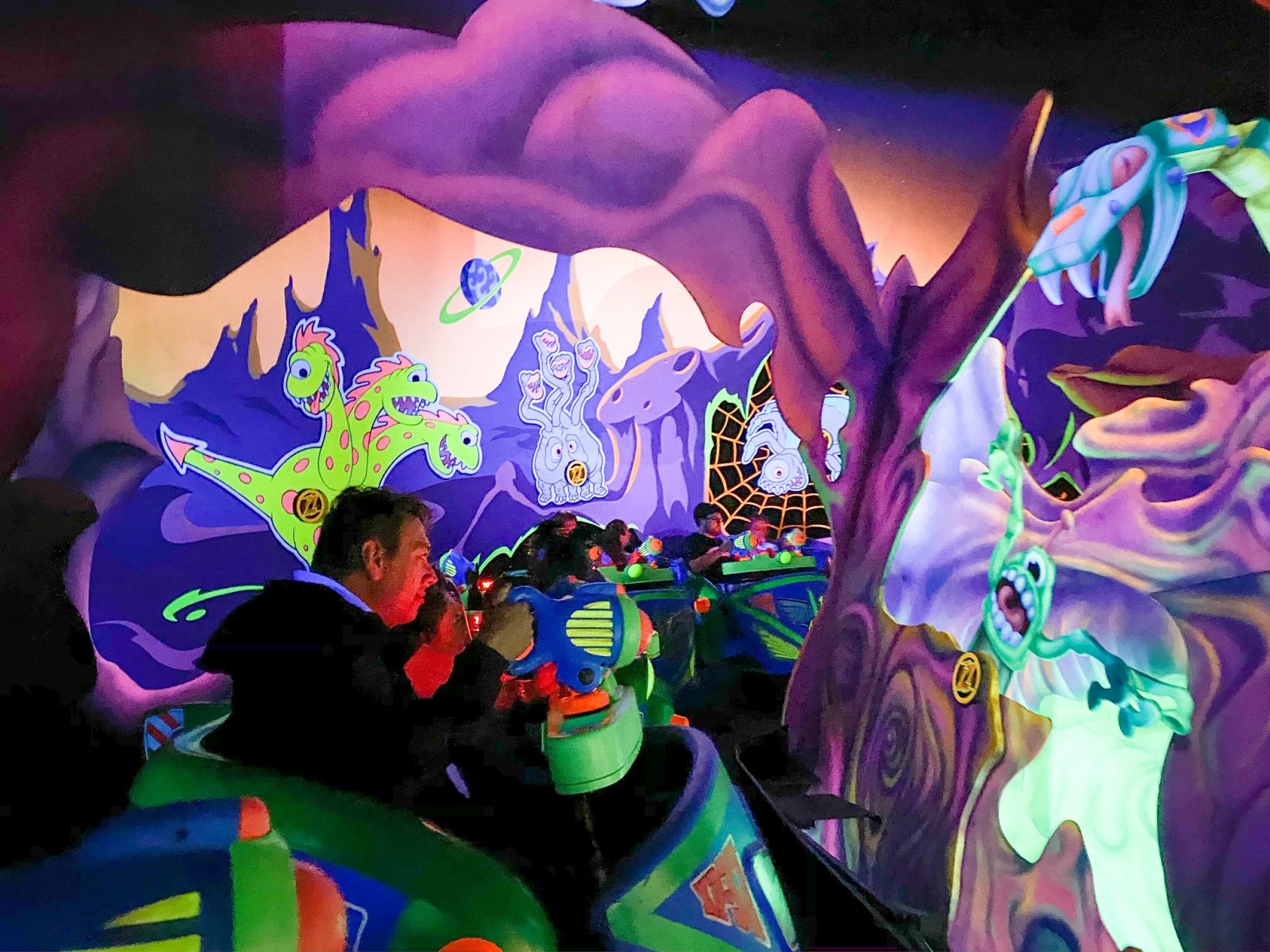 What Are The Basics Of The Buzz Lightyear Ride?
The Buzz Lightyear Ride at Magic Kingdom is a family-friendly competitive ride. It is perfect for the whole family and children and adults alike can get in on the action and fun! It also makes a good Magic Kingdom Fastpass option, especially if you are looking for a same-day Fastpass option.
Otherwise, the line moves quickly, even if it appears to be quite long. If you want to ride Buzz Lightyear's Space Ranger Spin with a shorter line, skip the parade or Fireworks and head here. The place clears out and the line is quite short! In addition, as soon as you enter the interior waiting area, you will enjoy air conditioning which is always welcome in the Florida heat.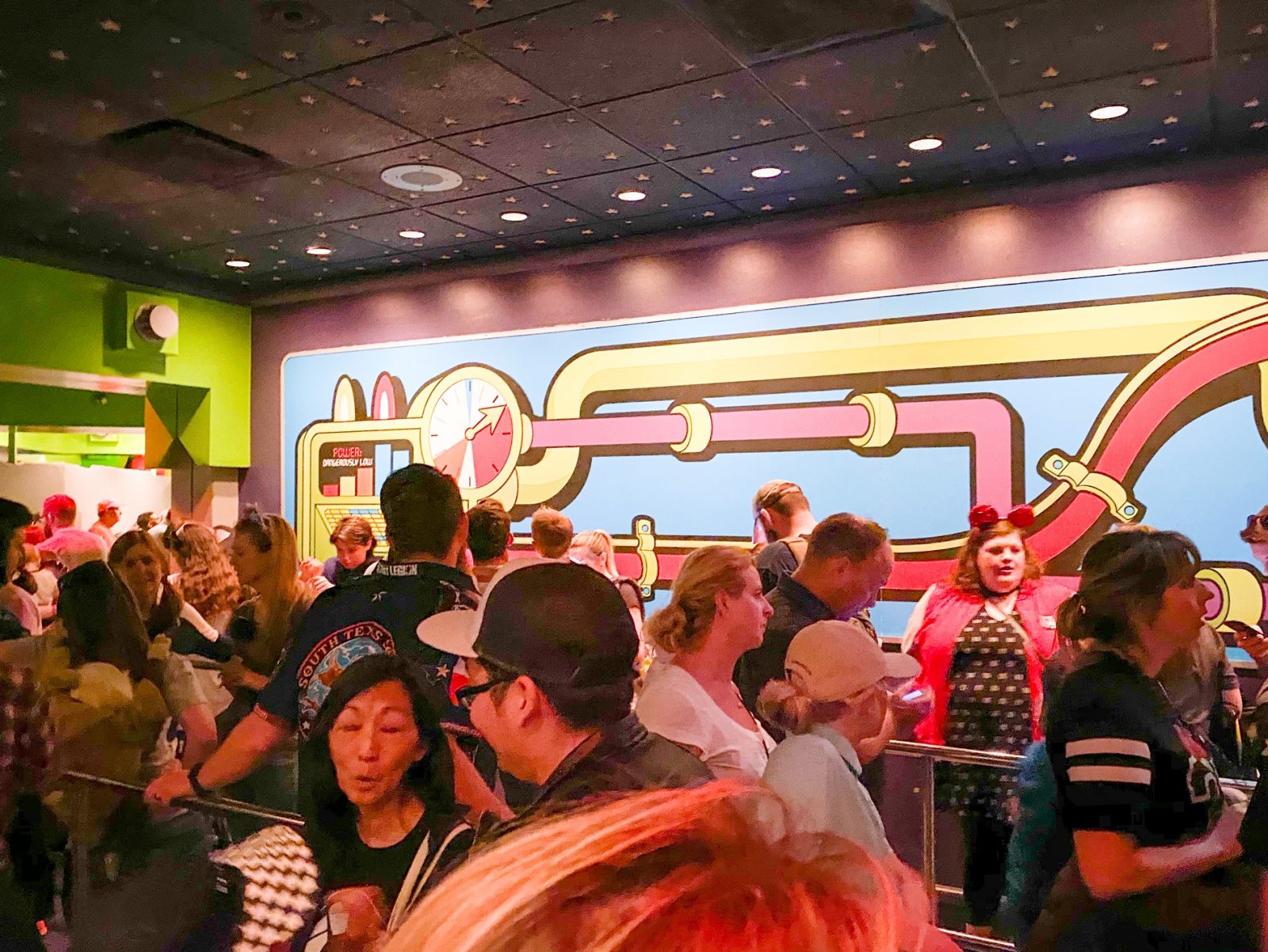 Each space cruiser vehicle has two blasters and one joystick which allows you to move the direction your ride vehicle is facing. The Buzz Lightyear ride is similar in speed to Haunted Mansion or Spaceship Earth if you are looking for a comparison. It is slow-moving yet interactive and fun.
A laser beam comes out of your blaster and your goal is to defeat Zurg. You do this by hitting all the "Z" shaped targets. You can't miss them and there are a lot! This is where our tips come in! There are many tricks and some Z targets are worth more than others!
Finally, at the end of Buzz Lightyear's Space Ranger Spin, you can see how you stack up against other players and other people in your group. This is where friendly competition comes in!
Here are the scoring systems for the end of the ride. 999,999 is the highest score you can possibly achieve on the Buzz Lightyear ride!
Level 1 Star Cadet: 0 – 1,000
Level 2 Space Ace: 1,001 – 10,000
Level 3 Planetary Pilot: 10,001 – 100,000
Level 4 Space Scout: 100,001 – 300,000
Level 5 Ranger 1st Class: 300,001 – 600,000
Level 6 Cosmic Commando: 600,001 – 999,998
Level 7 Galactic Hero: 999,999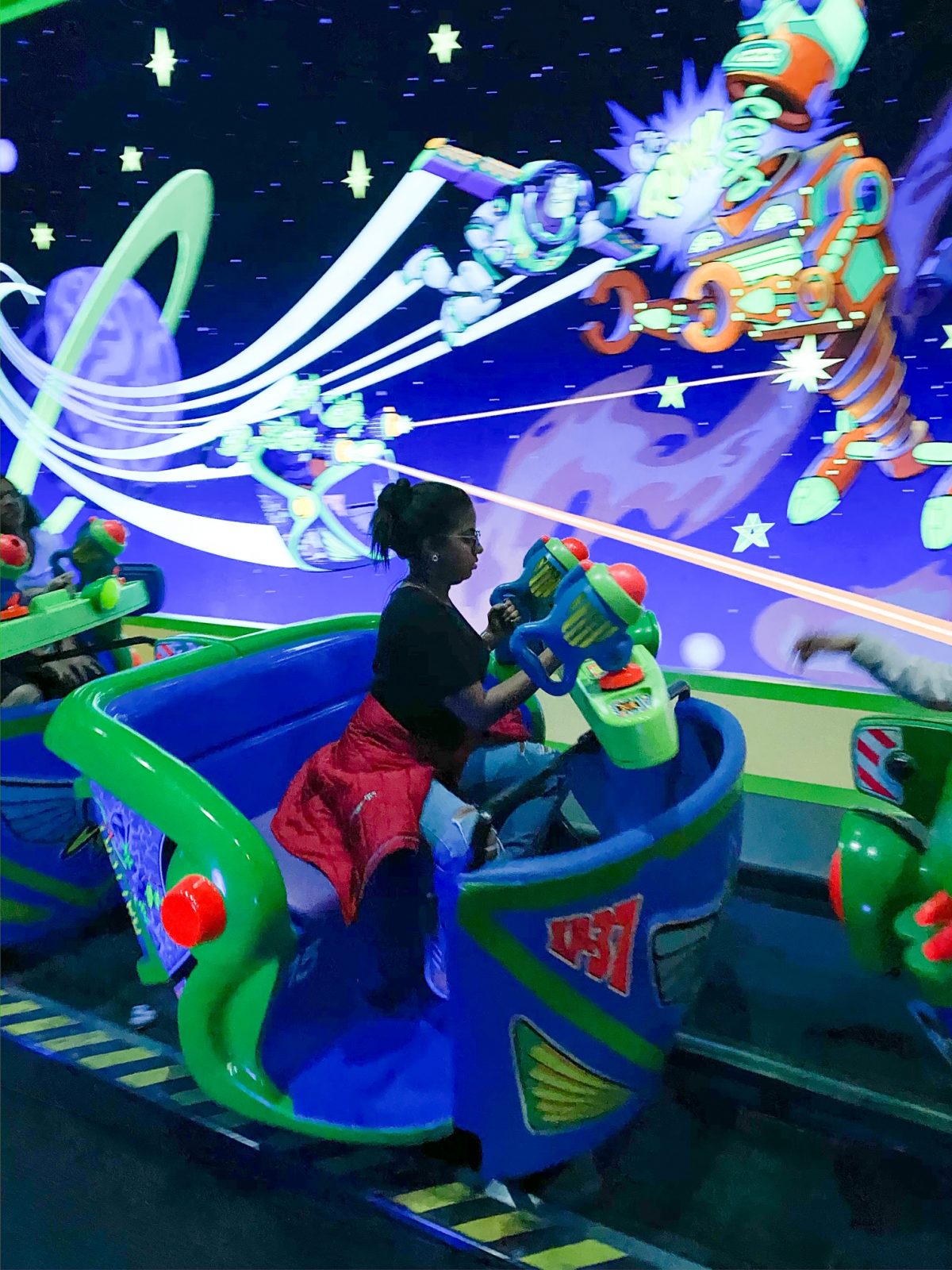 10 HIGH SCORE Tips For Disney's Buzz Lightyear Ride
1. In the preview room, make sure your laser blaster is working
Step 1 to Buzz Lightyear ride domination is to make sure that your laser blaster is working. This important and MANY TIMES my blaster isn't working properly or it isn't working as well as the person who is riding with me.
If this happens and your blaster isn't working or is broken in some say, simply sit through the ride and at the end, let a Cast Member know. They will allow you to ride again with a ride vehicle that is working.
This doesn't happen super often on the Buzz Lightyear ride, but it is good to know in case it happens to know. I know how disappointing it can be if you waited for an hour or used a precious FastPass and then didn't get to play!
The preview room of Buzz Lightyear's Space Ranger Spin doesn't give you any points. This is the room between when you board your ride vehicle and when you get to start shooting.
At this point, put your hand in front of your laser blaster and fire away until you see a red dot appear on your hand. You can also try this against one of the black walls. Either way, you want to simply ensure your laser pointer is working as this is essential for scoring!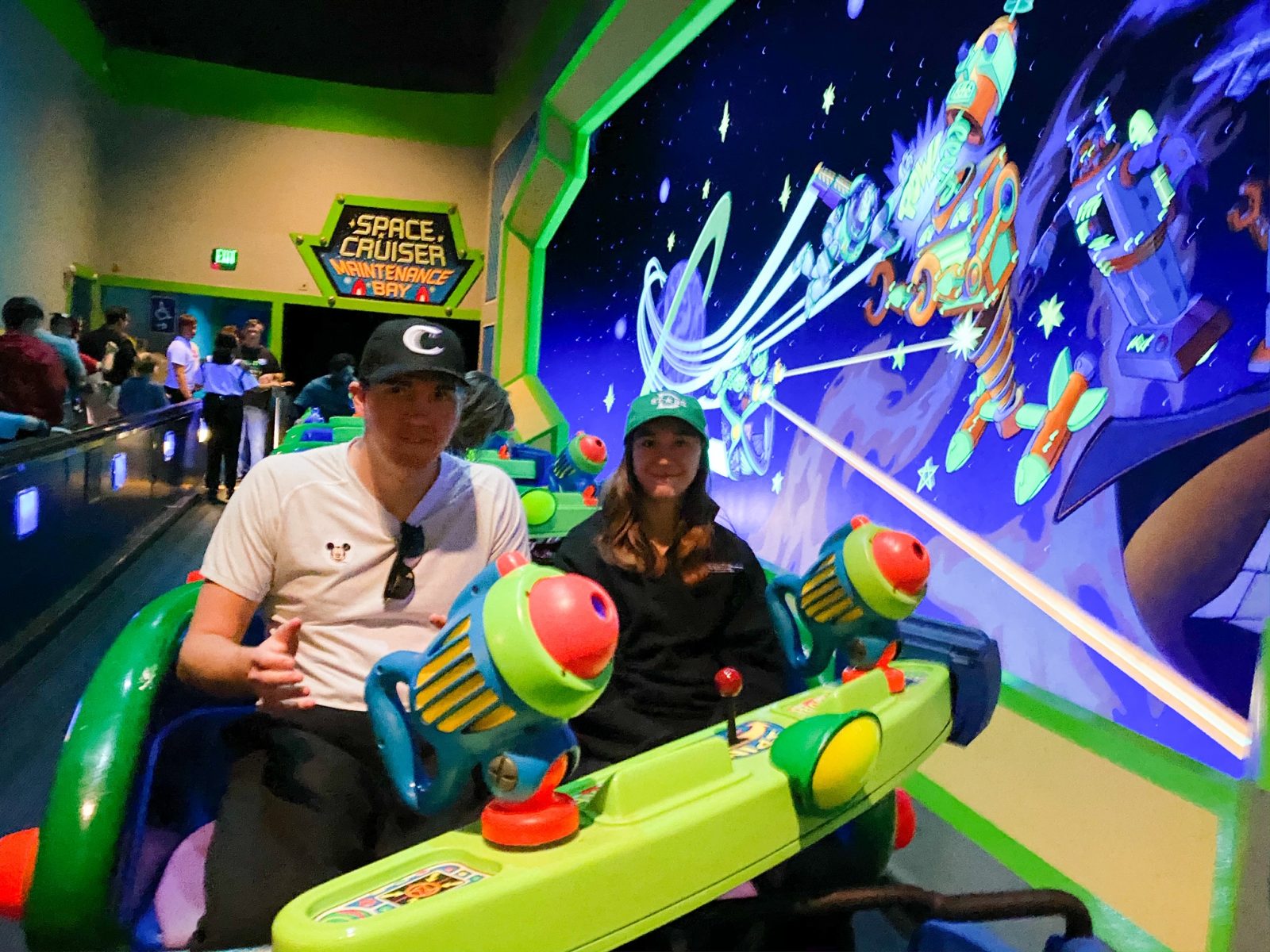 2. In The First Room, Look For The Red Robot
The first room offers two scoring opportunities. The first is a giant red robot on your left. This room is your time to maximize your potential for scoring. If you hit the two proper targets, you will easily be halfway to 999,999 possible points on the Buzz Lightyear ride!
On your left, there is a red robot. You are going to want to shoot the target that is on the inside of the robot's left arm [so your right as you are facing him] or on the hand that is further away from you. This target is worth 100,000 points per blast. It is essential to look for the large robot and hit this target as soon as you enter the first room.
This is also one of the most well-known "high score" targets on the Buzz Lightyear ride so the competition may be heavy. People who are sitting on the left side of the ride vehicle have a higher chance of scoring here!
3. Next, Look For The Large Claw To Score Big On The Buzz Lightyear Ride
As soon as you are done with the red robot, direct your attention to the large claw near the right side of the ride. As I said before, the first room of the Buzz Lightyear ride is good for scoring but the room feels like it moves quite quickly! You will want to spin your ride vehicle around and immediately look for the large claw.
The claw is easier to hit as you are directly underneath, passing, and making your way into the second room of Buzz Lightyear's Space Ranger Spin. It is one of the more difficult targets to hit, but you can do it with the proper aim and speed. This one may be a bit more difficult for smaller children to hit.
It is also worth 100,000 points. Hit it as many times as you can to maximize your scoring potential.
4. In The Second Room, Aim For The Volcano At The Back Of The Room
Now that you are done with the swift pace of the first room, you head to the second room. The second room is the largest room on the Buzz Lightyear ride and also has the most targets. It is also easier for children to score here as some targets are closer to the vehicle.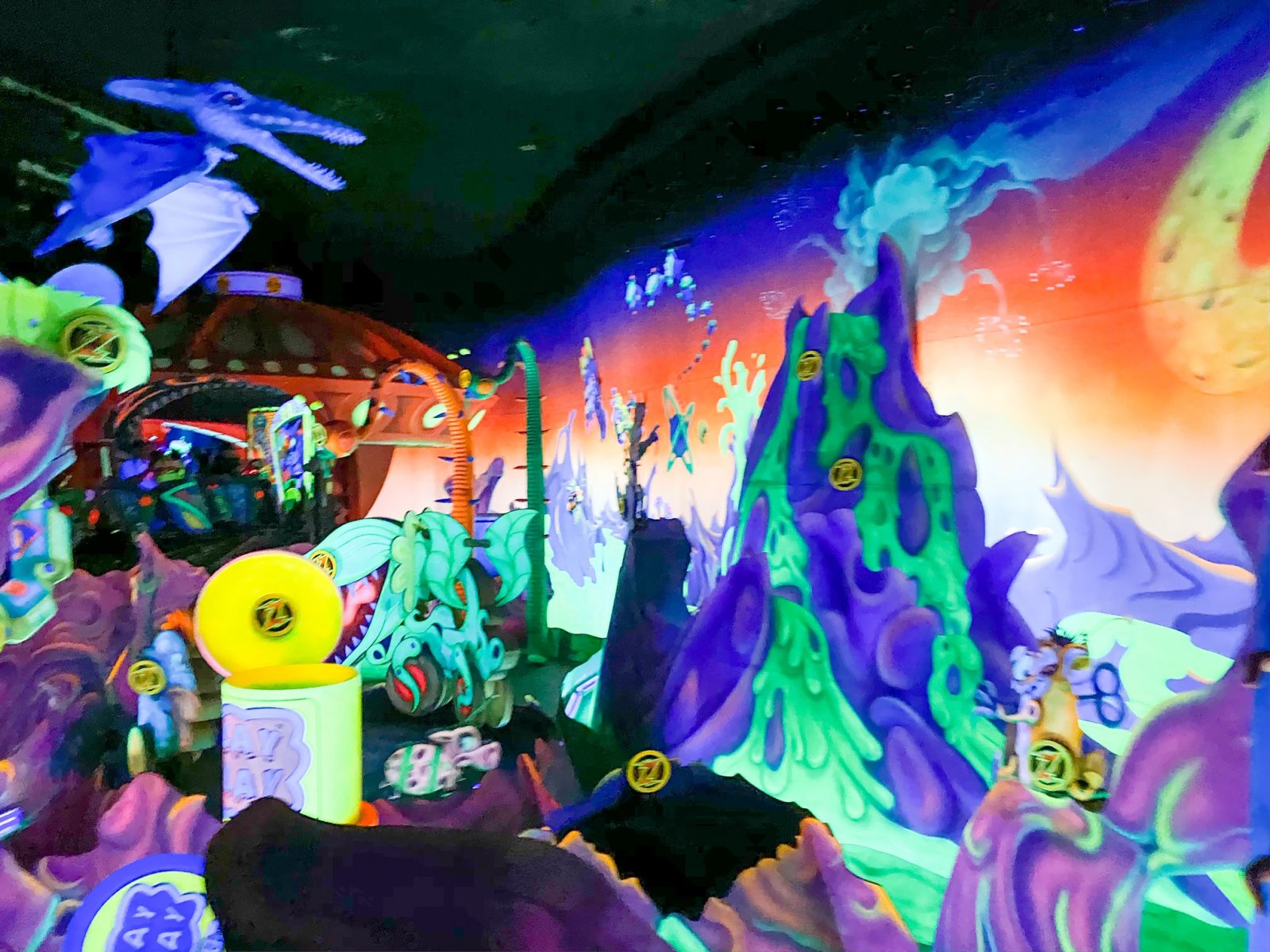 If you want to score big, direct your attention to the volcano at the very back of the room. Do not bother with shooting targets on your left wall. Keep your lasers aimed on the volcano for max space ranger points at Disney World!
There are two targets on the volcano and the top one is worth 50,000 points per hit! If you hit this one multiple times, you are doing very well. It isn't that hard to do, just focus on your laser and hit your mark.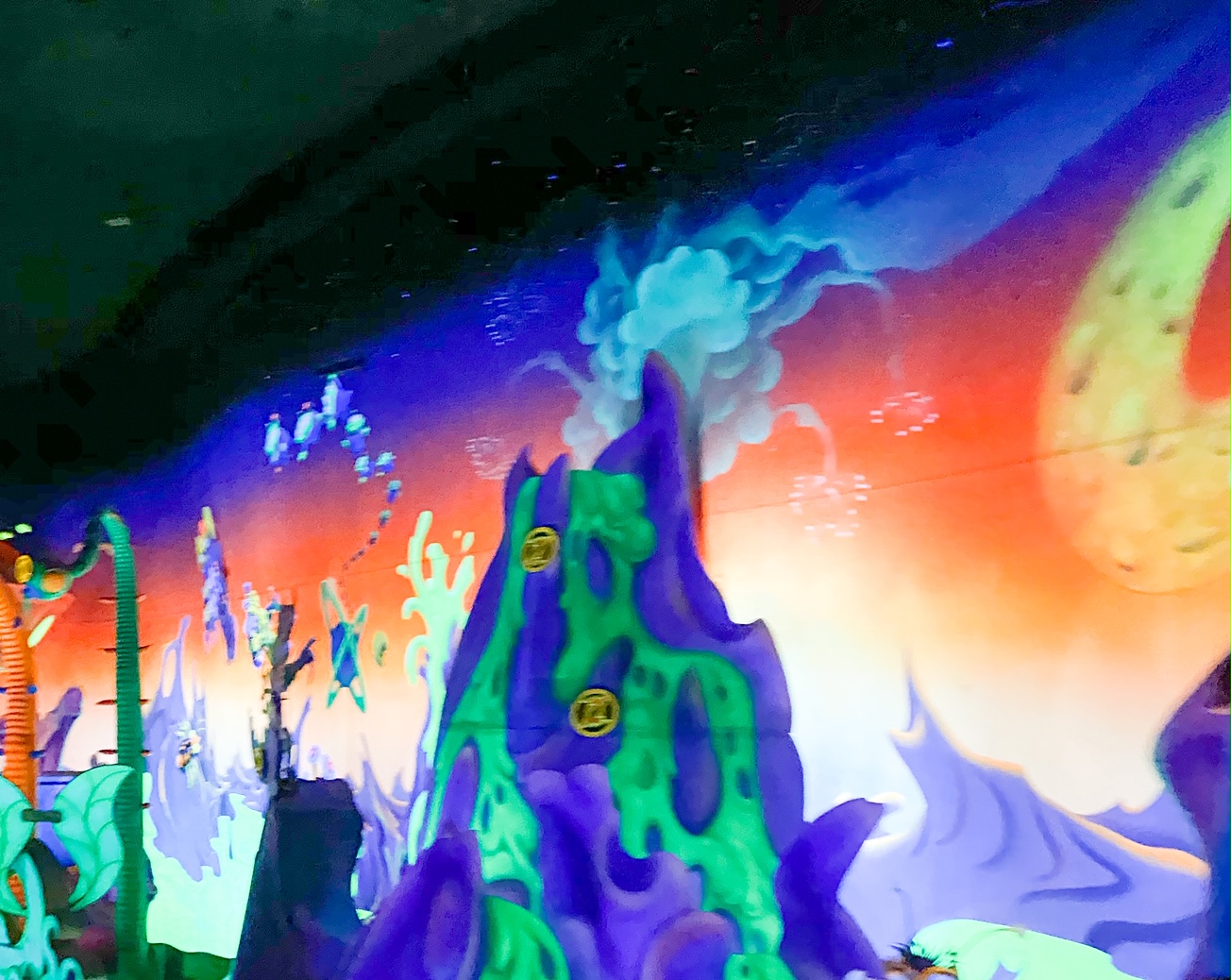 5. Next, Target Monsters And Spinning Objects In Room 2
After you are finished maximizing your points with the volcano in room 2, you can direct your attention to a monster in a box. The monster is also worth 50,000 points and you can hit it from multiple angles as well. Alternate between the volcano and the monster for best success!
Second, upon your exit from Room 2, don't forget to look up! As you leave the room, there is a spinning target above you. It is a little difficult to hit, but it is worth 25,000 points. You will probably be able to hit it only once. If you feel pressured for time, skip this one and focus on the volcano and the monster in the box.
6. Aim For The Z On The Bottom Of Zurg's Ship In Room 3
In the third room, there is a GIANT Zurg ship to your right. This is important!! There is a Z at the bottom of Zurg's ship front and center. You can't miss it. It is worth 100,000 points and you can hit it as many times as you want.
This is one of the easier Buzz Lightyear ride targets for children to try and hit as it is closer to your ride vehicle. It is easier to hit as you are approaching Zurg's ship and as you are already past it. When you are in front of the ship, it is hardest to aim and shoot, although it isn't impossible! Focus on the Z and get as many points as you possibly can here. This is one of your last chances to boost your score.
If you combine the Z on Zurg and knocking over the batteries, you have the potential to make out big on the third room of Buzz Lightyear's Space Ranger Spin!
7. Keep Shooting Through The Emergency Escape Hatch
After the third room, you will come into a room called the Emergency Escape Hatch. This room has projections all around you and it is like you are flying through space. Just for holding your finger on the trigger and shooting "into space" you can earn an additional 300-400 points. While this is low, it is nice for smaller kids who may have a harder time scoring to grab some extra points.
Many people say that you can "score big" as targets fly by for a quick moment in this room. For example, there is an animated Zurg worth 75,000 points. There is also a projection of Zurg's ship moving all around the screen. There are Z targets on the ship that are worth additional points as well, but the targets are super tiny.
8. The Final Room On The Buzz Lightyear Ride Doesn't Give You Many Points
In the final room, you will not be able to control your ride vehicle via the joystick any longer. You will be facing "the camera" as this is the room where your photo is taken! If you are still looking for points, continue shooting any of the Z targets for additional points.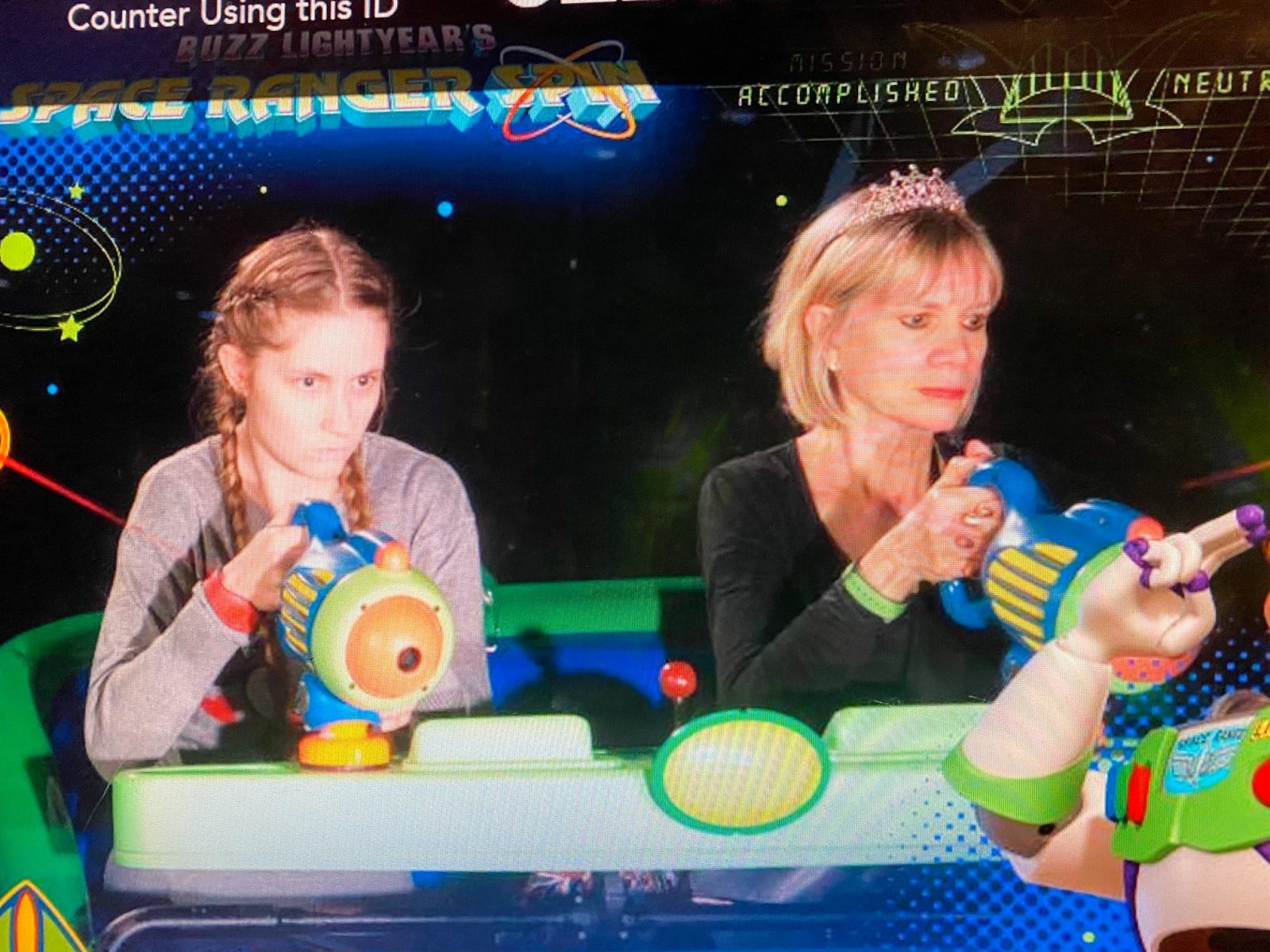 This is your last chance to up your score on Buzz Lightyear's Space Ranger Spin before you see how you stack up with others in your group! Make every shot count, but don't forget to smile for your photo. I also love doing fun "focused sniper" photos too while you are in the moment and shooting your Z targets.
I don't really consider this a huge scoring opportunity, but I will mention it anyway! In the last room, turn your attention to batteries and the little green aliens. Try and aim at the bottom batteries and knock them over. This gives you 50,000 points. This is your last-ditch effort before the very end of the ride!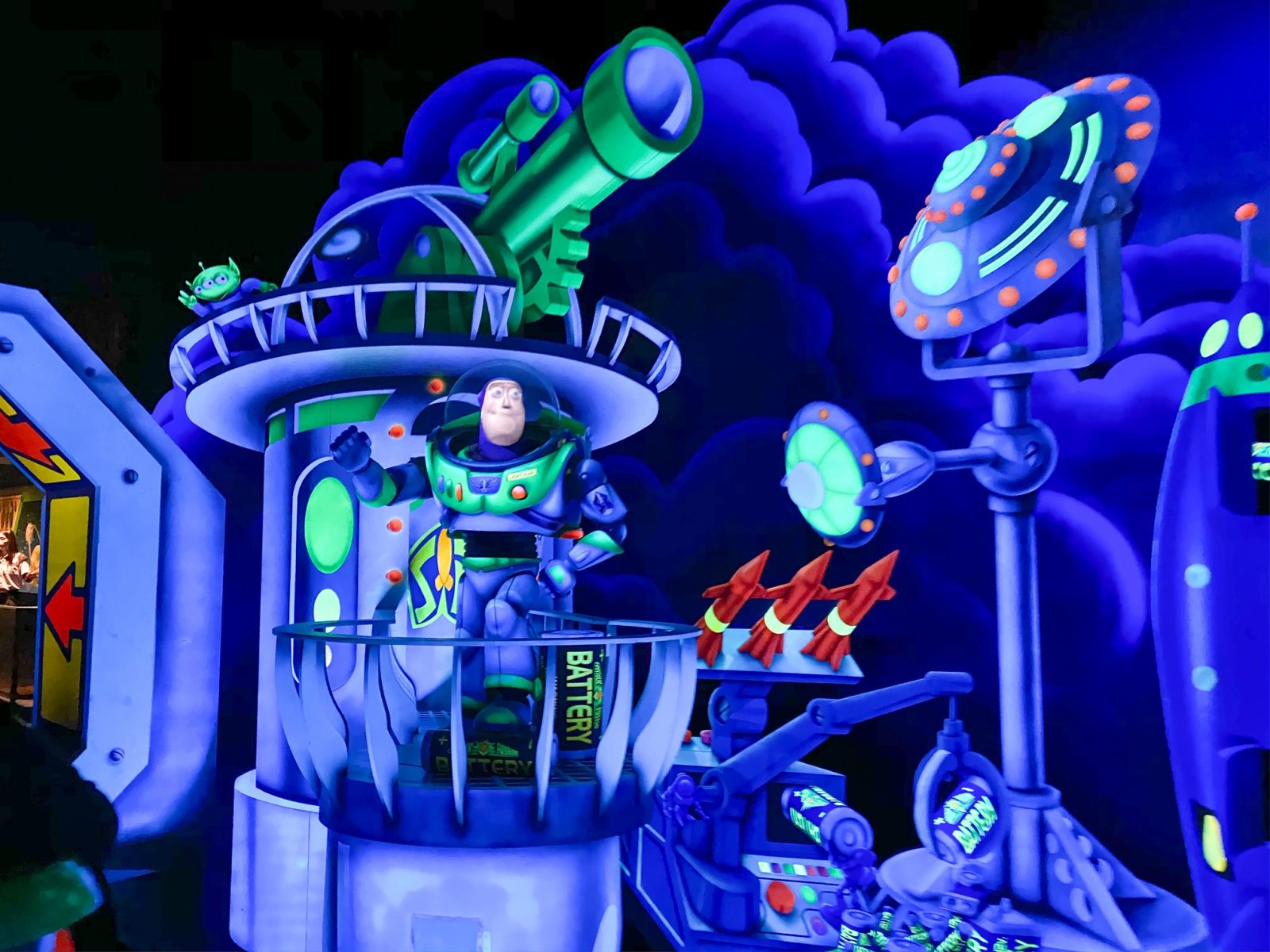 9. The Lowest You Can Score Is 1300 If You Shoot Throughout The Whole Ride
This is the BEST tip for young children who want to "score" but can't aim or find the difficult targets. Tell your child to keep pressing their finger on the trigger throughout the whole ride. If they keep their hand on the trigger throughout the entire ride, the lowest they will score is 1300, which will up them to the second tier of space ranger scoring.
Many people think you have to hit a target in order to score, but simply holding your finger on the trigger for the entirety of the ride will bring in a minimum of 1300 points. Of course, you can recommend to children that there are nearby targets and their score can go up from there, but this is a tip for minimal scoring.
This way, everyone in your party scores something and has fun on the Buzz Lightyear ride!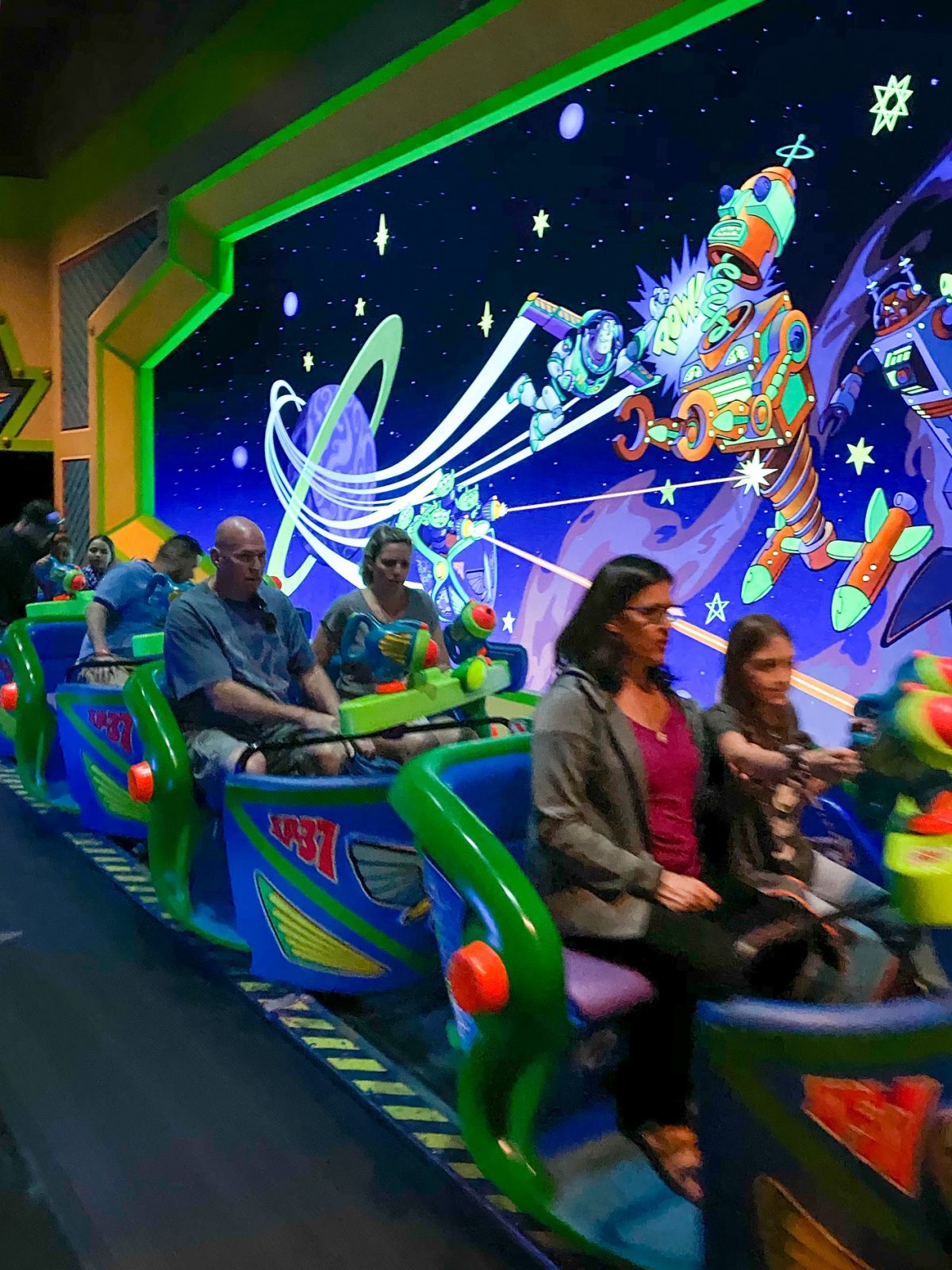 10. Ride Space Ranger Spin At Park Open Or Park Close To Maximize Success
This Buzz Lightyear ride hack is mainly for only the most dedicated players. I do not expect you to rearrange your entire trip to simply ride this ride and score big. That being said, if you do want the highest chances of scoring on Space Ranger Spin, ride the ride during the early or late hours of the day or during parades or fireworks.
Why? Because this reduces the number of competitor guests who are riding with you and also reduces the number of laser pointers that are around the room. If the ride is at capacity, you will see hundreds at once. If you go when the line is very short, this will reduce the number of lasers in the room.
This will make it much easier to track which laser pointer is yours. If there are tons of lasers, you may get confused and think you are hitting a target only to find out you are hitting some completely pointless wall.
Finally, if you ride early or late, the wait may be short and you may get to try and ride again!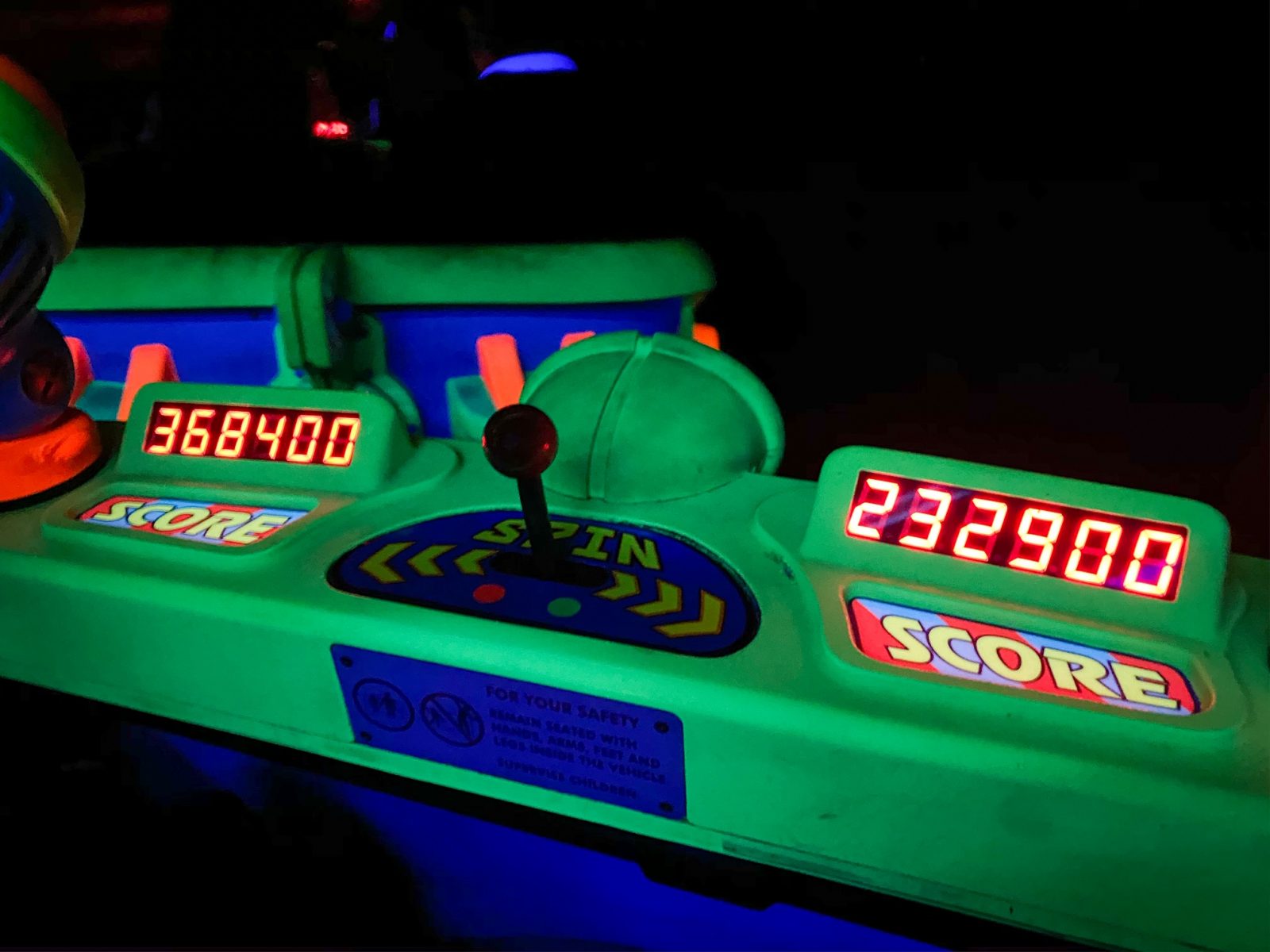 If you do achieve the elusive 999,999 points to become a Galactic Hero, make sure to take a photo! As you exit the ride, show your photo to a Cast Member. They will award you with a button and sticker that shows you are a Galactic Hero. This is 100% free and makes a wonderful and fun souvenir to take home from your Disney Trip! Plus, you can wear it around the park all day to show off your fabulous skills that you used to help save the planet!
If you used these tips to help score big on the Buzz Lightyear Ride, we would love to see your score on Instagram by tagging #disneytrippers or in the comments here!
Pin this post: