Are you trying to figure out which are the best Magic Kingdom rides?
Deciding which rides to head to first and which ones you know you'll want to go on again and again?
Then look no further.
This handy guide will give you all the information you need to know about the best rides and attractions at Magic Kingdom has to offer, so everyone can have an amazing time at Disney World.
Walt Disney World is ginormous and Magic Kingdom is just one part of it.
There's so much to see and do and experience, it can be a bit overwhelming.
You might worry that you'll miss out on some of the best stuff in all the other amazing stuff on offer in the parks.
But do not fear!
We have rounded up the best Magic Kingdom rides and attractions so that you know your stay will be a magical one.
We'll tell you everything you need to know about the Magic Kingdom ride list and highlight which attractions are not to miss during your trip!
Get a FREE printable 30/60/90 day Disney countdown by joining our private Disney Facebook Group and share your photos and ask for tips and tricks.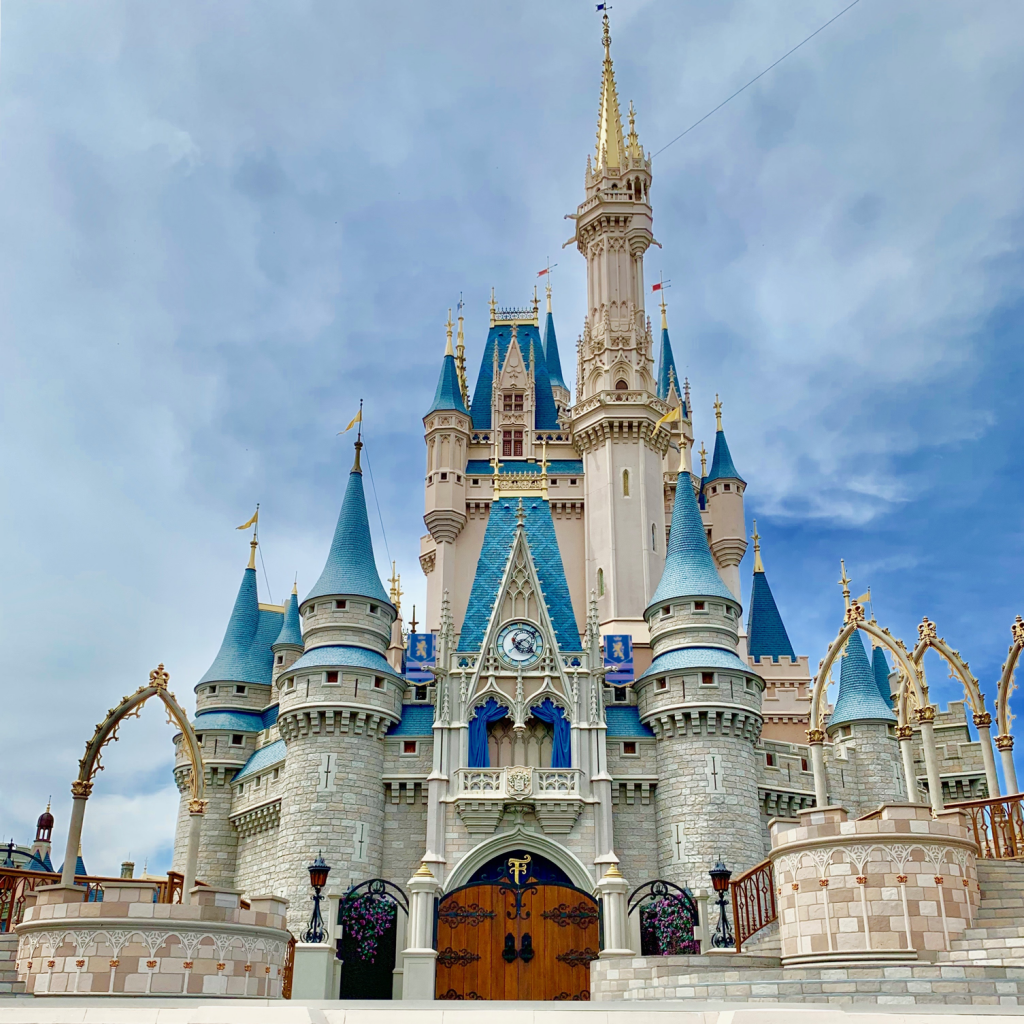 Understanding Magic Kingdom Lands
Magic Kingdom covers over 107 acres of land, which seems like a lot, but it is broken up into 6 different themed "Lands" which make it much easier to navigate.
That being said, make sure to add a good pair of shoes to your Disney packing list because Magic Kingdom is quite a large park with a lot of walking!
Main Street USA is the first land you'll find yourself in as this covers the park entrance all the way up to the castle.
Main Street USA is mostly food stalls and souvenir shops so there is plenty of things to do at Magic Kingdom just in this section alone!
The parade travels down Main Street USA so it's good to scope out a good spot before it starts.
Next up is Adventureland, just to the left of Main Street USA, where you'll discover some of the most adventurous Disney characters, such as Tinkerbell and Aladdin, and explore rides like Pirates of the Caribbean.
Following on, you'll arrive in Frontierland, a hoky-poky country town, complete with its very own runaway train.
Liberty Square is up next.
Not a very big land, Liberty Square hosts lots of places to grab a quick snack and visit the Haunted Mansion.
Liberty Square leads in to Fantasyland, directly behind the castle.
Fantasyland is where all the classic Disney fantasies come true and has most of Magic Kingdom's best rides and attractions.
Finally, there is Tomorrowland where you can step straight into the future with all sorts of aliens and monsters, and experience tomorrow today!
You can navigate easily from one land to another using Disney's app! Check out our detailed post about the My Disney Experience app.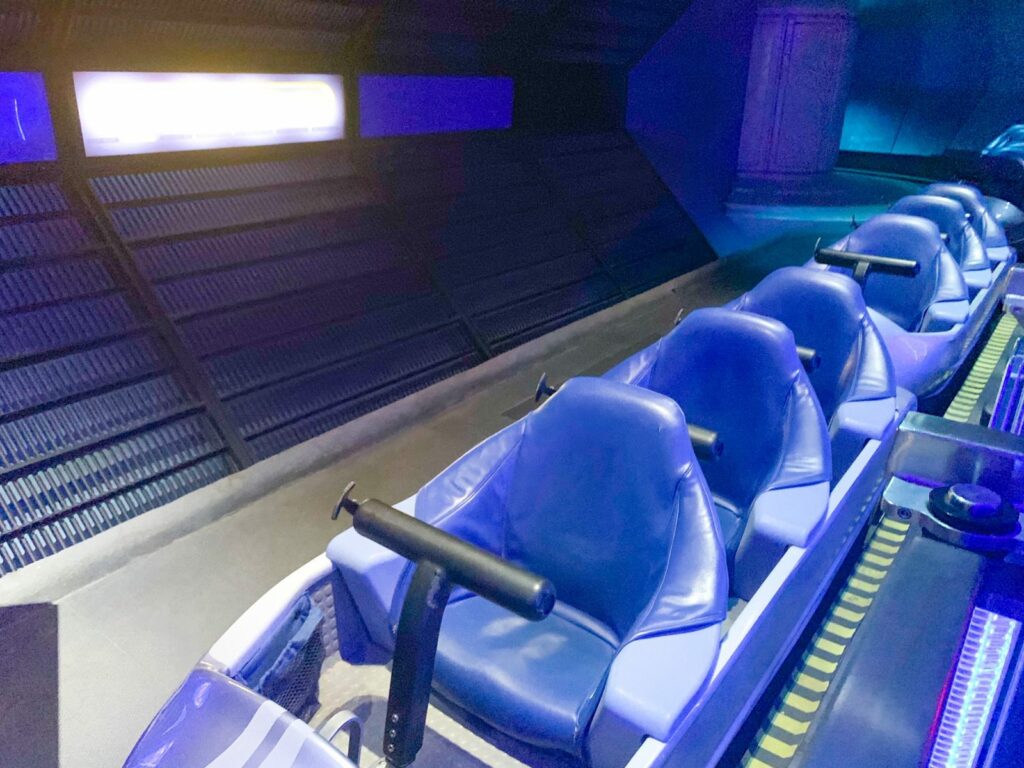 Full Magic Kingdom Ride List
With a full list of over 30 rides and attractions at Magic Kingdom, there is something for everyone to do at this park!
The list of rides at Magic Kingdom alone are some of the best rides and attractions in Disney World!
There are dark rides, thrill rides, chill rides, and even roller coasters!
Here is the full list of all the rides and attractions at Magic Kingdom.
Main Street USA:
Adventureland:
Tinker Bell's Magical Nook
Swiss Family Tree House
The Magic Carpets of Aladdin
Walt Disney's Enchanted Tiki Room
Jungle Cruise
Pirates of the Caribbean
A Pirate's Adventure
Frontierland:
Walt Disney World Railroad
Splash Mountain
Big Thunder Mountain Railroad
Tom Sawyer Island
Country Bear Jamboree
Frontierland Shootin' Arcade
Liberty Square:
The Hall of Presidents
Liberty Square Riverboat
Haunted Mansion
Fantasyland:
"it's a small world"
Peter Pan's Flight
Mickey's PhilharMagic
The Barnstormer
Casey Jr. Splash 'N' Soak Station
Cinderella Castle
Dumbo the Flying Elephant
Enchanted Tales with Belle
Mad Tea Party
The Many Adventures of Winnie the Pooh
Prince Charming Regal Carrousel
Seven Dwarfs Mine Train
Under the Sea
Tomorrowland:
Buzz Lightyear's Space Ranger Spin
Monsters, Inc. Laugh Floor
Space Mountain
Tomorrowland Speedway
Tomorrowland Transit Authority PeopleMover
Walt Disney's Carousel of Progress
Astro Orbiter
TRON Lightcycle Run
If you are looking for some of the best Disney World rides across all of the parks, then check out the list we've put together to make things easier for you!
Don't forget to check out our detailed breakdown of the Best Time To Visit Disney World for help with planning!
But for now, here's what we recommend for the best Magic Kingdom rides!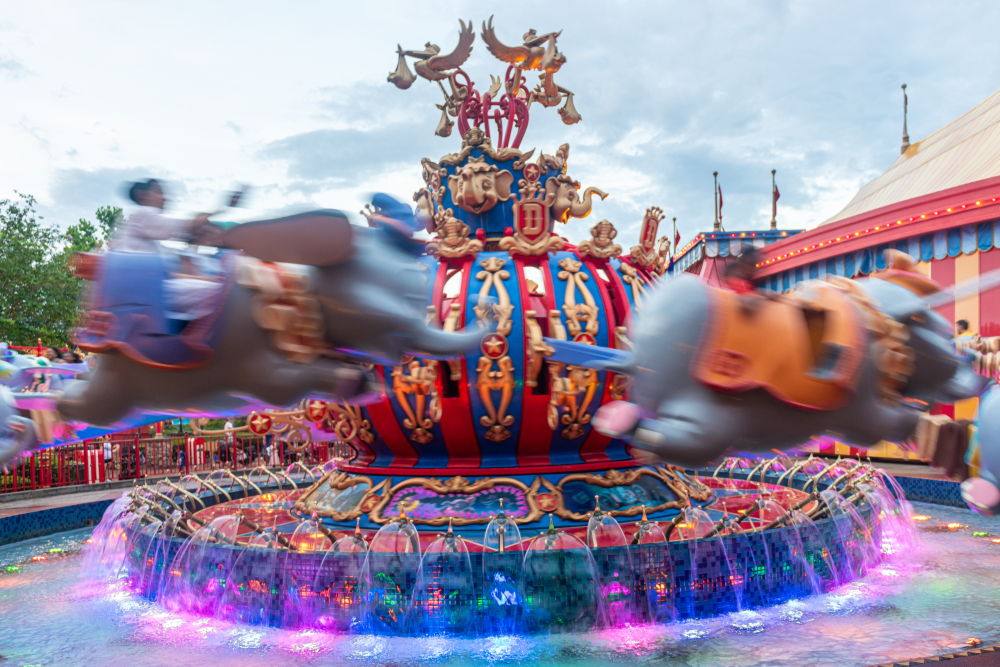 What is the most ridden ride at Magic Kingdom?
This question is a challenging one to answer, as not all of the numbers behind the rides are made public.
However, the oldest, and by default, the most ridden ride at Magic Kingdom, is the Prince Charming Carousel.
The Carousel was actually constructed in 1917, which was years before Disneyland was even established.
The story goes that Walt Disney came up with the idea for Disneyland (and later Disney World) after watching his daughters riding a Carousel.
Walt Disney then went out, bought, and refurbished the Carousel around 1967 during an auction, with the intent of having it housed at Magic Kingdom as part of the new Fantasyland.
To this day, the Prince Charming Casoel is still in working order, showcasing elements from the 1950s Cinderella animated film, as well as it's New England heritage.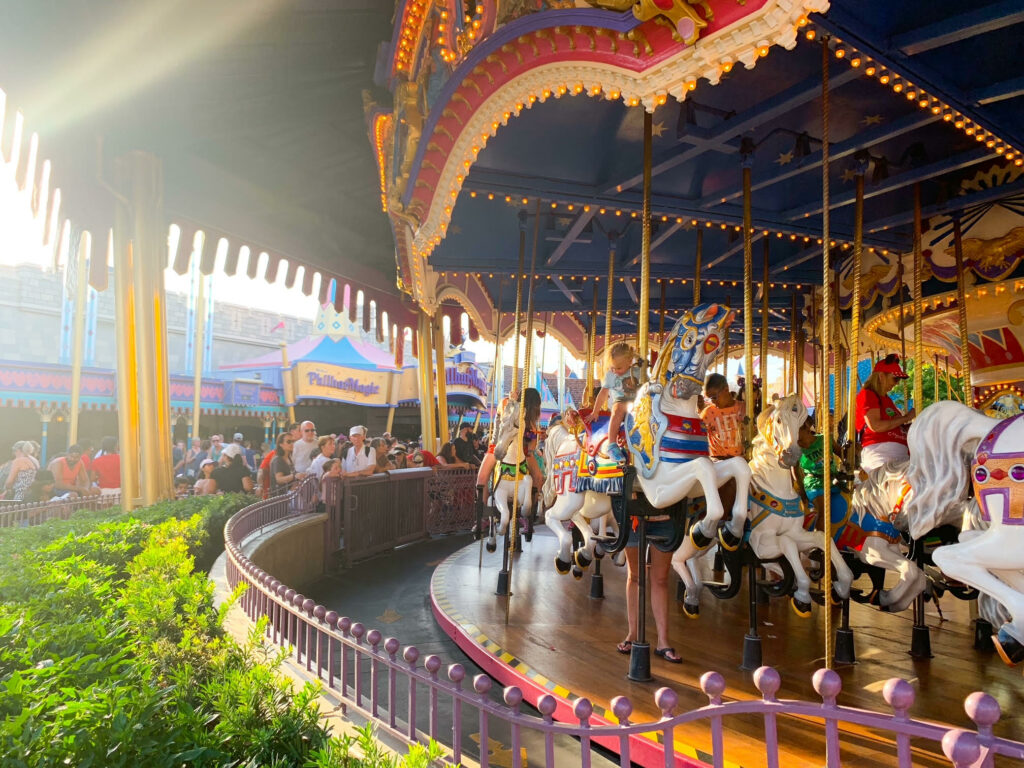 Which rides should I hit first at Magic Kingdom?
Every ride has its own unique flair, we recommend choosing a ride that is near the top of your personal Magic Kingdom ride list.
We recommend Jungle Cruise, or Seven Dwarfs Mine Train as the rides you should ride first at Magic Kingdom if you aren't grabbing a boarding group or Individual Lightning Lane for TRON Lightcycle Run.
These rides are extremely popular and rarely drop below an hour's wait in the stand-by lanes once the park opens.
You could try your hand at getting a lighting lane, but that may result in you needing to wait hours before actually getting on the ride.
If your mission is to ride a specific ride, then we recommend you head to that ride first.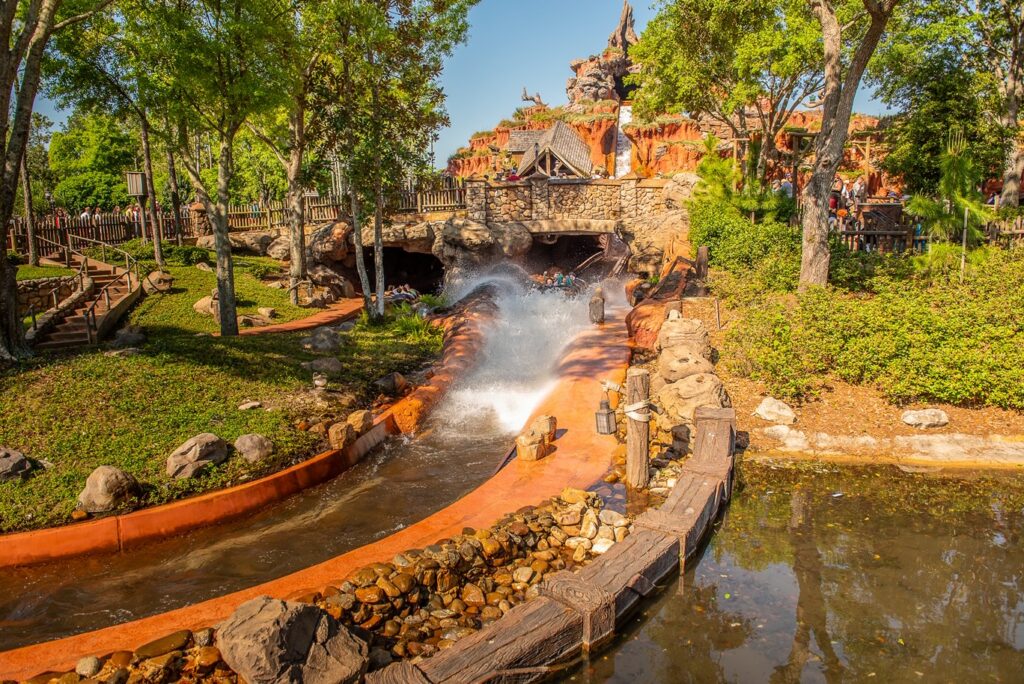 12 Best Magic Kingdom Rides and Attractions Ranked!
Now you're aware of all the things to do at Magic Kingdom, it's time to find out the 12 best rides and attractions so you have the best time possible at Disney World.
You may also want to use our Disney World Crowd Calendar to determine when would be the best time that you should go.
Splash Mountain

Disclaimer: Splash Mountain is down for refurbishment and will reopen as "Tiana's Bayou Adventure" late 2024.
One of the greatest things about Disney World, and Disney in general, is the amazing stories that it weaves.
The stories are what makes Disney World one of the best theme parks out there and Splash Mountain one of the best Magic Kingdom rides.
Lots of theme parks have water rides like Splash Mountain, but it's just a quick up and down with a splash at the end; with no real character and no enjoyment other than the drop at the end.
Whilst that is mostly the point of the ride, Disney World's Splash Mountain has a lot more to it.
Set right at the front of Frontierland, Splash Mountain follows the tale of the Disney classic 'Song of the South'.
Whilst this may not be the most well-known of Disney movies (partly due to being banned for a while in America), it is one that has a lot to offer.
Splash Mountain follows the story of Brer Rabbit to his 'laughing patch' and features many of the hilarious characters from 'Song of the South'.
There are incredible animatronics throughout the ride that give you much more than a quick splash, and make this ride longer and worth the wait in line.
It also offers a few smaller drops before the big one so there's much more entertainment, as well as the chance to prepare your little ones for what it will be like at the end.
Children over 1.02m can ride and it offers something for everyone.
And it doesn't even get you that wet, which is a bonus if you're riding first thing in the morning or in the depths of winter.
This ride is an absolute classic and one of the best Magic Kingdom rides!
If you are looking to get a lot done in a day, then check out our Magic Kingdom itinerary for how we get it done at the parks.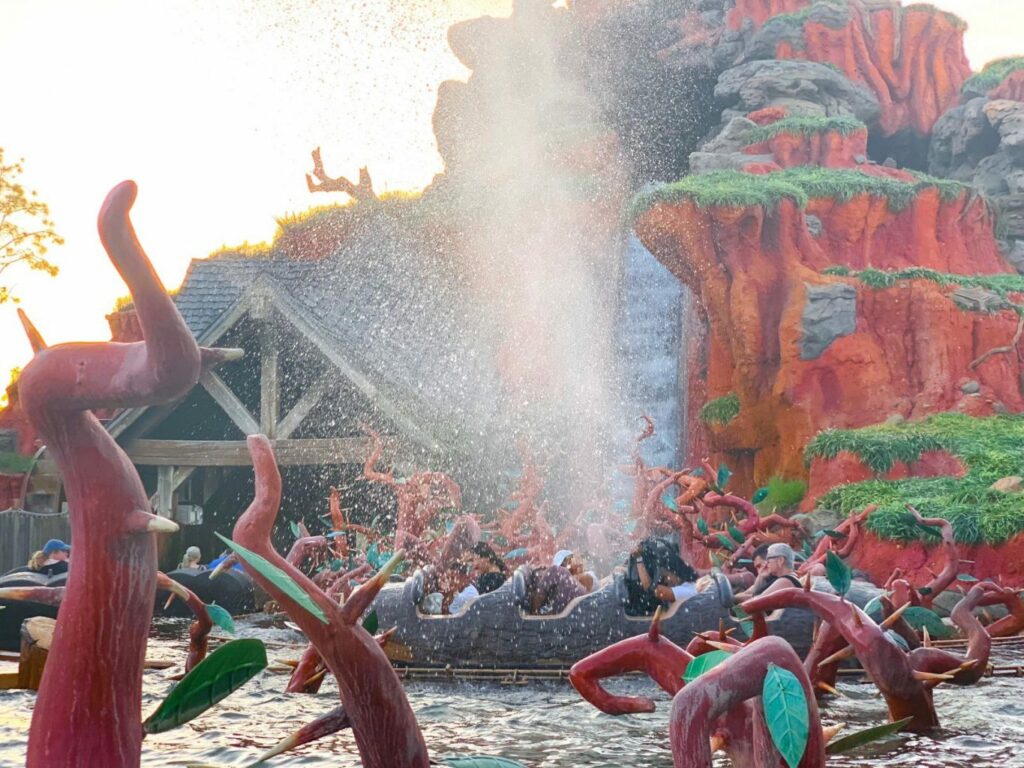 Space Mountain
Located in the far reaches of Tomorrowland, Space Mountain is a rollercoaster like no other and a great thing to do in Magic Kingdom.
Fly through the darkest parts of space in this fast coaster that teens and adults, and adventurous kids over 1.12m, will absolutely love, which is why it makes out Magic Kingdom rides list.
If you're not a fan of rollercoasters, then this is not the one for you as it features a lot of drops and fast turns and takes place mostly in the dark.
This fact, however, is one of the reasons it features so high up on this list.
Despite the fact that it's mostly dark (and you might have your eyes tight shut) every little detail of the ride is precise and astounding.
Shoot past astronauts and space rockets and even see real constellations as you race around this 2-minute long ride.
Hands down, this is one of the best Magic Kingdom roller coasters you've got to try.
An added bonus, or curse depending on how brave you are, is you ride in individual seats so you don't have someone screaming right in your ear!
This does mean less people ride per car though, so it does get busy and booking a lighting lane is recommended for Magic Kingdom Disney World rides.
Want to know which rides you should or should not use the lighting lanes for? Then check out our review of the best (and worst) Magic Kingdom Genie+ and lighting lane rides before you book your next one!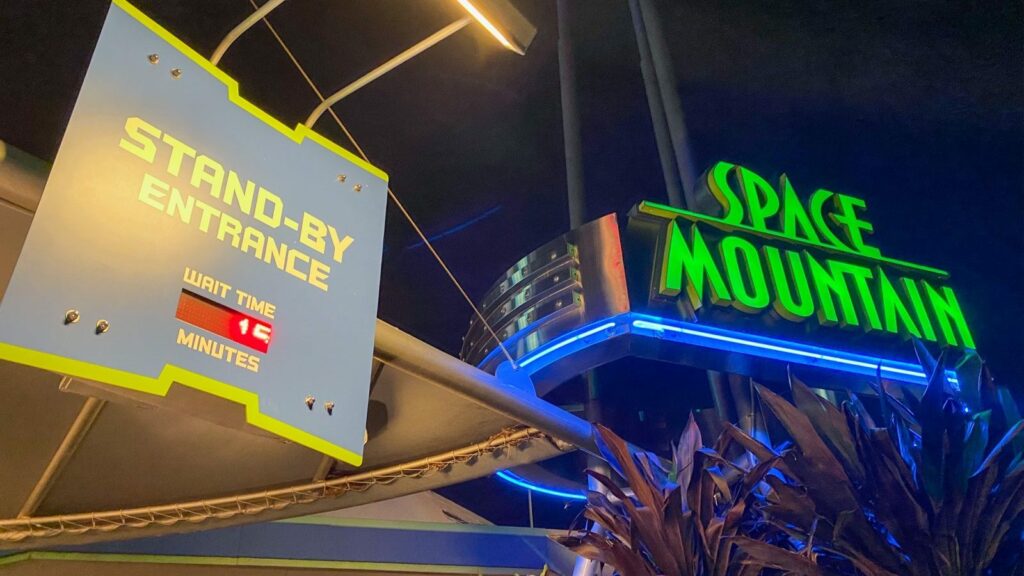 TRON Lightcycle Run
Located in the back of Tomorrowland near Space Mountain, TRON Lightcycle Run is the newest addition to Magic Kingdom, and it's a must-do for those looking for a thrill!
Enter the Grid, and join Team Blue on a fast-paced race through the world of TRON, and take your lightcycle on the ultimate race through space and time. Part of this ride takes place indoors, within the Grid, and then you burst through, heading outside under a huge canopy and zipping through to win the race.
While TRON Lightcycle Run isn't a long ride, it does have a launch reaching speeds of 60 mph. Sharp turns and a few drops make this a fun, fast thrilling roller coaster. Kids that are thrill seekers and over the 48″ height requirement will love this just as much as adults will.
Right now, TRON is also able to be ridden by utilizing the Virtual Queue or buying an Individual Lightning Lane. It might be worth it if you must ride one of the best Magic Kingdom rides.
Note: The Lightcycle is difficult for some people to comfortably ride. There is a test seat outside that we recommend trying first, and there is a traditional coaster seat on the train as well for those who cannot or do not want to ride the Lightcycle.
Seven Dwarfs Mine Train
Built-in 2014, the Seven Dwarfs Mine Train is still one of the newer attractions at Magic Kingdom and it has the features to prove it.
With absolutely stunning animatronics you will feel as though you really have stepped into the magical world of Snow White.
It truly does belong in Fantasyland.
Because of its great features, it is a very popular attraction when people are looking for the best rides at Magic Kingdom.
As such it is advisable to get a lighting lane when you want to ride, or go as early in the day as you can, to get a seat on this ride.
You won't be disappointed!
This is a great ride for kids who want to try out a rollercoaster that's not too big or bumpy.
It's relatively fast and does feature some small drops so you won't be too bored if you prefer the faster rides; but it also slows down at key junctures to allow you to watch the incredible animation and realistic dwarfs in the mines.
An absolute joy of a ride and soon to be a classic!
If you are into more thrilling coasters, then check out our list of Disney roller coasters, including all of the roller coasters at Magic Kingdom.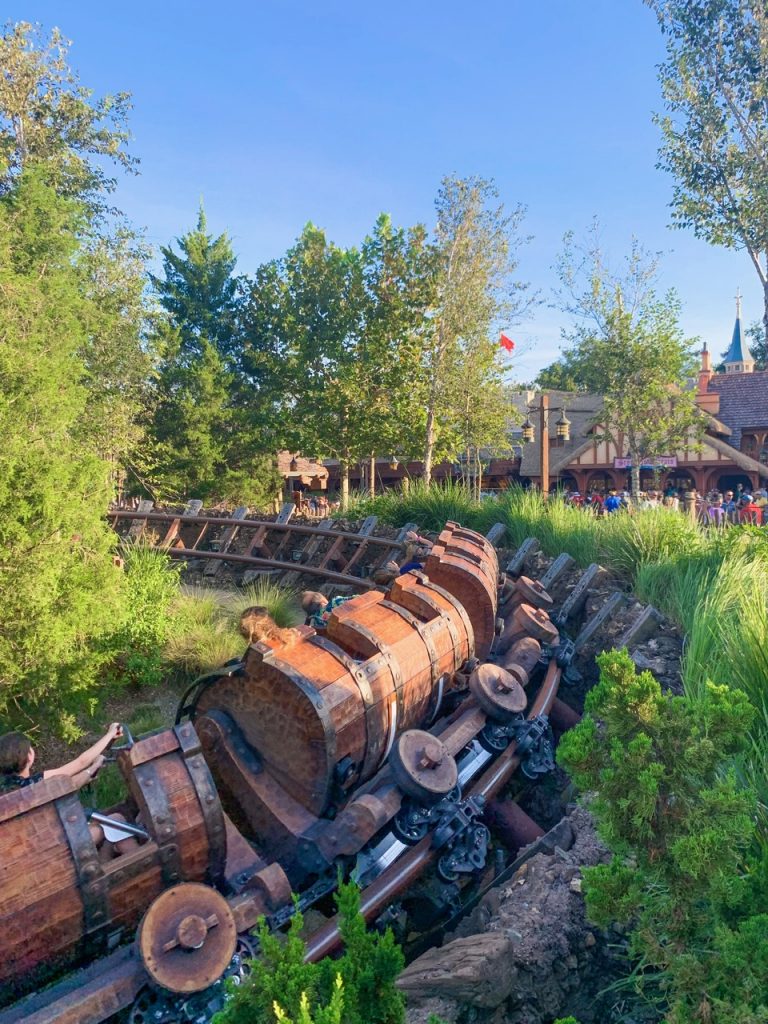 Big Thunder Mountain Railroad
Seeing the Big Thunder Mountain Railroad on the horizon of Frontierland is one of the many amazing qualities in Disney World that really makes you feel like you've stepped into a completely new world.
It's also a phenomenal ride!
It's an absolutely cracking fast-paced runaway mine-train ride and a complete must when you're looking for things to do in Magic Kingdom.
It is, however, quite a bumpy ride (it is an escaped train, after all!) which can sometimes be not to everyone's taste.
There are also elements where the train goes through dark tunnels which may put some people off.
Kids can ride this and it's available for Genie+ (which we would recommend doing) which is worth the slight knocking around you get, but it is something to keep in mind when you're planning your rides.
If you are looking for more kid-friendly Disney Magic Kingdom rides, then check out our detailed list of Disney rides for kids to help plan your next trip.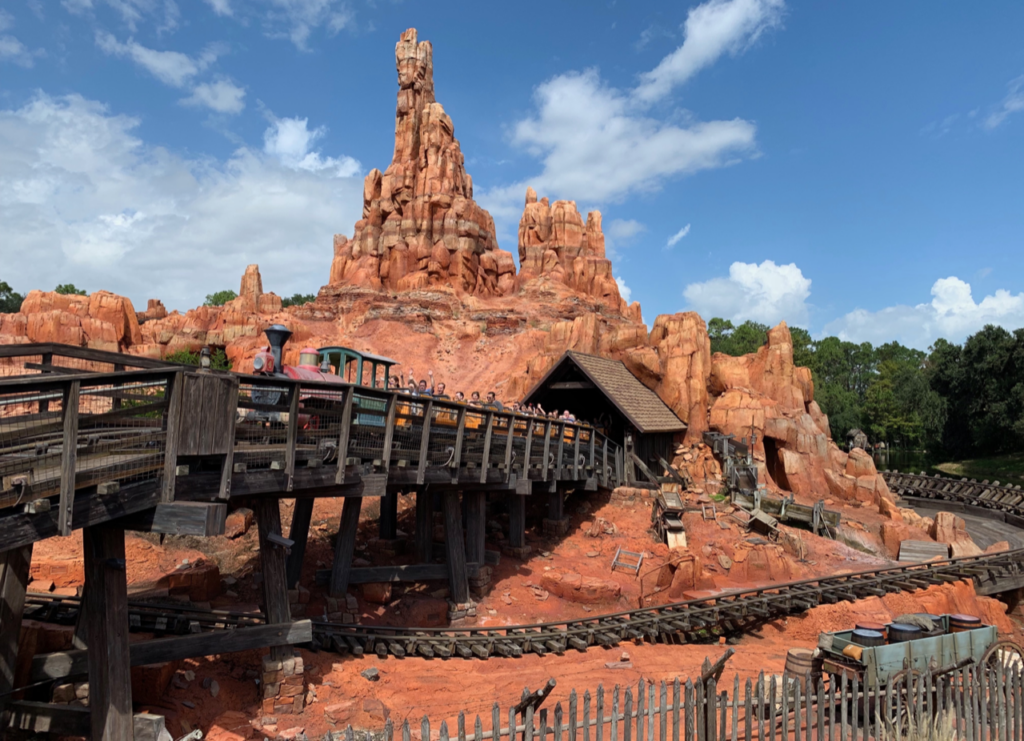 Peter Pan's Flight
Peter Pan's Flight is an incredible feat of Imagineering and as such is a beloved ride to Disney fans, old and young.
Right near the entrance to Fantasyland, it's best to try and get on early, or else book a Lightning Lane as the line is always extraordinarily long for what is a very short ride.
Despite this, it is an absolute must for anyone heading into the Magic Kingdom.
One of the best rides in Disney World, it has such a clever construction and such immersive design that it is captivating for people of all ages.
Everyone can feel just like a child who would never grew up, as you fly through Peter Pan's story, as this ride is suitable for all ages and heights.
It does have a few small drops and it is quite dark but in such a magical way, it'll be sure to delight everyone on board.
When you are looking for the next part of your trip, make sure to check out our Magic Kingdom Map so that you can get from one place to the next quickly!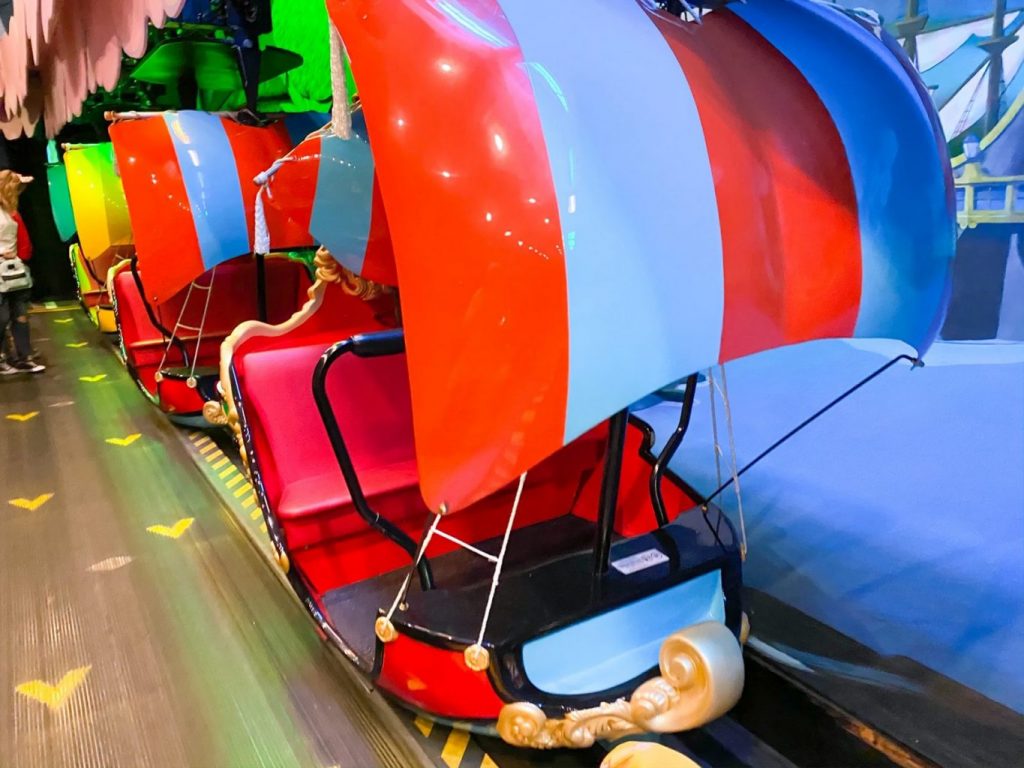 Under the Sea: Journey of the Little Mermaid
Another Fantasyland story ride, Under the Sea is a family-friendly ride that everyone will enjoy.
Open to everyone and anyone, no matter how short or old; bob slowly along in a seashell, as you explore the underwater world that you know and love from the Little Mermaid.
See your favorite fishy friends in this incredibly immersive ride where the genius animation genuinely makes it look as though you are underwater!
There are so many lights and animations that young children will be especially enthralled as there is something for them to take in no matter which direction they're looking in.
And the older folks will be captured too as they get to experience a classic Disney princess movie.
It further benefits from relatively short queues so you don't have to wait too long before you can enjoy the underwater magic that this fantastic Magic Kingdom attraction has to offer.
If you are looking for a show to take in before the next ride, check out our list of Disney World shows, including the must-dos and the don'ts.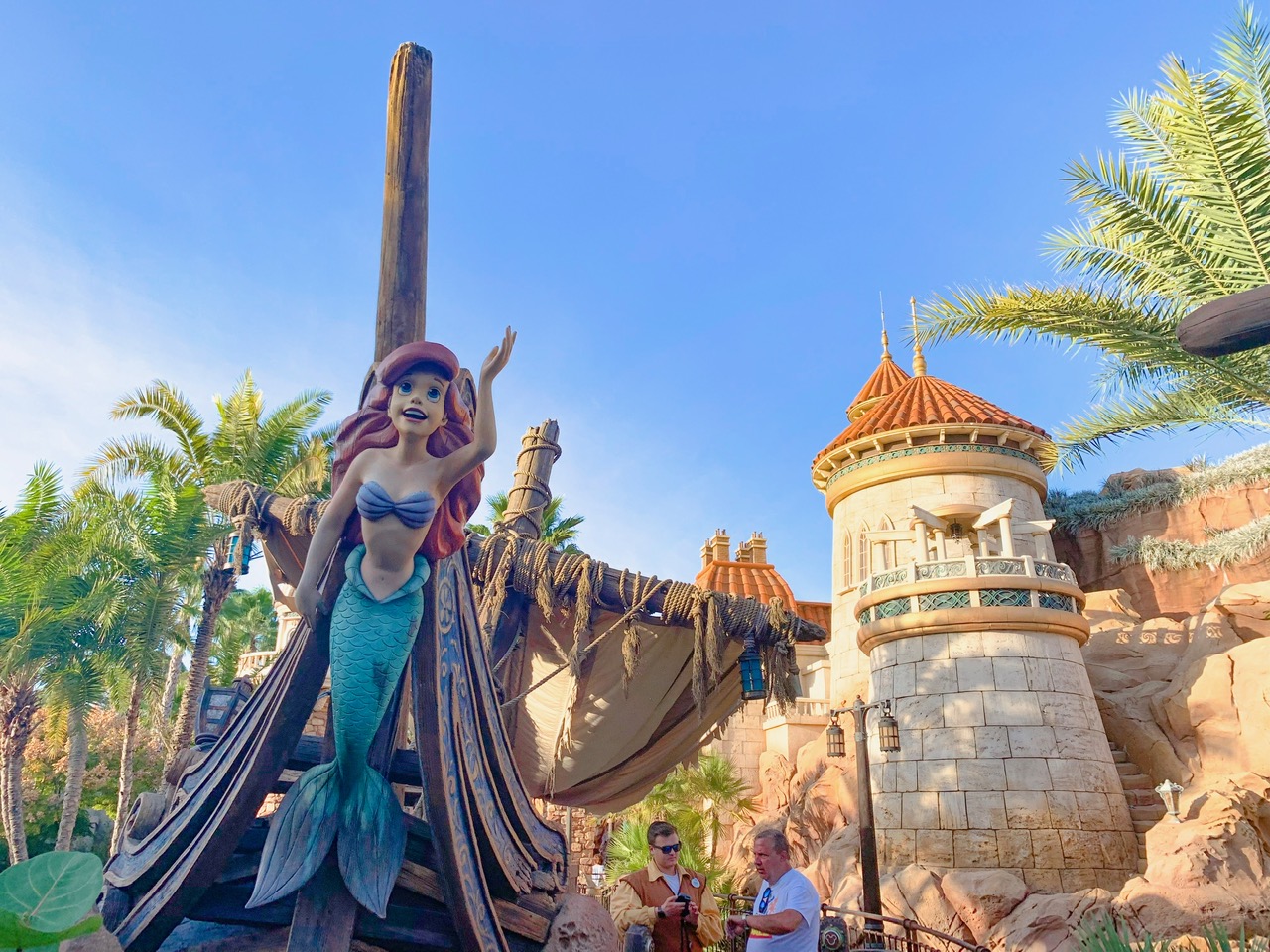 Haunted Mansion
It may appear that Liberty Square doesn't have much to offer, but the Haunted Mansion is definitely worth a trip when you're looking for the best rides at Magic Kingdom.
An absolute classic, Haunted Mansion is suitable for all ages and sizes so it's a real treat for the whole family!
It's a relatively long ride so you can sit back and enjoy the wonderfully spooky world for a while, rather than some of the more speedy rides on this list.
Whilst this ride is highly recommended, it may not be for everyone.
It is quite dark inside the ride and can be mildly frightening so if you're with particular timid children, or adults even, it may be a ride you want to skip.
However, there are some very amusing elements to the ride as well and it is Disney-scary, so not completely terrifying for anyone!
Speaking of scary, are you wondering where you should eat next? Especially if you are in a hurry, we recommend these Magic Kingdom quick service restaurants.

Pirates of the Caribbean
At the heart of Adventureland comes the very definition of the adventure itself, the Pirates of the Caribbean ride!
This ride is an incredibly fun ride for all ages and heights as definitely one of the best rides in Magic Kingdom.
Pirates of the Caribbean is really immersive, with things happening all around you; sounds and sights of pirate life filling your every sense – you even might feel a little ocean spray when you go down some of the drops.
Pirates of the Caribbean is also a pretty long ride and often has pretty short queues which is the best of both worlds, really!
It's also been known that the real Captain Jack makes an appearance inside the ride whenever he's in the park, so you never know, you might get a glimpse of the real thing as you're going around this wonderful ride!
Speaking of fun characters, check out the best restaurants for Disney World character dining experiences!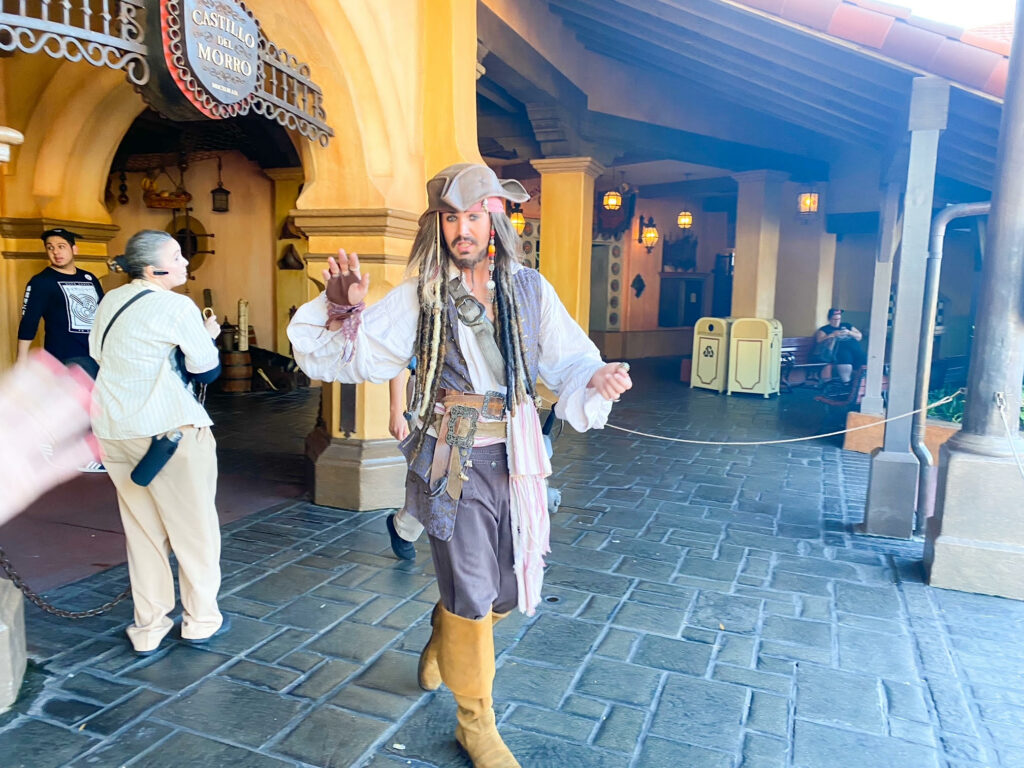 It's A Small World
A total classic!
It's A Small World should be on everyone's list of things to do in Disney World.
There's not much to say about this ride, other than you must go on it! It's great fun, absolutely brilliant, and a wonderful ride for the whole family.
It's a great way for different countries and cultures to be celebrated.
For such a small, fun ride the attention to detail is phenomenal.
Did you know that every single costume is made from materials from the countries they are representing?
It's an absolute must, but be warned, you will get the song stuck in your head for the rest of the day!

Jungle Cruise
This ride is fun for the whole family, especially those with a good sense of humor!
Jungle Cruise is an iconic ride that takes guests on a river adventure past a series of animatronic animals and unique scene scapes.
Considered to be one of the classic rides and attractions at Magic Kingdom, Jungle Cruise doesn't have a height requirement to ride.
The highlight of this attraction at Magic Kingdom is its Skippers who, if you pay attention, are pun-y from start to finish.
The jokes are dry and are aligned with what many call "dad jokes", but that is part of the beauty of this ride.
Did you know that when this ride first started, Walt Disney wanted the ride to be more serious and less humourous?
Well, we have even more information to share! Check out these Magic Kingdom secrets before your next visit, and impress everyone else in your party with how much you already know.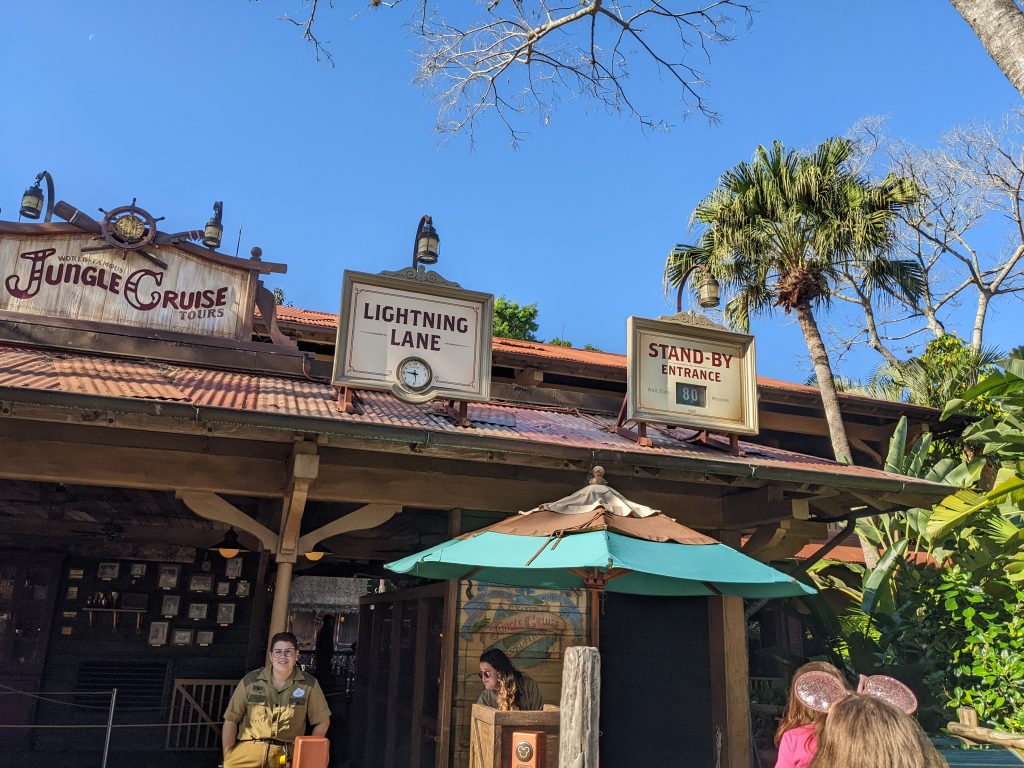 Mad Tea Party
Making our Magic Kingdom ride list is one that always seems to be a hit with kids.
Mad Tea Party is inspired by the wild, fun, and quirky Alice in Wonderland film.
Even though this ride is not one of the roller coasters at Magic Kingdom, it is still just as thrilling!
Guests sit inside large tea cups and saucers that spin around a designated area. How fast a tea cup spins is entirely based upon whoever is riding it!
There is a wheel in the middle of the teacup that riders can turn together; the more you turn, the faster your tea cup will spin!
We encourage you not to eat before going on this ride as the motion may upset some stomachs. But if you want a quick bite, then we'd recommend that you check out some of the best Disney snacks on property!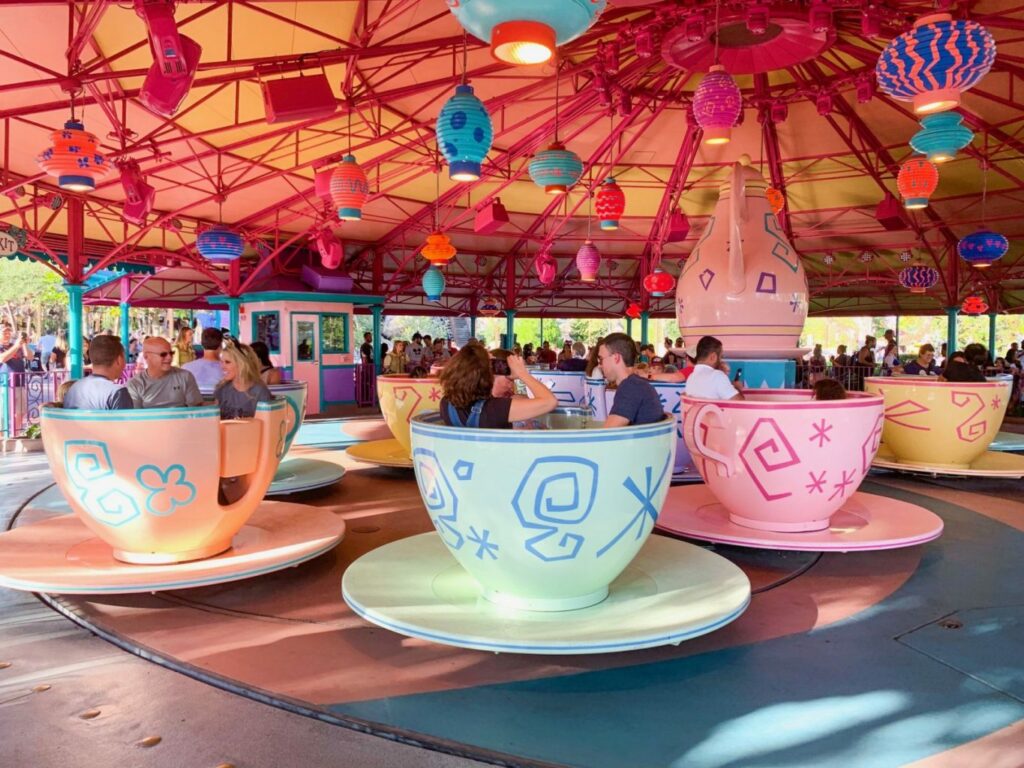 Tomorrowland Transit Authority PeopleMover
Now, this ride is not one you will find on many Best Rides in Magic Kingdom lists, however we think that's a mistake.
This unassuming ride in Tomorrowland is a wonderfully relaxing ride for the whole family to take a minute and enjoy being together.
You could even have a little snack whilst you're going around so you can make the most of every minute in Disney World.
This slow-moving, monorail type ride gives you a guided tour of Tomorrowland, telling you helpful hints and tips about the land.
It allows you to do some people watching, as well as look out for any characters moving around in Tomorrowland.
It's a wonderful concept and a great way to wind down a little, without missing out on any rides or entertainment.
If you are wanting to see more of Walt Disney's futuristic vision, then you should check out EPCOT, the Experimental Prototype Community Of Tomorrow!
Here is a list of EPCOT rides and attractions you will want to check out if you decide to park hop for the evening.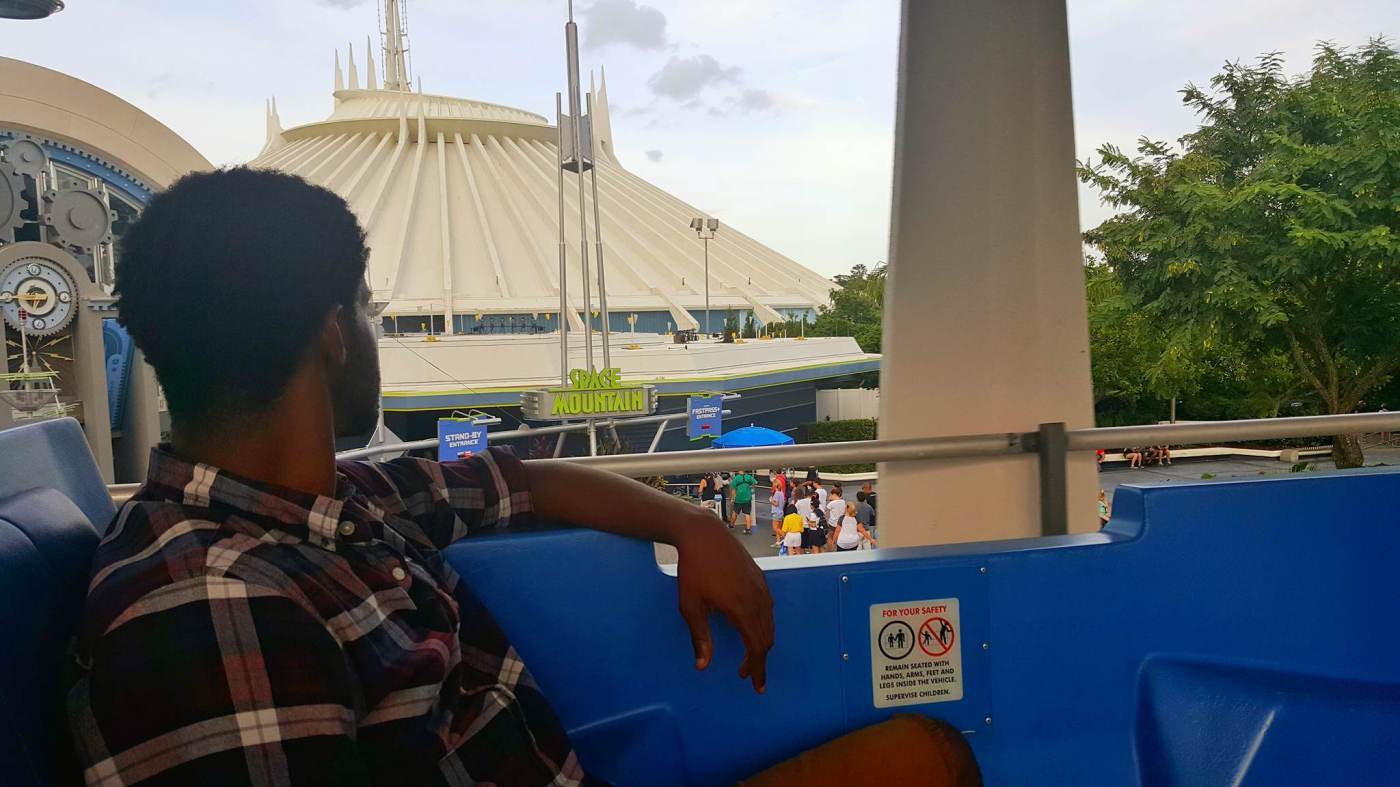 We hope this list helps when you're thinking of things to do in Magic Kingdom and planning your trip to the most magical place on earth.
Do you agree with our list? Let us know which ones you think are the best Magic Kingdom rides!