Are you trying to figure out which are the best Magic Kingdom rides? Deciding which rides to head to first and which ones you know you'll want to go on again and again? Then look no further. This handy guide will give you all the information you need to know about the best rides and attractions the Magic Kingdom has to offer, so everyone can have an amazing time at Disney World.
Walt Disney World is ginormous and Magic Kingdom is just one part of it. There's so much to see and do and experience, it can be a bit overwhelming. You might worry that you'll miss out on some of the best stuff in all the other amazing stuff on offer in the parks. But do not fear! We have rounded up the best Magic Kingdom rides and attractions so that you know your stay will be a magical one. We'll tell you everything you need to know about the Magic Kingdom ride list and highlight which attractions are not to miss during your trip!
Get a FREE printable 30/60/90 day Disney countdown by joining our private Disney Facebook Group and share your photos and ask for tips and trick
10 Best Magic Kingdom Rides And Attractions Not To Miss
Understanding Magic Kingdom Lands
Magic Kingdom covers over 107 acres of land, which seems like a lot, but it is broken up into 6 different themed "Lands" which make it much easier to navigate. That being said, make sure to add a good pair of shoes to your Disney packing list because Magic Kingdom is quite a large park with a lot of walking!
Main Street USA is the first land you'll find yourself in as this covers the park entrance all the way up to the castle. Main Street USA is mostly food stalls and souvenir shops so there is plenty to see, and eat, as soon as you walk into the park. The parade travels down Main Street USA so it's good to scope out a good spot before it starts. Next up is Adventureland, just to the left of Main Street USA, where you'll discover some of the most adventurous Disney characters, such as Tinkerbell and Aladdin, and explore rides like Pirates of the Caribbean.
Following on, you'll arrive in Frontierland, a hoky-poky country town, complete with its very own runaway train. Liberty Square is up next. Not a very big land, Liberty Square hosts lots of places to grab a quick snack and visit the Haunted Mansion. Liberty Square leads on to Fantasyland, directly behind the castle. Fantasyland is where all the classic Disney fantasies come true and has most of the Magic Kingdom rides and attractions. Finally, there is Tomorrowland where you can step straight into the future with all sorts of aliens and monsters, and experience tomorrow today!
Full Magic Kingdom Ride List
With over 30 rides and attractions, there is something for everyone to do in Magic Kingdom. Here is a full list of all the attractions Magic Kingdom has to offer.
Main Street USA:
Main Street Vehicles
Sorcerers of the Magic Kingdom
Adventureland:
Tinker Bell's Magical Nook
Swiss Family Tree House
The Magic Carpets of Aladdin
Walt Disney's Enchanted Tiki Room
Jungle Cruise
Pirates of the Caribbean
A Pirate's Adventure
Frontierland:
Walt Disney World Railroad
Splash Mountain
Big Thunder Mountain Railroad
Tom Sawyer Island
Country Bear Jamboree
Frontierland Shootin' Arcade
Liberty Square:
The Hall of Presidents
Liberty Square Riverboat
Haunted Mansion
Fantasyland:
"it's a small world"
Peter Pan's Flight
Mickey's PhilharMagic
The Barnstormer
Casey Jr. Splash 'N' Soak Station
Cinderella Castle
Dumbo the Flying Elephant
Enchanted Tales with Belle
Mad Tea Party
The Many Adventures of Winnie the Pooh
Prince Charming Regal Carrousel
Seven Dwarfs Mine Train
Under the Sea
Tomorrowland:
Buzz Lightyear's Space Ranger Spin
Monsters, Inc. Laugh Floor
Space Mountain
Tomorrowland Speedway
Tomorrowland Transit Authority PeopleMover
Walt Disney's Carousel of Progress
Astro Orbiter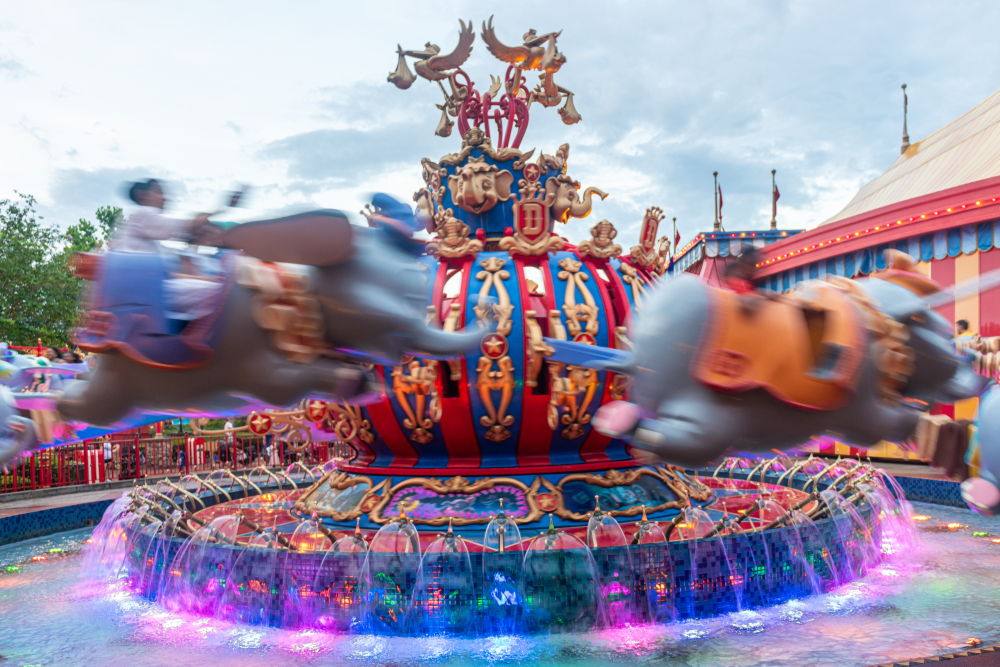 10 Best Magic Kingdom Rides
Now you're aware of all the things to do at Magic Kingdom, it's time to find out the 10 best rides and attractions so you have the best time possible at Disney World.
Splash Mountain
One of the greatest things about Disney World, and Disney in general, is the amazing stories that it weaves. The stories are what makes Disney World one of the best theme parks out there and Splash Mountain one of the best Magic Kingdom rides. Lots of theme parks have water rides like Splash Mountain, but it's just a quick up and down with a splash at the end; with no real character and no enjoyment other than the drop at the end. Whilst that is mostly the point of the ride, Disney World's Splash Mountain has a lot more to it.
Set right at the front of Frontierland, Splash Mountain follows the tale of the Disney classic 'Song of the South'. Whilst this may not be the most well-known of Disney movies (partly due to it's being banned for a while in America), it is one that has a lot to offer. Splash Mountain follows the story of Brer Rabbit to his 'laughing patch' and features many of the hilarious characters from 'Song of the South'.
There are incredible animatronics throughout the ride that give you much more than a quick splash, and make this ride longer and worth the wait in line. It also offers a few smaller drops before the big one so there's much more entertainment, as well as the chance to prepare your little ones for what it will be like at the end. Children over 1.02m can ride and it offers something for everyone. And it doesn't even get you that wet, which is a bonus if you're riding first thing in the morning or in the depths of winter. This ride is an absolute classic and one of the best Magic Kingdom rides!
Space Mountain
Located in the far reaches of Tomorrowland, Space Mountain is a rollercoaster like no other and a great thing to do in Magic Kingdom. Fly through the darkest parts of space in this fast coaster that teens and adults, and adventurous kids over 1.12m, will absolutely love. If you're not a fan of rollercoasters, then this is not the one for you as it features a lot of drops and fast turns and takes place mostly in the dark. This fact, however, is one of the reasons it features so high up on this list.
Despite the fact that it's mostly dark (and you might have your eyes tight shut) every little detail of the ride is precise and astounding. Shoot past astronauts and space rockets and even see real constellations as you race around this 2-minute long ride. An added bonus, or curse depending on how brave you are, is you ride in individual seats so you don't have someone screaming right in your ear! This does mean less people ride per car though, so it does get busy and a fastpass is recommended for going on this Magic Kingdom ride.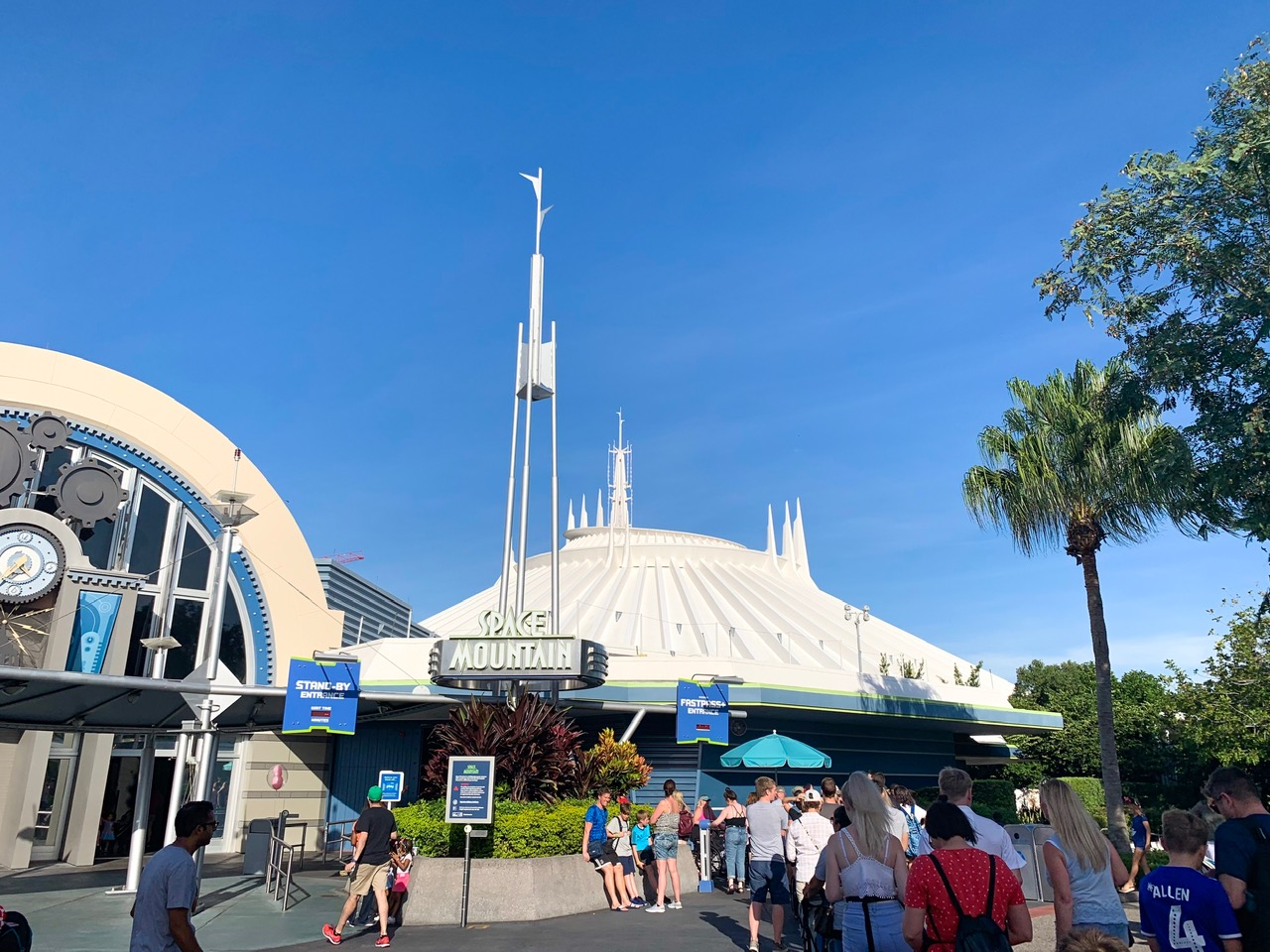 Seven Dwarfs Mine Train
This new Magic Kingdom attraction is an absolute must-see! Built-in 2014, the Seven Dwarfs Mine Train is still one of the newest attractions in Disney World and it has the features to prove it. With absolutely stunning animatronics you will feel as though you really have stepped into the magical world of Snow White. It truly does belong in Fantasyland. This is the premiere Magic Kingdom Fastpass so make sure to snag it well in advance if this is a ride you want to do!
As it is one of the newest attractions, and because of its great features, it is a very popular attraction when people are looking for things to do in Magic Kingdom. As such it is advisable to get a fastpass when you want to ride or if you are have a multi-day pass to use your extra magic hours, or go as early in the day as you can, to get a seat on this ride. You won't be disappointed. Make sure to check out our Disney Crowd Calendar to see the high and low days so you can plan your schedule!
This is a great ride for kids who want to try out a rollercoaster that's not too big or bumpy. It's relatively fast and does feature some small drops so you won't be too bored if you prefer the faster rides; but it also slows down at key junctures to allow you to watch the incredible animation and realistic dwarfs in the mines. An absolute joy of a ride and soon to be a classic!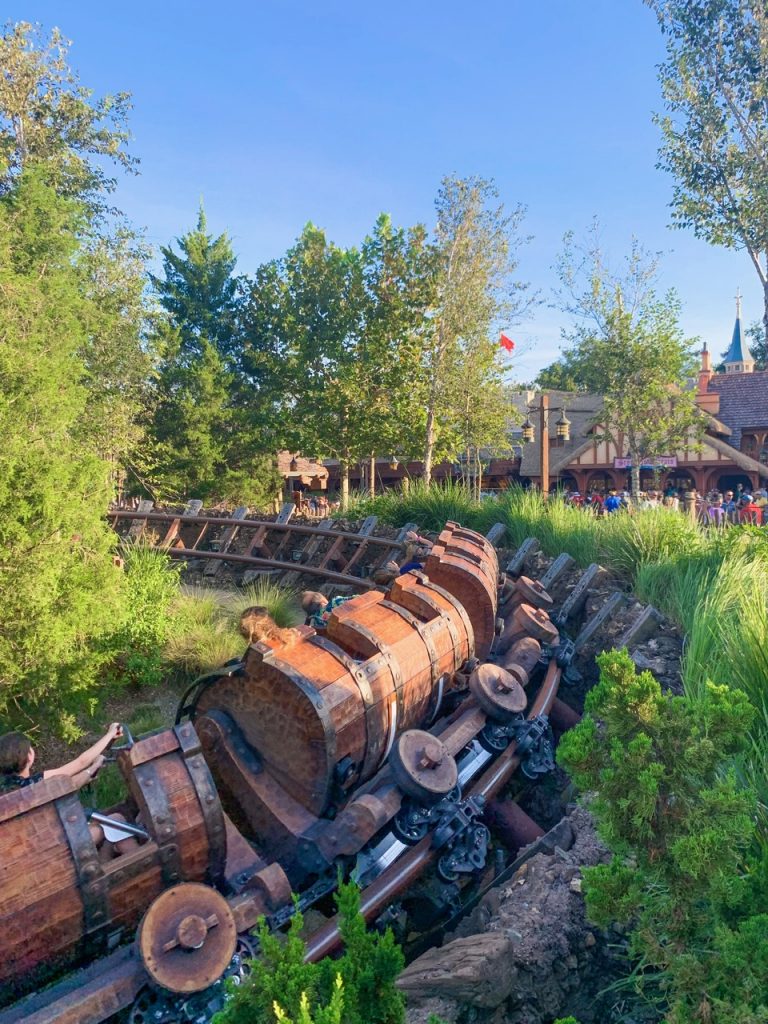 Big Thunder Mountain Railroad
Seeing the Big Thunder Mountain Railroad on the horizon of Frontierland is one of the many amazing qualities in Disney World that really makes you feel like you've stepped into a completely new world. It's also a phenomenal ride! It's an absolutely cracking fast-paced runaway mine-train ride and a complete must when you're looking for things to do in Magic Kingdom.
It is, however, quite a bumpy ride (it is an escaped train, after all!) which can sometimes be not to everyone's taste. There are also elements where the train goes through dark tunnels which may put some people off. Kids can ride this and it's available for Fastpass (which we would recommend doing) and it's definitely worth the slight knocking around you get, but it is something to bare in mind when you're planning your rides.

Peter Pan's Flight
Peter Pan's Flight is an incredible feat of Imagineering and as such is a beloved ride to Disney fans, old and young. Right near the entrance to Fantasyland, it's best to try and get on early, or else get a fastpass as the line is always extraordinarily long for what is a very short ride.
Despite this, it is an absolute must for anyone heading into the Magic Kingdom. One of the best rides in Disney World, it has such a clever construction and such immersive design that it is captivating for people of all ages. Everyone can feel just like the child who would never grow up, as you fly through Peter Pan's story, as this ride is suitable for all ages and heights. It does have a few small drops and it is quite dark but in such a magical way, it'll be sure to delight everyone on board.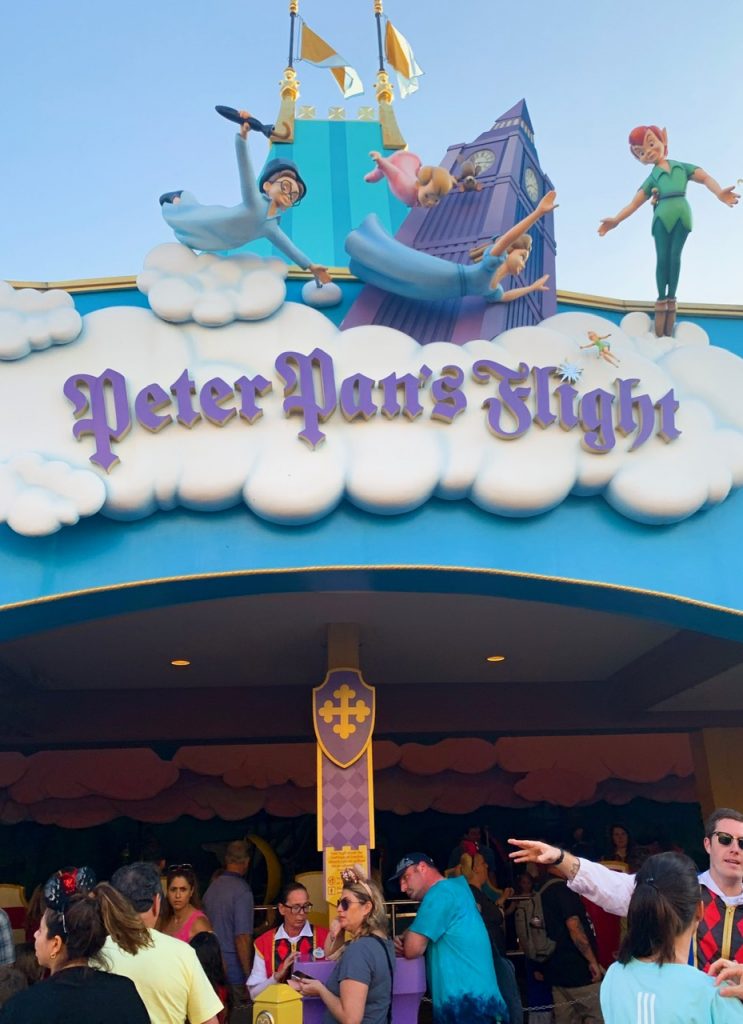 Under the Sea: Journey of the Little Mermaid
Another Fantasyland story ride, Under the Sea is a family friendly ride that everyone will enjoy. Open to everyone and anyone, no matter how short or old; bob slowly along in a seashell, as you explore the underwater world that you know and love from the Little Mermaid. See your favourite fishy friends in this incredibly immersive ride where the genius animation genuinely makes it look as though you are underwater!
There are so many lights and animations that young children will be especially enthralled as there is something for them to take in no matter which direction they're looking in. And the older folks will be captured too as they get to experience a classic Disney princess movie. It further benefits from relatively short queues so you don't have to wait too long before you can enjoy the underwater magic that this fantastic Magic Kingdom attraction has to offer.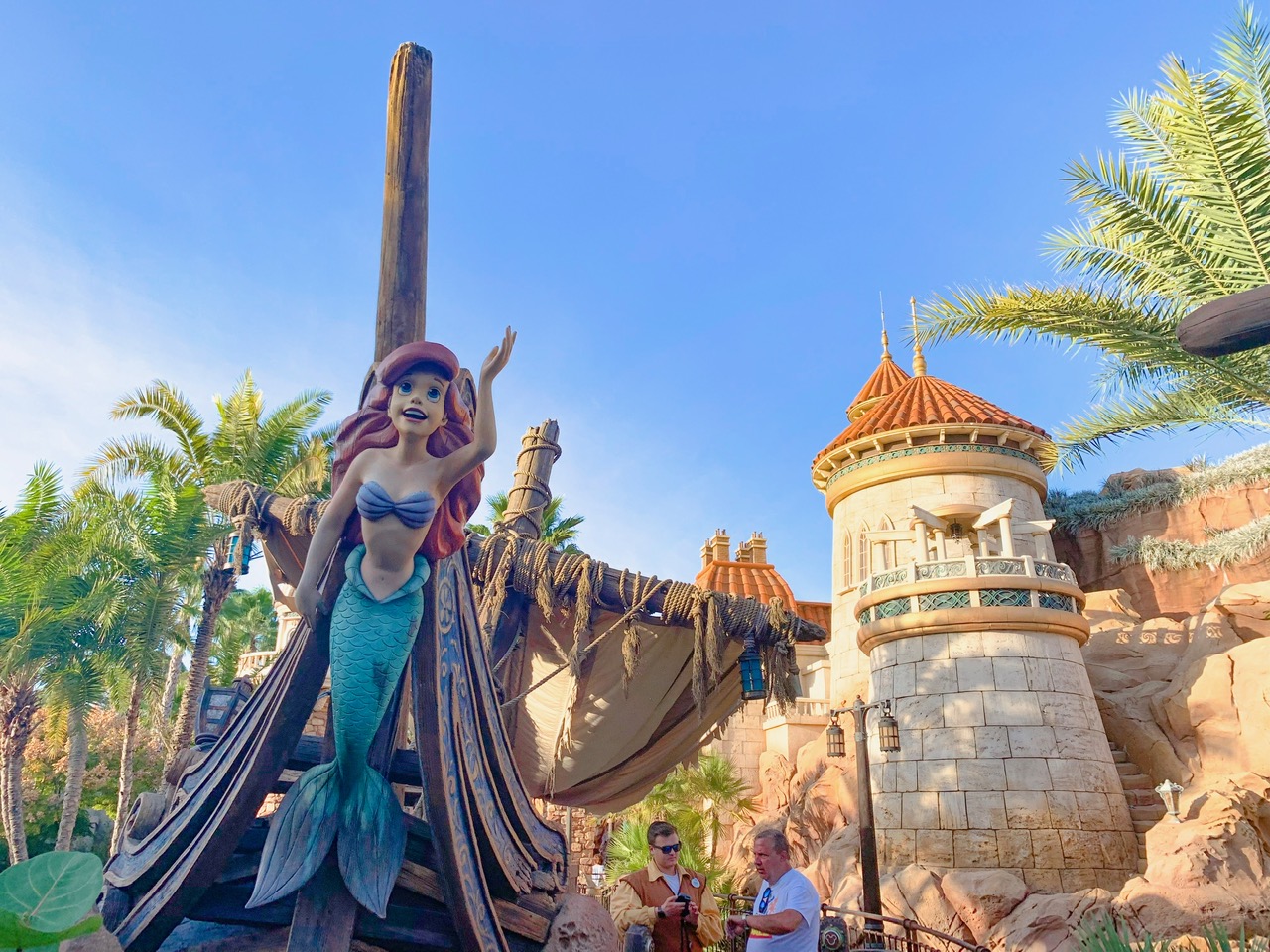 Haunted Mansion
It may appear that Liberty Square doesn't have much to offer, but the Haunted Mansion is definitely worth a trip when you're looking for the best rides in Magic Kingdom. An absolute classic, Haunted Mansion is suitable for all ages and sizes so it's a real treat for the whole family! It's a relatively long ride so you get chance to sit back and enjoy the wonderfully spooky world for a while, rather than some of the more speedy rides on this list.
Whilst this ride is highly recommended, it may not be for everyone. It is quite dark inside the ride and can be mildly frightening so if you're with particular timid children, or adults even, it may be a ride you want to skip. However, there are some very amusing elements to the ride as well and it is Disney scary, so not completely terrifying for anyone!

Pirates of the Caribbean
At the heart of Adventureland comes the very definition of the adventure itself, the Pirates of the Caribbean ride! This ride is an incredibly fun ride for all ages and heights as definitely one of the best rides in Magic Kingdom. Pirates of the Caribbean is really immersive, with things happening all around you; sounds and sights of pirate life filling your every sense – you even might feel a little ocean spray when you go down some of the drops.
Pirates of the Caribbean is also a pretty long ride and often has pretty short queues which is the best of both worlds, really! It's also been known that the real Captain Jack makes an appearance inside the ride whenever he's in the park, so you never know, you might get a glimpse of the real thing as you're going round this wonderful ride!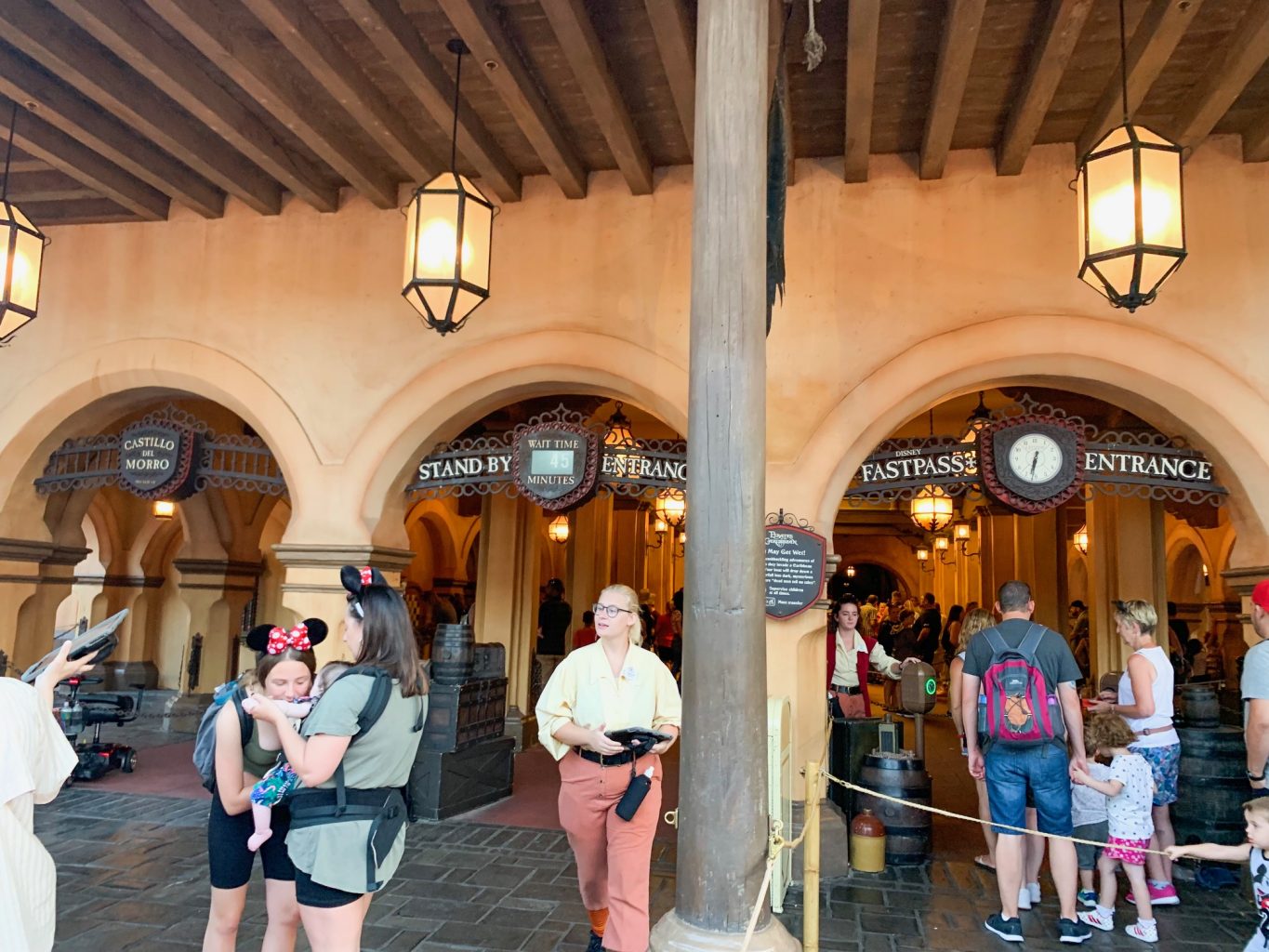 It's A Small World
A total classic! It's A Small World should be on everyone's list of things to do in Disney World. There's not much to say about this ride, other than you must go on it! It's great fun, absolutely brilliant and a wonderful ride for the whole family. It's a great way for different countries and cultures to be celebrated.
For such a small, fun ride the attention to detail is phenomenal. Did you know that every single costume is made from materials from the countries they are representing? It's an absolute must, but be warned, you will get the song stuck in your head for the rest of the day!
Tomorrowland Transit Authority PeopleMover
Now, this ride is not one you will find on many Best Rides in Magic Kingdom lists, however we think that's a mistake. This unassuming ride in Tomorrowland is a wonderfully relaxing ride for the whole family to take a minute and enjoy being together. You could even have a little snack whilst you're going around so you can make the most of every minute in Disney World.
This slow-moving, monorail type ride gives you a guided tour of Tomorrowland, telling you helpful hints and tips about the land. It allows you to do some people watching, as well as look out for any characters moving around in Tomorrowland. It's a wonderful concept and a great way to wind down a little, without missing out on any rides or entertainment.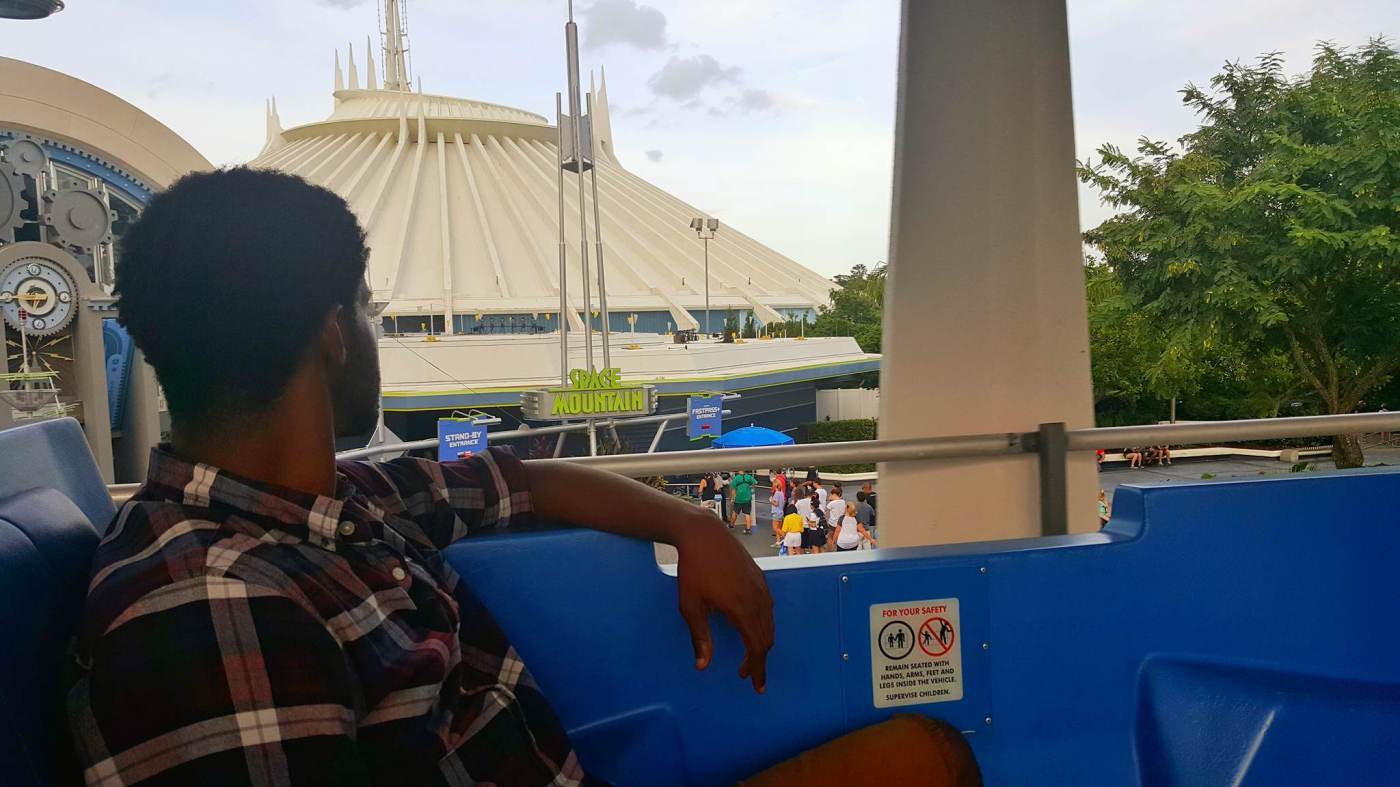 We hope this list helps when you're thinking of things to do in Magic Kingdom and planning your trip to the most magical place on earth. Do you agree with our list? Let us know which rides you think are the best in Magic Kingdom!
Pin this post: