It's time to go over the best Disney Roller Coasters! There are some incredibly fun Disney Roller Coasters and you definitely can not skip them on your next Disney trip.
From spectacular shows, delicious food, fun parades, and exhilarating rides. Disney is always full of so much entertainment. If your vacation is just a few days long, you just simply don't have the time to do it all. It can get overwhelming trying to narrow it all down!
Sometimes it is easy to forget that there are great thrill rides at Disney World too! There's even one ride where you actually go upside down, and not only once, but three times!
Each park has (or will have!) at least one awesome Disney thrill rides, so no matter where you go, you have rides to choose from. If you don't want to go upside down, don't worry, there are tamer ones that are just as exciting! If you have any thrill-seekers in your group, this is the perfect list!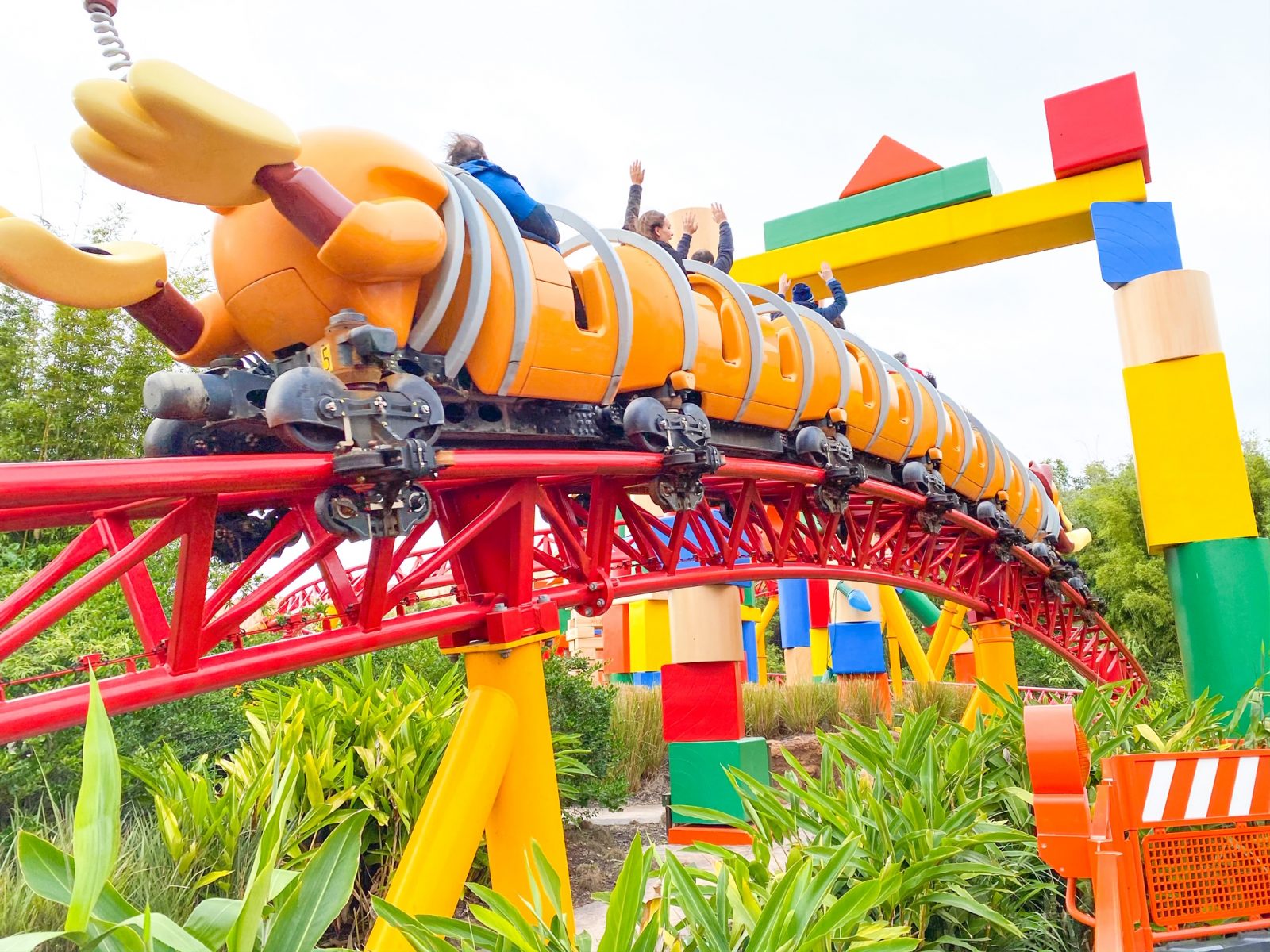 10 Best (And Worst!) Disney Roller Coasters You Need to Try!
Rock 'N' Roller Coaster Starring Aerosmith
Height Requirement:  48″ (122 cm) or taller.
This Disney roller coaster is definitely a classic and it's easily one of the most fun thrill rides at Disney. It's located in Disney's Hollywood Studios, across from the Tower of Terror in Sunset Boulevard. Luckily, if somebody in your group isn't a thrill-seeker, there is a Single Rider option you can take advantage of.
Rock 'n' Roller Coaster is by far one of the best thrill rides at Disney World! If not, the best! It is INSANE and really fun, but not for the weak. This Disney roller coaster will take you from 0 to 60 in under 2.5 seconds and contains three full inversions!
Are you excited yet? It also in complete darkness, with a bit of day glow, and includes blaring music from Aerosmith. If you are trying to pick between which rides to choose for your Hollywood Studios FastPass, this one is a perfect Tier 2 pick.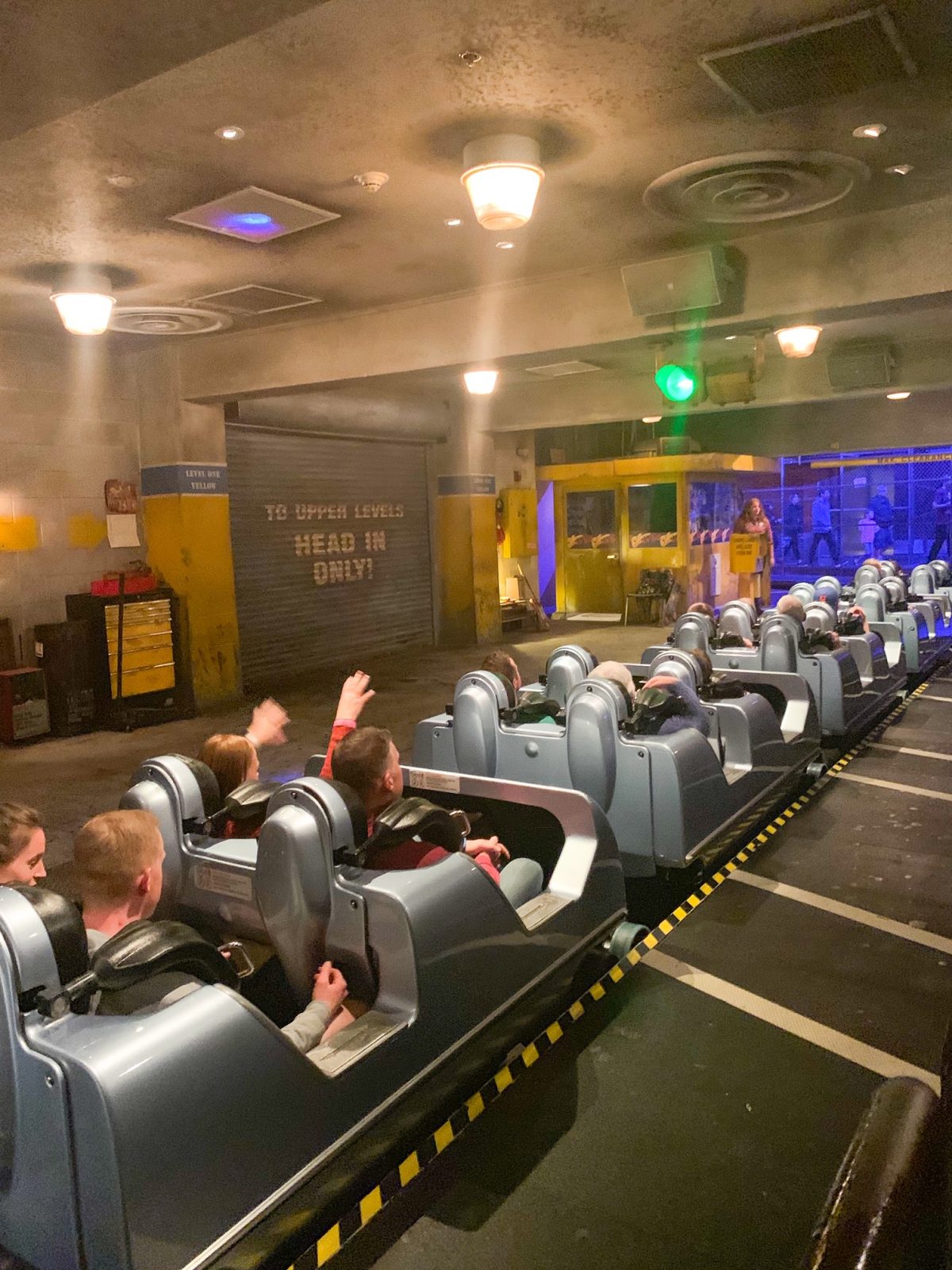 Expedition Everest – Legend of the Forbidden Mountain
Height Requirement: 44″ (112 cm) or taller
Have you ever wanted to see a Yeti? Heres your chance, in the Disneys Animal Kingdom, you can go face to face with a real fake Yeti! This Disney roller coaster is such a fun one but can be a little scary.
It's definitely a thrill ride, there aren't any inversions but it is fast-moving and full of loud noises, darkness and at one point you even go backward! Did you know it was the most expensive roller coaster ever built? It even took the Guinness world record, you will be sure to notice the level of detail.
If you are traveling with little ones and aren't sure if they'll do well, it may be best to start them off on another roller coaster at Disney, like Space mountain or Slinky Dog Dash. This one can be a little scary, which is why it is so loved by thrill-seekers!
Making this ride a perfect ride for those who are scoping out the best Disney roller coasters. It's a great choice for one of your 3  Animal Kingdom FastPasses. This one won't leave you disappointed. Luckily if you are traveling with anyone who is not interest, there is the single rider line which is quicker then standby.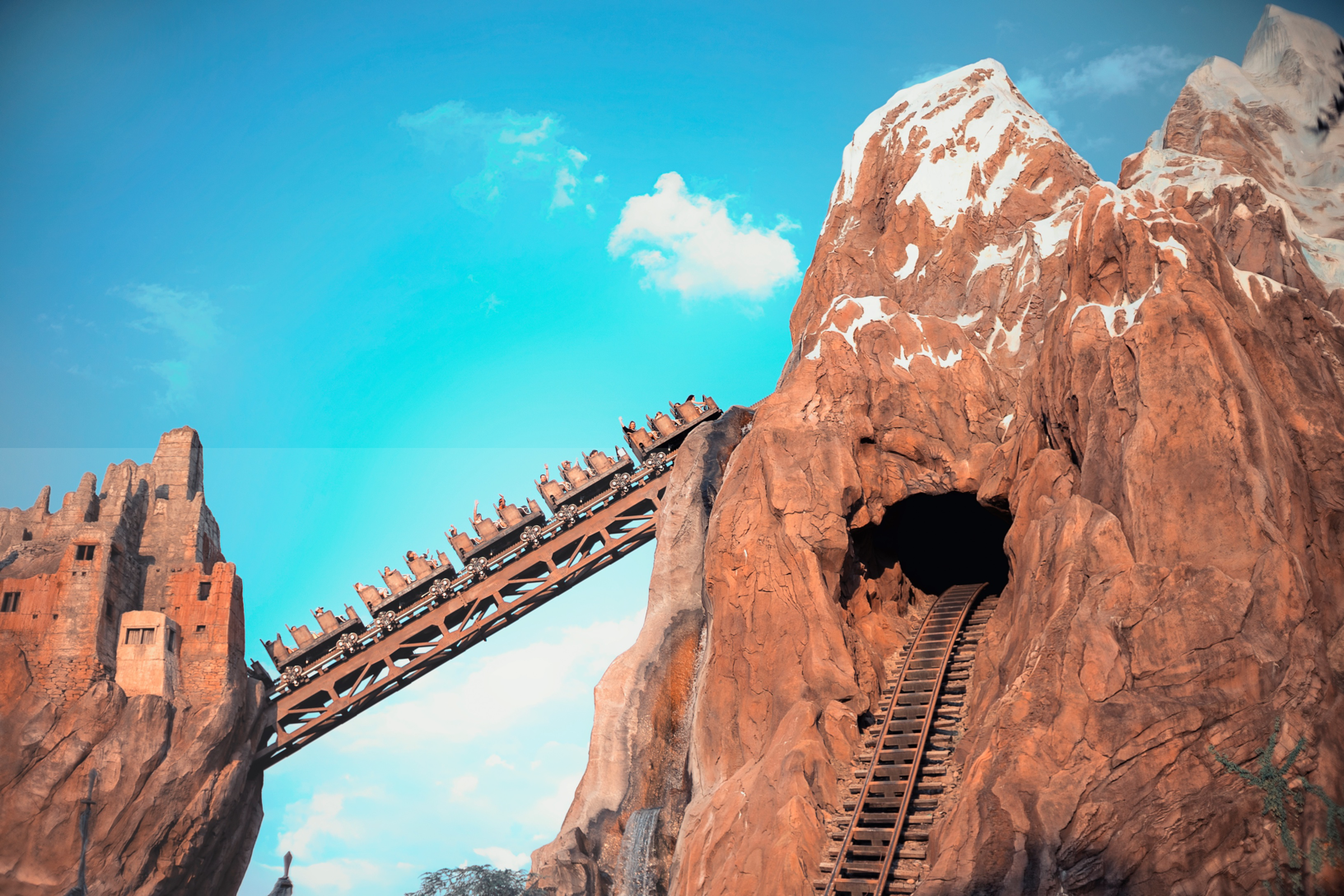 Space Mountain
Height Requirement: 44″ (112 cm) or taller
Space Mountain is a classic Disney roller coaster! It's a Magic Kingdom icon and if this is your first time at any Disney World park, this is one of the rides you have to prioritize. If you are returning to Disney, then you already know how incredible Space Mountain is! Many Disney goers have grown up with this ride and its architectural design makes it such a beloved icon and it has been seen for decades on Disney merchandise! You can get mugs, puzzles, you name it, and of course even pins for pin trading.
Space Mountain is located right in Tomorrowland. On this Disney roller coaster, you zip through the darkness with nothing to see other than stars and comets. It's fast and long enough where it doesn't feel as you waited in line for nothing (you know that feeling!) Out of all the rides in Magic Kingdom, this one is perfect for anyone looking for a roller coaster at Magic Kingdom.
If you go during Disneys Villains After hours, there is an epic and unique overlay that makes the ride that much better. Which is a huge plus especially for those who have been riding Space Mountain all their lives. It's almost as you are riding a completely different ride!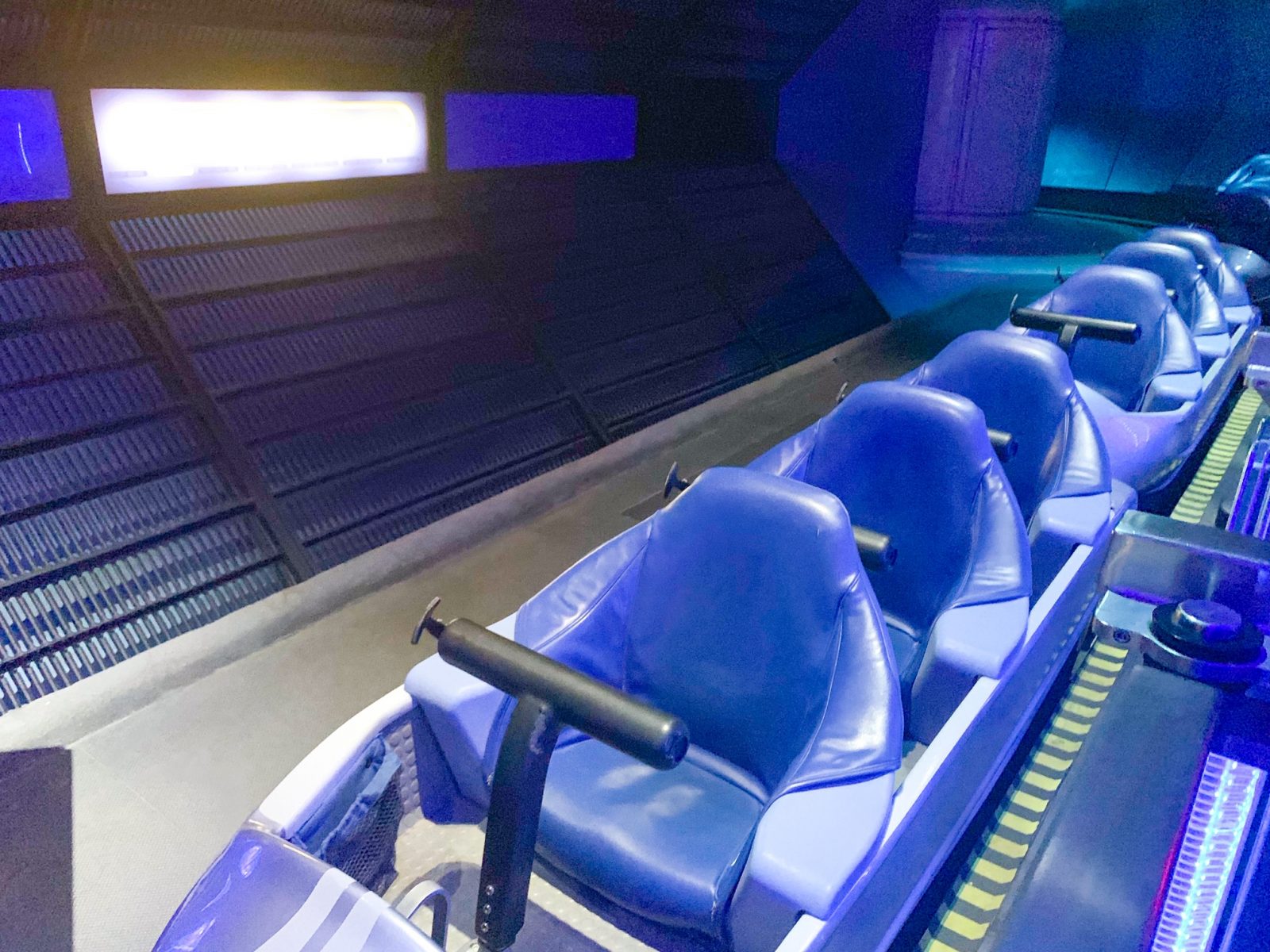 Slinky Dog Dash
Height Requirement: 38″ (97 cm) or taller
Another amazing roller coaster at Disney is this one! Slinky Dog Dash! It's nestled into the heart of Toy Story land in Hollywood Studios! The FastPasses are almost always gone unless you reserve it way in advance because this ride is just that FUN!
It's absolutely amazing, it's family-friendly, and it has one of the lowest height requirements, so if your little ones are too small for the other thrill rides at Disney, there is a better chance that they will be able to ride on this one.
It's Toy Story Themed so imagine a giant life-sized play toy set while you follow Andy's toy, Slinky Dog along the set! The Imagineers did a great job on the design. Every detail is perfectly placed and you'll be looking around trying to take it all in.
Although the Slinky Dog Dash does include climbs, drops, twists, and turns, it does not go upside down and maintains a Disney usual of 40 MPH, which is why it is considered one of the most family-friendly Disney roller coasters there is to offer!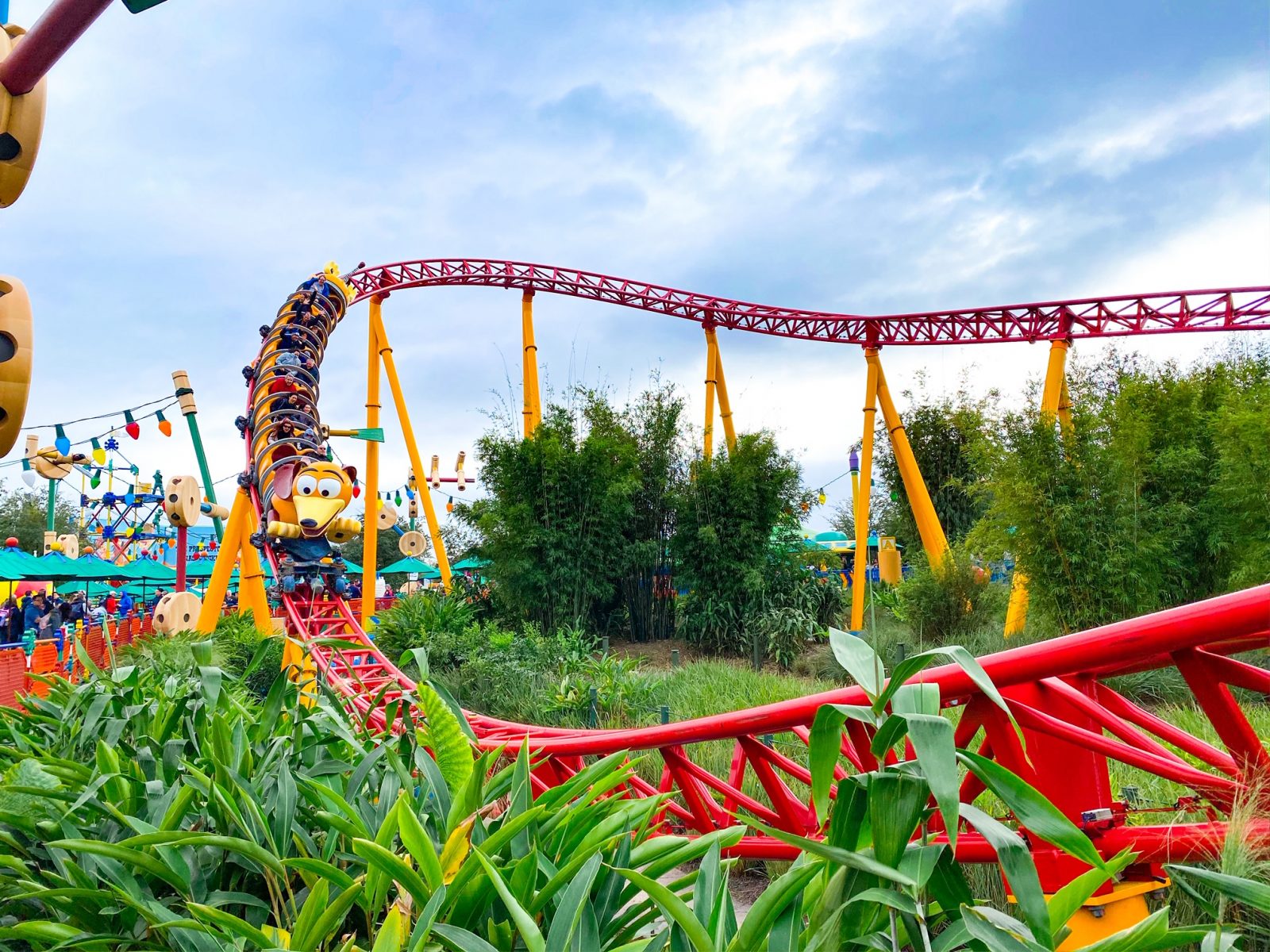 Guardians of the Galaxy: Cosmic Rewind
Height Requirement: 42 inches
Guardians of the Galaxy: Cosmic Rewind is one of the best Disney roller coasters in EPCOT, and in Disney World!
When we were told this was better than Flights of Passage and Rise of the Resistance, we were doubtful. 
However, this ride is worth has quickly climbed the ranks as one of our all-time favorite rides in Disney World. 
This ride is an indoor galactic rollercoaster that has the Omni-mover feature, so think Haunted Mansion meets Space Mountain. 
The soundtrack for the ride rotates through six songs from the mid to late 70s and early to mid-80s so that way, each ride creates a different experience for the guests.
If you are motion-sensitive or are prone to motion sickness, you may want to consider skipping this ride. While the coaster does not go upside down, it does twist and turn in a way that may have riders feeling the movement of the ride. 
Plus the re-ride factor on this with the randomized music makes it a favorite for us here at Disney Trippers!  
Epcot has so much to offer, and there are some really great rides you can choose to experience in addition to Guardians of the Galaxy: Cosmic Rewind, or you can stroll through the beautiful world show case.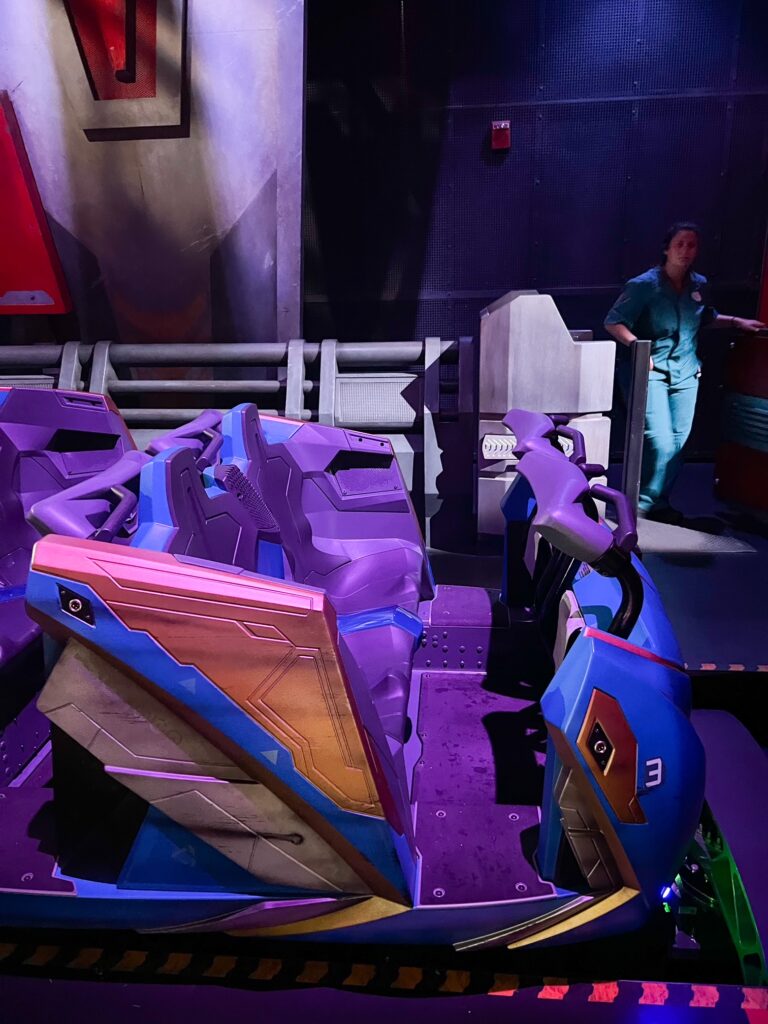 TRON Lightcycle Run
Height Requirement: 48″ (122 cm) or taller
This is one of the best Disney roller coasters, and not just because it's new! It's fast, so fun, and takes you through a completely different world. Enter the Grid – the computerized world of TRON – and race through time on your Lightcycle.
Help Team Blue win the race, and enjoy this quick, exhilarating ride. The Lightcycle ride vehicle is a completely different ride vehicle than anything else at Disney World, and makes you feel as if you are truly on a race and immerses you into the Grid.
Unfortunately, this may not be the most comfortable vehicle for everyone, so we do suggest trying the test vehicle out front, and possibly riding the accommodation seat that's in the back of the train.
But, if you are comfortable and want a good, quick thrill, then we suggest grabbing a Virtual Queue and riding one of the best Disney roller coasters!
Worst Disney Roller Coasters
Seven Dwarves Mine Train
Height Requirement: 38″ (97 cm) or taller
This is one of the best rides in Magic kingdom! But it is one of the worst Disney roller coasters! It's generally really smooth but does have a lot of stopping and has slower parts. The theming is so detailed in this ride and it is a lot of fun and visually beautiful to ride.
Which explains why it always has a long wait time (90+ minutes.) So, making it difficult to photo credit: Disney ride without grabbing a FastPass. It is definitely a treasured ride by Disney lovers, and if you are traveling with kids who may not be ready for the big roller coasters just yet, they will enjoy this ride.
But again, it feels more like a fun, slow Disney ride, but NOT a Disney roller coaster, which is why it is on the "worst" list. It is definitely nothing like Rock 'N' Rollercoaster or Everest. If you are looking for crazy, fun and exciting thrill ride at Disney, this one is just not it. It's really not as exciting as it could be. Just so you know what to expect!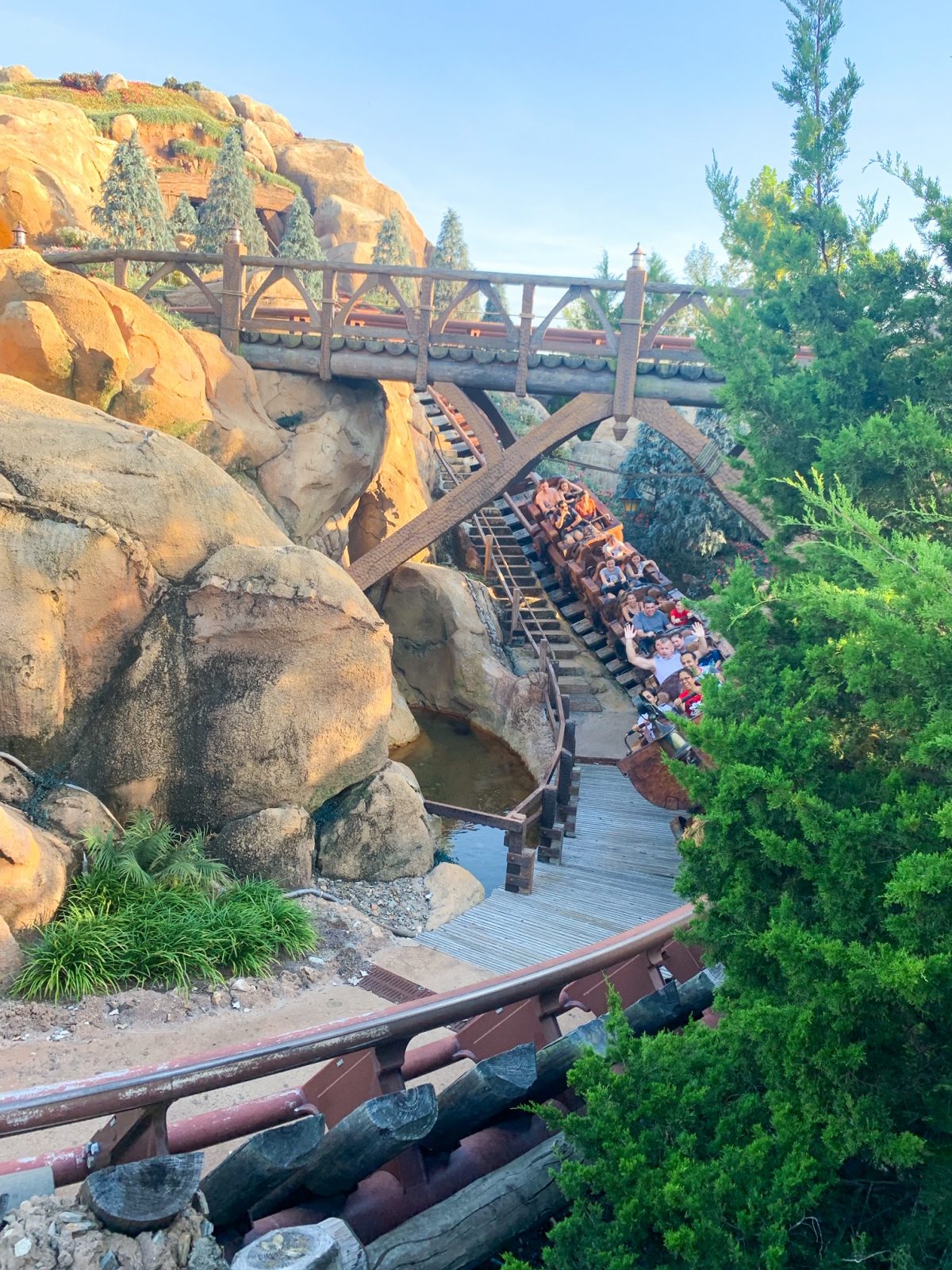 The Barnstormer 
Height requirement: 35″ (89 cm) or taller
This ride is just one of those rides that when you are done you just can't help but wonder, "THAT'S IT?!" Yes, that is it. It's really not that fun, it's an easy pass, probably better to go and do something else. The theme is cute because who doesn't love Goofy?
And it is a tamer roller coaster so if you are traveling with children that don't like roller coasters, this one will be fine. But if they are tall enough for the barnstormer, they will be tall enough for Seven Dwarves Mine Train or Slinky Dog Dash which are a lot more fun than the Barnstormer!
If you are not traveling with little ones, yeah, no, just do not bother, it's not that fun compared to what else Magic Kingdom has to offer, and it is too short! If you wanna try it just to try it, then it's only worth the wait if it is less than 10 minutes, if not, it's probably not worth it!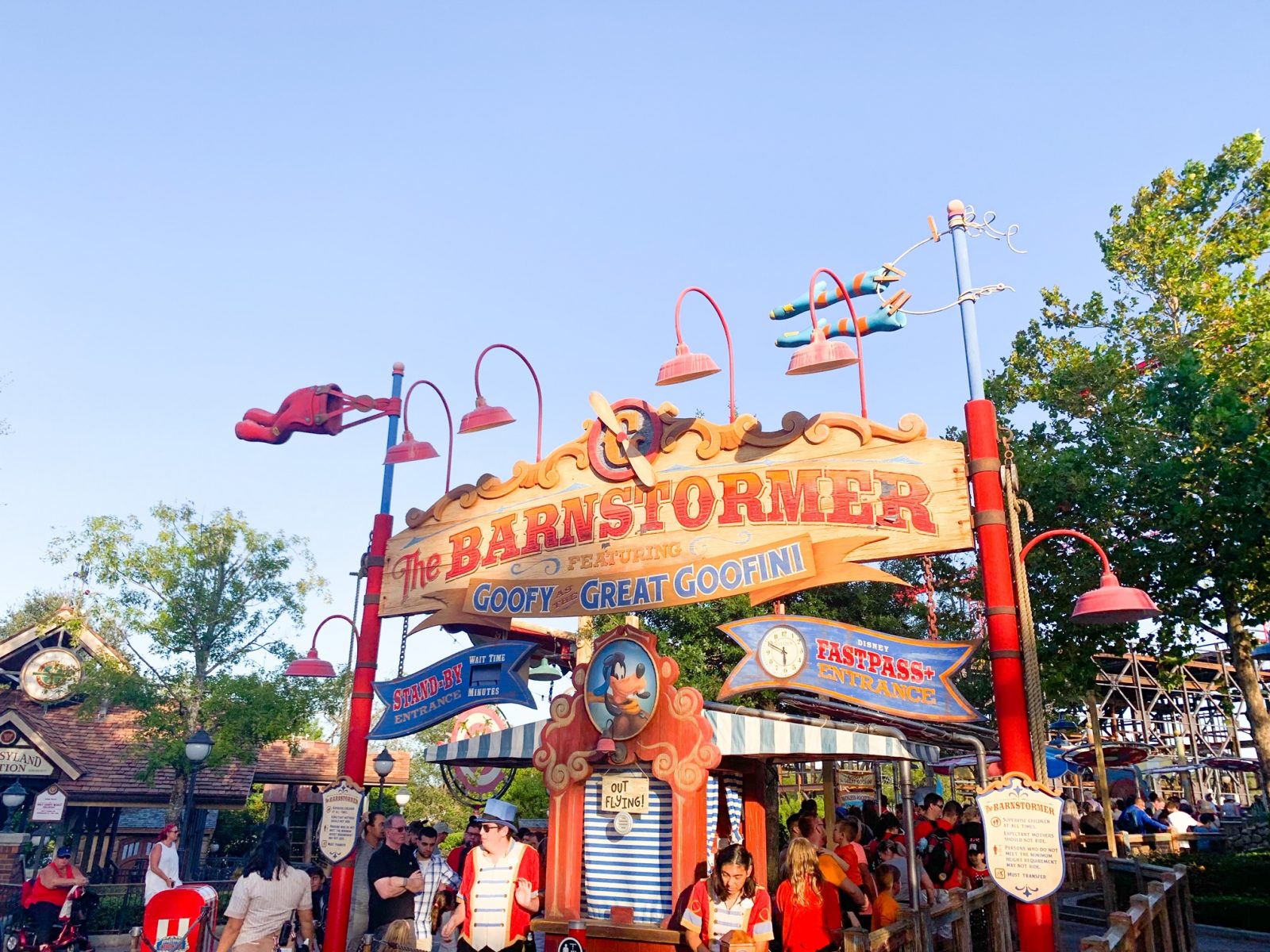 Big Thunder Mountain
This one may too come to be a surprise to Disney lovers, but this Disney roller coaster, but it lands on the worst list because the technology is just not up to par. It's excessively jerky and you are constantly climbing uphill.
If you are choosing between this and the other magic kingdom mountain (Space Mountain) you'll probably enjoy the other one more than Thunder Mountain. It's a little lackluster and outdated, almost forgettable compared to the others.
Yet, it is still a Disney roller coaster and it is still enjoyable, but the other ones are better and more exciting. However, it is perfect for some hidden mickey hunting! It's also a Disney World classic, it's been around for decades. The line does tend to get a little long so if you really do want to try it anyway, it can be worth getting a FastPass.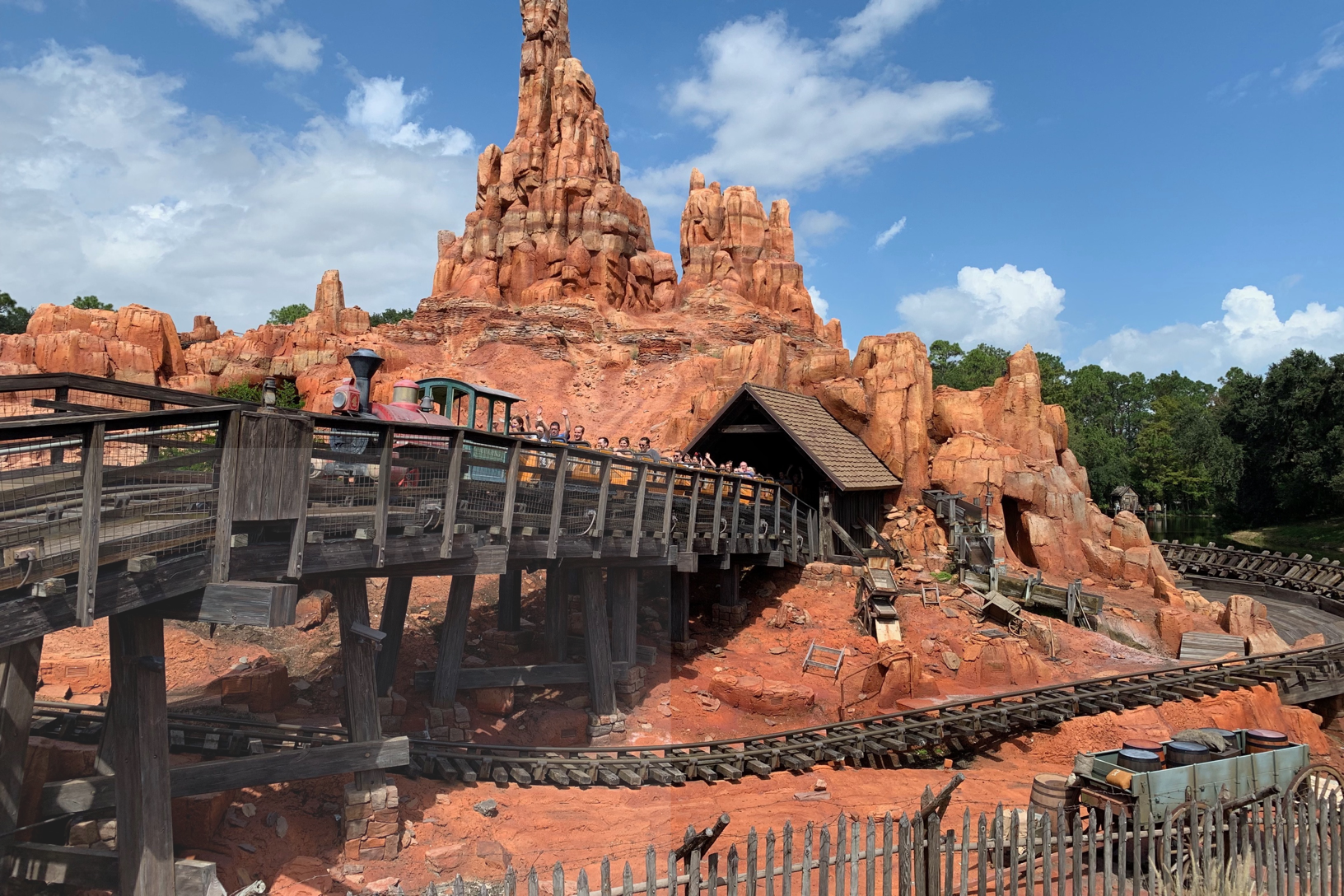 That was our list of the best and worst Disney roller coasters! Hopefully this helps when you want to plan out your next Disney vacation. Roller coasters are such great thrill rides and it's perfect for those who are looking for something a little more exciting.
Even if you're traveling with little ones, there is something for everyone! Dinosaurs, Yetis, darkness, oh my! What did you think about our list? Is there any Disney roller coasters that you think should've been on the list? Are you excited for Epcot's new Guardians of the Galaxy ride?! Let us know what you think!
Pin this post: