If you're planning to hit up Hollywood Studios, knowing how to maximize the Hollywood Studios FastPasses is a must! The FastPass+ system at Disney World allows you to skip some of the waits and maximum your time in the parks. Hollywood Studios FastPasses, similar to the FastPasses available at the other Disney World parks, are included with the price of your ticket, so there is no reason to miss out on your "must do" attractions and shows.
From February through April 2020, Hollywood Studios FastPasses are going through a revamp! Check out the new Tiers and updates below! Be sure to note that Hollywood Studios will now have only three Tier 1 FastPasses and 12 Tier 2 Fastpasses; read on to learn more about the Tiers!
Utilizing a day of FastPasses for Hollywood Studios may seem like a lot of advance preparation for a park with fewer attractions than neighboring Magic Kingdom, but FastPass+ is worth every minute of preparation and allows you to experience Hollywood Studios has to offer in a short window.
Hollywood Studios FastPass is no different from the other Disney World park FastPasses so not only should you book in advance, but you will need to know what attractions and shows at Hollywood Studios have FastPass available and know the Hollywood Studios FastPass Tiers.
This article will tell you everything you need to know about Hollywood Studios FastPasses; but, if you are new to Disney, FastPass+, or need a refresher, I recommend checking out our post on the our favorite FastPass Secrets to help you master the system.
Get a FREE printable 30/60/90 day Disney countdown by joining our private Disney Facebook Group and share your photos and ask for tips and tricks.

15 Best (and Worst!) Hollywood Studios FastPass Options
First, let's start with some of the basics!
What is FastPass+?
FastPass is a free service included with your park ticket for Disney World, including your ticket into Hollywood Studios. It holds your place in line for rides and attractions and allows you to pre-book the fun. The concept is to free guests up to enjoy the most rides and attractions in a shorter amount of time. FastPass also allows for you to typically bypass long lines for rides, attractions, and character meets.
At the attractions that participate, you will get in a separate FastPass line, and those lines do bypass the interactive queues for most rides. Your FastPasses are linked to your MagicBand or to your card style ticket. The most recent version of FastPass is FastPass+, and this system is more of a virtual reservation and scheduling system versus the old school paper system was more of a queuing system that didn't allow for pre-booking.
In case you didn't know, you get your first three Fastpasses at Disney entirely for free! If you want to read more, we have an entire post on Disney Fastpass Cost which includes the breakdown of the free options as well as the potential upgrades. YES, you can pay more and get more Fastpasses than come free.
How Do You Get FastPass+ at Hollywood Studios?
Once you have booked your trip with park tickets, or you have an annual pass, you can then book FastPasses. You can use the My Disney Experience app, the My Disney Experience section of the Disney World website, or from a FastPass kiosk in the parks. Your phone, and access to My Disney, will be critical for using your FastPasses at Hollywood Studios so be sure to prepare your phone for your Disney trip.
If you are staying on property at a Disney World hotel, and at most of the Good Neighbor hotels, you can book your FastPass beginning at 7 am EST 60 days from the day of check-in. If you aren't staying on property, then you can book at 7 am EST 30 days out from the day of check-in. Many guests are no joke when it comes to booking FastPass so some of the best attractions and shows may actually run out of FastPasses shortly after "going live," so being ready to go on the day you can book is highly recommended.
Utilize the Tap and Grab Technique For The Ultimate Disney FastPass Secret
We have said it once and we will say it again – this may be the best Disney FastPass secret. It will save you a lot of time in line and you'll get to ride even more rides, and experience more attractions, using this strategy. It does take a little bit of work and understanding the "trick," but bear with us.
You can continuously modify your FastPasses while in the park in order to maximize your time and ride the most rides. By using the My Disney Experience app while in line at your rides, you get a heads up of what other FastPasses are out there and it negates the "overlapping" window problems you usually encounter when you book your 3 FastPasses.
Here's an example: You're headed to Hollywood Studios for the day and you have pre-booked your 3 FastPasses for 10 am, 11:15 am, and 12:45 pm. Once you get in line for your 10 o'clock at your first attraction and have tapped your MagicBand, check the app to modify your 11:15 am FastPass.
You see a 10:35 am for your second attraction instead of the original 11:15 am and you snag that new time! And then once you scan your MagicBand for your second attraction, check to see if there's an earlier FastPass than your 12:45 pm for for your third attraction. If there is, modify again! Say you snag an 11:45 am for it, and you are done riding your first three FastPasses before you were even supposed to be in line for your third!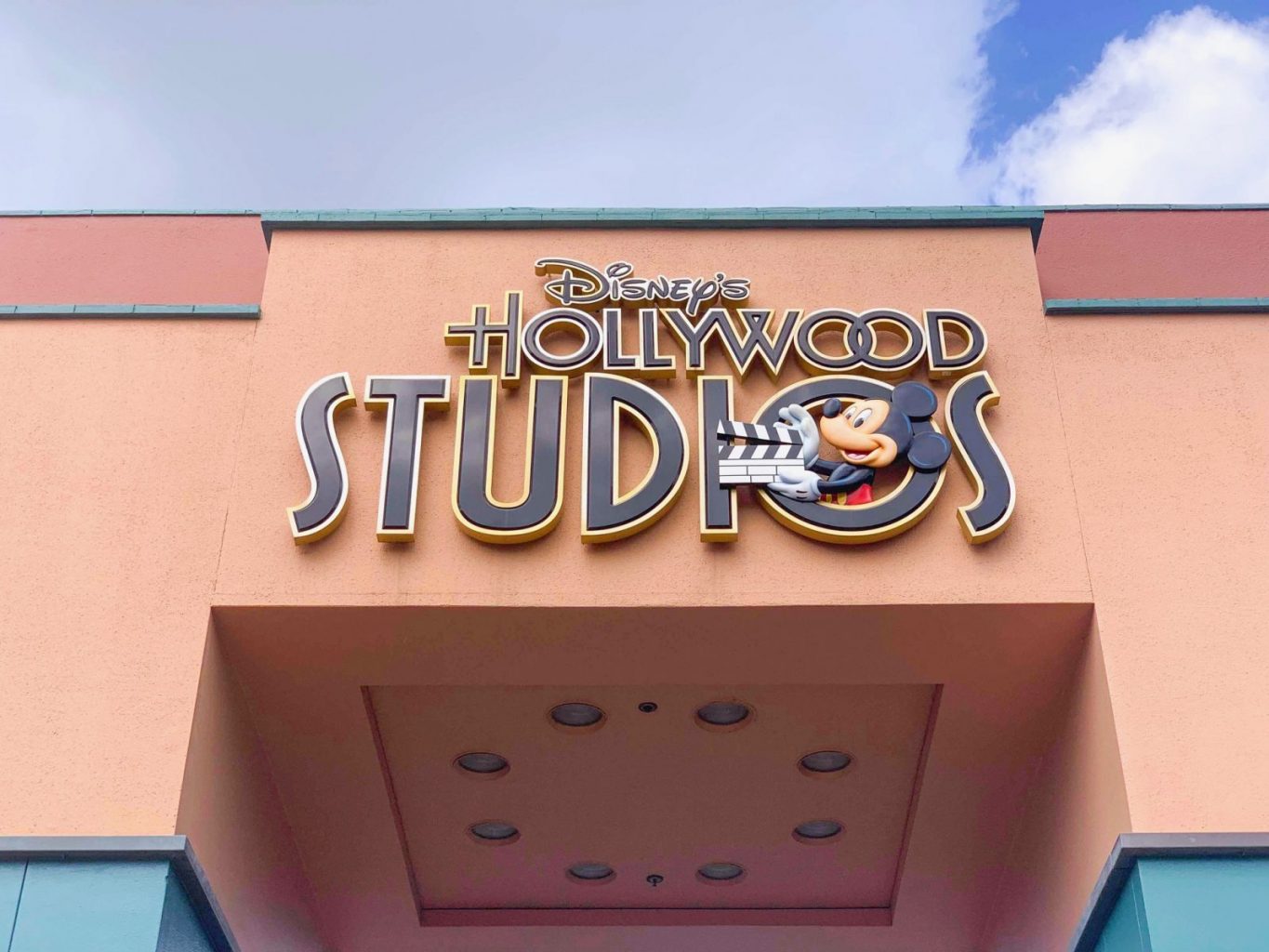 Rides and Attractions at Hollywood Studios That Take FastPass+
Alien Swirling Saucers
Beauty and the Beast – Live on Stage
Disney Junior Dance Party!
Fantasmic!
For the First Time in Forever: A Frozen Sing-Along Celebration
Indiana Jones Epic Stunt Spectacular
Mickey and Minnie's Runaway Railway
Muppet*Vision 3D
Rock 'n' Roller Coaster Starring Aerosmith
Slinky Dog Dash
Star Tours: The Adventure Continues!
Star Wars: Millennium Falcon: Smugglers Run
Toy Story Midway Mania!
The Twilight Zone Tower of Terror
Voyage of the Little Mermaid
Rides and Attractions at Hollywood Studios That Do Not Take FastPass+
Lightning McQueen Racing Academy
Meet Mike and Sulley
Meet the Incredibles at Pixar Place
Star Wars Launch Bay Theater
Star Wars: A Galatic Spectacular
Wonderful World of Animation
Although we would love to see Star Wars: Rise of the Resistance with FastPasses, the other shows, experiences, and character greetings at Hollywood Studios do not really need them. If you plan your Hollywood Studios FastPasses correctly, you should have no problem hitting everything there is to do at Hollywood Studios in a single day.
For Star Wars: Rise of the Resistance, be sure to check out my guide to Star Wars: Rise of the Resistance before your visit to Hollywood Studios and arrive early to snag your space on the virtual queue!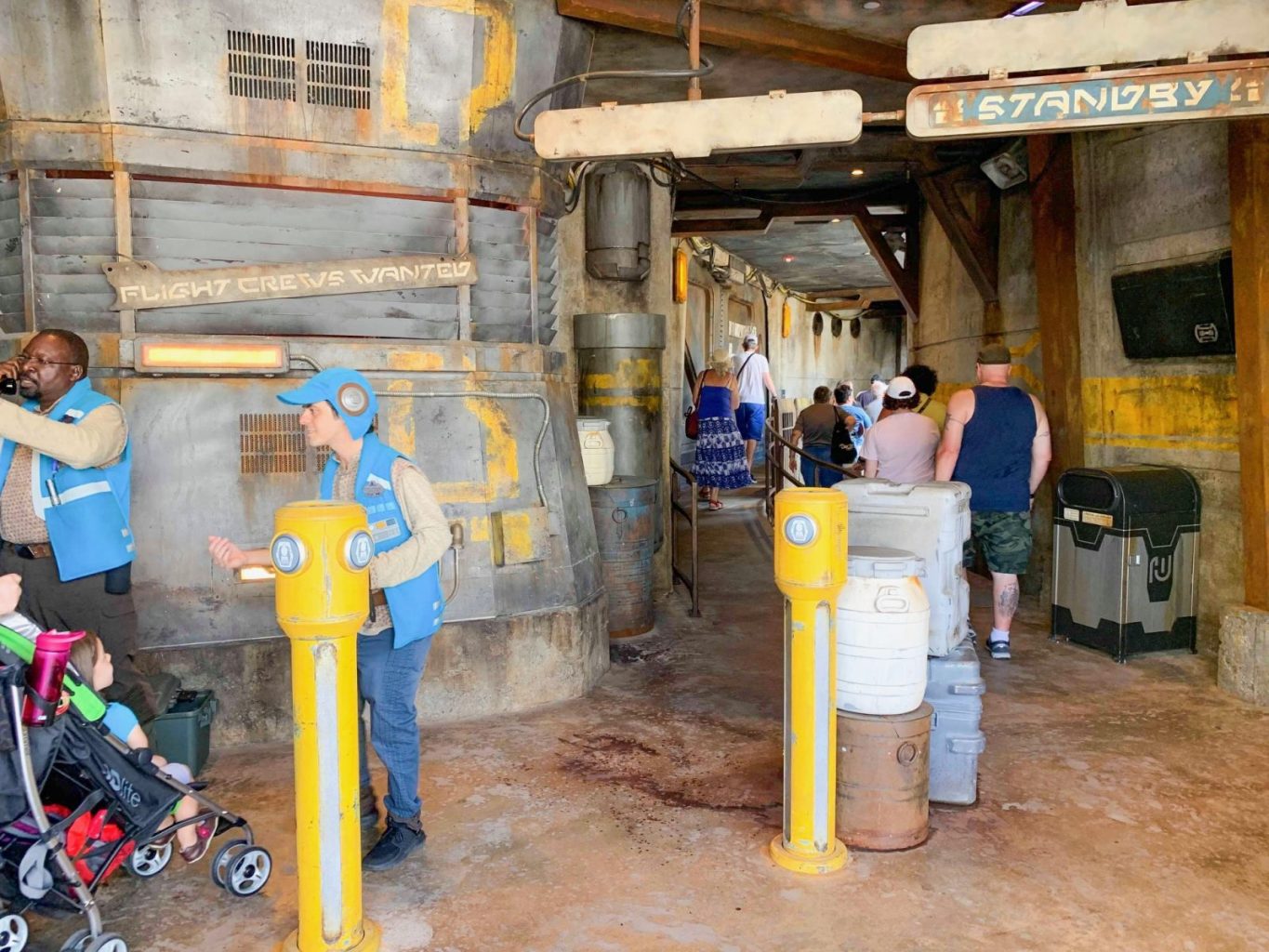 Know the Tiers for the Rides Before You Book
If you are new to the FastPass+ system, FastPass tiers are a somewhat confusing component to understand, but the Hollywood Studios FastPass tiers are very obvious when you are booking on My Disney Experience as it will not allow you to book inconsistently with the tier rules.
Hollywood Studios FastPasses are divided into Tier 1 and Tier 2 (Epcot and Animal Kingdom use the tier system too). Rides that are in Tier 1 are the most popular and in demand, and typically the harder to score a FastPass for. Tier 2 rides and attractions are just about everything else. When you pre-book your 3 FastPasses, only 1 of the 3 can be for a Tier 1 attraction.
Here is a quick guide to the Hollywood Studios FastPass Tiers:
Tier 1 – Slinky Dog Dash; Star Wars: Millennium Falcon: Smugglers Run; Mickey and Minnie's Runaway Railway
Tier 2 – Alien Swirling Saucers; Rock 'n' Roller Coaster; Toy Story Midway Mania!; Twilight Zone Tower of Terror; Beauty and the Beast – Live on Stage; Fantasmic!; For the First Time in Forever: A Frozen Sing-Along Celebration; Indiana Jones Epic Stunt Spectacular; Muppet*Vision 3D; Star Tours: The Adventure Continues; Voyage of the Little Mermaid
Since you can only book one from Tier 1, plan accordingly! Our advice for the best Hollywood Studios FastPass strategy is book your 2nd, 3rd, and 4th choice attractions for the sweet spot of time from 10am-3pm, and try to get in line for your 1st choice at rope drop. You could also book a Tier 1 FastPass as your first ride of the day, and then choose another once you've tapped your MagicBand.
As you can see, a quite a few FastPass options at Hollywood Studios, six to be exact, are actually shows. In order to plan the perfect FastPasses, be sure to pay attention to run times. Although FastPasses come with a very small grace period, you do not want to miss a FastPass because you are still enjoying another show or movie.
Also, try not to waste your FastPass on rides with Single Rider lines! At Hollywood Studios, although it has a Tier 1 FastPass, Star Wars: Millennium Falcon: Smugglers Run also has a Single Rider line. It may be best to hop in line for the Single Rider for Star Wars: Millennium Falcon: Smugglers Run and use your Tier 1 FastPass for Slinky Dog Dash or Mickey and Minnie's Runaway Railway instead.
Unless of course you want a group photo, since all parties will be separated if using the Single Rider line, or if you want to experience all of the pre-ride attraction rooms and shows. Rock 'n' Roller Coast is another Hollywood Studios ride with a Single Rider Line, so you may not want to waste a coveted Tier 2 spot on this ride.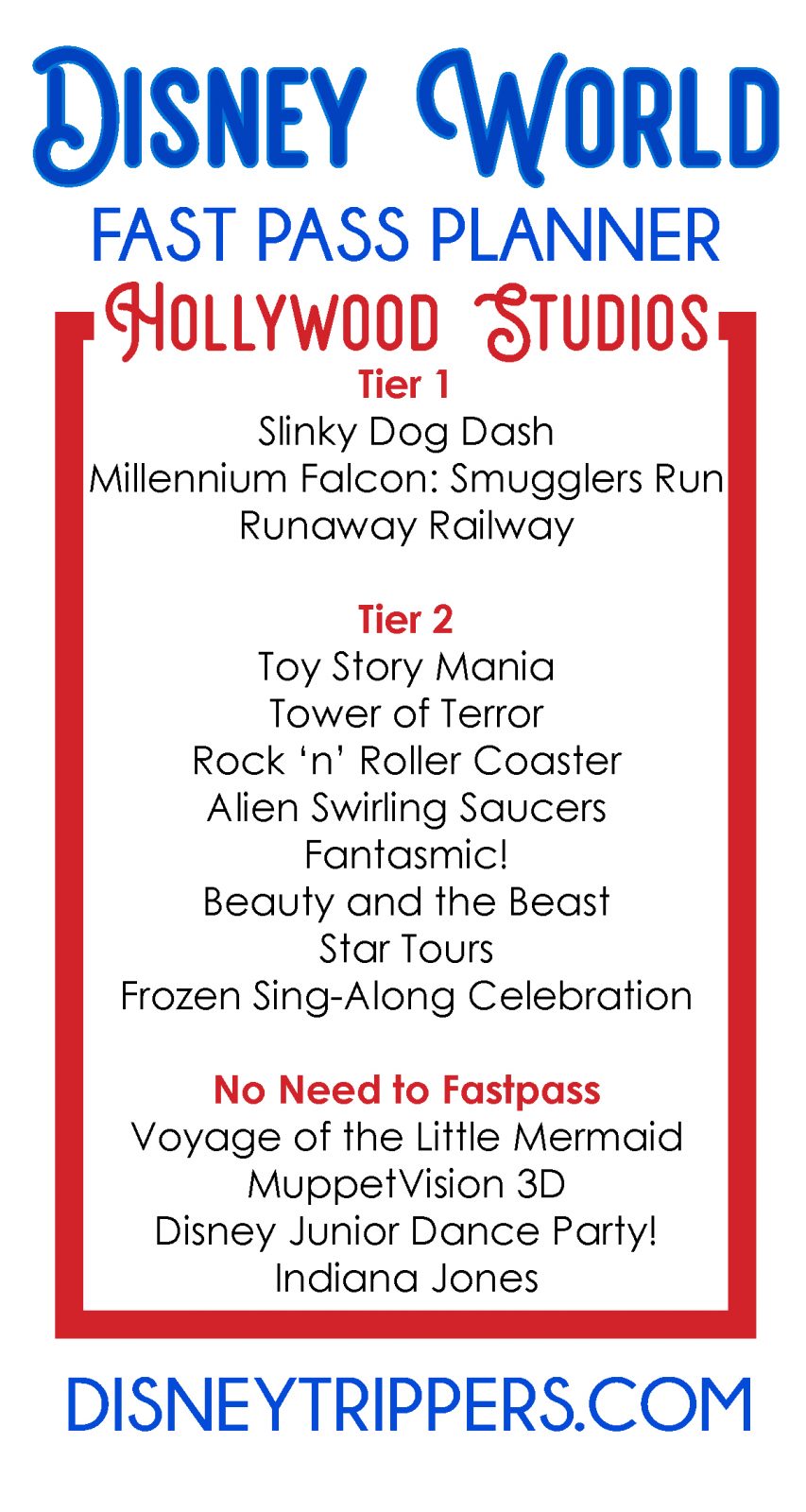 Best Hollywood Studios FastPass+ Options
Slinky Dog Dash is one of my top picks for FastPasses at Hollywood Studios for families! The Slinky Dog Dash is a super fun, and all-rider friendly, coaster and one of the newest additions to Hollywood Studios!
Since it is pretty new, and family friendly, its pretty much guaranteed that there will be a long queue for stand by. Slinky Dog Dash is 100% a great use of your Tier 1 Hollywood Studios FastPass right now, especially for fans of
roller coasters at Disney!
After boarding the giant Slinky Dog, you will take an exhilarating ride full of twists and turns through Andy's over-sized backyard. This ride is located in Toy Story Land, rightfully so, and has a height restriction so guests wanting to drop and dive on this Mega Coaster Play Kit must be at least 38″ to ride.
Although the Slinky Dog Dash does include climbs, drops, twists, and turns, it does not go upside down and maintains a Disney usual of 40 MPH, making this one of the most family-friendly coasters in Disney World.
I recommend Slinky Dog Dash as a top Hollywood Studios Fastpass as the queue is entirely outdoors and you want to get through the line as quickly as possible!
Best Choice for Tier 1: Mickey and Minnie's Runaway Railway
Mickey And Minnie's Runaway Railway is easily one of the best rides at Disney. While it replaced the Great Movie Ride and I was very salty about that, it isn't trying to imitate the Great Movie Ride in any way!
It utilizes the same technology as Rise Of The Resistance above but has no height requirements and is a family-friendly ride! Family-friendly does NOT mean boring in any way, shape, or form! The latest technology, sites, and sounds means that this ride is here to stay!
I recommend getting in line for Mickey And Minnie while you are trying to grab your Rise Of The Resistance Boarding Pass. You will already have a Slinky Dog Fastpass so no worries! If you cannot get a Slinky Dog Fastpass, then go ahead and reverse the strategy!
New attractions at Disney World are usually hits, but there have definitely been some misses. You do not have to worry about that with Mickey and Minnie's Runaway Railway. It is straight-up delightful from start to finish.
READ WHAT TO EXPECT ON MICKEY AND MINNIE RUNAWAY RAILWAY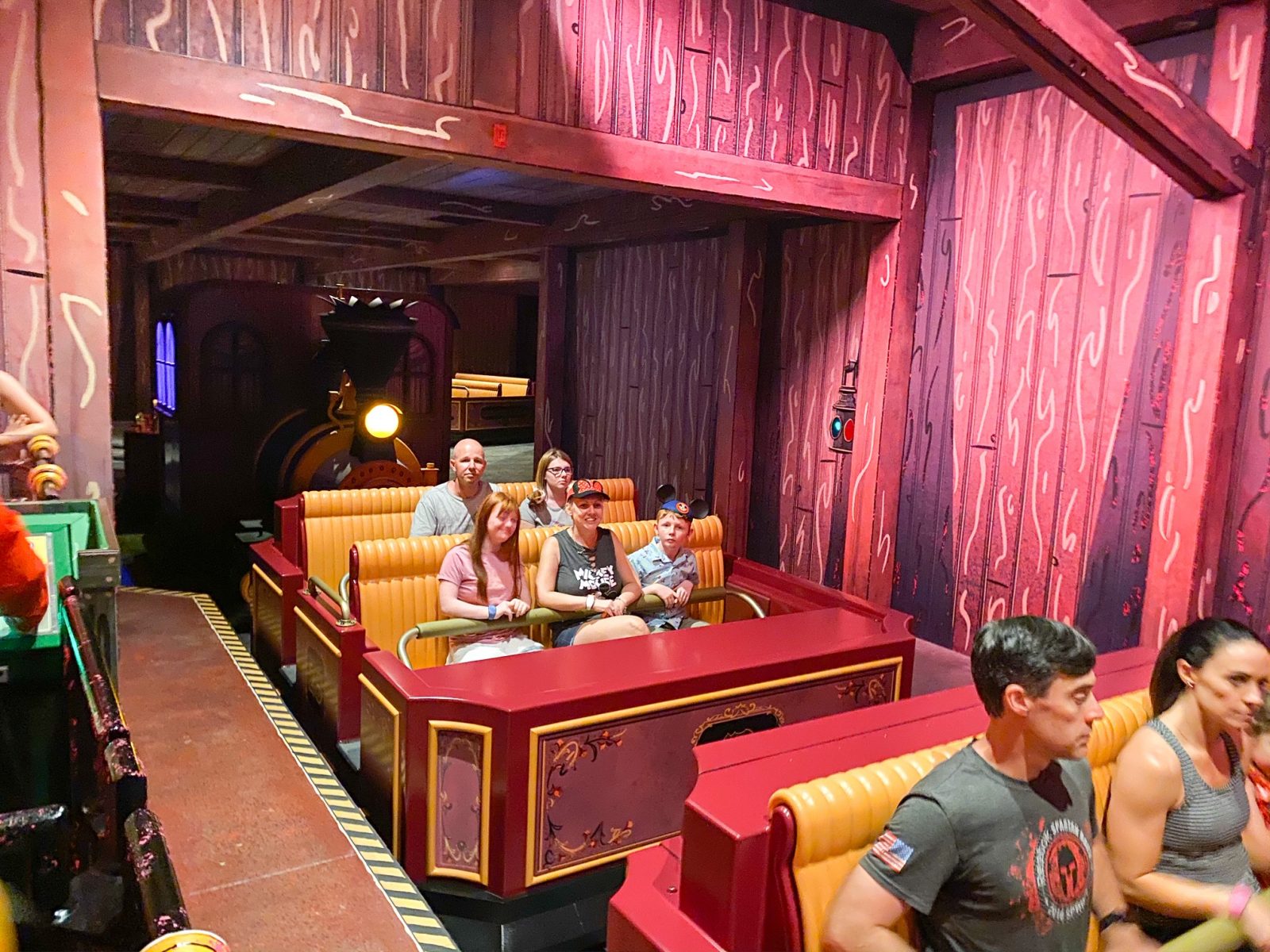 Worst Choice for Tier 1: Star Wars: Millennium Falcon: Smugglers Run
I know I will get a lot of hate for this, but I am NOT a Smuggler's Run fan. As evidenced by the usually shorter waits, most other people aren't either. I recommend either Slinky Dog OR Mickey And Minnie before you EVER use a Fastpass for Smuggler's Run.
Compared to the other two rides, it is just pretty average and nothing special.
Star Wars: Millennium Falcon: Smugglers Run is a family-friendly, interactive, motion simulator. It is literally nothing more than a simulator and shouldn't be used over the other AMAZING tier 1 options.
If you want to ride it, I recommend using the Single Rider line!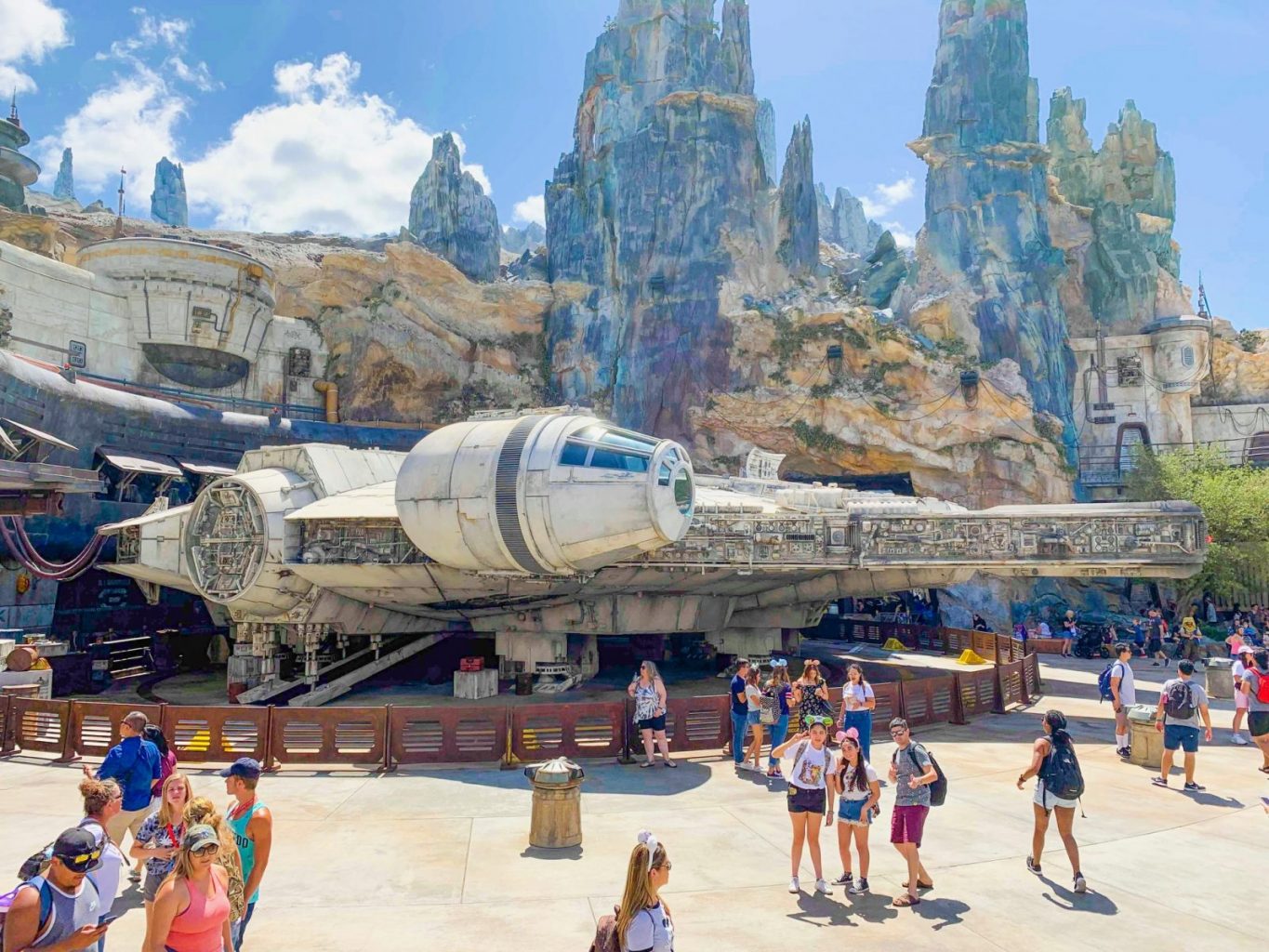 Hollywood Studios FastPass Tier 1 Conclusion
With the new Hollywood Studios FastPass Tier 1 options, you cannot go wrong! The biggest question you will need to answer is: are you looking for a coaster, Star Wars, or the newest family-friendly Disney ride in the park? Your answer will lead you to a great choice and you will not be disappointed. I truly do recommend Slinky Dog or Mickey And Minnie over Star Wars!
Don't forget the tap and grab technique while at Hollywood Studios. Given the more limited number of rides, and limited Tier 1 use, if you get on a ride, or into a show, early, be sure to update your FastPasses for the day so you can maximize your time!

Now that you have navigated your way through your Tier 1 Hollywood Studios FastPass, it is time for Tier 2!
We know, we said not to waste your Hollywood Studios FastPasses on rides with Single Rider lines and then told you that Rock 'n' Roller Coaster has a Single Rider line, but just listen! If you are a thrill seeker, and you are traveling with thrill seekers, Rock 'n' Roller Coaster is an excellent pick for your Tier 2 Hollywood Studios FastPass for two reasons.
First, your entire group will get to ride together, and likely get an amazing photo out of it. Second, the Single Rider line for Rock 'n' Roller Coaster can be a bit finicky. Unfortunately, sometimes the Single Rider line can move a bit slowly, in part due to the fact that this ride is 2 across, leaving fewer open seats when compared to 3 across rides.
Rock 'n' Roller Coaster is by far the best roller coaster in Walt Disney World! It is INSANE and really fun, but not for the weak. This roller coaster will take you from 0 to 60 in under 2.5 seconds and contains three full inversions!
Are you excited yet? It also in complete darkness, with a bit of day glow, and includes blaring music from Aerosmith Since this is one of the best rides in Disney World, it holds a spot as a top choice for Tier 2 Hollywood Studios FastPass, but do not panic if you weren't able to get it, or you used your Tier 2 picks elsewhere, just jump into the Single Rider line and your wait in the queue will normally be cut in half, at least. This is one intense ride, so be aware that guests under 48" may not ride.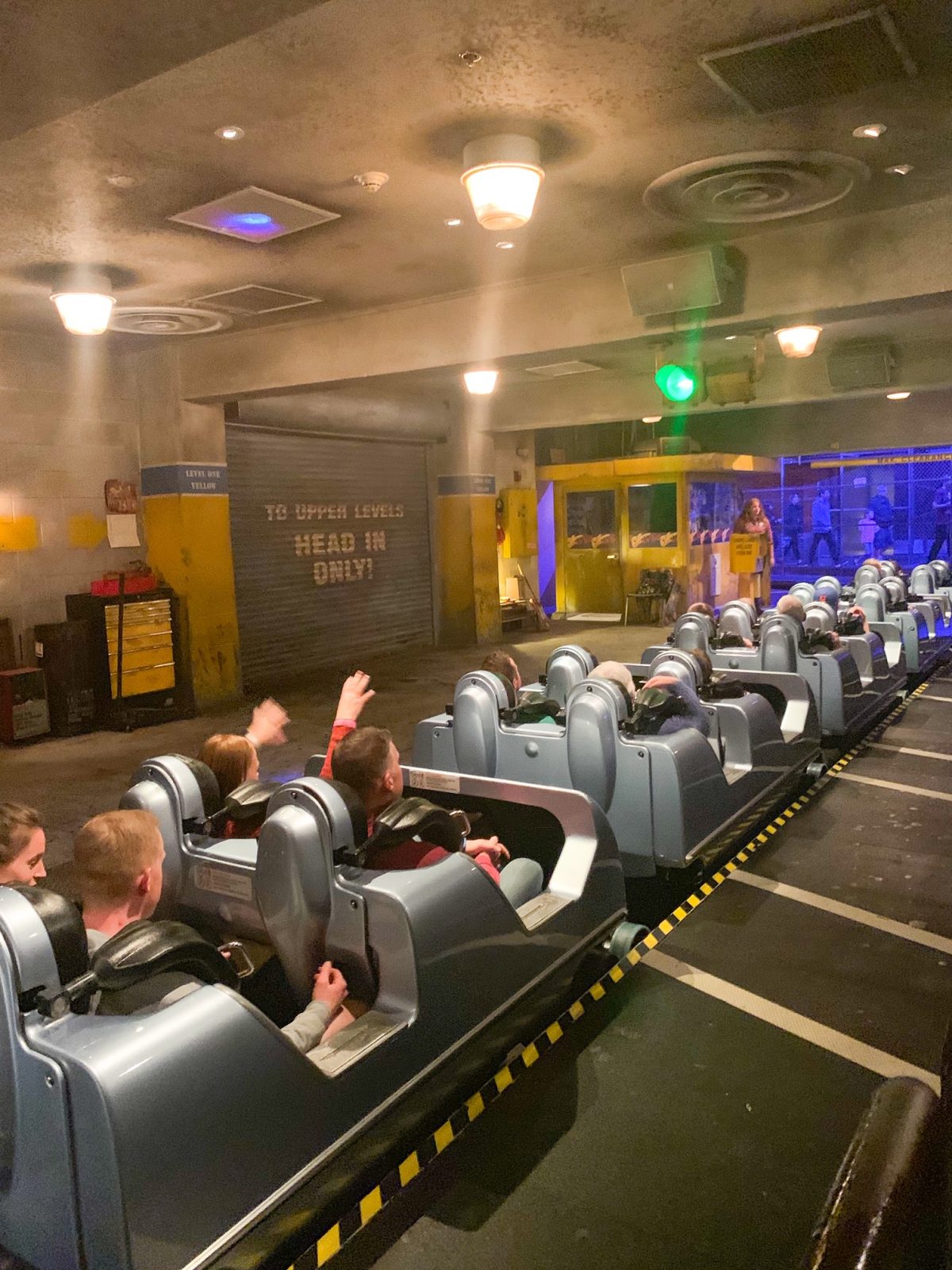 If you, or others in your party, do not like roller coasters, Toy Story Midway Mania is the best choice for your Tier 2 Hollywood Studios FastPass. Toy Story Midway Mania is one of my favorite rides in all of Disney World and I am not alone, this ride can have significant waits at Disney World, Tokyo DisneySea, and California Adventure.
It is the much better, and way cooler, version of Buzz Lightyear's Space Ranger Spin! If you have small children, a diverse group, or prefer a non-coaster, this is the obvious choice for your Tier 2 FastPass.
When your FastPass time begins, briskly get through the queue without delay and jump into your moving and spinning vehicle, put on your 4D glasses, and get your arms ready for the best challenge in Disney. Toy Story Midway Mania will take you through various carnival mini-games where you will shoot at targets with a simulation projectile while you gain points.
May I recommend a challenge with your loved ones – winner buys a drink or snack! Your vehicle will swirl and twist you through the various games and sophisticated software and technology is really something not to be missed.
Toy Story Midway Mania has no age or height restrictions and small children may even sit on an adult lap, so long as the safety bar can be lowered. Want to get the best score in vehicle? Hard-to-hit targets are worth more and aim for secret targets to unleash Easter eggs in each mini-game.
If you decide to use your Tier 2 FastPass on a coaster, get to Hollywood Studios for rope drop and move quickly to get in line as early as possible. Given the historical waits, you may be better off with a late in the day FastPass than the first in line.
The stand-by queue for this ride is long, it can take more than four minutes to follow a leisurely paced cast member through the entire queue if you are one of the first in line at rope drop. Because of this, someone with a 4:00 pm FastPass may spend less time wandering through the queue than the first rider of the day!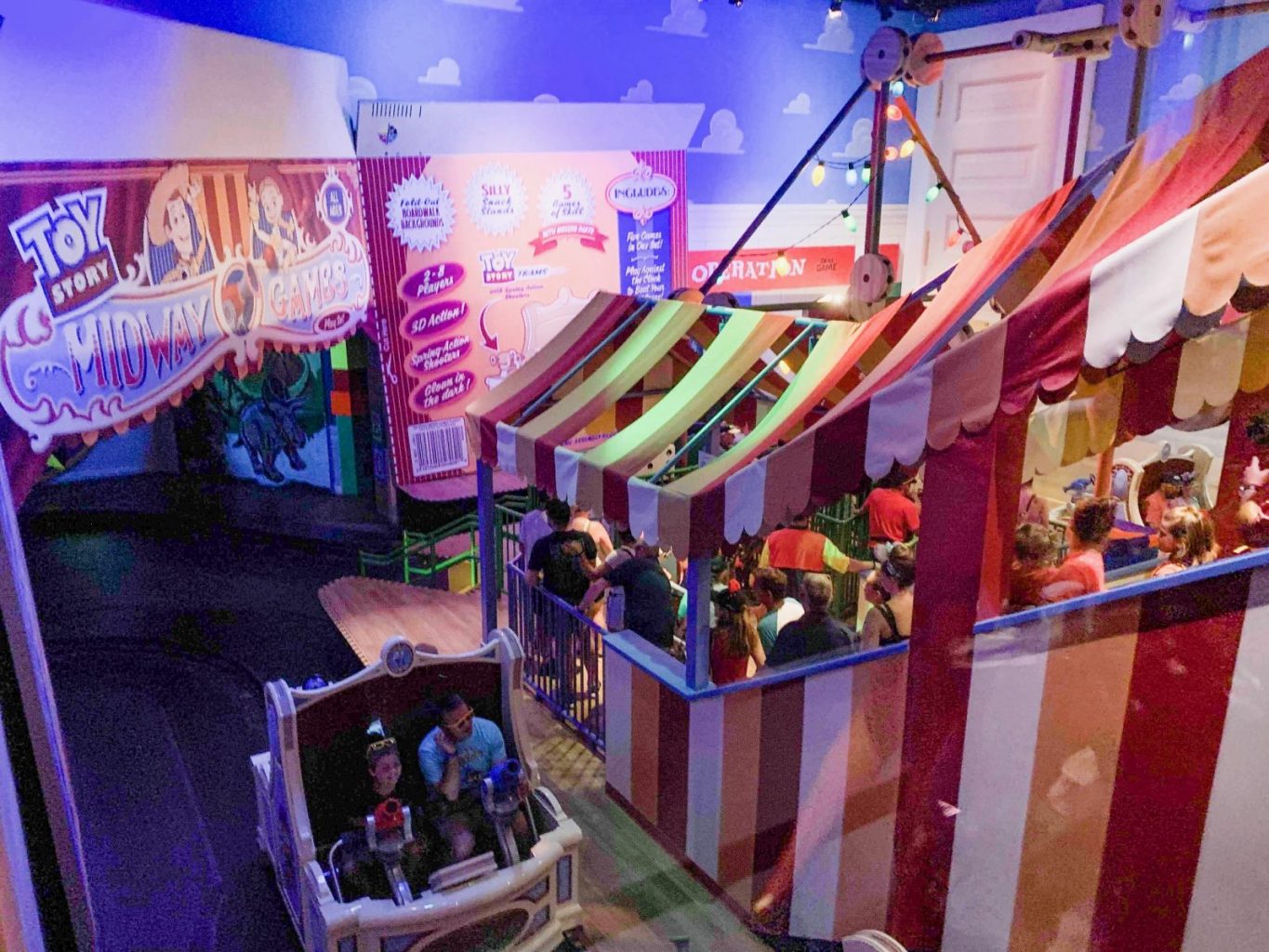 The Tower of Terror is not for the faint of heart as you will find yourself in a defunct elevator that will drop you nearly 200 feet! Now that Tower of Terror has been converted to Guardians of the Galaxy, Disney World is your last chance in the US to ride through the Hollywood Tower Hotel! It is a classic
Disney Thrill ride!
The Tower of Terror is the second tallest ride at Walt Disney World, only beaten by Expedition Everest. After wandering through the Hollywood Tower Hotel front gate and lobby, even with your FastPass, which appears to be untouched since the night of its tragic closure, you will be ushered into the library for a brief episode of the Twilight Zone.
Once you reach the elevator and get safety secured in your seat, you are in for the best elevator ride of your life. While I do not want to give too much away, prepare for a drop and if you want to see how quickly you drop, place a quarter on your knee before you go and watch how it moves (or doesn't) during your "free fall."
Tower of Terror has a height requirement and riders must be at least 40″ to ride. It is considered a thrill ride full of big drops and dark and scary moments. Are you brave enough to enter the 5th dimension?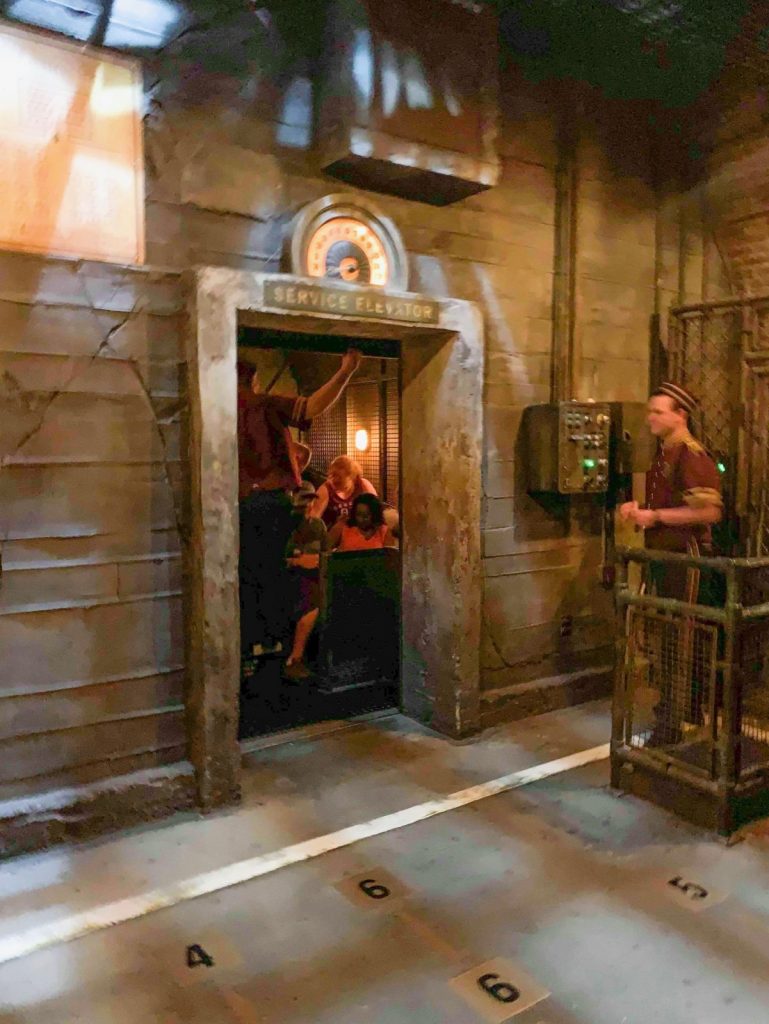 If all other Tier 2 choices are gone, and you need to pick more Tier 2 FastPasses for Hollywood Studios, Alien Swirling Saucers is your final best option. Located in the new Toy Story Land, this spinning ride allows you board your own saucer for a spin through outer space with the aliens! Riders must be 32″ or taller to ride and this gentle whirl is a good choice for those with young kids, or those who are a bit more ride-adverse.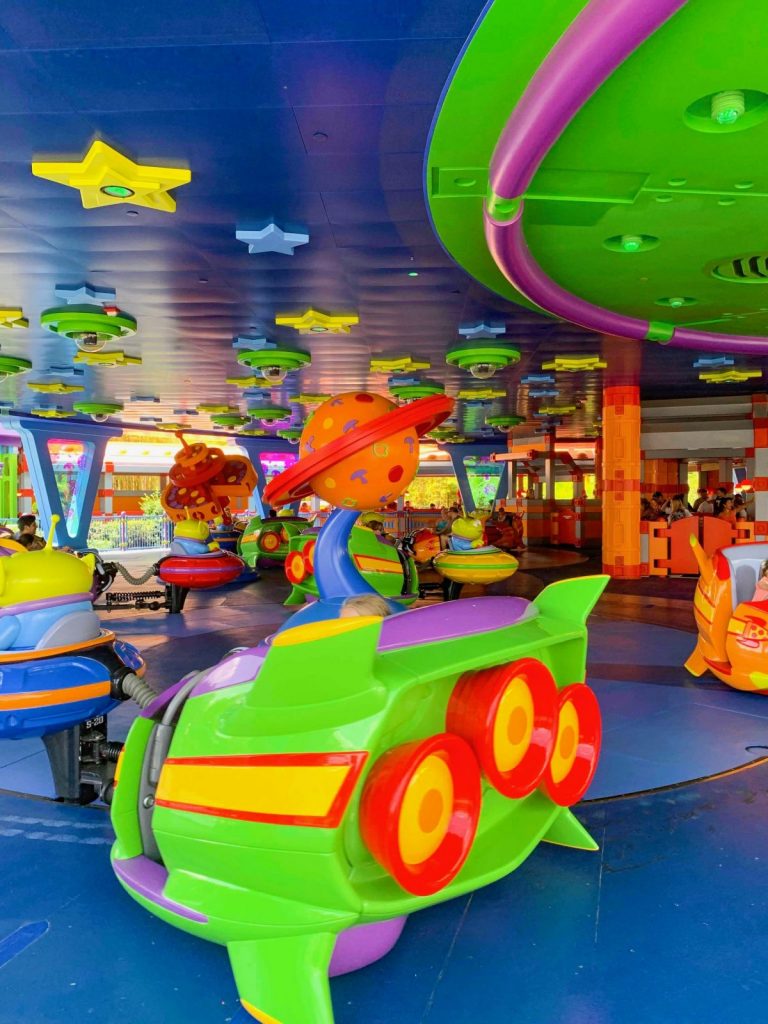 Now for the Worst Tier 2 Choices!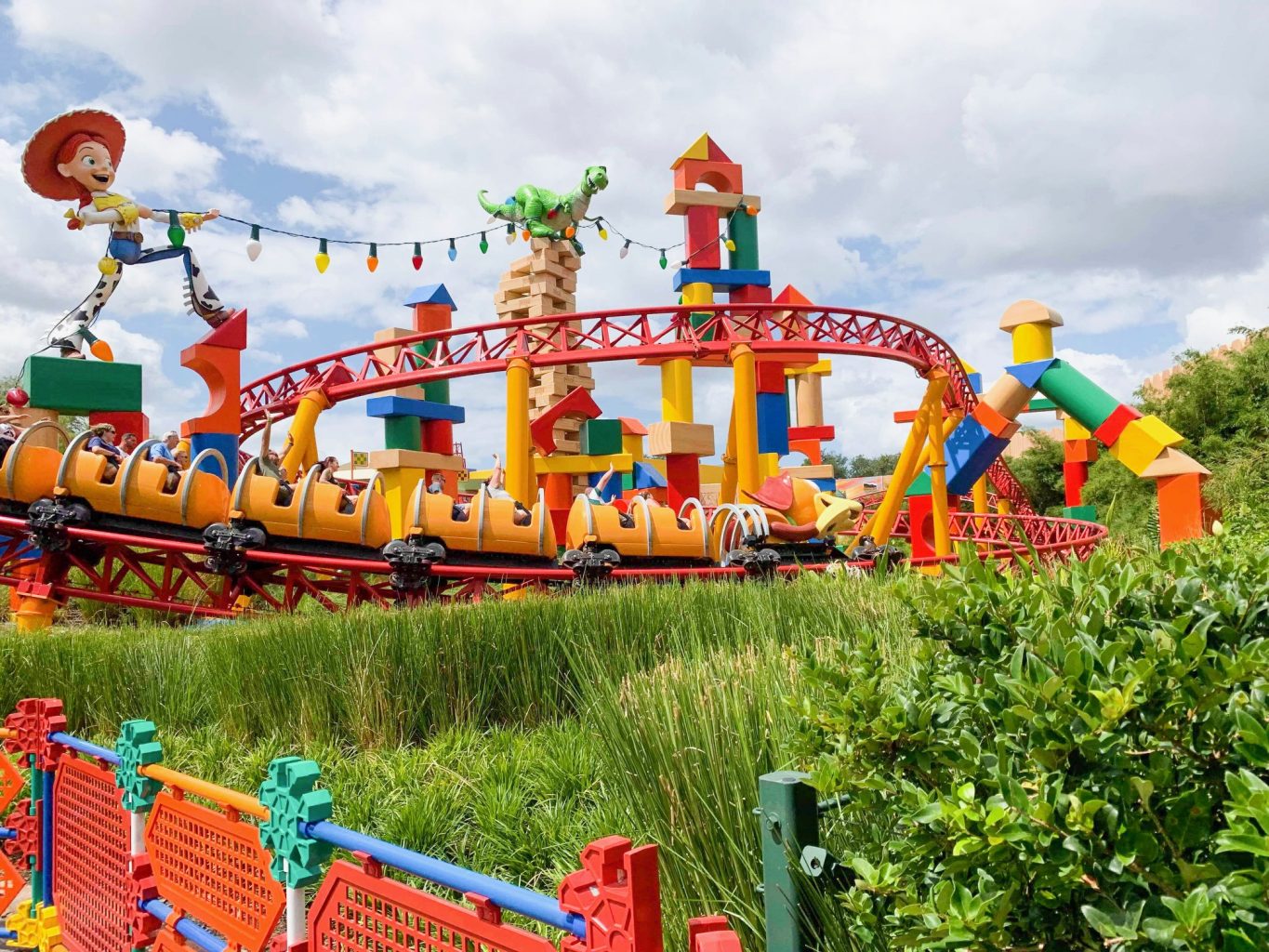 First, let me be clear – Star Tours is not a new ride and not part of the Galaxy's Edge Expansion, in fact, it is a Disney classic! In my opinion, Star Tours is really the only good Tier 2 choice for your Hollywood Studios FastPass. Star Tours will take you on a 3D space flight to a Galaxy Far, Far Away. Technically a flight simulator, this group ride will let you, and some of your closets friends, board the Starspeeder 1000 and navigate through the galaxy. But be aware, crash landings, battles, and blaster fires can happen and C-3PO may need your help to get home.
Star Tours does have a height requirement and riders must be 40″ to ride. While it has "small drops," this ride is more of a simulation than a coaster. It also may cause motion sickness to those we are sensitive to motion. Star Tours also has a digital game for those using the Play Disney Parks App!
You will have to pick a few from the Tier 2 options for your Hollywood Studios FastPasses so out of all of the shows, I recommend the Frozen Sing-Along Celebration for your second option. Join Anna and Elsa, in a large air conditioned theater, for a sing-along of some of your favorite (or maybe not so favorite) Frozen songs! This show runs 30 minutes and provides large karaoke-style screens for the audience to follow along with, so don't worry if you have not brushed up on your Let It Go lyrics recently. The show is currently running on the half hour (10:30, 11:30, etc.) and be sure to take into account the run time when booking other Hollywood Studios FastPasses.
Worst Tier 2 Choice – Fantasmic!
Fantasmic! is Hollywood Studios' nighttime show and unlike many other nighttime shows, FastPasses are available for the show, which is currently occurring only once per night and only select nights only! FastPasses to shows at Disney World allow guests to have guaranteed entry along with reserved seating areas. Fantasmic! consumes an entire amphitheater and lagoon and is an entirely outdoor show (which means it could be cancelled due to inclement weather). Fantasmic! will take you through Mickey's dreams, and nightmares, including Disney songs, stunning sets, and extravagant special effects. Keep in mind, if you do not use your FastPass for Fantasmic! you can still attend the show, as the theater is very large, but people have the ability to arrive as early as 90 minutes before the show so you may want to go early if you have a large group, or want a special seat.
The Voyage of the Little Mermaid is a good Tier 2 choice for your Hollywood Studios FastPass if you have small children in your group or just love Ariel! Similar to many attractions at Hollywood Studios, the Voyage of the Little Mermaid is a live performance show. This show runs 17 minutes and is indoors, so it has air conditioning and runs in all weather. You will venture under the sea to experience Ariel's adventure with songs, dancing, and special effects. This show runs much more frequently than other shows, so you will have ample opportunity to check it out during your visit to Hollywood Studios, even without a FastPass.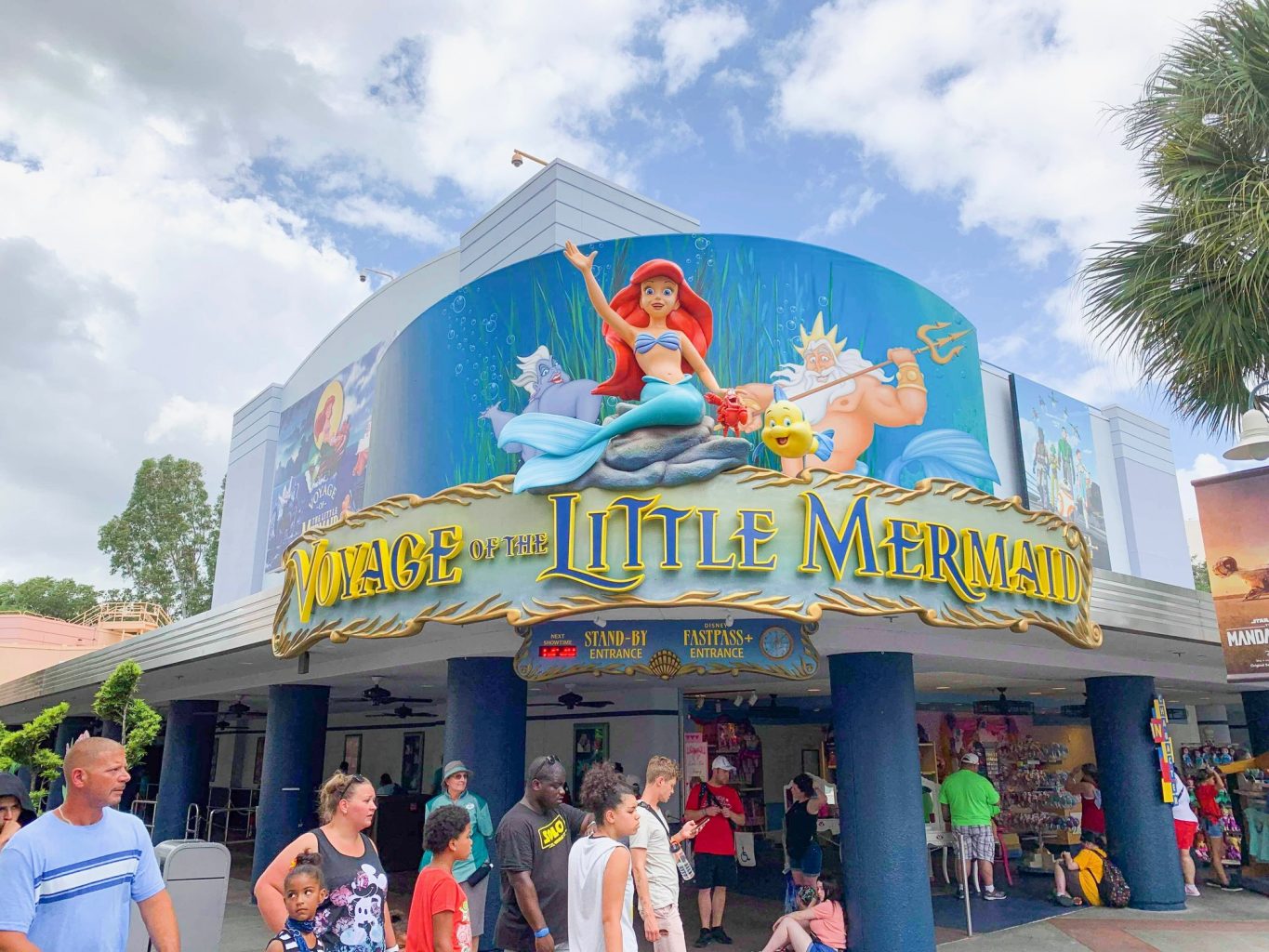 Muppet*Vision 3D is one of the classic Hollywood Studios attractions that has lasted through all of the revamping and expansions. This 15 minute show, set in a classic theater, will place you, and 563 of your closest friends, in a 3D live action and film story. Staring the famous Miss Piggy and Kermit, as well as the whole Muppet crew, you will learn all about their newest invention – Muppet*Vision 3D! This show runs continuously and is friendly for all ages and heights.
Indiana Jones Stunt Spectacular is a 30 minute action packed show full of stunts and special effects. Guests not only get to watch the magic, but also learn a bit more about what is behind the magic. If you have any grown-ups in your group, try to convince them to volunteer to be part of the action, but be sure to be on time if you want to get selected. The Indiana Jones Stunt Spectacular is a show and due to the large amount of set up, clean up, and cast member acting involved in the show, there are limited times each day. Be sure to check your App if you want to check out the show, especially if you do not have a FastPass with a set show time!
Disney Junior Dance Party is a 25 minute show, but really dance party, with the best Disney Junior stars in town – Doc McStuffins, Vampirina, Timon, and the big man himself, Mickey. Although this show is geared towards kids and preschoolers, all of whom will have special sitting and viewing spots right up front, the show is enjoyable for all ages. DJ Deejay will have you up on your feet dancing along while you wait for Mickey's big arrival. This show is also a great break from the heat since the theater is air conditioned and pretty comfortable, especially if you can grab a seat along the wall.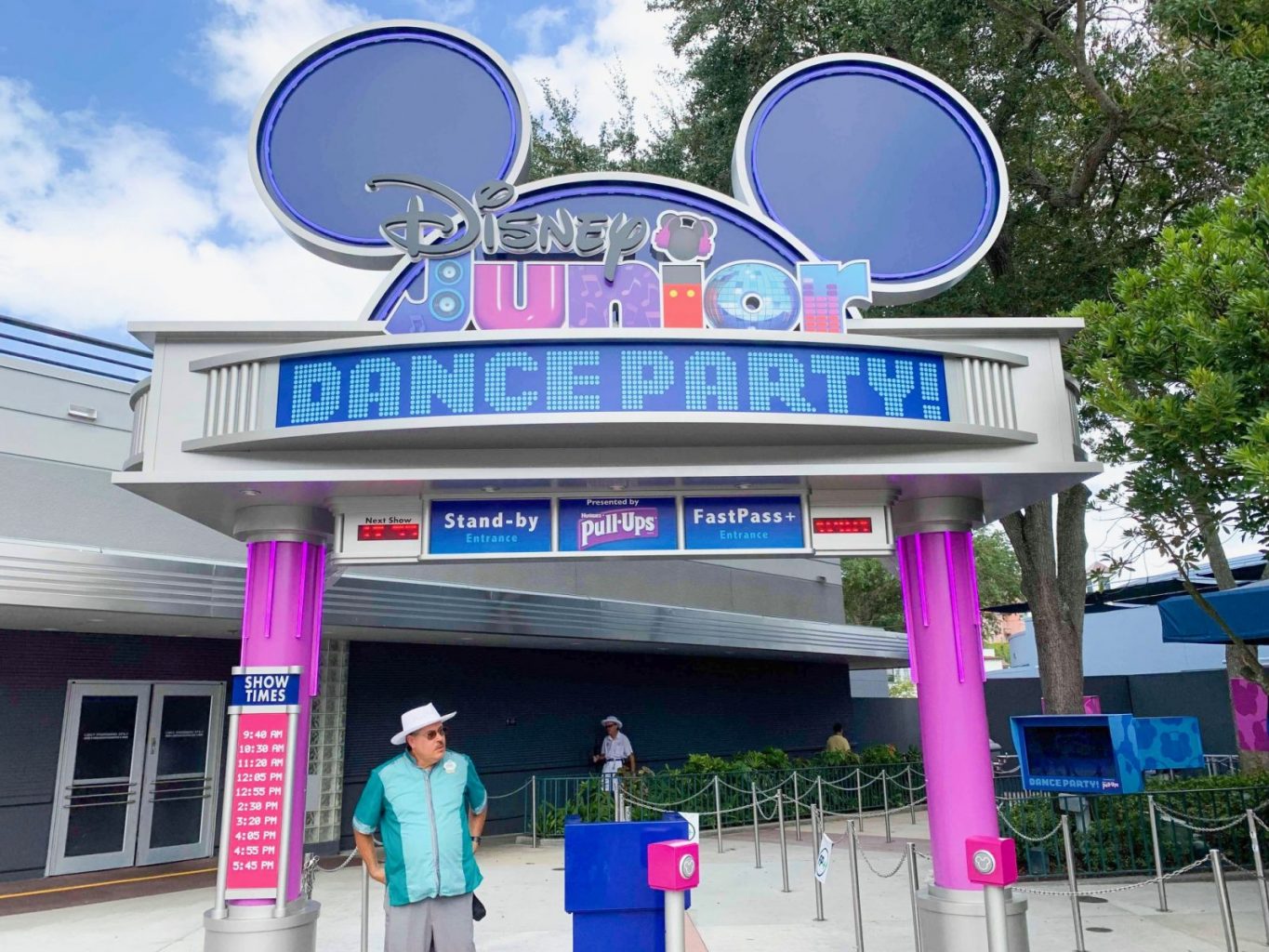 Beauty and the Beast – Live on Stage is the perfect opportunity to be a guest for a live stage performance of the tale as old as time! This show is 25 minutes and is outdoors, so be aware that it could be cancelled due to inclement weather. It may be the story you know, but the show is done in true Disney fashion, with beautiful costumes, stunning sets, and all of your favorite songs.
Hollywood Studios FastPass Tier 2 Conclusion
I know what you are thinking, that is a lot of shows! But Hollywood Studios (formerly MGM) is a park built for the worlds of film, television, and theater and it continues to bring guests back to the Golden Age of Hollywood, so the shows are just the right fit. Since the shows are a bit easier to catch and coordinate, absent having a very large group, I recommend using your Tier 2 picks on the rides and checking out the shows via standby throughout the day!

Best Same Day Hollywood Studios FastPasses:
Don't forget, while you can only book three Hollywood Studios FastPasses in advance, you can continue to get FastPasses during the day! This is because you get
Unlimited FastPasses
, kind of. Once you use your three FastPasses, you can open up your My Disney Experience App, or head to a kiosk, and book your 4th FastPass.
Once you tap your band for the 4th ride, you can book your 5th (making the App so critical to getting "unlimited" FastPasses), and so on. Your 4th, 5th, and so on FastPasses are also not limited to the same park, so if you decide to use your pre-booked FastPasses at another park and head over to Hollywood Studios later in the day, you can always get same-day FastPasses as well, as long as some are available. Here are my tips for the Best Same Day Hollywood Studios FastPasses!
If you are able to get your FastPasses done early, tap and grab a Tower of Terror FastPass for the late afternoon or evening, this ride is awesome in the dark!
If you finish your FastPasses before late afternoon, grab a Fantasmic! FastPass for the nighttime show. To get a "free" Tier 1 FastPass, tap and grab a FastPass for the Mickey and Minnie's Runaway Railway for a slot after 4 or 5 pm after you have used all of your pre-booked FastPasses.

Disney's Hollywood Studios FastPass+ Kiosks
Although the FastPass+ system is slowly transitioning to be almost completely web based, Disney World has left a few "old school" FastPass kiosks in the parks. The FastPass+ kiosks at Hollywood Studios are located at the following locations:
Hollywood Boulevard: At the corner of Hollywood and Sunset
Sunset Boulevard: At the split between Tower of Terror and Rock n Roller Coaster
Pixar Place: Just to the right of the Toy Story Mania entrance
Best Use of Hollywood Studios FastPass+ Times
Now that you are a master of the Hollywood Studios FastPass+ system, be sure to maximize your experiences by planning out the times to use them. These are the times I recommend, but of course, take whatever you can get and pick each Tier based on your preferences!
Here is an example schedule, but do not forget the Tap and Grab technique!
Recommended FastPass+ Times
Star Wars: Millennium Falcon/Slinky Dog Dash/Runaway Railway – 9 am
Tower of Terror/Rock 'n' Roller Coaster – 11 am
Alien Swirling Saucers or Your Favorite Show Option – After 12:00 pm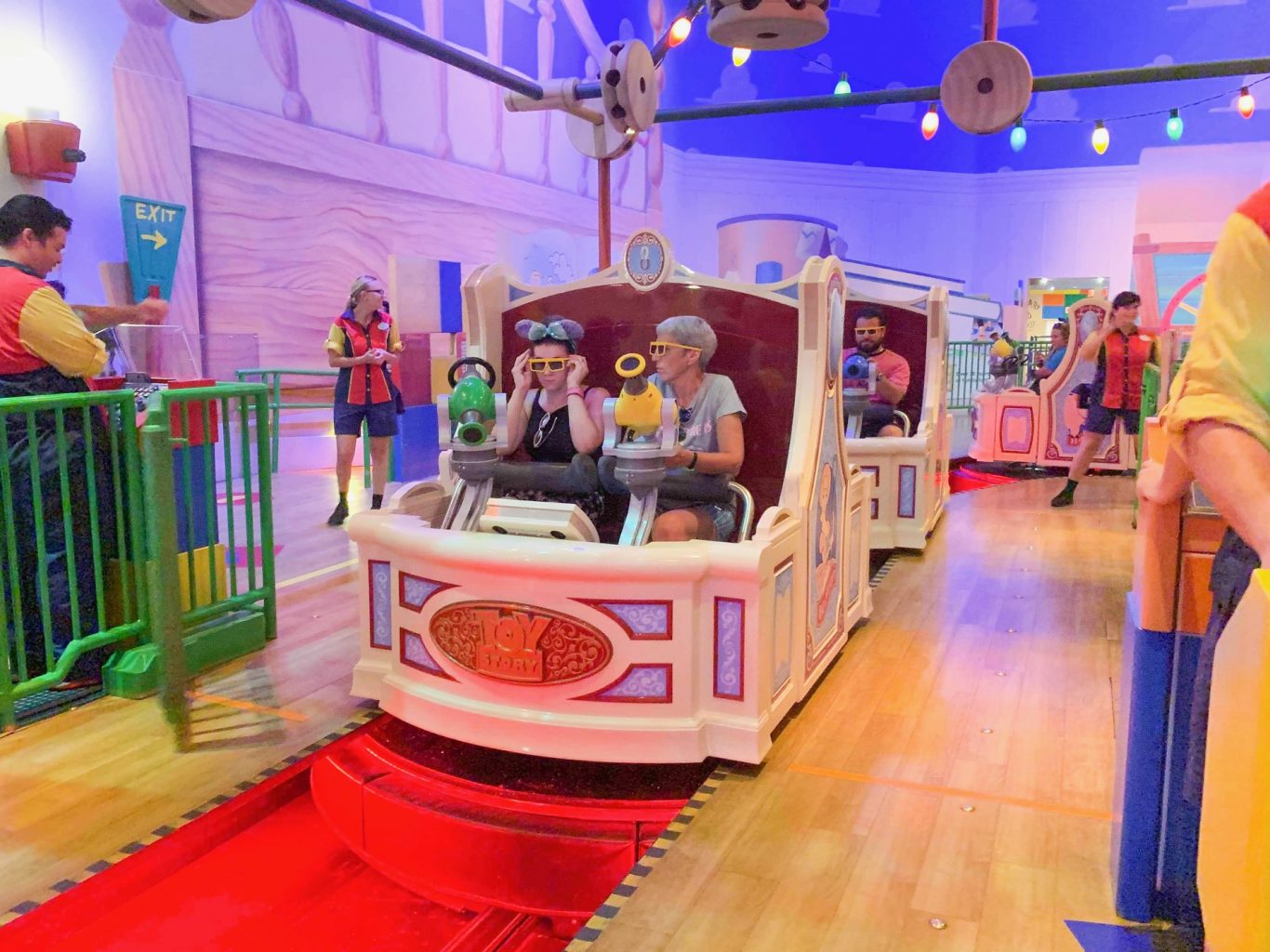 It's official! You are now ready to enter the world created by Walt Disney and dedicated to Hollywood! There is not much at Disney World that costs you nothing, but the FastPass+ is just that. Whether you are walking around Echo Lake, down Grand Avenue, through Hollywood or Toy Story Land, or into Galaxy's Edge, FastPass+ will help reduce the stress and allow you to enjoy every attraction, ride, and show Hollywood Studios has to offer!
Pin this post: