Are you overwhelmed with how to plan your Magic Kingdom itinerary to please everyone in your party? Do you want a Magic Kingdom touring plan that doesn't have you spending all day waiting in lines? We're here to take the stress out of the situation and to give you all the information you need to plan the best Magic Kingdom itinerary for you!
Whether you're planning just one day in Magic Kingdom or you want to know the best things to do at Magic Kingdom to make the very most of your time, we've got all bases covered and we're going to give you our top tips to plan your day to delight everyone.
This is just one of our many detailed Disney World Touring Plans! When you are done, make sure to check out other options for any parks you may be visiting!
If there's something you know your party won't be interested in or that you're happy to skip, that works, too; our plan is an outline and you can totally switch out stuff you're not interested in and replace with your own, personal 'must-dos'.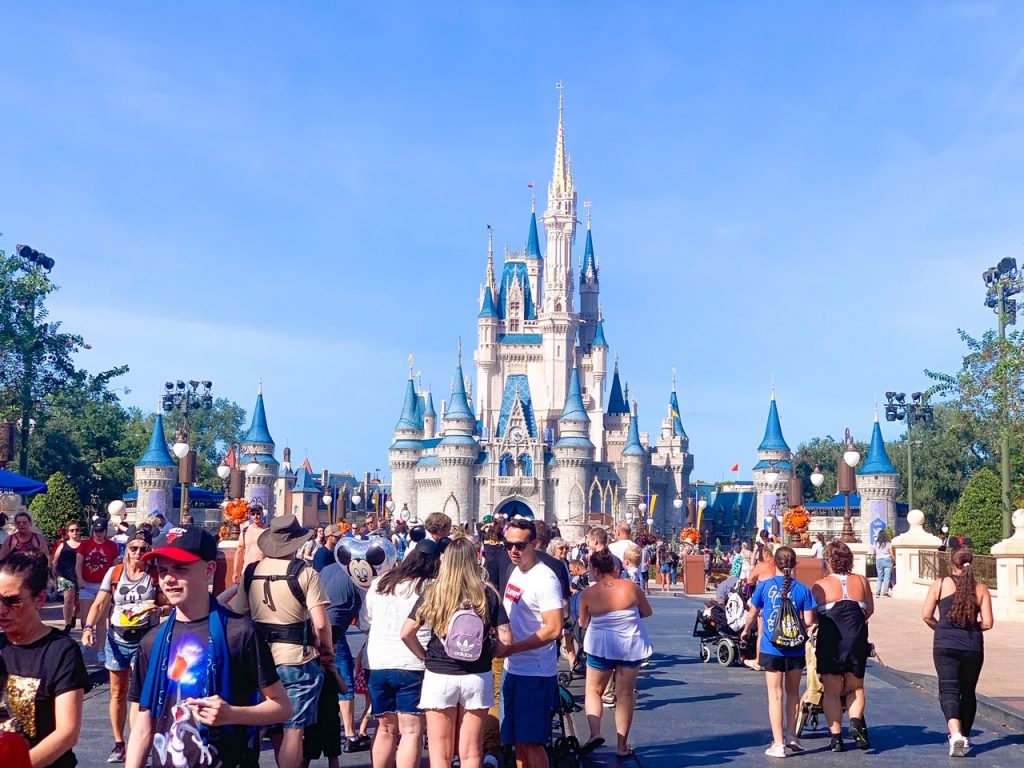 The Ultimate One Day In Magic Kingdom Itinerary (Without Lines!)
Best Time Of Year To Visit Magic Kingdom
If you can, visiting in lower season will certainly help you make the most of your Magic Kingdom itinerary; you'll notice fewer people and shorter lines. Our
Crowd Calendar
will help you identify the quieter times and, if you're able to do so, we recommend planning your trip to coincide with a 'green' (lower crowd) time, or certainly avoiding the 'red' (high crowd) times.
You should be aware that summer (particularly July and August) is the rainy season and many days see storms and rain in the afternoon. That said, if you can only go in August, in the high crowd time, we still think that this is better than not going at all! And we're going to help you create your own Magic Kingdom touring plan to make sure that, if that's all the time you have, you can do Magic Kingdom in a day!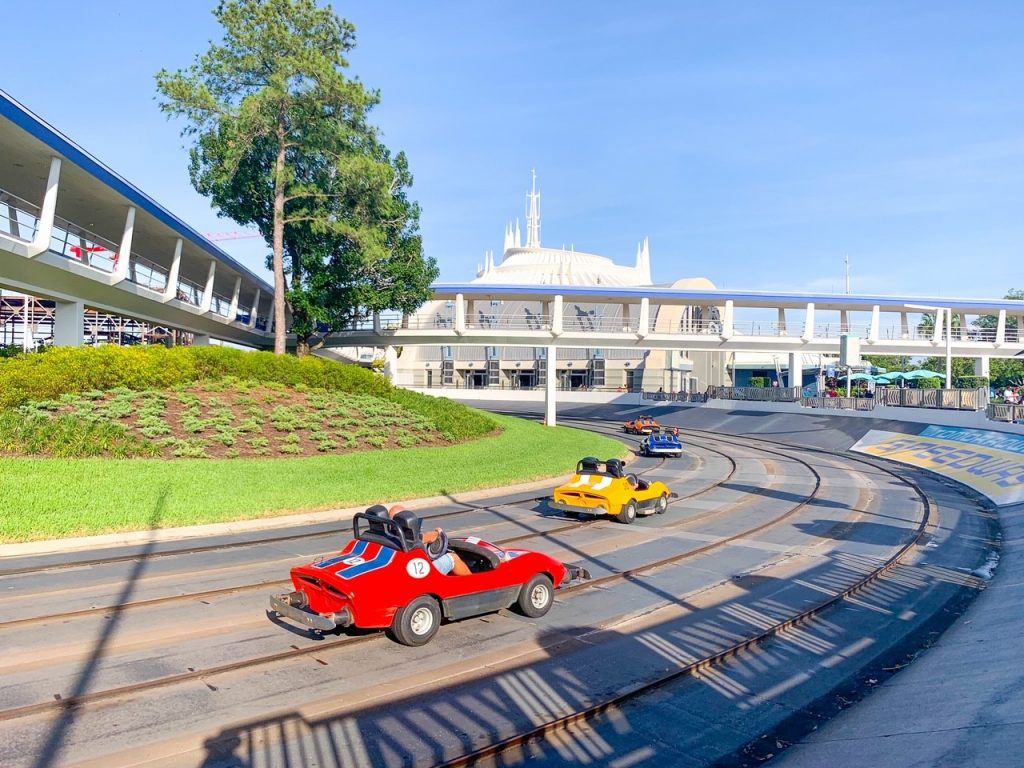 Magic Kingdom Crowds
Crowds will vary, depending on the time of year and even the day of the week (typically, weekends are busier, even at 'quieter' times). If you want to make the most of your Magic Kingdom itinerary, arrive EARLY; if you arrive before the park opens (see below 'Arrival and Rope Drop'), you can usually have an hour of enjoying rides without waiting in line.
Most people will eat lunch around noon-1pm and dinner between 5 and 7. If you can flex your mealtimes to avoid these times, you're going to wait less in line for food (if you're buying food at the park) AND you may notice a slightly lower crowd level while other people are eating. Similarly, if you are happy to miss the parade and fireworks, you can maximise your ride times and benefit from shorter lines.
Before you go and before you finalize your itinerary, be sure to check our
crowd calendar.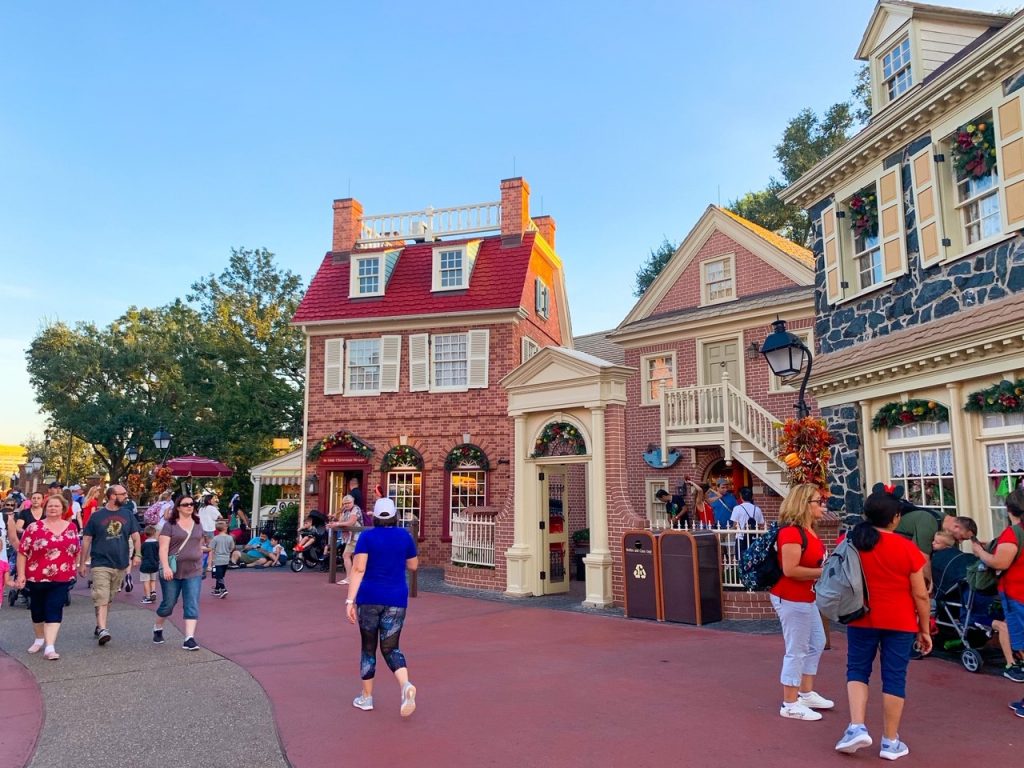 Magic Kingdom Hours
Generally, the 'core' hours are from 9am to 9pm, but you should DEFINITELY check on My Disney Experience before starting to plan your Magic Kingdom itinerary. If you are staying offsite, and there are EMH (Extra Magic Hours); these are just for guests of Disney resorts and you will not make the best of your Magic Kingdom in a day plan, so avoid it if you can.
Seasonally (usually on Sundays and Thursdays), there will be Early Morning Magic – a 'soft ticket' event where guests can pay a premium to get into the park for an hour and 15 minutes before park opening (but also need separate park admission). Visiting on these days is NOT the same as visiting on an EMH day, so you shouldn't worry about these events.
The park will also close early for 'hard ticket' parties – these are events that you need a ticket for and which you don't need separate park admission for. If you only have one day at Magic Kingdom, you would be advised to avoid these days for your all-encompassing Magic Kingdom itinerary. These include Mickey's Not so Scary Halloween Party (park closes at 6pm on Tuesday and Saturdays from mid-August) and various After Hours events, including a special
Villains After Hours
event, which we visited and you can read more about our experience.
When you look on My Disney Experience, any of these will show up as 'Special Ticketed Event'.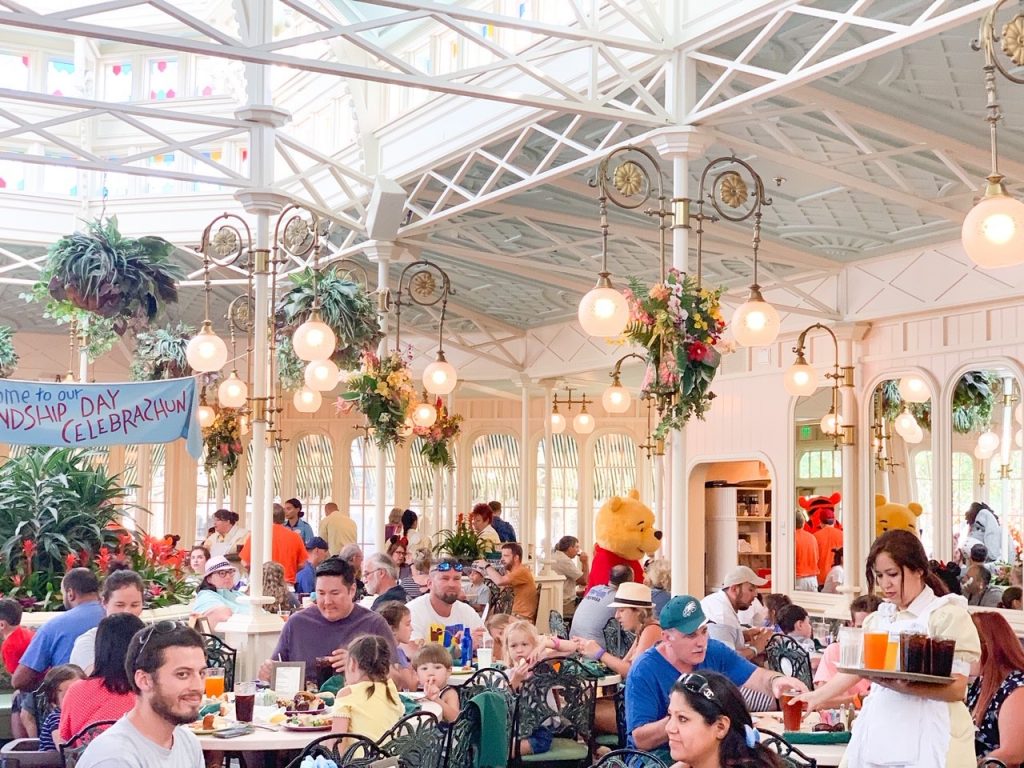 How To Use Fastpass+ At Magic Kingdom
What is Fastpass+?
You may remember the days where you could get a single paper Fastpass for some attractions when you were in the parks. Fastpass+ is a free service included with your Walt Disney World park ticket and is now bookable in advance (30 days if staying off site and 60 days if staying onsite). FastPass+ allows you to bypass long lines for rides, attractions, and character meets. At participating attractions, you enter a separate FastPass+ line, and those lines generally bypass the interactive queues for most rides.
You can pre-book 3 Fastpasses for attractions in the same park; the Fastpass+ window is open for an hour and you cannot overlap windows. So you could book a 9am Fastpass, but the second window won't open until 10.05.
The simplest way to book your Fastpass+ is through the My Disney Experience app. Read more about how to use Fastpass+ and the best ones to get for your Magic Kingdom itinerary.
When you're in the park itself, you simply arrive at the Fastpass+ line for that particular ride, tap your magic band (or ticket) at the entrance to the line and Mickey will go green. Once you've tapped in for your third Fastpass+, you can open the My Disney Experience app on your phone and start looking for more Fastpasses – from this point, you can only book one at a time, but as soon as you tap in at the beginning of the line, you should start looking for your next one.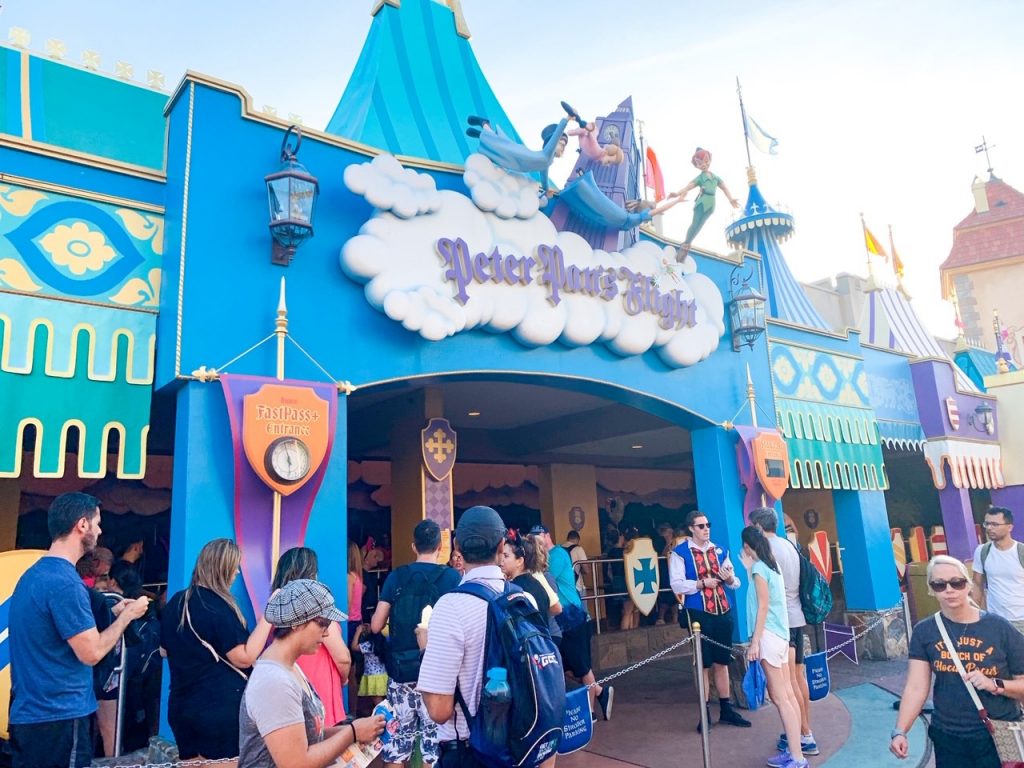 Best And Worst Magic Kingdom Fastpass Options
When visiting Magic Kingdom in a day and with just 3 Fastpasses available for you to book in advance, it's SUPER important not to waste those fastpasses. There are some great ways to use Fastpasses to avoid waiting in lines and also some choices which are simply a waste of your Fastpass+. When creating your Magic Kingdom itinerary, we know you don't want to waste ANY of your Fastpasses!
IF you're planning on getting to the park and doing 'Rope Drop' (see below), we recommend NOT getting a Fastpass for the first hour that the park is open.
It's also important to choose not just what ride or attraction you're going to use your Fastpass choices for, but think carefully about the timing. If your third Fastpass+ isn't until 4pm, you won't be able to start grabbing more Fastpasses until after you've tapped in to that ride.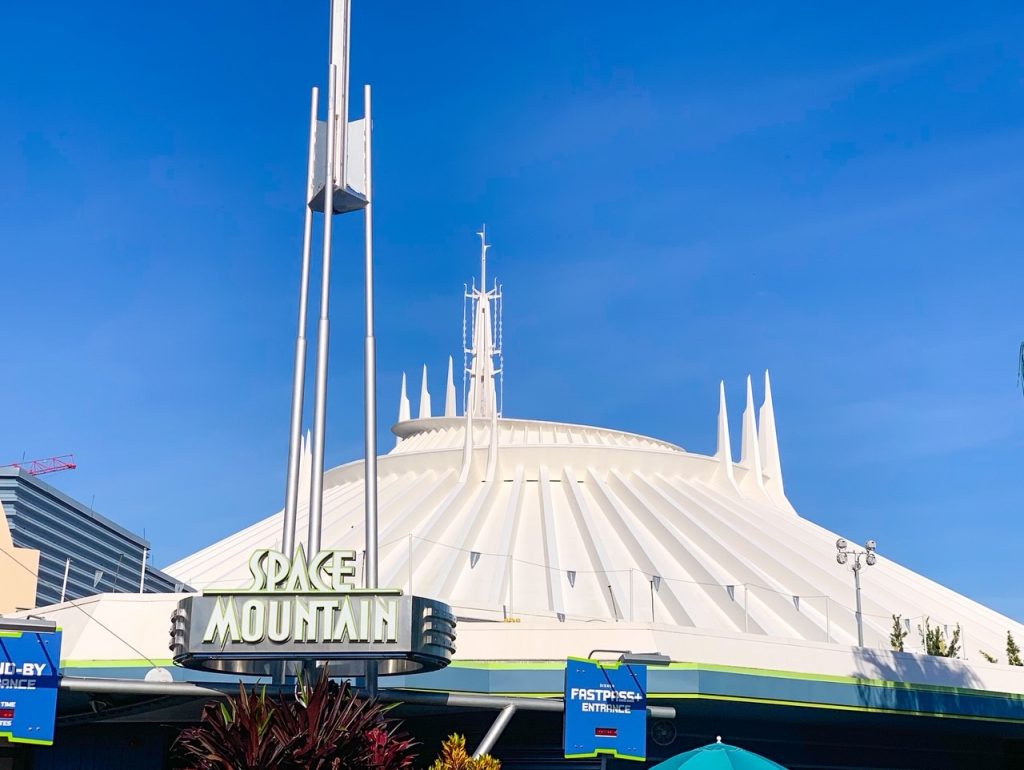 Fastpass Suggestions To Save To Your Phone
When you're in the park and looking for more Fastpasses to grab, it's worth bearing in mind the 'top priorities' and ones which you probably shouldn't worry about – feel free to save our image below to your phone, to help you plan your perfect Magic Kingdom itinerary.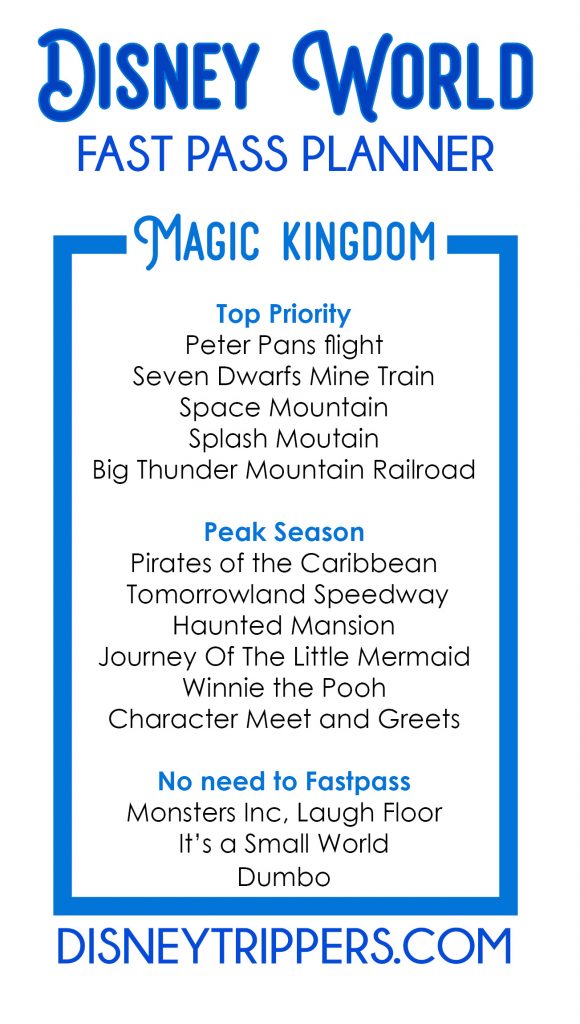 Magic Kingdom Map
It will help you plan your Magic Kingdom itinerary to know which rides are close to each other (as well as which ones are a 'must' for your party). Familiarising yourself with the layout of the Magic Kingdom will really help you with your Magic Kingdom touring plan and help you orientate yourself.
There are six lands in Magic Kingdom: Main Street USA; Tomorrowland; Fantasyland; Liberty Square; Adventureland and Frontierland.
We've broken it down in this article:
The Official Magic Kingdom Map
, including information on how to use the interactive map on My Disney Experience and where you can also download a copy of the Magic Kingdom map.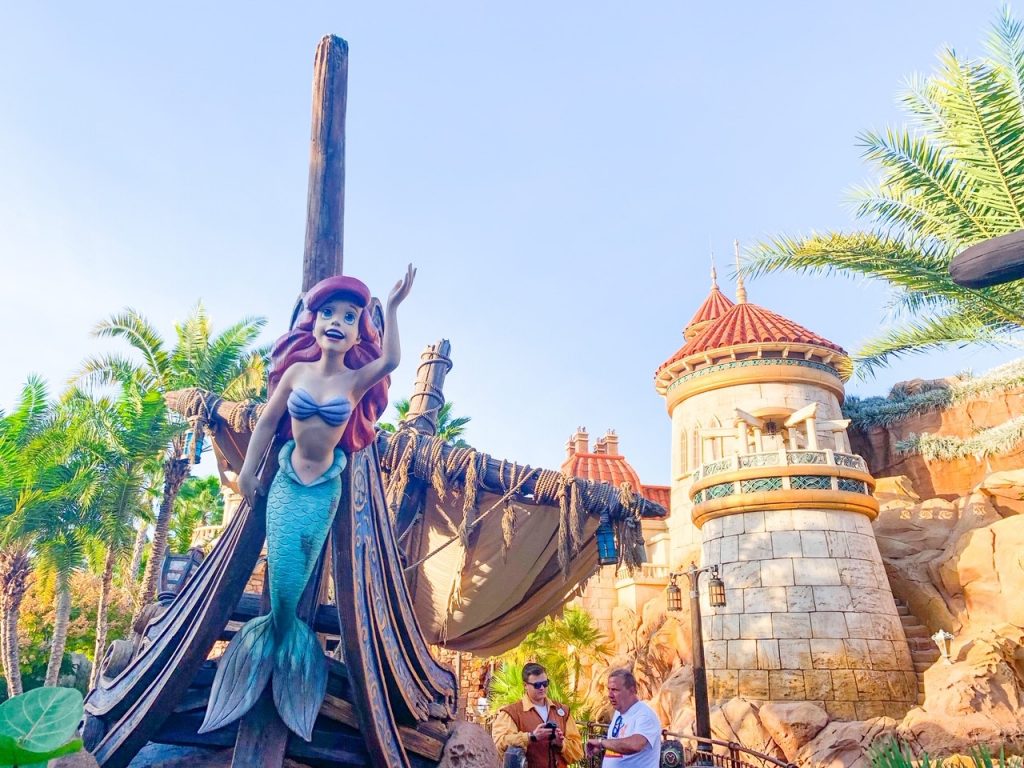 Arrival And Rope Drop At Magic Kingdom
Getting to Magic Kingdom
We suggest arriving at Magic Kingdom at least 45 minutes before the park opens to make the most of your Magic Kingdom touring plan.
If you're driving, you'll need to arrive at the Transportation and Ticket Center (TTC) almost an hour before that, to make sure you have plenty of time to get from your parking space, to the transportation options. You'll need to take either the ferry, or the monorail to the Magic Kingdom and go through bag check before you get to the park entrance.
If you're staying at one of the Magic Kingdom monorail resorts, you can take the monorail (if you're staying at the Contemporary Resort, you can walk more quickly!). From Wilderness Lodge, you can take a boat or a bus; from the other Disney resorts, you can take a bus. Disney buses will all take you to the park entrance.
Taxis and Ride shares, like Uber, are not allowed where Disney buses are and would drop you at the TTC (in this instance, we recommend getting them to drop you at the Contemporary and walking). Minnie Vans are the only private cars who can drop you where the Disney buses do.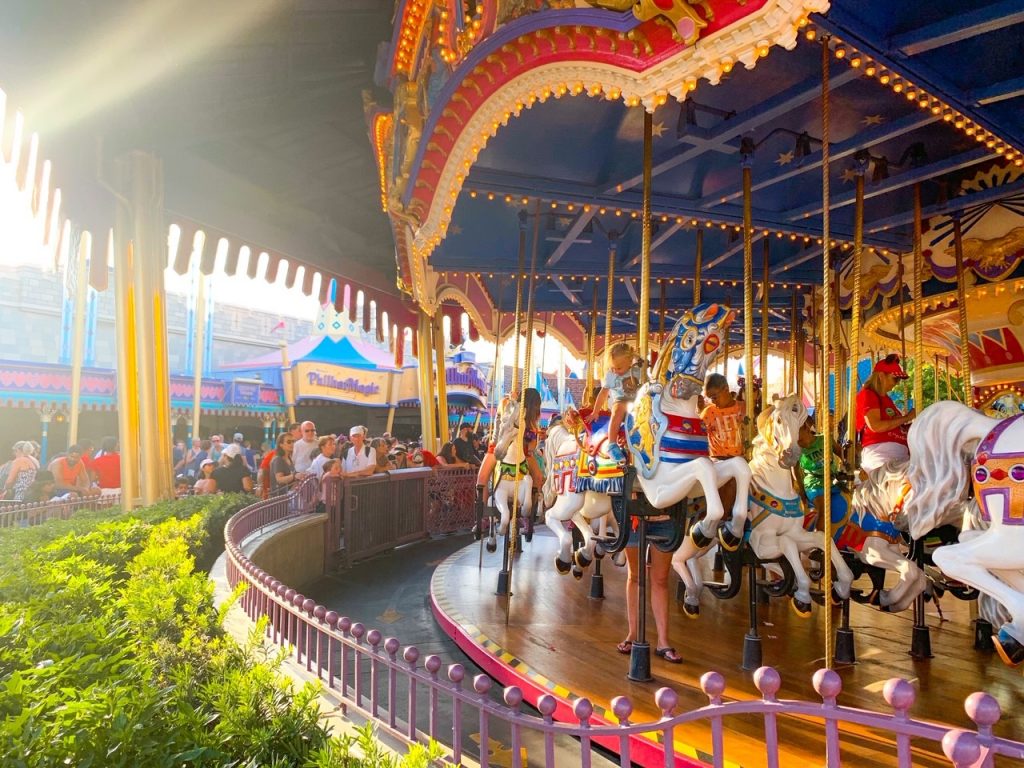 Rope Drop
The benefits of rope drop are getting into the park to start enjoying the best things to do at Magic Kingdom before the crowds build; the first hour after park opening is often the quietest of the day and you'll be able to ride several rides with little to no wait.
Main Street USA opens an hour before the park does and so visitors can look in the shops; get snacks and take photos before the park opens. 5 minutes before park opening, there's a short show on the Castle stage. You could watch the show, or you could proceed to your preferred of 3 areas where Cast Members will 'hold' guests until park opening. These are: to the left of the Castle by the bridge into Liberty Square; to the right of the Castle heading towards Tomorrowland and around the Castle into Fantasyland. From here, the Cast Members will walk in front of guests (running is not allowed) to the main attractions.
I've done this, in August, on a Saturday and rode Big Thunder Mountain (twice); Splash Mountain (twice); Pirates of the Caribbean and Haunted Mansion in the first hour – rope drop can certainly help you get a start on your Magic Kingdom itinerary!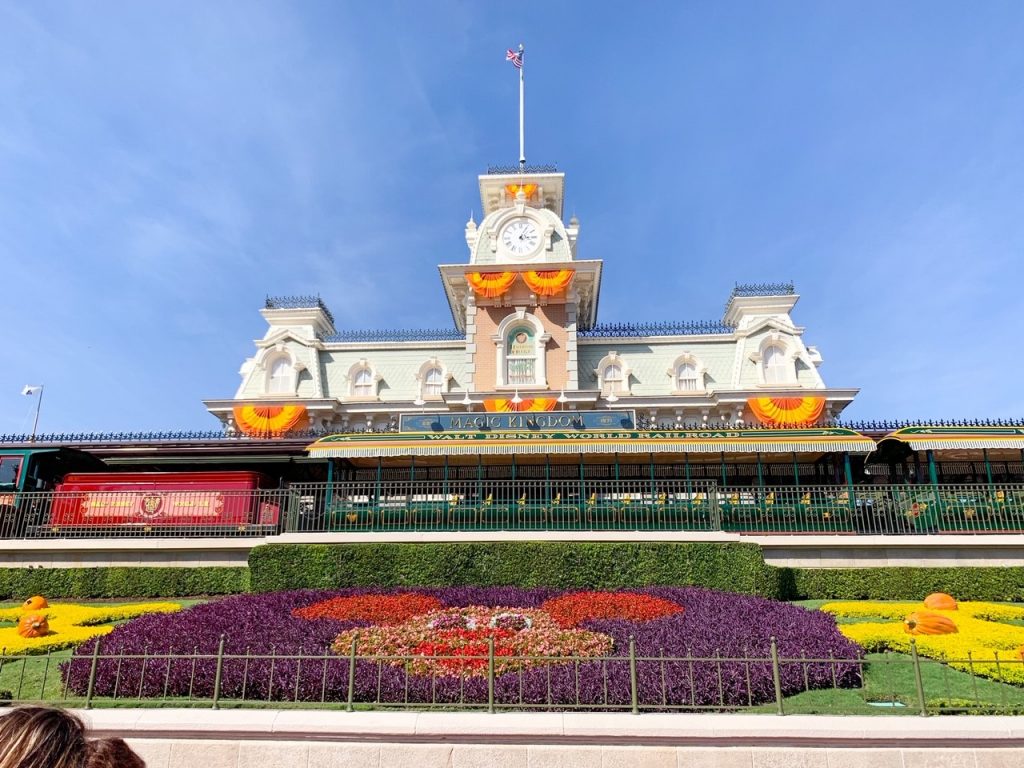 One Day Magic Kingdom Itinerary Morning Plan
We've indicated where we think you should try to plan your Fastpasses; everything else is suggested Stand-by. See at the very bottom of this article – a Note about Lines!
The aim is to ride as much as you can in the first 2 hours after park opening. If we've suggested a ride you don't like, or missed something you really want to see or do, of course you should make that switch, but read on in case we suggest doing it at a later time in the day.
A Note: Throughout the day as you are standing in line, make sure to constantly refresh your Fastpass+ Options to see if you can modify the time (if that would work better or you find you're ahead of schedule) or to get a sought after Fastpass you didn't secure before. You should do this throughout the day when not riding or walking! Constantly refresh and modify based on Fastpasses that are open near you!
First Hour 9-10am – Fantasyland
Stop 1: Historically Seven Dwarfs Mine Train and Peter Pan's Flight have the longest waits of the entire park; so we're going to start our Magic Kingdom touring plan in Fantasyland and we recommend you do, too! Hopefully, you've got a Fastpass for one of these favorite rides (ideally with a window starting around 12.15) and we recommend that you ride the other one (the one you didn't get a Fastpass for), first.
Stop 2.1: Winnie The Pooh (if you rode Seven Dwarfs Mine Train first) OR Stop 2.2: It's A Small World (if you did Peter Pan's Flight first!)
Stop 3: Under the Sea – Journey of the Little Mermaid
Second Hour 10-11am – Liberty Square and Frontierland
Stop 1: The Haunted Mansion – located part way between Fantasyland and Frontierland, the standby line should be reasonably short
Stop 2: Big Thunder Mountain Railroad (ideally, get a Fastpass for this ride with your window starting around 10.30)
Stop 3: Splash Mountain
Stop 4: Country Bear Jamboree (a 16 min musical revue) – you may prefer The Enchanted Tiki Room instead – crowds are rare at either and you may appreciate the chance to sit down inside!!
Third Hour: 11-12pm – Adventureland
Stop 1: Pirates Of The Caribbean
Stop 2: Jungle Cruise (unless the wait is long, in which case skip it or try to get a Fastpass for later) – If you want to ride Jungle Cruise and aren't so fussed about Under the Sea – Journey of the Little Mermaid, we suggest you replace that third stop of the first hour with Jungle Cruise.
Stop 3: Swiss Family Treehouse – you should allow 15 minutes for this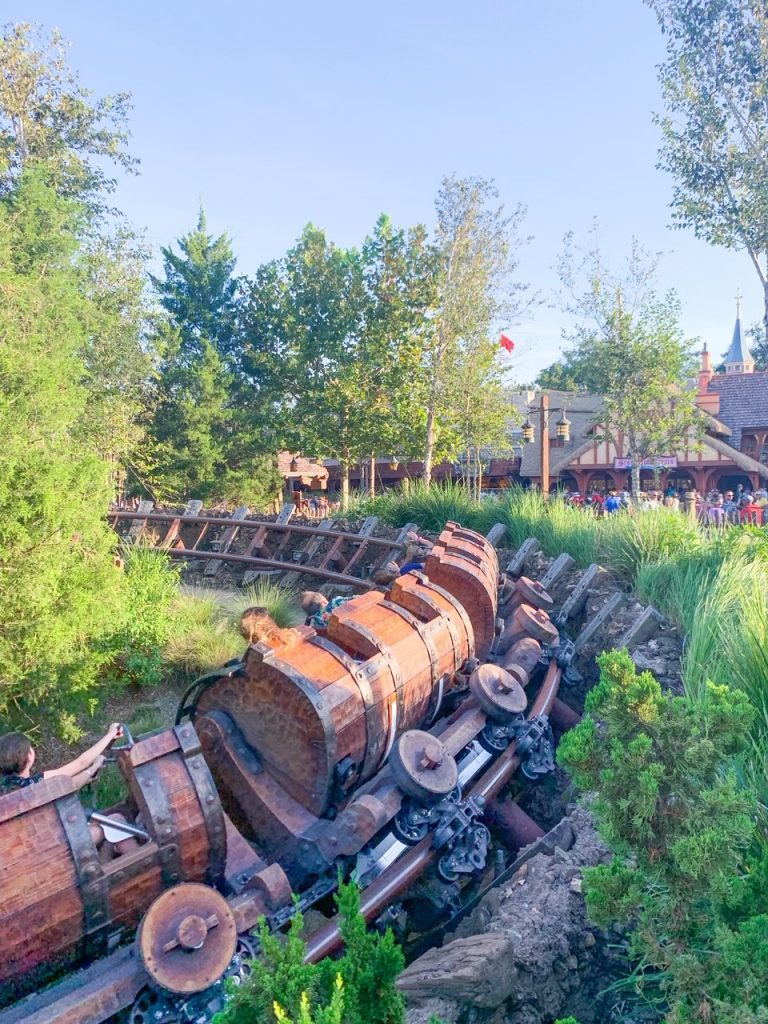 Lunch!
Remember, if you've come to a suitable break in your morning schedule and are able to stop for lunch before noon, you'll find shorter lines. If you're planning to eat in this area, you could consider breaking for lunch before you explore the Swiss Family Treehouse.
We recommend Pecos Bill Tall Tale Inn and Café, which is just in Frontierland and will satisfy your appetite and refuel you for a fun packed afternoon doing your Magic Kingdom touring plan. While you're in Adventureland, if you need a sweet break, don't forget Aloha Isle for dole whips!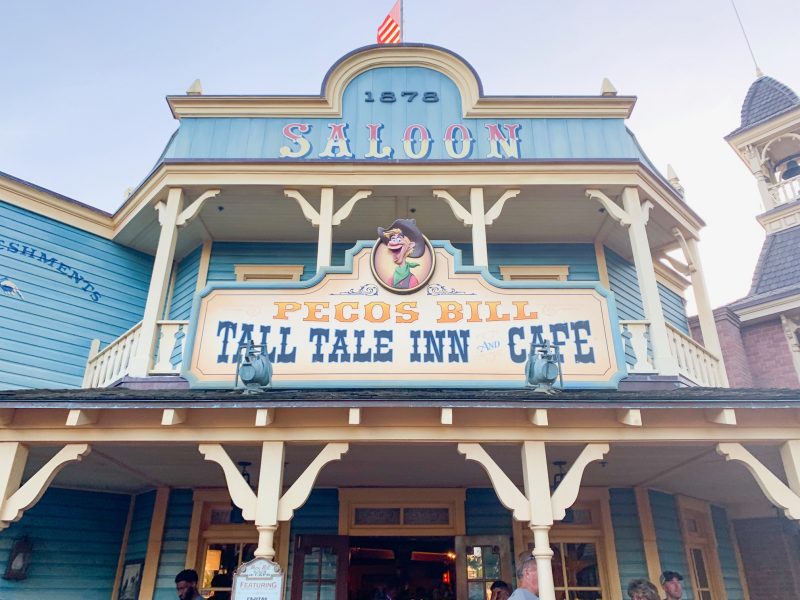 One Day Magic Kingdom Itinerary Afternoon Plan
First Hour 1-2pm – Fantasyland
Stop 1:
Use your
Fastpass
for either
Seven Dwarfs Mine Train or Peter Pan's Flight
(whichever you didn't ride earlier)
Stop 2: Mad Tea Party
Second Hour 2-3pm
Stop 1: 2pm watch the Festival Of Fantasy Parade – consider watching it from Liberty Square (for lighter crowds), or from the Tomorrowland side of the castle (to minimisze walking)
Stop 2: Use afternoon Fastpass for Space Mountain; ideally with a window starting around 2pm. As soon as you tap in for this ride, open the My Disney Experience app and look for Fastpass+ for Buzz Lightyear's Space Ranger Spin
Stop 3:
Buzz Lightyear's Space Ranger Spin – try to get your best score ever and use
our top tips
to help you!
A Note: As SOON as you use your third fastpass, make sure to sign on to grab another Fastpass! You should do this throughout the day! Constantly refresh and modify based on Fastpasses that are open near you!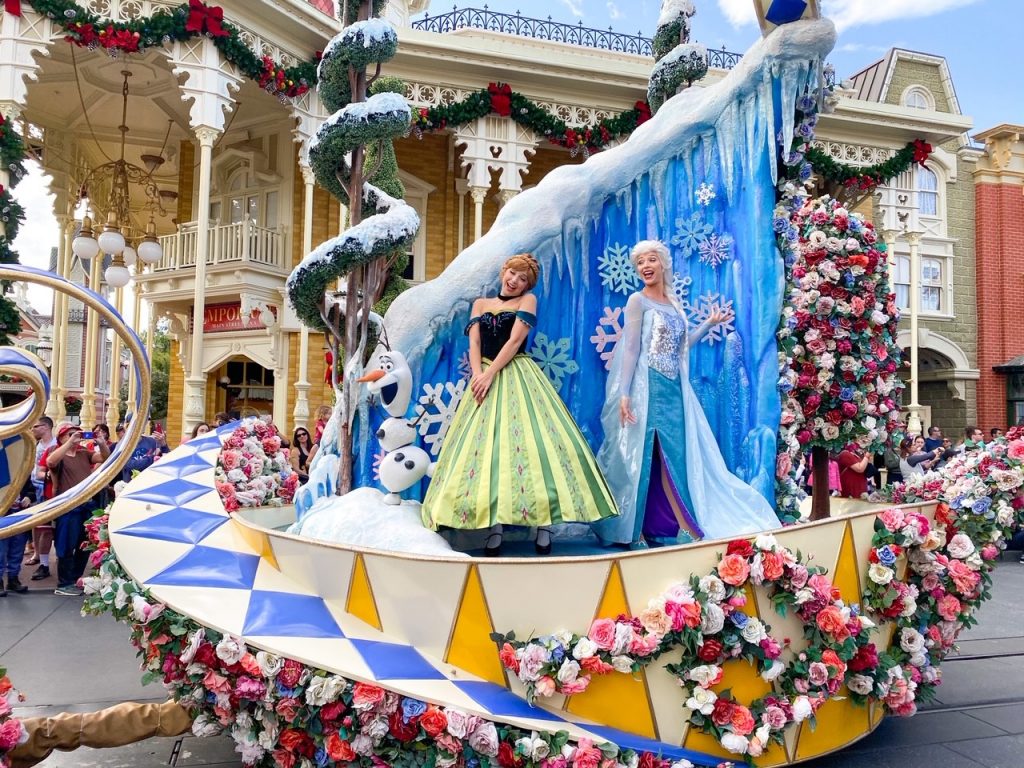 Rest Of The Afternoon
By now, you might be exhausted and need to rest OR you may have grabbed some more Fastpasses, using the refresh and modify technique.
There are several attractions that are perfect for enjoying a change of pace, usually with minimal lines, but while maximising your experience of the best things at Magic Kingdom, they are:
Tomorrowland Transit Authority PeopleMover
Carousel Of Progress
Monster's Inc Laugh Floor
Mickey's Philharmagic
Hall Of Presidents
Dumbo the Flying Elephant (Fantasyland) and The Magic Carpets of Aladdin (Adventureland) are both great fun rides – they are very similar and can be slow loading. If you want to prioritise one, pick the one that's closest to where you want to be next (which may be dinner). If you have kids with you, there's a play area for while they wait, which might tip the balance in Dumbo's favor!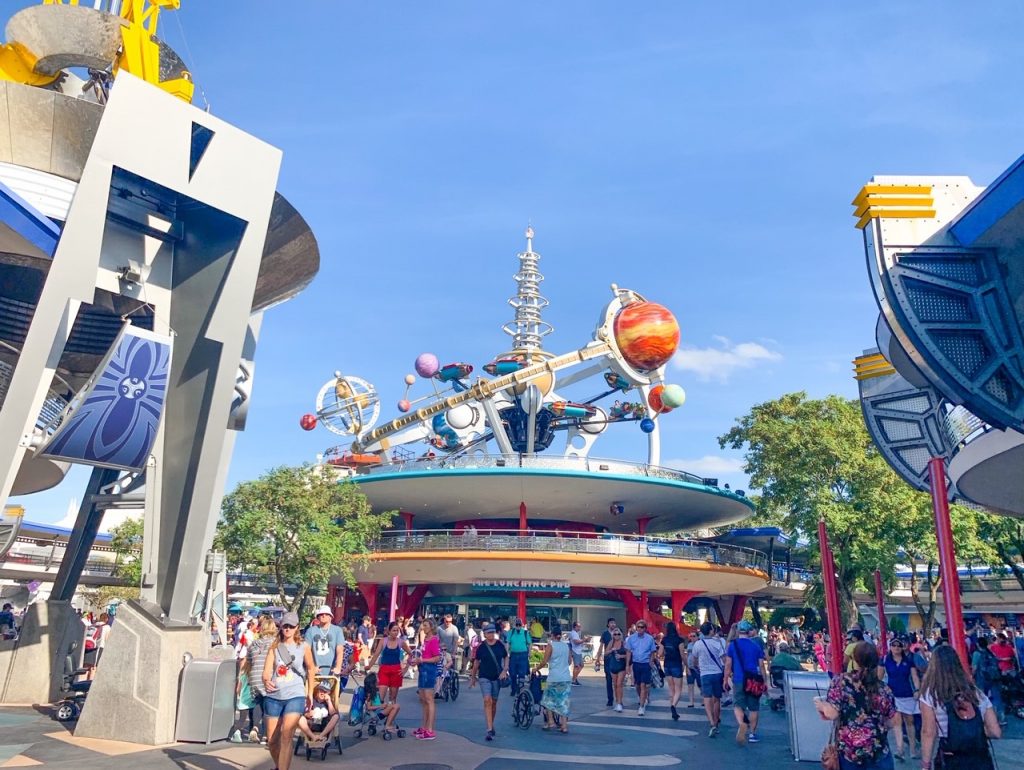 Dinner At Magic Kingdom
You'll probably need some time to unwind, rest your feet and refuel, to be ready for the rest of your Magic Kingdom itinerary! You may well be happy with another Quick Service dining and if you're planning to sit and watch the fireworks, you may like to grab some dinner from Casey's Corner and sit outside, or even just enjoy people watching for a break.
Or, you may prefer to have a proper rest and be waited on in a Table Service restaurant – if you're travelling in higher season, you'll almost definitely need to book in advance. If you are on the Disney Dining Plan, it is a great way to use up your credits!
However, we've managed to get reservations at Crystal Palace a day or 2 ahead of schedule, so it is possible, particularly if you're able to eat a little earlier – say 4.30 – or later than the crowds. For us, dining in a buffet enables us to be in control of how long we rest for, so we can get back to our plans and make the most of our day!
You should definitely check out: Best and Worst Restaurants in Magic Kingdom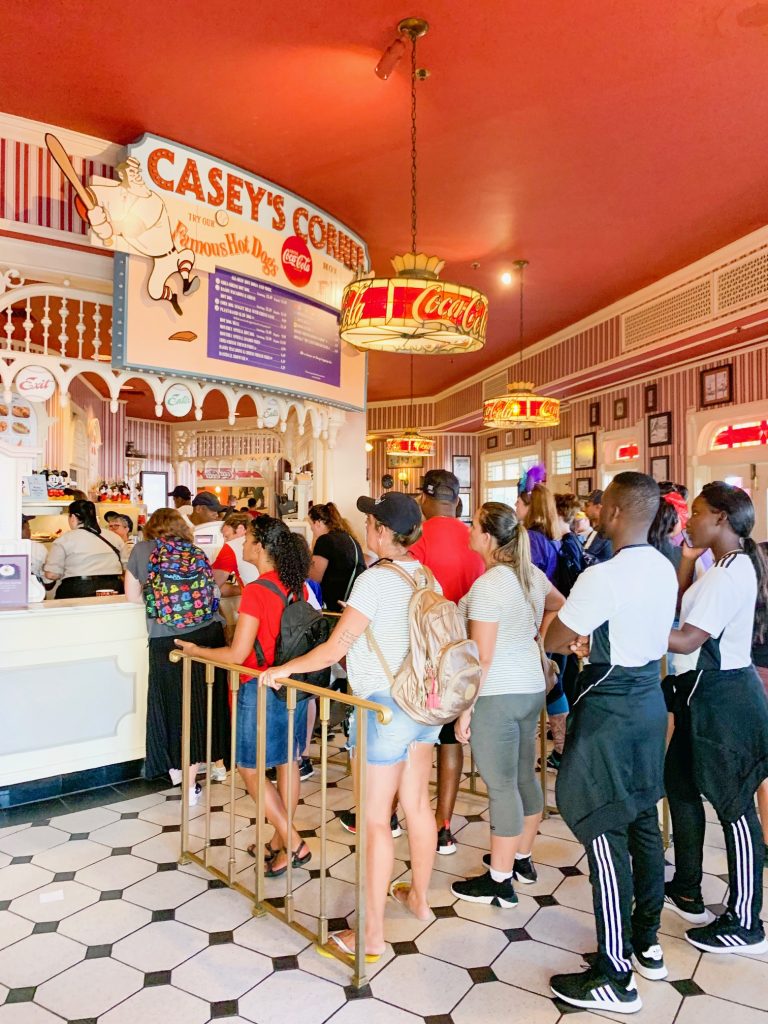 Rest Of The Evening
As it's getting towards the time for Happily Ever After, you'll notice people beginning to stake out their viewing spots. You can do this, too, if you want.
However, the lines for rides will definitely be quieter immediately before and during the fireworks. You can watch the fireworks (minus the projections onto the front of the castle) from behind the Castle in Fantasyland (for an immersive firework experience!) or even watch them from one of the rides. My daughter maintains that Big Thunder Mountain Railroad is a completely different ride at night and was talking about watching the fireworks from the ride for years afterward!
If your stamina holds, keep riding those rides – many people (particularly those with young kids) will head for park exit as soon as the fireworks finish. This is a time when we've jumped off one ride and either ridden again or dashed to another. We've got as many rides done in that last hour as we did in the first, so don't assume you should leave the park, just because everyone else is!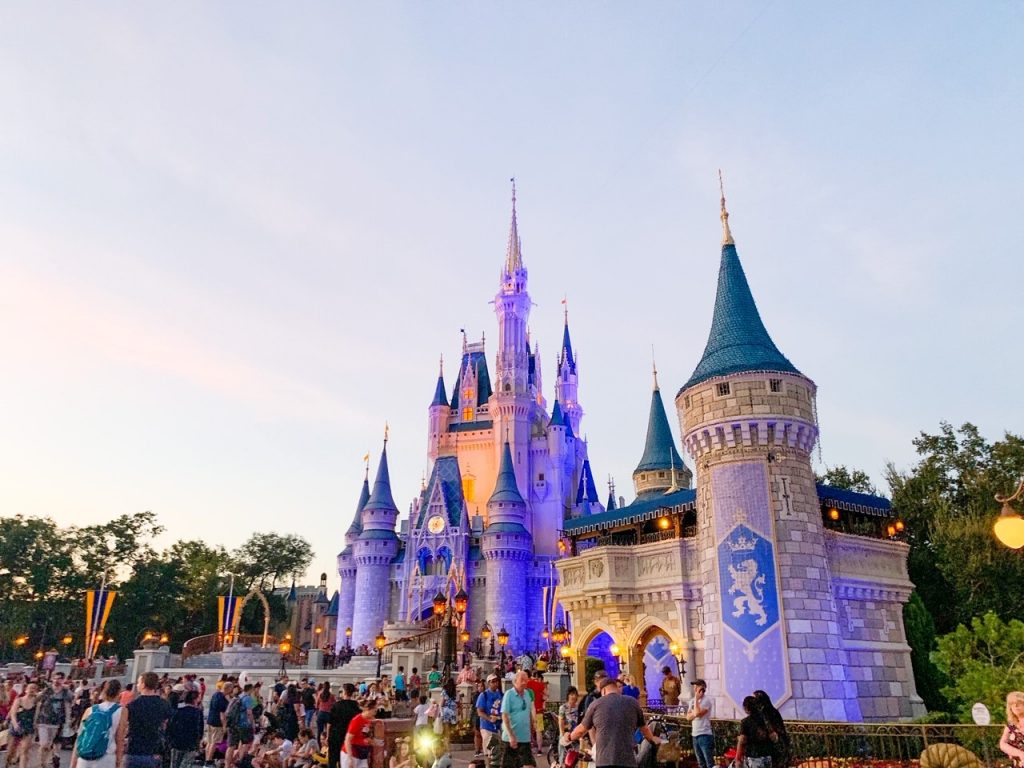 A Note About Lines
If you come to any ride on this itinerary early in the morning and it has a VERY long wait, SKIP IT! Do not waste 120 minutes, especially in the early morning, on rides! If you MUST do that ride, modify this itinerary and rush there first, right at rope drop. If you don't make it to other priority rides, try and tap/grab for Fastpass throughout the day and if nothing else, make it be one of your last rides of the night!
Have you done Magic Kingdom in a day? Do you agree with our strategy? Leave us a comment and let us know. Whether you only have a day, or just want to make the very most of the time you do have, we're confident that this will help you create the very best Magic Kingdom itinerary for your party. If you have any questions, let us know and, as always, we'll be happy to answer them! Thank you for reading!