For a long time, I didn't get the hype about these "Disney walls." My sister would talk about the famous "bubblegum wall" and always want a photo in front of it, and I was like, this is kind of weird but okay…..? I didn't get it. Until recently! And the Instagram walls at Disney World are SO MUCH FUN!! Don't be a boring Debbie Downer like me! Hop on the trend because everyone needs a photo in front of a wall painted like cotton candy, right?
These Disney walls are all the rage right now and some even have their own Instagram page and there are over 70K hashtags for many of them. That is a LOT of people taking photos on a LOT of walls!
Now, other Instagram Walls posts talk about the same walls over and over. Yes, I will be covering the popular walls, but I will also be sharing walls that you NEVER KNEW EXISTED! For example, Disney Springs walls are never spoken about yet Disney Springs has some of the most unique walls at Walt Disney World! Get your cameras ready! We compiled a list of Every Map At Disney World [resorts, parks, waterparks and more] for your convenience in planning and understanding where things are located around the Disney World Resort.
Make sure you tag #disneytrippers in your photos so we can see and search and tag #wallsofDisney so that others can see too!
Best Instagram Walls At Magic Kingdom
Galactic Purple Wall In Tomorrowland
The purple wall is the creme-de-la-creme of Disney walls. It is easily one of the most Instagrammable spots at Disney World and it is no surprise. It is located along the walkway from Tomorrowland Terrace and the side of Monter's Inc Laugh Floor. When you are walking on the bridge into Tomorrowland, head right as if you were heading back to Main Street and you will see this famous wall.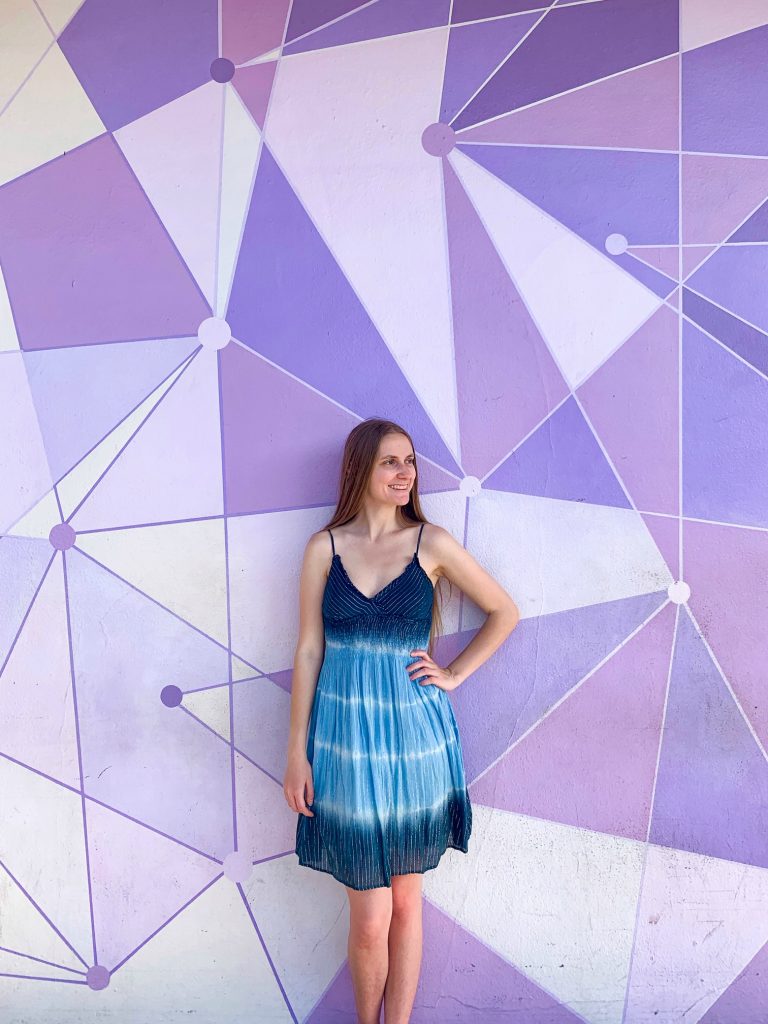 Now, the best part about this specific Disney wall is that there are two versions of the purple wall. Actually, there are three, but two are the most popular. First, there is a geometric purple wall with designs in pastel purple and white. You can see that this wall is really pretty and unique and stands out. Second, to the left of the geometric designs, there is a super light pastel purple. If you want to be unique, you can take photos on this side of the geometric designs.
The second part of the purple wall at Disney is the solid purple part. This part is further to the right of the geometric designs and is just as popular. So essentially, when you visit the purple Disney wall, you are getting two [even three] walls for the price of one! I feel like my photos on the geometric wall are different than the solid purple wall.
For inspiration, check out the #purplewall on Instagram and you can even follow the Galactic Purple Wall on Instagram because it has its own page!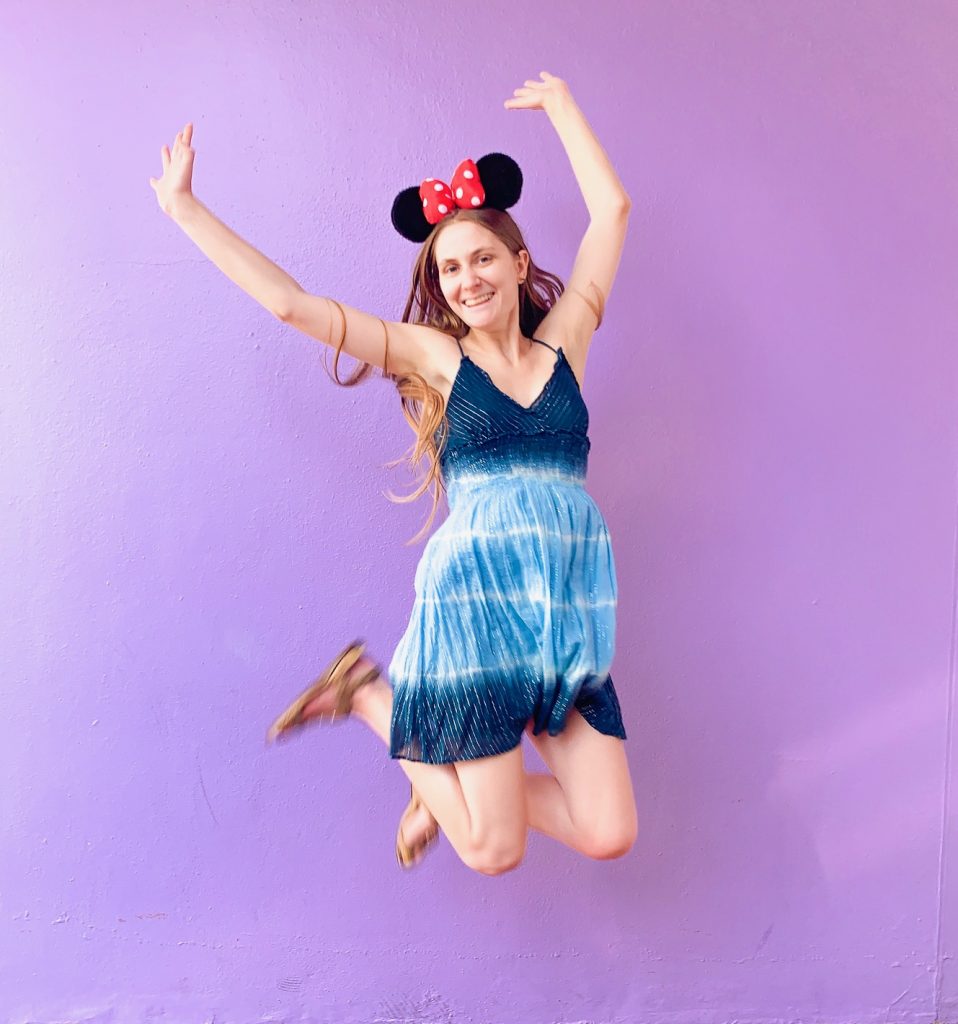 Buzz Lightyear Blue Wall In Tomorrowland
This is my personal favorite Disney wall at Magic Kingdom. I think it is very hard to get a bad photo here. From a photography perspective, the light is just brilliant at this area of the park. It is usually always pretty shady and it isn't a walkway so there aren't crowds of people shuffling by.
To get to this wall, you will head to Buzz Lightyear Spaceranger Spin and then you will walk around to the right, near the exit of the ride. The entire building is painted blue so it isn't hard to find a spot. My favorite spot is the area where the cast members go back behind the scenes as there isn't usually anyone over there. I think this is one of the more underrated walls at Disney purely for the lighting alone!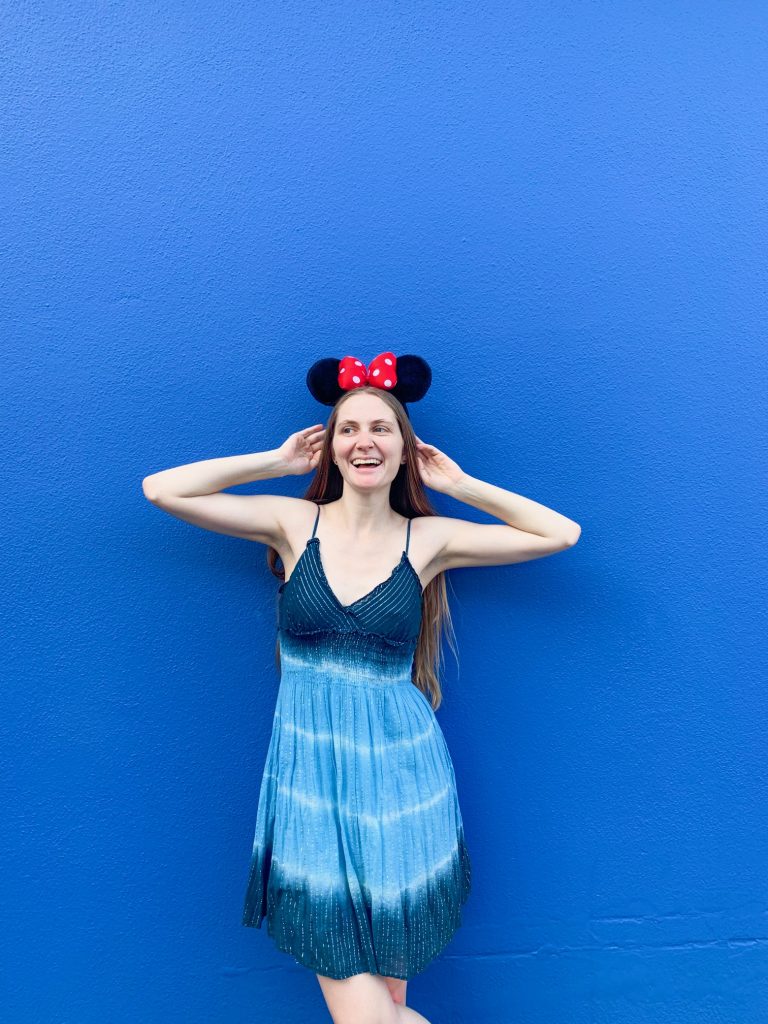 Carousel Of Progress Wall In Tomorrowland
This is one of the lesser-known Instagram spots at Disney! It is a wall, but you can't go right up to it because it is actually painted on the Carousel Of Progress and the walls rotate. To get a photo here, simply get in line for Carousel Of Progress and shoot with your camera in portrait mode or zoomed in closer. If you don't want the railing in the photo, just get a headshot. Or you can play it up and add a little railing for a fun shot.
I really like the unique coloring on this wall and it isn't all over Instagram, so if you want something fun and different, this is a lesser-known Disney Instagram location that you could shoot. It is also often in shade, like the blue wall, so it isn't too hard to get a cute photo!
There is a small #carouselofprogresswall hashtag that has started up, so let's try and get it more popular!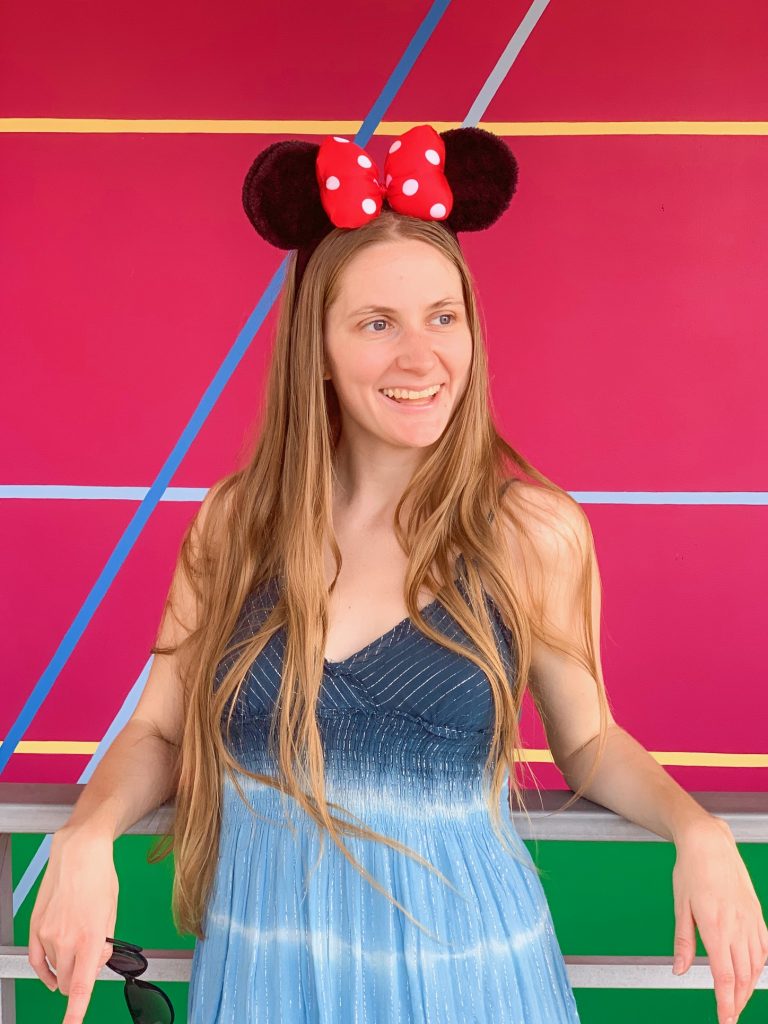 Tangled Bathroom Wall In Fantasyland
The Tangled Bathroom wall is totally random because it is literally painted on the outside of the women's bathroom in the Tangled area in Fantasyland. There is often a small line, because what isn't to love about the designs! This wall is really easy to find, so make sure to simply walk over to the Tangled area and find the women's restroom. The design will be on the right side of the entrance. There is even a design right on the inside of the bathroom too if you want to shoot that as well.
To shoot your Disney Instagram photo here, you are going to want to shoot close up so that you get the design in. This means you will want to zoom in or shoot on portrait mode if you are shooting with a phone. Either way, it is a gorgeous and feminine Disney wall you won't want to miss!
Make sure to #tangledwall to show your love and possibly get featured by the Tangled Wall Instagram Account!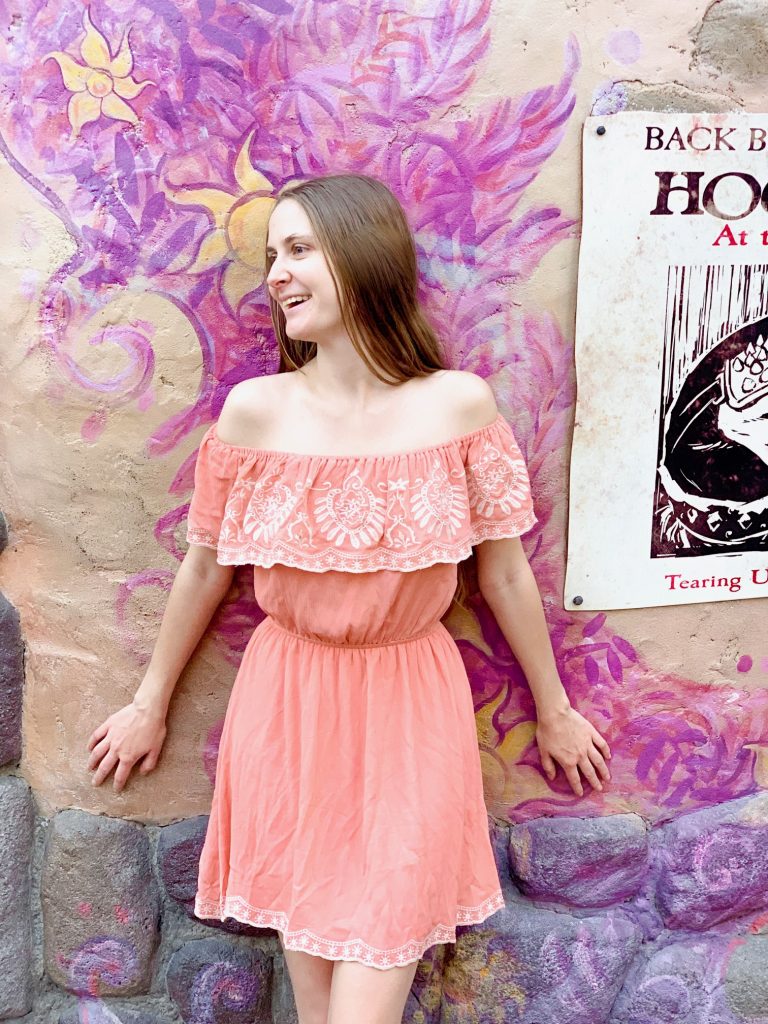 Neverland Wall In Fantasyland
This wall is a little hard to find, but you can show my photo to any Cast Member and ask them for help and they will point you in the correct direction! The Neverland Wall is behind the Peter Pan ride. What the heck does that mean? I was confused too! Essentially, it is right across from the Tangled Bathrooms. Sometimes, Peter Pan himself is there for meetings, but it isn't all that often.
Much of the time, this wall is free for photos and is one of the prettiest Disney walls for Instagram photos. You are going to want to sit or stand to one side so you don't block the whole thing, but feel free to be creative on this one.
The hashtag is #neverlandwall and there is a Neverland Wall Instagram account as well!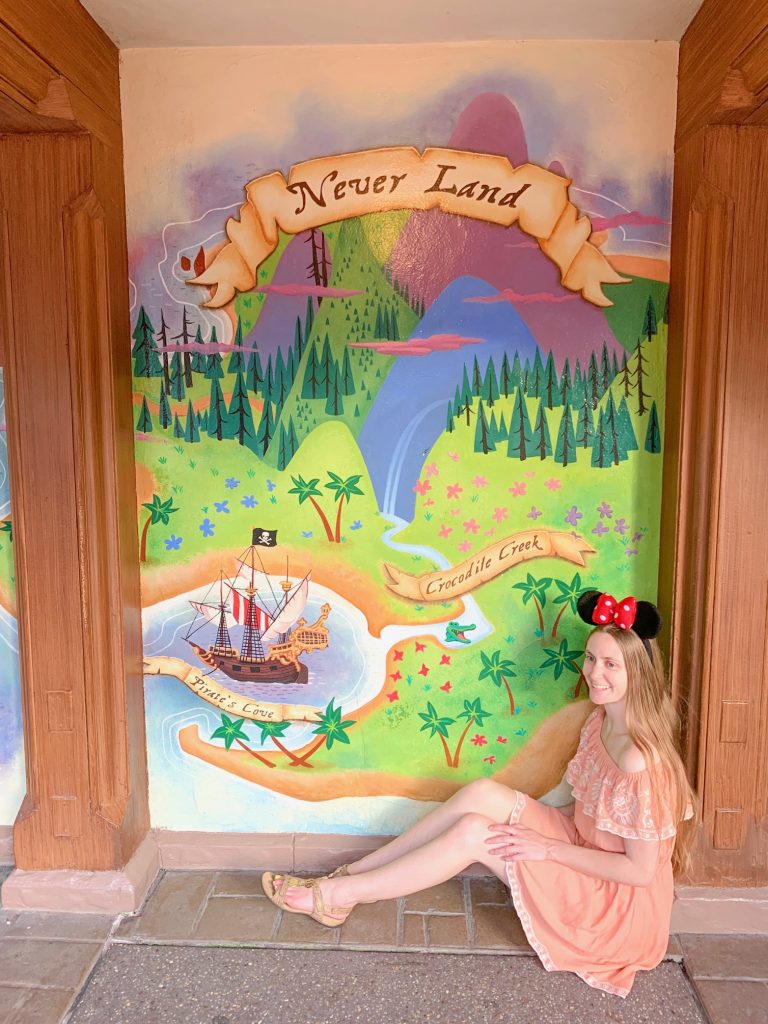 Candy Stripe Wall On Main Street
This wall was confusing for me to find at first! Unlike other Instagram walls at Disney that are outdoors, this one is located inside Mainstreet Confectionary. It is the very first shop to your right when you enter Main Street from the park entrance. As soon as you enter, you will see the entire shop is covered in the candy stripe design. It isn't too hard to find a spot for this photo! The lighting in the store can be harsh, so when editing, make sure that you take down the shadows so that the photo looks better when finished!
Use the hashtag #candystripewall for the chance to be featured by the Candy Stripe Wall Instagram!
Best Instagram Walls At Epcot
The Bubblegum Wall In Futureworld
The bubblegum wall is the second most famous wall at Disney, after the purple wall at Magic Kingdom! It is located on the exits of Spaceship Earth/The Epcot Ball. It is located on both exits so if the lighting is really harsh on one side, don't be afraid to walk to the other side. Both are located on the back sides of the Epcot Ball, opposite the park entrance.
You must shoot quickly as they are located at the exits of the ride and people come pouring out every few seconds. Most people are nice and wait a few seconds, but you must be respectful too and hurry up so lots of people don't have to wait for you. I love this Instagram wall at Disney and it is also my sisters favorite as well. It truly does look like bubblegum pained on the side of the exit!
The #bubblegumwall hashtag is actually quite popular so you will certainly want to tag it as well as #bubblegumwallphotos for a feature on the official Bubble Gum Wall Instagram account!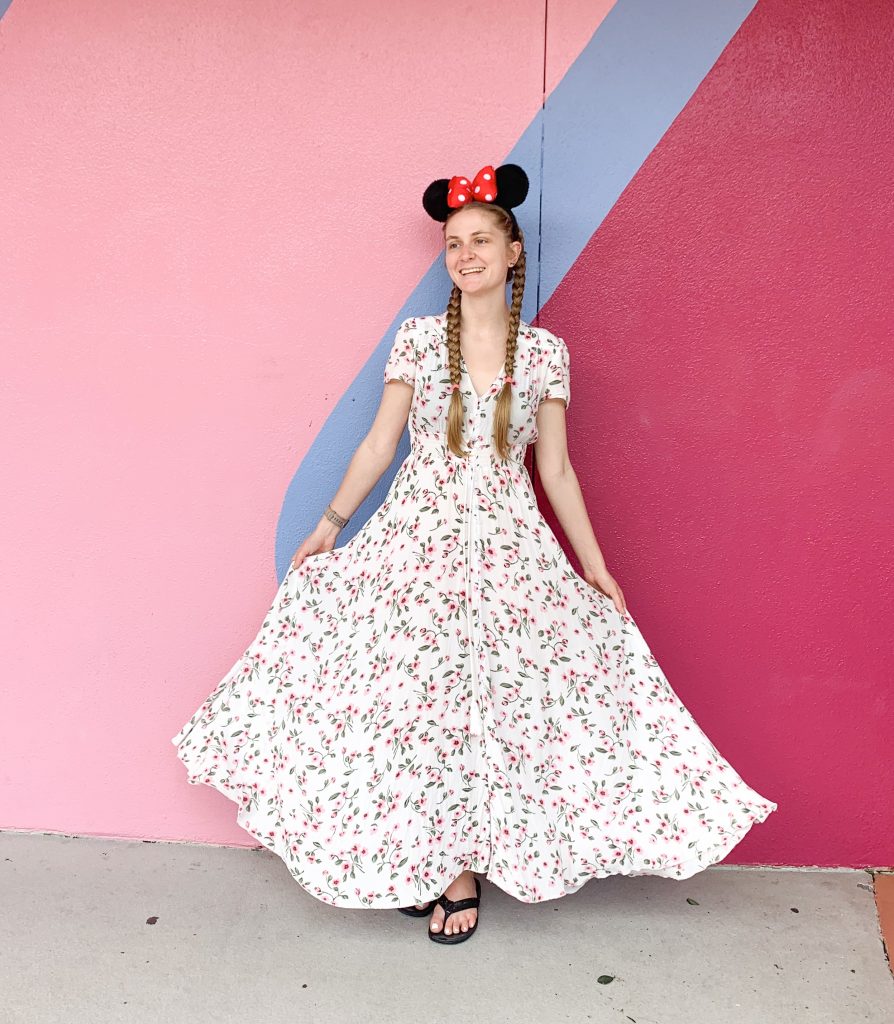 Morocco Wall In World Showcase
The Morocco wall is easily one of the most Instagrammable places at Disney! It is so gorgeous and the mosaics really make the entire shot! You can lean up against one of the mosaic walls in Morocco but my favorite spot is along the fountains. There are a few fountains so pick your favorite. I prefer the outdoor one but it is really up to you!
While this isn't quite a wall, it still makes the list of the best Disney walls because the walls are tiled and it is a truly beautiful hidden gem in Epcot! This area has grown more popular over the years as a lovely Instagram spot at Epcot so be sure to check it out.
Best Instagram Walls At Animal Kingdom
Rivers Of Light Wall In Asia
The Rivers Of Light wall is located right across from the Everest Ride in Asia at Animal Kingdom. It is along a large wooden door that is the entrance to Rivers Of Light seating area across from Everest. It isn't too hard to find and there is a large red flower on the door.
I love this Disney wall because the brown wood on the door makes for something different and unique! Most of the walls at Disney are super bright and fun and this one is done in a more earthy tone for a change!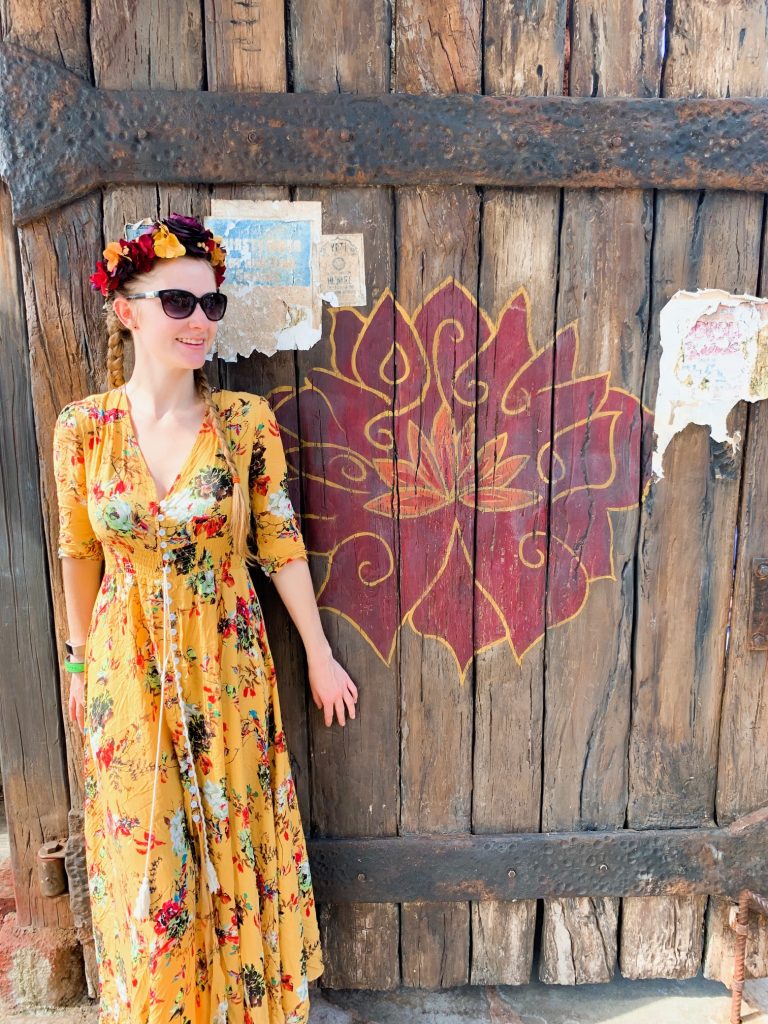 Cocla Cola Wall In Asia
The Coca Cola Wall is my sister's favorite Disney wall at Animal Kingdom. She loves stopping here every time! It is located outside the Animal Kingdom quick service spot named Drinkwallah. It is right across from the central bridge which brings you into Asia from the Tree Of Life. If you can't find it, simply ask a Cast Member for how to find Drinkwallah and they will point you in the right direction. From there, you can't miss it! It is truly cute and beautiful!
I think the Coca Cola wall looks best when shot in either full sun or full shade! You can get a close-up or you can get a full-body shot. It is even cuter with a drink or food item in hand for a prop. Make sure to tag #disneytrippers so I can see and regram your post with this wall!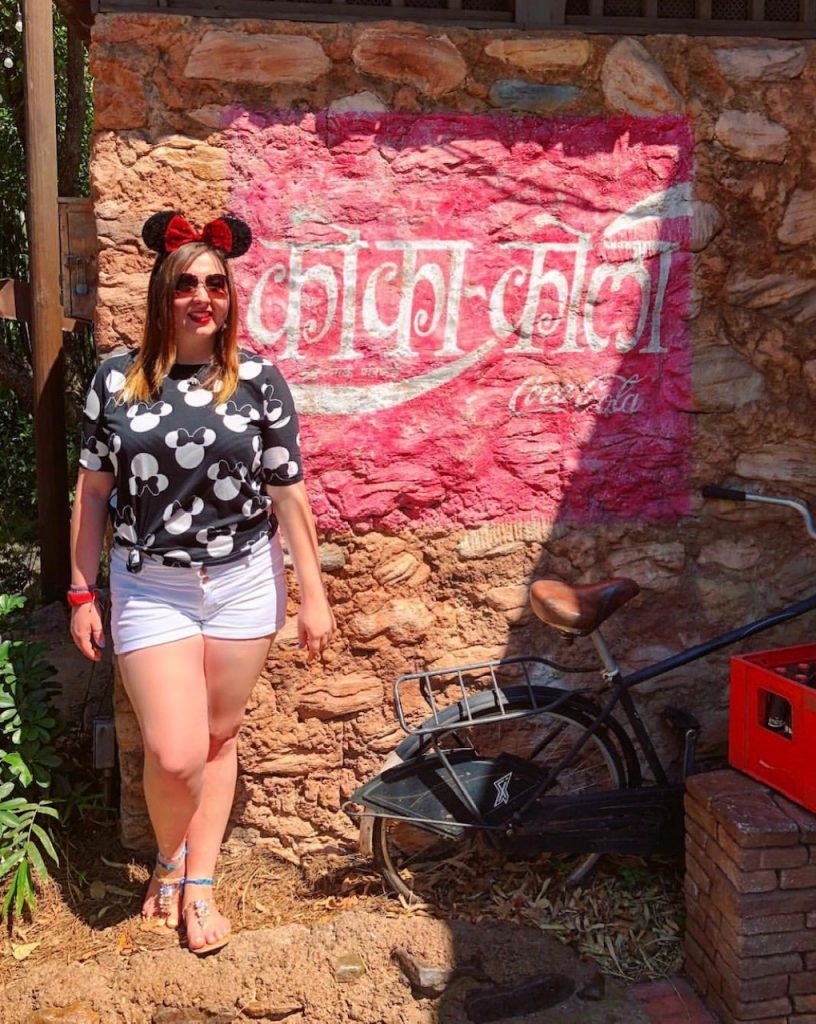 Fichwa Fellow Wall In Africa
The Fichwa Fellow wall is located in Africa right outside of Harambe Market. In Swahili, Fichwa means "hidden" and this hidden Mickey is hidden in plain sight!
This is a grouping of quick-service restaurants and as you enter the market area this wall is on the left, before you enter. I love this wall because it has Mickey Mouse himself on it and there is a place that you can stand where you don't block him! It looks good when shot close up and far away which makes it one of the best Instagram walls at Disney and is quite cute!
There is a #fichwafellow Instagram tag as well as a Fichwa Fellow Wall Instagram page!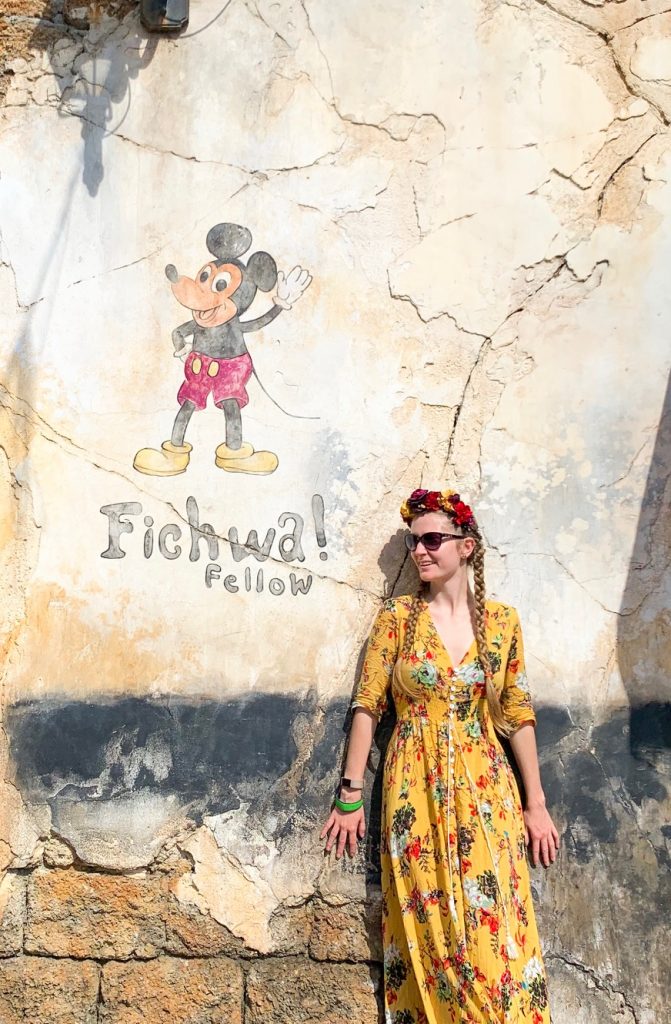 Children Of The World Wall In Africa
The Children Of The World Wall is located directly across from Harambe Market. There is a giant door and wall filled with old bike and car parts and this Disney wall is located directly next to it. The quote is really heartwarming and there are even posters advertising Festival Of The Lion King. There is even a space in the yellow part of the wall where you can easily stand for a photo!
This wall also looks great in either bright sun or full shade. No matter what time of day you come here, you will be able to get a great photo!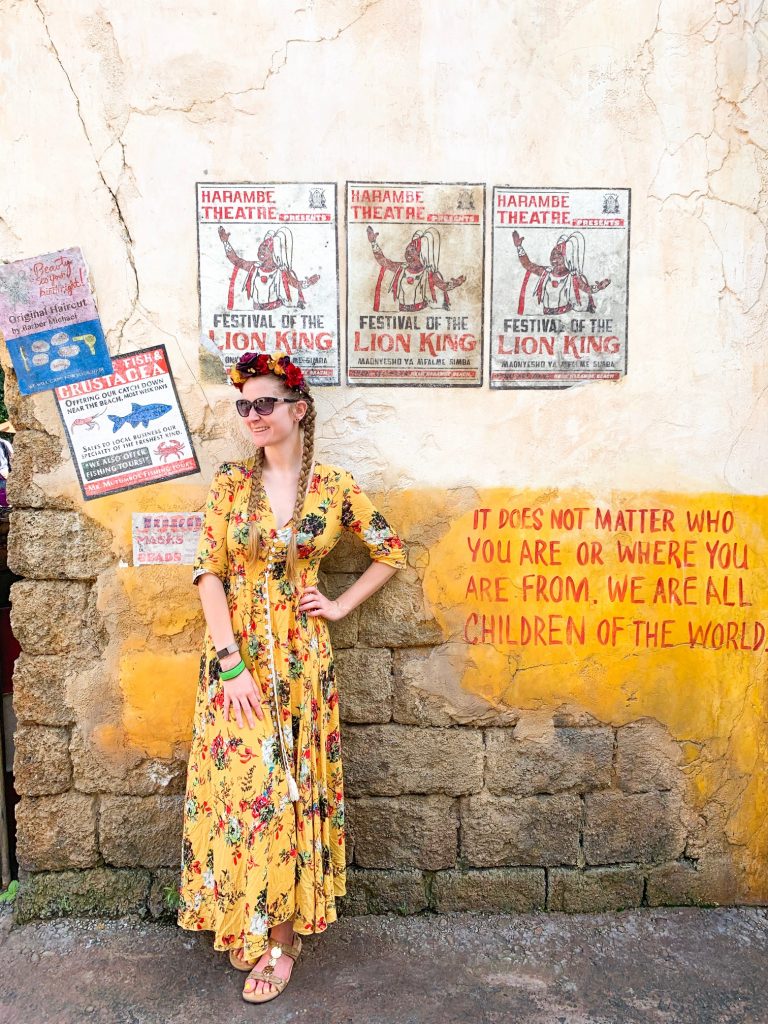 Kusafiri Poster Wall In Africa
The Kusafiri Poster wall is located in Africa right around the corner from the Kusafiri Bakery and coffee shop. I really love the look of this wall because of the gritty posters and the splash of blue that is thrown in! If you are having a hard time finding this Disney wall, simply ask a Cast Member where you can find Kusafiri and they will show you the way. This wall is around the left corner of the quick-service shop and is really easy to see.
Sometimes there is a cart blocking this wall. This hasn't been my experience, but others say sometimes Disney stores a cart over in this section. Just be warned that it may be blocked if you try and get your Disney Instagram photo here.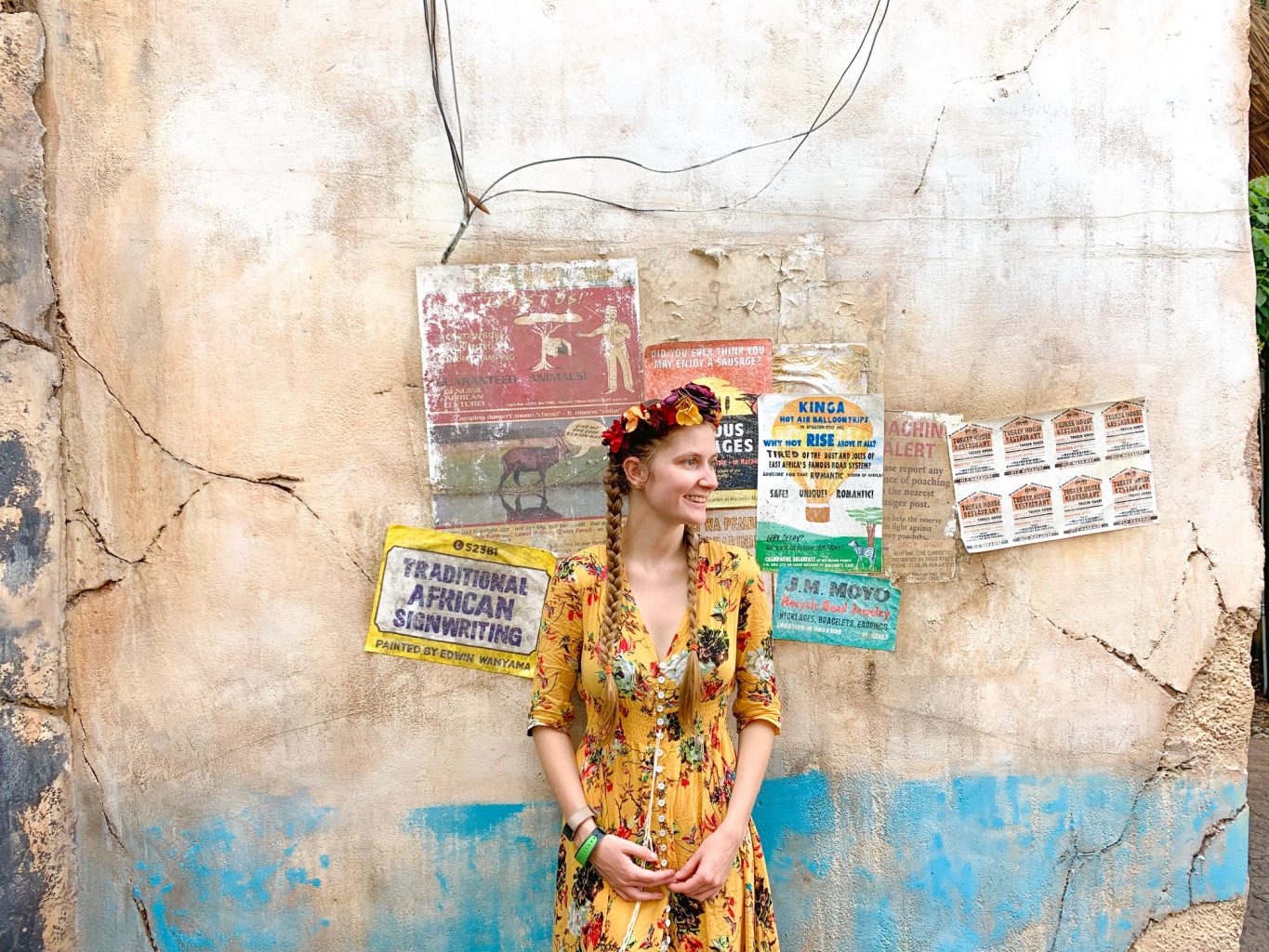 Moss Wall In Pandora
The Moss Wall in Pandora features more earthy tones than the usual Disney wall! You will find it near Satu'li Canteen so this is what you should ask for if you can't find it when walking around Animal Kingdom. The tones are perfect for an Avatar-themed photo and the drinks in Pandora are quite colorful and delicious. You can hold one and take a photo on this wall for something refreshingly different!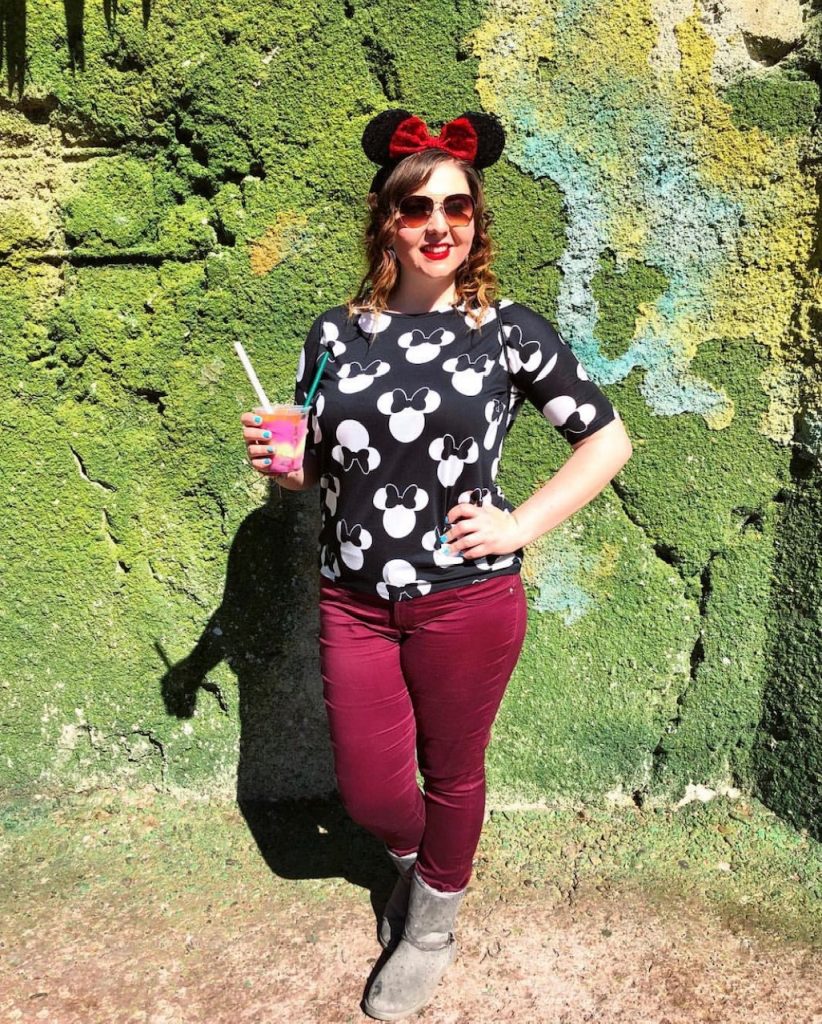 Best Instagram Walls At Hollywood Studios
Andy's Wall In Toy Story Land
Toy Story Land is full of great Instagram backdrops for your Disney photo. One of the cutest is Andy's Wall! It is kind of difficult to find so listen up. It is as far back in Toy Story Land as you can get. You will want to walk left past Slinky Dog Dash and past Alien Swirling Saucer. You will then see the super cute Toy Story bathrooms on the left. You should still keep walking straight. Then you will finally come across a short wall with Andy's drawings on it. You have arrived.
This wall is really cute and reminiscent of childhood. Keep your eyes out when walking around Toy Story Land for all the best Instagram spots.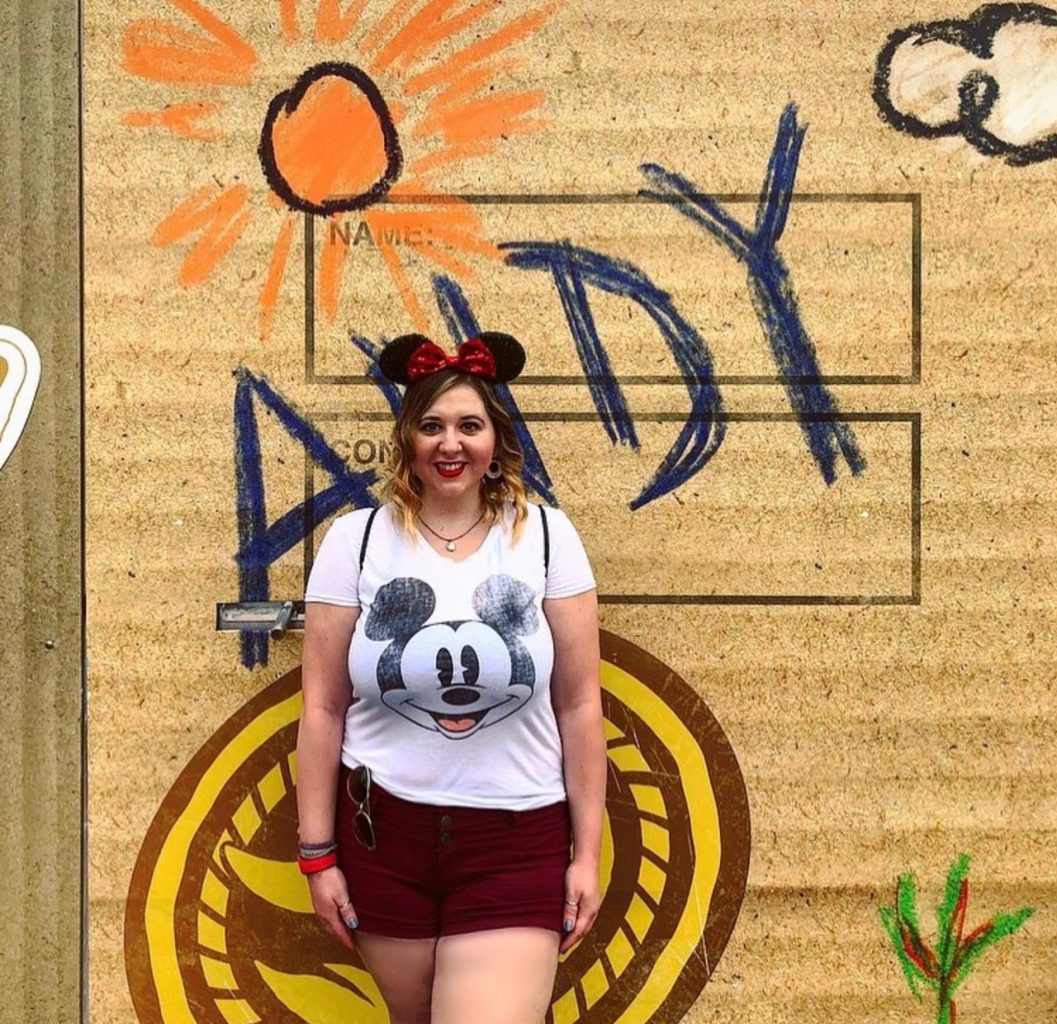 Best Instagram Walls At Disney Springs
Florida Citrus Wall In The Landing
This Disney wall is pure citrus fun! It is one of the larger Instagram walls at Disney and is located in "The Landing" area of Disney Springs. It is right next to Erin Mckenna's Bakery and is giant so you really can't miss it! If there are harsh shadows and sun, this wall can be a bit hit or miss if the lighting is important to you in your Instagram photos at Disney. I went ahead and took a close up shot because I wasn't feeling the lighting but you can feel free to do full body as well!
This Disney wall is also great for shooting Instagram photos with friends as it is so large! It is unassuming and people don't really notice it even though it is right there. As I started taking pictures, a line started to form and more people wanted their shot in the same area. It is really truly a cute spot for photos!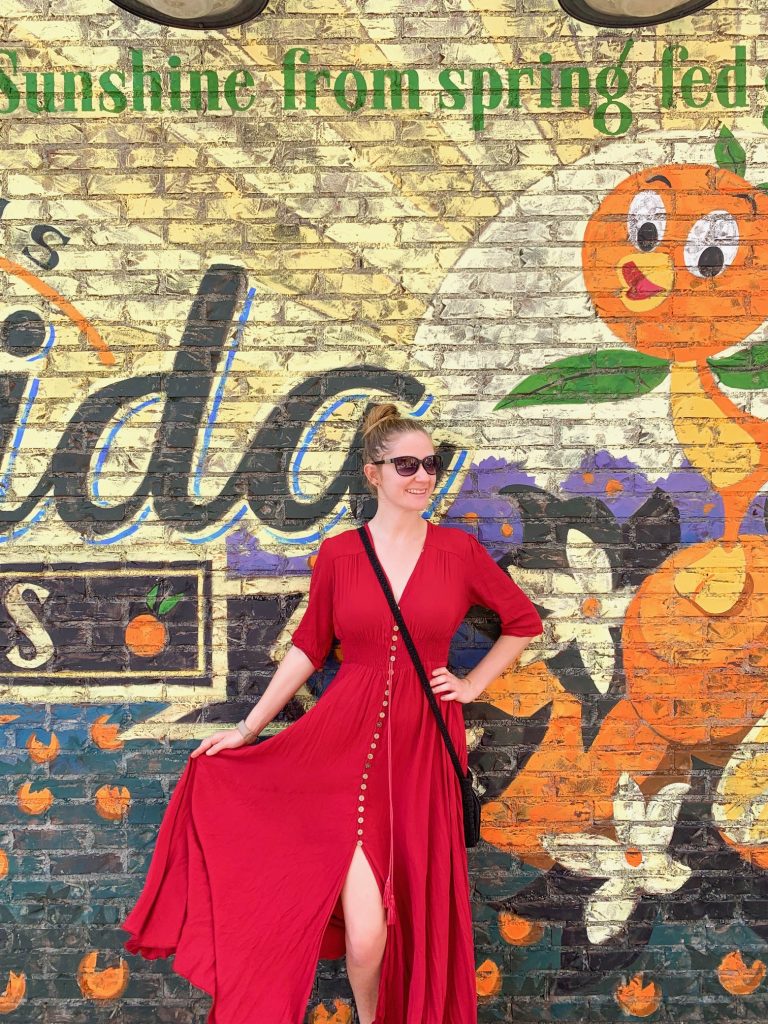 Dream It Then Do It Wall In The Landing
This is my favorite hidden gem of Instagram spots at Disney! It is located outside of The Edison restaurant at Disney Springs. It is so underrated and nobody ever shoots it and I don't know why! It is beyond cute and one of the more retro and gorgeous walls at Disney! I highly recommend a trip to Disney Springs just to get an Instagram photo at this spot. It is adorable.
I love the coloring and it is more traditional with red and blue instead of feminine. I really love the retro design as well. It is something totally different compared to the other walls at Disney World. Make sure to visit the Dream It Then Do It Wall and tag #disneytrippers so we can help make this underrated wall famous!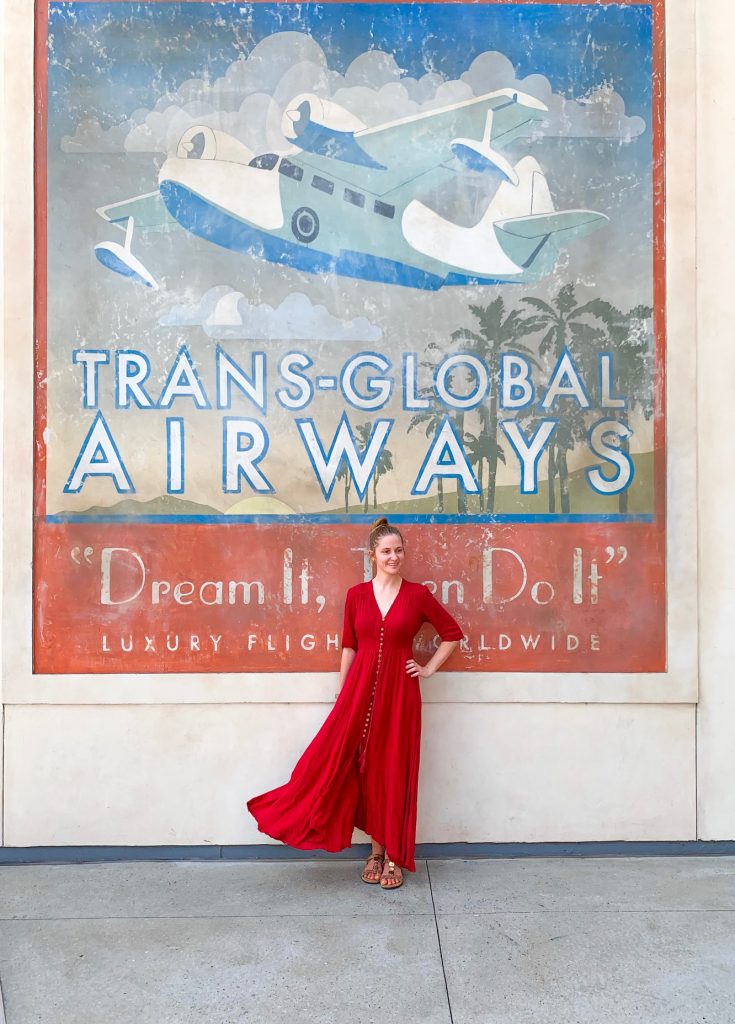 Pooh And Friends Wall In The Marketplace
This is one of the cuter walls and is the place you go when you want some true Disney charm added into your Instagram photos! This wall screams "I Love Disney" instead of a subtle pink or purple backdrop. It is located in a little alcove right next to "The Art Corner" store and across from the "Days Of Christmas" store in the Marketplace area of Disney Springs.
Don't worry about the lighting, this Disney wall is always in shade, for the most part. I recommend wearing a cut contrasting color or even a Winnie The Pooh Disneybound outfit for maximum impact when shooting Instagram photos at this spot!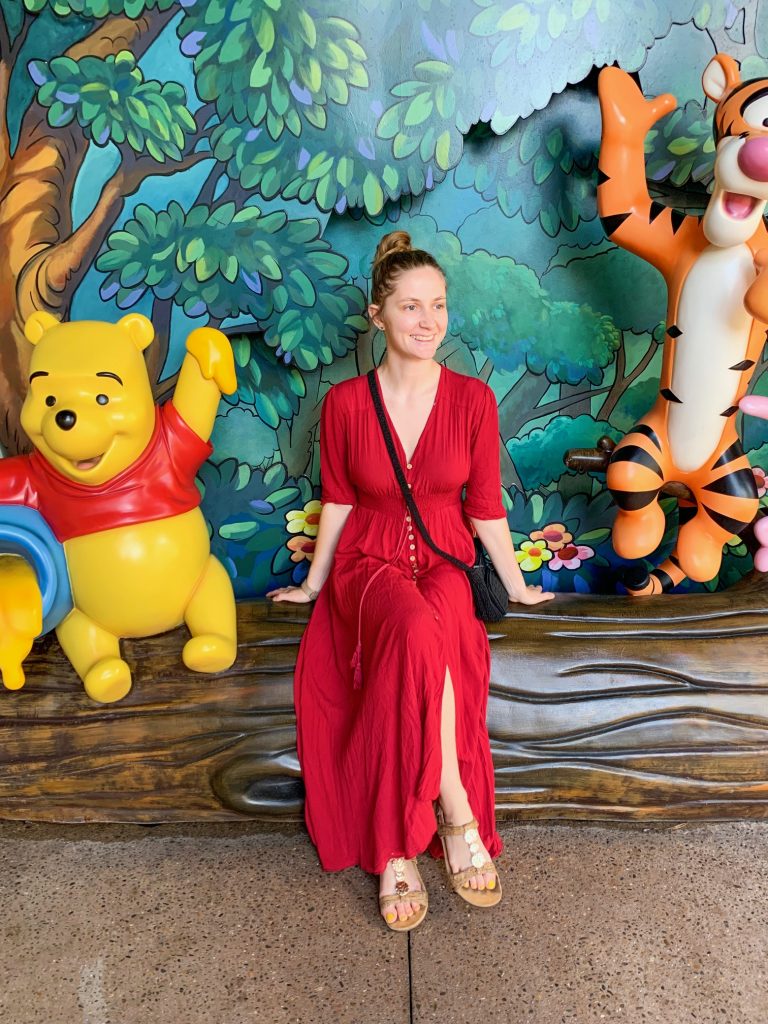 And there you have it! Some of the best Disney walls for Instagram photo backdrops! As I discover more walls, I will continue to update and add to this post! Make sure to tag #disneytrippers in your photos so that I can see if you found a wall from us and for a feature as well. I do hope you have a wonderful time exploring the parks and all of the cute and unique walls around Disney. Please feel free to leave a comment if you have a favorite wall that wasn't featured here!
Pin this post: