Wondering how to plan the perfect Disney engagement? I've got you covered. I had a Disney Fairytale Weddings proposal in 2017 that was totally princess-worthy. If you're ready to propose at Disney, or just trying to prompt your partner to propose and need some inspiration (I've been there!), then be sure to check out some of the most important tips for planning the perfect Disney engagement.
My husband proposed to me at Cinderella's Royal Table in Magic Kingdom, which, if you don't know, is the restaurant INSIDE Cinderella's Castle. Many folks opt for a Disney proposal in front of the iconic castles because it's a fabulous photo op, but I really wanted something a little more unique. If you're looking for unique, or even totally classic, places and ideas to plan your perfect Disney engagement, keep reading!
Get a FREE printable 30/60/90 day Disney countdown by joining our private Disney Facebook Group and share your photos and ask for tips and tricks!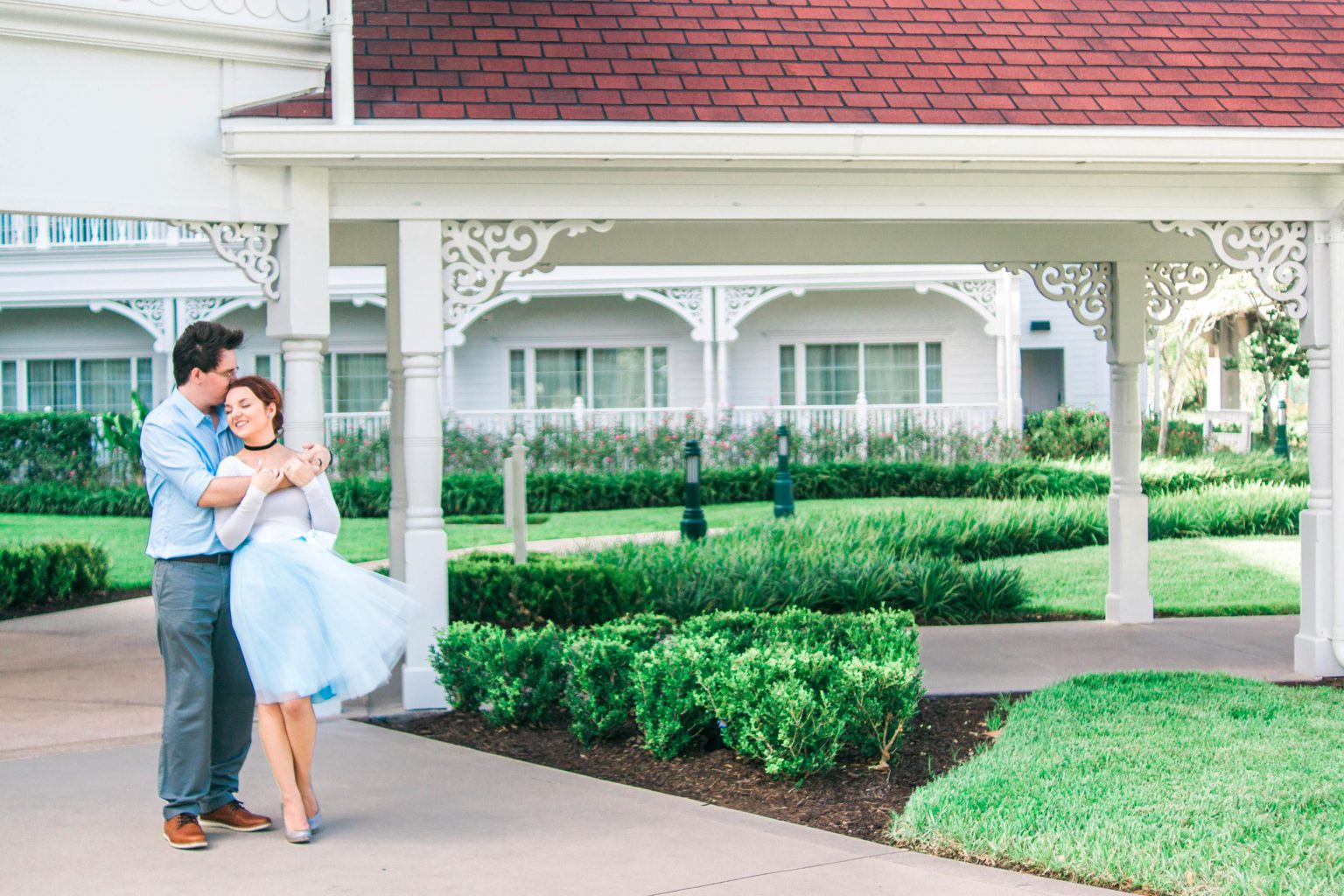 How to Plan the Perfect Disney Engagement
Best Time of Year to Plan Your Disney Engagement
Whether y0u're local or not, there are definitely better times for a Disney engagement than others. At Walt Disney World, you've got to factor in heat and weather- these ARE separate issues! Temperature-wise, Walt Disney World is most comfortable between November and February. You also want to be aware of the rainy season, also known as Hurricane Season (May to November). The last thing you want is a stormy, torrential downpour to interrupt your Disney proposal, or worse- a hurricane to shut down the parks.
At Disneyland, you won't have hurricanes to worry about, but those with breathing sensitivities may want to be wary of the air condition. The hotter the air, the lower the air quality, so October though March are great choices for ideal Disneyland weather- though be aware that you may experience some rainy days! If you're more concerned about the perfect blue-sky day for your Disney engagement, May, June, and September are great choices that still avoid the worst of the heat. This is also important to consider if you are looking to plan a honeymoon at Disney as well!
I also highly recommend being aware of how crowded the parks are at certain times because a proposal in front of the castle is gorgeous, but you probably don't want a hundred people and strollers crowding into the photo of your special moment. Crowd calendars are a fabulous resource, because they consolidate school closure, events, and other causes of increased crowding. For a Walt Disney World crowd calendar click here, and for Disneyland click here.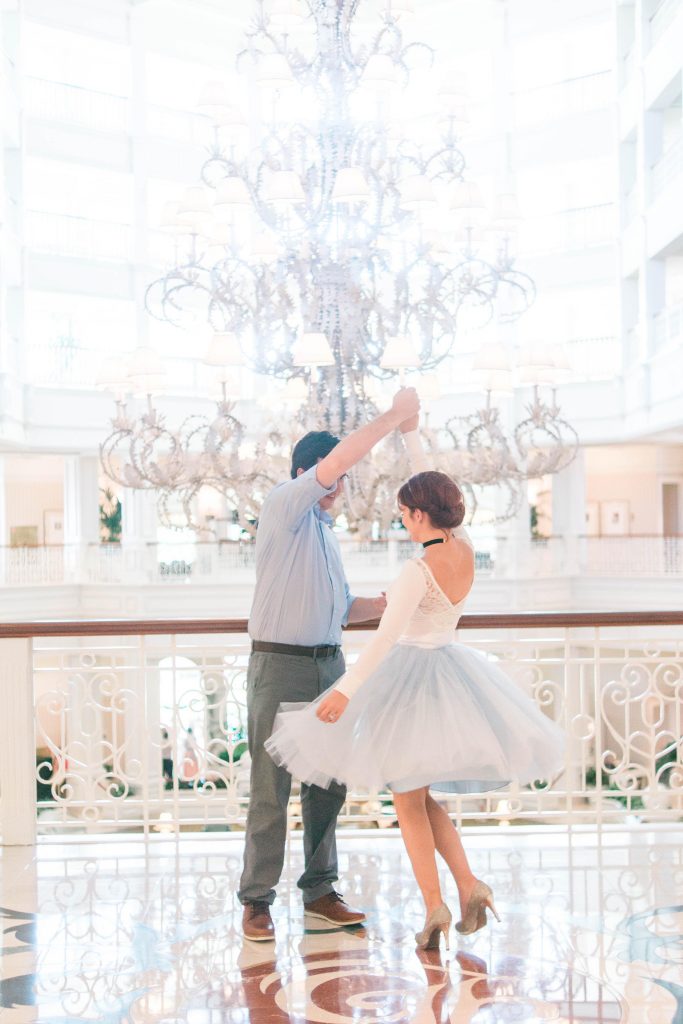 Working with Disney Weddings for Your Proposal
My husband worked with Disney Weddings for our engagement, but this is totally optional! Please note that having a wedding at Disney does need to be done through Disney Weddings, but not the engagements. If you choose to go that route, here's what you can expect.
Disney has proposal packages that you can add to your dining experiences if you want to propose over a meal. When my husband and I got engaged, I had booked us a reservation at Cinderella's Royal Table, so he got in contact with the Disney Weddings team there to set up the proposal. They are very quick to respond! Be warned- engagement packages can be pricey. However, ours included a Photopass photographer, a plate covered in rose petals complete with a glass slipper (I got to take the petals and the slipper home!), and a special dessert reserved for engagements.
Disney is no stranger to engagements, and the Disney Weddings team really was very helpful in planning our Disney engagement. They gave my husband tips on how to set up the proposal and walked him through what would happen so he could plan it out ahead of time. Bonus points- Disney Weddings proposals are generally much more crowd-free than other Disney proposals, which is exactly what I wanted.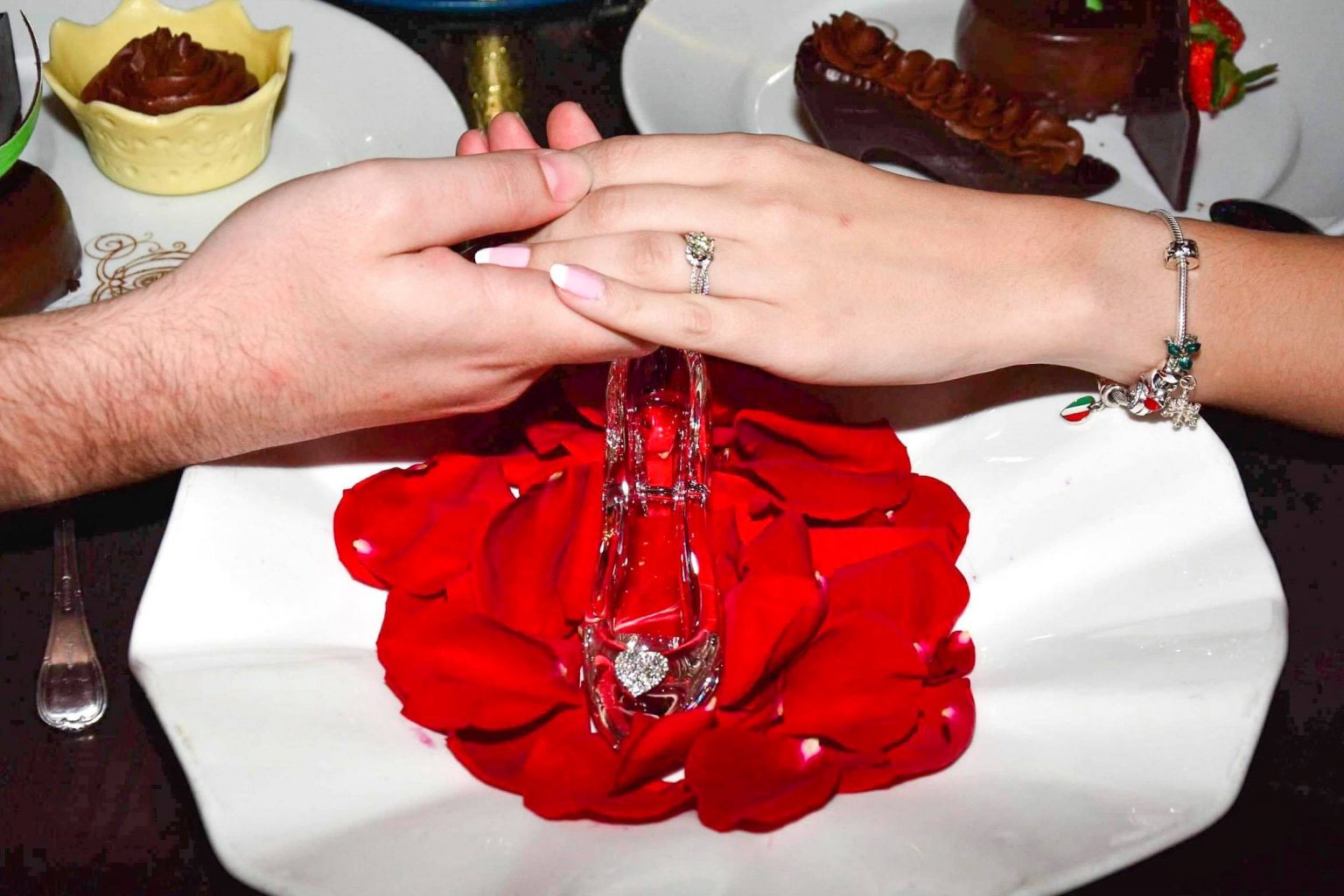 Where to Propose at Disney World (Best Spots)
The Castle
Cinderella's Castle has so many Photopass photographers! This bodes well for you, because they capture proposals all the time. When you go to scan your MagicBand or park ticket for your photo, quickly tell the photographer you're proposing. They'll take care of the rest. There are loads of places in Magic Kingdom to get a photo with the Castle in the background, but my favorites are by the Partners statue and in the Plaza Gardens.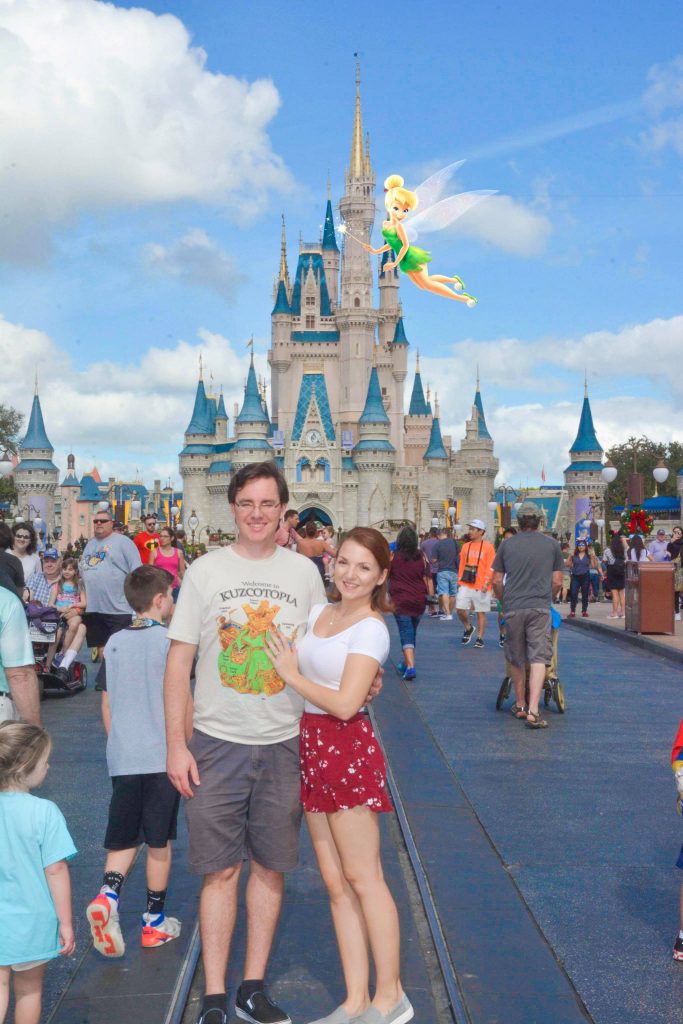 Park Icons
The castle is one of these, but its popularity demanded its own section. If you're planning a Disney proposal at Epcot, Animal Kingdom, or Hollywood Studios, use those icons! All have Photopass photographers stationed at great photo spots that are perfect for proposals and are classic choices for Disney enthusiasts.
Epcot's giant ball (otherwise known as Spaceship Earth) is gorgeous, lit up to mirror a sunset at night, and is less crowded than the castle. The Tree of Life at Animal Kingdom is an excellent choice for nature lovers, or those who want to spot the different animals in the tree when they look at their engagement photos. Last, but certainly not least, Hollywood Studios' Chinese Theatre is a stunning testament to Hollywood glamor, and almost never has a crowd in front of it if you can grab it when there isn't a Star Wars stage set up in front of it.
Character Meet and Greets
If you and your partner have a favorite Disney character, grab Fastpasses for the meet and greet! These also have Photopass photographers to capture the moment. Added bonus- the characters make for awesome reaction shots and are sure to make your engagement photos personal and funny!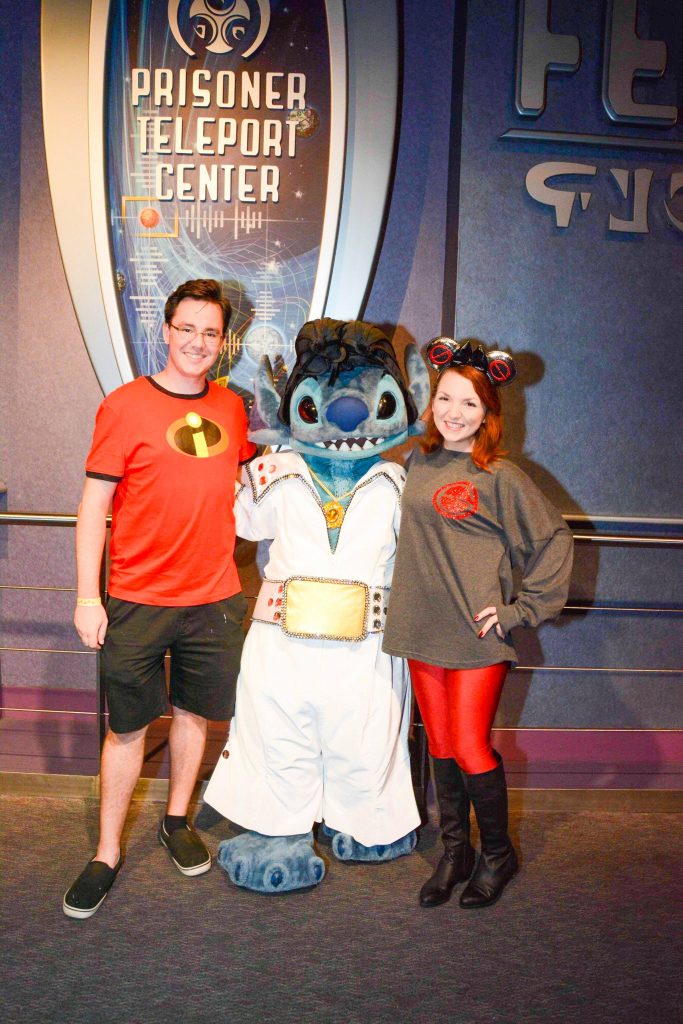 Where to Propose at Disneyland (Best Spots)
The Castle
Sleeping Beauty's castle is stunning and has lots of Photopass photographers stationed around to help you out. The castle also closes for fireworks, so if you want a nighttime proposal with the castle lit up in the background, get in line for an empty background castle shot after the fireworks and be sure to tell the photographers what your plan is so they help you out!
Pixar Pier
Let's just say that if I were to get engaged again, I'd have a Pixar Pier proposal. Pixar Pier's stunning redesign at California Adventure is vibrant and exciting, with the Incredicoaster roller coaster making a statement in the background. Proposals here could happen at the super cute boardwalk posters of Pixar characters, on the other side of the bridge to Pixar Pier with the whole lagoon behind you, or on the boardwalk on your way to Incredicoaster.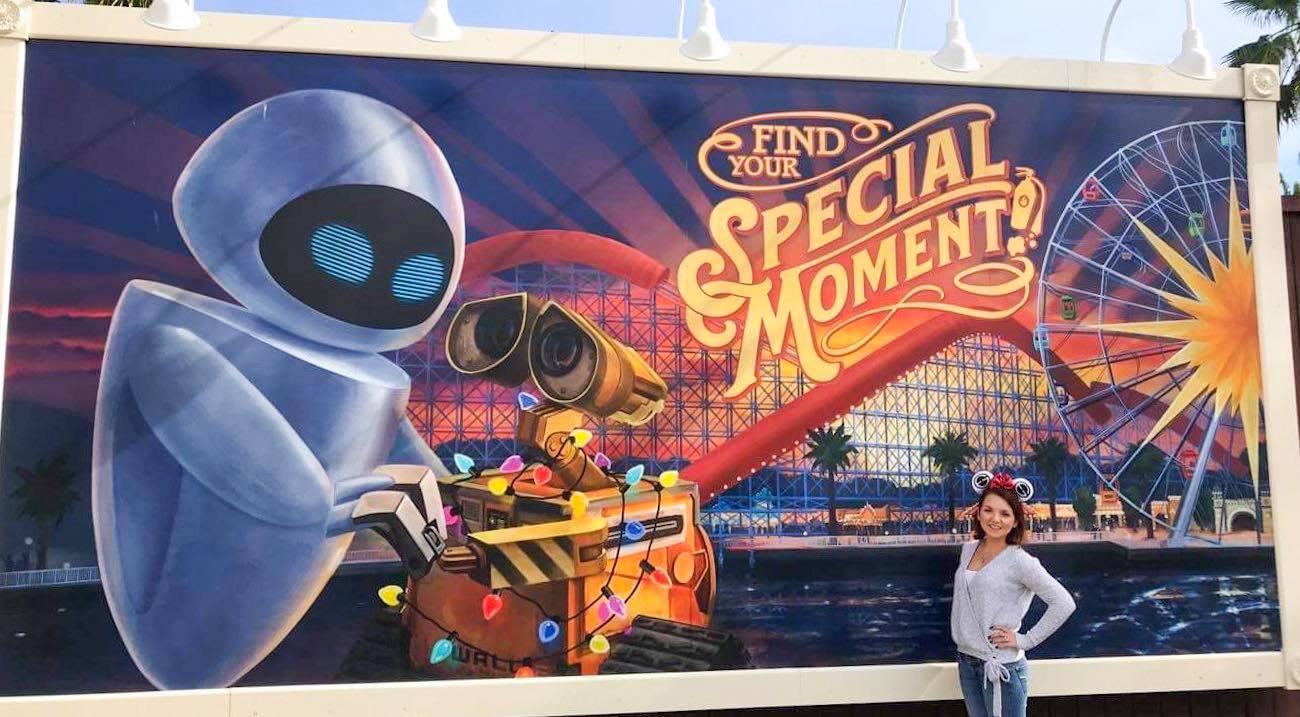 Best Disney Engagement Rings
If you want to go all out, Disney engagement rings are a really fun option for a Disney proposal. Disney and other big name companies are hopping on that bandwagon now to make jewelry and engagement rings that are themed on certain characters, but if you're looking for something more unique, one of a kind, or just downright more affordable, check out some of my favorites below.
If you are shopping for a diehard Rapunzel fan, or even someone who likes to think outside the box, then I love this purple-stone Tangled ring. The sun is a subtle nod to the dreamy princess and I love the purple stone at the center.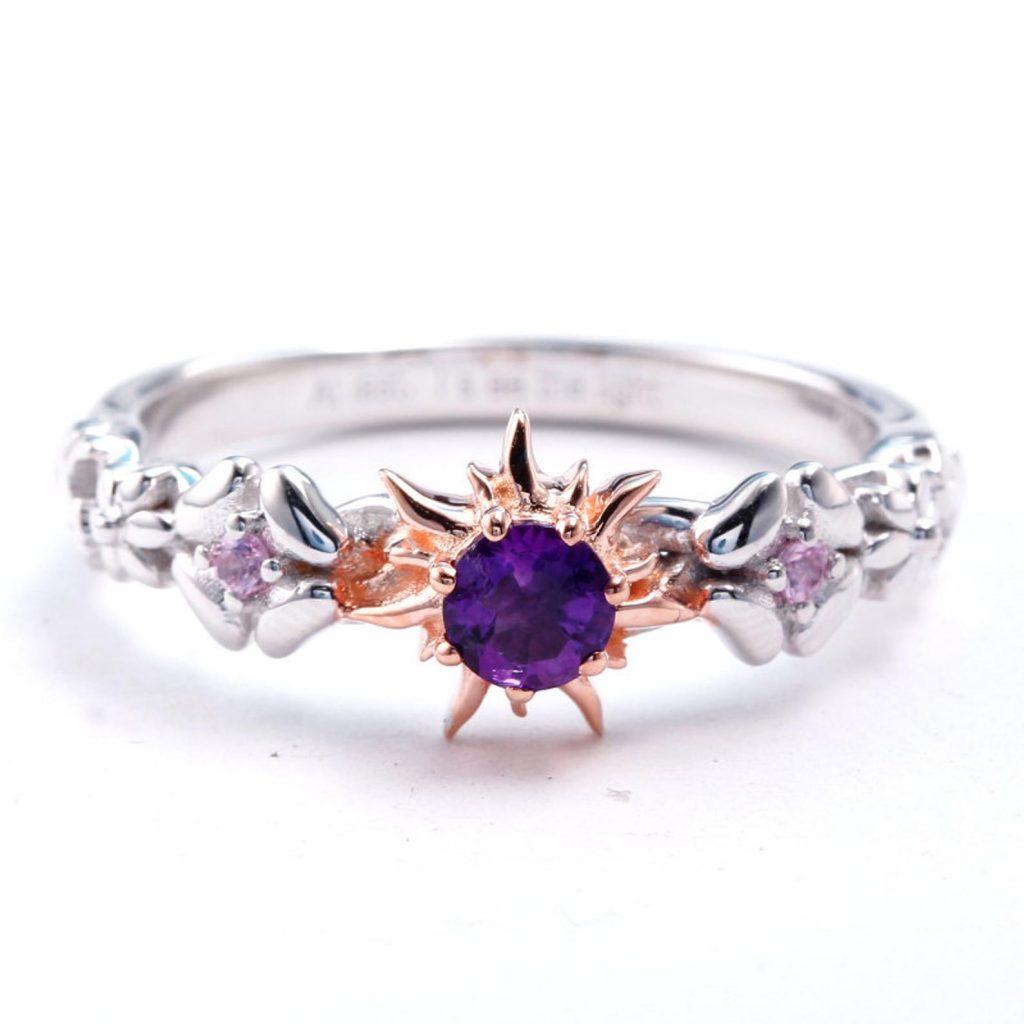 If you're looking for something a little more traditional with a white stone, but still want something whimsical, I love this twist on a classic. This ring has total WOW-factor with a large, white center stone, and a detailed band, but let's face it- the Mickey ears totally won me over.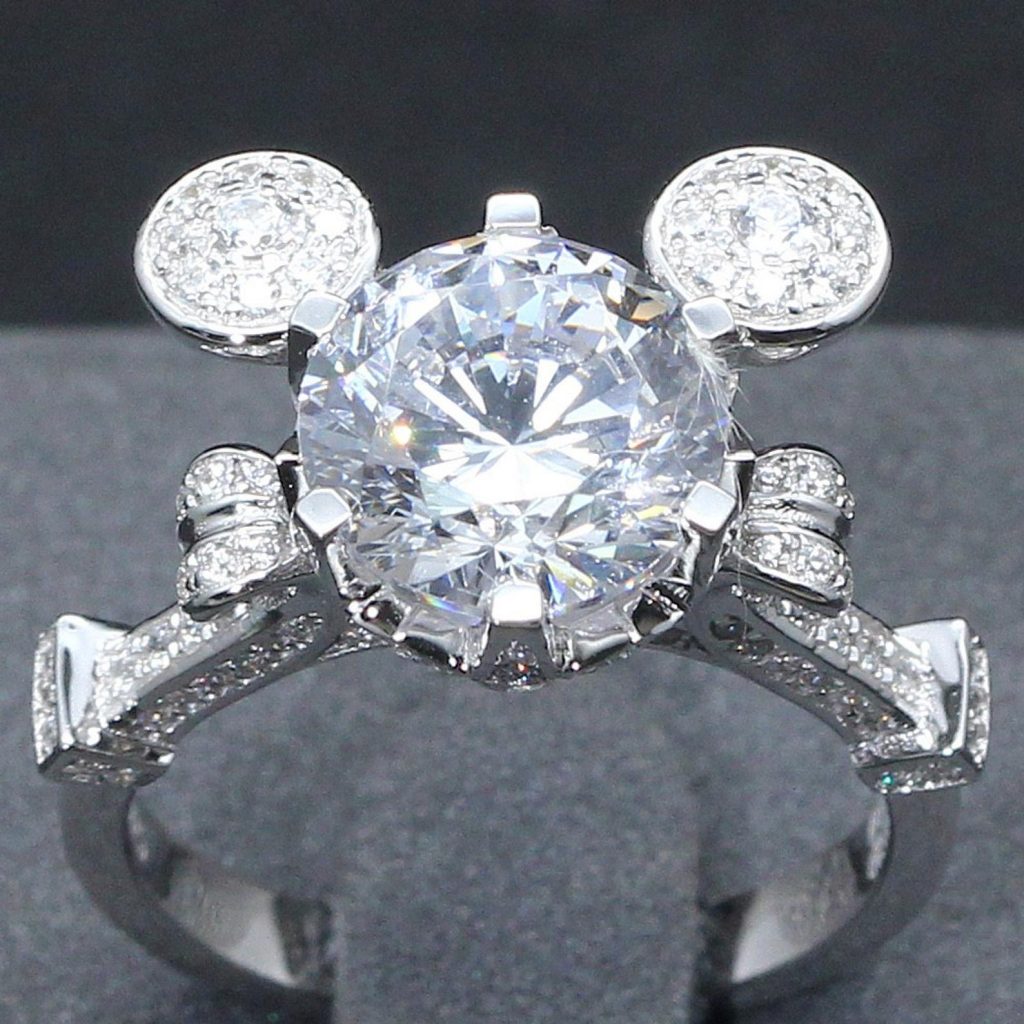 Everyone knows a Beauty and the Beast fan, and what better to wow them with than this elegant red rose engagement ring, made for a bookworm princess. I love the detail in the band and the red center stone to provide a pop of color to the classic look.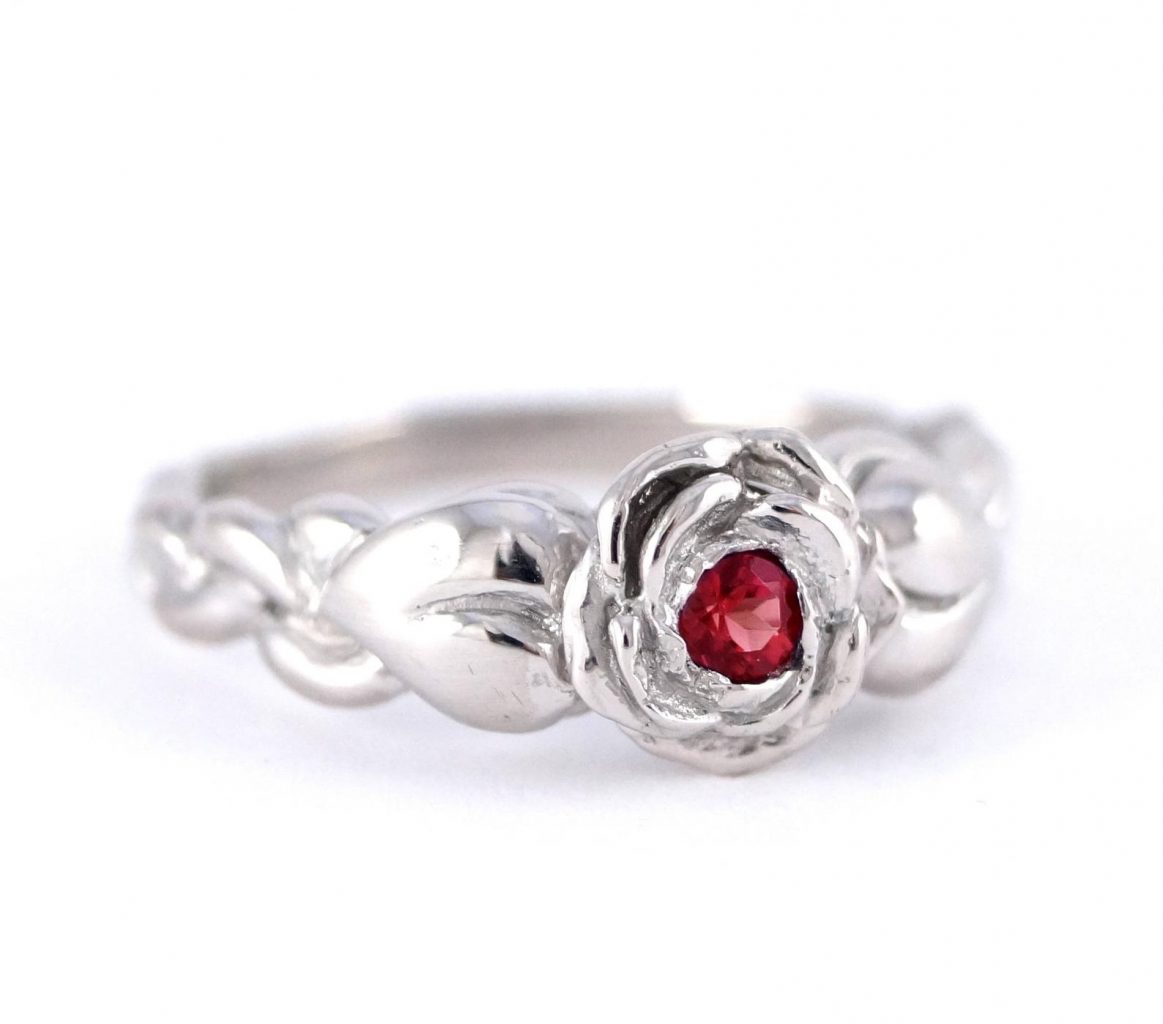 Where to Hide Your Disney Engagement Ring
It's important to think about where you'll hide the engagement ring when you go to Disney. Bag checks and metal detectors can foil your plan really quickly if you're not careful. If you're keeping the ring in a ring box, you'll most likely need a bag to carry it in. I'd recommend keeping it at the bottom of the bag so that when security searches it, it won't be visible to your partner.
If you're carrying the ring solo, like my husband did, you still have options! The Disney Weddings team at Cinderella's Royal Table encouraged him to be box-less so that he could hold the ring up when the server brought over the rose petal tray. He hid it in the little coin pocket in his pants so that it was more secure than it floating loose in his wallet. You can also tuck it into your wallet if you don't have a secure pocket in your clothing.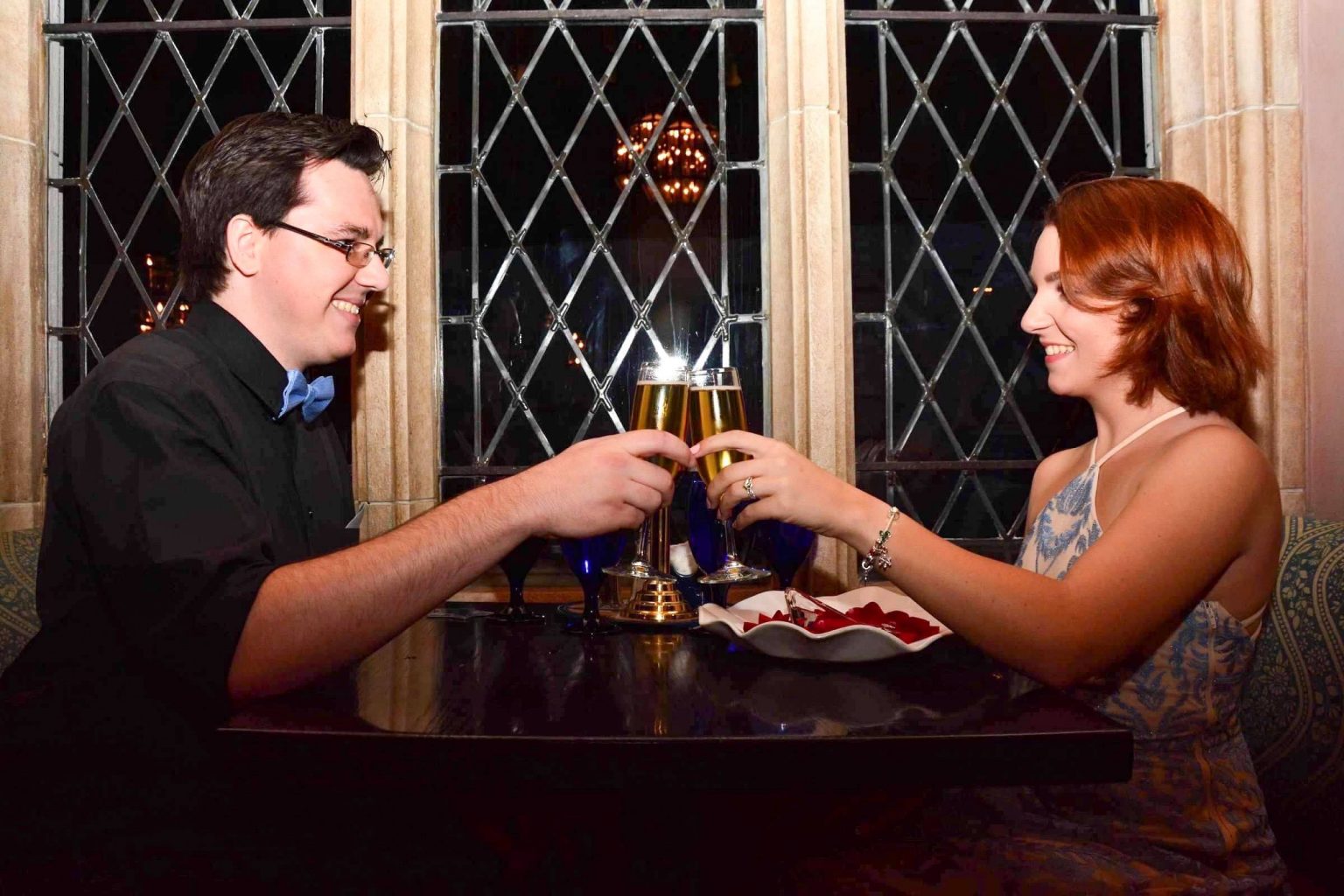 Best Time of Day to Propose at Disney
The best time for a proposal will depend on a couple of things: crowd level, temperature/weather, and the kind of ambience you want. For minimal crowds, I like waiting until very late at night for great photos. Many people also swear by rope drop and early arrivals, but I'm not a morning person! I loved having a later in the evening proposal because we celebrated with champagne and lots of photos in the park and had no crowds to worry about!
Midday is always going to be the hottest (great if you're planning for a cold day, but less than ideal if it's summer), but if you want bright sunshine or just can't wait any longer, it's great! Note than if you're planning for Florida in the summer, most afternoons have heavy rainstorms that may interfere.
Many idillic spots outdoors also look very different at time of day. Disney lights up park icons starting at dusk, so plan accordingly if you want them in their natural glory or if you prefer the lights. If you want to propose at a character meet and greet, many of those close in advance of park closing, so be aware of their meeting times!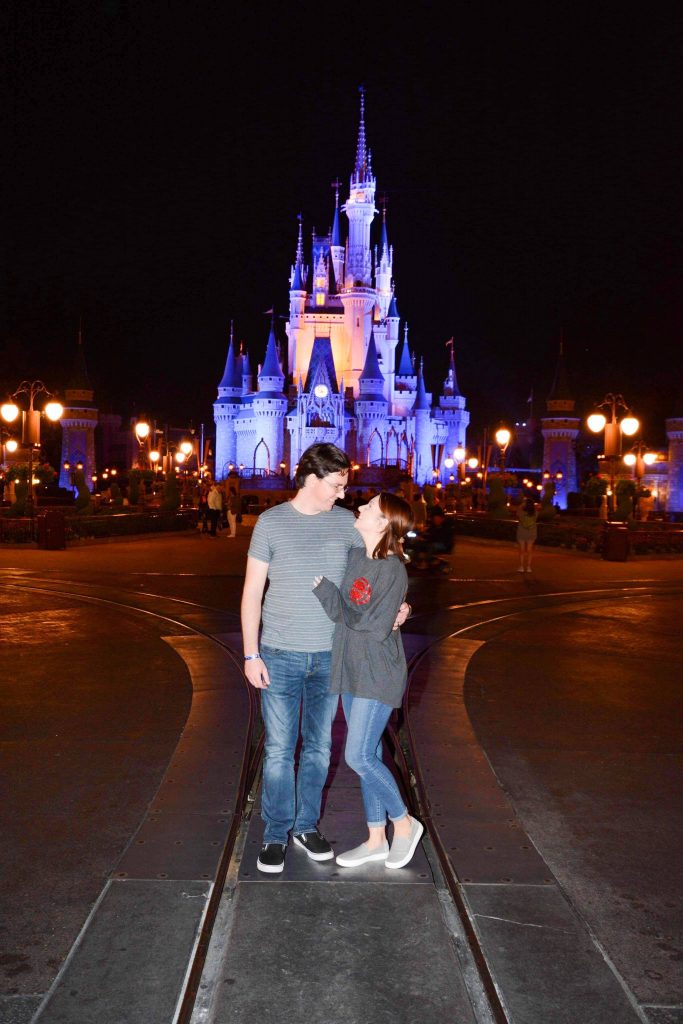 How to Capture Your Disney Engagement
Disney Photopass photographers are a great way to go for in-park Disney proposals. Disney doesn't allow outside photographers to come into the parks and take photos, so if you want something more professional Photopass is your best option. If you want to go all out, you can book a park portrait session through Disney to commemorate the moment.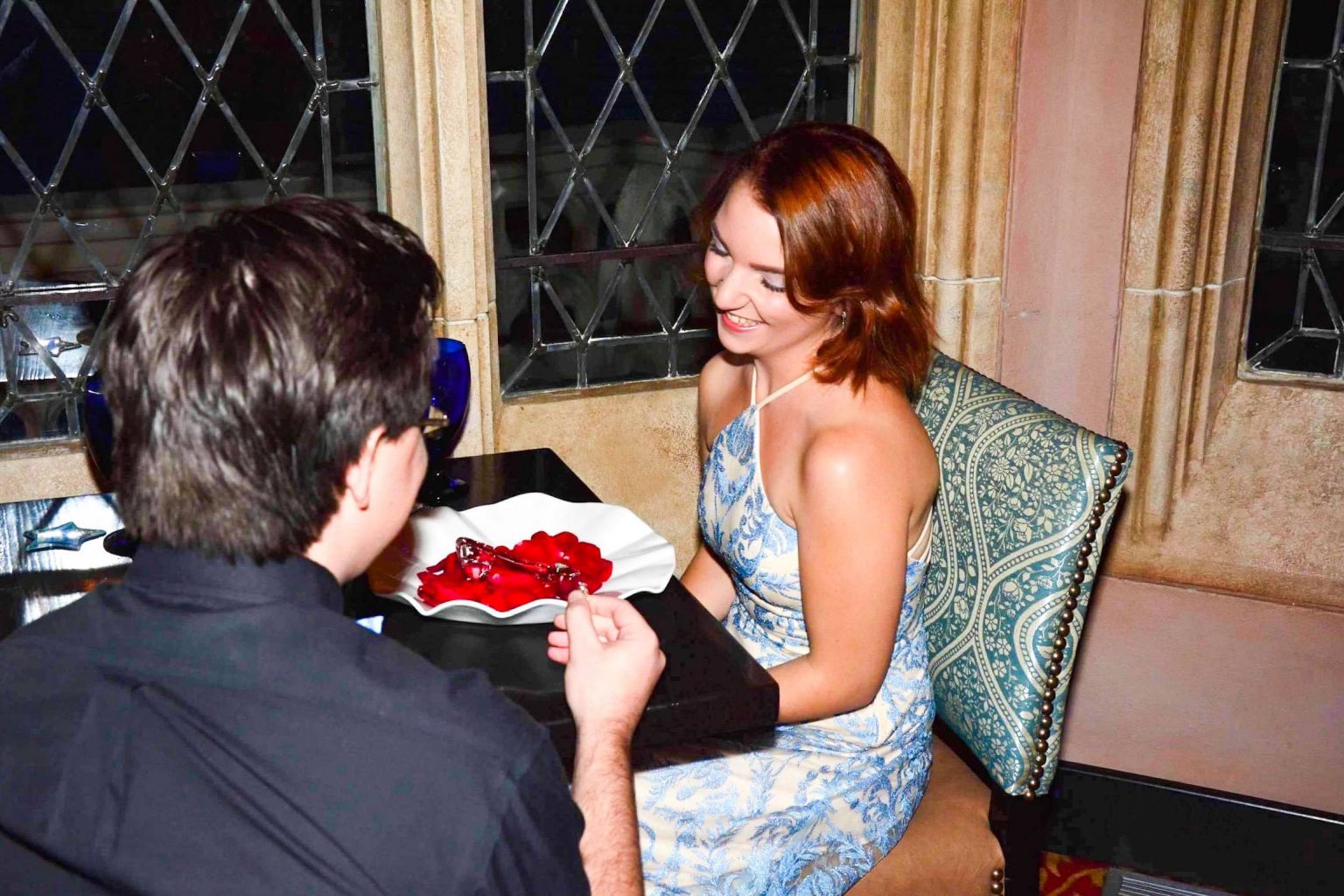 If your perfect Disney engagement happens outside of the park- like at Disney Springs, Downtown Disney, or a resort, then you can use outside photographers. These often feel like second rate options but there are some gorgeous places to propose outside of the parks that also have the bonus of being much more intimate. Plus, they're more unique and individual than other options!
Of course, the most accessible option is always the trusty cellphone camera. Generally, Disney goers are more than happy to stop and take your photo, so it can be easy to have them capture the moment on your own cellphone. Just make sure your partner is out of earshot if you want to tell the lucky photographer about your plan!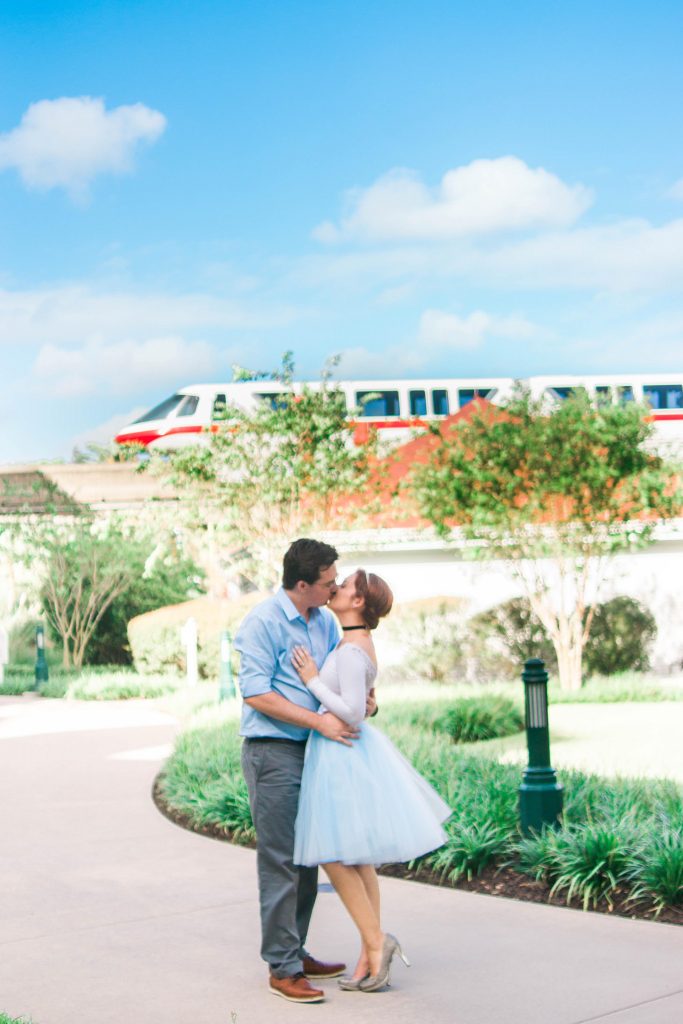 How to Let Everyone Know You Got Engaged at Disney
First and foremost, get yourself a button! Or several buttons! Disney has free buttons for many occasions, and will gladly load you up with them when you get engaged. They also make for a great photo op with the ring! Plus, you'll find that people go out of their way to share their congratulations when they see you wearing the buttons!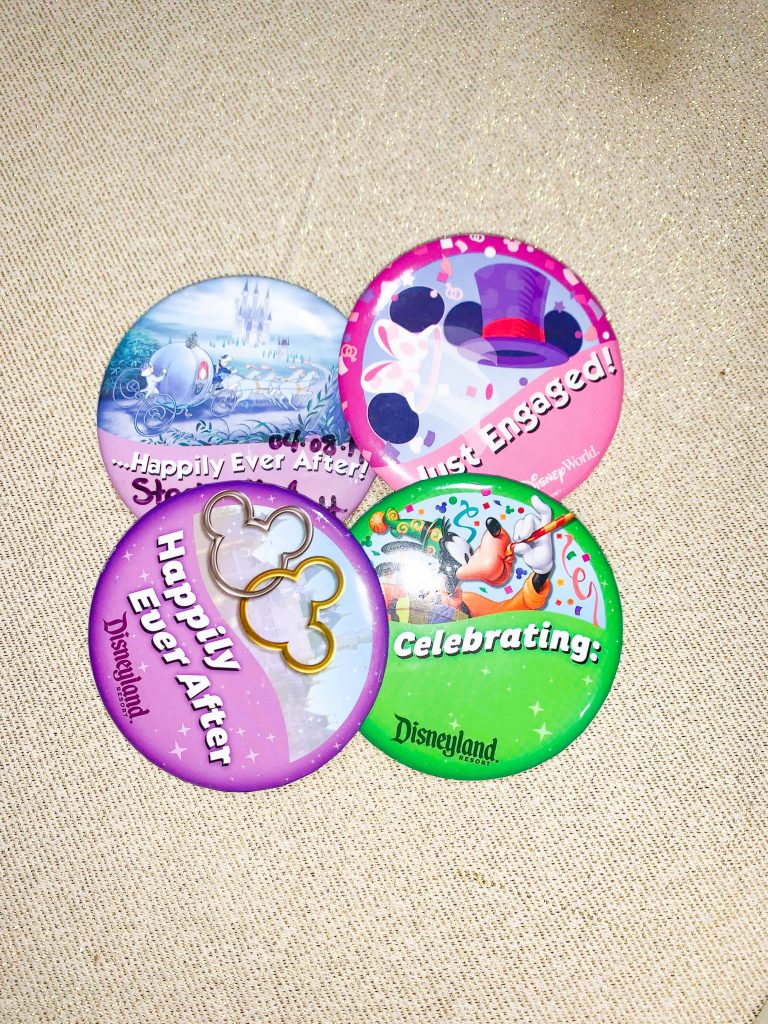 Ears are also a great way to celebrate a Disney proposal. Disney has several options for bride ears as well as a groom ear hat, but you can also plan ahead and surprise your partner with some custom made engagement ears! Below are some of my favorite custom ears.
If you want to both get in the spirit of your engagement, this matching set is a gorgeous choice. 3D printing has been a total game changer for the world of custom ears, and I am all for it.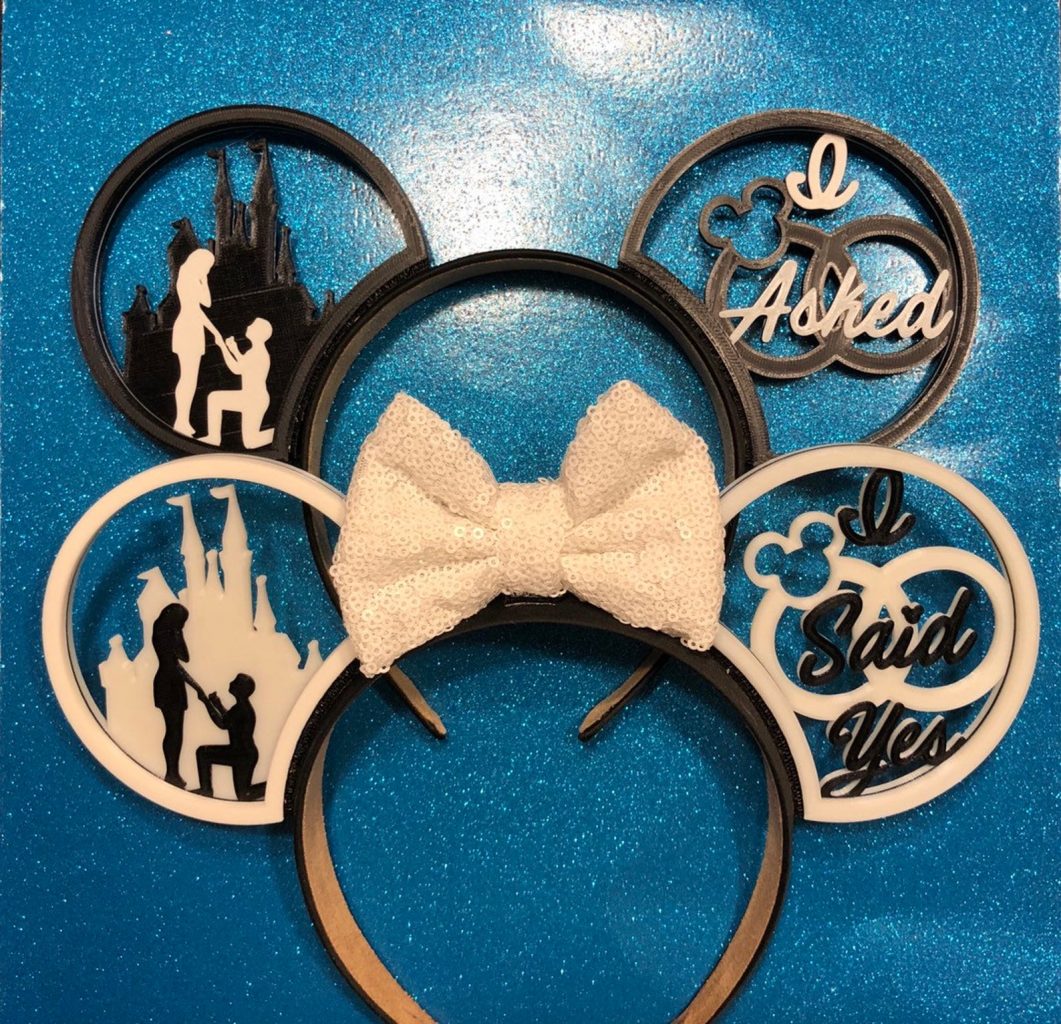 For a classy and elegant pair of bridal Minnie ears, this has got to be favorite set. Floral ears are very popular, but I love this take on the trend with the flowers making a bouquet in the shape of the mouse ears.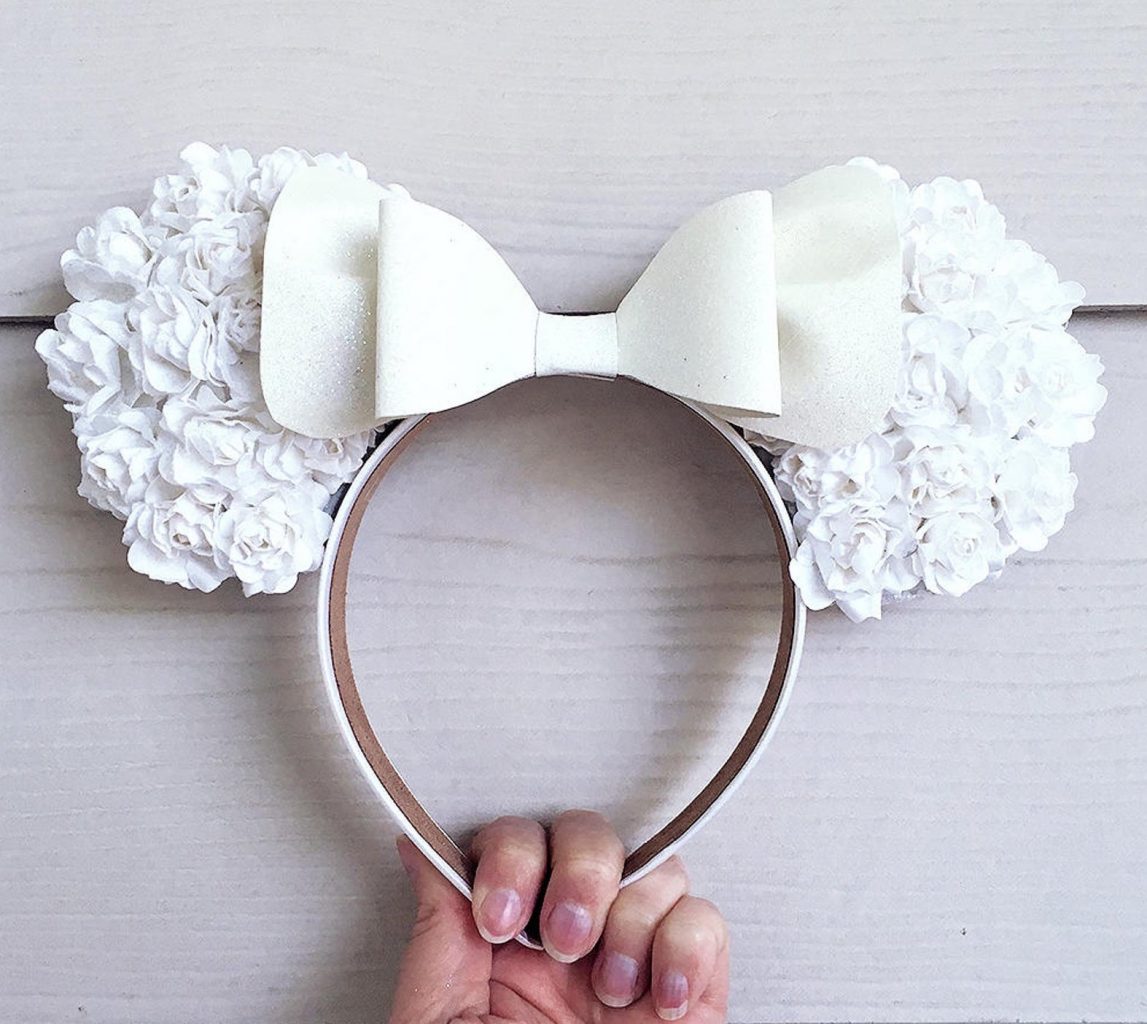 For the girl who loves to sparkle, this pair of Minnie ears, complete with a veil, is perfect. These ears will look gorgeous in photos and will definitely have all eyes on her as you celebrate your engagement.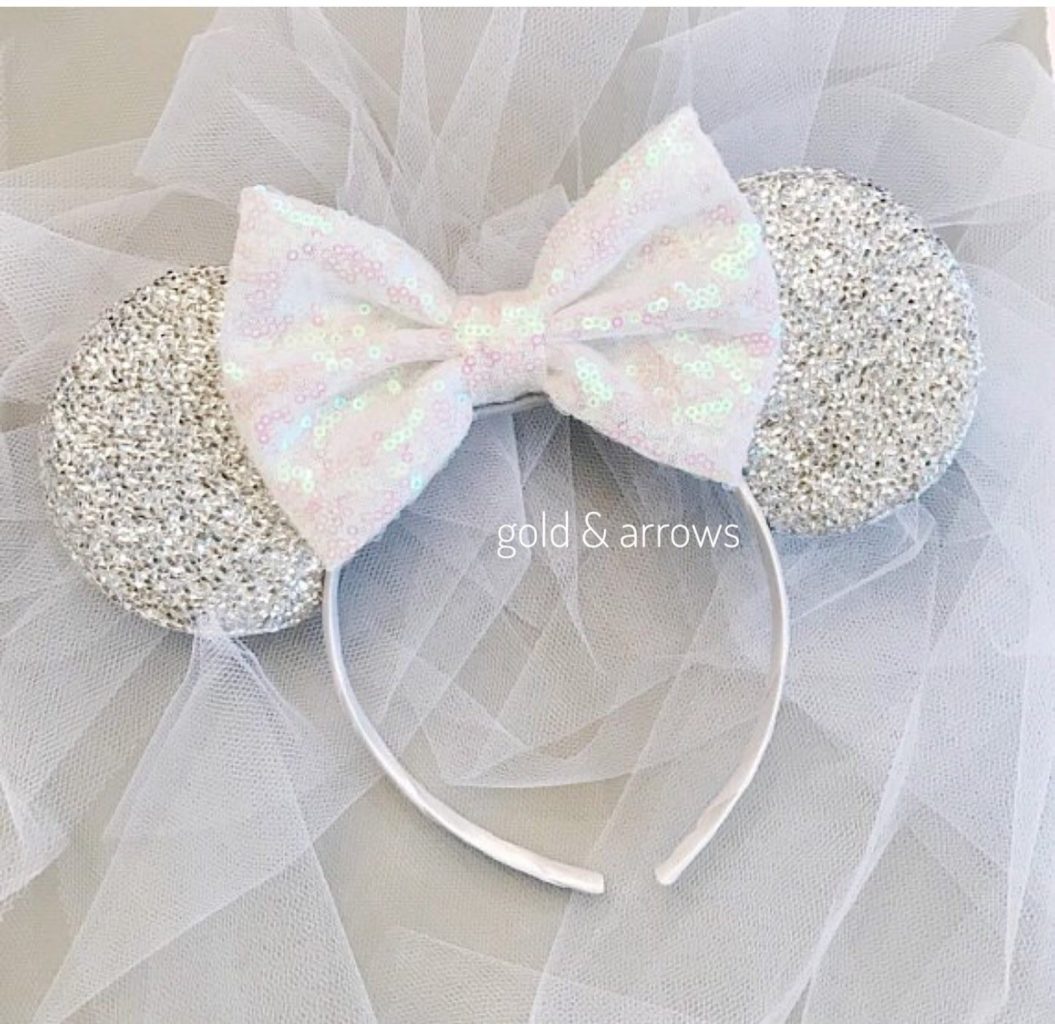 And if you're into it- custom t-shirts! Disney t-shirts can be super fun and can really let everyone know what you're celebrating. Disney loves to share in your celebrations, and it's never a guarantee, but I will say my husband and I got a lot of free desserts the week we got engaged. Plus, he loved the attention from everyone saying congratulations! I've got a couple favorite shirt options below, but be sure to also check out our post on Disney shirts for more ideas!
Adventure is an important part of most relationships AND Disney movies, so I think these matching shirts are an adorable way to commemorate a new adventure with your partner.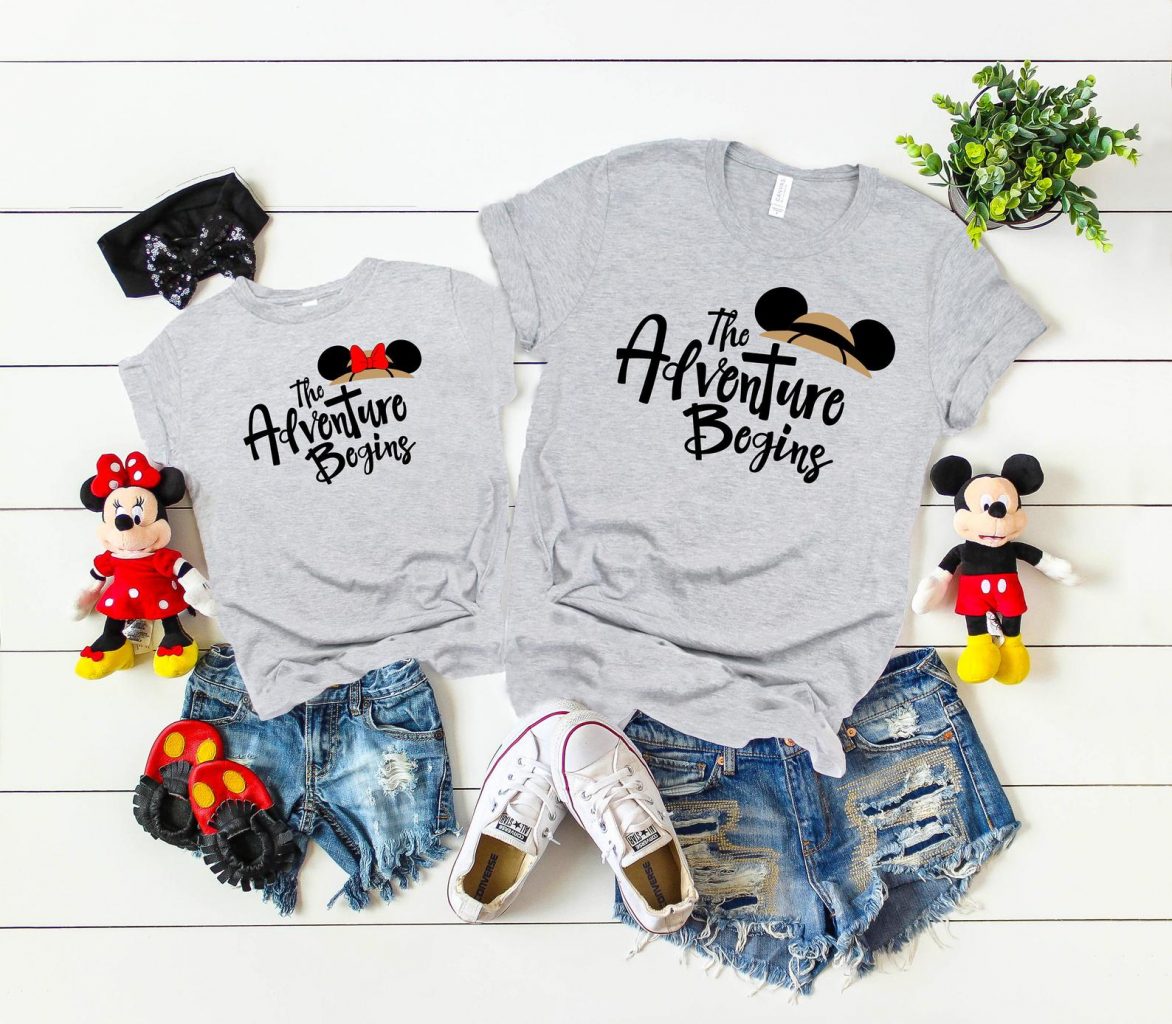 If you want something to really announce to the world that you're engaged and excited, I love this set of matching engagement shirts to celebrate. How cute would an engagement announcement look with a photo of you two in these shirts?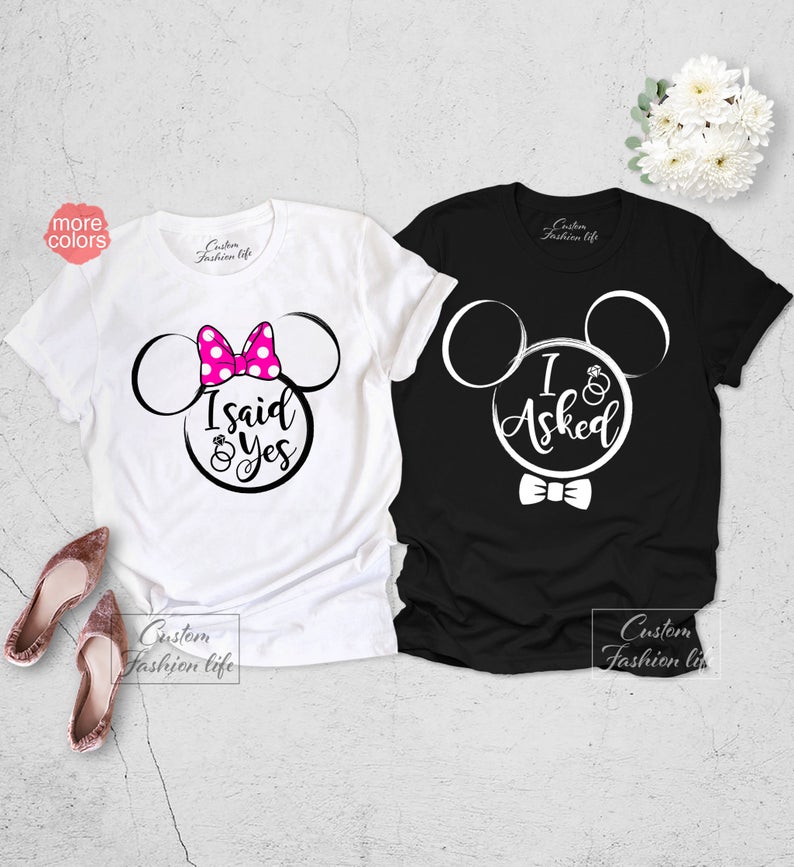 I hope this has helped you start to plan your perfect Disney engagement! There are so many options for a proposal at Disney, and my favorite thing about Disney proposals is that they are so very unique and personal to the people getting engaged! Your engagement should be a reflection of who you are as a couple, and I hope you've got some great ideas of how to make that a reality! Best of luck and CONGRATULATIONS!
Grand Floridian photos by Sugar Peach Productions.
Pin this post: