Was there ever anything more magical than a Disney honeymoon? It has castles, adventures, great food, and good times the whole way through. A honeymoon at Disney promises fun, laughter, and a chance to experience the happiest place on earth with your new spouse. Congratulations! We know that getting married is an adventure all on its own, and we are so excited for you!
Whether you got engaged at Disney or in your own hometown, marriage takes a lot of courage and a willingness to do something a little scary. Now that we think about it, is marriage really all that different from a roller coaster? Feel free to tell us! We want to hear all about your honeymoon at Disney when you get back.
Until then, we are here to tell you how to plan the most perfect, most magical, most wonderful and amazing Disney honeymoon. Disney World is packed with exceptional places to stay and a neverending stream of things to do and experience with your new spouse. We compiled a list of Every Map At Disney World [resorts, parks, waterparks and more] for your convenience in planning and understanding where things are located around the Disney World Resort.
Take it at your own pace. You can make your Disney honeymoon as relaxed or packed as you want. It is Disney! It is all about doing what makes you happy. You are going to be so happy, honeymooning in Disney World. Thank you for making us part of the process! Read on for our best tips and tricks for planning the perfect Disney Honeymoon.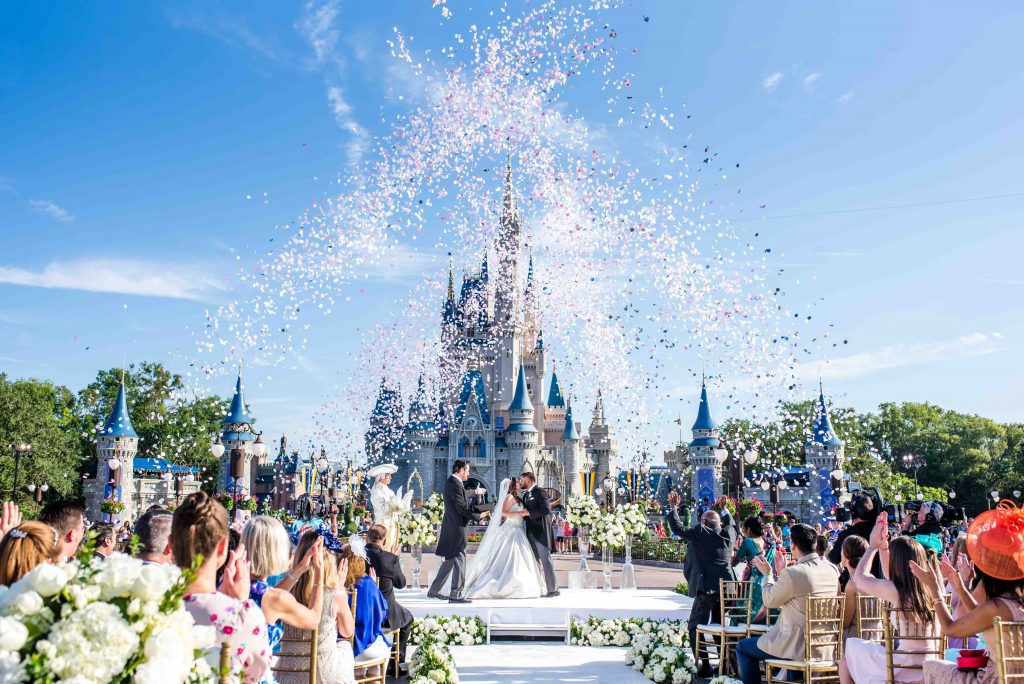 How to Plan the Perfect Disney Honeymoon
When to Honeymoon at Disney World
Pretty much anytime is a good time to honeymoon at Disney World, so if you do not have a lot of wiggle room in your timeline for your Disney honeymoon, rest assured. You will still have a good time! That being said, if you are able to have some control over when you take your Disney honeymoon, there are some things you might want to plan around. We figured them out so you don't have to. Between the park's festivals, Florida's weather, and the sheer number of other people who also love Disney, there are just a few things you will want to be aware of.
Events to Experience
Disney World has events going on all the time. The Epcot International Festival of the Arts begins in January and ends in February, and is definitely honeymoon worthy with all the color and art. Next comes the Epcot International Flower and Garden Festival, which takes over during the spring. Come during this festival to be surrounded by all kinds of natural beauty during your Disney honeymoon. The park really goes all out for this one. With the end of August comes the Epcot International Food and Wine Festival, which we think sounds just about perfect for a honeymoon! The last Epcot festival of the year is the Epcot International Festival of the Holidays. If you love the holidays almost as much as you love Disney, then this is the obvious choice.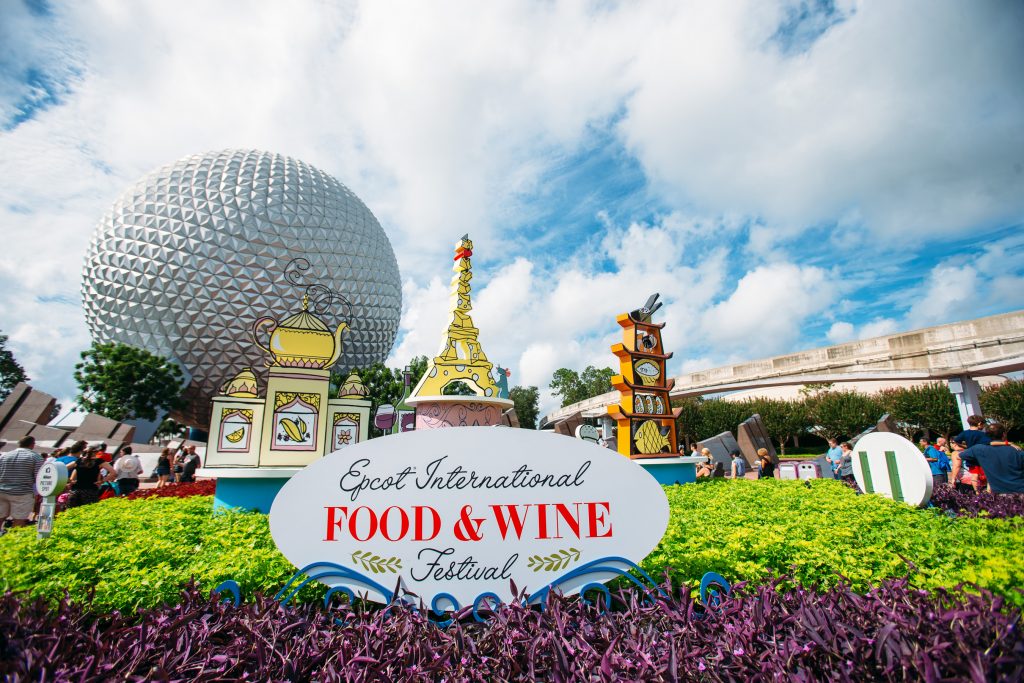 Weather to Watch For
If you are more worried about the weather than about the events, you may want to consider coming to Disney World in September through January. Florida gets hot and humid–actually, it is this way most of the year. The months of January through September offer more mild weather. September also offers the relief of being at the tail end of hurricane season, meaning that if you come during this time you should miss that. Now, of course, you can come visit Disney World for your honeymoon during any other time of year. This is your honeymoon, after all! Just come prepared if you do and make staying hydrated an absolute priority during the summer months.
Keep Crowds in Mind
One last consideration for when to honeymoon at Disney World: crowds. Very few things measure up to experiencing the holidays at Disney World, and very few things are as packed with people as the holidays at Disney World. December is the most crowded month at Disney World. September is the least. The kiddos are back in school, making the place much less crowded…and also quite possibly more romantic. It just makes sense. If you want more information about the things going on at Disney World throughout the year and the crowds that show up for them, check out our Disney World Crowd Calendar.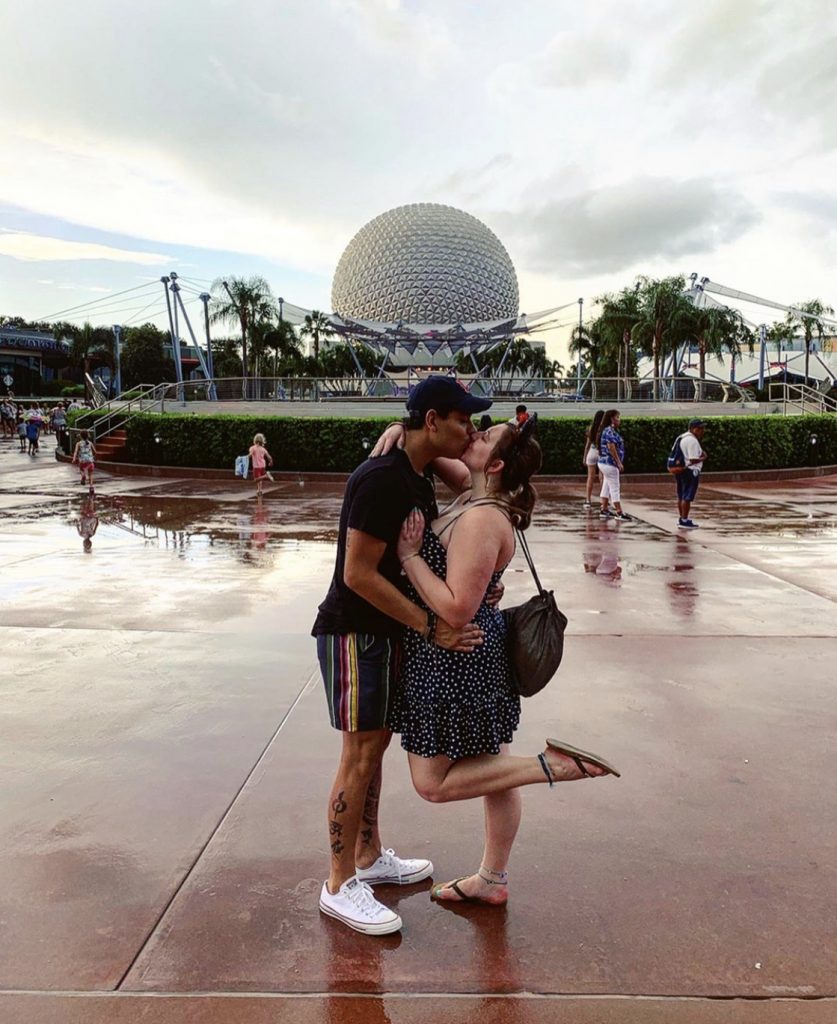 Romantic Disney World Hotels
You might think that a Disney honeymoon is all about the parks, and we are not going to argue with you on that. But you just might have a little bit of a hard time leaving your hotel. When you see some of the places to stay, you will understand. Disney World has some amazing resorts with exceptional services and locations. Your honeymoon at Disney is going to be absolutely amazing for many reasons, and one of those reasons is going to be because there are so many great places to stay. We have our top, most romantic picks for you here.
Four Seasons Resort Orlando at Walt Disney World
Why not start with an all-inclusive, luxury option? The Four Seasons Resort Orlando at Walt Disney World has everything you need for an extraordinary Disney honeymoon. It is right inside the water park. Stay here, and you will be able to use the Disney FastPass+ and Extra Magic Hours. You will also have access to the Tranquilo Golf Course, in case you just need to do something besides roller coasters for a day. Some of the rooms are even in just the right spot to see the nightly firework shows!
Disney's Yacht Club Resort
Speaking of fancy, we have to tell you about Disney's Yacht Club Resort. The name alone exudes taste and class. And, as the name suggests, this place is all things sophisticated and nautical. Stay here, and you will be staying right next to the lake within walking distance of the Epcot park, where all the festivals happen. This is a great place to stay if some of those festivals caught your eye. Being right next to the lake, you can also take a boat ride to Disney's Hollywood Studios. Disney's Yacht Club Resort offers roundtrip motorcoach transportation to and from the Orlando Airport. Getting to and from this resort is a breeze.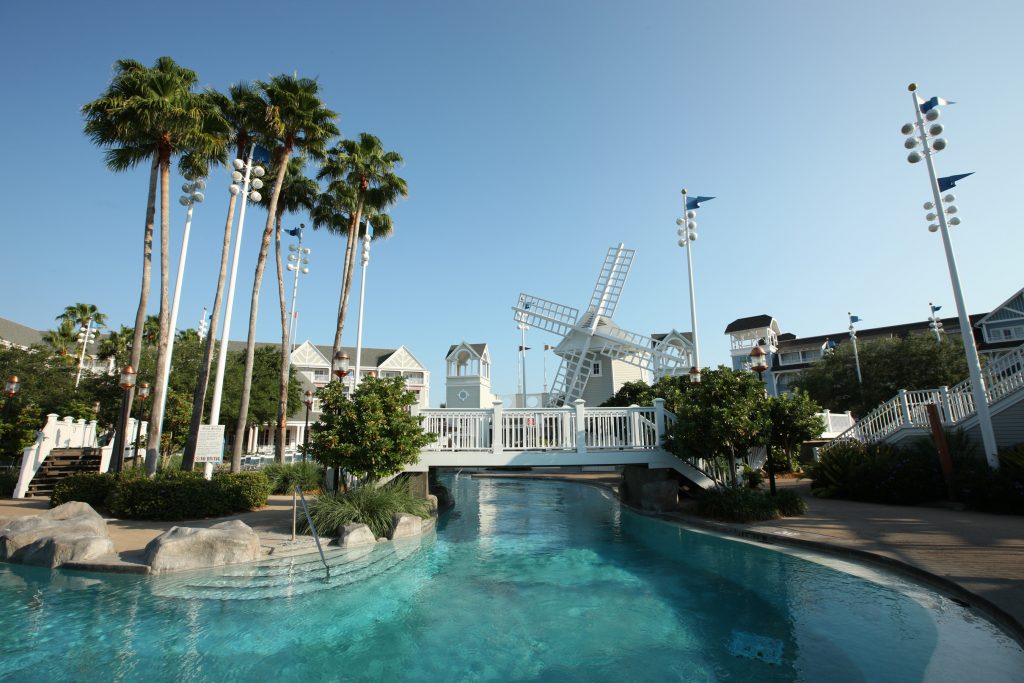 Disney's Polynesian Village Resort
If you wanted to see a beach during your Disney honeymoon in Florida, check out Disney's Polynesian Village Resort. You might feel like you have left the United States altogether when you step into the lobby of this Polynesian decorated resort. The resort is located on it's very own private beach. Not only that, but it also offers spa services, a limo service, and three restaurants. You and your love will have the chance to rest, relax, and explore all from this one location. You can even stay in one of their villas to make the experience even more romantic!
Disney's Animal Kingdom Lodge
Disney World has a lot of parks to choose from, but are any of them more pure fun than the Animal Kingdom? There is just something so nostalgic and magical about this park that really captures the soul of Disney. Stay at Disney's Animal Kingdom Lodge to experience some of that magic day and night. It is located right on Bay Lake and is a 25-minute walk from the well-beloved Animal Kingdom Park. This is another resort where you will want to make use of the shuttle to get to and from the parks, but it is such a fun place that we think it is worth it!
Disney's BoardWalk Inn
Disney's BoardWalk Inn offers a little bit more of a range in pricing, making it a more affordable option. Do not think that affordable means you are missing out on anything though. This beautiful hotel is also right next to the water and offers airport shuttle service. Stay here and you will have easy access to Disney's Boardwalk, as well as Disney's Fantasia Gardens Miniature Golf Course. It is not as close to Epcot or the water park, but still definitely within walking distance if you are okay with walking 20 minutes. The hotel itself is classically Disney, and will not disappoint.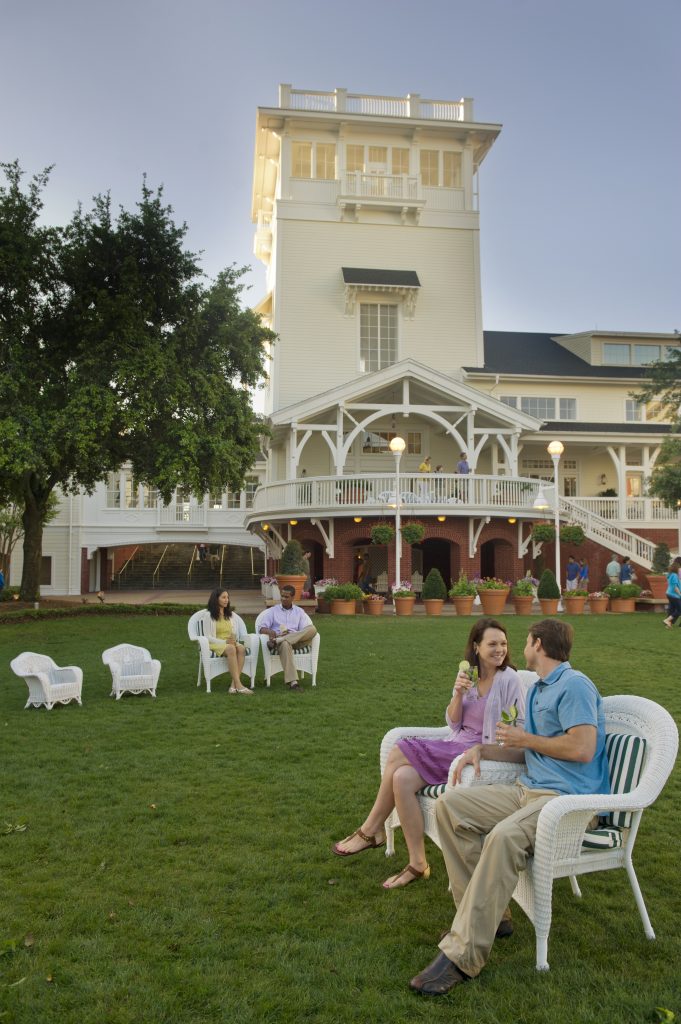 Disney's Grand Floridian Resort & Spa
Want to feel like you have stepped back in time to a decadent hotel of decades past? Who doesn't?! Disney's Grand Floridian Resort & Spa offers exactly this experience. The lobby's ceiling reaches for the heavens, with several terraced floors above that look down. Chandeliers give it an extra touch of splendor. You could probably just live in the lobby and be content, to be honest. This resort is closest to Disney's Magnolia Golf Course and Palm Golf Course. The closest park is the Magic Kingdom, at a 10-minute walk away. All the other parks are considerably further, but that is okay! Just make use of the shuttles and you will be fine to enjoy the beauty of this place.
Sheraton Orlando Lake Buena Vista Resort
Sheraton Orlando Lake Buena Vista Resort is the place to stay for those of you who want a Disney honeymoon that does not necessarily focus everything on the parks. Do not get us wrong, this is a great resort within a good distance of the parks. But it also offers several other amenities, including outdoor pools, spa treatments, scuba diving, and snorkeling. You are still in walking distance of the parks and can spend all day every day there if you want to, and you can also experience some of the other things Orlando has to offer. And you seriously cannot beat the price of this place for everything you get.
What to Pack for Disney World
#1. Reusable Filtered Water Bottle
We always recommend this one. A great way to add some ease to your Disney honeymoon is to bring a reusable filtered water bottle with you. Save the planet, save the ocean, and save your wallet. Trust us on this one–bring yourself a water bottle. It is so much easier and less expensive to carry water with you than to try to find it while you are out adventuring.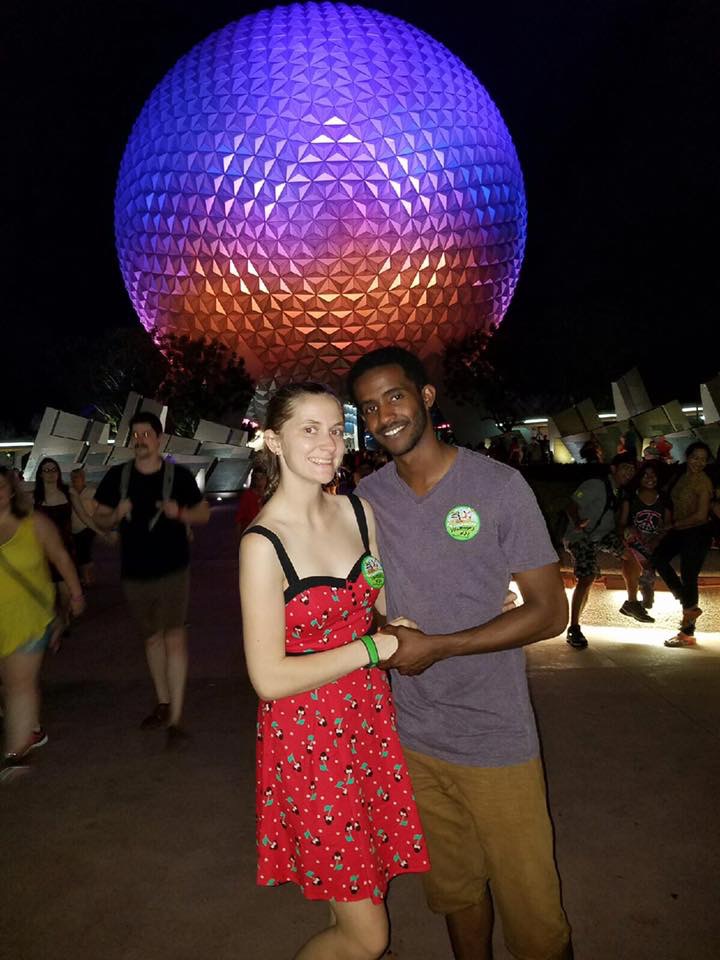 #2. Add A Poncho Instead Of An Umbrella
Looking to save space but still stay dry when choosing what to wear? Add a poncho to your packing list instead of a travel umbrella! A poncho folds up teeny tiny in your suitcase and is easy to throw into a backpack when you're riding rides. It is quick to whip out and put on and keeps you more covered than an umbrella. When considering what to wear in Disney World, make sure you pick a poncho that is made of quality material so it doesn't rip when you put it on. This is cheap but necessary to bring on your honeymoon in Disney World.
#3. Portable Power Bank So You Can Keep Going Strong
Whether you use your phone camera or you're more high tech, it is always useful to carry something to recharge when an outlet is nowhere in sight. People do not honeymoon at Disney World to stay inside all day. Bring a portable power bank so that you can go wherever you want for as long as you want without worrying about your phone dying. They are small, lightweight, and worth the space they will take up in your purse or pockets.
#4. Action Camera for All Your Unforgettable Moments
If you are going on your honeymoon at Disney World, then you know you will be doing some amazing things. Your memories will last a lifetime, but there is no harm in taking some video to help remember things a little better! And lucky for you, cameras are kind of (read: very much) our thing. We have a couple of articles you can check out to learn more: the 5 Best GoPro Dome Ports and How to Use Them, and the 11 Best GoPro Alternatives That Won't Break the Bank.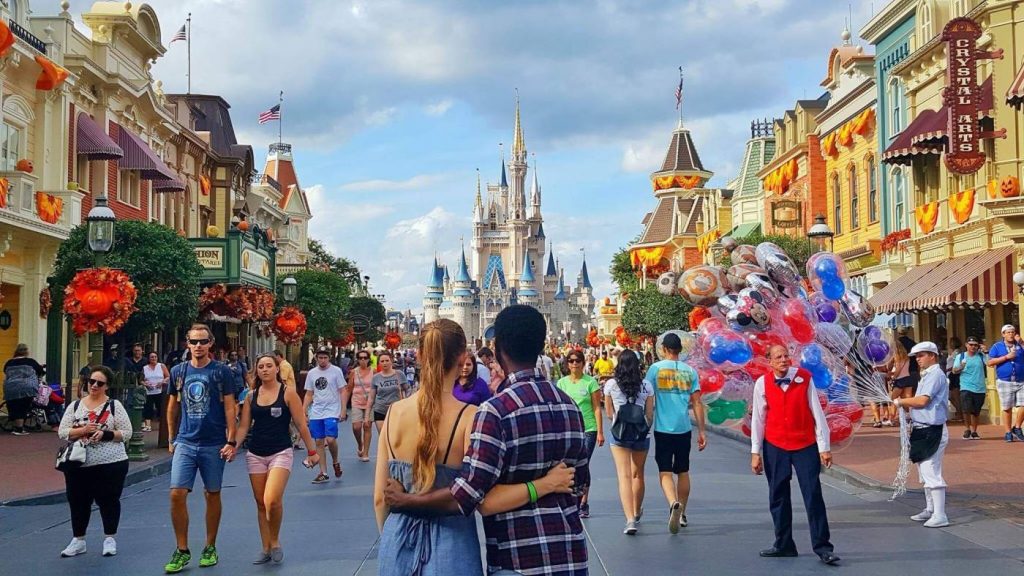 #5. Good Walking Shoes
Disney World is huge. If your honeymoon at Disney World is going to be your first experience with this amazing theme park, you should know that this is no small place. Bring good walking shoes. Whether you are spending your time in lines, or just walking from one ride or event to another, you are not going to want to skip this one. We know, we know, that walking shoes are not always the trendiest. But trust us, unless your plan is just to stand around taking pictures, you are going to want good shoes.
What to do On Your Disney Honeymoon
Of course, of course, of course, you can spend your whole honeymoon riding rides and enjoying the parks in all their glory. What to do on your Disney honeymoon might even seem obvious–you are going to Disney World, you will experience the parks. Done. Sure, okay, that is a good plan. If you are open to a little bit of inspiration though, we are here for you. We have combed through all the offerings of the parks to find some of the most romantic experiences that Disney World offers. Keep reading to get some ideas for things to do with your love.
Go On a Canoe Ride for Two
Want to know a great way to get away from the crowds for a bit? Great news! You and your new spouse can rent a canoe or kayak at Disney's Fort Wilderness Resort. There are only so many canoes and kayaks, and this is first come first serve. We recommend coming early in the day so that you can have some nice couple-time in the middle of the happiest place on earth. Remember that scene from The Little Mermaid, when Ariel and Eric are on that little rowboat together? Yeah, that could be you.
Enjoy a Carriage Ride
Speaking of princess memories, remember that time in Cinderella when the Fairy Godmother turned the pumpkin into a carriage? Well, unfortunately, Disney World will not be doing that anytime soon. Fairy Godmothers are in short supply these days. But don't worry, you have us. And even better, you have all kinds of opportunities to ride carriages in Disney World without having to make them from pumpkins. Think about it–your love, you, and a carriage ride for two. This activity has Disney Honeymoon written all over it.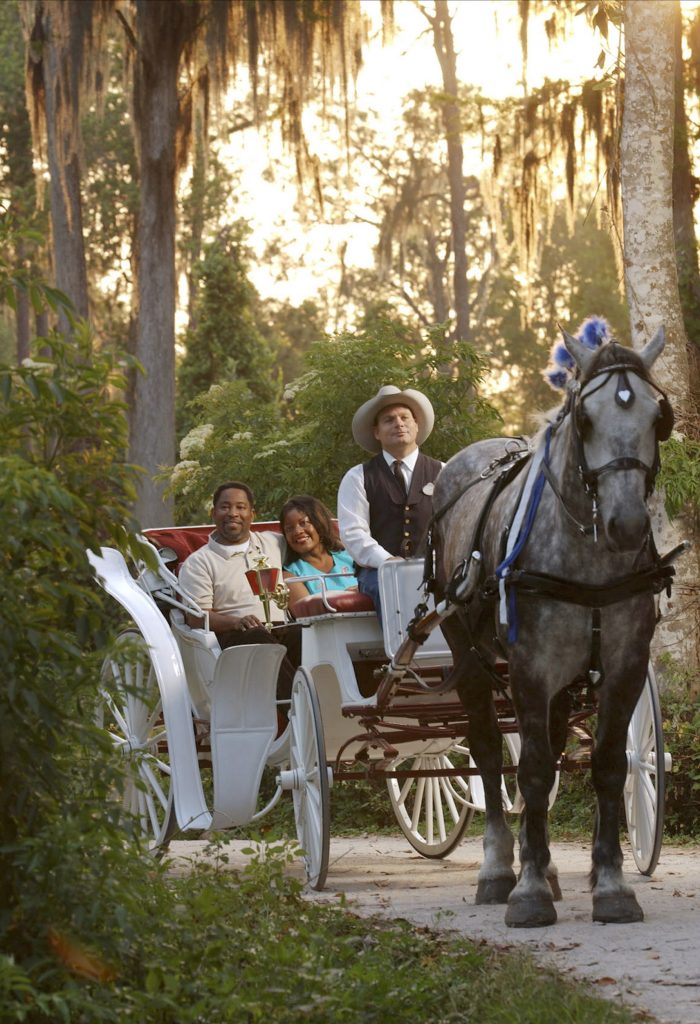 Indulge in a Spa Experience
Remember the Disney's Grand Floridian Resort from the Places to Stay section earlier? Well, they have a spa. Even if you do not stay at the Grand Floridian, you can experience the spa. We said experience, not visit, for a reason. The Grand Floridian Spa offers a Senses Retreat that luxuriates in all things relaxing and wonderful. Even if you are not up for the whole retreat, this spa offers a full spectrum of services. Whether you would like a facial, massage, or one of their signature body therapies, they have everything you could possibly desire.
Take a Privately Guided Tour Through the Animal Kingdom
Did you know that you can schedule your own safari with the Animal Kingdom park? Because, drum roll please, you can! Get a taste for the wild and exotic right inside little ol' Disney World, and schedule a safari for your honeymoon. This African-inspired adventure includes beverages and treats, as well as a fun glimpse of rarely seen wildlife. Your safari will be a pleasant evening of relaxed exploration in the Harambe Wildlife Reserve. You will get to know the animals and witness the Savanna in a whole new way.
Visit the House of Blues
What could be better than a marrying of Southern culture and rhythm mixed with Disney World? We mean, besides your marriage, of course! The House of Blues is located at Disney Springs. Come here for the amazing food, and for the opportunity to listen to world-class musicians. You and your love will not forget this experience. As if food and entertainment were not enough, you will also have the chance to dance your hearts out. We cannot think of a better way to celebrate your marriage and the start of your married life together.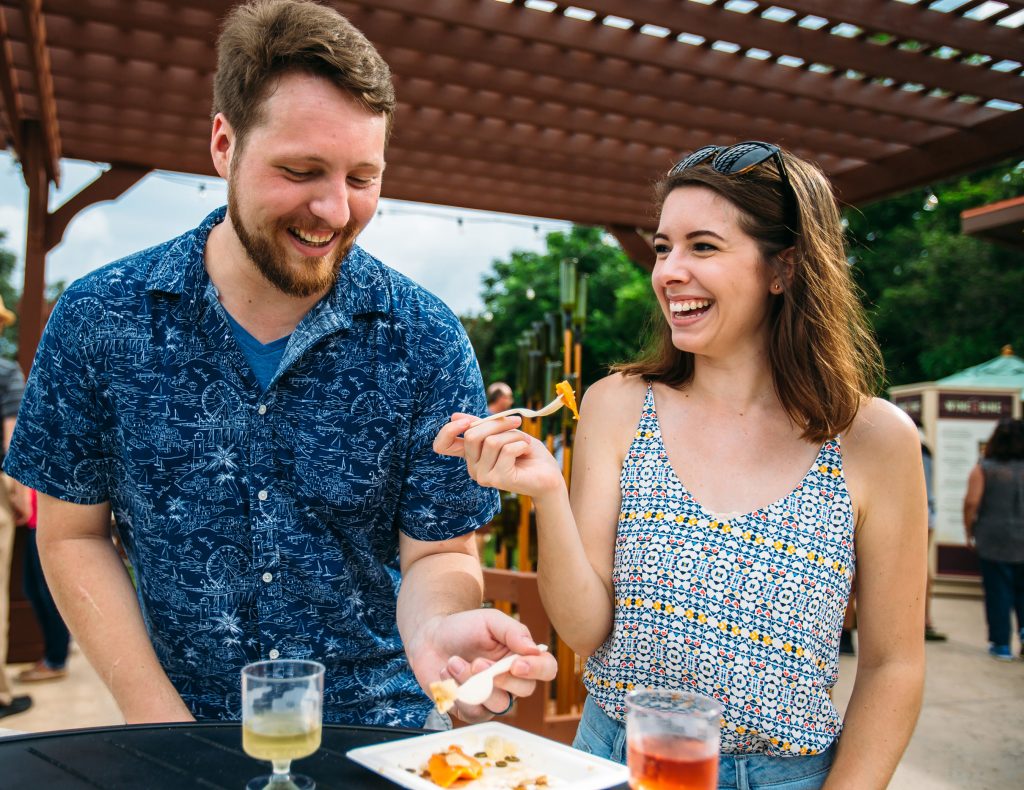 Check Out the Liberty Square Riverboat
The Liberty Square Riverboat is an experience found inside the Magic Kingdom Park. Board the Liberty Belle, and this riverboat will take you past several recreations from America's early history. Not only that, but the riverboat itself is a historic reproduction. It is true to the kind of boats that used to carry people and goods on the Mississippi River. Once you have found your seat, you will be treated to memories of Mark Twain, many of whose works feature the Mississippi River. This tour only lasts 17 minutes, so it will leave you with plenty of time to do everything else you have been dreaming of.
Cruise to Your Heart's Content
If you have something a little longer than 17 minutes in mind for your time on the water, breathe easy. Disney World offers a variety of specialty cruise experiences. Whether you prefer a nighttime fireworks cruise or a daytime world tour, you will find something to add that special highlight to your honeymoon in Disney World. There is just something romantic and magical about sailing on calm waters with the one you love. We highly recommend this experience for your Disney honeymoon.
Getting to Disney World
Disney World is located in Orlando, Florida. You can drive there from inside the united states, or you can fly into the Orlando airport. Many of the resorts we have listed offer shuttle service to and from the airport, making it easy to get to and from Disney World. If you choose to drive, do not worry. Many of the hotels and resorts also offer free parking.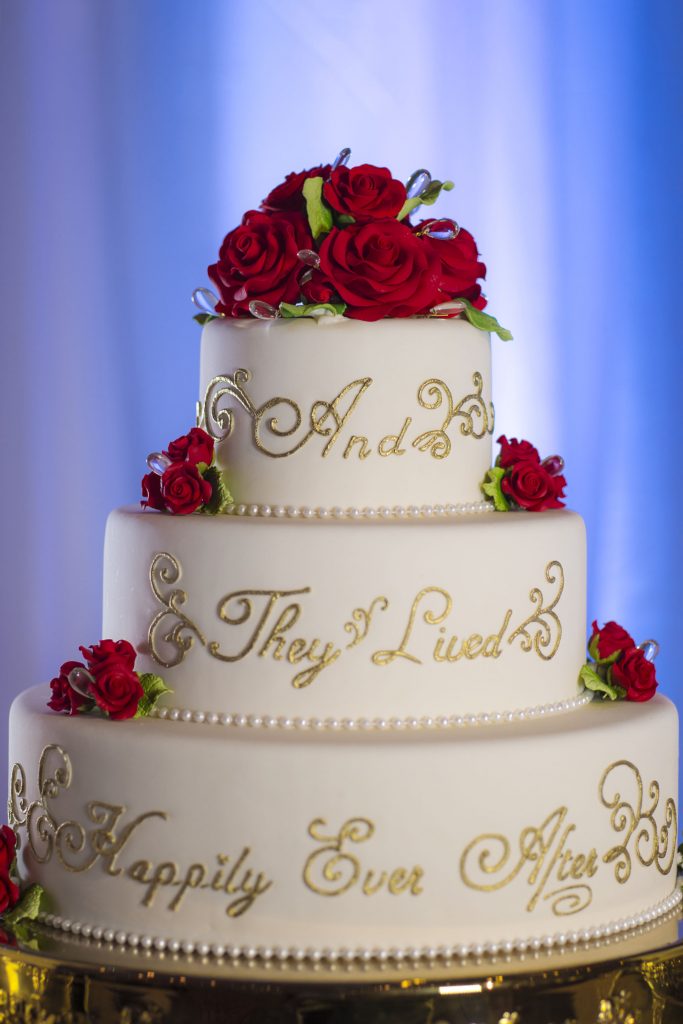 We hope this guide has been helpful to you in planning the perfect Disney honeymoon. Congratulations again on getting married! A Disney honeymoon promises a fun, magical beginning to your lifetime of love. Let us know how it goes! We would love to hear if you do anything we have listed, or stay in any of our recommended locations. Best wishes!
Pin this post: