If you're having a difficult time finding the best Disney shirts for women, I've got you covered! The perfect cute Disney shirt can add a whole lot of joy to an already joyful day at the Disney parks. Which of the amazing options below will be your personal favorite?
Do you want to rep your favorite Disney princess? Or perhaps you'll shift away from the norm and rep your favorite Disney villain instead? There are even some specifically for mothers, soon-to-be mothers, or single women looking for their Prince Charmings. No matter what, there are bound to be quite a few Disney shirts for women on this list that you will love!
20 Cute Disney Shirts For Women You'll Love
I'm Done Adulting Disney Shirts
We all understand the struggles of adulting. From making a steady income to cooking to cleaning to staying on top of bills, there are just so many responsibilities! It can become extremely overwhelming at times. Spending a day at Disney is a fantastic way to take a break from all of those adult obligations. This bestselling I'm Done Adulting Disney Shirt is one of my favorite Disney shirts for women.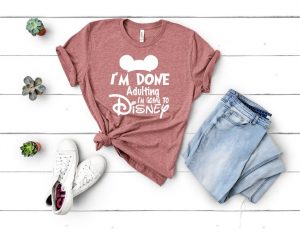 Minnie Mouse Sketch Shirts
As one of the original Disney characters, Minnie Mouse has become the most iconic female Disney character of all time. This women's Minnie Mouse shirt gives off artsy vintage vibes, as it showcases an old school 1930s sketch of Minnie Mouse, complete with the flower in her hat. Rather than just a simple screen print of modern-day Minnie, this Minnie Mouse Sketch Shirt design has a bit more character and history.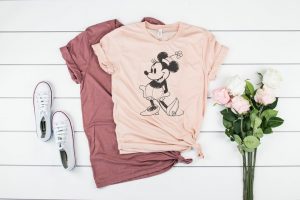 Coach-Inspired Disney Shirts
When I first saw these Coach-Inspired Disney Shirts for women, I loved the creativity! After all, who doesn't want to flaunt Disney AND a luxury brand like Coach at the same time? And don't worry, because the design is revamped with Cinderella's coach instead of Coach's traditional horse and buggy, you won't have to pay an absurd amount of money for this cute Disney shirt!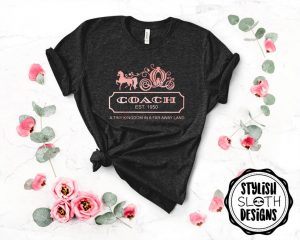 Disney Princess Role Call Shirts
When you get to Disney and become surrounded by the magic in the air, you truly feel like one of the Disney princesses. You feel like you are just like Belle, Ariel, Jasmine, Merida, and the rest of the bunch. These Disney Princess Role Call Shirts personify that idea. This customizable Disney t-shirt for women allows you to add your name in shiny gold lettering next to the names of all of the other Disney princesses. Are you feeling like a royal yet?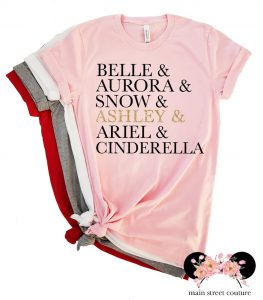 Team Pocahontas Disney Shirts
Sometimes you just want to rep one Disney character, either your favorite character or the one that you relate to the most. Complete with a colorful feather, these Team Pocahontas Disney Shirts are perfect for Pocahontas fans. But if Pocahontas isn't your favorite, the same Etsy shop also sells similar shirts for Snow White, Aurora, Rapunzel, Tiana, Mulan, Jasmine, Cinderella, Belle, and Ariel. Pick your favorite and let your fellow Disney park goers know!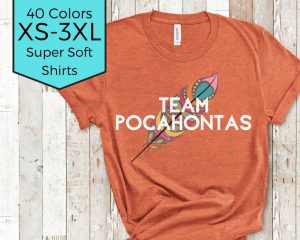 Vogue Disney Villains Shirts
With three Disney princess-themed shirts in a row, you may be thinking, "Come on! Where are the other amazing Disney characters? There are more characters than that!" Well, the wait is over! These Vogue Disney Villains Shirts showcase your favorite, not-goody-two-shoes Disney characters, including Ursula, The Evil Queen, Maleficent, and Cruella De Vil. And to fit with the Vogue theme, they are all in the most extravagant, trendy outfits possible.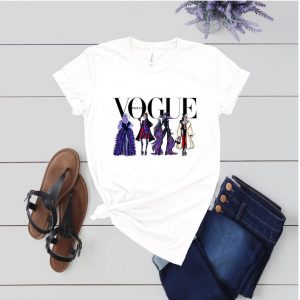 Powered By Pixie Dust and Coffee Disney Shirts
For most of us, a caffeinated cup of coffee gives us the jolt of energy each morning that we need to get going. For Disney lovers, both that cup of coffee and a little sprinkle of pixie dust are necessary for a productive day. And with this Powered By Pixie Dust and Coffee Disney Shirt, you'll make sure that everyone knows it.
Up Disney Shirts
In my personal opinion, Up is one of the most underrated Disney movies of all time. It's got an adorable main character, a hilarious sidekick, a bit of nostalgia, and a house that floats thanks to a ton of balloons. What more could you ask for? Oh, and you can't forget the fantastic, inspiring catchphrase used throughout the movie: "Adventure is out there!"
These Up Disney Shirts incorporate many of these elements while still being tasteful. You get both the unforgettable catch phrase and the magical balloon-lifted house. This cute Disney shirt is definitely towards the top of my wish list!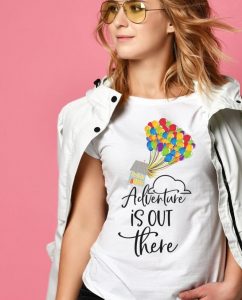 Disney Love Shirts
Sometimes when you're deciding on an outfit for the park, you just want something simple. While the Disney clothes for women that are used for Disneybounding are fantastic on some occasions, other times you just want a little break from the extravagant outfits. These simple Disney Love Shirts are perfect for that. Decorated with the word "love" in calligraphy and a pair of Mickey ears, these Disney shirts for women spread a positive message while still being extra comfortable.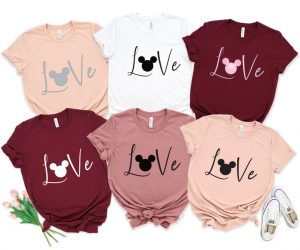 Disney Mom Shirts
For many moms, their love of Disney doesn't fade just because they've become a parent. Rather, it gets reignited, because now they get to take their children to the parks with them! This Disney Mom Shirt, which reads, "Never dreamed I'd grow up to be a spoiled Disney Mom, but here I am, killin' it" is perfect for moms who visit Disney just as frequently as they did before they had kids.
If you're a mom that's so into Disney that you'll make your family wear Disney shirts with you, we've got an entire list of Disney family shirts, which may pique your interest.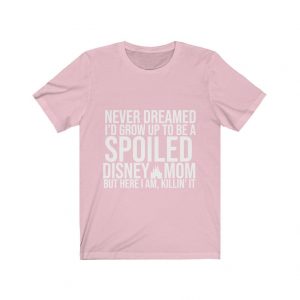 Disney Star Wars Shirts
Most Star Wars shirts are targeted towards men. What's that all about? Thank goodness some of the amazing sellers on Etsy decided to fill this gap in the market with some wonderful women-oriented Star Wars products, like these Disney Star Wars Shirts. With the tagline "Look like a princess, fight like a Jedi," these Disney shirts for women highlight both the beauty and the strength of those who wear them.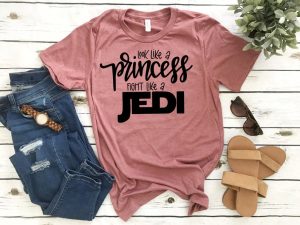 Christmas Disney Shirts
If you're heading to Disney during the holidays, you know the Disney cast members will be pulling out all the stops to turn the happiest place on earth into the most festive place on earth. If you truly want to embrace the extremely festive mood at Disney, you'll have to pull out all the stops too, like with one of these amazing Disney Christmas shirts! This green Christmas Disney Shirt decked out in colorful Christmas lights is perfect!
Between the lights and the phrase "Dashing through Main Street in my Mickey ears," your festive game has already shot up! But there's just one more thing you may be forgetting: your Mickey ears! You have to grab a pair of Christmas ones, or your amazing Disney Christmas shirt simply won't make sense!

Mary Poppins Disney Shirt
With the remake of Mary Poppins becoming such a hit, two generations now know the joy of this otherworldly nanny. That means that everyone in the park will get the reference on this Mary Poppins Disney Shirt of the silhouetted Mary and the phrase, "Practically perfect in every way." And if you just so happen to be carrying an umbrella with this outfit, who knows, maybe the park's littlest of visitors will think you're actually Mary Poppins!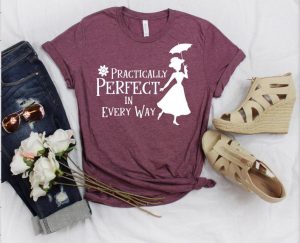 Disney Bachelorette Party Shirts
If you're headed to Disney, odds are you won't be by yourself. You may be with your family, your significant other, your best friend, or as part of a bachelorette party! If the latter happens to be the case, these Disney Bachelorette Party Shirts were basically made for your group. Will you pick Elsa's "Let It Flow" shirt? Or perhaps Cinderella's "Bibbidi Bobbidi Booze" one instead? Or maybe Belle's "Beauty and the Bottle" one? There are eleven different options to choose from!
These shirts can also work perfectly if you're headed to Disney just with your gals – not necessarily for a bachelorette party. Just pass on the bride's shirt and get the other princess-themed, alcohol pun-filled shirts of your choice. No one will be the wiser!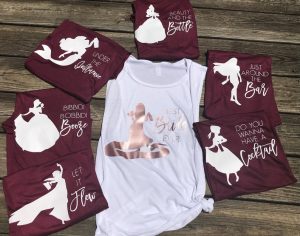 Beauty and the Bump Disney Shirts 
These Disney shirts for women are all about their clever plays on words. While the previous option had lots of alcohol puns, this option has quite the opposite. This Beauty and the Bump Disney Shirt is made for an expecting mother! Instead of the lovely beauty having a beast as in the movie, she has a baby bump!
Do note that it can be a little difficult to gauge the size of maternity clothes online. If this shirt is a must-have for you, be sure to check the reviews to determine what size shirt you should buy for how far along you are (or will be during your Disney trip) in your pregnancy.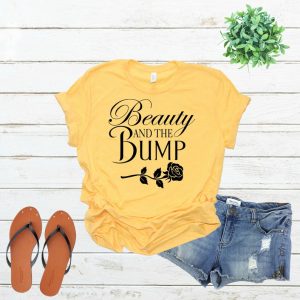 Disney Princess Shirts
Most little girls who grew up watching Disney wanted to become a Disney princess when they grew up. Well, now this shirt can make it official! This Disney Princess Shirt tells the world loud and clear, "I'm 99.9% sure I'm a Disney princess." And to make sure absolutely everyone knows it, you can get it written in silver, gold, or rose gold.

Ohana Means Family Disney Shirts 
If you're a mother or a Lilo and Stitch-lover, this particular Disney t-shirt is perfect for you. Simple and sweet, this Ohana Means Family Disney Shirt proudly displays that famous Lilo and Stitch line. And if you happen to be at the park with your family, this sentiment gets a whole lot sweeter.

Looking For Prince Charming Disney Shirts
Many of the Disney shirts for women on this list have been targeted towards women who are already married and have become moms. But there are many women out there who are still searching for their Prince Charmings. And what better place to make this fact known than while you're at Disney? This Looking For Prince Charming Disney Shirt will let your fellow park-goers know that you're single and ready to mingle. And who knows, perhaps this shirt will help you find your Prince Charming!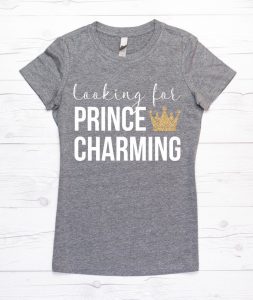 Some Call It Magic Disney Shirts 
Recorded by Disney star, Raven-Symoné, the song "Some Call It Magic" became a hit with Disney fans when it was released in 2010. After all, it embodies the magical, pixie dust-filled joy provided by Disney. When this phrase, "Some Call It Magic," is applied to mothers, it takes on a completely different, yet still awe-inspiring meaning.
The Some Call It Magic Disney Shirts say "Some call it magic. I call it being a mom." Motherhood truly is an awe-inpsiring position. There's so much to juggle, and, yet, somehow it all gets done. And, if you're wearing this amazing shirt to a Disney park, everyone will know that you and your family know how to have loads of fun too!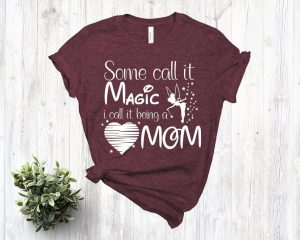 Eat. Disney. Sleep. Repeat. Shirt
As the last Disney shirt for women on this list, the Eat. Disney. Sleep. Repeat. Shirt is profoundly simple. All your inner desires on a shirt: eating, going to Disney, and sleeping. Honestly, what more could you want in life?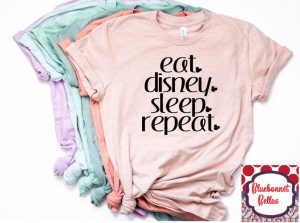 I hope you loved these cute Disney shirts for women! You can find so many more on Etsy, which is an amazing place to shop for custom Disney products. While supporting small business owners, you can search through a huge selection of Disney clothing and gear. Just make sure to check reviews. I have included ones with great reviews on this list, but if you decide to buy other Disney shirts for women or Disney products, make sure to read them before you make your purchase!
Pin this post: