Are you searching for the best Animal Kingdom breakfast? Look no further, as we have mapped out all the options for you! The zoological theme park encompasses the Kilimanjaro Safari, Expedition Everest, the Festival of the Lion King, and Pandora – The World of Avatar, some of the most popular Disney attractions.
As we all know, half of the experience of visiting Walt Disney World is the food! With many character dining experiences and themed quick-service meals, it's impossible to find a meal you don't like. Finding a great breakfast place can make or break your day. Luckily, there are many options for breakfast in Animal Kingdom!
Whether it be quick service or table service, Disney's Animal Kingdom offers many different options between the seven themes in the park: Oasis, Discovery Island, Pandora, Africa, Rafiki's Planet Watch, Asia, and DinoLand, USA. Each Animal Kingdom breakfast option below is filled with many different food choices sure to win you over on your next visit to Walt Disney World!
Best Quick Service Breakfast At Animal Kingdom
Kusafiri Coffee Shop And Bakery (Africa)
For those mornings you are itching to get in line for Kilminjaro Safari as soon as you can, breakfast at Kusafiri Coffee Shop and Bakery is a great solution. With to-go breakfast options like pastries, fruit, yogurt, and muffins, there's something for everyone to get for breakfast at the Animal Kingdom. Pair your choice with a freshly brewed Joffrey's coffee or a Joffrey's cold brew coffee to kickstart your day! They even offer classic flavors like french vanilla or mocha!
Kusafiri's convenient location paired with their delicious pastries, such as the fan-favorite Colossal cinnamon roll, is the reason it ranks so high on our list. It truly is one of the best choices for quick service breakfast at Animal Kingdom! That being said, it is definitely one of the most popular, too! As with most Disney World attractions, always plan time in case of a line!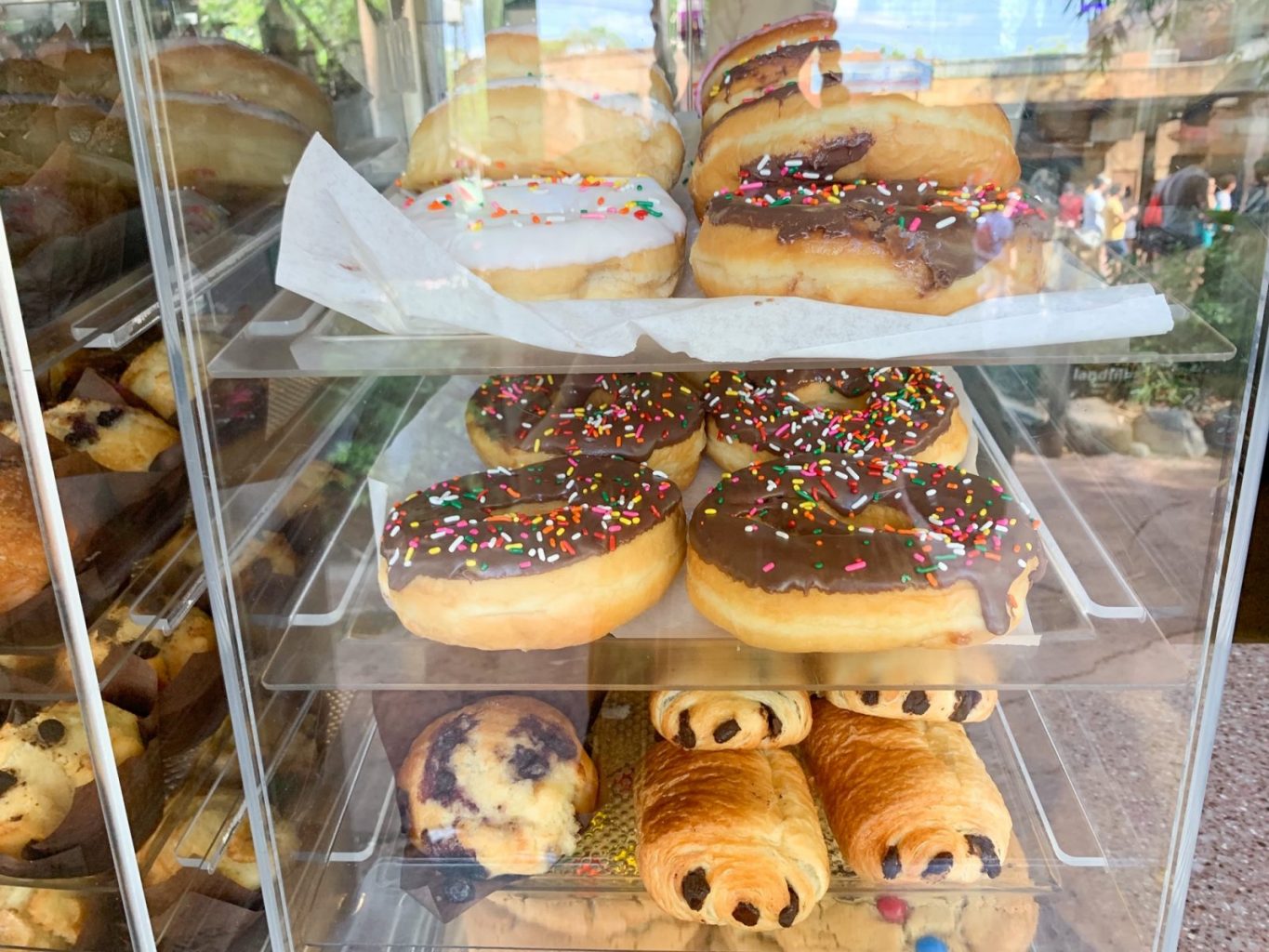 Pizzafari (Discovery Island)
If your normal breakfast time is closer to lunch-time on your Animal Kingdom day, no worries! Pizzafari is a great choice for Animal Kingdom breakfast. As mentioned in their title, they offer a selection of pizza, along with flatbreads and salad. From classics like cheese and sausage pizza, Caesar salad with chicken, and garlic knots, they also offer a pizza with plant-based sausage for those of us who are vegetarian/vegan! Be sure to try their Lion King cupcake if you're looking for a quick to-go option for breakfast in the Animal Kingdom!
Pizzafari is located in Discovery Island, making it a convenient stop if you are headed to check out the Tree of Life. Be sure to utilize your PhotoPass and get a portrait taken in front of the magnificent 145-foot-tall tree!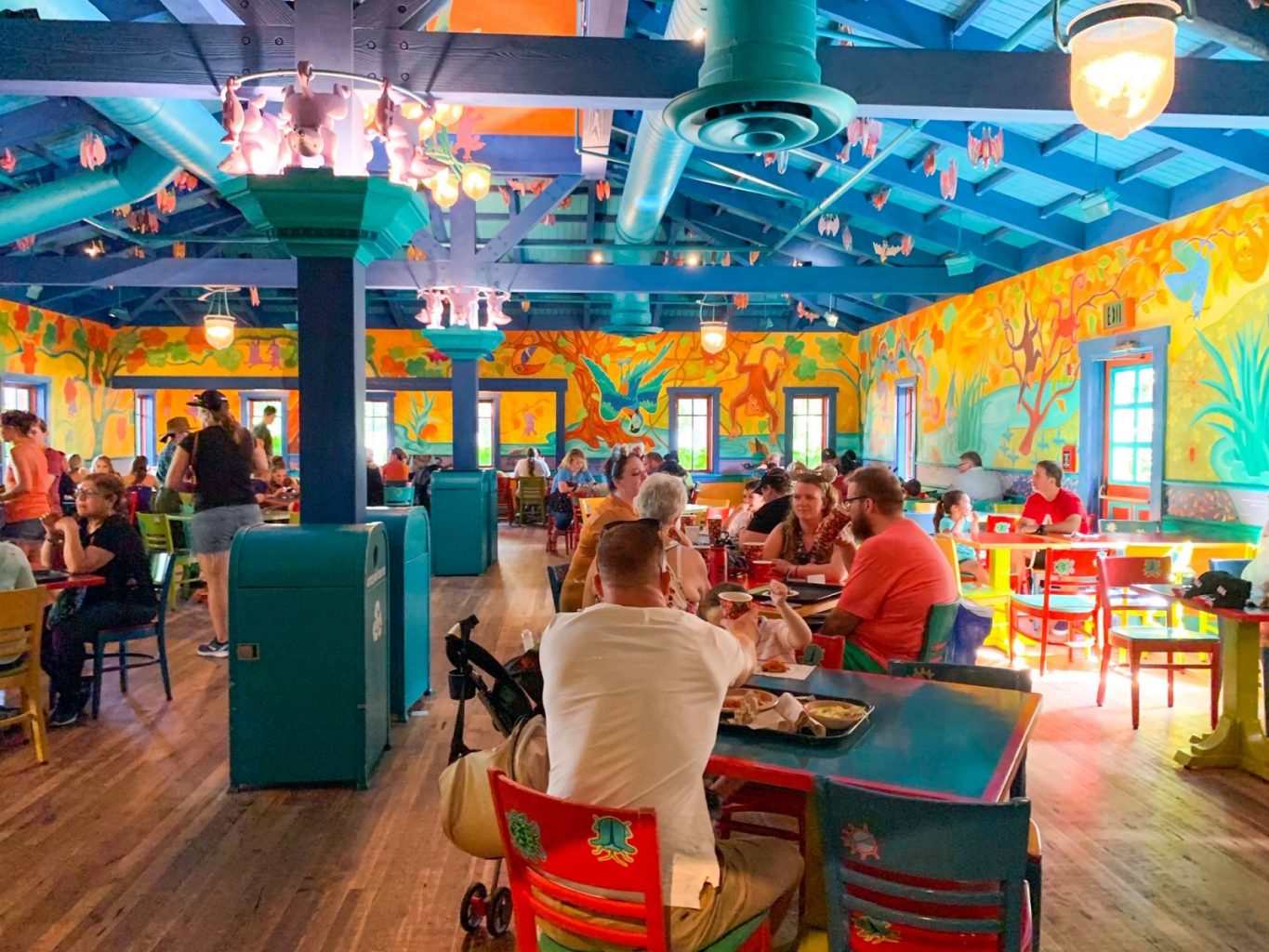 Creature Comforts Coffee Shop (Discovery Island)
One of my must-stop places for Animal Kingdom Breakfast is where they serve Starbucks; Creature Comforts Coffee Shop! In addition to grabbing your signature Starbucks drink to fuel up for the day (One Venti iced caramel macchiato, please!), you can enjoy Disney baked goods and LaBoulange pastry items!
For those who love animals as much as they love their Starbucks, Disney is doing something amazing that may interest you! By ordering any size flat white latte, you salute the Disney Conservation Funds' efforts to protect endangered monkeys like the Cotton-top tamarins! Fun fact: the white hair on these monkeys is the reason they chose a flat white late, which topped with a creamy white dollop, makes the two look similar!
For our complete list of where you can find Starbucks in the Disney World parks, click
HERE!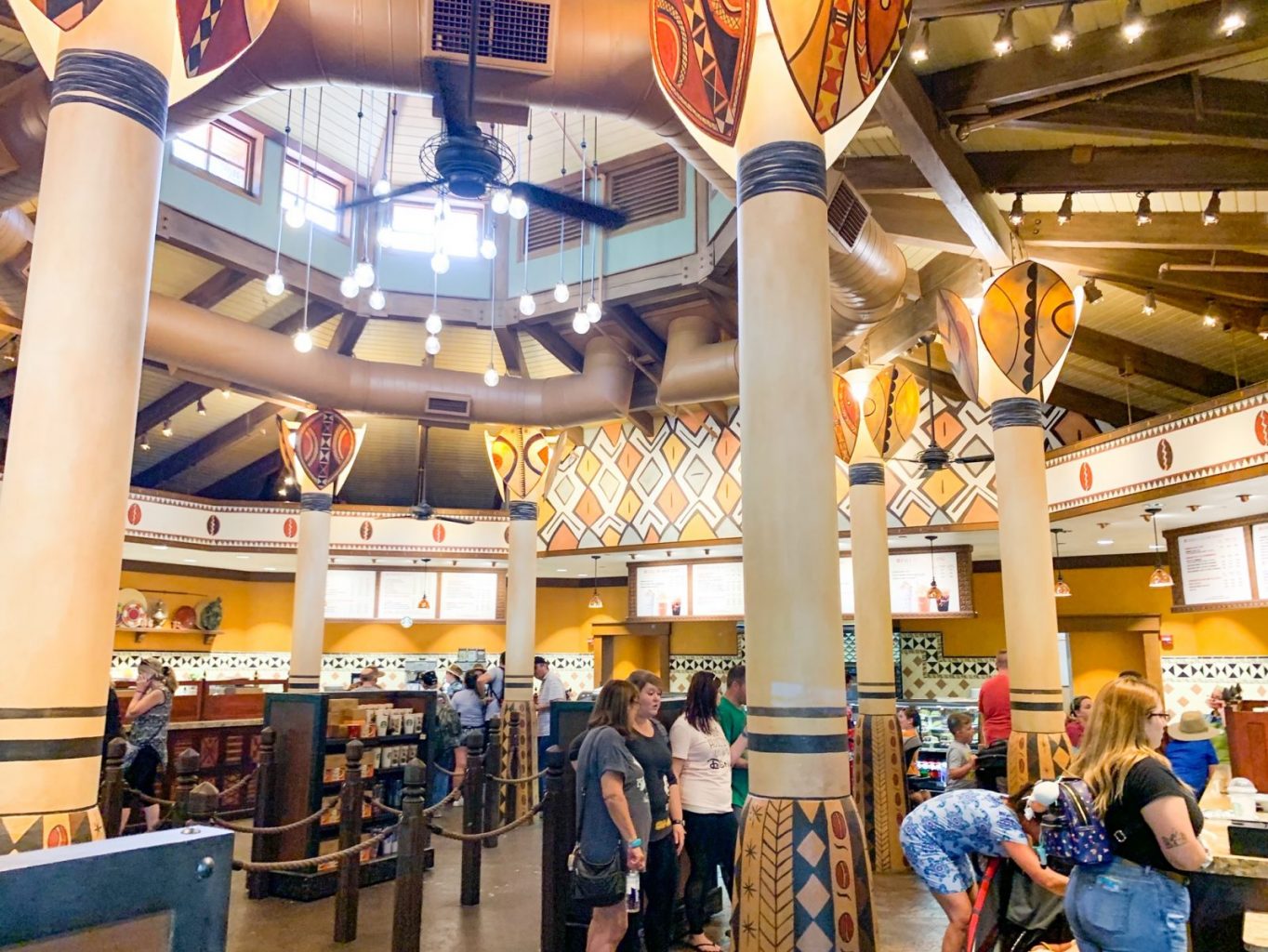 Harambe Fruit Market (Africa)
Next on the list of breakfast at Animal Kingdom options is Harambe Fruit Market. Located in Africa of the Animal Kingdom, this is the perfect stop for a quick meal on your way to check out The Festival of the Lion King or however you chose to start your day! Here, you can get the infamous Mickey pretzel, fresh fruit cups, whole fruit, assorted chips, fruit juices, and Joffrey's coffee!
This is definitely the perfect stop for those in a time-sensitive situation. Simply grab your breakfast and go! Harambe's fruit market is set up conveniently and has a wide selection of fresh fruit, perfect energy to kickstart our day! Not to mention, the setup of the market is simply adorable, and definitely aesthetic to the zoo theme of the Animal Kingdom.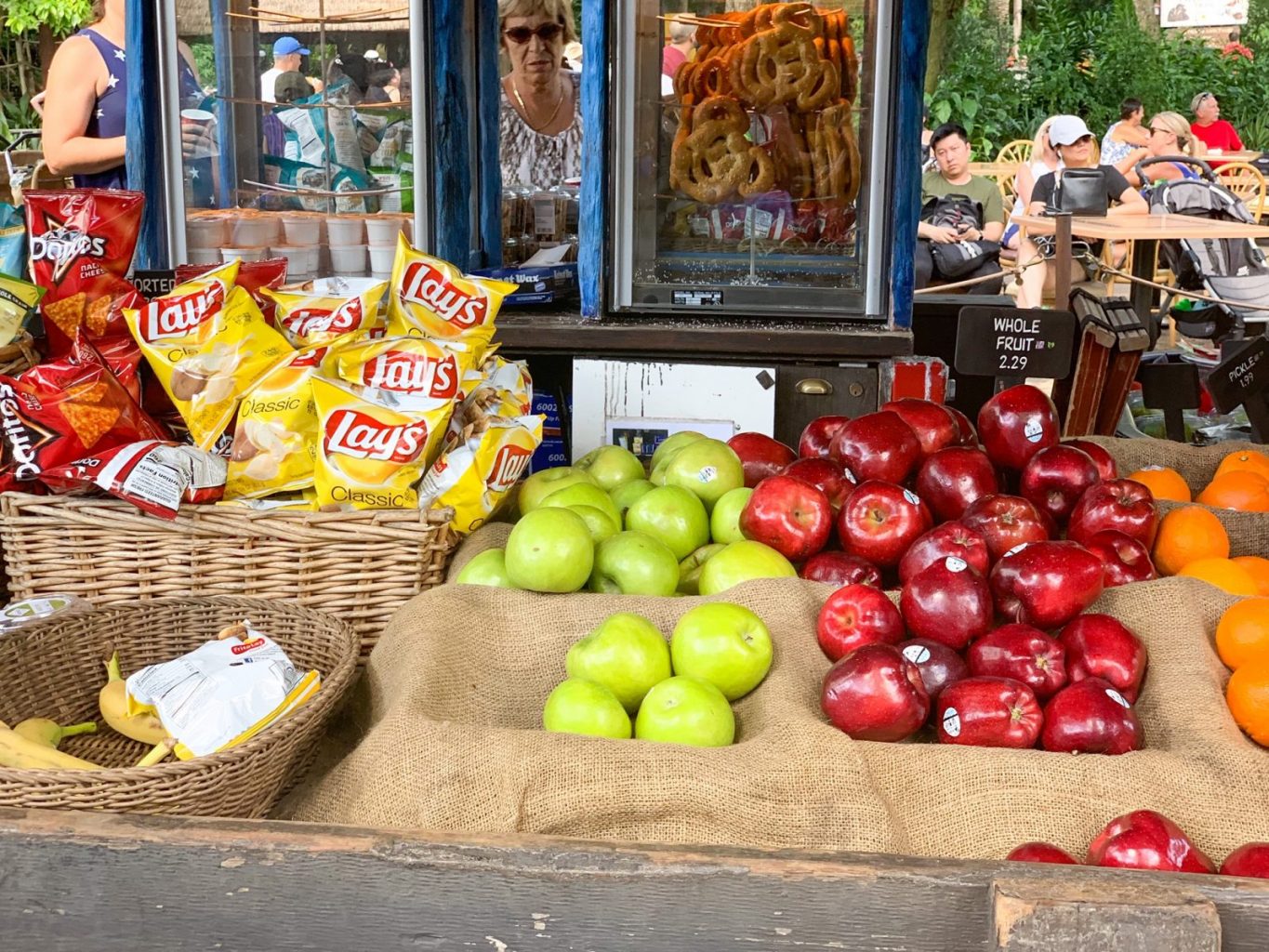 Yak And Yeti Local Foods Cafe (Asia)
In Asia, a short 3 minute walk from Expedition Everest, you can find Yak and Yeti on your search for Animal Kingdom breakfast.
This cafe is full of great breakfast options, such as a variety of breakfast bowls with or without meat (choice of bacon or sausage), breakfast sandwiches, fruit salad, yogurt parfaits, and fruit salad. This is truly one of the
best places for breakfast at Disney World!
Yak and Yeti is one of the more popular names you hear around the park in terms of places to eat. It is a bi-level restaurant with a full bar, that serves pan-asian cuisine for lunch and dinner. In terms of breakfast, this is one of the few places in Disney's Animal Kingdom that goes beyond the basic grab and go options.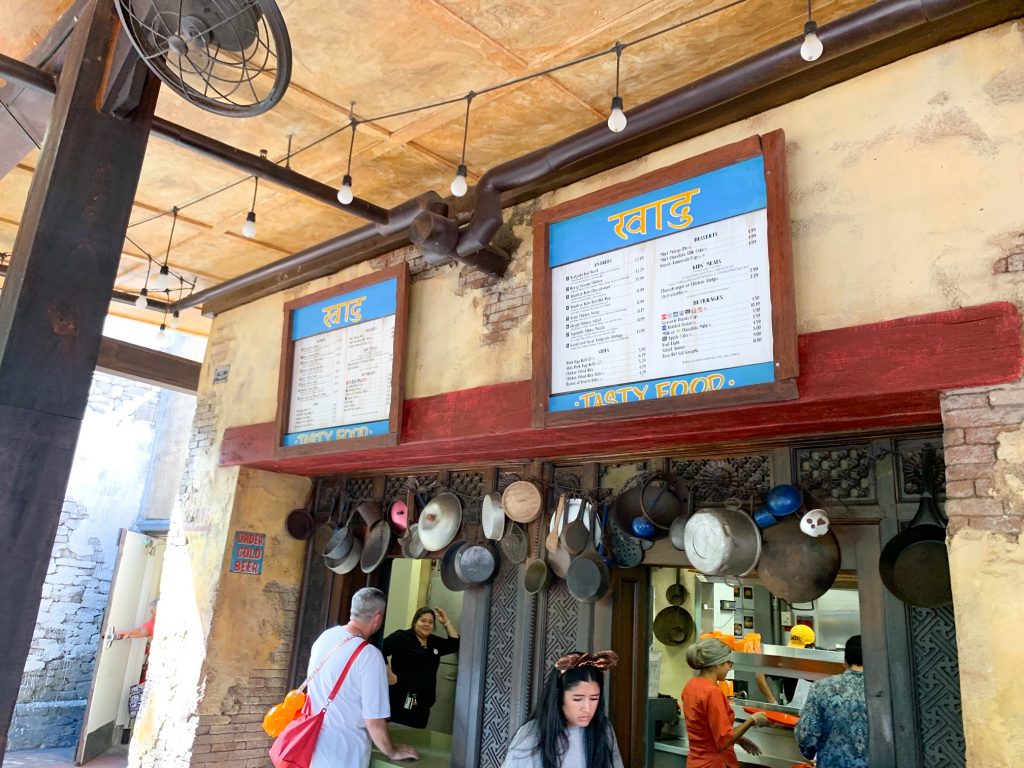 Pongu Pongu (Pandora)
If your first stop at Animal Kingdom lies somewhere in Pandora, a trip to Pongu Pongu is a great breakfast choice! With French Toast sticks, pineapple cream cheese spring rolls, and sausage and egg biscuits, they cover a few great choices for breakfast in Disney's Animal Kingdom.
They also have an extensive list of alcoholic drinks,  such as ales, rum blossoms, and margaritas. Not to mention, the Avatar-themed menu items are a sure hit for those longing to be immersed in the Pandoran culture.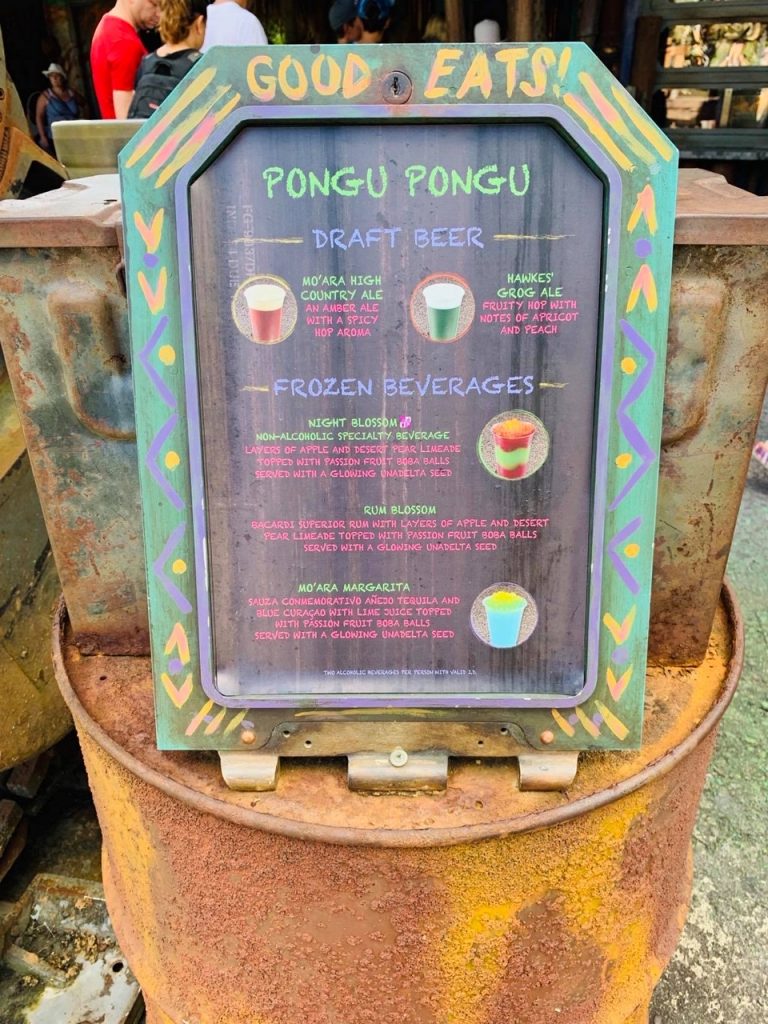 Best Table Service Animal Kingdom Breakfast Options
Tusker House
Tusker House is one of the best table service places for breakfast at Animal Kingdom (and all Disney World, honestly!) Not only is it a buffet, it is also a great character dining experience! At Tusker House, Mickey and friends come around in their safari gear to every table for a meet and greet. We highlight experiencing Tusker House for breakfast in our article, Disney Character Breakfast Options!
Tusker House breakfast buffet offers scrambled eggs, breakfast breads/cinnamon rolls, bacon, sausage, breakfast potatoes, morning frittata, banana bread pudding, and Simba and Nala waffles. My favorite thing from Tusker House, however, is their lava smoothie! Raspberry and pineapple mix together perfectly in this delicious-tasting and colorful smoothie! It is non-alcoholic, by the way!
See how well
Tusker House
ranked on our Disney World Character Dining post!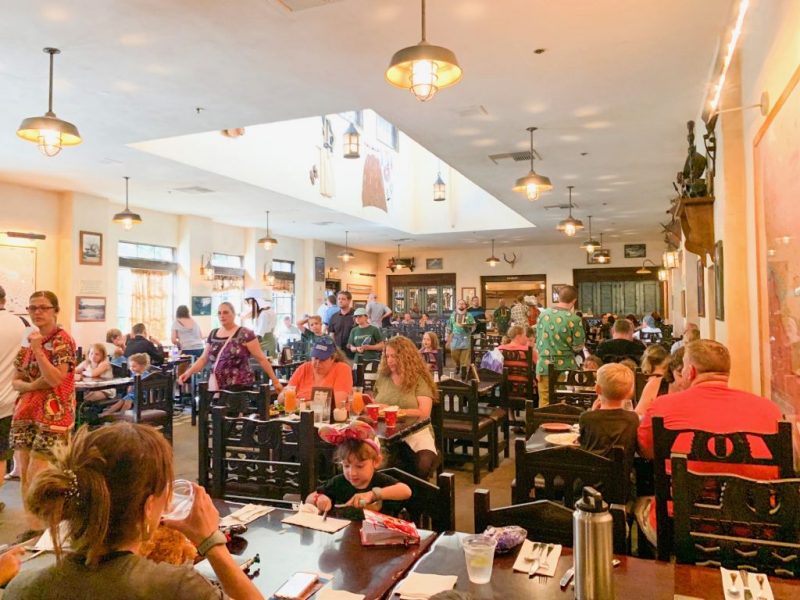 Rainforest Cafe
Another great table service option for Animal Kingdom breakfast is the Rainforest Cafe. From classics like omelettes, french toast, waffles and oatmeal to an extensive menu with specialty juices, espresso and coffee options, and even mimosas.
The decor of the cafe is very on-brand with the zoological theme of the Animal Kingdom and the breakfast options contain a variety of fresh fruits and vegetables. They also offer fruit smoothies, a real-life saver if your trip falls during some of the hotter months of the year.
The inside of the Rainforest Cafe is crafted so well, it truly is an experience within itself for breakfast at Animal Kingdom. With American food favorites and kid-friendly options, this is a great way to start your day!
Check out our article Best Animal Kingdom Restaurants to see even more food options in Disney's thrilling Animal Kingdom!