If you are looking for the best Hollywood Studios rides and attractions, you've come to the right place! In the last 30 years Hollywood Studios has seen lots of changes, and that includes the Hollywood Studios rides and attractions. So many new must-see rides have been added, but there are still a lot of iconic classics to see as well. So how do you decide what to ride, what to see, and what's worth your time and Fastpasses?
You use this list of course! We've ridden the rides, seen the shows, and we've compiled a list of the best Hollywood Studios rides and attractions that you can't miss. Use these tips to make sure you choose the best rides and attractions for your group, and plan the best strategy.
And we hope this list will help you have the perfect day at the park, and you won't miss the best Hollywood Studios has to offer!
Get a FREE printable 30/60/90 day Disney countdown by joining our private Disney Facebook Group and share your photos and ask for tips and tricks!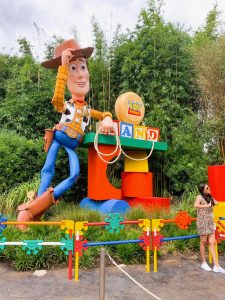 What Are The Best Rides At Hollywood Studios?
The best rides are relative! That is all we are going to say!
But if we had to pick the tried and true, top 5 best rides at Hollywood Studios, it would be the rides below!
Now, not every ride is for every person, as some people have motion sickness, some people hate thrill rides, some people don't like simulators and more!
As a result, we don't want you to read this quick bullet list and jump off the page! Instead, really dig deeper into the Hollywood Studios Rides listed below so you can see our in-depth explanation of them and then make your decision based on that info!
Top Hollywood Studios Rides:
Star Wars: Rise Of The Resistance
Toy Story Mania
Mickey And Minnie Runaway Railway
Slinky Dog Dash
Rockin' Roller Coaster
As you can see, there are two roller coasters here and we didn't even include an attraction such as a show! Read on below for more detailed information!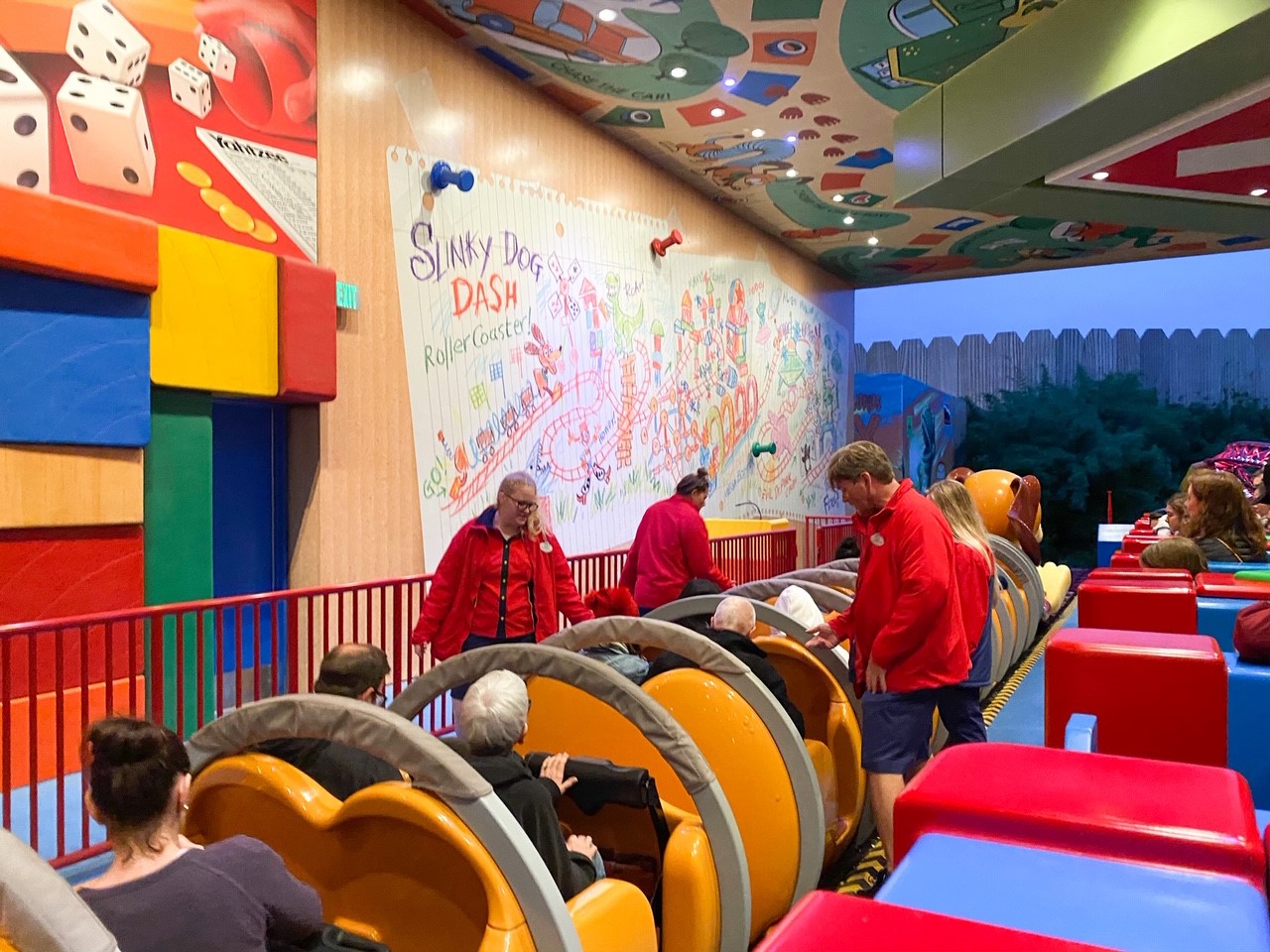 Star Wars: Rise Of The Resistance
Rise of the Resistance is easily the best ride AND attraction at Hollywood Studios! Yes, it takes the part of BOTH! It is also one of the top two best rides at Disney World in general, up there with Flights Of Passage from Animal Kingdom!
Rise Of The Resistance is DIFFERENT and features a different boarding process and more! CLICK HERE to see how! This is *essential* information or else you may leave without being able to ride this ride!
As soon as I entered the first part of the ride, I was entertained and interested. I was glad to see Star Wars characters that I recognized. I didn't recognize many people on Smuggler's Run so this was great!
By the time I had moved to the second portion of this 15 minute+ experience, I was welling up with tears. It was already SO SO SO well done! I couldn't believe it! 100% worth the hype and we were just getting started!
Then we proceeded throughout the experience, and it was an experience, and I continued to be in shock and awe!! I was BLOWN AWAY! The level of detail. The graphics. The immersive experience. It was insane. I was transported to Star Wars that I grew up with mixed with the newer Star Wars characters. You are NOT going to want to miss this Hollywood Studios ride!
CLICK HERE FOR FULL INFORMATION ABOUT RISE OF THE RESISTANCE!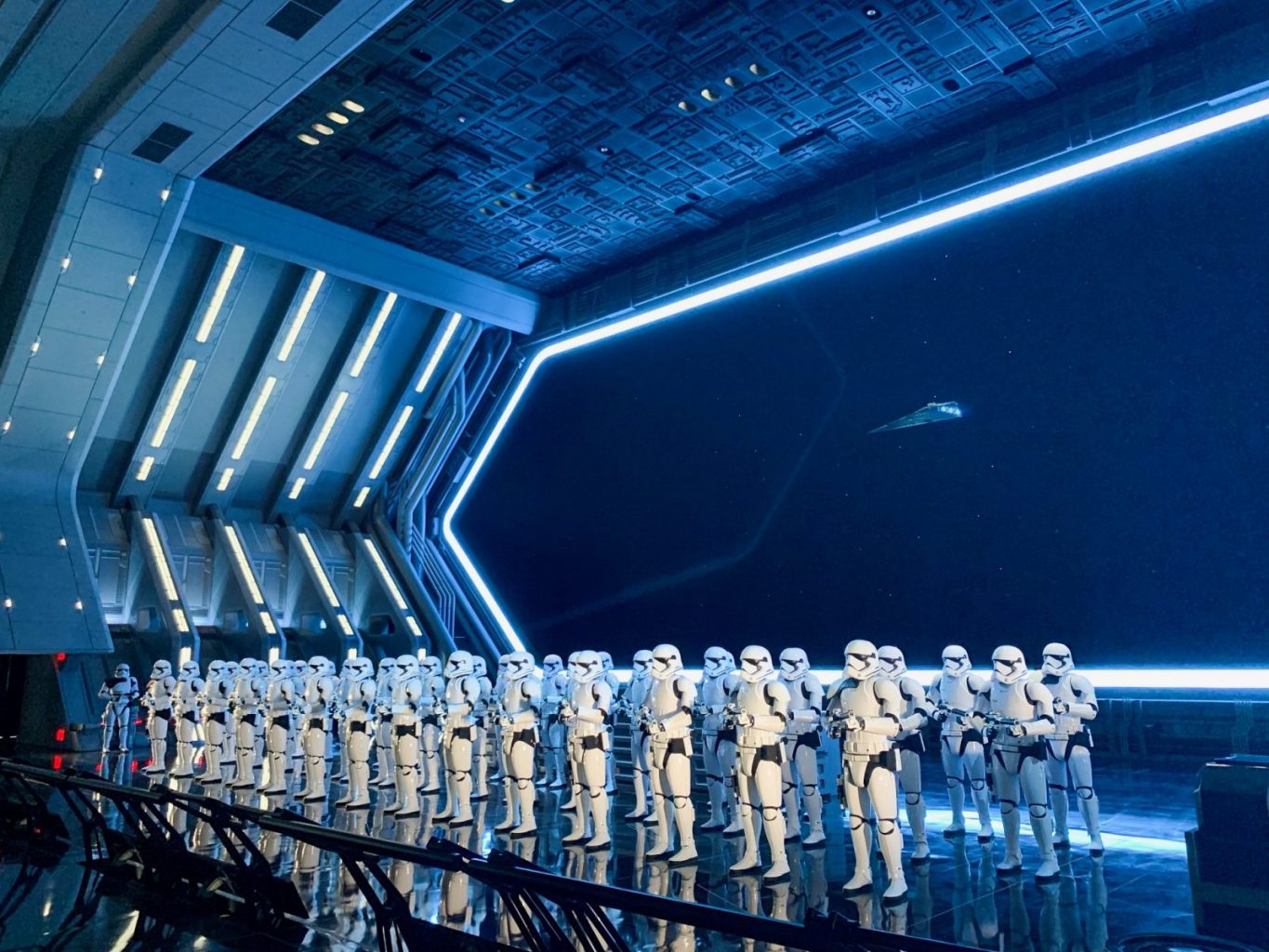 Mickey And Minnie's Runaway Railway
Mickey And Minnie's Runaway Railway is easily one of the best rides at Hollywood Studios. While it replaced the Great Movie Ride and I was very salty about that, it isn't trying to imitate the Great Movie Ride in any way!
It utilizes the same technology as Rise Of The Resistance above but has no height requirements and is a family-friendly ride! Family-friendly does NOT mean boring in any way, shape, or form! The latest technology, sites, and sounds means that this ride is here to stay!
New attractions at Disney World are usually hits, but there have definitely been some misses. You do not have to worry about that with Mickey and Minnie's Runaway Railway. It is straight-up delightful from start to finish.
READ WHAT TO EXPECT ON MICKEY AND MINNIE RUNAWAY RAILWAY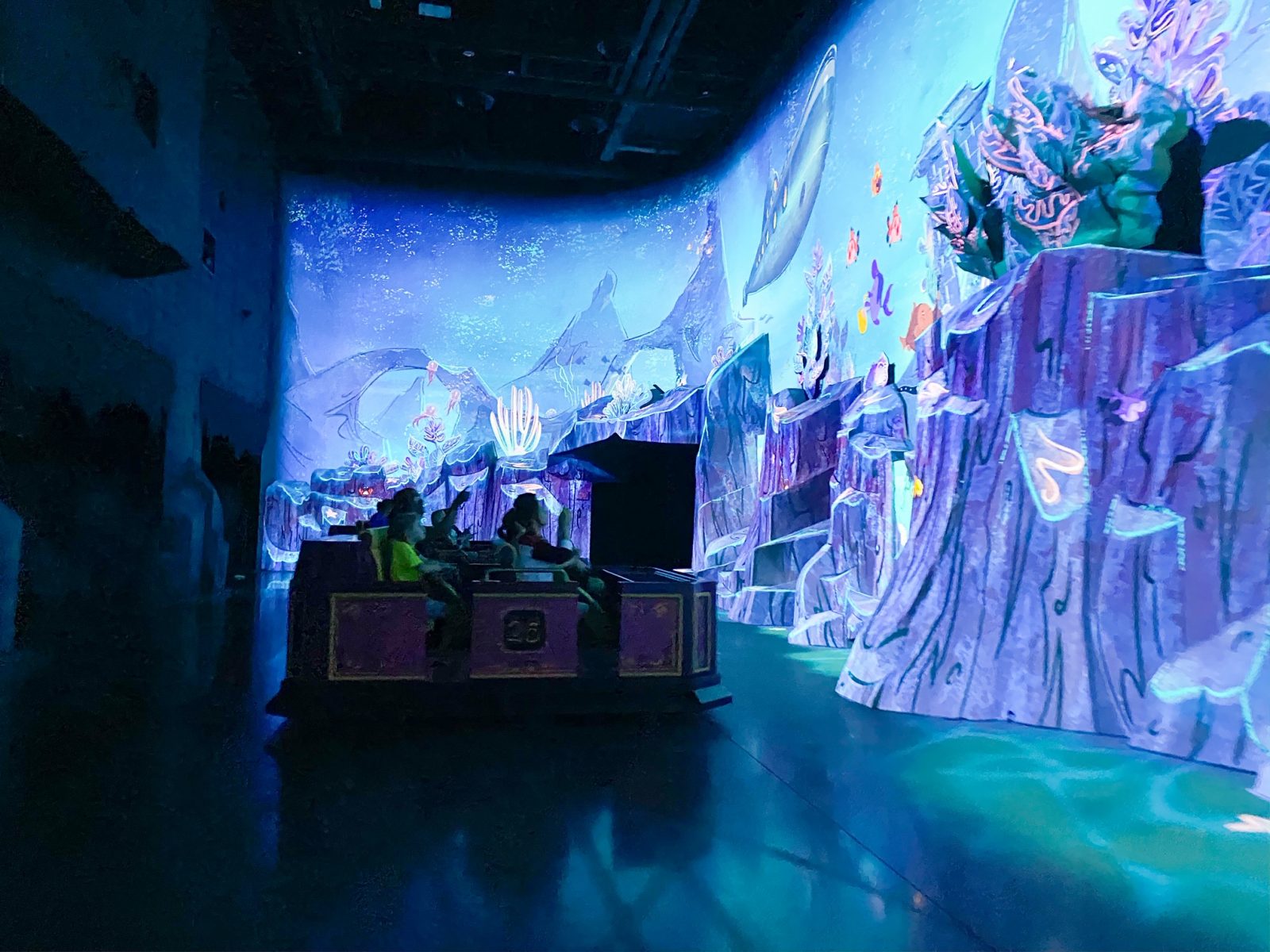 The Twilight Zone Tower of Terror
The Tower of Terror is an ominous sight that can be seen when you're entering Hollywood Studios. It's located at the end of Sunset Boulevard in the park, and you can't miss it.
After the pre-ride show featuring the television series that inspired the ride, The Twilight Zone, and the perfect host, Rod Serling, you'll be sent flying up and down an elevator shaft, with big drops on a dark ride. When you reach the top, the doors slide open and you can see the entire park.
The drops are completely random, and you'll never have the same sequence twice.
Needless to say, this ride at Hollywood Studios isn't for everyone. It has a 40″ height requirement, and the sudden, fast drops could be too frightening for a lot of guests. It is one of the best thrill rides at Disney!
The ride is also almost completely in the dark, minus the few windows that open on your ride in the elevator, and this could also be too terrifying for some guests. But if you love a good thrill and don't mind the drops, then the Tower of Terror is a Hollywood Studios ride you can't miss out on!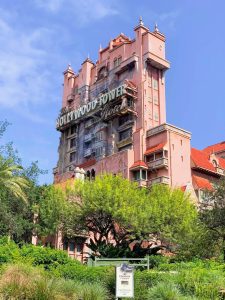 Toy Story Midway Mania
Toy Story Midway Mania is one of the best Hollywood Studios rides. It's a spinning, fast-paced shooting game in 3D, where your goal is to get the most points! This ride is perfect for all ages, and there isn't a height requirement.
Grab your 3D glasses, climb in your ride vehicle, and get ready to shoot at some virtual targets. The whole family will have fun competing to get the highest score in the 5 shooting games that are based on classic carnival games. This Hollywood Studios ride is great for kids, and all lovers of Toy Story.
It's located at the opening to Toy Story Land, and this is a must Fastpass ride! It's one of the busiest at Hollywood Studios, and it can have waits that are well over an hour throughout the day.
Make sure you snag a Fastpass for this Hollywood Studios ride, and enjoy one of the best rides for the whole family that Hollywood Studios has to offer. To ensure you get a Fastpass for this ride, check out our article on Fastpass Secrets to help hack your wait time!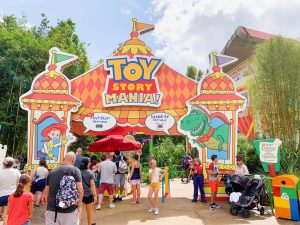 Rock'n' Rollercoaster
Rock'n' Rollercoaster is a serious Hollywood Studios ride. It's located off Sunset Boulevard near Tower of Terror, and it means business when it comes to being a rollercoaster. This ride features three inversions and a 0-60 mph launch at the beginning! And it's LOUD too! It features rock classics by the band Aerosmith, and the music is pumped in through 125 speakers, 24 subwoofers, and a total 32,000 watt stereo system.
This stretch limousine is only for those who can handle big drops and the blaring music. The height requirement is 48″ – the tallest at this park. This is one of the rides at Hollywood Studios that may not be everyone, but we do recommend this ride for kids, teens, and adults who love a thrill, love Aerosmith, and love a good, exhilarating rollercoaster.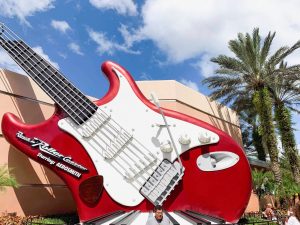 Slinky Dog Dash
Slinky Dog Dash is the newest rollercoaster in the park and one of the newer Hollywood Studio rides that opened with Toy Story Land. It's a family-friendly coaster that takes you on a ride of Andy's "Mega Coaster Play Kit" on the back of Slinky Dog. While it is a coaster with a small launch and some good drops and turns, Disney considers it very kid friendly.
It is easily one of the best roller coasters at Disney and you really shouldn't miss it! Even if you hate "scary" roller coasters, this one is better for the whole family!
The height requirement is 38″, and a lot of kids are going to find this Hollywood Studios ride a blast. They're going to love riding Slinky Dog, seeing Jessie and Rex, and even singing along at the end. This is a great coaster for those who want to ride a rollercoaster but are scared of the bigger ones Disney has to offer. Adults and kids alike are going to love this fun, cute coaster.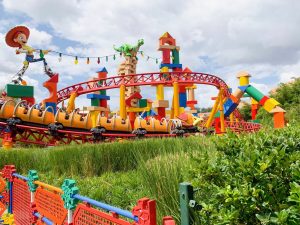 Millennium Falcon: Smuggler's Run
The Millenium Falcon is hidden within the middle of Galaxy's Edge, and the reveal is breathtaking. It's just as amazing as you would think, and the ride inside is just as fun. You get to control the Millenium Falcon and go out on a smuggling mission for Hondo Ohnaka, where you will be assigned a job: pilot, gunner, or engineer. Pro tip: you want to be a pilot, they have the best job!
This ride is a simulator, and it is dark and features some small drops and loud moments. The height requirement is only 38″, and a lot of kids will enjoy this ride even if they aren't "good" at the job they are given (trust us, everyone is just mashing the buttons anyway). This ride is perfect for lovers of Star Wars of all ages, and everyone from kids to adults will enjoy this newest addition the Hollywood Studios rides.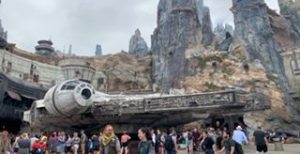 Frozen Sing-Along Celebration
Frozen Sing-Along Celebration isn't one of the Hollywood Studios rides, but it is an attraction you can't miss! It's a mix of clips from the movie "Frozen," sing-along songs, and the Royal Historians of Arendelle retell the story of Elsa and Anna that we all know and love. The Royal Historians tell a lot of jokes, and really get into telling the story. The experience feels very immersive, and this is a great show for all lovers of Frozen.
This show is perfect for all ages, and little ones will especially love it. All your princess loves, Frozen lovers, and those who enjoy a good corny joke will enjoy this show. It's located near Echo Lake, and the show only runs 30 minutes so it won't take up too much time during the day. The show is a great place to relax and take a breather, especially after a meal. This is definitely one of the Hollywood Studios rides and attractions you can't miss on your next trip!
Indiana Jones Epic Stunt Spectacular
This is another attraction that isn't a Hollywood Studios ride, but it's so much fun! The stunt spectacular is a great show for all ages, and you will learn some of the behind the scene secrets of the stunts from Indiana Jones movies. You'll get to watch Indy and Marion act out some of the famous scenes, and crowd participation is greatly encouraged! You can volunteer to be part of the show, and that can be a lot of fun for kids, teens, or adults.
The stunt show is located around the back of Echo Lake, and it is an outdoor amphitheater so the show can be canceled due to inclement weather. If the weather cooperates, snag a seat and take a break from the hustle and bustle of the parks to watch this exciting and interesting 30 minute show. It can be a great place to relax and take a break.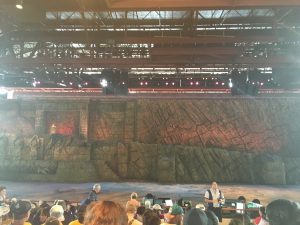 Fantasmic
Fantasmic isn't a Hollywood Studios ride either, but is one of the two nighttime shows offered at Hollywood Studios. In this show, Mickey faces the villains in a battle of good versus evil. It features many classic Disney characters, lots of music, and is very exciting! There are awesome special effects including pyrotechnics and water effects. We recommend this show for all ages, and for anyone looking for a suspenseful, exhilarating way to end a great day in the park!
This show is very popular and the line to get into the amphitheater gets long fast! Get there early and get a seat, but you can see the show from anywhere around the lagoon so it doesn't matter what section you sit in. Pro tip: you may get wet if you sit in the first couple of rows! Fantasmic lasts about 30 minutes, and the amphitheater entrance is located next to Tower of Terror on Sunset Boulevard. The walk from the entrance to the actual lagoon can take a while and is partially up hill, so keep this in mind when deciding whether this is right for everyone in your group.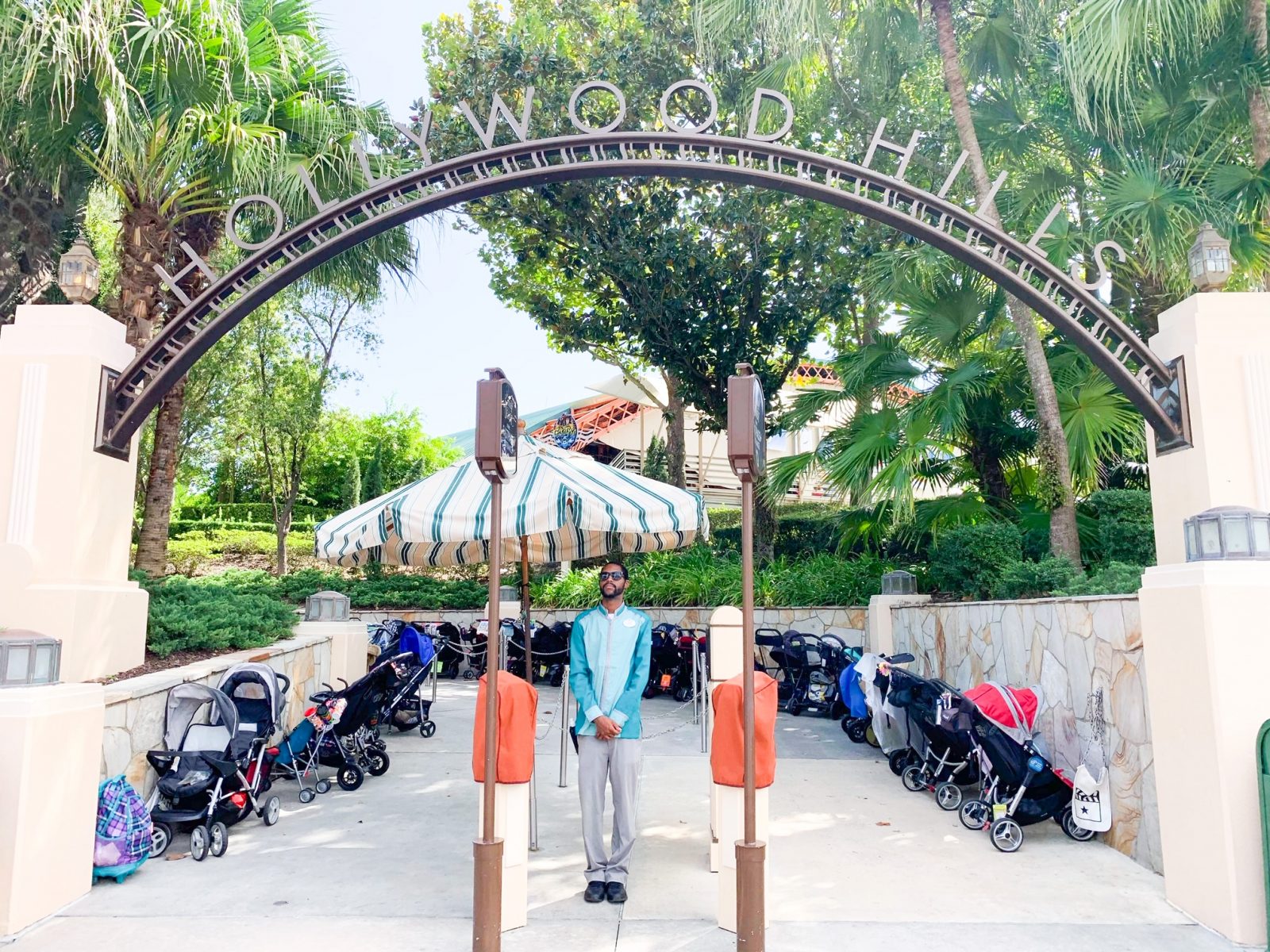 Beauty and the Beast-Live on Stage
The Beauty and the Beast show is another non-Hollywood Studios ride that is on our can't miss list! It's a Broadway-style musical with amazing costumes and scenery, and features your favorite songs from the movie. It's a great show for all ages, and little princesses will definitely love to see this show. We recommend this as another great escape and place to chill out in the park.
This show does run about 25 minutes, and is a condensed version of the Beauty and the Beast story. The amphitheater has lots of seating, and the shows run pretty frequently and we think it's a can't miss for you trip. You'll find it right on Sunset Boulevard before you get to the Tower of Terror, and you can even do a Sunset Boulevard tour of the best Hollywood Studios rides and attractions – this show, Tower of Terror, and Rock'n' Rollercoaster are all very close.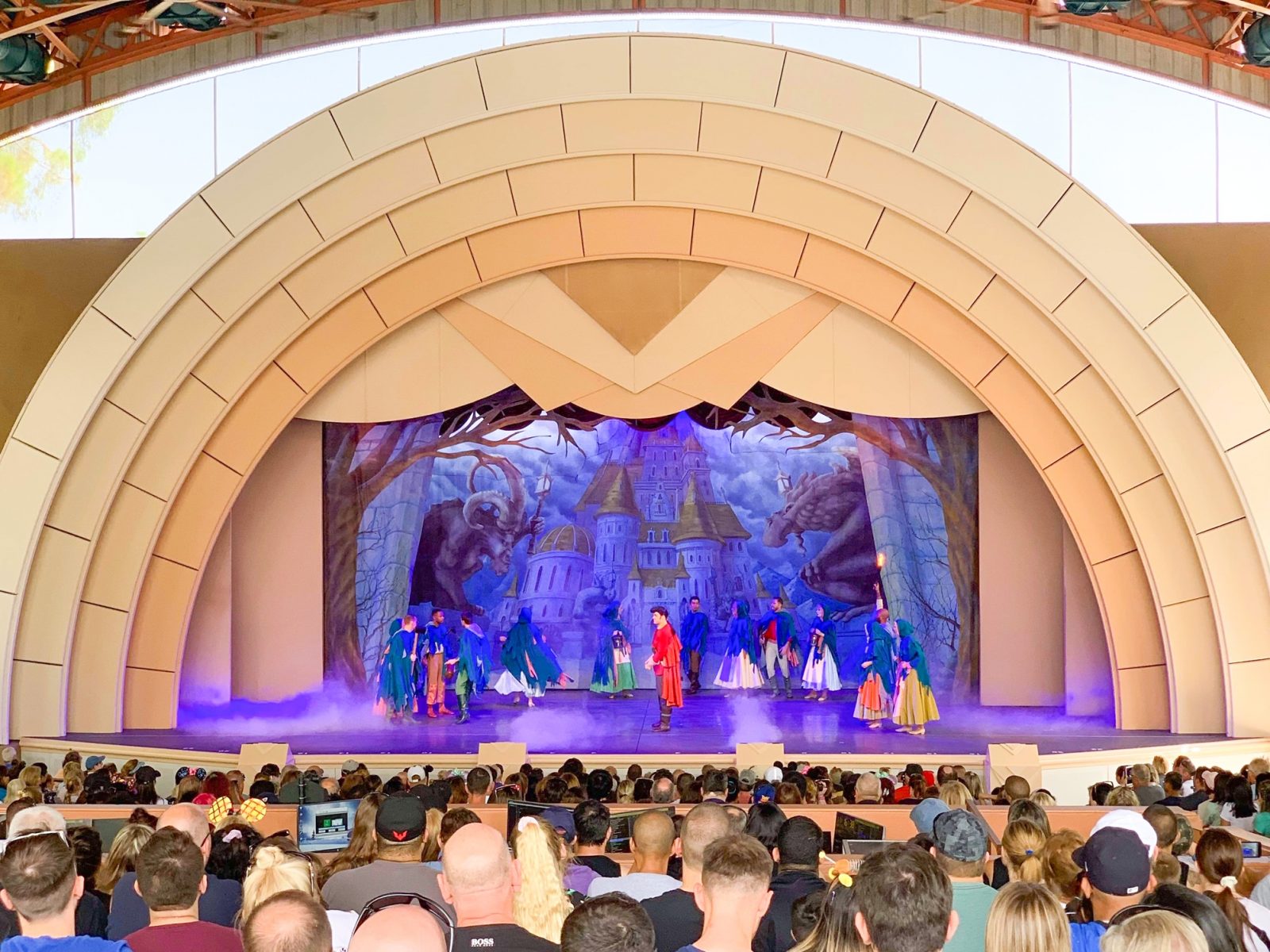 Voyage of the Little Mermaid
If you or your party love The Little Mermaid, this is one of the Hollywood Studios rides and attractions you can't miss! It's a stage show that combines live action with puppetry, along with your favorite songs and clips from the movie. All ages will enjoy the show, especially little ones and princess lovers. This is a fully immersive show, with bubbles, singing, sound of water, and even sea fog!
This is another great place to stop and chill if your party needs a break, especially because the theater is air-conditioned! You can relax and calm down here, especially if the littles need a break from the craziness. The show runs about 17 minutes, so it is a very compressed version of The Little Mermaid story, but don't worry, all your favorite moments are included! The show takes place in a theater in Animation Courtyard, which is to the right of the Chinese Theater.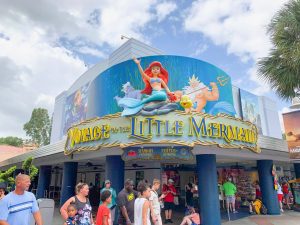 There are so many Hollywood Studios rides and attractions, and we know it can be hard to figure out what to do and what is worth your time. The great thing about the park though is that there is something for everyone at Hollywood Studios, from princesses to Wookies to epic nighttime shows.
There are thrill rides and Broadway-quality shows, and the rides are some of the favorites at Walt Disney World. We hope that our list helps you and your party pick the perfect Hollywood Studios rides and attractions