You are going to LOVE Mickey And Minnie Runaway Railway at Hollywood Studios! Remember those old black and white short films with Mickey and Minnie? With the fantastic music, old-timey animation style, and classic hijinx? The Mickey and Minnie Runaway Railway evokes all the nostalgia and classic enjoyment of those films while adding its own special magic.
New attractions at Disney World are usually hits, but there have definitely been some misses. You do not have to worry about that with Mickey and Minnie's Runaway Railway. It is straight-up delightful from start to finish.
I went in thinking that this ride was going to be disappointing, but I LOVED IT! I had my preconceived notions that it would be just like the Great Movie Ride, and it is anything but. The entire group I went with rated it a solid 9/10!
This ride has several features that make it a winner. From the age-range to the height limits (there are none!) to all the little details that come together, this ride is going to be big.
And yeah, there are going to be waits for this one folk. Plan accordingly and use our FastPasses recommendations, because you have got to try it. Keep reading for all the best (non-spoiler!) details below.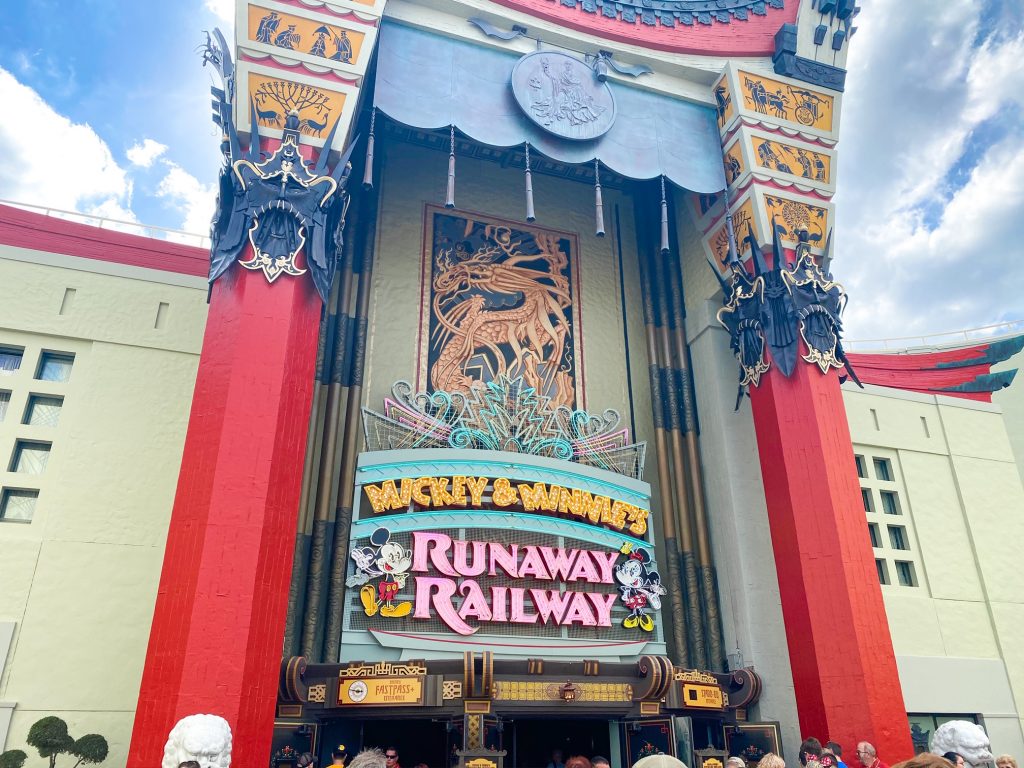 There Are No Height Requirements to Ride
Oh the height requirements for Disney World… The whole place is a happy wonderland unless you are just barely too short to ride any of the good rides. Anyone else feel particularly targeted by the height requirements as a child?
Fortunately for all the short kids in the world, the Mickey and Minnie Runaway Railway has no height requirements! None! And it is also one of the good rides!!!
This ride is seriously like winning the lottery for any of the kids out there who just cannot get their bodies to grow quickly enough for Disney World's requirements. It is so fun and anyone can ride it!
And when we say anyone, we seriously mean anyone. When we rode it there was a baby on the car in front of us so young they could not even hold their head up yet! We were actually kind of shocked that a baby this tiny was on the ride, but there it was!
So if the baby who couldn't even hold its head up could ride Mickey And Minnie's Runaway Railway, so can you!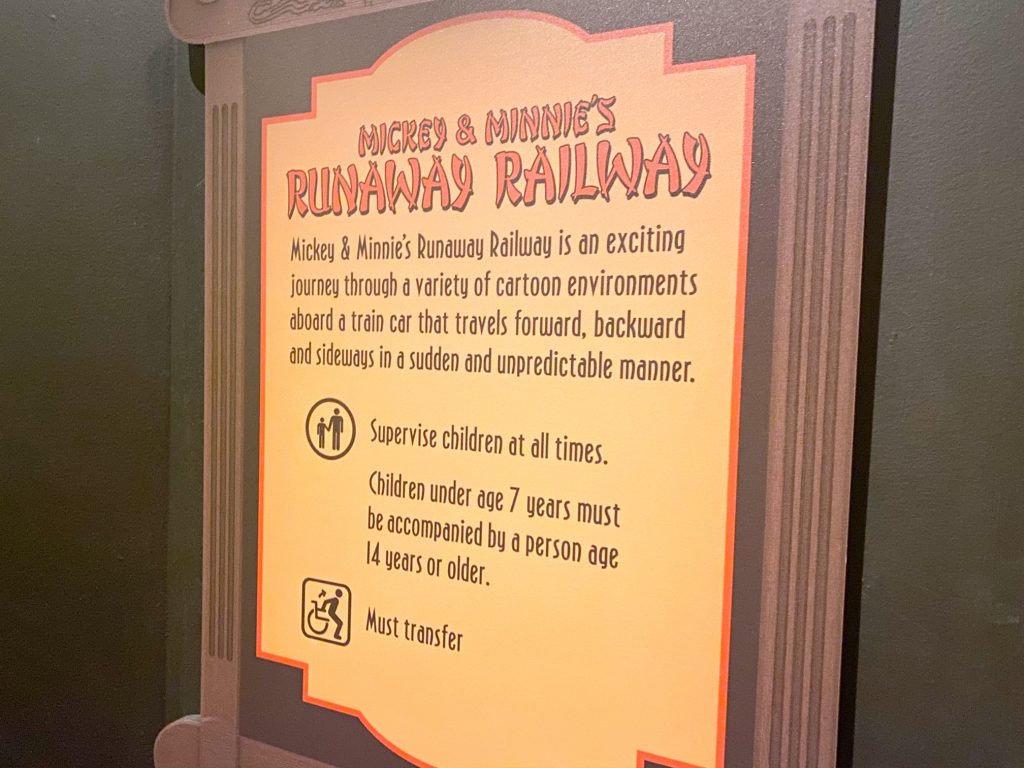 FastPasses are Available for Mickey and Minnie's Runaway Railway
Another name for FastPasses could be "Makes all you Disney World Dreams come true passes". I mean, it is a little long, and I see why they went with FastPasses instead, but both are accurate.
We have a ton of hacks and strategies for FastPasses in general, and there are a few more that will help you with Mickey and Minnie's Runaway Railway. It is a Tier 1 ride, and you can only choose one Tier 1 ride a day to reserve in advance.
Obviously reserving it in advance is the best strategy, but if there is another ride that just barely tops it in your list of must-rides, there are some other strategies you can use.
One is to use the FastPass app–if you are using FastPasses, you are going to want to get the app. This will allow you to refresh the app regularly to check if a FastPass slot has come open for Mickey and Minnie Runaway Railway.
Spots come open more often than you might think, even if they are a little fewer and farther in between for the super popular rides. Sometimes other people will trade a reserved FastPass for a different ride, which will open up a spot for the ride you are wanting. Get the app so that you can catch it when it happens!
Also keep in mind that Mickey and Minnie Runaway Railway is the only Tier 1 FastPass that has no height requirements, making it great for large parties and families. If you need a ride for everyone, this is it. Reserve it in advance if you can!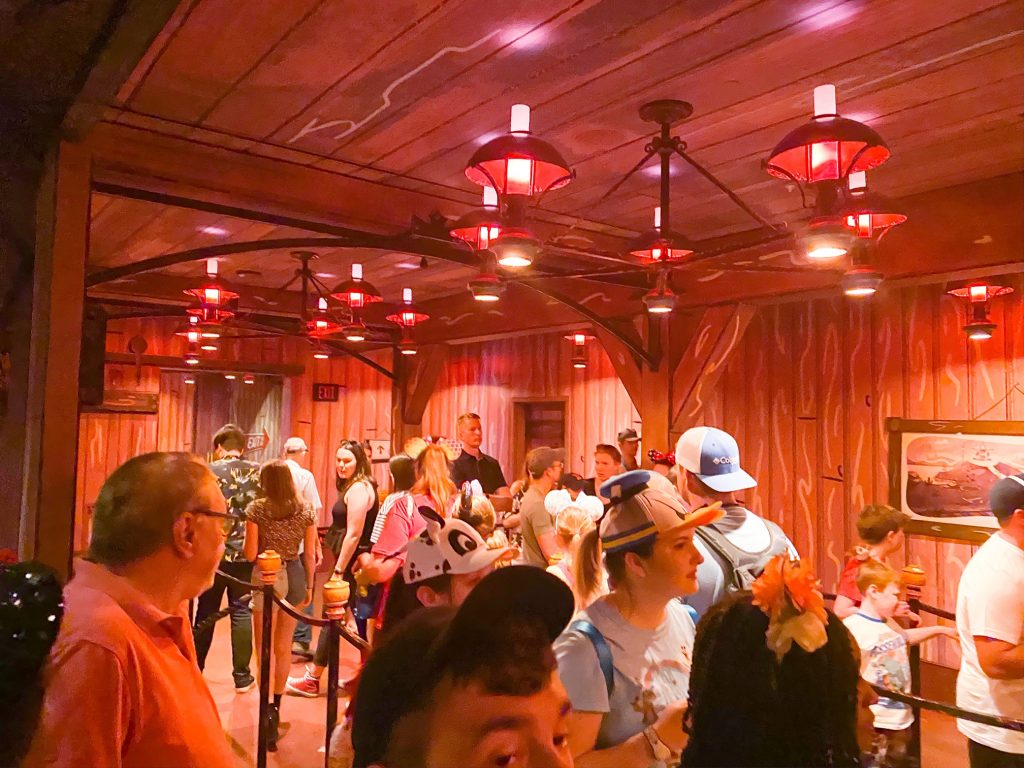 DAS Pass Works the Same
A DAS Pass is Disney's disability pass. Disney-goers with conditions and/or disabilities that make the normal line queues total misery can use it to get better wait accommodations. This means you get a return time and can wait out your time in line doing something else like another activity or sitting in the shade or a quiet space.
When Rise of the Resistance was the new ride on the block it changed the rules for DAS passes specifically for that ride because of the boarding party rules.
However, Mickey and Minnie's Runaway Railway is not different like that and the DAS pass rules are the same as they are for any ride besides Rise of the Resistance.
In order to get a DAS Pass you will need to talk with Guest Relations. Whoever the pass is for (yourself, a kid, etc.) will need to be with you and you will need your Magic Bands or park tickets. Guest Relations will make a DAS pass with its owner's photo, and it will be active for the length of your Disney stay.
To use the DAS Pass for attractions, just tell the Cast Member at the entrance of the ride that someone in your party has a DAS Pass. They will give you a return time tailored to the DAS Pass.
You Cannot Ride Mickey and Minnie Runaway Railway at Extra Magic Hours
Extra Magic Hours are a little less extra when you realize you cannot use them for the Mickey and Minnie Runaway Railway. Alas, it is true. However, you can ride some of the other coveted rides during these times!
This means that if you are trying to choose between Mickey and Minnie and something else, if the something else (hello Slinky Dog Dash!) is available during Magic Hours choose Mickey and Minnie!
Now sometimes after rides have been around for a minute this will change and they come available during Magic Hours. But Mickey and Minnie's Runaway Railway is too new for this, and there is no timeline for when it might change.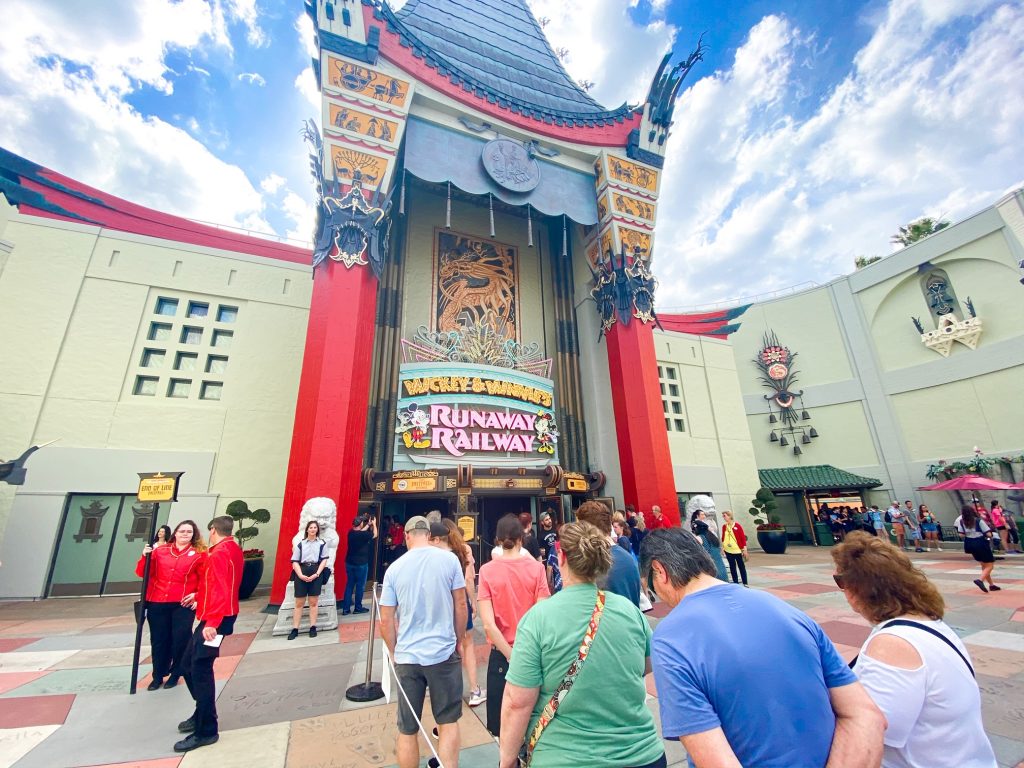 After the Preshow, There is Another Line
You know how we said that this ride is straight-up delightful? Well it is. And also it has this one particularly annoying thing…
There are two lines.
Not like there are two lines to get inside and you pick one, but rather, you wait in a line for the pre-show, and then you wait in another line for at least 10-15 minutes for the ride. It is not something that people really explain to you before you do the ride, and it was definitely a disappointment when we found out.
Lines at Disney World are pretty much the worst, and this ride has two of them. You should know that everyone in our party absolutely loved the ride and thought it was worth it–we just want you to come prepared so that the second line does not take a serious hit to your morale.
I have to be honest, the way that the pre-show lets out into the second line is badly coordinated, especially if there is a back up for any reason. So just know that this is kind of a pain!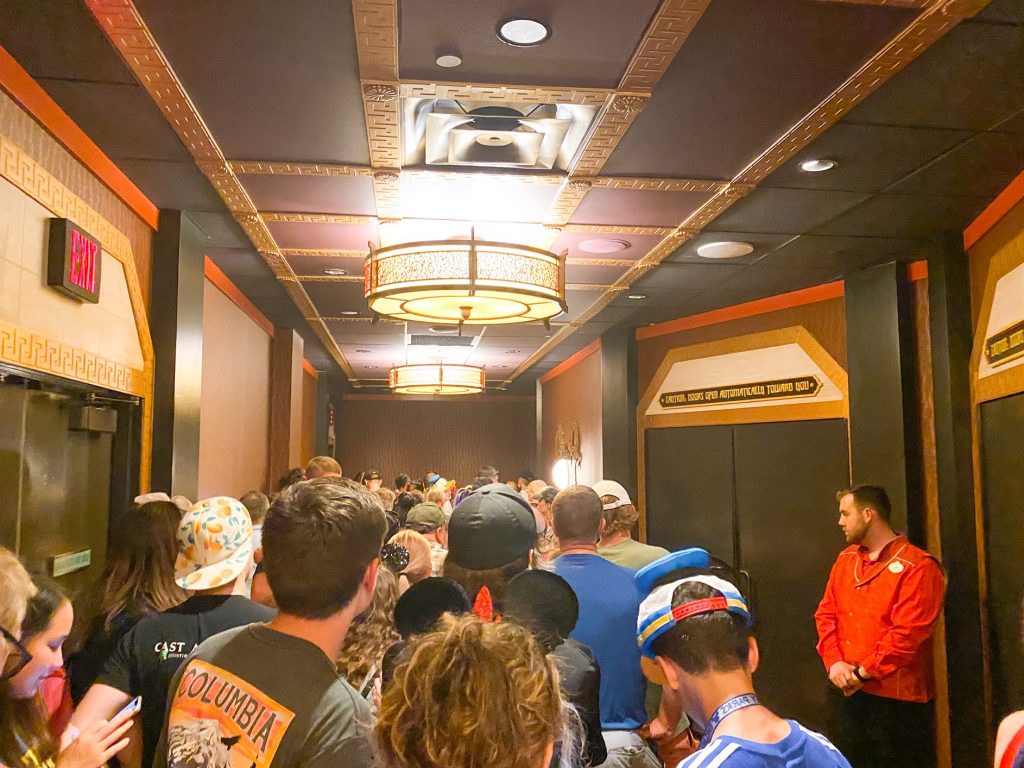 This is NOT a Retelling of the Great Movie Ride
The Great Movie Ride was in the same space that Mickey and Minnie's Runaway Railway is in now. But do not think that it is at all the same. Mickey and Minnie's Runaway Railway is entirely its own thing!
I honestly thought that this would be the same thing as the Great Movie Ride but just with different overlay and graphics. I thought it would be pretty slow and boring. IT WAS NOT.
It utilizes the highest technology and while it will not be the same as the Great Movie Ride, it isn't trying to be! It is trying to be a completely different experience. So while you may have loved the Great Movie Ride, you won't feel like you are on the same ride. It is a new and awesome experience.
I went in as a cynic thinking it would be boring and it was truly wonderful and fun!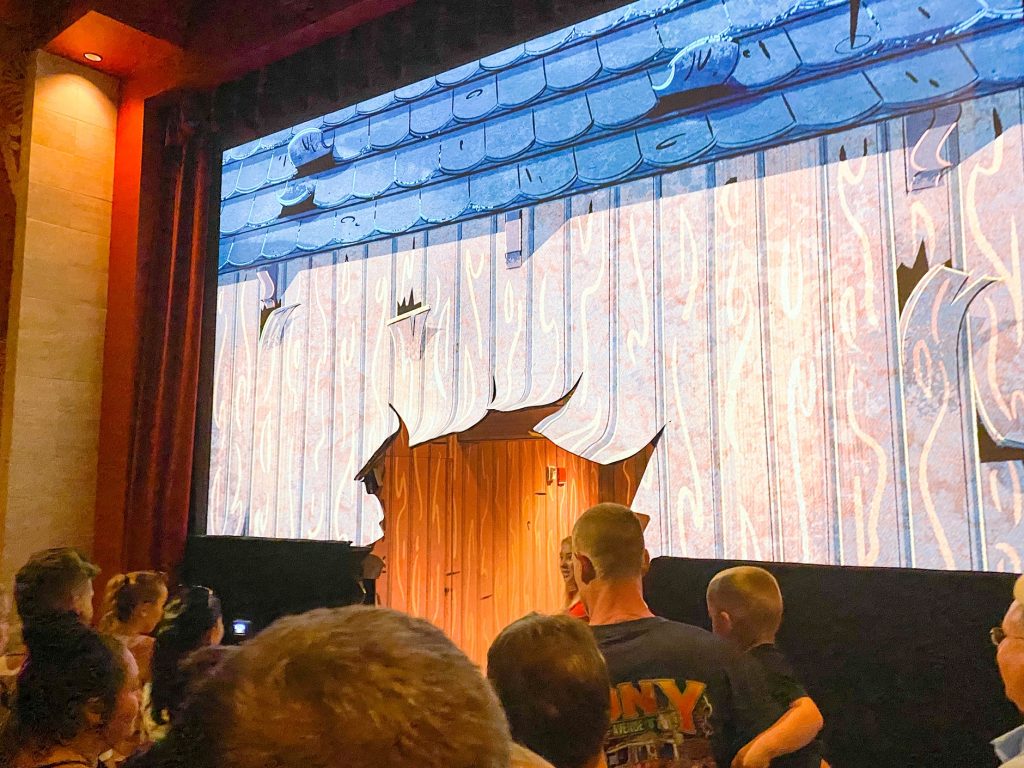 Mickey and Minnie Runaway Railway is a Trackless Dark Ride
If you read "trackless" and worried that this was going to be some sort of bumper car nightmare, fear no more. Mickey and Minnie's Runaway Railway is only trackless in that you cannot see the tracks because they are magnetic.
Engineering does some cool stuff, folks. With the use of some fancy-schmancy high-tech chicanery, magnets underneath the ride push the cars around in an organized, super fun manner.
Add to the experience that it is also dark, and you have yourself a first-rate ride. You do not know exactly where you are going because you cannot see the track, and the lighting makes it extra exciting.
It uses the same technology as Remy's Ratatouille Adventure in Disneyland Paris/Epcot and Rise Of The Resistance. The trackless dark technology is what sets this ride apart from the Great Movie Rides and most other rides at Disney.
For now, this technology is still fresh and new at Disney World, so you will really love it and will be surprised!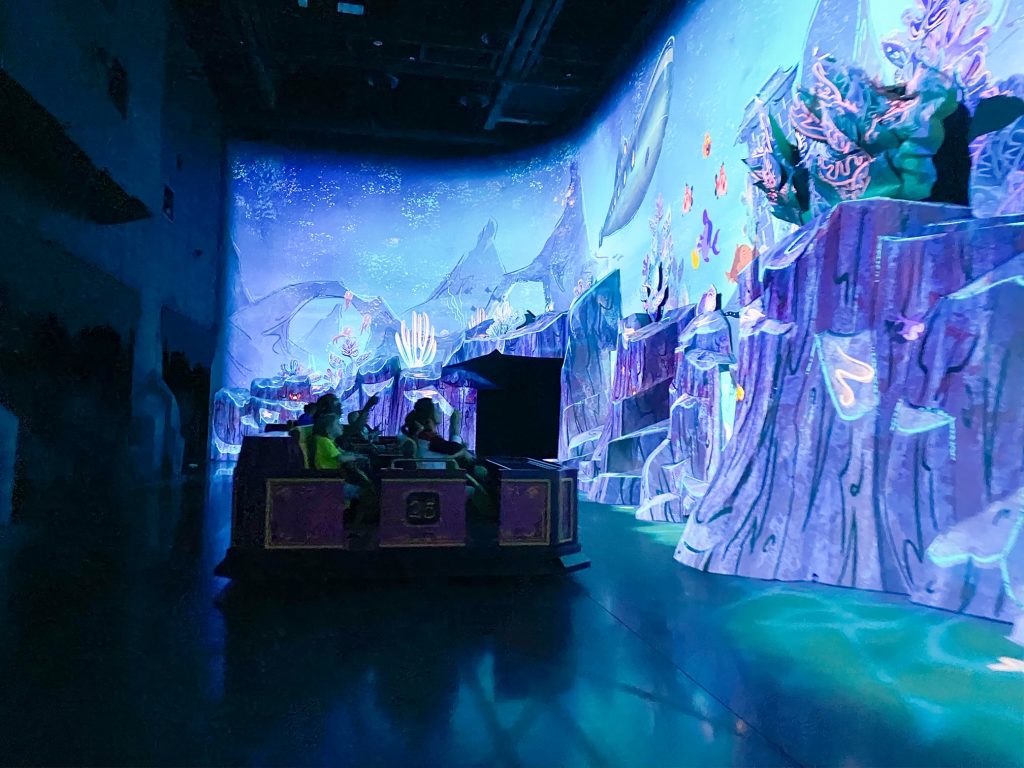 What to Expect on Mickey and Minnie's Runaway Railway
When you make it through both lines you will board a train conducted by the one and only Goofy. Each train car sits 8 people, and there are 4 train cars total, which means that this ride packs a decent amount of people in it.
While in Goofy's train, you will go through about 10 scenes that all tell the story of Mickey and Minnie's Runaway Railway. This is where Disney's animation and technology really does an amazing job. You will be totally immersed during the whole ride, with all of the creative sets and colors.
Everything in this ride is pretty fast-paced, but not too bad. At roughly 4.5 minutes, the ride is just the right length to have a blast and not get bored.
If you have a strong penchant for motion sickness you might want to prepare accordingly. While the ride is not too jerky, between its fast pace and brilliant colors it might still cause a reaction. I would say there is a VERY low likelihood for motion sickness on Mickey And Minnie Runaway Railway.
The ride is in a wide-open space, save for a few seconds that you will hardly notice.
There are NO DROPS in any way, shape, or form. This is NOT a jerky ride. While it may have some sharp maneuvers, I do not consider it to be jerky to the point where someone with a bad back would want to avoid.
It does not go up and down. It stays all on one level. The pace is moderate and fun. Kids will love it. Adults will love it. Everyone will love it. This is not one of those Disney thrill rides, but it also isn't just a ride for toddlers either. This is a ride for the entire family to enjoy, both young and old.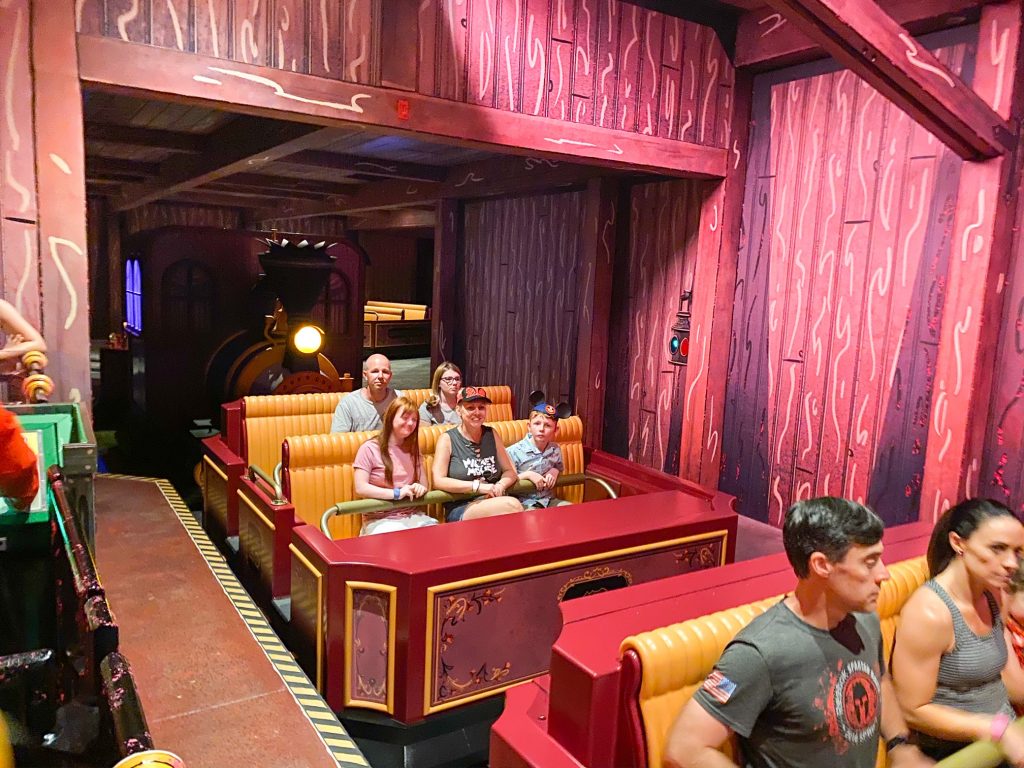 Is Mickey and Minnie Runaway Railway Worth It?
Yes, we would absolutely say that Mickey and Minnie Runaway Railway is worth it! Even with two lines, it is a great innovative ride. It tells a good story, anyone can ride it, and the whole thing is gorgeously put together.
It is a wonderful ride for families, couples, and individuals. As I said, I am a cynic and go into new Disney rides with low expectations so I wouldn't be disappointed. I loved the Great Movie Ride. But I also love fun and new ideas.
This was exactly that. My entire group rated it a 9/10 and it is NOT a disappointment in any way. Everyone will love it!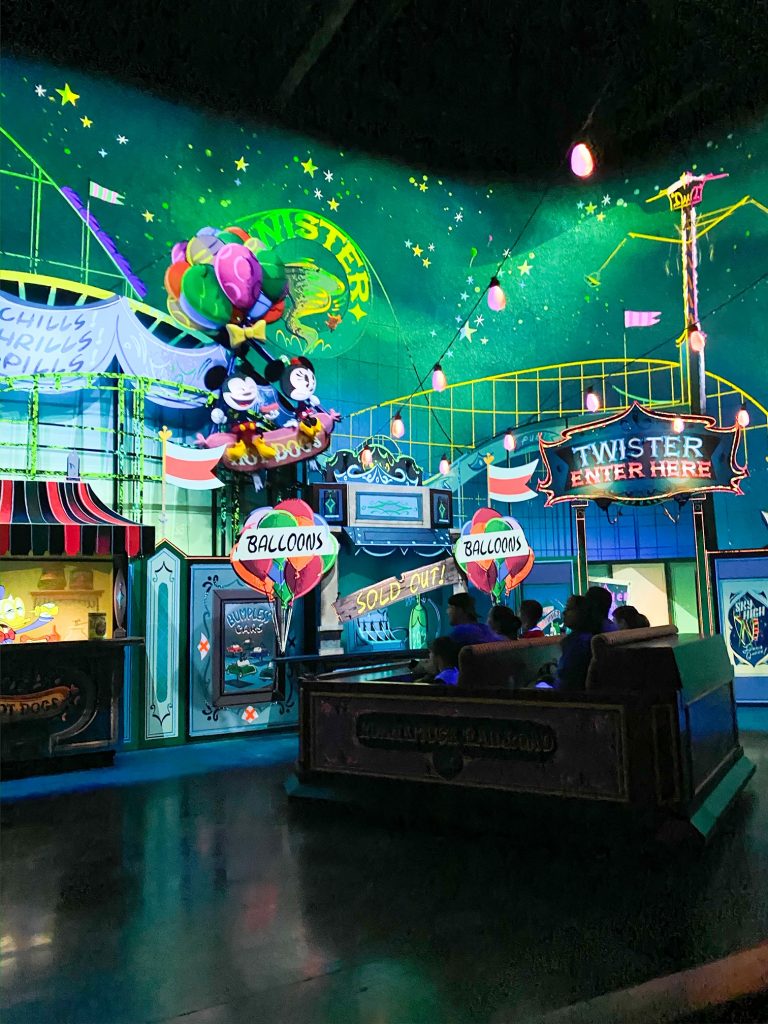 We hope you love Mickey and Minnie's Runaway Railway as much as we did! It is a truly fantastic ride with something for everyone. Let us know what your experience with it is in the comments below!