The Disney World FastPass+ system is designed to give you the best experience possible while you visit the parks, but it can be a little complicated. With four different parks and a whole host of rides, you might be a little overwhelmed trying to figure it all out. That is okay!
We are here to help you learn everything you need to know about Disney FastPass rules and how the FastPass at Disney works. There is a lot, but we have it all broken down for you.
Once you know what you need to know, we delve into each park and its best (and worst!) options. Disney can be expensive, and we are here to make sure you get your money's worth.
Keep in mind that Disney FastPasses are all about strategy. Stick with us and we will guide you to the best strategy possible.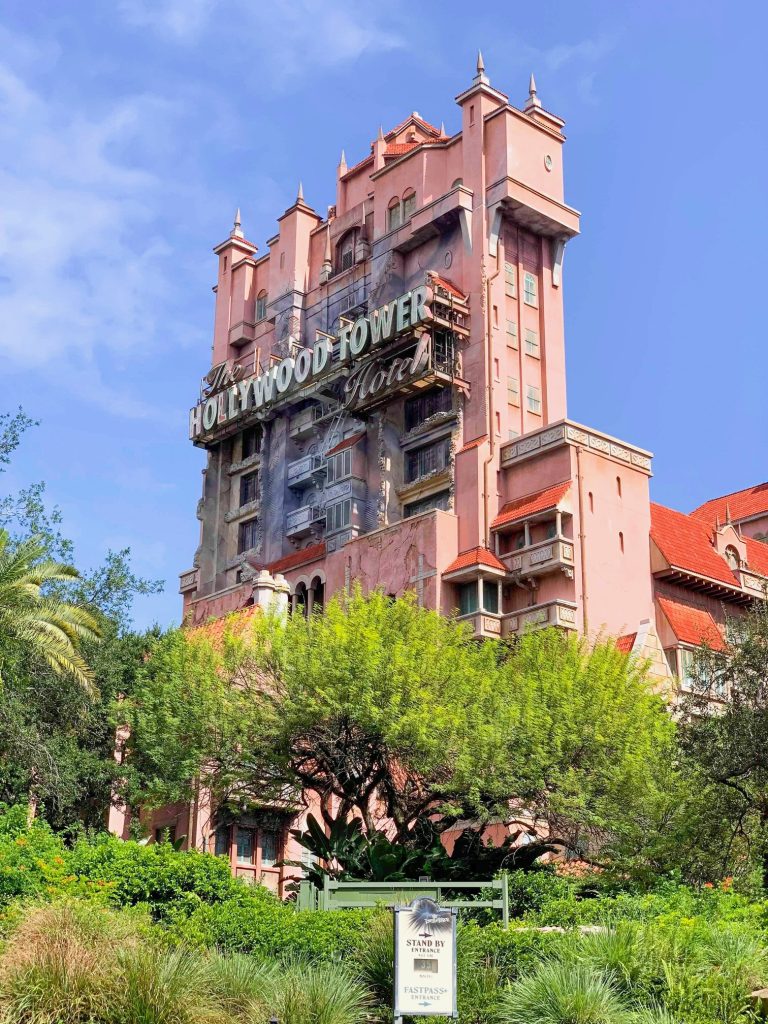 50 Best (And Worst) Disney World FastPasses + Insider Strategy!
What Is Disney World FastPass+?
A FastPass free life is a life full of standing in long lines. Disney FastPasses may seem like a bit of an ordeal, but trust us, they are a much better option than the alternative.
Imagine a world where you choose when you want to ride a ride, and then you just show up at that time and ride the ride. That is the world of Disney World FastPass.
There may still be a little bit of a wait for some rides, but nothing like the wait for standing in line. You can make your FastPass reservation the same day you go to the park, or you can reserve it in advance.
We have been going to Disney World for a long time. As insiders, we have 17 Disney FastPass Secrets to Hack Your Wait Time.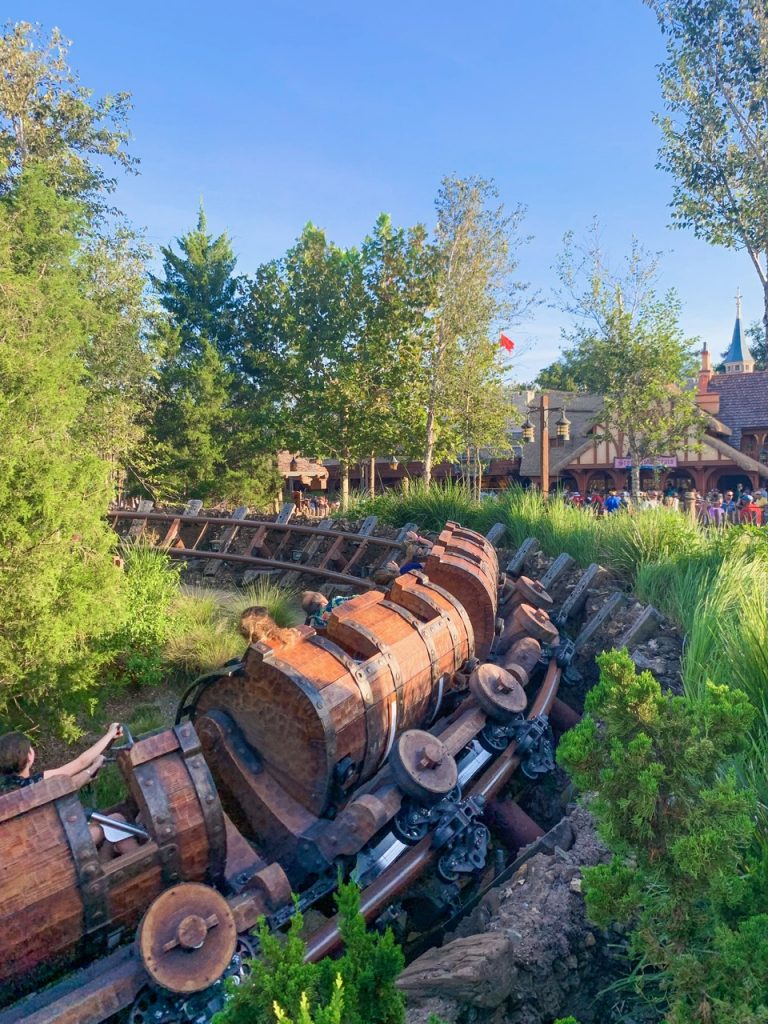 How Does FastPass+ Work At Walt Disney World?
So here is the sitch. You buy your Disney World tickets, and then you register online. Once you are registered, you reserve your Disney World FastPasses for the time you want to attend the ride or show.
Disney World has four parks. Your reservations have to be for the same park. If you do not want to use all three in the same park, then only reserve one or two and then your leftovers can be applied to different parks on the day you visit.
You can make three Disney FastPass reservations in advance per day. "Just three?" you might ask.
Just three in advance. If you use them up before the end of the day, you can get another through the My Disney Experience app or at a kiosk.
After you use your advance FastPass reservations you can only get one more at a time, but you can keep getting one more all day once you use the previous one up.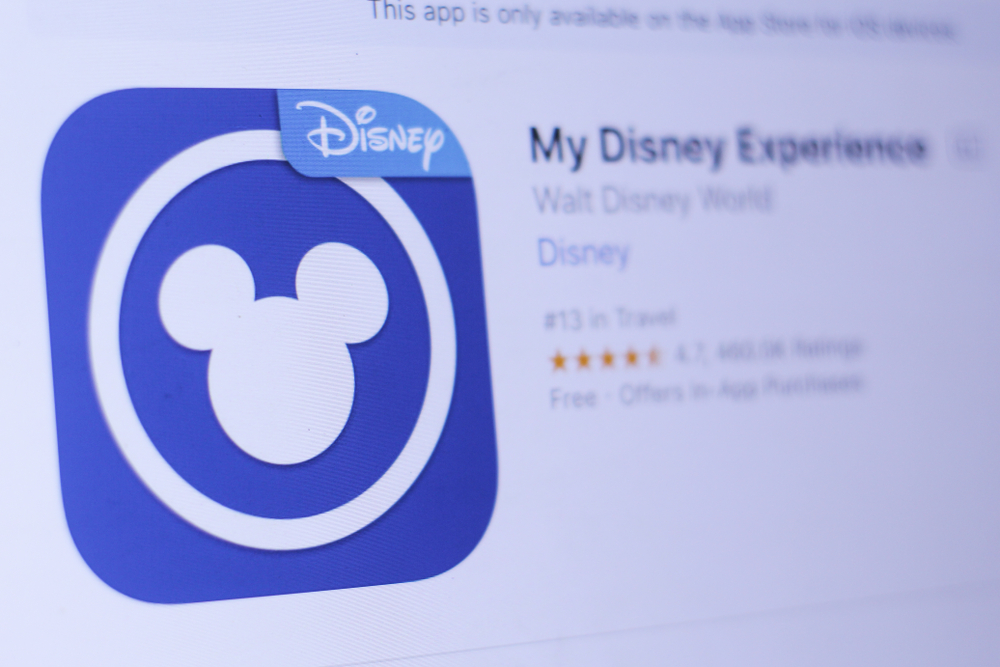 Disney FastPass Cost
If you are starting to worry that this whole Disney World FastPass thing sounds too good to be true, stop. You can ride all your favorite rides without spending the whole day waiting in lines.
The best part of it all? Disney World FastPasses do not cost a thing.
Yep. Not a thing. You just pay for your admission ticket, and then you are set to make your reservations and FastPass the day away. There are other options in case you want to pay more, such as taking a VIP tour or staying at Disney Club Level which offers added perks.
If you want to read more, we have an entire post on Disney Fastpass Cost which includes the breakdown of the free options as well as the potential upgrades. YES, you can pay more and get more Fastpasses than come free.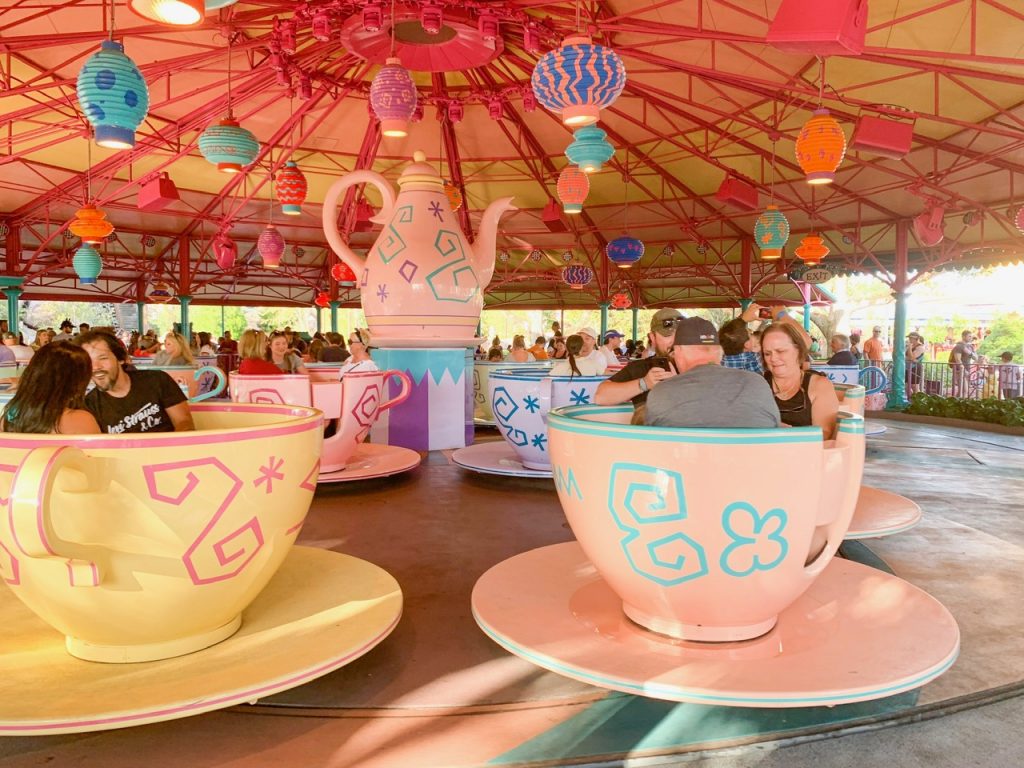 Who Can Make Disney FastPass Reservations?
If you have a ticket, you can make a Disney FastPass reservation. That is the short of this process. However, there is a little more involved.
If you are staying at an on-site resort, you can actually book Disney World FastPass+ up to 60 days in advance. Yeah, you read that right. You can reserve your FastPasses two months before you even come!
This option is also available for some off-site locations. However, some off-site locations only allow you to reserve your Disney FastPasses 30 days in advance. You will definitely want to check if the place you stay in allows this if you choose to stay off-site.
Otherwise, if you purchase theme park admission, you can make your FastPass+ reservations 30 days ahead.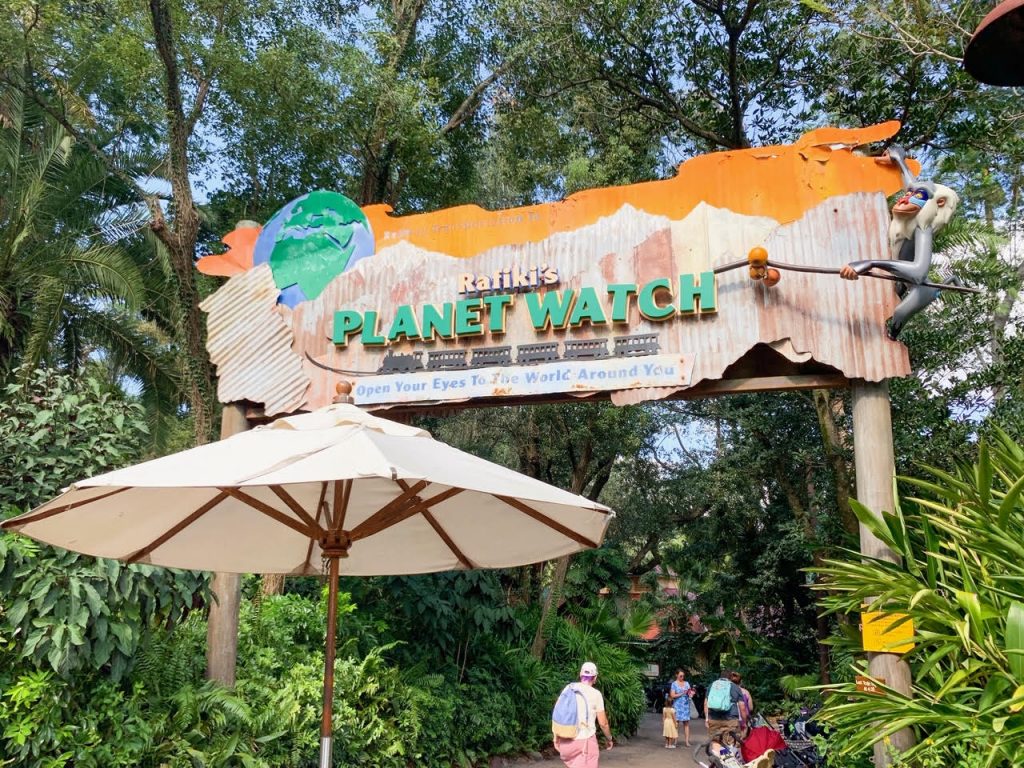 FastPass+ Tap and Grab Technique
Master the Walt Disney World FastPass Tap and Grab Technique, and you will truly master Disney FastPasses. It is the ultimate hack that makes all the Disney FastPass rules worth it. What is it?
Simple. You tap to use your first reserved FastPass, and then you grab a new one.
Okay, okay, it is a little more complicated than that, but not by much. So you already know that you can make three Disney World FastPass reservations in advance. But an extra, super important tidbit, is that once you use the first one you can move the other two up.
That is right–use your first one, and then move your second one to a closer time. Do the same with your third, and then add a fourth (which is now your third since you have already gone on your first). Get it?
The FastPass Tap and Grab Technique is best utilized with the My Disney Experience app. This allows you to easily move your FastPass times up every time you use one.
Using the Disney World FastPass is already majorly stepping up your Disney game. Use the Tap and Grab Technique and you will be unstoppable. People will sing your praises.
Well, the people you are with anyway. The unfortunate people waiting in the standby lines will not really have a clue, but you will not be them so it will be fine.
For some more insider information about FastPasses, check out our post on Disney FastPass Secrets. We cover the important stuff here, but it never hurts to get as much information as you can.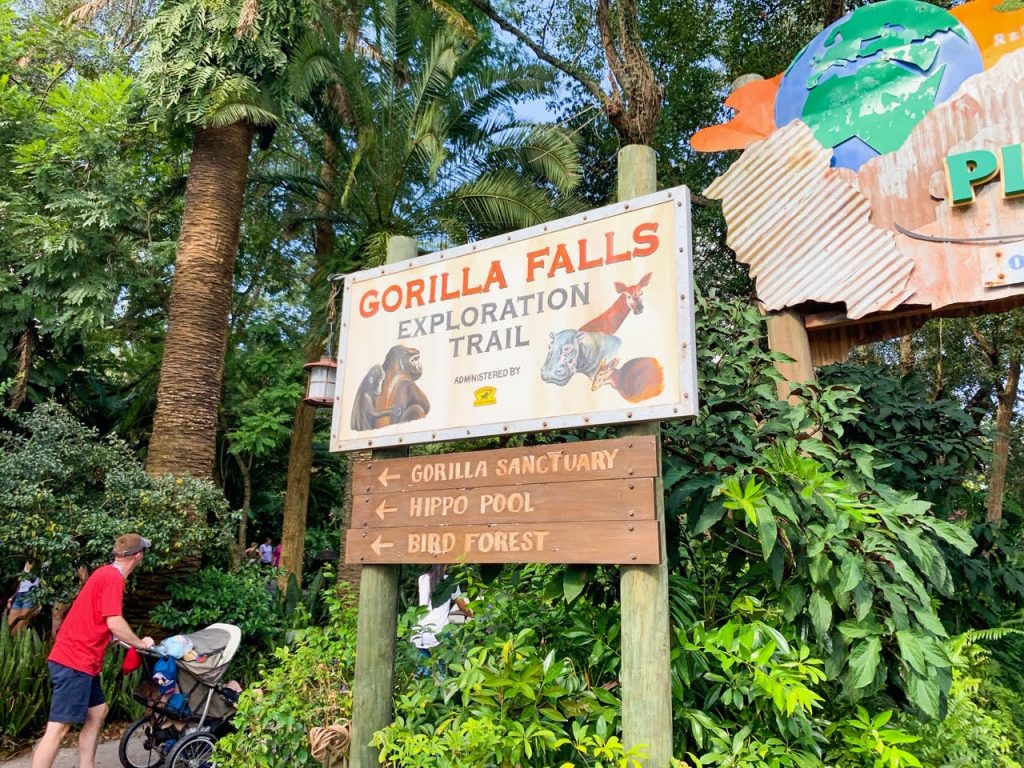 Do FastPasses At Disney World Ever Expire?
Good news! Disney World FastPasses do not expire! Now, that being said, if you do not use your reserved Disney FastPasses, then they will stop you from being able to get more throughout the day.
In order to avoid having your reserved FastPasses hold you back, you have a few options. You can transfer your reservation to a different ride, cancel it in the My Disney Experience app, or have someone in Guest Relations cancel it.
What Are Disney FastPass Tiers?
Now if you are thinking about all this logically, you might have already come to the conclusion that this is all impossible. If people can just reserve a time to go to rides, then the most popular ones will immediately fill up and then people will not be able to reserve them anymore, right?
Wrong.
This is where Disney World FastPass tiers come in. The most popular rides and attractions are in the first tier, and you can only use one of your advanced reservations on a first-tier attraction.
Magic Kingdom is the only park that does not have tiers. This means that you can reserve whatever rides and attractions you want to when you visit this park.
Outside of the Magic Kingdom, you will find that you are restricted by the tiers. Do not let this be a thorn in your side–it is the grease that makes all the cogs of the FastPass system work so well.
Furthermore, we have some insider tips coming up on which rides and attractions are worth your Disney FastPass reservations.
Feel free to print out or download our Disney World Fastpass Planner to your phone!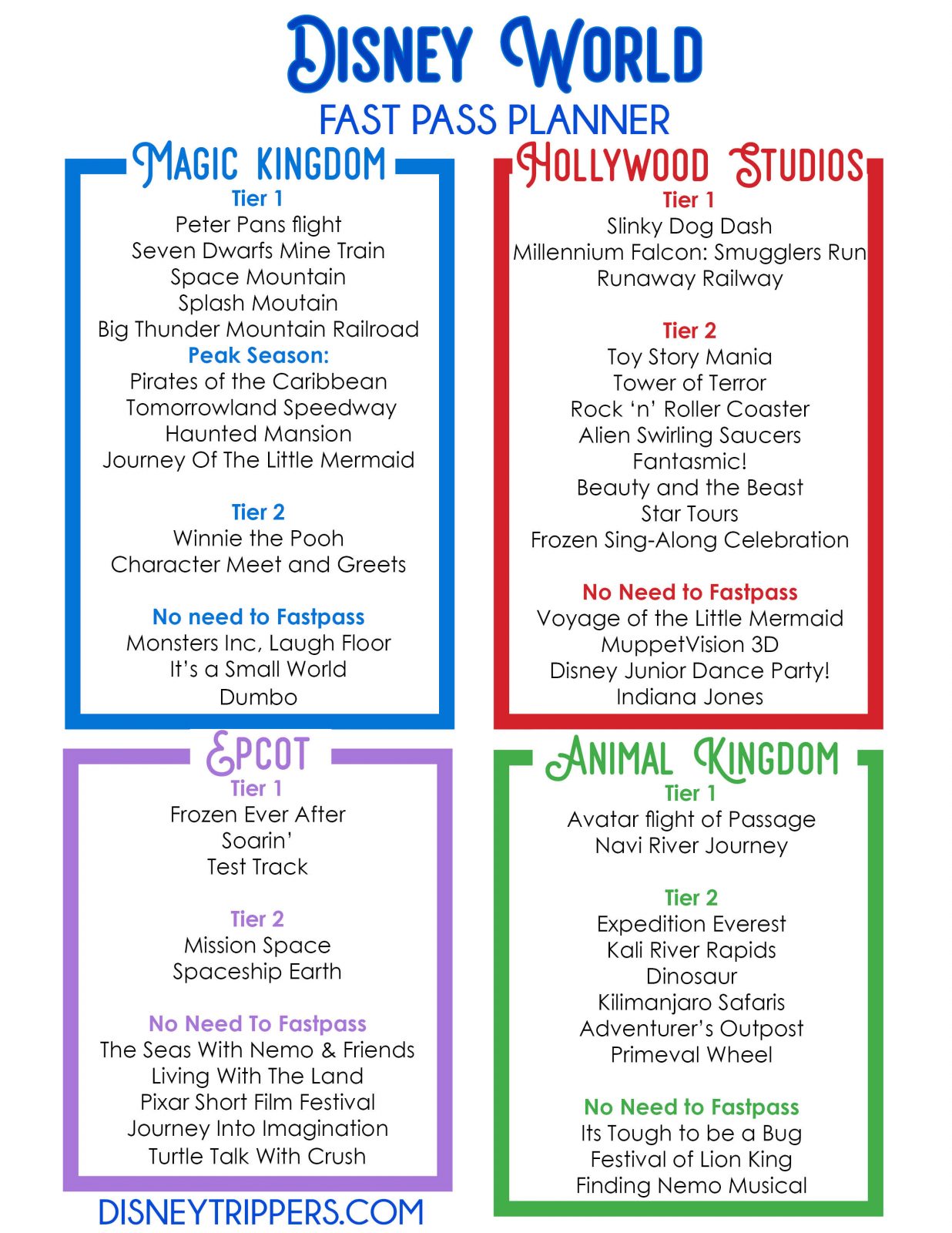 How to Book FastPass+ Using My Disney Experience
Once you have purchased your Disney World admission tickets, you will need to add your tickets to your My Disney Experience account. You can do this online or with the app.
In case you have not noticed yet, you can use the My Disney Experience app for a ton of really great things. We highly recommend downloading it to make the most of your Disney experience, let alone your Walt Disney World FastPass experience.
Like Disney FastPasses, the My Disney Experience app is just another tool to spend your time doing what you actually want to do. You know, like ride rides and see cool shows.
If you are anti-smart phone, or worried about using up your data, then you can still book FastPasses online. It will just make it harder to use the Disney World FastPass Tap and Grab technique.
We get it though, too much planning can take away some of the magic of Disney World. Do whatever will give you the best Disney experience possible for you.
Best Disney FastPass Selections from the Magic Kingdom
Who does not love the Magic Kingdom park at Disney World? We certainly do! With a ton of rides to choose from, we took some of the guesswork out with our list of the best and worst rides in this great park.
Insider tip: just because the best rides are the best does not mean you will need to use your Disney FastPasses for them.  We are breaking down the best and worst ones to uses your FastPasses for.
Top Magic Kingdom Fastpass Pick: Seven Dwarves Mine Train
Our absolute top pick for your Disney World FastPass reservation at the Magic Kingdom is the Seven Dwarves Mine Train. It is a small roller coaster in Fantasyland, and it is always busy. Therefore, it is a great selection for your FastPass at Disney!
Built for riders 38 inches and taller, you will love all the intricate details of this well-themed ride. They tell a story from the beginning to the end. There are even some surprise characters at the end of the ride!
Keep in mind that this one is a roller coaster, so it is not everyone's cup of tea. However, it is not rough or jerky like some roller coasters can be. As far as roller coasters go, it is a pretty smooth ride.
Seven Dwarves Mine Train just opened in 2014, making it the newest ride at Magic Kingdom. You are going to want to book this one as soon as you are able, due to its immense popularity.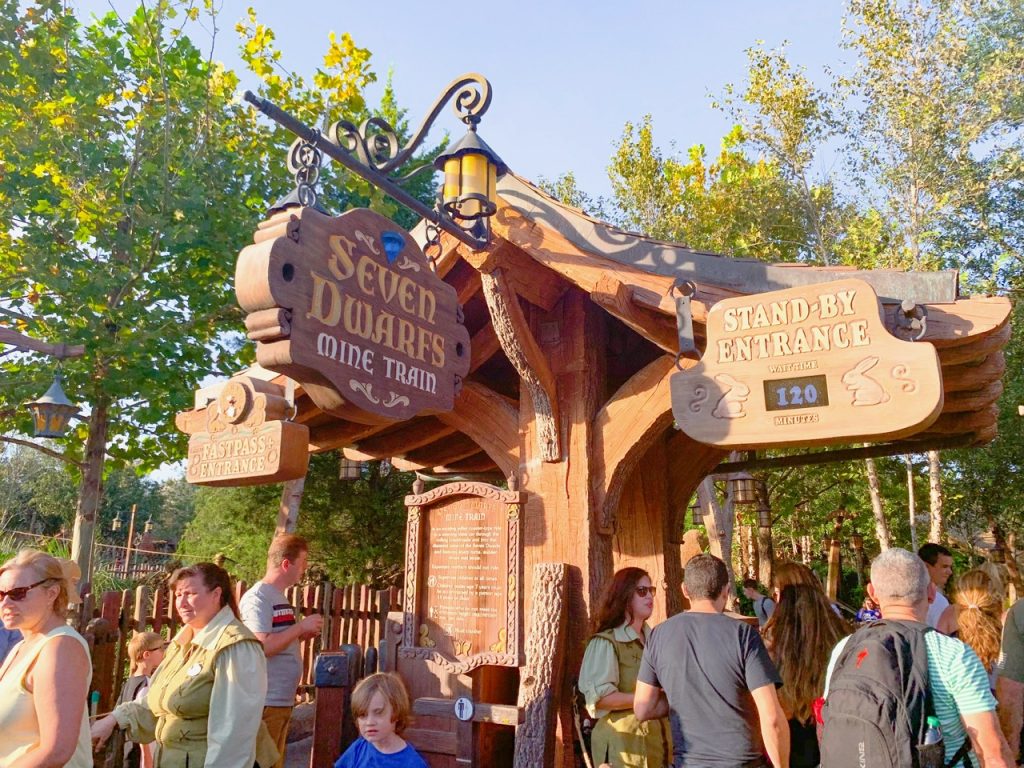 Space Mountain
You have to know that Space Mountain is going to be our next pick. Who does not love Space Mountain? Skip the lines, and reserve this one in advance with your Disney World FastPass.
A fun fact is that Space Mountain is an indoor roller coaster. Tucked into the back of Tomorrowland, you might not think this one is as busy, but trust us, you are going to want to reserve it right away.
Your riders will need to be at least 44 inches tall, and they will have to sit in single file. Keep this in mind if you have younger kids who should not sit alone. It also takes place in the dark, which can make it a little scary.
Space Mountain is great for anyone who likes a true roller coaster with a bit of thrill. There are not any large drops, but it goes fast!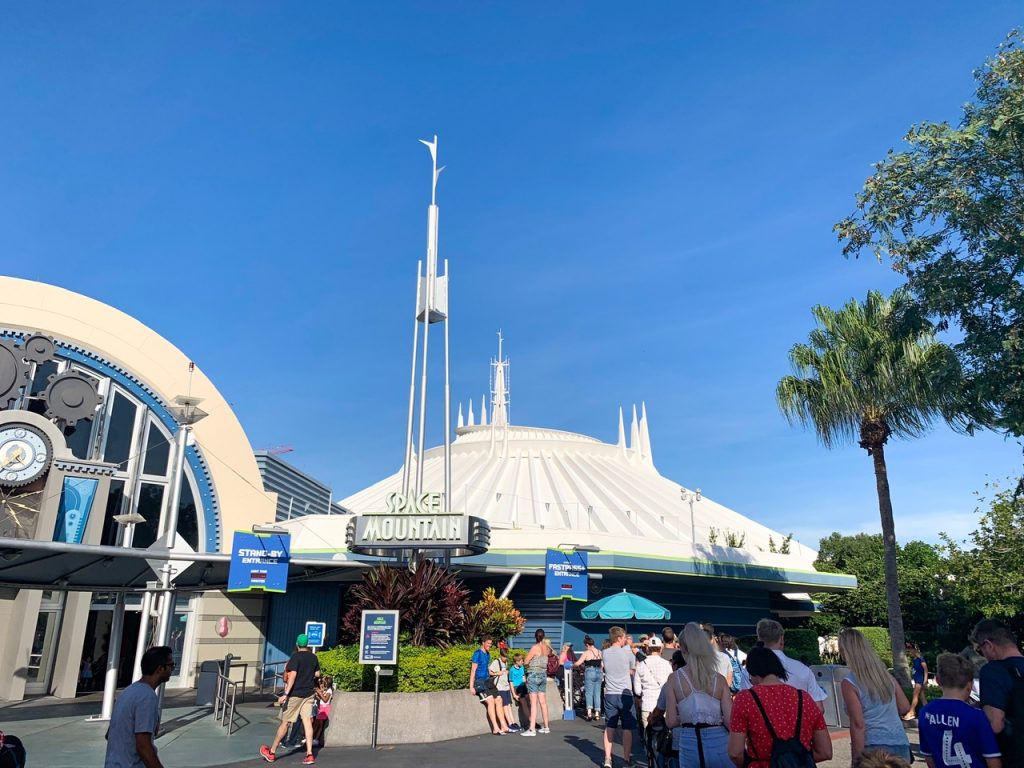 Peter Pan's Flight
Another favorite of ours is Peter Pan's Flight. It is short but has earned its nostalgia and beloved qualities due to its family-friendly aspects. Still, at three minutes long, use your Disney World FastPass and do not waste your time standing in line!
Peter Pan's Flight is a great one for children. It is another one that tells a story along the way as you journey on a pirate ship. You might even see a couple of Hidden Mickey's!
People really love this one for the nostalgia and the classic Disney atmosphere. Hence the crazy long lines. Use your FastPass on this one folks.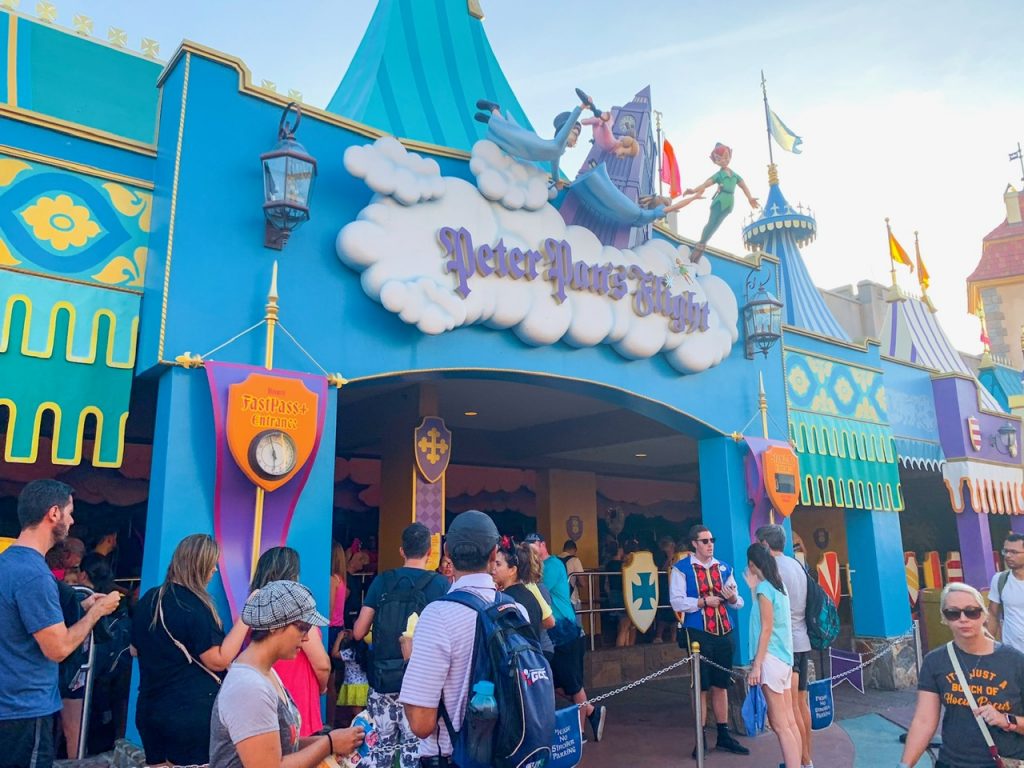 Splash Mountain
Disclaimer: Splash Mountain is down for refurbishment and will reopen as "Tiana's Bayou Adventure" in late 2024.
Splash Mountain is another ride that requires slightly larger riders, requiring them to be at least 40 inches tall. It is a great early FastPass+ choice, especially if you cannot get any FastPasses for Seven Dwarves Mine Train or Space Mountain.
This ride tells the story of Briar Patch of Brer Rabbit and Brer Fox. You can even sing along to Zip-A-Dee-Doo-Da!
You will find a huge drop as you ride the log flume through the stream. Most of the ride operates at a slow and steady pace, but this drop can be a bit of a shocker with the splash at the end.
Insider tip: do this one during the hottest time of the day. Florida heat is no joke! Splash Mountain offers some great relief for the afternoon.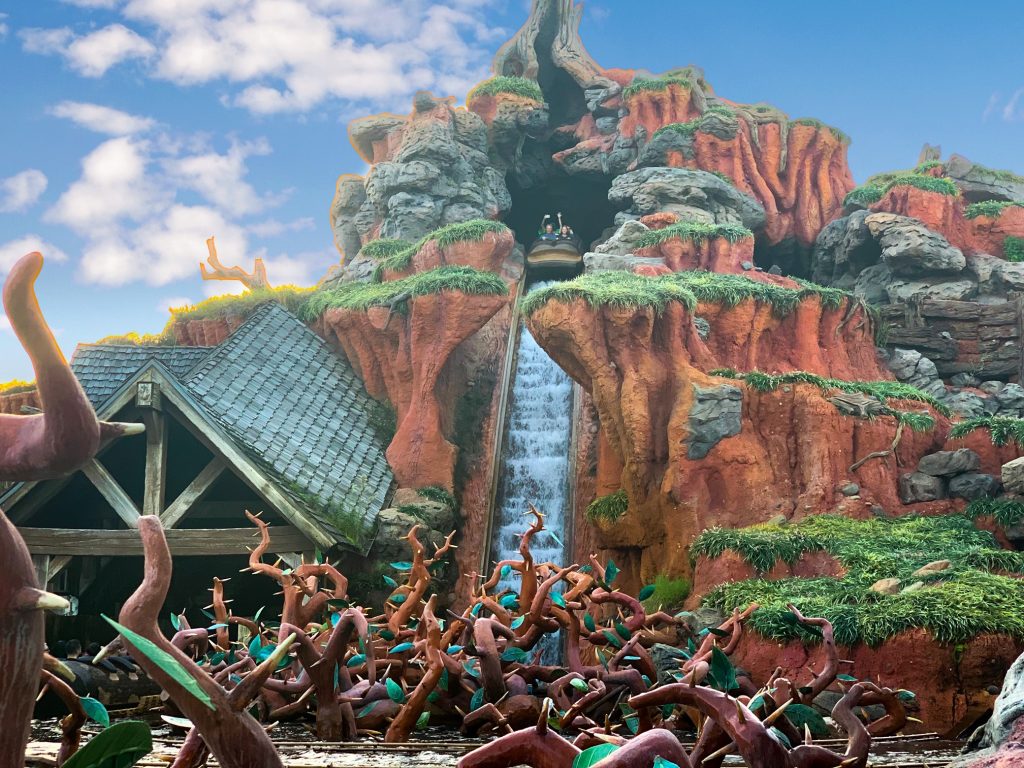 Big Thunder Mountain Railroad
One of the fun things about Disney World is finding all the Hidden Mickeys. Big Thunder Mountain Railroad is another opportunity to spot some.
As one of the older rides, it is not quite as smooth as some of the others. However, it has great attention to detail. The views of Tom Sawyer Island and Cinderella's castle are gorgeous.
Big Thunder Mountain Railroad is another smaller roller coaster, but keep in mind that everyone will still have to be over 40 inches tall. It is more kid-friendly and does not feature any big drops like Splash Mountain.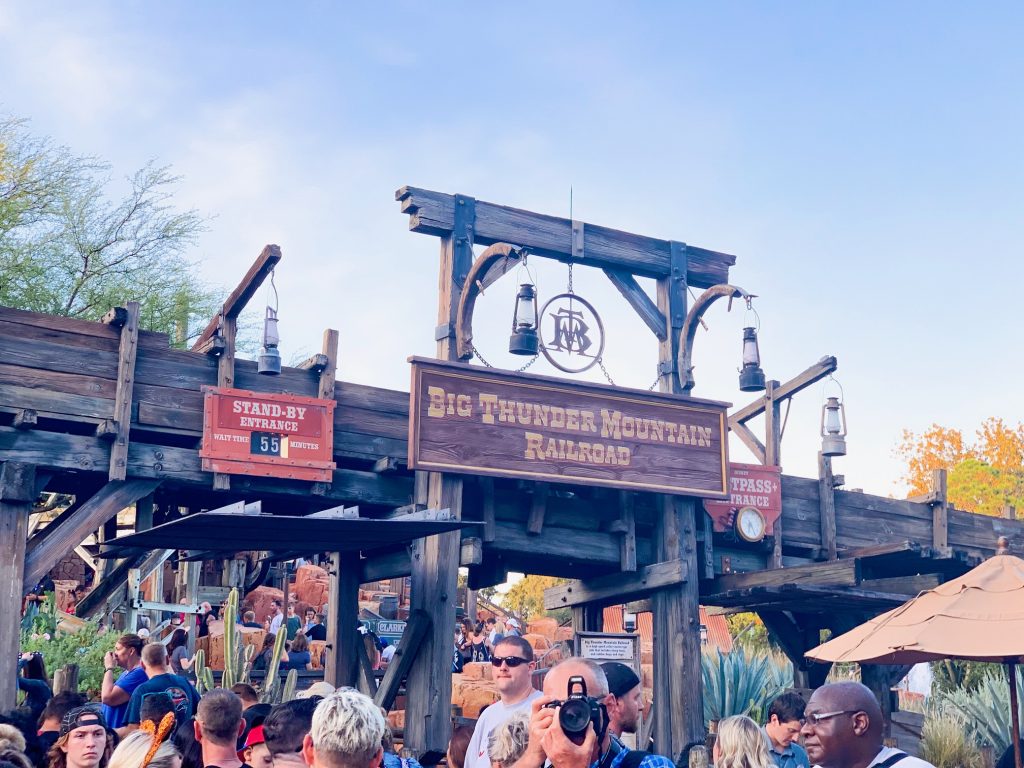 Haunted Mansion
While we would not recommend this one as an early pick, Haunted Mansion is a great back-up if the first ones we mentioned are already taken. The lines do not tend to be as long here, but it is still popular!
Haunted Mansion is another great example of Disney's storytelling capabilities. Ride on a "doom buggy" to take a tour of the mansion with all of its ghosts.
Keep in mind that this is a longer ride–10 minutes from start to finish. Indoors, the airconditioning makes it another excellent choice for the middle of the day.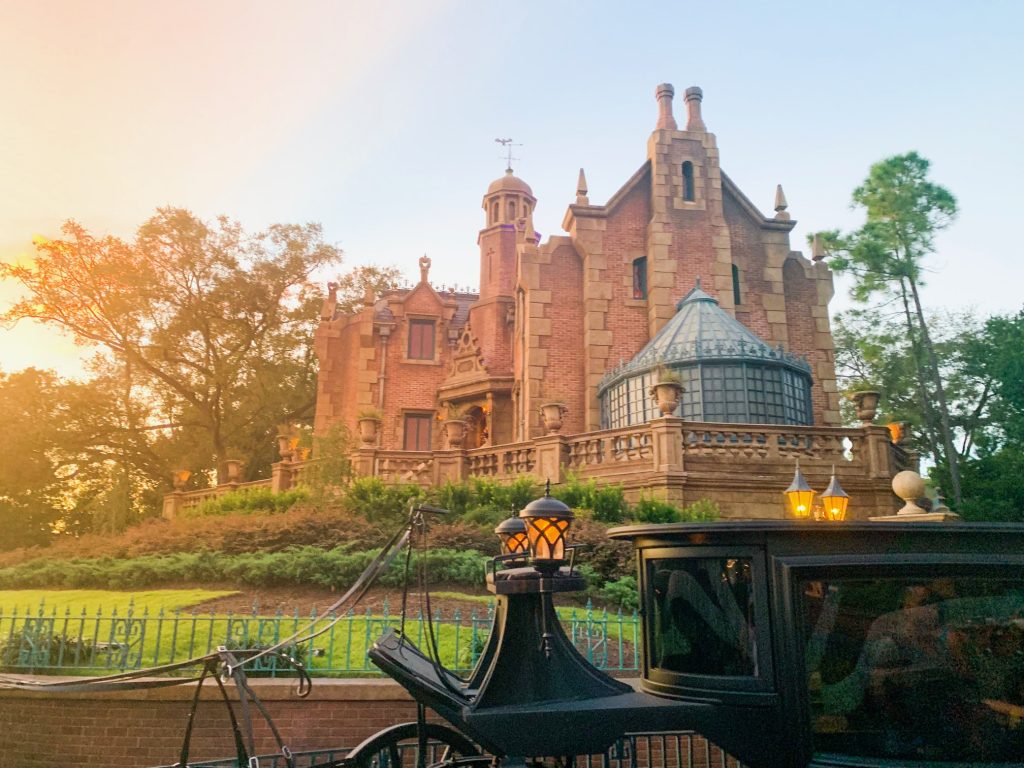 Pirates of the Caribbean
Pirates of the Caribbean has a lot in common with the Haunted Mansion. It is not going to drain your life away to stand in line for this one, but it is a great pick if the priority FastPass spots are not available.
Unlike the Haunted Mansion, there is some risk of getting splashed on this one. You will board a boat and sail around islands and a town.
"Canons" fire off a ship, adding some excitement. Keep an eye out for Red–she used to be a "wench" up for auction. Disney updated the ride to feature her as a leading lady!

Buzz Lightyear's Space Ranger Spin
If you are looking for a fun, interactive activity for the whole family, Buzz Lightyear's Space Ranger Spin is perfect! As a popular attraction, you could waste a lot of time waiting in the hot afternoon line here. We recommend not doing that, and using your Disney World FastPass instead!
Featuring an arcade style ride, you will be able to check out Star Command Headquarters and help Buzz Lightyear take down Evil Emperor Zurg.
Not only that, but this one is competitive. It is a shooter style game with targets throughout to shoot with your blaster. If you get enough, you will attain Galactic Hero status and earn a prize at the end!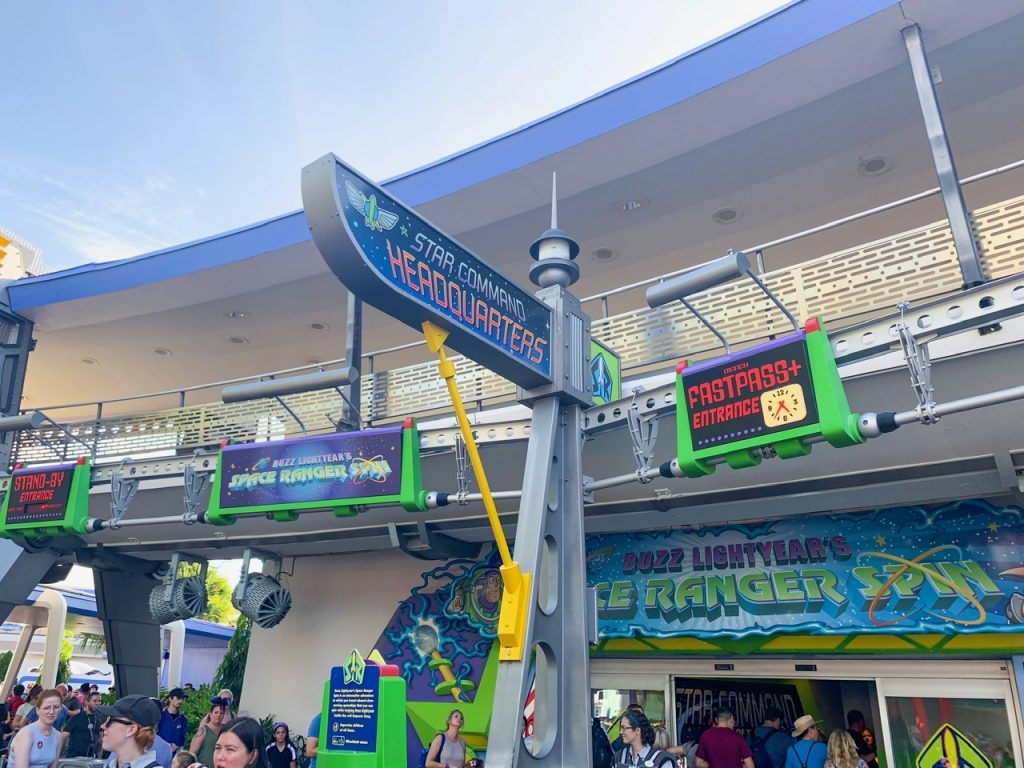 Enchanted Tales with Belle
We do not recommend many shows to use your Disney World FastPass for, but Enchanted Tales with Belle is one of the few. It is a very cute show/meet and greet with Belle.
Kids love this one! Bring your camera, because there are going to be some straight-up adorable moments here.
Unlike most shows, wait times can be pretty long for Enchanted Tales with Belle. That is why we recommend using a FastPass here if you have a spot open.
One of the reasons children love it so much is because they are given an interactive role to play in Beauty and the Beast's story. They get to be a part of it, instead of just watching.
In the end, while this show may not be a top priority for adult Disney-goers, it is a major crowd-pleaser among the little ones.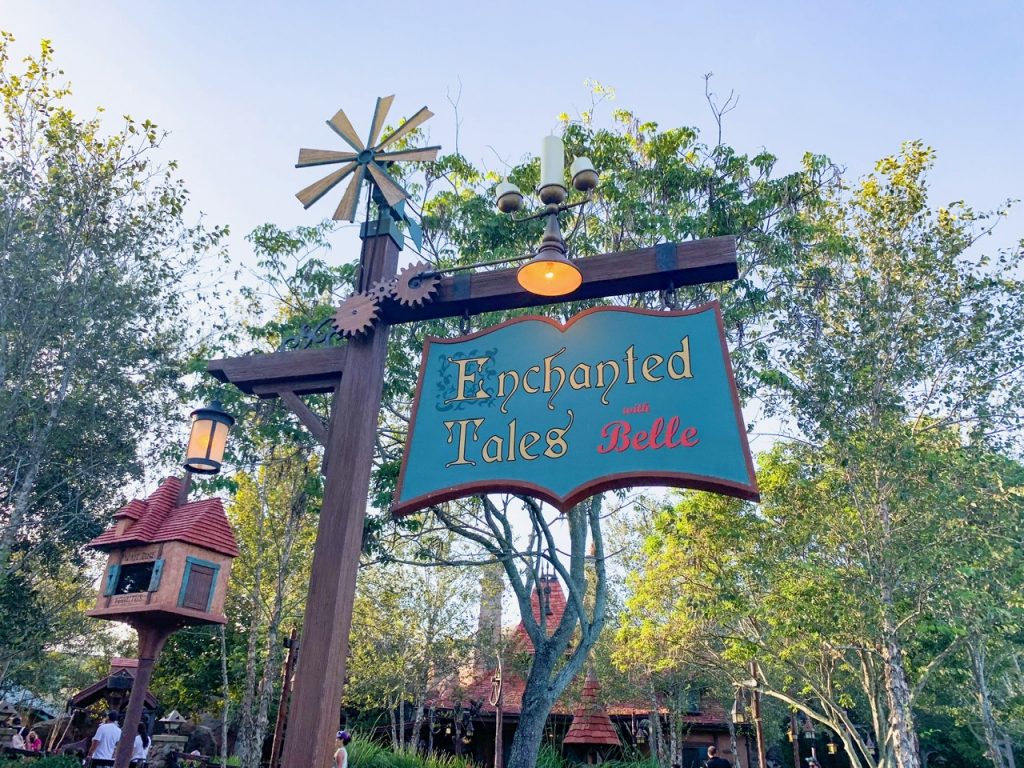 Jungle Cruise
Another classic boat ride attraction, Jungle Cruise has its own brand of humor. It is kid and family approved. While the lines here are not really ever terrible, a Walt Disney World FastPass is a great way to avoid getting too hot while you wait.
Jungle Cruise is also a more easy-going ride, which is nice after some of the bigger ones like Space Mountain. It offers a ride through the jungle.
You will have the opportunity to see hippos, an airplane, and many other adventurous things. Themed around a 1930s British steamship exploring the Amazon, there will be many green and leafy things.
An additional perk is the sense of humor on this ride. If dad jokes and puns are your bread and butter, you are going to love this one.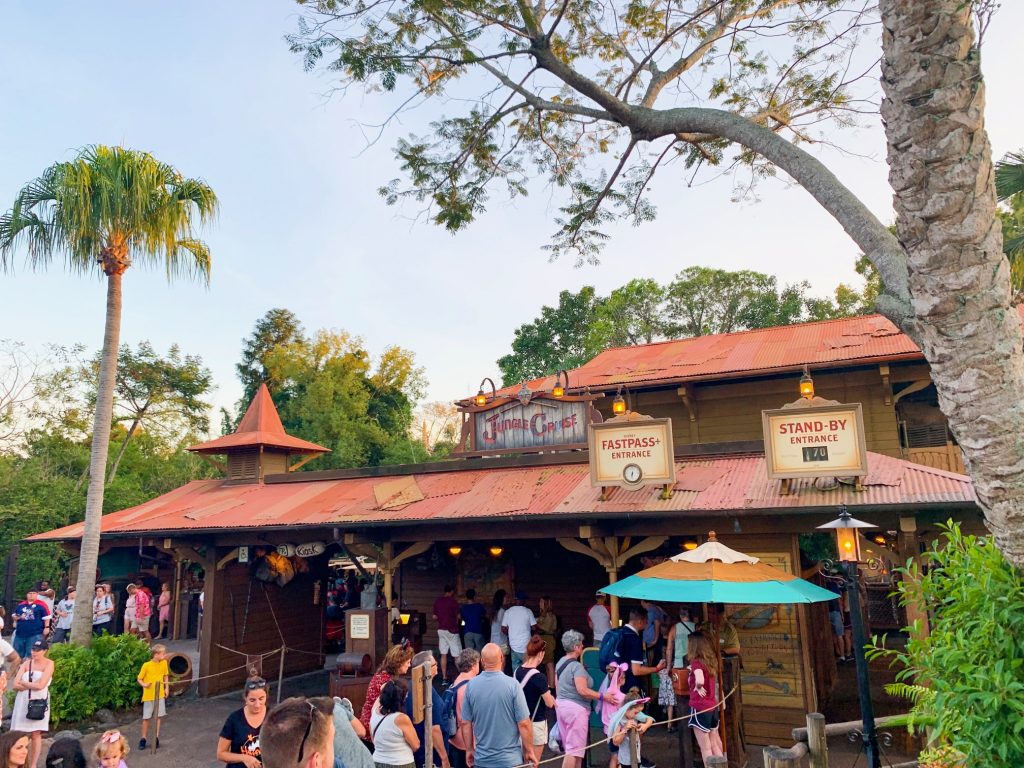 Worst for Magic Kingdom
Of course, there are going to be some rides that just are not worth your FastPass reservations. Not that they are not good rides, but rather, the wait times are much shorter.
These include Dumbo, Mad Tea Party, Magic Carpets of Aladdin, Monsters Inc. Laugh Floor, Meet Tinker Bell at Town Square Theater, and Mickey's PhilharMagic.
That being said, once you have already used up your three initial reservations for the day, use Disney FastPasses for whatever you want! The beauty of the FastPass is that it promises to save you time anywhere that you use it.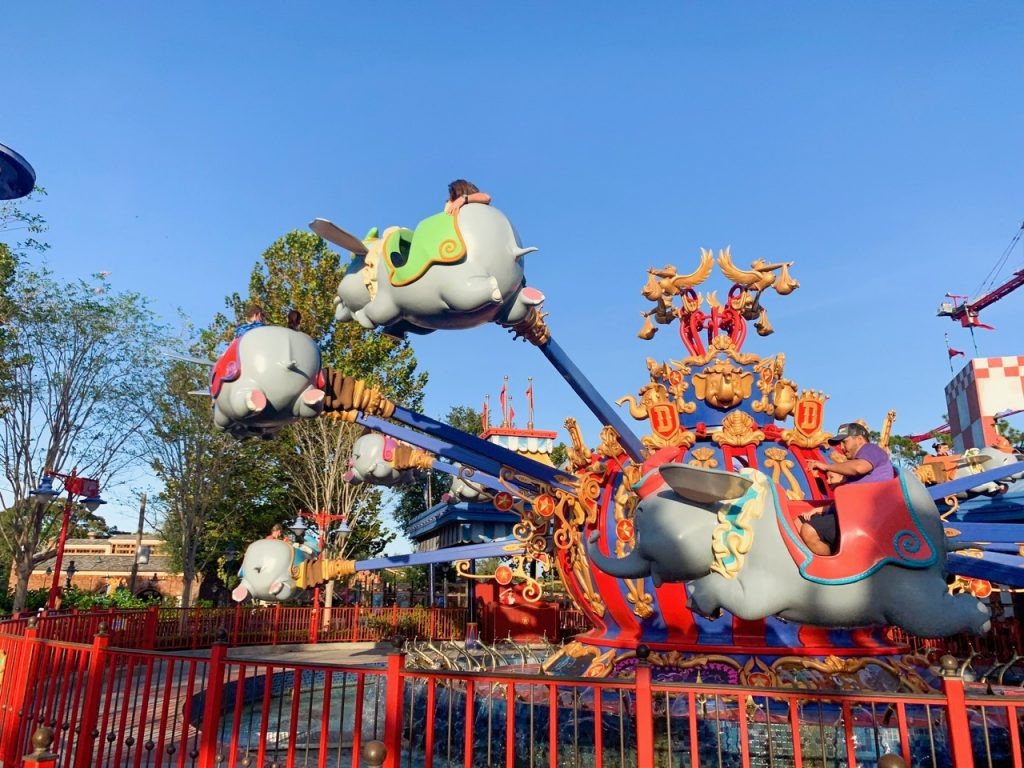 Best for Epcot
When FastPasses at Disney World hit the scene, it quickly became clear that they were made for Epcot. The sprawling park is filled with spectacular rides and events that no one wants to miss out on. It gets packed!
Epcot is also a park where the Disney World FastPass Tiers matter (unlike the Magic Kingdom). Remember, you only get to choose one Tier 1 ride when making your initial 3 reservations. Check out our 7 Best Epcot Rides and Attractions You Must See.
Best Tier 1 FastPass Choices
Top Pick: Frozen Ever After
We have a few different recommendations for your Tier 1 spot. If we had to just pick one though, we would definitely choose Frozen Ever After. It is the most popular ride at Epcot, and therefore the hardest FastPass to get.
Unlike some of the fast-paced water rides, this one is a slow-moving dark water ride through the country of Arendelle. It is great for Frozen and Disney lovers alike! And if your kids are obsessed with Frozen, you are going to have to see this one.
Frozen Ever After is especially great for kids because there is no height requirement. It is one that goes quickly, that you will definitely want to snag the second you are able to.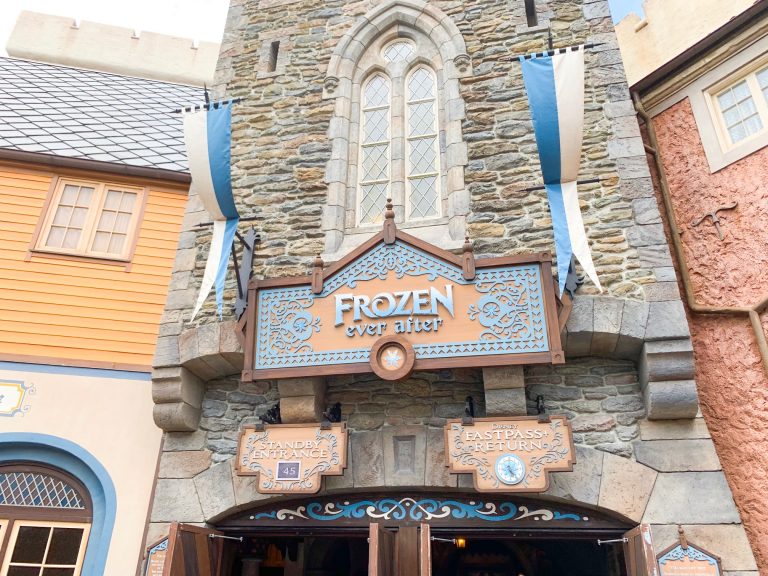 Soarin' Around the World
Soarin' Around the World is our second pick for your Tier 1 spot. If you are seriously so done with "Let it Go", this is a good backup. It is also located inside, which makes it unlikely to be closed down!
Making use of a truly massive IMAX projection screen, this ride will take you all over the world to see famous landmarks. You can see the world all from inside Disney World!
Lines get extra long for Soarin' Around the World, especially during the afternoon. That is why it is a great one to utilize your Walt Disney World FastPass for. Keep in mind that there is a 40″ height requirement.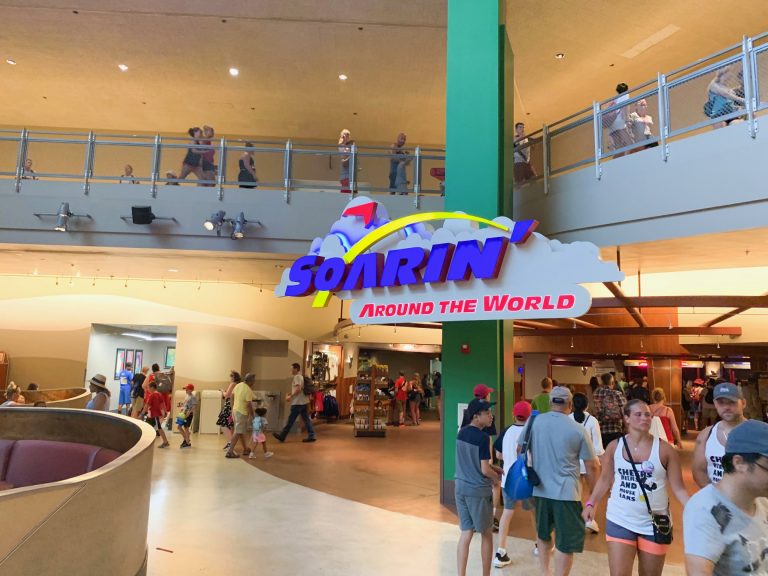 As far as Tier 2 spots go, we love Spaceship Earth. It is one of the first rides you will see when you enter Epcot, and the lines can be astronomical. Therefore, it is a great use for your Walt Disney World FastPass.
For something a little different, we recommend the Living with the Land ride. It is a nice water ride that takes you through a greenhouse. You will love the opportunity to relax and learn for a minute!
Best Tier 2 FastPass Choices
Spaceship Earth
Look no further for an iconic ride than Spaceship Earth. It is housed in the geodesic sphere most commonly associated with Epcot, and gets very popular on busy days.
Spaceship Earth takes you on a journey through history, and is loved by all ages. This is in part because there is no height requirement! It is also very slow-moving and relaxing.
The lines can be horrendous due to the lack of coverage to protect from the melting Florida sun. Get a FastPass during lunch time, and then you can escape the heat and take the whole family on a ride everyone will love.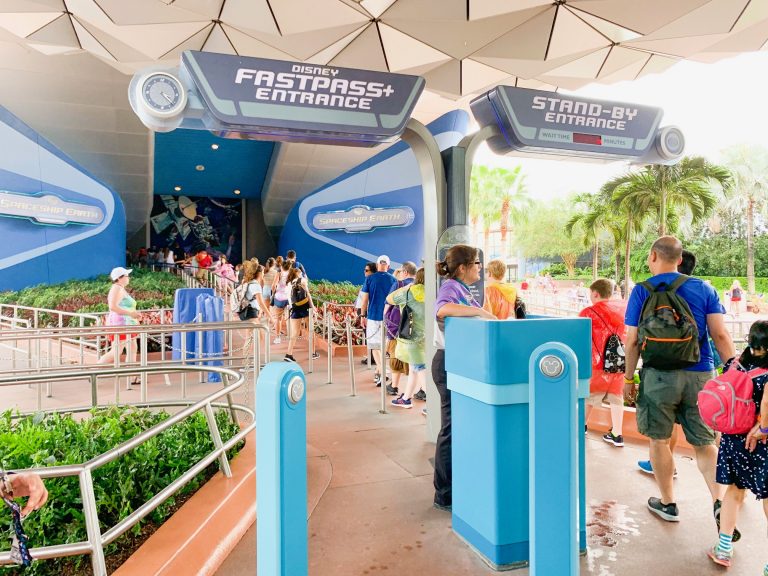 Mission: Space
Another thrilling ride simulator is Mission: Space. This one takes you into space, and even has two separate paths to choose: Green and Orange. Green only orbits Earth and is pretty calm, while Orange is more intense.
If you do not like simulators, definitely do not do the Orange one. However, we think you would probably still like the Green one.
Even though it is fun and popular, it does not typically have a long line. Just make sure that your party meets the height requirement of 40″ for the Green mission and 44″ for the Orange mission.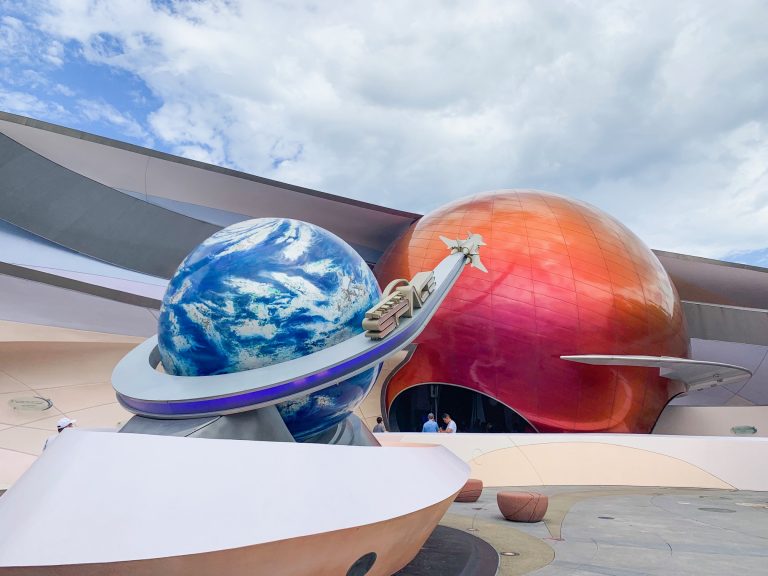 Living with the Land
Like Frozen Ever After, Living with the Land is a slow-moving water ride that takes you through a greenhouse. It is another educational one that showcases the relationship we (people) have with the land.
Living with the Land is an underrated ride, and we love it! It is a great way to take a break from the busy park.
While there never used to be lines for this one, recently the wait times have been up to 30 minutes! It is quickly becoming a golden use for your Tier 2 Disney FastPass reservation.
Worst for Epcot
Epcot is full of great rides and amazing shows, and some of them just do not need a FastPass. There are plenty of things to see and do in between your FastPass times that either have tons of seats or alternative strategies.
Please Read: Just because they are on the worst FastPass list does not mean they are not good rides. It just means you do not need to use your Disney FastPass reservations to enjoy them.
Worst Tier 1 FastPass Choices
Test Track
We are telling you, do not use your Tier 1 spot for Test Track. Now, the line on this one can get long. Unfortunately, a short ride is not why we are telling you not to use your Disney World FastPass on this one.
Rather, you should not use your FastPass for Test Track because there is a better strategy. Just use the Single Rider line. Your party may get split up, but you will be able to experience this awesome ride so much faster!
Test Track allows you to build your dream car and take it for a spin. You can test how well the car handles and drive it in all kinds of different conditions. It definitely checks the boxes for fun and exhilarating.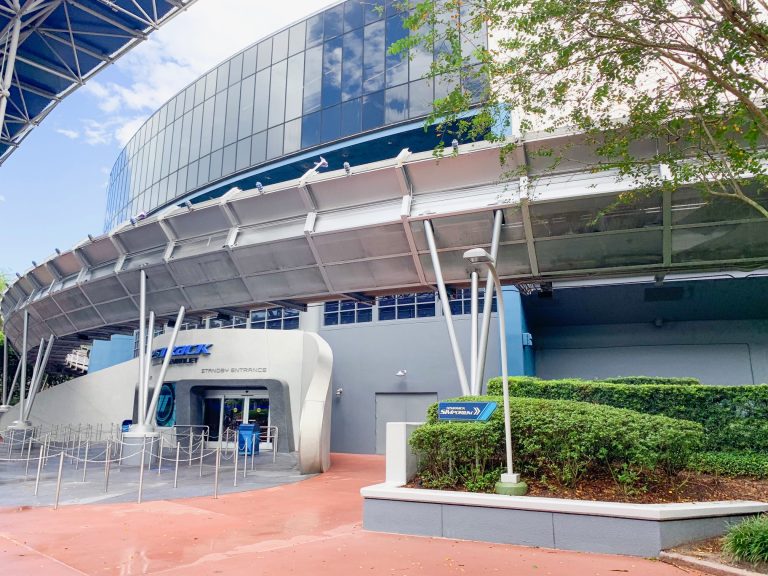 Epcot Forever
We also seriously do not recommend using your Walt Disney World FastPass on any nighttime shows, like Epcot Forever. You can view this firework show from anywhere around the World Showcase, and do not need to use a reservation for it.
Do not get us wrong, Epcot Forever is a great show. It focuses on the connection of Music at Epcot from the past, present, and future. The show evokes very emotional responses from many who watch it.
However, it is very easy to watch without a reservation or FastPass. That is why we recommend using your FastPass slot for something else.
Character Spot
Another event that is beloved by children, Character Spot allows you to meet some of your favorite Disney characters. These include the classics like Mickey and his friends, as well as newer beloveds like Joy, Sadness, and Baymax.
You cannot help but come across some great photo opportunities with Character Spot. However, we do not recommend using a Tier 1 FastPass for this one.
The lines usually do not go over 30 minutes, and you can see even more characters in the World Showcase.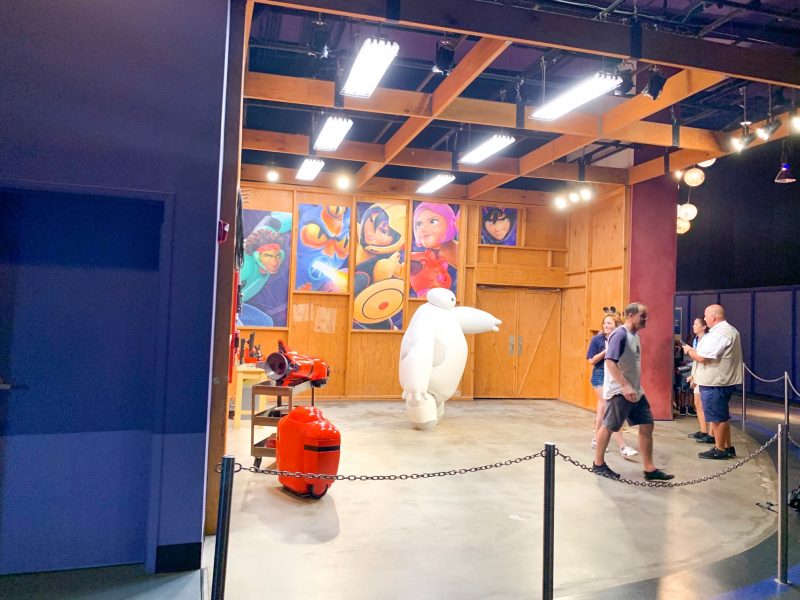 Worst Tier 2 FastPass Choices
Some short-line rides that are kind of wastes of FastPasses are The Seas with Nemo & Friends, Turtle Talk with Crush, and Journey into Imagination with Figment. Check out our more in-depth reviews of these for a little more information.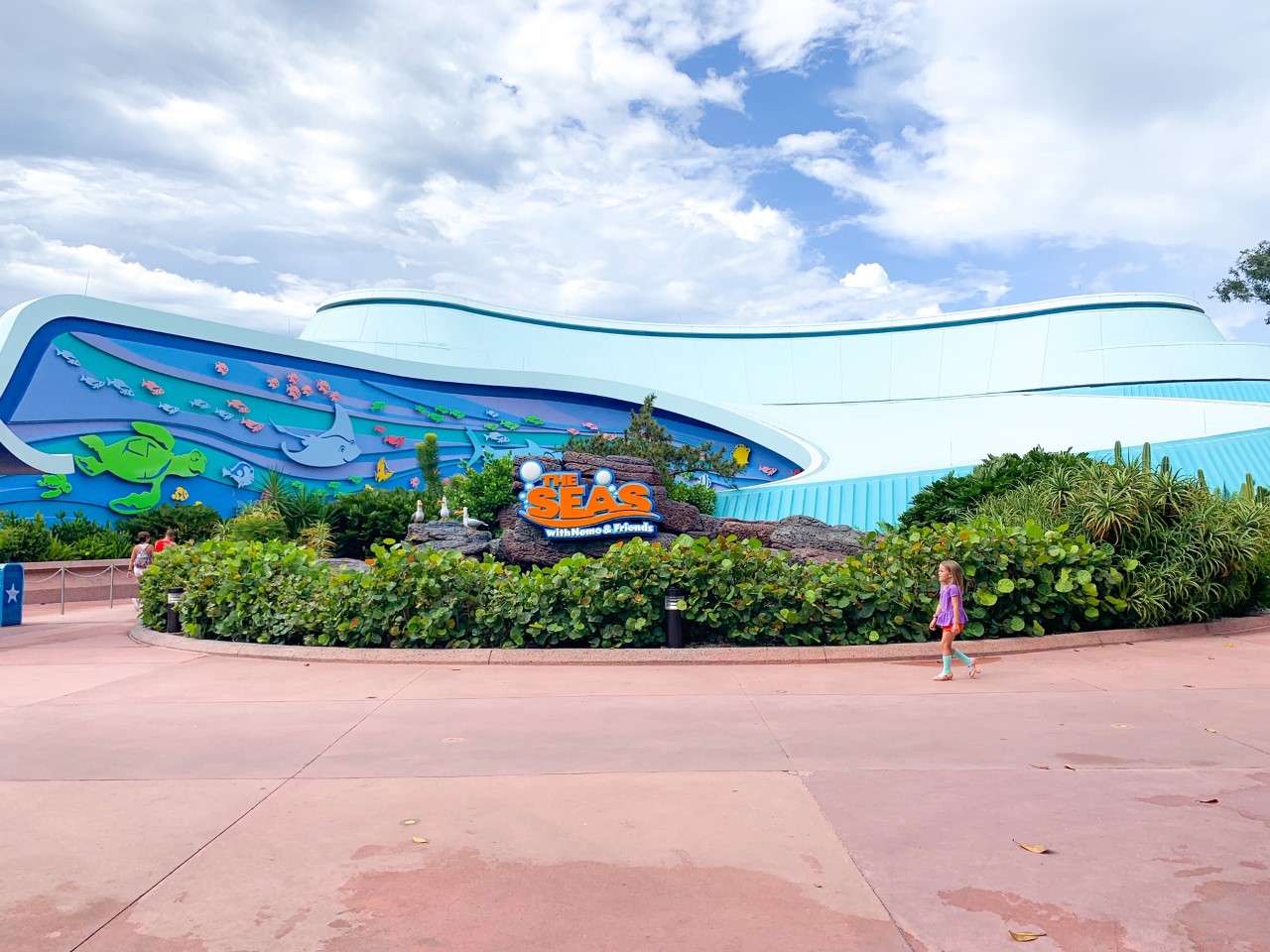 Best for Hollywood Studios
While Hollywood Studios may seem like a park with fewer attractions, and therefore less useful for FastPasses, we assure you this is not the case. Every minute of preparation is worth it.
While there are fewer attractions here, they are immensely popular. And as you know by now, ride popularity is what makes Disney World FastPasses so useful.
You are doing yourself a favor by preparing yourself and figuring out the best and worst Hollywood Studios rides to use your Disney FastPasses are. Hollywood Studios just might have more rides than you think, and we are here to help you figure out which ones are the best.
Best Tier 1 FastPass Choices
Top Pick: Slinky Dog Dash
Have you ridden Slinky Dog Dash at Hollywood Studios? If you have you will know it is super fun, and absolutely worth your Tier 1 slot for your Disney World Fastpass reservation. It is new and families love it, so the lines can be extensive.
For such an innocuously named ride, Slinky Dog Dash is full of twists and turns through Andy's over-sized backyard. You will find it in the middle of Toy Story Land, naturally, and has a height restriction of at least 38″.
Slinky Dog Dash does include climbs, drops, twists, and turns, but does not go upside down. This makes it super fun, but still very family-friendly.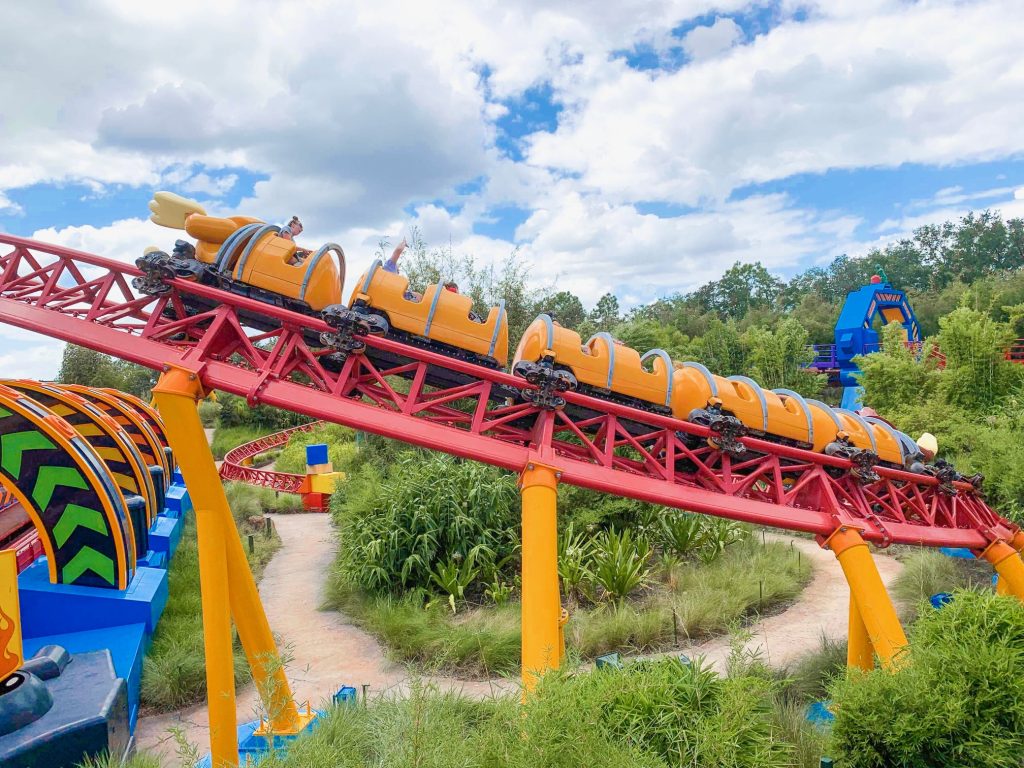 Alternative Top Pick: Mickey And Minnie's Runaway Railway
Mickey And Minnie's Runaway Railway is easily one of the best rides at Disney. While it replaced the Great Movie Ride and I was very salty about that, it isn't trying to imitate the Great Movie Ride in any way! It has an indoor queue for much of the waiting, which makes it our alternative pick as opposed to Slinky Dog, which is totally outdoors!
It utilizes the same technology as Rise Of The Resistance above but has no height requirements and is a family-friendly ride! Family-friendly does NOT mean boring in any way, shape, or form! The latest technology, sites, and sounds means that this ride is here to stay!
New attractions at Disney World are usually hits, but there have definitely been some misses. You do not have to worry about that with Mickey and Minnie's Runaway Railway. It is straight-up delightful from start to finish.
READ WHAT TO EXPECT ON MICKEY AND MINNIE RUNAWAY RAILWAY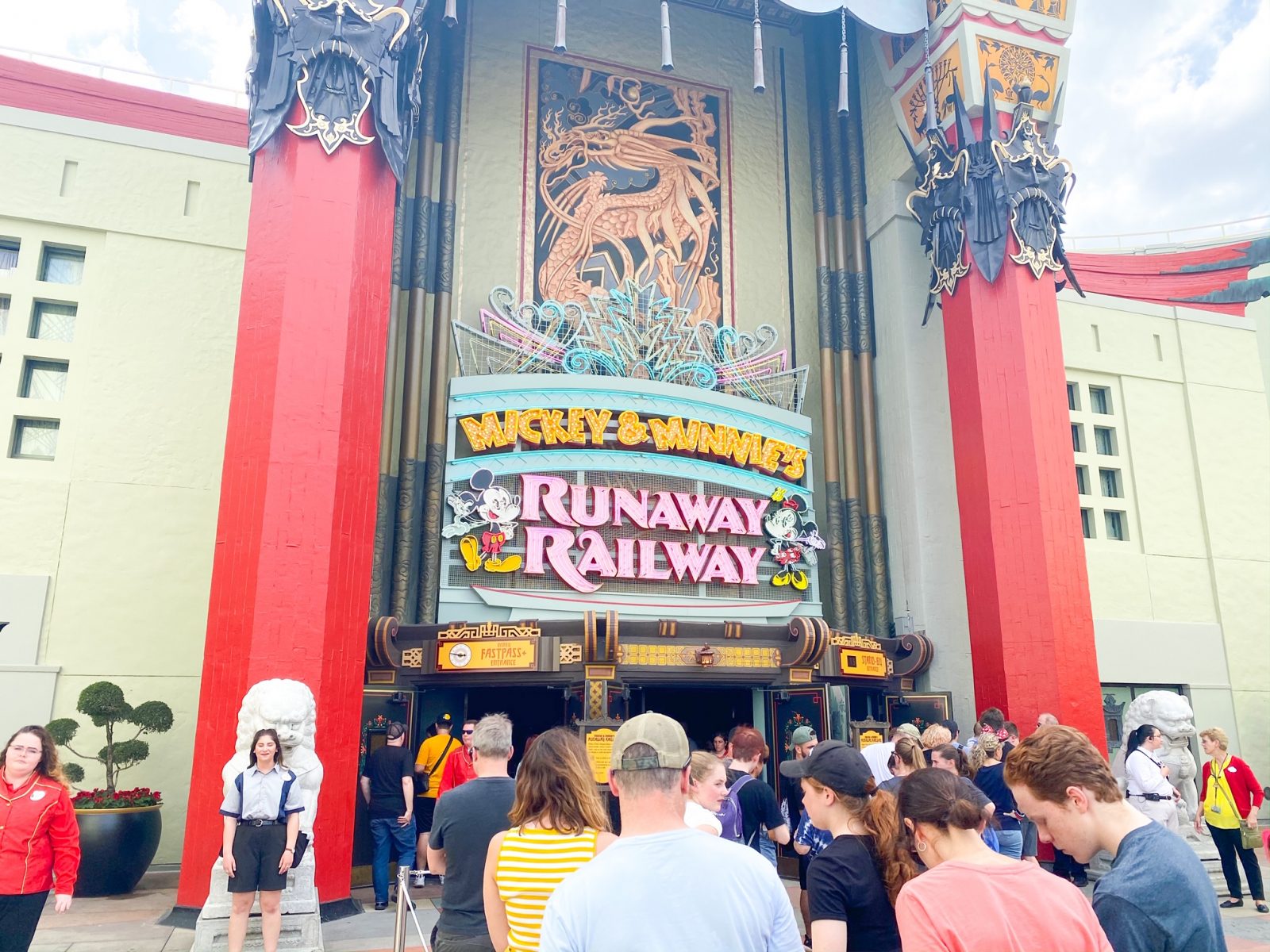 Best Tier 2 Fastpass Choices
Toy Story Midway Mania
If you want a Disney World FastPass Tier 2 choice that is not a thrill ride, we suggest Toy Story Midway Mania. It is a favorite Disney World Ride, and can have significant wait times. When I tell you that this is one of my top favorite rides at Disney World, I am not kidding! It is one of the best and most entertaining rides and I love it.
Toy Story Midway Mania is like the sophisticated, cooler older brother to Buzz Lightyear's Space Ranger Spin. If you have small children or a group with people who just do not do roller coaster, definitely check this one out.
You will begin by jumping into a moving and spinning vehicle. Put on your 4D glasses and get ready for the best challenge at Disney World. It will take you through various carnival mini-games where you can even challenge your loved ones!
This one is also great because there is no age or height limit. Small children can even sit on an adult's lap as long as the safety bar can be lowered.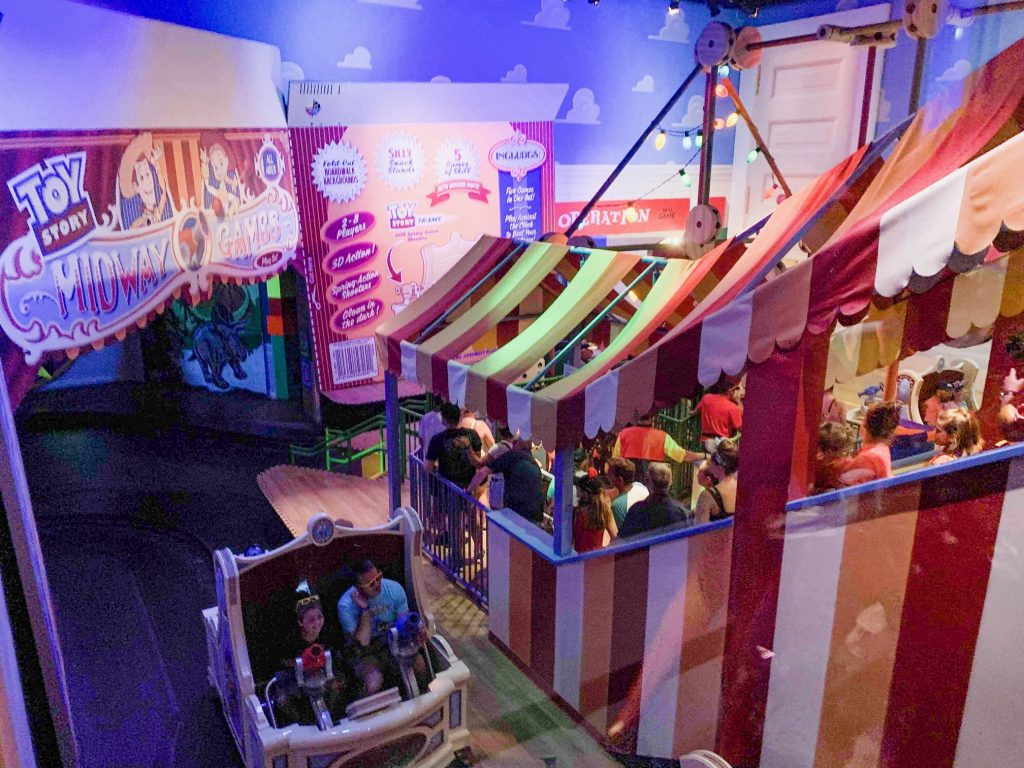 Rock 'n' Roller Coaster
Another great choice for your Tier 2 spot in this park is the Rock 'n' Roller Coaster. You can use the Single Rider line here if you want, but if you use your Disney World FastPass your whole group will be able to ride together! It is one of my favorite Disney roller coasters!
This ride is full of thrills, and if that is your thing you are sure to love it. While Slinky Dog Dash is pretty family Friendly, the Rock 'n' Roller Coaster is more targeted toward thrill-seekers.
Basically, we are telling you that this one is not for the faint of heart. It takes you from 0 to 60 in under 2.5 seconds, and contains three full inversions. You will also be in almost complete darkness for the majority of the ride.
As one of the best rides in Disney World, it isn't a bad use of your tier 2 Fastpass! If you cannot get a FastPass for it, just use the Single Rider line.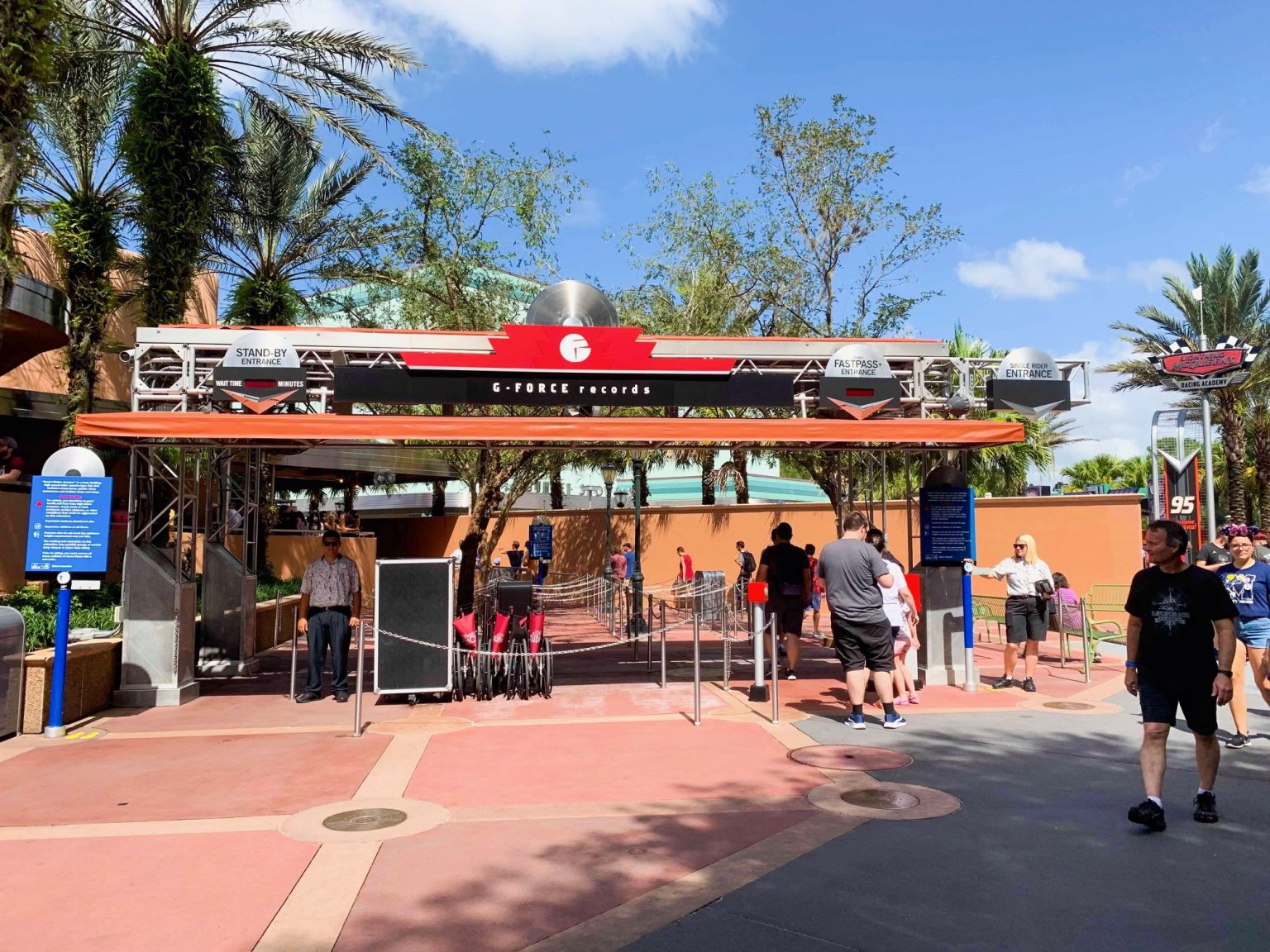 Tower of Terror
Disney World FastPasses go quickly in the Hollywood Studios park. If the other choices are already taken, Tower of Terror is a Disney classic that never gets old. We definitely recommend it over the Alien Swirling Saucers.
If you are not already familiar with this ride, it places you in a defunct elevator that drops you nearly 200 feet. Yes, it is as terrifying as it sounds. At least you know it is coming?
Tower of Terror is the second tallest ride at Disney World. A fun trick is to place a quarter on your knee before you drop and watch how it moves (or doesn't) during your "free fall".
This one does have a height requirement of 40″. It is most definitely a thrill ride with a huge drop and some scary moments, so keep that in mind when considering it for you and your party.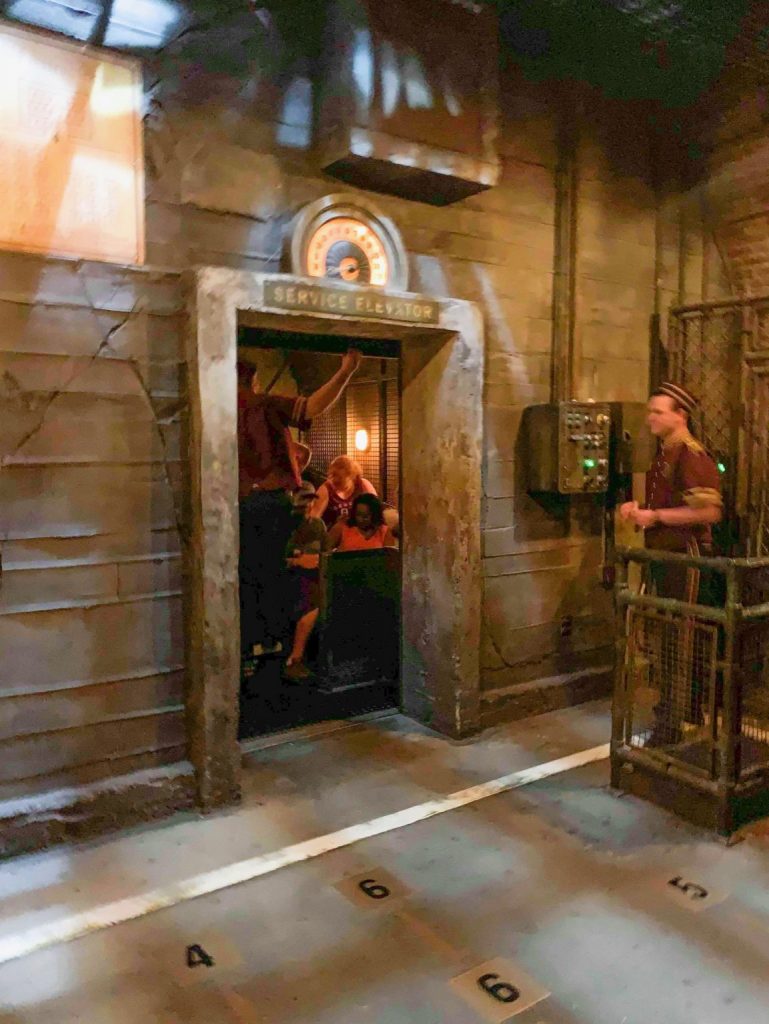 Star Tours–The Adventures Continue!
While Hollywood Studios has several great Tier 1 rides, it does not have a lot for Tier 2 selections. We recommend using Star Tours to fill one of those spots.
While this one might sound like it belongs to the Galaxy's Edge Expansion (Star Wars), it does not.
Star Tours is a Disney classic. As an old school flight simulator, you and your group will have a great time navigating through the galaxy. Be aware, crash landings, battles, and blaster fires can happen at any time!
It does have a height requirement of 40″. Star Tours does have some small drops, but is much more a simulation than a coaster. It also has a digital game in the Play Disney Parks App!
For the First Time in Forever: Frozen Sing-Along Celebration
After Star Tours, the Tier 2 selections for Disney World Fastpasses in Hollywood Studios go downhill. However, For the First Time in Forever: Frozen Sing-Along Celebration (is that a mouthful or what?) is our recommendation for your second option.
This is exactly what that monstrous title calls it: a sing-along. Do not get us wrong though, it is a pretty fun sing-along. With karaoke-style lyrics on large screens, you will be able to sing along with all of your Frozen favorites.
The show runs half an hour inside a large air-conditioned theater. Keep the run time in mind when booking other Disney World FastPasses.
Worst for Hollywood Studios
Worst Tier 1 Choice: Smuggler's Run
I know I will get a lot of hate for this, but I am NOT a Smuggler's Run fan. As evidenced by the usually shorter waits, most other people aren't either. I recommend either Slinky Dog OR Mickey And Minnie before you EVER use a Fastpass for Smuggler's Run.
Plus, it has a Single Rider option so you can always do that if you prefer, instead of using one of your valuable Disney Fastpasses!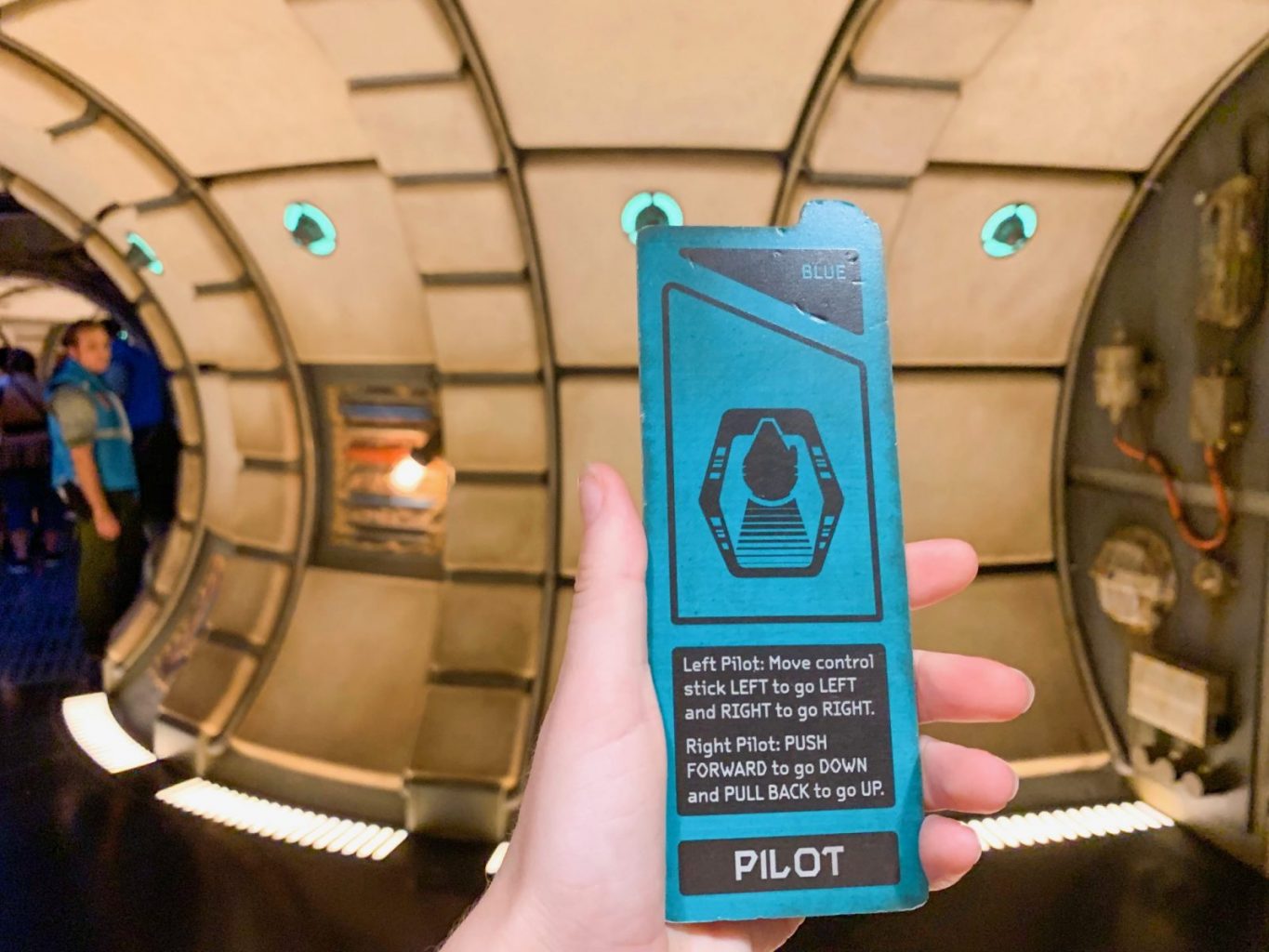 Worst Tier 2 Choices for Hollywood Studios FastPass
Alien Swirling Saucers
If all the other recommended Tier 2 choices are gone, then Alien Swirling Saucers is your last choice. It is a standard spinning ride.
You will find Alien Swirling Saucers inside Toy Story Land. Board your own saucer and go for a spin through outer space.
This one does have a height requirement of 32″ or taller, and is gentle. That being said, it should be your last choice when making your Disney World FastPass Tier 2 reservations. It is definitely still a good ride, just not worth that coveted Tier 2 spot.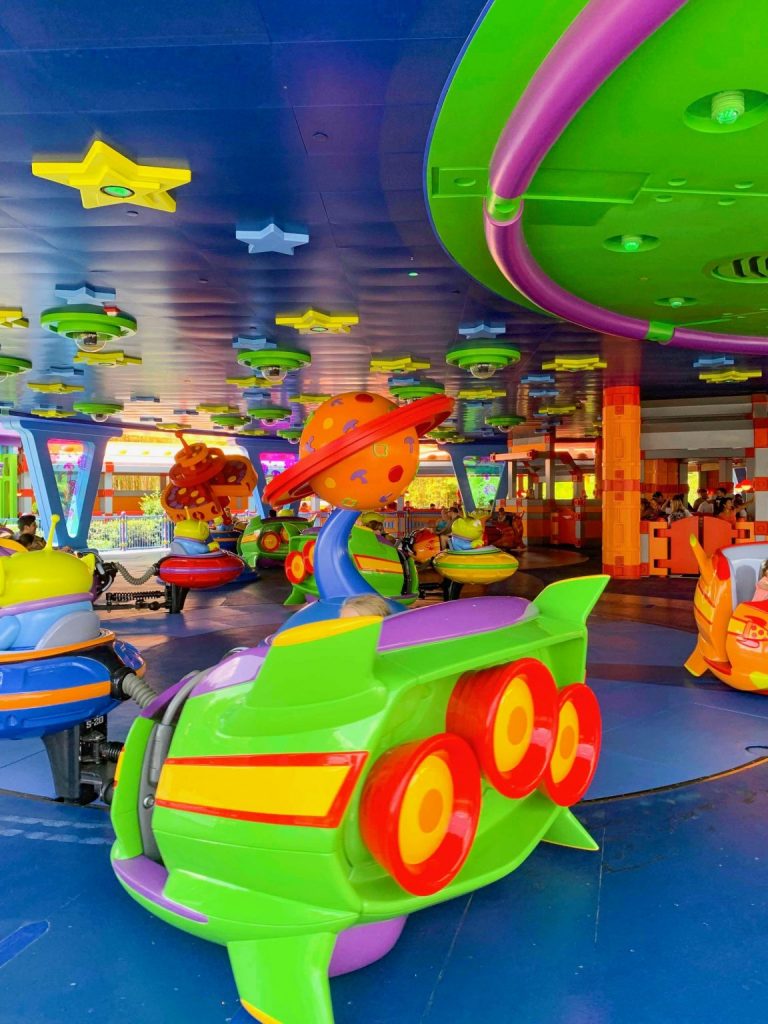 Fantasmic!
While the Fantasmic! nighttime show is pretty dang fantastic, we just do not recommend using your FastPass at Disney World for shows. Fantasmic! only runs once per night, and not even every night.
In addition, Fantasmic! is an outdoor show in a ginormous amphitheater and lagoon. This is pretty cool, but it also means it is easily canceled. Basically we are saying that it does not happen every night, and even when it is scheduled it still might not happen.
That being said, Fantasmic! is pretty fun. It takes you through Mickey's dreams and nightmares, with all kinds of special effects.
If you want to see this show just try to arrive a little early, especially if you have a large group or want a special seat.
Voyage of the Little Mermaid
We also do not recommend going to the trouble of making a Disney World FastPass reservation for Voyage of the Little Mermaid. Another show, it has frequent showtimes and is not difficult at all to get in to.
It runs 17 minutes and is indoors, which means air conditioning! It also means that this show runs come rain or shine.
Voyage of the Little Mermaid takes you on an undersea adventure with Ariel, with songs, dancing, and special effects.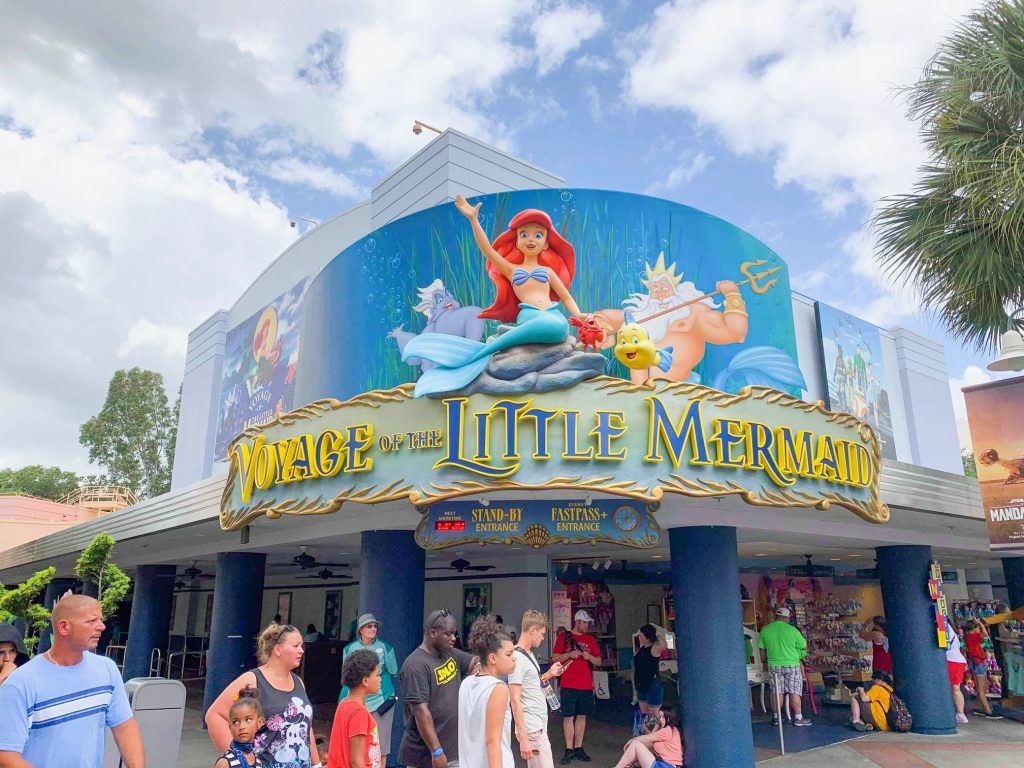 Muppet*Vision 3D
Muppet*Vision 3D is an attraction that has been around for years. A 15-minute show set in a classic theater, you will take part in a live-action film story.
All your favorite muppet friends will be there with you, including Miss Piggy, Kermit, and the whole Muppet crew. They teach you about their newest invention, Muppet*Vision 3D.
The show is relatively short and can be a good filler in between your other Disney World FastPass reservations. It is friendly for all ages and heights.
Beauty and the Beast
Beauty and the Beast is a live on-stage performance. We all love the classic tale of Beauty and the Beast, and this is a unique way to experience it.
This 25 minute show takes place outdoors, and so is prey to inclement weather. Keep in mind that this means it is easily canceled.
However, if you are a major Beauty and the Beast fan, definitely come check this one out. The costumes, sets, and songs are all stunning.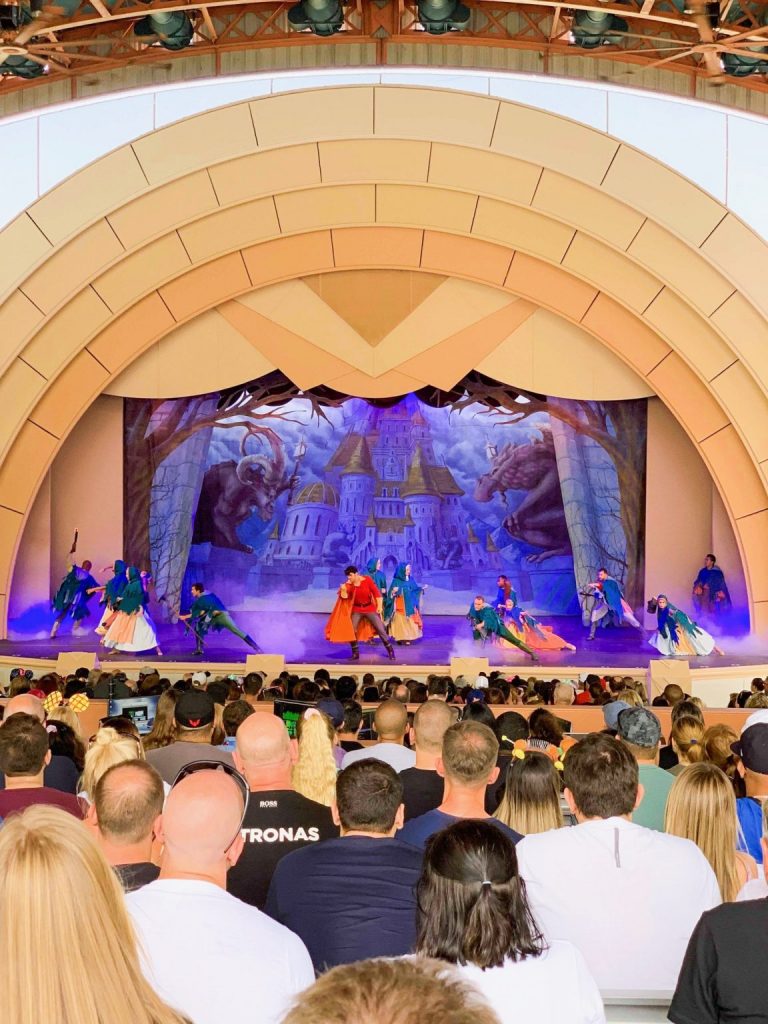 Indiana Jones Stunt Spectacular
Indiana Jones Stunt Spectacular is a little longer at 30 minutes. It is action-packed and full of stunts and special effects. You even get to learn about what is behind the magic!
Not only that, but if you have any grown-ups in your group, they can be part of the action. However, you will have to be on time to be selected.
A lot goes into this show, including set up and clean up, so there are limited times each day. You can check your App if you want to check out the show.
Disney Junior Dance Party
Technically Disney Junior Dance Party is a show, but it is really a dance party. Including Disney Junior stars Doc McStuffins, Vampirina, Timon, and Mickey Mouse, little kids love it.
Adult love it too, though. It is high energy and a lot of fun. DJ Deejay (we see what they did there) does a great job of making this an enjoyable attraction.
Not only that, but this is another great break from the heat. You just really do not need to use your FastPass for it.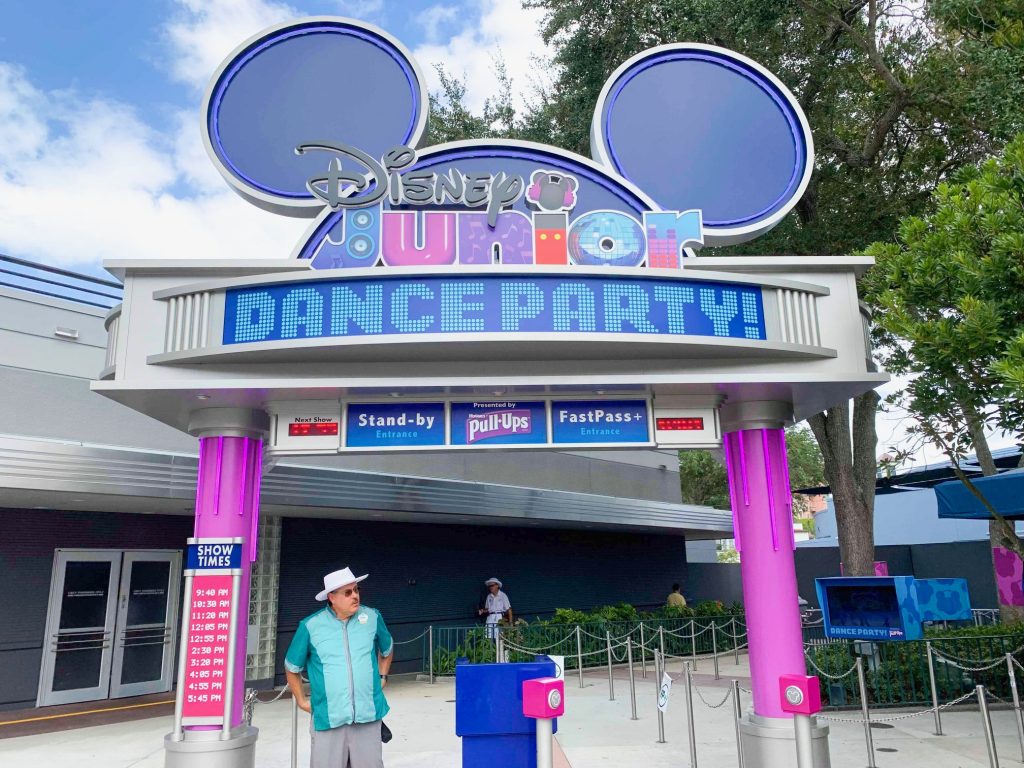 Best Disney World FastPasses for the Animal Kingdom
Animal Kingdom is beloved for good reason. With a ton of family and child friendly rides, and all kinds of shows, it is not hard to find something to love. We have even narrowed down all of the best and worst Animal Kingdom rides here for you.
Animal Kingdom also has some great Tier 1 and Tier 2 choices for your Disney FastPasses. When considering where to use your Disney World FastPass at the Animal Kingdom you will definitely want to utilize the Tap and Grab technique we mentioned earlier.
Tier 1 FastPass Choices
Top Choice: Flight of Passage
As one of the most popular attractions in Disney World, you are seriously going to want to use your Tier 1 reservation in the Animal Kingdom park for Flight of Passage. The lines are always extremely long because it is amazing.
Located in The World of Avatar, Pandora, this attraction is the newest in the park. It is technologically advanced and takes you through the world of Avatar.
Riding on the back of a banshee, you can look in any direction to see all the wonder and beauty around you. There is a simulator screen that can cause some motion sickness, but this ride just might be worth that.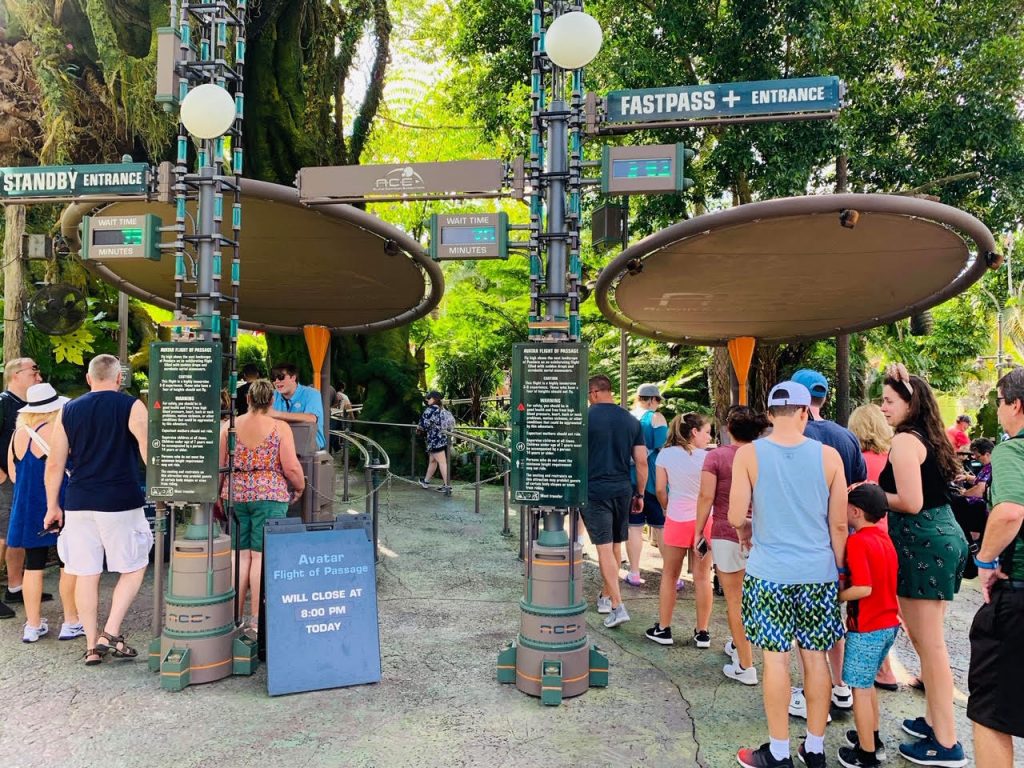 Secondary Choice: Na'vi River journey
However, if you are just flat out are not interested in Flight of Passage, or your motion sickness is truly horrible, we have a great secondary choice. The Na'vi River Journey is a good alternate option for your Walt Disney World FastPass Tier 1 spot.
An indoor boat ride, it has stunning visuals and detail. Another one that showcases the beauty of Pandora, it will take your breath away.
Also, the Audio-Animatronics Disney has made for this ride are truly impressive. You cannot go wrong with this ride.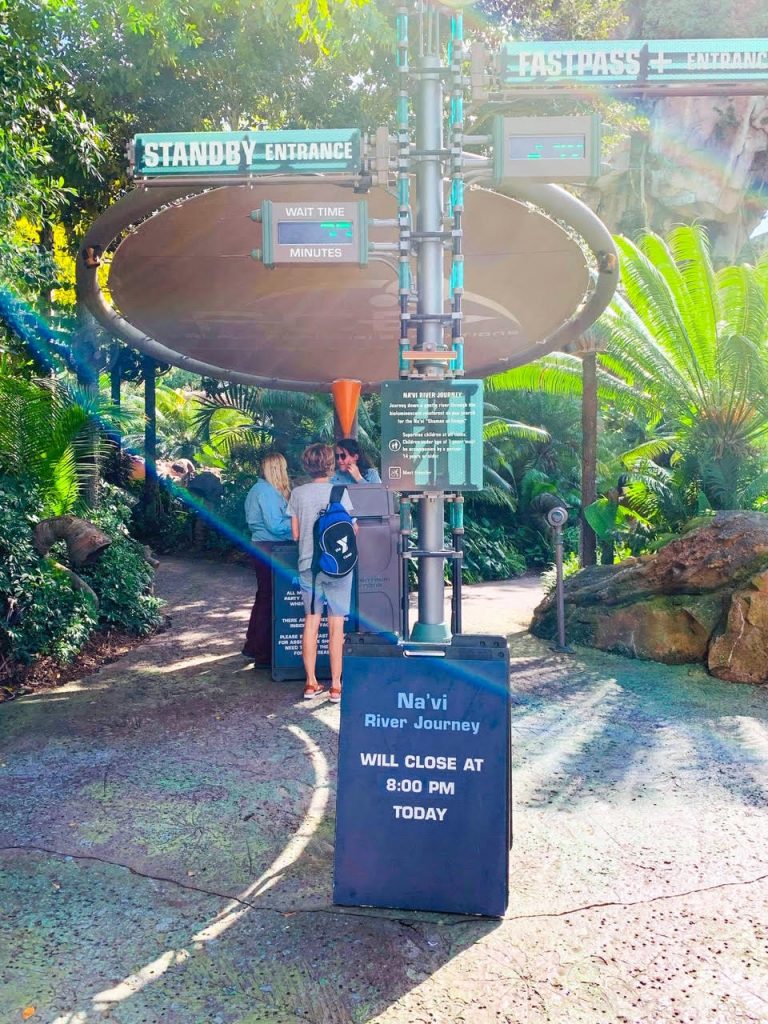 Tier 2 FastPass Choices
Kilimanjaro Safaris
For your Tier 2 FastPass choice, you cannot go wrong with Kilimanjaro Safaris. You board what is basically a large jeep, and then the tour guide drives you all around the Animal Kingdom's Harambe Wildlife preserve.
For roughly 20 minutes you will have the opportunity to see animals from all over the world. They have 34 unique species here! And of course, all the classics like elephants, giraffes, and lions.
Go early in the morning or around sunset to have a better chance of seeing more animals. They take naps just like we do, and are not always out and about in the warmer hours.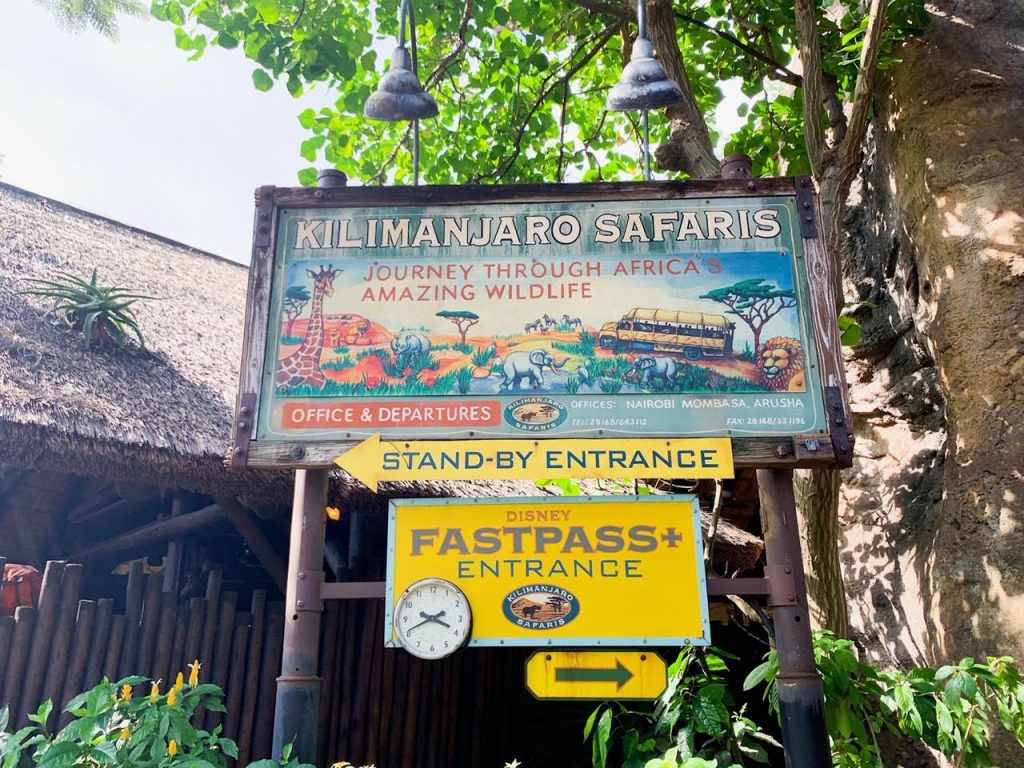 Expedition Everest: Legend of the Forbidden Mountain
Another great choice is Expedition Everest: Legend of the Forbidden Mountain.  It is a huge roller coaster, and was actually the most expensive roller coaster in the world to build!
If you are an adventure lover or thrill-seeker, you are going to love this one. It has plenty of twists and turns to make it exciting.
Keep in mind that it can be pretty intense. If you went hard the day before and are having kind of a sensitive day, or have a harder time with larger rides it may not be for you.
Or, if it is not for someone else in your party for those reasons, you can also skip the FastPass and use the single rider line.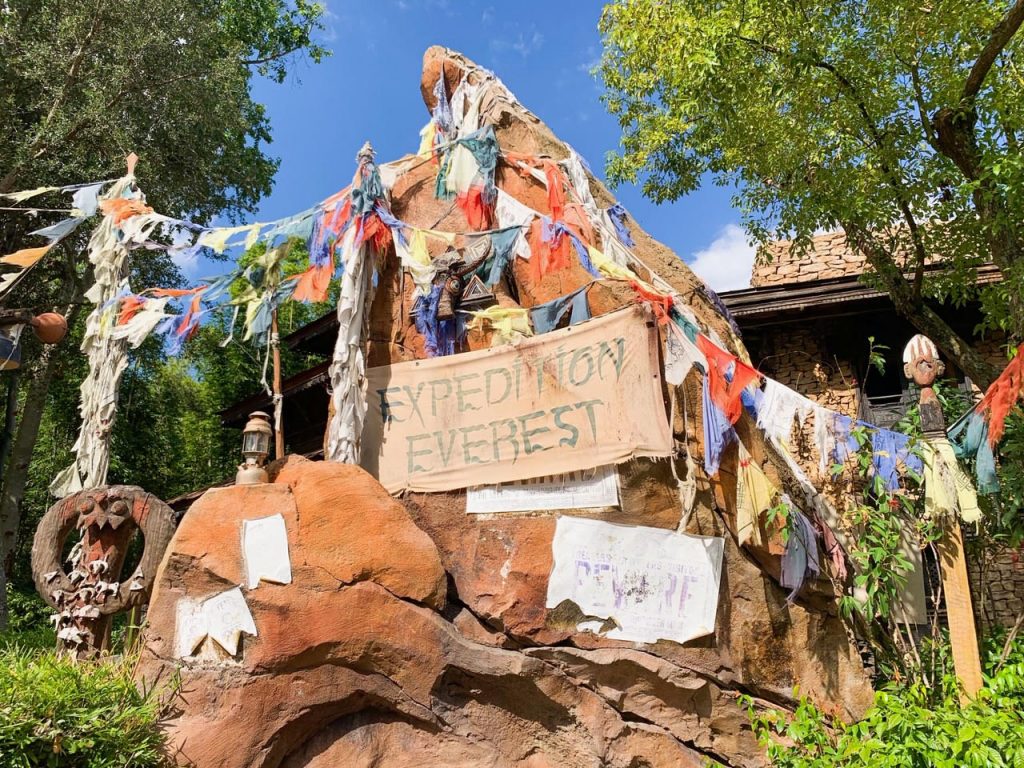 Kali River Rapids
Looking for another great ride to do in the middle of the day? Might we suggest Kali River Rapids?
You will definitely get wet during this one, which is a major bonus since Animal Kingdom can get pretty hot and humid. Depending on how the ride goes you might just get splashed, but plan on getting totally soaked.
There are not any good seats in the ride that really allow you to avoid the water, so you are going to get wet.
Keep in mind that this one also has a drop. You will want to make sure your party is okay with that before adding this to your FastPass.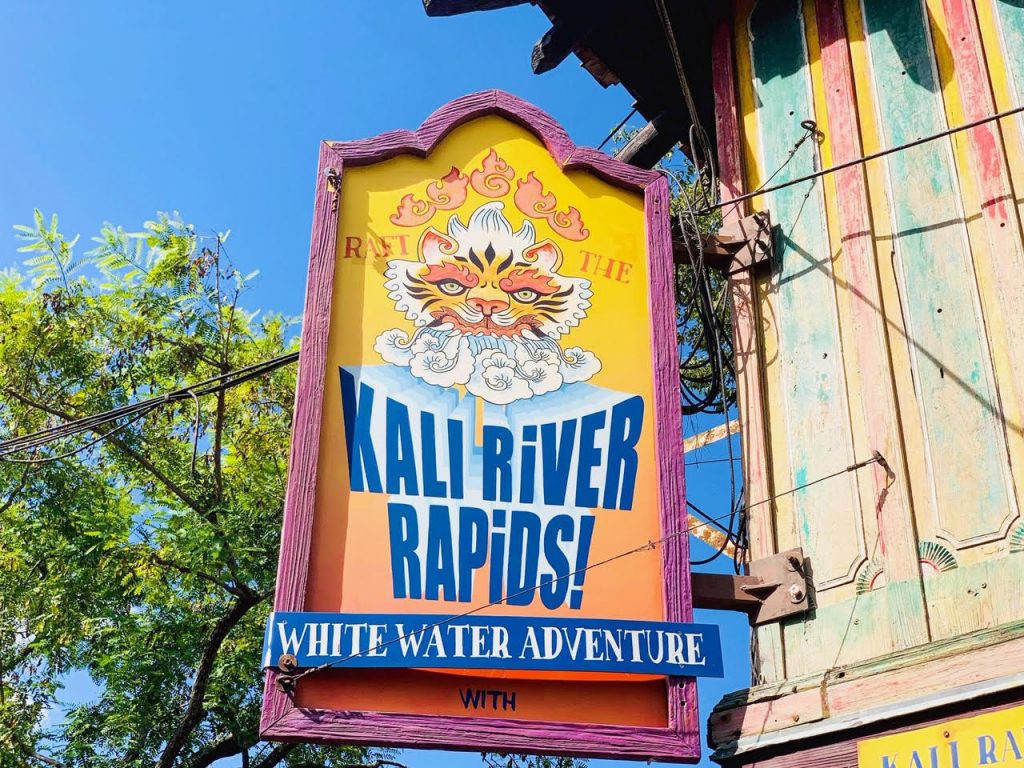 Dinosaur
If you are not interested in getting soaked but still want to escape the heat, check out Dinosaur. It is an indoor ride, which means it has AC!
It is a little similar to the Indiana Jones ride at Disneyland in that it is an indoor adventure ride. This one has dinosaurs instead of ancient relics and terrifying boulders though.
You will feel like you are off-roading in a jeep thousands of years ago. If your kids are scared of the dark or dinosaurs you might want to skip this one, but otherwise, it is high energy and tons of fun.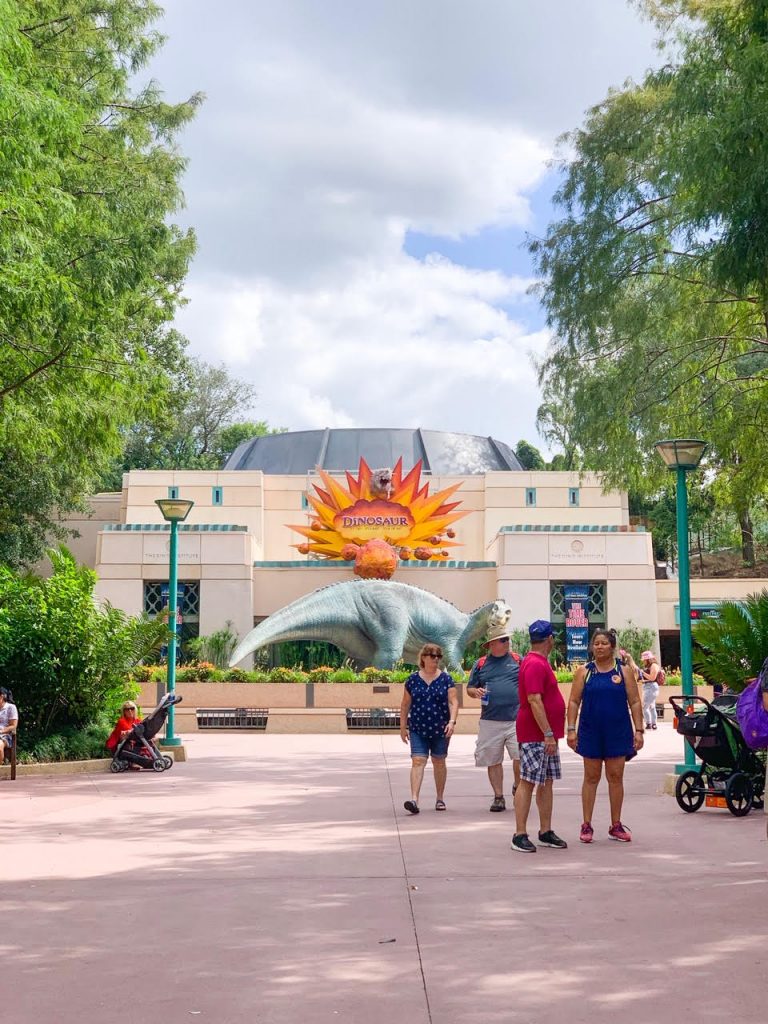 Worst for Animal Kingdom
Rivers of Light
While we wholeheartedly recommend doing the Rivers of Light show, you do not need to use your Disney Fastpass to get a seat. The amphitheater is very large with a ton of seating.
Rivers of Light is a little unique as far as Disney night shows go. Animal Kingdom does not use fireworks out of consideration for all of the animals. However, this show is still spectacular and we definitely recommend sticking around for it.
You just really do not need to use a FastPass. You will not have to wait in line, much less use a Disney FastPass reservation for this one.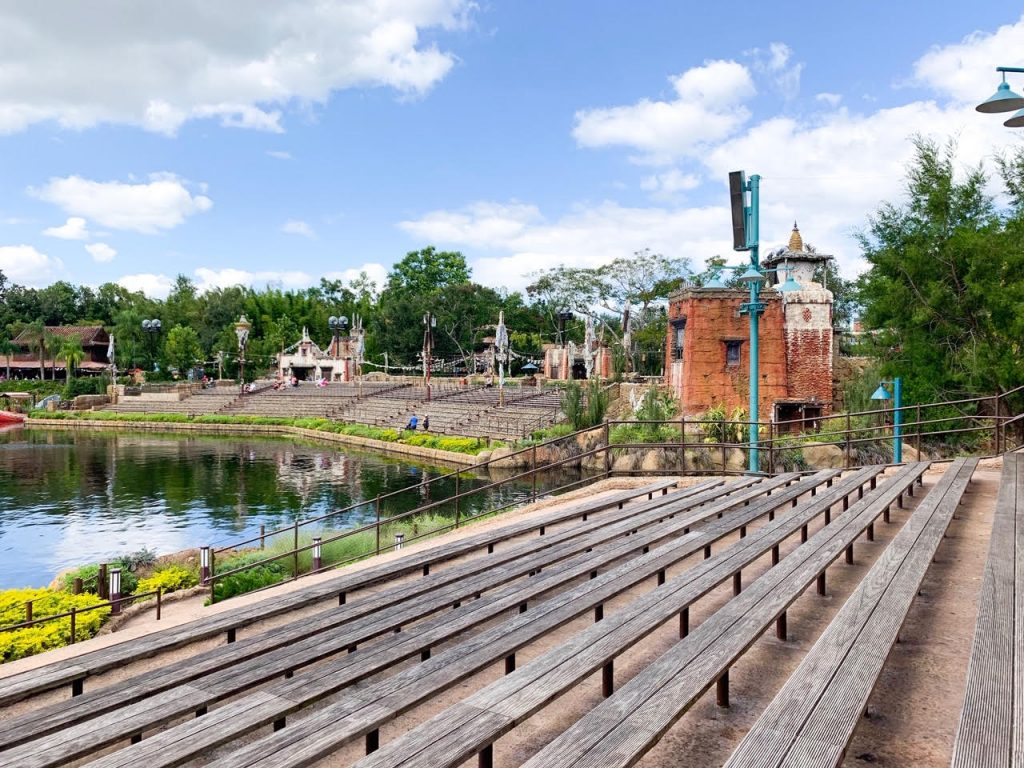 It's Tough to Be a Bug!
The line is a little longer for the It's Tough to Be a Bug! attraction, but it is almost never over 10-15 minutes. As far as Disney World wait times go, that is almost nothing.
It's Tough to Be a Bug! is a very cute, 4D style movie experience. Kids love this one, and it is a fun one for the little ones who do not like the bigger rides.
Based on Pixar's A Bug's Life, it provides some education on the insect world. Definitely check it out with your kids, just do yourself a favor and save your FastPasses for something else.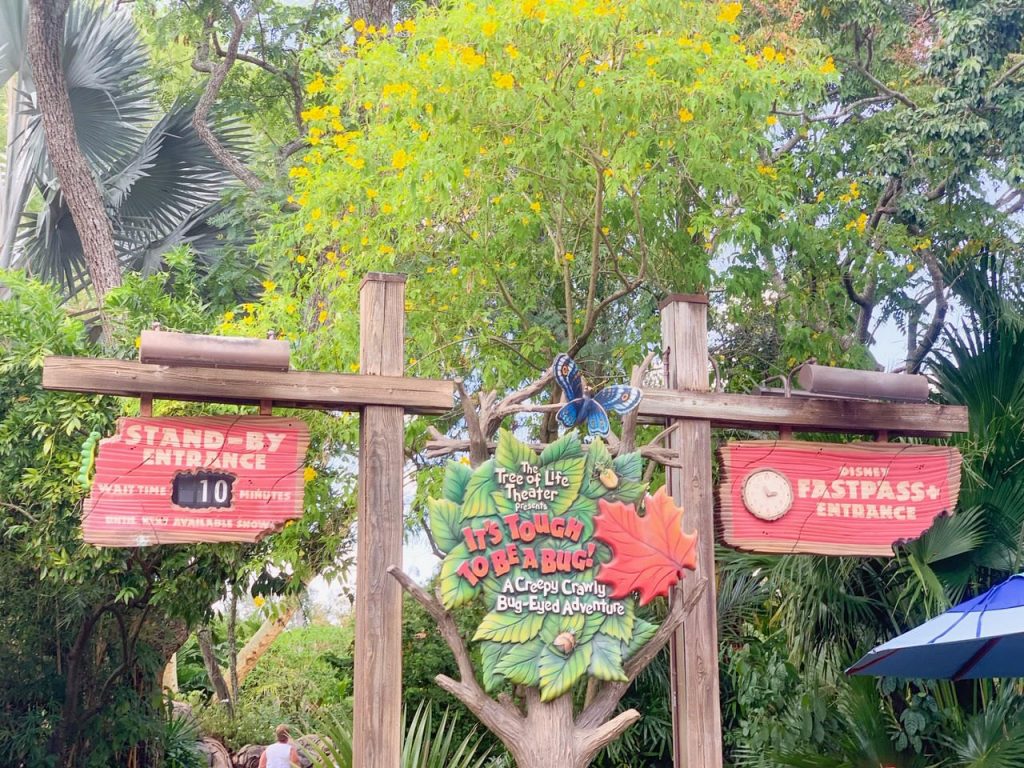 Finding Nemo: The Musical
A really cute and fun show, Finding Nemo: The Musical is great for little ones or any Finding Nemo enthusiasts.
You will get to see all of your favorite characters from the movie. Nemo, Dory, Marlin, and even Squirt and Crush play a part and come to life on stage.
Disney even composed 14 new songs just for this Animal Kingdom show! So do not think that it is going to be just like the movie–it is truly it's own experience.
As with many of our other non-recommendations for FastPasses, this one is a show, and therefore not worth the reservation.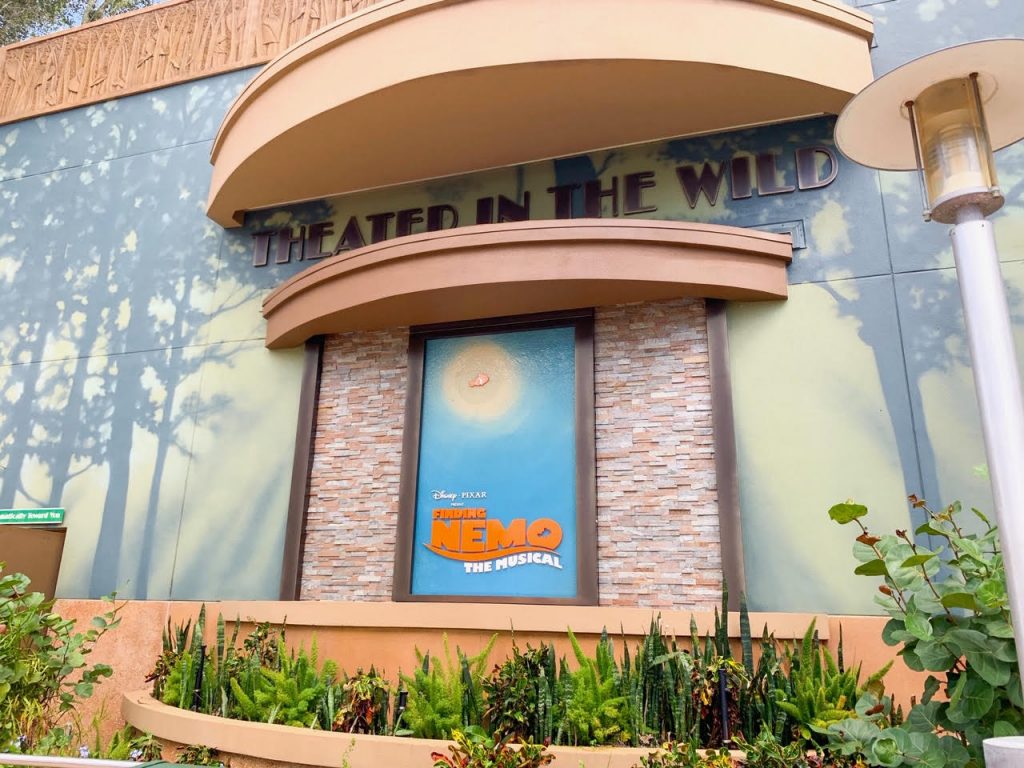 Festival of the Lion King
Festival of the Lion King is bright, colorful, and loud. AKA, everything your kids will love. And it is pretty spectacular.
It tells the story of Simba's coronation as king. You will see all kinds of amazing acrobats, dancers, and even puppets.
Sing along to some of your favorite songs, including "Hakuna Matata," "The Circle of Life," and "Can You Feel the Love Tonight." Plus, you cannot go wrong with that sweet, sweet indoor AC.
You just do not need to use your FastPass to get a seat for this one. Like most shows, it has plenty of seats. You can even book the Festival of the Lion King Dining Package, which includes dinner and seats for the show.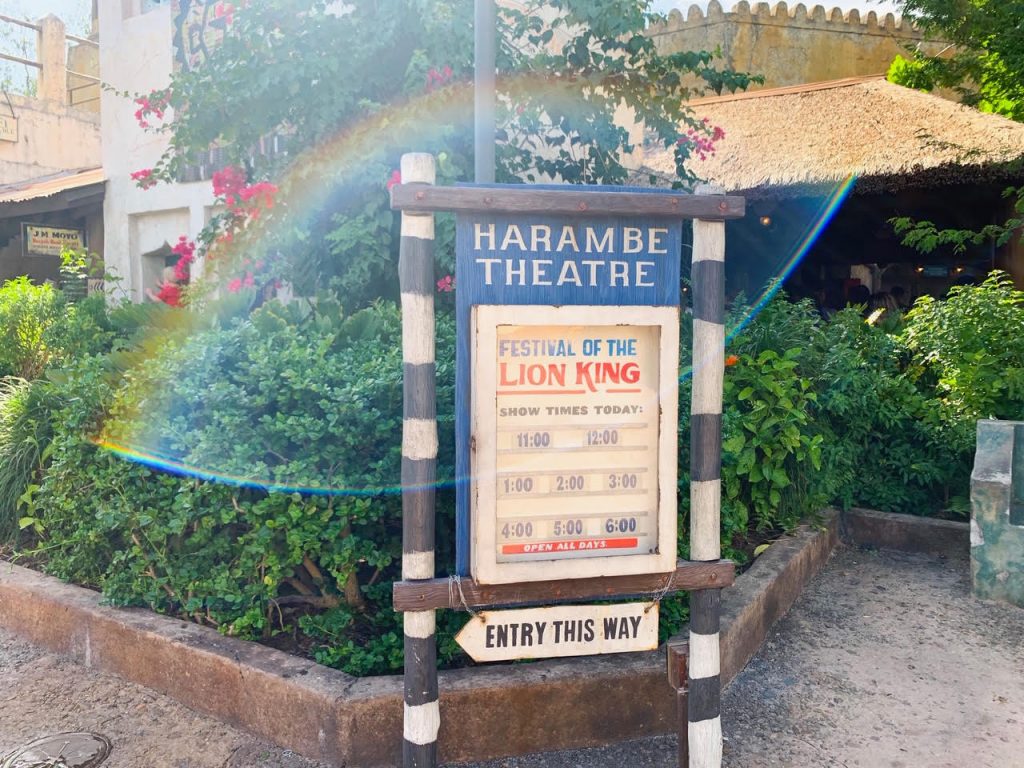 We hope we have been helpful in figuring out how to use the Disney World FastPass system! Disney world is so much fun, and learning the Disney FastPass rules can really make a difference in how much you are able to do and experience. Let us know if this was helpful, and which rides you use your Disney FastPasses on!
Pin this post: