Looking to save money in Disney World? You might have heard about things like booking in advance, bringing in your own water, and going in the off-season, but we have a new one for you. Discount Disney gift cards.
Yeah. You read that right. You can buy discounted Disney gift cards, and there are actually some genius strategies for it.
After all, you are going to need that extra pocket change for those classic Disney churros or the fantastic Dole whip! Really, it is easy to overspend in Disney World. So, so easy.
Saving money at Disney is a topic that is near and dear to our hearts. We have strategies for saving money on food, lodging, and generally just doing Disney on a budget.
That is why we were so excited when we found out about all the Disney gift card deals out there! Buying a Disney gift card might not seem like the cleverest tactic–you are just exchanging money for money, right?
Nope.
That is where the whole discount thing comes in. Surprisingly, when it comes to Disney World gift cards there are a lot of ways to get them for less than their dollar value. Keep reading and by the end of this article you will be an expert on it too.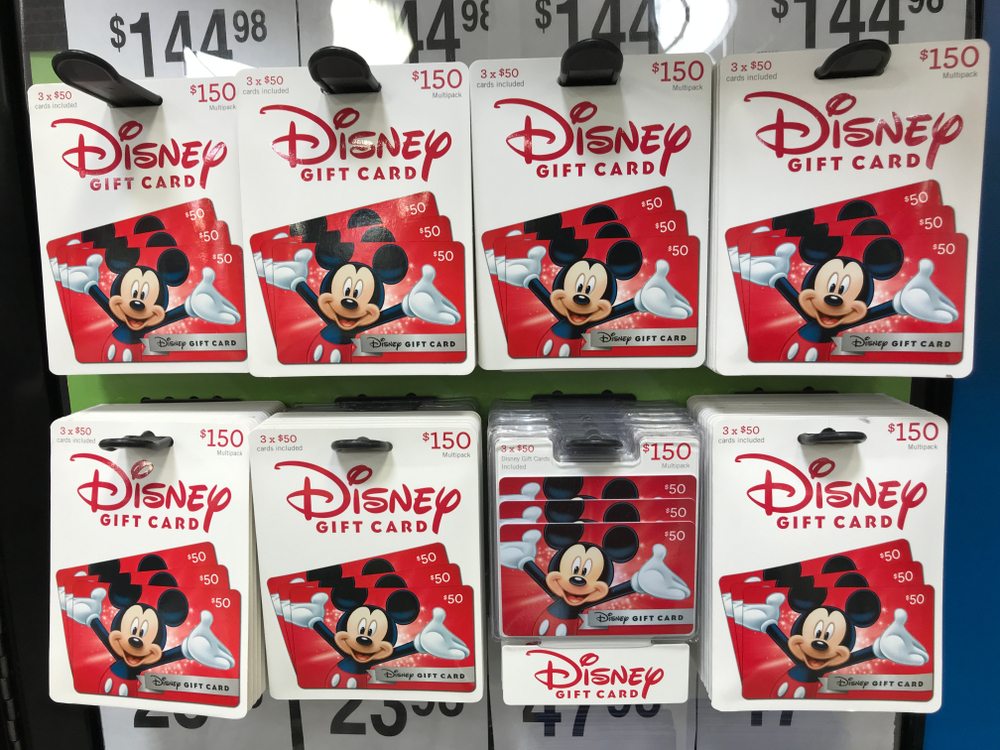 What Are Disney Gift Cards?
If you are not a big fan of carrying a big wad of cash around, or all of your credit cards with you while traversing the Disney World parks, you are going to love Disney gift cards. They are a convenient way to carry money around without actually carrying money!
Great. So what are they?
Disney gift cards are pre-loaded cards much like any other gift cards. You can find them in tons of grocery stores, major chains, and even from online vendors! Their easy accessibility is just one of their many wonderful features.
Now, they are not to be confused with a Disney Rewards Chase Visa. This is a credit card where you earn points that count as cash in Disney stores. Those points are transferred to a Disney Rewards Redemption Card, which functions like a gift card, but is not a gift card.
Disney gift cards, on the other hand, can often be found for a discount. If you are paying full price for your Disney gift card, you are doing it wrong. Trust us, we do not go around telling people that they are doing things wrong very often (something about honey instead of vinegar) but you should not pay full price for a Disney gift card.
Trust us. There are discounts to be had all over the place. We are going to tell you about all the best ones!
Where Can I Use Discount Disney Gift Cards?
We have covered that Disney gift cards are just like any other gift card. So it should not be a big surprise that they function as pretty much any gift card does, but are specific to Disney. You can use them pretty much anywhere in the park that you would use cash or a credit card.
This includes dining, gift shops, and recreational attractions that are not included with your admission ticket. If it is Disney-owned and operated, then you can use your discount Disney gift cards there.
Of course, every good thing has its exceptions, but those exceptions are pretty minimal for Disney World gift cards. While there are a few street vendors and carts that will not take the cards, there are plenty that will.
You can even use your Disney gift cards to buy your hotel lodging and admission tickets! We are telling you, this is the way to go for saving money on pretty much everything in Disney World.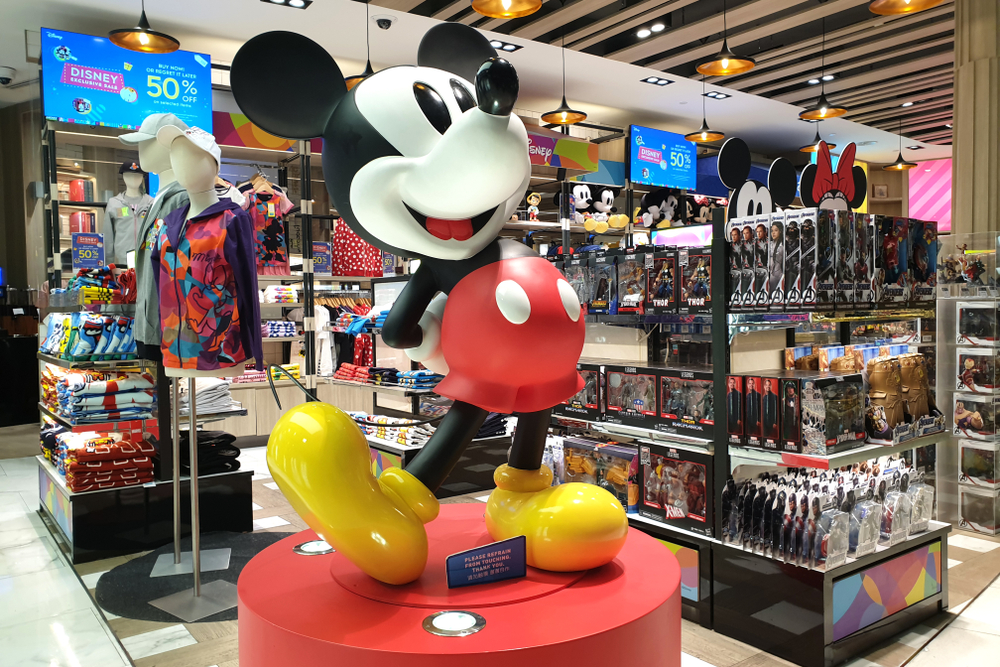 Are Disney Gift Card Deals Better Than Cash?
If you are planning to use your Disney gift card at Disney World or Disney Land, then heck yeah they are better than cash! You can get them for a discount, thereby spending way less than you would just paying cash!
You can also use them as a clever budgeting hack–if you do not want to spend more than $50 while you are inside the park, then just bring a $50 gift card! You cannot overspend if you do not have the money to overspend, even if that limited issue t-shirt that you will only wear twice is seriously calling your name. (We are not calling you out here, we are calling ourselves out…)
The one caveat here is if you plan on spending way more than you actually do and then have a lot of gift cards left over. Disney gift cards are good for Disney annnnnnd…that is it.
If you are a Disney regular and know you will come back to use the rest up this is no trouble. But if this is your once-in-a-lifetime trip to Disney, maybe be a little cautious with your gift card purchasing.
Definitely still do it! But keep in mind that you will not be able to use them outside of Disney and err on the side of caution. We are trying to help you save money, not waste it!
After all, that is the whole point of discount Disney gift cards!
How to Redeem Discount Disney Gift Cards?
The short of it? Buy gift card, go to Disney, spend gift card.
Okay, okay, so there is a little more to it than that. But not much. Once you have purchased your gift cards, you will want to figure out where you would like to use them.
Whether you are going to Disney World or Disney Land, taking a Disney Cruise, or just visiting a local Disney Store in the US, you can use your discounted Disney gift cards.
And get this–you can also use them at DisneyStore.com. So if you go a little heavy-handed with your Disney gift card purchase and then do not use them all during your trip, you can still use them online after! Or for that t-shirt that you decided you really should have bought and will absolutely wear more than twice.
Whatever, no judgment. I am wearing a Disney t-shirt while I type this that I have worn tons of times, so it was worth it. And it would have been so much more worth it if I bought it with a discount Disney gift card!
You can also reload a Disney gift card after you have used it up, but keep in mind that it will likely not be at the same discount that you bought it for. So let's get down to figuring out all the places you can get them from, shall we?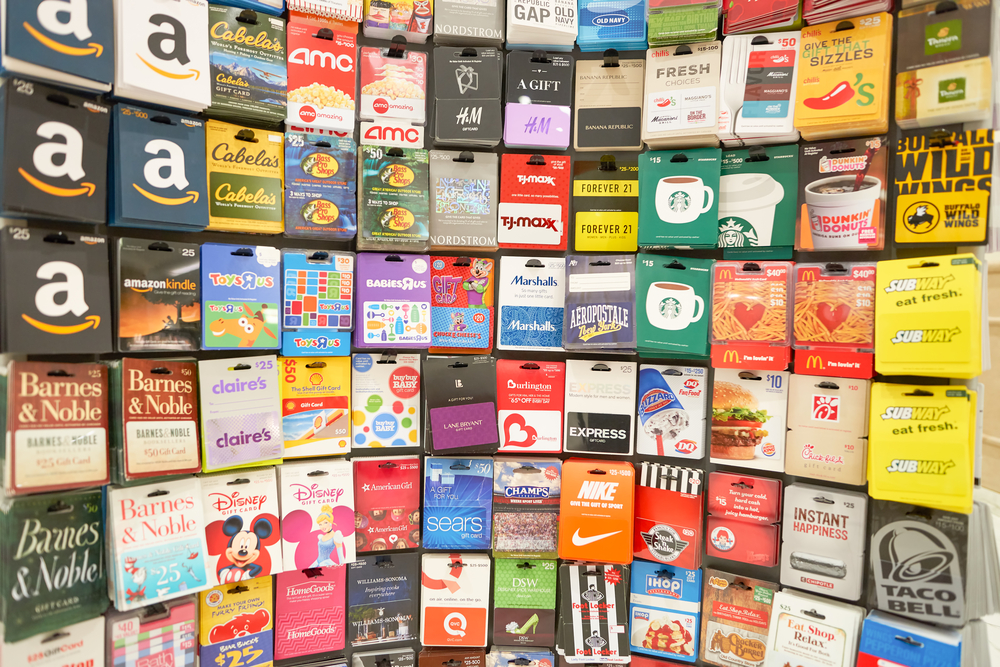 Where to Buy Disney Gift Cards
The Lightning Round:
Buying Discount Disney Gift Cards Using Credit Cards

This is like the mother of all hacks–you are going to love it.

Buying BJ's Disney Gift Cards

We did not know what BJ's was either, but we have learned and are here to tell you about it.

Buying Target Disney Gift Cards

Who does not want another reason to go to Target?

Buying Disney Gift Cards at Costco

Costco has everything, and that includes Disney gift cards.

Buying Discount Disney Gift Cards at Sams Club

Oh Sams Club, the grocery store of all grocery stores.

Buying Gift Cards at Office Supply Stores

Betcha did not see this one coming.

Can I Combine Disney Gift Card Discounts?
Pros of Using Discount Disney Gift Cards
Cons of Using Discount Disney Gift Cards
Do not worry, we got you. It is broken down below.
Buying Discount Disney Gift Cards Using Credit Cards
Can you imagine anything better than saving money and earning points towards cashback or travel miles while doing it?! Personally, Chase Freedom is our favorite because you earn 5% cashback on whatever the quarterly cashback options are.
Sometimes those quarterly cashback options are specific stores, like Sams Club and Home Depot. Notice that we mention buying discount cards at Sams Club already below? Do you realize what that means?
Say there is a $50 gift card at Sams Club and you use your membership to get 5% off. In this case, you would be getting $50 worth for $47.50. And if you buy it with a credit card that gives you 5% cashback on your purchases, then you are getting an additional $2.50 back.
So you end up with a $50 Disney gift card that you only really spent $45 on. Is that crazy or what?
Genius. That is what it is.
Buying BJ's Disney Gift Cards
If you have never heard of BJ's Wholesale Club, you are not alone. If you have, we are impressed! BJ's is a website that offers all kinds of deals on wholesale products.
Disney gift cards might not be the first thing that comes to mind when thinking of wholesale products, but they absolutely are. Typically you can find them for about 4% off (the typical for Disney gift card discounts), but if you keep an eye on the site you might come across an even better sale!
The best we have seen is 6% off, which is not a ton, but definitely better than nothing! Just do not stress it too much if it is only the typical 4% off and you do not have time to wait around for sales. Sometimes it is worth a couple of bucks to save some stress.
It is important to note that you do have to have a membership to shop BJ's Wholesale Club. However, it is one of the lower membership costs and if you spend $250 on discount Disney gift cards you will earn that membership price back.
Plus there are a lot of other things that are worth buying on BJ's, so you might find it worth your while to check out anyway.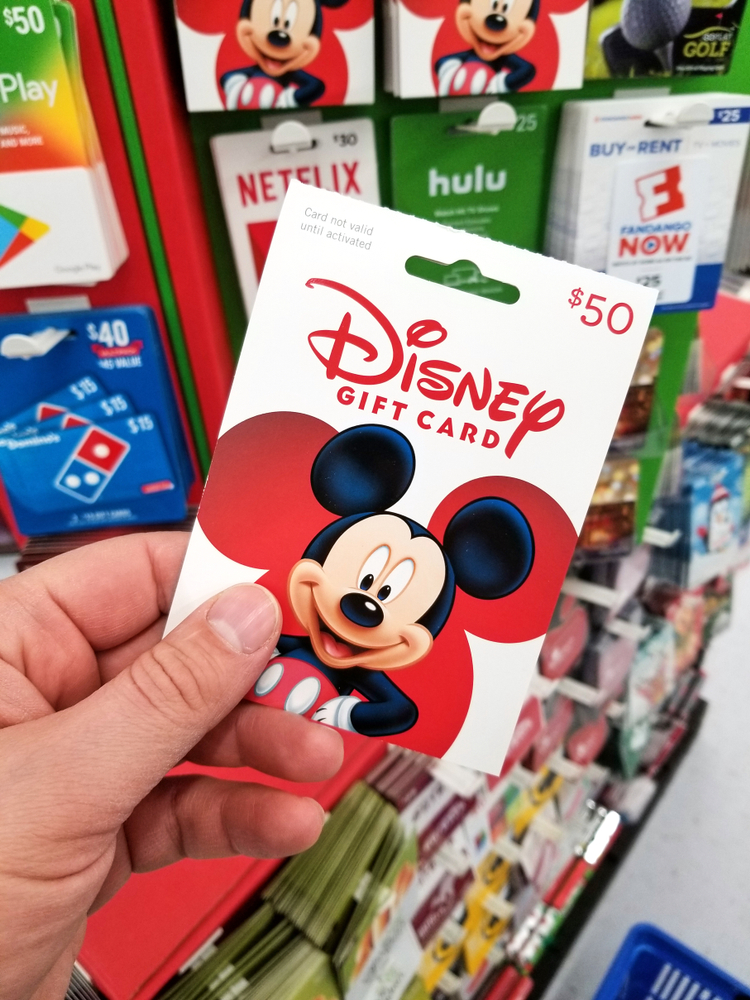 Buying Target Disney Gift Cards
Oh Target, the land of red circles and endless treasure hunts. The staycation home for moms and college students. Who knew it was a haven for Disney-goers as well?
The Target discount Disney gift card strategy has to do with the Target REDcard. Over in Targetland the REDcard is their own debit card that you just connect with your bank account and works like a regular debit card. Except, when you use it at Target you get 5% off your purchase.
It does not cost you anything to sign up. In a world of hidden fees and memberships costs, Target keeps it real and open to anyone. All you have to have is a bank account to link with the REDcard.
Store discounts like this often exclude gift cards, and while this holds true for Target gift cards, Disney gift cards are an exception. So if credit cards and memberships are not really your thing, this is an awesome alternative.
Buying Disney Gift Cards at Costco
If you have been to Costco, you have probably seen the gift card packs neatly arranged on a mid-aisle shelf. (It is right next to the frozen section for us, but you know how Costco likes to rearrange things.)
Sometimes they can be a little hard to find, or might not be in stock. Do not be afraid to ask for help finding them in the giant maze of Costco! Generally the discount you will find will range from about 4% to 6%, so it is quite comparable with other discounts.
Costco is also a store that is often a discount option for gift cards, so you can end up doubling your discount if you can do it at the right time. Just keep in mind that they do not accept American Express, so you will need a different credit card to stack the discount.
They also require a membership, but Costco has so many worthwhile things that it will be hard not to more than make up for that membership cost.
Buying Discount Disney Gift Cards at Sams Club
The beauty of Sams Club is that you can shop in-store or online. You do not have to change out of your pajamas or brush your hair to get some sweet deals on discount Disney gift cards!
Like BJ's and Costco, you do have to have a membership to get the discount. However, Sams Club memberships can often be found for deals as well. If you are willing to put in a little foresight and strategy for this one, you will end up in a pretty good spot.
Not to mention that you can also score up to 8% off on gift cards at Sams Club! The typical is more along the lines of 4%, like BJ's. But every now and then their gift cards go on sale.
There are a number of browser plugins that will track prices for you that you can use to track your Disney gift cards so that you do not have to stalk the prices yourself. When you are able to plan in advance, this is a great strategy for saving a good chunk of change.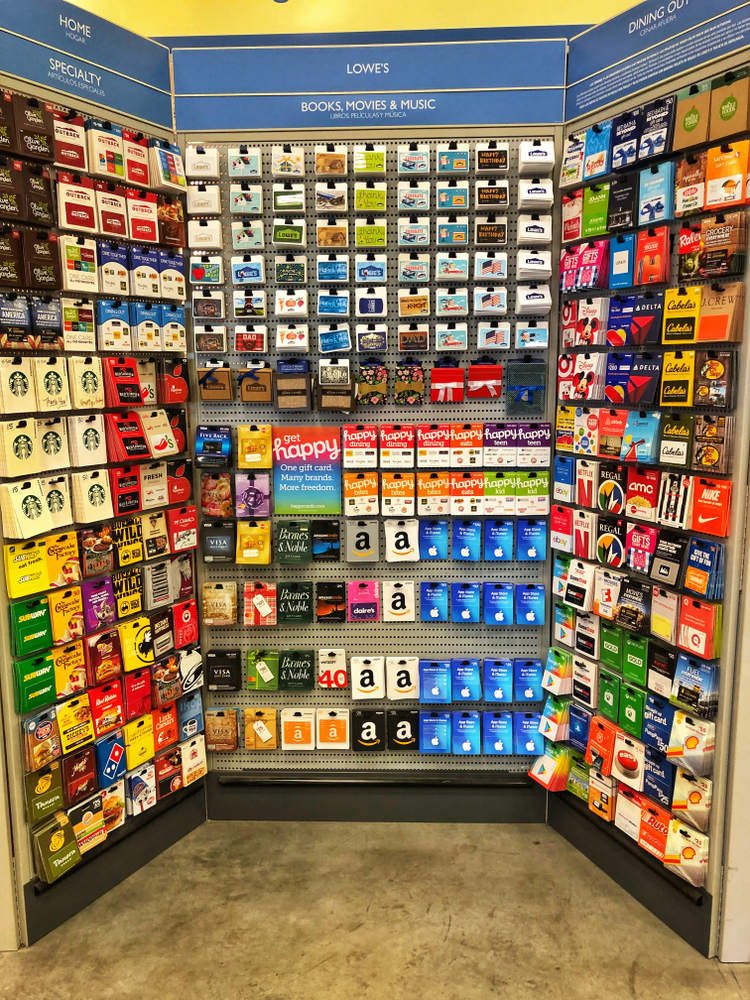 Buying Gift Cards at Office Supply Stores
If it has been a minute since you have gone inside an office supply store, it is time to revisit. Office Max, Staples, and Office Depot are some of the biggest ones that easily come to mind, and you can get some great discounts on Disney gift cards in each.
Office supply stores are also a category you can often get cashback on with credit cards. With so many options it is pretty likely that at least one of the stores will be available when you need to buy some gift cards.
Honestly, using your credit card is the best strategy for a discount at an Office supply store since the gift cards themselves are rarely discounted, but a solid 5% back is nothing to sniff at. Plus there is usually no big membership fee to get in the way of actually saving money here!
Can I Combine Disney Gift Card Discounts?
Yes you can, and yes you should combine discount Disney gift cards. The point of this hack is, well, okay the main point is saving money, but the second main point is convenience! It's so much easier to carry around a gift card than a wallet!
However, if you are carrying around a stack of gift cards, it kind of kills that convenience.
So combine them.
Disney allows you to move balances between gift cards, and the limit of how much you can have on one card is $1000. If you are spending more than $1000 a day, then convenience probably is not a big concern, now is it?
Disney makes it really easy to combine and manage your gift card balance with its gift card website. You can delete the old cards once you have moved their balance over to your main card, but we actually have a different strategy to recommend here.
Even if one of your gift cards is empty, keep it around just in case you lose your main gift card. This way you can move the balance over to the empty one, and you still have it all!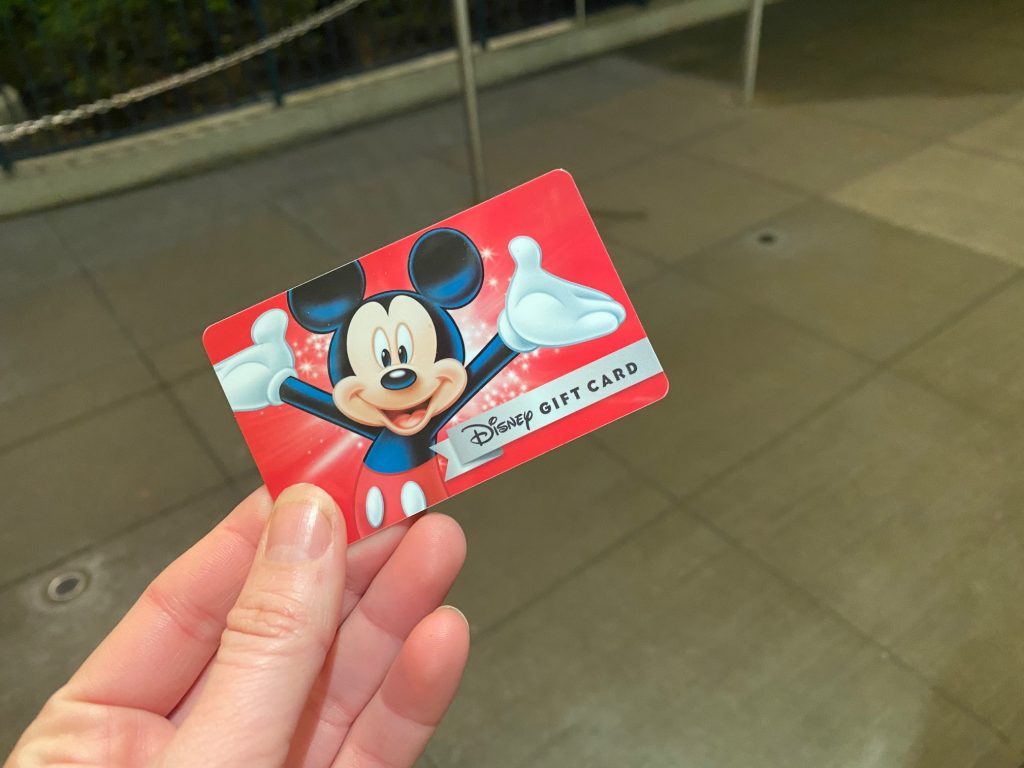 Pros of Using Discount Disney Gift Cards
You might think this is obvious (saving money, duh!) but stick around for a second. Using discount Disney gift cards is great because at the end of the day you are spending less than a dollar on a dollar's worth of stuff. But because there are other ways to save money at Disney, sometimes you can get a bigger discount with a different method than a gift card.
Disney Cruises are not an example of this. Definitely do use your Disney gift cards for Disney Cruise Lines and Adventures by Disney! Neither of these options hardly ever has any other means for a discount, and a gift card is a great way to save some cash.
Another area where gift cards are worth your while is Disney merchandise! If you are an annual pass holder then that will actually give you a bigger discount, but if you do not live close enough to a Disney location to use that, use a gift card!
After all, souvenirs are not that important to someone close by who can go to Disney anytime they want. If you are not able to go often and this is a special trip buy your souvenirs with your gift cards!
The same goes for dining at Disney–if you are an annual pass holder then you already have great discounts. But if you are not, using a gift card will still save you a decent amount of money.
Basically at the end of the day, Disney gift cards are the most helpful if you are not an annual pass holder.
Cons of Using Discount Disney Gift Cards
You did not think there were going to be any cons, did you? Well, there are some. As we mentioned above, sometimes you can get a bigger discount than the gift card through different strategies.
One of the biggest examples of this is lodging. The key to getting great deals on lodging at Disney is the same for getting great deals on lodging anywhere–book in advance. You can get some killer deals online that will blow your Disney gift card discount out of the water.
This is especially true if you use our insider lodging hacks. We were able to save about 75% at the Beach Club Resort with our strategies, which is so, so much better than the 4%-12% you can get with discount gift cards.
The other con is that if you are already an annual pass holder, or if you have the Disney Visa Card, you will already save as much or more money just by having those than you will by using gift cards.
It all depends on how often you go to Disney as to which strategy will benefit you most. Discount Disney gift cards are great for infrequent Disney goers, but not so much for regulars.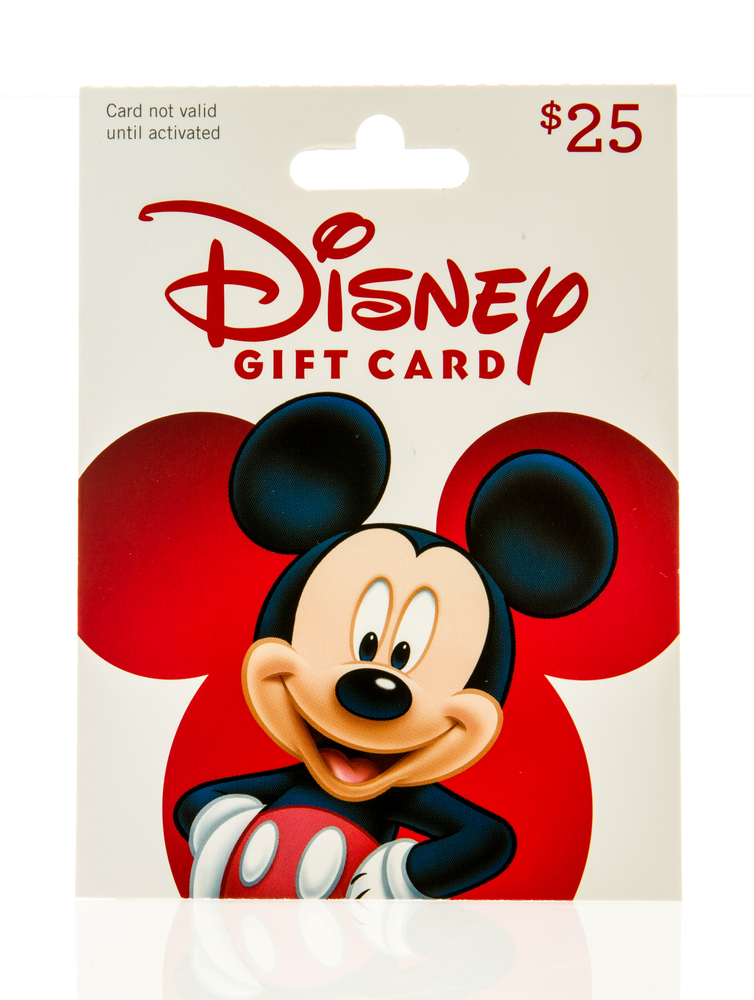 We hope this has been helpful in deciding if and how to use discount Disney gift cards! You are going to have so much fun adventuring at Disney, and we cannot wait to hear about it! Let us know in the comments if you used gift cards for your Disney trip, and if there are any strategies you have found that we did not mention!