Welcome to our Ultimate Guide to Disney's Blizzard Beach water park! Here you will find everything you will need to know if you plan on visiting Disney World's coolest water park. We have info on all the rides, our picks on where to grab a bite to eat, and how to make your way around the park.
Use this guide to plan out the perfect day for your family at Blizzard Beach, figure out what rides are a must-do for you, and know exactly what sections are right for the kids in your group. We hope that you will learn a lot about this fun water park, and you will feel even more excited to visit after reading this article.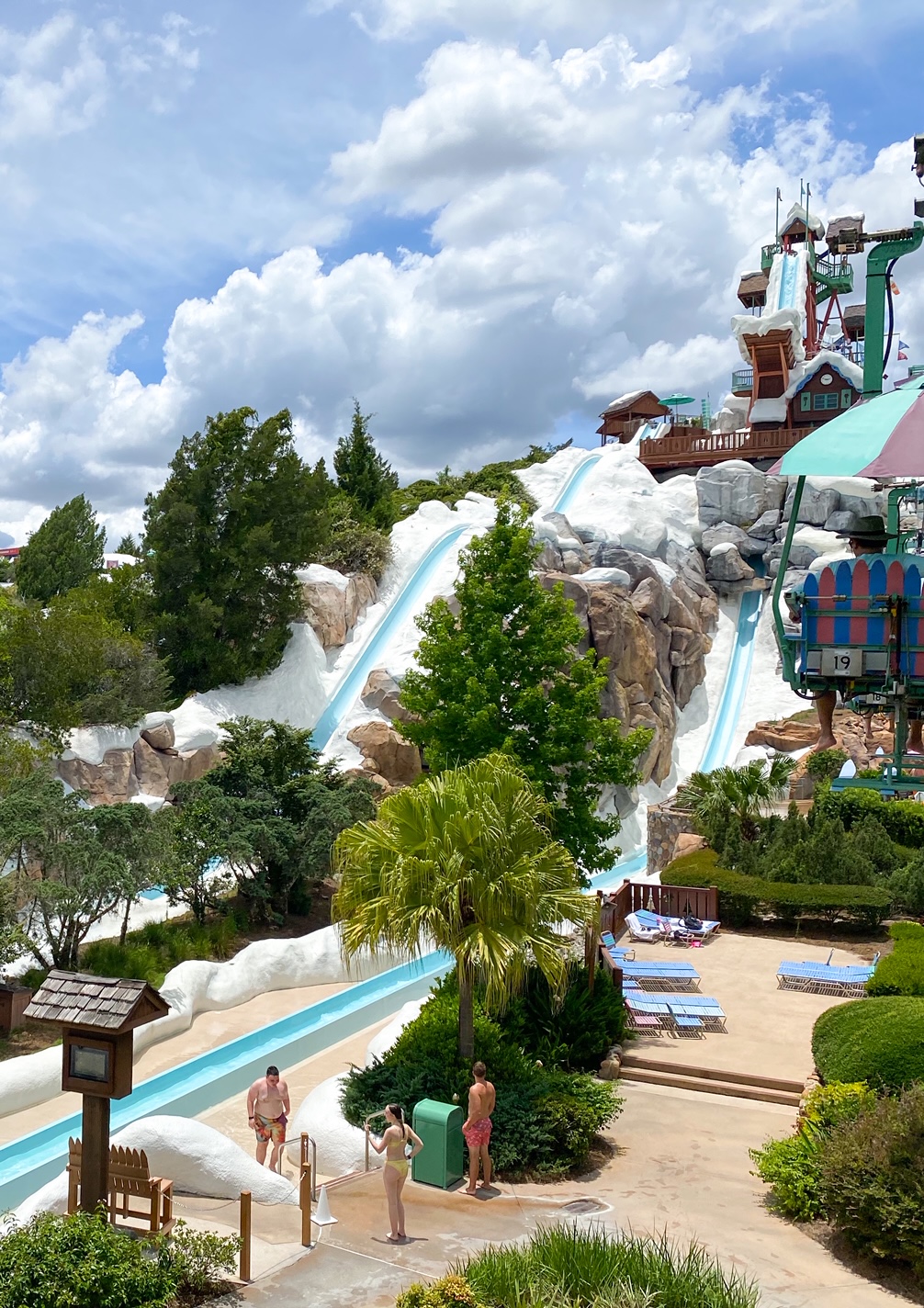 Intro to Blizzard Beach
Disney's Blizzard Beach is one of two water parks on Walt Disney World property. This park has a little something for everyone, and features a preteen section, and toddler section, as well as some seriously thrilling waterslides! There are 7 slides, a wave pool, a lazy river, and a chair lift!
It's also one of the shadiest and most tree covered water parks in Florida, which makes it a great choice for those looking to cool off on a hot Florida day. And speaking of cooling off…
Blizzard Beach has some interesting and epic theming and a crazy backstory. The park is themed with snow, ski lifts, and downhill skiing, as well as some ski lodge-style buildings. As the story goes, Florida was hit with a freak snowstorm and this was originally Florida's first ski resort. But since Florida is hot, that snow melted and turned into water and slush, ruining the ski resort. And since the owners didn't want to lose any money, they turned it into Blizzard Beach the water park!
Before visiting Disney's Blizzard Beach, make sure you check out the rules on bathing suits and things that you can bring into the parks. We suggest wearing a one-piece bathing suit here over a two-piece if you're looking to take advantage of the more thrilling slides!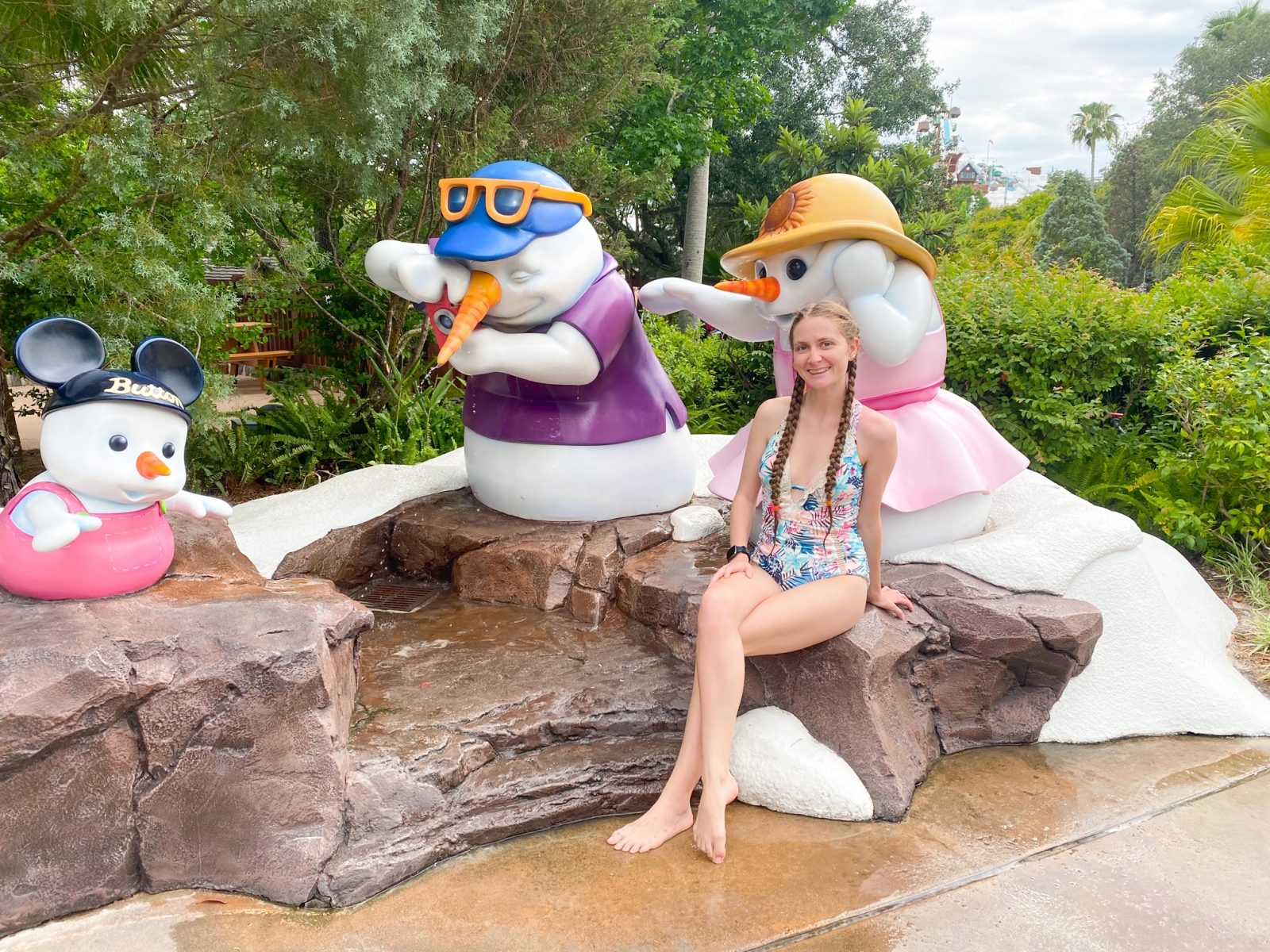 Blizzard Beach Map and Layout
Blizzard Beach has a circular layout, with the rides and attractions centering around Mount Gushmore. The three slopes – red, purple, and green – help guests navigate the park and designate where the different rides are. The lazy river winds around the outside of the park, completely encircling the other attractions and entire park.
Upon entering the park, you will have three choices in front of you. The wave pool will be to your left, right past the lazy river. Tike's Peak, the little kid area, will be to your right. The chair lift and Mount Gushmore will be straight ahead, and Mount Gushmore is where you will find the three different colored slopes and all of the water slides.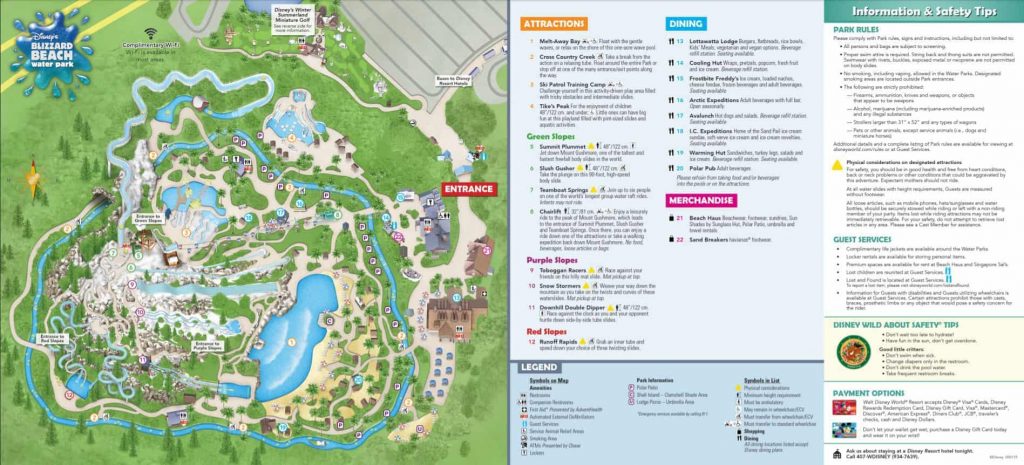 Parking at Blizzard Beach
Unlike parking at the theme parks, parking at Disney's Blizzard Beach is free to all guests. Since the parking is always free, this is a great park to visit using your own car or a rental car, if you have one with you.
Parking here is very easy as well. It's well organized, not far from the actual entrance to the water park, and it's not difficult to get in or out.
Blizzard Beach Hours
Hours hear vary seasonally and are always subject to change, but don't change that much. The water park either opens at 10 am or 11 am, and closes between 5 pm and 6 pm. It has been known to stay open as late as 8 pm, but this typically only happens during busy/peak season.
The park will close on unseasonably cold days – like those you may experience if visiting between November and February. Also, make sure if you are visiting the parks between the months of October and March that you check to see which water park is open. Either Blizzard Beach or Typhoon Lagoon will go down during this time for typical refurbishment, and only one park will remain open during the off-season.
Getting to Blizzard Beach
Disney's Blizzard Beach is located in between the Animal Kingdom park area and the Hollywood Studios park area, and it is very close to Coronado Springs Resort. If you're staying at Coronado Springs, the All-Stars Resorts, or the hotels within the Animal Kingdom park area, it won't take you long to get to Blizzard Beach.
The address is 1534 Blizzard Beach Dr., Orlando, FL 32836.
You can take Disney bus transport here, but please note that there typically aren't direct buses. Most Disney resorts will make you take a shared bus or do a bus transfer in order to reach Blizzard Beach. A lot of times you will transfer to Animal Kingdom and then take a direct bus from there. They will only have direct buses during extremely busy times of year.
If you have your own car or have a rental, we do suggest driving here instead. It's going to save you a lot of time and you have more control over the time you get to the park and the time you get to leave. Plus, since the parking is free and easy, it's a great choice.
Blizzard Beach Water Park Tickets
No matter how you're planning to visit Disney's Blizzard Beach, there is a water park ticket option that's right for you.
The most basic choice is the 1-day ticket, which is $69 per adult, and $63 for children ages 3-9. Just like the theme parks, under 3 is free. You can also choose the 1-day ticket with blockout dates – which is great for those not going during Summer or holiday weekends. Those tickets are $64 per adult and $58 per child.
There is a Water and Sports Park Option, which you can add onto any one-park-per-day ticket package. This is an extra $70 per person, and gives you access to either Blizzard Beach, Typhoon Lagoon, NBA Experience, ESPN Wide World of Sports Complex, Oak Trail Golf Course, Winter Summerland mini golf, or Fantasia Gardens mini golf. This add-on allows you to only choose one experience for one day to add-on.
The Park Hopper Plus Option not only allows you to visit more than one of the theme parks per day, but it also allows you to enter the same experiences as the Water and Sports Park Option. You can park hop from a theme park to these experiences as well. This will add an additional $85 for a 1 day ticket, $95 for 2-3 day tickets, and $105 for longer tickets.
There is a Water Park Annual Pass, and that allows you entry to both water parks year round, and the cost for that is around $148 per person, regardless of age.
And, if you have a Disney Platinum Plus Annual Pass then good news! Blizzard Beach admission is included in your pass!
Crowds at Blizzard Beach
Unlike the theme parks, Disney's Blizzard Beach isn't packed and busy all the time. The water park can have minimal crowds even when the theme parks reach capacity. It's also notably less busy than Typhoon Lagoon usually.
Most times you will only wait 20-30 minutes for a ride, and sometimes the wait is even zero – during the summer! The big rides tend to get busy early in the day, so either arrive early or wait out the crowds that happen right after park opening and around lunch.
That isn't too say that Blizzard Beach doesn't get busy! If you go during summer or anytime that the kids are out of school, you are sure to encounter a bigger crowd that going during an off-time.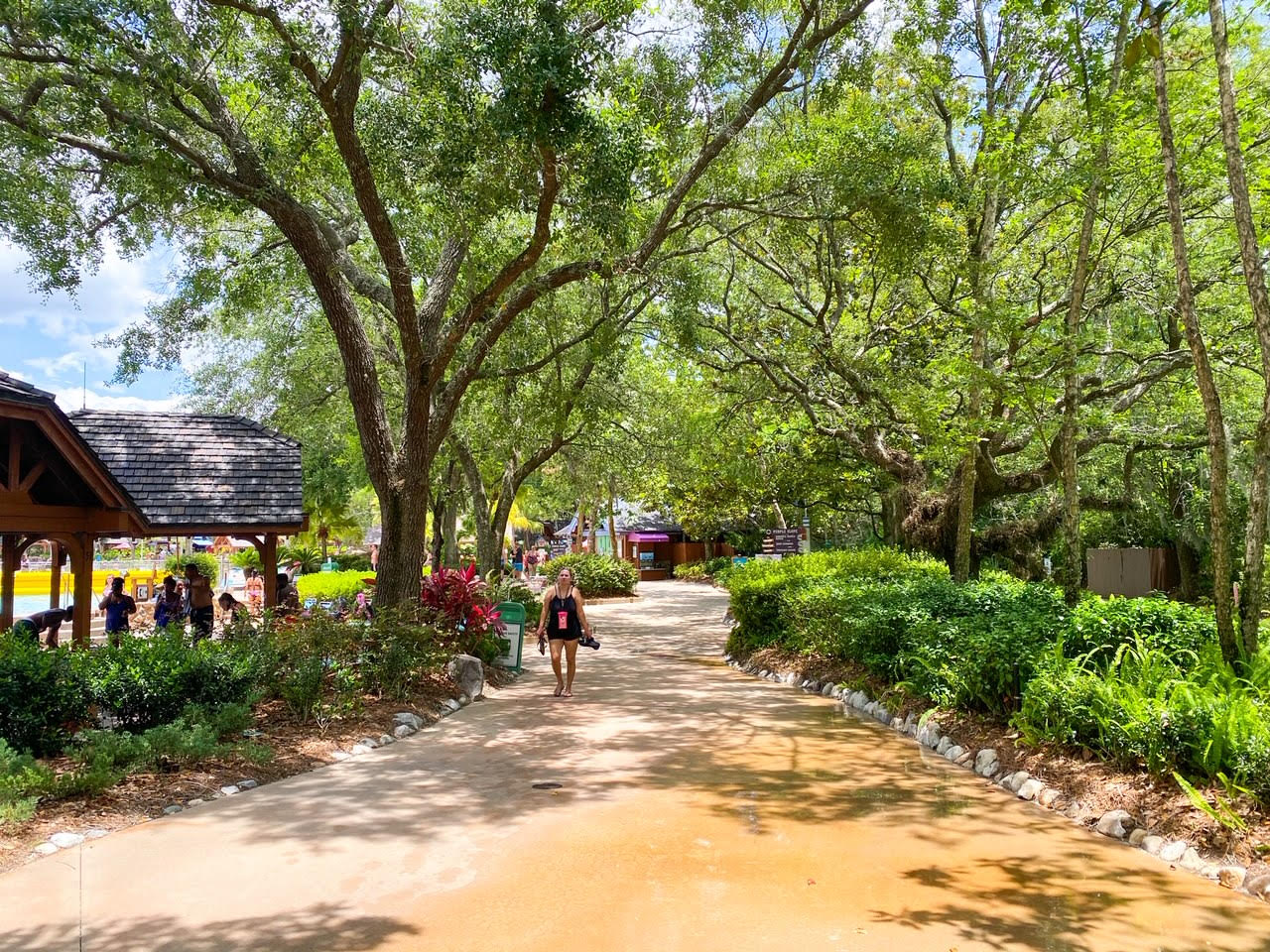 Weather and Visiting Disney's Blizzard Beach
If Blizzard Beach is the water park that's open year-round for Disney the year you visit, you could essentially visit any time of year and still enjoy the water. The water is heated for almost every ride – 80F/27C – and that's year round as well.
It will rain in the summer though, and that's just how weather is in Florida. The rides will continue to run, even in downpours, and are only stopped if there is lightning. If this happens during your visit, take the chance to grab a snack and reapply your sunscreen – the rides will be back up in no time!
Do You Need a Full Day?
Yes! There's so much to do here, and lots of attractions to enjoy so it will take you an entire day to ride and see everything. Plus, the water park is only limited hours so your day won't be as long as a theme park day would. You can be at Disney's Blizzard Beach from open to close and still have time for dinner and Disney Springs afterwards!
Layout of Blizzard Beach
As we mentioned earlier, Blizzard Beach is divided into different sections. You have Tike's Peak for little ones, Ski Patrol Training Camp for preteens/teens/kids, the wave pool, and lastly, Mount Gushmore. The wave pool and the two children's areas are in front of Mount Gushmore, and located closer to the front of the park.
Mount Gushmore itself is divided into three colored slopes that help guests navigate the park and the different rides. The colored slopes are green, purple, and red.
The green slopes are to the right side of Mount Gushmore (if facing the mountain). There are three slides in the green slope section, and the chair lift is considered to be in this area as well.
The purple slopes area is the front section of Mount Gushmore, and includes three slides.
The last is area is the red slopes area. This is kind of hidden behind the purple slopes and is towards the back of Mount Gushmore. Only one ride is in the red slope area.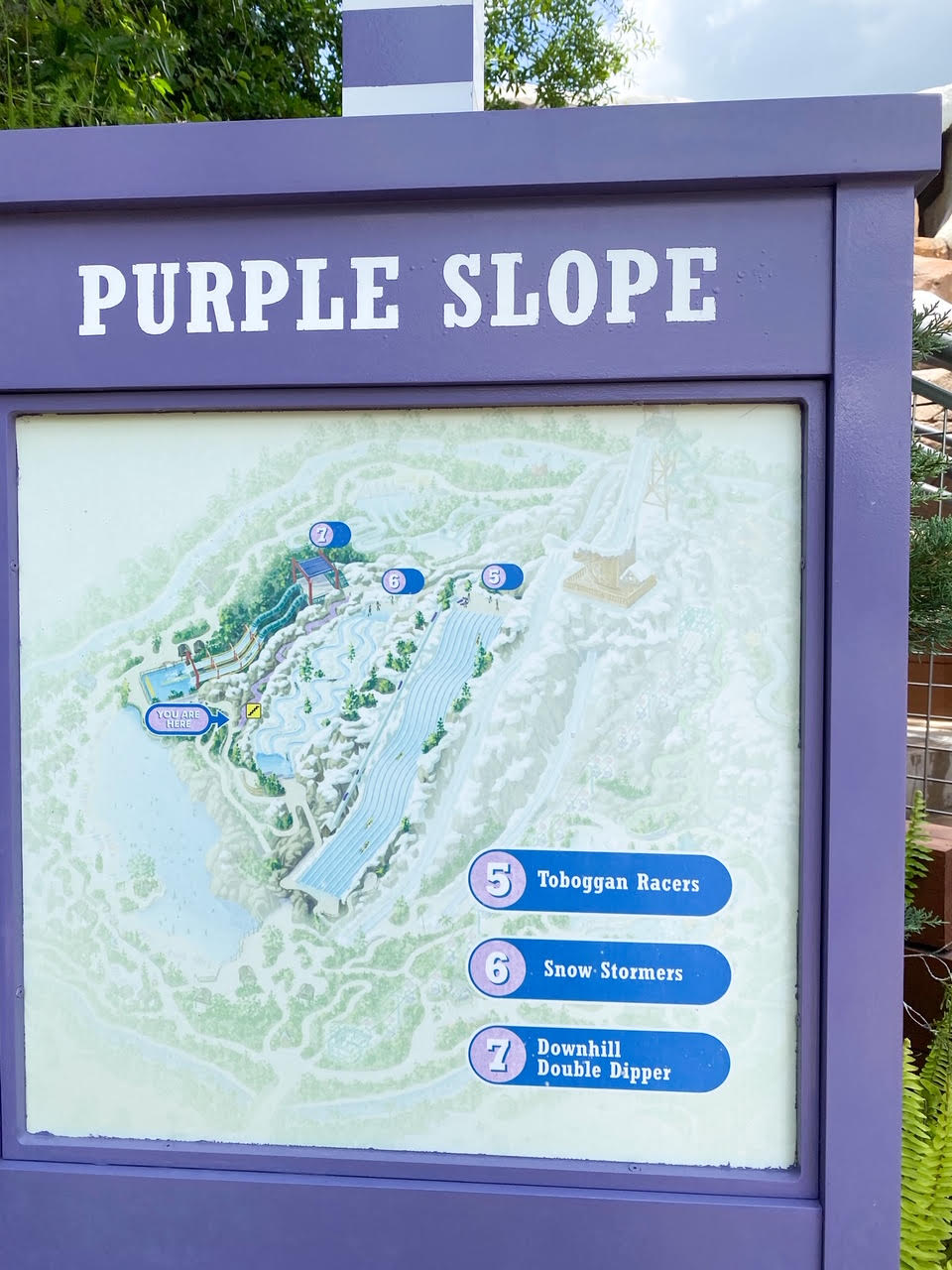 Blizzard Beach Rides
The slides here at Disney's Blizzard Beach are some of the best, most thrilling, and are definitely underrated. There are some great family rides, as well as some rides that give some unbelievable thrills. We think these slides on the colored slopes are definitely "can't miss" attractions during your visit to Blizzard Beach.
Summit Plummet (Green)
Of course, we have to start with the most thrilling ride at Blizzard Beach. Summit Plummet is not only the most thrilling water slide here, but is also one of the tallest, fastest water slides in the world!
Based off of the ski jump from the ski resort in the backstory, this freefall water slide is 12 stories high. Once you reach the top, look for the 4 Disney World theme park icons before you plummet down – you can see them all on the horizon from this vantage point!
This freefall body slide sends you flying down Mount Gushmore, through a darkened tunnel, and this 360-foot long slide propels you into a pool at then end. This is a thrilling and exhilarating ride! The height of this ride alone can be shocking, and the drop down the slide is unbelievable.
Due to how thrilling this water slide is, it's only for guests 48 inches or taller.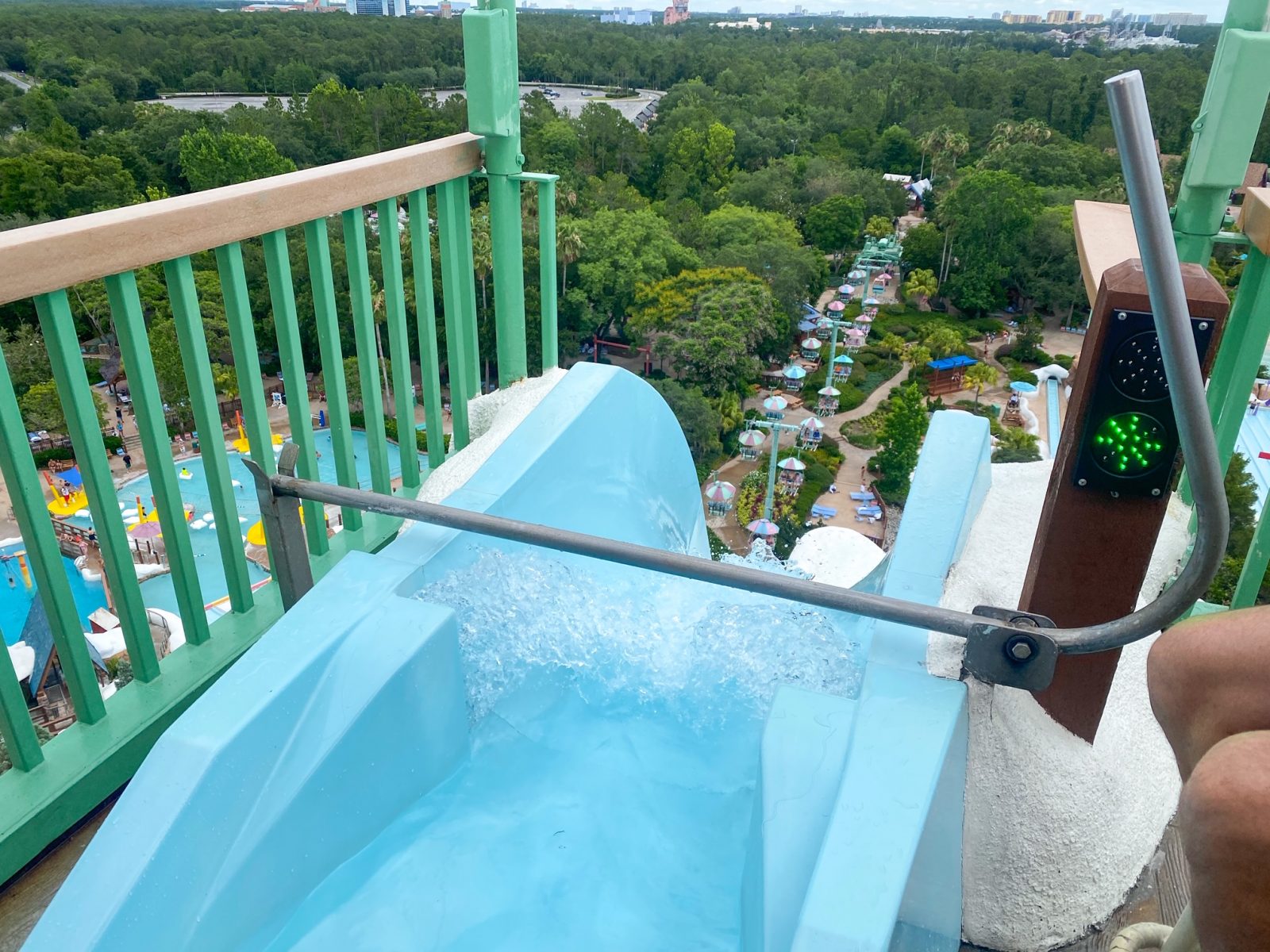 Teamboat Springs (Green)
This is a family water slide, but it doesn't leave the thrills behind! This is a water raft ride, and each raft holds 4-6 guests. The slide is super long at 1200-feet, and the slide is very wide – which accommodates the large family raft.
Even though some may think this is a thrilling ride, it's not too wild, and guest of all heights can ride. Also, note that if you don't have between 4 and 6 people in your party, then you may be riding with others!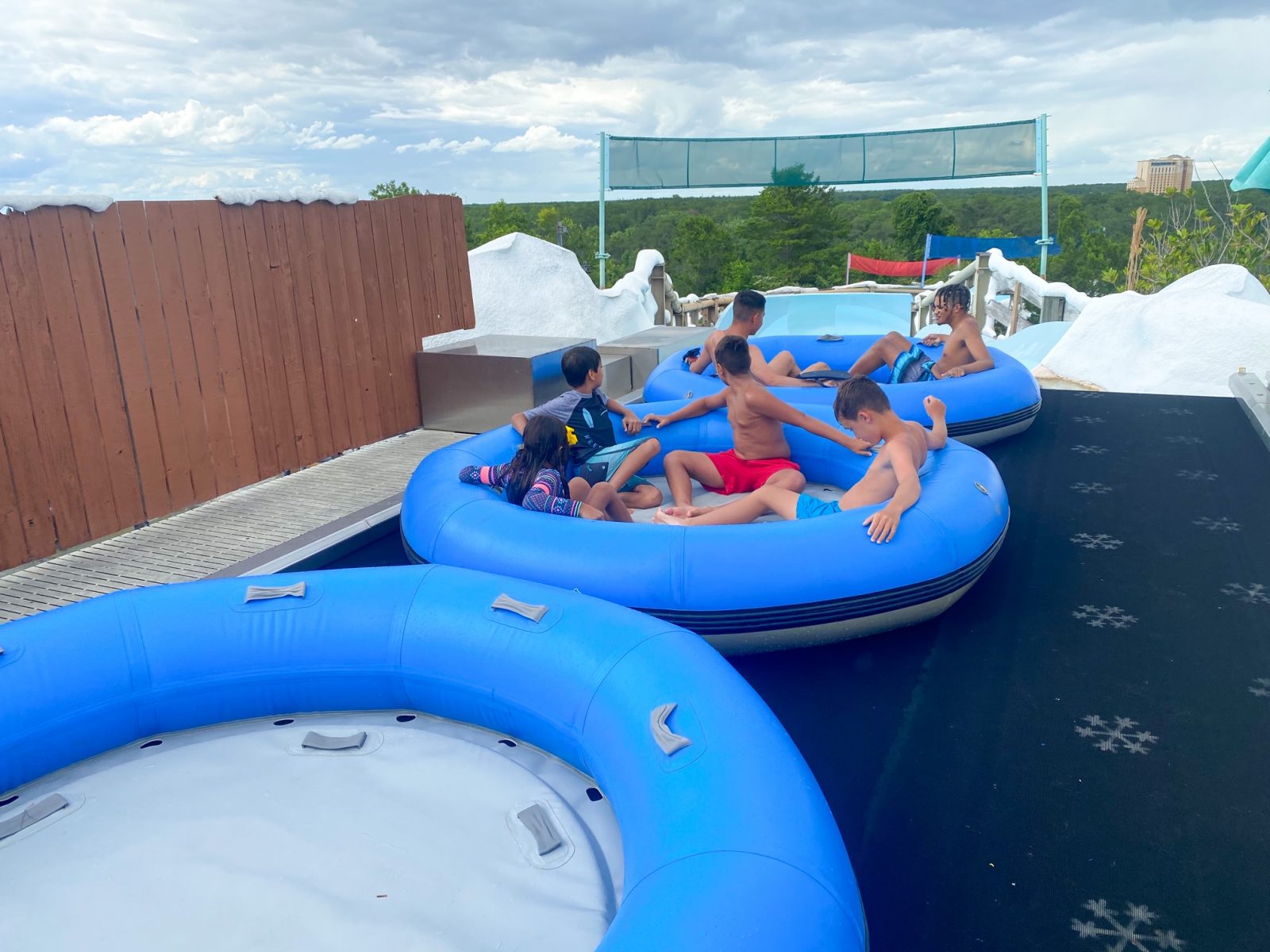 Slush Gusher (Green)
This high-speed water slide sends you down Mount Gushmore. At 90 feet high, this water slide guarantees you will hit some great speeds, and the two hills are guaranteed to give you a little airtime!
Located in the shadow of Summit Plummet, this isn't as wild of a ride, but is still fast and thrilling. And like Summit Plummet, it does have a height requirement of 48 inches as well.
Downhill Double Dipper (Purple)
These twin enclosed water slides let you race a friend at some fast speeds! You'll head down a 50-foot slide in complete darkness on your inner tube, and find out the winner once you hit light – and the splashdown!
This is so much fun, and is a great way to have a little friendly competition while on vacation. This ride is also only for guests 48 inches or taller.
Snow Stormers (Purple)
A favorite at water parks, mat racer waterslides are always a good time – and Snow Stormers is no exception! This looks like a downhill ski race, and has 3 separate 350-foot long slides.
Any height can ride these, and these are so much fun! Grab a few friends and go race!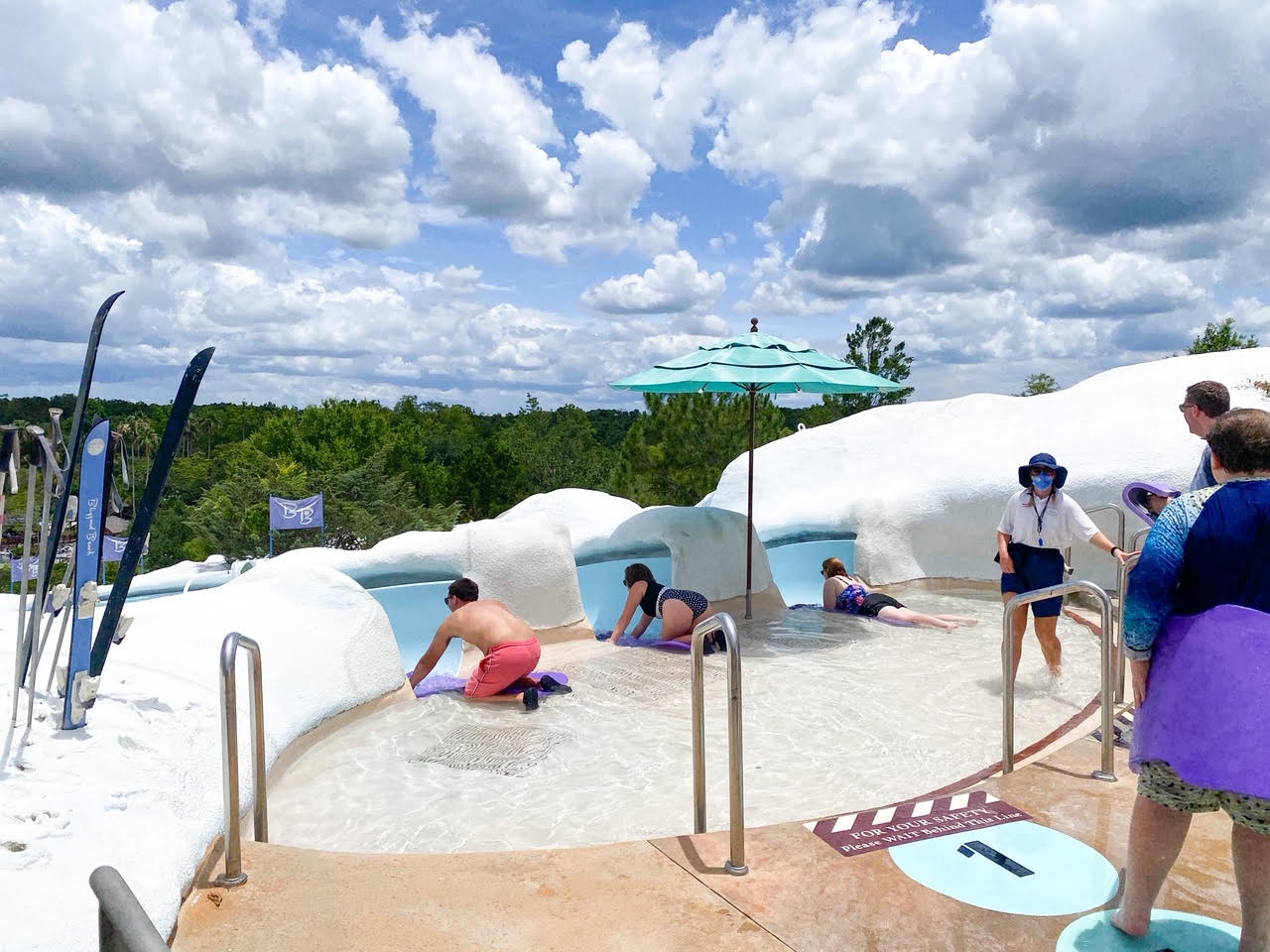 Toboggan Racers (Purple)
These mat racer water slides are more intense than Snow Stormers, and allows 8 people to race each other at the same time. There are 3 separate dips and hills, letting some racers gain some major air. These slides are 250-feet long, and are slalom-style, as if you were really racing ski resort-style.
Any height can ride these as well, and are something you can ride over and over.
Runoff Rapids (Red)
Runoff Rapids is a set of three separate water slides that are intertwined with one another. Each slide is a completely different ride, and the only thing they have in common is that you ride an inner tube 600 feet down the mountain in each.
The center slide is fully enclosed and in complete darkness, and the only light you'll see is once splashdown is approaching. The two outer slides are open, and they loop over, under, and around the middle slide.
This ride doesn't have a height limit, and is fun for the whole family.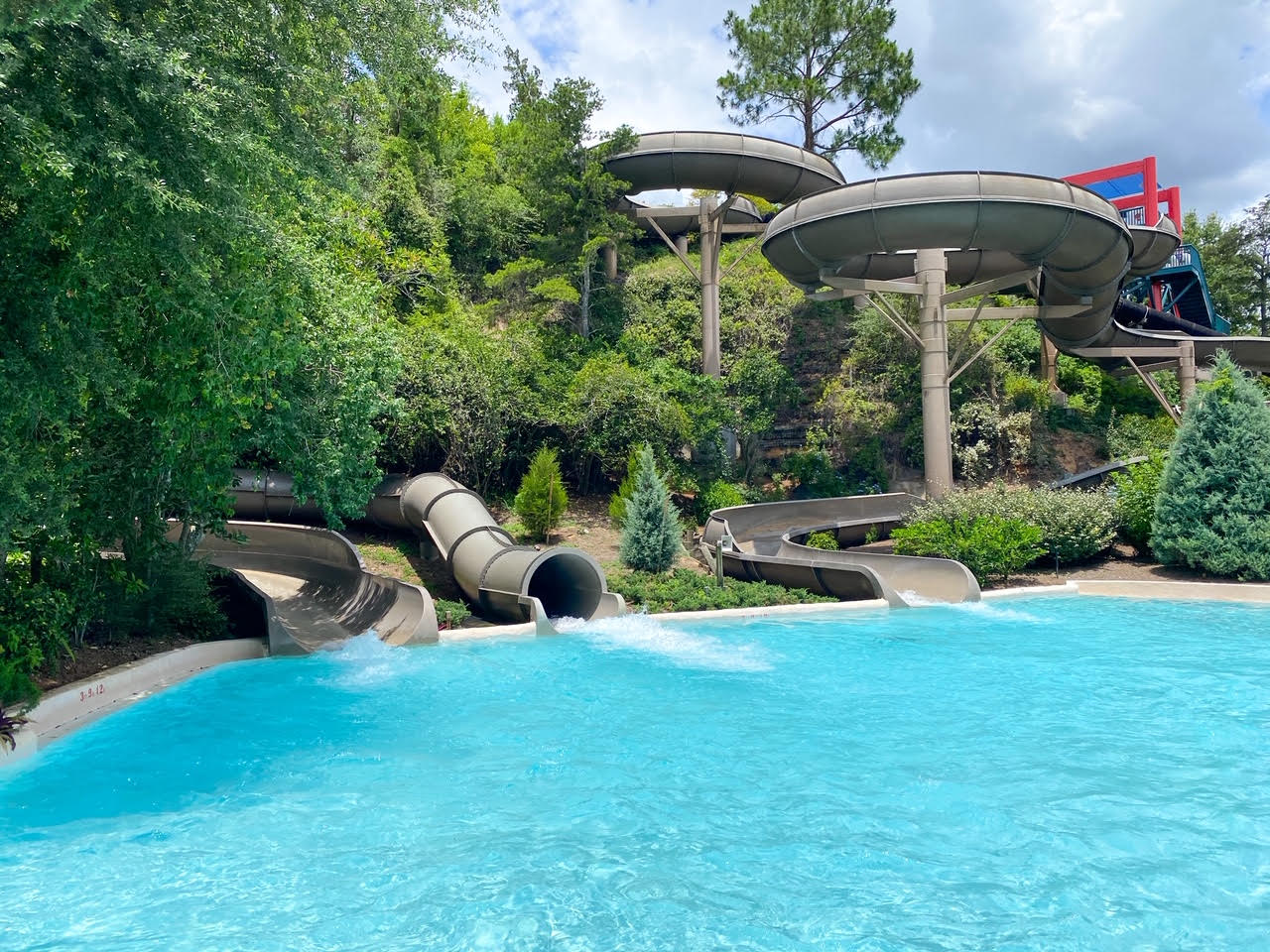 Blizzard Beach Wave Pool
The wave pool at Disney's Blizzard Beach is called Melt-Away Bay, and the idea is that here all your troubles will melt away. The waves here are short, and the pool is very leisurely. The waves never get violent or rough, and you can even float on an inner tube here if you would like.
This 1-acre heated pool is comfortable and cozy, and is a great way to unwind during your vacation. And, of course, there isn't a height requirement for the pool.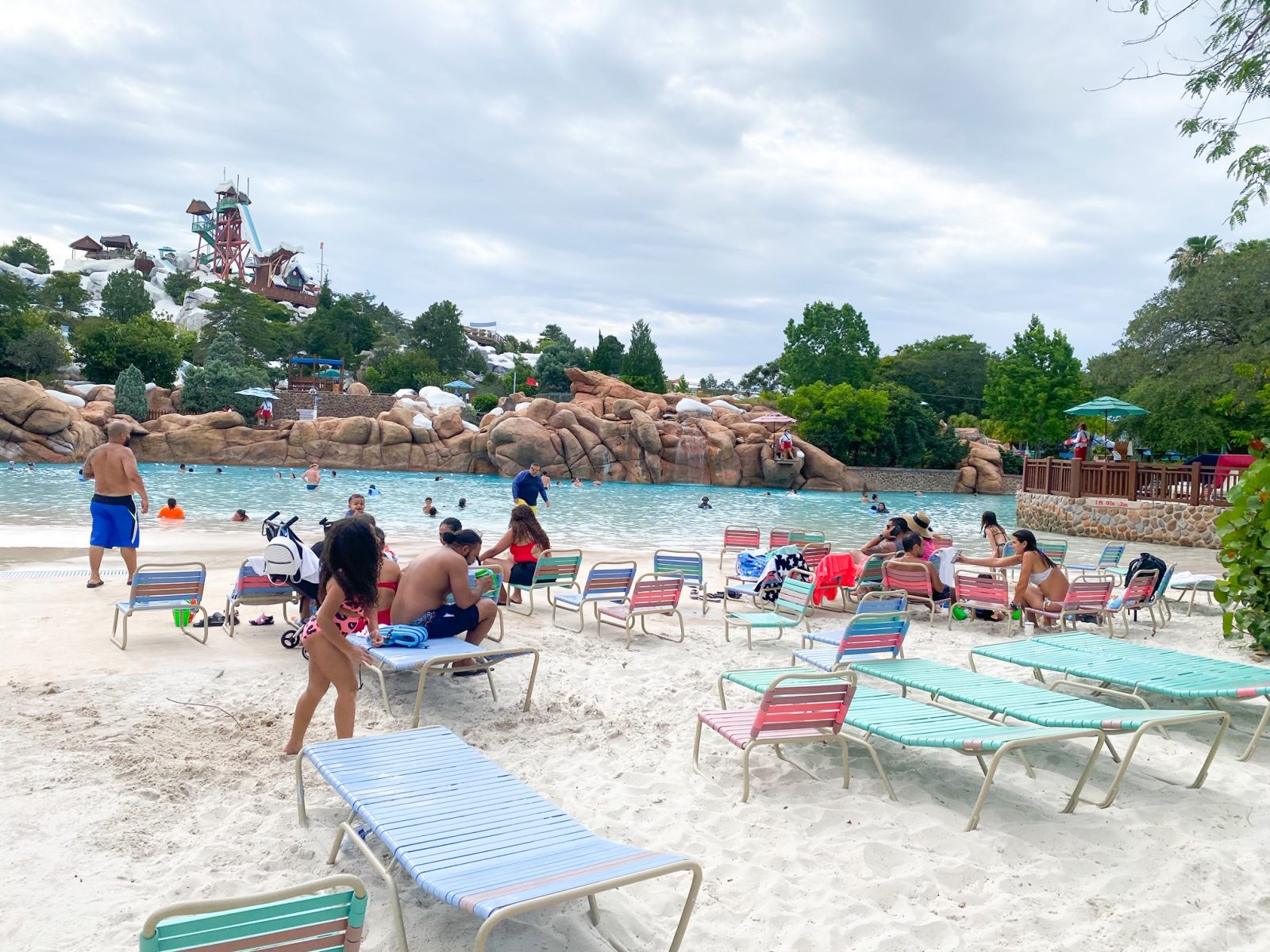 Blizzard Beach Lazy River
Cross Country Creek is the lazy river here at Blizzard Beach, and it's a 3,000-foot long river that winds around the entire park. It takes approximately 28 minutes to leisurely float around, and you'll go through caves and grottos, offering a lot of shade and cooling off.
Even though floating around in an inner tube is relaxing, be warned that this lazy river is very shallow. It's less than 3-feet deep. We love the scenery and the relaxing ride, but it isn't our favorite because of how shallow the water is.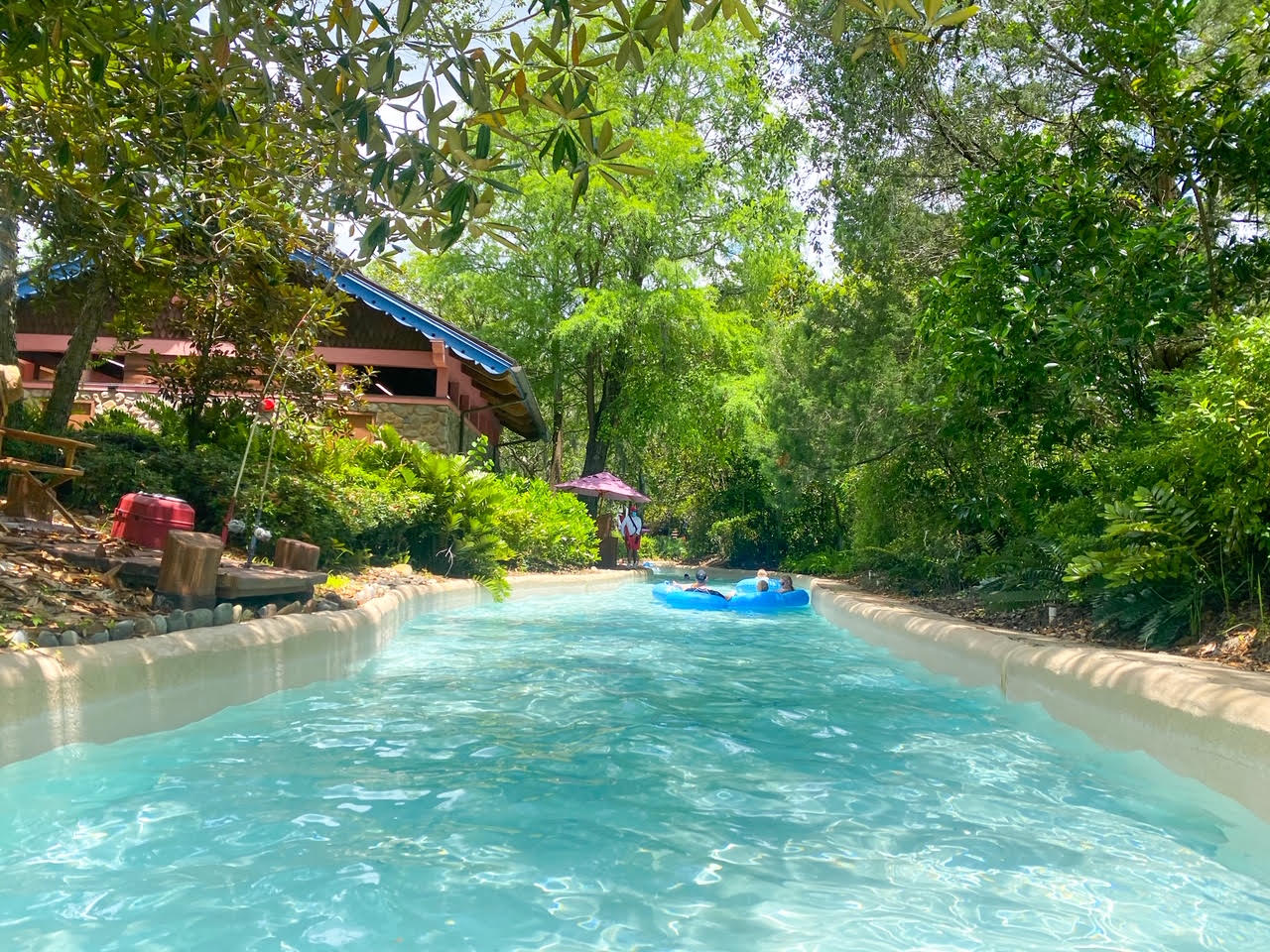 Other Attractions at Blizzard Beach
If water slides aren't really your thing, and you have no desire to see the park from the top of Mount Gushmore, don't feel left out! There's still lots for you and the little ones to do at Disney's Blizzard Beach. You don't have to be a thrill seeker to enjoy a full day here.
Ski Patrol Training Camp
Ski Patrol Training Camp is geared toward older kids, like preteens and teens, but anyone can enjoy this area. This area is so much fun! You don't have to be a child or teen to ride these slides and enjoy this area, and it's fun and exciting. These rides aren't as thrilling as the ones on Mount Gushmore, and are a great way to see how adventurous you are.
The water at the end of some of the rides is over 6-feet deep though, so keep this is mind when allowing smaller children or poor swimmers to ride some of the attractions here.
Here you can enjoy:
Thin Ice Training Course: walk across ice floes and test your balance
Fahrenheit Drops: a zipline that drops into a 8.5-foot deep splashdown pool *this is only for guests 60 inches and shorter*
Frozen Pipe Springs: enclosed body slide
Cool Runners: inner tube slide
Snow Falls: downhill body slide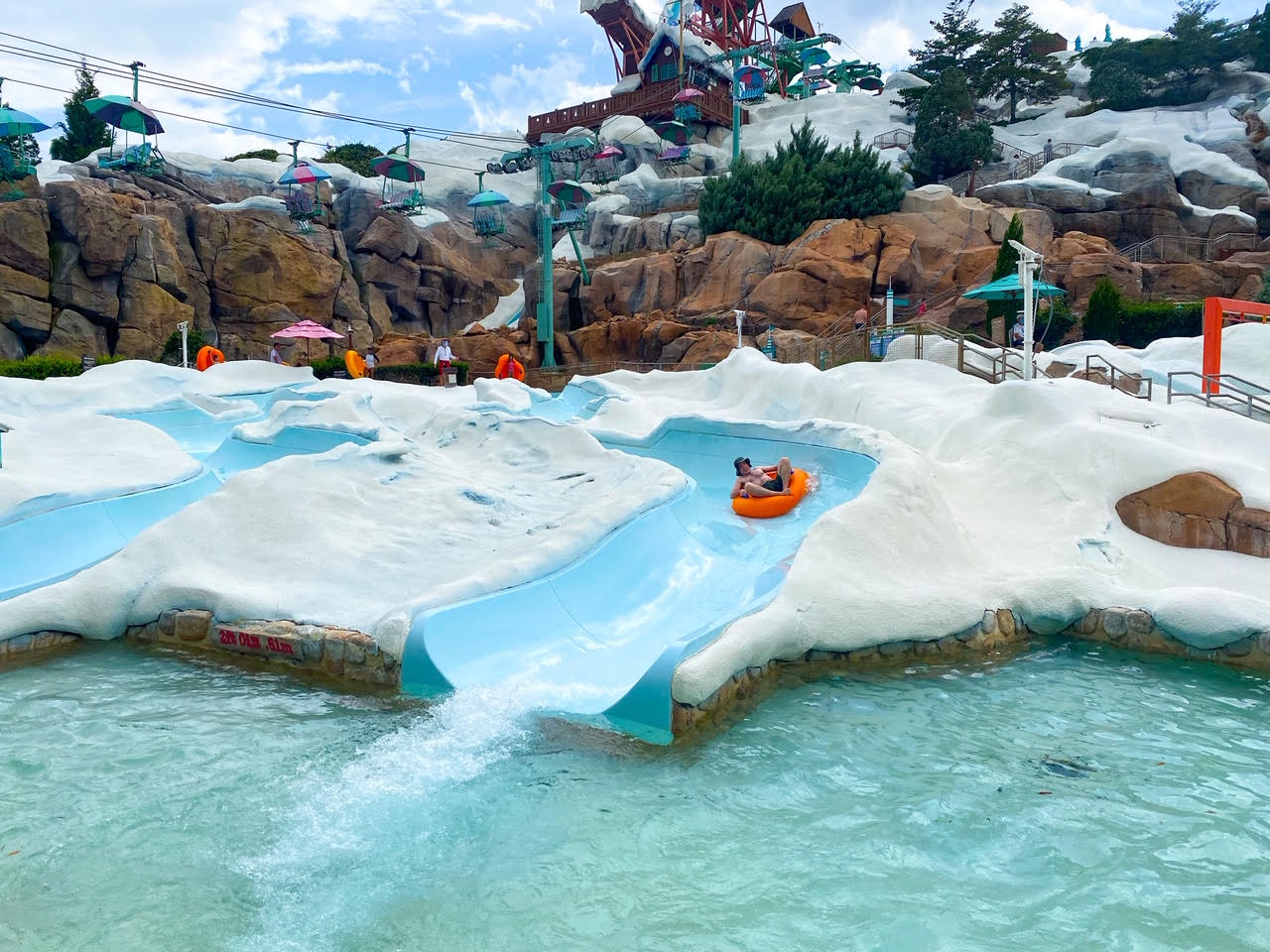 Tike's Peak
Geared towards the little ones like preschoolers and toddlers, Tike's Peak is a fun area for the littles that are 48 inches and shorter. There are several slides, like a mini snow slide, side by side downhill slides, and even a junior inner tube ride.
Most little kids love a splash pad, and Blizzard Beach doesn't disappoint. There are bubble fountains and pop-up water jets for them to enjoy. There's even a "pool" – a very shallow wading area that has zero entry so even the smallest littles can enjoy it.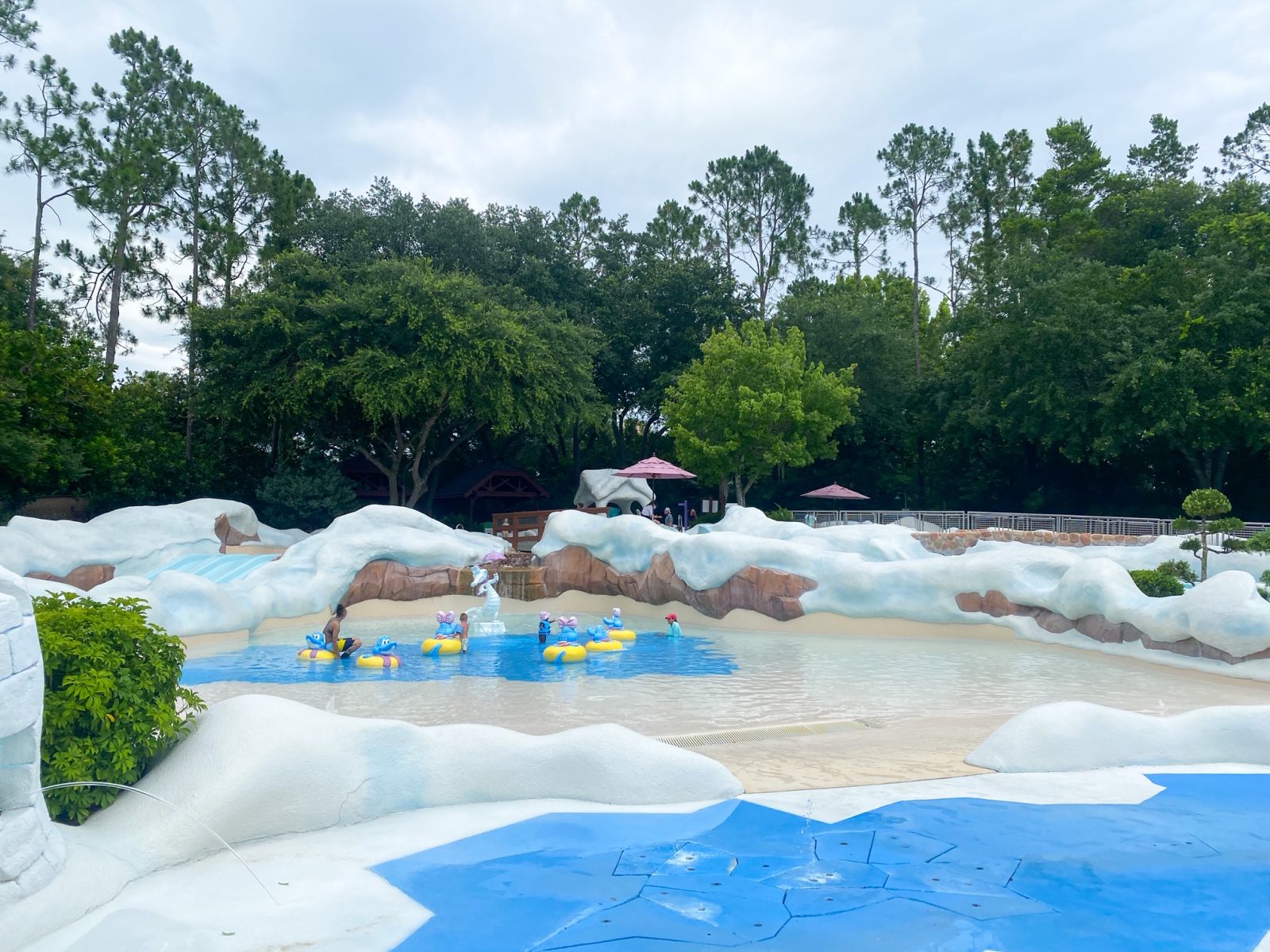 Chair Lift
The repurposed ski lift has become a chair lift that takes you to the top of Mount Gushmore. By riding the chair lift, you can access Summit Plummet, Slush Gusher, and Teamboat Springs.
Riding the chair lift will give you some great views of the park, as well as it will give your feet a little rest. You can walk to the top of Mount Gushmore if you want, but taking the ride is so much more relaxing.
Riders must be 32 inches or taller, and the guests under 48 inches must be accompanied by an adult of 18 or older in order to ride.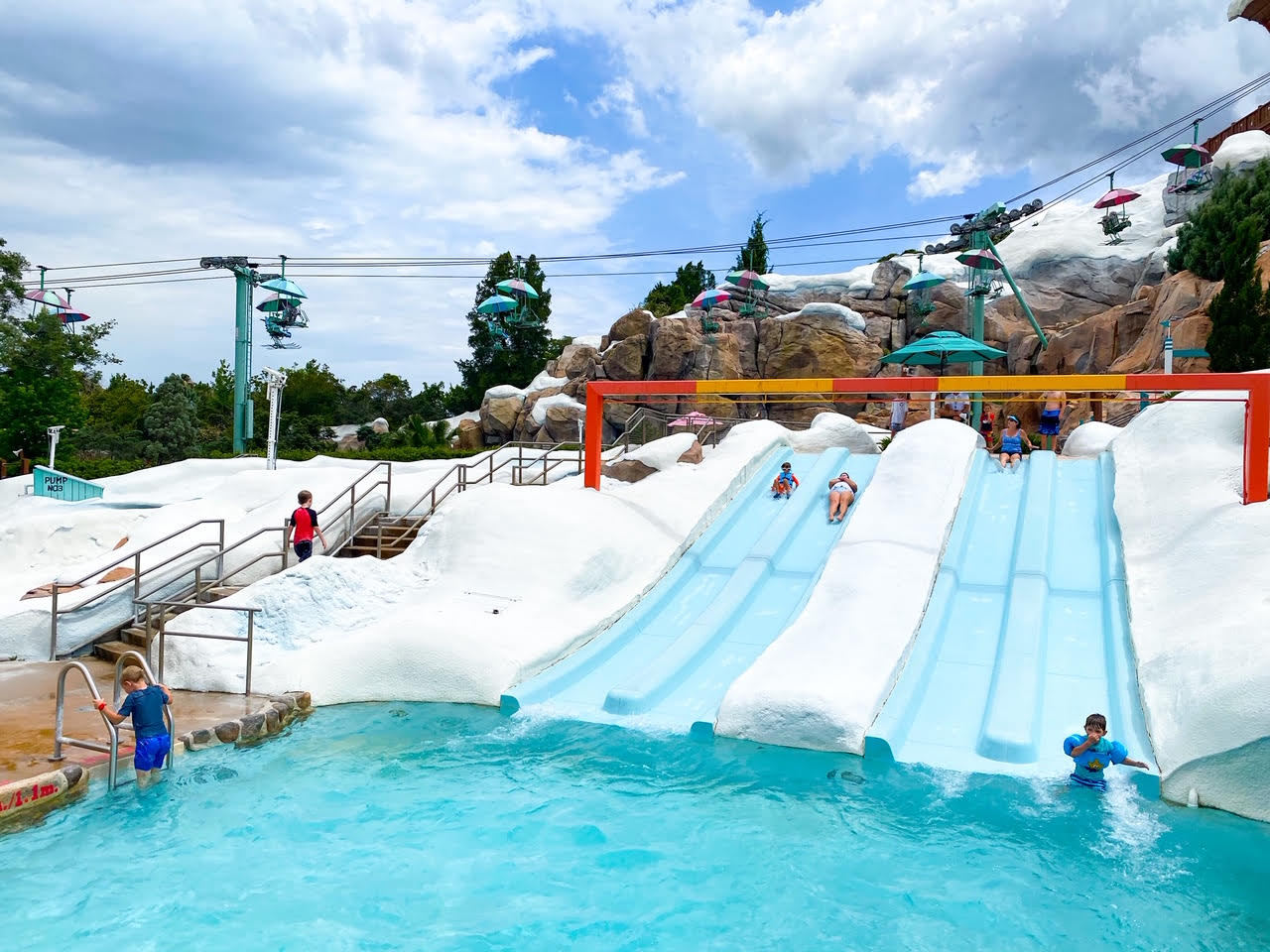 Restaurants and Dining at Blizzard Beach
While having so much fun in the park, you're bound to work up an appetite! Thankfully, there are several places to grab a snack, meal, or even some adult beverages at Disney's Blizzard Beach. For those that offer mobile order, we suggest you use it to cut down on your wait.
You can also choose to purchase a refillable park mug to reuse during the day, and these can be refilled with fountain beverages at any of the restaurants that offer fountain drinks.
Also, note that all the food options at Blizzard Beach are Quick Service. There aren't any sit-down restaurants – which is fine, because you'll want to make the most of your time!
And like the theme parks, you can bring your own food and cooler into the water park, but it is subject the rules and your cooler will be searched by a Cast Member.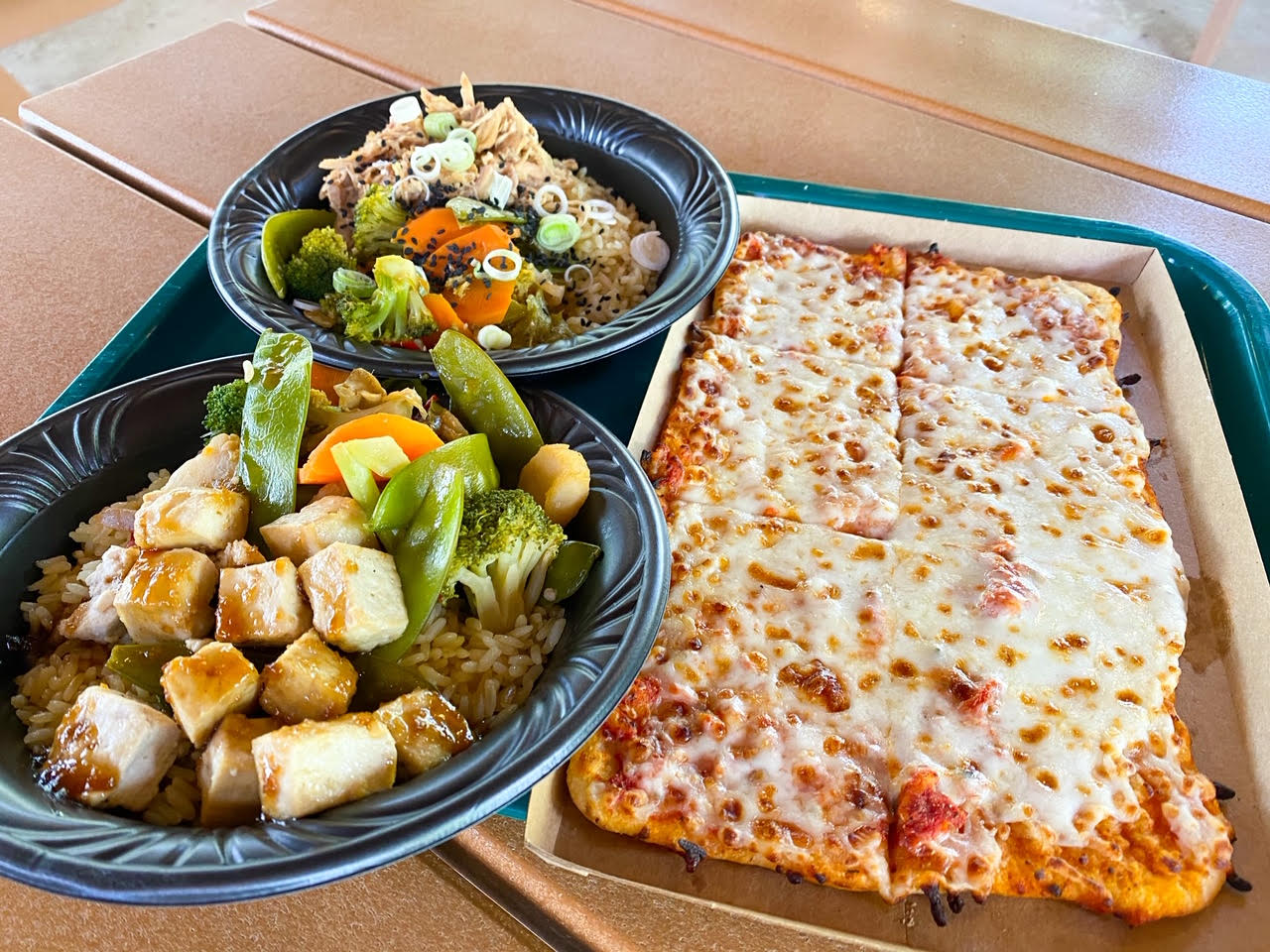 Arctic Expeditions
This is a snowmobile themed bar, that mostly offers adult, alcoholic beverages. You can grab a beer, piña coladas, and a froze black cherry lemonade. Only one snack is offered here, and that's glazed pecans and almonds.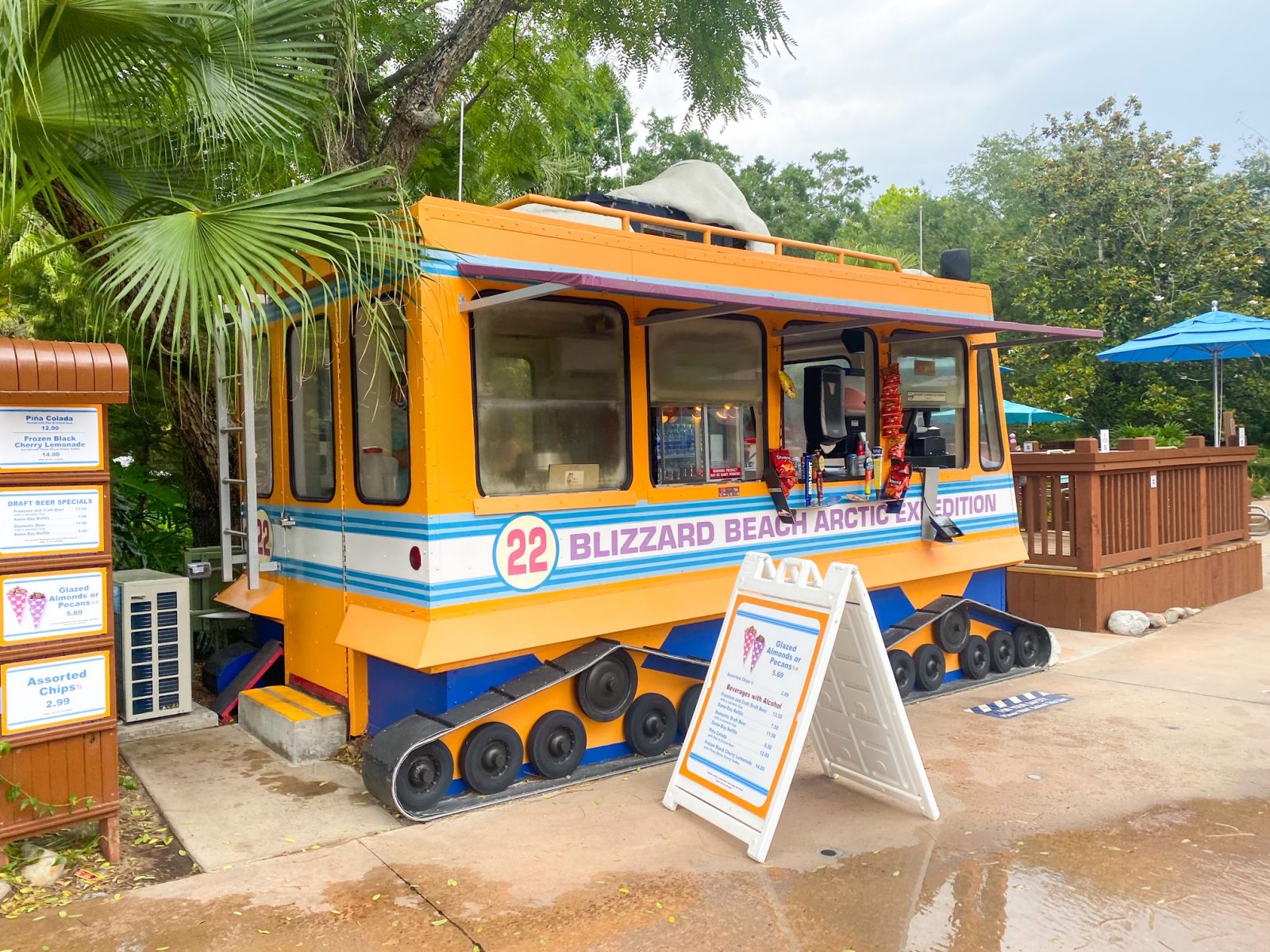 Avalunch
This restaurant offers several types of hot dogs, including one topped with bacon macaroni and cheese! You can also get a plain hot dog, a chili cheese and corn chip topped hot dog, as well as loaded nachos here. For kids they have a turkey sandwich and macaroni and cheese for entrees.
Beer and fountain drinks are available. You can also mobile order here.
Cooling Hut
This is your stop for snacks! They offer popcorn, pretzels, fruit, ice cream, and yogurt for a quick snack during the day. You can also get bottled water, fountain beverages, coffee, and a few alcoholic beverages here.
Frostbite Freddy's Frozen Freshments
Here you can get frozen drinks, both for the family and for the adults. The frozen blue raspberry lemonade is a great non-alcoholic choice, and adults can get frozen margaritas and piña coladas. Bottled water and beer is available too.
Just a note, this is also where you will rent life vests for the day.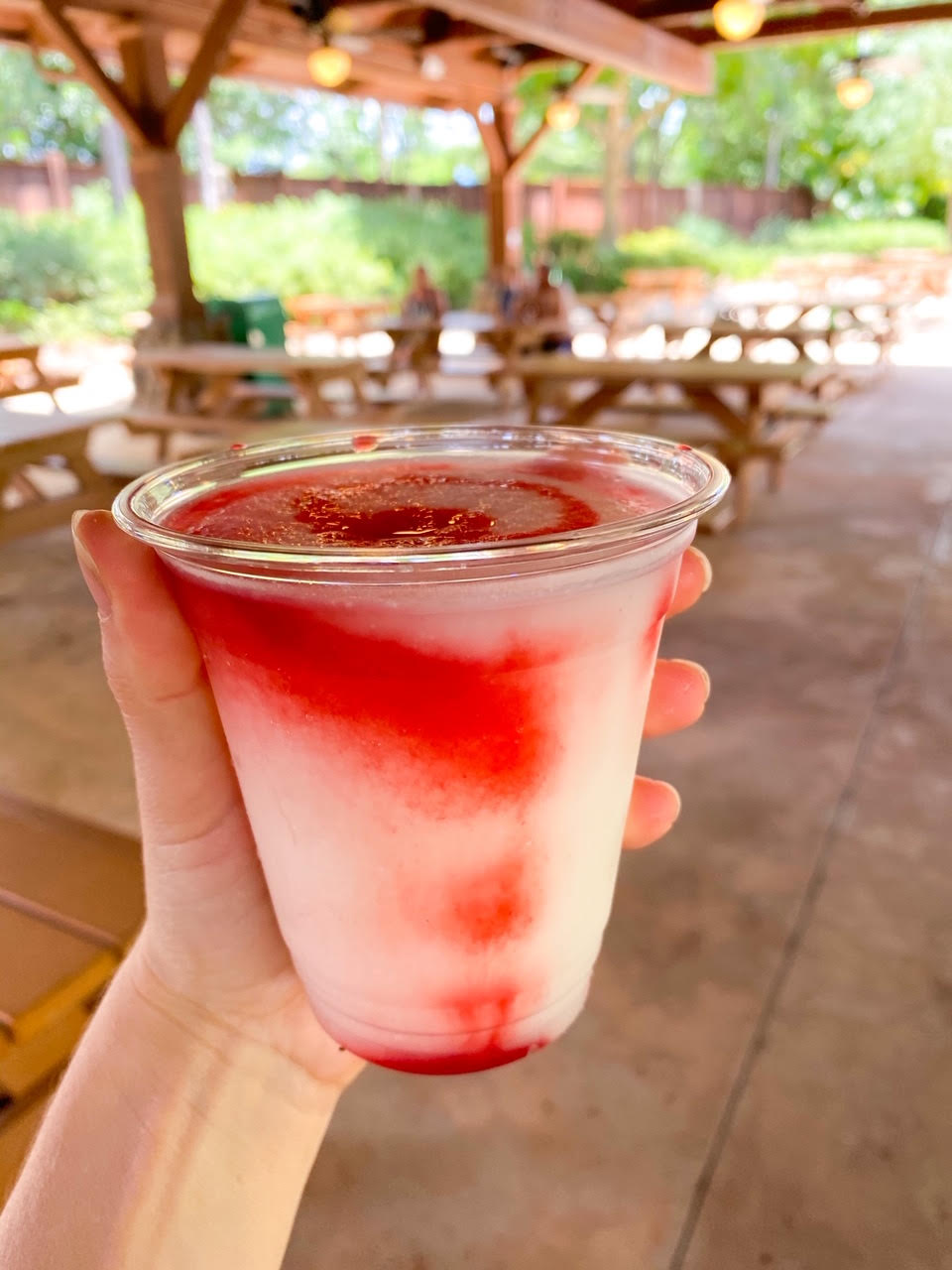 I.C. Expeditions
This is a great stop for ice cream and cool treats on a hot day. You can get the usual treats like Mickey Premium bars, but the standout here is the Sand Pail Sundae – a huge ice cream sundae that comes in a kids plastic sand pail!
You can also get Fanta orange floats, root beer floats, and some prepackaged frozen treats here.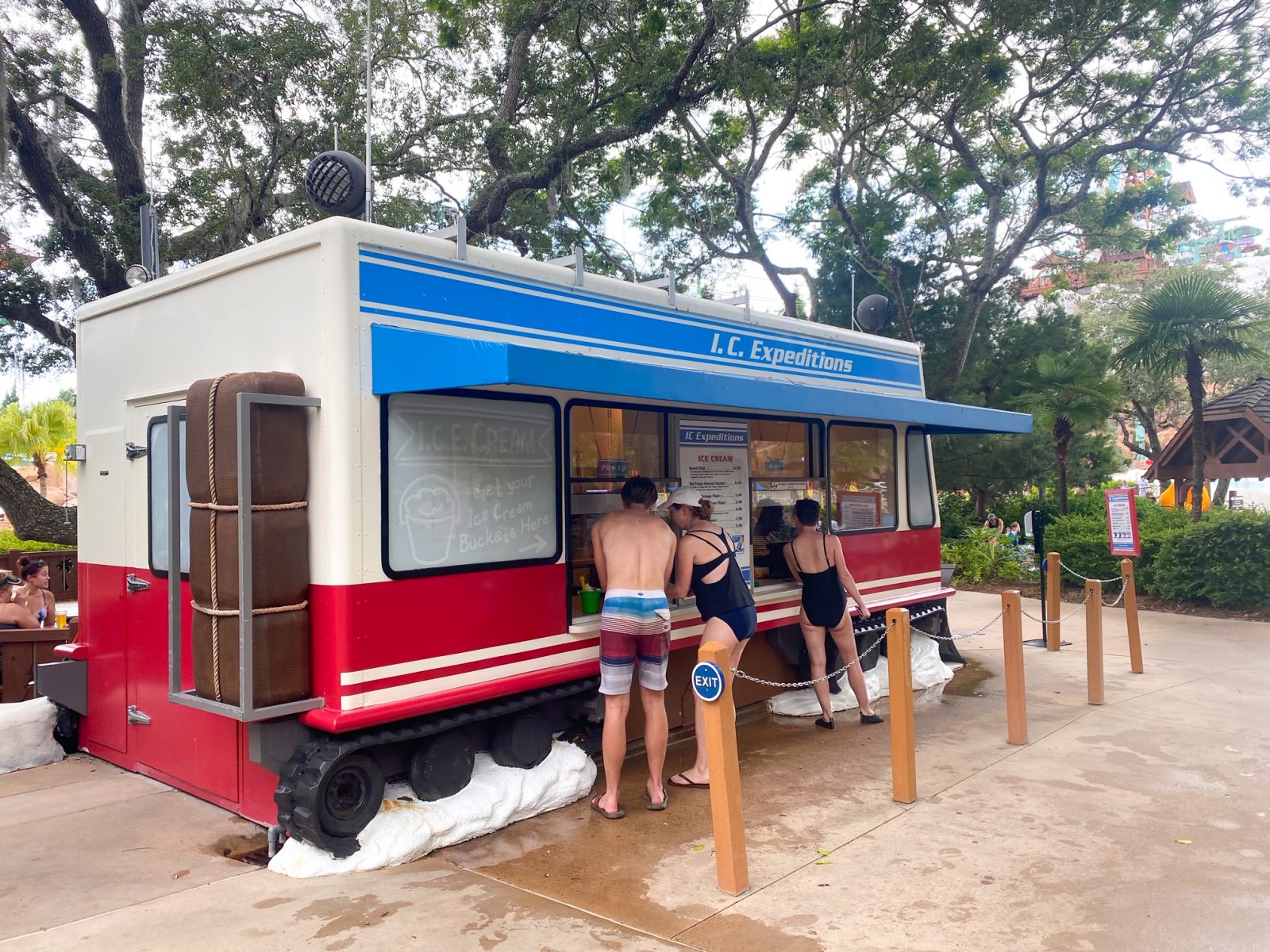 Lottawatta Lodge
If you're going to eat anywhere at Disney's Blizzard Beach, this would be our recommendation. The menu here is quite large, the food is delicious, and they offer both plant-based options and lots of allergy-friendly options. Plus, you can mobile order.
They have basics like cheeseburgers, pizza, and chicken strips, but you can also get rice bowls with either chicken or tofu, white chicken flatbreads, and high quality salads. They even have an Impossible burger and a plant-based bratwurst. Kids can get chicken strips, a chicken wrap, or even a kid sized chicken rice bowl.
Ice cream and milkshakes are sold here, and some other yummy desserts. Adults can get some alcoholic beverages here too.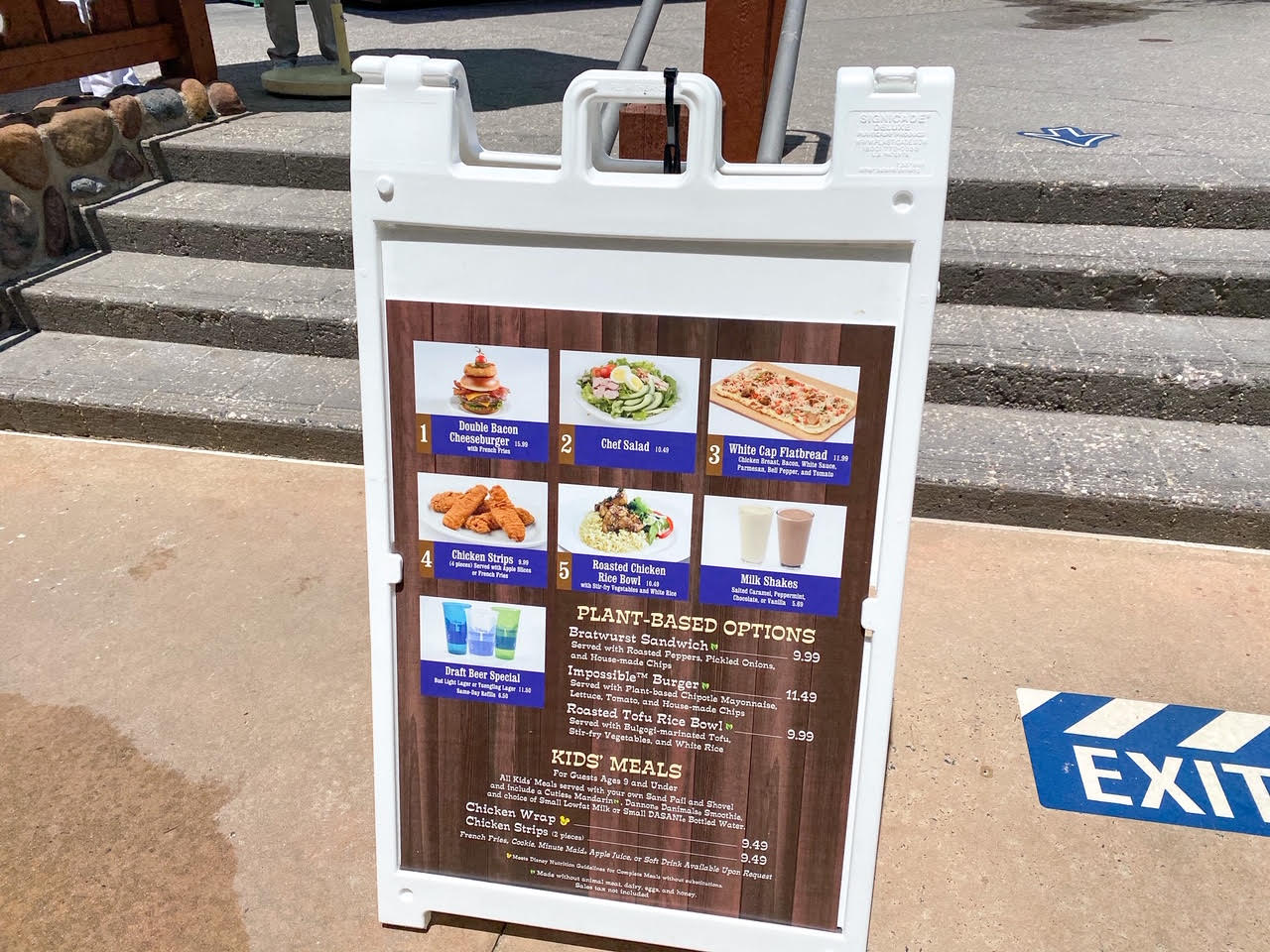 Mini Donuts by Joffrey's Coffee
These mini donuts are always talked about and are definitely worth the purchase! You can get either a dozen or half dozen mini donuts, and can get either chocolate, white chocolate, or raspberry sauce to dip them in.
You can also get hot coffee, hot chocolate, hot tea, and frozen lemonade here. This is not a normal Joffrey's stand and you cannot get their vast menu of drinks here. But, there is a normal Joffrey's stand near Lottawatta Lodge, so you can still get your coffee fix there!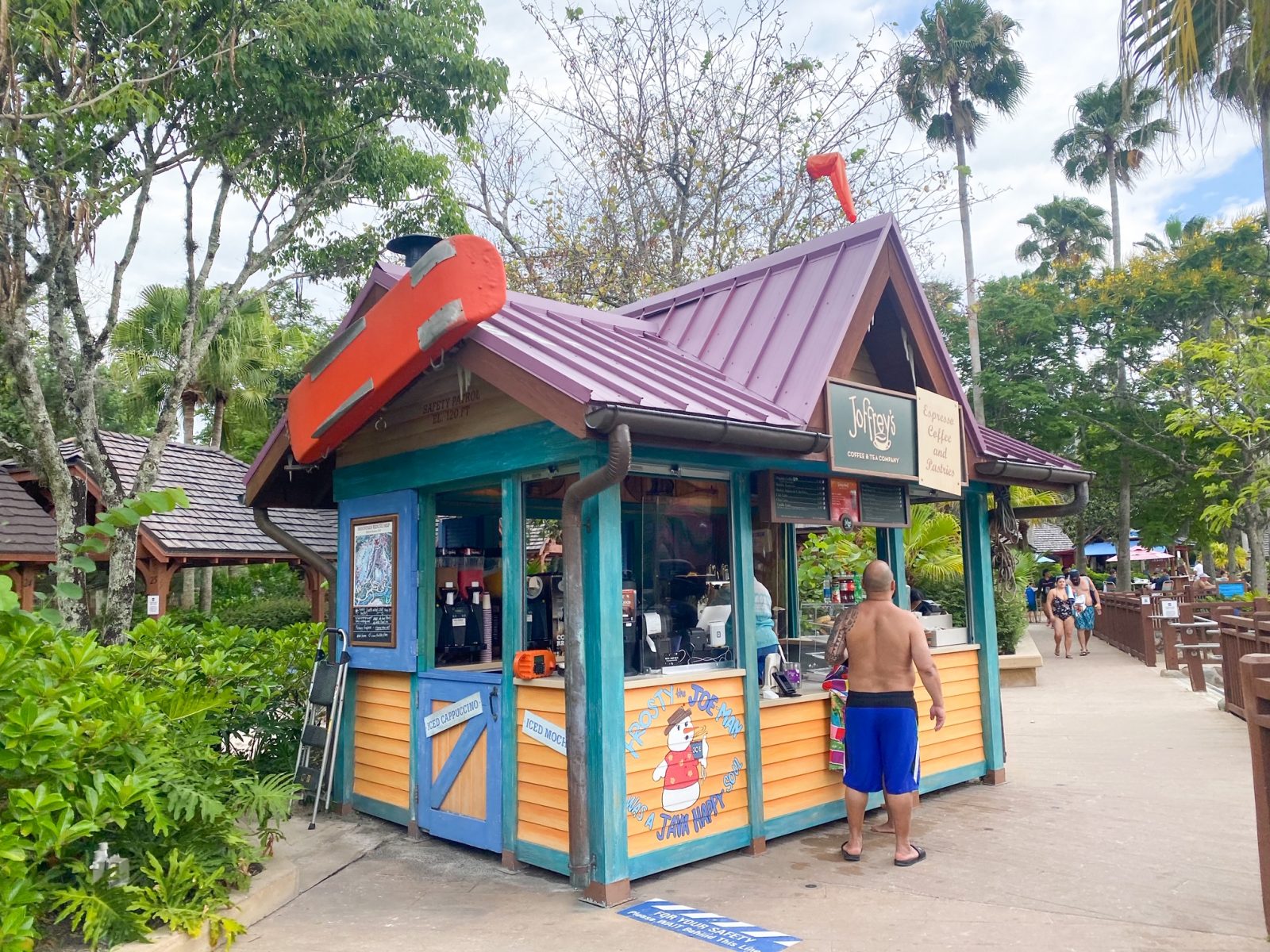 Polar Pub
This is a full-service bar at Blizzard Beach. You can get cocktails, either on the rocks or frozen, or an assortment of beers.
Warming Hut
The Warming Hut has food that can qualify for snacks or small meals, and you can mobile order here too. They offer shrimp lettuce wraps, tuna sandwiches, loaded tots, and a honey butter chicken sandwich.
You can get fountain beverages, ice cream, and a brownie sundae here, but the real star here is Dole Whip! This is the only location to get Dole Whip at Disney's Blizzard Beach.
Funnel Cakes and Cotton Candy
This little unnamed stand sells, you guessed it, funnel cakes and cotton candy. You can also get fried ice cream here, as well as bottled water.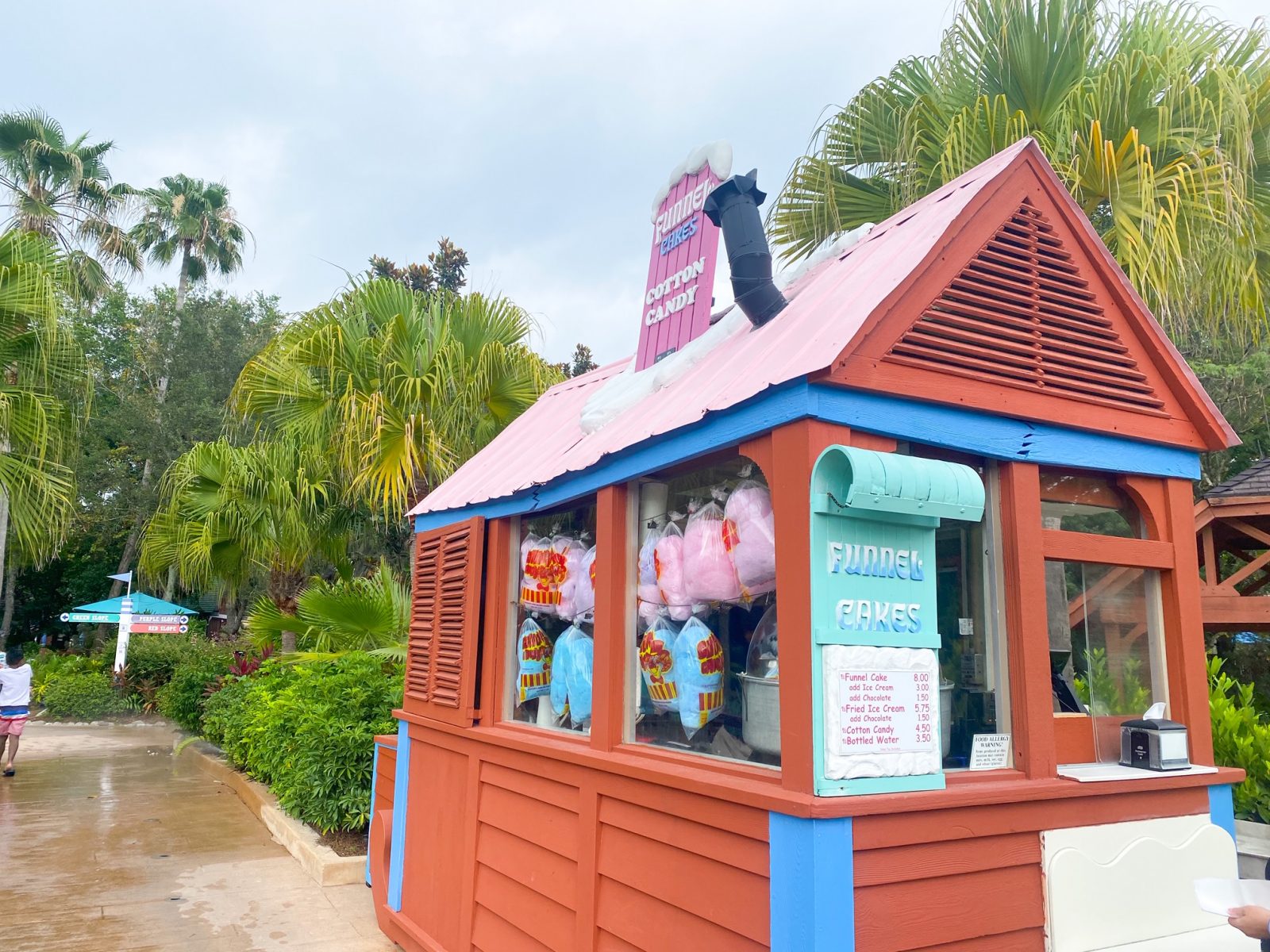 Blizzard Beach Polar Patio
If you're looking to really relax during your day at Blizzard Beach, and guarantee yourself a shaded seat, you might be interested in renting a Polar Patio. These are shaded patios you can rent for your day at the water park.
A Polar Patio can accommodate up to 6 guests and there's a lot included:
cooler stocked with ice and water
towels
locker
cushioned seating
refillable drink mugs
attendant to help and take food orders (dining is still a separate cost)
These are scattered throughout the park, and they operate on a first-come, first-served basis. You can reserve them in advance by calling Disney, or you can try to get one on the day of by stopping by Beach Haus shop. These will cost you about $300 per day.
If the Polar Patio is too expensive, you could rent the Lodge Umbrellas instead. They accommodate 4 guests, offer shaded seating, towels, and a table for $100.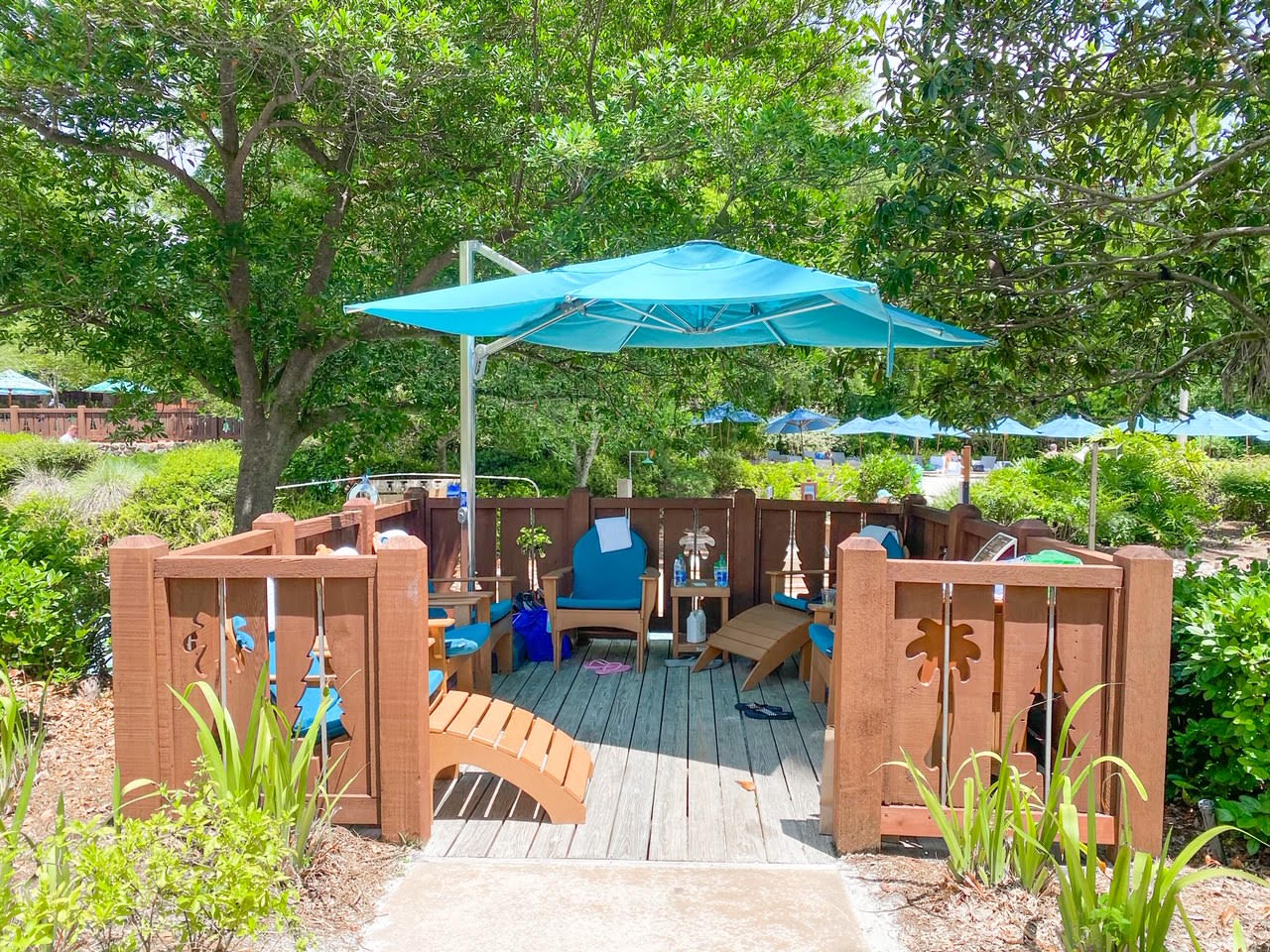 Blizzard Beach Touring Plan
If you plan on getting to Disney's Blizzard Beach early, before opening, you can plan your day out quite easily. Not only will you have your choice of lounge chairs and lockers, but you'll be able to head straight to the green slope rides like Summit Plummet, and get the most popular rides out of the way early. You most likely won't have to wait in a long line, and you can get the most popular rides out of the way before lunchtime.
After lunch, head to the Melt-Away Bay and Cross Country Creek to relax and digest. The slides will be very busy midday and the lines get the longest at this time, so take this time to relax!
Once you've relaxed for a little while, either head back to the slides and look for the lowest waits, or head over to one of the kids' areas. You'll most likely be able to get on the big slides again before the end of the day once the crowds start to clear out.
If you don't get to the water park early, then don't head straight for the big, popular slides. Those lines will be LONG. Instead, do the rides at Ski Patrol Training Camp or enjoy the wave pool and lazy river. Revisit the popular rides near the end of the day, and take advantage of the shorter lines when the people start to clear out.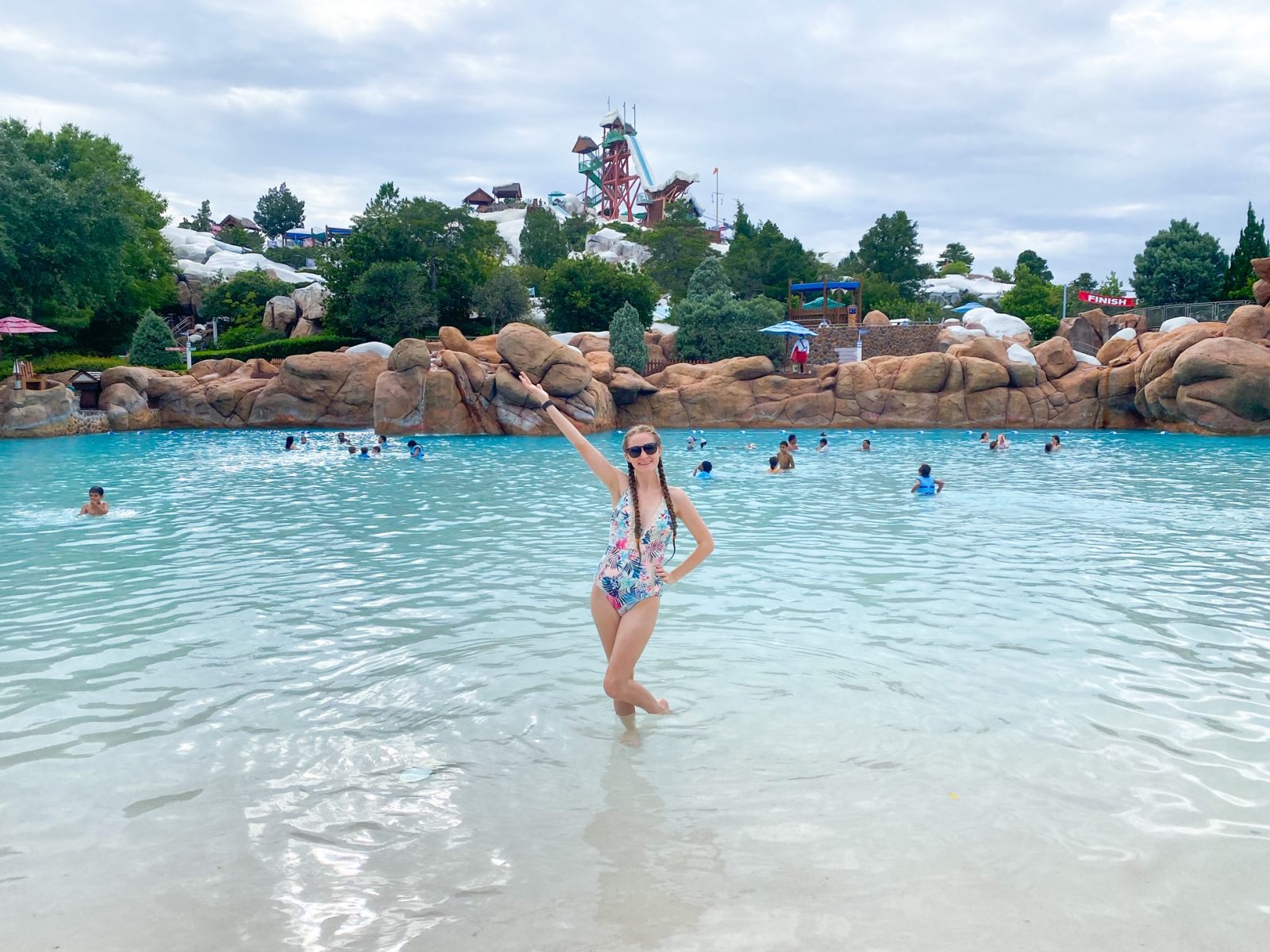 We hope that you learned a lot about Disney's Blizzard Beach, and are looking forward to visiting now! There are so many fun rides to get on, and you won't want to miss out on the thrills from the slides here.
Visiting Blizzard Beach can make for a great no park day, and is a great way to cool off during the hot summer months – or anytime it's hot in Florida.
Have you been to Blizzard Beach? Or do you have a favorite water park in Orlando? Let us know in the comments!