Looking for all the tips on Disney parking? Well look no further! We are here for you. We've done all the research and found all the best tips to make getting to Disney World and finding the best parking spot a little bit easier for you.
We know that getting around Walt Disney World may not be an easy task, and Disney parking is a whole other story! It can get a little confusing to figure out where to park and how to figure out prices for all of it. Is it even worth it to have a car and drive to some parks? We have all those answers and more just below!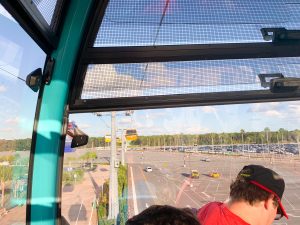 Disney World Parking Cost
Disney parking varies in price for both theme parks and resorts. It is all based off of where you are staying and what type of parking you prefer at the parks. There are also some groups that receive free parking, as well as some places in Disney World actually offer FREE parking!
Some people may end up paying next to nothing for parking during their trips, but others may need to consider the prices of parking at both resorts and/or the theme parks. These can end up stretching the budget a little too much, and should be a consideration if you are bringing your own car or renting one while in Disney World.
Disney World Parking Fees for Theme Parks
Disney parking at the 4 theme parks is the same across all four of the parks. Standard parking for cars and motorcycles is a $25 flat rate per day across all four parks. Preferred parking is offered as well, and that will run you $45-$50 per day, and the price is based off the season you visit – $45 for slower seasons and $50 for the busier seasons. There is an upcharge for oversized vehicles, which is $30 per day. Disney considers oversized vehicles to be: limos, shuttles, tractor trailers, RVs, buses, campers, and trailers.
Standard parking is what most people choose, and is probably your best bet for the day. If you get to the parks early, like for rope drop, you won't need preferred parking. If you have mobility issues or you go during a busy time, it might be worth the upcharge to pay for preferred parking.
Disney Parking Cost for Resorts
Disney parking isn't free for overnight guests at any of the Disney World resorts. The prices are based off the level of hotel that you are staying at, all of the parking is standard overnight parking, and it's self-parking. The good news is that the price of the parking per night is somewhat reflective of the hotel type you're staying at.
Value Resorts are the least expensive of the Disney hotels, and the price for parking is the cheapest as well for overnight guests. Parking per night for guests staying at the 5 Value Resorts is $15 per night. Check out our article on the Value Resorts to learn more about these hotels and see if they are right for you. Just a note: the Campsites at Disney's Fort Wilderness Resort is technically considered a Value Resort. Parking at the campsites is free for overnight guests, but is only applicable for one vehicle.
The Moderate Resorts fall right in the middle of Disney World resorts, and the Disney parking prices reflect that as well. The parking price per night is $20 for overnight guests of the 5 Moderate Resorts. You can check out our article on the Moderate Resorts to see if it's worth it for you and your family to upgrade your trip a little bit and stay at one of these great hotels!
Just like the other two types of resorts, the Disney parking costs at the Deluxe Resorts and Deluxe Villa Resorts are reflective of the price you are paying to stay there. These are the most expensive resorts on Disney property, and the parking for overnight guests is the most expensive here as well. Parking is $25 per night for these hotels. Valet service is available at some of these resorts as well, for a cost of $33 per night. The Deluxe and Deluxe Villa Resorts that offer valet are:
Grand Floridian
Polynesian
Contemporary
Yacht Club
Beach Club
Boardwalk Inn
Wilderness Lodge
Animal Kingdom Lodge
You can check out our article here for the Deluxe and Deluxe Villa Resorts to see if one of the most luxurious stays in Disney World is right for you!
Another note on parking at the resorts: parking for day guests is complimentary for all guests. It's free to park here if you are resort-hopping or eating at these resorts. You'll only be charged if you are an overnight guest.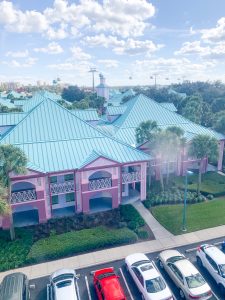 Disney Parking Price for Waterparks
We know this word doesn't get thrown around a whole lot at Disney World, but the Disney parking cost at both of the waterparks is FREE. Parking is complimentary for all guests, not just those staying on site at a Disney World hotel. This is great because it's a cost you don't have to worry about when budgeting for your trip if you are choosing to visit one of the waterparks on Disney property.
Disney Springs Parking Cost
Just like the waterparks, we have good news about parking at Disney Springs: it's FREE! The parking at both the surface lots and 3 parking garages at Disney Springs is free for all guests. The parking is self-parking as well, but if you are in need of valet, Disney Springs does offer it for an extra cost. Valet parking is available for $20 per day.
Also, there aren't any buses that run from Disney Springs to the four theme parks. It's impossible to park here for free during the day and head to the parks. You may, however, take a bus from one of the theme parks to Disney Springs after 4 pm – but there isn't any return service.
Cost of Theme Park Parking for On-Site Guests
If you are staying at any of Disney World hotels, you won't have to pay for parking at any of the 4 theme parks. As long as you are an on-site guest, you can visit the theme parks and get free standard parking. If you wish to upgrade to preferred parking at any of the parks, you will pay the difference between standard and preferred ($20-$25 based off season).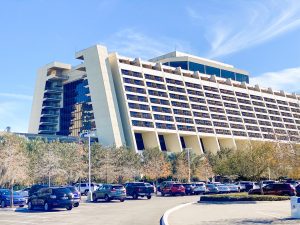 Disney Parking Price for Annual Passholders
Standard parking for Disney World Annual Passholders is free for all four theme parks. Just like the on-site guests, AP can upgrade their standard parking to preferred by paying the difference. Annual Passholders do not get free parking at any of the resorts though, only at the theme parks.
Cost of Parking When Park Hopping
More good news when it comes to park hopping! You only have to pay once for Disney parking if you choose to park hop during the day. Please keep your receipt though! You'll need to save your receipt to show the Cast Members at the parking booths in order to get free parking at the other parks throughout the day.
A note on driving and park hopping: if you plan on driving and park hopping, make sure your car isn't parked at one of the resorts that close early! It's safer to park it at the Magic Kingdom or EPCOT when they are known for staying open later than getting your car towed at another lot.
Cost of Parking for DVC Villa Rentals
Disney Vacation Club (DVC) members also get a break when it comes to parking. If they are staying at a Deluxe Villa, whether they are using points for their stay or not, the overnight parking fee is waived. This also goes for people who rent points from DVC members in order to stay at Deluxe Villas. To find out how to do this, check out our article here for all the details!
A little note on DVC parking costs: DVC members do have to pay the overnight parking prices anytime they are staying on Disney World property if they aren't using points and staying at any of the other resort hotels. The overnight parking fee is only waived for them if using points and/or staying at a Deluxe Villa.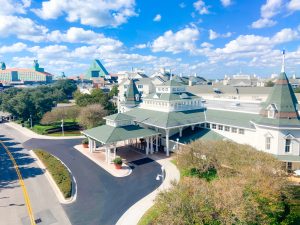 Parking at Magic Kingdom
Disney parking at the Magic Kingdom is the most complicated. There's just no way around that. This is because the Magic Kingdom parking lot is about a mile from the actual park. You cannot park at the Magic Kingdom.
In order to drive to Magic Kingdom and park there, you'll have to start your day by parking at the Disney World Transportation and Ticket Center. From here you will have to take either the monorail or a ferryboat to Magic Kingdom. This will add about 30 extra minutes onto your commute there.
If you are going to Magic Kingdom early, you will be able to get through the extra transportation fairly quickly and easily. If you are going to MK sometime in the middle of the day, the Disney buses may be faster since they drop you off right at the gate.
A little note for not just parking at the Magic Kingdom, but for all the parks: take a photo of your parking spot! All the parks have names for the lots and it can get pretty confusing.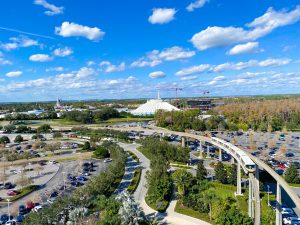 Parking at EPCOT
Parking at EPCOT has seen a few changes lately due to all the construction and the facelift this park is getting. Parking is still directly in front of the park though, and they do offer a courtesy tram for those who have to park far away. If you get there early enough, you can snag a pretty good parking spot where you most likely won't need to use the tram.
Parking at Hollywood Studios
Parking at Hollywood Studios is fairly easy as well, even though they've had a lot of changes and construction over the last few years. The bus loop changed completely but the self-parking didn't change a whole lot. The parking lot is still in front of and to the left of the park (when facing the park). This park tends to let guests in up to an hour before park opening thanks to Galaxy's Edge, so it can definitely be worth it to drive here. They also offer a courtesy tram for those who need it.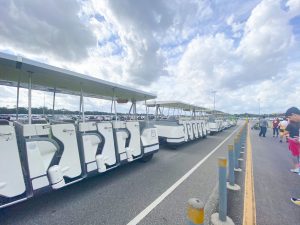 Parking at Animal Kingdom
It's easy to park at Animal Kingdom as well, but thanks to Pandora the lot fills up fast here! Try to get here early in order to get a good parking spot and not have to use the courtesy tram. Even early you may need to use the tram, because it's a big lot and fills up so fast. They also don't open up as early as some of the other parks, so keep that in mind when heading here in the morning.
Disney World Parking Process
For most guests, parking at Disney World will be self-parking and will cost a little bit. It can be a good idea to use your own car or rent a car for certain situations. If you want to snag a boarding pass for Rise of the Resistance, make it to rope drop, take advantage of Extra Magic Hours in the morning, or go to an early breakfast reservation, it may make sense for you to drive to the parks. Disney buses don't start to run until about 45 minutes before park opening and they aren't the most reliable or the fastest option for travel.
If you or someone in your group has mobility issues, you have several different parking options as well. All 4 of the theme parks offer disability parking lots, and these are each a short distance from the entrance to the parks. These lots are great options for those using wheelchairs, electric scooters, or any other mobility device. For more information using a mobility device at Disney World, check out our article here.
If you are traveling to Disney World with a stroller and choose to drive, you may want to pay for preferred parking or make sure you get there early in order to get a good parking spot. Also, know that just like on a Disney bus, a child must be removed from their stroller in order to board the courtesy tram. You can check out our article on strollers, to pick out the best stroller for your next trip to the park.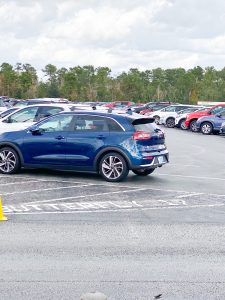 We hope that this guide has helped you figure out not only if driving to the parks is right for you, but how to do it easily and stress-free! Make sure you get there early, take a picture of that spot, and follow our best tips to make sure you get the most bang for your buck when it comes to parking. We hope you have a great time next time you're in Disney World and that you snag a great parking spot!