Have you ever wondered how to choose the best Disney stroller option for your upcoming trip to Walt Disney World? Today I want to share all the options for utilizing strollers at Disney, including stroller rentals at Disney and which one would work best for you and your family! If you are visiting Disney with toddlers, you know a stroller is essential!
When planning a trip to Disney, one thing you can count on is tons of walking – from rope drop to park close, your day will be spent putting one foot in front of the other to the majority of all of your destination! For the younger guests, this can often be easier on the entire family with the convenience of a stroller to push them in instead of a full day of walking.
Whether you're traveling from home for a day at the parks or enjoying an on-site stay at one of the convenient onsite resorts, anyone with young children will benefit from a stroller at Disney World.
For those of you traveling to the parks, you can bring your own stroller or take advantage of stroller rental at Disney World. Many find that renting strollers for Disney world is a better option than wasting valuable packing space in the car or lugging the stroller along with you at the airport.
Today, we'll compare the pros and cons of bringing your own stroller for Disney World versus stroller rental at Disney World, and what the Disney stroller rules are for having them at the parks.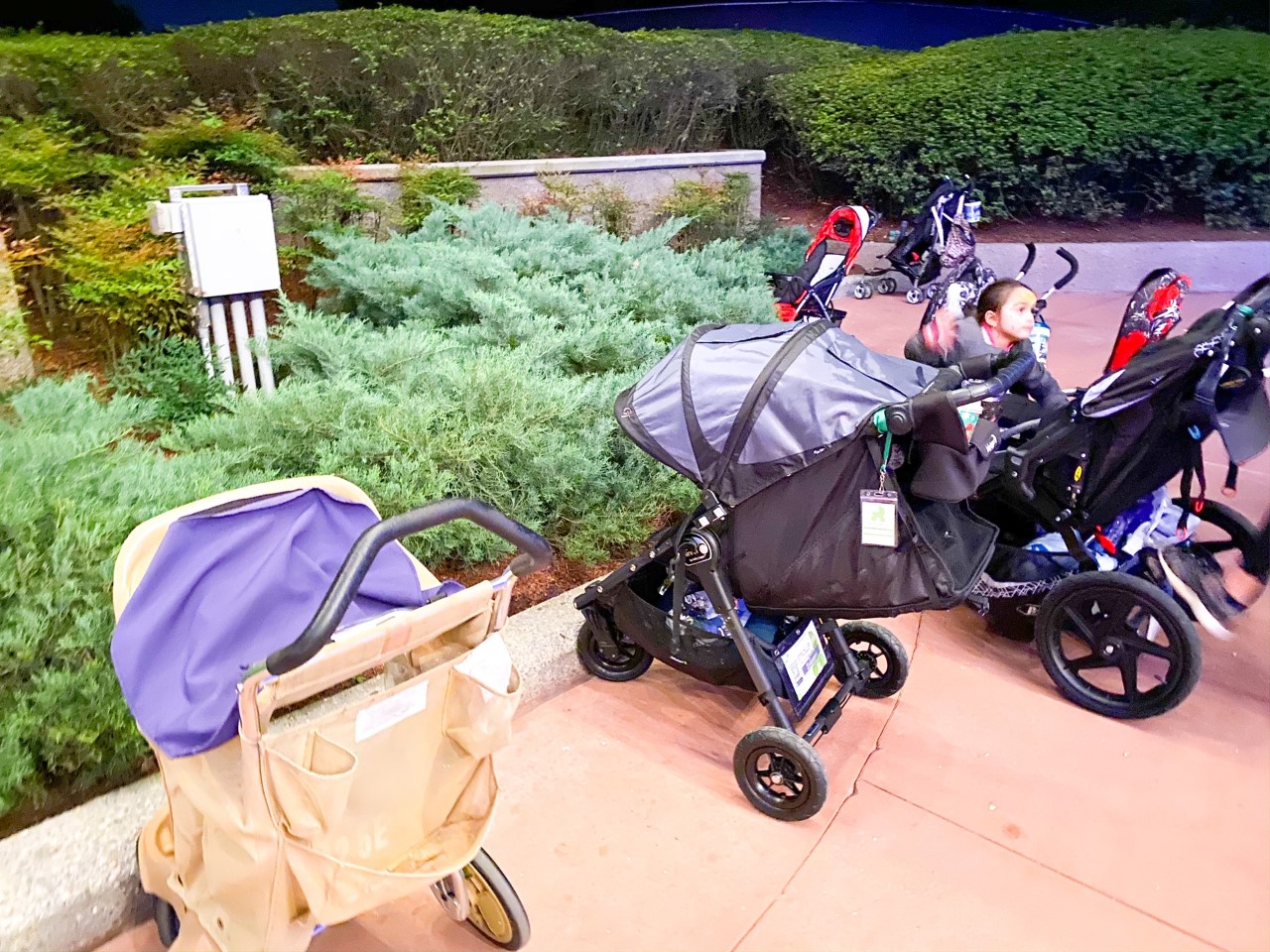 How To Choose the Best Disney Stroller Option For You
Disney Stroller Rules
In 2019, Walt Disney World changed its policies for strollers at Disney World to exclude wagons of ANY kind, including the stroller wagon style that had been a popular choice for park-goers in years past. Disney World strollers must not exceed 31" (79cm) wide x 52" (132cm) long.
For additional information regarding Disney stroller rules, head to the Disney Parks Blog. Keep in mind that should you decide you need a stroller for Disney, it will be checked at the park entrance to ensure it fits within these guidelines.
Bringing Your Own Stroller To Disney
At Disney, strollers can be a lifesaver for some families, and the most cost-efficient option is bringing your stroller from home. FREE is a word we don't often get to say when regarding Disney, but when you bring a stroller for Disney from home, there is no additional cost to you – they are even checked free on most major airlines.
The perks of knowing how to fold up the stroller as you get onto the Disney buses, recognizing it in the sea of strollers at Disney World, and your child being familiar with your stroller are all super important pros of your own stroller if it fits the size requirements.
Being able to put your younger family members into the stroller they know and love as soon as you leave your room can be a huge relief for those little legs that can't do as much walking. Some modes of transportation, like the Skyliner and the Monorail, even allow you to keep them in the stroller as you transport from resort to any of the theme parks.
Each of those benefits for bringing a stroller from home to the parks has it's own value, but there are a few reasons that Disney stroller rental may be the better option. Bringing your stroller from home means you have to lug it on the plane or in the car during your travels and continue to store it throughout your stay, even when you're back at your resort.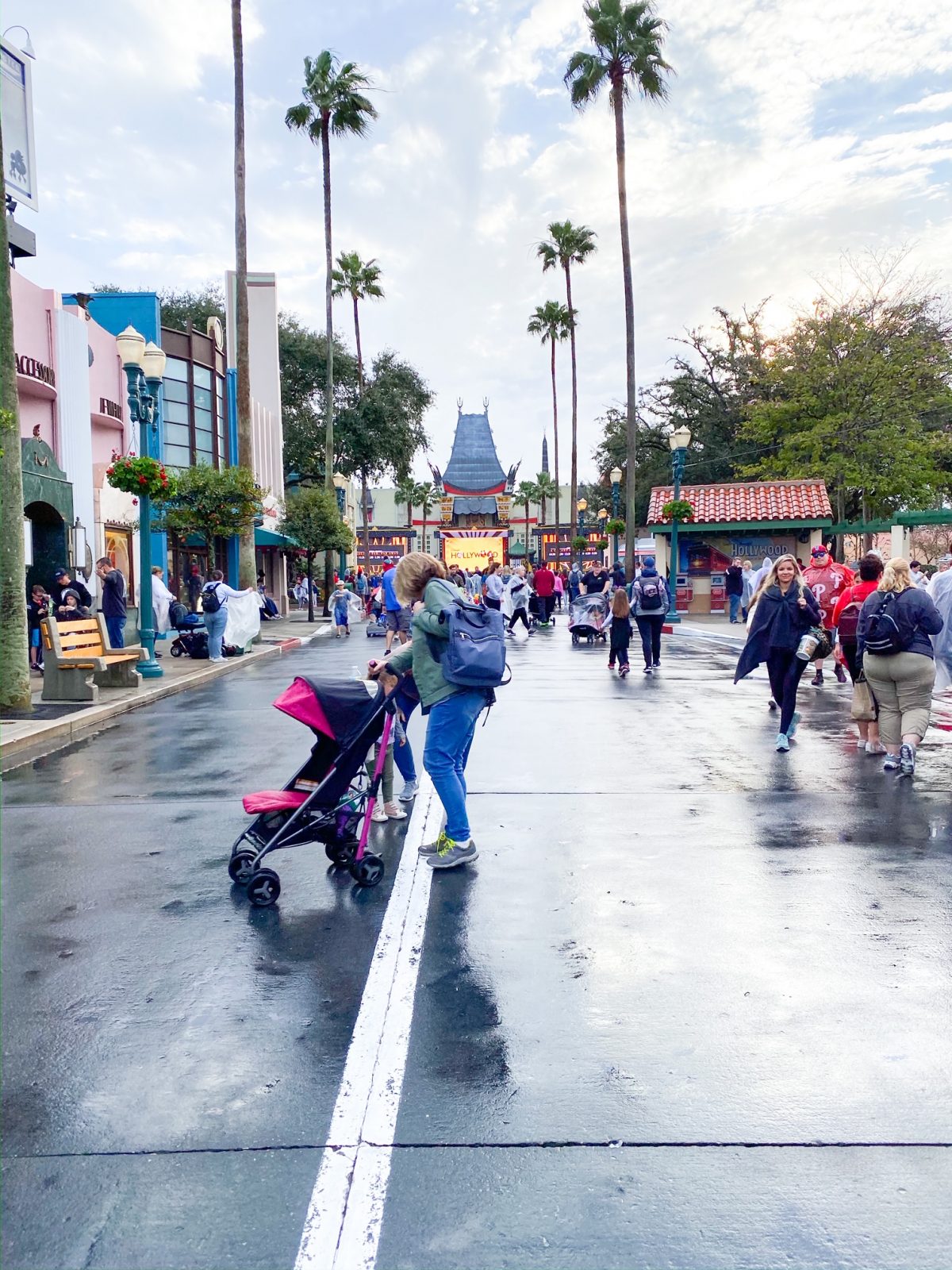 Buying A Stroller For Disney In Orlando
Those of you traveling to Walt Disney World who don't necessarily want to travel with a stroller, but want to utilize them inside the parks can also buy a Disney stroller once you arrive.
For those of you who are driving to the parks, there are plenty of stores nearby to grab your Disney strollers, like Walmart and Target. One of the more expensive options would be to check out the on-site gift shops for an umbrella stroller.
Many of these stores, as well as Amazon, offer delivery to your hotel. If you need a stroller for Disney and don't want to travel with it, or have a car to get one yourself, this may be the best option.
Many Disney properties have begun charging per delivery to the hotel, but it can be a convenient option for those not renting strollers for Disney World. If you want to plan ahead to have your Disney strollers delivered to your resort, you will need to purchase at least a week prior to insure it's arrival.
When ordering, please make sure to ship in care of your resorts front desk, and include the address as well as the name your resort is under and arrival date.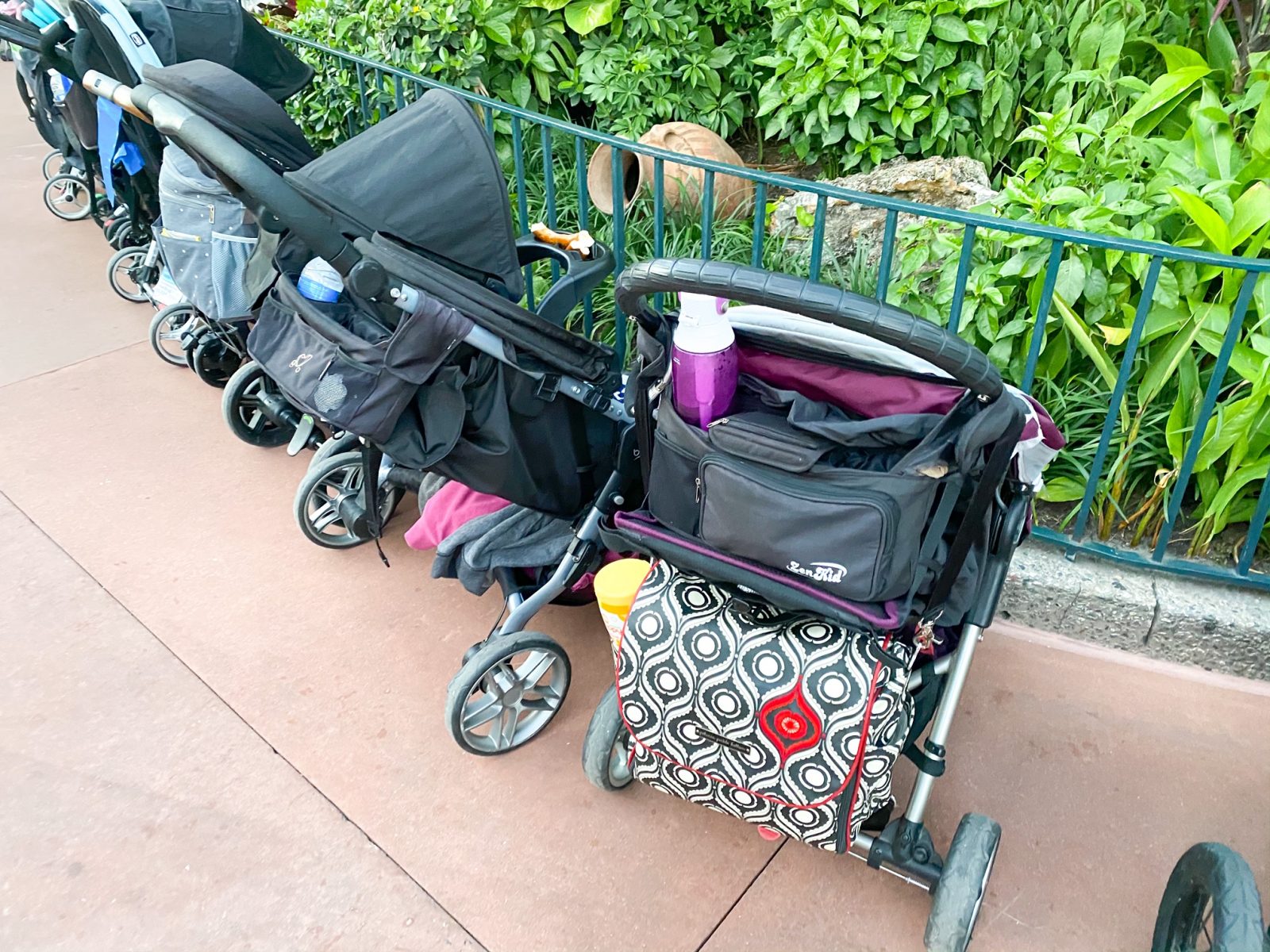 Stroller Rental At Walt Disney World
Renting strollers for Disney World has become an easy way to take advantage of pushing your littles around the parks, without having to travel with one or buy one here in Orlando once you arrive.

Hosted by Huggies, stroller rental at Disney is available at each of the four theme parks, located near the entrances, as well as at Disney Springs. Single strollers are recommended for guests weight 50lbs or less, and start at $15 a day, or $13 a day with a multi day stay.
When you purchase Disney World stroller rental, keep in mind the strollers cannot leave the parks including leaving to go to any on property dining reservations, resorts or another park. While you can show your receipt when you park hop to continue your Disney World stroller rental, you will have the hassle of stopping for each exit and reentrance to any of the parks.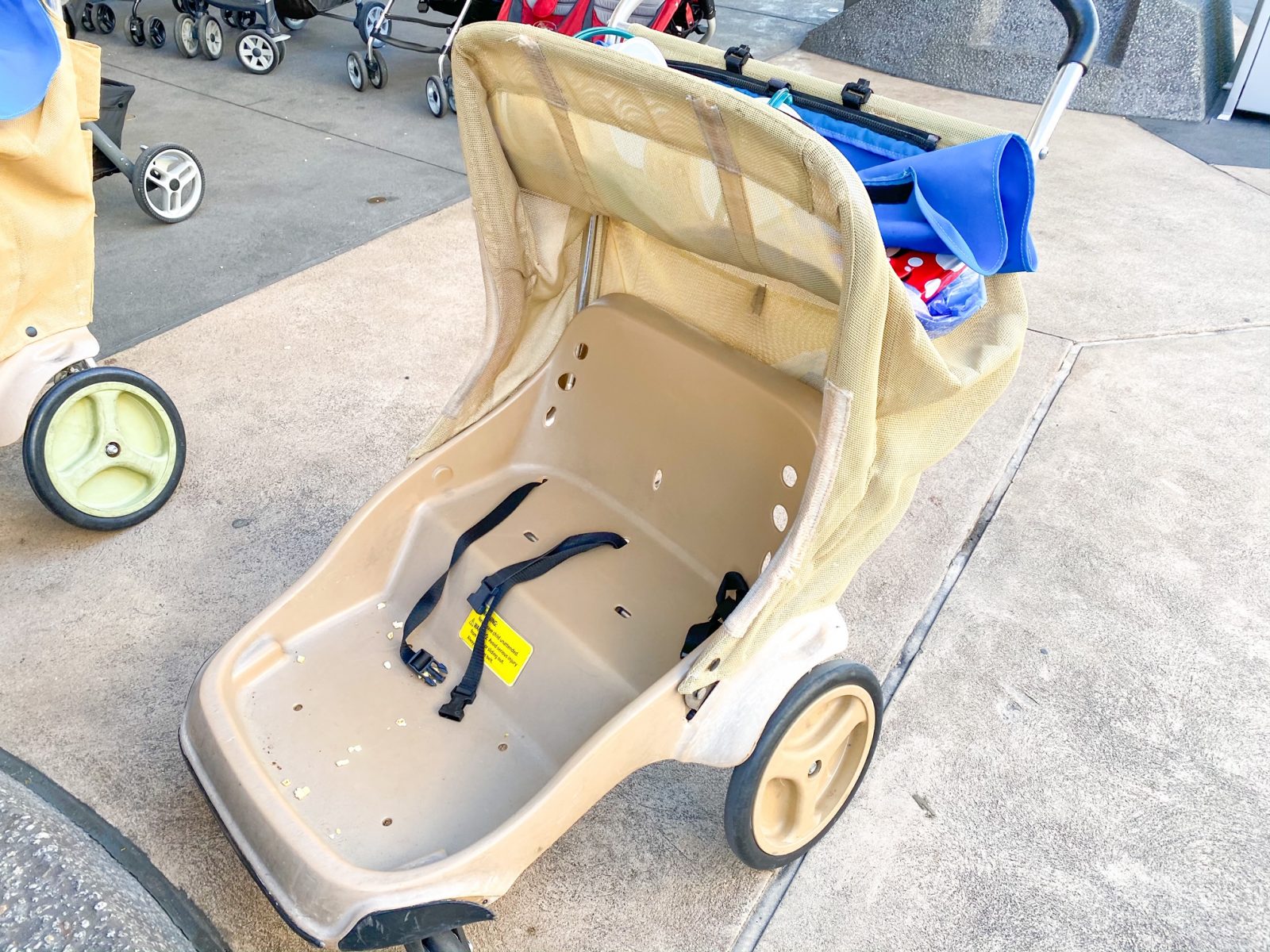 Disney World Stroller Rental Companies
Thinking of renting strollers for Walt Disney World for your entire trip, and not just when you arrive at the parks? There are many companies in the Orlando area that provide stroller rental at Disney World, but unless you are renting directly from Disney, you will need to know the current stroller policies before making your decision.
At this time, outside bookings for stroller rental at Disney cannot deliver the stroller on Disney property, leaving the renter and company to find alternate solutions.
Below is a list of many of the companies who can provide stroller rental at Disney.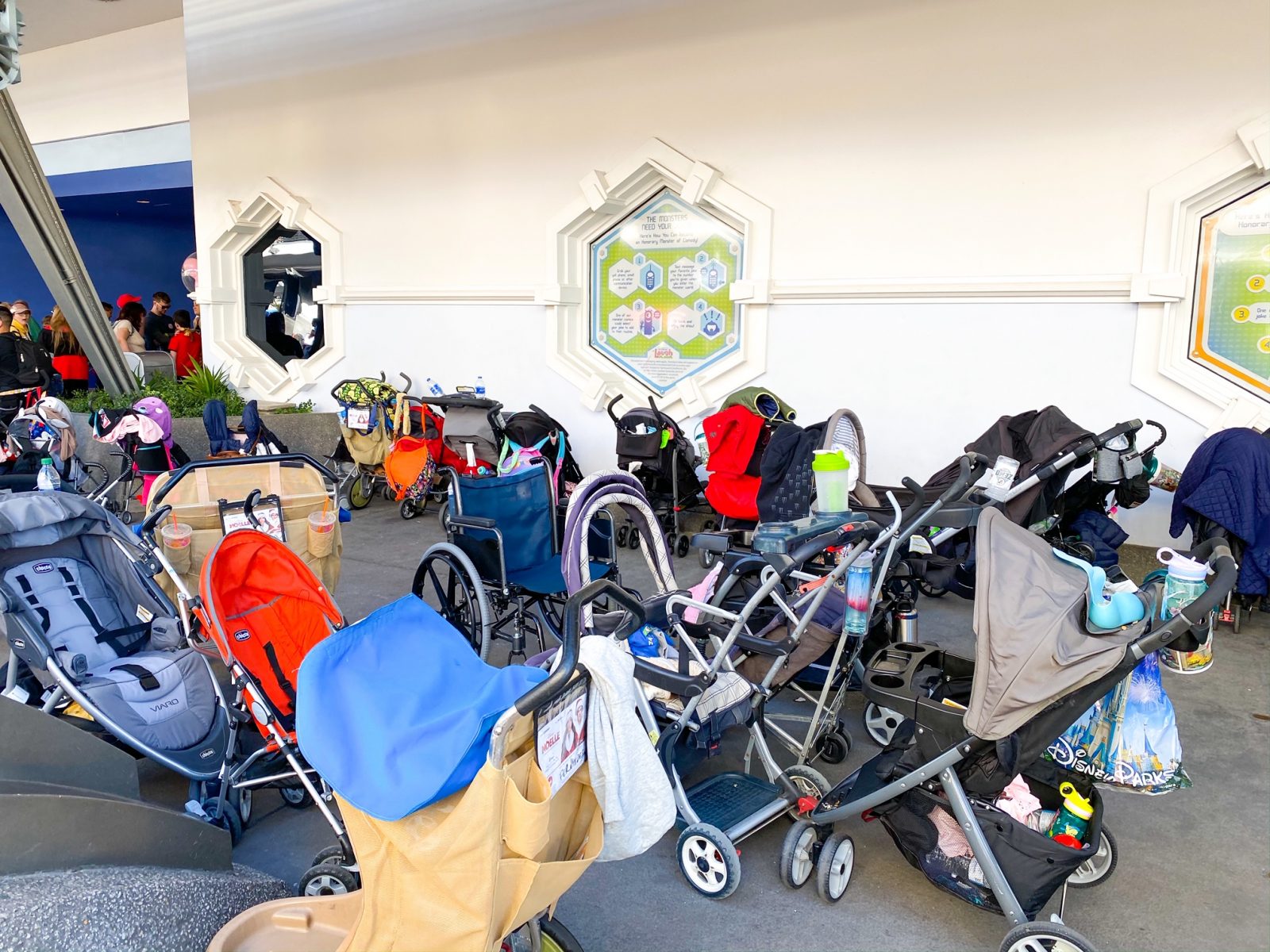 Magic Stollers
With the Disney stroller rules changing in 2019, outside companies like Magic Strollers are no longer able to deliver your Disney World stroller rental directly to your Disney resort, but Magic Strollers does offer delivery to over 200 offsite resorts in the Orlando area.
If you have transportation, and can pick up your stroller for Disney, Magic Strollers offers 25% off for those who pick up their orders at their warehouse – 7331 Presidents Drive, Orlando, Florida 32809. Located halfway between the Orlando airport and the parks, this convenient location makes Disney World stroller rental an even more easy and affordable option!
Kingdom Strollers
Kingdom Strollers now offers delivery and drop off to the (MCO) Orlando International Airport, making renting strollers for Disney World even easier!
Single strollers available for Disney World stroller rental include the following; The City Mini Single, Mini GT Single, Bob Revolution Single, and Summit X3 Single. Pricing for the single strollers begins at $45 daily.

Renting strollers for Disney world with multiple children heading to the parks can be done as well, with the double stroller options available for rent. Doubles options include the City Mini Double, Mini GT Double and the Revolution Duallie with pricing for these Disney strollers beginning at $55 per day.
The Liberty Special Needs stroller is also available from Kingdom Strollers, as well as select crib and bedding options! All of these are perfect for Disney strollers, and meet the Disney stroller rules size requirements, with a variety of perks you can see on the Kingdom Strollers website.
All Kingdom Stroller Disney World stroller rentals include a FREE drink holder parent console that holds up to 3 beverages, and a FREE rain cover and cooler bag. Kingdom Strollers also has snack trays and stroller hooks available for rental.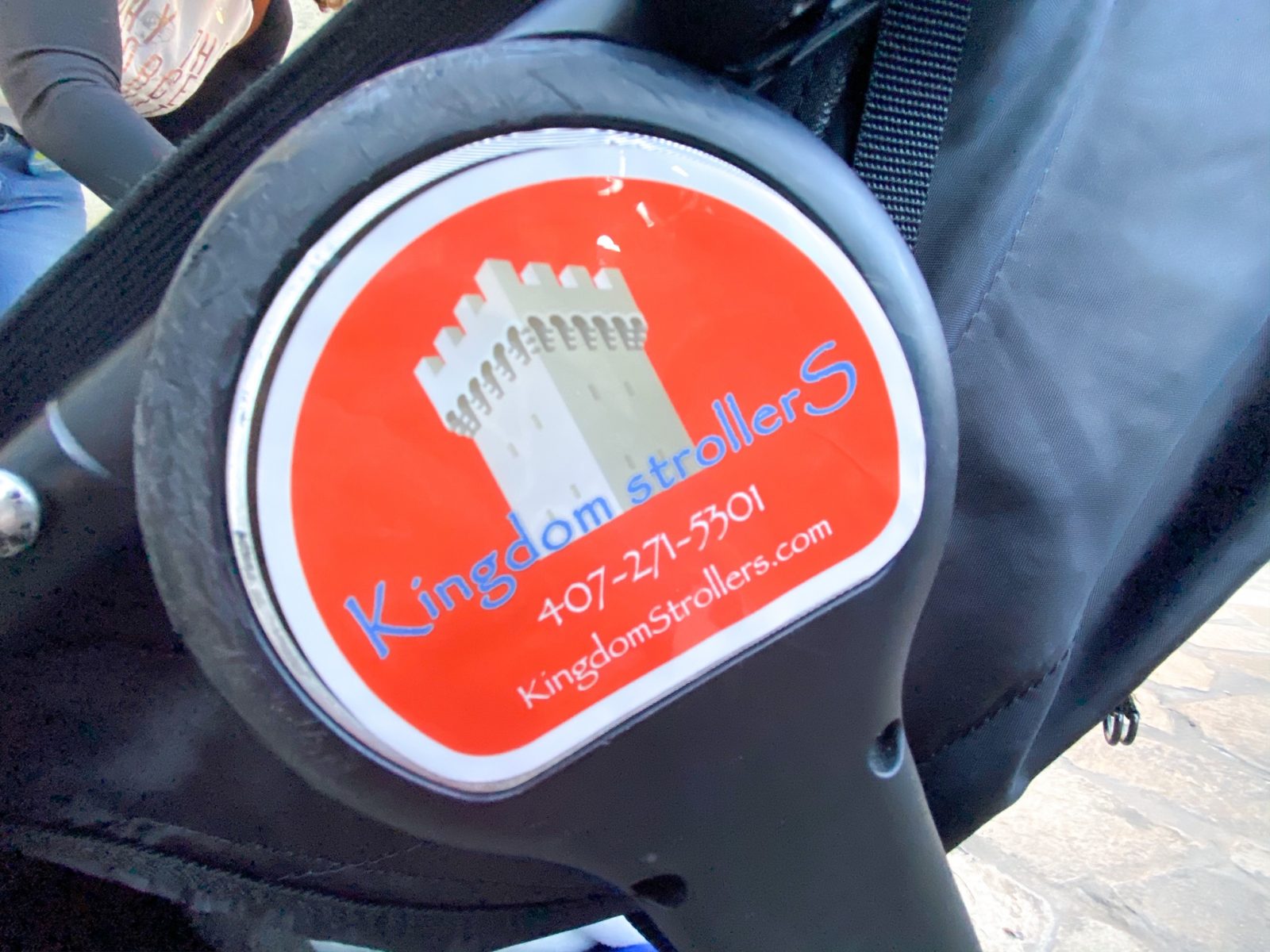 Orlando Stroller Rentals
Located in Kissimmee, Florida, Orlando Stroller Rentals has many options for renting strollers for Disney World.
For those flying in, you can select to pick up and return your Disney World stroller rental to the counter at the Orlando International Airport, located in the B Terminal on level 1 – the same level as Disney's Magical Express and the rental car counters!
Those driving in, or with access to a car are welcome to pick up their stroller for Disney at the Orlando Stroller Rentals store located at 3232 Rolling Oaks Blvd, Kissimmee, Florida 34747.
Due to new Disney stroller rules, on site delivery to any of the Disney resorts is available, but must be delivered to you in person, with the selection of a meet and greet time.
Staying off site? Many of the Orlando area resorts still allow Orlando Stroller Rentals to deliver to the resort's luggage room or bell service, please verify your hotel's options upon booking.
Delivery and pick up for those renting stollers for Disney World are available to any location withing a 15 minute radius of the Orlando Stroller Rentals location, verified with the location address included in your reservation. Renting strollers for Disney World is incredibly easy and can be done online, or by calling. 888-529-4975.
For each Disney World stroller rental delivery, you will receive a complimentary cooler to take home from Orlando Stroller Rentals.
Apple Strollers
For those looking for Disney World stroller rental of the Baby Jogger series, check out Apple Strollers. The Baby Jogger City Mini Stroller with Quick Fold Technology is available as a single or double option, with prices starting at $30 for a 3 day rental. Order your Disney strollers online, or by calling 888-701-1971.
Scooterbug
If you plan on renting strollers for Disney World, one of the most convenient options is Scooterbug. As the only Disney Featured Provider for stroller rental allowed to deliver to onsite resorts, offering stroller rental for Disney World, as well as ECV and wheelchair rentals.
Pricing begins as low as $30 + tax for 1-3 day rentals, depending on the type of stroller you decide on.
Bag hooks, snack trays, drink holders and rain covers are some of the items also available, for rental along with your stroller for Disney.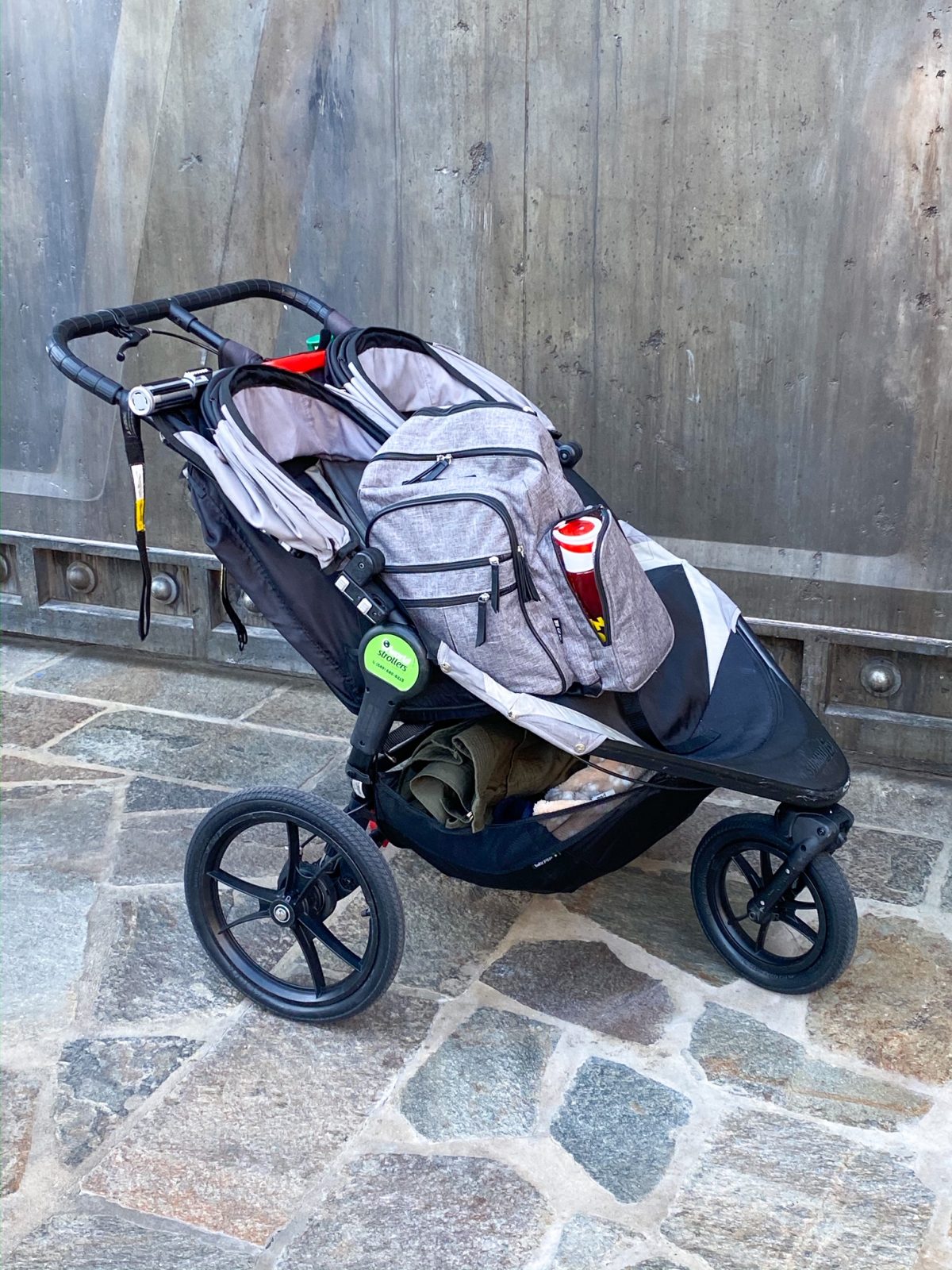 Baby Wheels Orlando
One of the most user friendly websites for renting strollers for Disney World is Baby Wheels Orlando. Highly recommended by The Unofficial Guide to Walt Disney World, these Disney strollers can be rented for the duration of your stay by calling 800-510-2480 or booking directly online.
A Baby's Best Friend
If you are looking at renting strollers for Disney World, or any other baby item such as toddler beds, high chairs, swings, security gates or more, A Baby's Best Friend is the place to rent your Disney strollers from! A Baby's Best Friend offers FREE delivery to anyone with a Disney World stroller rental within a 25 minute radius of the parks.
How To Know Which Stroller Is Yours At Disney World
Whether you're renting strollers for Disney World, or planning on utilizing your own stroller for Disney, one of the things you may need to consider is how to tell your stroller apart from the hundreds of other strollers you'll see at the parks.
With so many using Disney World strollers, you will notice that the stroller parks fill up quickly, and moved to accommodate the flow of the rides. For your next visit, considering finding a way to set your stroller rental at Disney apart from the rest with an easy to spot sign, or tying something onto the handle to make it as yours.
The most common way of marking your stroller for Disney is to laminate your sign onto the handles as shown below.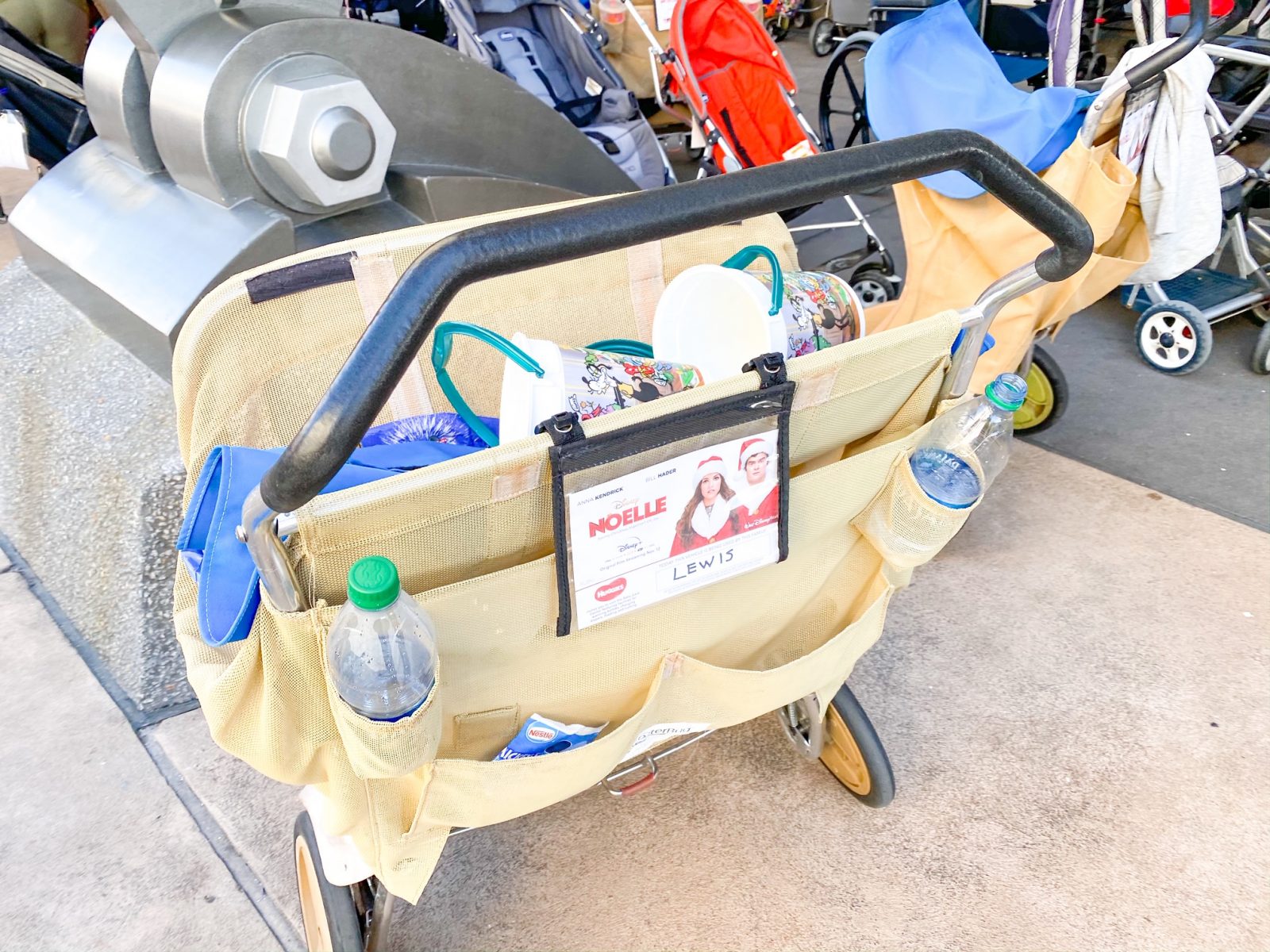 How To Prepare Your Stroller For Weather At Disney
A trip to Disney World isn't complete without a little bit of rain. We recommend you always prepare for weather at the parks with a rain cover for your stroller as well as ponchos for the entire family.
While many days you will be dealing with the hot Florida sunshine, it rains more often than not in Orlando. Don't get stuck with a wet stroller full of all the essentials, make sure to plan to add a weather shield to your park must-haves to keep your Disney World strollers dry.
Depending on what time of year you'll be heading to the parks, consider adding a blanket or sun shade when renting strollers for Disney World.
Keep The Receipt When Renting A Stroller For Disney
Always keep the receipt when renting a stroller from Disney. When you purchase your stroller rental at Disney, the Disney stroller rules and policies state that if you have misplaced your stroller, another stroller will be provided, based on availability, as long as you have kept your receipt.
(Should this headline go up under the renting from Disney category? Not sure how you lay these out, I felt like it was out of place)
Collapsing Your Stroller At Disney
While the Monorail and Skyliner allow you to keep your Disney strollers all together, for most modes of transportation throughout the parks, you must collapse your Disney World strollers. Keep this in one when planning to store your families needs that will need stored in your stroller for Disney, because each time it will all need taken out.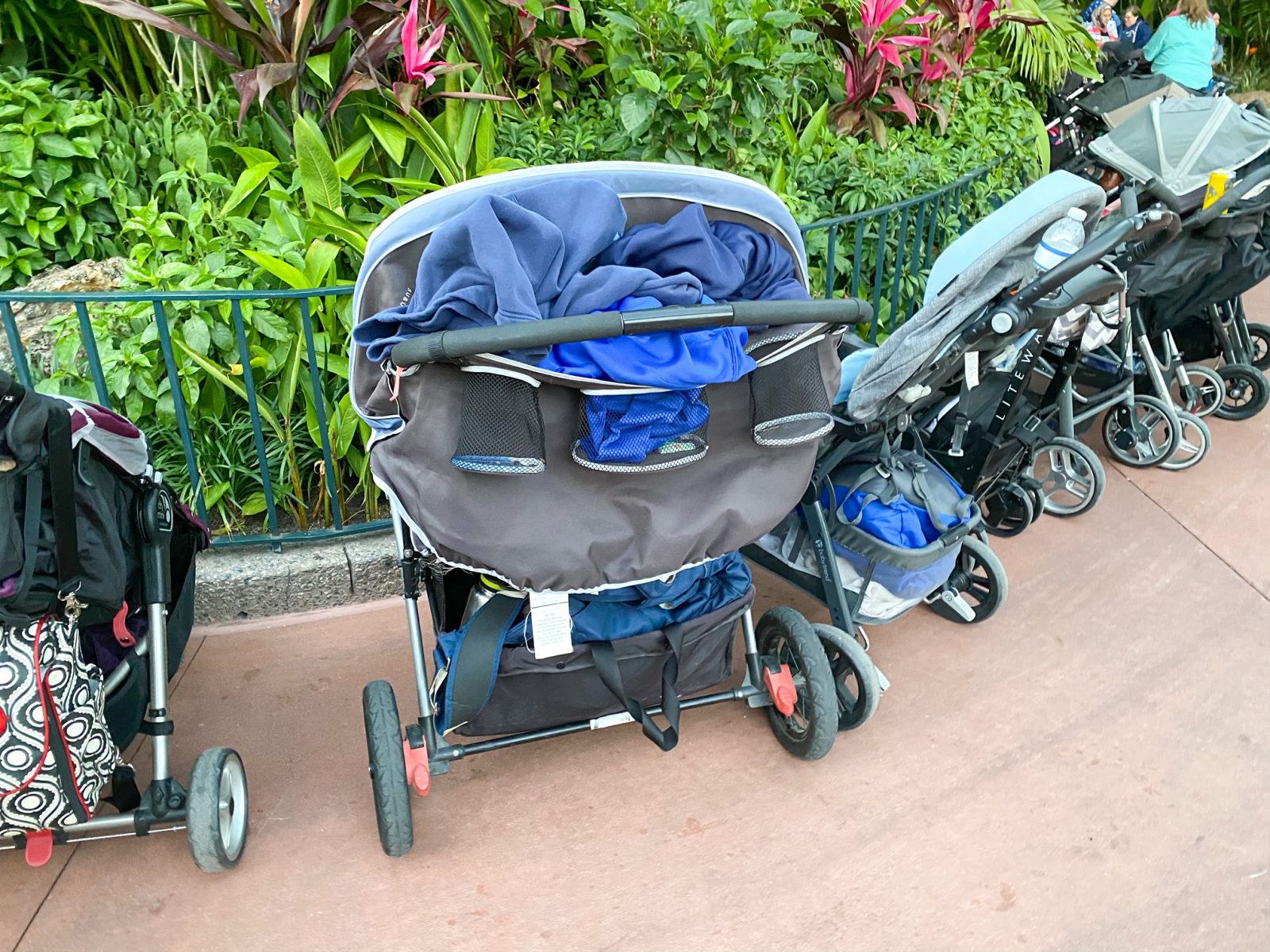 If you're headed to Walt Disney World with toddlers, we highly recommend utilizing a stroller! Whether you're bringing your own stroller from home, or considering stroller rental at Disney, it's a park must have with children! The Disney resorts for kids have awesome options for getting to the parks, but there's a lot of walking so make it easier on yourself with a stroller for Disney!
Pin this post: